November is a fascinating month. For some, it remains a bastion of gloriously lovely fall foliage, mild weather, and sun-kissed days. For others (in the Western Hemisphere, that is), winter boots, snow shovels, and sub-zero temps are already the norm.
And in plenty of places (our own wee corner of British Columbia included), both versions of November are often intertwined. Autumn holding on for dear life as best it can, only to ultimately succumb to the icy power of the season that lies ahead.
Personally, as a perpetual lover of fall and someone who connects profoundly with this season, I prefer to celebrate the autumnal elements of November for as long as possible.
Knowing that winter will engulf our world fully within a matter of weeks at most, I am mindful to try and spend as much time outdoors as I possibly can during the gentle days of November.
Living in an area that marries farmland and woodland so majestically it borders on being intoxicating, much of that time is spent in the local woods – including the towering swath of birch and evergreen trees that call our backyard home.
Throughout my life, no matter if I've lived in close proximity to the woods or not, I have been drawn to forests and the magnificent microcosms of animal, plant, and fungi life they house.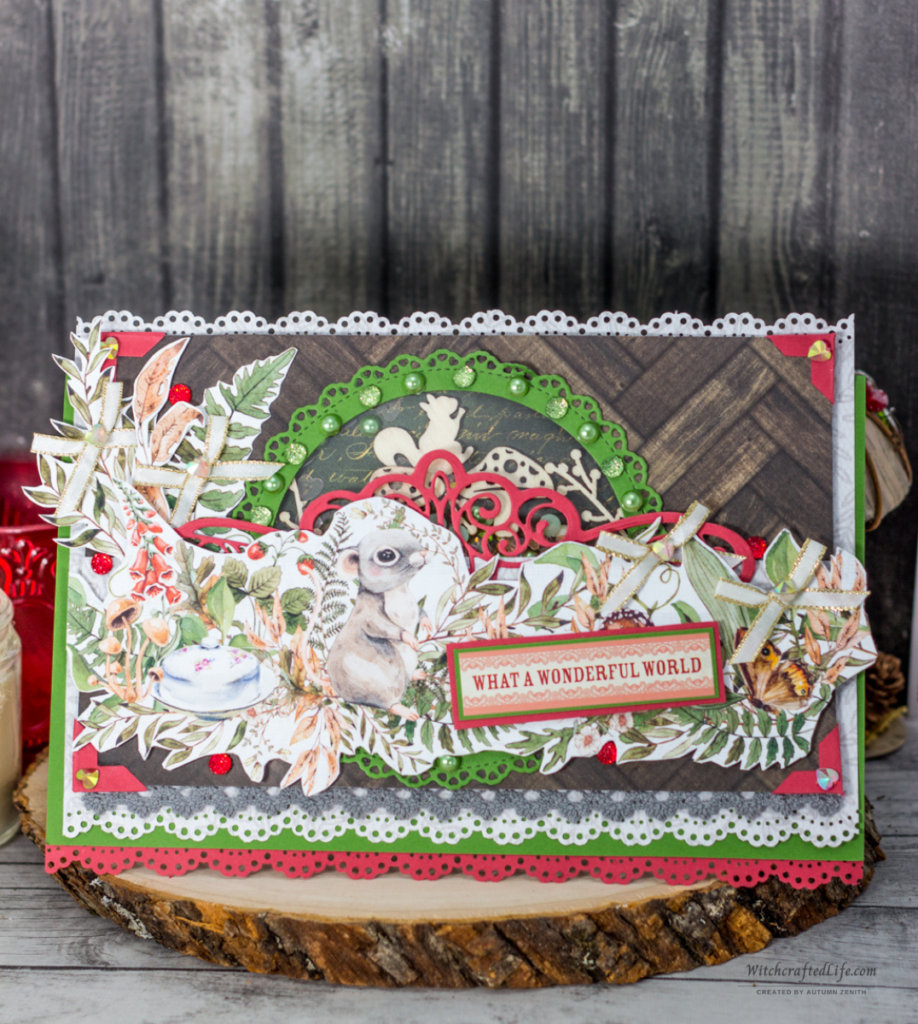 Before the elegant earth and jewel tones of the woods of fall go to sleep under a heavy blanket of Canadian snow, I wanted to make and share a card that celebrates the joy and whimsy that forests spark in my – and many other peoples' – heart with all of you.
Layers, fussy cutting, a shaker window, and some seriously cute woodland imagery!
Few paper crafting releases have resonated with me, my aesthetic, and even my spirituality (as a nature-focused Pagan witch) quite like P13's gorgeous Forest Tea Party collection.
P13 is one of my absolute favourite paper crafting companies. Their products are high quality, their designs breathtakingly beautiful, and their wide selection of offerings helps to ensure a good many crafters will find something amounts P13's various releases that appeal to them.
This post is not sponsored and I'm not on the P13 design team (a paper crafter can dream though!). I simply adore this brand and wanted to shine the spotlight on this particular release from them.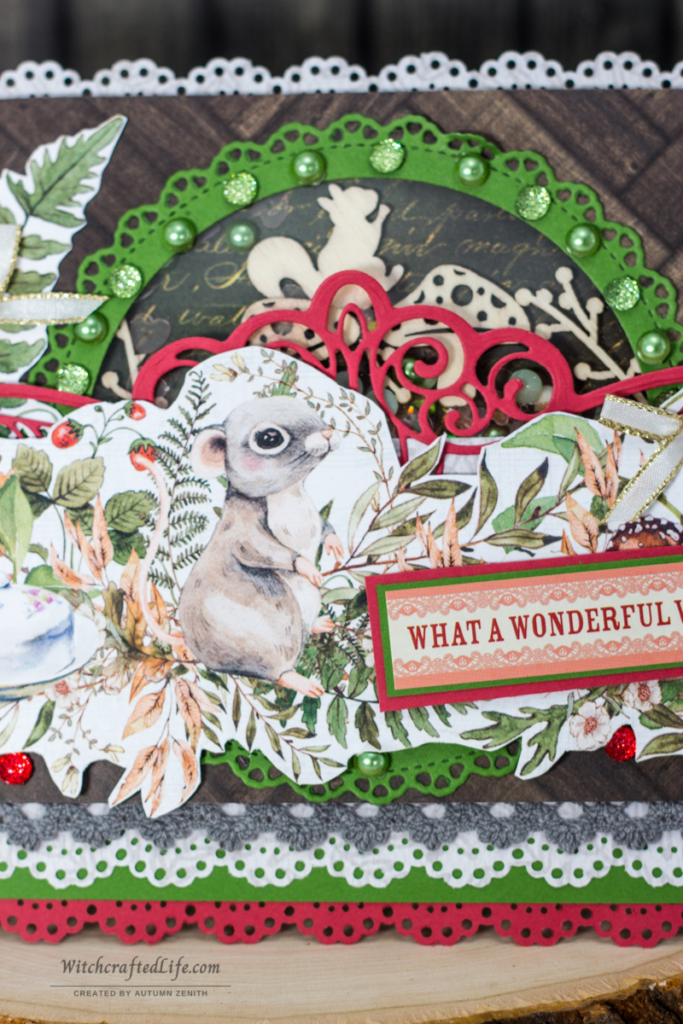 It's rarely feasible for me to purchase all of the items in a given line (from any brand), and to be honest, I don't usually feel like I need to do so – even when I madly adore a release.
I've long learned that a few products are often more than enough to craft a bevy of different paper crafting projects with – especially if you combine them with other items from your stash.
Thanks to the heart-touching kindness and generosity of a dear friend in the US who gave me a $25 gift certificate to Scrapbook.com last Christmas, I was able to pick up some of the products in P13's Forest Tea Party Collection.
This is the second project I've shared here so far featuring items from Forest Tea Party. The first, as some of you may recall, was this adorable woodland themed birthday card.
As I plan to get as much use as I can out of the items from P13's Forest Tea Party Collection that I have, chances are today's project share won't be the last you see here starring this whimsically wonderful collection.
Like many card makers, I try to create and keep a supply of versatile, multi-occasion suitable cards on hand throughout the year.
Understandably, I often find that as a given year winds down, my stash of such cards has diminished a good deal since January began.
Looking to replenish it, I opted for a sentiment that could be used for a wide array of possible card giving occasions. Birthdays, thinking of you, missing you, congratulations, thank you new babies, anniversaries, retirement, support – the list goes on and on.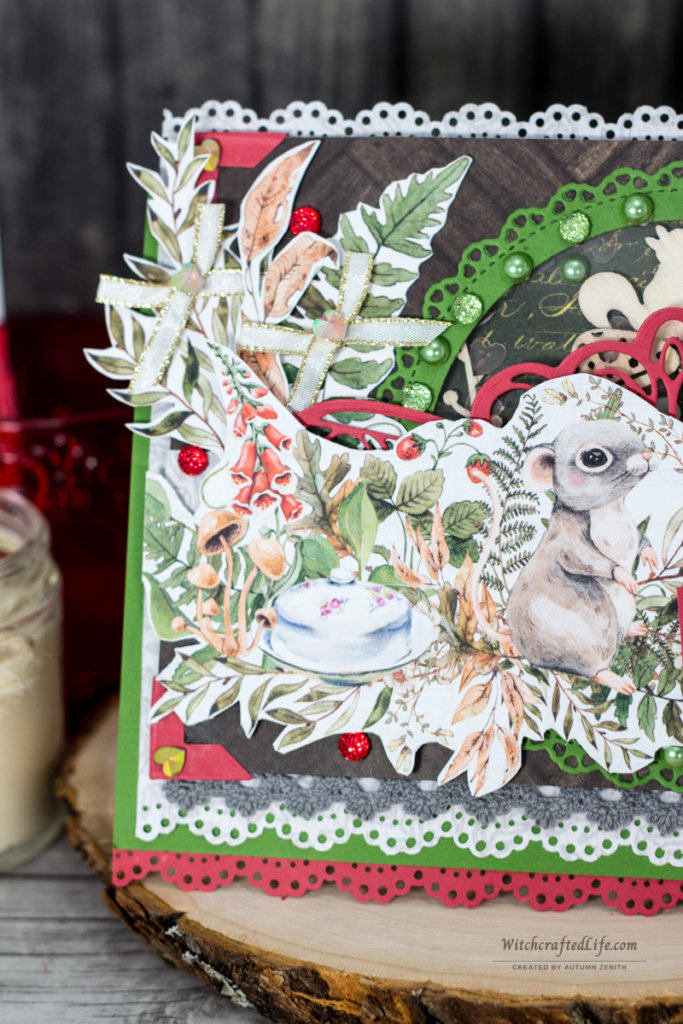 The colours tap into fall, while also housing elements of the other three seasons as well. The classic pairing – amongst the other colours in the palette used here – of red, green, and white means one could even send this darling card as a winter holiday season greeting.
P13 and fussy cutting go together like fall and pumpkin spice lattes in my books. I did some here, both for the larger central image (with super cute woodland mouse) and for the layered foliage tucked around it.
A shaker element that houses a mix of woodland-themed wood veneer pieces coupled with sequins and tiny gem embellishments shares center stage with the fussy cut images.
True to form for most of my makes, a number of layers coupled with various embellishments round out this sweet woodland critter-themed card.
Products used to make this adorable woodland critter shaker card
-Red and green cardstock
-Brown wooden floorboard print paper and light grey leaf/branch print paper – Farmhouse 12 x 12 inch paper pad from Craftsmart (Michael's)
-Green script print paper – The Green Witch 6 x 6 inch paper pad from Recollections (Michael's)
-Cut out woodland images – Forest Tea Party 07 – from P13
-Large cut out piece (with mouse) – Forest Tea Party – 06 from P13
-Clear acetate (for shaker window)
-Scallop edge circle die
-Elegant scrolling edge style die
-Eyelet trim border punch – Doily Lace Boarder Punch from Martha Stewart
-Corner punch – Corner Punch from Martha Stewart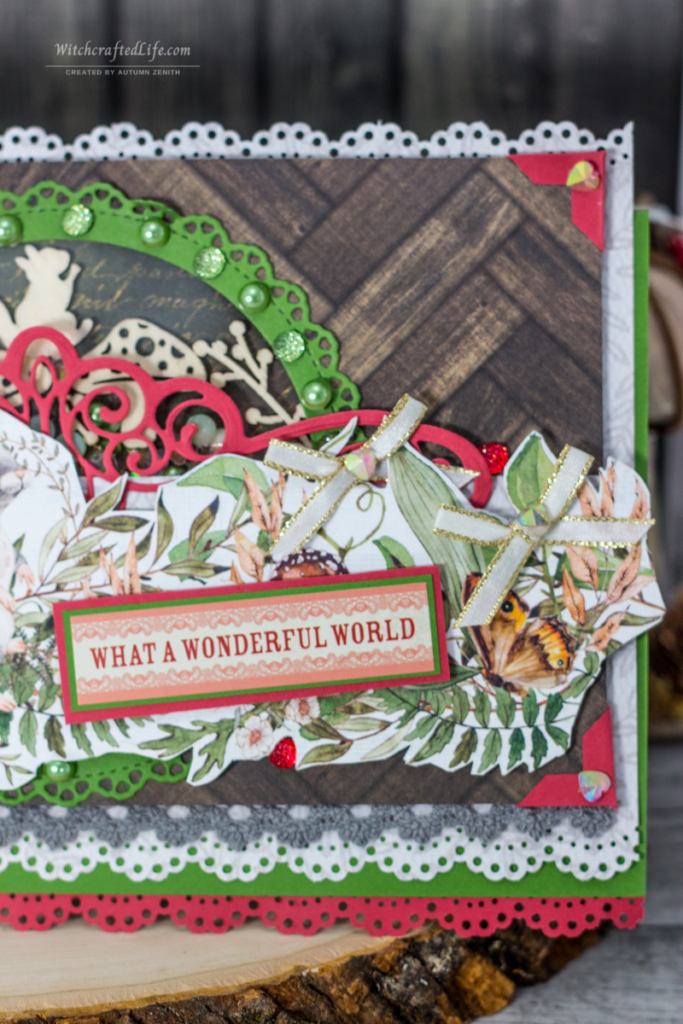 -"What a Wonderful World" sentiment sticker – Lost & Found 3 Ruby Sticker Accessory Sheet from My Mind's Eye
-Shaker mix – Cactus Sparkletz Embellishments from Buttons Galore & More
-Small red faceted flatback embellishments/cabochons – from AliExpress
-Small green faceted flatback embellishments/cabochons – from AliExpress
-Small green flatback pearl embellishments – from AliExpress
-Woodland themed wood veneer shapes – from Dollarama
-Mini premade bows – Green-Gold-White Piped Nylon Bow Stickers from Martha Stewart
-Grey crochet trim – Arty-Licious Kohl Splendid Ribbon from Chatter Box
-Dimensional foam, pop dots, or similar to elevate some of your layers
-Adhesive, such as a tape runner, of your choice (I often use my Scotch Tape Glider)
How to make a shabby chic P13 Forest Tea Party Shaker Card
Begin by making a card base from green cardstock. Next use the Martha Stewart Doily Lace border punch to create a strip of red border punched paper the same length as the bottom of the green card base. Attach this strip to the bottom of the card base.
Cut a piece of grey tone-on-tone leaf/branch print paper slightly narrower on the right and left side than your card base and slightly taller on the top than the card base. Use the same Martha Stewart Doily Lace border punch to punch the top and bottom edges of this piece of paper. Attach grey paper piece to card base.
Cut a piece of grey crochet trim ever-so-slightly shorter than the width of the grey paper. Adhere just above the bottom scallop portion of the grey paper.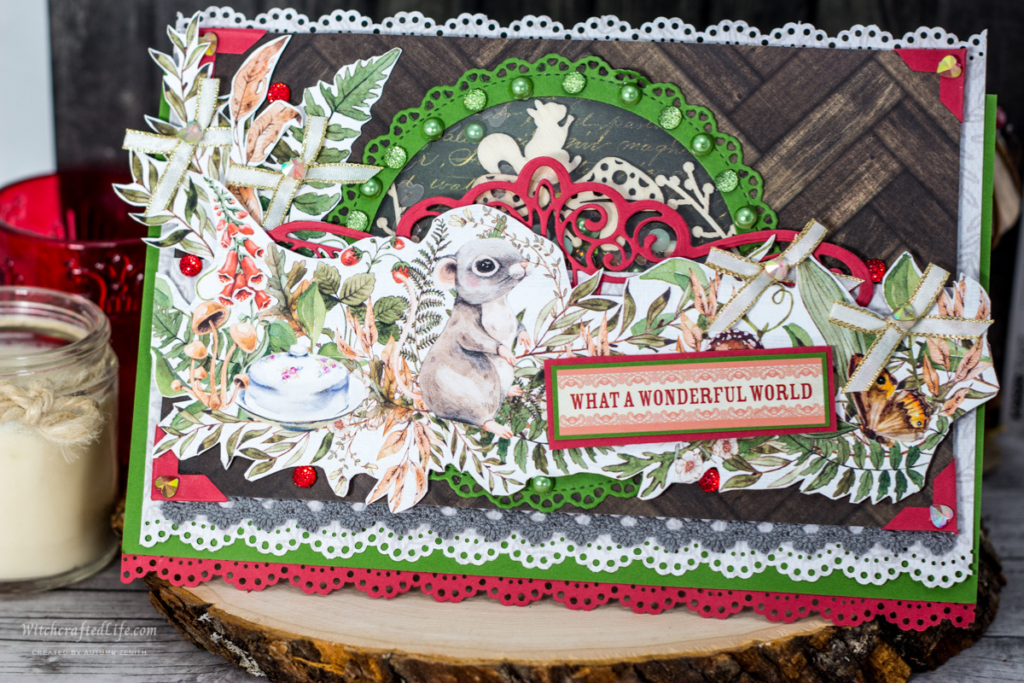 Trim a piece of brown wooden floorboard paper a little smaller than the grey print paper. Using the Martha Stewart photo corner punch, punch out four photo corner pieces from red cardstock. Attach one red photo corner to each corner of the brown floorboard print paper, then attach that piece of paper to the card base layers.
Die cut a scalloped edge circle from green cardstock. Back with a circle of acetate to create your clear shaker window.
Cut (by hand or with a suitable sized circle die) a circle of green text print paper to back your shaker window with.
Fill the acetate portion of the shaker window with wood veneer woodland creature pieces and Cactus Sparkletz Embellishments shaker mix.
Use foam tape, foam dots, or another suitable raised material on the back of the green cardstock circle to create a gap-free border for your shaker window.
Remove backing from foam and attach the shaker window t the green text print piece of paper. Once your shaker is assembled, attach it to the card base layers.
Die cut an elegant flourish shape piece from red cardstock. Adhere it across the centre of the card, overlapping, as you do so, part of the shaker window.
From the two different P13 Woodland Tea Party papers, fussy cut the center (mouse) panel and various foliage elements to tuck around the center image. Adhere all of these pieces to the card base as shown.
Back the "What a Wonderful World" sentiment sticker with a narrow mat of green cardstock followed by an equally narrow mat of red cardstock. Attach sentiment over part of the central image.
Adhere heart shaped embellishments taken from the Cactus Sparkletz Embellishments shaker mix to each of the four red photo corners.
Adhere an alternating pattern of green faceted flatback embellishments and green pearl flatback embellishments around the visible areas of the green scallop edge border of the shaker window.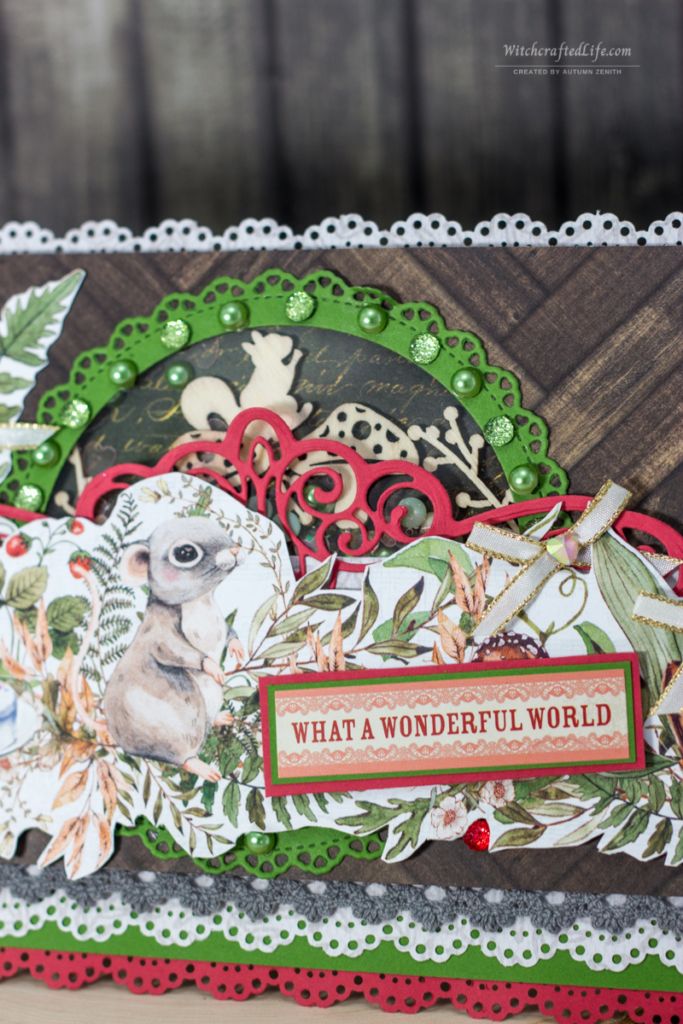 Tuck and adhere a small smattering of red faceted flat back embellishments around the various fussy cut elements.
Attach four Martha Stewart premade white coloured mini bows vertically across your card front. Adhere a heart shaped embellishment from the Cactus Sparkletz Embellishments shaker mix to each of the bows.
And voila, your cuter-than-cute woodland tea party-themed shaker window card is complete. Ready to send out or give in person to a special someone whose day will surely be brightened by this darling handmade greeting. ❤️
What a wonderful world
Let's be frank, life hasn't been a bed of roses for many of over the past couple of years. Both globally and often personally as well, these have been times that exemplify words such as challenging, stressful, uncertain, difficult, and, perhaps above all else, unforeseen.
Yet amongst the profound struggles and worries, life marches forward on this planet. Seasons come and seasons go. Days meld into weeks that build months and ultimately etch new years into the history books of time.
Simple acts of kindness and thoughtfulness take on greater meaning than ever, the blessing of rising to greet a new morning holds deeper importance to many of us. And as we continue to navigate the waters of a new normal that isn't quite so new anymore, we hold onto hope and faith – however we may personally choose to interpret those concepts.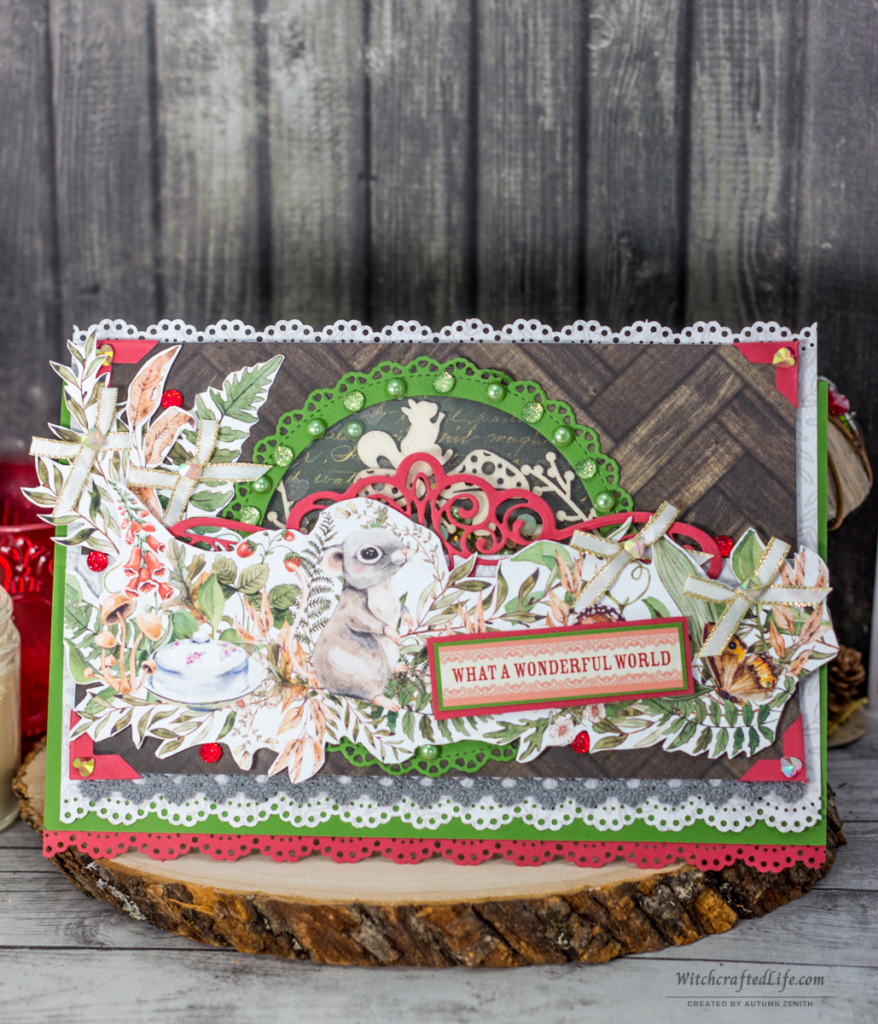 Life is rarely perfect. Sometimes it is brutal or boring or scary or terrible. But it can also be glorious, peaceful, comforting, happy, and marvellous. Naturally, it can be many things in between as well.
It would be pollyannaish to say that things are always hunky dory. Goodness knows they are not for me, nor are they for most folks out there.
However, when the going gets tough or a major curveball comes our way, I try to remind myself of what a truly wonderful world it is that we humans are blessed to live in.
At few points in the year is that message more evident to me than during fall, when even in the face of challenges, stress or any other less-than-ideal element, my heart cannot help but purr like a contented kitty. As for a few brief, magnificent weeks, the landscape is once again alive with the fading warmth and exquisite colours of the harvest season.
And if you ask me, that – much like P13's gorgeous Forest Tea Party Collection itself – is well worth smiling about and finding no shortage of inspiring joy in. 🍂🐭🍂