It might seem a bit strange to some that in mid-March my mind is already focusing heavily on Halloween.
Yet, if you have known me for at least a little while, chances are you're aware of the fact that I am, unquestionably, one of those people who eats, breathes, sleeps, and lives for Halloween! 🥰
Rare is that day that goes by when I don't think about October 31st.
Sometimes multiple thoughts and plans, musings and happenings pertaining to All Hallows' Eve unfold in a single day.
I like those days a lot.
By far one of my favourite – and, most readily accessible – ways to keep Halloween going strong all year long is through crafting.
It can be -25C during the heart of a blizzard, +40C while we're melting in the dog days of summer, or raining to the point of almost needing to build an ark in April, and in my wee craft room, the creation of a festive project instantly makes it feel like Halloween is here again.
Not literally, of course, but rather in spirit and heart. 🧡
I know that I am far from alone in my penchant for fall time and Halloween/Samhain. Both online and off, I've had the pleasure of connecting with oodles of fellow Halloweenoholics over the years.
Many of my closest friends share my love for the spooky season and counting down to the big day together has become a cherished aspect of fall for me.
As such, please allow me to introduce an original hashtag that I'm launching and which I invite all of you to use anywhere, and as often, as you'd like.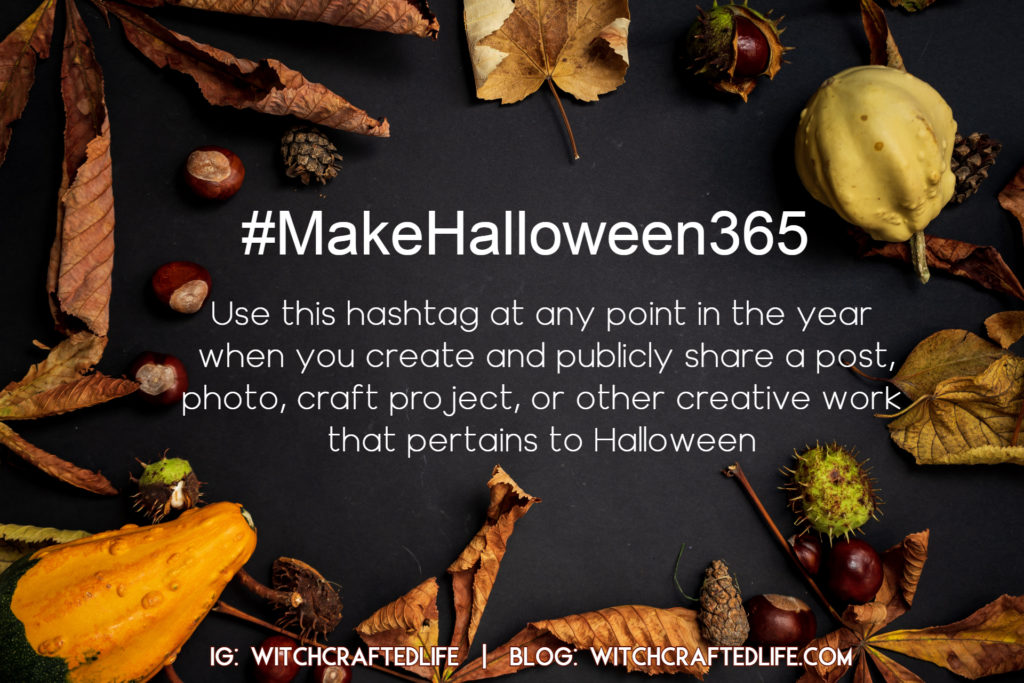 #MakeHalloween365
Use the hashtag #MakeHalloween365 at any point in the year when you create and publicly share a post, photo, craft project, or other creative work that pertains to Halloween.
Lest anyone thinks this is hashtag relates to (or was inspired by) MAGA, let me emphatically state that it does not (and as an interesting side note, Trump was not the first politician to use that now-famous expression, others such as Reagan had done so decades prior).
In this instance, the word "make" is used to convey the fact that this is a hashtag for makers and crafters, artists, creative folks, and anyone who whips up something handmade.
Be that project a quilt, scrapbook page, Halloween pet costume, handmade card, or a batch of skeleton gingerbread cookies – you name it!
The popular hashtag #Halloween365 has been around for years now.
This new hashtag – #MakeHallowen365 – is a spin on that existing hashtag and is aimed at crafters and makers the world over.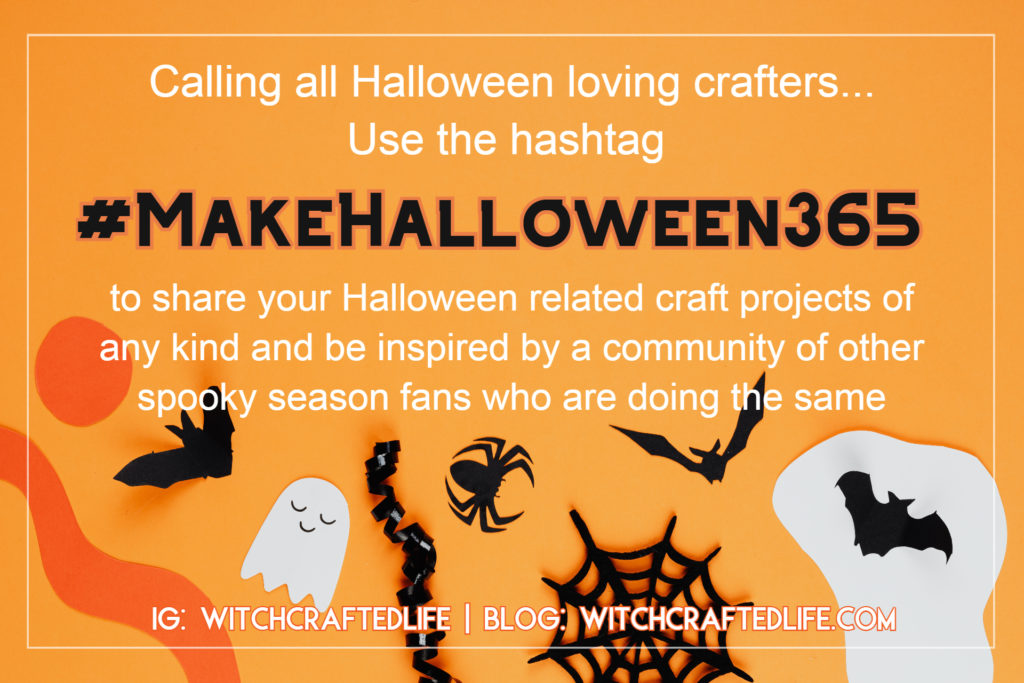 You can use this hashtag anytime, anywhere, no matter the month or season.
And one need not be utterly and completely obsessed with Halloween to utilize this hashtag.
#MakeHalloween365 is for anyone who makes a Halloween related project and shares it publicly.
By using the hashtag #MakeHalloeween365, it is my great hope that we can create a thriving, frequently added-to pool of inspiration for all those who enjoy Halloween, are looking for creative Halloween ideas, or just need a solid fix of their favourite holiday months before October 31st returns.
If you're a fellow crafter, artist, or other creative type and share your Halloween related projects/posts online, I encourage you to use this hashtag.
I plan to routinely check out new posts that use the hashtag #MakeHalloween365 on social media and to share plenty of them in my IG stories.
As such, using this hashtag can also be a great way to help your account and its content get further exposure on Instagram.
Help spread the word about #MakeHalloween365
Please feel free to share this post or any of the images in it wherever you please online.
Start using #MakeHalloween365 today, tomorrow, anytime you desire. And don't be shy about letting me know in the comments here or on social media if you use this hashtag.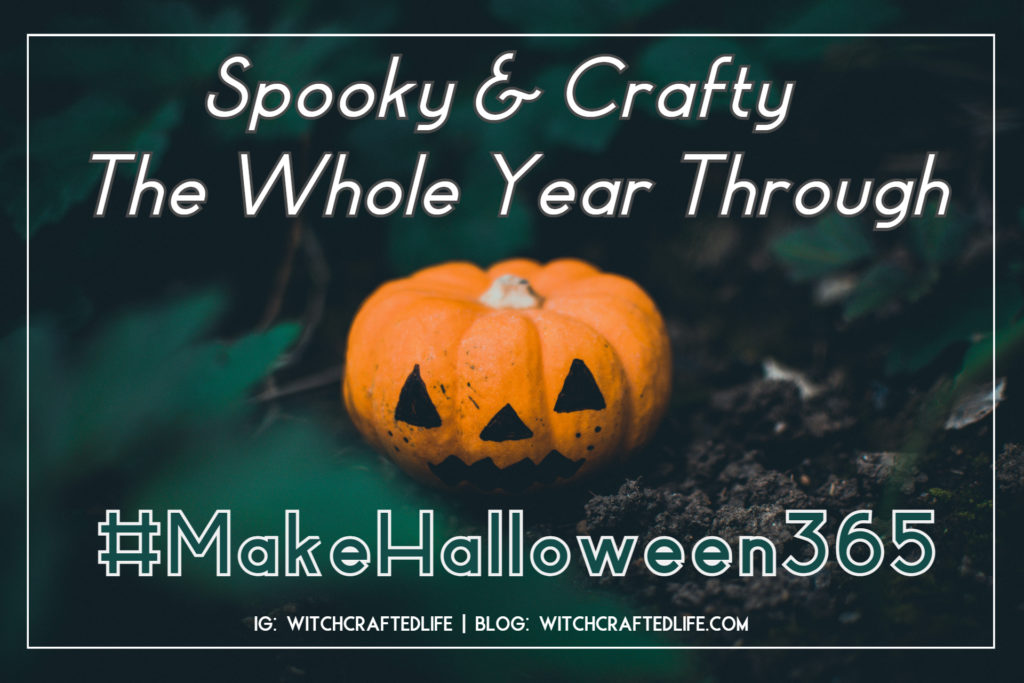 Use #MakeHalloween365 anytime you share a relevant post on social media, YouTube, or your blog (if you use hashtags with your blog, that is).
And use it as often as you wish! I'd really love to see this hashtag flourish and for it to be a wonderful way for others to share and be inspired by fellow Halloween fans the whole year through.
As well, I have created some super fun #MakeHalloween365 sidebar graphics (below) that you can post on your blog or website's sidebar as a way to continually share your own passion for Halloween. While, at the same time, letting others know about this festive-meets-creativity related hashtag in the process.
To display these graphics, copy and paste the HTML code below the image you wish to use into an HTML-compatible widget on your blog's sidebar.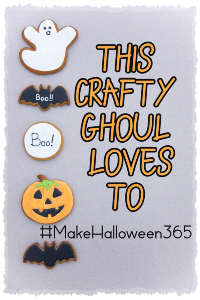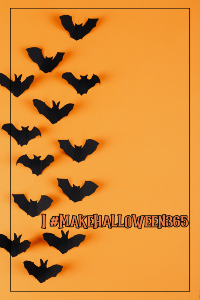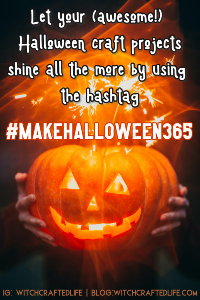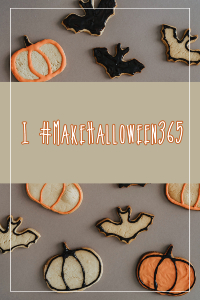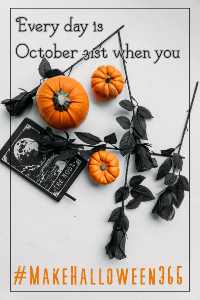 (Note: These graphics are currently sized to 200 pixels wide x 300 pixels tall, as many sidebars accommodate a width of at least 200 pixels. If you need a smaller or larger version, please shoot me an email and I'll be happy to help.)
Let's #MakeHalloween365 together!
By sharing this post, using the images it houses, and most of all, by utilizing #MakeHalloween365 throughout the year, we can create a wonderful new hub of Halloween-related posts to help inspire one another.
All the while, ensuring that the spirit of Halloween carries on stronger than ever, no matter what life throws our way or how a given autumn (or spring, south of the equator) unfolds.
Halloween is within us all and is fostered ever more by the passion and creativity we inject into our love of October 31st.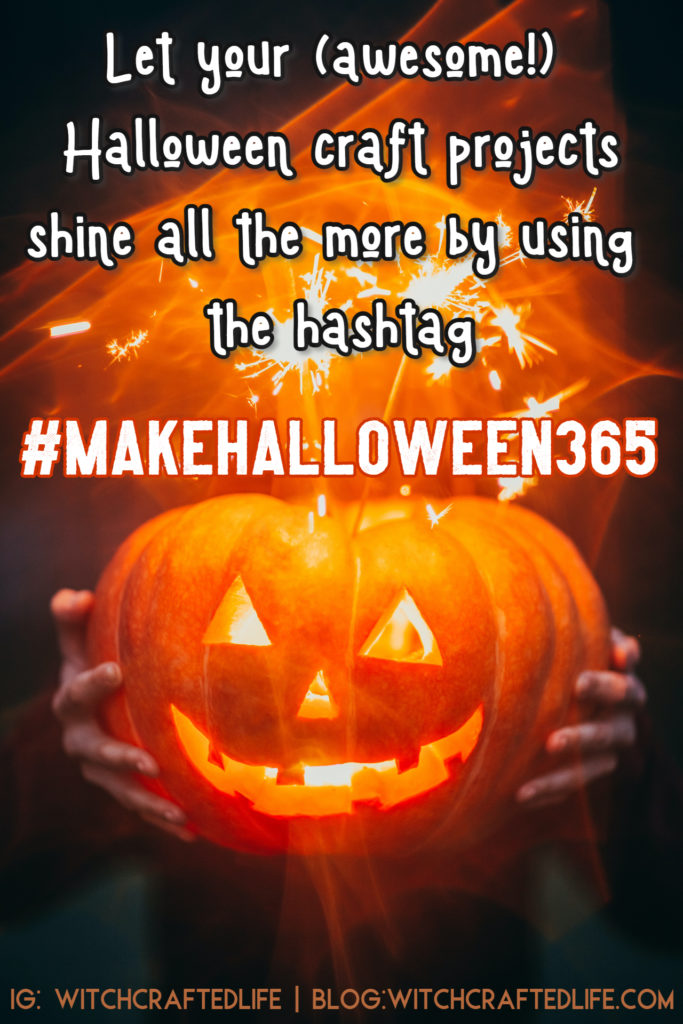 Indeed, you can just as easily share and support this hashtag, even if you're not a crafter. If Halloween is your cup of tea in any way, then this hashtag is for you as well!
Thank you SO much in advance to everyone who connects with this new hashtag.
I know that together we can #MakeHalloween365 a thriving, awesome way to share and be inspired by each other's creative Halloween projects and ideas.
So let's all raise a collective PSL to that point and then get crafting so that we can start putting #MakeHalloween365 to good use! 🧵🎃✂️👻🎨