My darling friends, can you believe it? At long, long last, after eleven months of patience and anticipation, October has returned to the world again.
To say that I'm doing backflips of joy would be the understatement of the century. 🎃
No other month fills my heart, spirit, mind, and days alike with as much happiness, meaning, and witchy goodness as October.
I have several exciting seasonally-themed posts coming down the pipeline this month to help us all celebrate October together.
We are going to have a festive blast here, so please be sure to follow Witchcrafted Life using your favourite feed reader or signup on the righthand sidebar here to receive new posts delivered right to your email inbox. 💌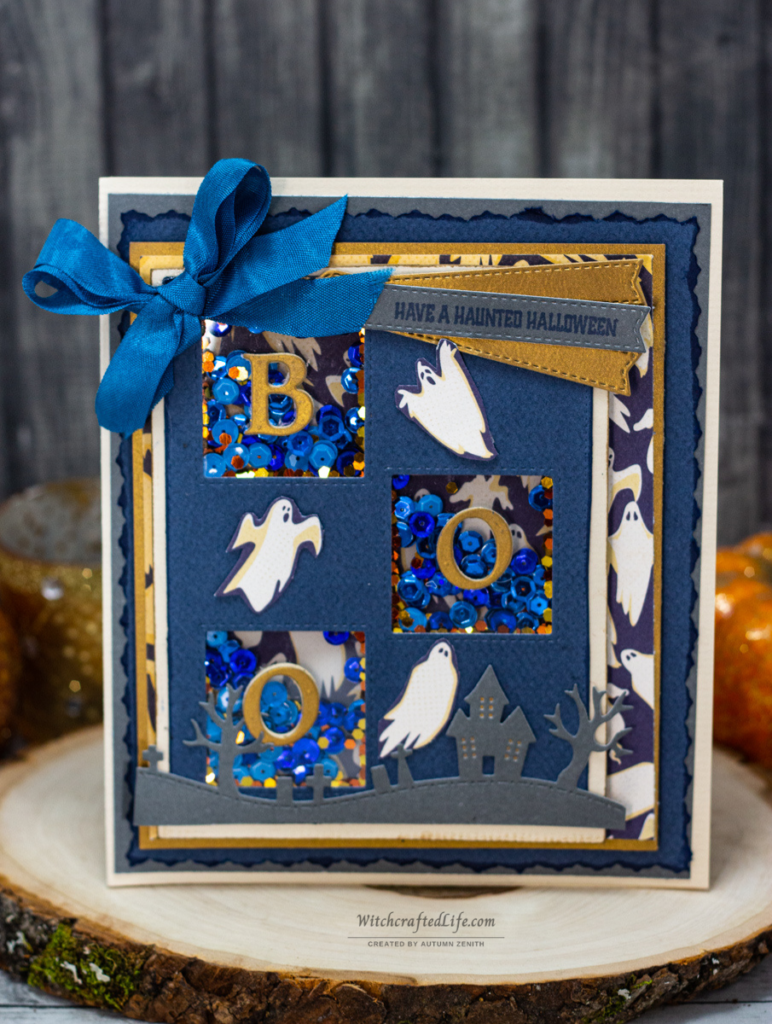 To kick off the most hair-raisingly spooky of months, I've got a super fun triple window ghost-themed shaker card to share with you that I recently made.
Why a ghost card you may ask? Aside from the longstanding connection between ghosts and Halloween, I went with some cuter-than-cute ghosties because it's downright scary how much I adore October! 🥰
Chicly Spooky Multi-Window Halloween Ghost Shaker Card
Oodles of you feel the same way and (whether you've used this hashtag yet or not – and you totally should use it! 😃) are proud members of team #MakeHalloween365.
It is wonderful that we are able to connect and share in our passion for All Hallows' Eve, including by posting seasonal craft projects that are not only hair-raisingly fantastic, but which provide a wealth of inspiration to fellow creatives around the globe.
Ghosts are a popular and beloved symbol of both Halloween and Samhain, as well as October in general.
As someone who believes in ghosts, has had multiple spectral sightings/encounters throughout my life, and who works with those on the other side of the veil as an important year-round element of my spiritual practice, I feel a very close connection to the spirit world.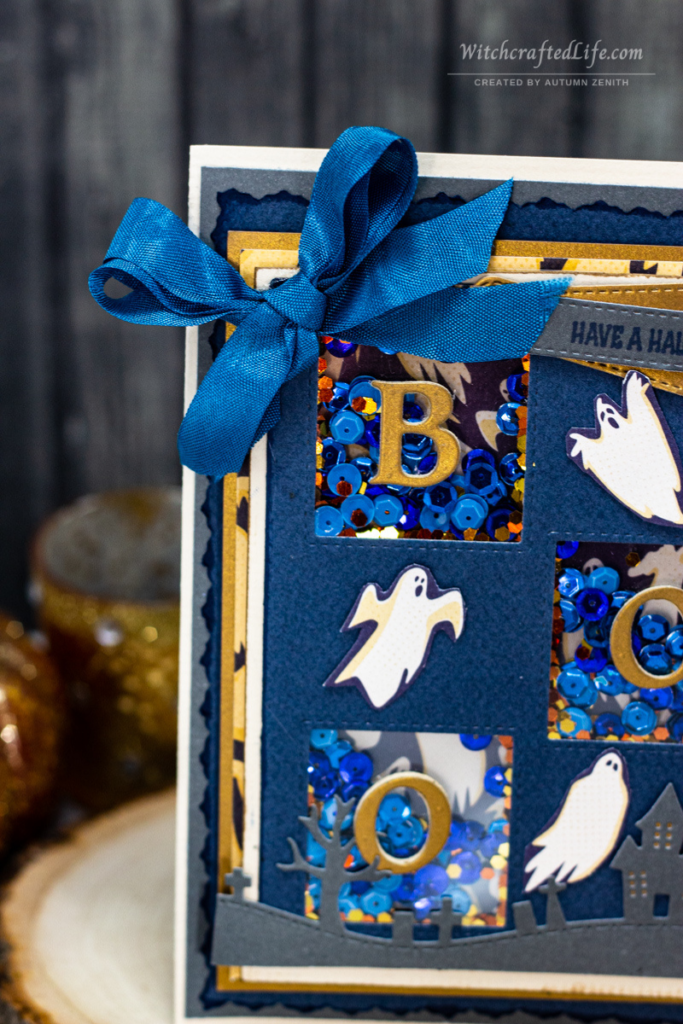 On the paper crafting front, I find that on top of my perpetual favourites, I am drawn to certain colour combinations as each season returns.
This autumn, I am totally feeling a colour scheme comprised of dark, inky blues, jet black, grey, and gold.
Silver and copper, too, are also setting my fall colour adoring heart aflutter.
That isn't to say that every Halloween project I make this month will star these colours and these colours alone, simply that I can already tell this selection will be in heavy rotation on my craft desk for the next few weeks.
Sooo looking forward to that! 😊
I leaned into this autumnal colour palette big time for my elegant meets adorable "Boo" shaker window card project highlighted here.
I used a basic triple window die for the central panel, turning each of the three windows into its own shaker box (all three windows house the same shaker mix, which I created myself).
This sheet of charming ghost print paper from Carta Bella's Haunted House line has been beckoning me to use it since the moment it landed in my stash, so with fall finally here, I knew the time had come to cut into it.
The colours of this Halloween patterned paper were my guide for the rest of the card, which includes a mix of cream, grey, dark blue, and metallic gold cardstock.
No other patterned papers were used on this project, so as to let the adorable ghosties take centerstage.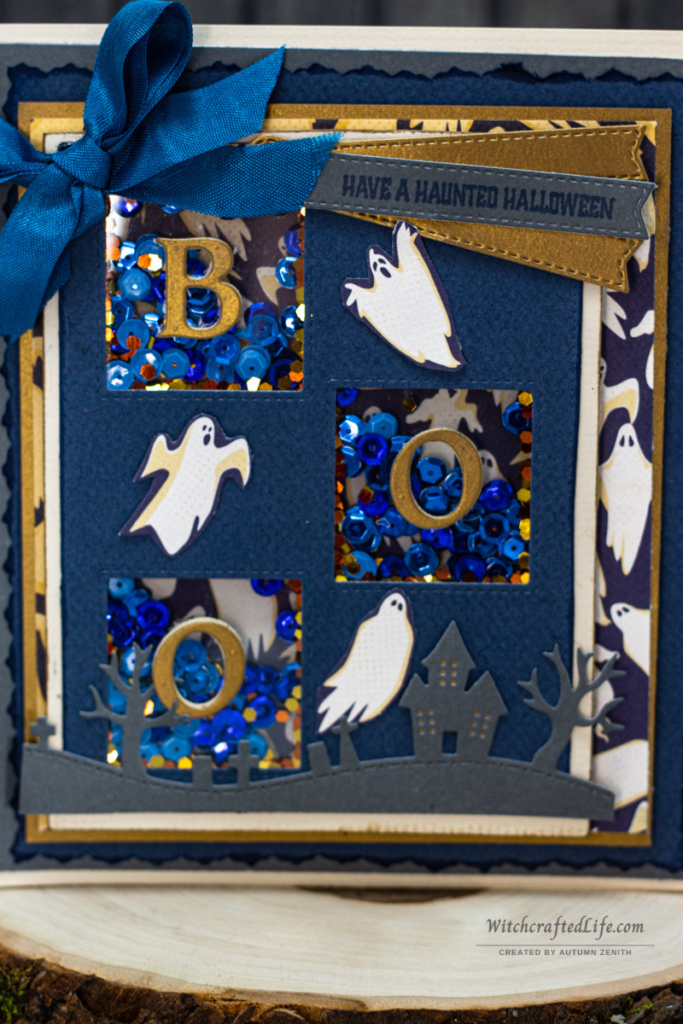 To up the visual interest of this design, I die cut a fun border strip featuring a Halloween hill scene (complete with tombstones, bare-branched trees, and a haunted house) and stamped my sentiment onto a narrow banner strip, which I paired and layered with two additional banner die cuts.
Then, I added a lovely double-layered dark blue seam binding bow, placed gold letter stickers atop each of the three shaker windows to spell out the word "boo", and a fussy cut a trio of precious little ghosties from the same patterned paper used behind the shaker panel.
I adore how this card came out and am all the more smitten with it because its relative flatness means that it should come in under 2 centimetres when placed in an envelope.
This in turn means that I will be able to pop it in the post and mail it off as letter (not $$$ parcel) mail to a Halloween adoring friend or relative.
If you are keen to try your hand at making a similar looking multi-window Halloween shaker card (or adapting this general design to another holiday, event, etc), read on for a list of supplies and step-by-step instructions on how to do just that.
Products used to make this fun ghost themed Halloween shaker card
-Cream (or ivory), dark or navy blue, and medium grey cardstock
-Gold metallic cardstock
-Ghost print paper – Haunted House Multi-Journaling Cards from Carta Bella (here we are using the backside, not the journaling card side, of this paper)
-Clear acetate sheet
-Rectangular shaped triple window/opening die
-Spooky Halloween hill scene die
-Skinny stitched edge banner die
-Decorative edge scissors – Heartbeat Paper Edgers Scissors from Fiskars
-Golden brown coloured ink pad – Toffee Crunch Dew Drop Ink from Memento
-Dark blue ink pad – Cobalt Letter It Stamping Ink from Ranger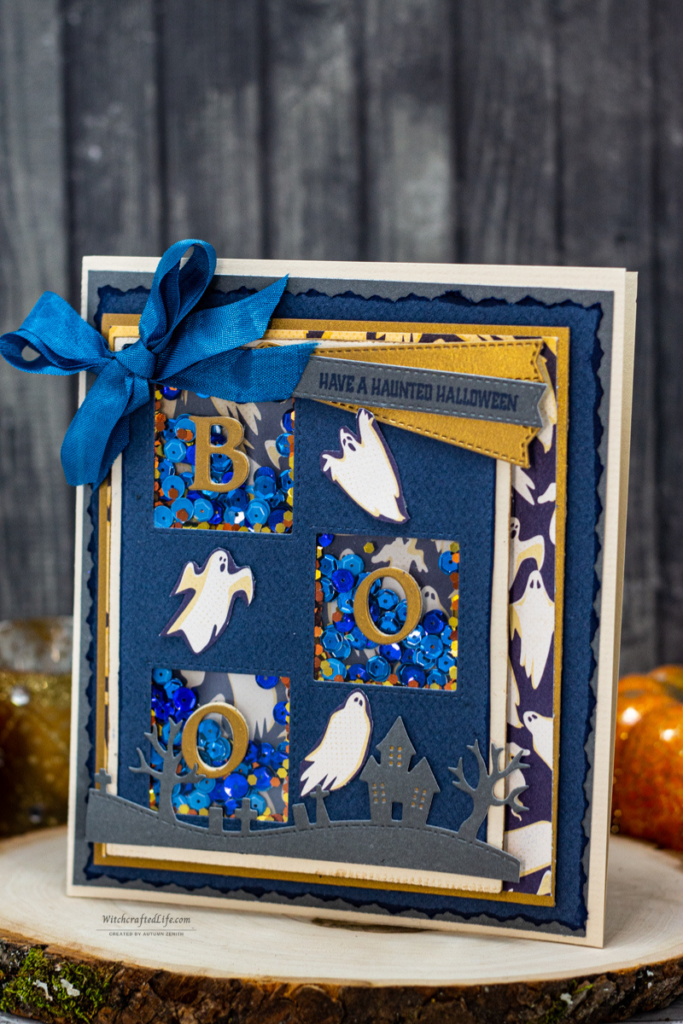 -"Have a Haunted Halloween" sentiment stamp – Graveyard Gate stamp set from Stampin' Up!
-Metallic gold chipboard (or other type of) letter stickers
-Large-sized gold and orange glitter – Halloween Jumbo Glitter from Creatology (sold at Michael's)
-Assorted shades of medium and dark blue sequins – Rhythms n' Blues Cup Sequins from Craft Medley (sold at various dollar stores, including Dollarama here in Canada)
-Medium, dark, or navy blue coloured seam binding or ribbon (I used "Texas Teal" coloured seam binding from Hug Snug on this Halloween card)
-(Optional) Glue gun and glue sticks (used to adhere the seam binding bow)
-Dimensional foam, pop dots, or similar to elevate some of your layers
-Adhesive, such as a tape runner, of your choice (I often use my Scotch Tape Glider)
How to Make a "Boo" triple window Halloween shaker card
Begin by making a card base from cream cardstock. If you do not have cream cardstock, white, ivory, or pale grey would each work really nicely here as well.
Next, cut a piece of medium grey cardstock that's a little bit smaller than your card base. Adhere that piece to the card base.
Cut a piece of dark blue cardstock slightly smaller than the grey piece and use decorative edge scissors (or a suitable border punch) on all four sides.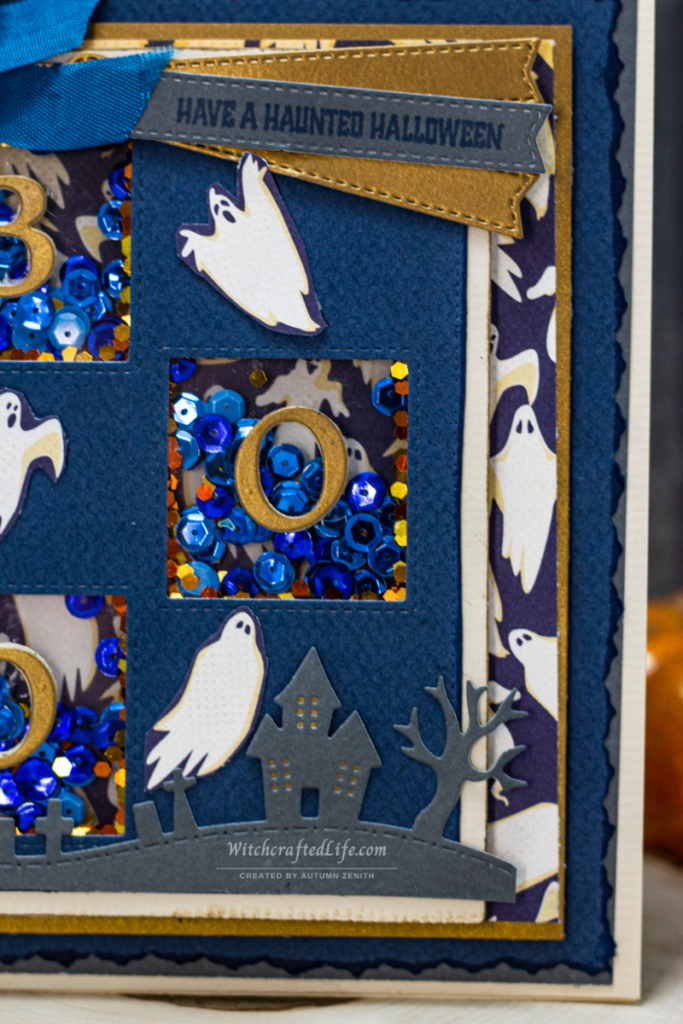 Ink all sides of the blue cardstock with Ranger Cobalt ink, then adhere that piece of cardstock to your first two layers.
Cut a piece of gold metallic cardstock (you could swap in grey, silver, or mustard yellow cardstock, if you didn't have – or don't want to use – gold cardstock) and adhere it to the other layers.
Cut a piece of Carta Bella ghost print paper, ink all of the edges with Memento Toffee Crunch ink, and adhere it to the gold metallic cardstock.
Next, create your shaker panel by die cutting a triple window panel from dark blue cardstock (if you don't have a triple window die, you could use one or more small square-shaped dies on a panel of cardstock to create the same sort of multi-window look). Ink the edges of this cardstock panel with Ranger Cobalt ink.
Adhere a piece of clear acetate to the back of the blue cardstock panel to create the transparent "glass" for your shaker windows.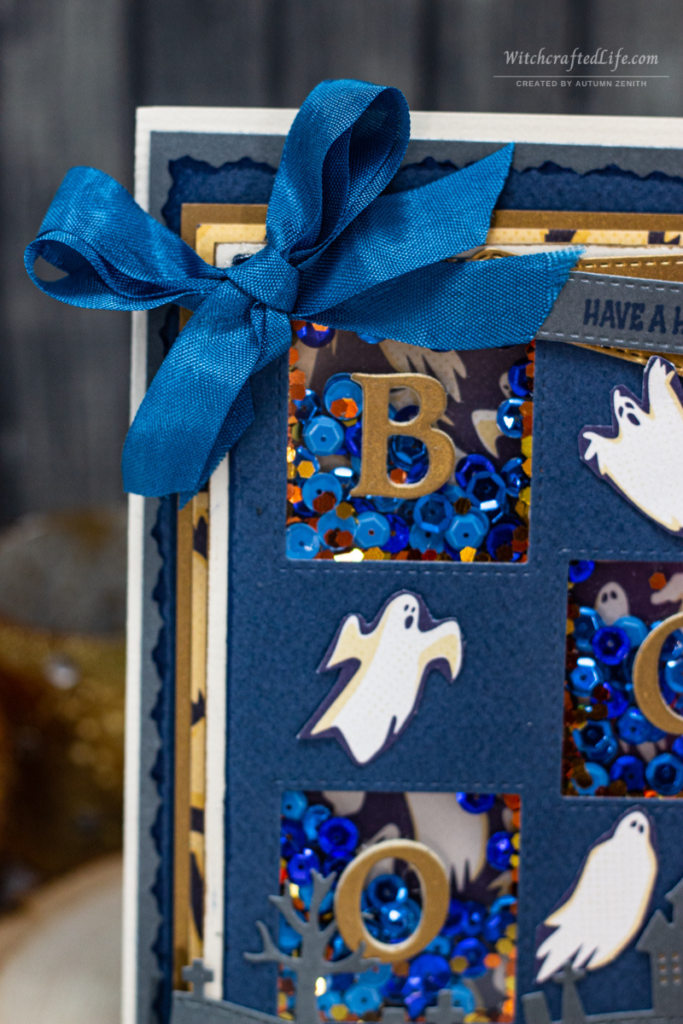 Place the blue cardstock on an open frame-shaped piece of the same cream cardstock that you used for your card base. Ink the edges of this cream piece with Toffee Crunch Ink.
(This layer is simply to add a border to the blue cardstock, it does not come into play in terms of the shaker windows themselves.)
For the shaker windows, line the perimeter of each of the three windows with suitable dimensional foam tape, squares, etc, as this is what stops the shaker mix from going anywhere when the card is complete.
Create a shaker mix in shades of blue, orange, and gold and place a roughly equal amount of it into each of the three windows.
Carefully bring the card base layers up to the shaker window panel, ensuring the backing has been removed from all of your foam adhesive first. Sandwich the two card parts together and make sure that no shaker mix is able to escape.
Top each of the three shaker windows with a gold chipboard letter sticker (or make die cut letters from gold metallic cardstock instead and adhere them in the same manner as you would the letter stickers) to spell out the word "boo".
Die cut a Halloween hill panel from medium grey cardstock, backing the window portions of the haunted house with gold or dark yellow cardstock so that the house looks like it is lit from within.
Adhere this hill piece immediately below the shaker windows on that panel of the card.
Die cut three ghost figures from the Carta Bella paper and adhere one ghost just off to the side of each of the shaker windows.
Next, die cut three matching sized banner strips. One from medium grey cardstock, the other two from gold metallic cardstock.
Using dark blue or navy blue ink (or black, if you don't have a suitable blue ink to hand), stamp "Have a Haunted Halloween" on the medium grey coloured cardstock banner (I used the same Cobalt ink from Ranger that appears elsewhere in this project).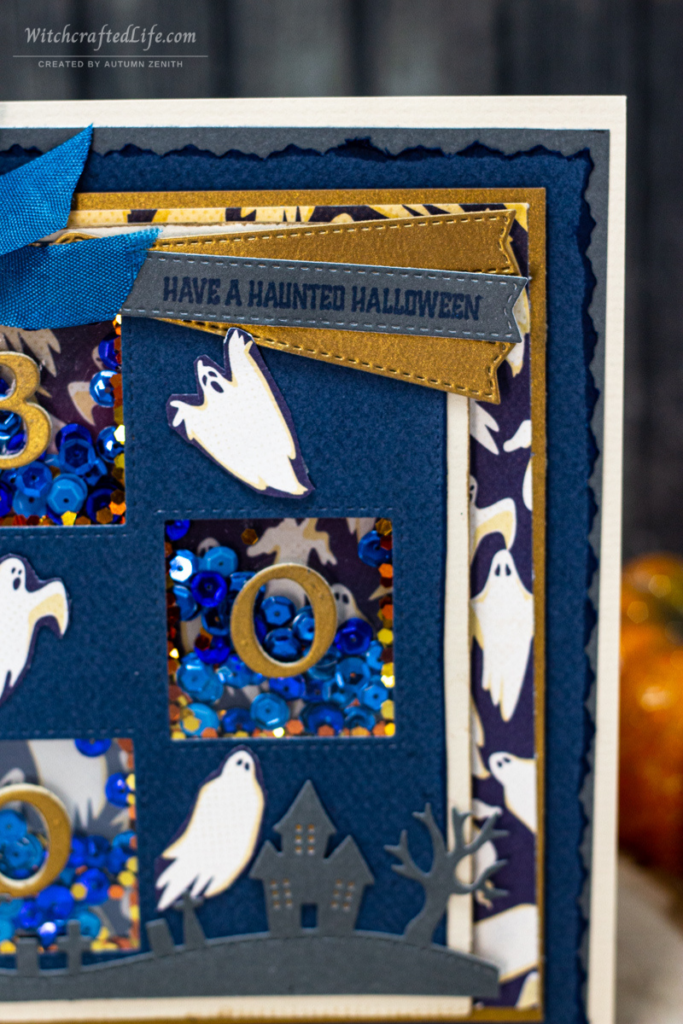 Layer and adhere the three banners towards the upper right side of the card, as shown.
Create a double layer bow from blue seam binding or another trim/ribbon of your choosing and adhere it to the upper left-hand corner of the card.
And just like that, faster than you can say "boo", your elegant meets adorable multi-window Halloween shaker card is complete.
Trust me when I say that this card is scarily fun to create and that it is bound to bring a welcome hit of spooky season cheer to anyone you bestow it upon. 👻
31 days of unbridled Halloween awesomeness
That's what October is to me and many others across the globe, too – and for good measure.
The enchantment, thrills, mystery, happiness, fun, and creativity inherent to the year's 10th month are unlike any other.
Halloween and Samhain are integral parts of not only October, but the whole year for me (a point which, again, I am far from alone in).
However, I am the first to acknowledge that not everyone observes or is OTT obsessed with these spookily wonderful events.
October is greatly influenced by Halloween in many parts of the world. Yet there is more to this month as well and each element – be they autumnal north of the equator or filled with springtime goodness for those in the Southern Hemisphere – deserves to be celebrated as well.
Crunchy leaves, vast fields and produce stands full of beautiful pumpkins, cozy attire, pumpkin spice everything, various holidays (including Canadian Thanksgiving), walks taken on crisp autumn days and nights, a stunning colour palette that is in a league all its own, and so much more combine to make October an unforgettable, easy to love month.
As touched on above, I will be bringing you a slew of seasonal content this month.
This selection will house additional fall/Halloween craft project shares and various other posts as well – including one pertaining to taphophilia that I am especially excited about. 😃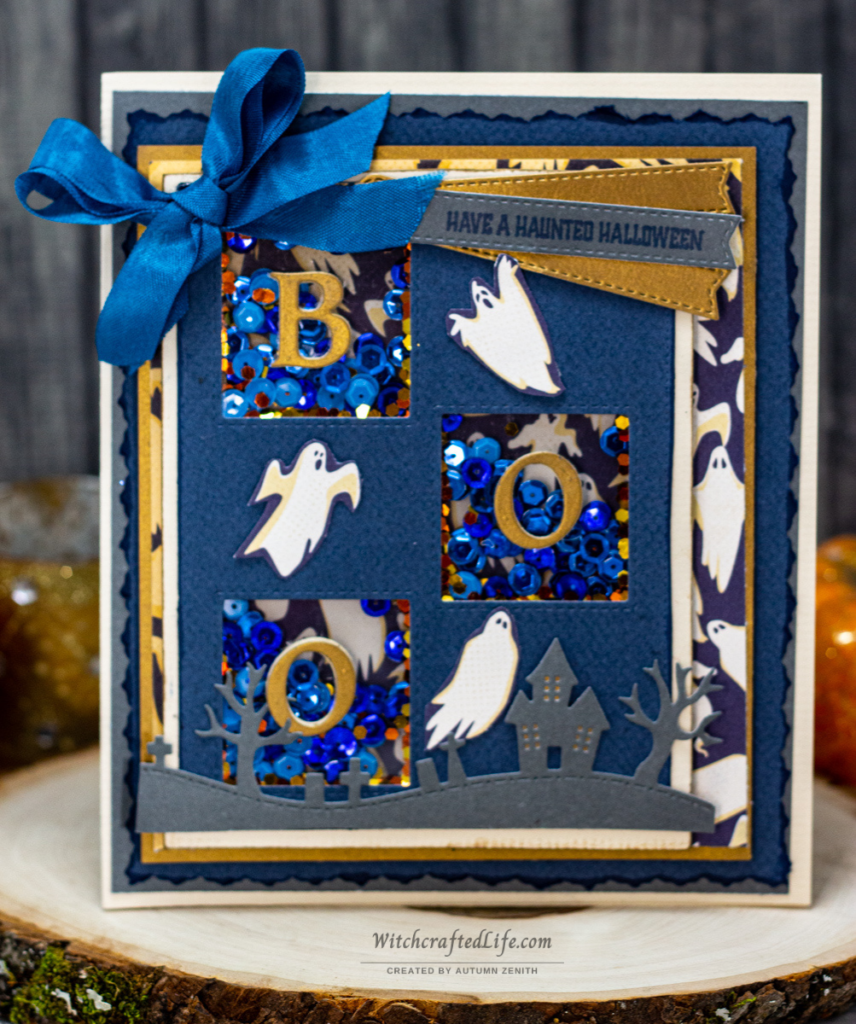 Whether October is a 744-hour long, non-stop celebration of Halloween (that being the number of hours in this month), you prefer to keep Halloween contained to the 31st, or you do not personally engage with either All Hallows' Eve or the Pagan sabbat of Samhain, I hope that you will be able to enjoy and find inspiration in the posts that I share here this month. 🧡
Personally, my inspiration cup runneth over right now care of the creative, festive, sweet, spooky, beautiful, and spiritually focused content that many of you are posting this season as well.
I extend the most spirited (pun intended, sentiment fully meant) of thanks out to everyone whose October content informs, entertains, inspires, or influences me in any way.
You are awesomely creative individuals and it is an honour to learn from and be inspired by each of you.
In whatever ways you embrace and live your best October, sweet souls, may it be a fa-boo-lously safe, happy, and memorably enjoyable month for all of us! 👻💙👻