As a blog whose focus is primarily divided between the realms of Paganism + witchery and paper crafting + crafting in general, you may have wondered why I have yet to review many any books on the latter thus far.
Though a wide array of books on various different crafts continue to be published each year, exceptionally few pertaining to scrapbooking, card making, and stamping have been released in the past decade.
Granted paper crafting has declined a wee bit in popularity during the 2010s on into the 2020s, but is still a profoundly beloved activity with new paper crafters joining our ranks around the clock.
This makes the absolute dearth of newer cardmaking and scrapbooking related books all the more perplexing. Not to mention frustrating for those of us who would leap at the chance to add some fresh papercrafting titles to our bookshelves.
It is anyone's guess as to it we will ever see a resurgence in paper crafting books being published again or not.
Naturally, I hope that we will, but as there's only so long one can hold their breath, I figured it was high time I looked beyond the scope of paper crafting and to the wider world of crafting for a book to review.
Though not the newest title itself, the book at the heart of this review post is ideally suited to October and as such felt like a great choice to start reviewing craft books – be they new, old, or anywhere in between – with here on Witchcrafted Life.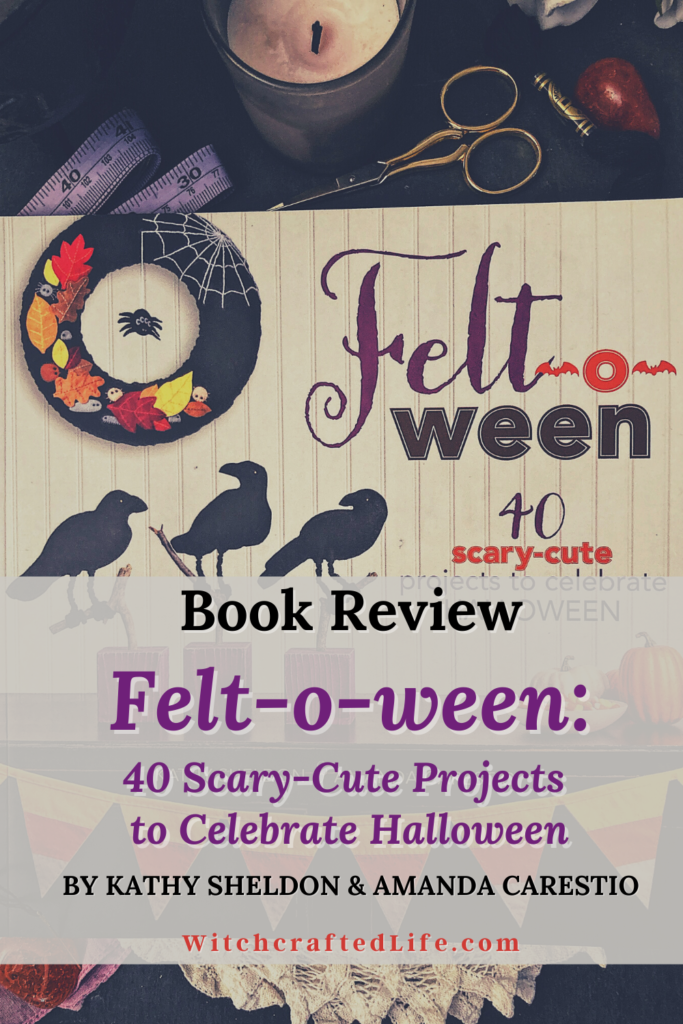 Felt-o-ween: 40 Scary-Cute Projects to Celebrate Halloween by Kathy Sheldon and Amanda Carestio was published in 2014, making this book eight years old at the time this post is being written.
It is a thoroughly charming book that packs a wallop in terms of awesome Halloween themed projects (many of which work awesomely for Samhain, with a selection also being a great fit for Día de los Muertos as well) that are approachable, doable, and enjoyable to boot!
Book specs
Name: Felt-o-ween: 40 Scary-Cute Projects to Celebrate Halloween
Authors: Kathy Sheldon and Amanda Carestio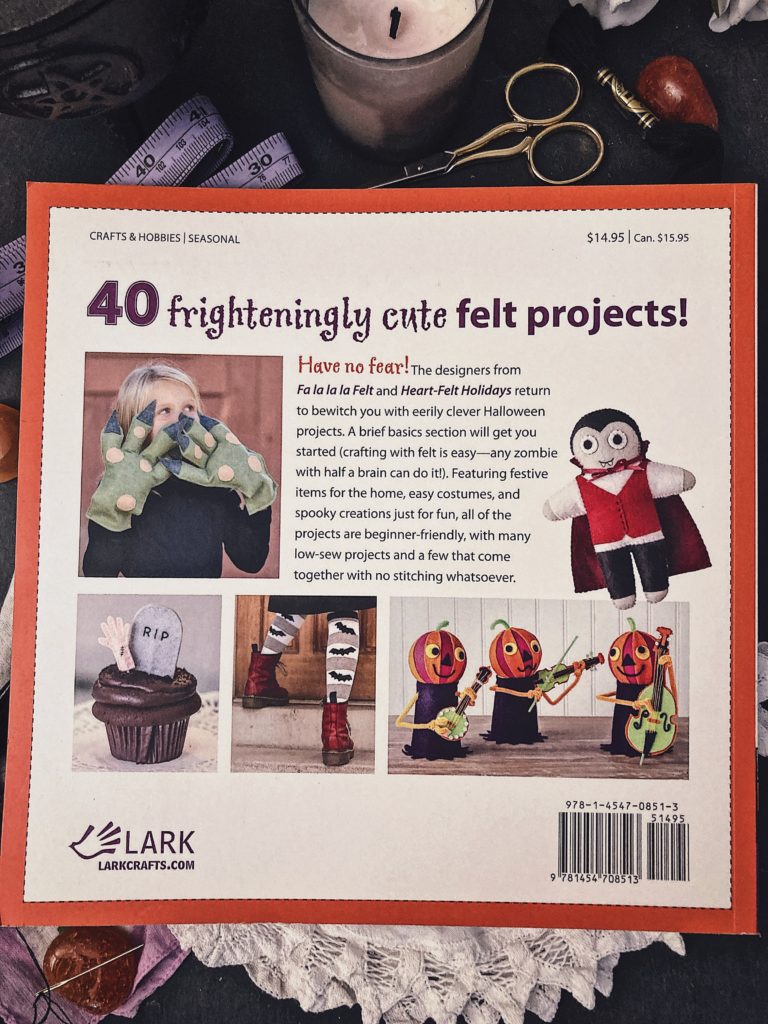 Page count: 132
Publisher: Lark Crafts
Binding: Softcover
Festive Halloween felting fun for fans of felting, sewing, and crafting in general
From the creativity fuelled minds of two long-time crafters (that would be Kathy Sheldon and Amanda Carestio, respectively), both of whom had previously published crafting books prior to the release of Felt-o-ween: 40 Scary-Cute Projects to Celebrate Halloween, comes this super fun collection of felt projects to make for the spooky season (or all year round, if you're on team #MakeHalloween365)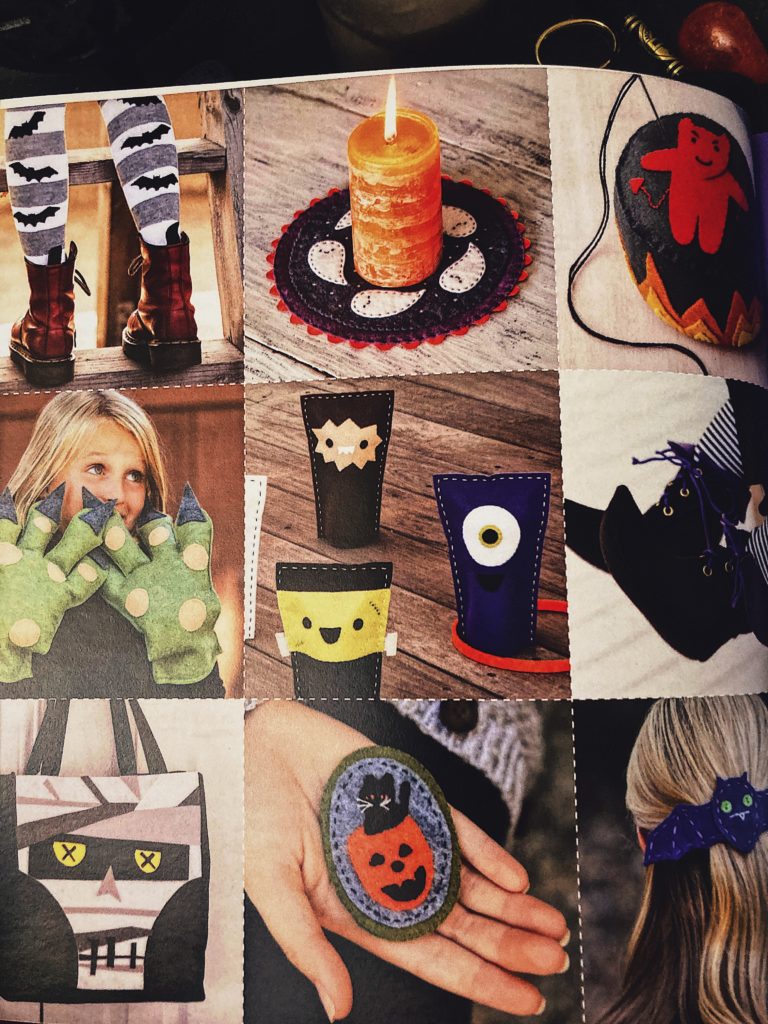 Jam-packed with beautiful, detail-rich colour photos (each project includes at least one accompanying image), this book houses 40 awesome Halloween felt projects that were designed in part by the authors themselves, along with quite a few entries from skilled crafters who contributed their own designs to this book.
As such, the projects in this book are connected by the common threads of both felt crafting and Halloween, while experiencing a lovely degree of diversity care of having multiple design contributors.
If you are not much of a sewer and/or haven't worked a lot with felt, but this title appeals to you all the same, fear not, you're in luck!
Though hand and/or machine stitching is involved with a fair number of the projects in Felt-o-ween, most of the projects are not overly complex and, in my opinion, should be within the skillset means of many novice sewers.
The book begins with an introduction to what felt crafting is, the primary types of felt that are available on the market, and covers what other types of materials you will need to complete these projects.
An item that appears often throughout the book is freezer paper, as it is one method of transferring patterns onto felt.
While readily available both in physical stores and online in the States, outside of the USA, crafters may have trouble tracking down this product locally.
It has only been, for example, in very recent years that I have seen Amazon.ca start to list a small selection of freezer paper (such as Cut Rite Heavy Duty Freezer Paper and Reynolds Freezer Paper) – and I have still yet to spot it at any brick and mortar shops in this country.
If you are unable to easily obtain freezer paper either online or off where you live, there is another virtually identical product that often goes by names such as Quilter's Freezer Paper and Craft Freezer Paper that you may be able to track down instead.
Examples of this product include:
–C. Jenkins Freezer Paper Sheets
–Quilter's Freezer Paper Sheets
–Taunton Press Best Applique Freezer Paper
The book does not mention this fact, perhaps because Freezer Paper itself is so readily available in the States where, if I'm not mistaken, both of the authors reside.
If none of these products are available in your area, happily, there is still no need to despair. As detailed in Felt-o-ween, many of the pattern templates lend themselves well to being scanned and/or photocopied, enlarged, printed and then used as tracing and/or cutting guides when pined to your felt.
This point hopefully sorted, you can now get on with exploring the forty different delightful Halloween craft projects housed in Felt-o-ween.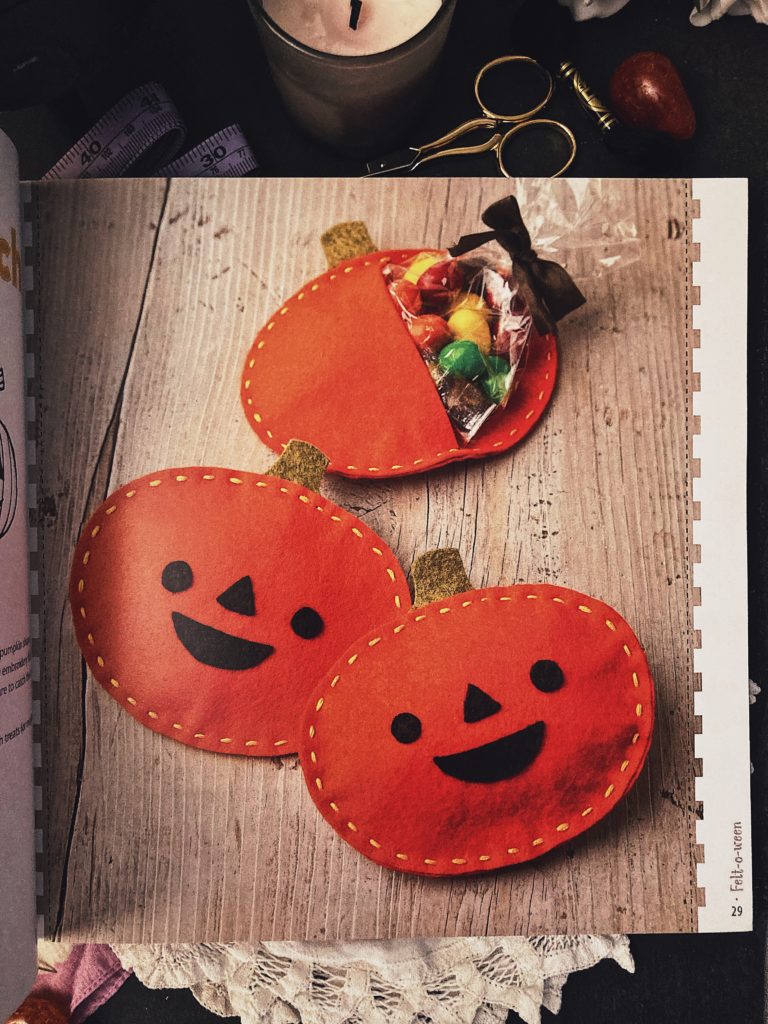 Are you on the hunt for festive fall home décor such as wreaths and candle mats? What about darling felt jewelry, accessories, or socks? Care for a felt cupcake topper in the shape of a tombstone, a plush vampire, tiny pumpkin shaped treat holders, or some eye-catching All Hallows' Eve bunting, look no further!
Felt-o-ween has you covered on each of these fronts and plenty more.
Most of the projects in this book can be made with the felt of your choice/availability, though in some instances, a particular type of felt (such as wool felt, for example) may work better.
Good quality wool felt is a superb crafting material, no two ways about it, but if like me you're allergic to wool (felt-on-skin contact swiftly gives me a very bad case of hives) or it isn't in the budget, that is totally okay!
Most of the projects in Felt-o-ween can be whipped up using other types of felt, such as bamboo, eco felt, or acrylic just as easily.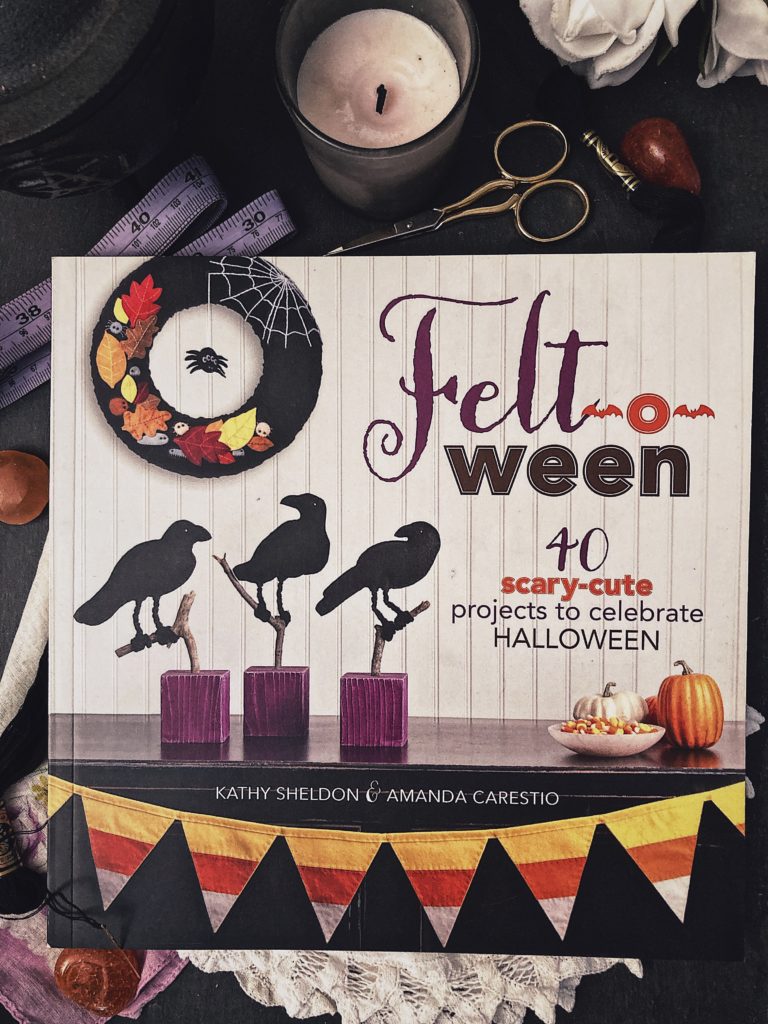 As well, each time I've read this book cover-to-cover (three times and counting), I have been struck by how well I suspect many of these projects would turn out when rendered in paper crafting form.
Not all of them per se (especially when it comes to the wearable felt craft projects), but a decent number of them for sure.
And, naturally, many other types of fabric beyond felt could be used here as well. In some cases, they may need to be backed or otherwise stabilized so that they hold their shape similar to that of felt.
Throughout Felt-o-ween: 40 Scary-Cute Projects to Celebrate Halloween one encounters a good assortment of projects, many of which are not overly complex, time-consuming, or difficult for those who are not yet seasoned stitchers.
I know my way around the basics of sewing but I am by no means an advanced or even intermediate sewer.
I'd place my sewing practical abilities somewhere between beginner and intermediate and my theoretical knowledge on the subject a grade or two higher.
To date, I have not felt compelled to make sewing a primary crafting focus, but I still greatly enjoy finding ways to engage with this timeless art as I go about my crafty year.
Working with felt is a stellar way to do just that, whether one has been sewing for decades or has yet to learn how to turn a hem or what a presser foot is used for.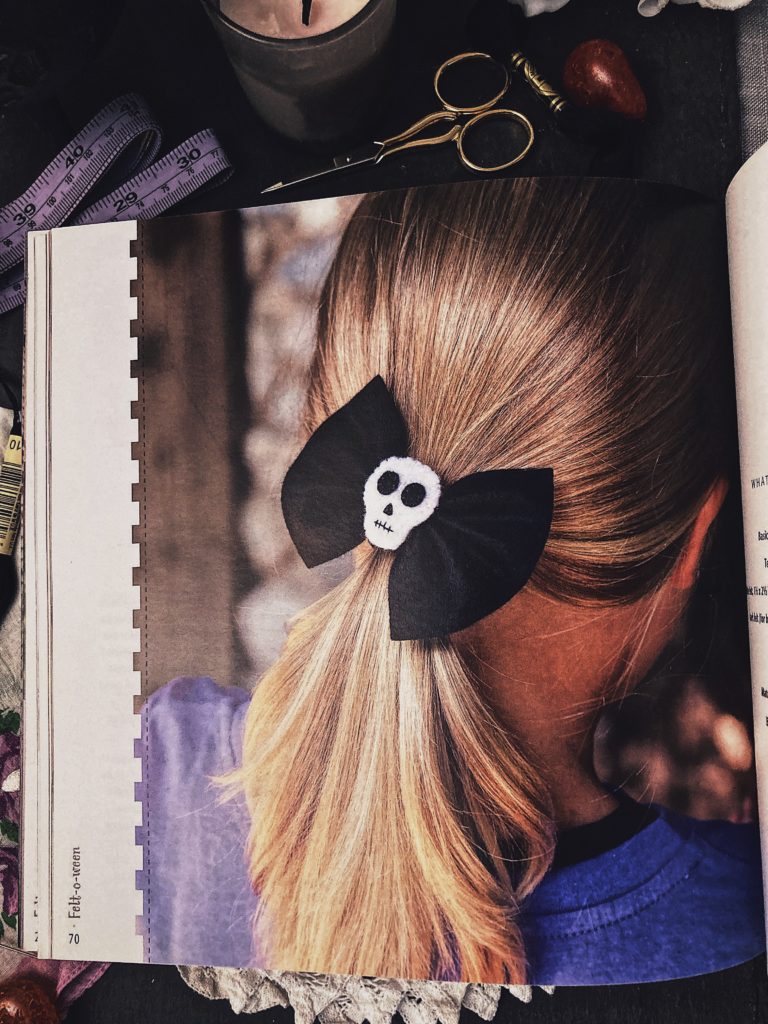 Want to jazz up your Halloween home décor, make fa-boo-lous party decorations, whip up a wonderful Halloween costume or accessory, or create a festive piece for your crafty space? If so, this is the book for you.
Naturally, it would also make for a top-notch gift to give to fans of sewing and/or Halloween.
Felt-o-ween: 40 Scary-Cute Projects to Celebrate Halloween is an appealing book both on its own merits and in terms of the additional chain of creative inspiration it may set off as you lap up its photo-filled pages.
How Felt-o-ween: 40 Scary-Cute Projects to Celebrate Halloween Kathy Sheldon and Amanda Carestio rates with me
As you flip through Felt-o-ween, it is hard to restrain yourself from dropping everything and rushing off to craft up a litany of delightful fall time felt projects.
The crafts in this book are inviting and adorable. They come housed with easy-to-follow instructions, patterns are included, and they would make for equally terrific crafts to make for yourself or give to any Halloween fan.
Speaking of which, if you have any little ones in your life who go wild for October 31st, chances are they would be delighted to either help you make – or try their hand at creating (if they're old enough to safely to do so) – many of these festively fun Halloween felt crafts.
A breezy read that is chocked-full of fantastic project ideas starring the wonderfully versatile material that is felt, this book is apt to be one that many crafters return to time and time again.
It is worth noting that while photos of each completed project are included in Felt-o-ween there are not images of the steps involved with actually making the crafts in this book.
I have not yet tried my hand at making any of the Halloween crafts that reside in Felt-o-ween – but definitely hope to do so once I can pick up some more felt and a roll/package of freezer paper.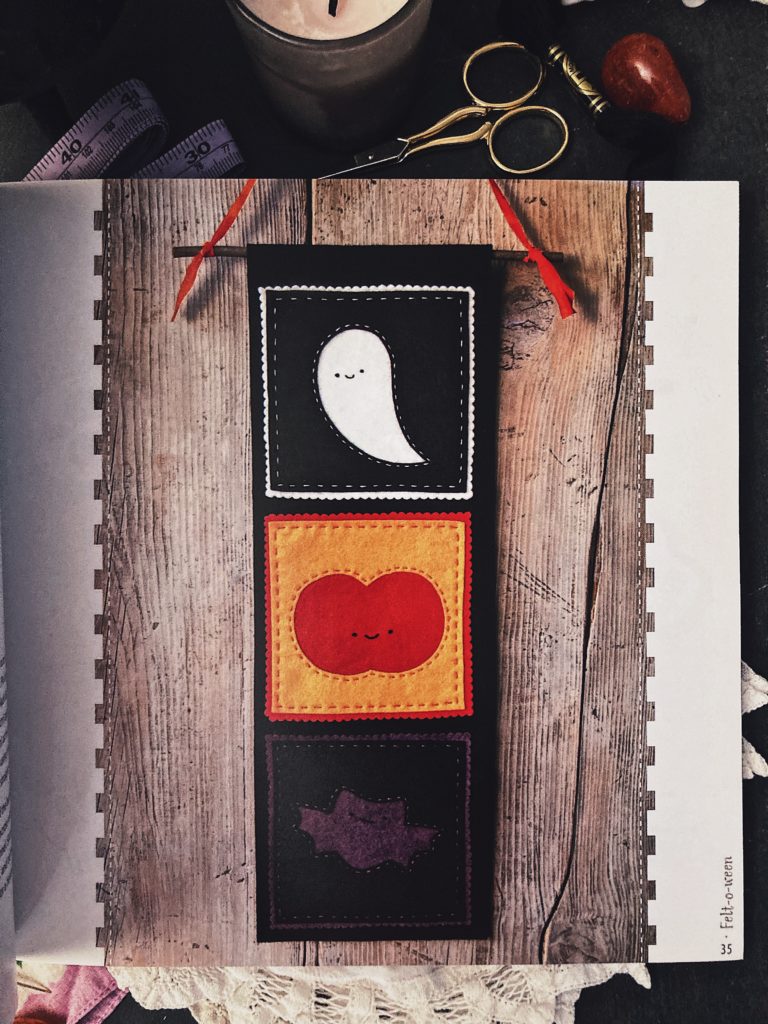 In particular, the Creepy Crawly Wreath (seen on the cover), Candy Corn Bunting, "The Birds" (Hitchcock-worthy felt crows/ravens), Spooky Friends Wall Hanging, Bat Mobile, Darkling Roses, and Skull Hairbows really jumped out at me.
Some of those projects (plus various others in this book), my fellow goth and alternative aesthetic inclined readers will be happy to know, could easily work for year-round home décor and fashion purposes.
Got(h) to love that! 🥰
(Just as you do the fact that felt, as a general rule, does not fray – meaning all the more ease of completion and longevity of your finished projects.)
The Halloween projects in Felt-o-ween are cute, sweet, relatively easy, and kid-friendly in terms of the end results they create.
Plus, every one of them is a perfect fit for a #MakeHalloween365 project share.
Those who who are aiming for a much more elegant, darkly macabre, or vintage inspired Halloween look might find a few of these project ideas tick those kinds of boxes, but may otherwise be better served by different craft project sources.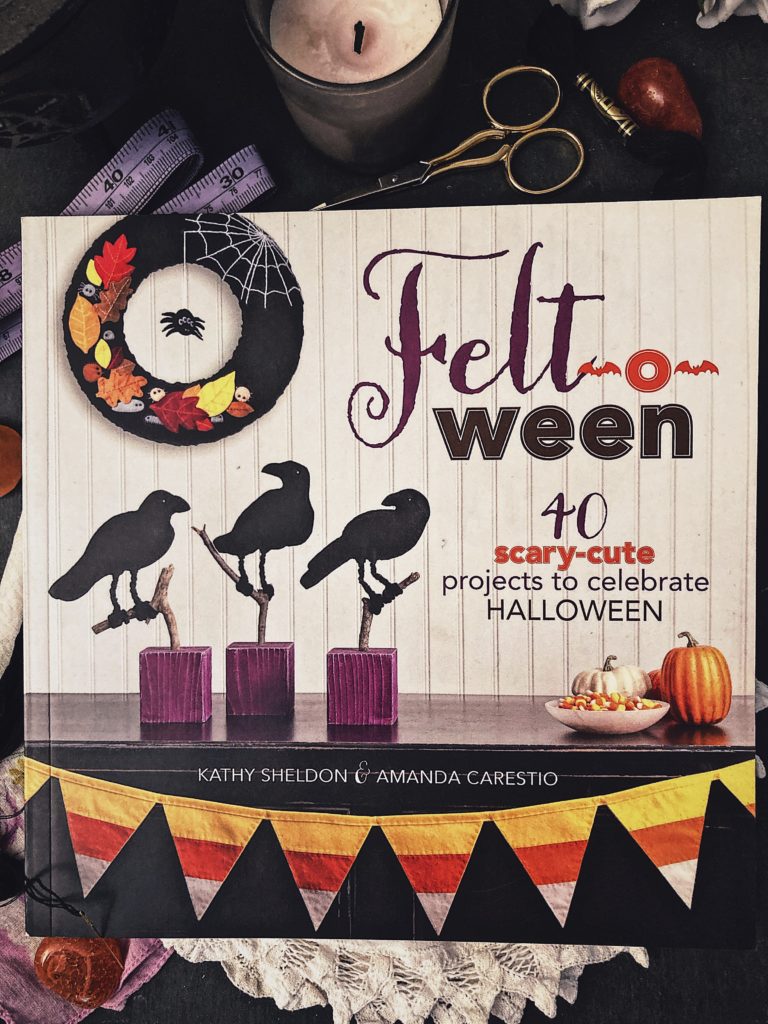 Brought to you by the same authors of Fa la la la Felt: 45 Handmade Holiday Decorations, 'Tis the Season to Be Felty: Over 40 Handmade Holiday Decorations, and Heart-Felt Holidays: 40 Festive Felt Projects to Celebrate the Seasons, this book is teeming with fresh, joyful Halloween craft projects that are sure to have you beelining for your felt stash – or the nearest fabric store – faster than a bat whizzing across the crisp, cool October sky.
Working on a scale of 1 – 5, with five being the highest possible rating, I would give Felt-o-ween: 40 Scary-Cute Projects to Celebrate Halloween by Kathy Sheldon and Amanda Carestio 4.5 stars out of 5.

Have you read Felt-o-ween: 40 Scary-Cute Projects to Celebrate Halloween by Kathy Sheldon and Amanda Carestio?Do you enjoy crafting with felt? ✂️📖🧵