It is not uncommon for fresh snow to continue falling in our area straight on into April (and rarely, as late as May). Happily, however, when March pops back up again there are usually at least a few telltale signs that winter is beginning to jump ship once again.
Amongst the most common of which is a return to seeing and hearing a greater number of bird species.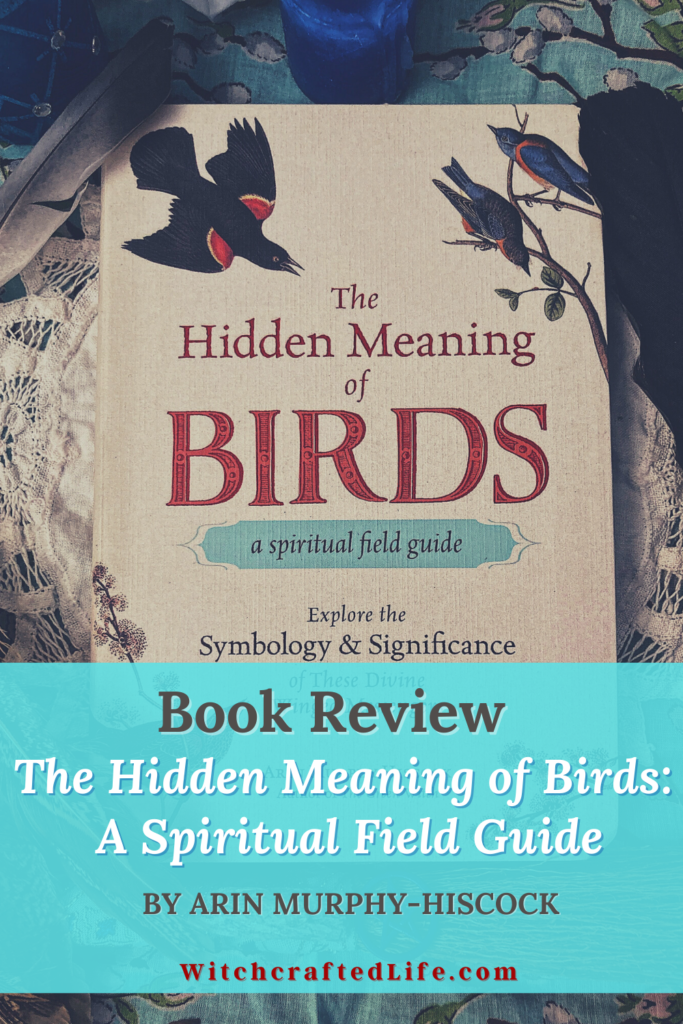 This is both a harbinger of the current season as it approaches, as well as further proof that spring is here again once.
While our house is technically in a residential neighbourhood, it is situated between two parcels of beautiful woodland and our own (literal) backyard is jam-packed with lofty birch and evergreen trees.
For a forest adoring soul like myself, this really is a dream backyard and not a day goes by that I don't thank my lucky stars for it.
If their numbers are any evidence, the local birds that flock to the trees on our property clearly adore this spot of woodland as well. 😃
In the four (and a tad) years that we have lived at this house so far, we've spotted and heard a wide array of birds.
These include, but are not limited to, ravens, owls, hawks, northern flickers, pheasants, Eurasian collared doves, mourning doves, blackbirds, Steller's jays, finches, sparrows, magpies, robins, chickadees, nuthatches, sparrows, woodpeckers, quail, and even the occasional hummingbird.
Beyond those winged visitors who come to call in our yard, both our town and region are home to many other species – as are British Columbia and Canada in general.
In fact, the Canadian Wildlife Federation informs us that there are approximately 462 known bird species living across this vast country.
And according to a CTV News article published last year, globally that number rises to a staggering 600,000+ species of birds.
It is no surprise then that birds have played important roles in the lives of a tremendous number of cultures around the world since time immemorial.
Whether revered and worshiped, used for food, feathers or other body parts; captured in art, written or sung about, or simply appreciated for their talents and beauty, birds have impacted the lives of countless people across the span of history.
The spiritual significance that birds have long held for many individuals cannot be overstated.
In some instances, gods and goddesses were believed to exist in bird or bird-human hybrid form (i.e., the falcon-headed Egyptian god named Horus), in others birds or images, figures, etc depicting them have been used both ritualistically and magically.
Many religions that could be dubbed modern "mainstream" faiths due to their widespread prevalence and large number of followers, as well as those of a more ancestorial and/or esoteric nature have made birds a part of their traditions and stories.
For both myself and a fair number of other Pagans, witches, and Wiccans, birds play important roles in our beliefs, practices, and, where applicable, magickal workings.
I have connected spiritually to birds my whole life and have spoken with numerous fellow witchy/Pagan souls who shared that the same applies to them as well.
While birds are not everyone's favourite animal and ornithophobia (the fear of birds) is a relatively common fear, it is likely safe to say that far more people – regardless of their personal faith/beliefs – like birds than loath or fear them.
Birds enchant and delight us. They hold traditional meanings and can be seen as messengers that are here to transmit something important to us.
Their ability (barring a few species) to take flight and soar through the air, reaching high up in the sky has likely fascinated and inspired us since humans first appeared on this planet. And it is no surprise that an animal who ascends towards the heavens would have deep spiritual meaning for many individuals.
Birds do what a lot of us wish we (easily) could: leave the bounds of terra firma and sore above the earth, experiencing both the freedoms and challenges that come from such a lofty vantage point.
While I have always liked birdwatching and keep my eyes peeled for birds that may appear to me as messengers, signs, and spiritual allies, I am not a hardcore hobbyist bird watcher – nor have I ever worked with birds in a professional capacity.
Naturally, one does not have to be a serious birder to look out for and work with birds in whatever ways align with your interests and beliefs.
Though the last vestiges of winter have yet to vanish entirely from our tree-studded yard, spring officially started a couple of weeks now and that means many an avian visitor and seasonal resident alike is returning to our area once again.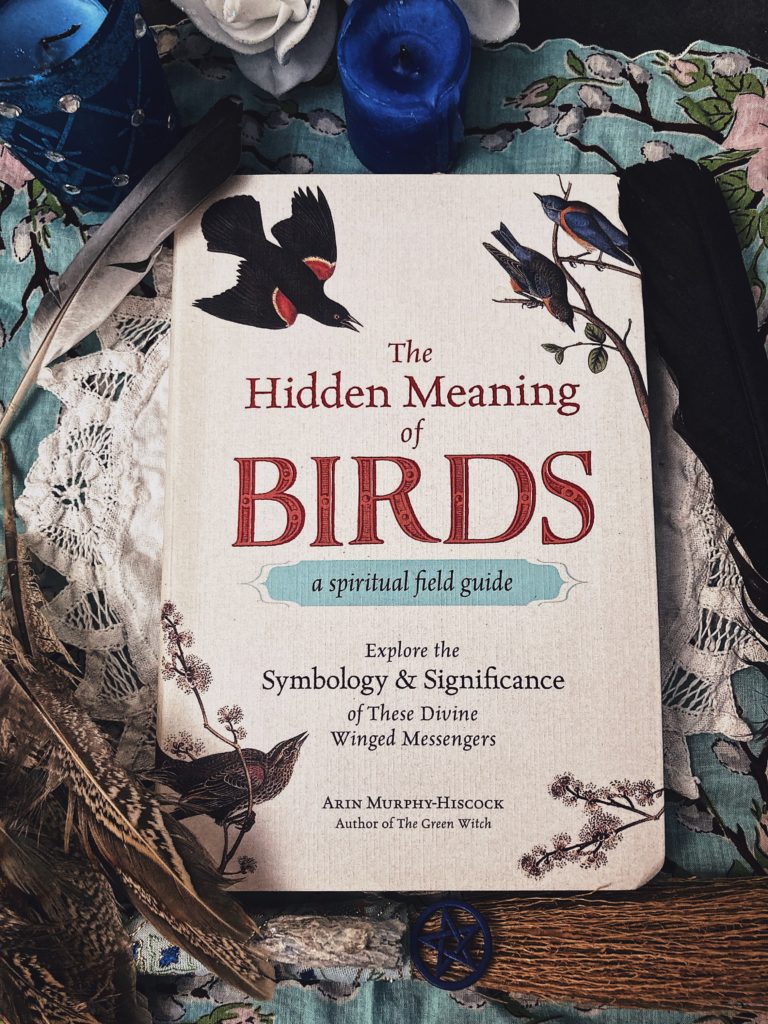 I know that the same rings true for plenty of my readers as well. As such, I thought it was high time I reviewed a relatively recently released book pertaining to the spiritual meanings of birds: The Hidden Meaning of Birds: A Spiritual Field Guide by Arin Murphy-Hiscock.
An elegant volume on the subject of birds and meanings, this title was penned by one of today's best-selling and well-known Pagan authors. The Hidden Meaning of Birds does a great job of melding scientific fact with folklore and spiritual traditions, and serves as a lovely read for those at all levels of knowledge on the subject of birds and their spiritual connections.
Book specs
Name: The Hidden Meaning of Birds: A Spiritual Field Guide
Author: Arin Murphy-Hiscock
Page count: 240 pages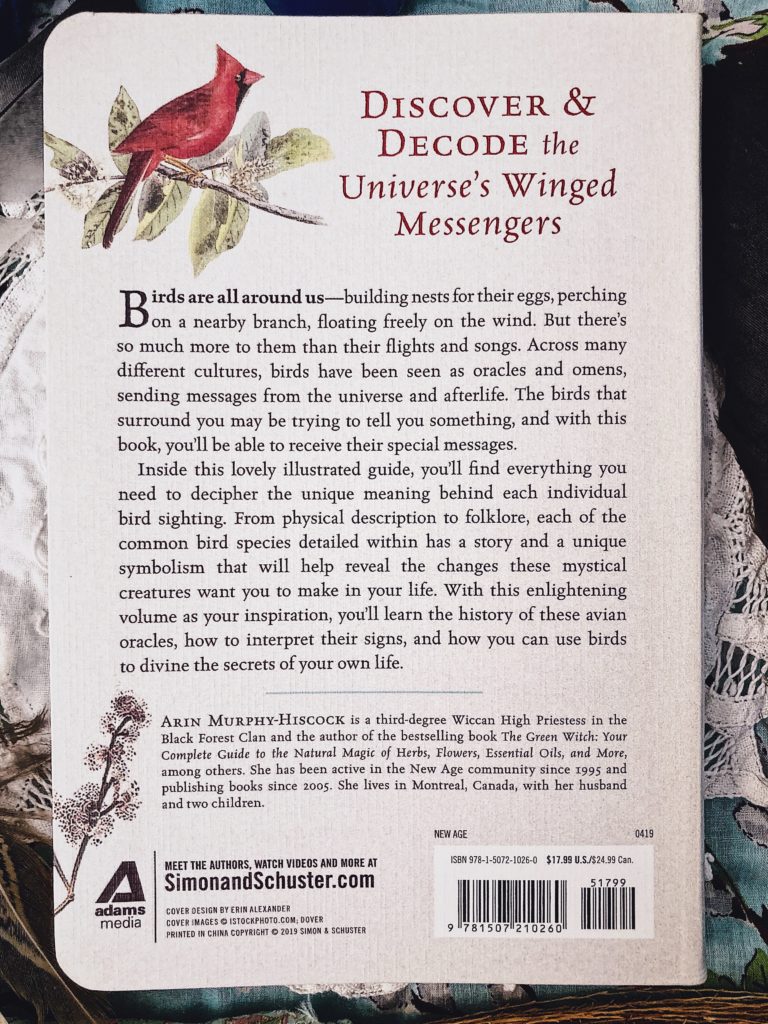 Publisher: Adams Media (a division of Simon and Schuster)
Binding: Softcover
A book on the spiritual meaning of birds that is worth chirping about
There are exceedingly few corners of the globe in which one cannot find at least a species or two of birds. They reside in both the Arctic and Antarctic, in the densest jungles, are spotted in the driest of deserts, and can be seen many miles away from shore across the world's oceans and seas.
Given the astronomical number of birds that exist on earth, it would be impossible for any one book to cover the ascribed spiritual meanings of every variety of bird. Not to mention the plethora of different interpretations and correspondences that many different birds have long been connected with across the planet.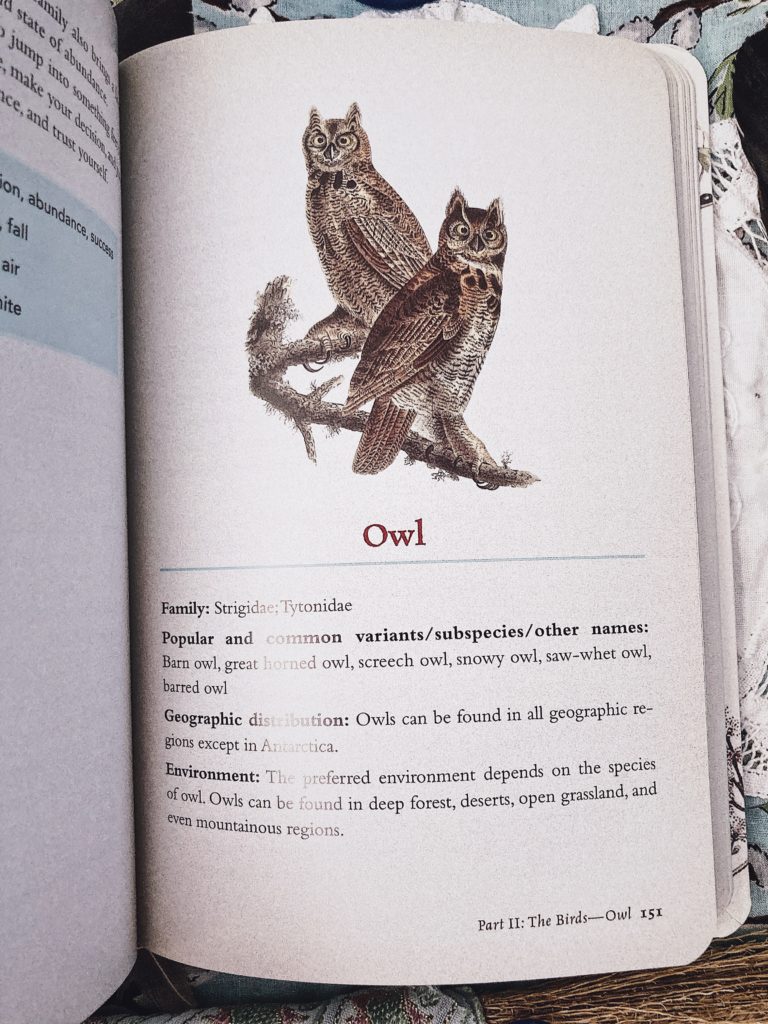 Naturally, The Hidden Meaning of Birds: A Spiritual Field Guide by Arin Murphy-Hiscock does not attempt to do so – nor should it.
That would be an impossible task, as well as an unnecessary one.
Birds are just about everywhere and whether we're dealing with those in our own neighbourhoods, the species that resonate most deeply with us spiritually, or simply have a love for certain types of birds, it never hurts to leave room for our own interpretations of things.
Penned by best-selling Pagan author – and fellow Canadian – Arin-Murphy Hiscock (whose work include such beloved contemporary titles as The Green Witch's Grimoire, The House Witch, Spellcrafting, The Witch's Guide to Self-Care, and The Pregnant Goddess, amongst numerous other titles), The Hidden Meaning of Birds is an appealing look at the spiritual connections and meanings linked to a few dozen species of birds.
Each bird entry that appears in this book is accompanied by a beautiful vintage bird illustration, an overview of the species, symbolism and folklore, and the meanings, omens and divinations associated with that particular type of bird.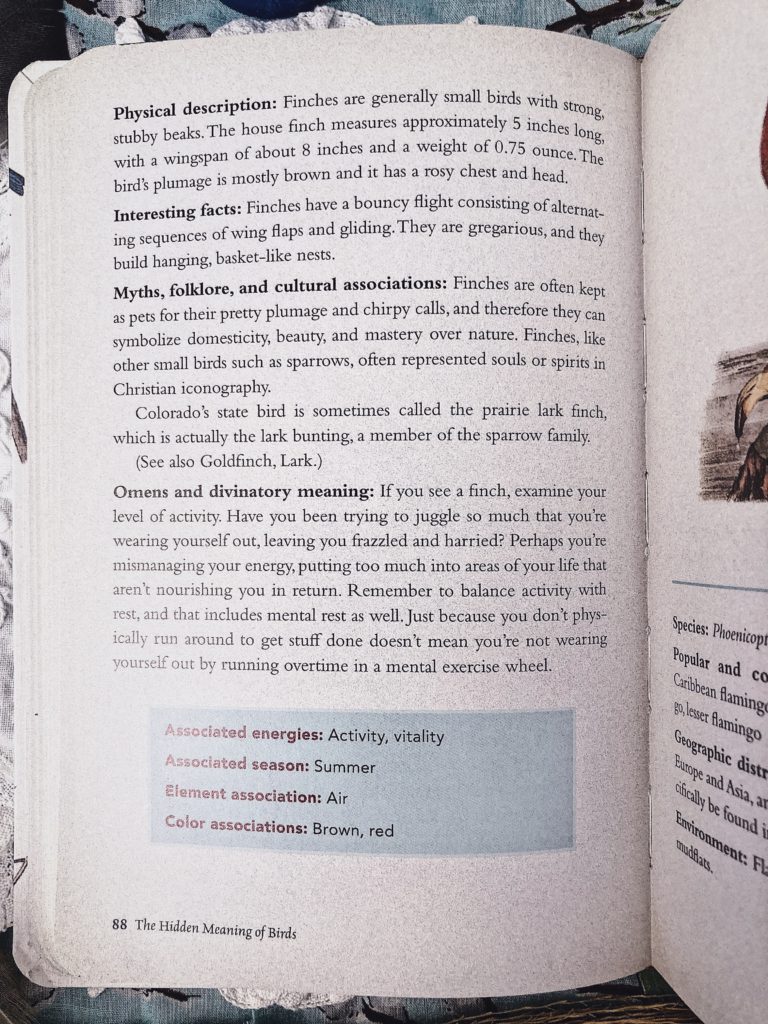 Entries in this spiritual field guide to birds span 2 – 4 pages per bird and at the end of each entry, one finds a box in which the associated energies, associated seasons, elemental associations, and colour associations are provided for the bird in question (see image above).
These correspondences are especially handy for those who may wish to work with bird images, energy, feathers, etc in their spiritual and/or magical practices.
Before hopping (or would that be flying?) into the heart of the guide itself, readers are treated to an introduction and three chapters pertaining to the mysteries of birds. These are Historical Bird Divination, Modern Bird Divination, and Working with Birds Spiritually.
Each of these sections does a good job of concisely and informatively providing an overview of the topic at hand.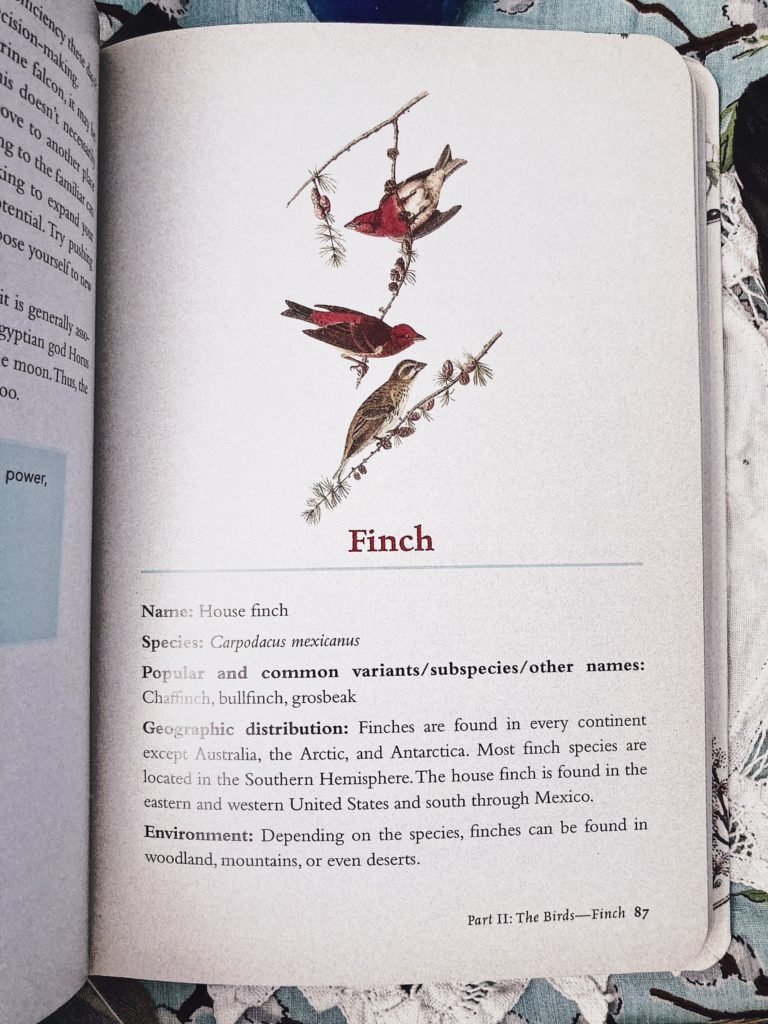 There is a tone of the serious and the academic to this book that aligns it with many mainstream bird identification and birdwatching guides – a point that is cemented all the more by the use of yesteryear avian illustrations in lieu of photos or modern artwork.
However, the tone is not so dry or encyclopedic as to lose sight of the spiritual elements that are, along with the bird species themselves, at the heart of this title.
Bound in a sturdy, field guide style softcover, this 240 page book is an engaging, informative read that is apt to have even the most seasoned birdwatchers amongst us looking at the feathered residents in their area (and around the world) with deeper interest than ever before.
How The Hidden Meaning of Birds: A Spiritual Field Guide rates with me
As with many of the books I review here on Witchcrafted Life, it is not strictly imperative that one be a witch/Wiccan/Pagan/similar to read, learn from, and enjoy The Hidden Meaning of Birds.
While certainly geared towards the spiritual side of humankind's connection to birds, those with a general interest in ornithological topics (including both the history and folklore of various bird species) as well as individuals who simply wish to learn more about birds are apt to connect with this book as well.
I appreciate that the species highlighted The Hidden Meaning of Birds are arranged alphabetically and while there are numerous bird species I would have been delighted to see included here that didn't make the cut, as touched on above, naturally, no single book could ever cover all of the bird species in the world.
What the reader finds instead is a cross-section of bird species from around the globe – think crows, mockingbirds, cardinals, swans, owls, and pigeons to name but six of many featured in this guide.
If you are the type who often sees and/or hears birds and feels a spiritual connection to them or believes that there are deeper meanings to be had when a particular type of bird crosses your path, chances are, you will enjoy this book.
It is by no means the first or only one on the subject of the spiritual meaning of birds, but having been published in 2019, it is amongst the most recent.
The Hidden Meaning of Birds is also one of the most informative that I have personally read to date. And since picking this title up shortly after its release, I have dipped into it many times beyond my initial reading.
Indeed, like many a good field guide, this is the type of book that one is likely to read cover-to-cover at least once or twice and then return to when information on a particular bird species is needed.
At times, I do wish that a larger volume of meaning was connected to certain birds featured in Murphy-Hiscock's guide to our avian friends.
As well, it would have been great if the author had linked each bird species she covered to one or more of the sabbats that comprise The Wheel of The Year. Though, to be fair, as she does connect each species to one or more seasons, that information appears in a roundabout way all the same.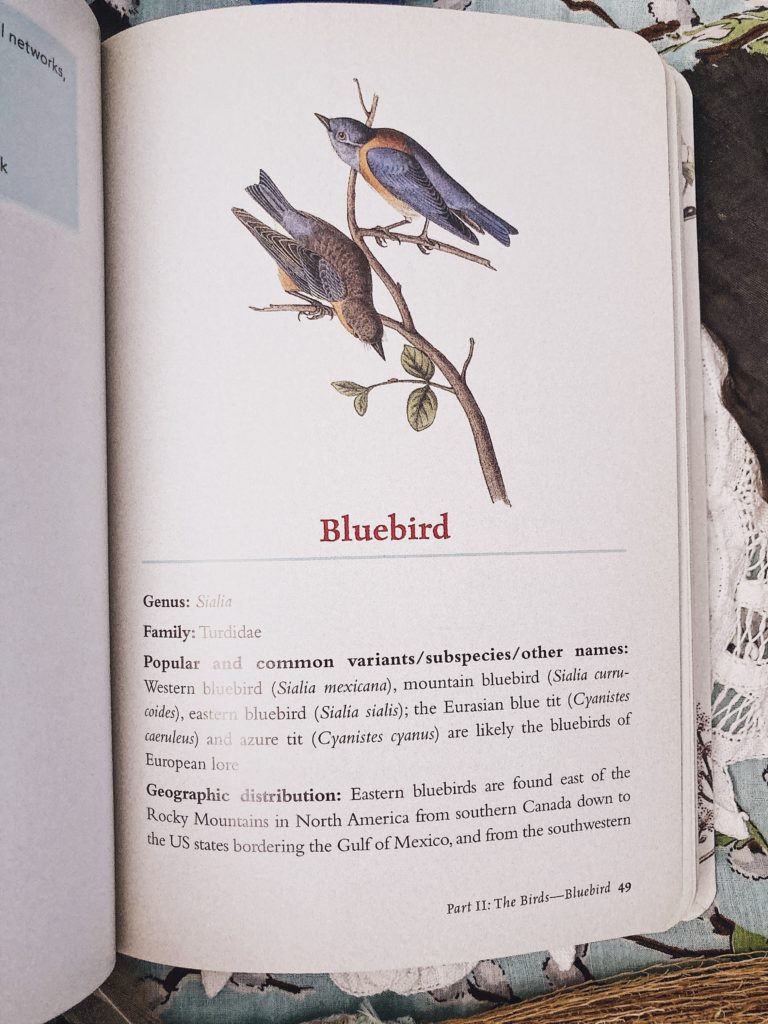 As someone who madly adores vintage and antique illustrations, I found the choice to use them here instead of modern artwork or photos added to the charm and interest of this book.
Some readers, however, may have preferred contemporary art or photos – especially if they were trying to identify a particular species of bird that crossed their path.
Thankfully though, on top of traditional birding guides, the internet is rife with sites and apps to help you do just that, if you are not able to find a given bird amongst the dozens included in this book.
Birds are a vital part of life as we know it here on earth.
For some of us, birds serve as spirit allies and guides (aka, "spirit animals", though I try to refrain from using this term in most contexts, as it belongs to certain traditional cultures and belief systems), appearing to us with messages and meanings both of the type that may jive with those in books and others that might be highly personal to our own lives + spiritual paths.
The Hidden Meaning of Birds is not the absolute last word on the subject of spirituality and birds. No book or blog post could ever be.
Birds, like the air they traverse, are malleable and astonishing.
Humankind has long connected certain meanings, correspondences, superstitions, traditions, and lore to various birds.
These elements possess a degree of broad universality. However, it is ultimately up to each of us to interpret what our connections to, and encounters with, various types of birds mean in the context of our own lives and belief systems.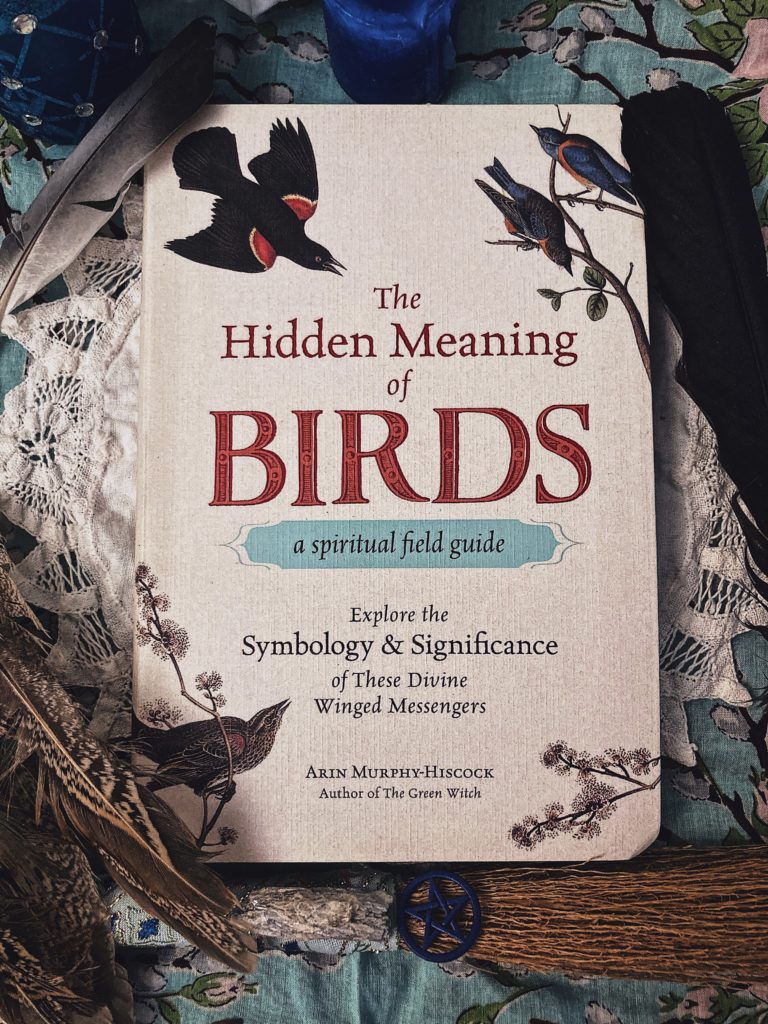 Having The Hidden Meaning of Birds to hand makes that job all the easier and more enjoyable, and as such it is a title that I am happy to recommend.
Or, if you prefer, just say to people that a little birdie told you about this book. 😊
Working on a scale of 1 – 5, with five being the highest possible rating, I would give The Hidden Meaning of Birds by Arin Murphy-Hiscock 4 stars out of 5.
★ ★ ★ ★ ☆
Have you read The Hidden Meaning of Birds? Do you feel a spiritual connection to our avian friends? 🐤📖🐦