As many who know me well will be quick to inform you, I am not usually the type to "fangirl" out. It just is not in my nature.
However, that doesn't mean that I am not a huge admirer of many people and their wonderful work.
In terms of authors who write about Pagan/witchery/earth-based spirituality topics, high up on that list ranks Maia Toll.
For more than a decade now, my husband and I have run a free new book email notification service called AnyNewBooks.com that we founded back in 2010. (It generates important income for us via sponsors and affiliate programs.)
Virtually every week since then, a not-insignificant portion of my working hours have been spent compiling the lists of new books that we email out to subscribers (at present, we send out more than 300,000 emails per month).
The lists that we pull our selections from come via Amazon (US) and in the eleven going on twelve years since we launched Any New Books?, I have had the pleasure of seeing many thousands of new book releases each year.
Naturally, I keep a keen eye out for titles pertaining to my many diverse interests – those relating to my spirituality very much included.
I knew the moment, back in 2018, when I first caught sight of author Maia Toll's inaugural book, The Illustrated Herbiary, that this was not your run-of-the-mill title.
Shortly thereafter, I was able to purchase a copy and it took a mere few lines in to have my suspicions confirmed.
From the tremendously lovely illustrations by artist Kate O'Hara to the deck of oracle cards included at the back of the book to the personable, inviting, knowledgeable way the author wrote, I was hooked.
And based on the roughly 1,800 reviews (nearly all of which are glowingly positive) that this book currently has on Amazon as of March 2022, it is safe to say that many others instantly fell in love with Maia's warm, wonderful writing as well. 😃
In the time since The Illustrated Herbiary was released, Maia has penned three more books.
The Illustrated Bestiary, The Illustrated Crystallary, and, most recently, Maia Toll's Wild Wisdom Companion.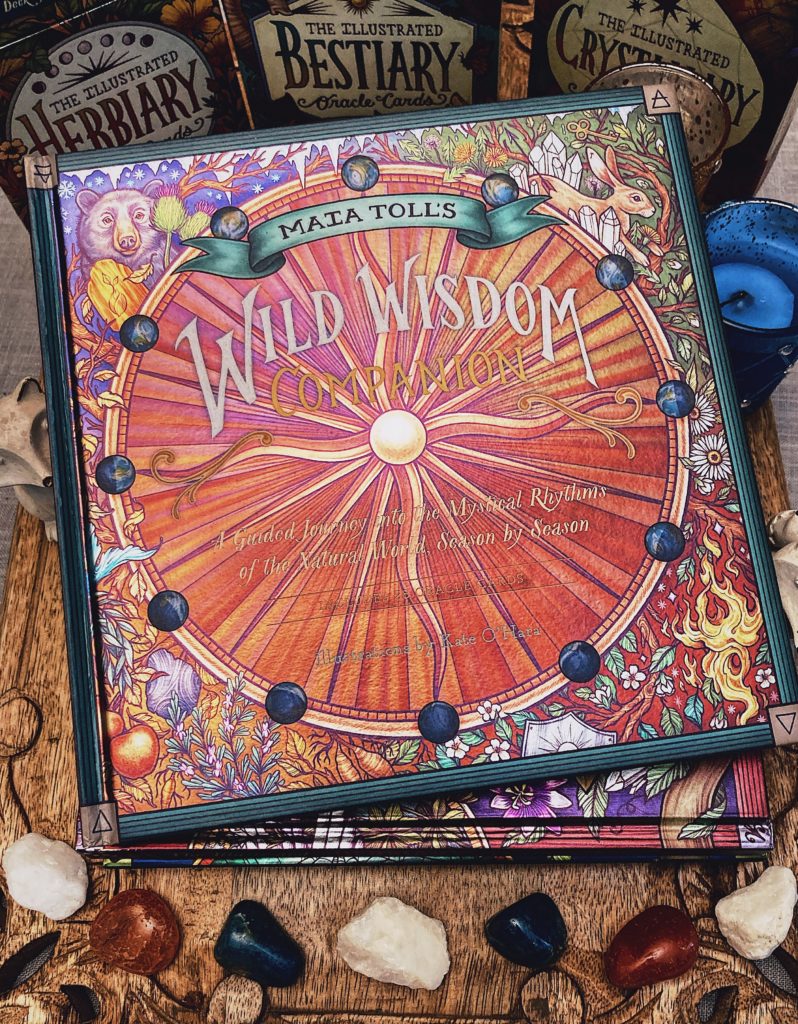 In addition, larger-sized decks of the oracle cards included at the back of each of Maia's books are also available for sale. They are printed on sturdier paper than those that come with her books, so if you plan to use one or more of Maia's decks quite often, you may wish to invest in those high-quality decks. Which are as follows:
–The Illustrated Herbiary Oracle Cards: 36-Card Deck of Bewitching Botanicals
–The Illustrated Bestiary Oracle Cards: 36-Card Deck of Inspiring Animals
–The Illustrated Crystallary Oracle Cards: 36-Card Deck of Magical Gems & Minerals
Plus, you can now purchase images from some of Maia's work in puzzle form as well (as a big jigsaw puzzle fan, you can imagine how much my eyes lit up when I heard about that!).
If you or someone in your life adores jigsaw puzzles, you'll want to check out the following three offerings based on Maia's books. 🧩
–The Illustrated Herbiary Puzzle: California Poppy
–The Illustrated Bestiary Puzzle: Monarch Butterfly
–The Illustrated Crystallary Puzzle: Garden Quartz
As 2021 began to wind down, I was contacted by a publishing rep and asked if I would be interested in reviewing Maia's latest book.
Already a big fan of her earlier works (of which, thus far, I own two – The Illustrated Herbiary and The Illustrated Beastiary, respectively), I was honoured by the offer and replied with a very resounding, "Yes, please!".
In addition, I suggested that I interview Maia by email and then weave that chat into my book review blog posts. Happily, it was then their turn to respond enthusiastically. 😃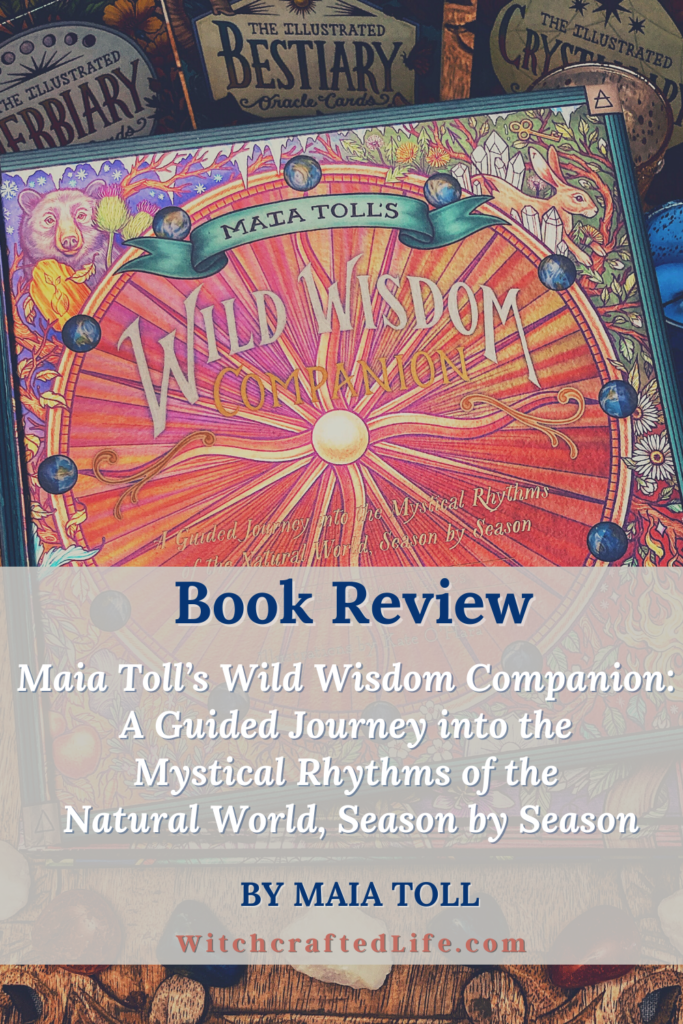 Before delving into the coven's worth of questions that I asked Maia, I am going to provide you with my thoughts on her most recent release, Maia Toll's Wild Wisdom Companion.
Please note that while I was provided with a complimentary copy of that book and three decks of Maia's oracle cards (visible in many of the photos throughout this post), all thoughts and opinions expressed in this review are 100% my own and would not differ in any way, had I purchased those items myself.
Book specs:
Name: Maia Toll's Wild Wisdom Companion: A Guided Journey into the Mystical Rhythms of the Natural World, Season by Season
Author: Maia Toll – Connect with Maia on her website | Instagram |Facebook | Twitter | Goodreads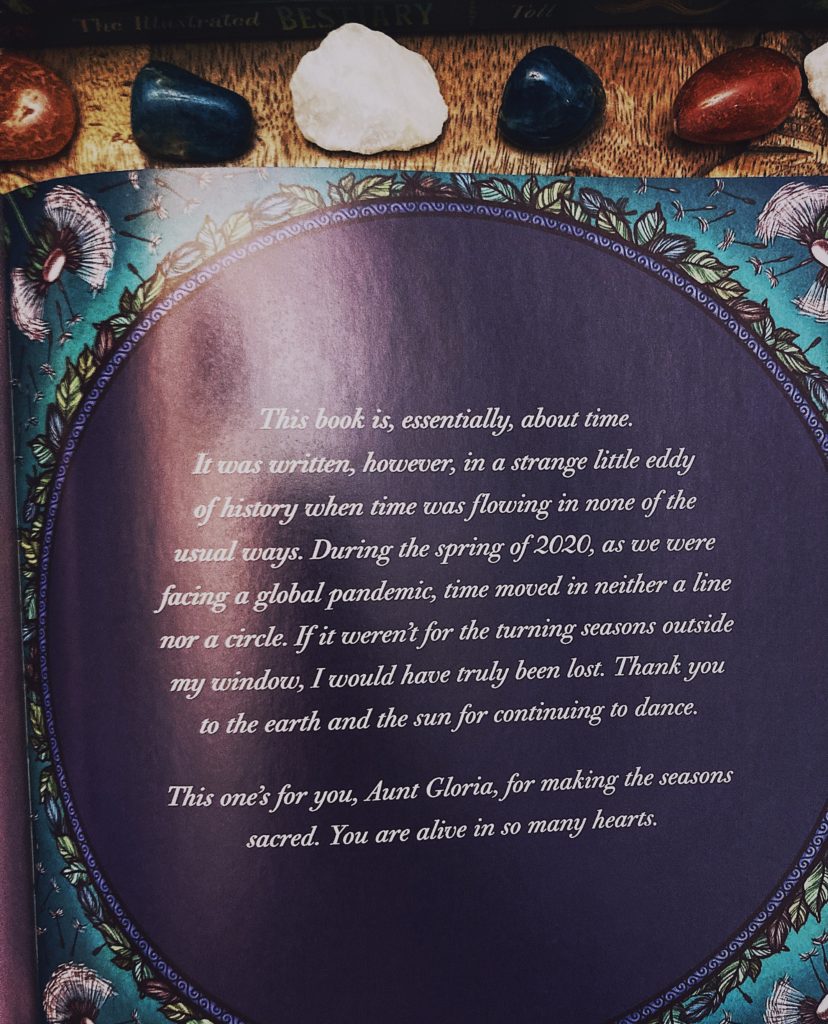 Page count: 192 pages
Publisher: Storey Publishing
Binding: Hardcover
A passionate look at the year as viewed from a nature and spirituality-based standpoint
Let me begin by saying that, while the content housed within the pages of Maia Toll's Wild Wisdom Companion is bound to find favour with many witches, Wiccans, Pagans, and the like around the globe, it is an inclusive title that can be enjoyed by those from a wide array of spiritual paths.
As many of my blog posts attest to, I have immeasurable love of, and appreciation for, each of the eight Pagan sabbats that comprise The Wheel of the Year (TWOTY) – just as I do, the year's annual seasons.
I literally get giddy as a new season approaches, no matter which one it is! And by the same token, often feel a touch of melancholy as we bid farewell to a departing chapter of the year.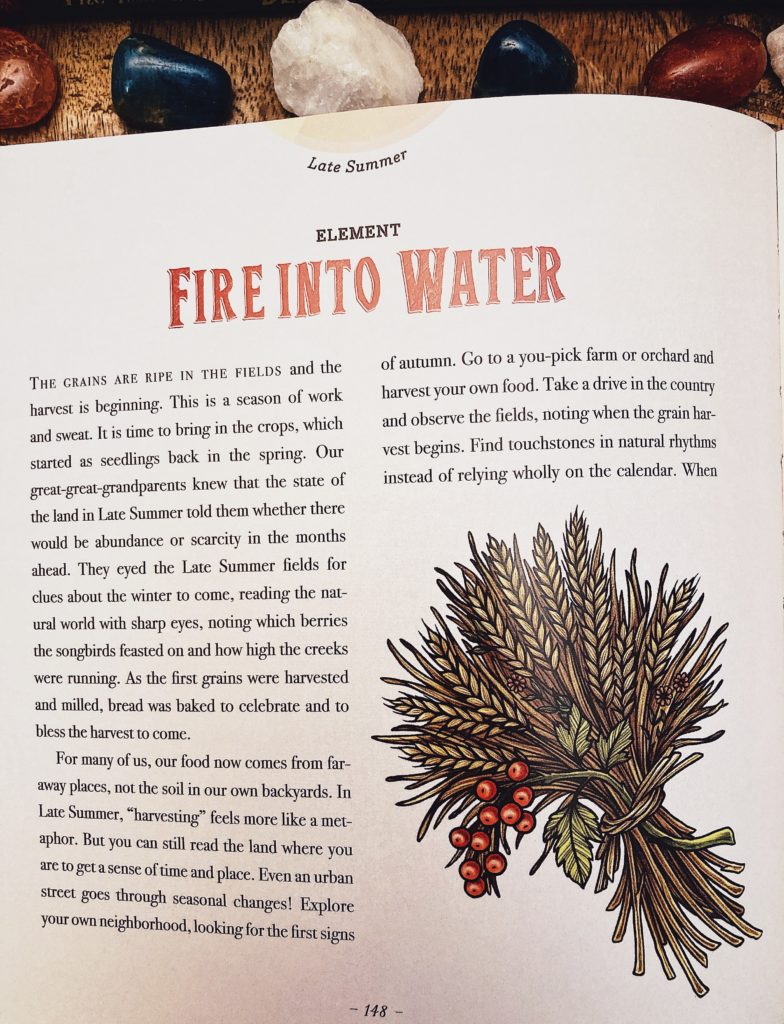 Since early childhood (years before I would first officially encounter the concept of TWOTY), I have felt as though each of the four seasons was more like two smaller seasons combined under the same header.
In some respects, I even viewed each individual month as a mini-season unto itself.
I am not alone in seeing and feeling that the year naturally divides itself into each roughly equal chapters: Early Winter, Late Winter, Early Spring, Late Spring, Early Summer, Late Summer, Early Fall, and Late Fall.
You can well imagine then how delighted I was to see that in the Wild Wisdom Companion, Maia opted to present us with a look at a full year laid out in that very format.
Across the 192 pages of this gorgeously illustrated hardcover book (which was released in 2021), the author guides readers through the natural rhythms and cycles of the year.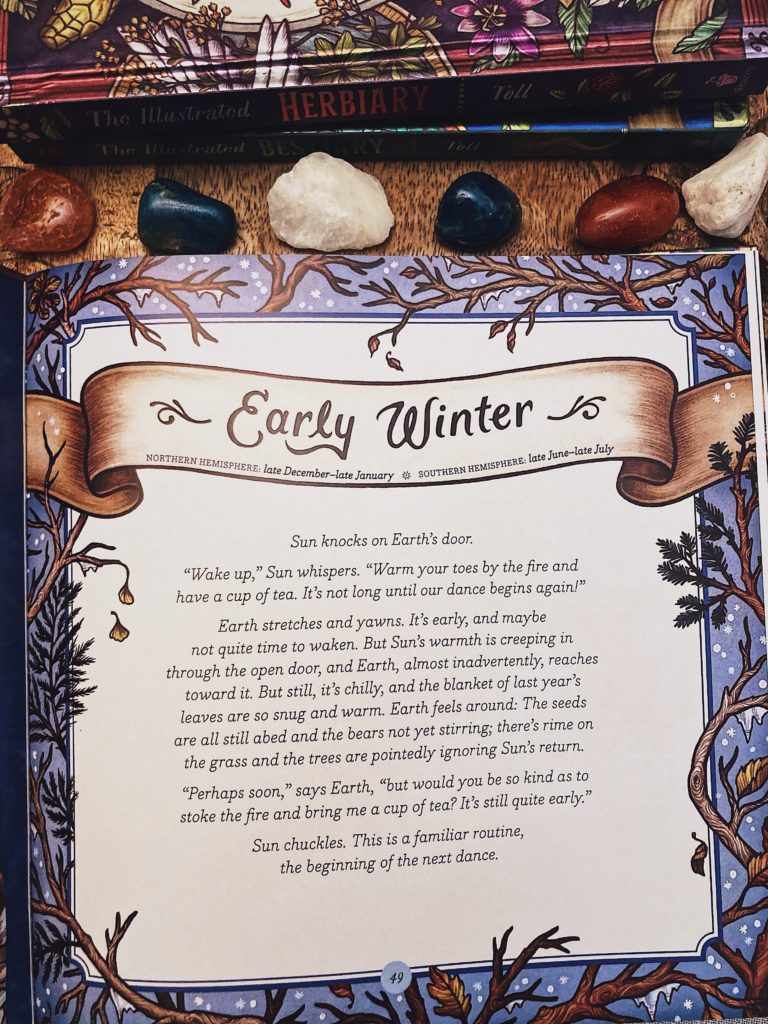 She begins each chapter in an endearingly charming and whimsically creative way: by presenting us with a fictional conversation between the Sun and the Earth.
Each chat we are privy to presents a touching picture of how these two mighty celestial forces interact and the timeless dance that they enact so that life as we know it on this planet is able to continue onward.
I wholeheartedly loved this element of the book, just as I did many other things about the Wild Wisdom Companion.
In addition to the delightful imaginary conversations mentioned above, each chapter leads us through other factors that are presented for the year's eight seasons.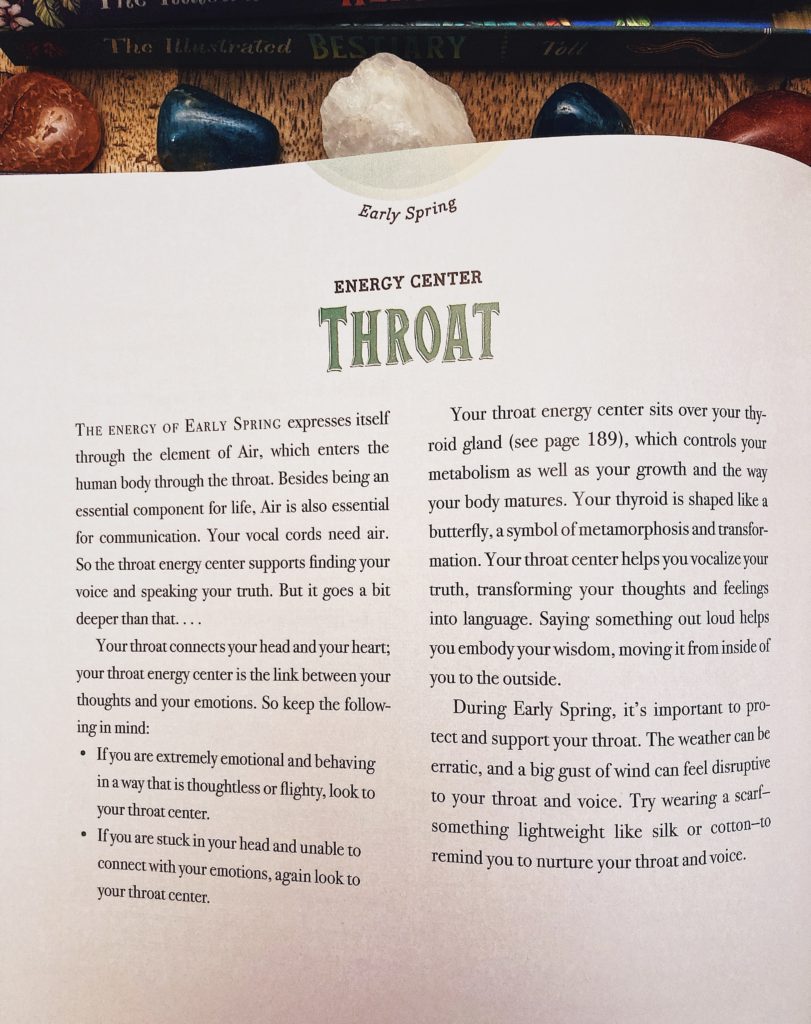 These include an Element, an energy centre in the body, a plant medicine, an animal medicine (the presence of that term instantly reminded me of the book Spirit Animal Guides in which author Chris Luttichau uses very similar terminology), a crystal medicine, and three different seasonal symbols.
While some of the selections for each of these entries feel like a very natural fit, others are wonderfully unexpected. They help to prove a fun, fresh take on various plants, animals, mythical figures and so forth that are linked to each season.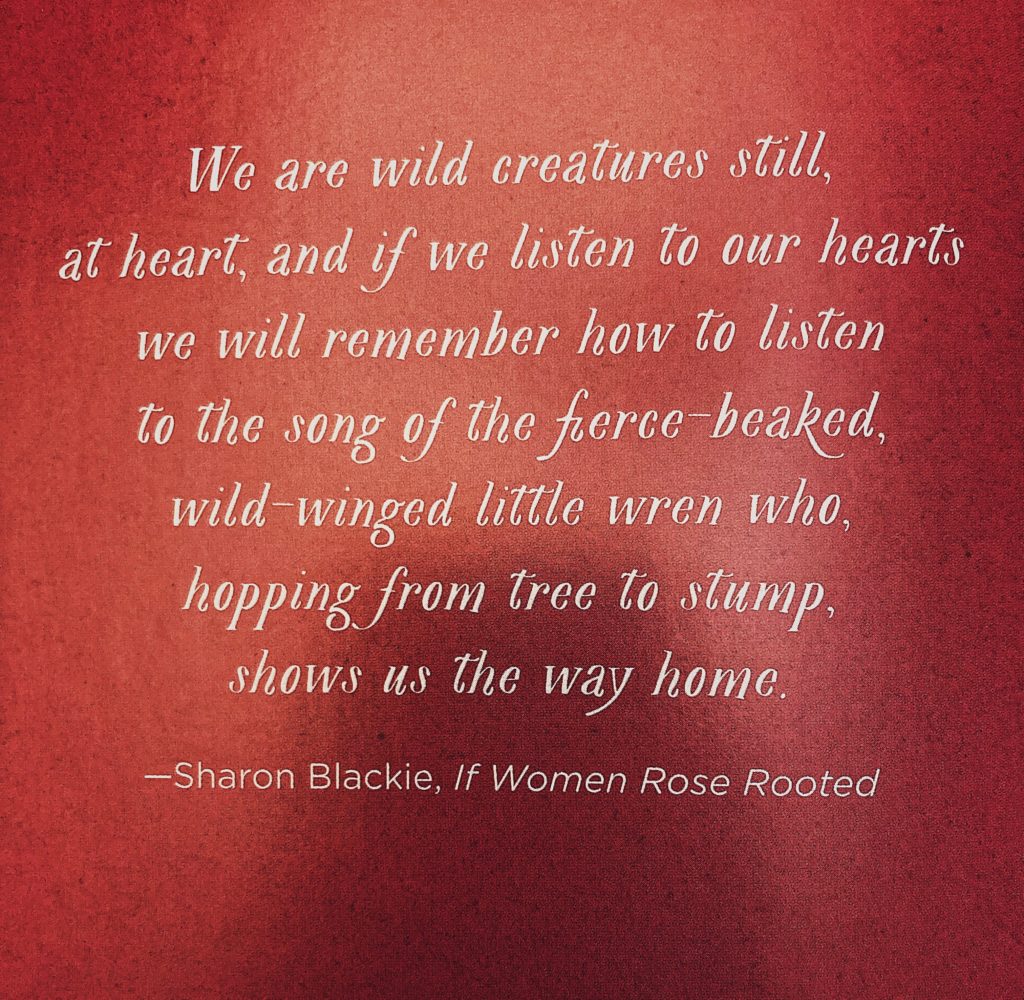 In addition, beautiful quotes from other people are peppered throughout this book as well.
Though you might easily think that it would, the Wild Wisdom Companion does not specifically focus on the Pagan sabbats that comprise TWOTY.
However, the dividing points at which Maia has chosen to portion out the year do essentially correspond with each of the eight annual sabbats (those being Imbolc, Ostara, Beltane, Litha, Lammas, Mabon, Samhain, and Yule).
No doubt some readers will wish that there was more of a sabbat focus here. Yet, by not placing the sabbats in the spotlight Wild Wisdom Companion is able to become just that – a welcome companion – to a far broader spectrum of readers.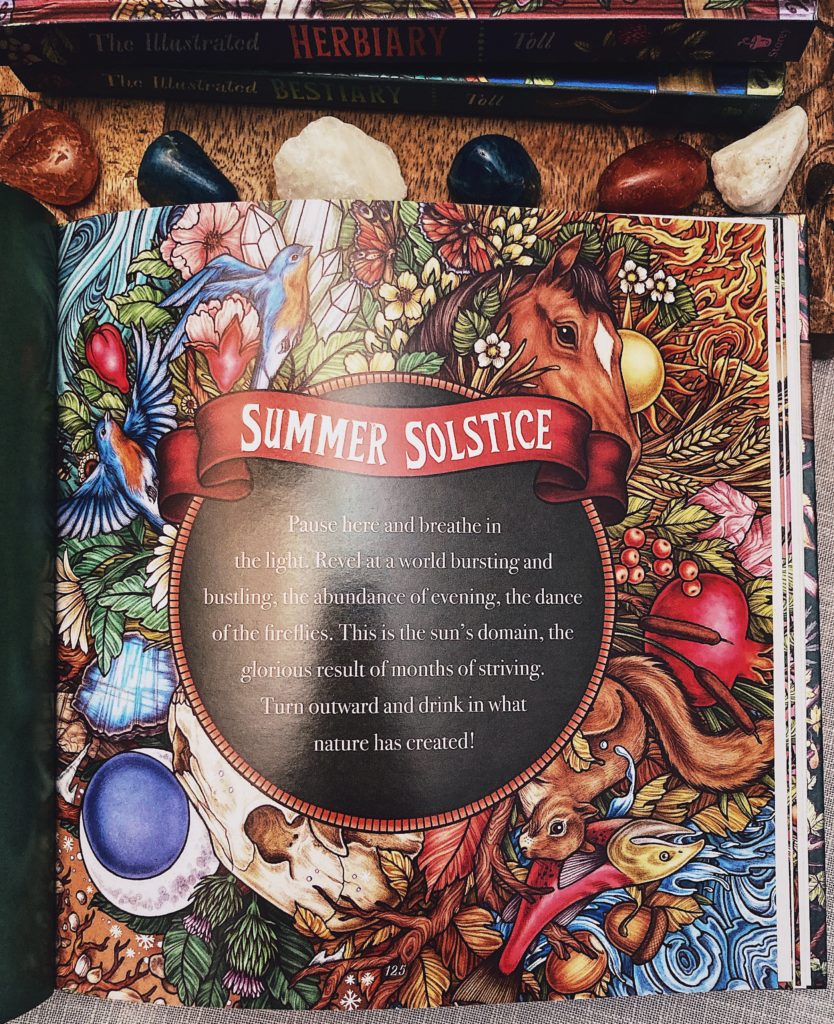 Instead of the sabbats, the year's two Solstices and two Equinoxes are explored. These are astronomically determined points on the calendar that the whole planet experiences and thus they are an integral component of the human experience.
In her lovely introduction to this book, Maia states: "Wild wisdom is feeling in accord with the hawk flying overhead; it's feeling sisterhood with the willows; it's knowing that the stones are millennia older than humans and have much to teach about the passage of time. Wild wisdom is the sense of being in sync with the world around you, so much so that you feel safe and at home in your own skin. It's a feeling we're all looking for but very few achieve."
She goes on to elaborate regarding ways to find or connect all the more with your own innate wild wisdom before sharing with us how she broke down the year into eight different segments, presenting that information as it applies to both the Northern and Southern Hemispheres.
In addition, Maia begins her year – when divided into eight parts – in Late Autumn.
A good many witches/Wiccans/Pagans feel that doing so aligns with their personal beliefs and their connection to nature (they don't call Samhain the witch's new year for nothing!), so that was a very welcome change of pace to observe in this book.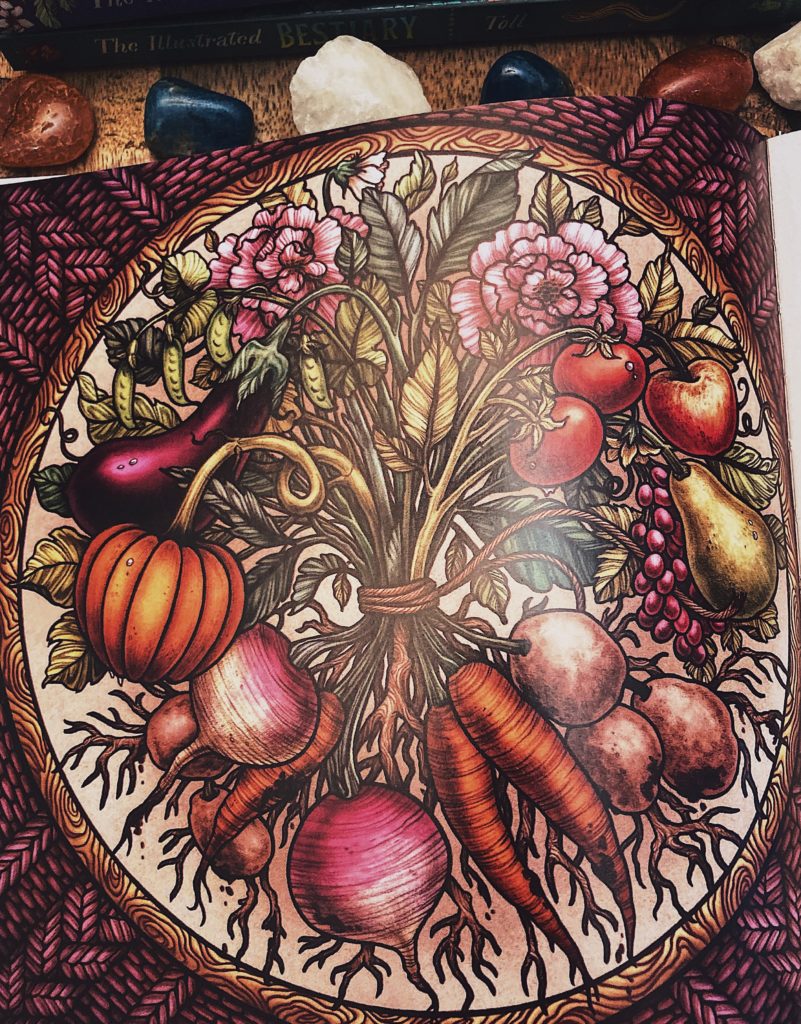 Throughout each season, Maia invites readers to journal and/or deeply contemplate their connection to some of the topics she addresses, as well as in regards to the seasons themselves.
If journaling is not your cup of tea (and it is 100% okay if that is the case), I feel that one can easily reflect on these topics in other ways, too.
For example during meditation, while sitting peacefully in nature, as part of spellwork, under the light of the moon or sun, or in just about any other way that feels right to you and your own path.
The Wild Wisdom Companion begins in late autumn, guides readers through an insightful, highly relatable walk through the seasons, and culminates with Early Autumn. Thus beginning the eternal cycle over again.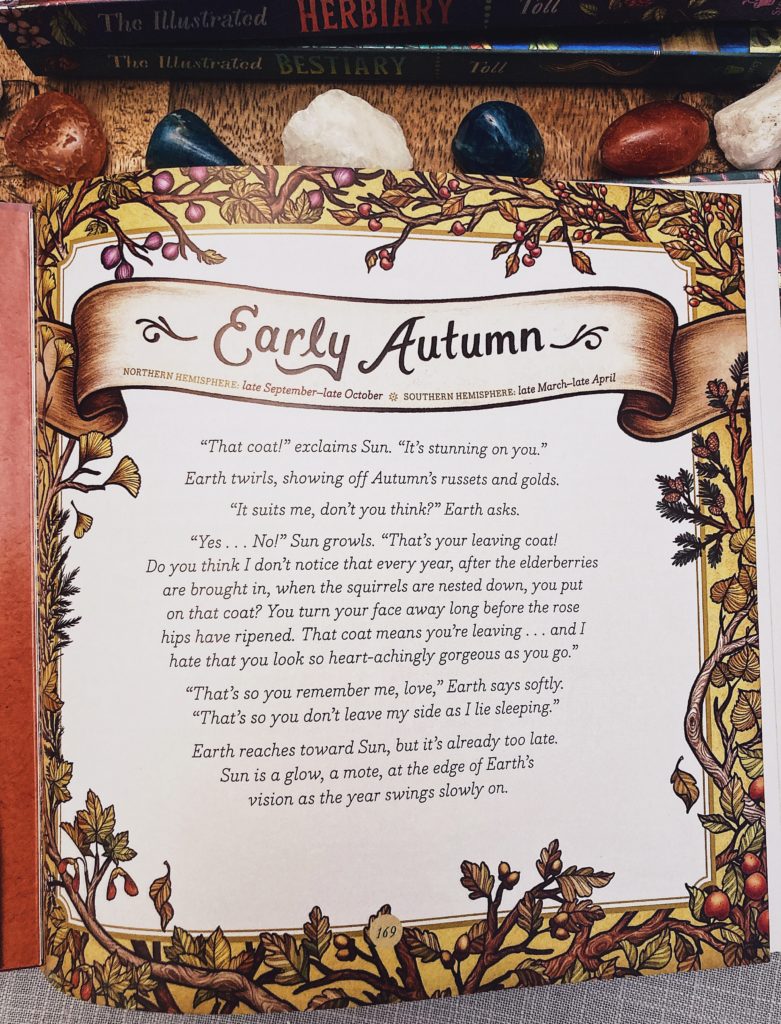 In fact, as you get to the final pages of this terrific book, Maia poses the question, "What if you stay right here and begin it again?".
In doing so, she both invites and reminds of us the cyclical patterns of the seasons and the important place they hold in each of our lives.
It is a call to embrace the shifting seasonal tides all the more and to grow closer, in doing so, to Mother Earth herself.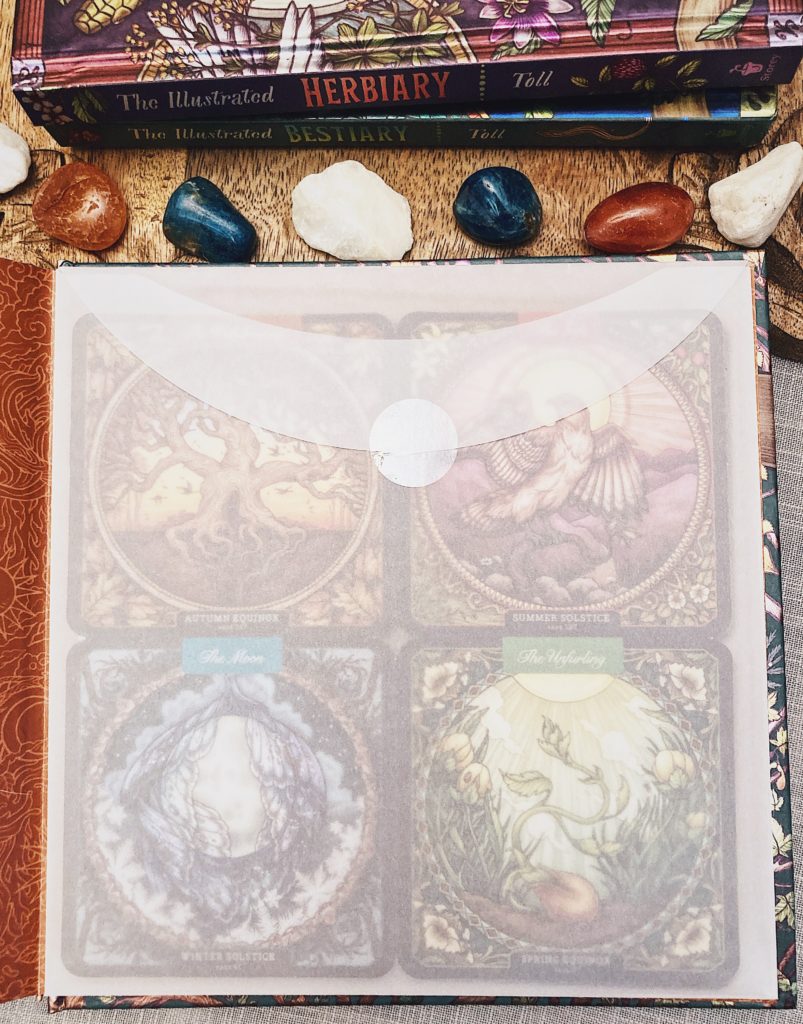 Having experienced a whole year in a matter of hours or days (or longer), depending on the pace at which one reads this book, we are treated to the marvellous gift of a lovely deck of square-shaped oracle cards + one suggested spread for working with those cards.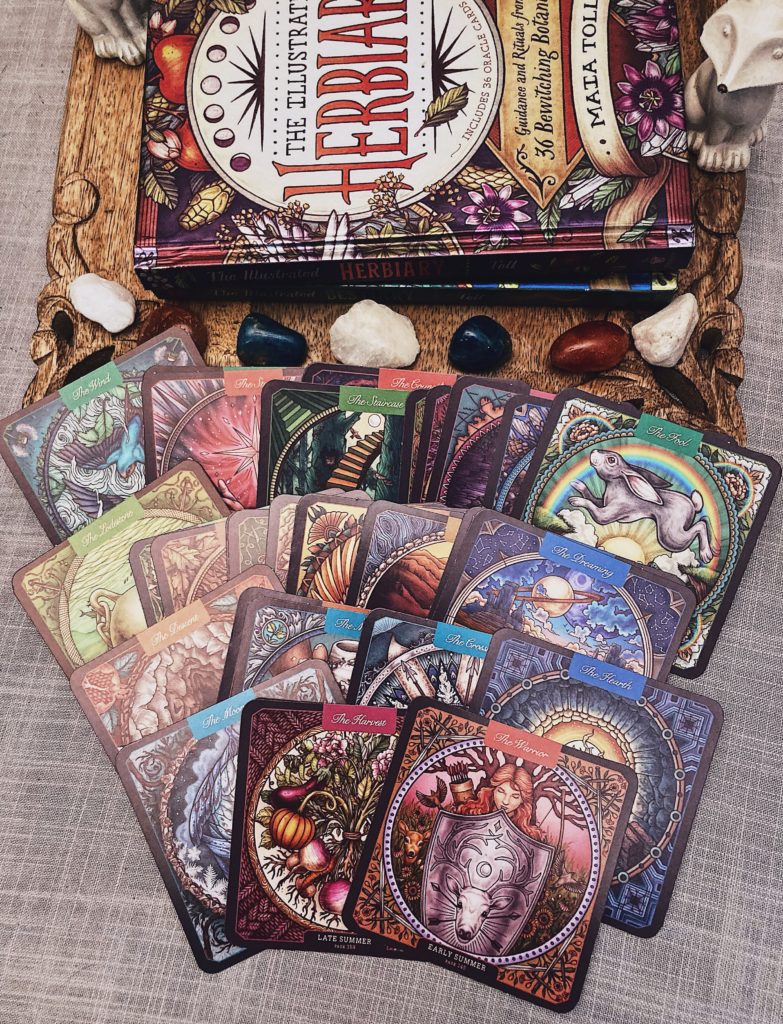 Each of the double-sided cards corresponds with one of the various medicines or symbols that Maia presented us with throughout the Wild Wisdom Companion.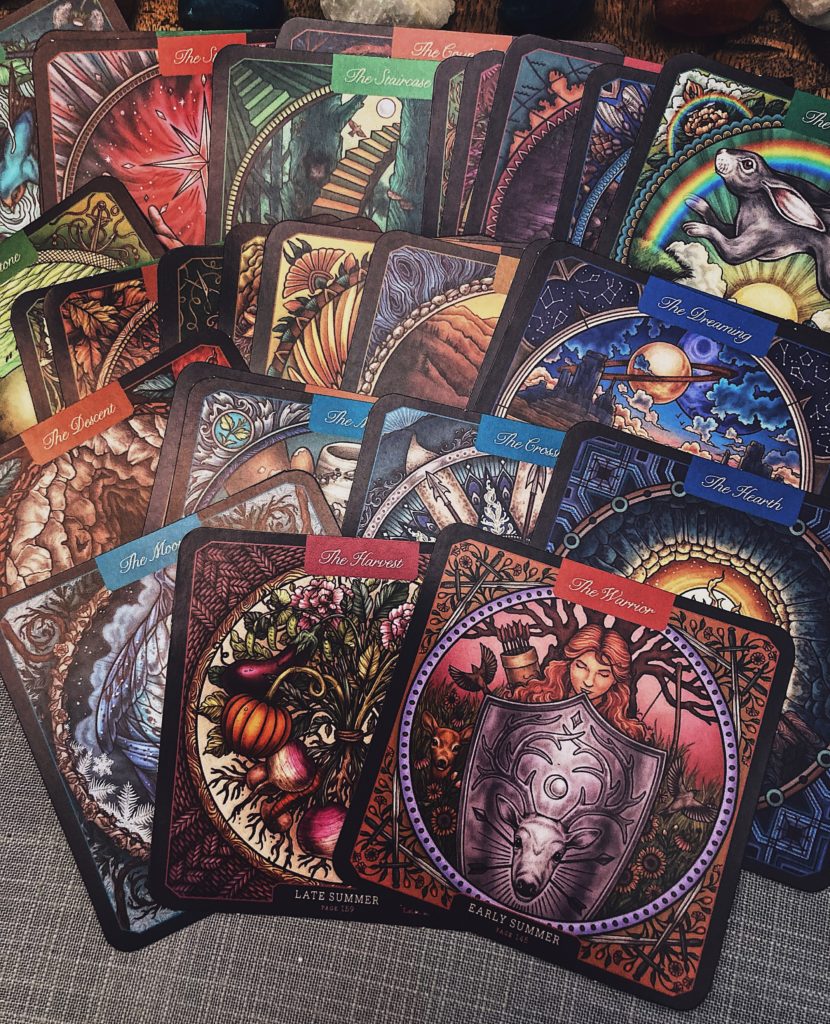 If one opts to work with those cards (and I highly suggest that you do, they are thoroughly lovely), this continuance between themes presented in the book and on the cards themselves is a great way unto itself to grow ever-closer to the seasons.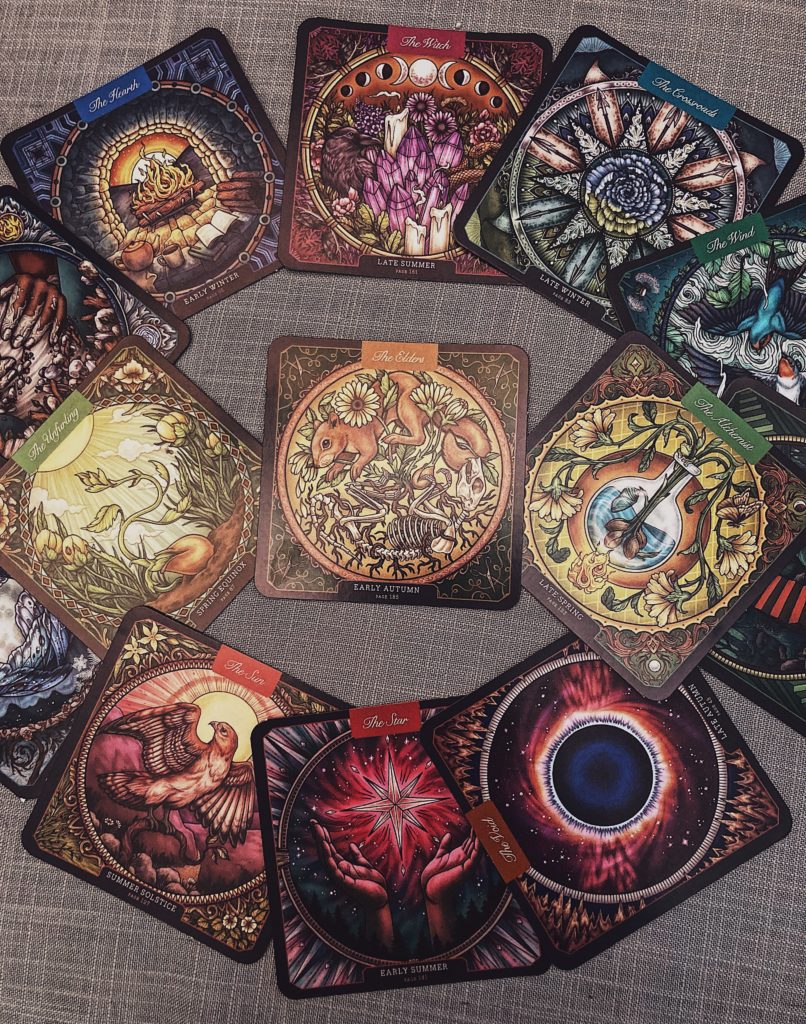 How Maia Toll's Wild Wisdom Companion rates with me
This book weaves together powerful elements from each of Maia's previous titles and opens us even more of her wisdom for us to learn from and, potentially, feel a sense of kinship with.
I knew back in 2018 when I read Maia Toll's first book that she was a radiant beam of new light in the field of nature spirituality-based writing.
Four years on, I can tell you with unflinching certainty that not only has that light grown stronger, but it has helped to illuminate the paths of many thousands upon thousands of readers around the planet in the process.
I adore each of Maia's books and card decks, returning to them time and time again throughout the year.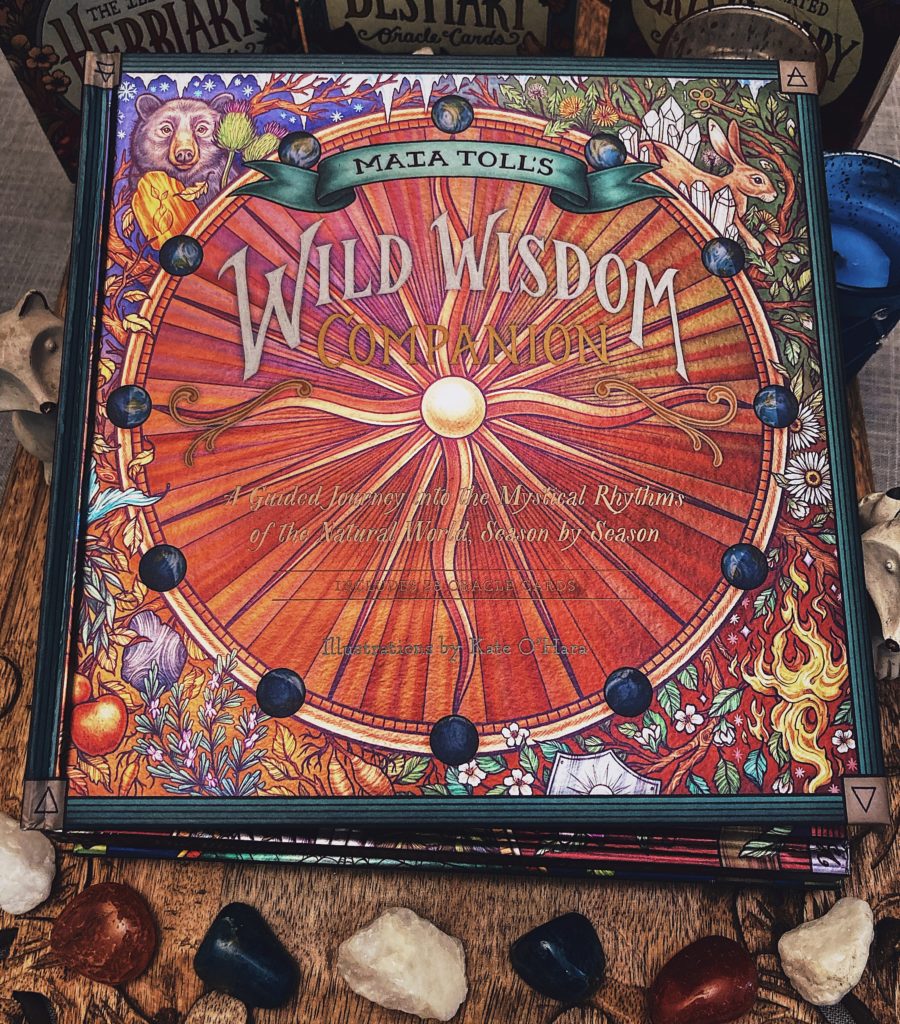 However, I must say that the Wild Wisdom Companion is my very favourite of Toll's works to date.
I highly recommend this book to those both inside and out of the Pagan/witchy realm (and cannot help but feel that it is a title that many gardeners, nature lovers, and animal fans would delight in reading).
Maia Toll's Wild Wisdom Companion is a well-written, intuitively presented, and extremely approachable look at the year and ways we can tap (all the more) into our own innate, incredible wild wisdom.
Working on a scale of 1 – 5, with five being the highest possible rating, I would give Maia Toll's Wild Wisdom Companion 5 stars out of 5.
★ ★ ★ ★ ★
An interview with educator, best-selling author, herbalist, and all-around lovely person, Maia Toll
Thank you with the deepest of appreciation, Maia, for sharing your time and knowledge with Witchcrafted Life's readers. I sincerely appreciate it and cannot begin to tell you how much joy getting this opportunity to chat one-on-one with you means to me. 🙏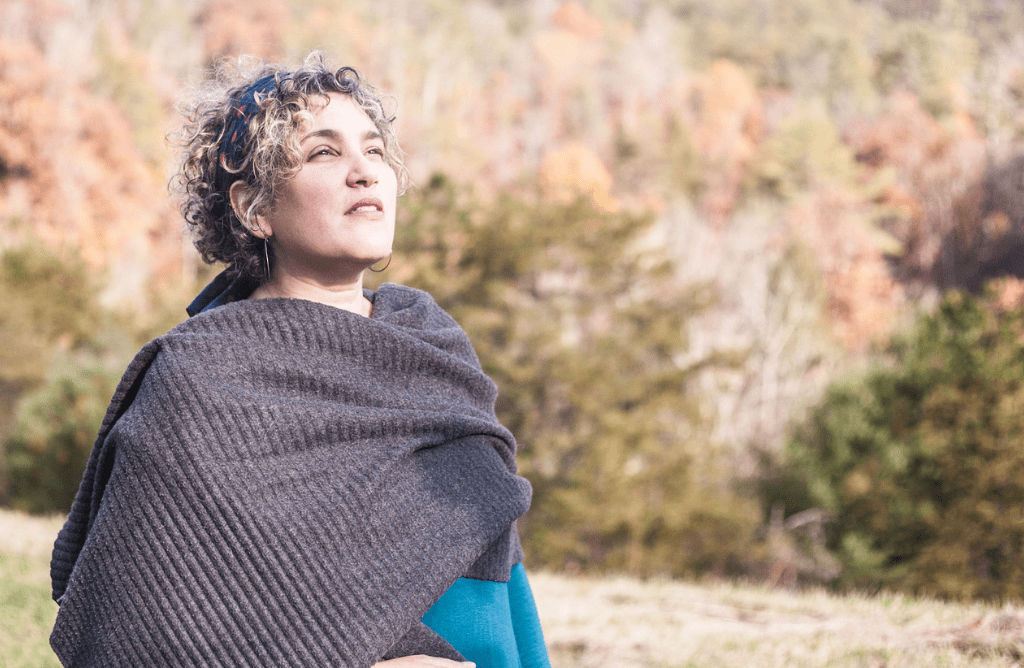 1. Welcome, Maia! It is a heartfelt joy and honour to chat with you regarding your latest book release – Maia Toll's Wild Wisdom Companion – and Paganism in general. For those who are being introduced to you here today for the first time, could you please share a few points about yourself and where your passions lay most strongly at present?
Hi Everyone! I'm an author fascinated by the ways in which we can connect and learn from the natural world. Exploring the mystic has been a passion for me since I was quite young—for most of my life, I've been asking why are we here? And how can I be comfortable in this human skin?
These questions led me to an apprenticeship with a clinical herbalist and green witch in Ireland. That experience has informed who I have become in the time since. Like Autumn, I feel like there's a deep bond between creativity and spirituality, so that's a place from which I often dive into this work.
2. Wild Wisdom Companion is your fourth book to date. Is being a book author something that you long felt pulled towards becoming or did the desire and opportunity to do so develop more organically in recent years?
I have been writing since I was a kid. My first story was about a unicorn who got stuck in a bottle. I was eleven. As an adult, I would often joke that I was a writer without a story; I loved the process of writing—the peeling back of layers and the playing with words—but I didn't have anything in particular to write about.
I had also made a rule for myself (I'm a Capricorn rising—creating, and then struggling against, rules is part of my nature) that I wouldn't write a book unless I was bringing something new, and never before seen, to readers. It took a long while for me to get over myself and start sharing the way I see the world, even if I'm not the very first person to put those thoughts to paper.
3. What have you found to be the most rewarding and, conversely, most challenging aspects of being a highly successful author – and do you have any advice for those seeking to become first time authors in our sphere of Paganism/herbology/witchery and the like?
One of my personal goals when I started getting published was to meet other authors. Authors tend to be creative, thoughtful, widely read, and self-motivated, which is how I prefer my humans. I have two pods of authors I gather with regularly. Those get-togethers are key for my sanity, perspective, and general joie de vivre. Finding my people is one of the greatest rewards of this career path.
Just like any job, there is a myriad of challenges. Most of them are small obstacles, easily overcome. I try to get creative with the larger hurdles. Currently, I'm chewing on the way books are categorized. I believe that connection with the natural world, and the seasonal living it inspires, as well as exploring the mystical side of life are essential elements for being a whole human.
This way of looking at life nurtures creativity and helps you understand how to get through life's rough patches. It's much more universal than niche categories like "occult," where I am often shelved, suggest. But which category should we highlight? Self-help? Nature writing? Spirituality?
It is an ongoing frustration that my books are shelved in a way that may keep people who would enjoy and benefit from them from finding them. And, truthfully, no matter what my opinion is, once the bookstores receive the books, they shelve them wherever they want, so my ruminations are rather pointless.
For first time authors, my number one piece of advice is write. Do the work, don't just think about doing it. Writing, like most everything else in life, is a practice. The only way to get proficient is to put pen to paper. Once you've moved beyond thinking about writing to actually writing, remember that you're writing for someone else to read. Who is your reader and what's useful for them? What do you want them to know, feel, and do? Everything from subject matter to individual sentence structure should be crafted with the reader in mind.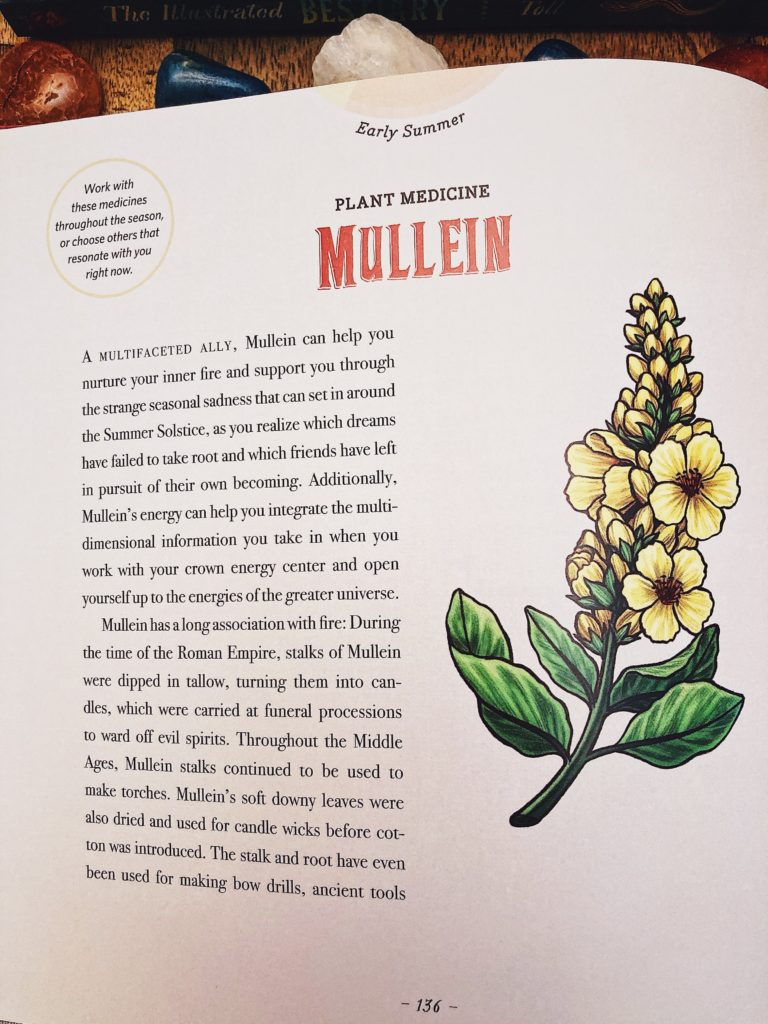 4. Wild Wisdom Companion is a beautiful, eloquently penned ode to the timeless magic(k) of the seasons. I am an unwavering fan of all of your books and the wonderful sets of oracle cards they house, but must say, Wild Wisdom Companion is my absolute favourite.
Of these eight segments of the year, are there one or two in particular that you feel a particular connection to and/or affinity for – and is there one chapter of the year that you would describe as your seasonal soul mate? (Autumn is mine. 😊)
The Wild Wisdom Companion is so many people's favorite and I LOVE that. I've learned so much from writing each book and I would hope the newest one is always the favorite—that my growth as an author allows readers to go deeper with each new book.
Like you, autumn has long been my time of year. But a few years back we moved to a house in the woods. Living on some undisturbed acreage has given me a chance to lean into the entire wheel of the year in a fresh way. While I still love autumn, especially the quality of the light in the time between Samhain and winter solstice, I've come to adore late winter.
We have trillium, trout lilies, and some funny little ground orchids which pop up before the trees have leafed out. It is such a stunning time—the trees are still bare, letting me see through their branches to the mountains, but the ground is carpeted with leaves hiding little nodding flowers. It makes me smile just thinking about it.
5. What inspired you to write Wild Wisdom Companion? Was it a book you had long envisioned coming into being or one that sprang into being as a natural progression from your three previous titles?
This is a long (and rather tiresome) story! The short version: when I signed a contract for the book that became Wild Wisdom, it wasn't meant to be a part of the series. Then, because the other books were doing so well, my publisher wanted it to be part of the collection. But the book I had written didn't fit in. So, I rewrote it. Twice. And it still wasn't right. By that point, I was exhausted and disheartened. So, I asked myself two questions:

1- If I were starting from zero, instead of trying to rejig an existing manuscript, what would best tie together the previous books? I kept thinking about a conversation with an editor who was not on my team but who was at my publishing house. We were chatting at a little wine and cheese get-together when I visited. She said, "You know, one thing you haven't covered is time." That comment stuck with me, and I kept chewing on it.
2- The second thing I asked myself was: what would be easy? I needed easy. I was pretty close to burned out.
A book focused on the wheel of the year was the answer to those two questions. I had been teaching on the wheel of the year for a while, so it wasn't difficult to gather my notes and lessons and use them as a foundation. The book built up pretty quickly from there and voila! The Wild Wisdom Companion. 
6. What are some points that you feel the general public – and perhaps even some who are new to areas such as Paganism and witchcraft – would benefit from knowing about the Wheel of The Year and the perpetually vital role that it plays in the lives of all creatures great and small who inhabit our planet?
The pattern of the seasons, as they happen in more temperate climes, teaches us so much of what we need to know about the cycles of our own lives. When I'm working on a book and I'm frustrated, I ask myself where I am on the wheel: have I let go of what needs to go (autumn)? Am I gestating (winter)? Understanding where I'm at in my creative cycle lets me know what comes next and how to move forward.
This applies to other aspects of life as well. When I have birthed something new (spring), I know I still need to keep feeding it energy so it will flower (summer). When I've suffered a loss (autumn), I realize I might need winter's hibernation to recover and heal.
Once you find this rhythm in your own life, you can look outward and find it in the lives of the plants, trees, and animals. It is a constant breath: inhaling energy toward you, exhaling energy out.
7. It is safe to say that the world has been through the wringer massively over the past two years due to the global pandemic. In the face of this profound ongoing challenge, what are some things pertaining to nature and/or self-care and spirituality that you feel people can do to help create a better sense of stability and wellness (emotional, physical, spiritual – or all of the above) again?
I wrote The Wild Wisdom Companion during the first tenuous months of the pandemic. Tuning in to the seasons got me through. And it's still getting me through. Step out the door, feel the air, breathe. Our human world might be disrupted, but everything else is carrying on. Tune into that sensation.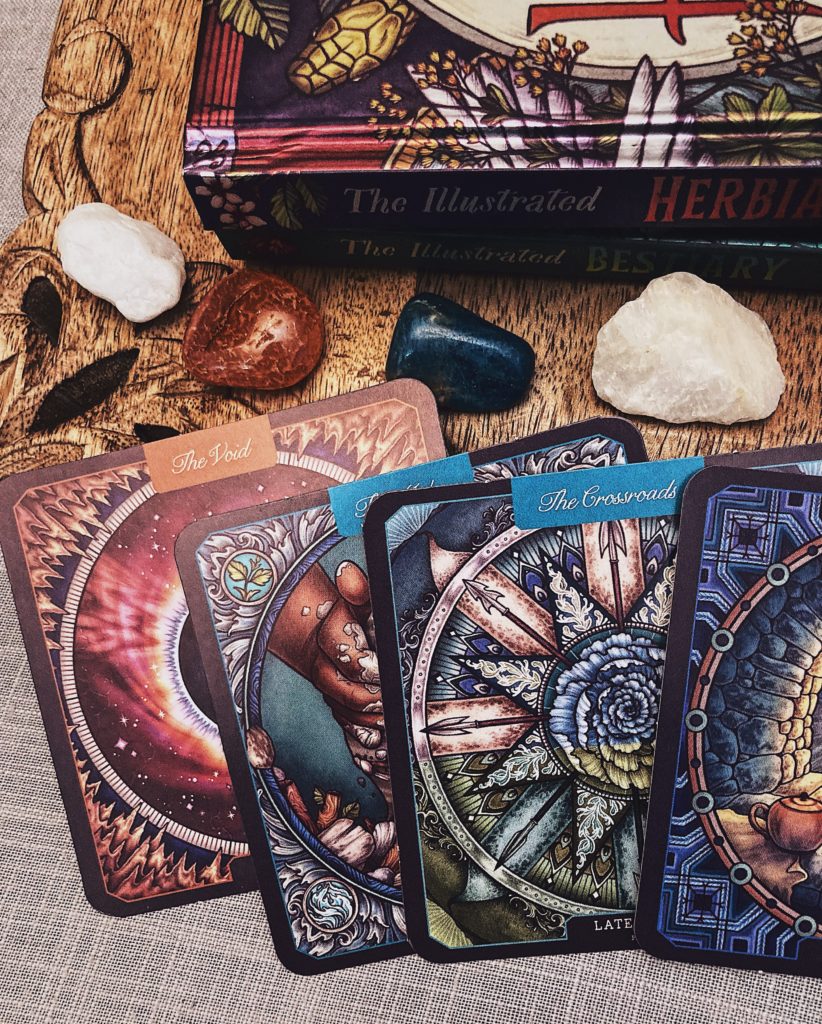 8. How have you personally been faring during these tremendously difficult times? Have you found that they have deepened your connection to the seasons, the plant kingdom, the universe or any other facet of your spiritual journey?
The isolation from other people has been less difficult for me than most. Serendipitously, I moved to the woods a few months before Covid hit. Because I'm writing, I don't have to go out to work. So, my days are synced to the natural rhythms. I'm getting to know this land, making friends with the trees and the creek, and working on my writing craft. Because this is what I was moving toward before Covid, for me, the inner work of the past couple of years doesn't feel Covid related.
9. While Wild Wisdom Companion, much like your other titles, is apt to appeal to witches, Wiccans, Pagans and others of our ilk in general, I feel it is a very approachable and inviting book for all those who experience a strong connection to Mother Nature.
Can you please share a few easily doable, potent ways that just about anyone, regardless of their personal beliefs, can create or strengthen their bond with the natural world?
I love a practice that naturalists use called a "sit spot." It's simple, really: return to the same spot every day. Sit. Breathe. Observe. Be sure to pay attention to both the big picture stuff and the small stuff—the macro and the micro. Explore how to connect with the world around you. Try having a little dialogue in your head with a dandelion or singing to an oak. Play with what's possible.
That's it! Hone your powers of observation and connection.
10. At the time of this interview's publication, we are sitting between the first two spring sabbats of Imbolc and Ostara. What are some of the key components/lessons/inspirations that you feel this wonderful point in the calendar, as the mighty return of new life and warm sunlight looms near again, can teach or remind us all?
This is a season when the energy is rising. The tiny cotyledons of the plants are reaching upward, sprouting leaves. I try to tap into that rising energy, letting it come up through the soles of my feet. And then I ask myself what do I want to grow? Sometimes I want to grow a feeling—like joy. Sometimes I want to nurture a new way of seeing the world. And sometimes I want to encourage myself to act, to bring something new into being, like a book. Our culture puts a lot of emphasis on this last one, on action. But I think the first two are equally as important.
Also, if you're reading this and you aren't comfortable with, or can't relate to, words like sabbat, Imbolc, or Ostara, just leave the language by the wayside. I do, all the time. I try to think about the seasons in terms of their energetics, what I can feel in my body. In the Wild Wisdom Companion, I don't us pagan names for the seasons because I don't often use those words in my life.
The other day someone said Litha and I had to look up what that meant! I always try to choose words that mean something to me personally. So, I do use Samhain and Imbolc because, when I was studying in Ireland, those were the names my teacher used. I celebrated both Samhain and Imbolc with her and so those words have a resonance for me.
11. Your writing, the important messages it conveys, and the support it offers to others are all very special elements that – not unlike the magnificent illustrations from artist Kate O'Hara that are housed in your books and oracle card decks – speak to scores of people around the world.
What sorts of points do you find easiest to connect with your audience over – and are there things you have learned from them since starting your journey as an author that you did not know or (yet) fully appreciate before that point in your life?
In general, book writing happens at a distance. I sit and think and write in my space and then someone reads and reflects in theirs. I'm sure there are places in my books where readers nod along and feel resonant with what I'm saying, and other places where they think no, that's not how I see it.
As the author, I'm not usually privy to these thoughts. Sometimes I'll get to have conversations around this sort of thing at live events and, if you had asked me this pre-Covid, I probably would have had specific stories to share. But I have had limited contact for the past two years. I'm looking forward to once again being able to have robust conversations and share, back and forth, in person.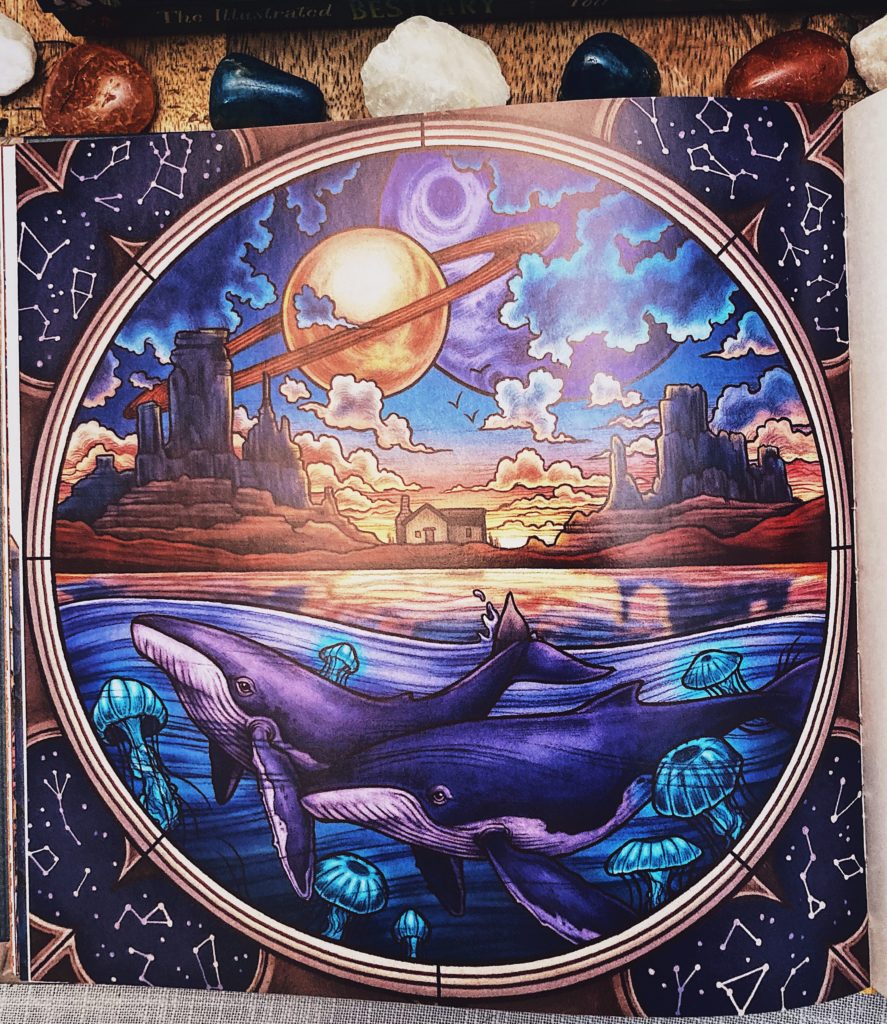 12. Rapid fire style… What are your favourite books that you are currently reading (or have recently read)?
Here's my current stack:
Matrix by Lauren Groff
The Heroine with 1,001 Faces by Maria Tartar
The Awakened Brain by Lisa Miller
Still Life with Oysters and Lemon by Mark Doty
Untamed by Glennon Doyle
Missing Witches: Recovering True Histories of Feminist Magic by Risa Dickens and Amy Torok
Atlas of the Heart by Brené Brown
Three Simple Lines: A Writer's Pilgrimage into the Heart and Homeland of Haiku by Natalie Goldberg
The one witchy must-read from the last couple years is The Once and Future Witches by Alix Harrow.
And if you're into herbal medicine, Energetic Herbalism by Kat Maier should definitely be on your bookshelf.
Kim Krans' The Wild Unknown Archetypes Deck has been my go-to deck recently.
Crystals are in bowls and on shelves around my desk. I just reach for whatever my fingers want and hold it for as long as seems necessary. The thinking and analyzing part of my brain got over-used writing The Illustrated Crystallary so I'm in pure, unquestioning, intuition mode.
13. And last, but certainly not least… If you are able to divulge anything on this front, can you please tell us about your next book?
This is perfect timing because I'm just now able to talk about my next project! The Night School will be released August 9, 2022 and I am over-the-moon excited.
It was my first time writing in a narrator's voice, instead of my own, and it was a blast. The Night School is for anyone who wishes they could go to a school for witches, wizards, or mystics. But it's not fiction: the book contains the lessons you might learn were you to attend such an esteemed institution.
Thank you again, dear Maia. Not only for chatting with me and my audience, but for the extraordinary insight, care, passion, teachings, and – very aptly – wisdom that you impart to society. The earth is blessed to call you one of its own, and I know that your work will long continue to inspire, help and resonate with countless souls the world over.
Thank you, Autumn!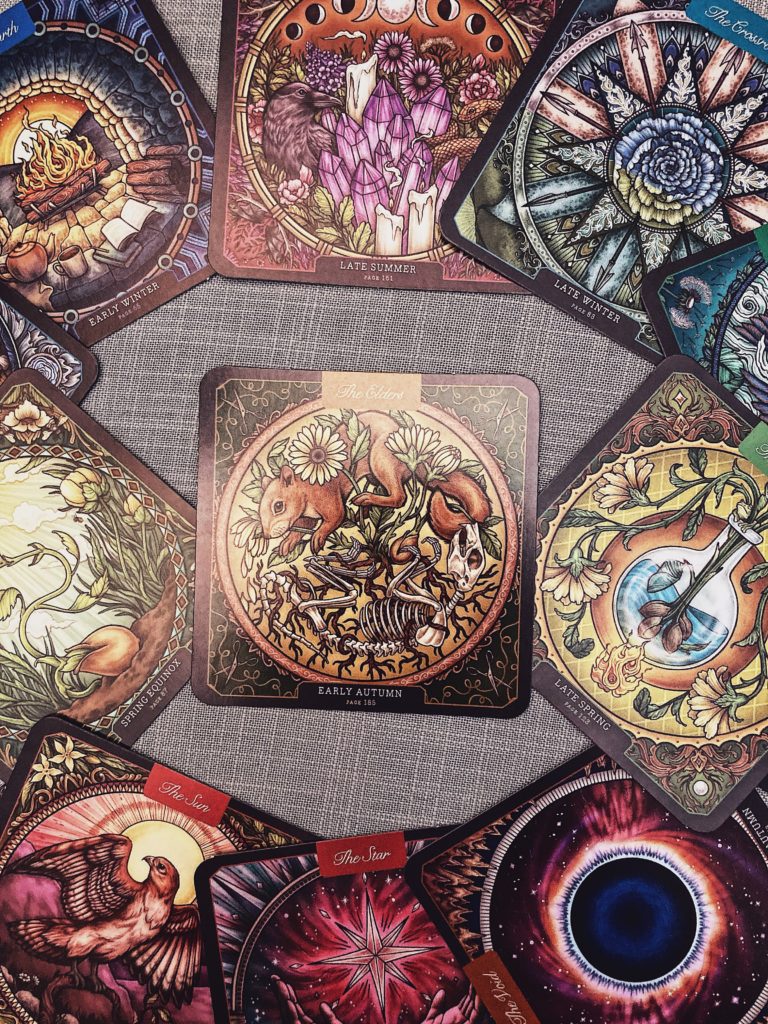 ~*~*~*~*~*~
In closing, I would like to once again thank both Maia and her generous publisher for helping to put the wheels in motion for this blog post's existence.
I am on the edge of my seat with anticipation regarding the forthcoming release of The Night School and hope, in time, to have the opportunity to review that title here as well.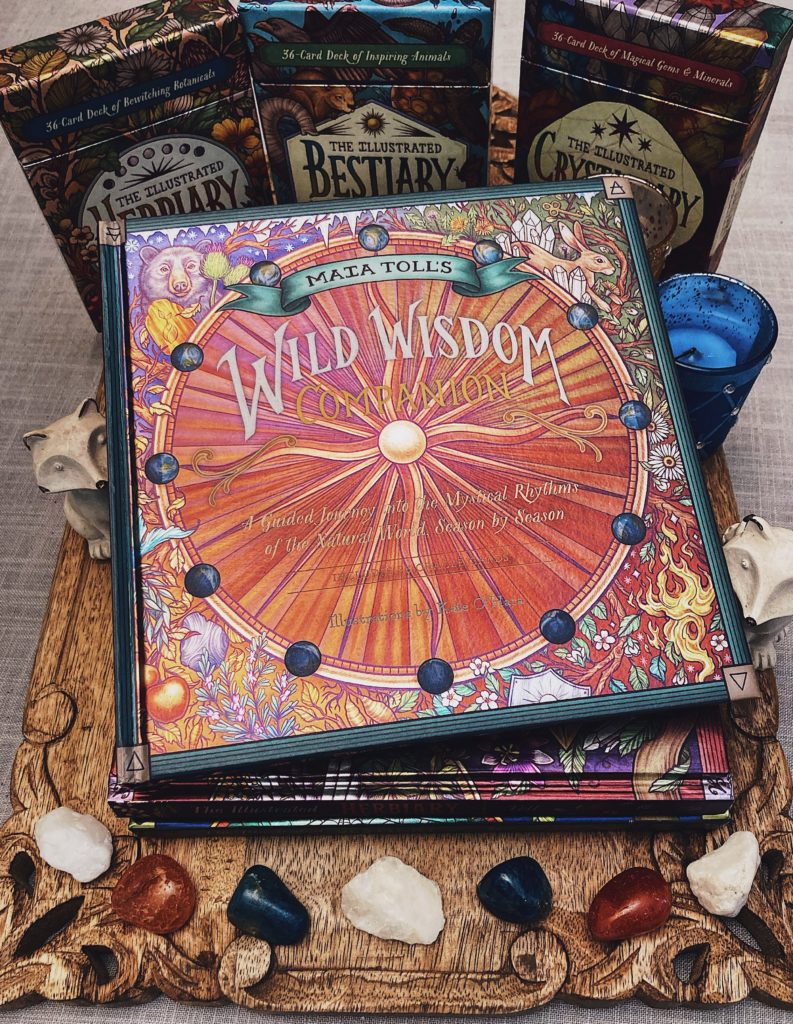 Have you read Maia Toll's Wild Wisdom Companion? How many seasons/half seasons does it feel most natural for you to divide your year into? 🍂📖🌲