I glanced out the window at the signs of spring. The sky was almost blue, the trees were almost budding, the sun was almost bright. — Millard Kaufman
Some areas of the Northern Hemisphere are already wrapped in the warm embrace of early spring.
Others, including our corner of Western Canada, continue to experience the telltale biting chill and starkly snowy landscape of wintertime proper.
Yet, even if a late-season blizzard comes barreling into town, there are usually captivating stirrings of the season that we are sitting on the precipice of. And that, for those who enjoy spring at least, is certainly a happiness-sparking prospect. 😊
There is not a time in my life when I cannot remember madly adoring butterflies (and moths, too, for that matter – assuming they aren't turning the contents of my closet into their own personal buffet! 😄).
It goes without saying that I am far from alone on that front. Countless others throughout the course of human history have been fascinated by butterflies and their immense beauty.
Items depicting or shaped like butterflies never seem to go out of style – and I highly doubt they ever will.
Though, that said, there have certainly been periods when butterfly-themed items experienced a notable spike in popularity.
One such time was the late 1990s and very early 2000, a point in history when I was in my teenage years.
From those super-easy-to-accidentally-bend-open-to-the-point-where-they-break mini butterfly hair clips to butterfly print tees (bonus Y2K points if they were cropped) to the revealing rhinestone covered Emmanuel Ungaro butterfly-shaped top that Mariah Carey famously wore to the VH9's Divas 2000 tribute to Diana Ross, butterflies were landing everywhere and we could not get enough of them! 🥰
These days, with some of the fashions from that era enjoying their own moment in the sartorial spotlight, we are seeing butterflies appear a bit more often again in the clothing and accessory world. Right down to a Gen Z-led revival of those aforementioned butterfly hair clips.
And why not? Fashion was a blast back then. It could be glam and gorgeous, but it could also be silly, fun, girly, sporty, preppy, retro, OTT, sometimes futuristically inspired, and a million other things.
Though I am not slipping on a pair of wide-legged jeans that drag on the ground beneath my chunky (black) platform slip-on sandals, nor rocking a messy bun full of darling butterfly clips atop my head these days, my lifelong passion for butterflies is still going strong.
Butterflies are often one of the first harbingers of spring's return. Their mosaic-like patterned wings flapping gracefully by our suddenly-once-again-open windows, taking said butterflies to land on the nearest flower, leaf, or other spot they wish to visit.
Recently, I found myself yearning to see real live butterflies again. Alas though, when I looked outside, the only thing fluttering around in the sky was a fresh load of snowflakes. 😂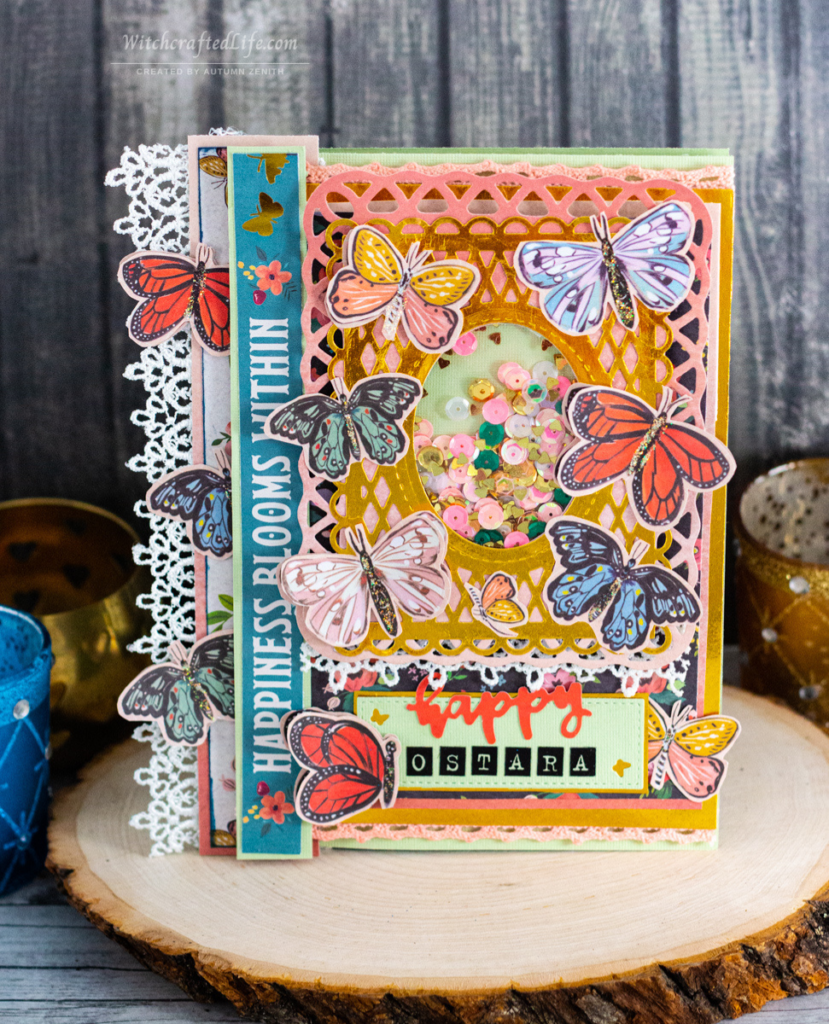 Knowing that I wanted to make a least one Ostara papercraft project this year, the idea quickly struck me to create one centred around the theme of butterflies. 💡
As a big fan of these beautiful insects, I have numerous craft products that star their depiction. Therefore, I knew this project would not require much rifling around to find the products that I had in mind.
Once I had located them, I made like a busy butterfly and quickly set to work whipping up this vibrant, dynamic springtime greeting card.
Delightful butterfly-themed Ostara shaker card
While not a hard and fast rule by any means, generally speaking, it is somewhat rare for me to craft with the cheery, confectionary-worthy palette of spring – particularly outside of that season itself.
I tend to favour darker tones and autumn + winter palettes, but that doesn't mean I don't enjoy dipping my proverbial proboscis in the nectar that is spring's upbeat hues from time to time.
Having selected the butterfly print papers that I would use on this project, I let them guide the remainder of the colour palette that I utilized here.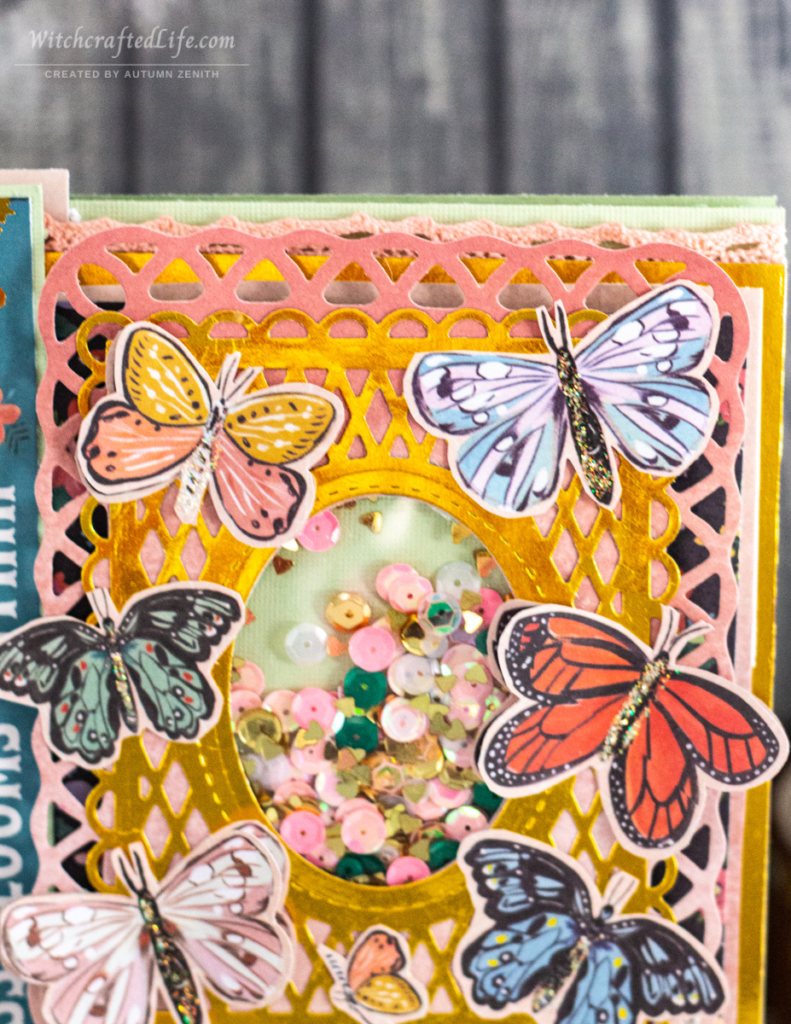 It is undeniably a bright, fun one. But it is toned down a touch by some mellow, sun-baked shades as well as hits of both navy blue and black.
I wanted a warm palette that was at once soothing and energizing at the same time, as that is a combo I often associate with spring itself.
This same menagerie of hues could very easily be used for craft projects intended for later in the spring, too, as well as those throughout the summer. Heck, I think it would even suit Mabon/the Fall Equinox as well. 😃
Though there are a fair number of different colours at play on this card, I made sure to repeat some of them two or more times throughout its design so as to help create a cohesive overall look.
For example, there are three different areas of both pink ombre paper and dark gold metallic cardstock, four of light green cardstock, and some of the fussy cut butterflies are repeated as well.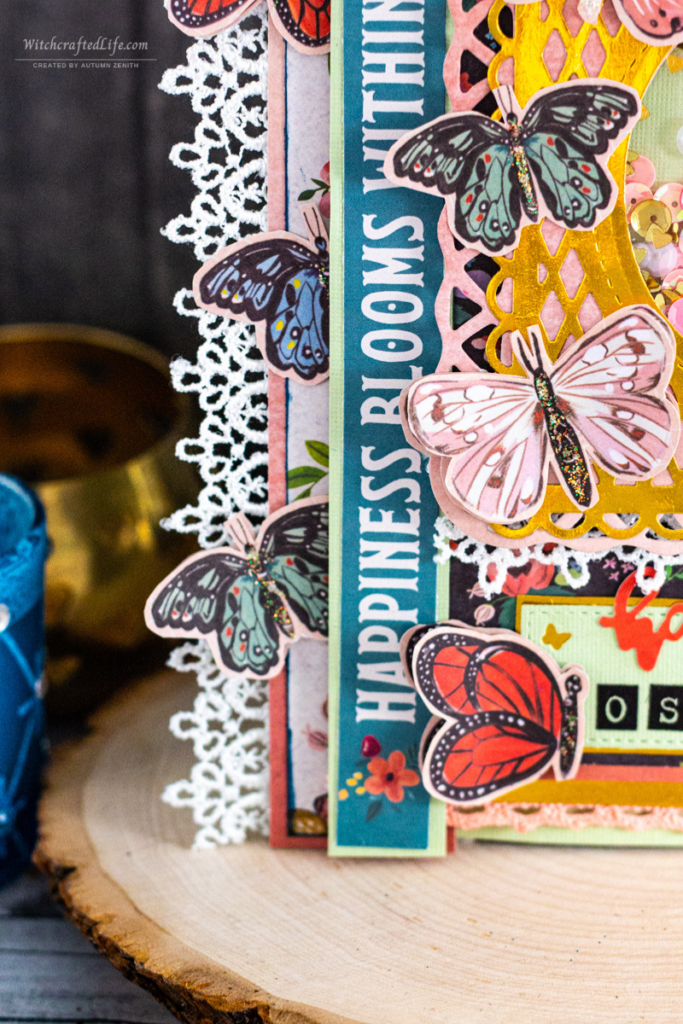 In addition, all of those fussy cut butterflies have a twinkling line of Diamond (coloured) Stickles running down their thoraxes, thus unifying this bevy of winged friends all the more.
My choice of sequins colours echoes some of the shades found in many of the other elements of this card. This in turn helps them to look all the more coordinated.
This card design – for all that is going on here – is actually quite versatile.
For example, you could easily swap out the "Happy Ostara" sentiment for one pertaining to Easter, Beltane, Mother's Day, Litha, Lammas, Mabon, birthdays, weddings, anniversaries, baby showers, christenings, graduations, retirement, bon voyage, good luck, congratulations, and scores of other events and reasons.
And if you are not feeling the palette, keep the general design but sub in a colour scheme of your choosing.
Products used to make this charming springtime butterfly shaker card
-Light green cardstock – Soft Tones 8.5"x11" Cardstock from Paper Accents
-Dark metallic gold cardstock – Foil Cardstock Paper from Recollections (Michael's brand)
-All printed papers used in this project – Conservatory 12"x12" Paper Pad from Craft Smith (Michael's brand)
-Clear acetate
-Smaller sized scalloped edge rectangular die
-Oval die – Nestabilities Classic Oval Dies from Spellbinders
-Larger sized scalloped edge rectangular die – Nestabilities Lattice Rectangles from Spellbinders
-Small butterfly cut out rectangle die (from AliExpress)
-Dark blue/navy blue ink – Memento Dew Drop Nautical Blue Ink from Tsukineko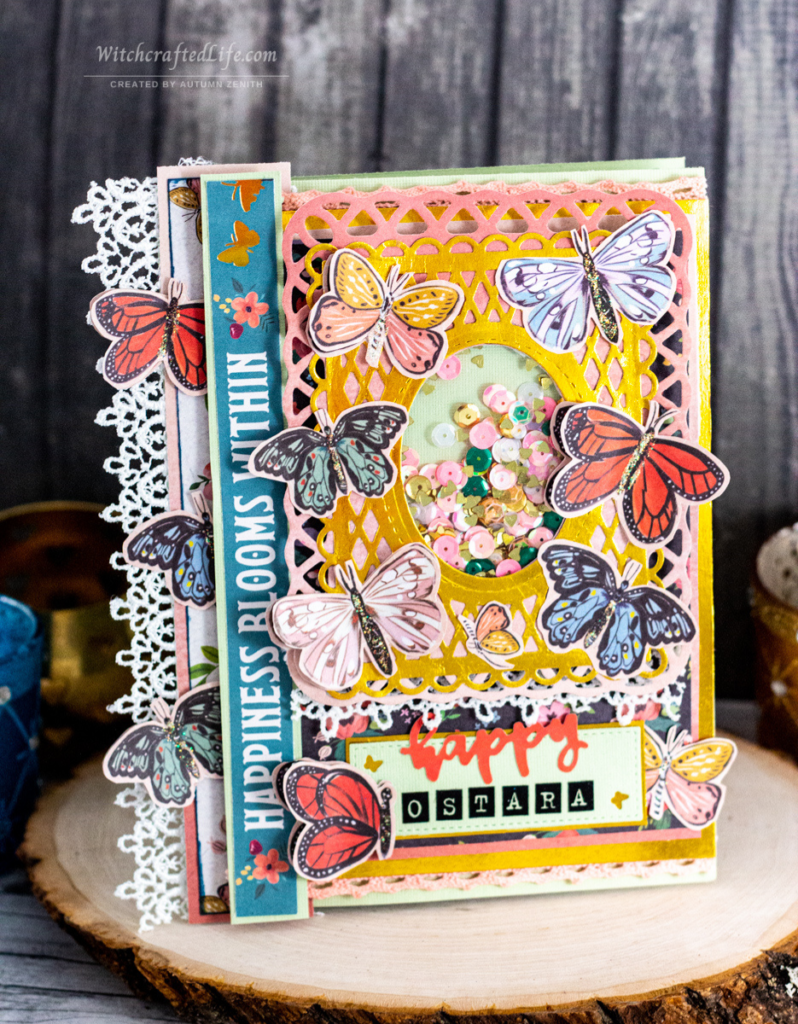 -Iridescent clear glitter glue – Diamond (Glitter Glue) from Stickles
-"Happy" word sticker – Soup Labels Farmhouse Stew (Word) Stickers from Jillibean Soup
-Small black and clear letter stickers – Mambi Sticks Clear Stickers from Me & My Big Ideas
-Green and gold sequins mix – Evergreen Sparkle from Pretty Pink Posh
-Micro-sized gold heart-shaped sequins – Unnamed product from Pretty Pink Posh
-Pin sequins – Princess Sequins from Craft Medley
-White lace trim
-Peachy-pink crochet trim – Stella & Rose Hazel Memories Trim from My Mind's Eye
-Dimensional foam, pop dots, or similar to elevate some of your layers
-Adhesive, such as a tape runner, of your choice (I often use my Scotch Tape Glider)
How to make a beautiful butterfly themed shaker card for Ostara/The Spring Equinox
Begin by making a card base from light green cardstock (if you do not have light green, white cardstock would look lovely here as well).
Cut a piece of white lace trim the vertical length of the card base. Adhere on the left-hand side of the card base so that this trim extends out beyond the card base itself.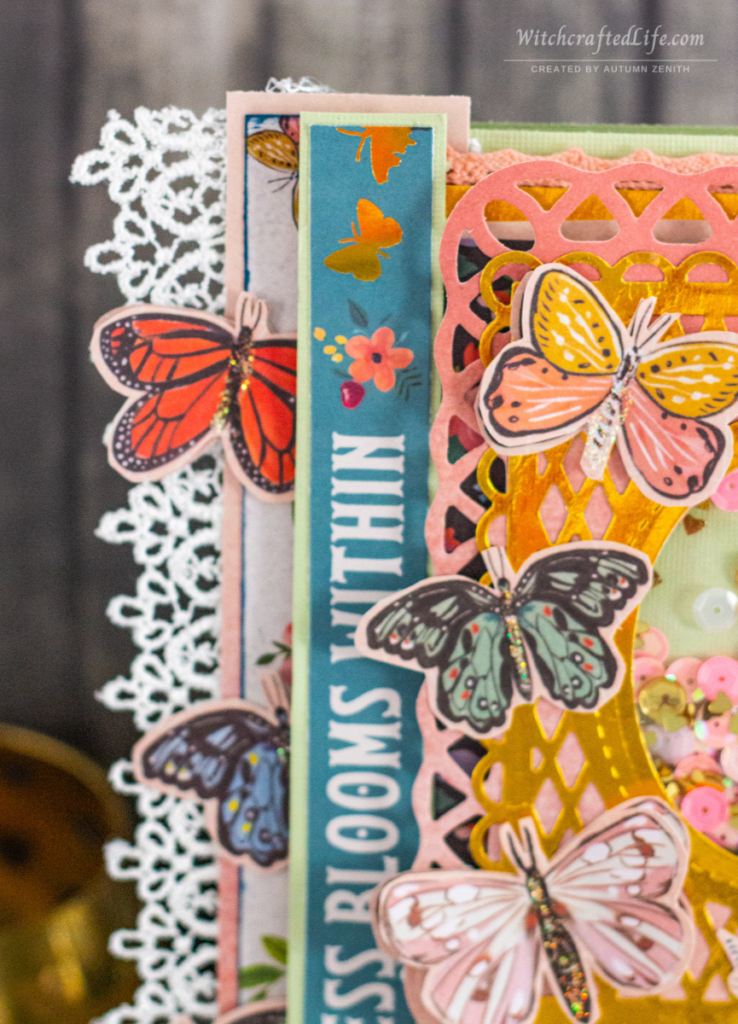 From the Conservatory paper pad, cut a piece of (white background) butterfly print border strip paper. Ink it on all four sides with dark blue or navy blue ink. Mat it with a piece of ever-so-slightly larger (than that strip) pink ombre print paper.
Layer and adhere this matted border piece along the left-hand side of the card, overlapping it somewhat with the white trim layer.
Cut a piece of gold metallic cardstock a little bit smaller than your card base. Cut two equal-sized pieces of peachy-pink crochet trim that are the length of the top and bottom of the gold metallic cardstock. Adhere trim to the underside of the top and bottom of that piece of gold cardstock, then adhere the cardstock to the card base.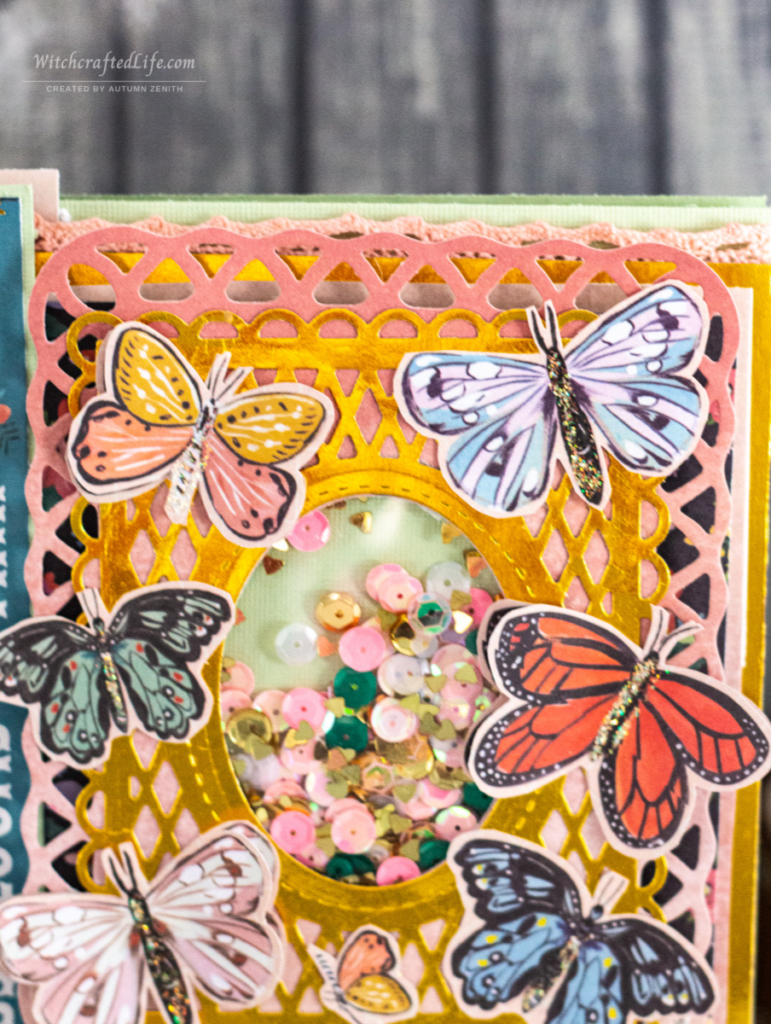 Next, cut a piece of pink ombre paper (this paper, like all others used throughout this project, hails from the Craft Smith 12"x12" Conservatory paper pad; this is not a terribly old paper pad, so it may still be available at some Michael's locations) just a tiny bit smaller than the gold cardstock layer. Adhere to gold cardstock layer.
Cut a piece of dark blue + multicolour butterfly print paper a whisper smaller than the previous layer. Adhere to the previous layer.
Next, cut out the border strip that says, "Happiness Blooms Within". Mat it with an ever-so-slightly larger (than that strip) piece of the same light green cardstock you used for your card base.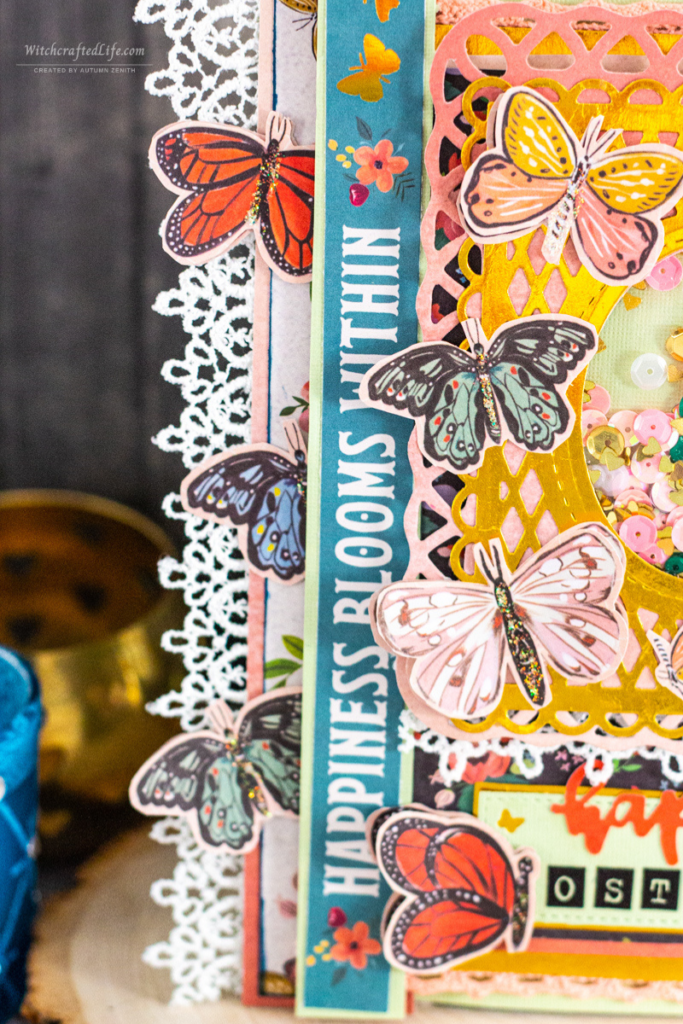 Adhere the border strip to the green cardstock and then, using foam tape, pop dots, or a similar dimensional adhesive product, adhere the green cardstock to the far left-hand edge of the previous (butterfly print paper) layer.
Using the larger of the two scalloped edge rectangular dies, cut a rectangle from the pink ombre print paper. Then use the oval die to cut an oval aperture in the middle of that piece. Back the aperture with a piece of the same light green cardstock that you used for the card base. Adhere this scalloped rectangle piece to your previous layers.
Use the smaller of the two scalloped edge rectangle dies (mine comes with an oval opening in the center already; if yours does not, cut an oval the same size as the one on the previous layer in the center of that rectangular piece) to cut a rectangle from metallic gold cardstock.
Cut a small oval-shaped piece of clear acetate and adhere it to the back of the metallic gold rectangle.
Adhere the gold rectangle (with acetate) to the pink ombre rectangle so that the two ovals are perfectly aligned.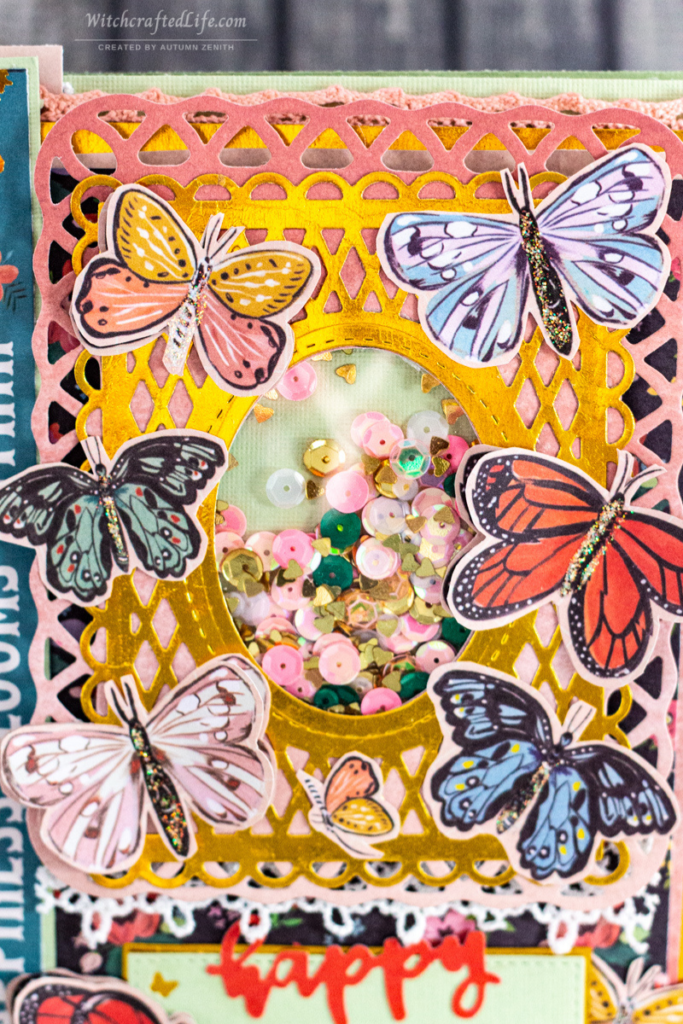 Flip that layered piece over and add in the various colours and shapes of sequins.
Use foam to create a border all the way around the oval shaker element opening. Carefully bring the green cardstock + ombre pink layer to the foam adhesive, gingerly apply some pressure to really stick the foam adhesive in place (as we don't want any sequin going rouge and escaping our shaker! 😄)
Next, measure and cut a piece of the same white trim that you used earlier so that it is the length of the pink ombre layer. Then cut that piece of trim in half, if so desired (only half of it will be showing, so why not save the other half for use on a different project?). Adhere the white trim to the underside of the bottom of the pink ombre layer.
Follow that up by adhering that rectangle layer "stack" to your previous card base layers.
Cut out a label piece using light green cardstock and the small rectangular-shaped butterfly (cut out) label die. Mat this piece with an ever-so-slightly larger piece of gold metallic cardstock. Adhere together.
Then adhere that "stack" a little bit below the central (rectangular layers), so that some of the dark blue + multicolour butterfly print paper is visible between the two-layered areas, as shown.
Use the "happy' word sticker and black + clear letter stickers to spell out "Happy Ostara" (or the similar-sized sentiment of your choosing).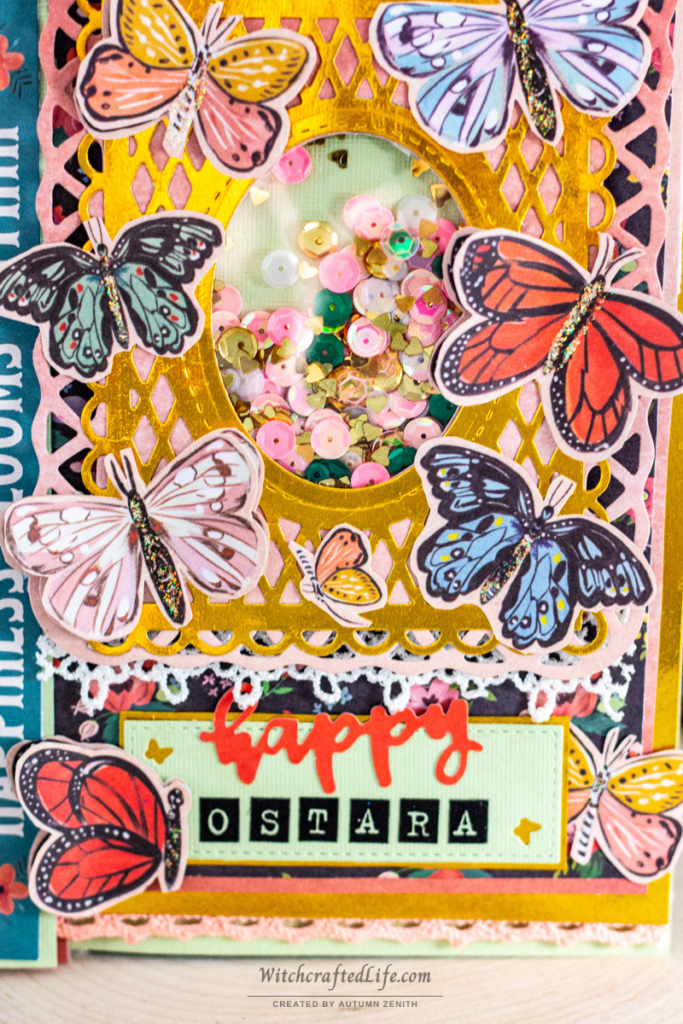 Take a piece of butterfly print paper from the Conservatory paper pad and fussy cut out several different sizes and colours of butterflies. Adhere them around the card as shown (or however you wish to place them).
Then cut out duplicates of a few of the butterflies. Apply adhesive down the middle of the backside of those butterflies. Gently bend their wings upward a bit, then adhere them down on their corresponding "flat" butterfly layers.
Lastly, take your iridescent glitter glue (be it Stickles or otherwise) and with a light touch, apply a small line down the thorax (middle vertical area) of each butterfly.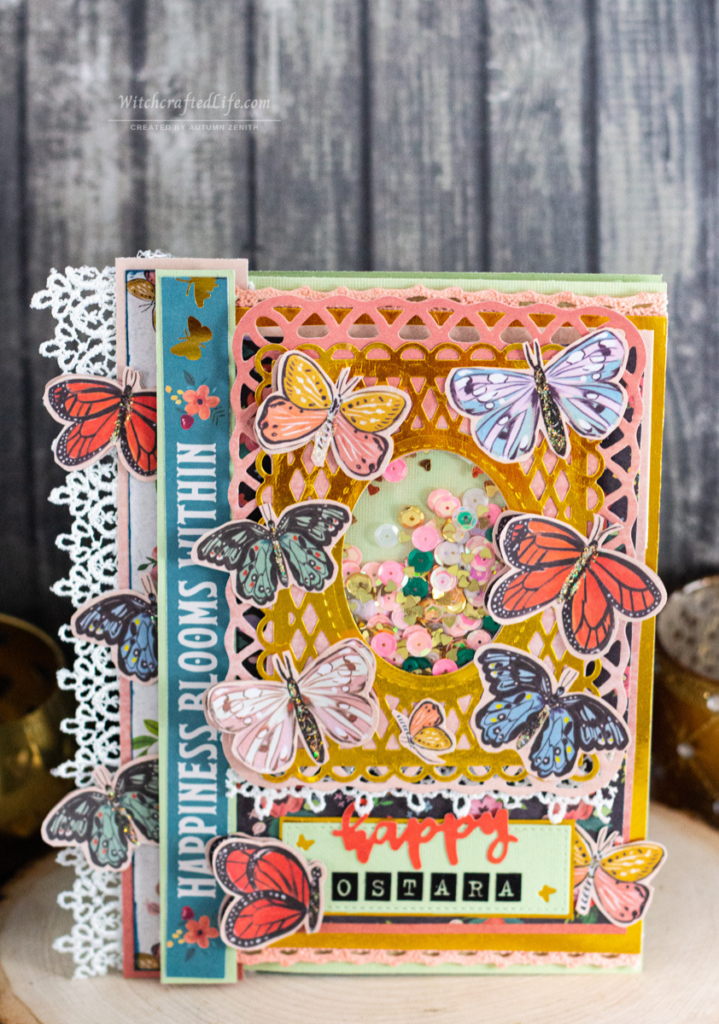 I know that the above instructs are a bit lengthy, but in reality, this project is not (IMO) very tricky and it does not take terribly long to complete. The most time-consuming part, by far, is fussy cutting the butterflies out.
I adore fussy cutting, so do not mind. However, if it isn't your favourite activity or if using scissors for a long time is difficult for you due to health (or any other) reasons, you could use similar sized premade butterfly die cuts, chipboard pieces, butterfly die cuts that you make yourself, punched butterflies, or stickers here instead.
This festive Ostara/Spring Equinix/Easter card is a pleasure to both make and bestow upon someone special in your life – especially if they are a big fan of butterflies. ❤️
Ostara – like springtime sunshine – returns with gusto!
North of the equator, March houses the Spring Equinox. From that day onward until the Summer Solstice we will be surrounded by the beauty, gentle warmth, and the general air of happiness that is inherent to spring.
On – or in the general vicinity of – the Spring Equinox, a fair number of witches/Wiccans/Pagans opt to observe the calendar year's second sabbat: Ostara.
A lively, hope-filled celebration of the earth's reawakening, new life, new beginnings, optimism, and much more, Ostara is, for many, a jubilant sabbat that bounds into our life as merrily as a baby lamb.
If you are not familiar with, or would like to read more about, Ostara, I welcome you to do so via the following entries that I have previously penned about this sabbat:
–10 Free and Low-Cost Ways to Celebrate Ostara
–35 Wonderful Ostara Crafts, DIY Projects, and Décor Ideas for The Spring Equinox
–Ostara Candle Spell for Clarity and Renewal (Guest post that I wrote for TheWitchofLupineHollow.com)
While relatively few who are not witches/Pagans observe Ostara in its 21st-century iteration, many individuals – regardless of their spiritual path – enjoy celebrating the return of spring.
The upcoming Equinox is a stellar time to do just that.
A lot of people in my life were born in the spring and numerous loved ones – including my mom and her only sister – rank springtime as their favourite season. 🌸
They are far from the minority there, as spring takes top billing for scores of folks around the world.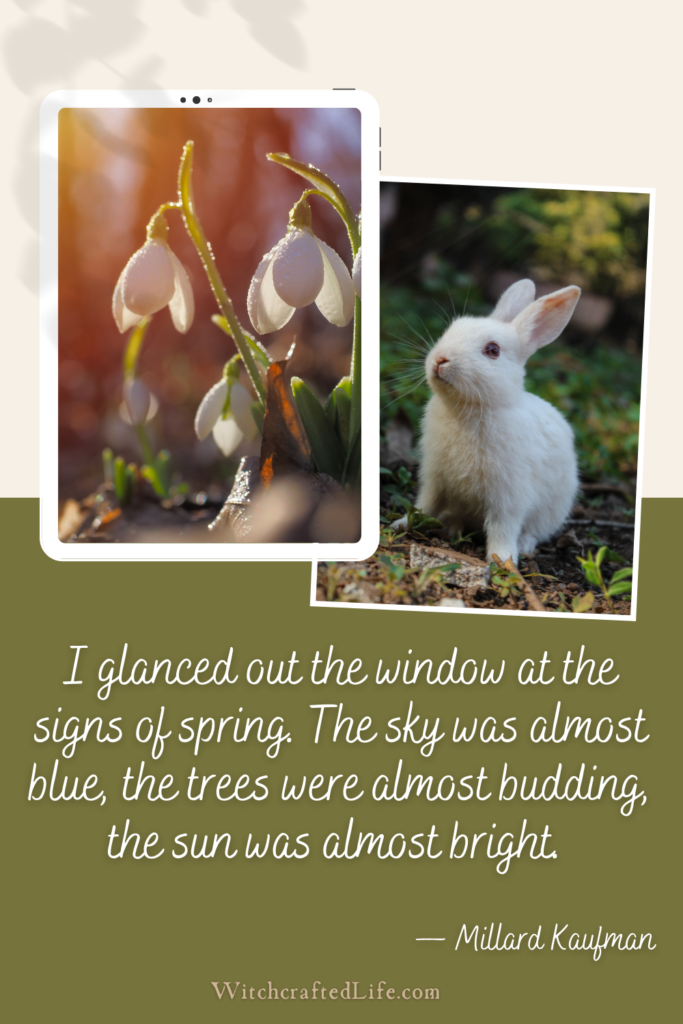 It is not hard to see why. After months of freezing temps, long hours of darkness, and the need to wear more layers than you'd find on mille crepe cake, many of us are champing at the bit for even the slightest degree of warmth.
Our patience is, thankfully, rewarded sooner or later. And then, after a few sun-kissed days, as if by magic, we often all but forget the lengthy cold spell that we just endured.
Suddenly our lives are illuminated in fresh, wonderful ways again. And while we know that winter will eventually return, for now, we are as far away seasonally from that point as one can possibly be.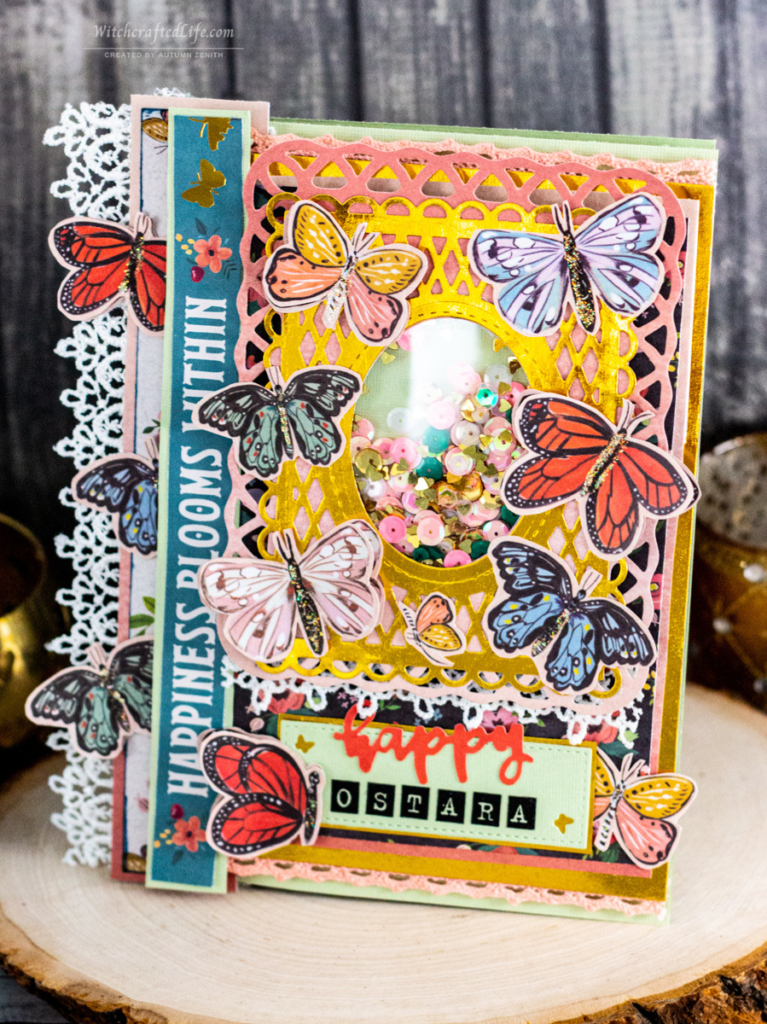 And that, if you ask me, is worth celebrating and sending out a butterfly-themed card or two in honour of!
Additional gift of mini butterfly hairclips, 100% optional! 😄
Do you equate butterflies with the return of spring (or autumn, if you live south of the equator)? What is one of your favourite things about the upcoming sunny season? 🦋☀️🦋