Flush on the heels of my recent Gold Ghost Shabby Chic Purple Halloween Card, I was eager to keep the violet fest going strong. 😃
While purple has strong ties to Halloween, (in the Northern Hemisphere) it is arguably most closely connected to spring, followed by summer.
Though lilac season is over for many by this point in the year, plenty of other breathtaking purple blooms continue to dot the landscape. From irises to hydrangeas, pansies to orchids, it is hard not to be intoxicatingly drawn towards this most regal of garden hues.
As touched on in the aforementioned post, my mom's all-time favourite colour is purple.
Keen to make a card to celebrate one of her latest visits to our humble abode, I deep-dived into the purple end of my craft stash and came up with the greeting featured in this post.
Truth be told, at the time of making this card, I still had a fair number of purple-hued products spread out on my desk in my wee craft room.
Not a day goes by that I do not thank my lucky stars for the roof over our heads and the fact that I get to whittle a tiny corner of it out as a dedicated craft space.
However, objectively, it is a rather pint-sized spot and as a result, when I bring out a decent selection of products pertaining to a specific colour scheme, holiday, theme, etc, I often try to make two or more projects with those items before tucking them back in their respective resting places.
While I am being mindful to work with purple a touch more often these days, chances are it will never usurp my beloved usual palette of dark, fall, Halloween, and antique-inspired hues.
And that is all the more reason, I figure, to create multiple projects when I do pull out a summer garden's worth of purple products.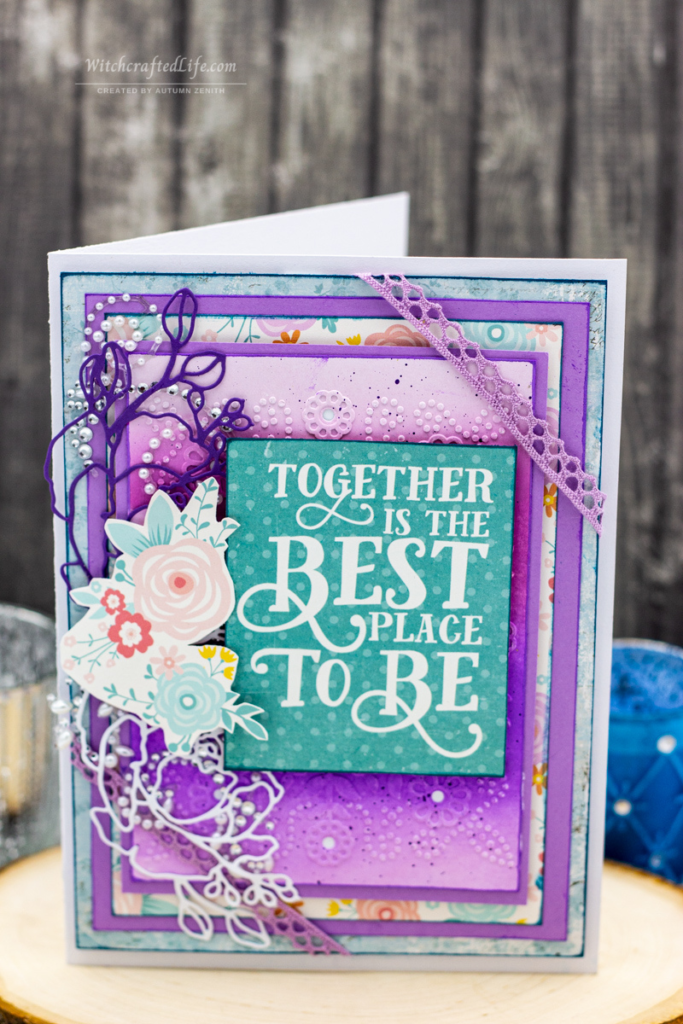 In addition to purple, some of my mother's favourite colours include blue, aqua/turquoise, and crisp white. All of which, I should note, look gorgeous on her! 😍
Thick in the heart of sunny season, where nature, fashion, home décor, and sometimes even things like acrylic dishware are rife with these very hues, it felt exceedingly natural to craft with them as radiant sunshine playfully streamed through the quasi-sheer curtains on the sole window in my craft space.
I work with ink relatively often (be it for edging, creating sky backgrounds, stamping, or myriad other uses). However, despite being a huge fan of dry embossing, I do not tend to reach for my embossing folders nearly as often as I should these days.
Pondering this point a little while ago, it struck me that a good part of the reason why is because of the fact that I often like to make larger-sized cards and most embossing folders (let alone those I own) fall short of the size of my card bases.
Really, though, the more I thought about it, the sillier using that point as a means of sometimes keeping my embossing folders on the sidelines seemed. After all, even if a single embossed piece cannot cover most of my card bases, I can still utilize them for a portion of my design.
I was in an inky mood the day I made this card and so set about creating an ombre-esque design with three assorted shades of purple Distress Oxide Ink atop a floral embossed panel of white cardstock.
To up the volume of purple here all the more, I then took dark purple acrylic paint and created some tiny splatters across my embossed and inked panel.
I have to say, I really like how his piece turned out. There is something to its gradient of lush purple hues that calls to mind a stunning summer sunset.
And speaking of sunsets, many of the other colours that appear on this card would be right at home in the summer skies that help guide us gently into the night through this segment of the year.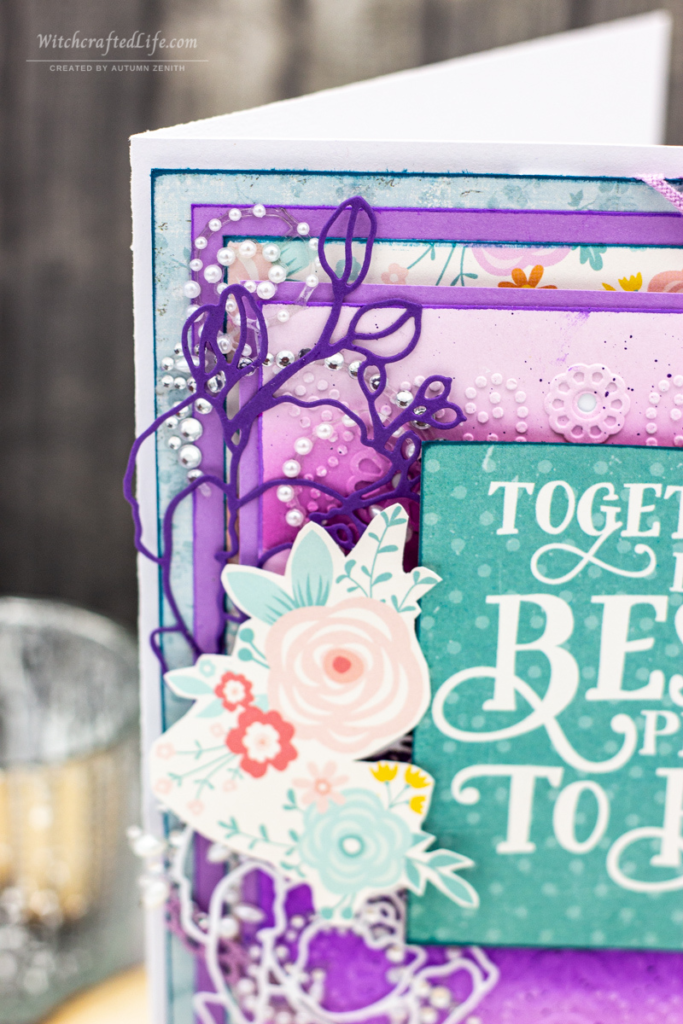 Though purple, aquamarine, and white are the dominant colours here, nestled amongst them one also finds rich, warm yellows and delightfully upbeat pinky-corals.
If these hues don't scream summertime, I don't know what would! 😊
Lovely purple inked and embossed "Together is the best place to be" card
The delicate, yet visually impactful Fine Bouquet Die from Alte & New used here was a gift from an extremely kind and generous friend that I received in early 2021. I have been champing at the bit ever since to use it for the first time.
What better opportunity than a sweetly pretty summertime greeting? 😃
I cut two copies of this die out. One in white, the other in dark purple, concealing the spot where they meet with some fussy cut blooms from the same floral print paper that appears here in a background layer.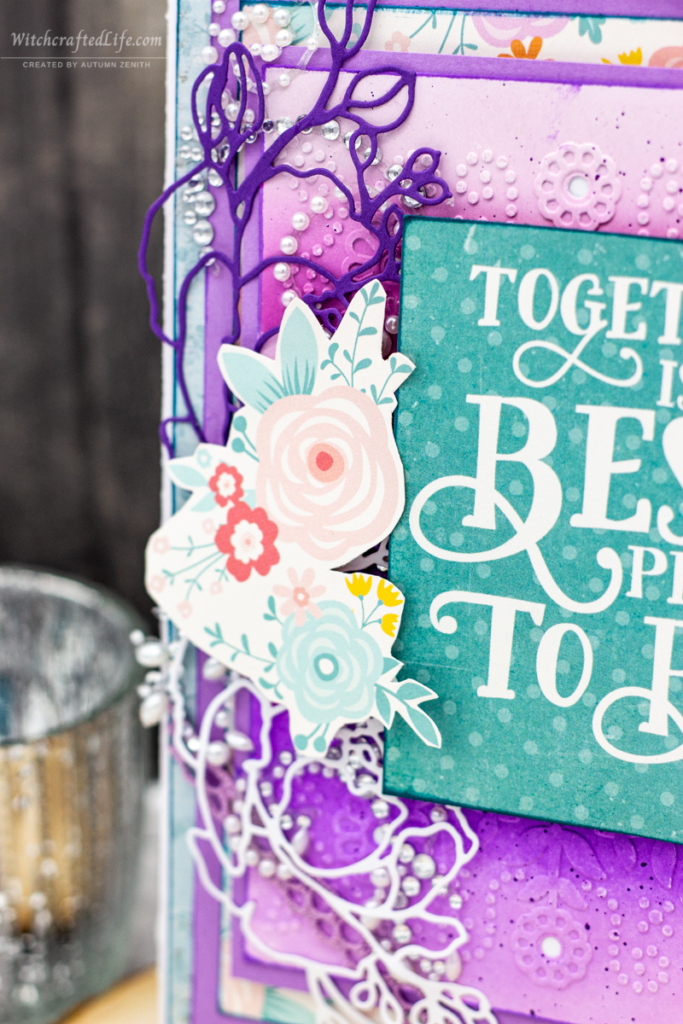 In addition to its use on the embossed panel, ink appears here multiple times along the edges of most of the paper and cardstock layers.
Though a sizable percentage of my paper crafting projects involve at least a little bit of metallic and/or glitter paper, there are certain times – such as this project – where neither of them appears.
However, shimmer and sheen are not missing entirely here, as the white pearl + clear rhinestone adhesive flourish piece adds a lovely background hit of precisely that to this upbeat greeting card.
The sentiment cut apart piece reflects how wonderful I find spending time with my mom to be. Any chance we get to visit is not just a good day, but a great one, and I am incredibly thankful that we live a mere hour's drive away from one another.
This means that (save for the initial months of the pandemic) we are able to see one another on a fairly regular basis and it is not uncommon for her to come visit for a few days at our house.
Interestingly, as do not have the space for a dedicated guest room, when my mom stays overnight here she sleeps on a high-quality inflatable bed that gets put on the floor of my craft room.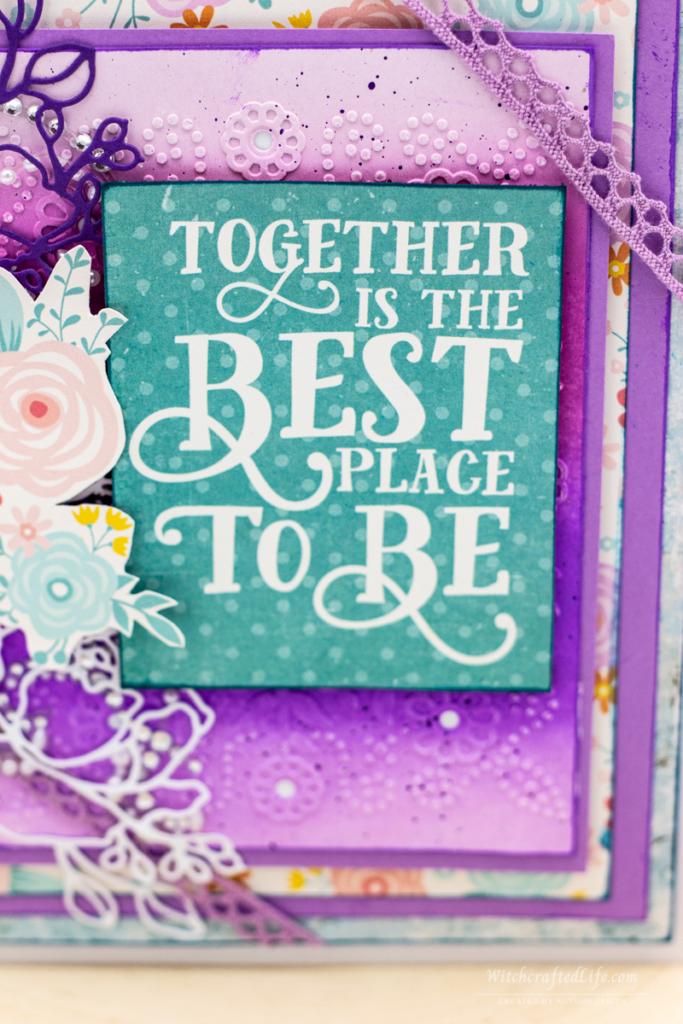 Therefore, prior to them coming together to create this card, the elements at work here would have kept my mom company while she slumbered in that area of our house. (Love that thought!)
Should you wish to replicate this card yourself or simply take a few design ideas from it, read on for a complete list of products used on this lovely purple card as well as step-by-step instructions that will guide you through creating one of your own.
Products used to make this sunny season perfect purple card
-White cardstock
-Light purple cardstock
-Dark purple cardstock
-Tone-on-tone light aqua floral print paper – Vintage Summer Basics 1935 from Maja Designs
-Multi-coloured floral print paper – Hello Baby 3"x4" Journaling Cards Paper from Echo Park
-Cut apart "Together is the best place to be" sentiment piece – ???
-Floral outline die – Fine Bouquet Die from Alte & New
-Floral embossing folder – Floral Reflections Cut and Emboss Folder from Spellbinders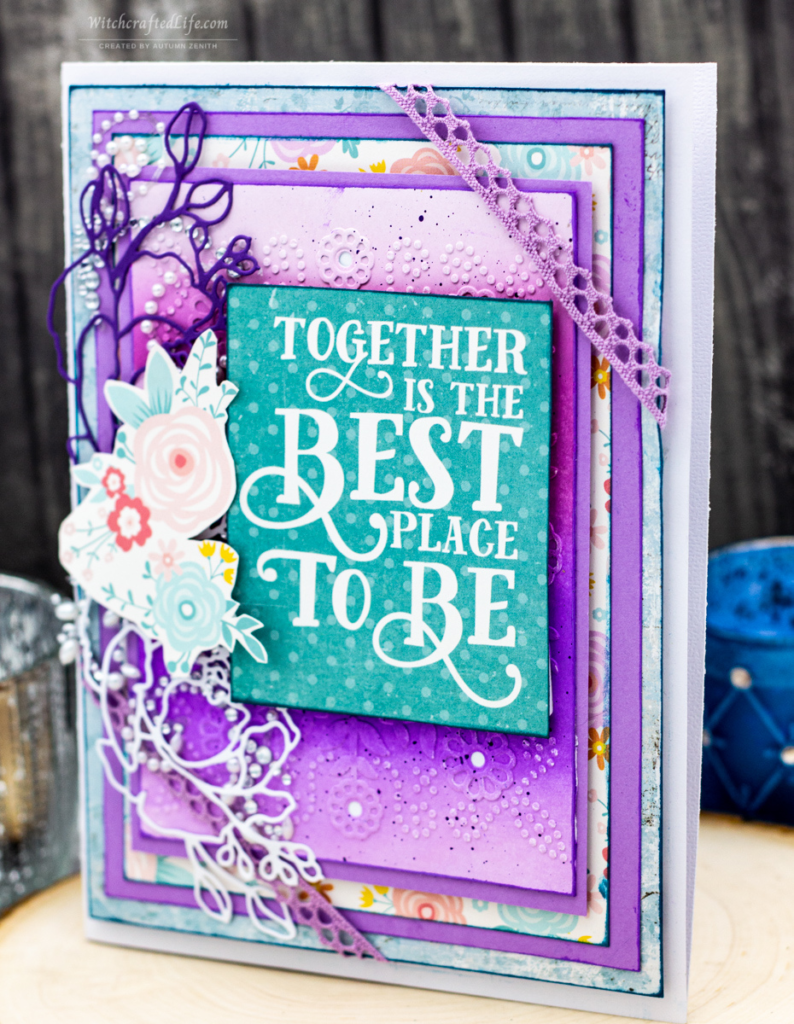 -Teal ink – Memento Dew Drop Teal Zeal Ink from Tsukineko
-Three different shades of blendable purple ink – (I used) Distress Oxide Ink in Milled Lavender, Seedless Grape, and Wilted Violet from Tim Holtz
-Dark purple acrylic paint (gouache could be used here instead, if so desired) – Violet Pansy Shiny Acrylic Paint from Folk Art
-Greyish-white pearl and clear rhinestone flourish (Unspecified product name from the Dollarama brand "Crafts".)
-Purple crochet trim – Noteworthy Addie Trims from Making Memories
-Dimensional foam, pop dots, or similar to elevate some of your layers
-Adhesive, such as a tape runner, of your choice (I often use my Scotch Tape Glider)
How to make an inked and embossed "Together is the best place to be" card
Begin by making a white card base.
Cut a piece of Maja Designs Vintage Summer Basics 1935 paper a little bit smaller than the size of your card base. Ink all edges with Teal Zeal ink. Adhere to card base.
Cut a piece of light purple cardstock a little smaller than the previous layer. Ink all edges with Seedless Grape Distress Oxide ink. Adhere to previous layer.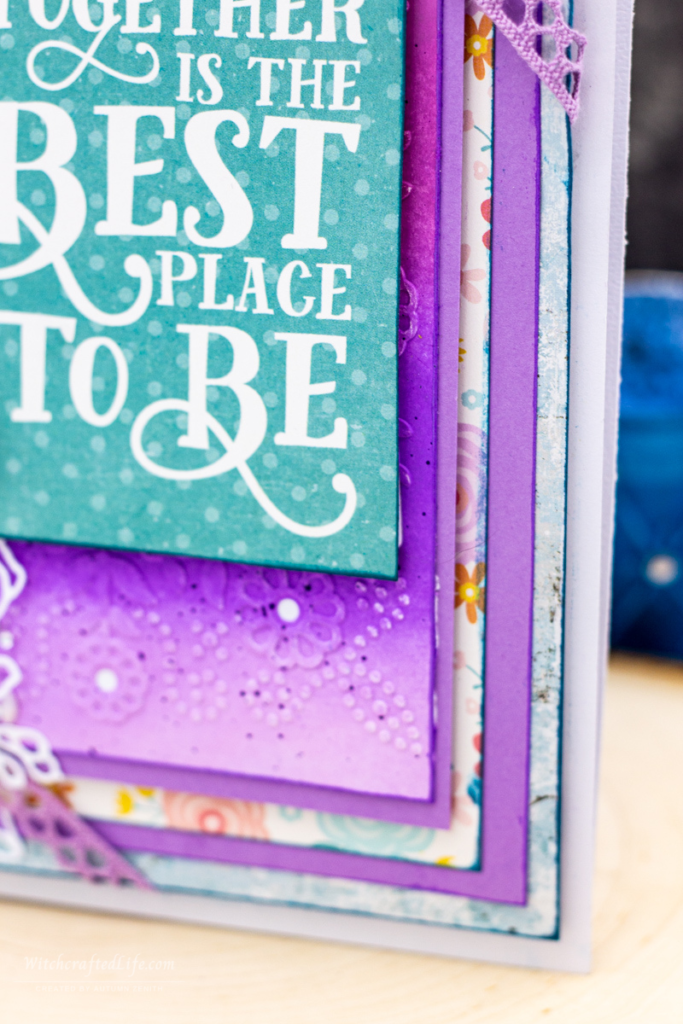 Cut a piece of multicoloured floral print paper, likewise, a little smaller than the last layer. Ink edges with Teal Zeal Ink. Adhere to previous layer.
Next, cut a piece of white cardstock a little bit bigger than the dimensions of the Spellbinder's Floral Reflections Cut and Emboss Folder.
Use the three shades of purple Distress Oxide Ink to make an ombre-esque blended ink panel.
Once the ink is dry, take your purple acrylic paint and lightly splatter small droplets across this panel.
After the paint has dried, place this piece of inked and paint-splattered cardstock into the Floral Reflections Cut and Emboss Folder and run it through your die cutting machine.
Back that piece (as it has small cut-out sections) with white cardstock.
Cut a piece of light purple cardstock slightly bigger than the embossed panel. Adhere embossed panel to purple cardstock, in turn adhering the purple cardstock to the previous layer of your card design.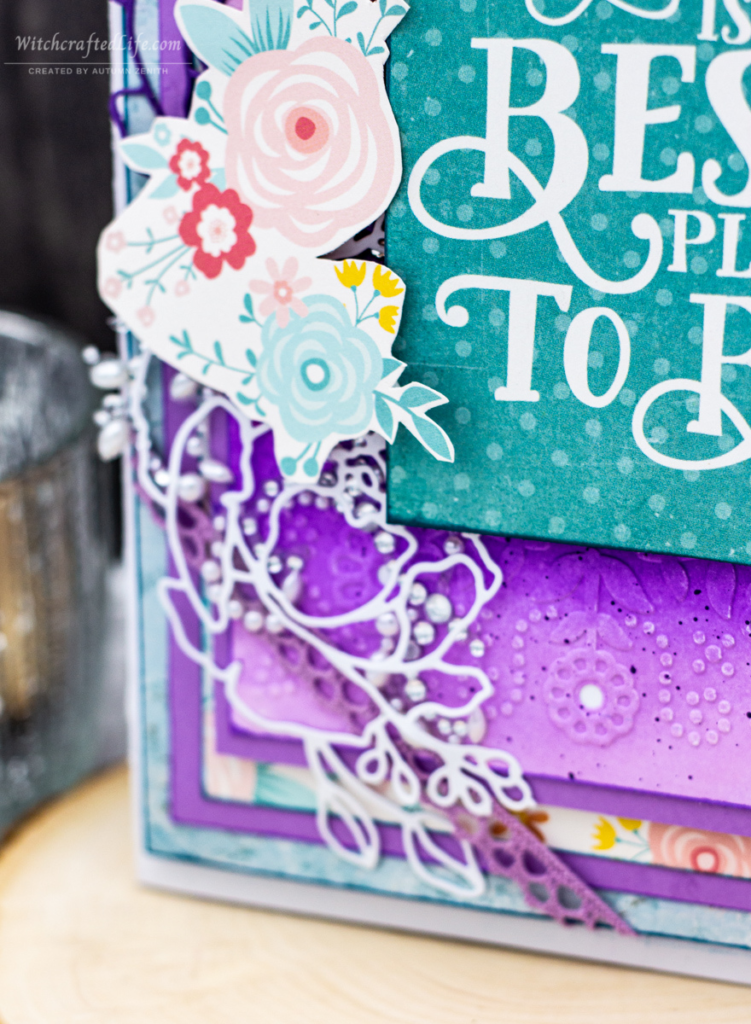 Cut out the sentiment panel, ink all edges with Teal Zeal ink and attach this piece to the inked + embossed panel using dimensional adhesive (such as Pop Dots).
Adhere the pearl and rhinestone flourish piece to the lefthand side of the card design.
Using the Fine Bouquet Die from Alte & New, cut one piece in white cardstock and another in purple cardstock. Attach these pieces, as shown, along the lefthand side of your card (on top of the embellishment flourish).
Fussy cut a cluster of flowers from the Hello Baby 3"x4" Journaling Cards Paper from Echo Park. Adhere it where the two Fine Bouquet die cuts meet in the middle of the left-hand side of the card.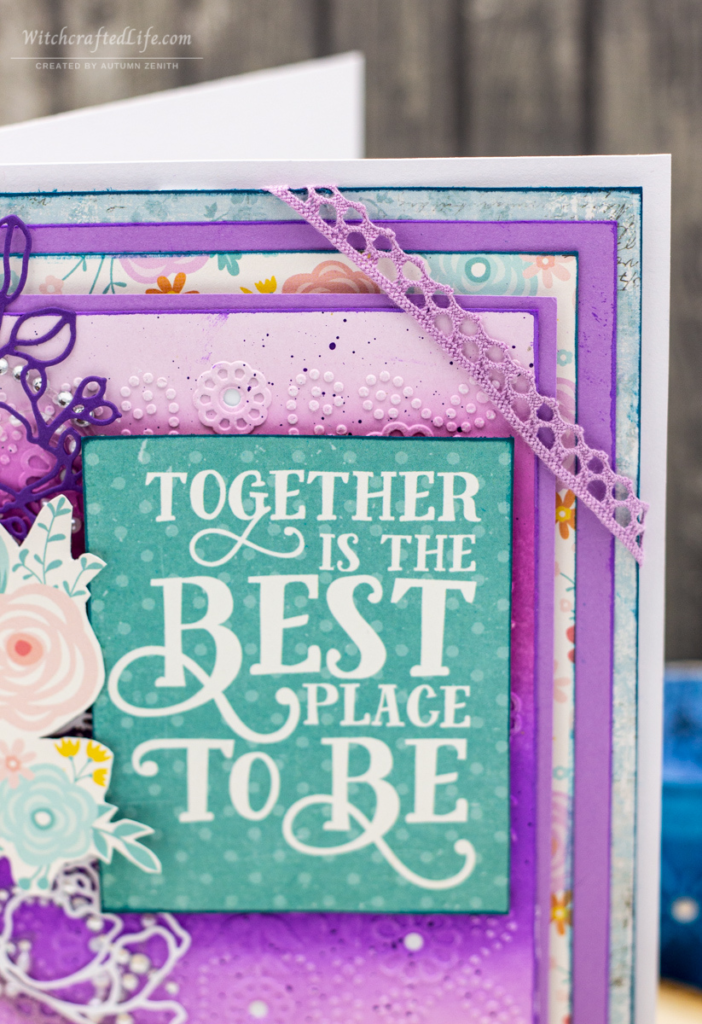 Lastly, cut two equal-sized pieces of light purple crochet trim. Place each one diagonally across the lower left and upper right-hand corners of all of your card layers (save for the card base itself), as shown.
And voila, just like that you have an easy (and relatively quick) card that is sweet, fun, and ever-so-lovely!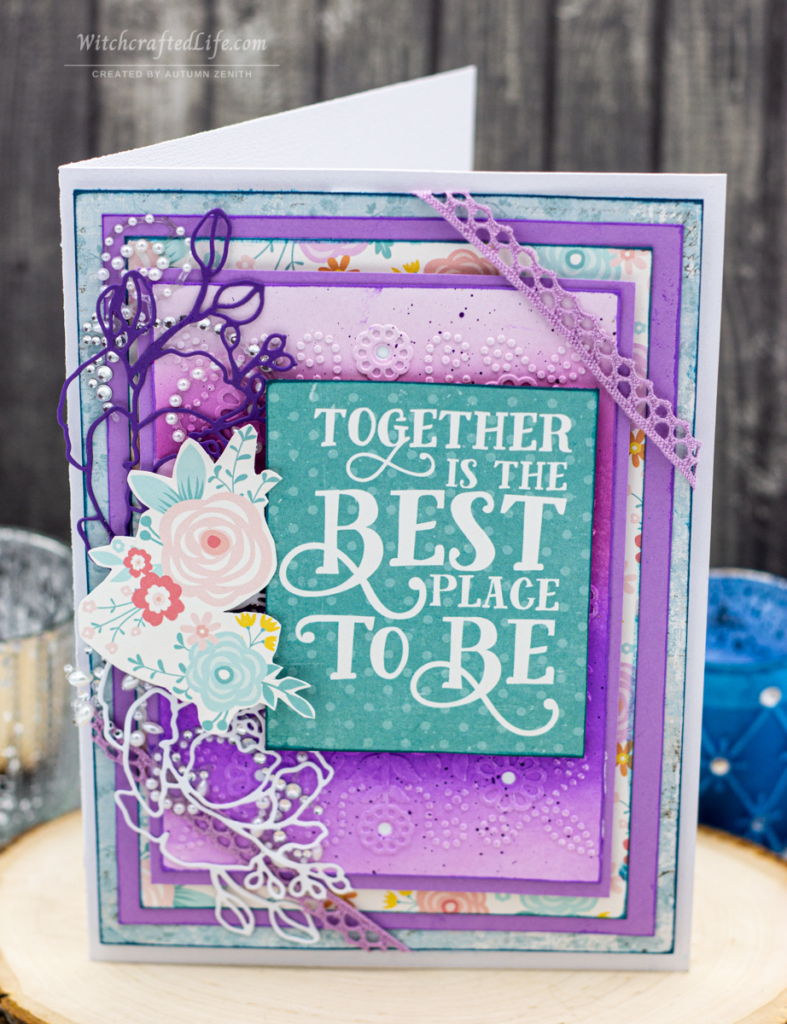 This design – either with the same sentiment or one that better suits the occasion at hand – lends itself well to a wide array of events, including – but definitely not limited to – Easter, Mother's Day, birthdays, weddings, anniversaries, baby showers, new babies, and retirement.
It also makes a great "thinking of you", "missing you", congratulations, or even sympathy card.
Welcoming August back into our lives
Rather mind-blowingly, we have reached the year's eighth month already. In a matter of days, we will hit the halfway point of summer. 😲
Having just observed Lammas/Lughnasadh two days ago (though, as with most of the Pagan sabbats, I usually celebrate for multiple days in a row and am continuing to do so as this week unfolds), my head and heart are both starting to shift towards fall.
Not, mind you, that they don't already focus on that season the whole year through – because they most definitely do! (As things such as my #MakeHalloween365 hashtag and year-round festive fall/Halloween projects attest to).
However, as much as I madly adore autumn, I am grateful that we still have a few weeks' worth of sizzling hot (snow-free!) summer to enjoy before the telltale nip of fall returns to the air and the world is suddenly sweater-clad and frost-covered once again.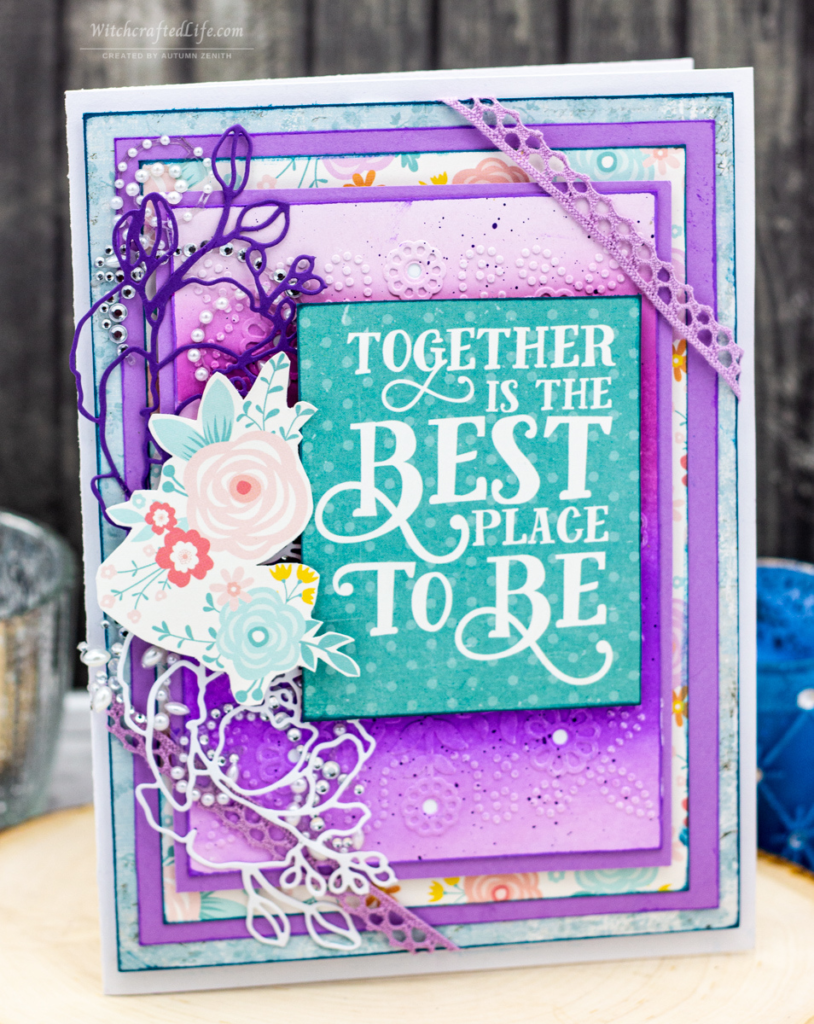 Chances are that a sizable percentage of the paper crafting projects I'll be sharing here between August and November will be fall/Thanksgiving/Mabon/Halloween/Samhain themed.
As most of those creations have yet to be made, it is hard to say to what degree purple will factor into them.
I am in the mood, as I type these words at least, for a fun, classic Halloween palette this year, so I could easily see purple potentially appearing in some of my October 31st related projects. Time shall tell! 😊
Right here and now though, with a landscape that still looks far more like the start of summer than the end of this season, I will keep delighting in the mermaid-worthy hues of palettes such as the one used on this "just because" handmade card for a little while longer.
Once you've pulled out a slew of items for a project, do you tend to make additional creations with them as well, too? When does summer start to give way to fall on your end? 🌞🌼💜