Sweet friends, you can scarcely imagine how happy I am to have been inundated with requests for the next entry in our multipart sabbat/equinox/solstice craft idea series. 🥰
Thus far in this ongoing post series – which will total eight entries when complete – we have explored the Winter Solstice/Yule and Spring Equinox/Ostara. Now it is time to let Mabon have its well-deserved moment in the crafting spotlight.
My heart is warmed by knowing that a lot of you really dig this series. This fact helps to keep my spirits and energy levels buoyed during the multiple days that it takes to create each entry it houses.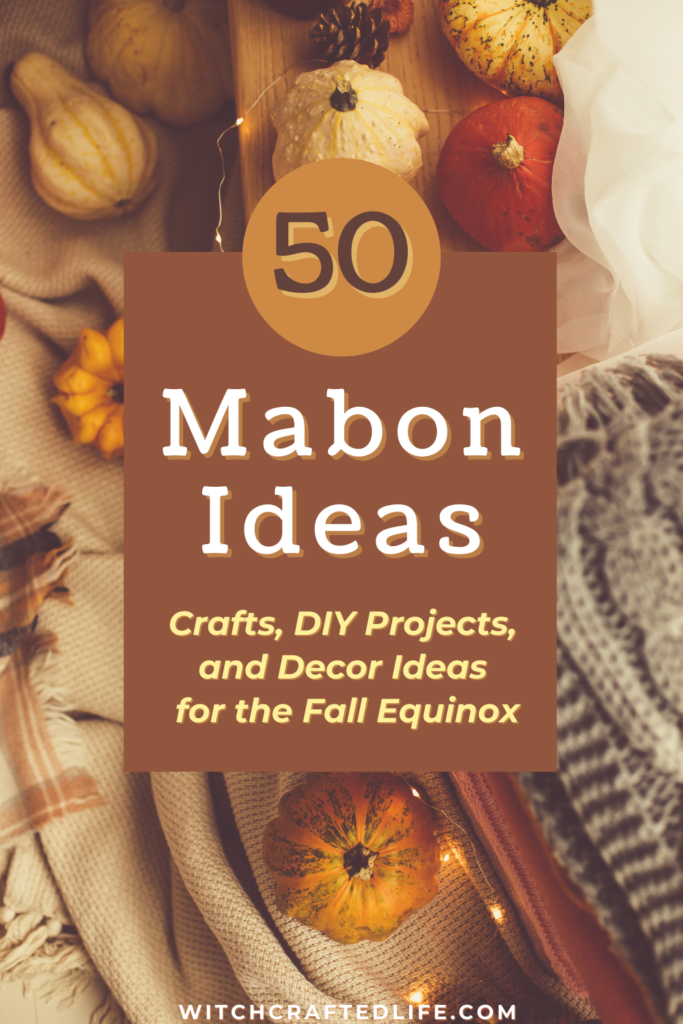 This time around, I am thrilled to present you with a sizable slew of DIY project ideas, craft ideas, and fall décor inspiration for both the Fall Equinox and the Pagan sabbat of Mabon.
The latter of which is sometimes referred to as the "Witches' Thanksgiving". An apt, beautiful odd to the earth's many blessings and reasons to be grateful that fill our days as summer drifts into autumn.
In addition, the Autumn Equinox ushers in the return of Libra season.
Which while not the sign I was born under (that would be cancer), it is the sign during which my husband and I tied the knot almost seventeen years ago now. That, coupled with the fact that multiple close family members are Libras, ensures this astrological sign an extra special spot in my heart. ♎
If you are new to Mabon and/or would like to learn more about it, please check out my post 15 Free and Low-Cost Ways to Celebrate Mabon for more information about this harvest season Pagan sabbat.
When is the Fall Equinox 2021?
This year, in the Northern Hemisphere, the Fall Equinox occurs on Wednesday, September 22, 2021.
The name "equinox" stems from the Latin words "aequas", which means equal, and "nox", which is night.
We apply the word equinox to the dates that begin both autumn and spring, respectively, as each of these days house roughly equal amounts of daylight and darkness.
In the case of spring, the weather is beginning to warm up and the days are growing gradually longer until they peak on that front come the Summer Solstice.
With the return of fall time, cooler weather generally begins to fill our days and the nights grow longer.
They will continue to do so straight on until the Winter Solstice. At which point, though it can be hard to tell as much in the dark, icy heart of December, a few more minutes will appear daily straight on until the Summer Solstice returns in the third week of June.
Another point that denotes the Autumn Equinox is the fact that on this date, the sun crosses over the equator from north to south. Hence why, when it is spring in the Northern Hemisphere, it is fall in the Southern Hemisphere and vice versa. 😃
What are some common themes and meanings of the Fall Equinox?
Whether one approaches the Autumn Equinox from a spiritual or more secular/non-belief-based perspective, fall's return is a time that we can all celebrate, embrace, and find personal meaning in as the days grow shorter and the year begins to wind down.
Broadly speaking, the Fall Equinox (much like Mabon – a Pagan sabbat that is observed by many either on the Autumn Equinox itself or within a few days of this beautiful annual event) serves as a poignant symbol of balance and equality in our lives.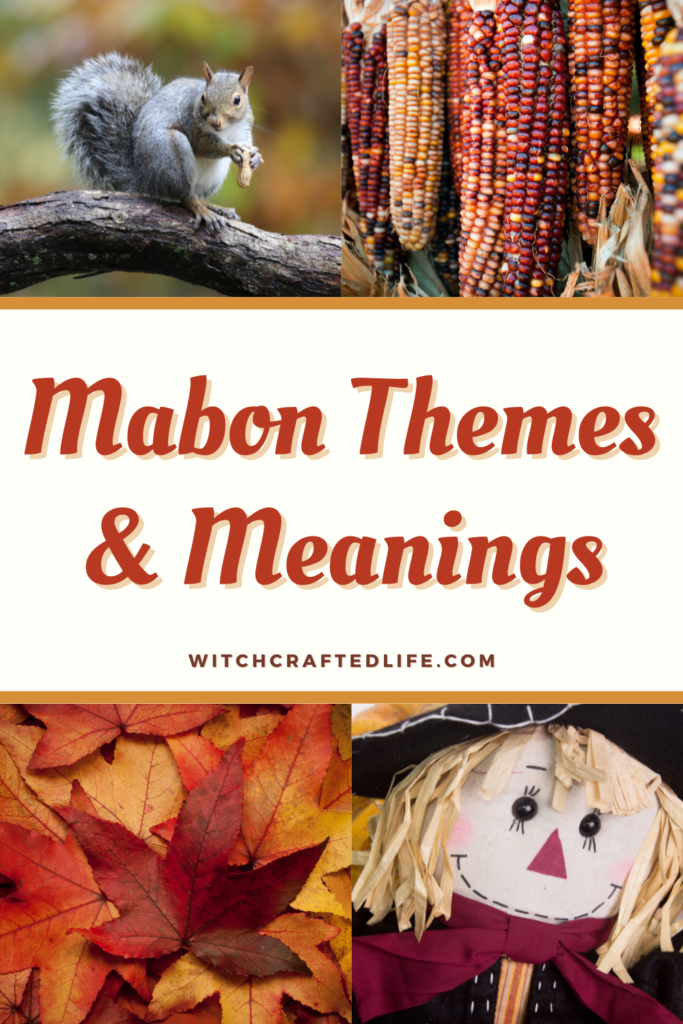 It embraces elements of both life and death, particularly in terms of the harvest season. By the second half of September, a lot of crops have been harvested, though some still remain to be brought in and transformed into food for countless folks the world over.
Traditionally, as the harvest (including butchering domestic animals and/or hunting, where applicable) could quite literally make the difference between survival and perishing, it's safe to assume that death was rarely far from the minds of our ancestors as they prepared and braced for the icy winter months ahead.
While modern farming, greenhouses, and food production techniques can play god, so to speak, to a degree in terms of our ability to produce and harvest various crops, meat and dairy sources throughout the year, the world is still highly reliant on the annual harvest season to help keep the 21st century food chain running smoothly.
This is neither the time nor the place, however, to debate the merits and shortcomings of the modern food industry, so I shalln't venture down that path – fear not. 😉
Beyond the literal harvest season, fall's return can be a superb time to take stock of those areas of our own lives in which we can reap the rewards of our hard work and dedication, as well as to reflect on others that are ongoing and may require our focus in the coming autumn and winter months.
Fall is a time of merriment and thanksgiving, of lingering warmth and light mingling with the mysteries and beauty of darkness.
The Autumn Equinox encourages both hard work and perseverance, as well as the opportunity to rest, relax, and savour some gorgeous seasonal tranquillity.
If you had an especially gruelling, stressful, or otherwise eventful summer, this point can be of particular importance – as can making sure you take time to focus on self-care throughout the crunchy leaf-filled season.
Just as flowers, plants, trees, and many types of crops (as well as plenty of wild critters, too) often start to slow down or go into hibernation during the autumn months, so too can fall be a brilliant time to slow your proverbial roll.
Take time this fall to genuinely focus on what you need, what you want, what makes you happy, what you can ditch from your life, and where you hope to be not only come winter, but at this point next year.
Fall abounds with the sights, sounds, tastes, and festive happenings of the summer's departure, the harvest season, and plenty of spooky goodness as well. 🎃
We associate this season with elements that warm us in body, mind, and spirit alike. From the coziest of knits to the most scrumptious of warm drinks (be they pumpkin spice or otherwise), snugly blankets to glowing bonfires, we find ways to extend the rapidly vanishing warmth of summer in ways that honour the soul of autumn at the same time.
For many of us, fall sets our tastebuds alight as well. We gleefully reach for freshly picked apples, pears, grapes, plums, cranberries, squash, carrots, pumpkins, and numerous other seasonal delights from August to December.
Whether enjoyed straight-up or whipped into a wide array of both sweet and savour dishes, fall's culinary offerings convey comfort, fortification, and nourishment.
Outdoors, the leaves are changing, the breeze is getting nippier, squirrels and other critters both large and small are gathering food for the coming winter, and the sun is setting earlier each evening.
This is a gorgeous, highly meaningful chapter of the year that ranks as many peoples' favourite season. Though that need not be the case in order to enjoy and get the most that you realistically can out of fall.
Many of us love to bring autumn indoors, be it with actual pieces of nature or human-made products that represent the resplendent natural beauty inherent to this chapter of the year.
It is precisely that ability to fill our homes with elements of the autumn season that is at the heart of this post.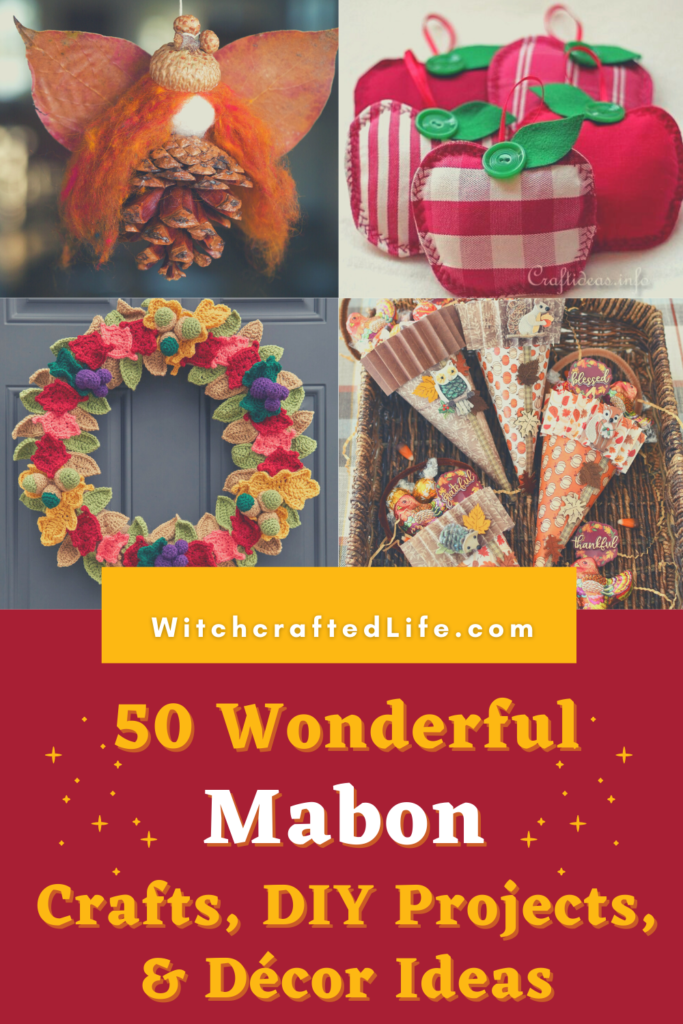 Whether you opt to follow any of the tutorials shared here or not, it is my steadfast hope that these 🍂 fifty creative, charmingly fun fall craft, DIY, and décor project ideas 🍂 provide you with oodles of seasonal inspiration to utilize in whatever ways currently work best for your home and daily life alike.
Note: As tempting as it was to pepper this post with Halloween and Samhain-themed projects, I have refrained – for the most part 😄 – from doing so, as those will appear here in a future entry all their own. 👻
That said, depending on your decor style, personal beliefs, and so forth, most of the project ideas highlighted below can easily work for Halloween and Samhain, too.
Just as many of them suit Thanksgiving (be it Canadian or US) excellently as well. Some may also be appropriate for other autumn time holidays, too, such as Dia de los Muertos and Rosh Hashanah, respectively.
50 Awesome Mabon Crafts, DIY Projects, and Décor Ideas for the Fall Equinox
1. How to Make an Autumn Fairy from Natural Materials: Whether one believes in fairies or simply delights in stories, images, and craft projects pertaining to the fae, this enchantingly sweet craft – which is ideal to involve little ones with – is sure to add a welcome dose of whimsical charm to your fall altar, Halloween/Samhain tree, or elsewhere in your home decor.
These precious fairies would also make for marvellous gifts throughout the fall, including for events such as Grandparent's Day and Thanksgiving.
2. Mabon Dried Apple Garland: We often tend to associate slices, pieces, and rounds of dried fruit with Yule and wintertime in general, but this beautiful way of preserving and celebrating some of nature's finest sweet treats lends itself superbly to autumn as well.
In this photo filled step-by-step tutorial, we are guided on not only how to make a gorgeous garland like the one shown here, but also on how to prepare and dry the fruit slices required for it.
This is a useful l skill to master and create with for many a year to come – much as how this festive garland can also be enjoyed harvest season after magickal harvest season.
3. Cinnamon Salt Dough Leaf Ornaments: Similar to dried fruit, salt dough ornaments are another project that we tend to associate with winter. Happily, they can be a year-round joy and one that lends itself to autumn – that most cinnamon scented of seasons – excellently.
This lovely DIY post shows you how to make cinnamon salt dough leaf ornaments, which can then be used and/or displayed in many different ways (think tree decorations, place setting decor, dangling from a suitable lighting fixture, and so on).
And if (like me) you or someone in your household needs to keep things strictly GF at all times, be sure to use a gluten-free salt dough recipe instead of one that contains gluten.
4. DIY Wine Cork Grape Ornaments: Whether you opt to go the glittery route or die the cork ends with wine (both versions are detailed in this lovely project post), this super cute bunch of handmade grapes is sure to put a smile on the faces of wine lovers and fall produce fans everywhere.
On the Pagan, front, many different deities from pantheons around the world are closely linked to grapes, wine, and vineyards, including – but not limited to – Dionysus/Bacchus, Silenus, Du Kang, Oenotropae, Sucellus, and Liber Pater.
If you work with any deities of this nature in your practice, this DIY grape project would be a fantastic way to honour that/those gods or goddesses not only during the fall, but all year through.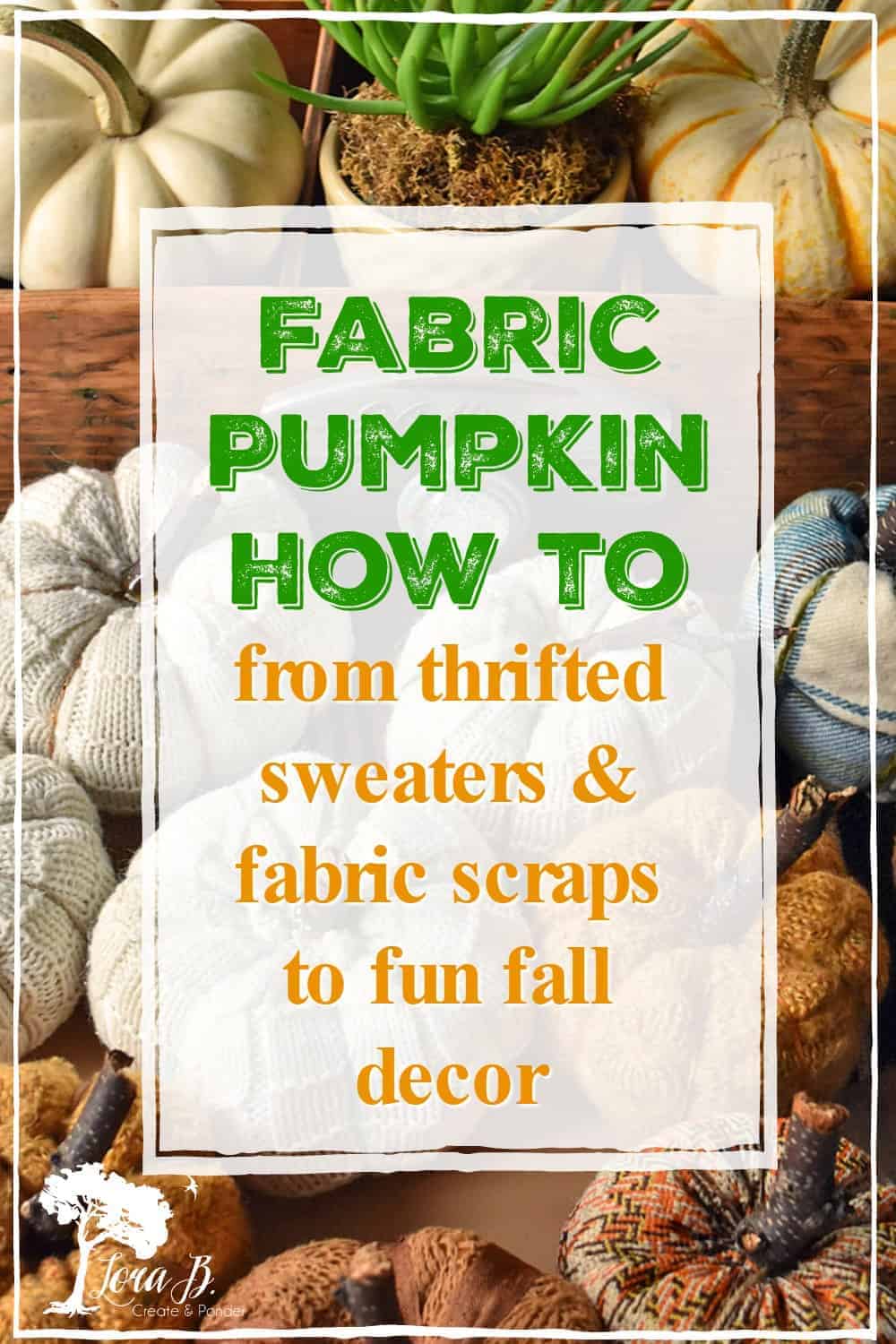 5. How to Make Fabric Pumpkins: As Lora, the talented creator of this project touches on in her accompanying blog post, fall decor is often all about the pumpkins. While I realize this doesn't ring true for everyone, of course, for plenty of us, there is no such thing as too many pumpkins and we eagerly enjoy finding new takes on a perennial classic.
This easy-to-make pumpkin project utilizes scraps of knit material, twine, and a few other common items to create handmade plush pumpkins that are all but bursting at their seems with festive fall sweetness and heartfelt DIY charm.
I adore the versatility of these lovely pumpkins and how (with suitable supplies) one could whip them up in just about any colour palette and/or size imaginable.
6. DIY Candy Corn Pine Cones: I really like candy corn and madly adore pine cones, so as you might imagine, a craft project that marries these two things was bound to be an instant hit with me. Just as I know it will be with many of you as well.
Spray paint, (optional) Mod Podge + glitter, and some suitable dried pinecones are all it takes to whip up this eye-catchingly wonderful fall DIY project that – unlike a bowl of real candy corn deal – can be reused autumn after autumn for many a year to come.
(You could also easily attach strings, ribbon loops, or hooks to these darling candy corn pine cones and use them as seasonal tree decor – or turn a batch of them into the foundations of an awesome autumn time wreath.)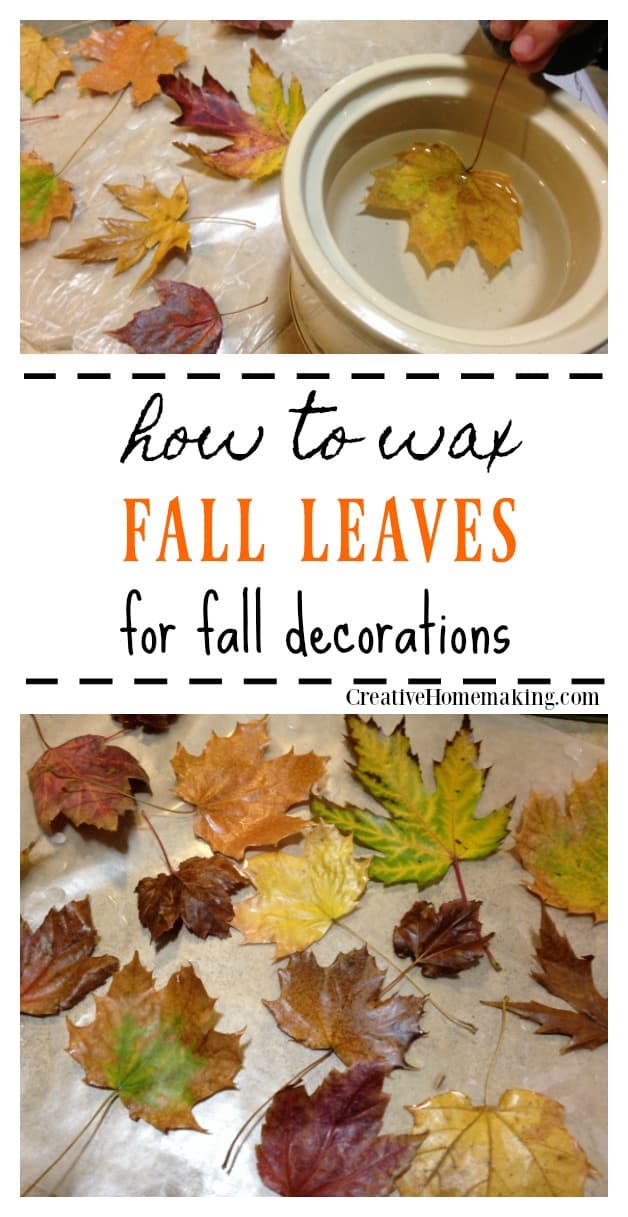 7. How to Make Waxed Fall Leaves: Ever wanted to preserve and continue to enjoy the vibrancy of autumn leaves long after they have tumbled to ground? Or, have you longed for durable real autumn leaves that you could use in a variety of craft and DIY projects?
If so, then this clever, versatile approach to preserving fall foliage is apt to tickle your fancy and have you stocking up on paraffin wax in no time. 😃
8. DIY Pumpkin Terracotta Pots: Aren't these terracotta pumpkin pots too cute for words? Not only are these fun to make and decorate your home with, but they're also a great way to stash all manner of small items, from candy to craft supplies.
While orange is a natural fit for pumpkins, you could also whip up some terracotta containers in whatever colour works best for your own seasonal decor. From black to burgundy, green to gold, the options are endless and sure to make for dazzling end products in any hue.
9. DIY Fall Apple Candles: If pumpkins are the vegetable that many of us associate most closely with autumn time, then surely apples must be the fruit that takes top billing in that respect.
Long linked with the start of the school year (and teaching in general), femininity, the archetypal Goddess figure (and various other deities, including the Norse goddess, Idunn, and the Greek goddess, Pomona), the fall harvest, divination, magick, wisdom, the soul, love, fertility, beauty, the afterlife, fidelity, vanity, immortality, health and healing (amongst other things), apples are a stellar fruit to work with all autumn long. 🍎
This beautiful DIY project leads you through how to make your own apple candles, which are just as at home at Mabon as there are in a few week's time when Samhain graces the world once again with its powerful presence.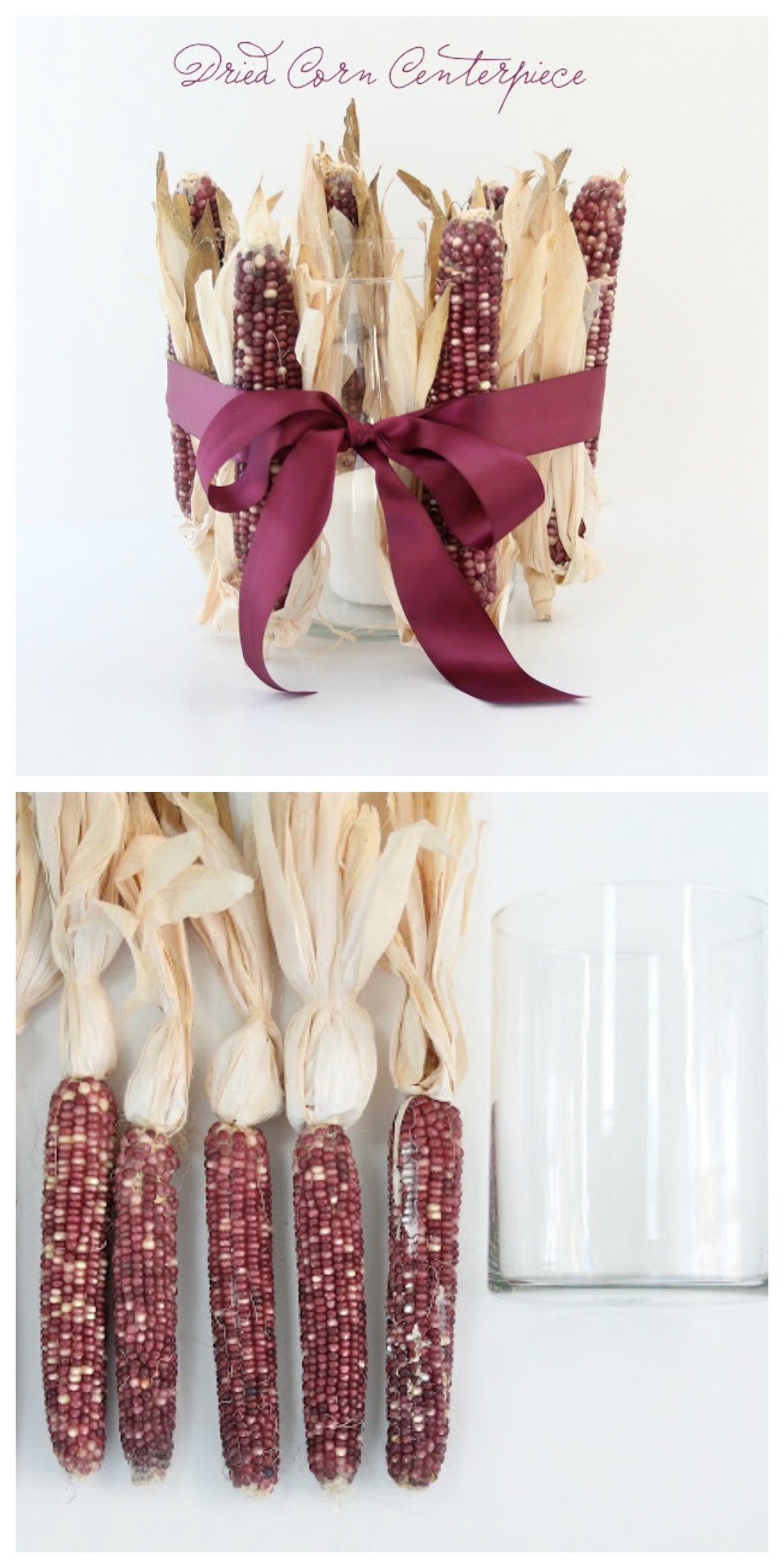 10. Dried Corn Centerpiece: Corn is another beloved, timeless vegetable that is closely intertwined with fall and which can be a visually captivating way to enliven any room. 🌽
A few ears of dried corn in the colour(s) of your choosing, dried corn husks, hot glue, ribbon (or burlap, twine, etc), and a suitable vase are all you need to make this elegant centrepiece that would be as at home on a Mabon altar as it would a Thanksgiving table.
11. Fall Acorn Wreath: If you're a fellow die-hard fan of acorns and craft projects that utilize these classic fall time offerings, then you're bound to adore this stunning acorn-filled wreath.
It is so enjoyably evocative of nature that you might find yourself leaving it out the whole year through.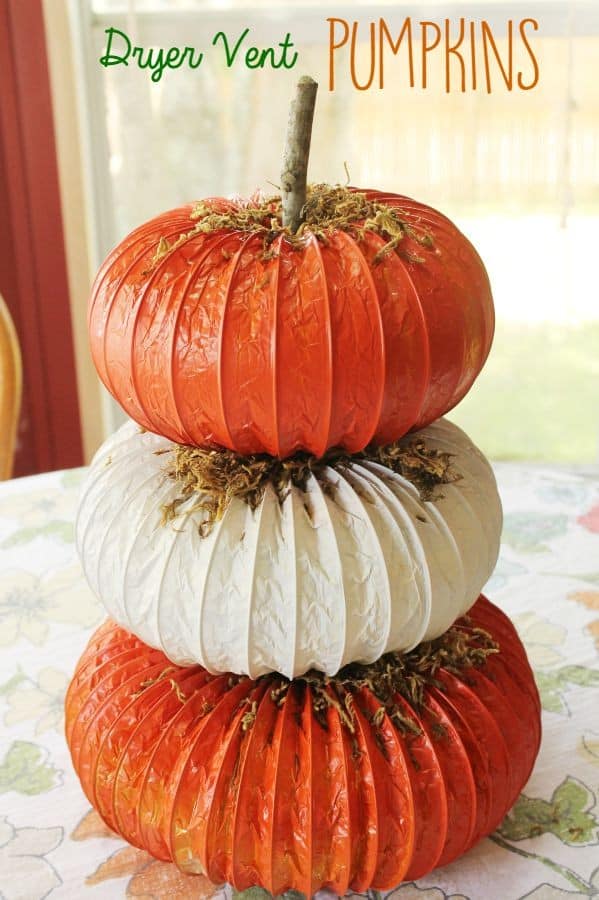 12. Dryer Vent Pumpkins: File this one under the "ingenious idea" heading, as that is precisely what these darling dryer vent pumpkins are.
A fun, unexpected material to work with in a crafting capacity, dryer vent hosing/tubing does an impressive job of resembling a pumpkin – especially thanks to its corrugated texture, which instantly telegraphs the look of the grooves on the real deal.
13. DIY Cone-ucopias for Thanksgiving: These fabulous fall time paper cones are a natural fit for Thanksgiving, but there's no stopping you from making some of your own and enjoying them all autumn long.
Fun, inexpensive, and embued with a sense of yesteryear charm, these paper cornucopias can dressed up or down as desired, and would be a thoughtful gift to give if you are invited to Thanksgiving dinner or any other meal at someone house this fall.
14. DIY Leaf Stamped Napkins: This lovely tutorial is apt to make you want to whip up a whole bundle of sophisticated fall napkins using little more than paint and actual leaves. I know that as a (paper crafting) stamper, it has more than piqued my interest and is a project I hope to try my hand at one day.
This same approach to stamping with real leaves can also be expanded to other textiles (as well as materials such as paper and cardstock). Leaf stamping would be a beautiful way to jazz up and add greater meaning to everything from altar cloths to pillowcases (ensuring the paint was safe for use on bedding), table runners to decorative bunting.
15. DIY Pumpkin Hand Soap: Darling to look at and, naturally, a great way to keep your hands clean (something, that as we all know, has become more important than ever since the pandemic began), these super cute DIY bars of pumpkin-shaped soap are fun, festive, and fab to give as gifts all spooky season long.
16. How to Make Fabric Apples (with Free Apple Sewing Pattern): These charming handmade apples are every bit as festive as the real deal – with the added bonus that they can be reused season after season for years to come.
Whether you opt for red, green, yellow, burgundy, or any other colour (to say nothing of the plethora of patterns you could utilize here), these cute apples are a snap to sew up and display throughout the autumn months.
And I cannot help but think that some of my fellow witchy souls would enjoy utilizing these lovely fabric apples as a form of harvest season (non-figural) poppets, sealed spell bags, or fill them with dried herbs/flowers/grasses/etc for a wide range of magickal applications.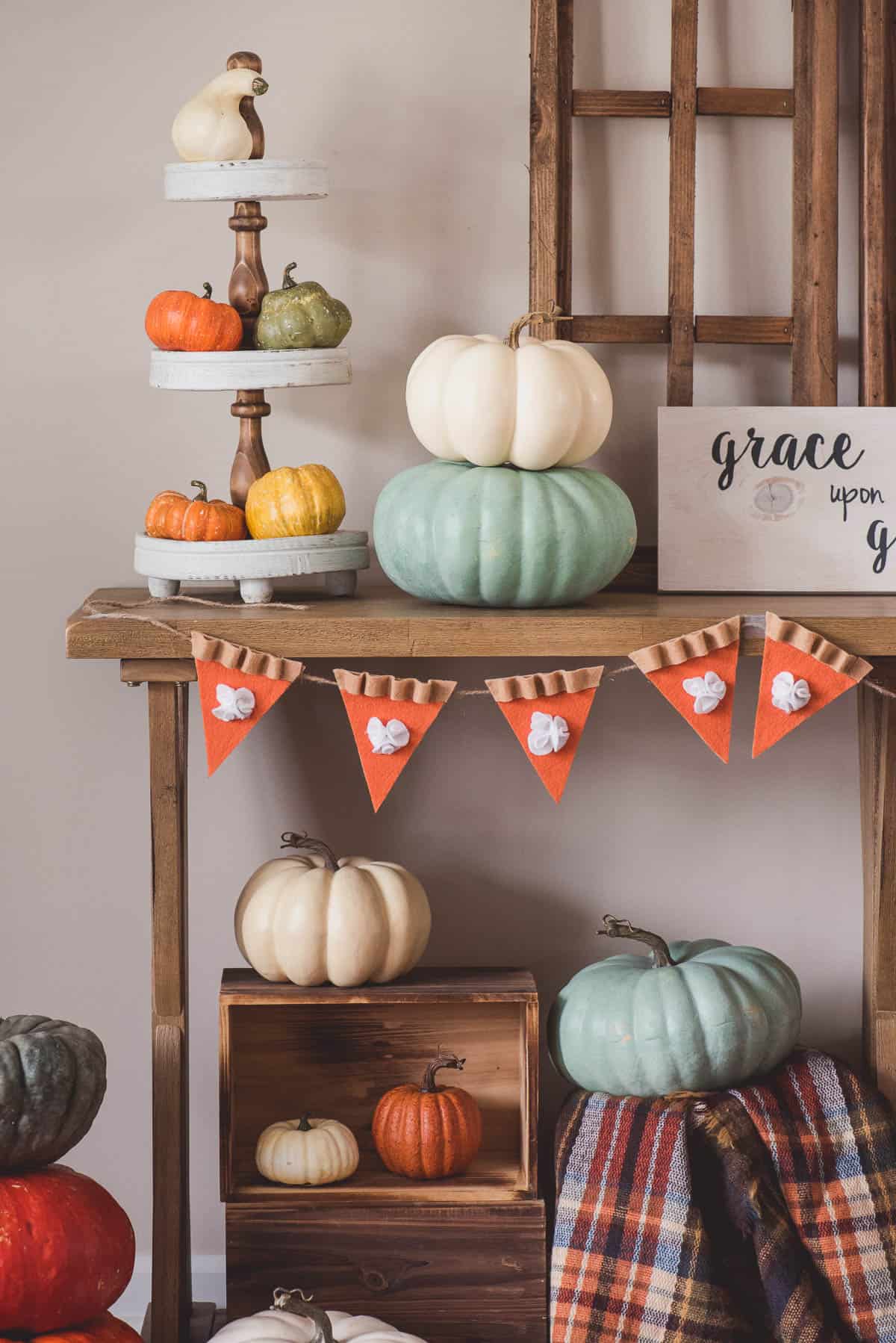 17. Pumpkin Pie Felt Garland: Oh my gourd, this is a seriously adorable fall time felt project! 🥧
This easy-to-make garland features one of the most beloved fall desserts (and pies, point-blank) of time. It is oodles of fun to make and enjoy throughout autumn, and will surely be a conversation piece with all those who have the pleasure of seeing it in your home.
18. Pinecone and Cranberry Rustic Garland: While both cranberries and pinecones are commonly linked to wintertime and Christmas, each of these natural treasures is equally at home during the autumn months as well.
Think, for example, of cranberry sauce at Thanksgiving and the slew of pinecones that often tumble to the ground during the fall.
This endearingly pretty rustic garland combines pinecones and cranberries to great effect, and has a sweet yesteryear charm to it that I cannot get enough of. ❤️
19. Laced Leaf Suncatcher: Preserve a favourite fall leaf (or a selection of leaves) with this creative, splendidly pretty suncatcher that celebrates nature, the seasons, and the weather all in one delightful go.
20. How to Make Painted Gourds: Ever looked at the curvaceous, versatile canvass that is the humble gourd and yearned to add a painterly touch to it?
If so, follow along with Patti as she expertly guides you through the process of painting hollowed-out gourds to create a unique, long-lasting handmade treasure that is so attractive, you may find yourself painting an array of different gourds for all four seasons.
(On the fall DIY front, I also really like Patti's recent entry How To Make Primitive Fabric Pumpkins.)
21. Fabulous Fall Crocheted Leaf Wreath: Autumn adoring crocheters rejoice, this absolutely beautiful wreath is for you!
A rich fall colour palette, many a seasonal element, and a cheerful design add up to an autumn wreath that is worth learning how to crochet for, if you don't currently possess this crafty skill – and utilizing your existing needle skills for if you do.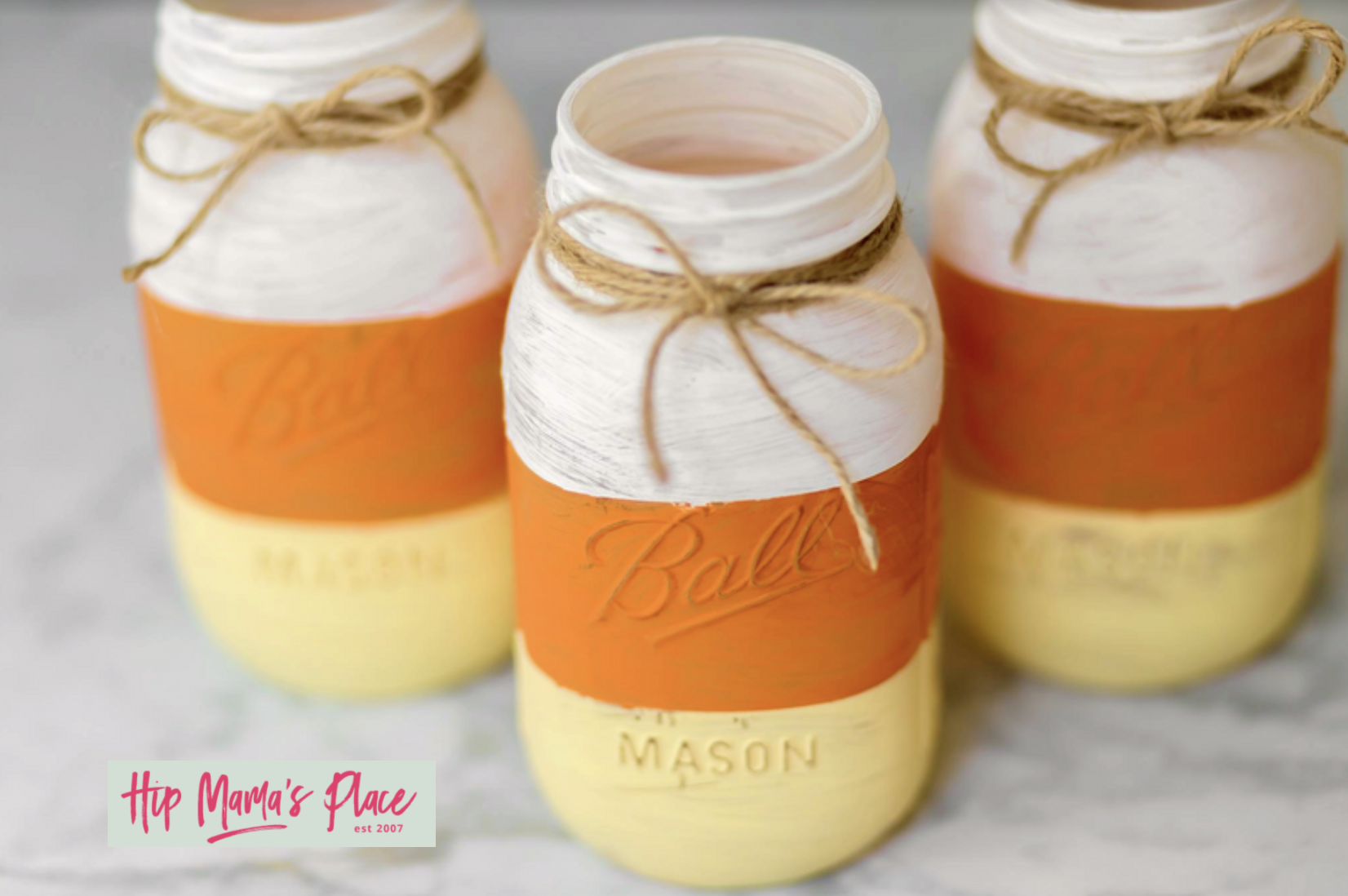 22. Painted Candy Corn Mason Jars: A true staple in recent years on the home decor and seasonal decoration fronts, mason jars are a versatile item to keep on hand for when inspiration strikes or is delivered your way via the web.
I am especially taken with this cuter-than-cute DIY project that transforms classic mason jars into generously sized pieces of decorative candy corn.
Awesome as standalone items or great as seasonal vases or storage containers, these painted mason jars will add the sweetest of touches (pun intented) to your fall decor.
23. How to Recycle Lightbulbs into Twine-Wrapped Pears: Apples might get top billing on the fall fruit front, but pears can – and do – hold their ground every bit as much and are a beloved staple for many of us come the return of autumn weather.
If you're looking for a speedy and very pretty project that celebrates fall time pears, then this clever use for used lightbulbs may just be the ticket. 🍐
24. Floating Acorn Candles: These fun little DIY floating acorn candles are as cute as can be!
They are sure to delight both you and your houseguests (or coven mates) with their itty-bitty size that translates into an immense amount of seasonal charm.
25. Pumpkin Patch Pincushions: Give a wonderful seasonal spin to a sewing supply standard with this sweet, easy-to-make pumpkin patch pincushion project that's perfect for using up some of those too-pretty-to-part-with fabric scraps many sewers have to hand.

26. Fall Bucket List Painted Popsicle Stick Craft: This is a fantastic idea that produces a literal bucket list of seasonal activities/traditions that you hope to experience to this autumn.
Add in whatever entries suit you and your family, take things in a witchy/Pagan direction, if so desired; or put together a selection of classic fall time happenings and give this darling bucket as a gift.
27. DIY Leaf Mod Podge Bowl: Combine artificial fall leaves with Mod Podge and you get one seriously beautiful bowl that is a work of handmade art unto itself.
Fill your eye-catching autumn leaf bowl with whatever seasonal or day-to-day items – spanning Halloween candy to your housekeys – you wish.
This DIY fall leaf bowl would also make for an excellent offering vessel on your Mabon altar or another sacred space around your home.
28. Acorn Earrings: If fall themed jewelry making is your jam, then this beautiful beading project from Martha Stewart Living is bound to have you prizing your finished acorn earrings with as much gusto as an autumn time squirrel and their cache of nuts.
29. DIY Concrete Pumpkins: If you live in a home with a yard (or balcony) that can be adorned for fall, why not try your hand at making a seasonal project that is apt to last for many years (if not decades) to come?
These DIY concrete pumpkins have a refined elegance coupled with a sense of joyful whimsy and are perfect for gardens, lawns, outdoor altars, decks, and just about anywhere else nature resides.
30. Dollar Tree Pizza Pan Fall Welcome Sign: If, like me, you're a fan of including cute vintage farm trucks in your seasonal decor (I have a black Halloween farm truck decoration that is one of my very favourite spooky season pieces), then this delightful project starring dollar store supplies is likely to pique your interest and make for a great addition to your DIY fall decoration collection.
31. DIY Leaf Trinket Dish: Chic, sophisticated, and wildly pretty, this fantastic fall craft creates a versatile trinket dish that is ideal for autumn, but no less at home throughout the other three seasons.
Make one (or more) for yourself and extras to give out as gifts, because chances are various people in your life would be elated to receive a gorgeous handmade leaf dish of their own.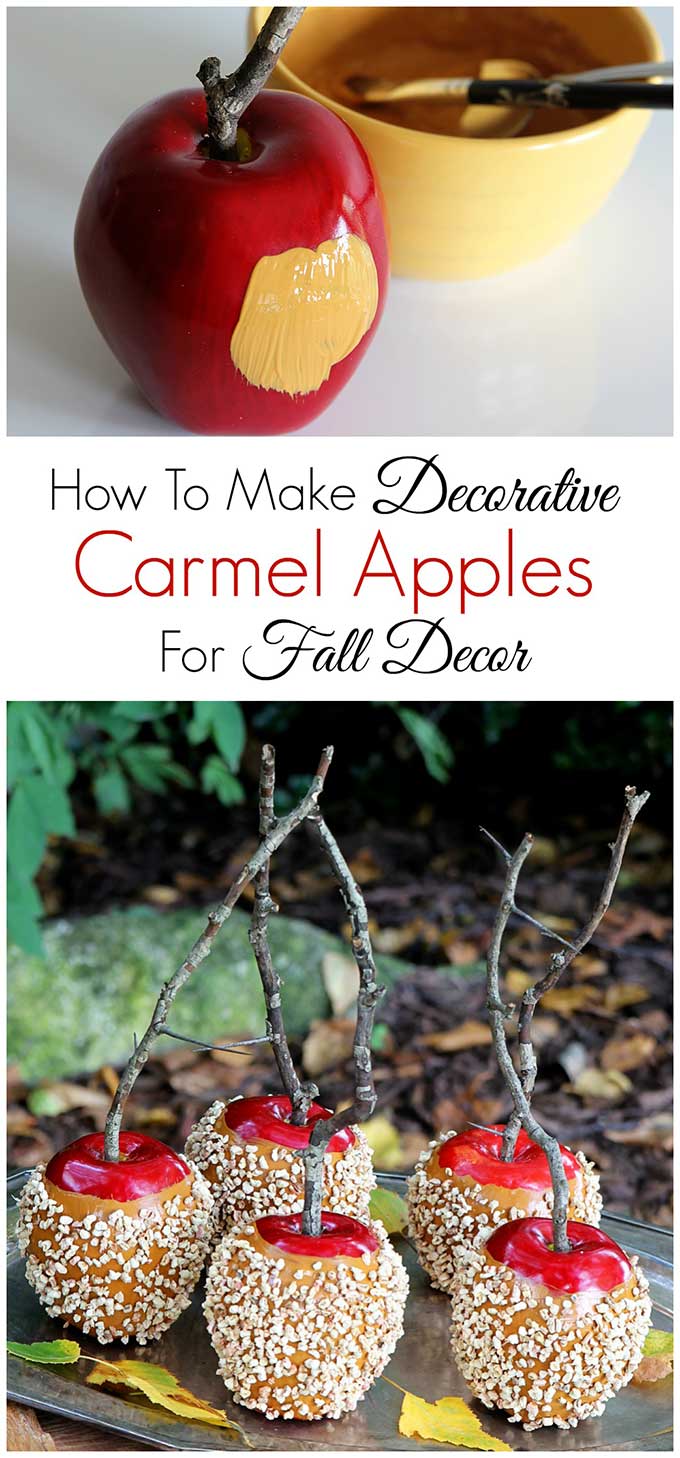 32. How to Make Decorative Caramel Apples for Fall Decor: The boundless creativity that exists in the world never fails to inspire and enchant me. Case in point, these wonderfully realistic-looking decorative caramel apples, which are easier to create a batch of your own than you might imagine at first sight.
These toffee apples (as caramel apples are called in some parts of the world) are so lifelike, you might find yourself tempted to take a bite. Naturally, that is not a good idea, but displaying these sweet treat inspired beauties throughout the fall months definitely is!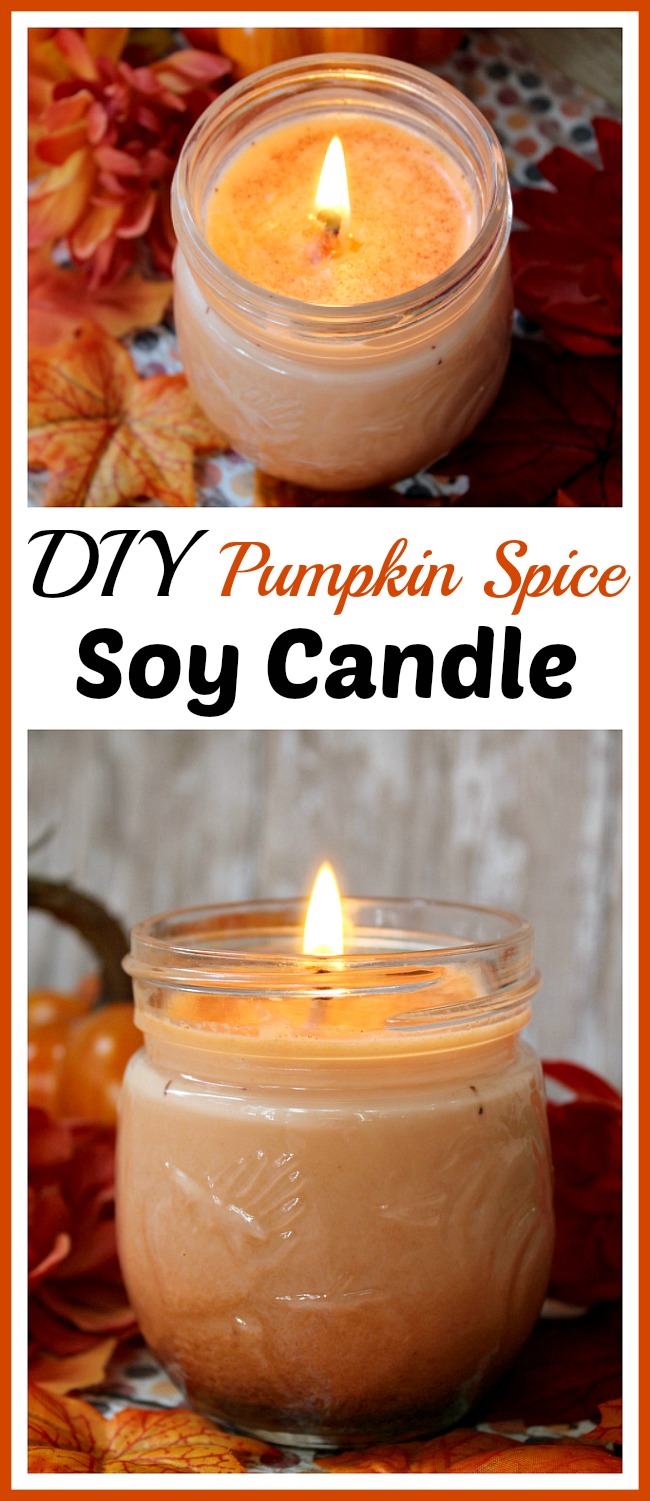 33. DIY Pumpkin Spice Soy Candle: It's safe to say that candles and fall go together like winter and pine trees. If you're in the mood to DIY some gorgeously scented autumn time candles of your own, this terrific tutorial is for you!
I would suggest making extras as, if you're anything like me, you will quite literally burn through a bevy of autumnal candles between now and December.
(And, on the fall scent front, be sure to check out this tutorial on the same blog that shows you how to make wonderfully appealing Apple Scented Candles with Sprinkles.)
34. How to Make a DIY Fall Wreath from a Picture Frame: Have a picture frame that lost its glass or a dated frame you're not using anymore? What about a plain, versatile frame you thrifted or picked up for a song on sale?
Wherever your frame hails from, if you're looking to breathe new life into it this autumn, then Aubree's wonderful fall foliage wreath may just be the DIY project you need. The end result is a stunning seasonal wreath that is, very fittingly, every bit as pretty as a picture.
35. Autumn Harvest Knit Pillow: A splendid palette of rich, earthy fall tones combine with timeless seasonal imagery in this knit pillow project that cozies up autumn all the more and which is sure to become one of your favourite cushions. 🐿️
36. Falling Leaves Sensory Jar: Perfect for youngsters, but no less applicable to grownups, sensory jars and bottles are akin to snowglobes, but are aimed at helping to provide a sense of calm and comfort to anyone in need of such.
This particular sensory bottle celebrates the entrancing beauty of fall and is a great tool to help manage things such as stress and anxiety, again both in kids and adults alike.
Plus, when they're teeming with autumn elements like this charmer, sensory bottles and jars make for wonderful seasonal decor as well.
37. Candy Corn Button Art: If, like many a crafter around the world, you love to horde collect buttons and are looking to use more of them up this year, why not try your hand at making a splendidly sweet autumn button art project like this no-sew version that creates a darling candy corn image?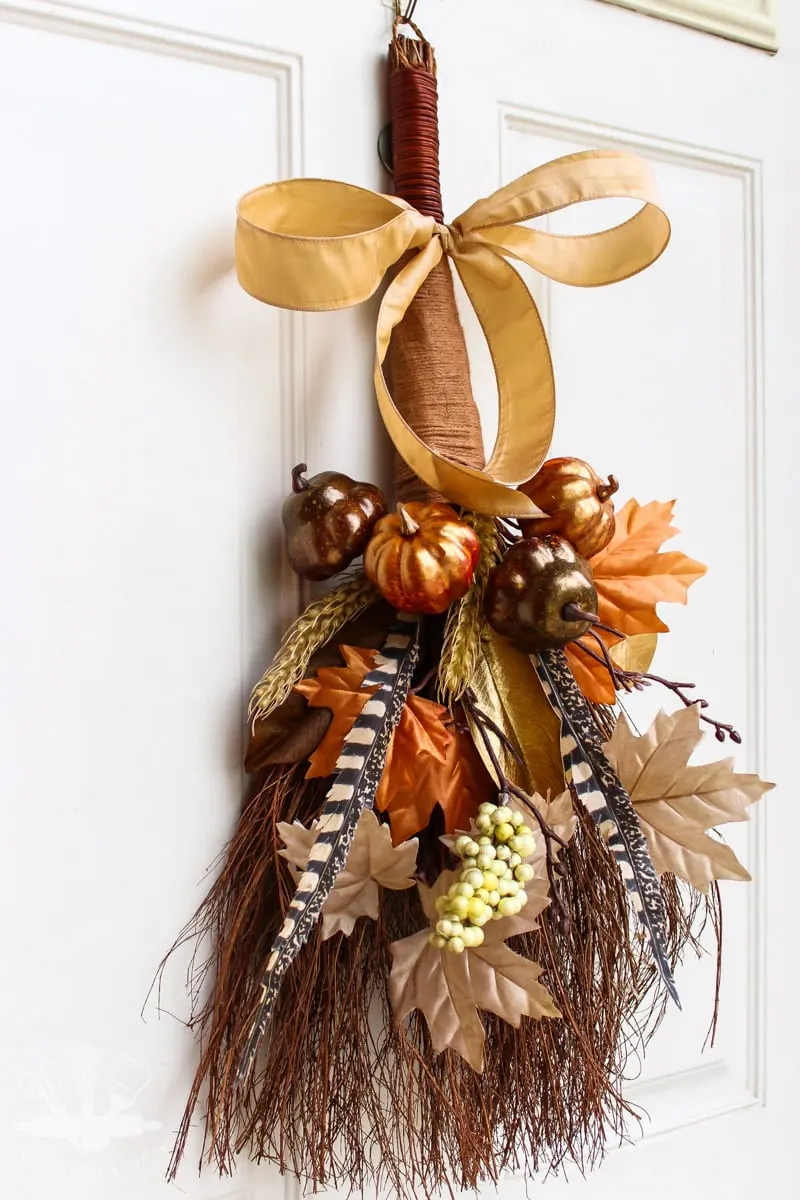 38. Rustic Fall Cinnamon Broom Wreath: While relatively common in America, cinnamon brooms are surprisingly hard to come by up here in Western Canada (much to my witchy, fall adoring heart's chagrin).
Nevertheless, I enjoy knowing that I could take inspiration from this project and simply use a different type of broom in place the cinnamon version, if they continue to remain elusive north of the 49th (that said, some years, I have spied them at stores such as Michael's and Canadian Tire, and hope to grab at least one or two should I ever see them at either spot again).
This project creates a fall decor piece that is bursting with seasonal charm, elegance, and – if you're fortunate to have access to cinnamon brooms – the timelessly appealing aroma of one of fall's most iconic spices.
(If you are using an unscented broom, you could always try anointing it with cinnamon essential oil or nestling a few richly scented cinnamon sticks amongst the bristles of the broom.)
39. Wise owl crocheted ornament: Ultra adorable and ever-so-ready for autumn, this scarf clad crocheted owl ornament is perfect for fall time now and just as at home, in a few week's time, tucked amongst the branches of your winter holiday season tree.
40. Rustic Glitter Woodland Pumpkins: If your decor tastes run on the glam side, this chic take on classic fall pumpkins may set your heart aflutter!
Little more than suitable craft paint and glitter are needed to transform everyday plastic pumpkins into unforgettable stylish autumn adornments that add shimmer and pizzazz to any setting.
41. Easy Mason Jar Scarecrows: It is nearly impossible to gaze at these adorable mason jar pumpkins with their button eyes, burlap hats, and straw hair and not smile from ear-to-ear.
Sweet, fun, and much easier to recreate than you may imagine, these mason jar scarecrows look like they might have cost you a pretty penny if purchased from a store or craft fair, but can in fact be made at home with everyday craft supplies that need not break the bank.
42. Knit Apple Dishcloth: No corner of your home has to go untouched by the enchanting loveliness of autumn – not even that kitchen workhorse, the humble dishcloth.
Add seasonal flair to washing up care of this super cute apple-shaped knit dishcloth which is so charming, you may find yourself whipping up a whole bushel of them! 🍏
43. DIY Owl Fall Door Hanger: There's just something about an unadorned door that makes me want to instantly place a wreath or door hanger on it. Never is that more true for me personally than during my beloved autumn.
This super charming DIY owl door hanger would be an especially apt choice, as we're sometimes blessed to have owls reside in the lofty evergreen trees of our backyard. Plus owls are amongst my all-time favourite animals, as well as being a wild critter that I have shared a close spiritual bond with throughout my life. 🦉
If you're likewise keen on owls and are looking to enhance any door in your home, why not give this rustic, elegant, and very cute door hanger a go?
44. DIY Wire Wrapped Pumpkin Earrings: Whereas some types of wire wrapping projects can require a fair bit of experience and expertise to master, these chic meets adorable pumpkin earrings are quite approachable for new and less advanced makers of wire wrapped jewelry.
These fall time perfect handmade wire wrapped earrings are lightweight, sophisticated, and sure to garner no shortage of compliments (not to mention questions regarding where you got them from!).
45. Fall Wood Bead Garland: Be they for autumn or any other season/occasion, garlands are a versatile, fantastic way to add instant charm to any room in your house. They can adorn mantles and shelves, be part of tiered tray displays, snake across dresser and vanity tops, help a centrepiece shine all the more, and myriad other great uses.
This very sweet version utilizes yarn, wooden beads, and a wood pumpkin die cut piece to create a timeless fall garland that is so pretty, you might just be tempted to wear it as a necklace! 😊
46. Handmade Felt Pears: Perfect grouped together as a centrepiece, tucked between fall foliage on a mantle or shelf, or interspersed in fun spots around your house, these elegant, easy to sew up felt pears are a terrific celebration of one of the season's most appealing and beloved fruits.
47. Crocheted Falling Leaves Throw: Autumn time and cooler temps go hand-in-hand for those in many parts of the Northern Hemisphere and as such, we often associated fall with coziness of all kinds.
Stay warm and celebrate the natural beauty of autumn leaves care of this gorgeous crocheted throw blanket, which is so attractive you may just find yourself leaving it out all year long.
48. Easy No-Sew Ribbon Acorns: Equal part cute, sophisticated, and pretty, these darling no-sew ribbon acorns are just as lovely as the real deal and make for a marvellous fall time decoration that looks like it would be a blast to whip up a whole basket's worth of!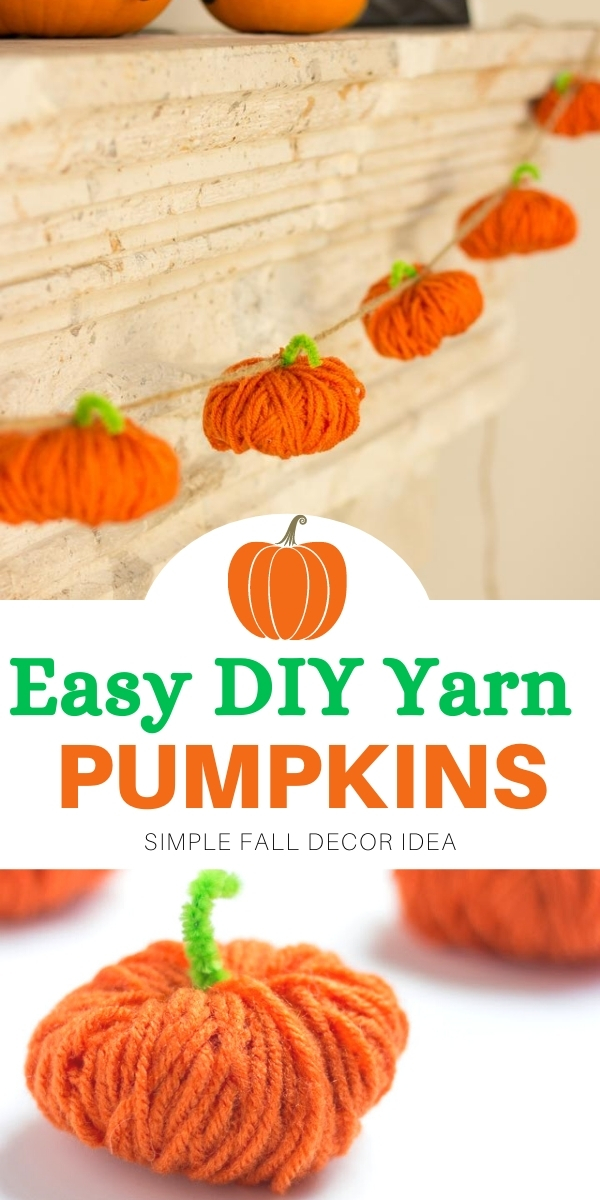 49. Easy DIY Yarn Pumpkins: I love a great, inexpensive, easy-to-make fall craft and this fun take on pumpkins nails it big time on each of those fronts.
Whether you opt for orange, cream, pink, green or any other colour of yarn that your heart desires, these sweet little handmade pumpkins are bound to bring a smile your way all throughout the autumn months.
50. Mabon Corn Dolly Tutorial: This excellent guest post entry (from Ruthie Hayes) on the blog Nitty Gritty Life is chocked full of information about the history and meaning of both corn and corn dollies/figures as they apply to Mabon and the fall harvest season.
It caps off with step-by-step instructions to help you create your own beautiful corn dolly, which can then be enjoyed and/or worked with in a magickal capacity this fall and for many an autumn to come (thanks to the long-lasting properties of dried cornhusks).
Note: All 50 images used above are copyright of their respective creators. Please follow the coordinating link in each list entry to be taken to the craft project shown and described therein.
And should you be looking for more seasonal craft ideas this autumn, pop on by my posts 45 Special Occasions and Fun Reasons to Make Cards (and Other Paper Crafting Projects) For This Fall and 5 Ways to Make Cute and Easy Mini Brooms.
Harvest a bumper crop of fall time inspiration
There's just something about cooler nights, leaves hued like Bartlett pears and Red Delicious apples fluttering in the wind, and the promise of Halloween/Samhain's return that stokes the fires of my creativity something fierce. (See: #MakeHalloween365 – which can 100% be used for fall crafts and other creative projects in general, too.)
I am by no means alone here. Fall DIYs project ideas abound online and are a firm favourite of many crafters, for autumn often stirs inspiration, artistry, creativity, and joy in a good many of us.
Whether you grin over jack-o-lanterns, are sweet on candy corn, hoot joyfully about owls, fall for tumbling leaves, or adore apples a bushel and a peck, there is something for nearly everyone to be inspired and delighted by during the fall months.
Lean into that sense and use it to make seasonal craft projects or something else entirely. Creativity and inspiration can be abundant, but one's muse isn't always in the most giving of moods and you will be glad that you struck, so to speak, when the proverbial iron was hot.
And if you're looking for oodles more awesome fall inspiration and ideas, check out my Pinterest account, particularly my boards pertaining to the following:
As well, please don't hesitate to follow me on Instagram, where I celebrate and post (grid + Stories) about autumn all throughout the year. 😊
And should you be on the hunt for books about Mabon, be sure to check out my recent blog post, Your Ultimate Guide to Books on The Pagan Sabbats, which includes multiple entries pertaining to Mabon/the Fall Equinox.
Mabon is a merry, ancient, blessed, and extremely beautiful point on the calendar.
Yes, we are parting ways with summer and that can certainly be rough for some of us, but we are stepping into a breathtaking chapter of the year that is rich with seasonal messages, meanings, and joy.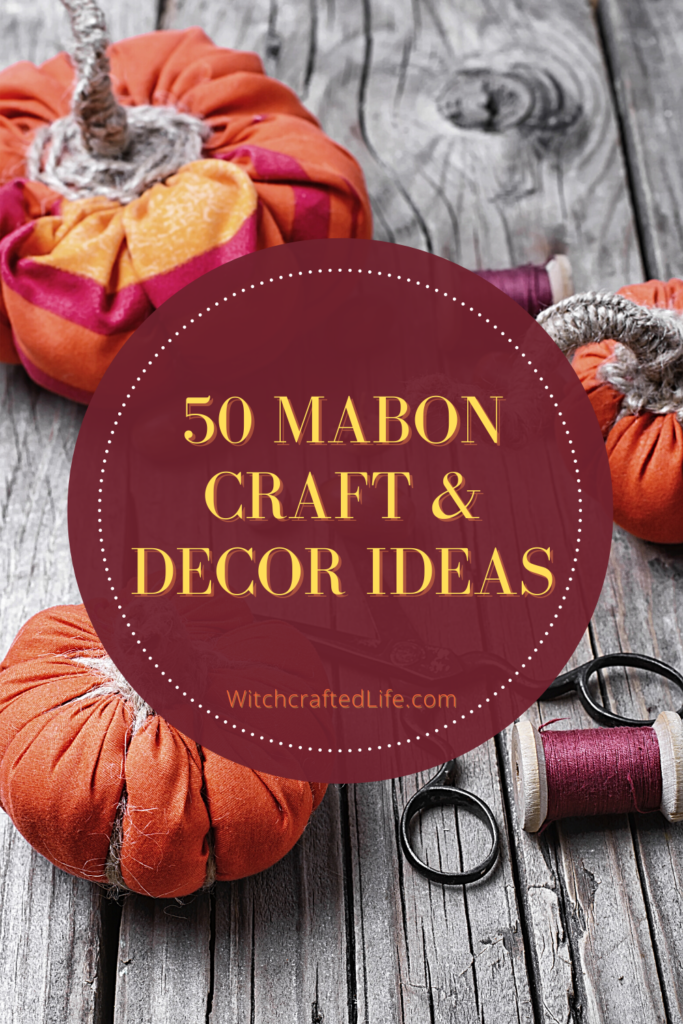 Embrace the sense of balance inherent to the Fall Equinox, revel in the pleasures of pumpkin season, and allow yourself some time to craft (or decorate) to your heart's content.
Autumn comes but once a year and deserves to be celebrated in ways both big and small, from the first to the very last moment.
I sincerely hope that the Fall Equinox and Mabon DIY ideas highlighted in this post will assist you in doing just that. 🧡
Which of these 50 fall craft projects is your favourite? What are you hoping to make (crafts, recipes, seasonal décor, etc) this autumn? 🍎🌾🎃🌽🍁