As I was doing my makeup yesterday, my mind buried deep in a pile of ideas to possibly blog about this week, a fresh notion popped into my head.
I knew at once that this was what I wanted to share here for the second week of September.
As you may be aware, in the fall of 2016, my husband and I lost our home, very nearly everything we owned, and infinitely most devastating, our beloved cat (Stella) in an arson fire.
This is a subject I discussed in greater depth here and which, while it does surface from time to time on this site, I generally do not wish to put at the forefront of most of my Witchcrafted Life posts.
However, the fifth anniversary of the life-changing date is fast approaching.
It will arrive on October 13th, bringing with it half a decade of existence since our world was turned on its head faster than you can dial 9-1-1.
If I lived until the last flicker of light in the universe burned out, I will never forget that fateful day, nor the extraordinary challenges, changes, redirections, and outpouring of kindness that followed in the aftermath.
In the house that we lived in at the time of the fire, my crafting space was in the basement in a room that served both as a craft corner, photo studio, packaging centre for the items I was selling via my (then) Etsy vintage shop, and sundry other uses.
On top of the flames that tore through the entire structure, our home was further damaged by the substantial volume of water that pumped onto/into it to keep the fire from quickly spreading to other closely situated homes.
Of course, that was a smart move and did a lot to help prevent the fire from leaping to additional houses.
However, multiple feet of water sat in the basement of our burned-out house for weeks on end (as the fire department, police, and insurance companies each did their own thorough investigations of the structure), quickly causing mould to grow and rodents to set up camp.
Even if that hadn't been the case though, the flames alone would have caused nearly as much damage and virtually everything in my craft room – as with the rest of the house – would have been obliterated.
When people find out that we experienced an arson house fire and that I'm a paper crafter, they often ask me how I decided if I wanted to keep crafting or not.
There was never a shadow of doubt in my mind that as soon as I possibly could, I would begin paper crafting again.
Far from deterring me from picking up this beloved part of my life, the fire drove home all the more how phenomenally important it is (for me) to document and celebrate our life together, my childhood and family, trips we take, holidays we celebrate and so much more.
Just as the staggering outpouring of compassion, support, and generosity we received from friends, relatives, and complete strangers alike served as a reminder of how vital it is for me to create and give handmade cards (and other projects) to a wide range of people in my life.
As a naturally tenacious and highly driven person, even when the chips were down and I had quite literally nothing but the clothes on my back, I knew I would paper craft again.
And so, awesomely, joyfully, and blessedly, I have. My current craft space is a lot smaller – as is the stash of products it houses.
It wasn't economically possible for us to replace most of what was lost and, by and large, I have not tried to do so. The goal is not to replicate what was, but rather to create a safe, happy here and now that is conducive to who we are and what we love doing in the present.
With the fifth anniversary of the fire just over a month away, I wanted to take a little while to stop and reconnect with some of the pre-fire Halloween projects I made that I most adored.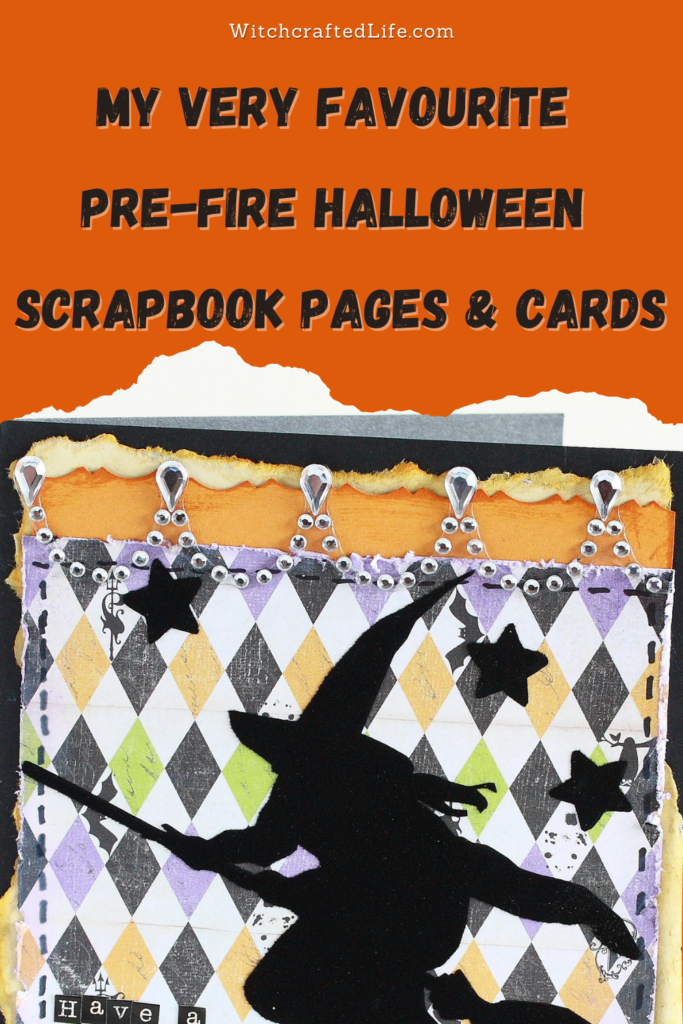 The blaze destroyed not only all of my completed projects (save, of course, for those that had been given to others as gifts over the years), but all of my craft supplies, as well as our computers and external hard drives.
This means that, in terms of my pre-fire craft projects, I only have photos of those makes that had been shared online pre-fire (and which were still online at the time of the fire).
As a result, without photos of some of my creations, numerous projects will forever exist simply in memory form for me.
Thankfully, however, care of various internet sources, I've been able to gather up images of some of the paper crafting projects that I made between 2010 (when I began scrapbooking and card making) and 2016, the year of the fire.
Join me then, won't you, as we revisit some of the pre-fire Halloween projects that I adored the most and which continue to inspire my current makes to this day.
A handful of my very favourite pre-fire Halloween scrapbook page and cards
Note: As the lists of supplies used to make these projects were kept in notebooks and lost in the fire, I cannot detail all of the items used to create them. Many of which are, objectively, long out of stock/production at this point anyhow.
That said, if you have any questions about the materials or techniques used on this Halloween makes, please don't hesitate to ask and I will gladly do my very best to deliver a helpful reply your way.
As well, please bear in mind that these photos, while digital, are several years old and that they are downloaded copies of the originals (thus the image quality may have been compressed or otherwise altered by whatever site/platform they were/are hosted on).
Also, both cell phone and DSLR image quality have improved considerably since then – as have my skills behind the lens 😄. Plus, at the time these pics were taken, I was really into somewhat overexposing my project share photos – something that is generally not my approach at present.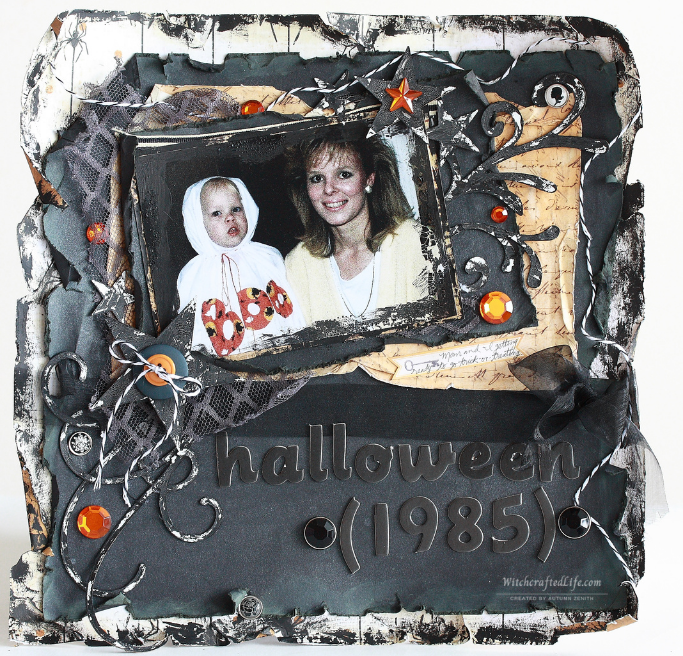 Halloween (1985) scrapbook page: In this distressed, shabby chic orange and black page we hop back to the mid-1980s with a glimpse of me and my mama enjoying All Hallows' Eve together (check out this recent project share post for a layout featuring the two of us on my very first October 31st).
My talented mom made the adorable ghost costume that I'm sporting here. Aww! 👻
To date, this layout stands as one of my favourites that I have ever created.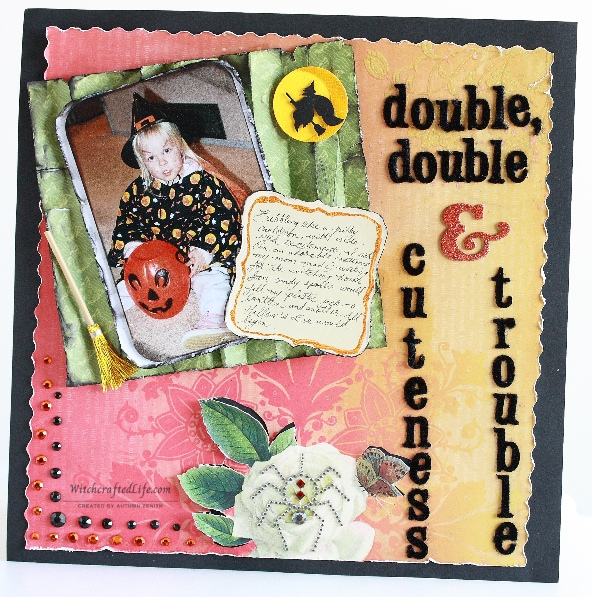 Double, Double, Cuteness & Trouble scrapbook page: I wish the image quality was better for this page, as it was such a cute, fun one. Hopefully, you can still get a sense of it here all the same.
In this layout, we progress ahead another year or two as this was me on either my 3rd or 4th Halloween – naturally, I went as a witch. 😄
Again, my sweet mom made my festive outfit. A few years on (as we will see in a later scrapbook layout detailed below), my little sister would sport the same darling witch costume.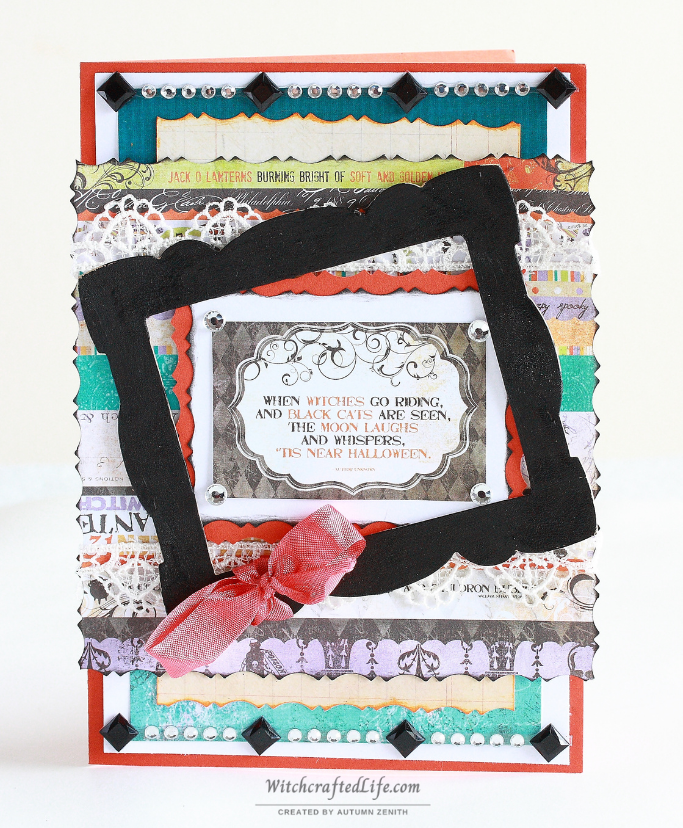 When Witches Go Riding Halloween card: An eye-catching and somewhat unexpected colour palette of classic orange, black and white partner with shades such as pale lavender, teal, and turquoise in this chic bow bedecked Halloween greeting.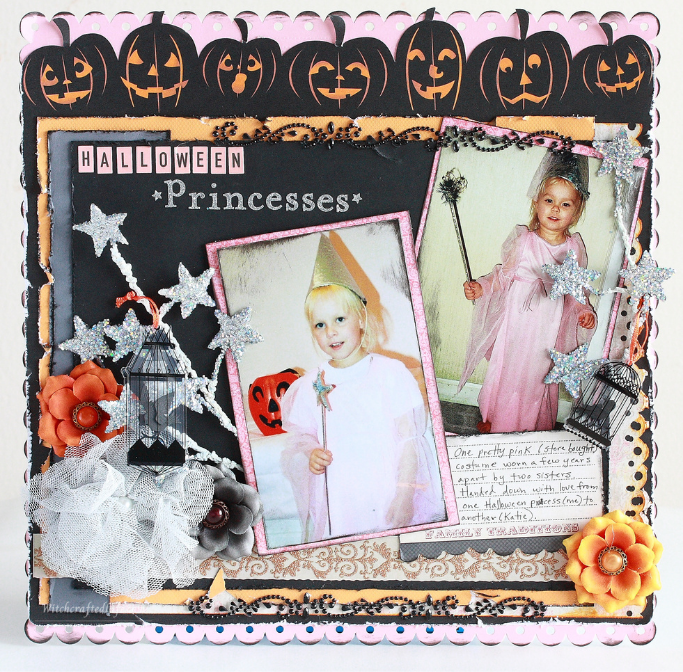 Halloween Princesses scrapbook page: This sweetly spooky page celebrated the fact that, a few years apart, my sister and I wore the same pretty pink (store-bought) princess costume.
I adore the pre-made die cut jack-o-lantern paper that played a starring role on this layout and would love to see a company release something similar again today.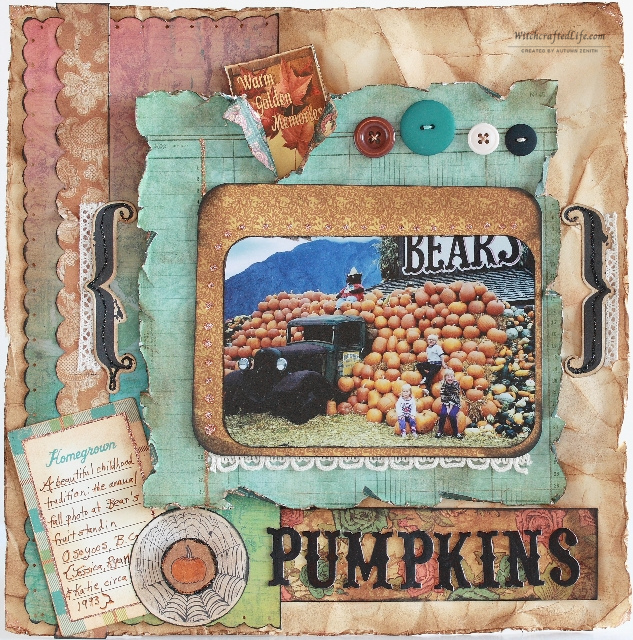 Pumpkins (Bear's Fruit Stand) scrapbook page: Growing up, my family had a wonderful tradition of vising some of the local produce stands and farmer's markets in our area each autumn.
In this circa 1993 photo, my siblings and I are sitting on a mountain of beautiful pumpkins at our family's very favourite fruit stand, called Bear's, located in the tiny South Okanagan community of Keremeos.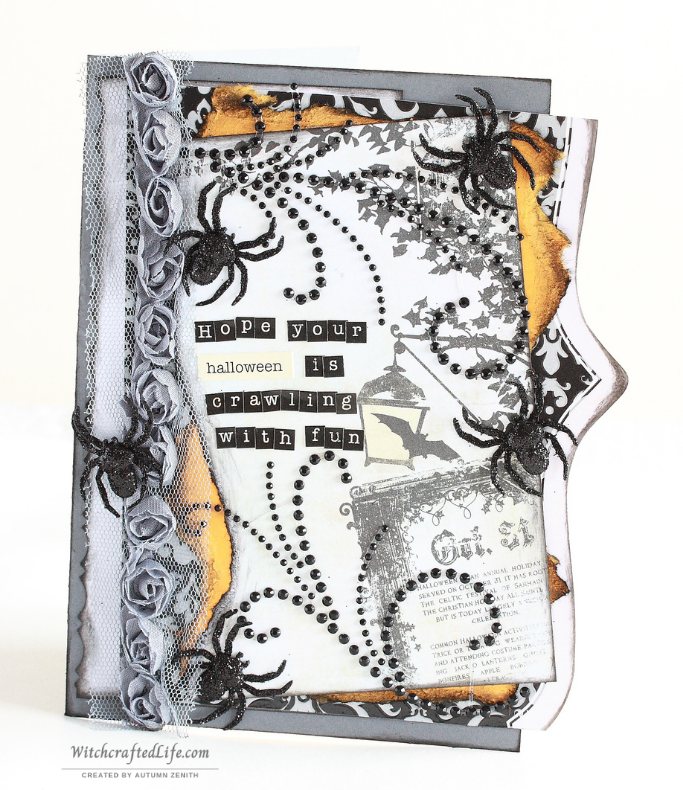 Hope Your Halloween is Crawling with Fun Halloween card: A classic colour palette and Halloween critter – the spooky spider – take the lead on this rhinestone and glittery black arachnid-filled card.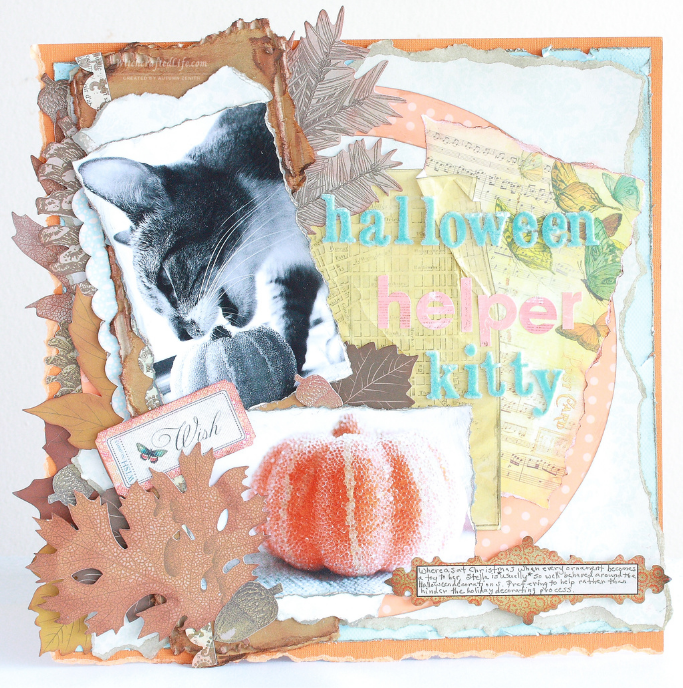 Halloween Helper Kitty scrapbook page: Two photos – one in black and white, the other in colour – accompany journaling about the fact that our beloved late cat, Stella, who usually left our spooky season decor in peace, had a real penchant for playing with this particular pumpkin decoration.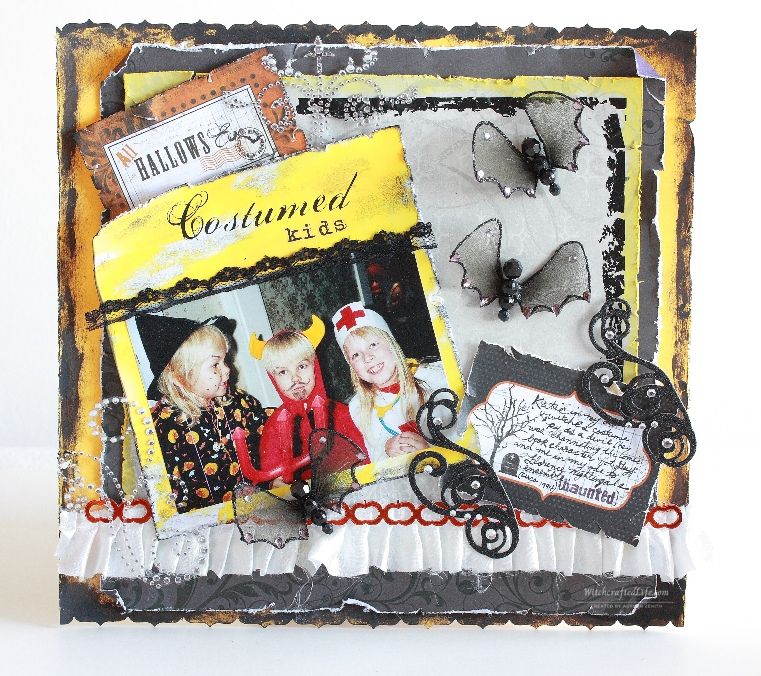 All Hallows' Eve Costumed Kids scrapbook page: Another layout that I really wish I had a better quality image of. Still, anything is certainly better than nothing when it comes to documenting lost paper crafting projects.
This fun Halloween layout shines the spotlight on what my brother, sister, and I wore for a fun-filled night of trick-or-treating in the mid-1990s (note, as mentioned above, my sister is rocking the same adorable witch costume that I had worn around the same age).
I madly adore the 3D beaded bats peppered around this layout. If memory serves me right they *may* have been from either Prima or the Michael's house brand, Recollections.
If anyone ever sees similar bat embellishments for sale online at a site that ships to Canada or in person here on Canadian soil, please do not hesitate to let me know (TY!).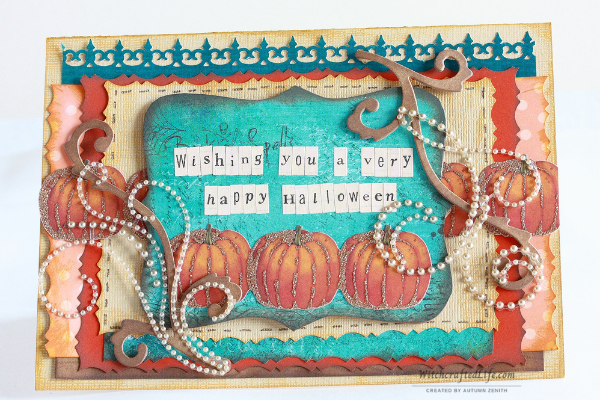 Wishing You a Very Happy Halloween card: Border punched layers, pretty flourishes, and glitter-adorned pumpkins galore call this teal and earth-toned card home.
Swap out the sentiment and this lovely greeting could easily work for other fall time happenings as well, such as Mabon and Thanksgiving.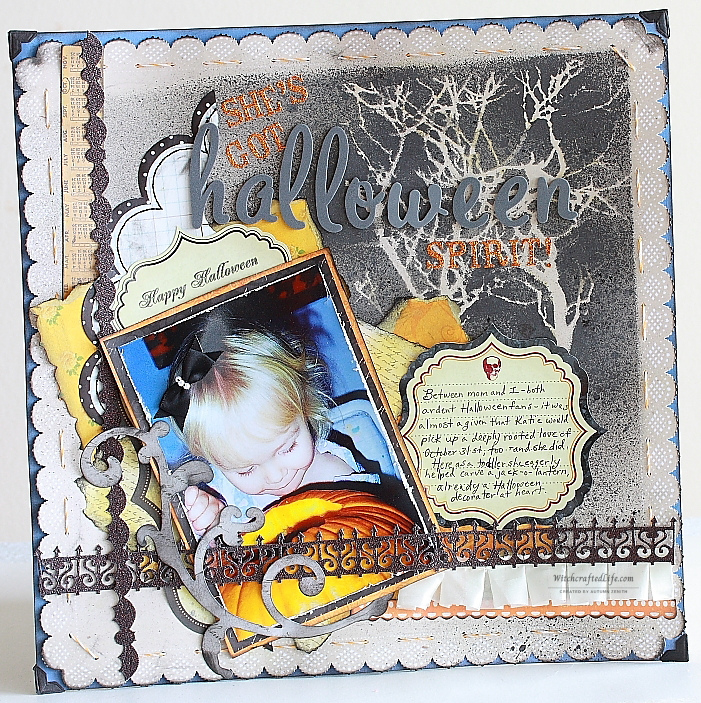 She's Got Halloween Spirit scrapbook page: While my sister's favourite holiday is Christmas, much as with my mom and me, she adores October 31st as well.
This sweet photo of my sis as a toddler shows her helping to scoop the guts out of a pumpkin that would soon be carved in our family's grinning jack-o-lantern that year.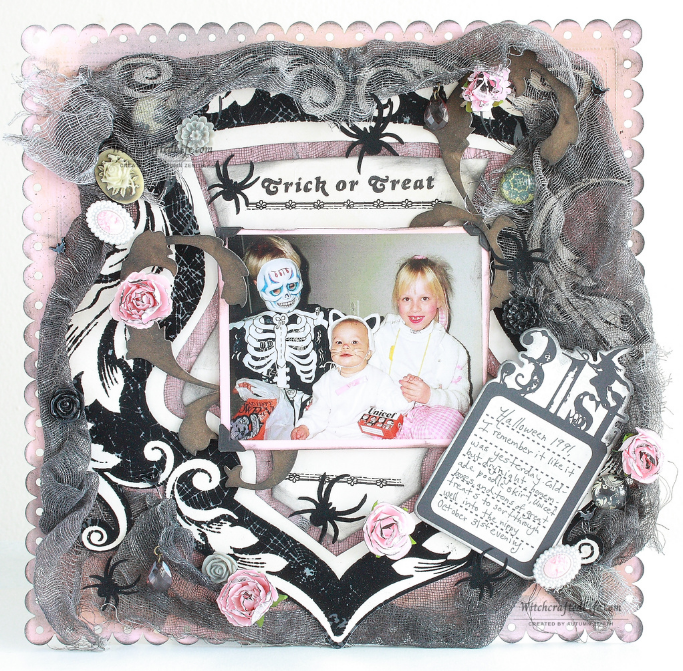 Trick or Treat scrapbook page: A bevy of embellishments, cheesecloth (that I hand-dyed), and spiders collide on this shabby chic Halloween layout that shows what my siblings and I wore for Halloween 1991.
The inspiration for this layout's colour palette stems directly from the costumes that the three of us sported that night (note the Unicef box – who else remembers collecting for this important charity on Halloween night as a youngster?).
This scrapbook page is another that rests firmly amongst the ranks of my all-time favourite that I have ever made.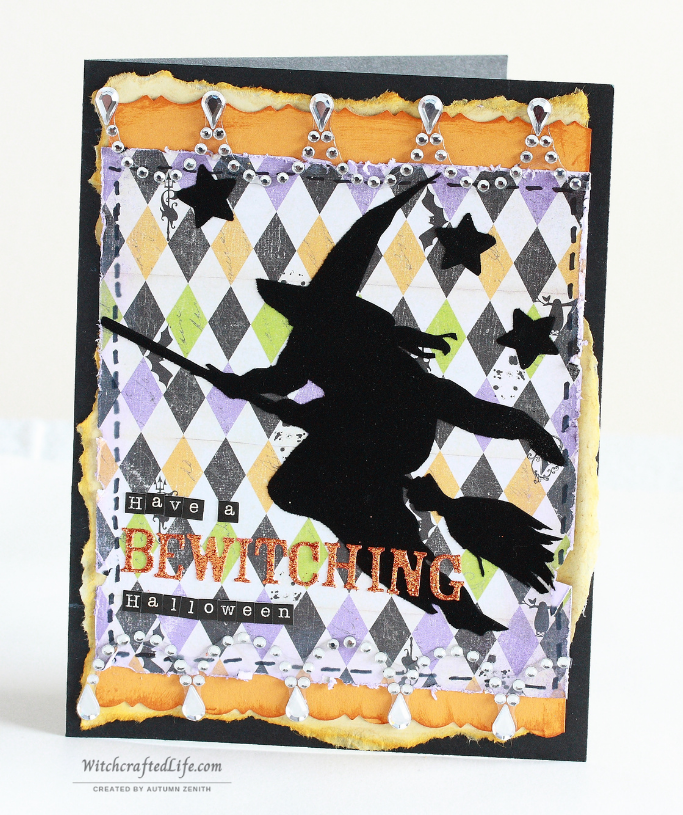 Have a Bewitching Halloween card: Distressed and border punched edges, elegant rhinestone trim, harlequin print paper, and an eye-catching black coloured witch silhouette sticker add up to a fun meets classic Halloween card that I'd happily replicate again today, if I still had the same supplies.
I might give it a go with similar, but different items, for a 2020s take on this greeting that was made close to a decade ago now.
🎃 Which of these festively fun, spookily sweet, and marvellously macabre paper crafting projects is your favourite? 🎃
Looking back, looking ahead
Far from causing me pain or tearing open wounds that have, mercifully, done a pretty good job of healing, looking back at these projects brings me a lot of joy.
I love being reminded of my past creative makes, what elements of my paper crafting style have stayed the same and which have changed/evolved/improved since then, the stories these projects tell, and the happiness – both in myself and, when applicable, in others – that the end results delivered.
As we head towards the official start of fall and all throughout my favourite chapter of the year, I will be sharing numerous freshly made autumn, Thanksgiving, and Halloween/Samhain related paper crafting projects here with you.
This point also delivers a bevy of joy my way and I can hardly wait to unveil my fall 2021 crop of crafty makes. 😃
Each project that a creative soul brings into being is shaped in some way – be it tiny or large – by what they've previously created.
As crafters and artists, we don't need to stand on the shoulders of giants, we are our own giants and muses.
The projects highlighted in this post each helped to hone and further develop my skills and style, the very things that I love to share here with you via my project posts all year round.
For September 2021, the pre-fire projects shared here are my latest entry for #MakeHalloween365.
Save for some of the cards and other items that were given as gifts, all of these projects are long gone in corporal form, living on instead in spirit and digital photos.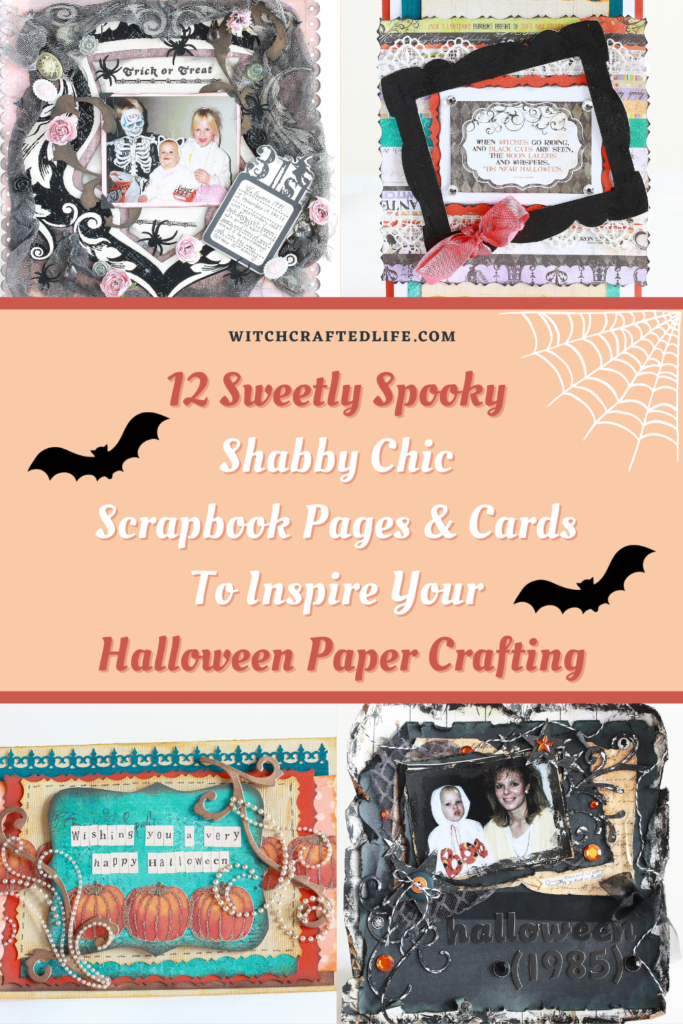 They did not get a chance to appear in the moment as part of #MakeHalloween365, as I just created this fun Halloween project share hashtag earlier this year. 😃
They get the opportunity to do so now, however, and I hope that while they are not the newest of makes, they are able to inspire you and embody the heart of this hashtag all the same.
I may not make the fire the centre of many of my blog posts, but when I do, I generally want there to be a positive element to the end message of such entries.
In this instance, for me, that is one of hope and perseverance, of not letting the unthinkable rob you of your passions, and of finding a way back to the light of positivity even on the darkest of nights.
Thank you, cherished friends, for being here with me on this site and on social media, and for experiencing the poignant journey that is my post-fire paper crafting and life in general.
There will never, not in all the languages of the universe, be enough words for me to convey just how much that means to – and motivates – me. 🙏
If I could, I would make fall and Halloween themed cards for each of you, but as that isn't possible, I hope that you will look upon the projects I post online as a way of conveying my heartfelt gratitude to each of you. 🧡
Here's to the magnificence, inspiration, nostalgia, and, in turn, present-day happiness of pumpkin spice, crunchy leaf, and grinning ghost season – may it be as kind to you as you, sweet souls, are to me. 🦇🎃🦇