Winter is the time for comfort, for good food and warmth, for the touch of a friendly hand and for a talk beside the fire. It is time for home. – Edith Sitwell
November was but a handful of days old when the season's first snowflakes fluttered like icy-winged butterflies to the ground.
A brief flurry, another a few days later, and then proper volumes of snow by the month's third week.
Fall did not go gently into that good night entirely though. At least not at first. 🍂
For a brief, enchanting time there were leaves the colour of ancient clay vessels and faded Tudor tapestries alongside slender plumes of smoke rising ghost-like from neighbourhood chimneys against the unmistakable chorus of shovels being pushed with no small amount of force across snow-laden driveways.
It is said that all good things must come to an end and autumn is no exception.
Tomorrow brings with it the Winter Solstice. The shortest day, in terms of the percentage of daylight, that the entire year houses.
For myself and others – particularly witches, Wiccans, and Pagans – it is also at the heart of the Yule season.
This long night ushers in the light-filled half of the year. Though, as I am quick to note, we rarely start to see and experience a tangible sense of that for several more weeks from now.
Nevertheless, the Winter Solstice and Yule remind us of the sunlight, warmth, and seasonal joys that await us come spring and summer.
Winter, however, is not without its own bevy of charms and blessings.
While a harsh chapter in many parts of the world, the coming season of icicles and parkas is anything but dull, uninspiring, or lacking in things to do and enjoy from the very first to the absolute last moment.
Before, with sweater-clad arms, we welcome winter back into our lives again (here in the Western Hemisphere; summer is out in full force for those south of the equator), let's take a lovely moment to reflect back on the season that is, rather aptly, presently giving up the ghost.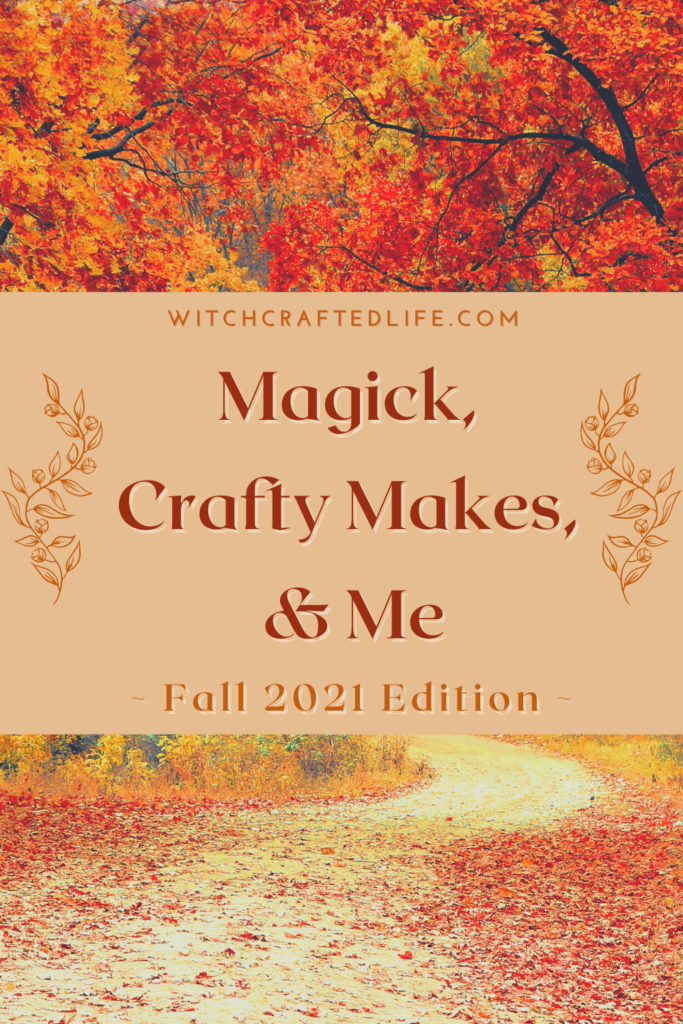 The Fall 2021 Edition of Magick, Crafty Makes, and Me is a link love post featuring online content that caught my eye during the past three months, coupled with a peek into what has been transpiring in my own life lately.
I hope that you will enjoy reading it every bit as much as I took pleasure putting it together for you, sweet friends. 🧡
Magick, Witchcraft, Paganism, and Spirituality
–Create an Easy DIY Advent Calendar with Crystals Inside: While it is rather late in December to start an advent this year, this creative take on a treasured holiday season favourite was too cool looking not to share.
Whether you work with crystals in a spiritual/metaphysical context or enjoy them for other reasons, chances are you are bound to delight in this awesome advent calendar that sees each date house a tiny crystal.
This advent would make for such a fantastic and meaningful Yule gift.
And there's nothing stopping you from using advents to count down to other special events (such as Halloween or a person's birthday) as well, if you wanted to give making this crystal-filled calendar a go before next December arrives.
–How to Make Heat Activated Spell Sachets: Creating spell sachets is something that is familiar to many witches and Wiccans. However, generally speaking, we work with them at either room temperature or whatever the mercury is up to outdoors.
Leave it to none other than beloved Pagan blogger, Moody Moons, to take this classic spellworking technique and give it a fresh new spin via the introduction of heat.
I am smitten with this concept and plan to weave it into some of my witchy workings this winter and likely for many a chilly season to come.
–Sacred Sprays for Magickal Self-Care: As someone who adores making many of my own magickal tools and ingredients, and who is a keen proponent of self-care, I knew the moment I saw this terrific how-to post from Katrina Rasbold on Llewellyn's blog that I would be sharing it here.
One need not be a witch/Pagan to make and use their own beneficial sprays – nor, of course, to practice self-care. That is something, ideally, we should all strive to make a perpetual priority in our lives.
–25 Forms of Banishing: No matter the season, I am a big proponent of doing banishing work. In fact, I would say it is one of the most common forms of witchery that I undertake.
Few points in the year lend themselves quite as naturally, however, to banishing work and getting rid of elements in our lives that are no longer serving us well than that liminal period between late December and early January.
This fantastic list from Sidney Eileen rounds up an impressive 25 different ways to engage in banishing work, including banishing via manifesting, involving banishing in your shadow work, and conducting energetic self-maintenance.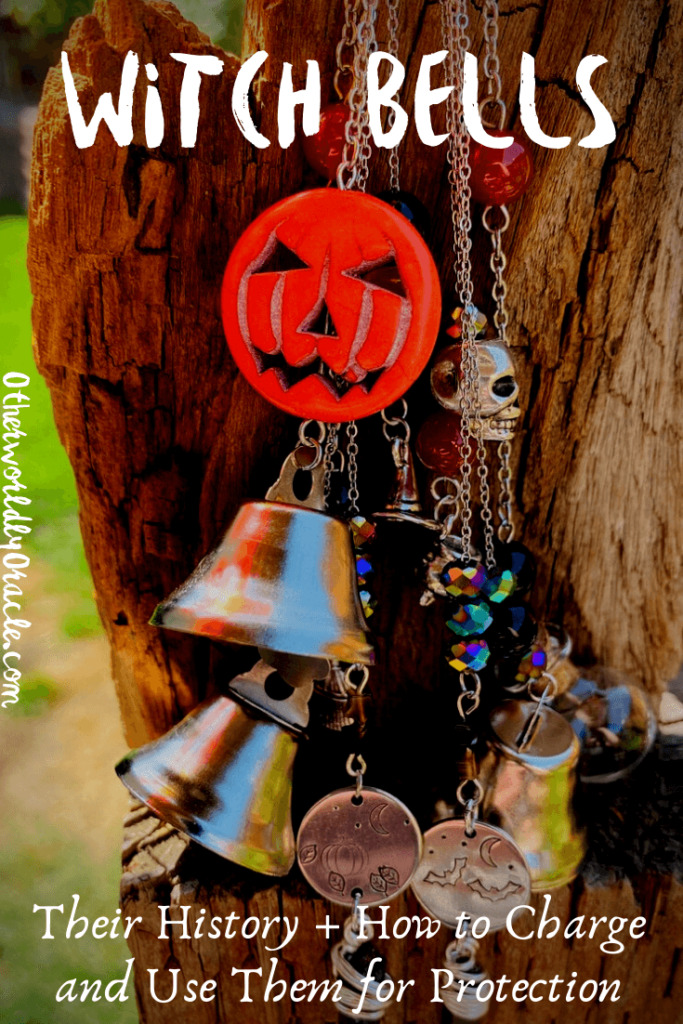 –Witches Bells: Their History, Lore and How to Use Them: From Otherworldly Oracle, comes this great look at the past and present of a magickal tool and/or piece home décor that is familiar and adored by plenty of folks around the world: Witches Bells.
During the December holiday season, when bells are easily had at many craft, hobby, dollar, housewares, gift, and big box stores, now can be an excellent time to make your own set of witches bells or to create some for the fellow witchy souls in your life.
(From the same website and very much in keeping with the current festive season, this delightful look at Yule Recipes: 13 Traditional & Modern Winter Solstice Meals & Beverages is also well worth checking out.)
–Work With the Plant Allies in Your Neighborhood: Discovering, learning about, and forming a meaningful, ongoing relationship with all manner of plants, flowers, and trees in your immediate environment can be an immensely beneficial activity.
If you are looking for more information on how to connect with your local plant allies, then this lovely post from Astrea at the Pathos blog Starlight Witch is a good place to start (or way to further your existing knowledge on the subject).
–Your Magickal Name: It does not surprise me one iota that a great overview look at the subject of magickal names comes from none other than esteemed Pagan author and blogger, Rachel Patterson (whose stellar book, Witchcraft Into the Wilds, I reviewed here last year).
As someone who uses their magickal name (or as I tend to refer to it, my Pagan name) not only virtually exclusively online at this point in my life, but in as many offline capacities as I possibly can too, it is safe to say that I'm big on magickal names and really appreciate that Rachel penned this handy guide on the subject.
Cardmaking, Scrapbooking, Paper Crafting, and Other Crafts
–DIY Fridge Magnets: 50 Projects for Home or Gifts: For a good stretch of my childhood, my mom collected fridge magnets. When the volume she had amassed exceeded the space available on our refrigerator, she started displaying them on metal baking trays.
Many years have now passed since then. Yet, as my mom's own passion back in those days for magnets rubbed off on me when I was growing up, I couldn't help but lap up each inspiring idea in this awesome selection of DIY fridge magnets.
If you are also stuck on magnets (pun intended 😄) or know someone who is, you will definitely want to give this inspiration-filled post a thorough readthrough.
–DIY Lava Lamp Party Favours: There are no molten hot liquids involved with this super cute mid-century inspired craft project.
Instead, two sizes of barware glasses and a few basic craft supplies – plus the "lava" filing of your choice are all you need to whip up some highly memorable yesteryear inspired party favours that your guests are bound to adore.
Plus, how great would these homemade lava lamps be for an upcoming New Year's Eve bash?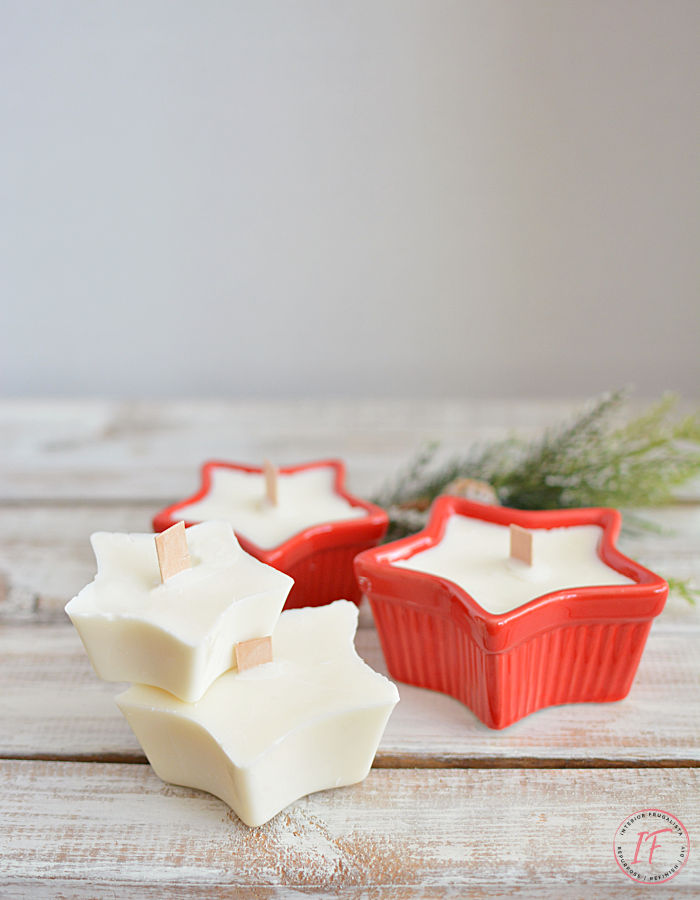 –Homemade Ramekin Dish Soy Candles For The Holidays: As you may have gathered by now, I really, really, reeeeeaaaaaly love candles. 😃
Plain or elaborate, scented or unscented, store-bought or handmade, I'm totally there for candles.
In the case of the latter type of candle, I fell hard for Marie's fantastic DIY candle-making project which guides you through the steps involved with creating candles in ramekin dishes.
This easy candle-making project delivers a beautiful end result that you can keep for yourself or give as a lovely gift.
I feel that these beautiful homemade soy candles would suit special occasions including birthdays, anniversaries, Hanukkah, Yule, Christmas, Imbolc, Valentine's Day, and Samhain especially well.
(Also on Marie's delightful – and very inspiring – blog, this adorable Upcycled Indoor Snowball Fight Wood Crate caught my eye. I really like festive décor that can be left out all season long, not merely for a given holiday or two, and this super fun project hits that nail squarely on the wintertime head.)
–How to Make a Flower Press: People have been intentionally drying and pressing flowers for many centuries and while this charming art ebbs and flows in terms of its popularity, it remains a beloved classic that is not likely to vanish entirely anytime soon.
If you are up for a spot of DIY and in the mood to make your own flower press at home, this handy step-by-step guide from Jessica at Cutesy Crafts will have you pressing a whole garden's worth of blooms in no time.
(As well, on the same blog, I melted faster than a marshmallow in a mug of hot chocolate for this enchantingly pretty Christmas Deer Embroidery Pattern.)
–How to Store Stickers (in Binders): Unless you've got a lot of space and, potentially, quite a generous budget to spend on organizational supplies, chances are you are continually looking for ways to streamline your craft supply storage needs.
Goodness knows I am – especially since my crafting space (which I am exceedingly grateful for) is definitely on the petite side of things.
As such, I instantly fell in love with this handy and, in many cases, wonderfully space-saving approach for storing your sticker collection in binders. It's a brilliant and very implimentable idea for a lot of folks.
(You could also do the same thing with other lightweight, relatively flat crafting supplies such as rub-ons or smaller sized sheets of specialty papers.)
–Super Tiny Mini Album with Lots of Photos: I have seen some pretty small mini scrapbooking albums in my day, but this itty-bitty creation – from none other than the endlessly talented Bea Valint – must surely take top prize on that front.
Perfect for your own memory keeping or to make and give as gifts (including pint-sized stocking stuffers), these mini albums are cute, fun, and more than likely, quite addictive to make! 😊
–Vacation Memory Sand Jars: Now, I fully realize that at present, a lot of us are not exactly jet-setting off to tropical destinations or hopping in the car for a road trip to the beach.
However, if you are able to do so, have collected and saved sand from past trips, or have access to some lovely sand closer to home, this project might just be for you.
It is such a charming, low-cost way to bring a slice of your travel adventures home with you and is one that can be repeated with different locations time and time again.
(Note: When taking sand home, always ensure that you are legally allowed to do so based on local laws and that removal of said sand does not negatively impact the ecosystem that the sand hails from.)
What's Shaking in My Life and On My Radar
Much like the summer that proceeded it, this autumn was one that, for a multitude of reasons, I will not soon forget.
In the early days of September, the very real risk of the massive local wildfires still loomed near.
Thankfully, by the time autumn had officially begun this risk had all but vanished and we felt safe unpacking our most important documents and belongings, which we had been keeping at the ready in case the official order to evacuate did arrive.
The start of this fall was gloriously gorgeous. Picturesque weather and temperatures, leaves so incredibly vivid and breathtaking that they nearly brought us to tears.
As it tends to do around these parts, October cooled down by mid-month. Happily though, (unlike last year) nary a snowflake fell in our neighbourhood throughout the year's 10th month.
Come the evening of my favourite day of the year, Halloween + Samhain, the temps hovered around a nippy -2C/28F. The night itself was crisp and dry with relatively little wind, to boot.
This no doubt helped to contribute to why we received the highest number of trick-or-treaters (about 118 – up from our previous, pre-pandemic record of around 113) that we've had since we moved into this house nearly four years ago now.
Between that point, celebrating the day with Tony and my mom, and ample time dedicated to meaningful witchy Samhain activities, I'm delighted to say that we had one of the best October 31sts in recent memory. 🎃
November wasted no time in tilting the scales in favour of winter weather, as touched on at the start of this post.
Yet the return of snow all but took a distant backseat to some rare and, in certain cases, incredibly devastating weather conditions and natural phenomena that rocked our province of British Columbia throughout the month.
Tornados are exceedingly uncommon in BC and even less likely, if I'm not mistaken, to occur during the second half of autumn.
This made the tornado that tore a path through parts of Vancouver early on in the month a serious surprise! 🌪️
Luckily, this event was not, insofar as tornados go, too severe.
In fact, this powerful storm was given an Enhanced Fujita scale rating of EF0, with EF5 being reserved for the most brutal storms/tornados and the destruction they cause.
For many BC residents, the tornado – while a fascinating event for sure – soon took a backseat to substantially bigger weather problems.
Specifically, horribly heavy rains in the province's Lower Mainland region (a broad swath that encompasses Vancouver and most of the towns + cities that call the lowest portion of BC home) and some other parts of BC, including the Merritt area.
BC is no stranger to flooding, but it had been a fair while since anything like the scale of rainfall, ensuing flooding, and widespread damage it caused had been seen around these parts.
Atmospheric rivers – a technical term that relatively few in BC had heard before this November, but which many of us are now well acquainted with – caused widespread flooding that destroyed homes, businesses, and other structures.
It also brought about landslides and these quite literally washed away segments of some of the main highways through the region.
Highways that connect the Lower Mainland (which is also known as The Coast) to much of the rest of the province.
This meant that in November highway travel was frequently impossible to or from The Coast.
In time, some routes would open again, though ongoing closures – much like flood evacuations in various parts of the province – continued on into December.
It also meant that supply lines were temporarily disrupted, as a fair amount of the goods that are distributed to retailers around the province come from the ports of Vancouver, as well as from farms and other supply sources in the Lower Mainland.
This sudden lack of incoming goods caused some people to adopt a behaviour that is still fresh in most of our minds from the early days of the pandemic: resource hoarding.
From the smallest mom-and-pop shop to the largest grocery store outlets, it all but looked like a plague of locusts had descended on the fresh food (produce, meat and seafood, dairy, baked goods, etc) section of many stores north of The Coast.
Tony and I didn't participate in this at all. A, because we were not worried and had enough (fresh/frozen/non-perishable) food at home already to see us through several weeks, if needed, and B, we strongly sensed that at least some fresh goods would soon find a way up to this area.
That proved to be the case exactly. And while grocery stores continue to feel the impact of receiving less perishable goods and other products, since "the big clear out" most have been able to get in a solid chunk of the merchandise that they usually sell.
While we did experience heavy rains at times throughout November and on into early December, our area – which is a few hours north of Vancouver – did not suffer the impacts of flooding this fall.
Many people on The Coast did, however, and a lot of them have had their lives absolutely turned upside by the devastating impacts of these mighty atmospheric rivers.
Rebuilding homes, lives, and sections of highway will take time and cost the province billions of dollars.
My heart aches intensely for all those whose words have been rocked by the flooding.
Having lost a home once myself (to fire, not flooding, however), I can relate at least in part to the living nightmare that is having your house (or business, etc) and belongings taken from you in the blink of an eye and the often lengthy journey to piece your world together again that ensues.
The severity of this flooding really is profound. It brought Prime Minister Justin Trudeau all the way from Ottawa to BC in November, has had the armed forces helping with the situation, and will take a long time for the province to even remotely begin to recover from.
Whereas once, decades ago, my family and many of our relatives lived on The Coast, these days far fewer do. And, thus far, thankfully, those that remain in the area have not lost their homes or had to evacuate due to rising floodwaters.
At the time that the flooding struck though, both my mom and aunt (her only sister) were actually down in the Lower Mainland, helping to nurse my 91-year-old maternal grandma who very recently underwent major surgery.
My aunt, an elementary school teacher, had to return home sooner than my mom due to her job. However, she was met, while trying to do so, with the first day of highway closures and ended up staying in the town of Hope for a few days until a route briefly opened up that she could return home via.
My mom was closer to Vancouver itself, at my grandma's house, and ended up staying there longer than she had planned due to the road closures. Eventually, she too was able to avail of a brief road closure on one highway north.
Had the closures stretched on much longer, she was planning to drive down through the northernmost parts of Washington state and come back into BC at one of the border crossings located in the Southern Okanagan Valley.
Thankfully, things did not come to that for either my mom or my aunt.
Some folks who were stranded and needed to get home to other parts of BC (or elsewhere in the country) did so though, with others still flying, when possible, out of the impacted areas of the province.
I am both happy and very grateful to say that not only is my grandma recovering well, but also that my mom and aunt both made it home safely in the end. 🙏
This year took a massive toll on a lot of people around the world.
BC's floods and the destruction they caused (much like that of the summer's brutal wildfires) are incredibly tragic, but far from the only major disasters to rock the planet in 2021.
Already weary from the heartbreak and life-altering changes that filled 2020, we were a battle-hardened lot as everything from the lava spuing Cumbre Vieja volcano in Spain to poor Haiti once again being hit hard by earthquakes came at the planet throughout the past twelve months.
These hard, uncertain times – complete with a pandemic that, due in no small part to fresh new variants, shows no sign of abating in the near future – are shaping and impacting a lot of us in ways both big and small.
We are eager to put 2021 to bed, yet also, rightfully, harbour trepidations about what the coming year may hold in store.
This is true for me/us at both a global level and in terms of our day-to-day life.
The very serious, life-altering and still undiagnosed health problems that I have been battling for over a year now can scarcely be called "new" anymore. Though in relation to my other chronic medical conditions, many of which have been present for two decades now, they could still be viewed as such.
The fight for answers and treatments regarding these "new" issues continues unrelentingly around the clock on my end.
My health greatly impacted and altered this year for me.
It caused certain important plans and goals to (hopefully just temporarily) be put on hold, including my long-standing dream of launching an ASMR YouTube channel, which I am more committed to making happen ASAP than ever as soon as doing so is physically possible for me.
These issues also saw me all but ghost my own Instagram account at times (which I am anything but happy about), took – and is still taking – a serious toll on my mental health, and continues to be a major battle around the clock.
Yet, I know that things could be worse. So much worse. Both personally and, rough as 2021 was, globally as well.
In a lot of ways, we have been profoundly fortunate this year.
Even with medical challenges (mine, Tony's, those of some relatives), a touch-and-go wildfire season, the ongoing pandemic, and many other not-insignificant struggles that impacted mine and Tony's life, we made it this far into 2021.
And if you are reading this, so did you.
That is no small feat. Nor is it something that any of us can take for granted.
I have my concerns about 2022. I know there will be challenges both new and ongoing, and that it will likely be another year that unfolds quite differently from how I would ideally want it to play out.
I'm not knocking it yet though, of course. I will let 2022 blossom in its own time, seeking and giving thanks in the process for the positives that come our way next year.
As have come to do each season since launching this quarterly post series, throughout the fall I tucked away an array of online posts and articles that resonated with me in one way or another.
So without further ado – but with unceasing hope that 2022 will be a kinder year to our planet and all who call it home – let's dive into that selection of links.
–A Haunting Photo Collection of Famous People's Death Masks, 1300-1950: Once, particularly in the era before photography came into being, a somewhat common practice in certain parts of the world (especially amongst those of the upper classes), death masks are no created with the same frequency they were in centuries past.
Though this tradition has not completed vanished, it has waned in popularity a great deal. Yet there is something absolutely incredible about death masks that, I think, makes it hard for us as a collective whole to abandon the art entirely.
These castings of a deceased person's face often captures a greater sense in 3D form of how an individual looks/looked than most 2D art forms ever could.
If, like me, you find these types of masks fascinating, then you will likely enjoy this image filled roundup of famous people's death masks from across the centuries.
–Beverly Cleary Wrote the Stories Kids Wanted To Read About: Relatively rare is the North American youngster who grew up at any point over the past few decades without reading – or being read – at least one of beloved children's author Beverly Cleary's books.
Her popularity far exceeded this continent, however, spreading globally and impacting, influencing, and entertaining countless youngsters throughout the years.
To date, more than 91 million copies of her books have been sold globally. That is a staggering number for any author, let alone (pre-Harry Potter at least) one whose work was geared at children and teens.
Sadly, the world lost Mrs. Clearly in March of this year. She passed away at the venerable age of 104 years old.
Many pieces were, understandably, written about Beverly Cleary's work and life in the aftermath of her death.
This one, which delves into her life, career, and the inspiration behind some of her most beloved stories stood out for me in particular.
Whether you've read any of Cleary's stories or not, it is a captivating, enjoyable look at an author whose work is likely to keep enriching the lives of youngsters for many more generations to come.
–Fifty Dog Quotes That Every Animal Lover Will Relate To: As both a lover of dogs and a proud dog mama to Annie, our nearly nine-year-old Bullador (half Lab, half American Bulldog), I couldn't help but smile and experience plenty of the "feels', as they say, while reading through this heartwarmingly lovely selection of dog quotes. 🐶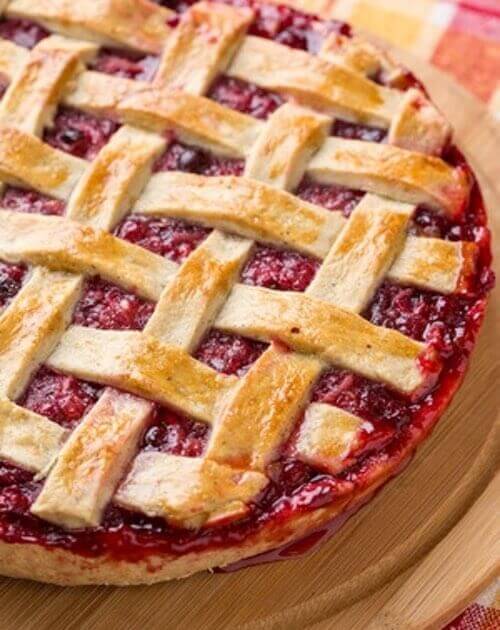 –Grandma's Vintage Desserts: There are so many wonderful recipes – as well as plenty of fascinating culinary history – on this website that instead of singling out and featuring just one here, I'm sharing Grandma's Vintage Desserts as a whole.
Helmed by a passionate chap named Don, this delightful website is chock-a-block with the kinds of classic, endearing, and hugely adored sweet treats that many of us grew up with.
These recipes aren't about the latest fads or most cutting-edge cooking techniques. They are honest, downhome, salt of the earth (or would that be sugar of the earth?) culinary creations that have been made and savoured for generations.
Be it during the holiday season or at any point in the year, if you are on the hunt for an ever-expanding selection of wonderful vintage and timeless recipes "just like grandma used to make" then this site is a must-visit + bookmark (or pin).
–How The Iconic Late Night TV Personality of Elvira Came to Be: Lily Munster and Morticia Addam are indisputably two of the most famous and beloved darkly inclined ladies. However, they're both fictional characters portrayed on screen my talented Hollywood actresses.
Another spookily souled woman who has been delighting us for decades now is Elvira – aka, The Mistress of Dark.
Unlike Morticia and Lily, Elvira, while still a persona in part, is real. If you have ever wanted to know more about her origin story, then this wonderfully engaging look at how Elvira rose to – and has long maintained her – fame is just the ticket.
–Scientists Discover an Adorable New Species of Brown Frog: Brace yourself for some serious cuteness when you click through this link, as you are about to meet the precious little Chocolate Frog (most likely) for the first time.
This darling amphibian was found in some of the roughest terrain of New Guinea, where it is believed to exist endemically.
I adore learning about newly discovered species and continually marvel at the fact that for all of our global exploration and 21st century scientific knowledge, there are still critters out that have yet to be documented by humans.
–Some Haunted Trees in the United States: You didn't think I would let the season that houses Halloween wrap up without at least one ghost related link appearing here, did you? 😄
Whether you are the biggest skeptic of spectres to ever live, have your own ghost hunting gear at the ready, or fall anywhere in between, this engaging post about some of America's most legendary haunted trees makes for a fascinating read that might just have you looking at the oldest trees in your own neck of the woods a little differently from now on. 👻🌳
Celebrating both the chill and warmth of wintertime
We could likely sit here until the next Fall Equinox debating which season is cozier, autumn or winter?
Honestly, it's a two-way tie for me. As I suspect it is a good many others as well.
Fall is my favourite season. The slice of the year that delivers us from summer's parching heat, yet keeps the wolves of winter at bay for (if we're lucky) at least a few weeks.
Winter is wildly cozy, too, however. Its comfort stretches back into the furthest ethers of time, resides in tradition and nostalgia, and invites us to slow down and embrace the serenity that comes from tumbling snow and the stillness it imparts to the slumbering natural world.
Throughout my life, I have gone back and forth regarding what season takes home the silver medal in my books. Each has held that spot at times, though summer and winter are usually the two that vie most fiercely for second place.
This year, as has often been the case, winter wins out. I need its tranquillity, the productivity that cool days spent indoors delivers, and the merriment of Yule, Christmas, and New Year's – to say nothing of Valentine's Day (or as I like to celebrate it, Valoween) a few weeks later.
Winter and I jive. Even during those years when I have experienced SAD, I love winter no less.
My witchy, gothy soul embraces the year's dark heart. Which, really, is not all that dark in many respects.
Show me another season where we light as many candles and fires or hang up as many strings of twinkling lights both indoors and out?
Humans are astonishingly resilient creatures. Both prior to, and in the years since, electric lighting came into our lives, we stood our ground against even the most powerful of arctic gales via the use of flames.
As though the warmth we generated could melt, if only symbolically, some of winter's intense chill.
This tradition continues to the present day. It is the heat generated on stoves and in fireplaces, the joys of classic comfort food that invite us to linger in the warmth of good company and wonderful conversation around the table.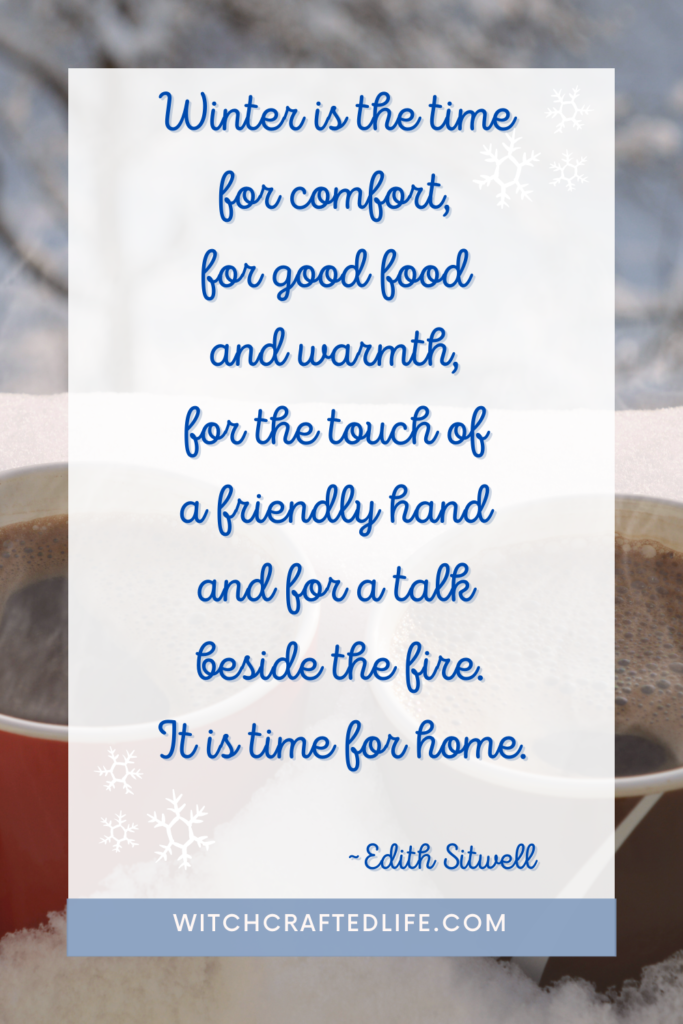 It is each simple tealight and heady seasonal candle we watch slowing burn down. Scents of everything from pine to cinnamon to cranberries gloriously filling our indoor environments.
In the glistening of a menorah's nightly lighting, the multi-coloured bulbs nestled between the needles of Christmas trees, and even the fireworks of New Year's Eve, we ensure that light is never far from our lives throughout the winter months.
The experiences these activities bring generates treasured memories and helps to remind us that even the chilliest January night can only last so long.
Winter is not the enemy though in my books. It is an ally to my creative process, my spiritual path, and the holidays I embrace annually. Just as it is for countless others around the globe.
Sure, by early March, I will practically be begging for summer, but that doesn't mean I won't be a touch blue to see winter go.
We are old friends at this point. A Canadian born and raised lass and a season that frequently consumes this nation for five, six, or even seven pages of the calendar.
Tomorrow, as winter officially returns, I will smile and give thanks for the ever-turning Wheel of the Year and for the beautiful serenity this season houses.
To say nothing of the holiday time joys that we are presently enmeshed in. 🎄
Much like its predecessor, 2021 was an intensely challenging year for many of us – be it personally, globally or both.
It is impossible to know with any certainty what this winter (or summer, if you're in the Southern Hemisphere) will bring in terms of the pandemic, climate change, and myriad other things.
But what we can, as a general rule, count on is the familiarity of winter. From its icy bite to its festive feasts, its sweatshirt grey skies and the promise of sun-kissed new life that lays beyond its snowy borders. ⛄
May this winter find and keep you well, safe, and, in all ways possible, wonderfully warm and happy. 🕯️
What were some of the standout elements of this autumn for you? What aspects of winter are you most looking forward to? ❄️🤍❄️