If you have been following this blog throughout 2021, I am willing to bet there is a fairly good chance you saw this post coming. 😄
Earlier in the year we took a gander at Valoween, Springoween, and Summerween.
Today, with a mere half a month of December left, it is high time we explore the subject of Spooky Christmas (aka Creepmas).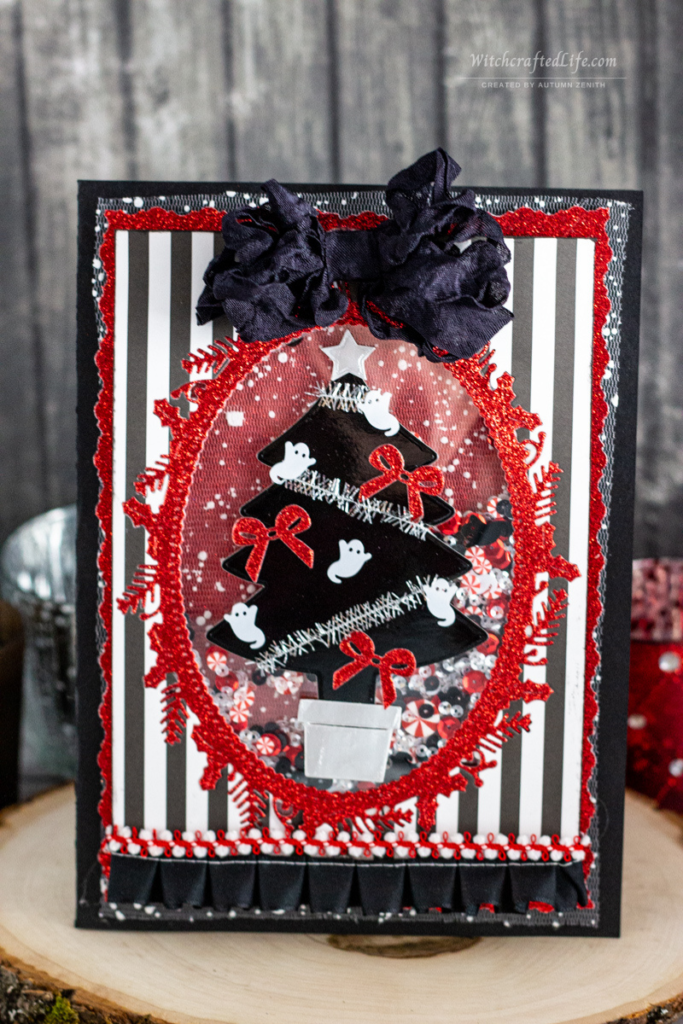 We will be doing so both through the following paragraphs on the subject and via a festively adorable ghost themed Christmas card that I recently made.
Read on to learn more about Creepmas, as well as how to replicate this charming haunted Christmas tree card yourself.
What is Creepmas?
Creepmas is taking the Christmas season and applying a dark, Halloween-inspired spin to your décor, attire, menus, gift wrapping, holiday cards – you name it!
Objectively, there need not even be a straight-up Halloween element to Creepmas. The key element is to inject spooky, scary, and/or macabre qualities into the Christmas season.
They can be gothic, Halloween related, horror/slasher genre inspired, shift the focus from Santa Claus to Krampus, or focus on any other more eerily influenced spin on Christmastime.
Creepmas is not the only name for spooky Christmas. Indeed, the term "Spooky Christmas" itself is one of Creepmas' alternative names.
Others that I have seen over the years include Cryptmas, Dark Christmas, Spookmas, Ghoulmas, Hexmas, and Gothmas (though the latter would, objectively, apply more so to those who identify as goths or deeply appreciate and understand the gothic subculture and its aesthetic).
I am particularily fond of the name Cryptmas myself.
(It should be noted that with the meteoric rise in the popularity of cryptocurrency, I have started seeing some products on Etsy – such as this Merry Cryptmas Sweatshirt that put a cryptocurrency spin on Christmas images. So this term now means at least two different things.)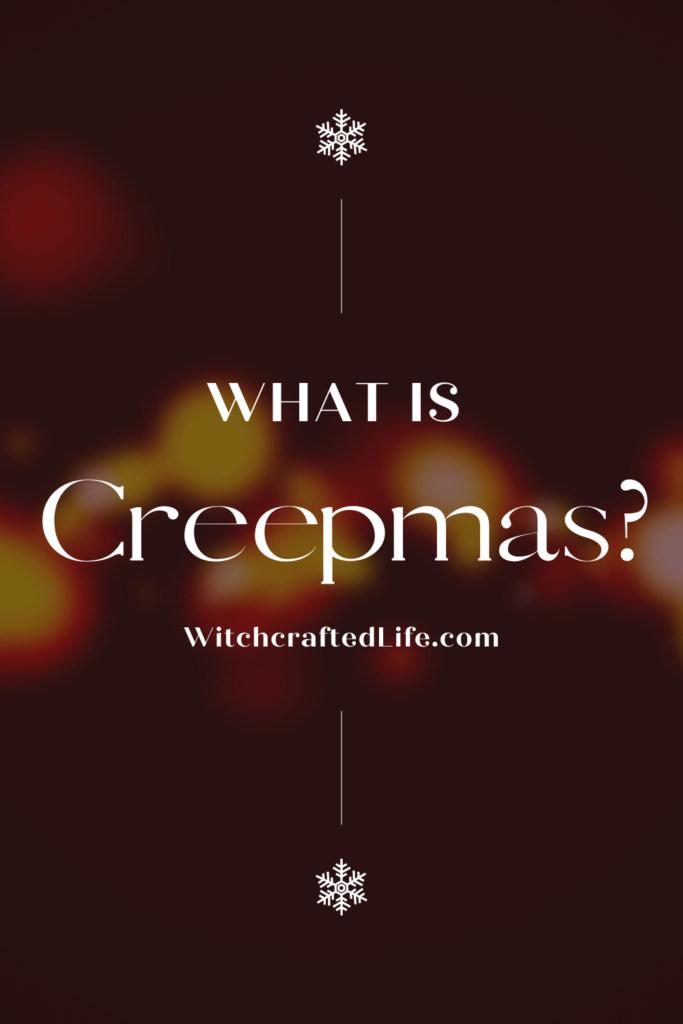 Of all the holidays and non-fall seasons that have had a spooky, Halloween-influenced twist put on them, perhaps none has yet to top Creepmas in terms of its growing popularity.
Nor, in turn, the number of spooky Christmas-themed products that are hitting the markets these days. Particularly amongst indie sellers and smaller-sized companies (though some of the bigger alternative brands are getting in on the festive fun, too).
This makes a lot of sense for multiple reasons.
First and foremost, save for American Thanksgiving in the US, many of us do not celebrate any major holidays between Halloween/Samhain and Christmas (or Yule).
For those who are card carrying members of team #MakeHalloween365, this means come Yule and/or Christmas, we are often missing our beloved Halloween/Samhain something fierce already.
So, we figure, why not carry the dark, spooky elements that we cherish about October 31st over to our December holiday season!
(The haunted Christmas tree card featured in this post is my #MakeHalloween365 project for this month.)
Another reason is that, much like Halloween, Christmas is a very popular and commonly observed holiday – be it religiously or secularly.
Depending on the faith and/or culture we were raised in, we may have grown up celebrating December 25th. And as a result, we tend to have a bevy of memories, traditions, and festive happenings surrounding the Christmas season that we adore and would like to put a Halloweeny stamp on.
Or, in some cases, perhaps it is the very adding of darker and more macabre elements that make Christmastime considerably more appealing to us in the first place.
In addition, while the Winter Solstice does officially usher in the more light-filled half of the year, in most corners of the Northern Hemisphere, we are not going to start getting a sense of those longer hours of daylight for at least several more weeks.
Christmas, early and mid-winter (and even late winter in some respects) can be extremely dark, cold times that have a certain ingrained air of mystery and even spookiness to them.
A point which many people in generations past – and some folks to this day – embraced with the classic tradition of telling Christmas ghost stories.
I suspect the fact that many Halloween lovers adore decorating and collecting (and/or making) items pertaining to All Hallows' Eve spills over into the other holidays that we observe.
For as far back as I can recall, I have loved decorating for and celebrating holidays, birthdays, and all manner of special events.
Once I got old enough to start putting a spooky spin on things beyond the Halloween season itself – and even more so after I learned that others were doing the same thing – there was no looking back for me.
I enjoy and appreciate a wide range of holiday decor aesthetics, including many that differ significantly from my own.
At the end of the day though, my most beloved Christmas season aesthetic is one the combines a dark Victorian look with elements of both Halloween and my passion for taphophilia (so hence, no doubt, why I'm particularly fond of the term "Cryptmas" 😊).
If you feel the Creepmas spirit beckoning you, I wholeheartedly encourage you to find the dark/Halloweeny December holiday season aesthetic that appeals most to you at the moment.
You are, of course, not locked into that style for life and can switch things up anytime, if you so desire.
How to achieve a spooky Christmas look
If you're keen to get in the Creepmas spirit, there are seemingly endless ways to do so.
Select a decidedly spooky/dark/gothic colour palette (or go eclectic and use a range of colours) such as any of the following colour combinations:
-Black, white, and grey
-Black, grey (and/or white), and purple
-Black, white (and/or grey) and red or burgundy
-Dark brown, pine green, and aged gold or brass
-Lime green, white and/or grey, and black
-Cream or ivory, white, and silver (this combo tends to have an especially delightful ghostly air to it)
-Black, pine green, and burgundy
-Charcoal grey, navy blue, and silver
-White, orange, and yellow (aka, candy corn colours)
-White, black, and orange
-Black or dark grey partnered with assorted aged metals
-Cream, dark red or burgundy, and black or dark brown
-Black or dark grey, dusty rose, and burgundy
-A timeless Christmas palette of red, white and green interspersed with some hits of black
Next, decide if you want to go all out or keep your Creepmas décor to a select area or two of your house.
Naturally, if you do not have many (or any) decorations that fit the Creepmas/Gothmas aesthetic right now, you do need to break the bank and rush out to purchase a bunch.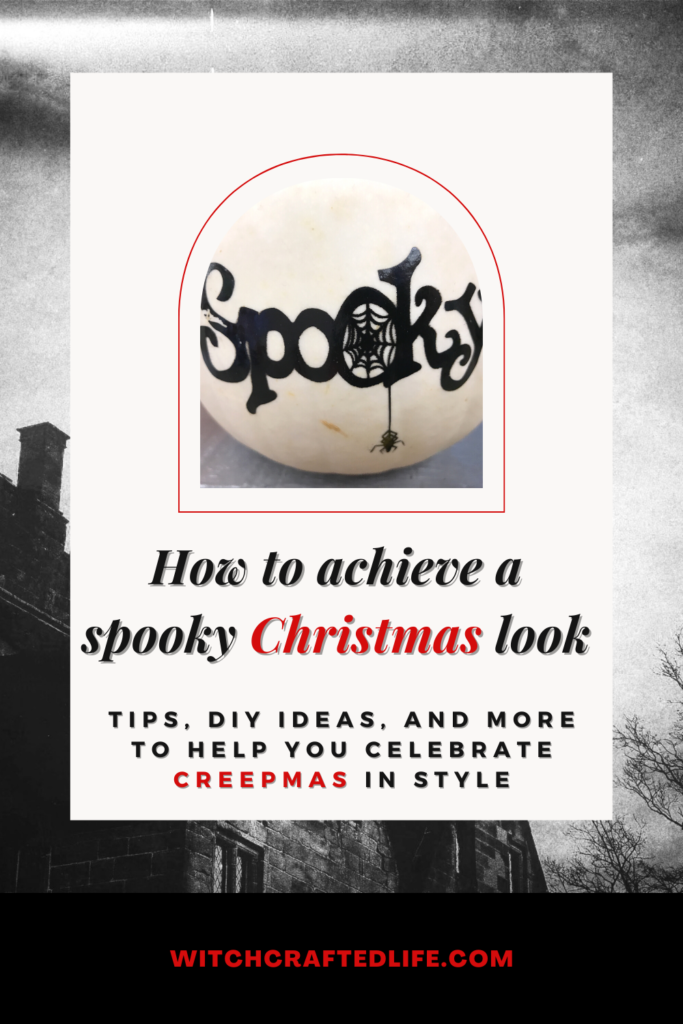 You can start small. Look through your current winter holiday décor as well as your Halloween decorations, plus your house in general. Are there pieces that can lend a spooky/mysterious quality to your Christmas décor?
Are there any Christmas items that you could paint (acrylic, spray paint, etc), re-cover, decoupage, or otherwise give a gothy makeover to?
Doing things as simple as using a black table runner and chargers or placements and black candles on your festive table or baking some skeleton gingerbread cookies can be terrific ways to begin injecting more of the Creepmas looking into your seasonal happenings.
If you are in the market for a new artificial Christmas tree, consider picking up one in black, white, silver, orange, or red. The darkest of dark green shades can work splendidly as well.
You can then DIY Your Creepmas Tree as the wonderfully talented Amber from The Dahlia Crypt has done.
And transform some run-of-the-mill dollar store Christmas decorations into gloriously spooky Creepmas versions care of this terrific video from The Gothic Homemaker (aka, Aurelio Voltaire – whose music, YouTube channel, and myriad other contributions to the goth community I have been an ardent fan of for many years).
You could also make some cheesecloth ghosts to tuck between garland, tinsel, or other festive décor around your house.
Hang black or grey stockings, read A Christmas Carol in front of the fire, cut snowflakes out of black cardstock or tissue paper and hang them around your home, or decorate, paint, or carve faux pumpkins with Christmas images such as bells, a Christmas tree, snowmen, candy canes, or Santa Claus.
Why not pick up a Creepmas sweater/sweatshirt/t-shirt or two (Etsy has an ever-growing selection of such garments and the offerings over on Dolls Kill are awesome, too), watch scary Christmas movies, deep dive into Spooky Little Halloween's fantastic array of Spooky Christmas posts, top your tree with a black bat decoration, visit r/Creepmas over on Reddit, or put black Santa hats on some of your favourite Halloween décor?
Have fun with Creepmas/Cryptmas/Gothmas. Let your imagination run wild, build up your spooky festive décor collection a little more each year, make or purchase some Creepmas holiday greeting cards, and revel in the enjoyment that comes from merging elements of Halloween with December 25th.
And if you are looking for even more Creepmas ideas and inspiration, pop on over to my Creepmas / Cryptmas Pinterest board.
Seasonal sentiments to use on spooky Christmas cards, other crafts, home décor projects, etc
The following is a selection of Creepmas, Cryptmas, Gothmas, and Spooky Christmas sentiments that I have compiled. They work splendidly for all manner of festive cards crafts, home decr projects and so forth.
-'Tis the season to be spooky
-Scary Christmas / Creepmas / Gothmas / etc
-It's beginning to look a lot like Cryptmas / Creepmas / Gothmas / etc
-All is merry and fright
-Merry or Happy Creepmas / Happy Cryptmas / Happy Gothmas / Happy Spooky Christmas
-Season's creepings
-Happy skulladays
-We witch you a merry Christmas / Happy Holidays / Creepmas / Gothmas / etc and a Happy New Year
-I'm dying to spend the holidays with you (you could partner this sentiment with an image of a ghost, the Addams Family, the grim reaper, tombstones, or your favourite horror movie character, for example)
-All I want for Christmas (or Creepmas, etc) is you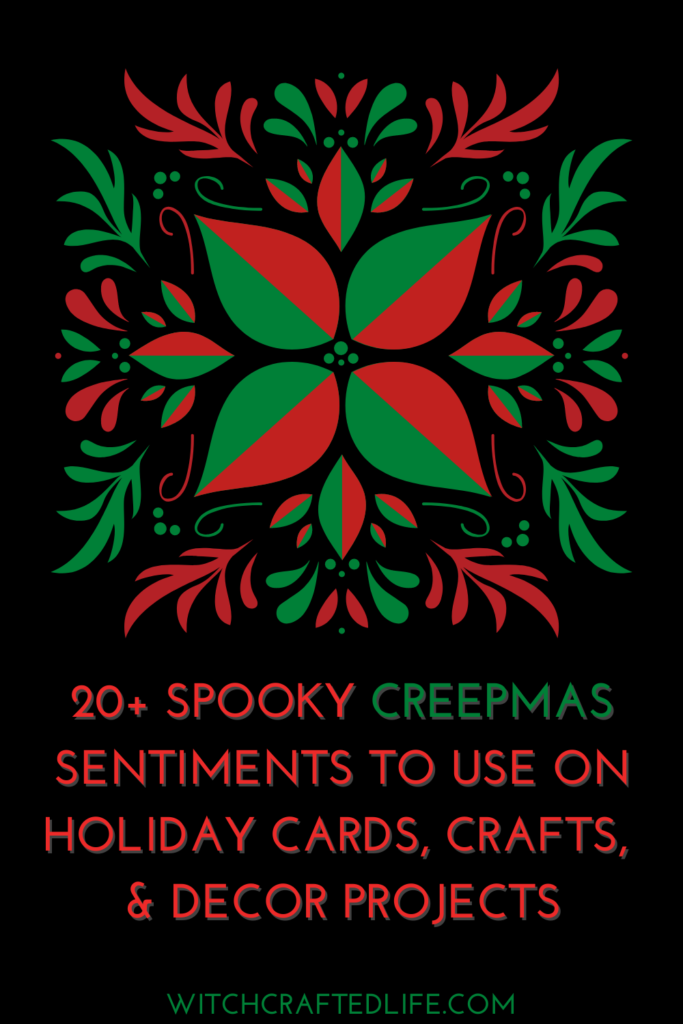 -Have a creepy Gothmas / Cryptmas / etc
-Have a spooky Gothmas / Cryptmas / etc
-It's batty how much I love Christmas / Cryptmas / Creepmas / Gothmas / etc
-Hail Santa
-Boo and happy holidays!
-I'm screaming of a white Christmas
-Here comes Santa Claws (you could partner it with an image of a cat or Krampus, for example)
-Slay bells ring
-Happy ten months and five (or six, depending on if you count down from December 25th or 26th) days until Halloween
-He knows when you are sleeping (from the Christmas song Santa Claus is Coming to Town – https://en.wikipedia.org/wiki/Santa_Claus_Is_Comin%27_to_Town)
-Have yourself a spooky little Christmas / Cryptmas / Creepmas / etc
-On the thirteenth day of Creepmas / Cryptmas / Gothmas / etc
-Happy holidays from our crypt to yours!
-Time spread the holiday spirit (combined with an image of one or more ghosts)
Naturally, there are others that could easily fit the bill as well. Turning to lyrics from classic Christmas songs and poetry, as some of the examples above have done, can be a great place to find lines that could easily be made festively spooky by changing some of their words.
Note: Should you wish to use a Creepmas (etc) sentiments that pertain directly to death, please be mindful of any losses the receiptent may have experienced this year. As well as how people are presently doing in the face of the ongoing global pandemic that we are all collectively battling.
If you think that someone might be offended, saddened, or otherwise hurt by death-related wording, be considerate of this point and refrain from using such language.
Gothic haunted Christmas Tree Card
While there are Tim Burton-esque elements to this card – chiefly the black and white striped paper (very Jack Skellington!) and overall spooky theme – I wasn't per se channelling this source of inspiration.
Not, mind you, that I take any issue with it being there. Far from it! Like many a Halloween fan, I have a great fondness for Mr. Burton and his work – very much including the Nightmare Before Christmas.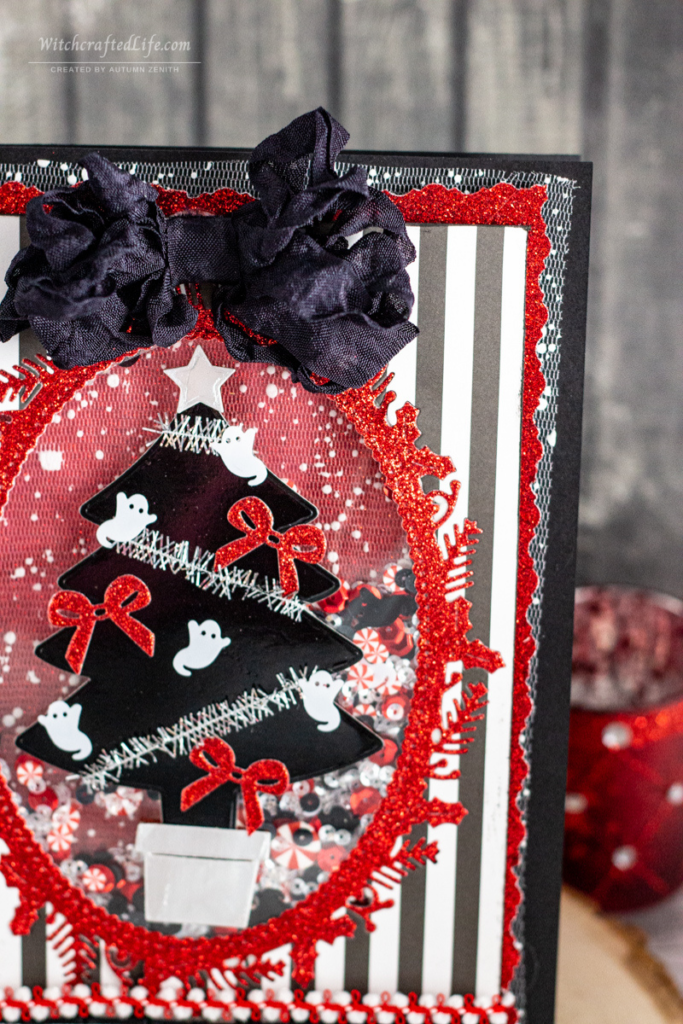 This was one of those card designs that just popped into my head as I sat down to craft recently and I knew that I had to bring it to reality immediately.
I had picked up a roll of white "fall snow" design tulle at Dollar Tree back around the start of October and was itching to craft with it.
(You can purchase a very similar looking white snowflake tulle on Amazon. The quanitiy provided there is a fair bit bigger than my roll from the dollar store.)
That tulle appears twice on this card, along with some festive shimmer via the red glitter cardstock, silver metallic cardstock, glossy black cardstock, and the silver tinsel trim on the Christmas tree.
Not to mention the hits of sparkle coming from the fun shaker mix that I composed out of red and black sequins, clear sequins/gems, white and black ghost-shaped sequins, and red and white polymer clay peppermint candy shapes.
The only patterned paper here is a black and white striped piece behind the shaker window, as I wanted to keep the emphasis more on the colour palette and haunted Christmas theme than on multiple different patterns of paper.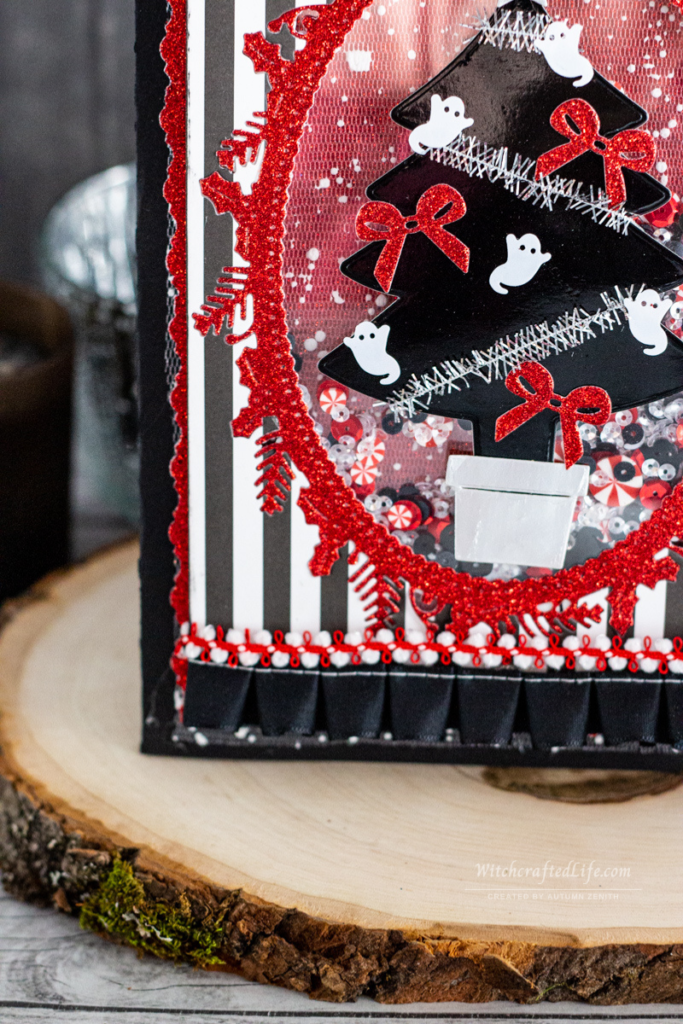 If you do not have, or as an alternative to, black and white striped paper, a black or grey snowflake print paper would likely look marvellous here as well.
I have been champing at the bit to share a Creepmas card with all of you and am delighted that I got a chance to do just that here this month.
Should you wish to replicate my sweetly spooky Christmas card, be sure to check out the list of materials used and the detailed step-by-step instructions that follow below.
Products used to make this elegant red and black gothic Christmas card
-Black cardstock
-Glossy black cardstock – Glossy Black Mirror Card from Tonic Studios
-Silver foil or metallic cardstock – Silver Foil Cardstock from Recollections
-Red glitter cardstock – Premium Glittersilk Cardstock from Darice
-Black and white striped paper – Halloween Party Bone Chilling paper from Echo Park
-Clear acetate
-Christmas tree die set with tree, tree stand, bow, and star dies (or assorted dies to create a similar-looking Christmas tree)
-Holly leaf/winter greenery oval frame die (I have had this one in my stash for a few years. You can currently get a similar looking holly oval frame die from Simon Says Stamp)
-Elegant decorative edge scissors – Victorian Paper Edgers from Fiskars
-Black pigment ink pad (or really, just about any black ink pad that works well for inking paper edges)
-Small clear sequins or gems – 3mm Sparkling Clear Sequins from Pretty Pink Posh
-Red sequins
-Black shimmery sequins
-White and black ghost-shaped sequins (check sites such as eBay, Etsy, and AliExpress for ghost sequins)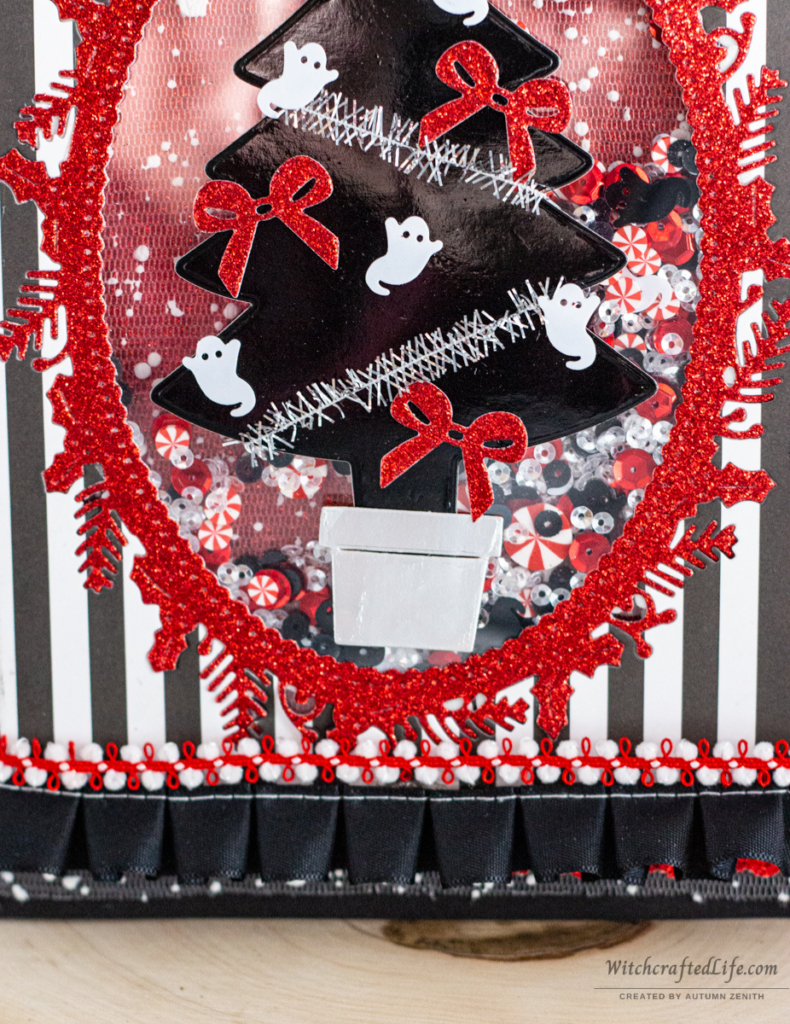 -Red and white polymer clay peppermint candy shaped pieces (available from various sellers on the aforementioned websites, including Etsy seller Diystencilca)
-White "falling snow" tulle (Crafter's Square brand from Dollar Tree)
-Red and white micro pompom trim – Handmade Floral Embellishments #500153 Ribbons from Prima Marketing
-Silver tinsel trim – Designer Tinsel Trim from Webster's Pages
-Black seam binding
-Black pleated ribbon trim
-Glue gun and glue sticks (optional, but especially handy for gluing the seam binding bow in place)
-Dimensional foam, pop dots, or similar to elevate some of your layers
-Adhesive, such as a tape runner, of your choice (I often use my Scotch Tape Glider)
How to make a gothic haunted Christmas tree card
Begin by making a card base from plain black (or charcoal grey) cardstock.
Cut a piece of white falling snowflake print tulle slightly smaller than your card base. Adhere.
Use decorative edge scissors to cut out a piece of red glitter card that is slightly smaller than the piece of white tulle. Adhere.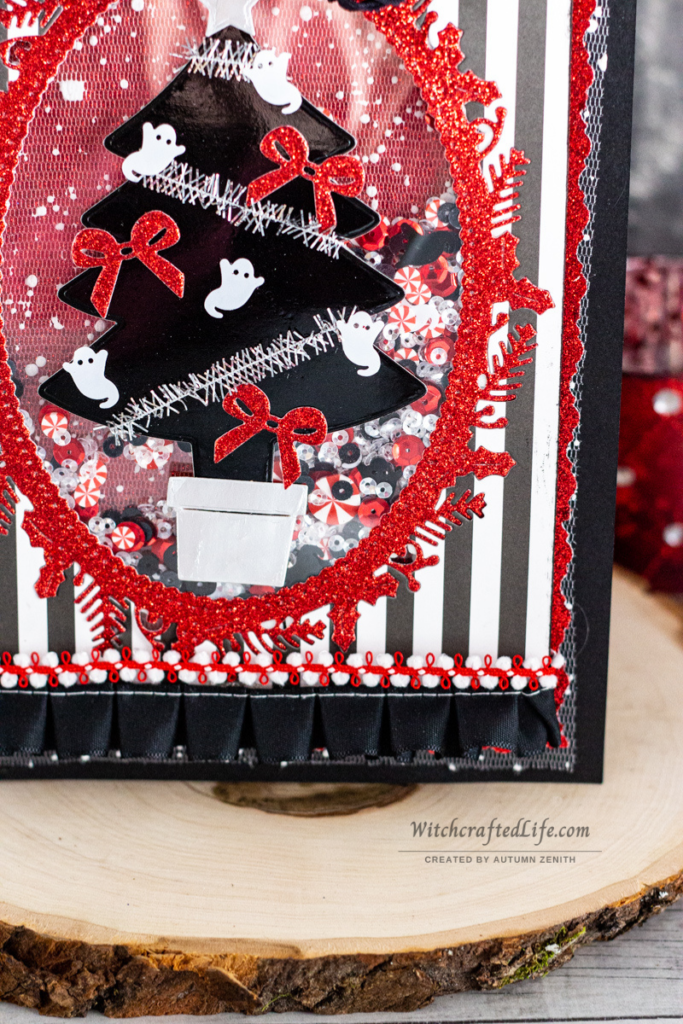 Cut a piece of black and white striped paper a little smaller than the piece of red glitter cardstock. Ink all four edges lightly with black ink.
Next, die cut a festive holly greenery oval frame in the center of the striped paper.
Die cut the same frame itself from red cardstock. Gingerly align the red frame so that it sits flush in the frame aperture that you die cut from striped paper.
Die cut two equal-sized ovals of clear acetate (or another suitable lightweight, flexible clear plastic material).
Create a festively spooky shaker mix using a blend of red, black, and clear (or white) sequins and/or small gems, white and/or black ghost-shaped sequins (bats would also be fantastic here!), as well as some polymer clay red and white peppermint candies and/or candy canes.
Sandwich the sequins mix between the two pieces of clear acetate and adhere their edges together.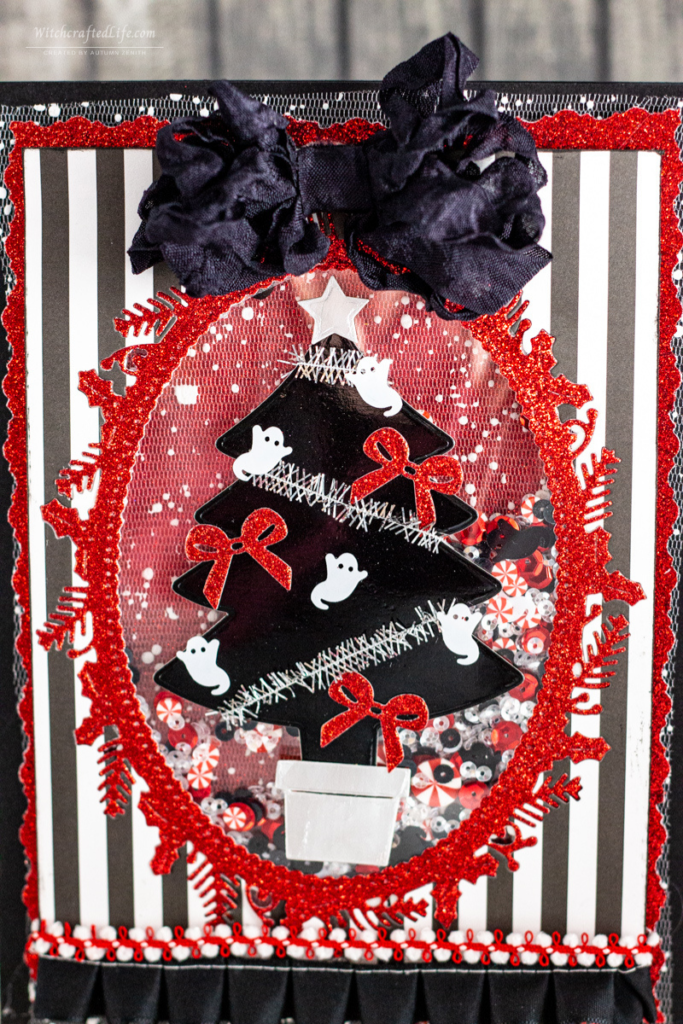 Place this oval sandwich of shaker card goodness into the oval aperture of the holly greenery frame. You may want to use foam dots, pop dots, or a similar raised adhesive to give your shaker card an even greater sense of depth (that's what I did here).
Back the aperture (open area of the frame design) with a piece of the same white falling snowflake tulle. Adhere.
Then adhere the frame layers, with the shaker portion, to the base layers of the card, making sure that the last layer behind the clear oval is the white snowflake tulle.
Next, die cut a Christmas tree shape from glossy black cardstock (you could also use black glitter cardstock or plain black cardstock instead). Die cut a small star and the Christmas tree stand both from silver metallic cardstock (or grey cardstock).
Assemble the tree, top it with the star and put the tree trunk in the tree stand.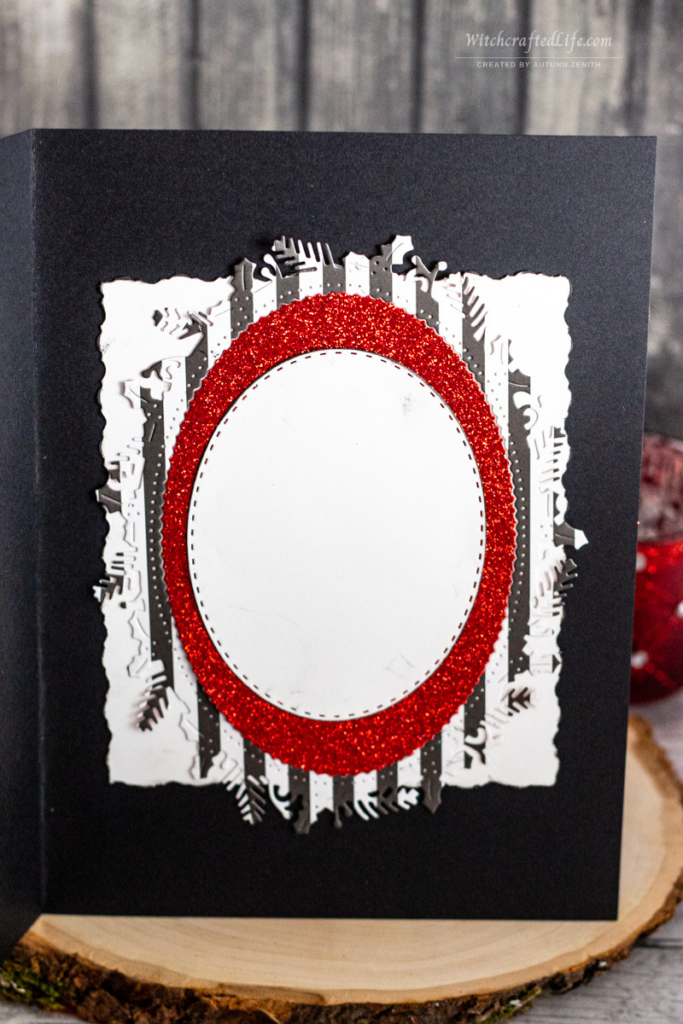 Die cut three small red glitter cardstock bows (or use small bow-shaped cabochons or tiny bows made from real ribbon) and pick out five white ghost sequin pieces. Adhere the red bows and white sequin ghosts to the Christmas tree as shown.
Wrap a small length of silver tinsel trim around the tree, adhere it on the backside of the tree.
Adhere the fully decorated tree to in the center of the clear shaker window oval.
Make a multi-layer bow out of either plain or pre-scrunched (used here) black seam binding. Adhere above the shaker window.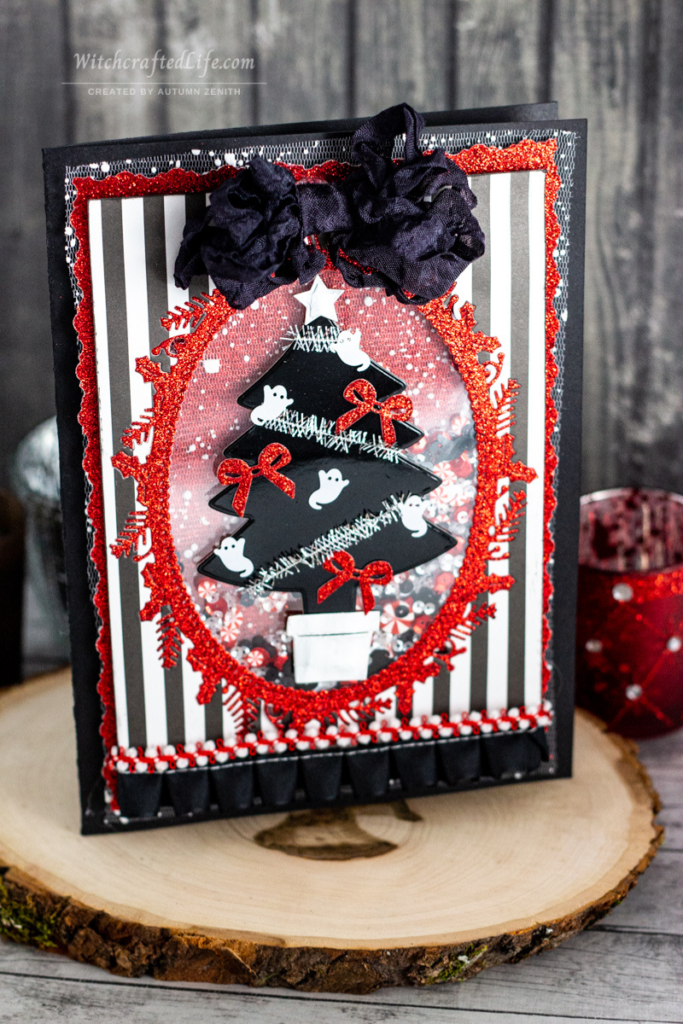 Lastly, cut a piece of red and white micro pompom trim and a piece of pleated black ribbon and adhere them below the shaker window, as shown.
And there you have it, boos and ghouls, one delightfully cute + spooky haunted Christmas tree card that you can either keep and use as Creepmas décor yourself or give to a fellow Cryptmas/Gothmas adoring friend or relative.
All is merry and fright (for some of us at least 🥰)
Often, we have our sights firmly planted on the fresh new year that lies tantalizingly close to us throughout December and, as a result, all but forget that the present year will soon pass away.
Into the ethers of time and history it will slip, never to be repeated, unlikely to soon be forgotten.
Acknowledging and even celebrating the life and death of a given year is another component that one can readily tie into a Creepmas celebration.
The handoff between one year and the next is a powerfully liminal time.
As December winds down, I embrace Yule, and celebrate Christmas with loved ones. I lean into that liminal aspect of early winter both in my witchcraft and in terms of how I process, make peace with, and choose to honour the outgoing year.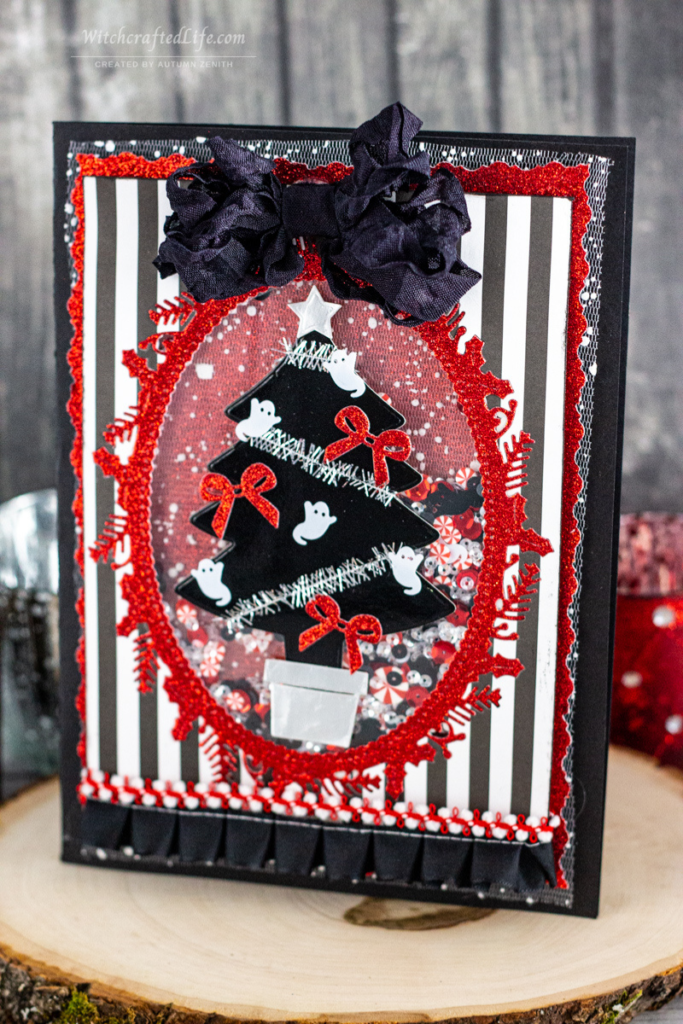 As the only year-round spooky soul in my family, I am especially grateful for the community of Halloween lovers around the world who join me in embracing a dark, gothy Christmas time aesthetic.
Even if you do not feel pulled towards this style yourself, I hope that you enjoyed learning more about it here.
After all, it can be a lot of fun to see and be inspired by a wide range of different Christmas décor styles.
Year after year, I most certainly am and I delight in finding ways to interpret them in a fa-boo-lously festive Cryptmas manner.
Do you enjoy the Creepmas/Gothmas look? What is your current favourite type of holiday season aesthetic? 👻🎄🖤