Earlier this year I posted about the darkly spooky, Halloween inspired take on Valentine's Day that is Valoween.
In today's post, we're going to explore another fa-boo-lously festive chapter of the year: Springoween.
What is Springoween?
I'm delighted you asked and equally happy to answer. 😊
Whereas Valoween relates to a specific date (February 14th), the term "Springoween" can embrace the whole season of spring.
As you may have guessed from its name, Springoween marries various elements and styles of Halloween with more traditional springtime themes and aesthetics.
Springoween gives spring a darker, spookier edge. However, it does not necessarily bypass the sweetness, new life, and upbeat spirit inherent to this season.
Much as with Valoween, the precise origins of Springoween are shrouded (aptly) in an air of mystery.
Some of us who embrace goth, alt, witchy, and/or "Halloween 365" lifestyles have been making each season (and most, if not all, of the holidays we observe) correspondingly dark and spooky for many years now.
As such, it may be possible that Springoween arose rather organically, was fostered by the internet (including Instagram), and will continue to grow in popularity all the more as time goes on.
There are no shortage of ways to embrace a Springoween mindset and aesthetic.
I personally associate Springoween with what is known as a "pastel goth" aesthetic.
That is to say, a style in which the classic blacks and greys of gothiness are married with a softer, sweeter pastel colour palette of shades such as light pink, mint green, lilac, peach, and baby blue.
Pastel goth is a popular subgenre of the goth scene, which tends to find favour amongst teens and young adults in particular – though there are certainly pastel goths (and admirers of the style) all across the age spectrum.
(YouTuber Julia Zelg has a great, short video on how to get started with wearing pastel goth, if doing so is something that appeals to you or if you'd simply like to learn more about this lovely goth subgenre.)
Springoween doesn't have to involve pastels though, and can be interpreted pretty much however your heart desires. The larger point, I would contend, is simply the blending of Halloween elements with those of springtime.
How to achieve a Springoween style
The idea of merging spring and Halloween together might seem a bit strange to some people and I fully understand that this style/aesthetic is not for everyone.
However, being equal opposites on the calendar, spring and autumn (when Halloween transpires in the Northern Hemisphere) actually makes a fair bit of sense.
Spring ushers in the start of the warm half of the year, gardens burst to life, the days are longer, and the temperature is likely to be quite pleasant most of the time.
Fall is summer's pallbearer, laying to rest the warmest season for another year. Much as with spring, however, autumn is a time of mild weather and an emphasis on the natural world.
Whereas spring is the season in which much of the agricultural and natural world begins anew, fall greets us with the harvest of those very crops and helps to remind us of how vital the ebb and flow of the seasons is to life on earth.
As well, it's wonderful to remember that at any point in the year when spring is happening on one side of the equator, fall is transpiring on the other and vice versa. This perpetual connection on opposite ends of the globe links autumn and spring together all the more powerfully.
If you're looking to decorate your house for Springoween, create some Springoween themed crafting projects, or dress in a Springoween inspired way, be sure to check out my Springoween Pinterest Board, as well as the Springoween ideas that Miranda has shared over the years on her stellar blog, Spooky Little Halloween.
To achieve a Springoween style, I'd suggest starting with either traditional fall/Halloween elements and reaching for a pastel or otherwise springtime-y colour palette. Or, conversely, beginning with springtime elements and rendering them in a fall/Halloween palette (such as grey, black, orange, and aged metals).
From Halloween terrariums to springtime floral crowns in Halloween colours, Easter eggs painted or dyed in fall colours or designs to goth gardens filled with inky black, purple, burgundy, dark brown, and silvery-white flowers and other plants, there's no limit to the ways you can incorporate Halloween into your springtime happenings.
As you might imagine, I'm especially fond of creating Springoween related paper crafting projects, such as the one highlighted in this post.
Sweetly spooky oversized slimline Springoween card
It's scarcely a state secret in the paper crafting world that slimline cards have been having a major moment as of late.
While this elongated style of card is far from new, and many a card maker has tried their hand at creating slimline cards over the years, I'd venture to say that slimline designs have never been more popular than they presently are.
Quite a few paper crafting brands have jumped on the bandwagon, releasing dies, stamp sets, stencils, and so forth specifically for slimline cards.
These products are awesome, of course, but they're by no means essential to making slimline cards.
I don't personally own any slimline card-specific items yet myself. I may pick some up as time goes on, but can certainly get by if that never happens.
Many of the products that you'd use on other sizes of cards can be put to good use on slimline cards. There's no reason to break the bank just to keep up with card making trends (yes, I am a proudly frugal crafter 😊).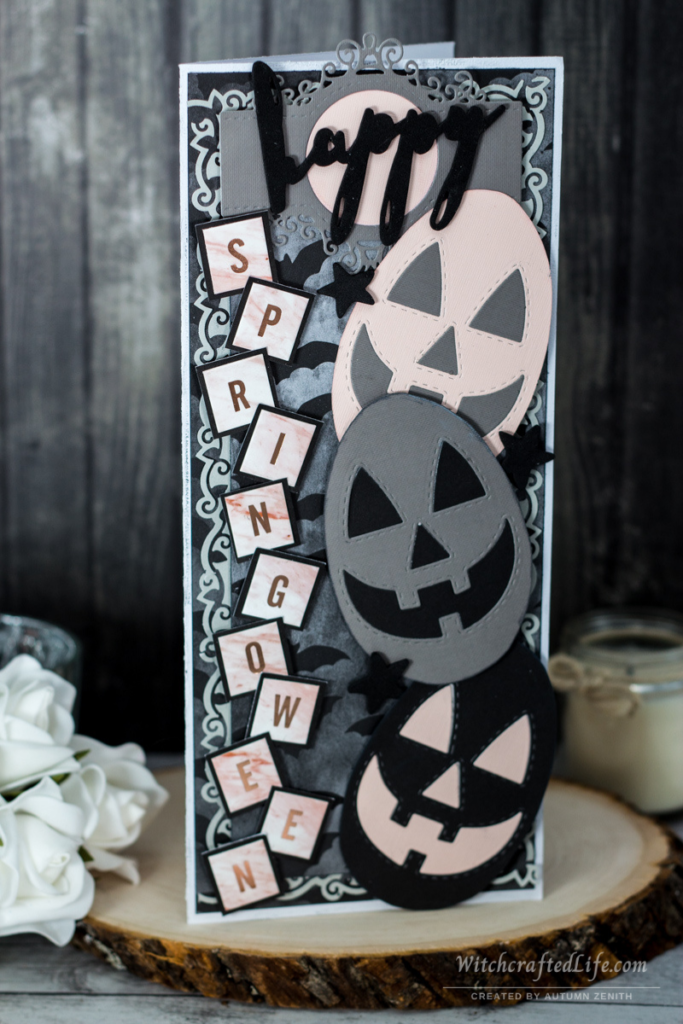 For this slimline Springoween card, I actually opted for dimensions that were a touch bigger than the standard slimline card size of 3.5 x 8.5 inches/8.89 x 21.59 centimetres.
Because, you know, I rarely make small cards, so why should my slimline designs be any different? 😄
What can I say? Chalk it up to the die-hard scrapbooker in me, but I just love working with a larger-sized card canvas, so to speak, a lot of the time.
But anyhoo, back to the card at hand.
For this fun and festive Springoween card, I opted for a vertical slimline card and a colour palette of grey, black, pale peachy-pink, and a wee bit of rose gold that enters the picture via my choice of letter stickers.
As eggs are often associated not only with Ostara and Easter, but with springtime in general (especially the earlier weeks of the season), I knew that I wanted to include some die cut eggs on my Springoween card.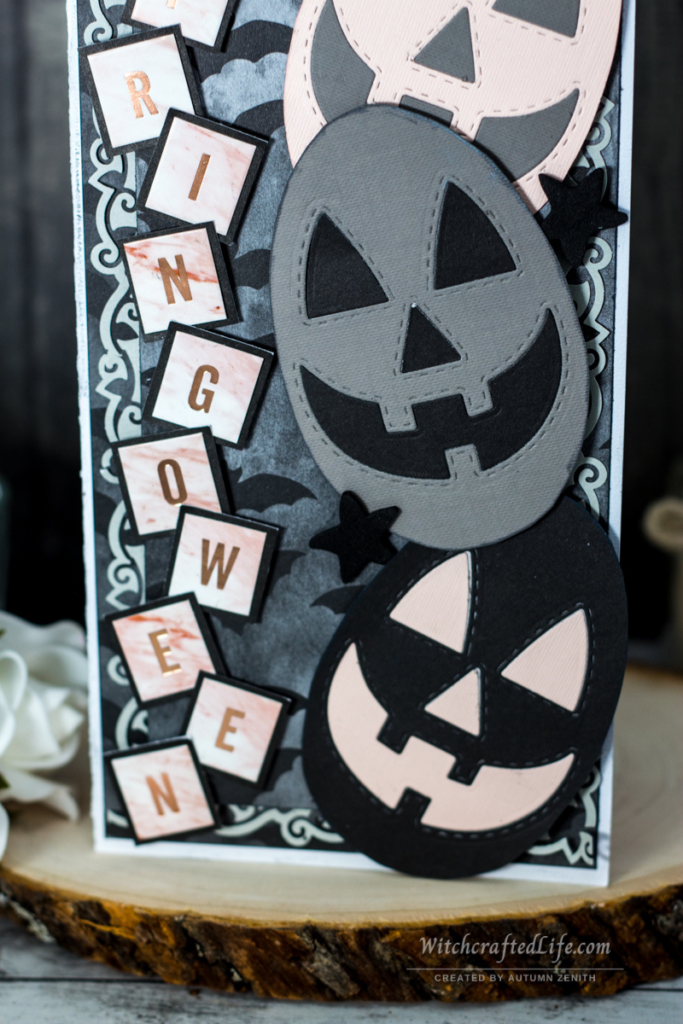 However, I also wanted to bring the classic smiling faces of jack-o-lanterns into the equation as well.
To achieve the marriage of Ostara/Easter egg and Halloween pumpkin, I die cut three eggs and then, using a die I have the cuts out jack-o-lantern faces, aligned it on each of the eggs and ran them my manual die cutting machine again.
I was delighted with how this approach turned out and highly recommend it if you're ever looking to turn eggs into pumpkins. (You could, of course, stamp or hand draw jack-o-lantern facial features onto die cut or hand cut eggs as well.)
I debated drawing faint lines like the natural groves common to many types of pumpkins on my eggs, but worried that in doing so, they'd look a lot less like eggs and far more like oval-shaped pumpkins.
Keeping the egg look was important here, so I refrained from drawing any lines on the eggs themselves. I did, however, lightly ink the edges of the eggs to help them pop out from the background a bit more.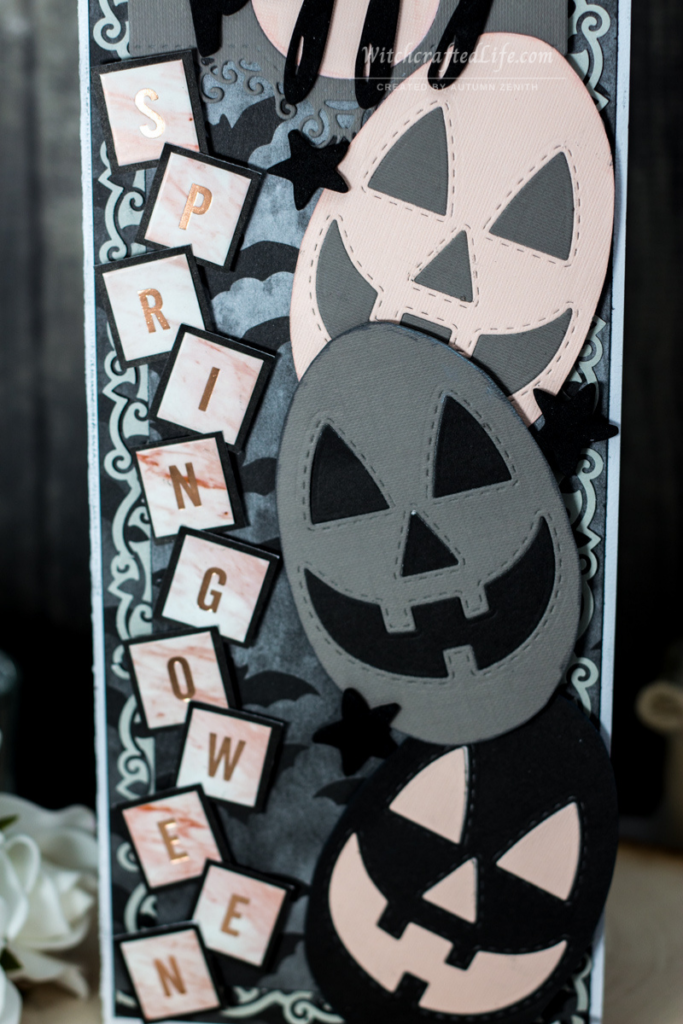 A wonderfully spooky piece of Martha Stewart paper starring black bats on a moody grey sky made for a great backdrop upon which to place my generously sized eggs and the "Happy Springoween" sentiment that star on this charming Sprinoween card.
And let me tell you, by my standards, this slimline card quick and soooo easy to make! Read on to learn how you can whip up one of your own. 😊
Products used to make this pink, grey, and black Springoween card
-Black cardstock
-Medium grey cardstock
-Light grey cardstock
-Light pink or peach cardstock
-Bat print paper – Halloween Speciality 12" x 12" Paper Pad from Martha Stewart
-Egg shaped die
-Jack-o-lantern face die that can fit inside of the dimensions of your egg shaped die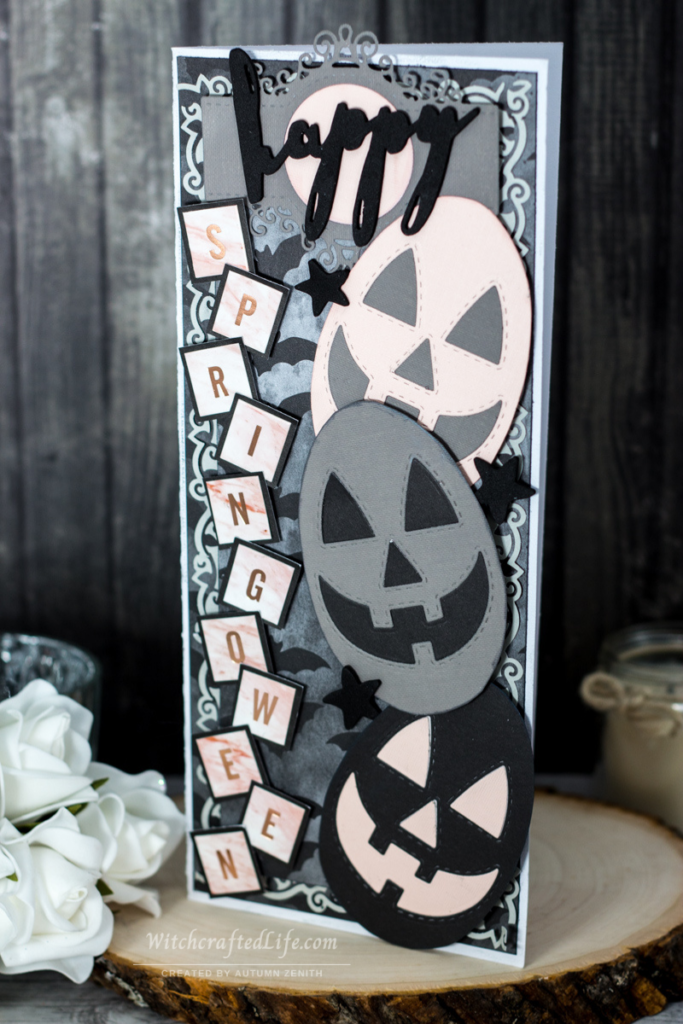 -Elegant banner/sign/flourish shaped die
-Vine design border punch – English Ivy Border Punch from EK Success
-Ranger Distress (or Distress Oxide) Inks in Black Soot, Hickory Smoke, and Tattered Rose (or similar shades of ink from the brand/brands of your choosing)
-Marbled pink and rose gold letter stickers – Rose Chipboard Letter Stickers from Forever in Time
-Black "happy" word sticker and small black star shaped stickers – 3D Motion Stickers from Jot (Dollar Tree brand)
-Dimensional foam, pop dots, or similar to elevate some of your layers
-Adhesive, such as a tape runner, of your choice (I often use my Scotch Tape Glider)
How to make an oversized slimline Springoween card
To make this oversized slimline Springoween card, begin by creating a slimline card from white cardstock that is slightly larger than the standard slimline size.
Cut a piece of Martha Stewart bat print paper slightly smaller than your card base. Adhere to card base.
Cut a piece of light grey cardstock (or paper) slightly smaller than that piece. Use the EK Success English Ivy border punch on all four sides of this piece of cardstock. Adhere to previous layer.
Next, cut another piece of the same Martha Stewart bat print paper a touch smaller than the grey cardstock layer and adhere it to that layer.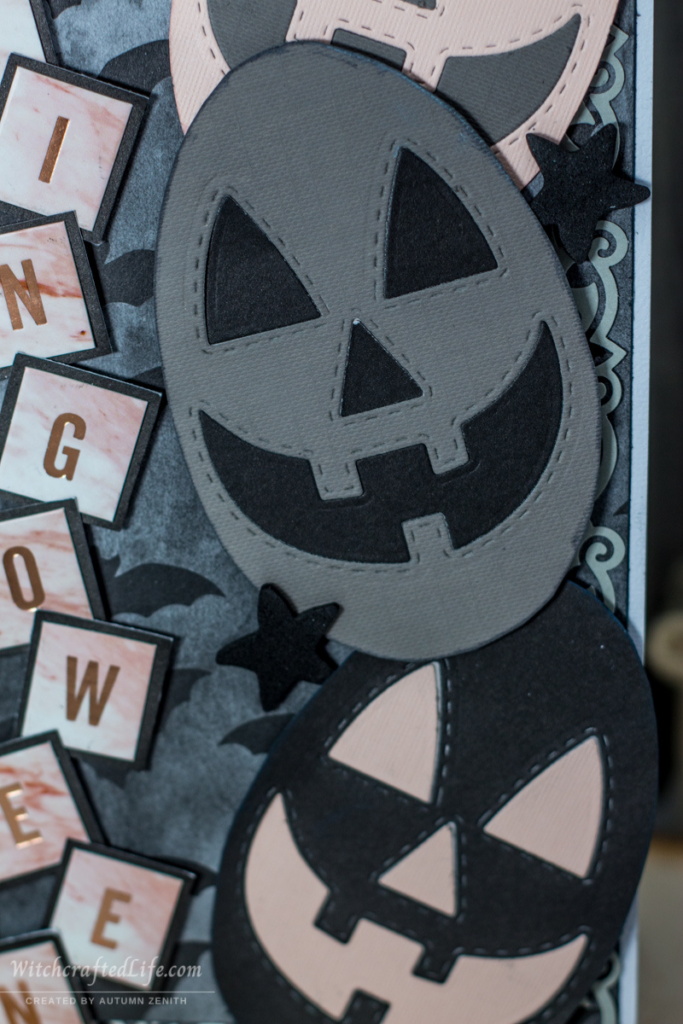 Die cut three egg shapes, one each from light pink (or peach), medium grey, and black cardstock.
Lightly ink the edges of each egg, using Black Soot Distress Ink on the black egg, Hickory Smoke Distress Ink on the grey egg, and Tattered Rose Distress Ink on the light pink egg (you can use either standard or oxide Distress Ink here).
One by one, carefully align the jack-o-lantern face die on each egg and run the eggs through your die cutting machine (if you have an electronic die cutting machine, you may be able to create an all-in-one jack-o-lantern egg design with your machine's software as well).
Save the facial feature elements of each jack-o-lantern and arrange them in alternating colours (between the pink, grey, and black eggs, respectively), so that each "pumpkin egg" has a different coloured body and facial features.
Place the die cut eggs down the righthand side of your vertical slimline card, angling and overlapping the eggs slightly to give them even more visual interest.
Next, die cut an elegant sign or banner shape one from medium grey cardstock and another of the same banners/signs from light pink (or peach) cardstock.
(If your banner/sign shape does not have a cut-out piece in it like the one shown here, you can either opt to use just grey cardstock or you could cut/die cut/punch out a circle and top your banner/sign with it, as desired.)
Place the light pink circle in the middle of the grey banner, as shown. Adhere to card base layers, allowing the top of this piece to extend beyond the top of your card, as well as for one of the pumpkin eggs to overlap with it a bit.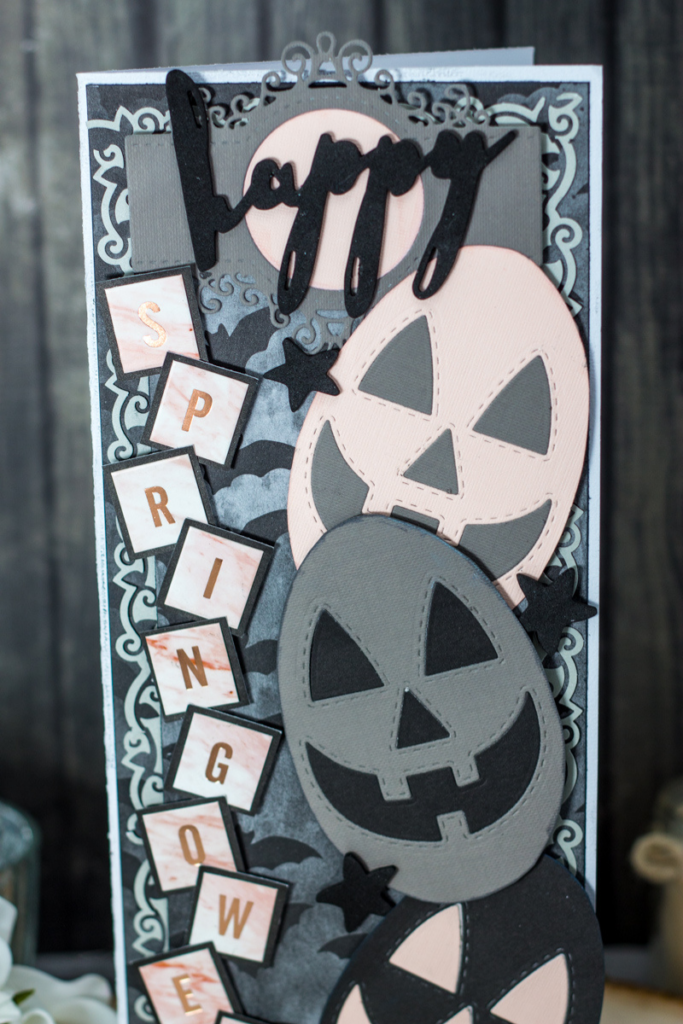 Top this banner/sign piece with a black "happy" dimensional word sticker. Or, alternatively, use letter stickers, die cuts, chipboard letters, rub-on letters, or a computer printed and fussy cut word to create a similar look.
To create the "Springoween" word, arrange square letter stickers on black cardstock. Leave a tiny boarder of visible black cardstock on all four sides of each letter sticker. Trim apart between each letter, so that you have a set of black cardstock-backed letter stickers.
Adhere foam tape, foam dots, or dimensional glue dots on the back of each letter sticker and arrange the letters to spell "Springoween" down the left-hand side of your card, offsetting and slightly overlapping each of the letters as shown in the photos throughout this post.
Finish your sweetly spooky oversized slimline Springoween card by placing three black foam star stickers around the jack-o-lantern eggs. (Other types of similar looking black star stickers, die cuts, chipboard or felt pieces could just as easily be used here as well.)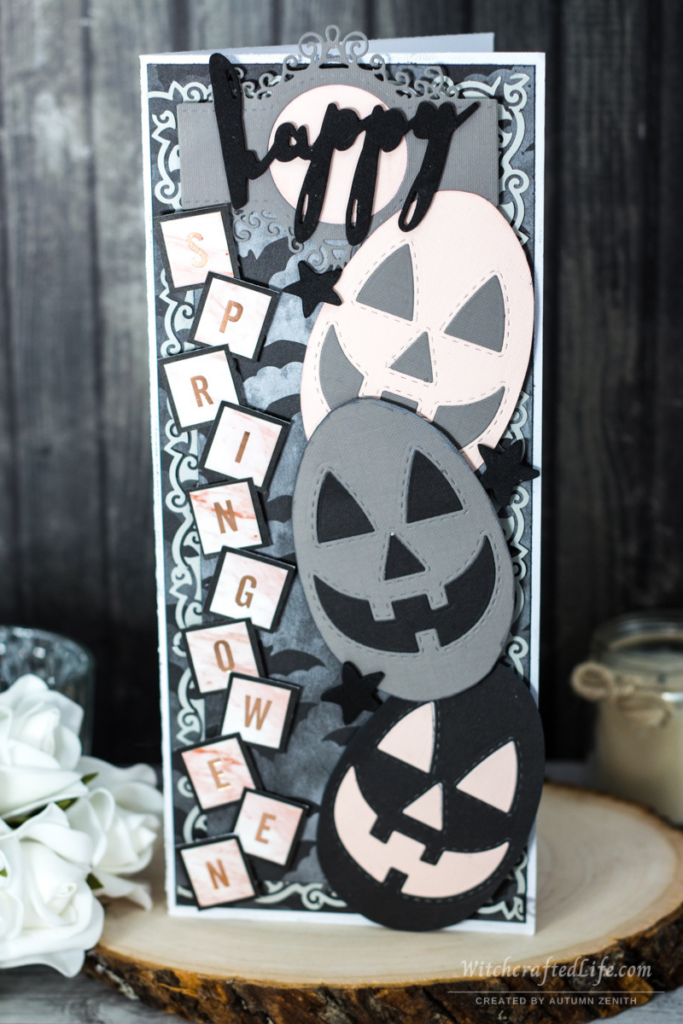 And that, my dears, is all there is to this quick and easy, fun, and festive Springoween card!
Which, I should add, is my latest #MakeHalloween365 project, as it definitely embodies the spirit of Halloween enough to be labelled with this crafting community hashtag.
Every day is Halloween
Tim Burton famously said that, "Every day is Halloween, isn't it? For some of us."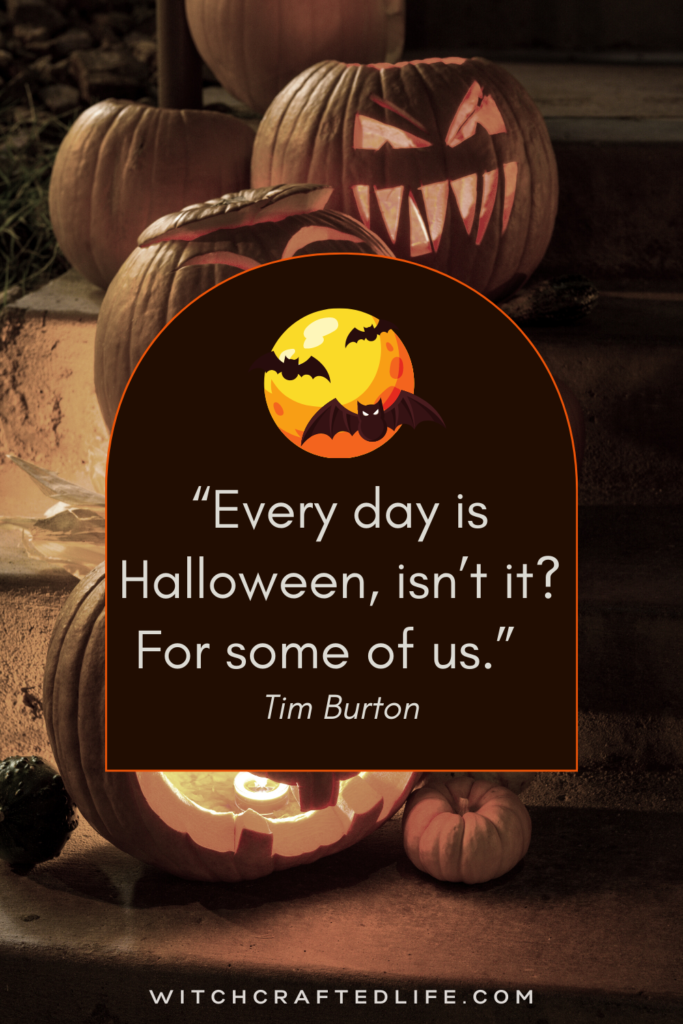 Truer words were never spoken when it comes to those of us for whom this sentiment rings true.
Springoween helps to remind us not only of the fact that we can put an All Hallows Eve' inspired take on any season we please, but that, objectively, fall's return isn't actually all that far off at this point.
Sure, in most areas north of the equator, we still have a few months of spring and summer to experience before we reach that point. But at the same time, we're no longer slogging through the bone-chilling days of winter and now that we're well into April, the start of fall is a mere five months away. (*Happiness squeal!*)
That's right, just five months! Trust me, for better or worse, they're apt to fly by faster than a bat across a harvest moon filled sky.
Right here and now though, we get to experience the beauty and charm of spring, followed by the sizzling, sultry heat and eternal allure of summer – that most intensely warm and languid of seasons.
You can bet your last chocolate bunny that I'll be savouring these gorgeous seasons to the best of my abilities, all the while whipping up plenty more fall and Halloween-themed projects – be they Springoween related or otherwise.
If you observe and enjoy Halloween (and/or Samhain), I encourage you to do the same. After all, much as with our winter holiday greetings, it's never too early to get a jump on creating this year's handmade Halloween cards, tags, home décor, and all manner of other crafty projects.
Happy springtime, happy Springoween season, and happiest crafting to one and all! 🐣🎃🐣