This year, International Scrapbooking Day is going to take place on May 1st (International Scrapbooking Day is an annual event transpires on the first Saturday of May).
This fact got me thinking about something that has crossed my mind many times over the years and which has continued to pop up in my thoughts all the more since launching Witchcrafted Life last year: Why are there no Pagan-specific paper crafting brands or even Pagan/witchery related product lines from mainstream companies?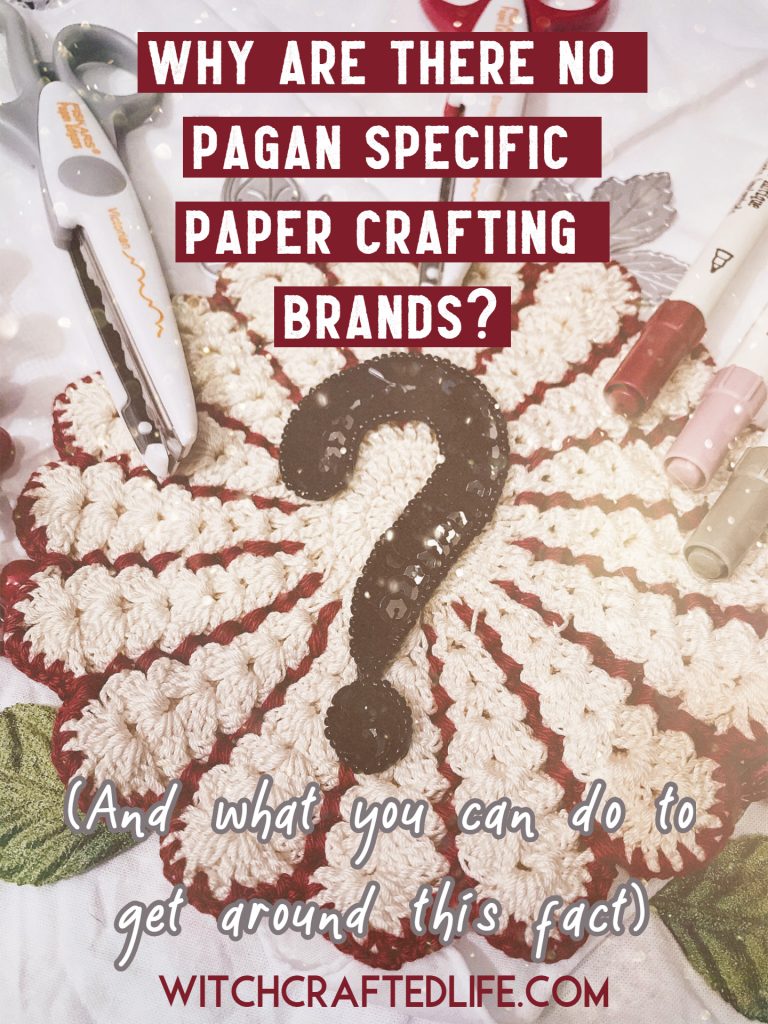 There are a lot of factors that lead to the creation of this blog. One of the most important of which is that I wanted to give a voice to, and inspiring platform for, those of us in the paper crafting world who may feel left out, overlooked, marginalized, or even discriminated against by the mainstream paper crafting community and industry.
Now, I should state for the record that, to date, I have never personally felt discriminated against in the paper crafting world. As well, I do not like to approach topics from a victim mindset and am not looking to foster one here.
However, I am the first to acknowledge that some of us have experienced negatives due to the fact that we are not well represented in this sizable crafting industry.
A very brief history of the modern memory keeping industry and community
Chances are, if you've been into the paper crafting scene for more than a few minutes, you quickly picked up on the fact that there is a sometimes subtle, sometimes overt, undercurrent of Christianity at play throughout the industry.
I am speaking very broadly here of course and cannot, emphatically, overstate how much I am not, at any point in this post, intentionally saying anything negative against those of a Christian faith or approaching this topic from an "us vs them" sort of perspective.
Please, really and truly, keep this in mind.
While I am a Pagan witch, I generally embrace something of an omnist-like mindset in regards to religion/spirituality, and actively try to respect, learn from, and find inspiration (as well as common ground) in the beliefs and traditions of others.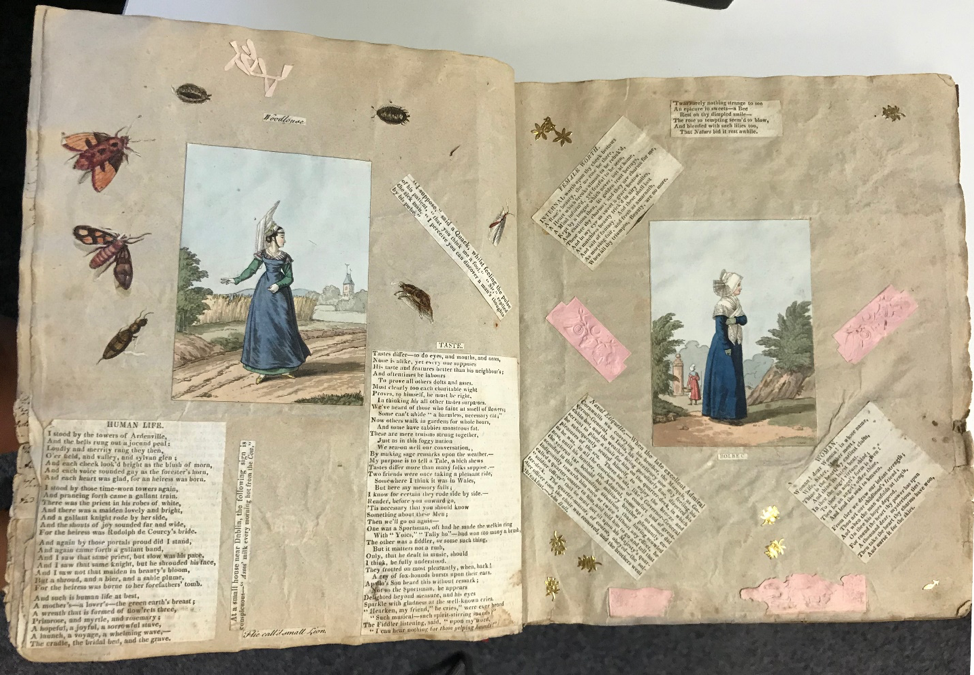 While the concept of scrapbooking itself has roots stretching back many centuries, modern-day scrapbooking and paper crafting in general got its start in the 1970s and 80s, rapidly gaining momentum and advancing in myriad ways throughout the 1990s onward.
Memory keeping and preserving is something with universal appeal. However, members of certain faiths, especially those such as Mormonism, which place a particular emphasis on genealogy and family history, were a driving force in cementing the modern scrapbooking (and by extension, broader paper crafting) industry and community.
Indeed, some of the most successful paper crafting companies and magazines (i.e., the once hugely popular, now retired Creating Keepsakes magazine, which was started by Becky Higgins) were founded by Mormons in the state of Utah (which has the highest concentration of Mormons in the world).
One of the pioneers of modern-day memory keeping was a woman named Marielen Wadley Christensen from the state of Utah. She took the classic hobbies of memory books, collages and earlier styles of "books of scraps" and developed them into the prototypes of today's styles of scrapbook pages.
Marielen placed her completed pages into letter-sized (8.5" x 11") clear plastic sheet (page) protectors, used archival-safe materials, and stored them in 3-ring binders (keep in mind, this was before pre-made scrapbook albums were available).
In the early 1980s, Marlielen was invited to show off her family-focused scrapbook pages at the World Conference of Records, a Church of Jesus Christ of Latter Day Saints event, in Salt Lake City.
Her pages were a big hit and found favour with many visitors who were keen to try their hand at this fresh, beautiful, creative, and handy way of preserving their own family photos, memories, and stories.
The following year, Marielen and her husband teamed up to release one of the very first how-to booklets on scrapbooking: "Keeping Memories Alive".
They then went on to open an eponymously named scrapbooking store, located in Spanish Fork, Utah.
Throughout the 1980s, and especially during the 1990s and 2000s, scrapbooking took off like wildfire. Its popularity soared and a thriving industry quickly sprung up catering to the needs of passionate memory keepers everywhere.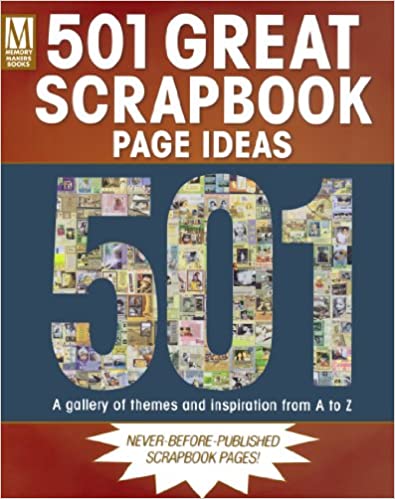 From local scrapbooking stores (affectionally known as LSSs) to the first scrapbooking, card making, stamping and related paper crafting websites, a plethora of book on the topic, demonstration based brands sold at in-home events (such as Stampin' Up, Close to My Heart, and Creative Memories) to big box and nationwide craft supply chains getting in on the trend, these years were something of the glory days for scrapbookers and the industry that helped to support their creative projects.
The rise of modern paper crafting coincided with that of the internet – a fortuitous happening for both.
Once the world wide web had been established and personal websites sprung up, it wasn't long before scrapbookers, card makers, stampers, mixed media artists, and others of the paper crafting persuasion were creating websites, blogs, forums, chat groups, online shops, and later, social media accounts devoted to the love of paper crafting.
Like many creative folks, paper crafters often enjoy connecting with one another, sharing their work, teaching, inspiring and talking shop. This led to the invention of social events for the purpose of paper crafting in the company of others which quickly became known as "crops".
Over the past four decades or so, the scrapbooking industry has evolved, expanded, changed, and involved in a vast number of ways.
Ever-present over the years has been both a number of products and types of paper crafting (for example, the highly popular art form known as bible journaling) aimed specifically at Christian paper crafters.
Of course, there are also many products on the market which are secular or in no way directly related to any form of religion or spirituality.
However, the widespread adoption of paper crafting by many in the Christian sphere (please note, I'm using this word in its broadest sense to encompass all those who follow a faith that involves a belief in Christ) has helped to ensure that the aforementioned undercurrent of Christianity amongst the industry has continued to jump from strength to strength.
Is the paper crafting industry more Christian than other crafting communities?
This is a tricky question to answer in some respects, as it's fair to say that there are crafters of a wide range of faiths, beliefs and spiritual paths to be found in the vast majority of crafting communities around the world.
From personal experience, I can tell you that I have seen and felt less of a Christian overtone in other crafting communities that I've been involved with over the years.
These include communities pertaining to cross stitching, beading and jewelry making, and sewing (I should note, I'm not much of a sewer, but I do hugely admire the art and those who excel at it).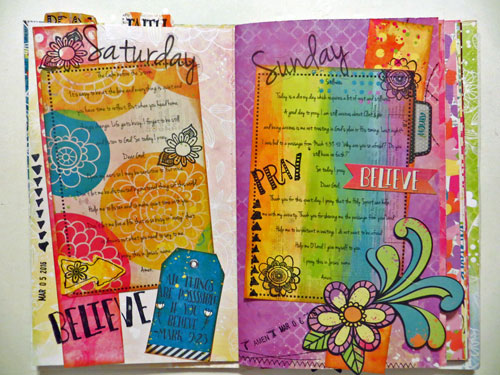 And I have, accordingly, noticed a more widespread and widely accepted presence of Christian products, and projects, magazine articles (the popular Canadian publication, Creative Scrapbooker Magazine, for example, includes an article on bible journaling in each of their quarterly publications, with many more articles on the topic to be found on their website) in the paper crafting world.
I cannot speak for all types of crafting, however, and would be curious to know how other non-Christians feel regarding this subject.
To circle back to the question at hand, I'm inclined to say "yes", in some respects, but again, suspect that many of us will have our own views on this subject, which may be influenced by our own spiritual or religious path.
Why are Pagans and many others of non-Judeo-Christian faiths not represented in the paper crafting industry?
The reasons for this are many and will no doubt include some that are not listed here. The following are some of the main reasons why I believe such is the case:
–American is a highly Christian country. Christianity is the most prevalent religion in America, the country that can largely be credited with giving rise to the modern paper crafting industry.
In 1990s, polls showed that 81.6% of Americans identified as Christians. By 2019, this number had dropped to 65%. Even with this decline, America has the largest Christian population of any country in the world, with some 240 million individuals identifying as being Christians.
As modern memory keeping and the industry that supports it got much of its start in America, including in an extremely religious state (Utah), it is no surprise that Christianity would become commonplace in the scope of this popular hobby.
And that, by the same token, companies would (and do) cater to Christian scrapbookers. While one does see a modest number of products designed specifically for Jewish crafters, which is wonderful, the percentage of such items is significantly smaller than their Christian counterparts.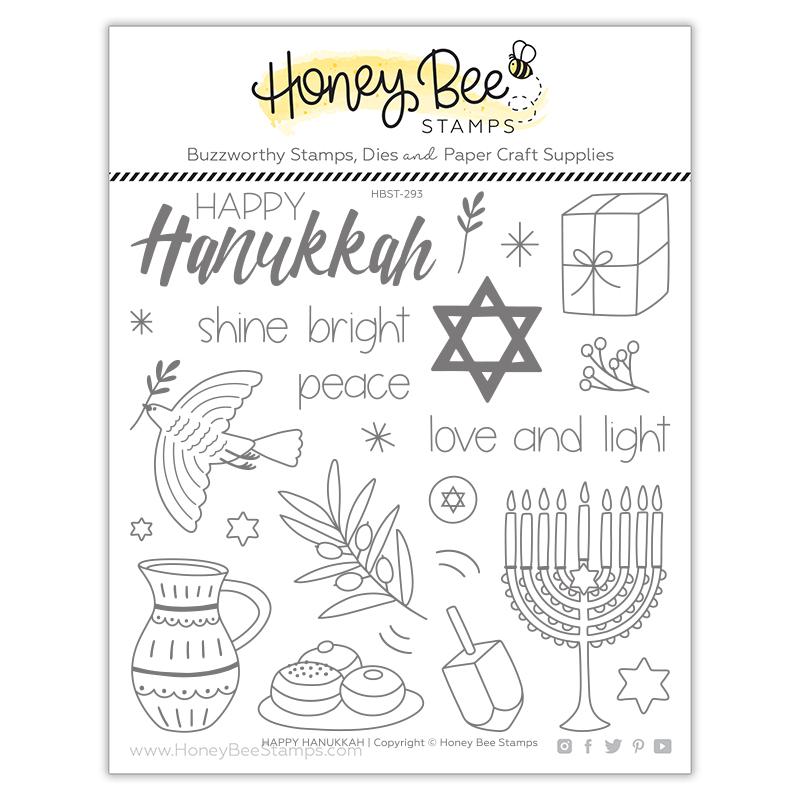 Proportionally, this does make sense, especially from a business standpoint, as – in recent years – the percentage of Americans who identify as Jewish is about 1.7 – 2.6% of the US population, according to 2012 statistics.
(And, of course, it's important to keep in mind that not everyone who identifies as being culturally Jewish, actively practices the Jewish faith. But we'd be veering rather off topic if we delved further into that subject here in this post.)
While some estimate that the Muslim population will surpass that of the Jewish population in the next few decades, presently it is smaller and there are exceedingly few paper crafting products, in Western countries at least, which cater to Islamic crafters.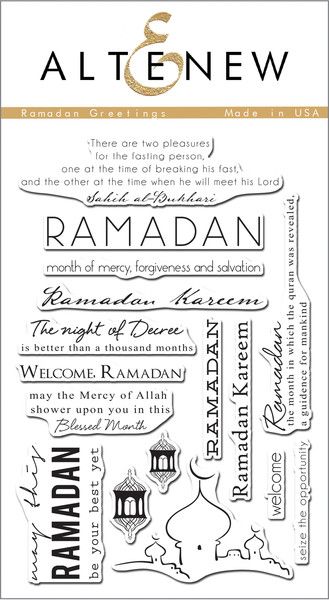 The same is true for those of all other faiths as well. Including, but in no way limited to, Hindus, Sikhs, Jainists, Shinotists, Buddhists, Taoists, Zoroastrians, Wiccans, Neo-Pagans, Heathens, those of First Nations/Native American faiths, traditional African religion practitioners, and individuals who do not identify as belonging to specific religions or being religious at all, such as atheists.
–Paganism and Wicca don't exactly jive with Christianity. At least not broadly speaking. While views are starting to change in some respects and the widespread acceptance of people who practice Witchcraft, Paganism, Wicca and similar earth-based paths is gradually increasing throughout mainstream (Western) society, it comes as no surprise to me that an industry with strong Christian roots wouldn't rush to create products specifically for Pagans and witches.
–There are fewer non-Christian paper crafters. To the best of my knowledge, there are no official stats on the faiths of paper crafters.
However, if we assess the statistical data on religions in countries such as America, Canada, the UK, France, Australia, and New Zealand, for example, it's easy to see that Pagans, Wiccans and similar folks make up a relatively small percentage of the population. Objectively, this is true worldwide, though many sources report that our numbers are on the rise.
Still, we're unlikely to hold the lion's share of the faith/spirituality pie chart anytime soon. Therefore, it does objectively make sense that there are so few paper crafting products on the market that pertain to these spiritual paths.
–We're a very diverse group. Most faiths have different branches, denominations, and fractions. Paganism and Wicca are no exception. Just as there are countless different types of witchcraft and witches.
(Note: Witchcraft unto itself is an act/practice, not a faith or religion and is practiced by many who follow various faiths, as well as by plenty of people who are areligious. The latter group generally includes those who identify as secular witches.)
While certain symbols, themes and subject matter could be used to broadly cover our community as a whole, the fact that we're so diverse may also play a role in why so few Pagan and Wiccan paper crafting products exist.
–We're not a huge group. There are definitely other Pagan/witchy paper crafters besides myself out there in the world (*a warm hello and merry met to all those reading this post*), but objectively, we're not a giant group by any means.
However, it should be noted that while there may not presently be a ton of Pagan, Wiccan, and witchy paper crafters, a decent percentage of people in this broad community do engage in creating and keeping some form of a magickally and/or spirituality related journal, grimoire, or Book of Shadow.
I believe that there would be a ready market for paper crafting products aimed at these types of handmade books.
Happily, there are some indie sellers and companies that produce a small number of products for these purposes, many of which can be found on Etsy, as well as through various Pagan, witchcraft and Wiccan online shops.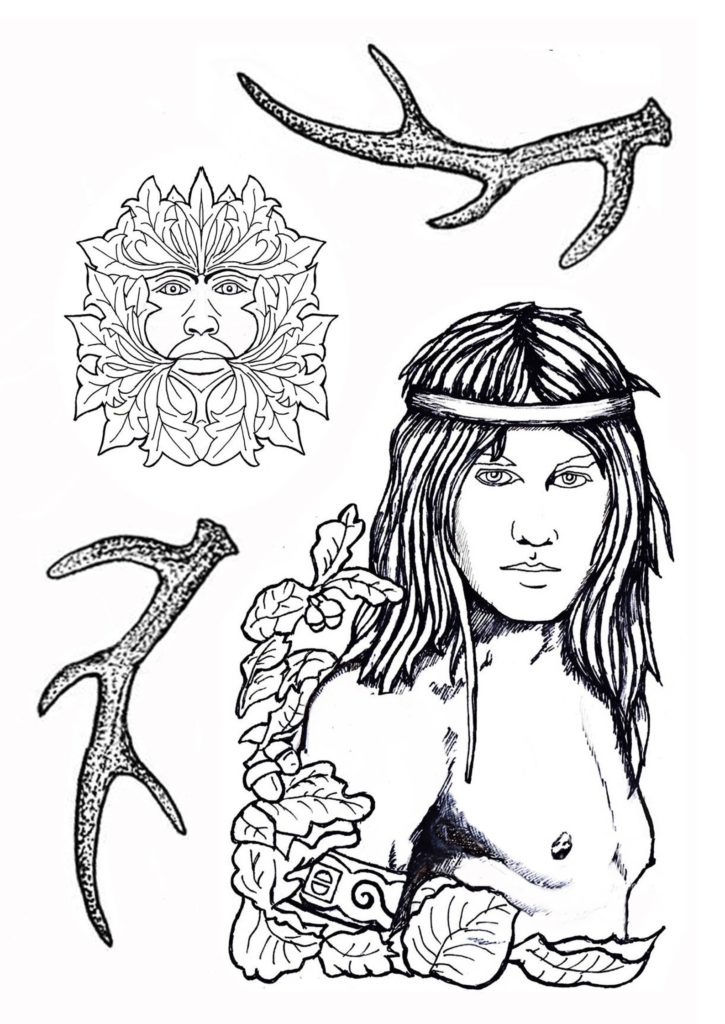 Such products are not released by mainstream paper crafting companies, however, and many – though not all – of these items are digital products that require one to print them at home.
–There hasn't been a big public demand for Pagan paper crafting products. Companies, be they indie operations or industry-leading behemoths typically put out products in relation to the perceived or established demand, need for, and interest in certain items.
If Pagans, Wiccans, and witches are not actively requesting products tailored to their beliefs and/or forming visible public groups, blogging up a storm, or popping up frequently on social media, it is logical that companies haven't exactly rushed to put out a slew of Pagan and witchy paper crafting products.
Have recent trends and changes in the paper crafting industry helped or hurt non-Christian paper crafters?
The paper crafting world has changed a fair bit in the past two decades. Plenty of what could now be called older or more traditional approaches and products do still exist.
However, newer trends, economic factors, and a decline in the overall number of active paper crafters (along with various other factors) have all influenced and shaped the paper crafting industry as it presently sits.
From the immense rise and widespread adoption of digital photography to the explosion in popularity of artistry and creativity in the fields of journaling, planner keeping, and travel notebook keeping to the continued popularity of digital scrapbooking, paper crafting has gone through various transformations in recent years and will most likely continue to evolve as time goes on.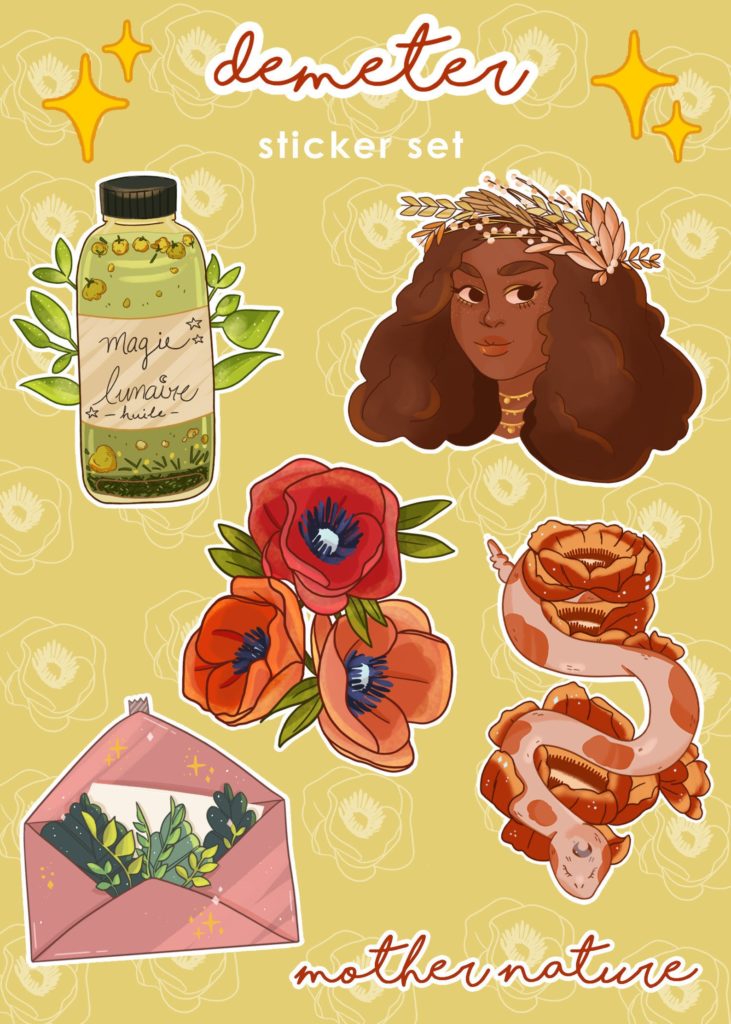 In some respects, I think that these changes have helped Pagan paper crafters – at least a small bit, as there is a handful of indie sellers who produce witchy themed day planner, bullet journaling (bojo), and similar products (most are to be found on Etsy).
Yet, by and large, I don't think these changes and forms of growth in the industry made too much of an impact either way so far.
In a sense, this is surprising – especially given that Paganism, Wicca, other forms of less-mainstream spirituality are finding favour with more and more people these days. Yet, at the same time, it is not entirely surprising, for all of the reasons covered throughout this post.
Has a mainstream paper crafting company ever released a dedicated Pagan or witchcraft-related product line?
Short answer, to the best of my knowledge as someone who has been an avid paper crafter for over a decade now, no.
In recent years, we've seen various brands, such as Prima Marketing, Photo Play, and Hero Arts flirt with somewhat witchy and/or Pagan-y looking subject matter.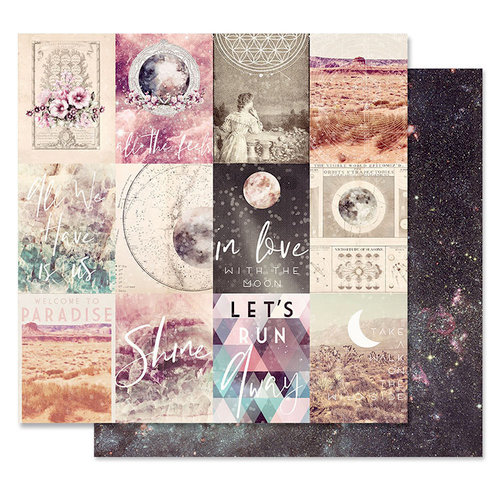 This is due at least in part to the rise in things such as modern boho trends, concepts like "good vibes" and one's "tribe", and the general witchy aesthetic which have all been having recent mainstream moments.
Again, however, I am not aware of any mainstream brand that has specifically released a Pagan or witchcraft-focused line (the closest many brands may ever come is in respect to certain fall and Halloween releases). 
What can Pagan and witchy paper crafters do to get around the lack of items designed specifically for us?
While you might not be able to run out to your nearest LLS or favourite online scrapbooking store and order up a bunch of Ostara, Mabon, lunar cycle, handfasting, tarot card or ancestor work specific products, thankfully there are still options available to help us create Pagan/witchery related projects.
When shopping for paper crafting items, keep an eye out for the following types of products:
–Holidays and special events. From wreaths and pine trees for Yule to eggs and bunnies for Ostara, pumpkins and fall leaves at Mabon to darker fall and death related imagery for Samhain, there are tons of seasonal and holiday-related products that can easily be used in your Pagan paper crafts (as well as BOS, grimoires, planners, and journals).
Whenever possible, I try to stock up on autumn and Halloween-related paper crafting items come the fall time. Doing so not only for seasonal sabbat projects, but for a wide range of other paper crafting creations all year round. I find the earthy/witchy/darker themes and nature of these items are a perfect fit for my spirituality and paper crafting style alike. (Very much including my #MakeHalloween365 creations!)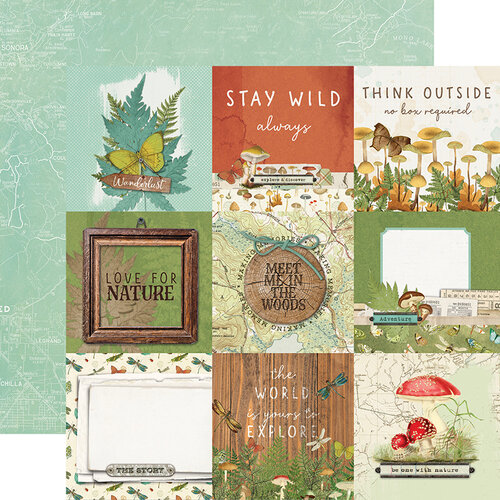 –Nature and animals. Thankfully there is a vast abundance of nature and animal-related paper crafting items. From flowers to trees and leaves, birds to fish, cats to dogs, llamas to dolphins, the sky is pretty much the limit, and there's likely to be at least one or two items on the market for many types of animals, plants and flowers (as well as fungi).
These can be awesome for everything from seasonal and sabbat related makes to creations pertaining to spirit animal guides and familiars, favourite outdoor settings, gardening, and so much more.
–Stars, moons and other astrological bodies. Let's face it, a good many of us witches and Pagans really, really love (and often venerate) the stars, moons, planets and other heavenly bodies.
If you're keen to put items related to these celestial beauties to work in your paper crafting projects, there are many different products – from stamps to washi tape to stickers – available that will enable you to just that.
–Faeries, gnomes and other similar entities. Numerous companies have produced fairy, gnome and similar wee folk themed paper crafting products over the years. In particular, check out brands such as Lawn Fawn, Doodlebug Designs, Art Impressions, Reminisce, Pink Ink Designs, Sunny Studio Stamps, Tonic Studios, Sizzix, Prima, Penny Black, Kaisercraft, Stampendous, Creative Expressions, and Hunkydory Crafts, to name but a few.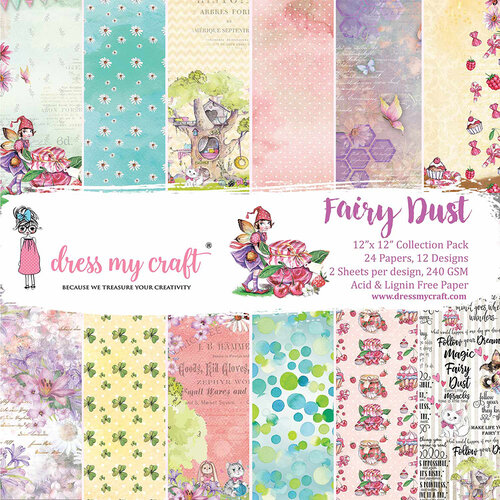 –Mythical creatures. Much as with gnomes and fairies, various brands routinely release mythical creature themed paper crafting products as well. Unicorns, mermaids, dragons are the most common, but I've spotted others over the years, too, such as griffins. As both unicorns and mermaids have been trending big time in recent years, there is currently more crafting products than ever on the market pertaining to these beautiful beings.
–Food and cooking. Oodles of scrapbooking, card making, journaling and similar products exist that pertain to food. From birthday cakes to pumpkin pies, fruit and veg to glasses of wine, there's a vast array of culinary-related paper crafting items on the market, some of which might be a great fit for your witchy creations. And don't forget about kitchen tool, BBQ, and even campfire cooking themed items as well.
–Shapes and geomatic designs. Perfect to use as is, combine to make different shapes, layer, utilize in art journals and mixed media projects, you name it! Shapes and geometric designs are versatile, fun and easy to get creative with in a snap.
–Alphabets, words and numbers. No "Blessed Be", "Happy Litha", or "Congratulations on your handfasting" stamp, sticker or premade die cut to be had? Fear not! Alphabet, word, and number themed products are here to help you create just the card greeting, layout title, planner heading or other type of sentiment that you need.
These are just some of the possible themes and types of items that you can use to help you create Pagan and witchy related projects.
The sky is truly the limit and I wholeheartedly encourage you to get (all the more) creative and look for lots of different ways to utilize the paper crafting products that are on the market today.
Other places to source images to use on your Pagan and witchy related projects include free clip art (the web is rife with such, thankfully!), public domain photos and images, copyright-free books and images, old magazines and calendars, digital scrapbooking products (again, Etsy to the rescue!), product packaging, and even photos you've taken yourself (can't find a pentacle image you like? Why not take a photo of one yourself and size/edit it as needed for your project?).
While the archival-safe properties of such will vary, as will the length they're apt to realistically last, you may also wish to employ the use of ethically sourced natural materials in your projects.
This could include things such as dried/pressed flowers and leaves, small sticks, tree bark, dried seeds and seed pods, dried ferns and moss, seashells and real sand, dried herbs and spices, small stones and crystals, and feathers.
In addition, those who do digital scrapbooking, hybrid scrapbooking, and/or own digital die cutting machines (as well, to a degree, as traditional die cutting machines that use metal dies) have a vast number of pre-existing options, in addition to those that you may be able to create yourself, that can work well for Pagan/witchy related projects.
And lastly, if one had the means, skills, time and abilities required, you could always consider launching your own indie line of Pagan or witchery related paper crafting products.
That said, I wholeheartedly realize that doing so is not possible for, or desired by, most people. However, if your heart feels a strong pull in that direction, it may be worth pursuing (please let me know if you do – I'd love to support your line!).
How can Pagan and all non-Christian paper crafters help to make our presence known?
I realize and sincerely respect that this isn't as straightforward an answer as it might seem on the surface.
Plenty of witches, Pagans and Wiccans opt to keep their beliefs/ways of life under wraps. Some live, either by choice or circumstance, in the proverbial broom closet, and may have zero desire to let it be known far and wide that they're a witch, Wiccan, or Pagan.
However, for those who are comfortable sharing about their spirituality publicly, one of the best ways to help let the paper crafting industry known that we exist is to share what we create online.
This can be through blogs, websites, YouTube, or social media. If you're a Pagan/witchy crafter, tag the brands whose products you've used when you share your projects.
And in the same vein, use hashtags, such as #paganpapercrafter #witchcraftedlife #MakeHalloween365 and #witchcrafters to help grow and foster the online witchy/Pagan crafting community.
Write to brands! It is possible that many, if not most brands, haven't even thought about the idea of launching Pagan/witchy related paper crafting items.
If more of us speak up and request these kinds of items, there is a somewhat greater chance that at least one company will be willing to step up, take the lead and launch the first mainstream line of Pagan related scrapbooking, card making and stamping items.
As well, if you make projects relating to your spirituality, and which you are comfortable sharing publicly (i.e., a Yule card or Beltane themed scrapbook page) consider submitting them for publication to a paper crafting magazine.
Non-Christian religions, faiths and spiritual beliefs are staggeringly underrepresented in the paper crafting world. This is only apt to change if we ourselves, as crafters, take the lead and make our presence and our creations publicly known.
Why the paper crafting industry needs to become much more inclusive in general
This post has focused on the lack of Pagan and witchery-specific products in the paper crafting industry. However, the fact of the matter is that despite the global scale, widespread popularity, and continued interest in this hobby, the products that exist for it remain somewhat homogenized and status quo.
There is an emphasis on standard holidays, common themes, familiar concepts, and even certain colour palettes. These things tend to sell, and companies know that. It is important, of course, to produce products with wide appeal and creative possibilities, but it would also behoove brands to think outside of the box at times.
While some certainly are, not every paper crafter is a cis-gendered, middle to upper-class Caucasian woman who is married with kids.

Where are the paper crafting products pertaining to the LGBT+ community? To single parents? To those living with mental health issues, chronic illnesses, or disabilities? How about the immigrant experience or feminism or life on the spectrum? What about Black Lives Matter?
(Note: Very gradually we are starting to see a small number of mainstream brands release LGBT+ related products, such as Paper House Production's Diversity Pride stickers. This is awesome and long overdue! Hopefully, we will continue to witness a much broader range of diversity represented in the paper crafting world as time goes on.)
As well, we need more products that address not only the cheerful, positive times in life, but also the rougher, harder, darker, and more difficult ones as well. (A great example of one such product that tackles paper crafting for challenging times is Whimsy Stamp's heart-touching Life Goes On stamp set.)
There are many individuals and groups who are not represented in the mainstream paper crafting product world. I realize that it would be virtually impossible to cover every person and group and do not expect the industry to do so.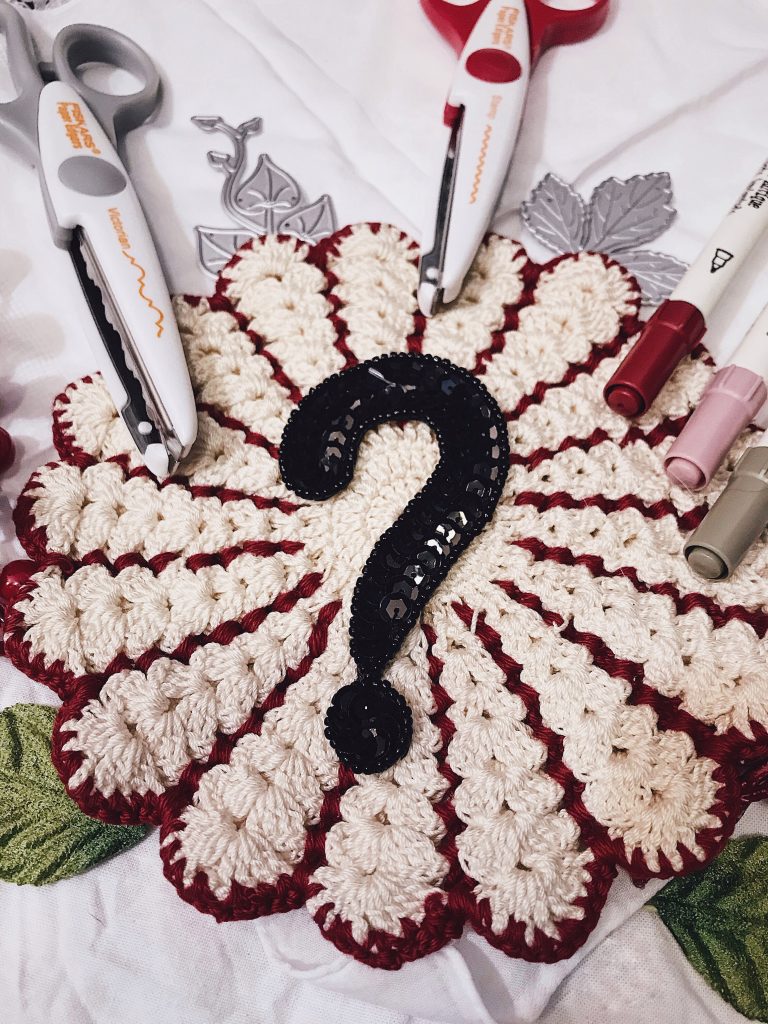 I think, however, that as we step ever further into the second decade of the 21st century, there is ample room – and need – for brands to expand the subject matter that their products cover.
The more that people can easily find products that relate to who they are and what their life is like, the more apt they are to buy, create, and publicly share their finished products, thoughts on certain brands, and ideas to help inspire others to design their own projects as well.
Far from hurting many brands, I believe that greater diversity + inclusivity will help to make companies appear more conscious, caring, understanding, and, at the end of the day, even on trend.
The paper crafting world should always feel like, and be, a welcoming creative sphere for those from all walks of life, beliefs and creative approaches.
Let us hope that as this century progresses further, we will see more brands helping to make this a stronger reality. ❤️