For much of my life, I have held a theory that a lot of us feel an especially close connection with the holiday that falls nearest to our birthday.
Does this apply to everyone? Certainly not, but it has been my experience that no shortage of people do tend to adore the national holiday that transpires around the same time that they entered the world.
In terms of national/secular holidays, Canada Day has long been a firm favourite of mine. Not the top contender (that, as most of you likely know, goes eternally to Halloween / Samhain 🥰), but one that I often rank as my third most beloved (non-Pagan/witchy) holiday.
Both Canada – as the official nation it has been since 1867- and I came into being during the exquisitely warm month of July.
By the time I emerged on the scene in 1984, Canada was a fully established, thriving nation with a strong economy, ever-expanding population, and a magnificent melting pot culture that has, thankfully, only continued to become my diverse with each passing year.
As a youngster, not only did Canada Day serve as the closest holiday to my birthday, but it was the first one to transpire after the school year let out.
In terms of the academic side of things, I usually adored school and was, humbly, a very good student. However, like most youngsters, come late June, the summer break could not get here quickly enough for me. 😀
At the time, where I lived, school wrapped up sometime during the last week of June.
Canada Day returned a few short days later and always felt to me like the true start of the coming two months of school-free enjoyment that stretched out like a glistening ocean embracing the distant horizon.
There was a heady, palpable excitement to both the start of summer and the beginning of our breather from textbooks, teachers, and homework.
Though summer often whizzed by faster than frisbees we threw to one another throughout the roasty-toasty months, when school wrapped up and July began, it felt for a few brief, enchanting moments as though we had an eternity's worth of time.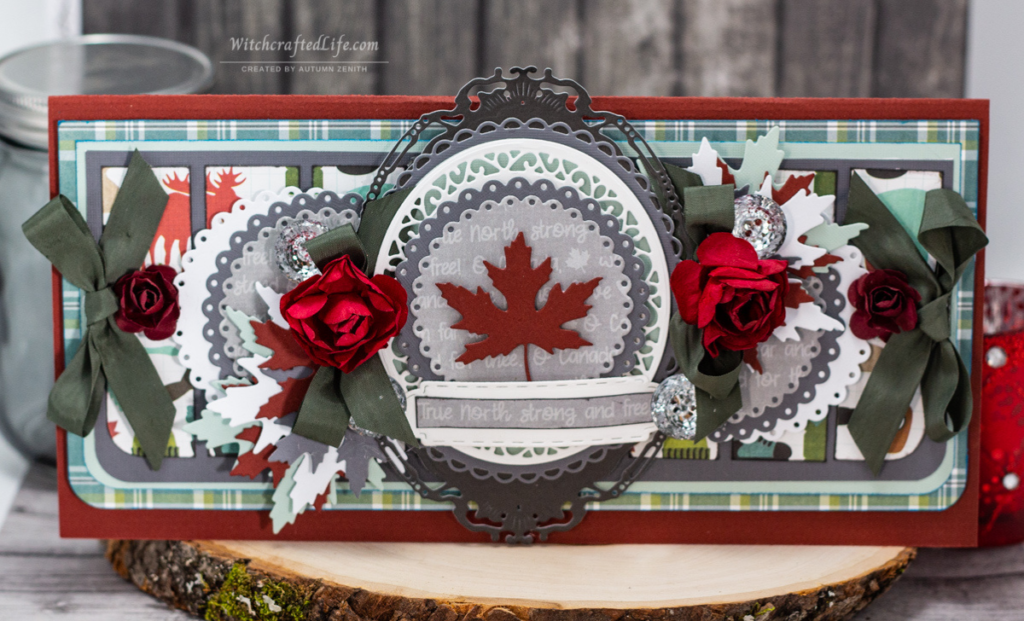 Come Canada Day on July 1st, like many families, mine would usually fire up the barbeque or roast hotdogs, ears of corn, and marshmallows over an outdoor fire pit.
We donned red and white (the colours of the Canadian flag), made our way down to a public park where the town put on festive activities (including providing for free generously sized – and very tasty, as I recall – slices of frosted vanilla layer cake with the words "Happy Canada Day" piped in red icing on its saccharine surface).
Live music wafted from the mid-century bandstand at that same park. Beachgoers frolicked merrily in the large lake across the street and many a soul, both young and young-at-heart, went in for the free face painting that the town also provided. Patriotic Canadian flags then temporarily emblazed on plenty of cheeks throughout the day.
As night fell, the sultry warmth that is July's perpetual dance partner enveloped us all.
We would then clamber to find a free patch of sand on the beach or grass at a different park adjacent to that beach and turn our gaze skyward for the beautiful fireworks show that would soon unfold.
This generally happened around 10 pm and the sight of the fireworks being launched high into the air above the warm waters of Okanagan Lake, their multi-coloured hues reflecting with a magical charm on the water's surface below, was hypnotically wonderful.
Once the fireworks had concluded, many folks leisurely made their way home. Some would carry on to bars, late-night restaurants, friend's houses, or their own backyards to keep the festivities going.
Others stayed put, stoked small bonfires on the beach and let their cheerful chatter dot the beautiful night every bit as vibrantly as the fireworks we had just witnessed.
Then as now, I love(d) Canada Day.
We here in this country might not always wear our patriotism quite as boldly on our sleeve as those in some other countries are apt to do, but most of us cherish our homeland – or adopted country – something fierce and appreciate that July 1st gives us an opportunity to let that adoration ring out for at least one day of the year.
Though Tony and I do not have any major plans for it, I am in the mood for Canada Day big time this year (because, let's face it, as the pandemic lingers on, just about any excuse to celebrate takes on greater meaning and importance than it may ever have done so prior to 2020).
Two years ago I shared a charming shabby chic red, cream and gold Canada Day card that I made.
This time around, we have retained the red (albeit in a different shade) but opted for a different palette. One that nods its head happily to the Victorian and Edwardian eras, but which is more than timeless enough to ensure it is au courant at the same time. 😀
Beautiful rose-filled true north strong and free card
Much like grilled foods, sizzling hot sand, and exuberant fireworks, one of the things that I will forever associate with early summer is roses.
At most of the homes I lived in as a child and teenager, roses grew either on rickety trellises – their paint peeling and aged to shabby chic perfection – or in short, sturdy bushes.
The first roses of the season usually took up the reigns from the local lilacs, emerging at some point in May. Though it was by no means uncommon to see both smiling in the springtime sunshine at the same time.
They often got a second wind around early July, their unmatched aroma fanned by the hot summer breeze.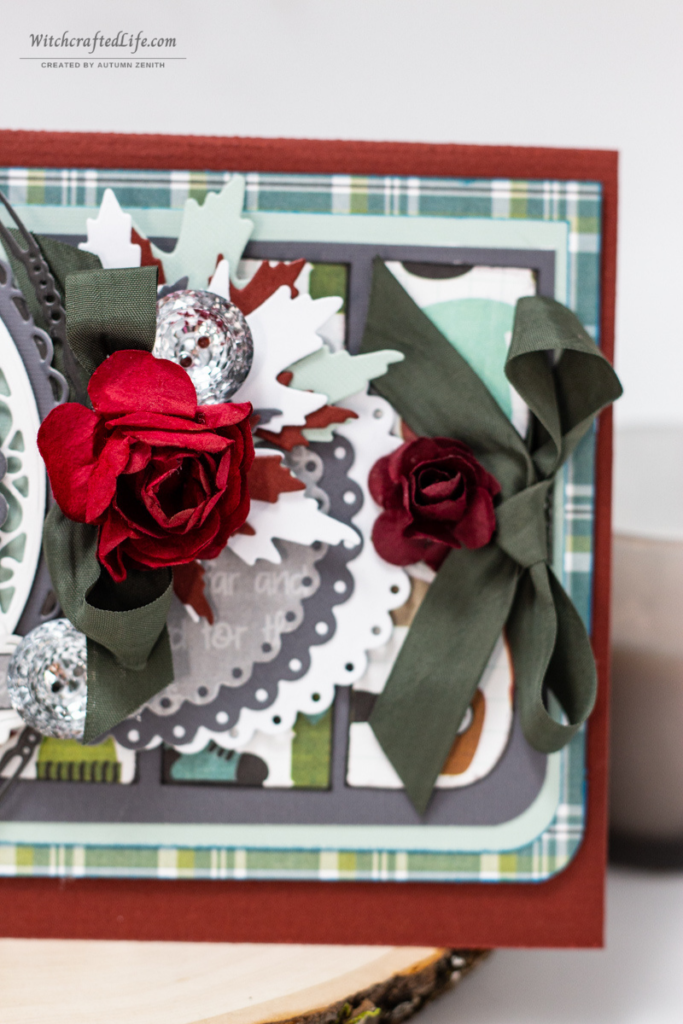 In my mind, roses and Canada Day are rather synonymous – particularly if those sublimely fragrant blooms are red or burgundy. Their hue a delightful nod to one of our nation's two national colours.
The line "true north strong and free" is amongst the best known and most beloved from our country's national anthem.
It reminds Canadians far and wide of how fortunate we are to live in this country and of the sacrifices many have made over the years (including during both World Wars) to help ensure that sentiment remained factual.
These words, cut from a sheet of Photo Play Oh Canada Eh! paper, were the jumping-off point for this Canada Day card.
I also took a colour cue from that same festive paper, composing a somewhat darker, more refined colour palette for this celebratory greeting.
In addition to various hues of grey, I employed teal, pale mint green, aged pine green, white, and deep shades of red worthy of the most magnificent of real summer-grown roses.
A slew of die cut maple leaves upped the festive feel of this handmade Canada Day card, as did an adorable background layer of moose print paper that is just too darling for words!
In addition to maple leaves and moose, another element that is often associated with Canada (in no small part due to lumberjacks and lumberjills) is plaid, so a lovely dose of that also joined the team here.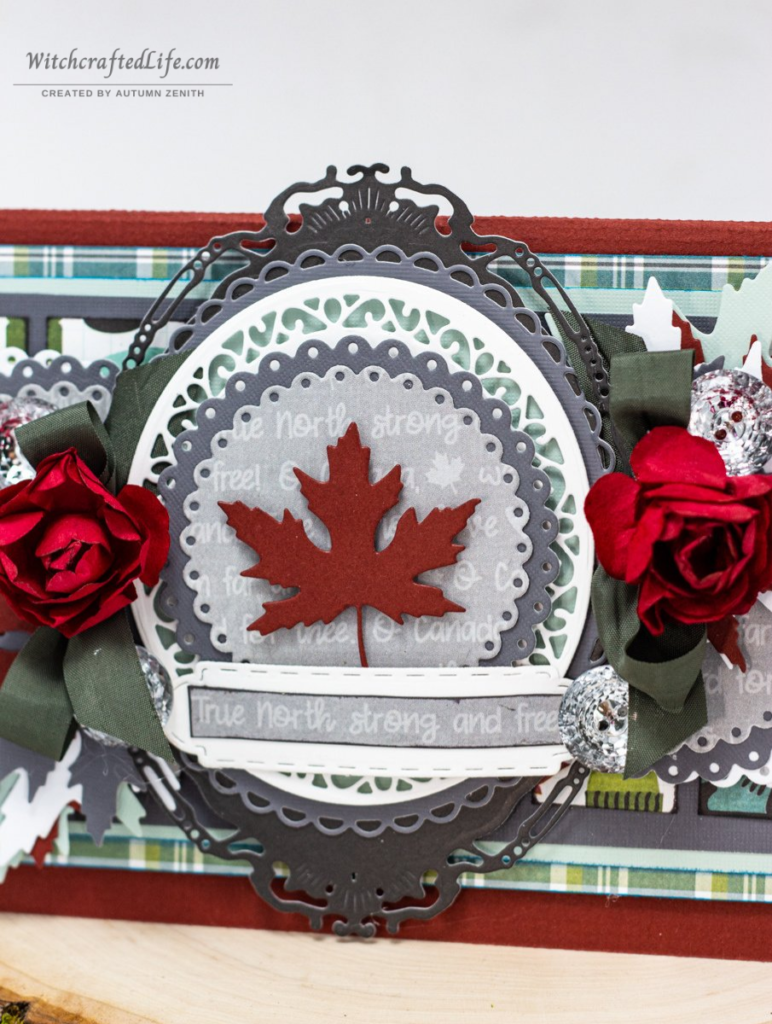 This is an oversized horizontal slimline card, and much like various other oversized projects of mine (such as the delightful Cottage Spooky Cottage Sign that I shared here earlier this year), it was a bit tricky to photograph in my small, rather basic quality lightbox.
Nevertheless, happily, I managed to get a few usable shots in the end, which you see peppered throughout this post. 😃
I adored making this (if I may say so myself) gorgeous card and, in the process, conjuring up many positive July 1st memories both from my youth and adult years alike.
If you are keen to make your own version of this elegantly festive Canada Day card, read on for a complete list of the products used on this project plus detailed step-by-step instructions to assist you in doing just that.
And, should you dig the design by not wish to take this paper crafting project in a Canada Day direction, you could easily swap out the sentiment for one that worked for a different occasion. Say as a birthday, anniversary, Mother's Day, Father's Day, Thanksgiving, Christmas, or even Valentine's Day card.
In addition, you could easily use this card design for things like thinking of you, just because, get well, missing you, and congratulations (very much including congratulations bestowed on those who have, or soon will, achieved Canadian citizenship).
Products use to make a Victorian inspired Canada Day card
-Charcoal grey (or black) cardstock
-Medium grey cardstock
-Light-medium grey cardstock
-Dark red (or burgundy) cardstock
-Light mint (or light aqua) cardstock
-White cardstock
-Canadian national anthem print paper – O Canada True North Paper from Photo Play
-Moose print paper – O Canada Eh! Paper from Photo Play
-Teal plaid paper – the backside of the same moose print paper from Photo Play
-Two different ornate oval frame dies, one larger than the other (they do not have to be the same as one another)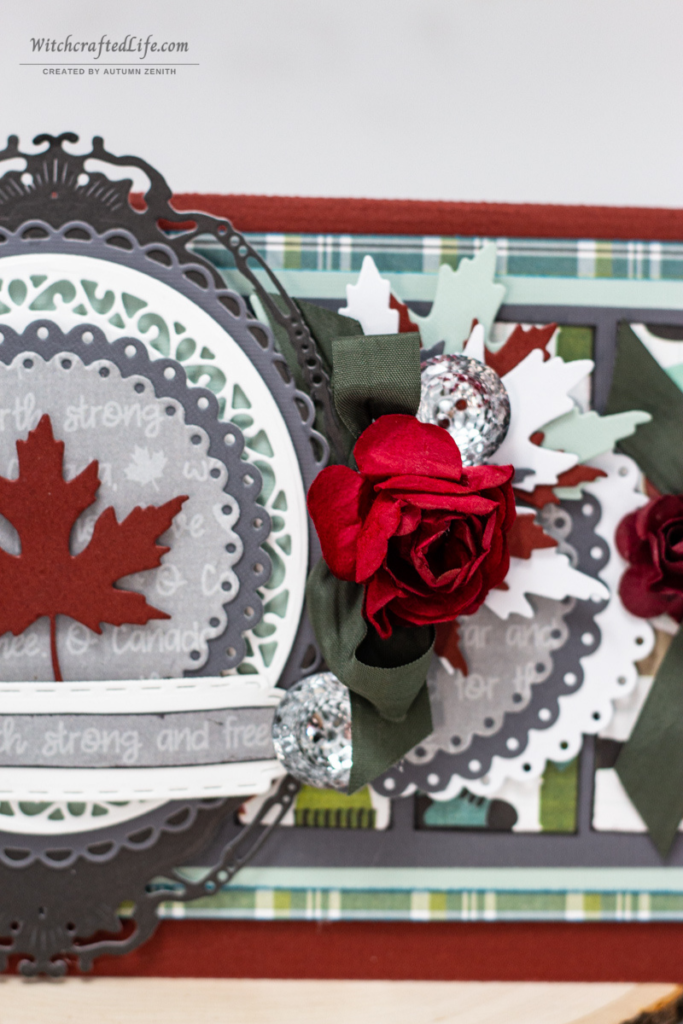 -Scallop edge oval die
-Two sizes of scallop edge circle dies (or punches)
-Larger maple leaf die
-Slightly smaller maple leaf die (for the dark red maple leaf in the middle of the card)
-Corner rounder punch
-Teal ink – Tim Holtz Mermaid Lagoon Distress Ink from Ranger (regular or oxide, as you wish)
-Dark greyish-brown ink – Memento Dew Drop Espresso Truffle Ink from Tsukineko
-Two sizes of dark red (or burgundy) paper roses
-Faceted clear buttons – Modern Avalanche Buttons from Bazzill
-Earthy forest (or olive) green hued seam binding
-Dimensional foam, pop dots, or similar to elevate some of your layers
-Adhesive, such as a tape runner, of your choice (I often use my Scotch Tape Glider)
How to make a layered, shabby chic Canada Day card
Begin by making an oversized horizontal slimline card base from dark red cardstock.
Cut a piece of teal plaid paper slightly smaller than the card base. Round both of its bottom corners with a corner punch or corner die, then ink all four sides of this piece with Mermaid Lagoon Distress Ink. Adhere this layer to the card base.
Cut a piece of pale mint (or pale aqua) coloured cardstock a touch smaller than the previous layer. Round both of the bottom corners on this piece and ink all fours sides of it as well, then adhere it to the previous layer.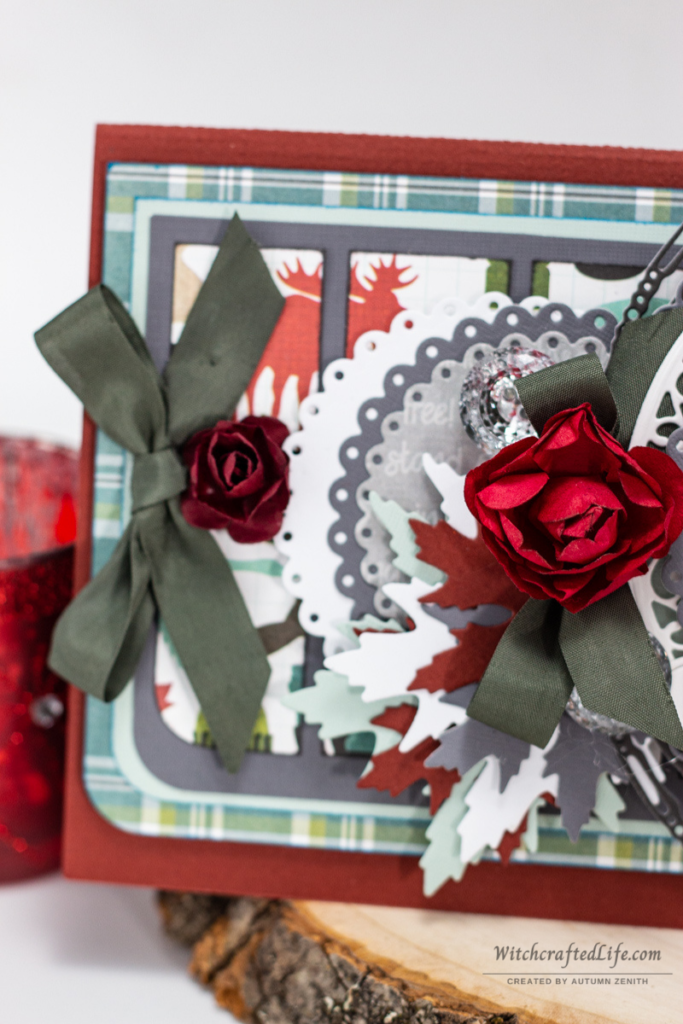 Next, cut a piece of medium grey coloured cardstock a little smaller the previous layer and round both of its bottom corners, too. Adhere to the previous layer.
Take the moose print paper, cut a piece of it that is (again) a little smaller than the previous layer. Round both of its bottom corners.
Then, cut the moose print paper into a few equal-sized pieces, trimming the pieces down, if needed, to allow a small vertical opening between each piece.
Ink all of the edges on each of the moose print pieces with Espresso Truffle ink. Arrange and adhere them down evenly across the piece of medium grey coloured cardstock.
Using the larger of the two sizes of scalloped circle dies (or a good-sized scalloped circle punch) cut out two circles from white cardstock and two from medium grey cardstock.
Use the smaller-sized scalloped circle die to cut two circles from the "True north strong and free" text print paper.
Arrange the circles starting with the white, then the grey, then the text print layer, so that some of each layer is visible. Adhere the layers together and then (one grouping apiece) to each side of the center of the card, as shown.
We are going to get extra Canadian here next. 😊 Die cut two maples apiece from the white, mint green/pale aqua, light-medium grey, and dark red cardstock.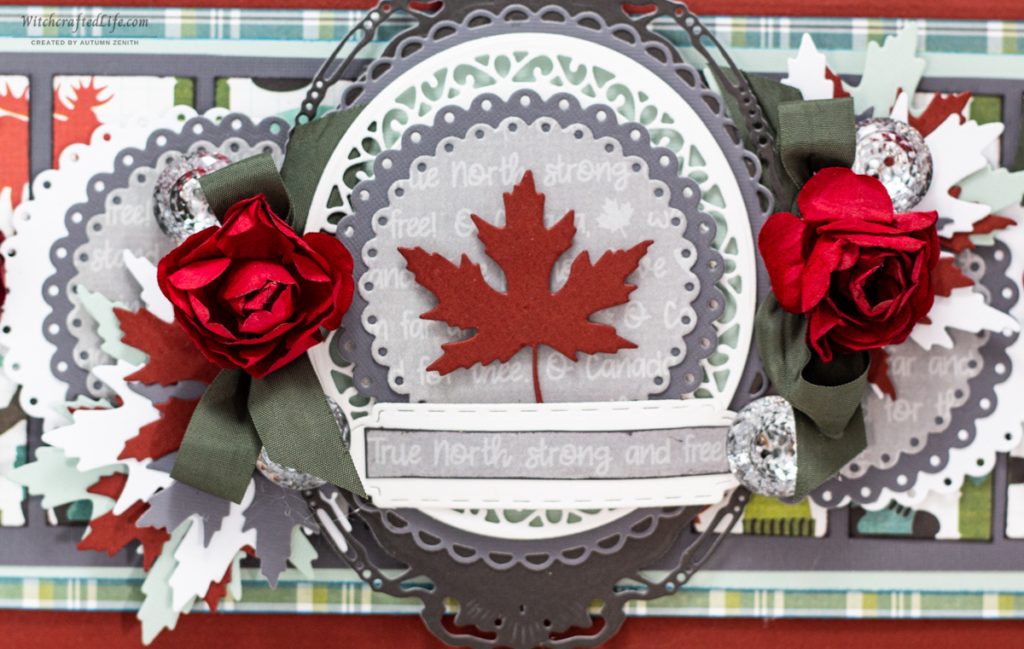 Create two layered stacks of maple leaves starting with mint green/light aqua, dark red, white, and light-medium grey. Splay the layers out a bit so that each of the colours of maple leaves is visible.
Attach the layers to each other and then place one maple leaf stack on the lower portion of the scalloped circles on the lefthand side of the card. Adhere.
Repeat with the other stack of maple leaves, however, this time, you're adhering them down on the upper right-hand side of the other group of scalloped circle pieces.
Die cut an ornate oval frame from dark grey, charcoal, or black cardstock (I used charcoal cardstock here).
Die cut a slightly smaller scalloped edge oval from medium grey cardstock. Adhere it to the ornate charcoal grey circle.
Next, die cut a decorative border-edged oval piece from white cardstock. Back that oval with a piece of mint green/light aqua cardstock so that the green/aqua cardstock shows through the openings on the edges of the white cardstock oval, but does not extend out past them at any point.
Adhere that piece to the previous oval.
Die cut a scalloped edge circle from light-medium grey cardstock with the larger of the two scallop circle dies. Adhere it to the previous (oval) layer.
Then die cut a smaller scalloped edge circle from the "True north strong and free print paper". Adhere to the previous (circle layer).
Die cut a single maple leaf from dark red cardstock and adhere it to the centre of the last circle layer that you created.
Use the small banner/label shaped die to cut out a banner from white cardstock.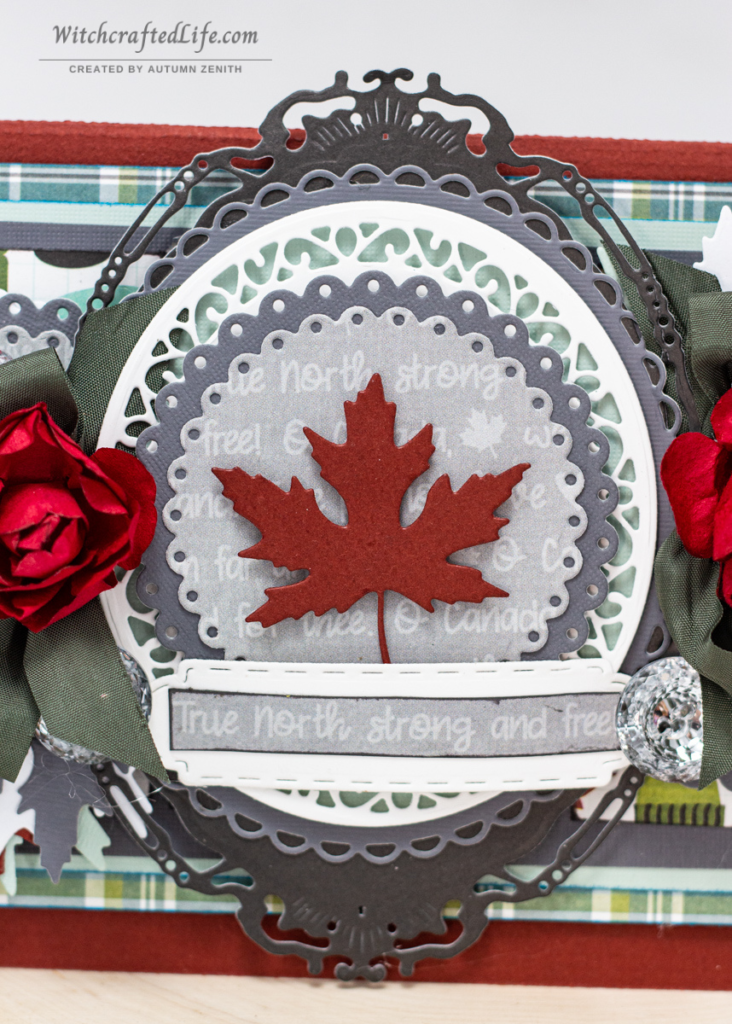 Fussy cut out a portion of the text print paper (used throughout this project) so that you have a small strip of paper that says, "True north strong and free".
Ink all four sides of this piece with Espresso Truffle ink and adhere it to the white banner/label piece.
Gently bend the white banner/label piece so that it bows upward a little in the middle. This creates a greater sense of depth and visual appeal for the sentiment area of this Canada Day card.
Adhere both sides of the white banner/label down across the bottom of the central oval and circle layers, as shown.
Using a medium to dark shade of earthy pine (or olive) green seam binding or ribbon (I used seam binding here), make two slightly larger single layer bows and two single-layer slightly smaller sized bows.
Adhere the larger seam binding/ribbon bows to the outer edges of the center of the moose print paper, so that one larger bow appears on each side of the card design.
Repeat the process with the smaller bows, on this time, center them right beside the central ornate charcoal grey oval piece.
Take two small and two somewhat larger dark red (or burgundy) paper roses. Attach one small rose in the center of each of the larger seam binding bows.
Repeat the process by placing the two larger dark red paper roses in the middle of the smaller-sized green seam binding bows.
Lastly, place and adhere four clear faceted buttons around the smaller green seam binding bows, as shown.
And there you have it, one sophisticated, beautiful, and thoroughly festive Canada Day card for you to use as part of your celebratory décor or give to someone special before/on July 1st.
O Canada! Our home and native land!
While patriotic music has been penned and sung on the soil of this nation for over two centuries now, the Canadian anthem that is familiar to those of recent generations is actually somewhat new.
The national anthem of this country is called "O Canada" and it begins with the same words that I used for the header above.
It was written by a French-Canadian-American chap named Calixa Lavallée in 1880. However, it would not be until 1980 that an Act of Parliament declared it as the country's sole national anthem (as since 1939, the country had had two different national songs; the other was "God Save The Queen/King").
Oh Canada was in use from at least the 1930s onward though, so those of both my parent's and grandparent's generations, along with my own, grew up memorizing and singing its stoically beautiful words.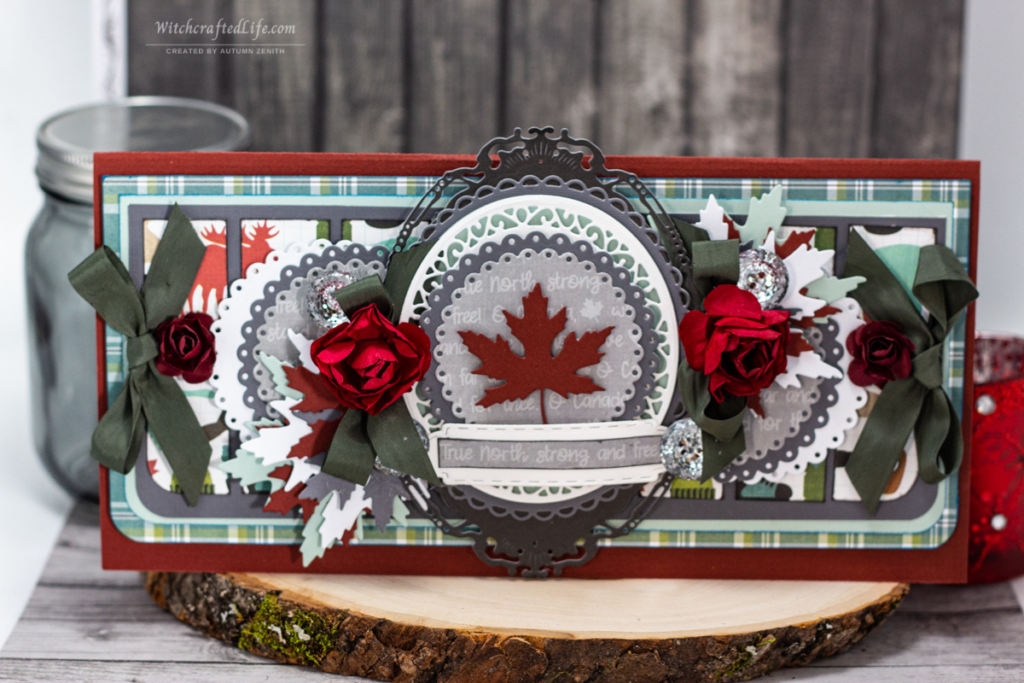 The line "true north strong and free" is perhaps my favourite element of Canada's national anthem, as I know it for many others as well.
Freedom is not something any of us should ever take for granted, no matter where we live in the world. We need only look to this planet's history to see countless examples of times when peace was shattered and freedom either stolen or greatly jeopardized.
Much like at Mabon, Thanksgiving, and various other points in the year, I use Canada Day as a time to reflect on how lucky I am to call the world's second-largest country, geographically speaking, home and to live in a land that is, in a lot of respects at least, quite free and respectful of its citizens' rights.
No country is perfect – Canada included, of course – but at the end of the day, it is objectively a great nation overall and one that I am truly grateful to call my own, eh! 😊
To all those observing Canada Day this year, may you have a splendidly enjoyable, safe, and festive July 1st – and to everyone else, may the same hold true for the start of the year's seventh month on your end, too. 🍁❤️🌹
Does your country have a national holiday to celebrate its founding? If it does, do you enjoy making craft projects for that special day?