Only one other country in the whole world borders Canada, the United States of America.
Our respective nations share much in common, though also differ in a number of ways as well (from our political systems to the size of our populations, for example).
A point that falls in between, with certain similarities and notable differences alike is the observation of a day of Thanksgiving.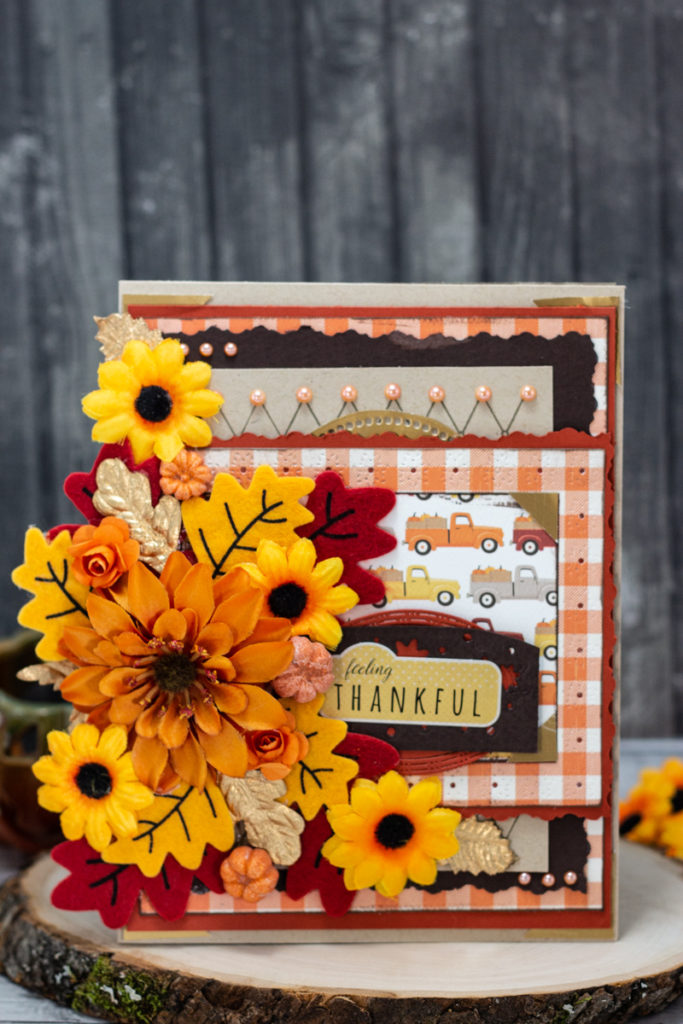 In this post, I will be sharing with you a vibrantly hued Thanksgiving card that I recently made for someone dear to me whose presence in my life is something I feel immensely thankful for all year round. 🙏
First, however, let's take a quick look at the complex histories of American and Canadian Thanksgiving Days, respectively.
Note: I would like to preface the following discussion by saying that this is a brief and incomplete picture of the history of Thanksgiving in both countries.
There is much more pertaining to both days that is not covered here. I am simply touching on this subject in the context of sharing a handmade fall harvest season card, not to produce a highly detailed overview of a nuanced, multifaceted subject.
Nor am I delving deep into my personal views on Thanksgiving, how I observe it presently, or what this day means to me when viewed through the context of being a Pagan witch.
American Thanksgiving Day gets its start
In the US, this classic holiday traces its roots back to the pilgrims that landed at Plymouth Rock. This journey was a perilous one and not everybody who had boarded the Mayflower in Europe reached the Eastern shores of America alive.
Not long after the surviving passengers and crew of the Mayflower reached what would one day become a nation called America, (possibly) in October 1621, these voyagers shared a meal of Thanksgiving with some of the Wampanoag Natives in the area.
This event is widely considered to be amongst the first days of thanksgiving enacted by European settlers on American soil and from it grew the now centuries-old tradition of setting aside one day a year to feast on fall's seasonal bounty and give thanks for the blessings in one's life.
In 1789, Thanksgiving was officially recognized across the newly forged United States of America as an annual day of giving thanks and saying prayers of gratitude.
Thanksgiving floated around across various fall time dates, until, in 1863, President Lincoln declared that the last Thursday in November would be the official annual date for this fall time holiday.
That date stuck, and Thanksgiving has remained a cultural cornerstone of the American experience and calendar alike ever since.
Not everyone embraces Thanksgiving (and that is 100% okay!)
It is important in discussing the subject of Thanksgiving Day to acknowledge and respect the choices of those who opt not to observe this holiday.
The account of the pilgrim's first Thanksgiving, when it transpired (1621, 1623, or 1637, or example), what was actually being celebrated, and various other factors are called into question by some people. And rightfully so.
The notion of a huge, picturesque feast shared between Native Americans and the pilgrims as it has been envisioned by many in the ensuing centuries is likely a long way off from the reality of what really went down at the meal that would contribute greatly to the day we have long called Thanksgiving.
Tragically, some of the early (and no shortage of subsequent) Europeans who came to what is now the US quickly began invading, bringing disease, stealing land, mistreating, enslaving, and killing local indigenous peoples.
As such, many who eschew or boycott Thanksgiving do so because of the wrongdoings that the pilgrims and other later (primarily) European settlers and their descendants inflicted on North American First Nations peoples for centuries.
This is a wholly valid and very important perspective. I can sincerely understand why Thanksgiving (especially the embellished "sunshine and roses" communal feast origin story of this holiday) does not sit right with everyone.
I believe, however, that it is possible to reclaim this day (or to set aside your own personal day of harvest season celebration) and create a vastly more inclusive holiday that focuses on the positive aspects of gathering and celebrating with loved ones, community members, etc in our lives today. As well as the universal gifts of the harvest season and the role that it plays in helping to support life on this planet.
This is not to gloss over the profoundly important history regarding the despicable treatment of Native American and First Nations people at the hands of Europeans and others over the course of history.
Instead, it opens up the question of if it is possible to evolve Thanksgiving, so to speak, into a day of unity, remembrance, harvest season celebration, and fairness for all.
Some might see that statement as woefully pollyannaish, but I do not feel it necessarily has to be.
The concept of universal peace, tolerance, and respect is one that we as a collective culture still have a long ways to go before we reach.
To my mind, there is little reason why Thanksgiving (or a newly created take on Thanksgiving with fresh origins and motivations) can't be transformed into a day that focuses all the more on ways that we can each try to make global harmony a possibility.
While, in the process, never forgetting (or, goodness forbid, repeating) the appalling mistreatment of North America's first peoples.
To this end, since 1970, some people have chosen to observe Thanksgiving as a day of National Mourning.
If you are not familiar with this important occasion, I highly encourage you to learn more about it – including, if possible, by holding space for Native Americans to share their stories, thoughts and feelings pertaining to both Thanksgiving and the broader picture of their history.
A great article to further your understanding of this topic is What Does Thanksgiving Mean to Native Americans on the Native Hope blog.
The origins and history of Canadian Thanksgiving
Up here, north of the 49th parallel, while the types of foods enjoyed and the themes of fall time, the harvest season, and counting one's blessings are common to Canadian Thanksgiving as well, our celebration does not share the same pilgrim roots as that our American neighbours.
Nor, interestingly, does it take place on the same day of the year.
In the US, Thanksgiving falls on the last Thursday in November.
Canadian Thanksgiving, however, transpires annually on the second Monday in October (this year it happened on October 11th).
This date is a holiday in America as well, with Columbus Day also taking place on the 2nd Monday of October. This turns that date on the calendar into a fall time holiday for both nations.
(Related side note: The latest date that the second Monday in October can fall is the fourteenth and as October 14th just happens to be my and Tony's wedding anniversary, every few years our anniversary takes place on Thanksgiving Day.)
Spurred on by the Protestant clergy at the time (who were inspired by America's tradition of holding a fall time day of thanks), Canada's first officially recognized Thanksgiving Day took place in 1859.
However, some believe that the origins of a meal and/or day of Thanksgiving stretch back considerably further in Canadian history. Possibly to Martin Frobisher's arrival in 1578 or to a feast hosted by none other than Samuel de Champlain on November 14, 1606 (at which some male members of the Mi'kmaq People were in attendance).
Initially, during the 19th century, Canadian Thanksgiving was intended by the church leaders who advocated for it as a day to collectively recognize and give thanks for the mercies and blessings of God.
Even at the time though, not everyone was wild about this merging of church and state (in the sense of the soon-to-be nation of Canada declaring a holiday, outside of Christmas and Easter that is, with such strong religious undertones).
Nevertheless, Canadian Thanksgiving caught on quite quickly, with observers simply including (or not) the degree of religion into the equation that aligned with their personal beliefs.
Following Confederation, the first Thanksgiving to be observed in the fledgling nation of Canada took place not in the summer or fall months that correspond with the harvest season, but rather on April 5, 1872.
In that same year, Thanksgiving was declared a national civic holiday, rather than a religious one.
A few days later, in 1879, Thanksgiving was moved to the first week of November to correspond with the harvest season as well as various anniversaries pertaining to the British monarchy.
For quite some time afterward, Canadian Thanksgiving would bounce around in terms of when it fell. Occurring, at one point, as late in the year as December 6th.
As the 19th century progressed and melded into the early 20th century, the newly formed (in 1867) nation of Canada quickly began to expand ever westward. This included settling and establishing a thriving agricultural trade in the prairie provinces.
In doing so, Canada soon began growing a great deal of wheat, oats and various other grains, with large crops of additional classic fall foods such as apples, pears, grapes, carrots, potatoes, and corn being successfully raised in various parts of the country.
It is safe to say that the identity Canada took on as being one of the world's biggest grain suppliers helped to further cement Thanksgiving as a harvest season event in this country.
In the wake of WWI, it was decided that Thanksgiving and Armistice Day (which was introduced in 1919) would be celebrated together on the first Monday in the week that houses November 11th.
However, in order to accord the recognition deserving of those Canadians who had participated in the Great War, by the early 1930s, November 11th had been designated solely as Remembrance Day.
Thanksgiving did not vanish when that happened. Instead, it held on and was bumped back a month to October.
It was not, however, until as recently as 1957, that Parliament officially proclaimed the second Monday in October as being "a day of General Thanksgiving to Almighty God for the bountiful harvest with which Canada has been blessed."
Despite the religious wording used, once again, Canadian Thanksgiving remained open to celebration by those of all faiths/beliefs and has long been viewed primarily as a civic holiday that honours the bountiful crops and wonderful harvest season that occurs across Canada each autumn.
As well as serving – just as with Thanksgiving in America – as a time when many people gather together with friends, relatives, neighbours, coworkers, members of clubs and groups they belong to, or anyone else they desire to share a delicious fall time meal on this holiday.
In the primarily French-speaking province of Quebec, Thanksgiving is called Action de grâce. And while observed by some, interestingly, this holiday has not been embraced by many Quebecois to the same degree that it has been across much of the rest of Canada.
As with the festive feast that often accompanies Thanksgiving, another element of this annual event that I eagerly look forward to is the making of harvest season and Thanksgiving Day cards for some of the special people in my life that I am grateful for.
Naturally, I'm not alone on this front and many a paper crafter enjoys creating Thanksgiving cards to exchange in person or zip through the post to loved ones near and far.
Humbly, the card shared in today's post is amongst my very favourite Thanksgiving Day greetings that I have created over the years and I have been champing at the bit to share it here with you since the moment it was completed. 🎃
Warm colours of fall flower and leaf adorned "feeling thankful" Thanksgiving card
Being that we are a northerly nation with a real proclivity for winter weather, I have long felt that it makes a great deal of sense that Canadian Thanksgiving falls in the first half of October.
Nevertheless, plenty of us have experienced snowy Thanksgiving Days here in Canada. As a whole though, in most parts of the country, the relentless grip of wintertime proper has not taken complete hold yet at that point in time.
It was to the jaw-droppingly gorgeous days of September and October, when the leaves were at their most spectacular in our area and the local crops were being harvested, that I turned to for both the colour palette and overall inspiration of this card.
A card that, while not as in-your-face Halloweeny as say, this one, is fully autumnal and has enough fall time charm for it to easily classify as a #MakeHalloween365 project.
As such, it is my #MakeHalloween365 share for this month. 😃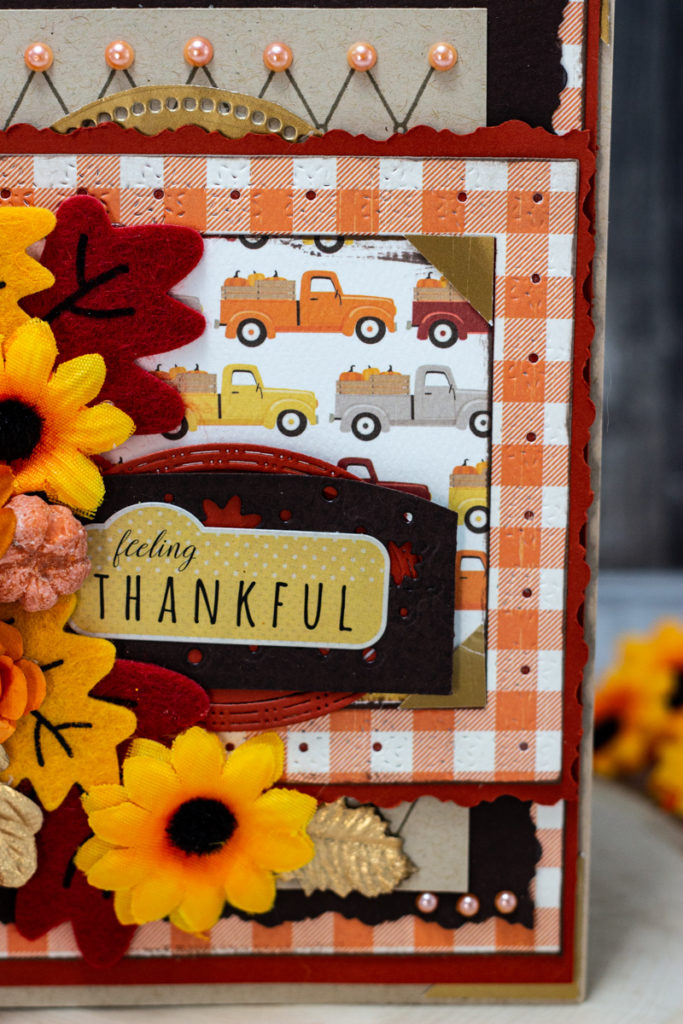 We live in a rural farming community and while not farmers ourselves, we love to experience and give thanks for the local bounty that springs forth annually from this region of British Columbia – and elsewhere in the country, too.
Tapping into the theme of harvest season on the farm, I included a piece of Carta Bella paper with a charming vintage pickup truck print on it.
The other side of that very same piece of paper offered up a beautiful orange and white plaid print that worked terrifically for the card design I had in mind. These two patterns serve as the only prints on this card.
This was done intentionally to let the rich, autumnal-hued cardstocks and bevy of fall leaves and blooms take center stage.
Quite a lot of people grow mums and sunflowers around these parts and late-season roses are by no means unheard of either.
These enchanting flowers, coupled with the breathtaking fall leaves with which Mother Nature paints our landscape each fall inspired the blooms and foliage here.
It is safe to say that in some parts of the world, including both Canada and America, no other vegetable is quite as closely linked to fall time as pumpkins.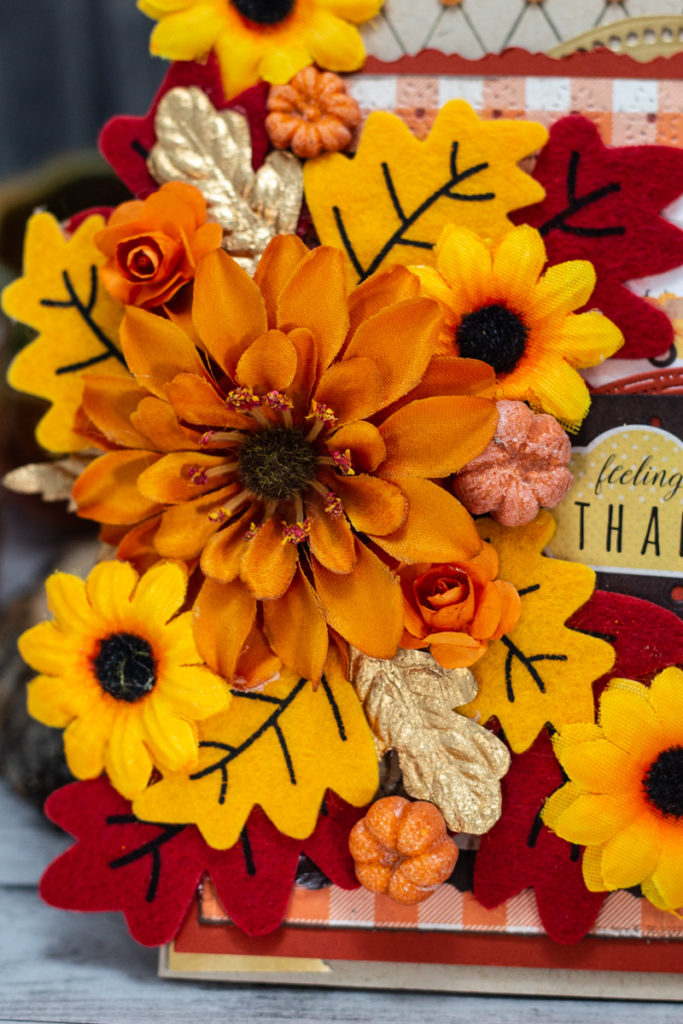 Thus, I decided to sprinkle a few adorable 3D Mini Pumpkins from Tim Holtz amidst the fall leaves and flowers on my card.
These darling little pumpkins not only serve to further represent the fall harvest, they also echo the illustrated pumpkins nestled into the beds of the pickup trucks on the Carta Bella paper.
The two-word sentiment of "Feeling Thankful" might not be the longest greeting ever, but it accurately conveys how I feel about the person this card is destined for.
If you would like to create a similar-looking harvest season (to say nothing of autumn birthdays, anniversaries, thinking of you, missing you, just because, etc) card, you can find a list of supplies and detailed step-by-step instructions to do just that below.
Products used to make this charming, multi-layered fall harvest season card
-Dark brown cardstock, terracotta cardstock,
-Matte gold cardstock
-(Fairly pale hued) kraft cardstock – Kraft Cardstock from Carta Bella
-Orange plaid + fall pickup truck print paper (both sides of the same sheet of printed paper) – Hello Fall Great Harvest paper from Carta Bella
-Oval nested dies
-Small leaf dies (or a background style die that cuts out multiple leaves)
-Flower border rectangular die (any suitable rectangle die can be used here)
-Decorative edge scissors – Victorian decorative edge scissors from Fiskars
-"Feeling Thankful" sentiment sticker – Autumn by Steven Duncan Elements Stickers from Carta Bella
-Diamond print stamp – Diamon Pattern Play Clear Photopolymer Stamp from Altenew
-Dark brown ink – Acorn Archival Ink from Ranger
-(Second type of) Dark brown ink – Memento Dew Drop Rick Cocoa Ink from Tsukineko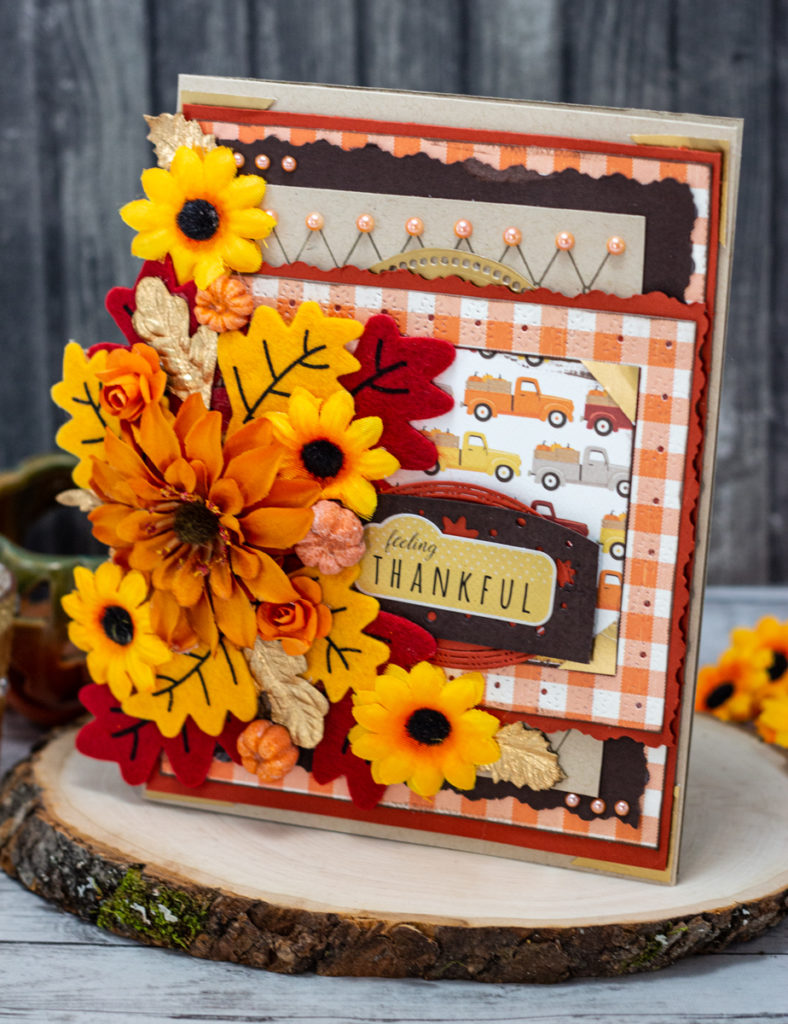 -Mini plastic embellishments – Mini Pumpkins from Tim Holtz Idea-ology
-Orange mini paper roses (from Dollarama)
-Sunflower/Black-eyed Susan style fabric flowers (from Dollarama)
-Dusty orange coloured fabric flower – Fall Floral Accent 635169 from Michael's (fall seasonal décor)
-Red and yellow felt leaves (fall seasonal décor item from Dollarama)
-Metallic gold stiff cardstock leaves – Christmas Belle Fleur Leaves from Prima Marketing
-Two sizes of orangey-peach coloured adhesive pearls (or similar flatback pearls that you adhere yourself)
-Glue gun and glue sticks
-Dimensional foam, pop dots, or similar to elevate some of your layers
-Adhesive, such as a tape runner, of your choice (I often use my Scotch Tape Glider)
How to make a beautiful country farm-inspired fall time card
Begin by making a card base from kraft cardstock (cream, ivory, and pale brown cardstock would all work nicely here as well).
Cut, by hand, four small, equal-sized triangles of matte gold cardstock. Position and adhere them slightly inward from all four corners of the card base.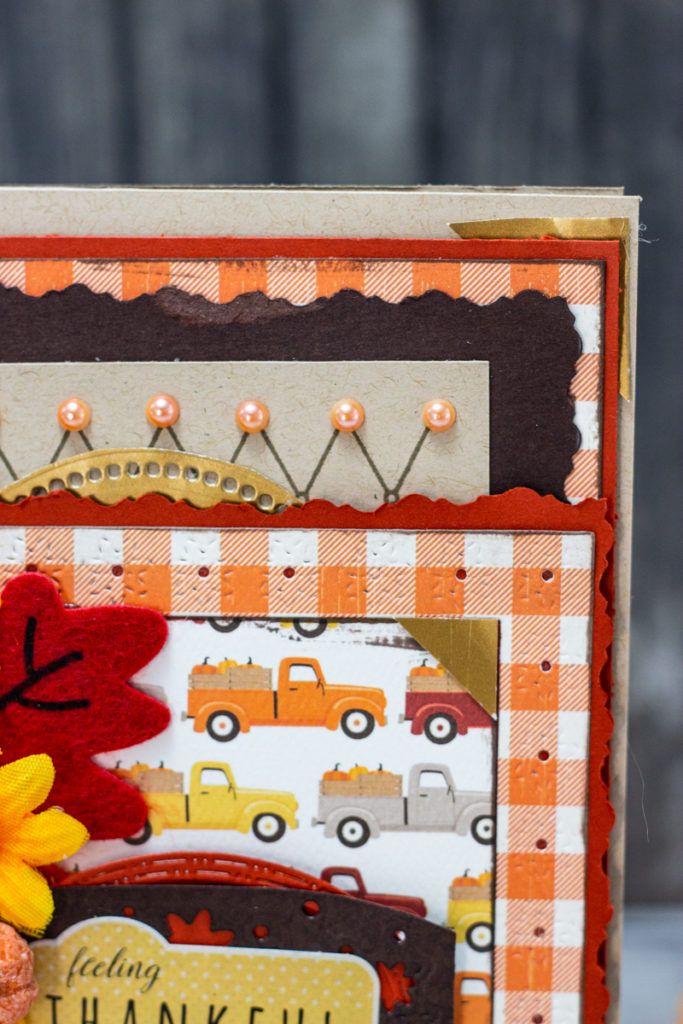 Cut a piece of terracotta (dark reddish-orange) cardstock slightly smaller than the dimensions created by the matte gold cardstock. Adhere to your card base.
Using the decorative "Victorian" edge scissors, cut a piece of dark brown cardstock slightly smaller than the terracotta cardstock (if you wish, you can distress this piece of cardstock a bit before adhering it). Adhere to the terracotta cardstock base.
Cut a piece of the same kraft cardstock that you use for the card base. Using Acorn Archival Ink from Ranger, stamp the Diamon Pattern Play Clear Photopolymer Stamp from Altenew. Adhere this piece of cardstock to the dark brown cardstock layer.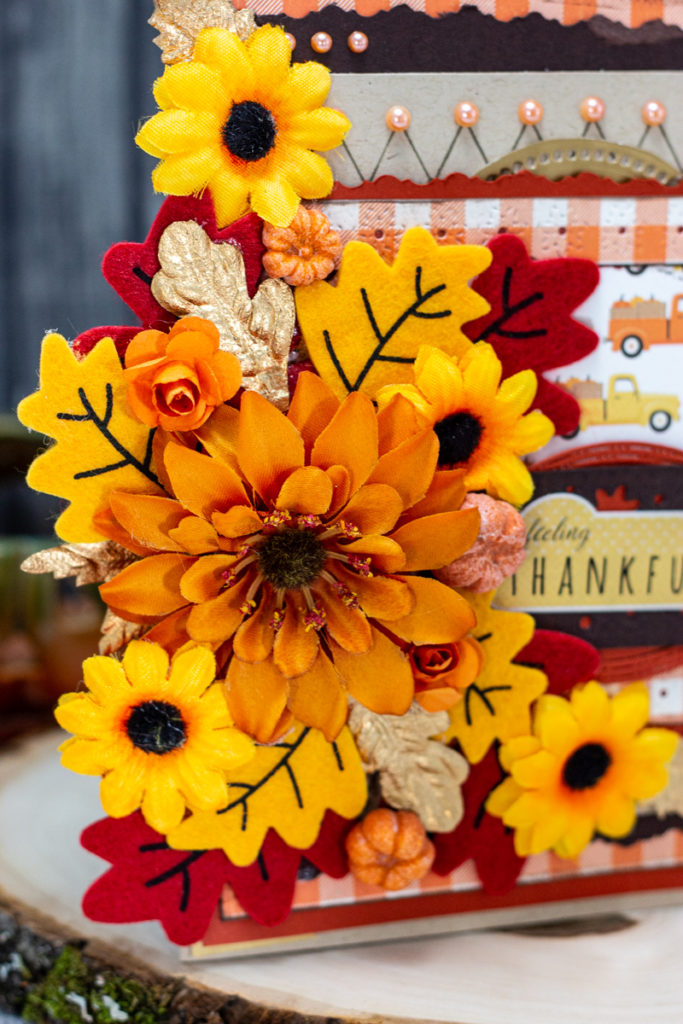 Die cut an oval-shaped piece of matte gold cardstock, adhering it in the middle of the previous layer (as you can see in the photos, only a small portion of this matte gold cardstock layer is visible in the completed card design, so you could just cut a portion of an oval, if you wished to conserve cardstock).
Using the decorative "Victorian" edge scissors, cut a rectangle of terracotta cardstock. Adhere horizontally across the middle of the card base layers.
Die cut a flower design rectangle piece from the white and orange side of the Hello Fall Great Harvest paper from Carta Bella. Ink edges of this piece with Memento Dew Drop Rick Cocoa Ink from Tsukineko (or the Ranger Acorn Ink used earlier; objectively, there's no need for two different dark brown inks here, so long as one of them works well for stamping) and adhere to the white and orange plaid layer.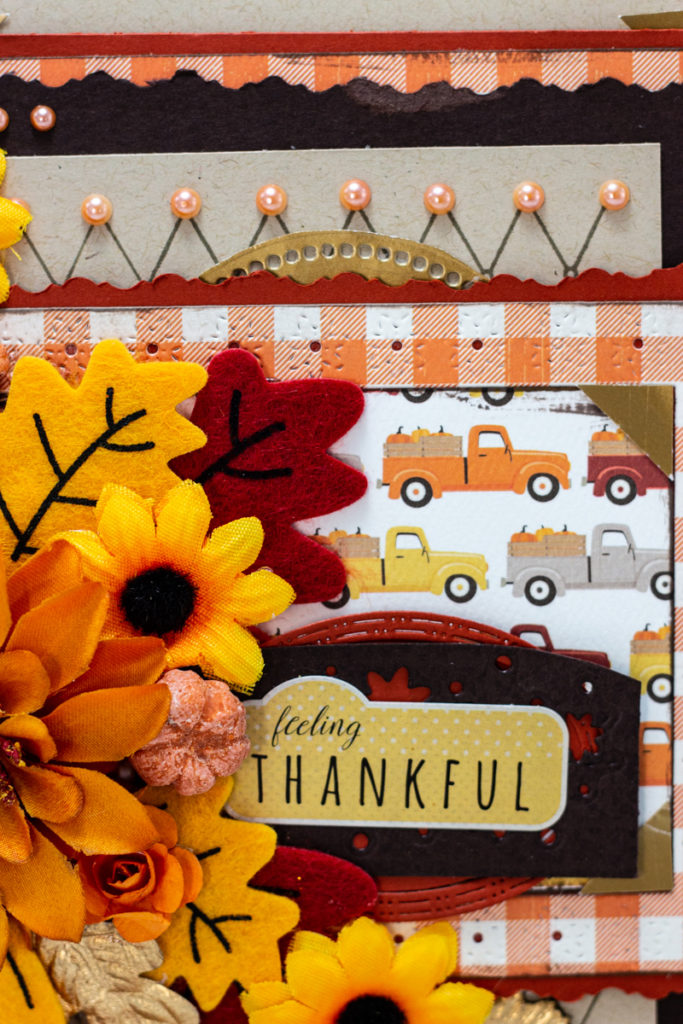 Cut a somewhat smaller (than the previous layer) piece from the fall farm truck print side of the Hello Fall Great Harvest paper from Carta Bella. Ink edges of this piece with dark brown ink. Adhere to the white and orange plaid layer.
Cut (by hand) two small triangles of matte gold cardstock to use as photo corners on the top and bottom right-hand sides of the fall farm truck print paper. Adhere to that layer (the other two corners will be hidden by the flower and leaf cluster you'll soon be making, so do not require photo corners of their own).
Die cut a small oval from terracotta cardstock. Freehand cut a curve-top-shaped sign/rectangle-shaped piece from dark brown cardstock (or use a similar shaped die, if you happen to have one) and die cut small fall leaves from it.
Top that dark brown cardstock piece with the "Feeling Thankful" sentiment sticker from Carta Bella.
Adhere the dark brown cardstock piece to the terracotta cardstock oval, attaching the latter to the fall farm truck print paper.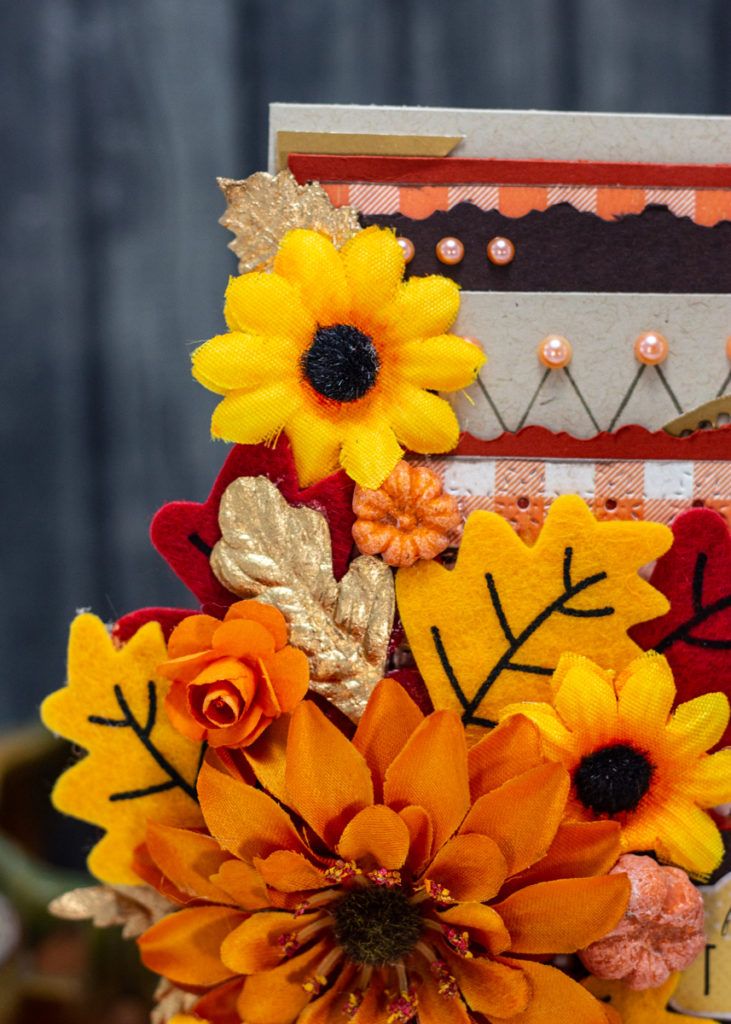 Next, attach three smaller (of the two sizes) orangey-peach coloured pearls to the top left and bottom righthand sides of the dark brown layer of cardstock that sits atop the orange plaid base layer.
Adhere a few of the slightly large size of peachy-orange pearls on the points of the diamonds on the stamped kraft cardstock layer.
Next, using the photos throughout this post as a guide, assemble a selection of vibrantly coloured felt fall leaves, fabric and paper flowers, and gold Prima Marketing leaves. Attach all of these components on the lower left-hand side of the card using hot glue or a strong liquid adhesive (such as E6000).
There you have it, one cheerful fall time greeting that suits Thanksgiving Day to a tee. And which could easily be used for a wide range of other harvest season occasions and events (including the Pagan sabbats of Lammas and Mabon) as well.
The world needs a universal day of Thanksgiving
Days of giving thanks – whether they pertain to the fall (or spring, south of the equator) harvest season or not – far predate the origins of both Canadian and American Thanksgiving.
People across the globe have often celebrated successful harvests with merriment, coming together as a community, and feasting for, if not since time immemorial, then at least since many early peoples adopted a more agrarian way of living.
It is likely that harvest season celebrations date further back still, reflecting successful harvests, so to speak, of forged and/or hunted foodstuffs.
Far fewer of us are solely dependant on collecting and storing all of our own food in the 21st century and, as a result, days of harvest season thanksgiving are not quite as widespread as they likely were for many of our ancestors.
Personally, I have long felt that we need a global day or two of Thanksgiving (i.e., one for the Northern Hemisphere, another for the Southern Hemisphere) that embraces the shifting seasons and acts as a time to reflect on what we are currently grateful for in our lives.
In saying that, I readily acknowledge that food availability/abundance is, heartbreakingly, far from a universal given. As such, that particular element of a universal Thanksgiving Day would need to be addressed.
Ideally, those nations with an abundance would share with others who needed a food supply boost.
Looking beyond the large meal so often connected to times of Thanksgiving, this day could have universal elements of gratitude and celebrating the shifting seasons.
Be it fall or spring, these chapters of the year are incredibly beautiful. Certain elements of nature are retiring, dying, or going into hibernation for a few months, but there is still so much vitality, beauty, and wonder to be had in these seasons.
Whether a universal Thanksgiving Day ever comes to be, I hope that the fall time stirs happiness in your heart, helps to remind you of the many blessings in your life, and brings a deep sense of inner contentment your way.
At Lammas and Mabon, as well as both Canadian and American Thanksgiving, I make a point of counting my blessings.
Big or small, short-term, long-term or perpetual, I know that even on the very roughest days of my life, I have an infinite number of things to be grateful for and strive to acknowledge them to the best of my abilities.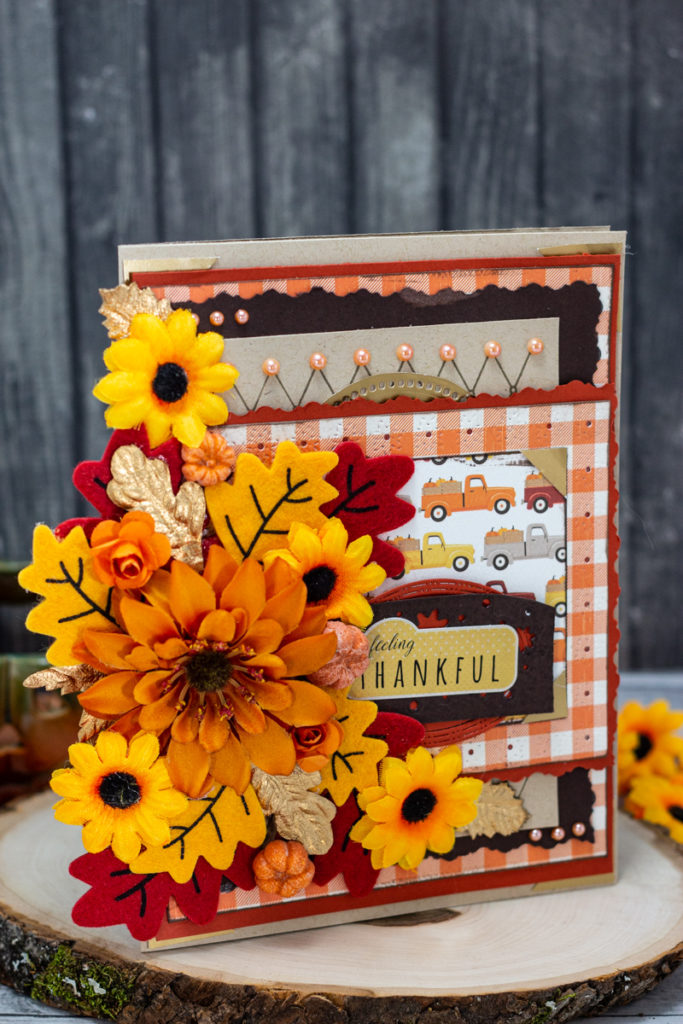 Coming together with loved ones for Thanksgiving and other autumn gatherings is one of my favourite ways to do just that. Creating and giving lovely Thanksgiving/fall harvest cards is another.
The true history of Thanksgiving Day may not always be clear and what this date means to those in the 21st century will, understandably, differ a good deal from person to person.
Beyond the actual holiday of Thanksgiving itself, fall is one of the most incredible seasons.
As the year winds down, we can reflect on how far we have come in 2021 – as well as over the course of our lives. In addition to centring our thoughts on the history (good, bad, and truly horrific) of our ancestors and others who populated the lands many of us now call home.
Let us give thanks for the blessings in our lives, for the progress we have made beyond some of the darker chapters of world history, and for the leaps and bounds forward that will hopefully continue to occur as new pages are written in the history book of humanity.
To Canada's American neighbours who observe Thanksgiving this month, may you have a safe, beautiful, happy celebration.
And to those who observe a day of mourning or otherwise consciously opt-out of Thanksgiving Day (be it Canadian or American), please know that you and the stances you take are seen, acknowledged, and wholly valid as well. 🍂