Love was just about the furthest thing from my mind when I met my husband.
Though young at the time (to paraphrase what Mary Sanderson says to her sister Winifred in the movie Hocus Pocus, I was a mere sping of a girl, clocking in at just 19 years old), I had already been involved in a couple of serious relationships and done some general dating by that point in my life.
One of those relationships was a horrific, abuse-filled multi-year nightmare from which I was genuinely lucky to escape with my life (and after which that ex stalked me for years).
I vowed that I would never allow anyone to treat me like that again – especially as I knew all along that what he was doing was stupendously wrong and that I did not deserve to be treated in such a deplorable manner.
No one, regardless of gender or any other factor, should ever be treated in any of the ways this person inflicted abuse and literal torture on me.
Thankfully, the ensuing relationships I would have were infinitely healthier, happier, and filled with respect. They did not pan out in the long run for various reasons, but even when I cared deeply for the other person, that didn't phase me too much.
I saw so much of my life before me still, I was very focused on coping with the fact that in my late teens my health took a massive nosedive as I rapidly developed one severe chronic illness after another (I fully believe the abusive relationship I was in coupled with a severely traumatic, stressful, and also abusive childhood played a notable role in the swift decline of my health at such a young age), and honestly revelled in being single.
As a shy, extremely introverted person who had so much to heal to and move forward from before I'd even hit my 20th birthday, finding Mr. Right – or even Mr. Right Now was lightyears away from the top of my priority list.
And yet…
Sometimes, no matter what we may think we do or do not need, the universe in its infinite wisdom has other plans.
In March 2004, as I was recovering at home mere days after a pretty substantial surgery for one of my medical conditions, my husband and I met online.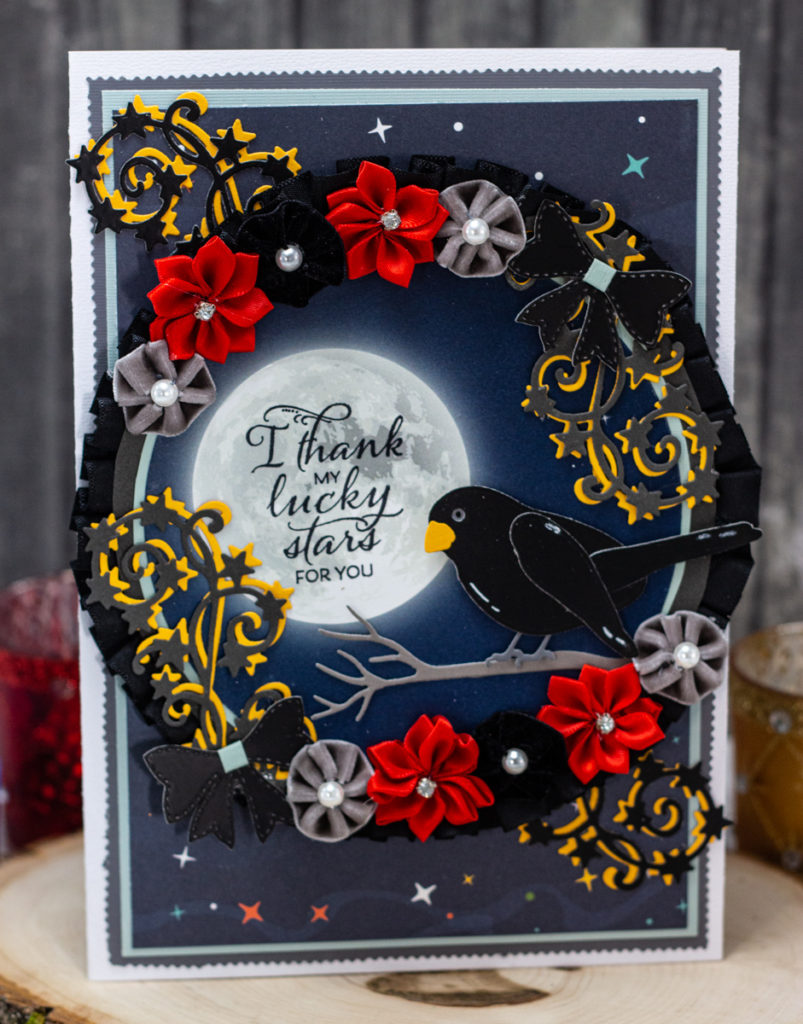 A lifelong fascination with and pull towards the Emerland Isle coupled with the fact I'm a passionate snail mail writer, led me to search for online pen pal websites in Ireland.
One such site was a combination pen pal and dating site (with members free to focus on one or both of those areas, as they desired).
Though a native son of Italy, the man who I would go on to marry (aka, Tony), had come to Ireland a few months prior to that point in time for a job in Dublin.
A naturally outgoing (he's a total ambivert), friendly type and a huge romantic, Tony had joined the very same website as well and it wasn't long before our paths crossed there.
As I like to say, it was pretty much love at first email. 💌
We corresponded through online messages, which quickly progressed to phone calls and Skyping (this being long before services like Zoom entered the picture), and then to me boarding a plane to visit Tony in Ireland for nearly two months during the summer of 2004.
We hit it off all the more in person; our love deepening, our awareness and appreciation for one another expanding by the day, and our connection fusing with each beat of our young hearts. (Tony, I should note, was 23 at the time.)
Tony proposed to me during our visit and even though we knew that from an immigration standpoint things would be tricky for us once we wed, that did not deter us from setting our big date.
We were both broke as all get out, neither of us came from families with financial means, and we didn't feel like we needed a big wedding at all. The latter point helped with the first two a good deal, let me tell you! 😄
Given that we were living on opposite sides of the Atlantic, we planned to wed within a matter of months and to do so here on Canadian soil.
Come October 2004, we did just that when we tied the knot in a very small civil ceremony wedding that was held in the living room of the house my mom and (now) ex-step-dad were living at the time.
Blissfully in love and excited to start our lives together, and having determined that it would be vastly easier for us initially if I moved to Ireland (instead of Tony moving to Canada at the time) that is exactly what I did.
I sold or gave away nearly all of my worldly goods, taking just what could fit in two average-sized suitcases, my purse, and a camera bag.
We remained in Ireland for a couple of years before a true stroke-of-luck job offer led Tony to a position with one of the Canadian branches of an international IT company. The good fortune involved there is something that I still frequently think about and give immense thanks for to this day. 🙏
In the years that would follow, we went through the lengthy and, at times, very stressful immigration process that would eventually lead to Tony becoming a Canadian citizen in June 2012. 🍁
Now, you may be wondering why I'm telling you all of them at the start of a project share post.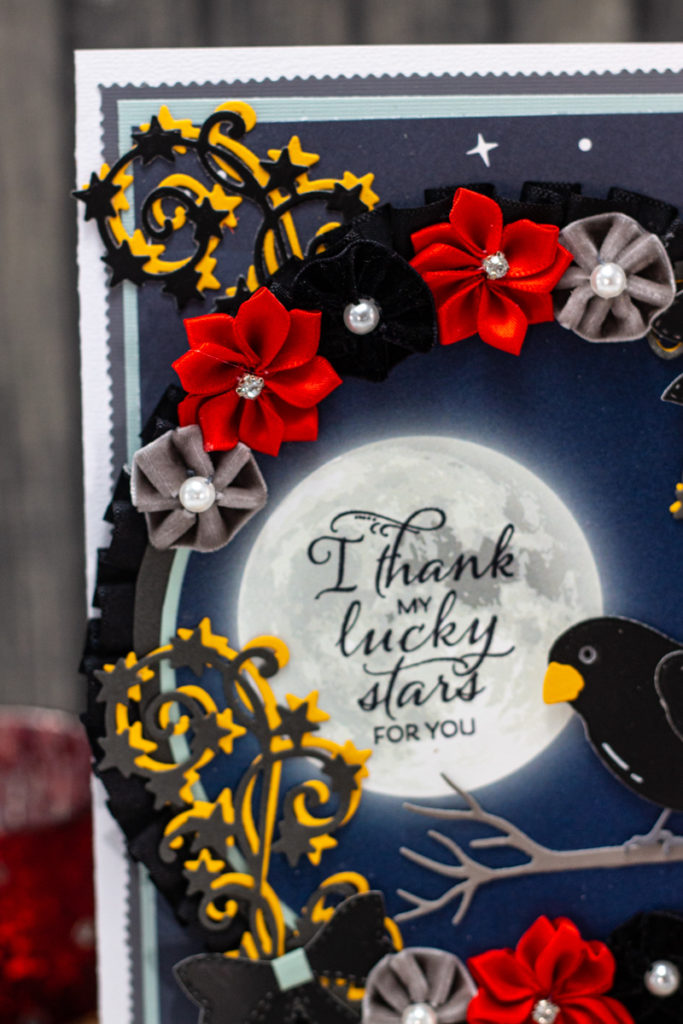 The reason, dear friends, is that tomorrow is my and Tony's 17th wedding anniversary and the card featured herein is the one that I made for him to celebrate this joyful event.
Enchanting Blackbird, Full Moon, and Flower Wreath "I Thank My Lucky Stars For You" Anniversary Card
Tony, a fellow lover of autumn, and I both big fans of nighttime, just as we are birds (and animals) in general.
Partner that with the colour palette of dark blues and blacks that I'm vibing on big time this fall (as mentioned in my recent Chicly Spooky Multi-Window Halloween Ghost Shaker Card post), plus the fact that I had been champing at the bit to use this cute-than-cute bird die that came as a free gift with an issue of Cardmaking & Paper Craft magazine, and it wasn't long before the design for this card materialized.
While we didn't exchange wedding vows on the 31st of this month, the fact that we were married little more than a couple of weeks before Halloween has always linked the two events closely in our minds.
I wanted to channel this point as well and opted for a card design that while not as overtly All Hallows' Eve-ish as, say, a gaggle of ghosts or field of grinning jack-o-lanterns, could easily have been a Halloween card if the sentiment was changed to one that suited October 31st.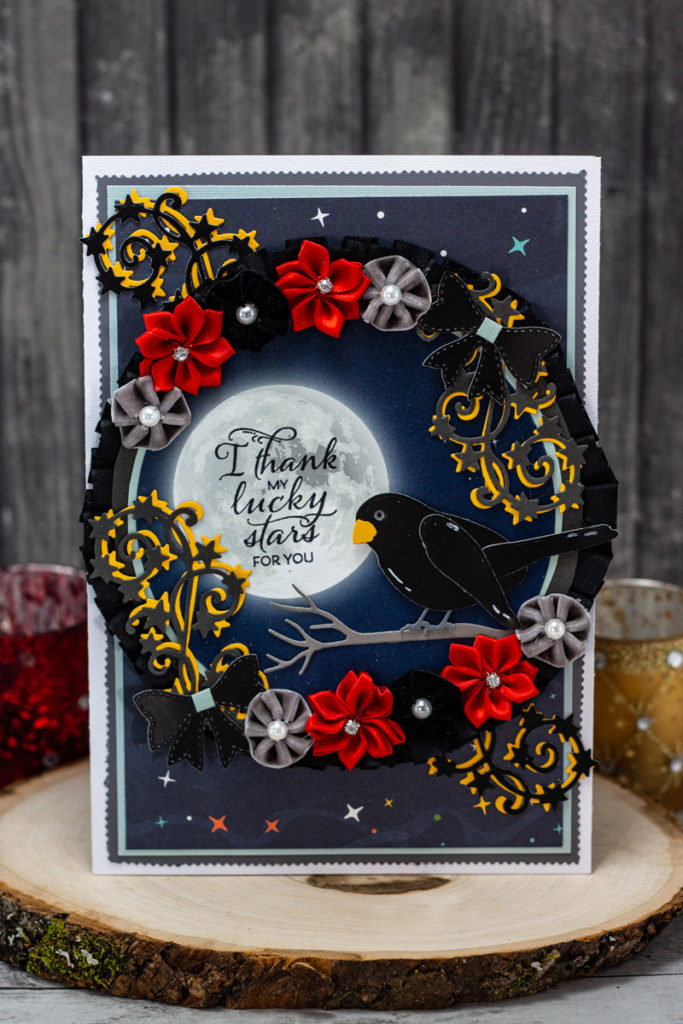 Objectively, even as it stands now, this could be a Halloween card. There are numerous people that I would happily express this same sentiment to during the spookiest chapter of the year.
To highlight the card's heart-touching sentiment, I used two different night sky print papers (one from Echo Park, the other from Ella & Viv), as well as a charming star flourish die that I madly adore.
A number of gorgeous, whip-smart ravens call the evergreen trees in our backyard home and we both delight in seeing these corvid friends all year round.
Thus, I went with a black-coloured bird for the sweet avian that I included on this greeting. It might look more like a blackbird, but I'm calling it a raven. 😃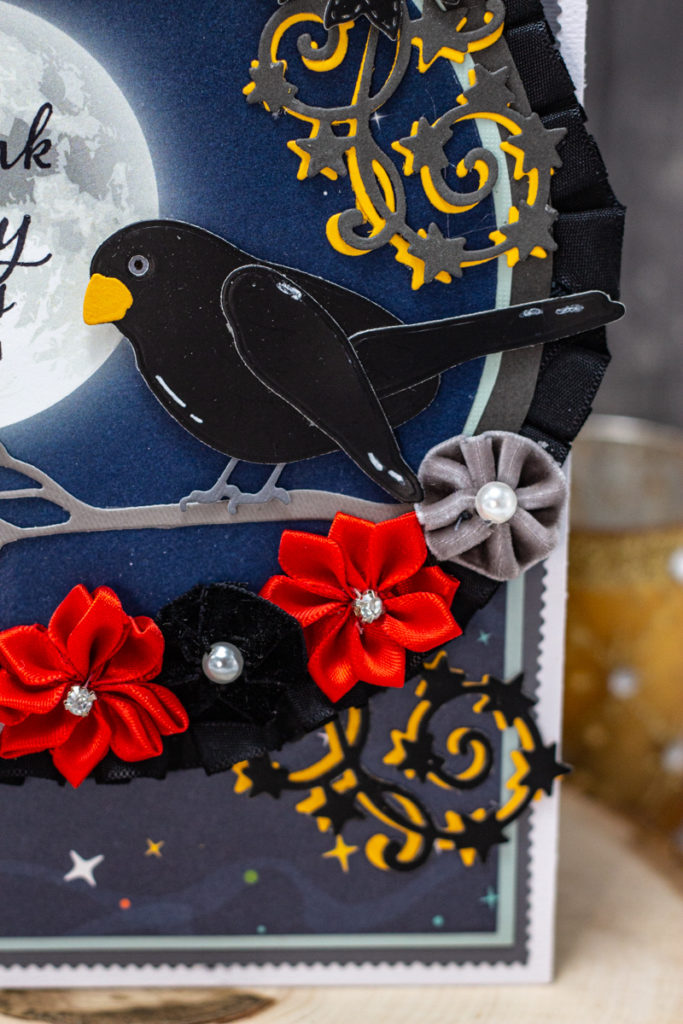 I used a pair of my beloved decorative edge scissors here to give some layers here the look of a postage stamp. This was a nod to the humble email and snail mail beginnings of my and Tony's relationship.
(Even with all the awesome advancements over the years with paper punches and die cutting machines, I still adore and frequently used decorative edge scissors. Are you a fan as well?)
A wreath of pleated ribbon, tiny velvet flowers, and more star flourishes encircles the precious birdie as it branches on a slender grey branch.
This wreath symbolizes both the unity of our love and commitment to one another, as well as our wedding rings themselves.
I am elated with how this anniversary card for my darling husband turned out and hope that Tony will love it as well.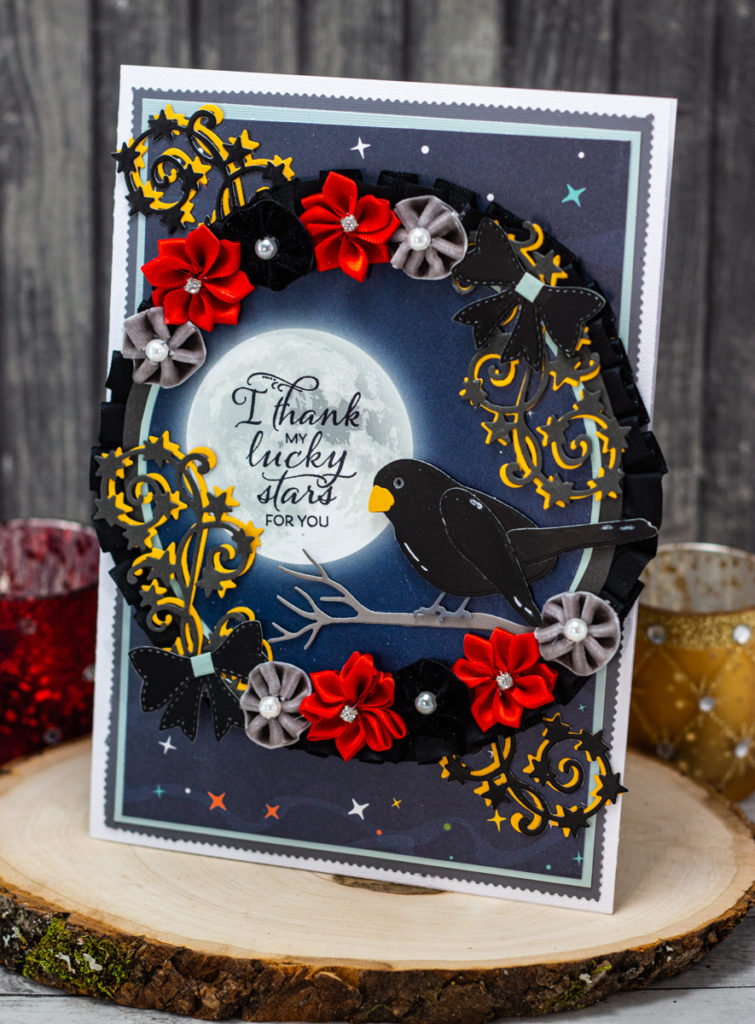 If you'd like to make a similar greeting for someone in your life that you are especially grateful for or if you wish to adapt the design for another reason/occasion, read on for the materials and how-to steps involved with this charming evening sky filled card.
Products used to make an enchantingly elegant blackbird, starry sky, and full moon card
-White and yellow cardstock
-Medium and medium-dark grey cardstock
-Pale greyish-aqua and dark grey cardstock – Cool Neutrals 12"x12" cardstock pack from Craft Smith (Michael's brand)
-Matte black mirror cardstock – Black Velvet Mirror Cardstock from Tonic Studio
-Multi-colour star print paper – Summer Adventure Count The Stars paper from Echo Park
-Full moon print paper – Full Moon Night Sky paper from Ella & Viv
-Circle die
-Star flourish/shooting star die
-Small-sized bow die
-Bird die and branch die (both from) – Little Birdies stamp and die set (gift) from Issue 216 of Simply Cards & Papercraft magazine
-Decorative edge scissor – Mini Pinking Paper Edgers Scissors from Fiskars
-"I Thank My Lucky Stars For You" sentiment stamp – Stargazing Stamp Set from Stampin' Up!
-Black ink pad – Jet Black Archival Ink from Ranger
-White gel pen – Uniball White Gel Pen from Signo
-Black pen – Pigma Micron 0.35mm Black Pen from Sakura
-Mini black and grey velvet ribbon flowers with white pearl centers (I got these quite a while ago; possibly on Etsy)
-Mini red ribbon flowers with clear rhinestone centers (from Ali Express)
-Ruffled black ribbon trim
-Glue gun and glue sticks
-Dimensional foam, pop dots, or similar to elevate some of your layers
-Adhesive, such as a tape runner, of your choice (I often use my Scotch Tape Glider)
How to make a cute blackbird and night sky themed card
Begin by making a white card base. Cut a piece of medium-dark grey cardstock slightly smaller than the card base. Trim all edges of this piece with the Mini Pinking decorative edge scissors (or any pinking scissors/shears of your choice) and adhere to the card base.
Cut a piece of pale greyish-aqua coloured cardstock slightly smaller than the previous layer and adhere to the medium-dark grey layer.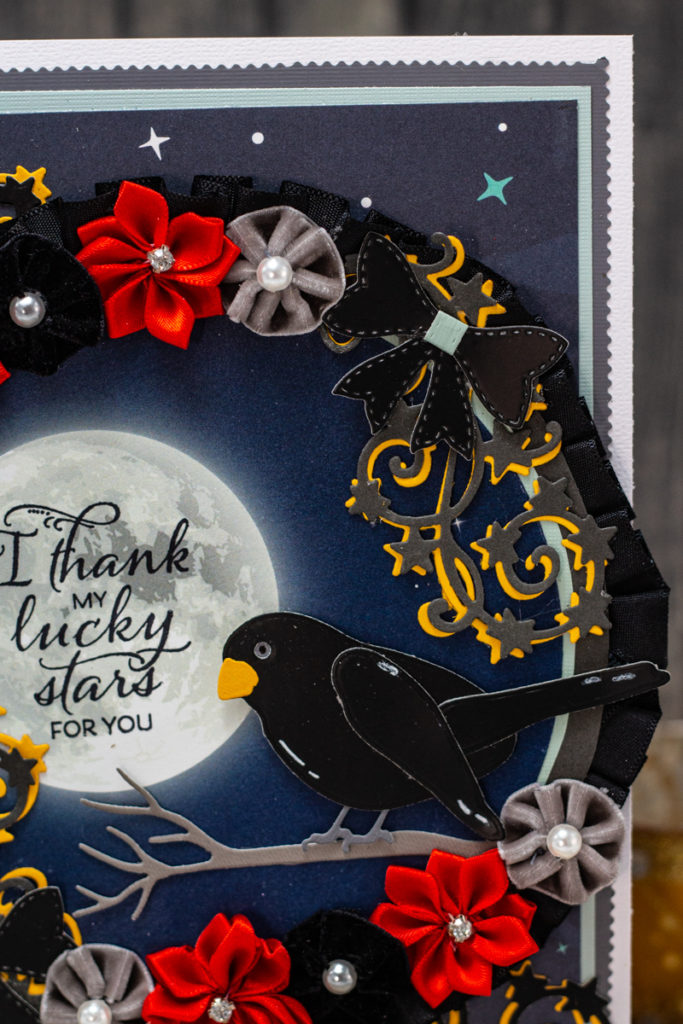 Next, cut a piece of Summer Adventure Count The Stars paper from Echo Park slightly smaller than the previous layer and adhere it to the greyish-aqua cardstock.
Using a basic circle die (or a circle stencil; you could also trace a circle around the bottom of an object, such as a small plate or a vase) cut out the portion of the Full Moon Night Sky paper from Ella & Viv that includes the glowing full moon.
Using black ink, stamp the -"I Thank My Lucky Stars For You" sentiment stamp from Stampin' Up!'s Stargazing stamp set on top of the full moon portion of the Ella and Viv paper.
Die cut a circle of greyish-aqua paper and a slightly larger circle of dark grey cardstock. Adhere these two layers together, then top with (adhere) the full moon print circle of paper on top of these layers.
Adhere a border of black ruffled trim on the back of the dark grey cardstock base layer.
Next, adhere this sentiment layer stack to your card base using foam/dimensional adhesive (or hot glue).
Die cut four yellow star flourishes, two black mirror cardstock star flourishes, and two dark grey star flourishes.
Layer and adhere two yellow and two black star flourishes together in pairs, as shown. Adhere diagonally in the upper left and lower righthand sides of the card.
Layer and adhere two yellow and dark grey star flourishes together. Arrange and adhere on the "wreath" of black ruffled ribbon surrounding the sentiment piece.
Adhere (using hot glue or another suitable strong adhesive) two grey, two black, and one red mini ribbon flower to the same wreath area of the design.
Die cut two bows from black mirror card, using grey-ish aqua cardstock for the knot-shaped portion of the bows.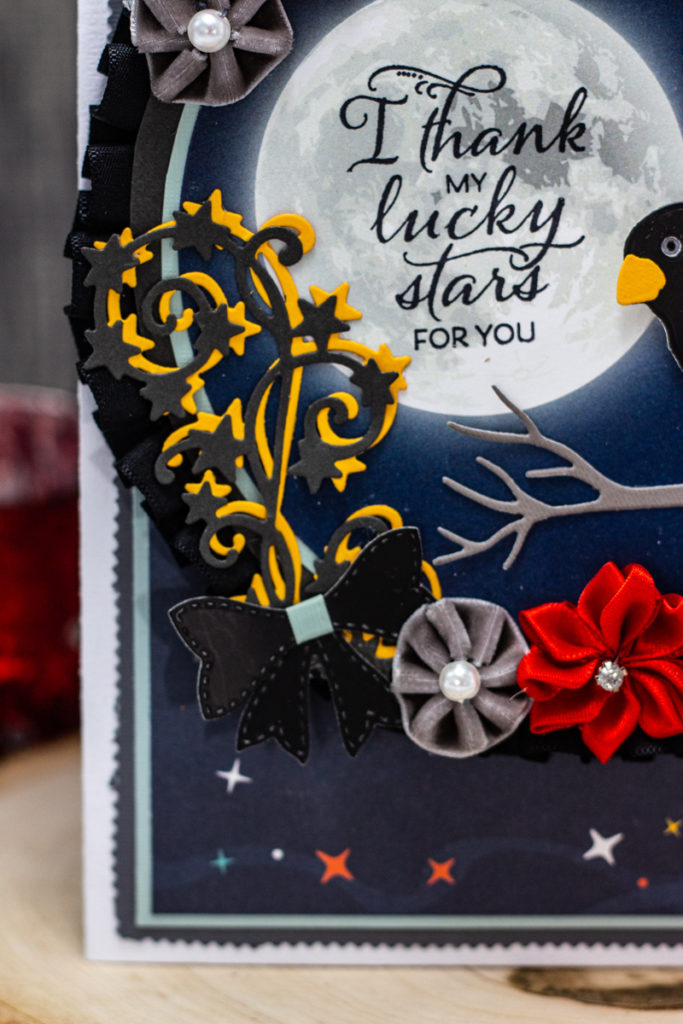 Assemble the bows and adhere them on the top and bottom of the wreath, as shown in the photos.
Die cut a branch-shaped piece from light grey cardstock. Adhere on the righthand side of the wreath, as shown.
Die cut a bird from black mirror cardstock, using yellow cardstock for its beak and light or medium grey cardstock for its legs. Assemble and adhere the bird together. Back the bird's eye area with white or light grey cardstock
Use a white gel pen to add highlights here and there on the blackbird, if desired. Use a tiny tipped black pen or marker to make a tiny pupil on the bird's eye.
Adhere the bird atop the die cut branch using foam/dimensional adhesive.
And there you have it, one seriously cute blackbird and night sky-themed card is now ready to give to anyone in your life that you thank your own lucky stars for.
Two radically different anniversaries
Twelve years into our life together, on the literal eve of our 12th wedding anniversary (October 13, 2016), Tony and I experienced the biggest challenge we have ever come up against as a couple: The loss of our home, belongings, and beloved cat (Stella) in an arson house fire.
(If you would like to read more about that profoundly challenging event, you can do so in this Get to Know Me post and in a recent entry here about some of My Favourite Pre-fire Halloween Scrapbook Pages and Cards.)
I did not know back in early 2004 that before the year was over, I would not only met the man I was destined to spend my life with, but marry him a few short months later.
Who could have imagined that a combination of the universe and the internet would bring us together? (Especially since online dating was still something of a new and even eyebrow-raising topic at the time.)
This point and the gratitude that I hold in my heart for the elements that led our paths to cross is what inspired me to use the sentiment that I did on this year's wedding anniversary card for Tony. 💕
Likewise, not a single day has passed since the fire when I (we) have not been immeasurably grateful to, and for, everyone who has supported, helped, encouraged, loved, cared about, grieved with, and otherwise been there for us since that fateful night exactly five years ago. 🙏🙏🙏
Words could never fully do justice to the gratitude that we have for each person who expressed kindness to us in any form.
It was, really and truly, the bedrock upon which we were able to begin piecing our world together again.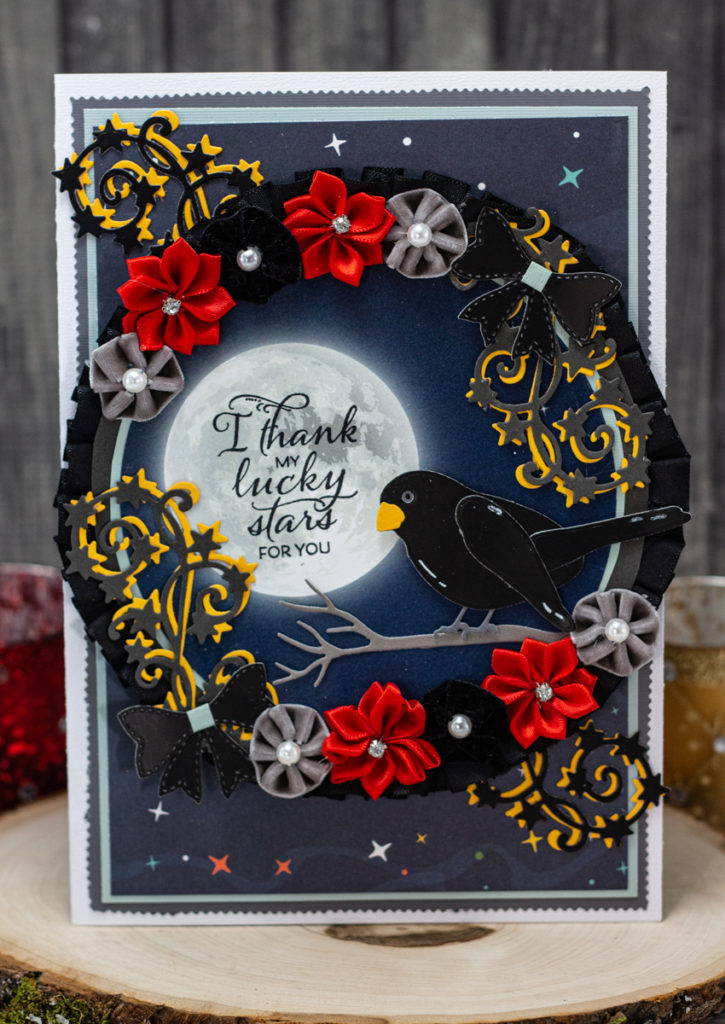 Tony and I grew even closer, our relationship strengthened all the more, and we became each other's rocks in greater ways than ever in the face of this life-changing tragedy.
When we had virtually nothing material left in the world, when we were homeless, when we went through a series of stressful short-term housing arrangements, when we cried and mourned, and when we began to heal, we were there for each other.
Something like this could have easily torn some couples asunder. Mercifully, that was not the case for us.
There were brutally tough times, of course, and very little in our world was sunshine and roses in the first couple of years post-fire. We were committed though both to one another and to rebuilding our lives again from the ground up.
It wasn't easy, but the job was made lighter by sharing the work and emotions involved between two people.
These days, while we continue to feel the ramifications of the fire in various ways and are still recovering + rebuilding on certain fronts, we have come an incredibly long way from where we were half a decade ago.
No one has the ability to know what tomorrow holds in store. I never imagined I would find true love at 19 or that, at age 32, I would stand there and watch as the home we had worked so hard to achieve and thrive in burnt to the ground.
I cannot predict tomorrow or what other challenges we may face, but I know – I absolutely know in the furthest reaches of my soul – that so long as Tony and I are each drawing breath, we will tackle them together.
Hand in hand, heart in heart.
And for that, and so much more, I thank my lucky stars every day. 🌟🙏🌟