Your supportive responses to the paper crafting projects that I've shared online so far this year, including on social media, have been wonderfully kind and encouraging. Thank you all so much for each and every one of them!
Now that we're a few weeks into this blog's life, I thought it would be a lot of fun to chat about more about my past, present and future as a paper crafter, why I'm not currently seeking design team work, and what I might have named this blog, had it been solely paper crafting related.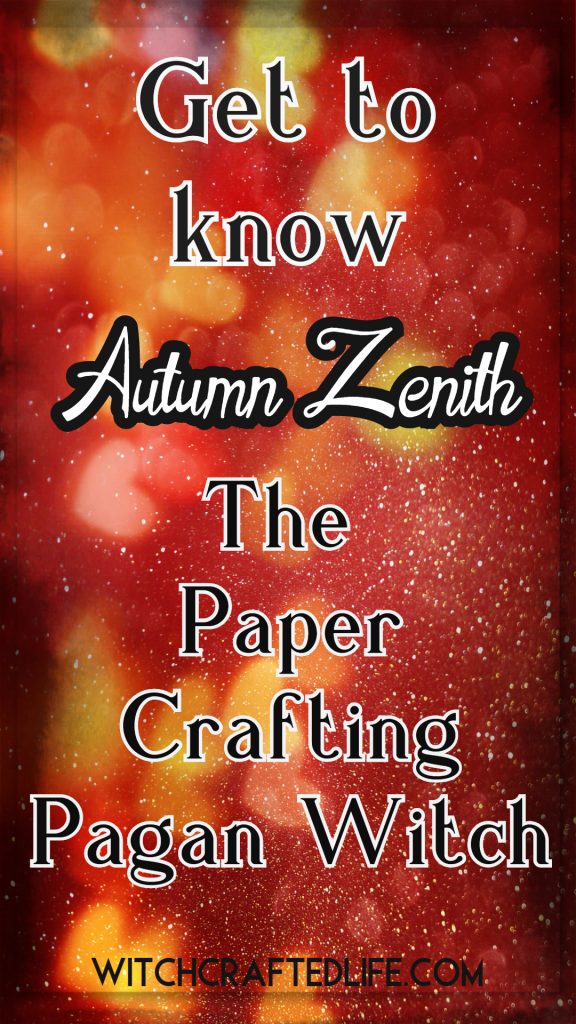 Please note: The projects shown in this post were all created prior to the arson fire (see below) that we experienced tin 2016.
Who am I?
Isn't the great question that we're all asking ourselves! 😃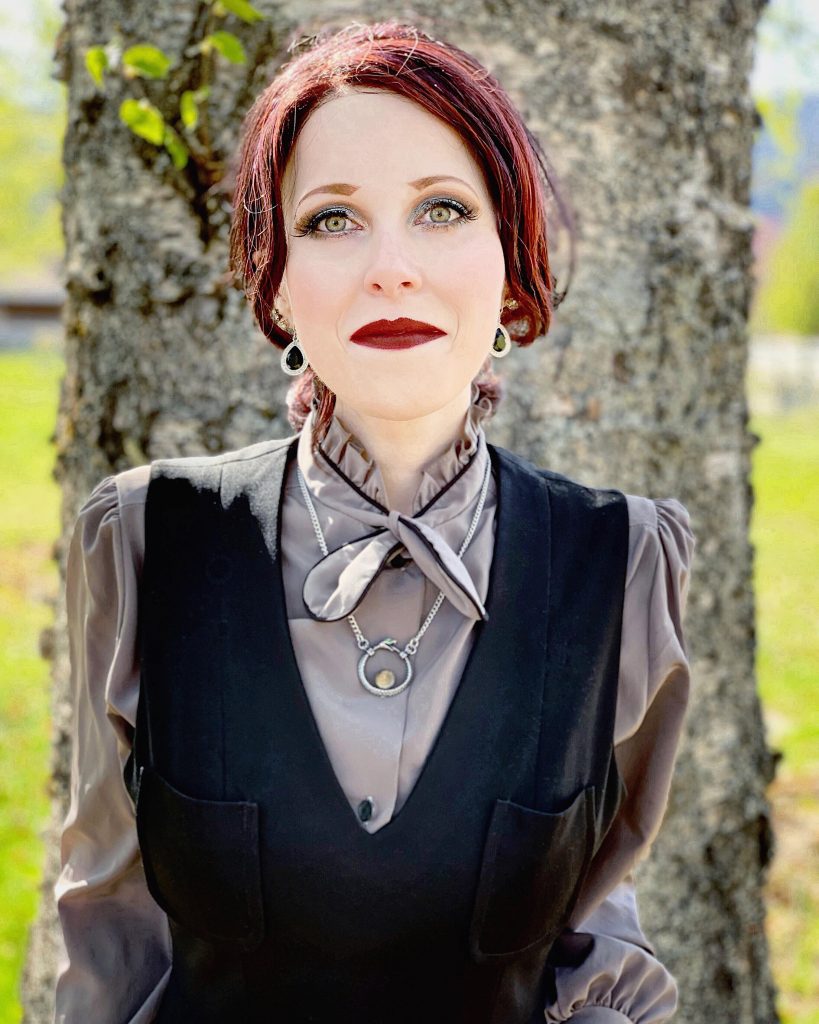 Deep philosophical discussions aside, if we're meeting for the very first time, I would suggest you read my inaugural post and my About Page to get to know me a bit better.
Beyond what is housed in those two spots, from a scrapbooking perspective, I feel that it's worth noting that I am…
-(At the time of writing) 35 years old.
-The first of three children (I have both a younger brother and sister), the oldest grandchild and oldest first-degree cousin on both sides of my family.
-Married to an incredible man named Tony. We met in March 2004, had a whirlwind romance, and tied the knot about seven months later in October of that same year. We had a very small civil ceremony wedding with less than ten guests in attendance.
-Not a parent / do not have any children. (I plan to discuss this topic as it pertains to both my own life and childless paper crafters in general later on this year.)
-An aunt to one adorable youngster, our nephew, Jarno, who lives in Italy with his folks (my sister-in-law and her husband).
-A lifelong history buff and vintage lover (for several years I ran a popular vintage fashion and lifestyle blog, which I retired in March 2017).
-A (sun sign) Cancer and, gosh, do I fit the profile for the most part. As much as I'm a homebody, I also have a great deal of wanderlust in my soul and find travel to be one of the most incredible and rewarding aspects of life. (If you're curious, my moon sign is Sagittarius and my ascendant sign is Aquarius.)
When it all began
I officially began paper crafting in October 2010 (my first project was a layout about my maternal grandma that used a sheet of My Mine's Eye paper as the main background paper).
Prior to that point, I had developed a deep interest in paper crafting and started to amass a stash of supplies at least a year before I began creating.
One of my aunts has been an avid paper crafter herself for multiple decades now. Her beautiful, heartwarming pages and handmade cards were (and still remain) a wonderful source of inspiration for me.
I've always been the nostalgic type. I'm an old soul who adores history, genealogy and preserving memories, and for me scrapbooking is a powerful way to unite and celebrate those important aspects of my life.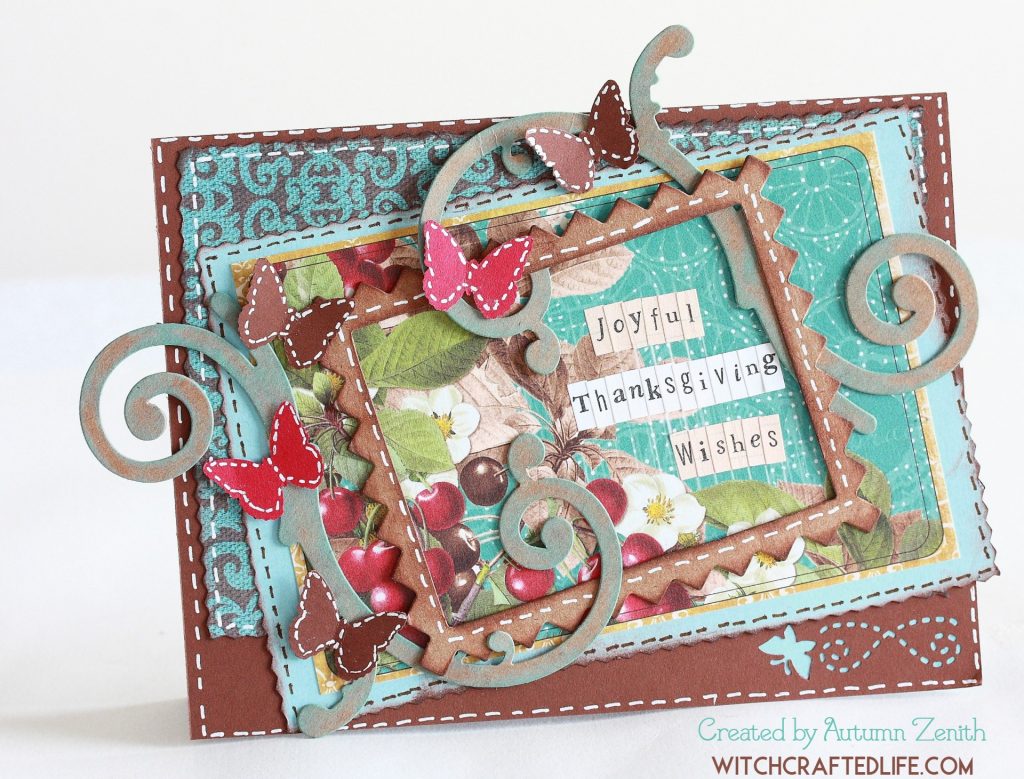 Between 2010 and 2016, while I wasn't always able to actively engage in paper crafting for various reasons (moves, serious medical issues, etc), I did create whenever possible and was frequently active on the website scrapbook.com.
For a while during that time, I ran a paper crafting blog, but my spirituality and the fact that I was a witch were not a part of that site (which was retired and taken off line several years ago now).
When it all changed in the blink of an eye
If you've read my intro post or About Page, you may recall that in October 2016, my husband I experienced a devastating arson house fire that destroyed virtually all of our belongings and, infinitely more heartbreaking, took the life of our precious cat, Stella (pictured in the layout below).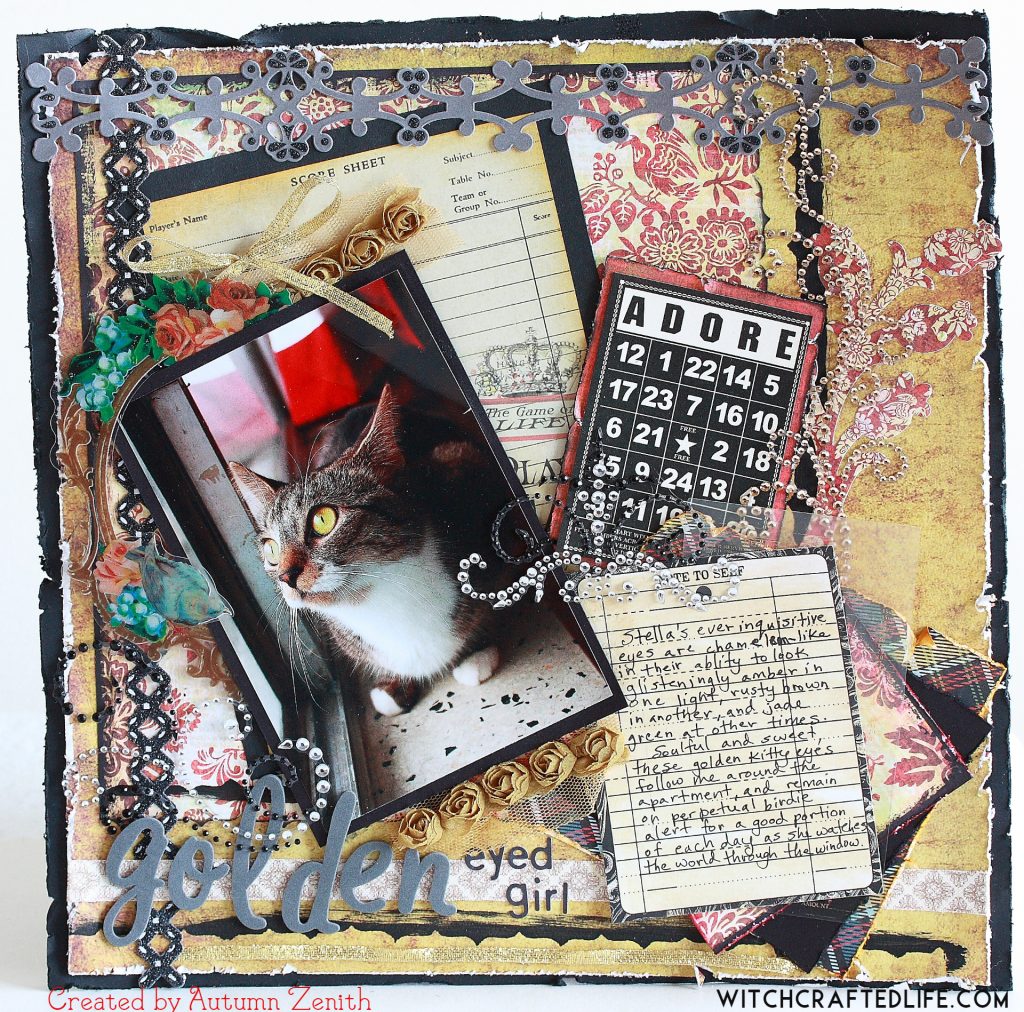 Thank the universe, we ourselves and our darling dog (Annie) made it out alive.
As challenging as that experience was and as hard a road as we've had to forge ahead in order to rebuild our lives in the 3+ years since then, I try not to dwell excessively on what happened to us.
It was brutal, it changed us and our lives forever, and it taught us more than I could ever put into words, but I have zero desire for that tragedy to be a common focal point here on Witchcrafted Life. Or in my life point-blank.
Sometimes, however, it is bound to come up. In this case, I feel it warrants mentioning because the fire not only destroyed all of my crafting (paper and otherwise) supplies, it also wrecked the first six years of my paper crafting projects.
In addition, it destroyed all of our photos (physical and those stored on computers and external hard drives), mementos, and personal documents.
It is a surreal, horrible experience to lose every material thing you own in the world. No one should ever have to go through that for any reason. Yet, sadly, countless individuals and families do each year due to various reasons.
I wasn't easy at all, and it pained me to my core to lose my scrapbook albums, photos, family treasures, craft supplies, and other belongings, but I had to move on. There was no option. No amount of sorrow or grief or depression (each of which I certainly experienced in the wake of the fire) was going to bring back what the flames had devoured.
Instead of bemoaning what happened, both myself and Tony were resolute in our determination to piece our lives back together again, start afresh where we could, and to focus on what presently is and what lies ahead, not what once was or could have been.
I should note, as I'm often asked about this point, while we did have renter's insurance at the time, the maximum payout value was (unbeknownst to us until after tragedy struck) significantly smaller than the total value of our belongings. The max payout was more aligned with what we owned when, over 4.5 years prior, we moved into the house that burned down, not what we owned at the time of the fire.
Therefore, the payout did not allow enough room for us to replace most personal items (including my craft supplies). It went to critical expenses and household needs. Instead, we have gradually been acquiring new non-essentials when possible over the past three years and will continue to do so further as time goes on.
Note: As I was fortunate to have photos of some of my completed projects online in various spots at the time of fire, I have a visual record of a portion of my paper crafting work. Not, however, the whole body of it. Still, having anything is awesome and I'm super thankful for what does exist.
What the past 3+ years have been like
Busy! A roller coaster of highs and lows! Unexpected!
They've been pretty wild to say the least and not at all how I foresaw my early to mid-30s playing out. That's life though. You never know what, be it positive or negative, is coming round the bend next and it's usually best to roll with the punches, make the best of a rough situation, and hold tight to hope along the way.
After a succession of short-term rentals following the fire, in early 2018, Tony and I were able to purchase our first home. It is located in a charming little town in the northern end of British Columbia's Okanagan region. We're both smitten with the gorgeous scenery and landscape here, which breathtakingly marries woodland with farmland.
The achievement of this lifelong goal, especially so soon after the fire, is still hard to believe at times. It remains the most positive thing to happen to us since before the fire occurred.
2018 wasn't all sunshine and new houses though, it also saw various heartbreaking events transpire to some of my relatives. These happenings hit me with the force of an asteroid and I'm still continuing to process and heal from them to this day.
Thankfully though, by and large, things are looking up for ourselves and my loved ones in general as 2020 finds its footing.
On the paper crafting front, my stash was started anew for me within days of the fire, when my aunt (mentioned above) blessed me with a truly thoughtful "starter scrapbooking kit" she had lovingly put together.
I was also incredibly fortunate to receive some paper crafting items from several kind-hearted, generous online scrapbooking friends, acquaintances, and even a few total strangers.
For as long as I live, I will grateful to, and for, those caring individuals whose compassion and desire to help a fellow crafter get back on her feet again played an integral role in ensuring that I was able to do just that.
Between 2017 and the summer of 2019, with my budding new paper crafting stash, I made a few projects (chiefly cards and layouts).
At first, it was strange and difficult to craft because my mind kept thinking that I still had all of my old pre-fire supplies and photographs. Rationally, of course, I knew that I do not and as time goes on, thankfully, this sense has lessened. It did certainly impact me a fair bit though as I began to ease into paper crafting again.
From the summer of 2019 onward, as time and my health have permitted, I've been going full steam ahead on the paper crafting front once more and loving every moment of it!
I feel like I've gotten my grove back and have been reveling in the joys, catharsis, and fun of paper crafting again.
So much so, that it led me to create this website. A blog that combines two hugely important aspects of who I am and what I hold dear: being a Pagan witch and paper crafting.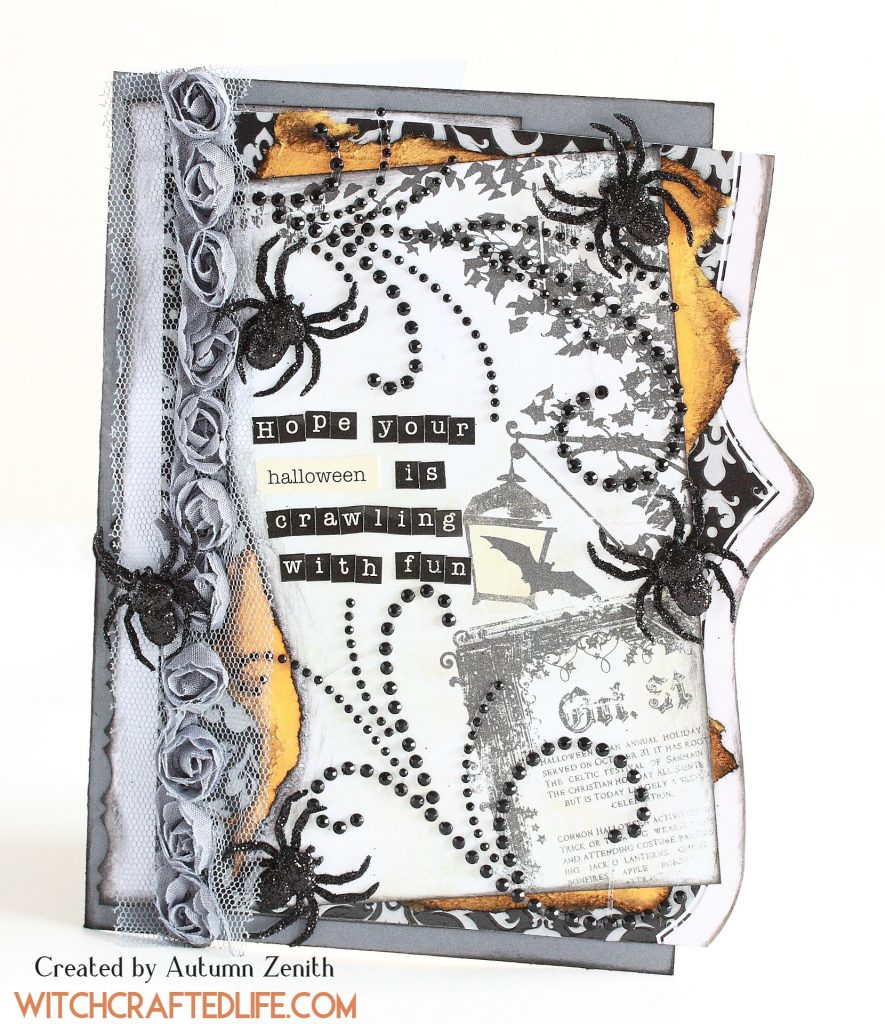 Where I'm at on the paper crafting front today
The launch of this site, which happened on January 1st of this year, has been at the heart of my paper crafting related focus in recent weeks.
Beyond that, I'd say that I'm in a good place again on the creativity front.
While it isn't possible for me to actually craft daily, between this blog, social media, blogs and websites that I follow, conversations with fellow crafters, magazines, and much more, paper crafting is once again an integral part of my daily life (yay!!!).
Our house is quite, how shall we say, cozy, which means that space is at a premium (two people, both of whom work primarily from home, and a high energy 70 lb dog all share said space).
Thankfully, however, I have a small room on the ground floor (our house is a two-story home, both of which are above ground; there is no basement or functional attic) which, in a lot of ways, is the physical version of this very blog itself.
In that one wee room lives my main altar, the majority of my witchy related items, almost all of my books, and the entirety of my current craft supply stash.
I am truly grateful for this space, the empowering energy that it houses, the creativity and magick alike that flow through me when I'm in it, and what it represents in my life regarding how far we've come in just three years since the fire.
My current stash of paper crafting items is an interesting mix of items. There are some areas (6×6 paper pads, for example) where things are fairly plentiful at present, others where they're sparse, and some that are missing entirely.
I've long learned though that you can make a lot with a little where creativity involved and love to put the products that I do have to work in as many fun, fresh and imaginative ways as can.
What do I (currently) mostly make?
Scrapbook pages (especially 12 x 12 single-page layouts, but I've been hearing the siren's call towards smaller sized pages on and off lately, too), cards of all sorts, tags, mini albums, home, and seasonal décor projects, and gift packaging/wrapping.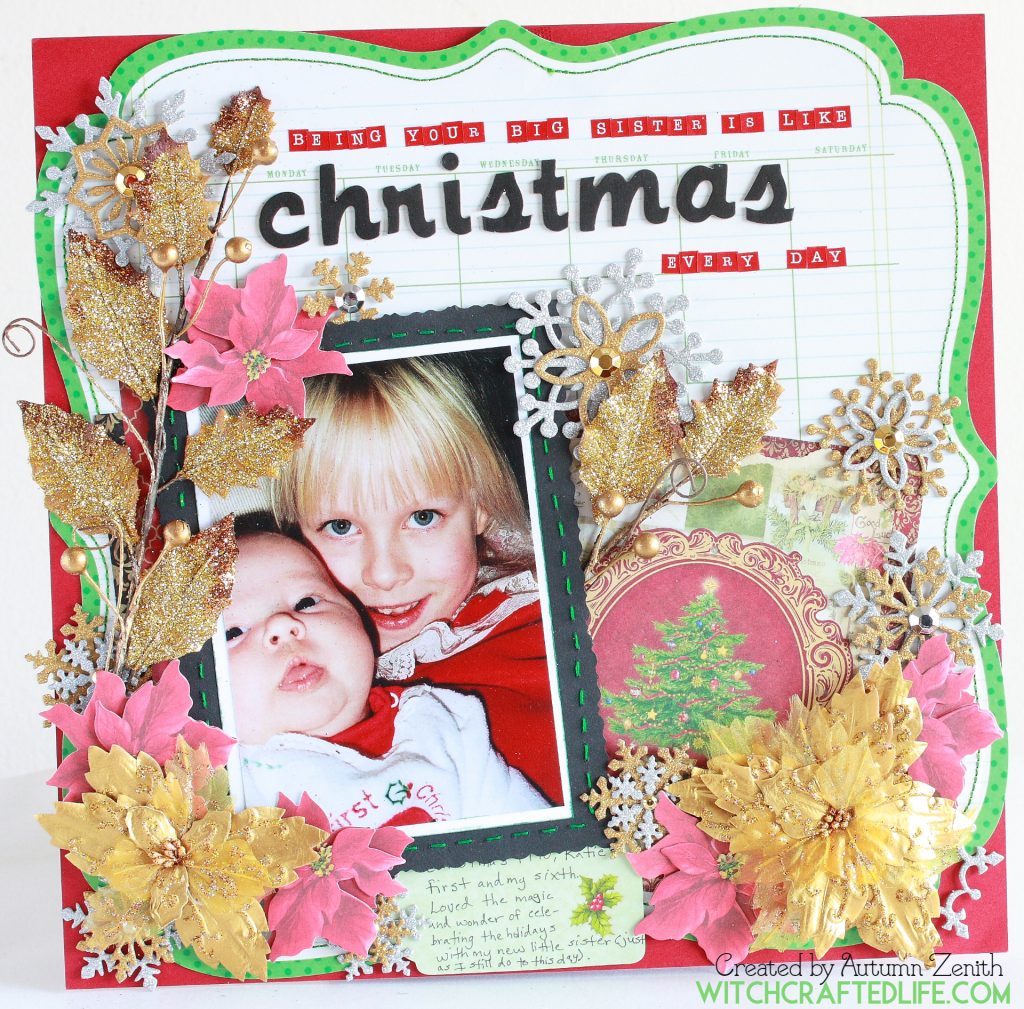 Plus an array of paper crafting projects pertaining to my spiritual path (including sabbat themed cards and tags for fellow witchy friends around the world) – as you might have guessed by this point.
How would I define my paper crafting style
"Shabby goth" springs to mind! 😊
My work often embodies feminine, dark/spooky, elegant, sweet, detailed, layered, tattered and distressed, inked, antique and vintage, nature inspired, fall and Halloween related, and dimensional techniques and products.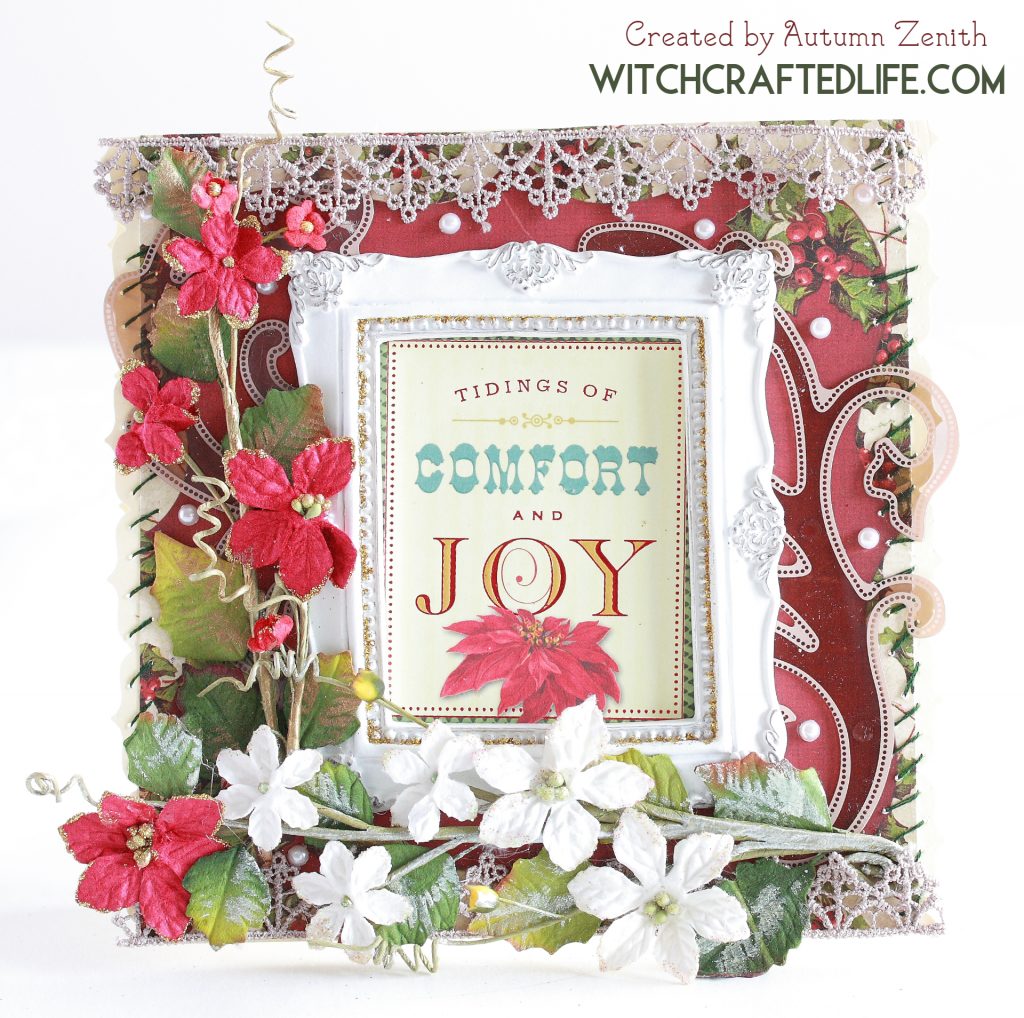 Stitching – faux, die cut, real – is a biggie, too.
These elements – coupled with including journaling on most of my layouts – are some of the key factors that help to define my personal scrapbooking, card making and paper crafting style in general.
Some of my favourite paper crafting products
Text and wood grain print papers, anything old-fashioned looking, burlap, bling (rhinestones, pearls, wood pieces, metal pieces, etc), dimensional flowers and leaves, tulle and netting, trim and ribbon, seam binding, twine, metal dies, stickers, glitter glue, die cut shapes and chipboard pieces, border and shape punches, paint, sequins, Micron Pens, Copic markers, my Tim Holtz Stamp Platform, and yes, as old school as I know this sounds to many people, (gasp!) decorative edge scissors.
Some of my favourite paper crafting brands
My taste in paper crafting brands and products, much like in many areas of my life, tends to run eclectic, so I buy from a wide number of companies.
Sadly, some of my all-time favourite brands and/or product lines (think Webster's Pages, 7 Gypsies, Teresa Collins, Jenni Bowlin, Maya Road, Petaloo, K & Company, and Ranger's Adirondack line) are no longer produced or have radically shifted the focus of what they sell.
This point makes losing the items I had from those companies sting all the more.
Thankfully, however, there are still many terrific brands going strong as we embrace the 2020s.
I adore plenty of them, including – but certainly not limited to – Anna Griffin, Carta Bella, FabScraps, Graphic 45, Pink Paislee, Martha Stewart, Kaisercraft, Prima, Authentique Paper, Tim Holtz, Echo Park, Bo Bunny, 49th and Market, DCWV, Tsukineko, and Pion Design (I don't currently own anything from Pion, but, my word, do I melt like a snowman in April for their breathtaking offerings).
What die cutting machine do I use
I currently have a Sizzix Big Shot Machine. It's a powerhouse of a die cutter and I love it to bits.
I do not, and to date have never had, an electric die cutting machine (i.e., Gemini, Silhouette Cameo, Brother ScanNCut).
I'd happily welcome an electric die cutter, especially since they are a lot easier on the ol' wrists, but don't foresee one coming my way anytime soon. Perhaps some day. 😊
What do I use to take photos of my projects
I currently have an iPhone 7 and take photos of my projects with it. I shoot indoors using either artificial (tungsten) or natural light, depending on what time of the day it is.
If needed, I do minor photo editing on my phone, generally in Afterlight and/or VSCO.
Why I'm not actively seeking design team work (but remain open to the possibility)
Several ago, I was a design team member for a US based online scrapbooking store that has long since shut down. I had a wonderful time and am still in connect with some of my fellow design team member friends from those days.
However, that experience drilled home how challenging it can be for me to be a design team member due to the fact that I'm a multiple severe chronic illness fighter whose health and physical abilities can fluctuate significantly from day-to-day.
I'm the type of person who loves to give things my all, honour my commitments and deliver on time. There's a very real risk I wouldn't always be able to do that if I was on a design team (let alone multiple teams concurrently). A point that doesn't sit right with me at all.
However, if the schedule was flexible, the requirements weren't too extreme, and the company/website was understanding regarding my health, I would certainly consider taking part in design team work again (assuming of course, I was tapped to do or accepted for a specific team, if I applied).
What I might have called this blog had it been focused solely on paper crafting
As awesome as things like stamping, colouring with markers, and watercolouring are, and as much and I delight in employing them at times, I am a paper lover at heart.
I adore beautiful papers, writing on my layouts, layering paper (and cardstock) on my projects, collecting paper for my stash, you name it!
Thus, assuming that the URL was available, I may have named my blog "It's all about the paper" or something to that extent.
To be honest, I didn't really give much consideration to running a blog that was just about paper crafting at this point in my life.
I knew from the get-go that I wanted to write about both witchy topics and paper crafting ones alike, and thus Witchcrafted Life was born.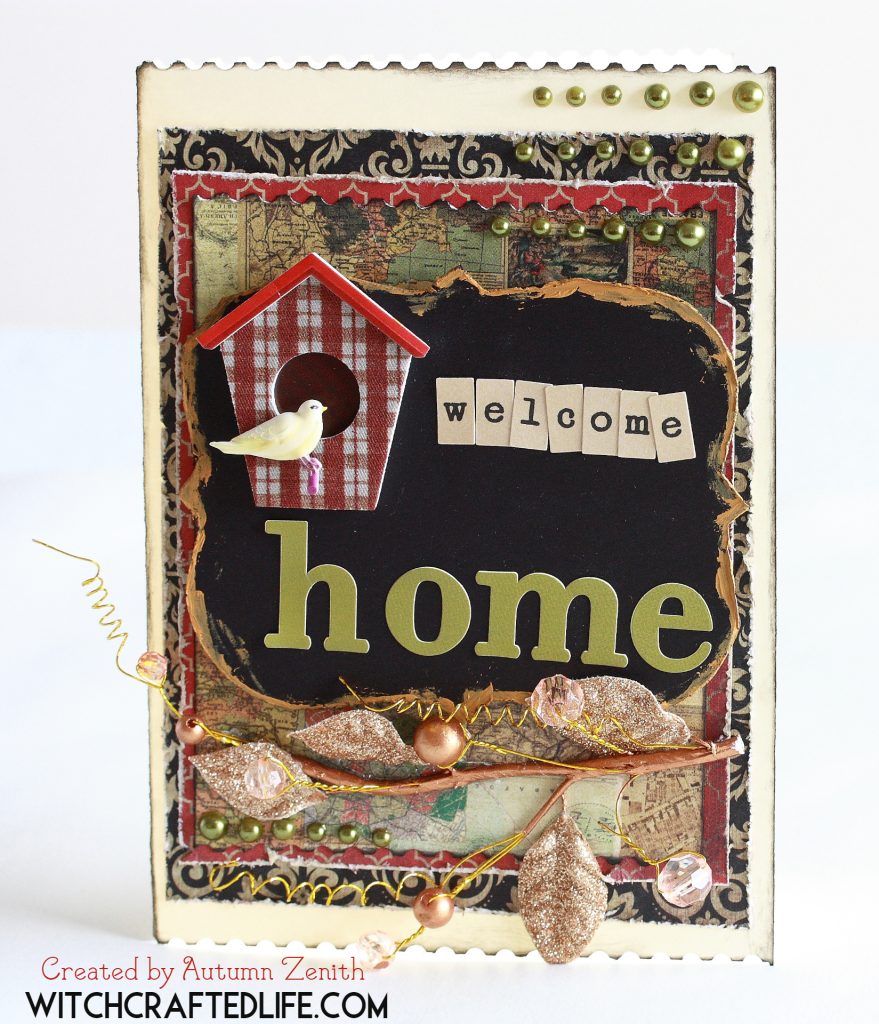 What inspires my paper crafting work
So… many… things! 😊
The seasons and The Wheel of the Year, nature, art, music, books, fellow creative folks and makers, fashion, history, great colour combinations, my own personal experiences and dreams, my spirituality, traveling, photography, and oodles of other sources.
What else would you like to know about my paper crafting?
Now it's your turn. What would you like to know about my paper crafting that wasn't covered here?
Don't be shy! Ask away! And while you're at it, if there are specific types of paper crafting blog posts that you'd be keen to see here, please feel to let me know.
Your questions and ideas are welcome and sincerely appreciated. ❤