It has been a hot minute since I last shared a scrapbook page project here. No time like the present to remedy that! 😊
As I have discussed here previously, my husband and I lost a lifetime of photos in the arson house fire we experienced back in 2016.
This can, as you might imagine, make finding suitable images to scrap quite challenging at times.
Thankfully though, between some photos that were online at the time, others that loved ones have shared with us, and newer images that we've captured in the years since that life-altering event, I'm not completely without some snaps to scrap. 🥳
Case in point, the photos on this Halloween layout were housed on the vintage fashion and lifestyle blog that I ran from 2009 – 2017.
They tug at my heartstrings on multiple fronts – not the least of which is that the house depicted in them is the one that we lost to the fire.
Instead of dwelling on that though, I chose to acknowledge the feelings seeing images like this call forth, and then to focus on the positives instead.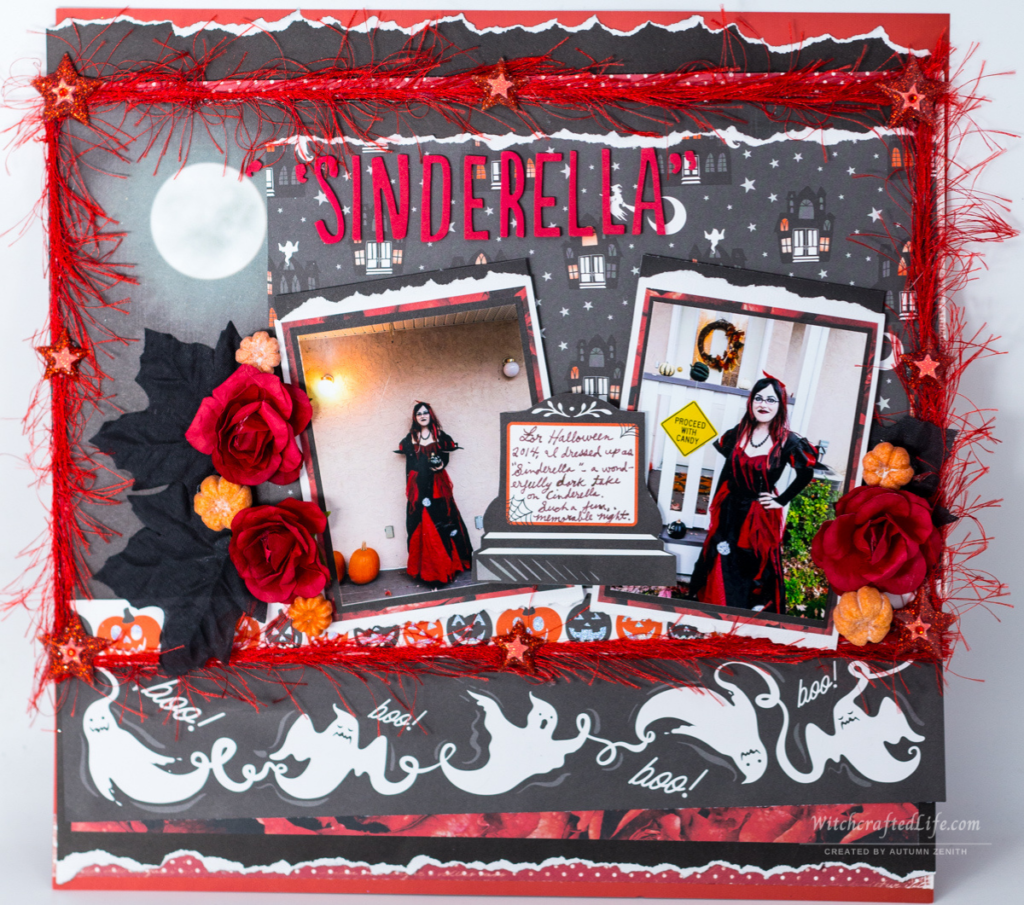 These pictures were taken on Halloween 2014. In them, I'm wearing a costume that was sold under the name Sinderella – a dark and spooky take on the classic fairy tale character, Cinderella.
Though it transpired more than 6.5 years ago now, I remember that Halloween night as though it was just yesterday.
The weather was crisp and cool in that telltale way only autumn can deliver. 🍂
As was tradition for us back in those (pre-Covid) days, we hosted a small family Halloween party at our house that evening. Candy was handed out abundantly to the 30 – 40 or so trick-or-treaters from around the neighbourhood that came calling.
Oodles of fun, festive eating, and good cheer was had by all and the night lingered well after the calendar had officially transitioned into November.
Sweetly spooky red rose, pumpkin, and ghost themed Halloween scrapbook layout
There are nearly as many reasons why we scrapbook as there are scrapbookers themselves. Unquestionably, however, one of the main reasons is to preserve some of the memories that really matter to us.
I would still recall this particular Halloween night quite well without these photos. However, having them and the ability not just to look upon, but to also craft with, these images is a sincere blessing.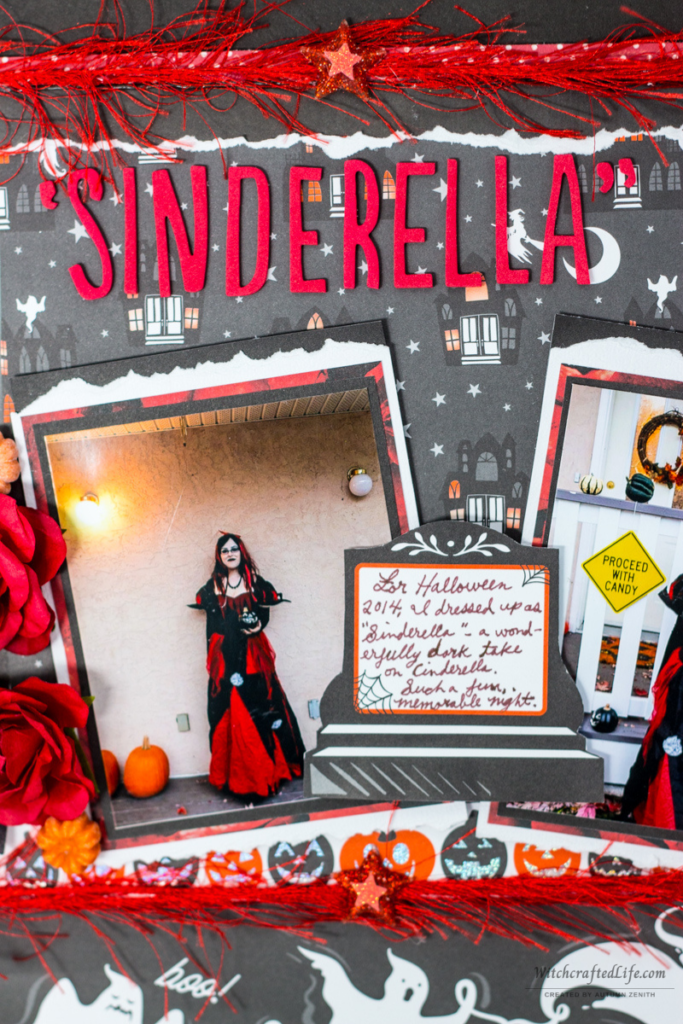 For this October 31st themed scrapbook page, I took a lot of inspiration from both my costume and the pumpkins pictured in these two festive photos.
While not entirely devoid of the colour (think vampires, blood, bonfire flames, and crunchy crimson hued leaves, for example), red isn't the most common Halloween hue.
I'm all for utilizing unexpected or less common colours for various holiday projects – those pertaining to Halloween very much included.
In this instance, the impetus for the use of red was the hits of this bold colour that appeared in my Halloween costume and coordinating wig.
The delightful red eyelash trim is a nod to the tattered strips of fabric on my Sinderella costume.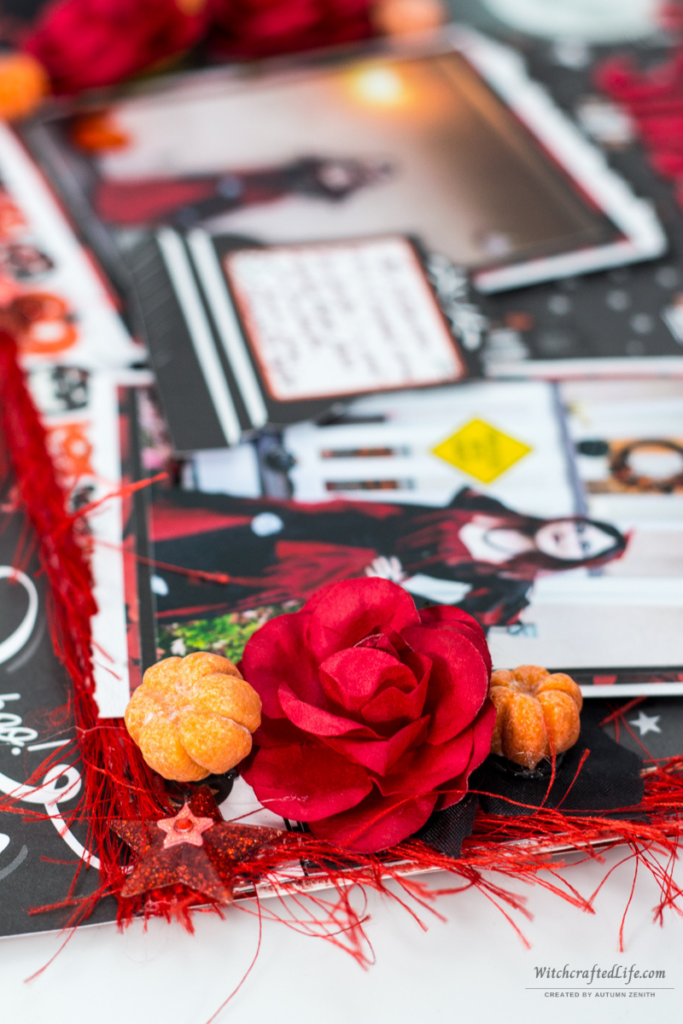 Red roses appear here in two forms: the rose print paper that was used both as a photo matting layer and as one of the (purposely angled) layers towards the bottom of the layout, as well as in the dimensional red paper roses that dot this Halloween layout.
And speaking of dots, red returns again care of the cute red and creamy-white Swiss dot print paper.
These pictures were taken as the last vestiges of daylight slipped into the inky embrace of evening, so I thought it would be fun to create a nighttime themed background. (Plus the moon mirrors the glowing porch light that is visible in one of these photos.)
In honour of the portion of our lost home that is visible in these shots, I also wanted to include some cute haunted house themed paper as well.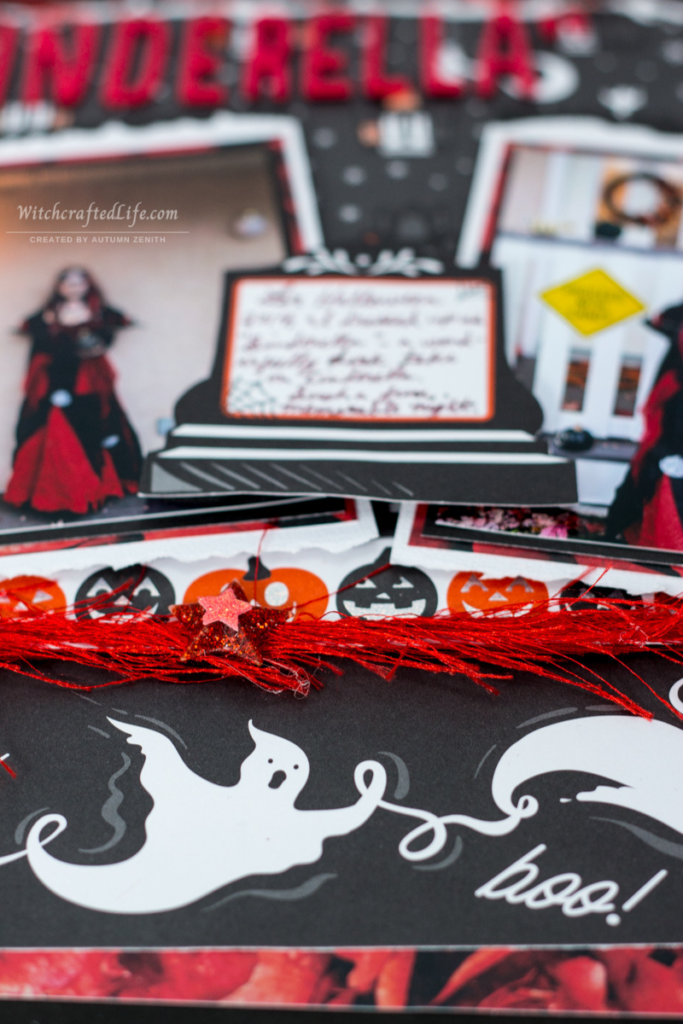 Ghosts and Halloween are perpetual BFFs. I'd been itching to use this adorable "boo" ghost themed paper for quite some time now, and as its colours harmonized wonderfully with this particular All Hallows' Eve layout, onto the page it went.
An array of pumpkins (including a strip of smiling jack-o-lantern print paper), red star embellishments, midnight black fabric leaves, plenty of paper and cardstock layers with torn edges, and a wee bit of journaling penned on a tombstone shaped journaling spot round out this sweetly spooky Halloween layout.
…Which is my creation for this month's #MakeHalloween365 project share. 😃
Products used to make this festive Halloween costume themed scrapbook page
-Black, white, and dark red cardstock
-Various Halloween themed papers (including journaling spot) – Mischief Manon 12"x12" Paper Pad from Craftsmart (Michael's brand)
-Full moon print paper and red rose print paper (both from) – The Immortal Love 12"x12" Stack from DCWV
-Red and white Swiss dot print paper – Life In the Country Strawberries with Ice Paper from Maja Design
-Red paper roses (Craft Brand from Dollarama)
-Black fabric leaves (bought at a Halloween Alley popup store)
-Tiny 3D pumpkins – Idea-ology Mini Pumpkins from Tim Holtz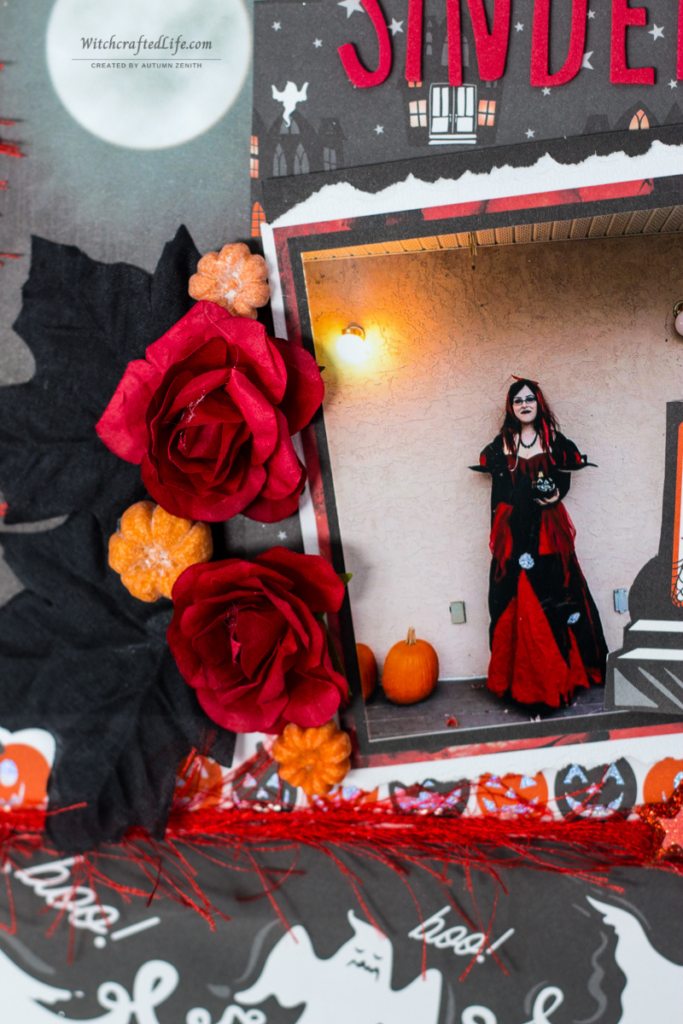 -Red star shaped embellishments – Red Star Cabochons from Jolee's Boutique
-Red eyelash trim
-Reddish-black ink pen (for journaling) – Vision Elite Red/Black 0.5 mm Pen from Uniball
-Red foam letters – Rosey Foam Letters from Thickers
-Glue gun and glue sticks (optional, but highly useful for adhering the mini pumpkins and other embellishments)
-Dimensional foam, pop dots, or similar to elevate some of your layers
-Adhesive, such as a tape runner, of your choice (I often use my Scotch Tape Glider)
How to make a sweetly spooky Halloween scrapbook page
Begin with a piece of 12×12 inch dark red cardstock for your base.
Take a sheet of the full moon print paper DCWV's The Immortal Love 12"x12" Stack and tear the top and bottom to create a somewhat jagged, tattered looking edge. Adhere to cardstock base.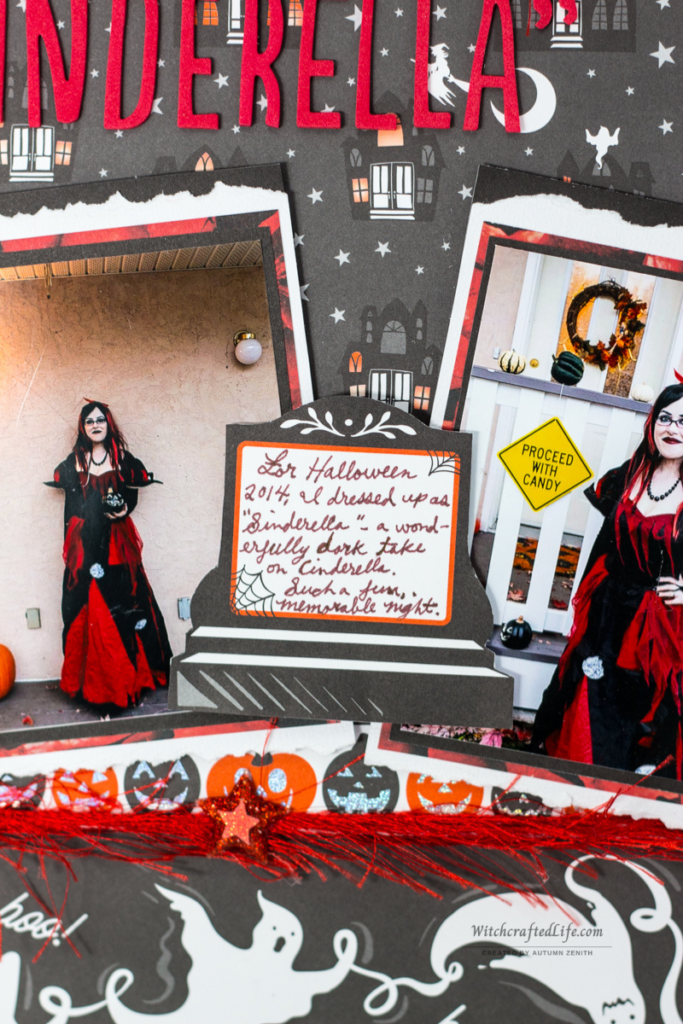 Cut a piece of haunted house print paper (from the Mischief Mansion paper pad) so that it covers most of the full moon print paper, but leaves the full moon itself visible. Tear the top edge of this haunted house print paper and adhere to the base layers of the LO
Cut and adhere layers of jack-o-lantern print paper, ghost print paper, rose print paper, and red dotted paper to the layout, as shown. (Note: the dotted paper goes under the bottom of the full moon print piece of paper).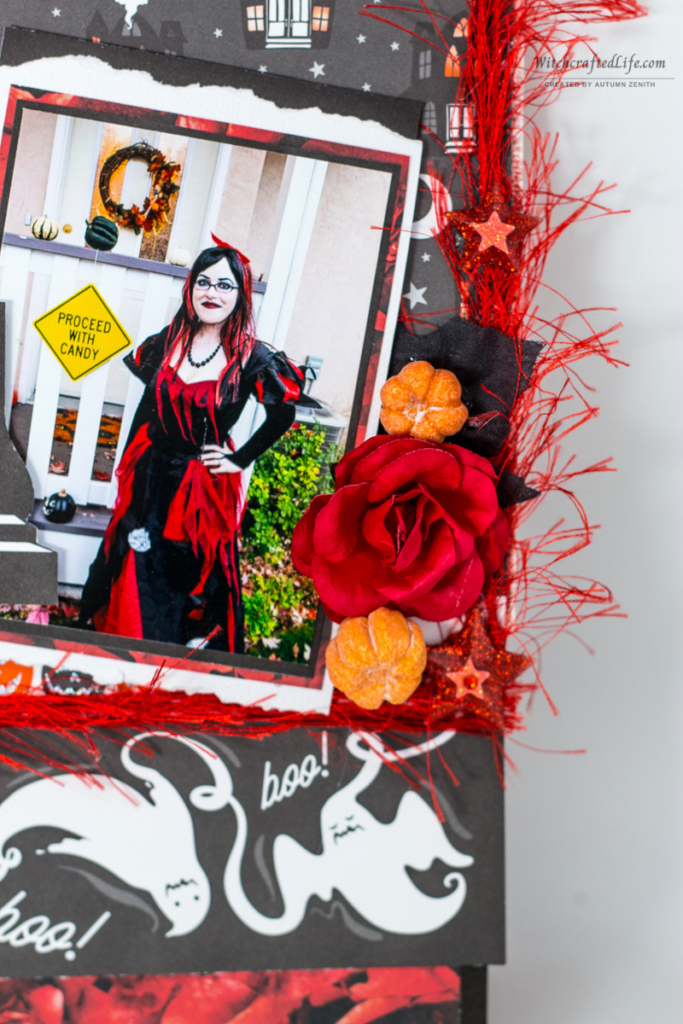 Mat both photos with black cardstock, rose print paper, white cardstock (tear top edge), and a final layer of black cardstock. Adhere to haunted house print paper.
Write out journaling on tombstone shaped journaling piece and adhere between photos.
Adhere red eyelash trim around a portion of the layout and top with eight Jolee's Boutique Red Star Cabochon embellishments, as shown.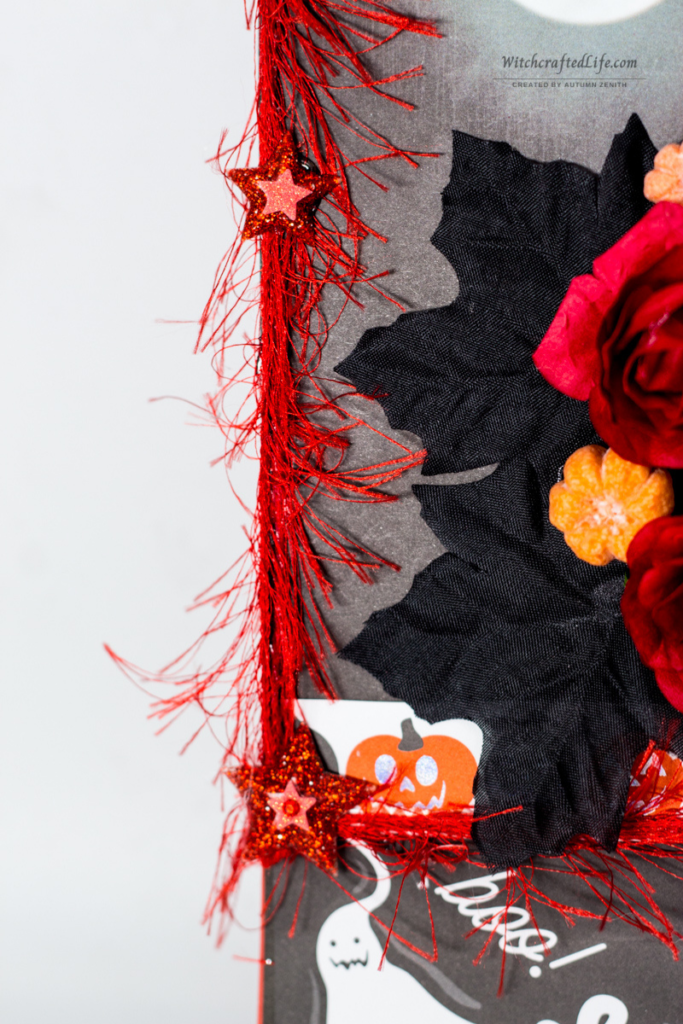 Arrange and adhere red paper roses, black fabric leaves, and Tim Holtz mini pumpkins around photos.
Spell out your desired layout title (in this case the word "Sinderella") using Thickers red foam letter stickers.
Sit back and let the exciting energy of Halloween night wash over you as you gaze upon your completed layout. 😃
(The journaling on this layout says: "For Halloween 2014, I dressed up as "Sinderella" – a wonderfully dark take on Cinderella. Such a fun, memorable night.")
The ghost of Halloween past 👻
So much has transpired in our lives since these photos were taken on Halloween 2014. Honestly, it feels like twenty or thirty years have elapsed since then, not "just" six, soon to be seven.
I'm grateful for the memories and photos that remain from that frightfully fa-boo-lous evening, just as I am for every experience and recollection from the thirty-six different Halloween nights I've experienced so far in my life.
These memories are happy, friendly ghosts of the Casper variety, if you will, that stoke the fires of my passion for Halloween and ensure that I get even more excited for All Hallows' Eve each year.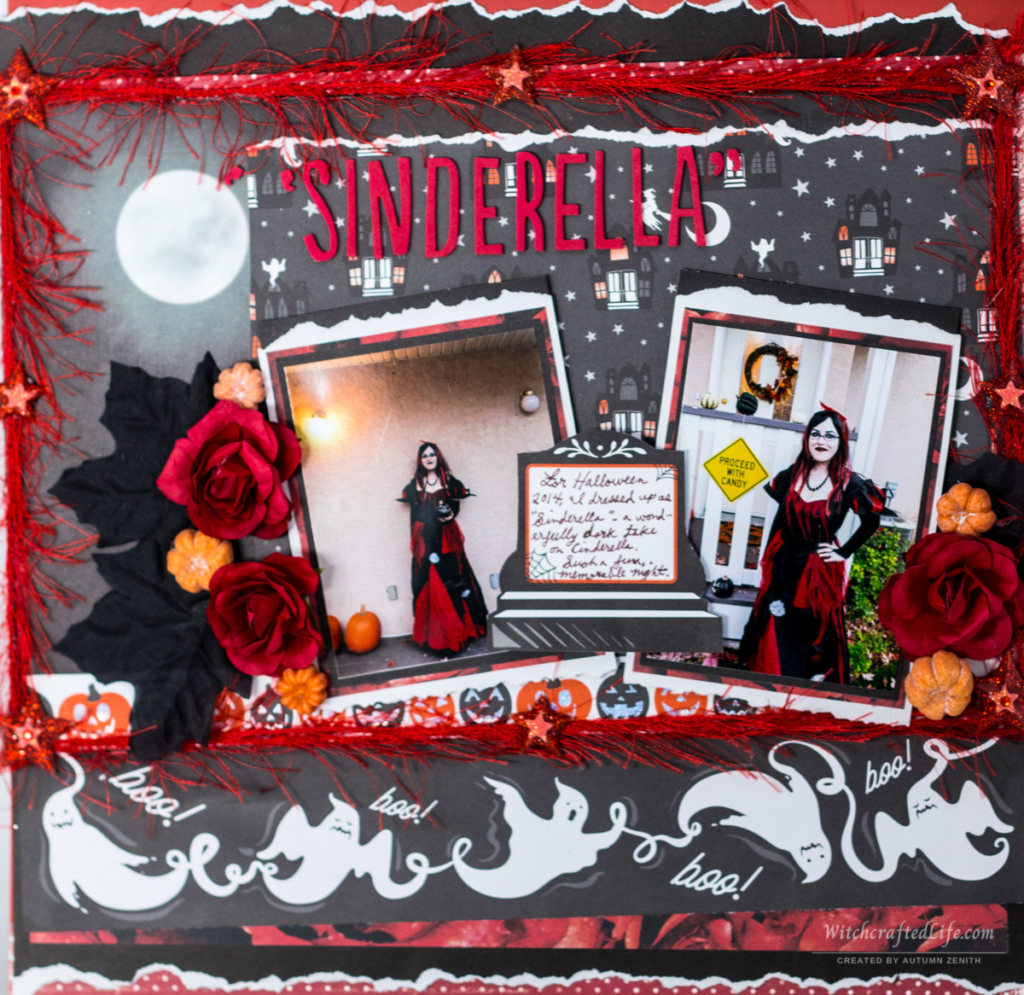 Much like creating Halloween themed projects, such as this sweetly spooky scrapbook layout, does as well! 🥰
Even before the fire, I did not have photos of every Halloween I've experienced, and following that fateful happening, I have far fewer still.
This is all the more reason why I'm actively scrapbooking those that I am fortunate to have and ensuring that we take new photos each October 31st.
Future layouts to, no doubt, follow! 😄
If you enjoy Halloween and aren't already doing so, I invite you to join me in scrapbooking your memories of this marvellous annual event and hope that you'll tag your craft projects with #MakeHalloween365 so that I can see (and be inspired by!) them, too. 🎃🌹🖤