Summer afternoon, summer afternoon; to me those have always been the two most beautiful words in the English language. — Henry James
This week is the first of summer. A season that, while not always the easiest to bear unless one lives for the heat, is utterly and completely gorgeous.
I can relate to the estimable Mr. James' words – though might personally swap "fall afternoon" in for summer. 😄
Though, that said, I have a deeply rooted love of summer and find many positives in the languid days of scorching sun, verdancy aplenty, outdoor living, and nights of enveloping, bathtub-like warmth that makes one feel extra glad for the blessing that is life.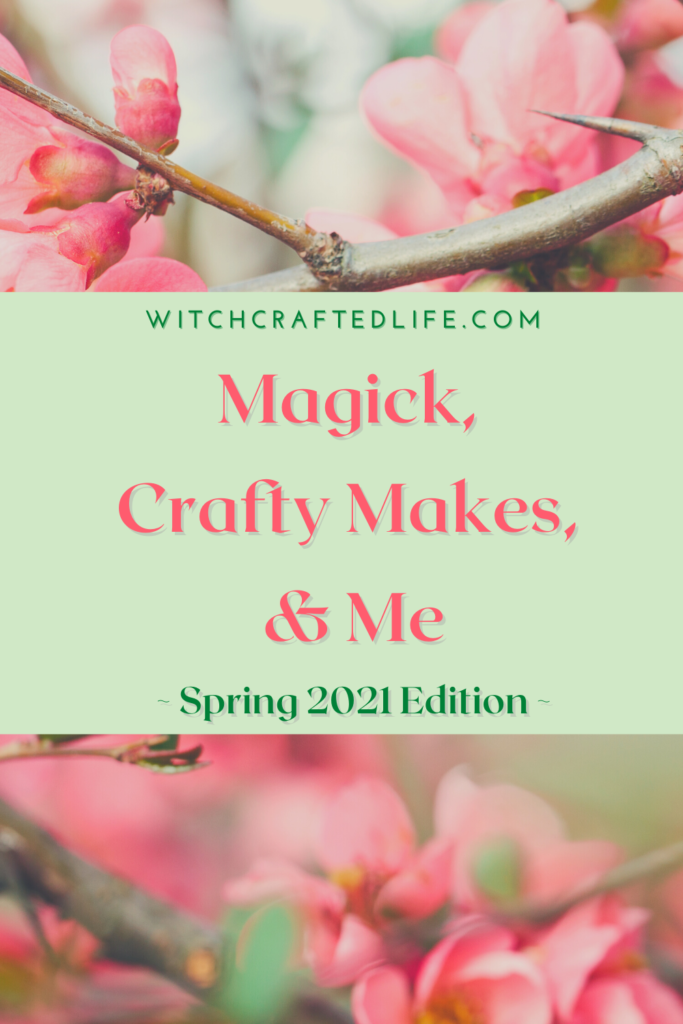 Before we get too far into the season of ice cream cones and sandcastles, however, let's pull up a folding camping chair (or a comfy hammock) and sink into enjoying some of the most inspiring, informative, or just plain interesting links that crossed my path during the spring of 2021.
(As well as the lowdown on some of what's been transpiring in my own life over the course of the season that just was.)
Magick, Witchcraft, Paganism, and Spirituality
–DIY Crescent Moon Incense Burner: From fellow Canadian witch, Breawna, comes this lovely, wonderfully easy to follow along with video that shows you how to make a crescent moon-shaped incense burner with a mere handful of basic crafting supplies. The end result is both beautiful and functional, and would make for a fantastic homemade gift to boot!
–DIY Magickal Slow Cooker Candles: No matter the season, candles are a mainstay in our home and in my witchy workings. Big or small, scented or unscented, white or coloured, handmade or store-bought, candles are always welcome under our roof.
I love finding new ways to make or utilize candles, and while we don't currently own a slow cooker/crockpot/Instant Pot, should one enter our lives again, I'm delighted to have this awesome DIY tutorial for making magickal candles in a slow cooker at the ready.
Should you have a slower cooker, and enjoy creating your own candles, this looks like a really fun and rewarding DIY project to whip up.
–Do Something Witchy Everyday: The message that drives this post is one that aligns greatly with my own practices, which often centre far less on OTT or complex workings and rituals, and much more on feasible, enjoyable, and diverse forms of everyday witchcraft.
If you've been looking to up your witchy workings or just need some ideas for meaningful ways to connect (all the more) with your witchy daily, swing by this I, Medusa post written by Anna Mist and be inspired.
–How to Officiate a Handfasting Step-by-Step: In many parts of the world, mid-spring to early fall is seen as wedding season, as nuptials proliferate during the sunny months.
If you're fortunate to be in the position of being able to officiate a handfasting ceremony, or are looking to find someone to officiate your own handfasting/Pagan wedding, this informative post on the subject from the beloved witchery blog Moody Moons is just the ticket.
–How Spirituality Benefits Highly Sensitive People: Spirituality is a profoundly personal and important element of many peoples' lives, and while certainly, by no means, the sole domain of highly sensitive individuals, those who identify as such often find immense benefit, comfort, and meaning in their spiritual journey.
This look at the subject was recently shared on the superb HSP-focused website, The Highly Sensitive Refuge. It resonated with me, just as I suspect it will with many of my fellow spiritually inclined HSPs and empaths.
–The 25 Most Important Witchcraft Books Ever Published: Whether you concur entirely with the list of entries on this engaging post from Jason Mankey (himself a renowned Pagan author) or not, chances are you will appreciate the significance and importance of each witchery related title highlighted therein.
I definitely did and, in the process, really appreciated the fact that Mankey arranged his list chronologically, thus further helping readers to understand all the more just how influential these books have been on multiple generations of witches over the years.
–20 Powerful Herbs for Protection: Like many a magickally inclined soul, I do my fair share of protection and guarding work. I'm a trusting person, but am far from naïve and I know that there are many forces at play in the world that we can use some extra protection against.
If protection magick strikes a chord with you as well, this helpful look at 20 Powerful Herbs for Protection is an excellent resource on the subject that feels all the more at home as we embrace the fresh greenery-filled season that is summer.
Card Making, Scrapbooking, Paper Crafting, and Other Crafts
–Crocheted Succulents Free Pattern: For those who are fortunate to possess crocheting skills, this free pattern for eye-catchingly wonderful crocheted succulents is bound to find favour – especially if also have a green thumb, enjoy green witchery, or simply swoon at the sight of succulents.
–DIY (Paper Crafting) Jewelry Box Tutorial: As someone with an immense fondness for jewelry, it may come as no surprise that I'm also rather partial to jewelry boxes that can house my beloved wee collection of beads, baubles, and brooches.
The idea of creating one's own jewelry box is really appealing to me, so when Graphic 45 recently shared a handy tutorial detailing just that, I bookmarked it for myself and knew I wanted to share it here with all of you as well.
Beyond serving "just" as a jewelry box, this project could be used to store any number of small items, from thimbles to dried flowers, crystals to marbles – and can be customized to your heart's content, depending on the materials that you employ.
(And speaking of Graphic 45, I really like this beautiful summertime perfect beach-themed mini album that was shared on their blog a few days ago.)
–DIY Terracotta Essential Oil Diffuser & Car Air Freshener: My recent Litha season post, 15 Essential Oils That Are Perfect the Summer Solstice, has put me in even more of an essential oil mood than usual (which, given my passion for this subject, is saying a lot! 😄).
Combine essential oils with a fun DIY project and I'm there faster than you can say "take a whiff!"
If these are topics that tickle your fancy (not to mention your olfactory sense) as well, be sure to check out Cintia's fantastic tutorial on how to make your very own DIY terracotta essential oil diffuser and car air freshener.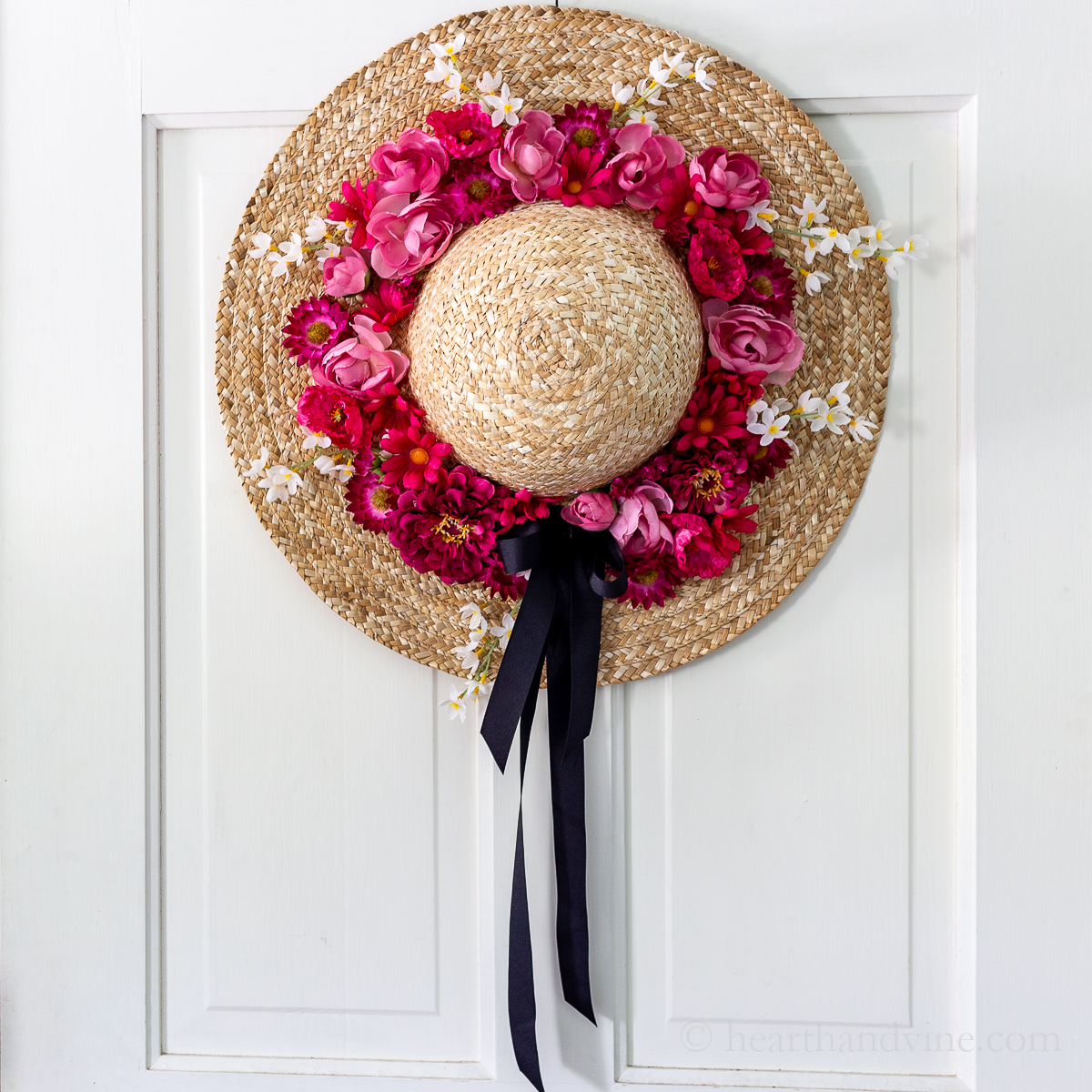 –DIY Summer Wreath from a Straw Hat: A sizable smile spread across my face the moment I spied Patti's wonderful tutorial for making a strikingly pretty summer wreath from a straw hat.
Like many who experienced the 1980s and early 90s firsthand, I well remember when decorative straw hat home décor was having a serious moment.
Indeed, straw hat wreaths hung both in my family's home and in those of multiple relatives for many years. I even had one in my own bedroom for a few years during my early childhood.
It's fantastic to see this charming way of dressing up classic straw hats finding favour again (I suspect that the recent trend for #cottagecore and similar aesthetics is doing its part on that front).
If you're keen to rekindle a trend or to experience straw hat home décor for the first time, follow Patti's lead and adore your home with an attractive DIY straw hat wreath.
–Easy DIY Earrings You Can Make on a Budget: Fun fact, I've been creating handmade jewelry since I was a child and had a fun little side business selling handmade nickel-free jewelry for a time during my teens and early adult years.
While the arson fire that we experienced back in 2016 completely destroyed my stash of jewelry making supplies, my love of this endlessly versatile (not to mention, practical) art form has never left me.
Little by little, I've gathered a few jewelry making materials again and hope to continue to do so as time goes on.
One needn't have a plethora of supplies (or a lavish budget) to create wonderful handmade jewelry. A few basic items, some inspiration, and a desire are usually all it takes to do just that – as the more than 40 projects highlighted in this terrific post over on the Mod Podge blog amply demonstrate.
–How to Setup a Portable Craft Space: As awesome as it would be for every crafter to have a large, roomy space in which to craft to their heart's content, the fact of the matter is that for many of us that simply isn't feasible.
Naturally, lack of space for a big craft room shouldn't prevent one from getting their creativity on all the same.
And by the same token, sometimes even those with their own craft rooms, shed sheds, etc enjoy having a portable crafting station elsewhere in their home (say in the family room or den, for example).
If you've been curious about how to set up a portable craft space that can be placed wherever is most convenient/functional for you in your house, I highly suggest checking out Bea Valiant's great photo-filled post on how to do just that.
–Zippered Pouch Tutorial (Using Scrapbook Paper): Ever looked at some of your favourite papers or cardstocks and thought that they'd look fabulous as a zippered pouch?
Whether the answer to that question is yes or no, chances are you'll be intrigued and inspired by this lovely tutorial shared by Split Coast Stamper member Betty Traciak which shows you how to do just that.
Just think of the endless possibilities, from gifts to practical storage, holiday and home décor to an instant conversation starter at your next crop!
What's Shaking in My Life and On My Radar
Where to begin?
I've thought about this portion of this very blog post many times over the course of the past several weeks. In a sense, there is a lot I want to say, and yet perhaps even more that I would prefer to keep to myself for the time being.
As those of you who follow me on Instagram may have noticed, I have not been on IG (which is my primary social media platform) much at all in recent weeks.
There have been various reasons for that, with two in particular accounting for the lion's share of why this has been the case.
First and foremost, in recent months I have been dealing with some perplexing and challenging new medical issues that are (true to form a lot of the time when it comes to my health) proving very difficult to unearth answers/diagnoses for.
At present, I am not going to go into specifics publicly about these issues – especially until I have some solid answers as to what it is that I am actually contending with.
On top of the physical issues themselves, this newest medical battle (for those readers who may not know, I have been a multi-chronic illness fighter of more than a dozen different chronic medical conditions for twenty years now) – and the frustration, stress, and uncertainty that comes with fighting tirelessly for a diagnosis – is having a substantial impact on my mental health.
Between the physical and mental challenges, what little (personal) time I have been able to carve out online has mostly been devoting to blogging.
Thus far, much to my surprise at times, I have been able to keep up with my usual pace of at least one blog post here per week. While I accept that either by choice or circumstances, there may be times when that isn't feasible, I hope/plan to continue on at that pace this summer.
Compounding matters and much to my great unhappiness, the severity of what I am dealing with on the health front at the moment has meant that my initial plans of launching my ASMR YouTube channel this spring didn't even come close to happening. 😔
I am fully committed to this long-held dream and will do everything in my power to create content and get that channel off the ground as soon as I realistically can.
At this point, I don't know when exactly that will be. I really hope it can happen in 2021.
If not though, I will just keep trying even harder for it to happen the following year (and will continue to keep you informed here and on SM as to when that exciting event occurs).
The second primary reason is a lot more positive. Long story short, several weeks ago now, my husband and I put in a bid on a contract job to create the ecommerce website for a local outdoor goods store here in town and were very fortunate to win that bid.
This project is labour heavy for both of us and on a very tight deadline. As such we've been devoting a great deal of time over the past couple of months to this job.
It isn't complete quite yet, but is definitely getting a lot closer. Very exciting! 🥳
Aside from those two points, which are, I'm the first to say, quite different from one another, some of what's been happening around these parts include…
Having central air installed in our house. We live in one of the hottest regions in all of Canada (case in point, multiple days next week are forecasted to reach highs of 40 – 44C/104 – 111F) and have struggled a fair bit to live in a house without this feature since moving into our current abode in early 2018.
Thankfully, the installation went smoothly, quickly, and without any complications.
As anyone who has had central air installed in recent years will no doubt tell you, this is not an inexpensive job at all – which is the main reason it didn't happen right out of the gate when we moved in.
Tony and I feel that the cost is well worth it though for the quality of life and health benefits it brings not only to us, but to our precious dog (Annie) as well, and know we made the right choice in having central air installed in our house.
By pure coincidence, on the very same day that installation happened, I received my first Covid-19 vaccine.
I registered for it as soon as my age bracket (those under 40) became eligible to do so and was told I'd receive an email prior to the end of May informing of when and where I could book my first shot.
In the final days of the month, I did indeed get that email and then proceeded to book the first slot on the first date that was available to me.
Not being the world's healthiest person, I was a tad concerned regarding how my body might handle the vaccine. I am (very!) happy to report that aside from a minorly sore arm and a bit of lethargy for about 72 hours afterwards, I didn't experience any issues (let alone serious ones) from the shot.
I was told by the nurse who administered my Covid vaccine that I should be contacted by the provincial health system in about 6 – 8 weeks regarding when I can book my second shot.
It is such a positive feeling to know that I am partially vaccinated and that in getting my shot, I am continuing to do everything I can to not contract nor, moreover, risk spreading this terrible illness.
So, assuming all goes to plan, I should get my second shot in the later weeks of summer and will thus be vaccinated in full by the time my very favourite chapter of the year (autumn) rolls around once more. 🙏
We've just covered a lot of ground and as I don't want to keep you here reading until fall does in fact return, without further ado, let me jump right into sharing some of the various links that stood out for me during the spring of 2021.
–Exquisitely Designed 2,000-Year-Old Roman Shoe Discovered in a Well: Boasting skilled handiwork and a design that would put it seriously on-trend to this day, it's hard not to stare and marvel at the beauty of this exceedingly rare archaeological find.
–How to Compliment Someone Without Mentioning Their Looks: As much as many people enjoy receiving positive words about their appearance, not everyone is equally comfortable with these kinds of comments and, moreover, there are countless other things to complement most folks on besides "just" their physical appearance.
This Wit & Delight entry explores the subject of non-physical appearance focused compliments and provides an array of terrific suggestions for what to say instead.
–Listen to Random Radio Stations from Around the World: At the end of the 1970s, British new wave/synth-pop group the Buggles made the line "video killed the radio star" an instant classic with their eponymously named song.
By the dawn of the twenty-first century, one could easily state that the internet had, in turn, usurped the video star (at least as far as the music industry is concerned).
However, while fewer of us may tune into the radio daily than we once did, this world-changing form of media is, in truth and very happily, far from dead.
If you're in the mood to sample a station (or dozens of stations) from around the world, then make your way across the world map on this website until you find one that is a – *cough, cough* – hit with you.
–9 Things to Try if You Hate Social Media But Don't Actually Want to Quit: Whether you loath SM or just find yourself feeling seriously burned out or "over it" at times, the practical and supportive tips in this post are ones that stand to benefit just about everyone who opts to engage with social media.
–Plants Might Be Helping Each Other More Than Thought: The world plants and the profoundly interconnected relationships shared between many species fascinates me greatly. For all we know on this subject, there are untold volumes more that remain to be discovered – as this captivating look at how certain plants may in fact help, not compete, with one another demonstrates.
(Another Phys.Org post that recently caught my attention was this fascinating story about the recent discovery of a 3,000 Year Old Shark Attack Victim.)
–What Would a Truly Wild Ireland Look Like?: Once, in a time now long past, I called Ireland home for the span of a couple years.
Make no mistakes, Ireland is everything and more you imagine it to be and is a country with an extraordinary past that deserves our respect and research alike.
Like many corners of the globe, Ireland – for all of its pastoral farmlands, rolling hills, and windswept shoreline – is not quite as wild a country as it once was.
This thought-provoking BBC post by Chris Baraniuk asks us to imagine what a truly wild Ireland might look like and explores the feasibility of rewilding the landscape of this majestic nation to a greater degree.
–Why a Clutter Free Life is an Intentional Life: I am not a minimalist, nor am I a maximalist. I can exist quite contently with very little or with a fair bit more, but no matter what volume of belongings fill my home, I cannot abide by clutter.
I weed out clutter at every turn, thankful that organizing and (possession) purging are both tasks I sincerely enjoy.
Having long believed and experienced (the fact) that a clutter-free life feels, and is, all the more intentionally lived, this lovely post on the subject reverberated with me.
Its message is one most of us can connect with, especially if we also find our lives, minds, and spirits tend to feel and work their best when clutter is kept as low as possible.
Summer Lovin'
In the late hours of a July night so warm it gave furnaces everywhere a run for there money – and which would break into a rapturously loud storm before dawn had broke – I came into the world nearly thirty-seven years ago now.
And while there is no hard and fast rule that says a person has to love the season into which they were born, I adore mine with even more fiery passion than that of the sun which fuels the vibrancy of summer itself.
I am a lover of all seasons though. Each is a kindred spirit, a treasured friend, a vital element of life itself.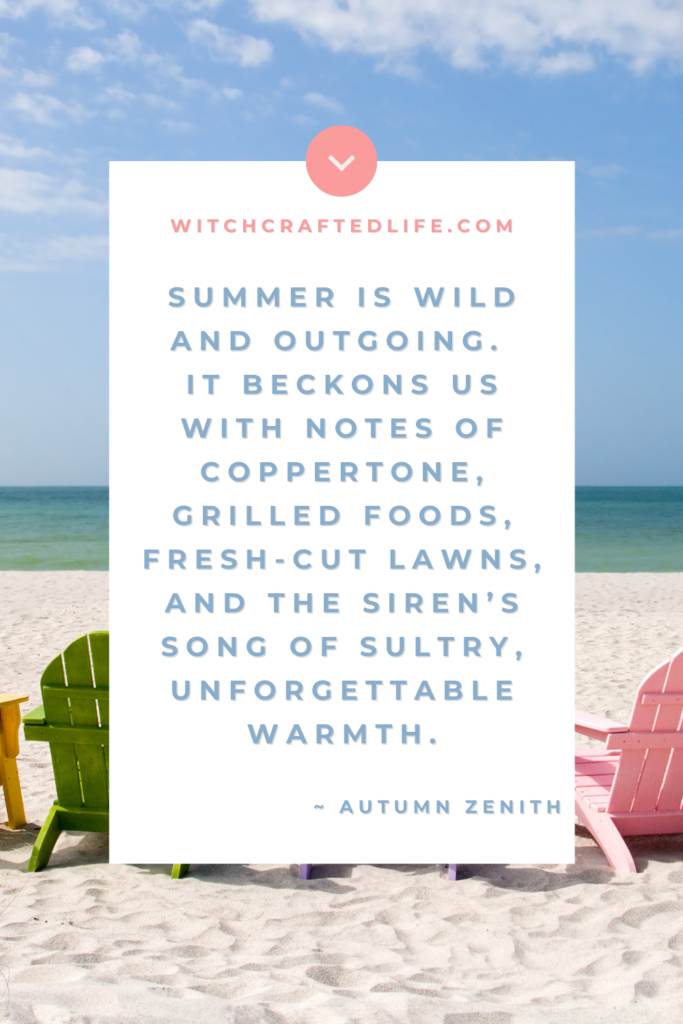 Summer is wild and outgoing. It beckons us with notes of Coppertone, grilled foods, fresh-cut lawns, and the siren's song of sultry, unforgettable warmth.
In summer, I find, it is often easier to forget our troubles. Or, if we cannot banish them from our mind entirely, at least (it becomes) a touch easier to navigate their waters.
I would venture to call summer the most chill of season. It is laidback and cool. Enigmatic, yet wildly and wonderfully familiar.
Summer begins in a sea of green life and concludes with the first lag of the harvest season.
In many parts of the globe, summer bridges the chilly portions of the year, has an inherent air of playfulness to it, and will be yearned for something fierce when – to quote the classic holiday season song Good King Wenceslas – snow lays round about, deep and crisp and even.
At the moment, the world is beginning, in some respects to rebound from the ongoing Covid-19 pandemic. This heartbreaking illness is still with us though, still causing new cases to develop daily, still impacting countless areas of our lives.
Like most people, I hope dearly that by this time next year, the pandemic will be over. The realist in me might not place any bets on that being the case, but my optimistic side holds onto hope with gusto.
Just as I hope mightily that at least some of the medical challenges I am currently experiencing personally will be less of an issue by this time next year. (Fingers firmly crossed!)
No matter what obstacles, curveballs, or stresses life throws my way, that fact autumn is now less than three months away injects some serious happiness into my days and makes getting through difficult times more tolerable. 🎃
Summer doesn't too shabby a job of that either. From Canada Day on July 1st to my birthday later that month, Lammas in early August to simple everyday warm weather pleasure, this is a positive and life-affirming chapter of the year that gives many of us a lot to enjoy and feel grateful for.
So, my dear friends, let us tackle whatever summer may hold, make the most of these sizzling hot days, do our best to overcome difficult times, and know that, no matter what (north of the equator), summer always leads to fall's return.
If that isn't worth raising a glass of ice cold lemonade to, I don't know what is! 🥂
Happy summer, everyone! May you have a safe, sunny, and seriously enjoyable season! 🍒☀️🌺