There is something wonderfully special about the birthdays of each different nation around the globe. Both Canada and its only neighbouring country, America, celebrate their own b-days in the sizzling hot month of July.
Falling on July 1st, Canada Day kicks off the seventh month of the year and is a beautiful, fun-filled and highly meaningful day of cheery national pride from coast-to-coast.
While handmade Canada Day cards are certainly not unknown (indeed, I have a Pinterest board dedicated just to Canada Day Cards), I find myself surprised at times that there aren't considerably more cards for July 1st shared online.
One new card might not raise the ranks there too much, but it certainly does its own wee part. To that end, today I'm sharing an elegant shabby chic Canada Day card that I recently created.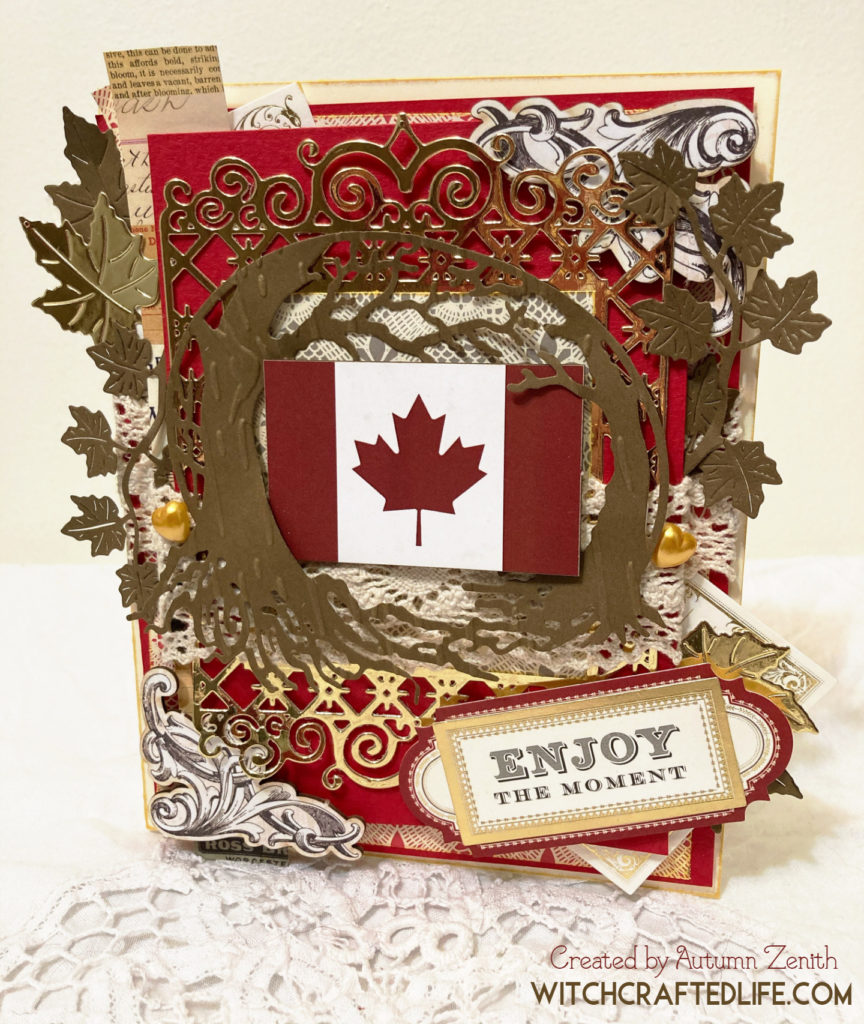 This card is my favourite Canada Day paper crafting project that I've made to date. Now I just need to decide who I'm going to give it to!
That said though, I love it so much that I'm half tempted to hold onto it and use this festive July 1st card as part of our annual Canada Day home décor. 😃
Enjoy the Moment Shabby Chic Canada Day Card
Various companies, such as Wild Whisper Designs and Photoplay, have released Canadian themed paper crafting products over the years, though not too many brands have focused specifically on Canada Day itself.
Save for the chipboard pieces (including the chipboard Canadian flag), I didn't turn to any of these Canadiana type lines for this particular project.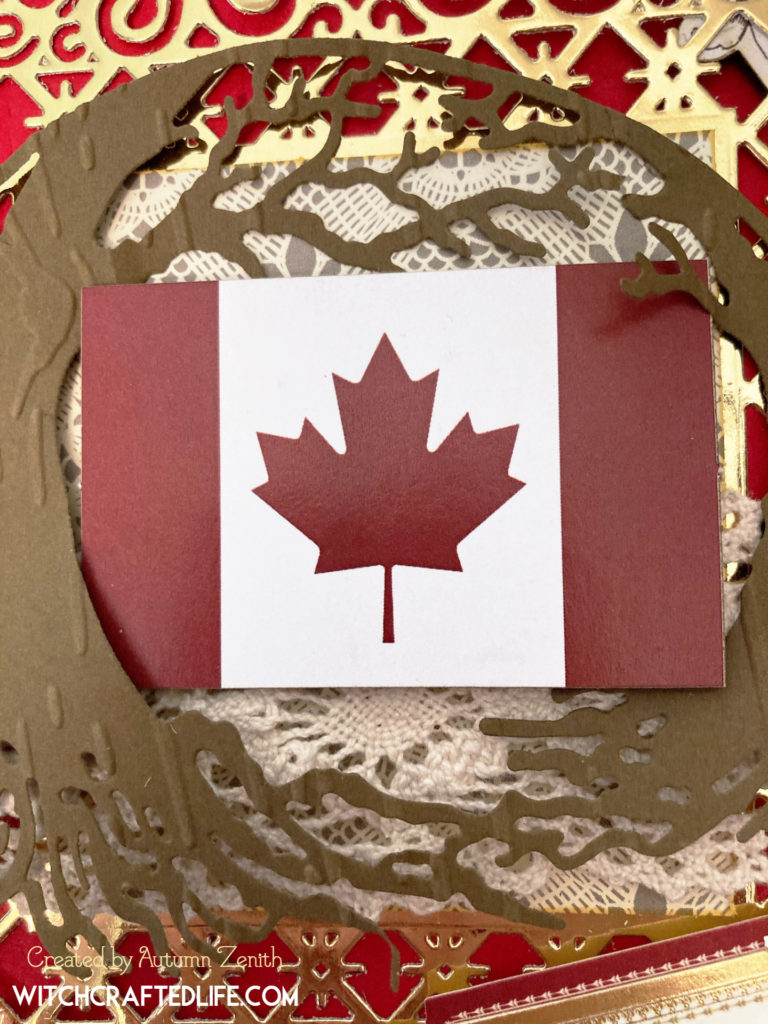 I went into making this Canada Day card by knowing that I wanted to use a classic red and white palette, as those are the two colours that comprise the Canadian flag.
You could certainly stop there and have a fabulously festive make on your hands. I'm rarely one to make an understated paper crafting project though, so I injected some sophisticated hits of cream and gold, as well as an earthy shade of brown, into the mix.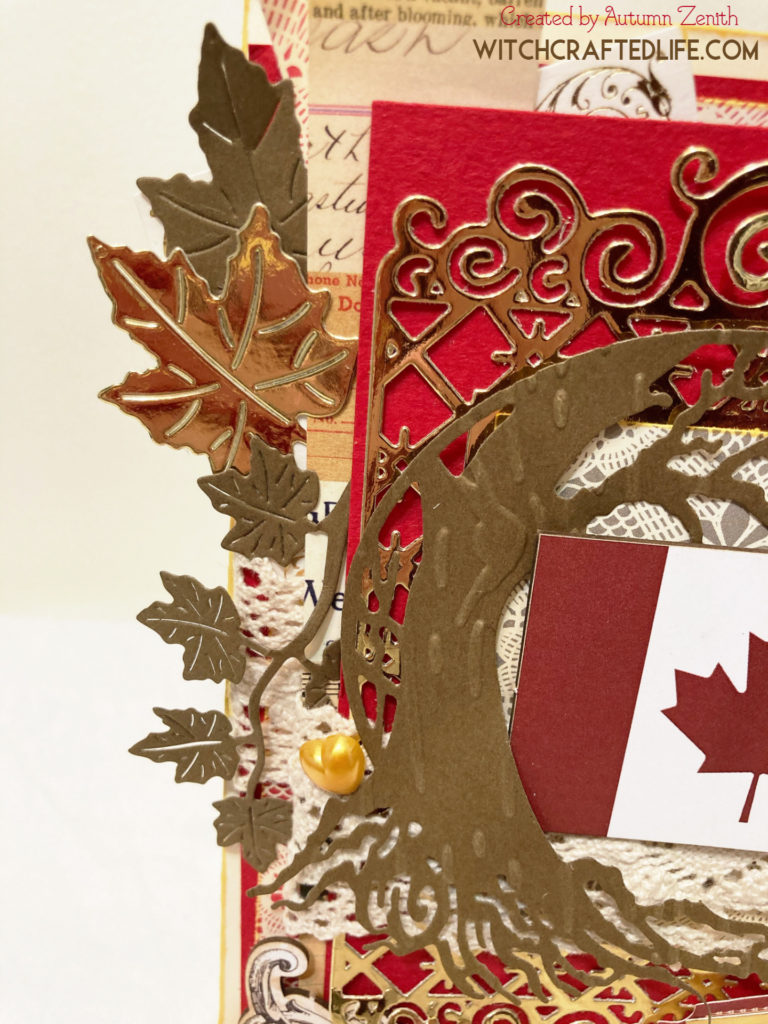 I felt the brown both complimented the other colours and was a great nod to the abundance of outdoor activities – from camping trips to fireworks shows watched while sitting on the beach – that this colour calls to mind.
Initially, I'd envisioned even more dimensional elements – such as paper flowers or rhinestones – but when all was said and done, this handmade Canada Day card felt like it had enough going on as it was, so I refrained from adding more to it.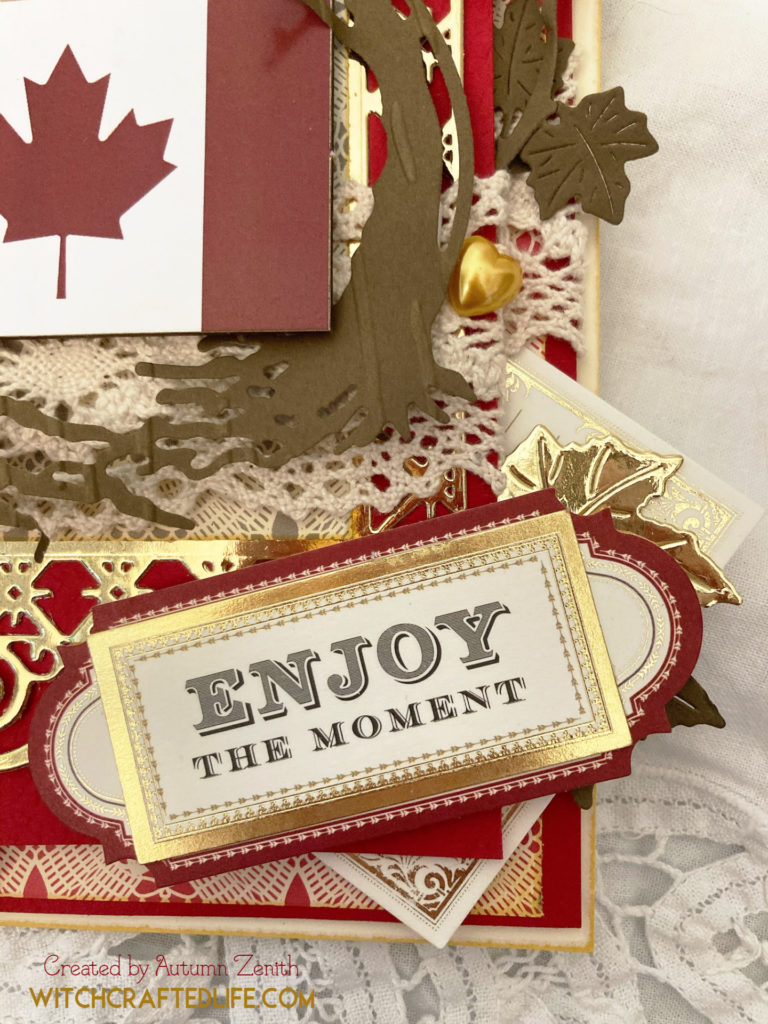 The sentiment hails from a lovely little package of ephemera pieces from Anna Griffin. I'm a massive fan of her work and product line, though find it almost as tricky to track down unicorns and mermaids here on Canadian soil as it is to source her products in this country.
Scrapbook.com carries a small selection these days, as do various other US scrapbook supply websites – and of course, there's always Anna Griffin's official online store (as well as her TSC and QVC lines), plus community marketplace sites such as eBay and Etsy.
Still, for those of us on a tight budget and/or who prefer to purchase our paper crafting supplies locally, it can be tough at times to find Anna Griffin products on this side of the 49th.
However, that just makes me treasure the tiny handful of them that I do presently have in my stash all the more.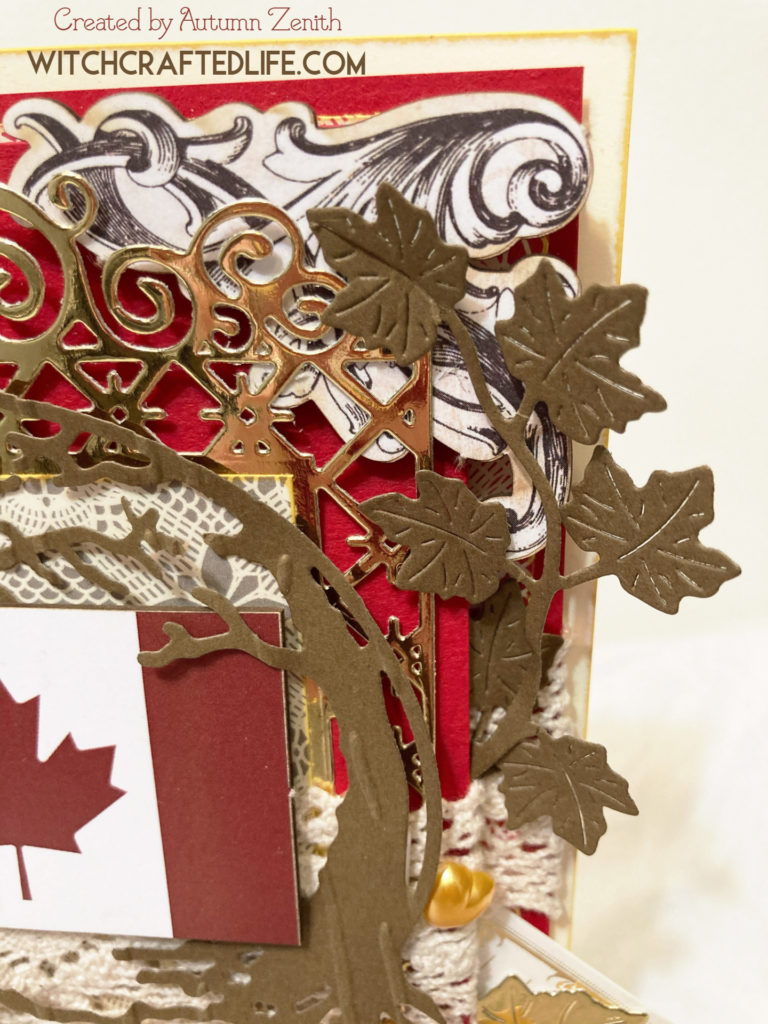 Maple leaves are as emblematic a symbol of Canada as they come, so on top of the chipboard Canadian flag itself, I included some die cut maple leaves here in a mix of brown and metallic gold cardstock.
If you don't have gold cardstock or mirri (mirror) card, you could always use gold glitter paper instead (or emboss your die cut maple leaves with gold embossing power).
As with most of my projects, there's an air of femininity and yesteryear style to this design, coupled with a dose of classic shabby chic charm.
One could easily scale back on certain elements – such as the crochet trim and heart flatback pearls – if you wanted to make a more masculine design.
Indeed, this card could easily, come to think of it, work splendidly – right down to the "Enjoy the Moment" sentiment – as a birthday greeting for any gender.
Cardmaking tips and tricks from this project
-While just about all reds can look elegant in the right context, true and blue based reds tend to have a certain ingrained sophistication to them that can help a card or other project look all the more formal.
-If you're working with a paper pad, pack or loose sheets and have two or more papers with the same (or similar) prints in different colours – such as the red and grey doily print papers here – combining them on the same project is a great way to add instant cohesiveness to your design.
-Embossing and die cutting (or vice versa, though delicate parts of various die cut shapes may hold up better if you emboss your paper or cardstock first and then die cut it) the same paper or cardstock is a great way to get an even more eye-catching and detailed element for your project.
In this case, I ran my brown cardstock through my die cutting machine inside of the Birch Texture Fade embossing folder by Tim Holtz for Sizzix, then die cut it using a tree frame die. I didn't ink or otherwise jazz up my die cut frame further, but one certainly could if so desired.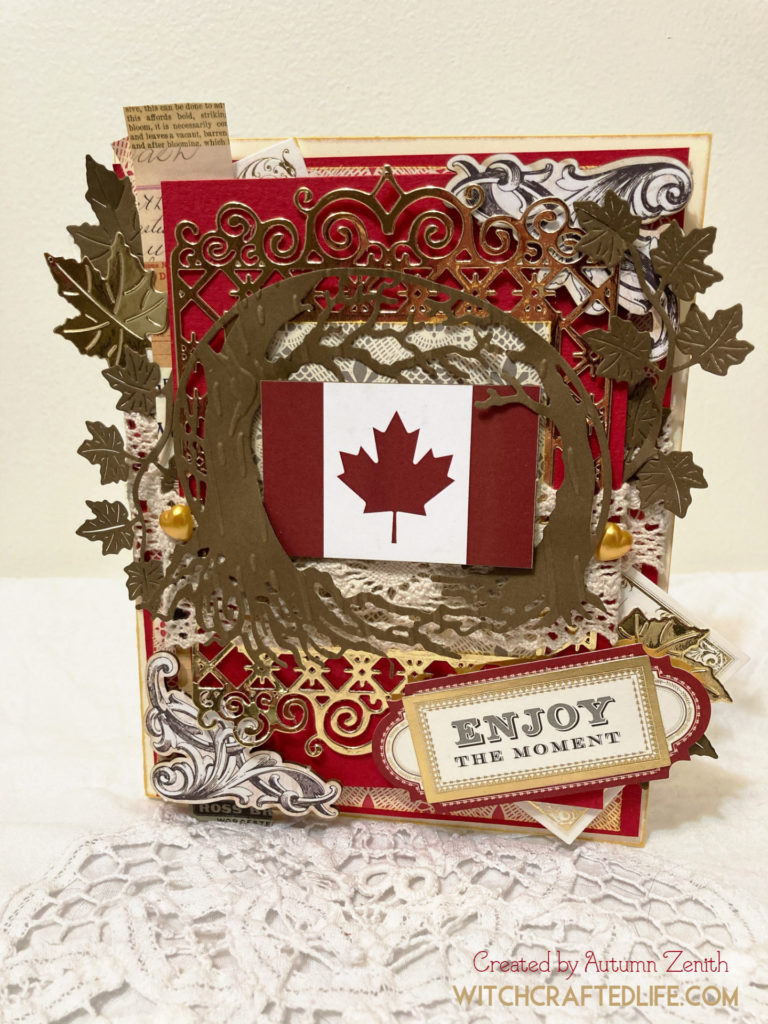 –Ornate frames and other intricate shaped pieces die cut in metallic cardstock always look stunning and are a fantastic way to glam up most any paper crafting project.
-If you don't have crochet trim on hand, lace, multiple layers of twine or string, raffia, burlap, thin cork, die cut boarder strips, or even a rub-on design could be used here instead.
-Inking the edges of your cardstock base (in this case, the cream cardstock base) is a terrific way to inject additional colour, visual depth, and interest without adding further weight to a card design.
It's also an ideal approach when you want a given colour (or colours) to appear again in your design for a greater sense of cohesiveness or, conversely, to contrast and really standout.
In this case, I used an aged yellow coloured ink mini ink cube from Pink & Main to ink the edges of my cream card base, and then used the same ink on the edges of the red and grey doily patterned papers.
How to make this elegant Canadian flag themed Canada Day card
I started with a base of cream cardstock to which I added a large piece of dark red cardstock, followed by various patterned papers (inking the edges of the cream cardstock and the doily print papers, as mentioned above).
Then I die cut my ornate frame from gold cardstock, the tree frame from brown cardstock, and leaves from a mixture of brown and gold cardstock.
Next I wrapped a piece of cream crochet trim around some of my base layers and another piece of the same trim around my secondary base layer (with foam squares between the two base layers), selected some ephemera pieces to tuck behind some of my design elements, and settled on the final arrangement for this Canada Day card.
Having done that, I assembled the various elements, added the Canadian flag and scrolling decorative corner chipboard pieces, and finished off by adorning this festive card with two cute little gold-toned plastic flatback pearl heart embellishments.
That's all there was to it. Easy as maple pie! 😊 )
Products used to make this festive Canada Day card
-Brown, red, and cream cardstock
-Gold metallic cardstock – Special Gold Bright Metallic Paper from Kodamaa
-Various printed papers – Farmhouse 8×8 inch paper pad from October Afternoon
-Yellow ink pad – Street Light Surface Ink from Pink & Main
-Fancy decorative boarder die
-Tree frame die
-Leaf vine and maple leaf dies
-Woodgrain embossing folder – Birch Texture Fade by Tim Holtz from Sizzix
-Canadian flag and decorative flourish corner chipboard pieces – Explore Canada Chipboard Pieces from Scrapbook Customs
-Assorted ephemera pieces – Jolie Collection Titles, Tags and Quotes – from Anna Griffin
-Gold toned plastic heart shaped flatback pearls (I sourced these from AliExpress a while back)
-Cream crochet trim
-Dimensional foam, pop dots, or similar to elevate some of your layers
-Adhesive, such as a tape runner, of your choice (I often use my Scotch Tape Glider)
Celebrate Canada Day with your own cards, scrapbook pages and other projects!
Not Canadian? No worries! What about a scrapbook page that pertains to Canada, such as a holiday you've taken here, five things that make you think of Canada, your favourite Canadian entertainer, author or musician; or the Canadian animal you adore the most?
If that's not your (Saskatoon berry) jam, why not use this design as a jumping-off point for a card or other paper crafting project that celebrates your own country's birthday/founding date or another event that is significant to your respective nation instead?
Whether you live in the country of your birth or an adopted homeland, there's often much to celebrate and adore about the nation that one currently calls their own.
Our paper crafting makes can be a stellar way to let our feelings (positive, negative, and everything in between) about our country shine out today and, in the process, potentially be documented for future generations as well.
Or, in the case of cards, which may not always be passed down to the same degree as scrapbook pages, as a terrific way to share in some national pride and celebratory spirit with your loved ones near and far.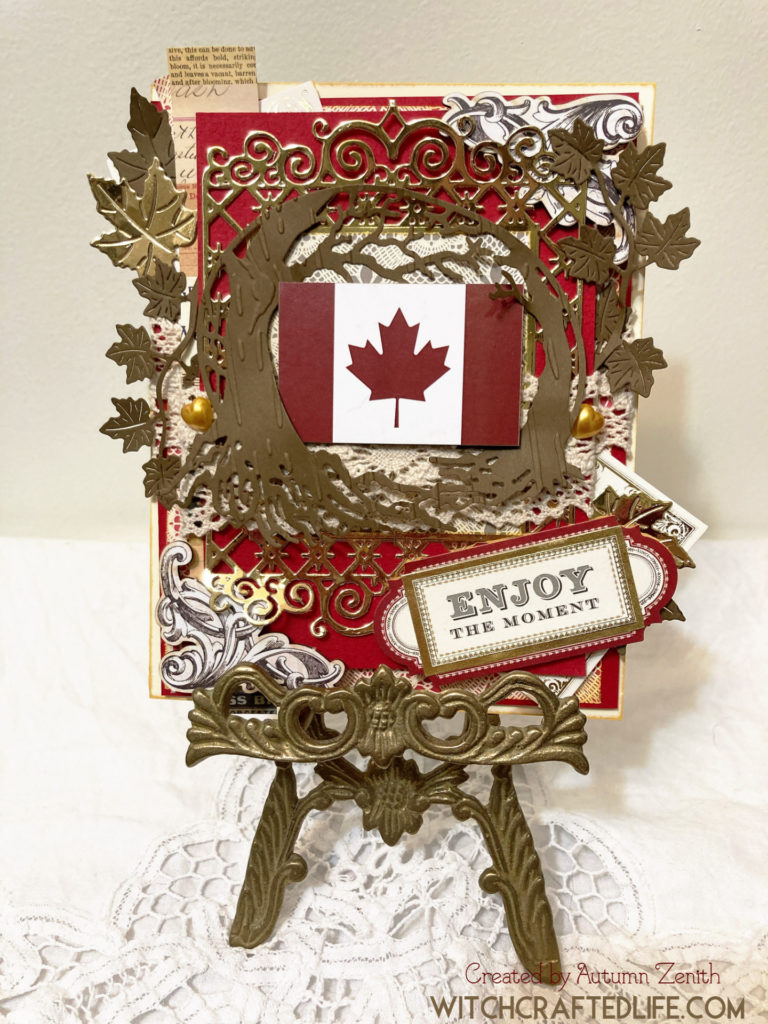 Tempting though it may be to squirrel this card away and use it as part of our Canada Day decorations, I do think I'll take my own advice there and share it with a fellow Canadian who is close to my heart, eh!
Do you enjoy making cards for your country's birthday? Have you ever made a Canada Day card before? 🇨🇦
Project share
Pin the image below – or any other in this post – to Pinterest, pop it into your Instagram Stories, post in on Twitter or Facebook, or share it anywhere else you wish to help yourself find it again and to inspire others at the same time.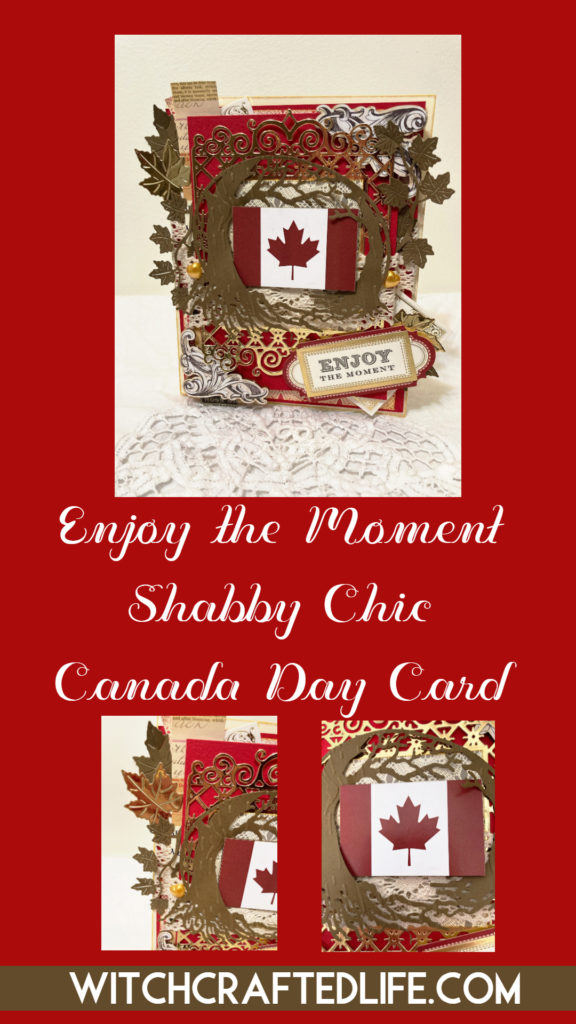 If you make a project based on or inspired by this card – or want to share any of your other handmade crafts with me – please use the hashtags #WitchcraftedLife and #WitchcraftedLifeMakes on social media so that I see can your beautiful creations.