Precisely one month spans the chasm between now and fall's first breath.
In turn, give or take a few days, there is about a month before the next edition of my quarterly blog post series, Magick, Crafty Makes, and Me.
I tend to save the majority of my life updates and accounts of recent happening for those posts. Sometimes, however, I want or need to speak about topical happenings in the moment.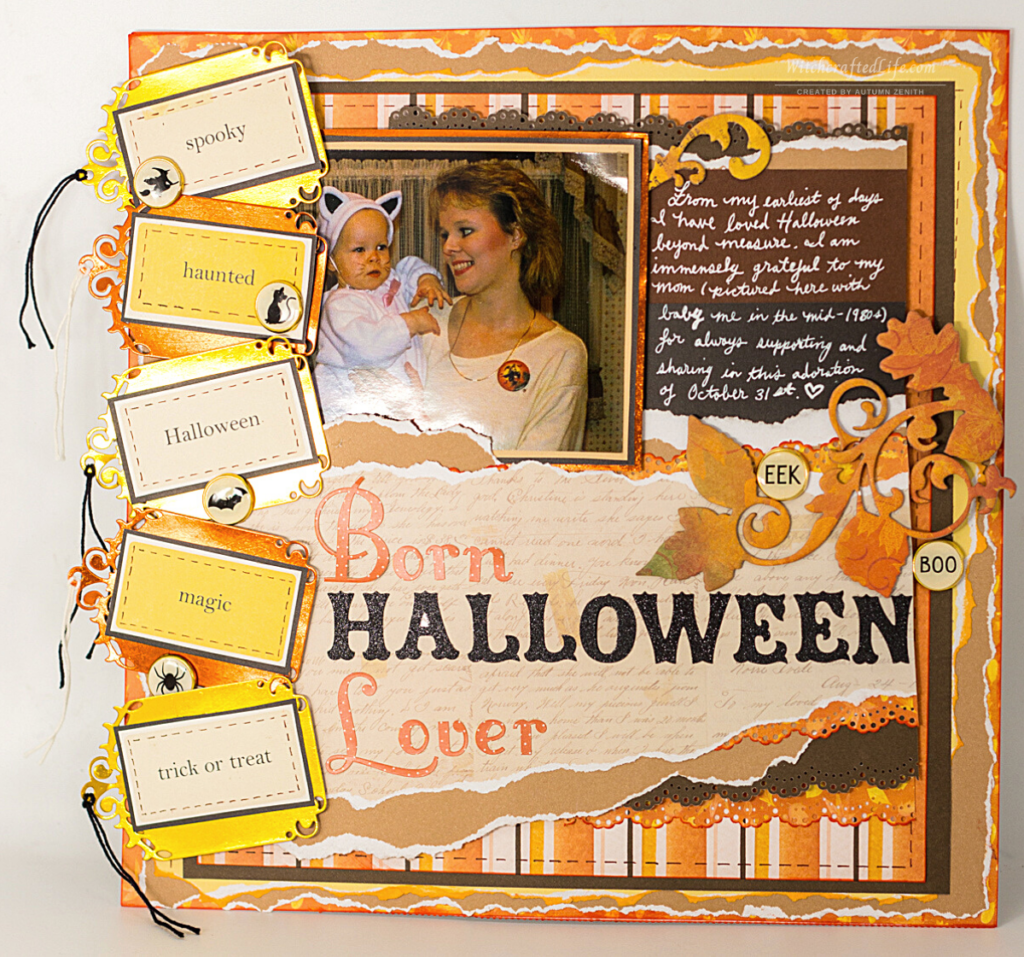 Before we launch into the #MakeHalloween365 project share that is at the heart of today's post (sneak peek above), I am going to do just that for a little while.
The local BC wildfire situation here in the North Okanagan
There are certain things in life, including some that are far from ideal, which become part and parcel to our years.
For those in various corners of the world, one of those is an annual forest fire season.
Typically beginning in earnest come May or June and running until September or even October here in our area, this season isn't exactly one to get excited about.
We live in Canada's most westerly province of British Columbia, a portion of the country that is often amongst (if not "the") hardest hit each year by wildfires in this nation.
The wildfire season of 2021 has been especially brutal. Record smashing temperatures, exceedingly little rainfall in many parts of the province, and other climate change-related impacts have brought about one of the worst summers BC has ever experienced from a forest fire perspective.
As I shared in my Instagram Stories a few days ago, Tony and I have, at times as of late, been put on wildfire evacuation alert.
Mercifully, however, we have not actually had to evacuate our home yet, nor has our property/neighbourhood come under immediate threat of likely destruction.
That isn't to say things haven't been tense or stressful at points. They certainly have been.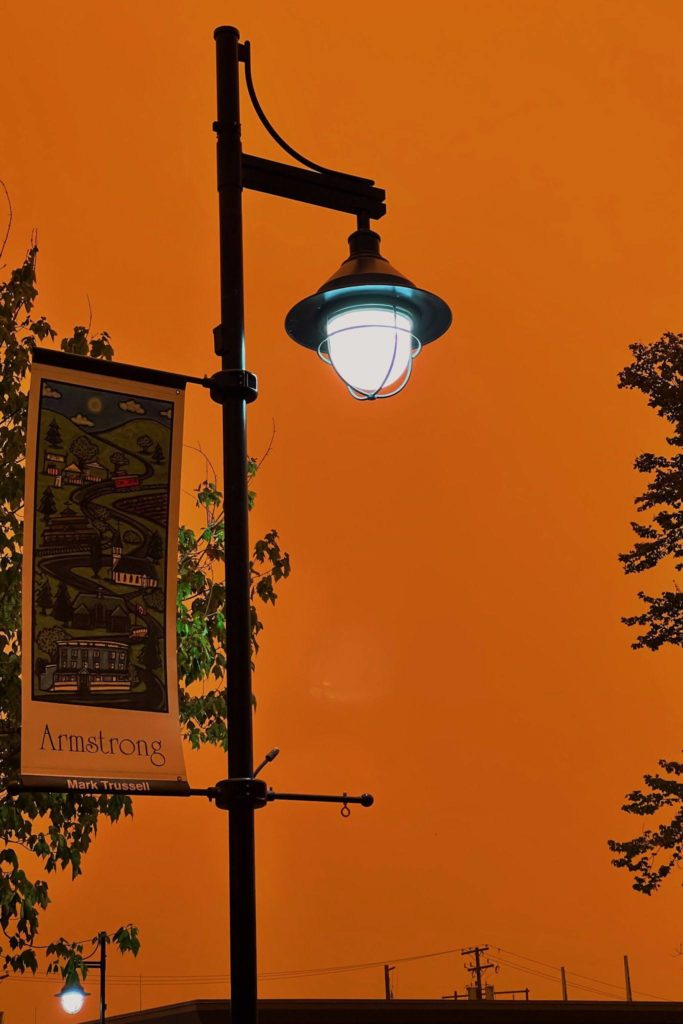 The first evacuation alert we received came on Tony's birthday (August 6th) – what are the odds! – and lasted for about three days. During which time a hailstorm of falling ash pummelled our area and the skies took on a deep brownish-orange hue, as seen in the photo above.
The second evacuation alert arrived the following Saturday and lasted well into the week that is currently wrapping up.
At its beginning, we saw skies so red and chocked with smoke and ash it would not be unreasonable to describe the sight as apocalyptic. Or, as my mom astutely observed, perhaps what the skies of Mars might look like if you were standing on that planet and gazing skyward.
In both cases, the alerts were largely the result of the substantially sized nearby White Rock Lake Wildfire. Though this blaze was not the sole reason for the smoke, ash, and eerie colours in the sky, as scores of other forest fires are burning both near and further afield to our area of British Columbia.
Presently, the White Rock Lake Wildfire (also known as both the White Lake Fire and Monte Lake Fire) is sitting at a touch over 80,000 hectares in size, and continues to remain as being classified as out of control.
In recent years, Tony and I have been keeping well-stocked go/bugout bags at the ready for all manner of potential disasters that could arise at any time.
The moment the first alert came in on the evening of his birthday, we packed up our most important essential items (vital documents, computers, cameras, health necessities, etc) and created a "go pile" near our door, to be loaded – along with our bugout bags – into the trunk of our car immediately if word came that we needed to evacuate.
Of course, our own lives and that our cherished dog, Annie, always come first, but if there is time to save some important items during an emergency, it behooves us to be ready to do just that.
Having lost our home and virtually everything we owned at the time to an arson fire almost five years ago now, we know firsthand the damage and devastation that a serious blaze can cause, and want to be as prepared as we realistically can be should a forest fire ever get close enough to envelop our home.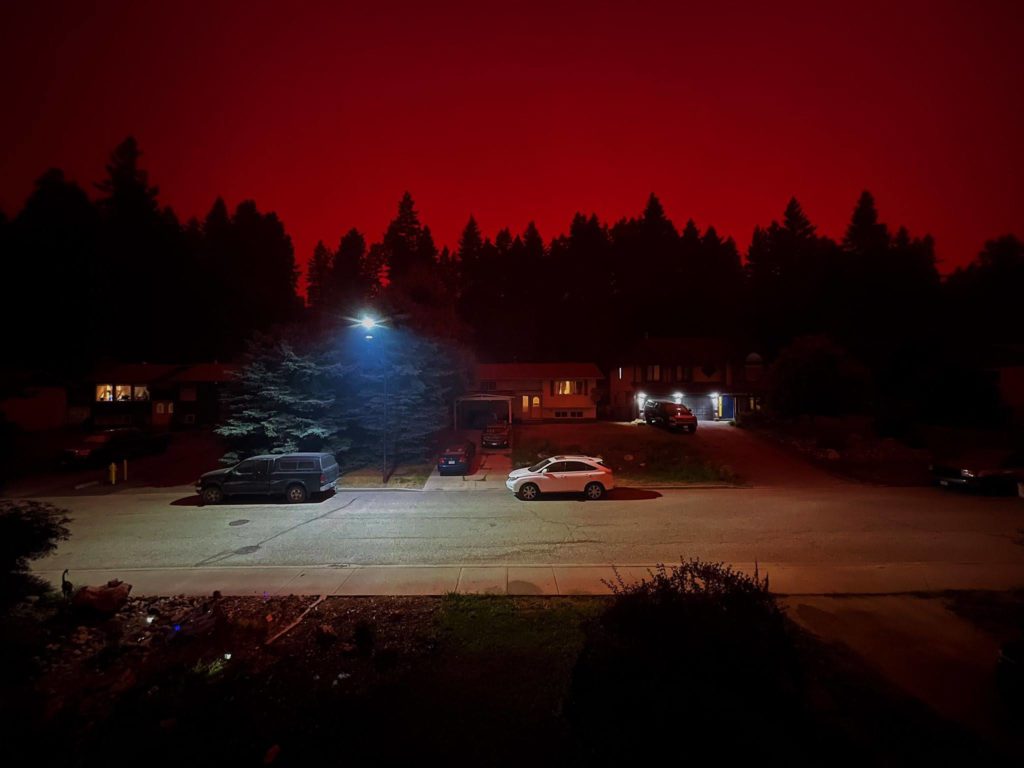 On the worst days thus far, we've heavily drenched our property and house with the hose and used sprinklers to help keep the ground and structure wet (these measures can sometimes help to lessen risks such as live falling embers).
Currently, we have four different plans in place regarding where we would most likely stay should we get evacuated. We are keeping our gas tank full around the clock so that we can not only flee town if need be, but be able to get by for several hours if traffic slowed to a crawl on the highway or we had to enact one of our plans that involves staying at a location outside of our region of the province.
As I type these words, we are not currently on evacuation order. Save for our laptops (which can be grabbed in mere seconds), we have not unpacked, however, and will not be doing so until the local wildfire situation is much less of an imminent threat.
Evacuation orders, dangerously bad air quality, and the risk of having to get out of Dodge, if you will, aren't fun. They are small potatoes though, of course, compared to what those who have been/currently are evacuated and/or who have suffered property damage from any of this year's wildfires have been dealing with.
We count our blessings, but do so with a heavy and immensely understanding heart for everyone – both in BC and elsewhere in the world (including Greece) – who has been experiencing the wrath of forest fires throughout 2021.
Zero pun intended, but we are far from out of the woods at this stage on the wildfire front. It will likely take a few more weeks and hopefully quite a bit of desperately needed rain before that state returns.
Having been born, raised, and later returning in my late 20s to BC, I am intimately acquainted with wildfires and the risks they pose.
Yet, for all the fires that have torn through British Columbia over the years – including the Garnet Fire of 1994 that ravaged parts of Penticton, where my family was living at the time – this summer is the first time that we have personally been put on evacuation alert.
While stressful at times, no two ways about it, we are holding up well, and are immensely grateful that thus far neither ourselves nor any of our loved ones in this province have lost their home to the unforgiving siege that is wildfire season.
This is certainly not the August we had envision or planned for, but it is not altogether surprising either given BC's annual battle against forest fires of all sizes.
As you might imagine, our usual routine has been disrupted somewhat by everything this month, and I wasn't sure that I would be able to get another project share posted before August drew to a close.
Happily, however, a little earlier in the year (before the recent short-term e-commerce website building job – mentioned here – for a local business that consumed the bulk of my and Tony's available time between May and the start of August) I had a chance to make a heartwarming Halloween themed scrapbook page.
As I have not been crafting much in recent weeks and needed a spooky season-themed project for August's #MakeHalloween365 entry, now is the ideal time to share it. 😃
Born Halloween lover scrapbook layout
If there is a Halloween loving gene, I am certain that I was born with it. For as far back as I have memories – and as photos like this one of me as a costume-clad babe in my mother's arms attest – prior still to that point, I have adored Halloween.
Much like the season of autumn itself, no other day of the year fills my heart with as much glee, excitement, contentment, spiritual connection, creativity, or inspiration as October 31st.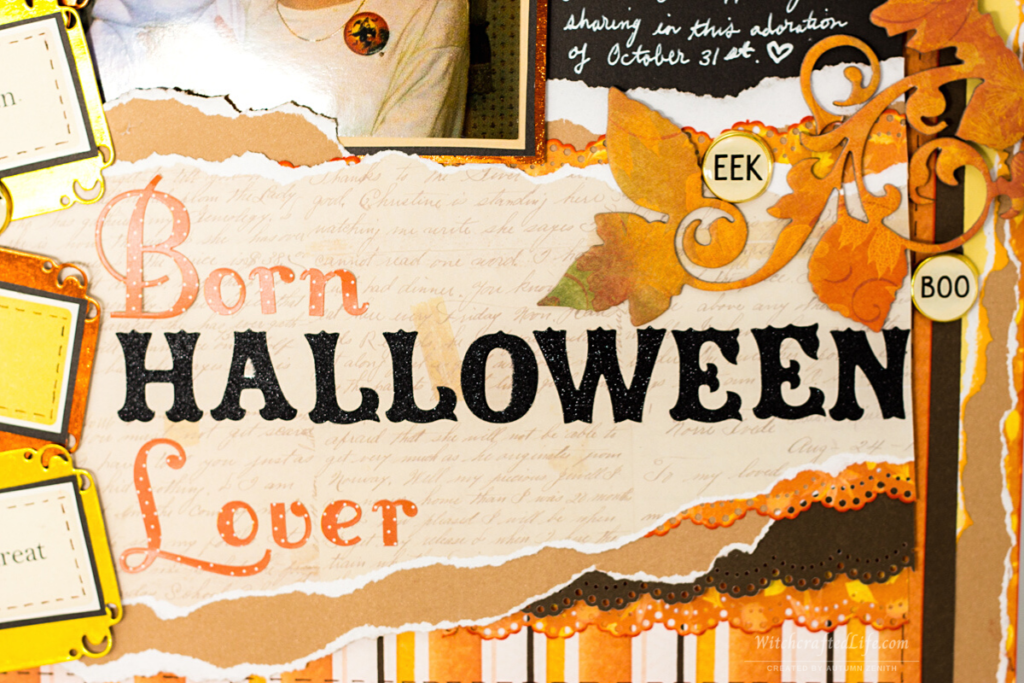 This off-the-charts passion was a big driving force in the launch, earlier this year, of my #MakeHalloween365 hashtag for fellow Halloween adoring souls around the world.
Just as Halloween has been the inspiration springboard for countless other things throughout my life. 🥰
As a Pagan witch, I choose to celebrate this date as both Halloween and Samhain. To my mind and own spiritual path, the two are inseparably interwoven and I can scarcely fathom observing the end of October any other way.
While I have felt I was a witch since childhood, I was not raised in a house with Paganism, witchery, or Wicca, so in those early days, October 31st was Halloween pure and simple for me and my siblings.
Like genes in general, I am convinced that I got my gene for loving Halloween from my sweet mama.
She adores Halloween herself and has always done everything she could to not only help make All Hallows' Eve a fun-filled event for her kids, but she has also helped to support my passion for October 31st in countless ways throughout my entire life.
I am grateful beyond measure for this point and wanted to create a scrapbook page that not only celebrated my adoration of Halloween itself, but also the love and appreciation I have for my fellow spooky season-loving mom.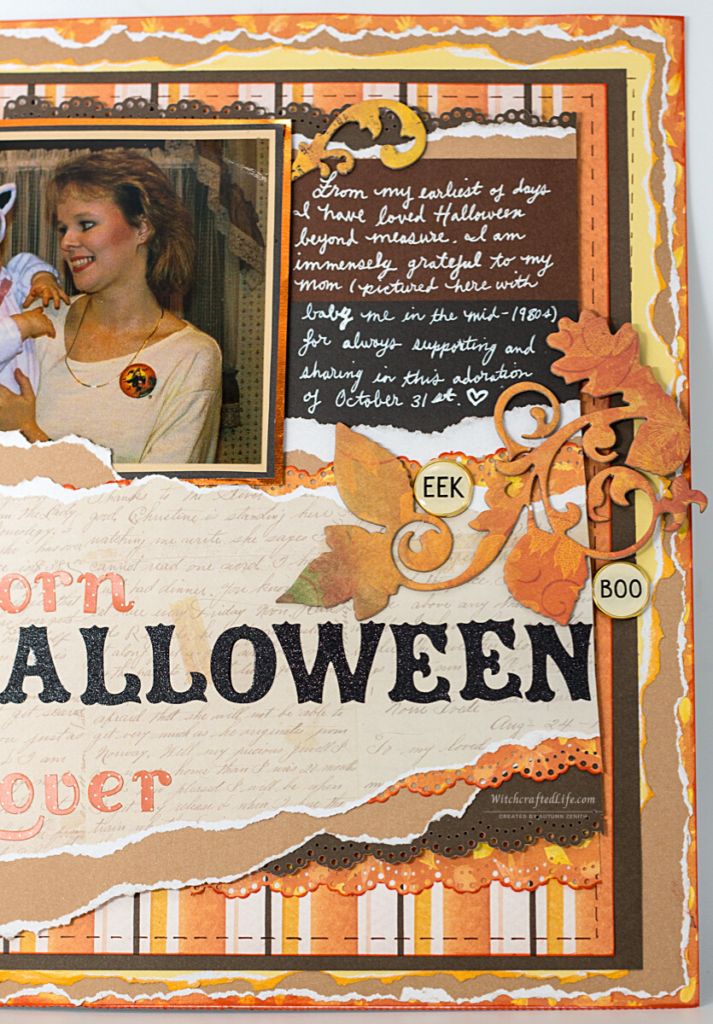 Enter this layout, which stars a mid-1980s photo of me dressed in a cute white cat costume and my mom, who, while not in costume, did rock a great witch themed button on her pretty yellow top.
And speaking of yellow things, this photo (a scan taken from a photograph that had been stored for decades in various non-archivally safe albums) shows its age and storage methods a bit. Instead of seeing that as any type of determent, I leaned into this image's colour palette for the rest of my scrapbook page itself.
The end result is a classic colour palette of cream, yellow, orange, brown, and gold that is as much at home for fall and Halloween as it was for plenty of interiors during the 1970s and 80s.
The metallic cardstock on this page – and indeed, this layout as a whole – was a bit tricky to capture on camera in our relatively low (interior) light setting, I hope that this gist of this page comes across in the project share photos throughout this post all the same though.
I added several of my favourite scrapbooking techniques and elements to this Halloween layout. There's plenty of paper tearing, inking, punched edges, handwritten journaling, layers, (faux) stitching, and embellishments – not to mention a cozy fall colour palette. 🍂
Plus, the charming Pebbles brads that I included here are just so sweet and festively fun! 😊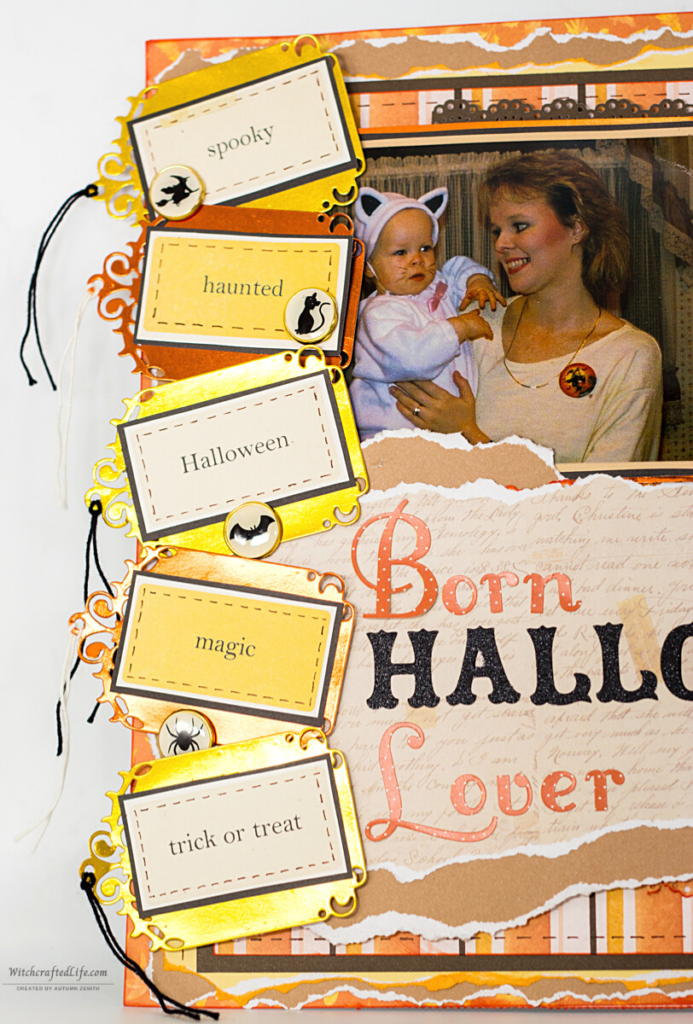 I led off on the lefthand side of the page with a classic Halloween witch themed brad in a nod to the fact that the little girl shown in this photo would one day grow up to a passionate October 31st adoring real life witch. (As well as that the witch on that brad very much resembles the one in the button my mom was wearing in the photo. 😊)
I'm wild about how this Halloween scrapbook page came together and look forward to sharing it in person with my mom herself come the return of All Hallows' Eve season.
Now, let's take a gander at the supplies and steps involved if you would like to whip up a similar October 31st scrapbook page of your own.
Products used to make this shabby chic Halloween scrapbook page
-Cream, sandy brown, warm medium brown, dark brown, and black cardstock
-Gold metallic cardstock – from Recollections (Michael's brand)
-Orange metallic cardstock – from Recollections (Michael's brand)
-Elegantly shaped tag die (or tag die/punch or premade tags of your choosing)
-Fall leaf and orange striped patterned papers (both from) – Pumpkin Spice 12 x 12-inch paper pad from Craft Smart (Michael's brand)
-Vintage handwriting print paper
-Halloween words cut-apart paper – After Dark Spellbound paper from Crate Paper
-Doily edge border punch – Lace Doily Border Punch from Martha Stewart
-Dark orangey-red ink – Dew Drop Ink in Morocco from Memento
-Golden yellow-orange ink – Dew Drop Ink in Cantaloupe from Memento
-Brown ink pen – EnerGel Liquid Gel Ink 07 Pen from Pentel
-White gel ink pen – Uni-Ball White Gel Pen from Signo
-Orange and white polka dot letter stickers – Julie Nuting Bootiful Alpha Stickers from Photo Play
-Black glitter letter stickers (I received these as a gift without their original packaging; I suspect they are from Martha Stewart's product range)
-Thin cream and black yarn, twine, or embroidery floss/thread (the thin yard used here is from the dollar store "Craft" brand)
-Fall coloured and patterned chipboard flourishes – Autumn Song Chipboard Pieces from Bo Bunny
-Set of Halloween brads – from the brand Pebbles (no product name was specified on the packaging)
-Dimensional foam, pop dots, or similar to elevate some of your layers
-Adhesive, such as a tape runner, of your choice (I often use my Scotch Tape Glider)
How to make a fun tag filled Halloween memories scrapbook page
This festive Halloween scrapbook page begins with a sheet of 12×12-inch cardstock. As this cardstock is completely covered by the next layer of paper, it can be any colour you wish.
Take a piece of fall leaf print paper from the Craft Smart Pumpkin Spice pad and ink it on all four sides with Memento Dew Drop Morocco Ink. Adhere to your base layer of cardstock.
Next, rip all four edges of a piece of sandy brown coloured cardstock so that the final size of this piece is a little smaller than the leaf print layer. If your cardstock has a white core, embrace that and let it shine on the ripped areas. Adhere this piece of cardstock to your previous layers.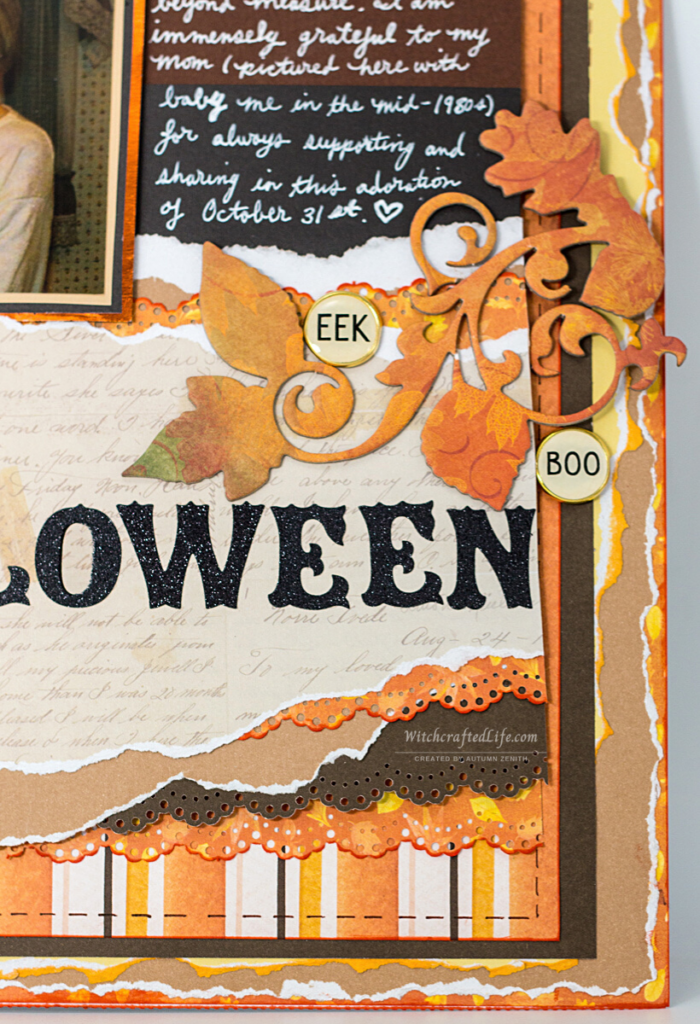 Repeat the same process with a cream (or light yellow) coloured piece of cardstock, inking, in this instance, all four edges with Memento Dew Drop Cantaloup Ink. Adhere to your previous layers.
Cut a piece of dark brown cardstock and top this piece of cardstock with a slightly smaller sized piece of orange striped paper (from the Craft Smart Pumpkin Spice paper pad).
Hand draw faux stitching with a brown ink pen or fine tipped marker around the sides of the orange striped paper, then ink the edges of that piece with Morocco Ink. Adhere those two layers to your previous layers.
Using brown cardstock and orange leaf print paper (from the Pumpkin Spice paper pad), create various layers with border punched edges (using the Martha Stewart Doily Lace border punch). Ink the edges of the orange leaf print layers.
Rip the edges of some pieces of sandy brown cardstock and vintage handwriting print paper, and arrange both these layers and the ones you just made above in the center of your layout, as shown.
Mat your photo with a layer of cream cardstock, a layer of dark brown cardstock, and a layer of orange leaf print paper. Adhere layers together, but do not adhere the matted photo to the layout itself just yet.
Next, create two blocks of cardstock, one in warm medium brown. Write your journaling, in white gel ink pen, on these blocks and adhere them to your layout.
Once your journaling is complete (and dry – especially important when using white gel ink), attach these blocks to your layout, then adhere your photo to the left of your journaling.
Next, using orange and gold metallic cardstock, die cut five tags (I opted for three gold and two orange metallic cardstock tags here, alternating the colour order that I adhered them down).
Cut out the Halloween words, mat each one on a piece of dark brown cardstock, and draw faux stitching with brown ink on each of the word pieces. Adhere one matted word per metallic cardstock tag.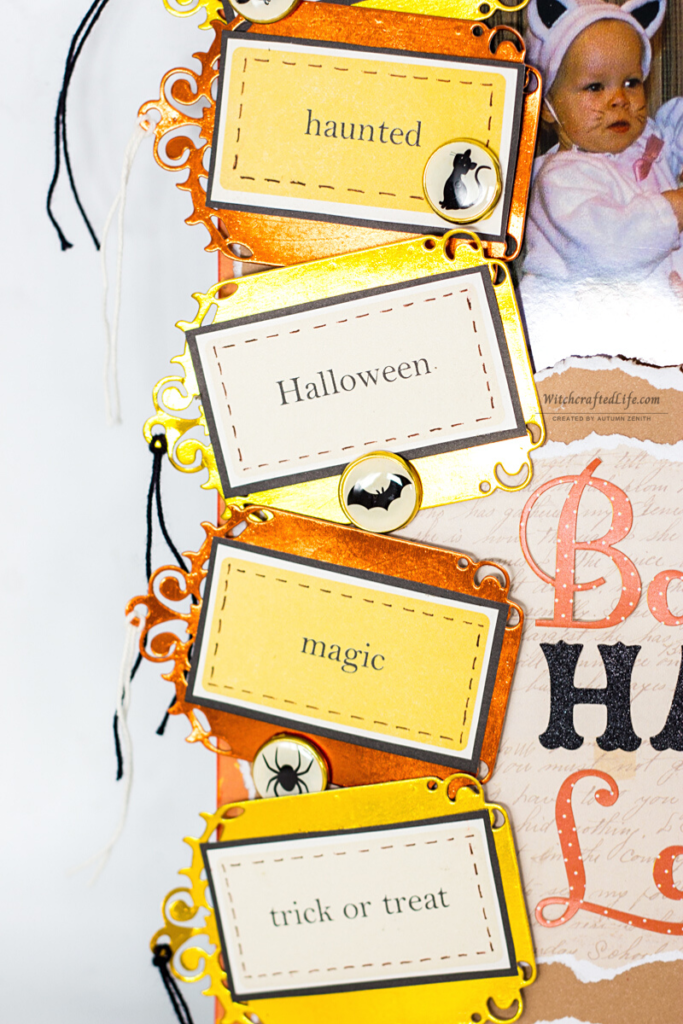 Loop black (or brown, if desired) and cream (or white) yard/twine/floss to the top of each metallic cardstock tag, alternating colours as you go.
Adhere your completed tags along the left-hand side of the layout using foam dots or other dimensional adhesives.
Intersperse four of the Halloween design Pebbles brand brads amongst the tags.
Note that you may find it easier to do so if you use wire cutters or small tin snips to remove the prongs on the back of the brads first, though this step isn't strictly required.
Adhere brads using hot glue or another very sturdy adhesive of your choice.
Use letter stickers to create the title of your layout.
Arrange Bo Bunny chipboard flourishes so that one pokes out from behind the photo and the other from the righthand side of the layout.
Place two additional Pebbles Halloween brads around the larger of the two chipboard flourishes.
And there you have it, your "Born Halloween Lover" scrapbook page is now complete.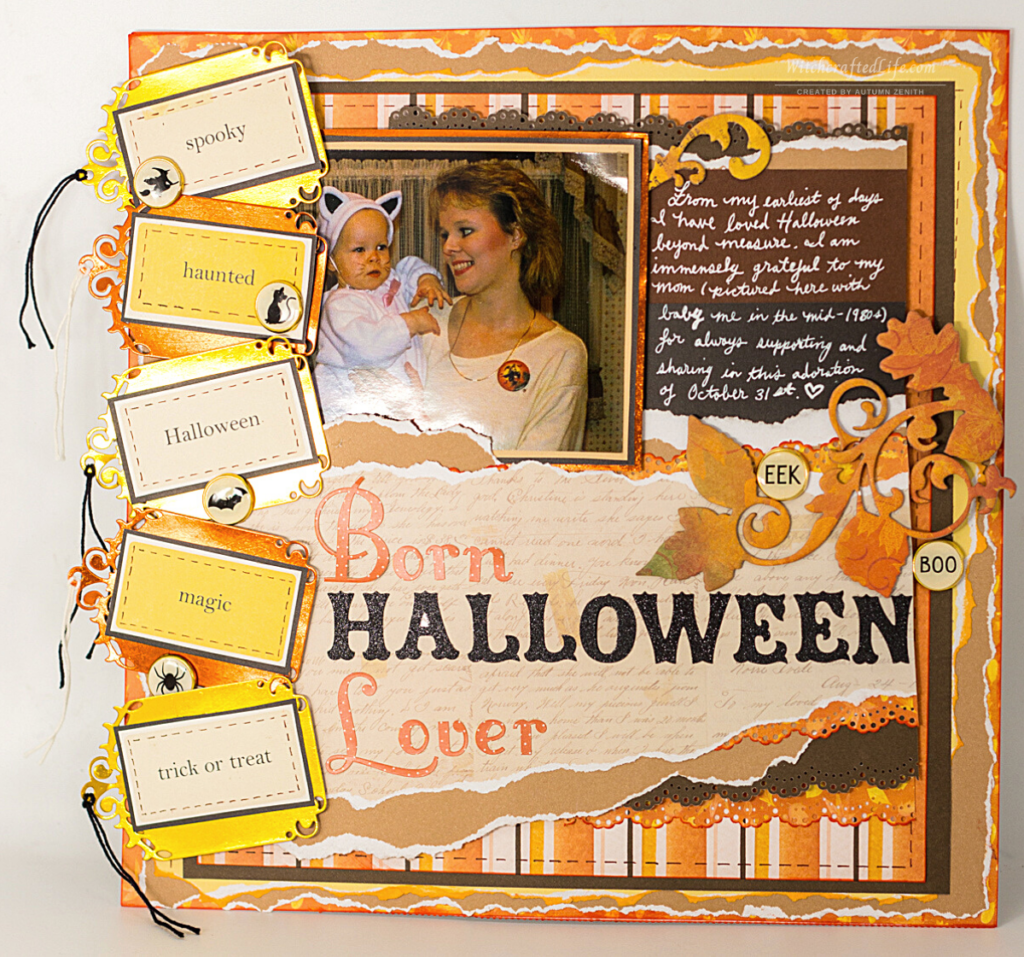 As a fun alternative to a Halloween layout, this same colour palette and design (perhaps with different brads or other embellishments in place of them) would be great for a Thanksgiving or other fall related page as well.
And the general design of this scrapbook layout could be utilized for countless other types of pages, too – including those for winter holiday season projects.
(The journaling on this layout says: From my earliest of days, I have loved Halloween beyond measure. I am immensely grateful to my mom (pictured here with baby me in the mid-1980s) for always supporting and sharing in this adoration of October 31st. 🖤)
The very real risk of losing everything again
As a paper crafter who has already lost all of their supplies, scrapbook albums and other completed projects once, I am keenly aware that living in a part of the world that deals with serious wildfires annually means that I could easily lose everything in a blaze for a second time.
This might, understandably, cause one to wonder why I would risk putting myself through that heartache again by continuing to papercraft. (Or to live here – though moving away is neither presently desired nor very feasible for us.)
Valid though this question is, to me the positives and joys, the blessings, creativity, and fun of papercrafting far outweigh the pain and challenges that losing my work and supplies for a second time would cause.
Experiencing that (be it due to fire or any other reason) would be horrible, of course, and I hope with all my might it never happens. However, having lived through it once, I know that rebuilding and connecting again with your greatest passions in life is possible.
Not necessarily easy, straightforward, or inexpensive, but certainly doable in many instances.
And in my heart of hearts I know that, much like my undying love for Halloween, darn near nothing could shake my adoration for paper crafting to the point where I would willingly drop it from my life for good.
Naturally, I hope and pray we that never find ourselves standing amongst the ashes of our home again. If we do though, I will take strength and solace in the fact that we pieced our world back together again once and could surely do so – with time, strength, and perseverance in spades – again, if need be.
For just as I'm a born Halloween lover, I am also a very tenacious born fighter and be it fire, my health, or any other challenge life throws my/our way, I will go on fighting tooth and nail until the very end. 💪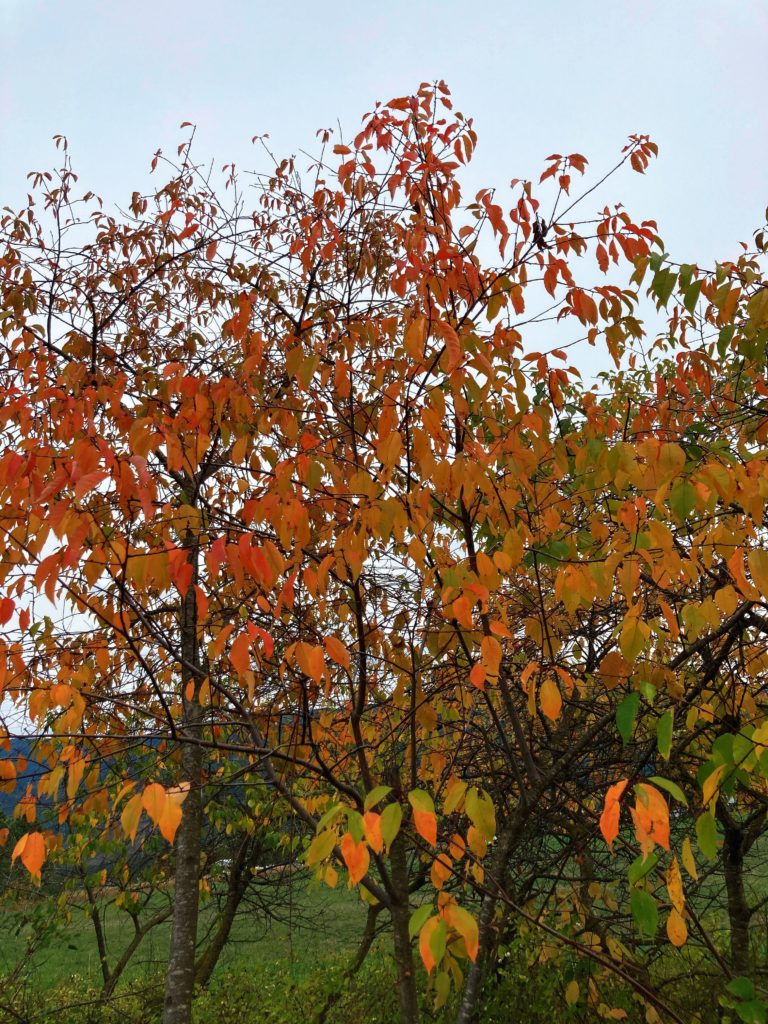 Hopefully, within a few weeks, this year's wildfire season will have finally calmed down and we can embrace autumn's return (the second now since the Covid-19 pandemic began) in high spirits and with no shortage of jubilation for what is both mine and Tony's very favourite chapter of the year.
From fires to floods, Covid to earthquakes and much more, 2021 has been another year of immense challenges for the inhabitants of this world.
Know that whatever you and/or your loved ones may be going through this year, my thoughts, support, and uplifting energy are with you – and that I'm always just an email away if you never want or need to chat with someone about anything that you're going through.
As I began this entry by saying, there is just one brief month left to go until fall comes calling again. Whatever life may throw our way between then and now, that fact alone will help to bolster my spirits and keep a smile on this perpetual Halloween lover's face.
Has your area been impacted by wildfires, flooding, or any other natural disasters this summer? Do you consider yourself a die-hard born Halloween (and/or Samhain) fan as well? 🧡🎃🧡