Today is a highly charged date on the magickal and spiritual fronts. As the final day of this month, April 30th is as close as we come to the six-month mark, when measured from the end of one month to the next, until Samhain's + Halloween's return on October 31st.
In addition, April 30th is Beltane Eve. This is the day that immediately proceeds the last and final spring sabbat, lighting the path for the radiant energy, vibrancy, vitality, passion and beauty of this sacred occurrence. Which, much like Samhain, also experiences a poignant thinning of the veil between the worlds.
It is important to note that those who reside in the Southern Hemisphere and observe the sabbats in keeping with the seasons of their own countries, not those north of the equator, may choose to celebrate Samhain today or tomorrow.
The fact that Beltane and Samhain happen in unison twice a year lends tremendous potency, spiritual meaning, magickal properties, interworldly qualities, and good boundness strength to both.
And to complete the hat trick of wonderfulness that the final day of April houses, it is also Walpurgis Night. I shared a book review on the subject and spoke about Walpurgis Night last year on my Instagram account, and plan to delve into the topic of this fascinating European observance in greater detail here in the future.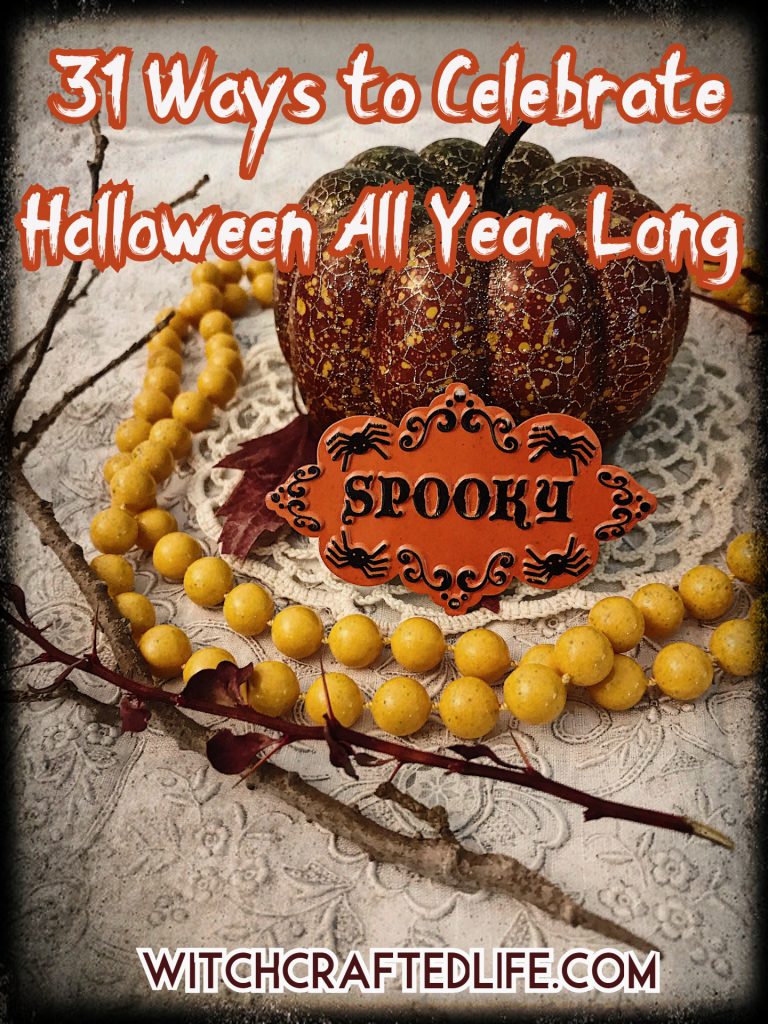 Today, however, with a mere six months to go until my favourite and most spiritually meaningful day of the entire calendar returns, I want to share 31 ways to celebrate Halloween all year long with all of you.
Yep, you guessed it. The thirty-one here honours the number of days that October houses. 🎃
Some of these entries are more Pagan/witchy related than others. However, these festive ideas are intended for a broad audience and one does not have to be a Pagan, witch, Wiccan, Druid, etc to avail of these All Hallows' Eve inspired ideas.
October 31st is for everyone and so is this frighteningly fun list!
31 ways to celebrate Halloween all year long
1. Create a Halloween song playlist or update your existing one. Listen to it anytime the mood for hair raising Halloween merriment arises. Bonus points if you include Donovan's classic, Season of the Witch.
2. Make any type of Halloween or Samhain themed craft your heart desires. Knit a scarf covered in pumpkins, whip up a Halloween card to give to someone you care about, create a Halloween themed quilt, paint rocks with Halloween themed imagery (bats, toads, spiders, ghosts, a crescent or full moon, etc), sew a Halloween themed garment or your own ritual cloak, crochet a fall leaf patterned table runner, whip up a Halloween or Samhain wreath – the sky, and your own imagination, are the limit!
3. Go on a Halloween or Samhain related holiday. The world is rich in locations that whether through historically significant events, pop culture (movies, TV shows, books, etc), or both, have strong ties to Halloween and/or Paganism and witchcraft.
From Salem, MA to Ireland (where the roots of many of today's Halloween and Samhain traditions can be traced), Sleepy Hollow, NY to, Transylvania, Romania, satisfy your wanderlust and your Halloween lust, or honour your spiritual path, with an exciting trip to a destination that you immediately equate with October 31st.
4. Host a dumb supper. While most commonly associated with October and Samhain, dumb (or silent) suppers (which I wrote about in a 2018 guest post for The Witch of Lupine Hollow, entitled Honouring Your Ancestors with a Samhain Dumb Supper) can be held at any point in the year. Apply the same principles and reverence that you would to your Samhain dumb supper.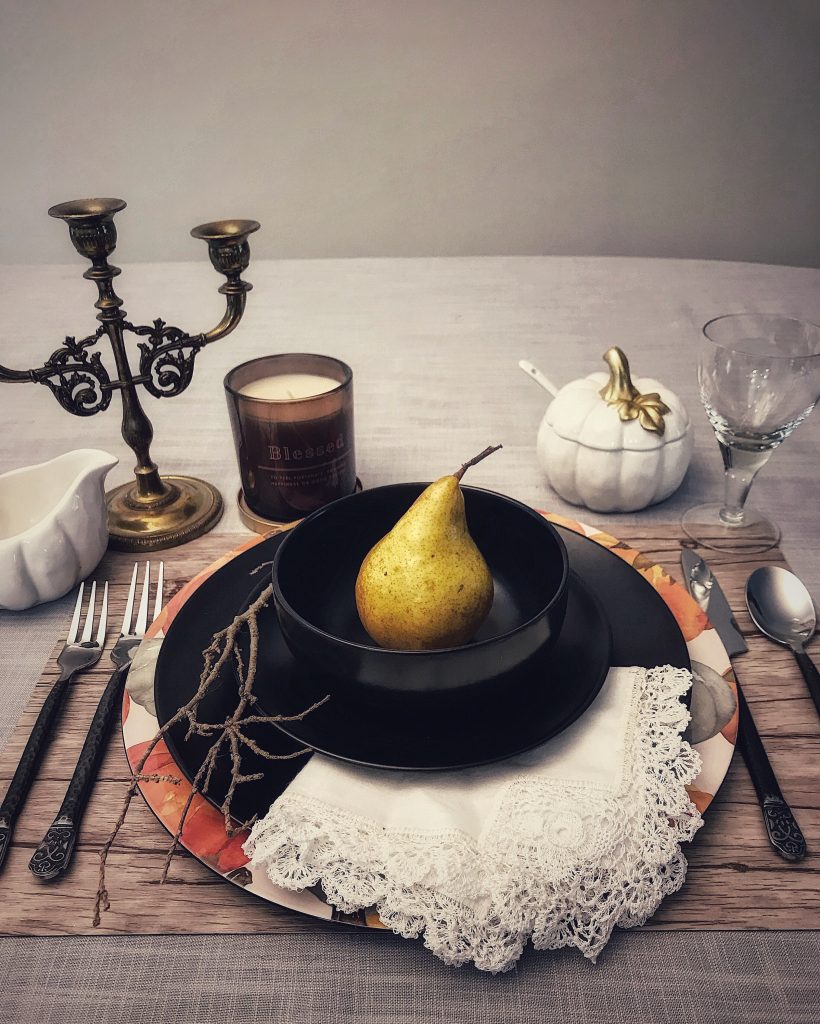 I'm especially fond of holding them on Beltane as well, which is opposite to Samhain on the Wheel of the Year. Beltane is another important liminal point in the year when the veil between the worlds thins, making it an excellent time to host such an event.
5. Create a scrapbook, mini album, journal, grimoire or other dedicated notebook devoted just to Halloween/Samhain (or fall time as a whole) and add to it throughout the year. Document older, newer, and future Halloween happenings, plans and ideas, or anything else that you'd like.
6. Use scented candles, essential oils, incense (sticks, cones, blends), potpourri, reed diffusers, wax melts and other beautiful smelling products in fall scents any time you find yourself longing to connect with autumn again.
Cinnamon and other warm spices, apples, pears, pumpkin, caramel, crackling fires, damp leaves, vanilla, star anise and licorice, butterscotch, pumpkin spice latte, and toasted marshmallow are just some Halloween evocative scents that you may enjoy.
7. Purchase or work with an existing deck of Halloween or Samhain themed tarot or oracle cards.
Optionally, do a reading relating to some aspect of October 31st. Keep a record of what cards you drew and consider placing those cards on your next Samhain altar.
The following are but a few of the many decks of tarot and oracle cards that suit October 31st especially well, given the themes they encompass.
–Ghost Tarot by Davide Corsi
–Madam Lydia Wilhelmina's Tarot of Monsters, the Macabre & Autumn Scenes by Madam Lydia
–Murder of Crows Tarot by Corrado Roi and Charles Harrington
–Seasons of the Witch Samhain Oracle Deck by Lorriane Anderson and Juliet Diaz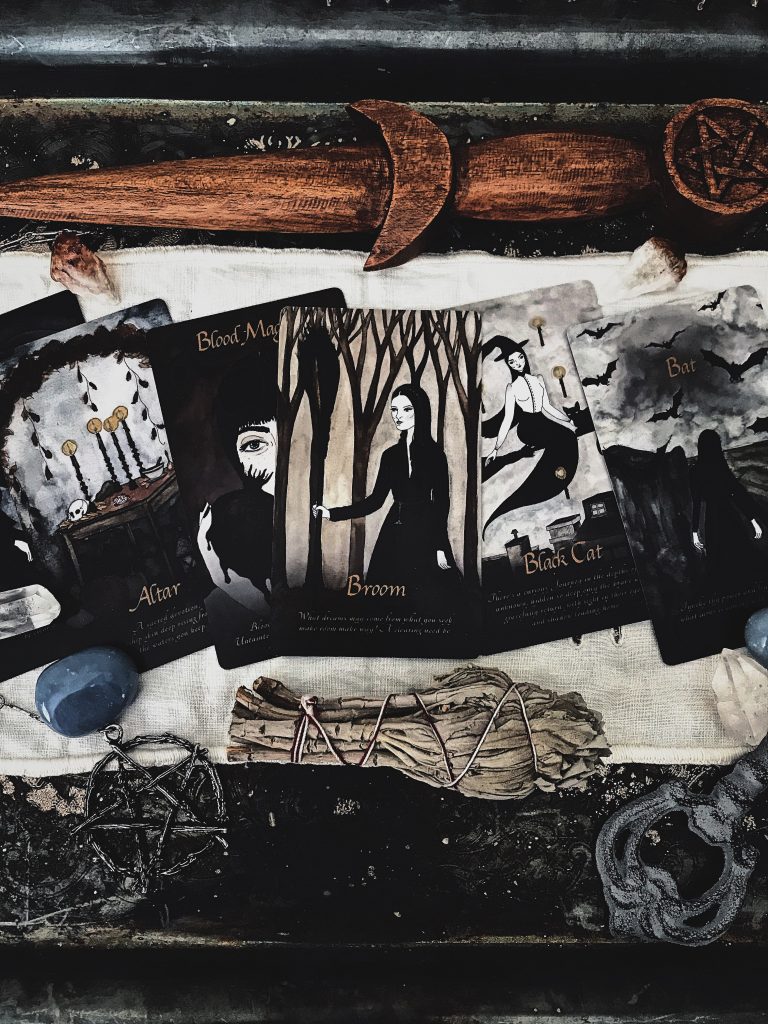 –The Gothic Tarot by Jospeh Vargo
–The Halloween Oracle: Lifting the Veil between the Worlds Every Night by Stacey Demarco and Jimmy Manton
–The Halloween Tarot by Kipling West and Karin Lee
–The Tarot of Vampyres by Ian Daniels
–The Zombie Tarot: An Oracle of the Undead by Paul Kepple and Stacey Graham
–Witches Tarot by Ellan Dugan
8. Test drive recipes for Halloween or Samhain. You know all those Halloween recipes you've been saving on Pinterest for years now? Why not whip up a few throughout the other eleven months of the year?
That way, you'll likely know which are winners, which might need some tweaking, and which ones are seriously scary – but not in a good Halloween kind of way. LOL!
9. Follow Halloween and/or Samhain focused social media and YouTube accounts (ditto for blogs and podcasts).
Awesomely, there are many other people out there who cannot get enough of all things Halloween as well, some of who devote who social media accounts (Instagram very much included), podcasts, YouTube channels, blogs and websites just to Halloween time.
Why not show these kindred spirits some love and follow their accounts?
10. Colour in a Halloween, Samhain or fall themed adult colouring book. Halloween Adult Coloring Book, Little Witches Adult Coloring Book, Autumn Dreamlings: A Beautiful Fall Coloring Book, The Nightmare Before Christmas Coloring Book, Misfits A Halloween Coloring Book for Adults and Spooky Children, Llewellyn's Witch's Coloring Book, and Creative Haven Autumn Scenes Coloring Book are a few especially delightful options.
If you colour a page that you especially adore, consider framing it (or a high-quality colour photocopy of it) to put on your wall as a beautiful reminder all year long of both Halloween and your own creativity.
11. Go reverse trick-or-treating. Now granted, especially in this day and age, this activity generally works best if you already know and are on good terms with your neighbours. That said, it could also be a fun ice breaker if you haven't met them yet!
Instead of you (and your kiddos, if applicable) going door-to-door asking for treats, when reverse trick-or-treating, you dress up and hand out free candy or other goodies to your neighbours.
With advance permission and planning, this can also be a really fun and meaningful thing to do at places such as daycare centres, youth centers, and senior living communities.
(Important note: this – and all other ideas on this list that involve public places and/or spending time with people outside of those you currently live with – are shared in preparation for a post-Covid-19 world, when and where social distancing is no longer vitally necessary and it once again safe to freely interact with others.)
12. Stock up on seasonal décor in the offseason. While – much to the chagrin of Halloween and Samhain fans everywhere – relatively few shops carry Halloween merchandise all year, there are still some great shopping options to be had for the October 31st minded crowd.
Check thrift shops, vintage stores, yard sales, flea markets, discount and dollar stores, and craft stores for Halloween items throughout the year.
And take advantage of sales and good deals on products that you know you're apt to use/need come October 31st.
Think tea lights and other candles, glow sticks, balloons, streamers, table linens and tableware in festively appropriate colours, supplies to make Halloween/Samhain crafts (and altars) with, foods with long shelf lives that you'll use come next October, plus Halloween costume and makeup supplies.
13. Save past Halloween memories while you still can! As much as we currently live in a digital era, there was a time not that long ago in our collective past when people documented memories with film cameras and videorecorders.
If you, or a loved one, has Halloween pictures or videos sitting around gathering dust (or, worst, detreating due to age, storage conditions, the materials involved, etc), consider scanning or converting them to digital form and then backing them up in the Cloud or another safe long-term online storage solution.
14. Learn more about a god or goddess with strong ties to the harvest season or the dead/underworld. From time immemorial, humans have honoured and worked with deity in relation to both the annual crop harvest and to, almost certainly further back in time still, the acts of death, dying, and the afterlife.
Consider doing a seeking ritual and asking to be connected with one or more such deities, or select one that you already feel pulled towards and research more about them.
You may wish to create an altar for this god/goddess or involving them in your existing altar. If you feel a strong enough connection, you may even consider making them your patron god or goddess, if doing so aligns with your personal beliefs.
15. Record your own Halloween memories and feelings for posterity. Whether on video, voice recorder, photo, or paper, make a point of documenting – and then safely preserving – some of your most meaningful Halloween memories.
Touch on how you feel about October 31st, what some of your favourite traditions (and recipes) for Halloween and/or Samhain are, what this day means to you spiritually, and any other information that you'd like future generations to know about your connection to All Hallows' Eve.
16. Send a surprise parcel or happy mail package to a fellow Halloween fan. Got a BFF, college roommate, second cousin, online pal or another person in your life who is just as gung-ho about October 31st as you are?
If so, why not put together a surprise parcel of Halloween related items and sending it off to them as a touching "thinking of you" present out of the blue.
It's sure to make their week – and who knows, they might just surprise you and do the same in return one day.
17. Start making your Halloween and Samhain cards. Much as some crafters begin working on their Christmas season greetings weeks or months in advance of late December, so too can Halloween fuelled folks also get a jump start on our October 31st greetings well in advance.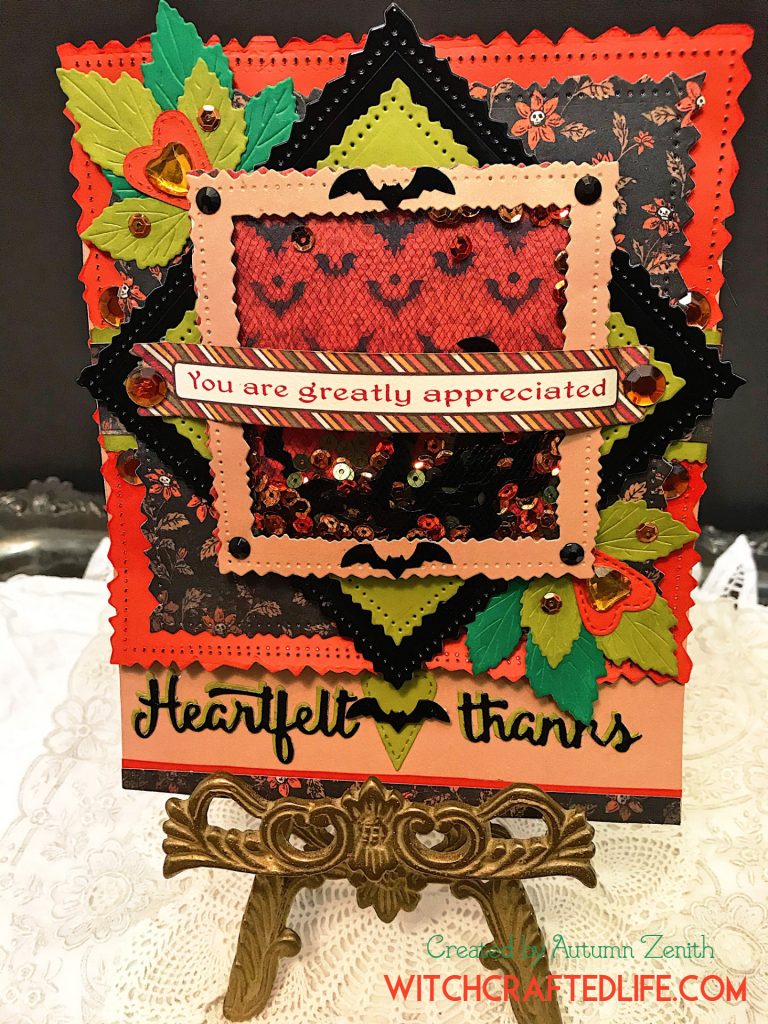 If you create just one Halloween card per month all year long, you'll have a dozen personalized greetings to send out or hand-deliver come October.
Not the handmade card making type? Fear not! Stock up on Halloween greeting cards (which are often discounted by then) shortly after October 31st, or purchase them online at other times in the year.
Take a few minutes here and there each month to fill a few out ahead of next All Hallows' Eve and you'll likely be all set to go on the greeting card front when fall time returns.
18. Plan and purchase/make your next Halloween costume. It's never too early to start dreaming up your next fabulous All Hallows' Eve ensemble!
Not big on the whole costume thing? No worries! Why not come up with a festive outfit or Samhain honouring look that feels right to you for October 31st?
And on the subject of buying Halloween related things, please consider supporting as many small and independent Halloween and Samhain product brands as you can all year long.
Whether it's gifted artists to amazing makeup creators to those selling fall specific Pagan products, shopping from such sources helps to ensure these folks can stay in business and supply us with the kinds of offerings that make our Halloween loving hearts skip many a beat.
19. Go on a ghost walk or official tour of a haunted location, famous cemetery, or another type of spooky setting.
It might surprise you (or, if you're reading this list, maybe it doesn't! 😃) to learn that a lot of places around the world hold these kinds of events either year-round or at certain points on the calendar.
Check online and at your local library for information about events like this nearby and make a point of seeking them out when you travel further afield. (Likewise for museum and art gallery exhibits that pertain to spooky or macabre subject matter.)
20. Signup for a Halloween subscription box. Be it spooky, cutesy, kooky, or bone-chilling, there's no shortage of Halloween themed subscription boxes on the market these days and chances are, you can find at least one that's right up your (Halloween) alley.
Spooky Little Halloween's list of Subscription Boxes for Halloween Lovers and Cratejoy's 8 Super Creepy Halloween Subscription Boxes are handy jumping-off points if you're looking for boxes of this nature.
And year-round, I'm a huge fan of Spooky Box Club, whose cute meets spooks meets goth meets witchy aesthetic and offerings never fail to make me swoon.
21. Research and honour your ancestry. Whether you have decades of in-depth genealogy research under your belt, known the bare minimum about your family tree, or anywhere in between, consider honouring your family by learning more about the people whose own lives lead to your own.
Ancestor work and veneration are common practises at Mabon and, especially, Samhain (as well as holidays such as The Day of the Dead).
This important aspect of one's life need not be limited to fall time, however. Our ancestors are with us and around us always, and they greatly appreciate being acknowledged and remembered (including via dedicated ancestor altars).
If, for any reason, you do not have/cannot find out much information about your own ancestry (closed adoptions, for example), consider researching the history of your country, the genealogy of the people who raised you, or the family tree of someone you respect deeply instead.
21. Hold a bonfire. Assuming it is safe and legal for you to do so where you live (or in a public setting, such as at a beach), and the weather is playing nice, why not gather together with a few friends, relatives, or coven members and hold a bonfire?
This ancient form of communal gathering can be warming both literally and figuratively, and while also being a deeply spiritual activity at times, too.
On that front, you may consider gazing into the flames and doing some pyromancy, working with the (cooled) ashes afterwards to engage in spodomancy, or otherwise utilizing the fire as part of your magickal workings.
23. Begin a Halloween savings jar. While one can very easily and effectively celebrate both Halloween and Samhain without spending much, or even anything at all, many of us do enjoy splashing out a bit on festive items come the spooky season (especially if we use Halloween and fall items as part of our year-round home décor).
Use a jar or other suitable container (or an actual savings account through your bank) – a pumpkin-shaped coin bank would be an especially suitable choice – and add a few dollars or more, as your budget permits, to it each month.
If you put aside the cost of just one fancy coffee shop pumpkin spice latte per week all year long, just think of all the awesome Halloween items you could purchase or the fun festive events you could buy tickets for come next October!
24. Read a Halloween themed book (or some Halloween poetry). Things that go bump in the night, make our hair stand on end, or are just plan festively silly and fun have been popular literary themes for quite some time now.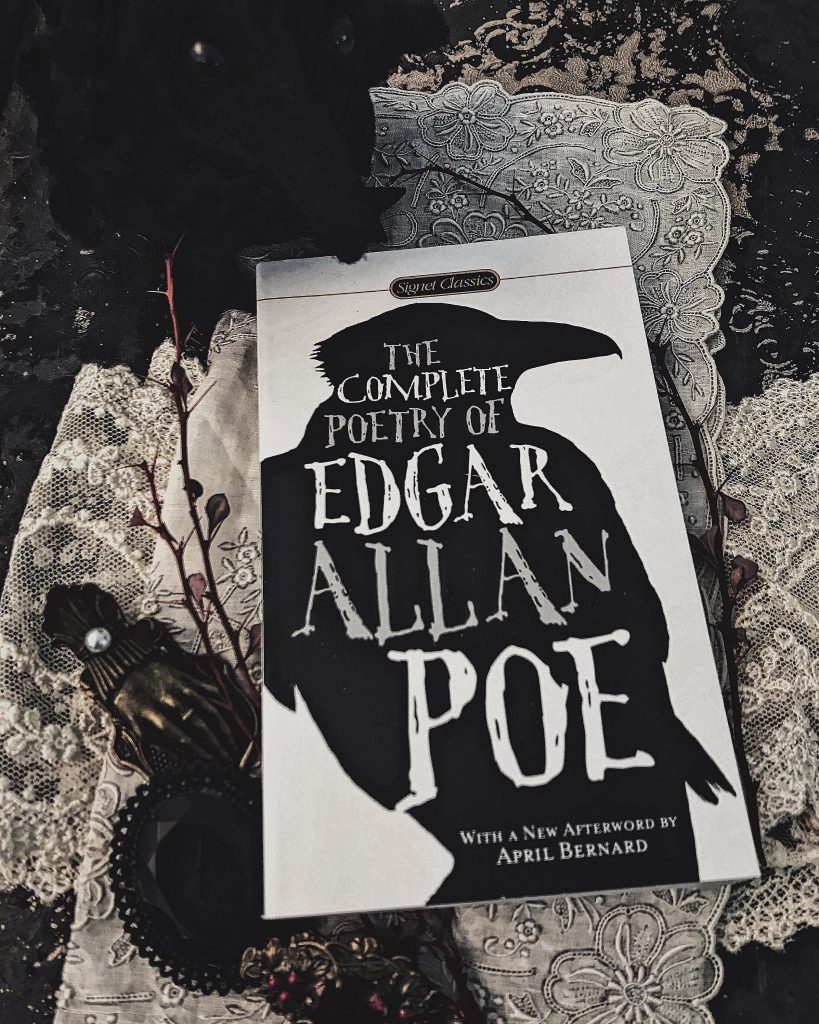 Today's book market abounds with reads are that either straight up Halloween themed, or which fit the spooky bill perfectly. Dive headfirst into one any time you want to conjure up the spirit of October 31st.
25. Have a Halloween movie night. Turn down the lights, bust out the (caramel) popcorn, and curl up for an evening of binge watching at least two or three of your favourite Halloween movies (Halloween themed TV episodes are totally allowed, too).
Whether you flip for Halloweentown, can't get enough of Hocus Pocus, adore the Addams Family, feel festive just thinking about The Nightmare Before Christmas, or always have Ghostbusters on your speed dial, now is the time to delight in your fave Halloween films weeks or months before October returns.
26. Stop by a local costume shop. Even in this age of online costume buying options galore and a slew of Halloween popup stores that spring to life each autumn, thankfully, many cities (and some smaller towns, too) still have costume shops.
The best way to ensure that they stay in your area is to give them your business, so why not stop in and purchase an item or two to use come next October 31st?
27. Include Halloween or Samhain perfect fruits, vegetables and herbs in your garden. This one usually involves a bit of advance planning, an existing garden or room to start one (or room for container gardening, if a patch of earth is not available), and the supplies required. Once those things are lined up, you should be good to go.
There's no shortage of beautiful decorative, edible and medicinal plants that are associated with Halloween and Samhain.
Pumpkins and squash, turnips (and root vegetables in general), blackberries, apples, pears, rosemary, sage, and corn are but a few possible edible delights that you could grow in your garden and potentially harvest come the end of summer/early weeks of autumn.
28. Host a Halloween decoration and/or costume swap. Ask friends, relatives, coven members, coworkers, classmates, anyone you think would be keen to join in to gather up some gently used Halloween items or costumes that they no longer wish to keep and get everyone together to swap their items for other peoples' at the event.
You could make the event even more festive by inviting participants to dress up as though it were October 31st, offer spooky eats, play Halloween music or movies in the background, and even deck out your house in your favourite Halloween décor.
If any items are leftover at the end of the event, donate them to a local charity, children's association, theatre club, Guide or Scout troop, or another type of group that would be happy to put them to good use.
29. Visit a cemetery. Big or small, older or newer, most towns and just about every larger city has at least one burial ground for the local dead.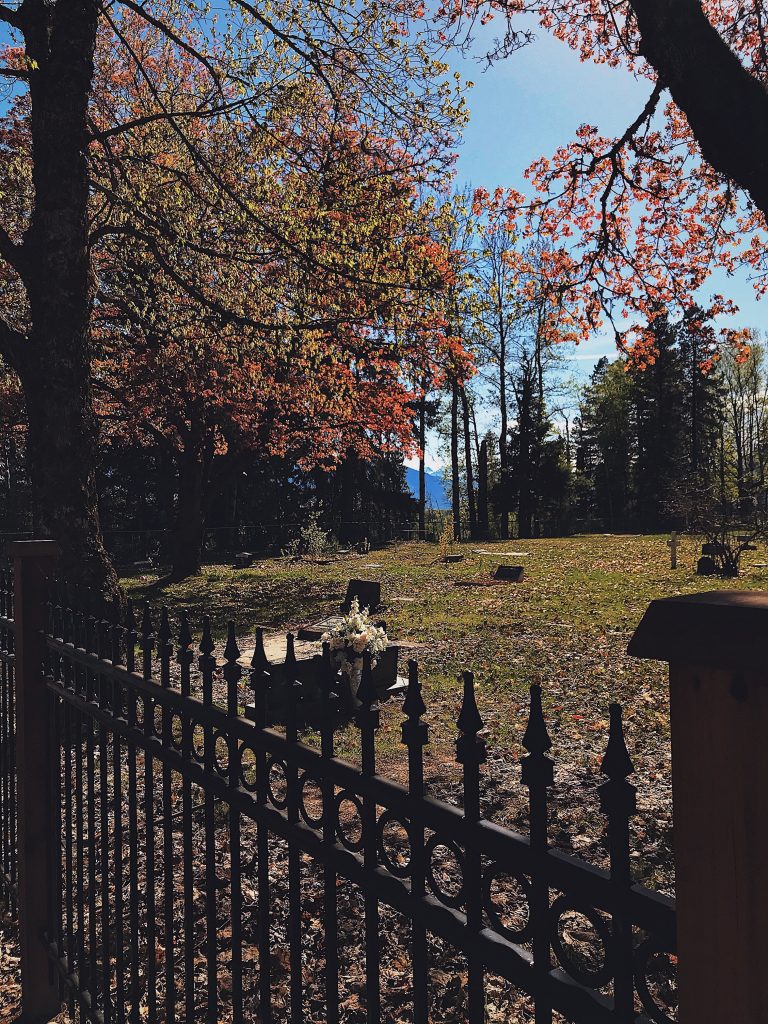 Take time to pay your respects to the departed by visiting one or more cemeteries in your area. Consider bringing along an appropriate, environmentally friendly offering to leave as thanks to the sacred ground beneath your feet and to the spirits of those interred in (or above) it.
If you feel comfortable doing so, consider engaging in a magickal working, spirit work, divination, meditation, or other spiritually focused activity while at the cemetery.
And if snow is on the ground when you visit, perhaps a spot of graveyard snow magick is in order.
30. Share your Halloween pride! Gone are the days when us Halloween lovers had to keep our unending passion for October 31st to ourselves (and perhaps our closest loved ones) until autumn began again.
Thanks to the internet and modern technology, there is a vast world for Halloween fans out there that you can connect with day or night.
From Halloween forums to Instagram, YouTube to Facebook groups, if you wish to do so, you can post about your own adoration for Halloween/Samhain all year through – and interact with others who are doing the same – thanks to the power of the interwebs.
31. Keep at least one Halloween or Samhain decoration out all year long. While some people have the desire, and are able to, decorate their house in a Halloween/spooky/goth/witchy/similar at all times, others may prefer – or need – to keep things more on the down low, at least until fall returns.
It is usually possible to keep one or more Halloween or Samhain related items out all year though, especially if they blend in well with your current décor or if you put them on your altar.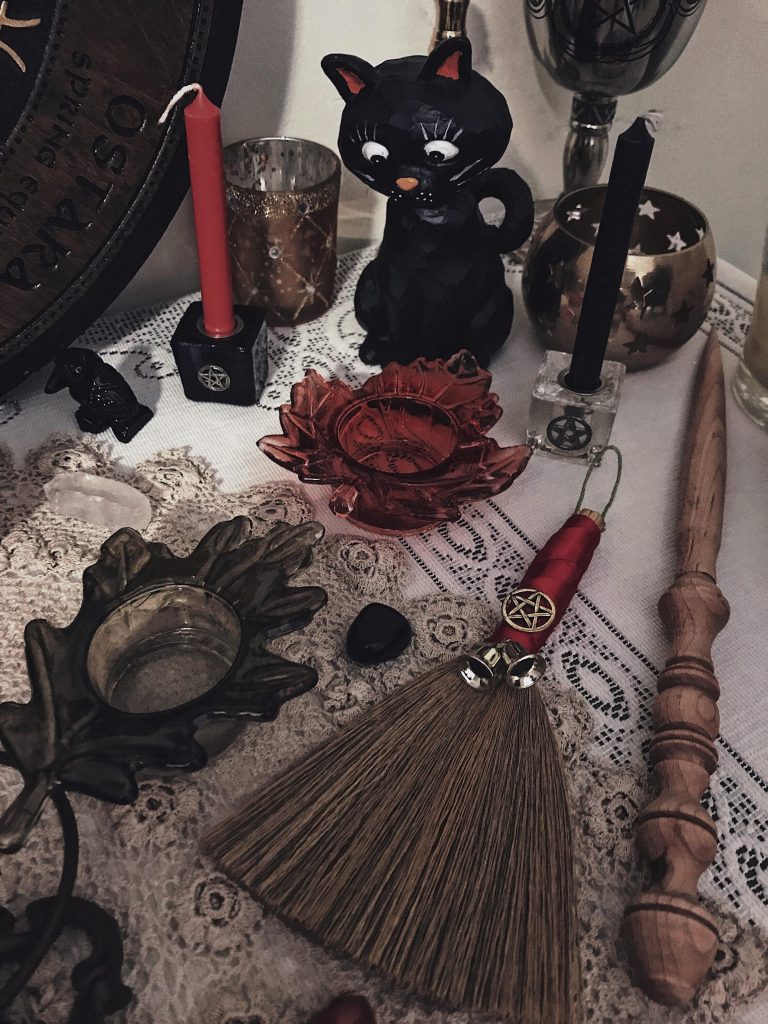 Some examples could include a favourite fall scented candle, a cute little witch figurine, a mini cast iron cauldron, a besom hung on a wall or placed on your altar, a poster of a beloved Halloween movie, photos of yourself and/or loved ones celebrating Halloween, handmade Halloween craft projects (or those gifted to you), or items in classic Halloween related animal themes, such as bats, spiders, toads, black cats, owls, ravens and crows.
This item can then become a poignant connection to October 31st for you all through the year.
#EverydayisHalloween
This selection is just the tip of the iceberg when it comes to ways that you can celebrate and keep the spirit of Halloween and/or Samhain alive and well in your life all year long.
There is a truly special energy, atmosphere, beauty and reverence to October 31st.
Just as it can be a time of lighthearted enjoyment, playful mischief and sweet treats as far as the eye can see.
I believe that those individuals with an especially strong connection to Halloween are blessed to be this way. The mid-autumn energy and thinning of the veil that accompanies the season of October 31st resonate with our hearts and souls, magickal workings and spiritual paths.
We help to keep the season going extra strong, are the designated "Halloween fantastic" in our circles, and ensure that hashtags like #Halloween365 and #everydayisHalloween never want for inspiring new content.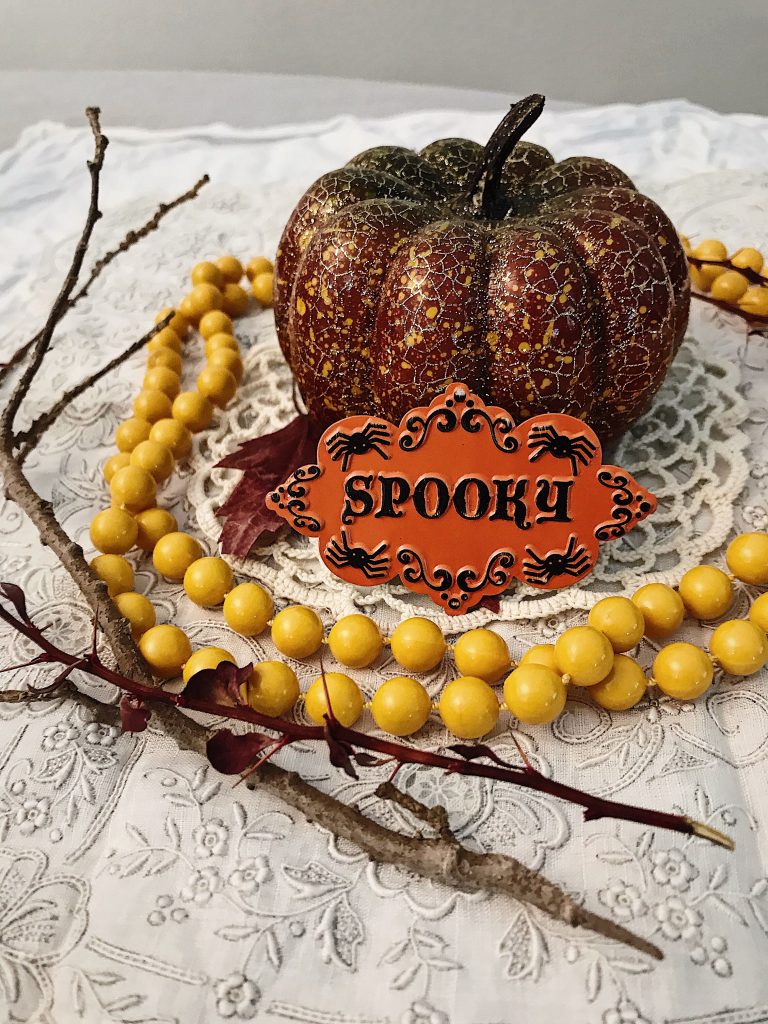 What are some of your own favourite ways to celebrate Halloween and Samhain throughout the year? Please share them below – who knows, they might just land in a second post of this nature one day.
PS: This might go without saying, but you can of course, do any of these things that you wish when fall returns and it's time to celebrate Halloween and Samhain during their home season. 😊