It would be easy to think that as we barrel along ever further into the 21st century, print magazines are a dying breed.
There is no denying that many magazines (and newspapers, too, for that matter) have seen a drastic decline in readership in recent years.
As a result, some have folded, others have scaled back the number of issues they put out each year, and others still have opted to exist in digital form only.
Of course, some of the big names appear to still be going strong. Yet even there, we have witnessed quite a few bow out in the last 5- 10 years or so.
For that and many other reasons, I am happy to see small, independent creators (aka, they aren't under the control of a huge conglomerate such as Condé Nast) brave the potentially treacherous waters of the publishing world and bring a physical magazine into being.
It takes a lot of faith, determination, hard work, and passion to do just that.
Gaëna da Sylva, the founder of the bilingually published (English and French, respectively) independent magazine The Forget Me Not Chronicle has all of those things in heaping spades.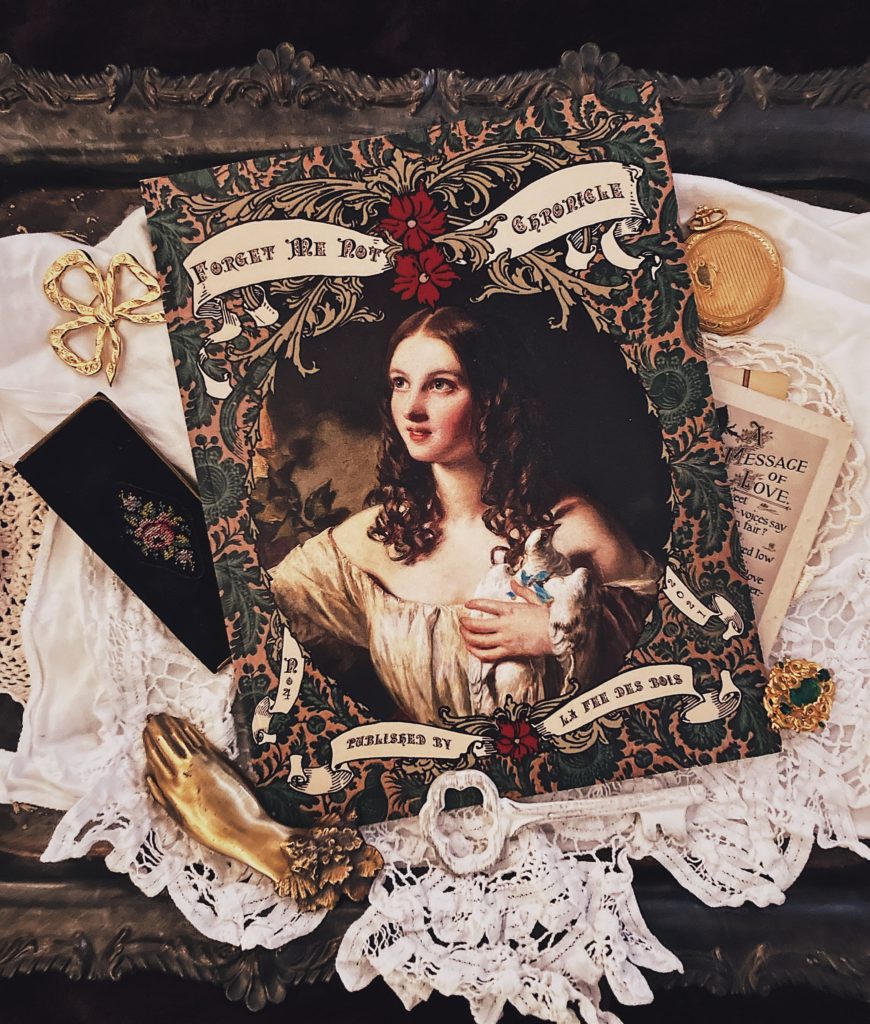 Presently on its fourth issue, The Forget Me Not Chronicle is a resplendently beautiful and enchantingly soulful publication that invites readers to step back in time for a spell and delve deep into the heart of the 19th and early 20th centuries (along with some older and newer eras as well).
To quote The Forget Me Not Chronicle's official homepage, "The Forget Me Not Chronicle was born between the strange days of 2020, in this distraught time we are passing through. Between the pages of this publication, will be nestled treasures of delicacies. Words of today, written by sublime souls, words of yesterday from old articles collected between the covers of these magazines from the last centuries that are part of my collection gathered over the years, unearthed here and there in flea markets, online and sometimes donated by generous souls."
The introduction to this magazine continues on that page and I encourage you to check it out – just as I do the current, past and future issues of The Forget Me Not Chronicle.
Amongst no shortage of life's challenges and stresses last year, a lovely and uplifting offer landed in my inbox one day. 🥰
It came from Gaëna da Sylva herself, who was already familiar with my writing. She was curious to know if I would like to contribute an article to her magazine's winter 2021 – 2022 edition.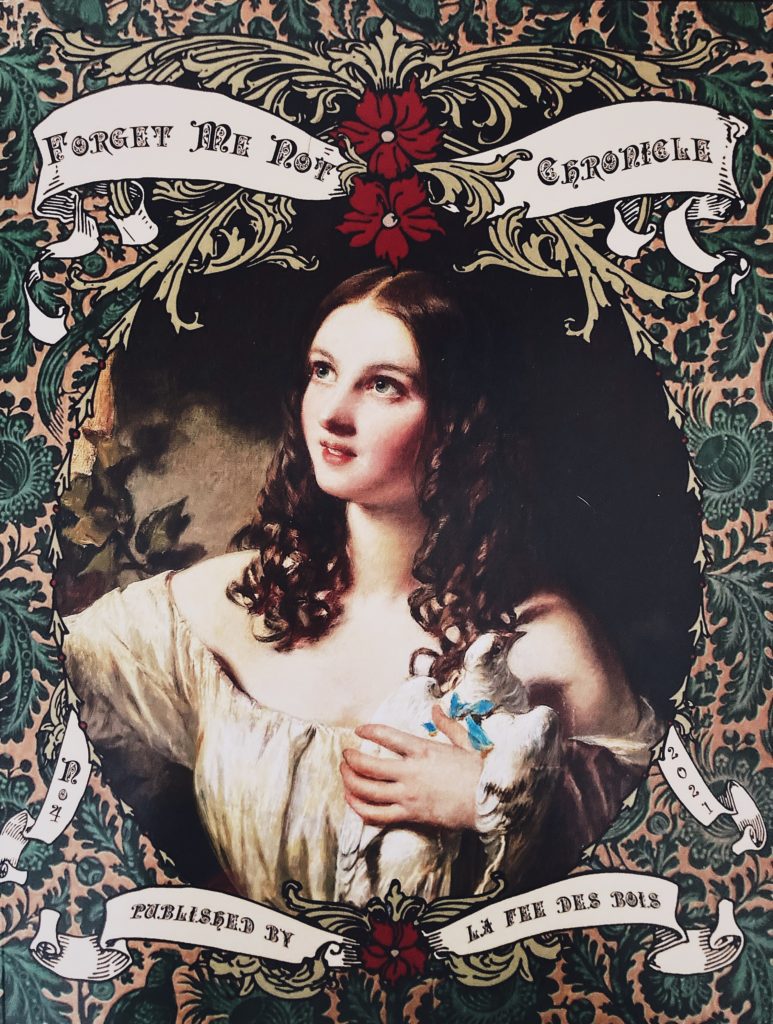 My heart leapt with joy at this exciting out-of-the-blue opportunity. 😊
I was not previously acquainted with this Canadian publication, but all it took was a few moments of exploring "The Chronicle's" website and YouTube channel to instantly fall head-over-heels in love with this beautiful magazine.
And, in turn, to eagerly and gratefully reply to Gaëna's inquiry with a very resounding "yes".
Gaëna shared more with me about the overall theme of this latest edition of the magazine (each edition has an overriding theme that runs through the various articles and images it houses) and suggested what type of general path she wanted my article to go down.
Namely, a connection, situated in days past, between the seasons of autumn and winter.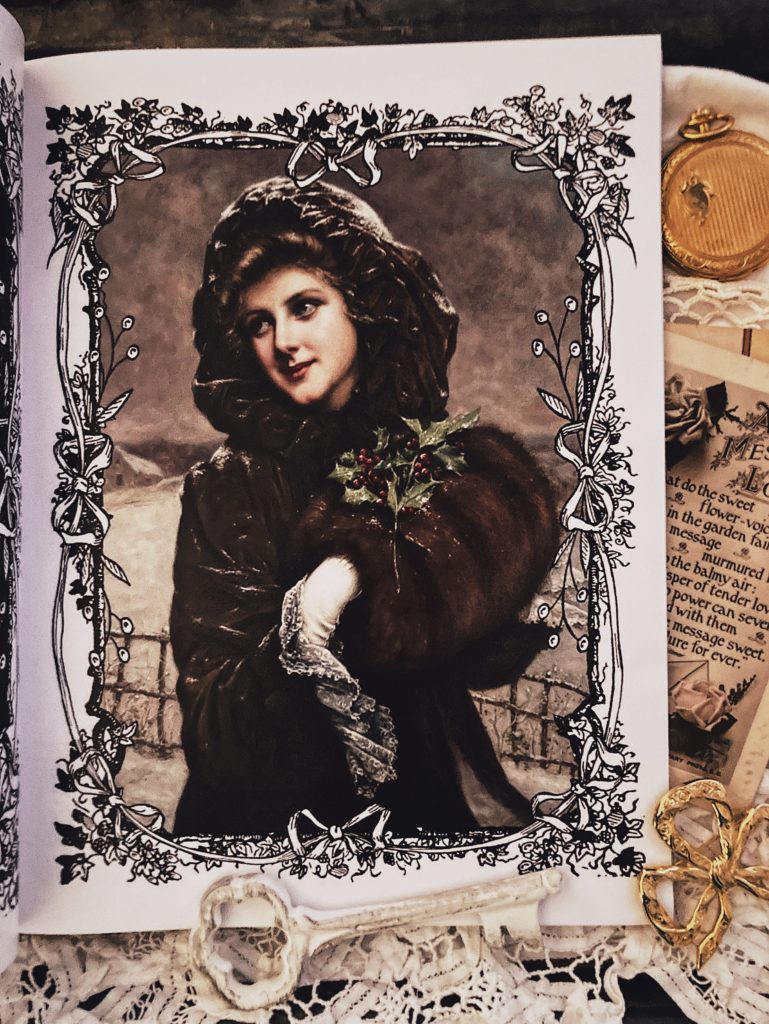 It took but a microsecond, as I read her specs, to hit on the topic that I knew I wanted to write about: the fact that between the 18th and early 20th centuries in particular, sharing ghost stories throughout the winter had been a long-standing and much-adored practice in some parts of the world.
Of course, the telling of ghost stories far predates that point and continues to the present. The heyday of this hauntingly charming activity – especially in the UK and ROI – was, however, the period mentioned above.
These days, the majority of us likely associate ghost stories with fall (especially Halloween and Samhain), campfires, and Hollywood productions.
And while books pertaining to wintertime and Christmas ghost stories continue to be published here and there (such as The Valancourt Book of Victorian Ghost Stories and Ghosts of Christmas Past: A Chilling Collection of Modern and Classic Christmas Ghost Stories), it is likely safe to say that most of us do not typically spend icy winter evenings regaling one another with hair-raising tales of otherworldly happenings.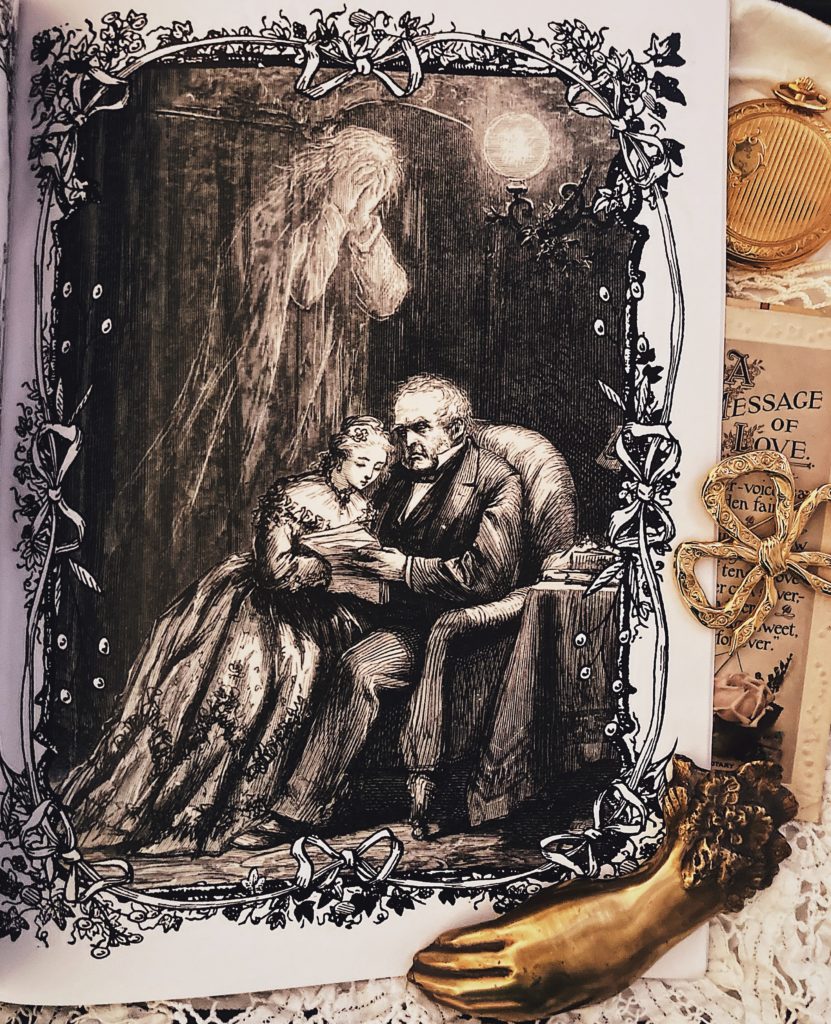 To those in the 21st century, arguably the most famous and well-known exception to that statement would be Charles Dickens's beloved classic, A Christmas Carol.
As I expanded on in my article, though, as wonderful a tale as A Christmas Carol is (indeed, it is my very favourite piece of Christmas-centered fictional writing), it is by no means the only wintertime or Christmas themed ghost story out there.
I loved getting a chance to delve into the topic further and to do so in such an elegant, yesteryear-focused setting, to boot.
Some of you are aware that during the years spanning 2009 to 2017, I ran a (humbly) rather popular vintage fashion and lifestyle blog.
Between the roughly 1,500 blog posts I penned for that site, some of both the professional freelance and ghostwriting I have done throughout my life, social media, and various other platforms, I have been writing about historical topics for a long time now.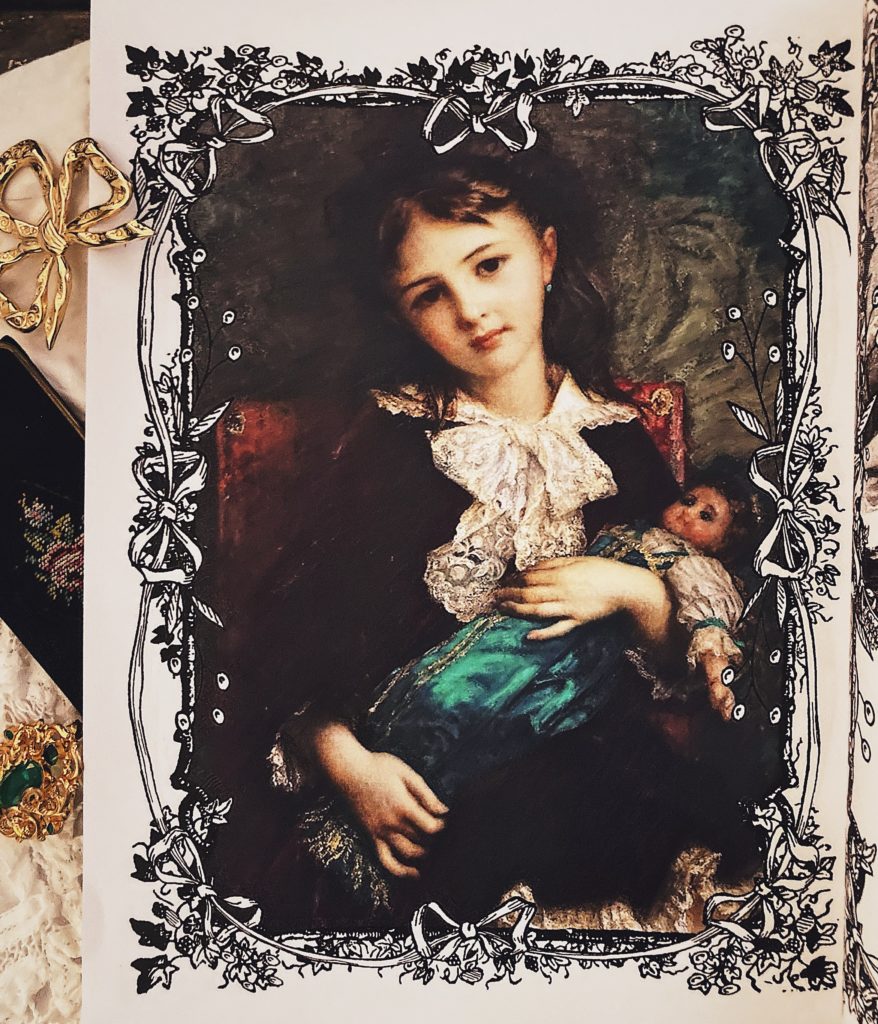 Doing so usually comes easily to me, as history and vintage related topics are some of my all-time favourites to both learn and write about.
I have often greatly missed having a platform in which to do just that after my vintage blog retired.
Sure, I can – and sometimes do – inject a hearty dose of history into some of my posts here on Witchcrafted Life (for example, those in my Cemetery Journeys series). Just as I have frequently covered historical topics on my Instagram account.
Yet, neither of those spheres are quite the same as writing about history/vintage for an outlet that focuses primarily on such.
With joy in my heart, I penned my piece titled "Ghosts of Christmas Past: Exploring the 19th and Early 20th Century Passion for Holiday Season Spooky Stories" for the latest winter edition of The Forget Me Not Chronicle.
You can read my article in its entirety through the photos below. ❤️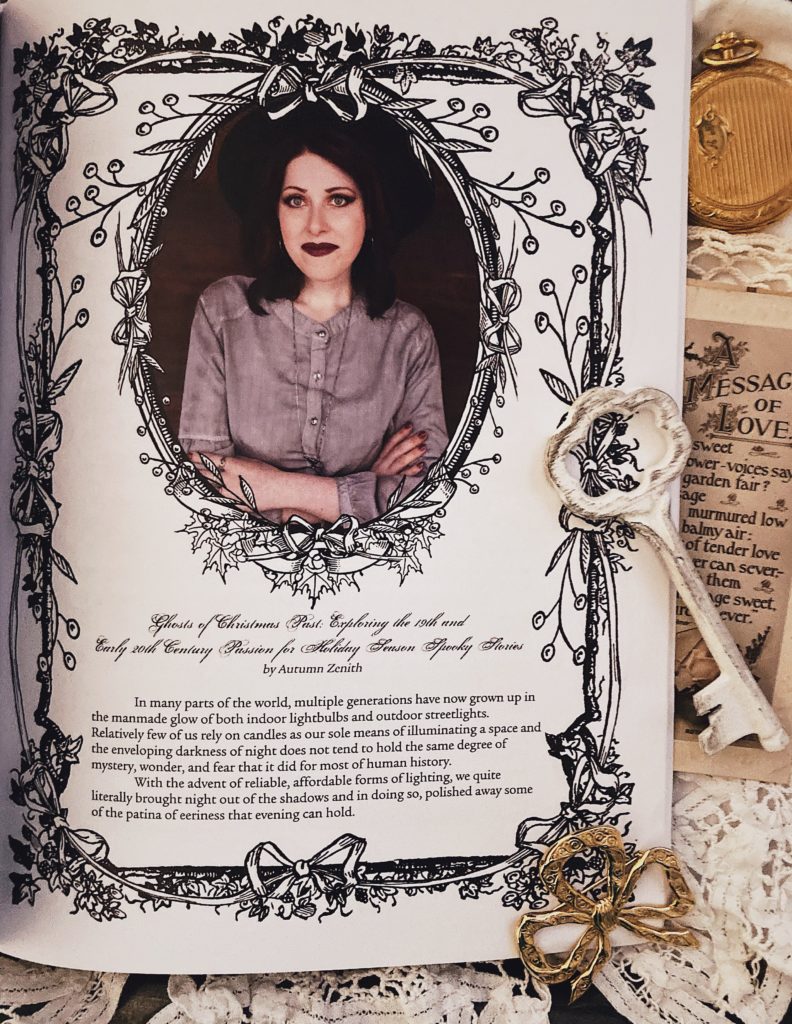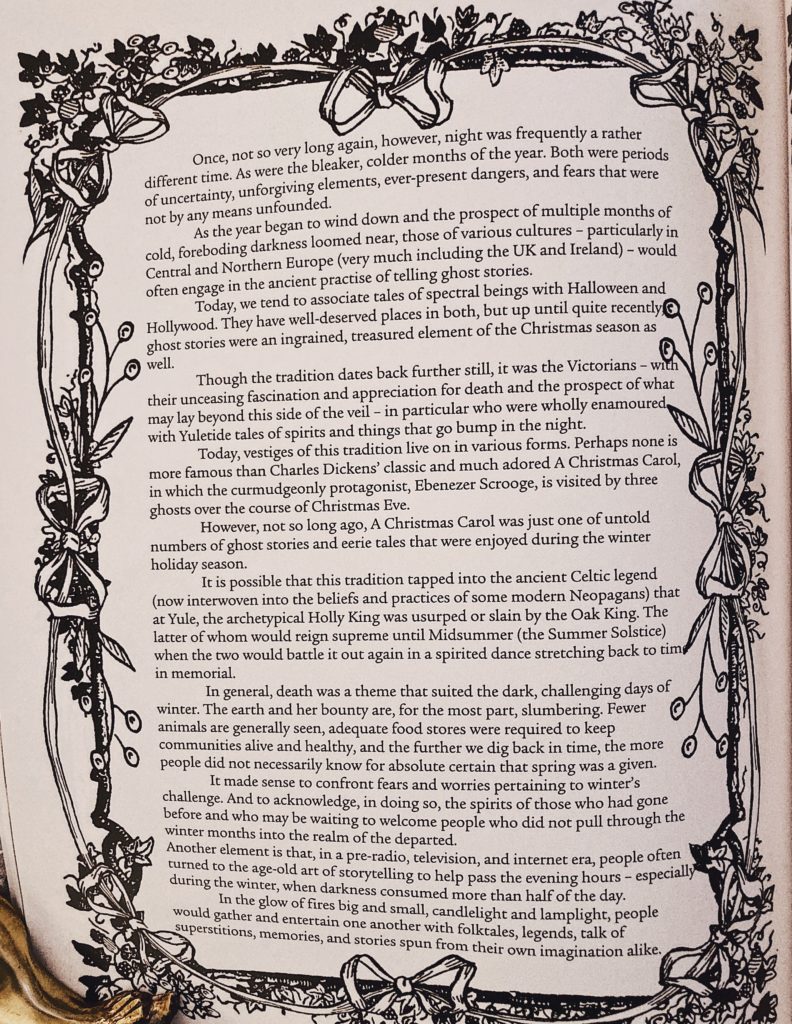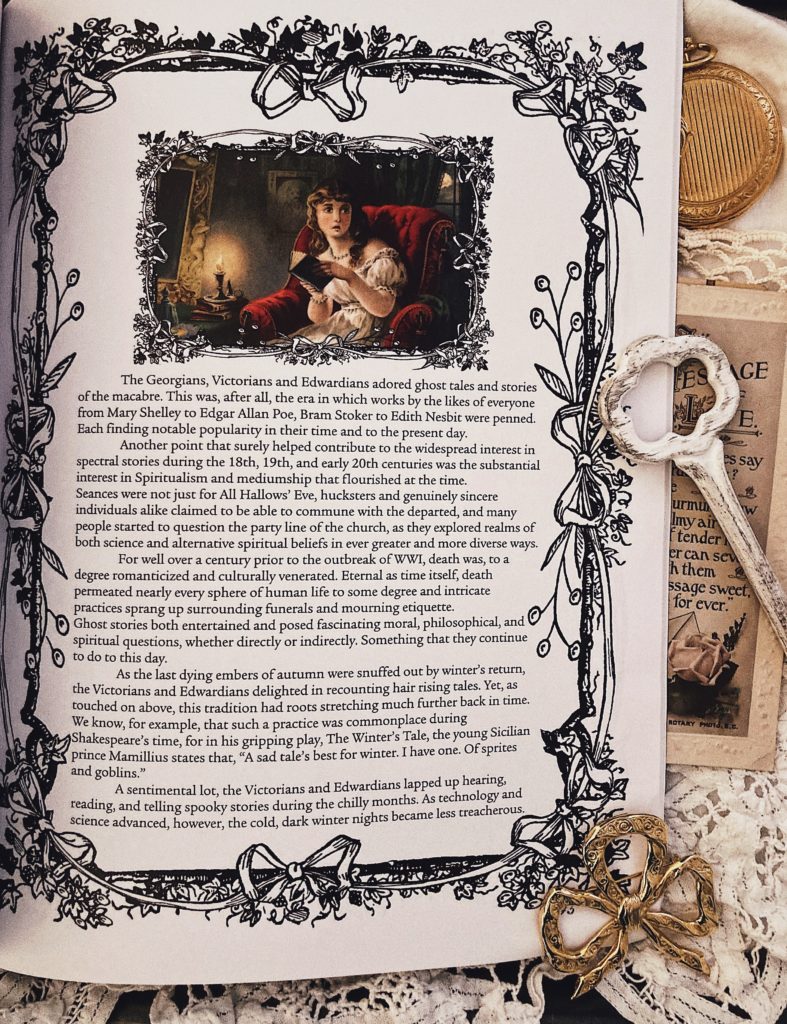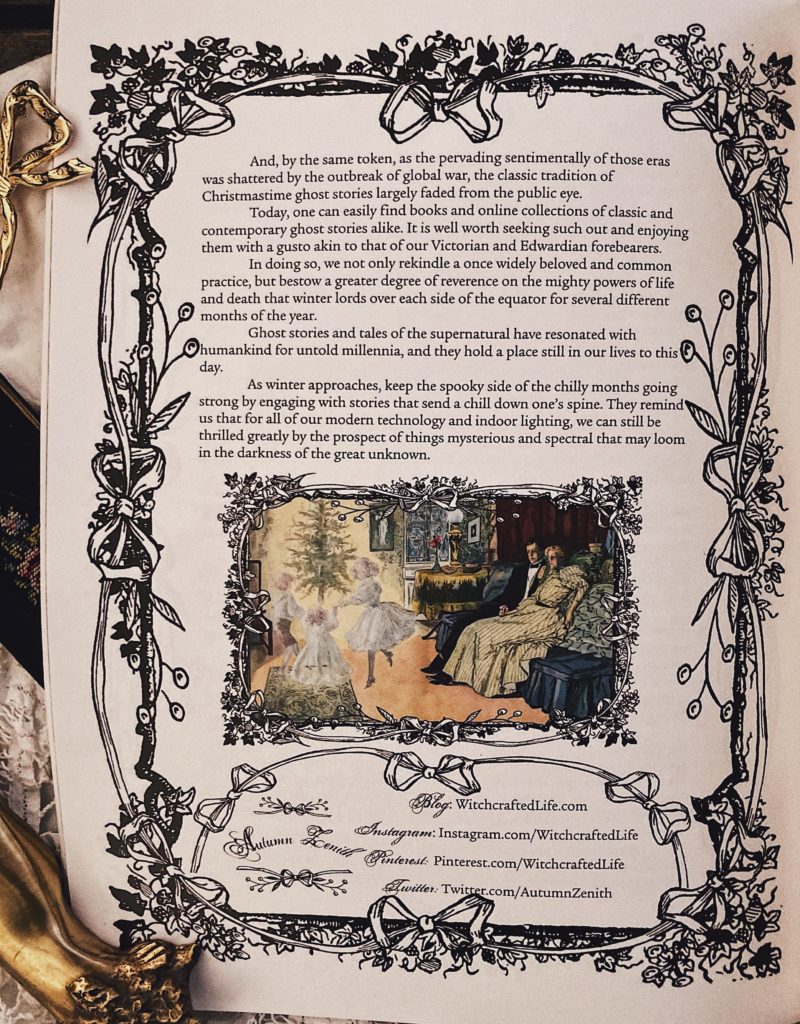 I was (and remain!) ecstatic to have had the opportunity to contribute to such a lovely, passion-driven independent magazine.
Little did I know that Gaëna would be so pleased with my intitial contribution that she would invite me to be a regular contributor to her publication.
This offer – much like the one that preceded it – touched me deeply. 🙏
I did not have to contemplate her offer at all. Once again, I said yes in a heartbeat and will now be contributing to The Forget Me Not Chronicle on a regular basis.
My column in this publication is called "Witchy Musings".
This, as some of you who follow me on Instagram may know, is a term and hashtag I have been using there for the past few years. As a result, it felt like a natural choice when Gaëna asked me what I might like the name of my column to be.
Excitingly, I recently penned and submitted my article for the spring 2022 issue, so it won't be too much longer until my second article appears in this publication. 🌸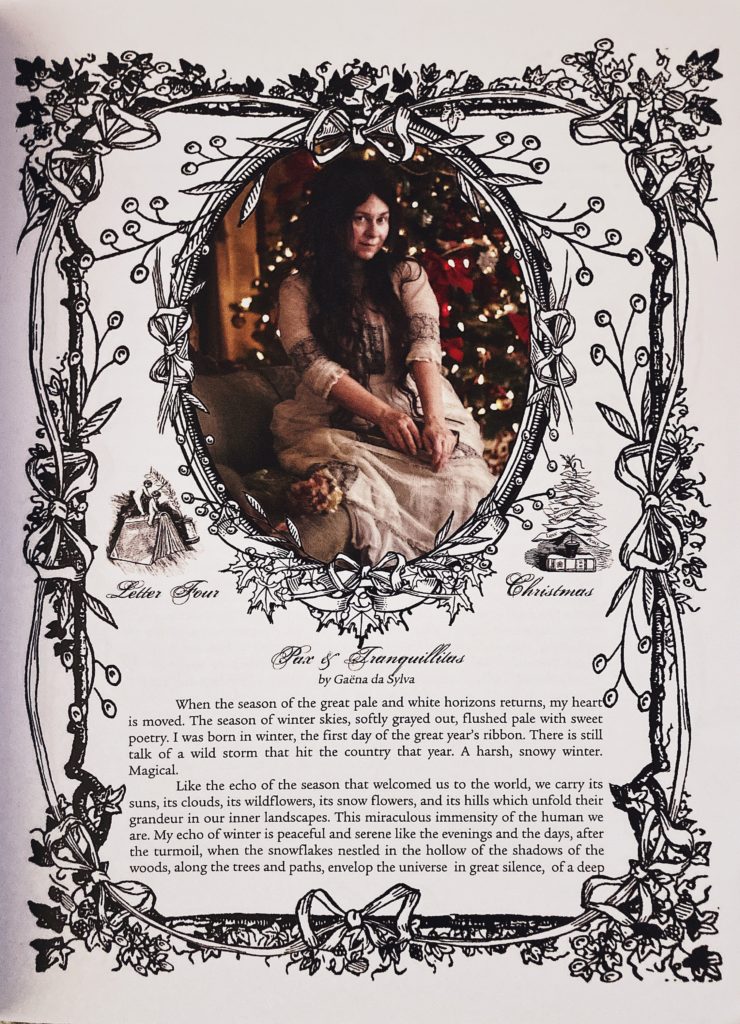 Gaëna aims, when possible, to release four issues of The Chronicle annually. In other words, one per season.
At present, The Forget Me Not Chronicle is available only in print (aka, not digital) form.
I would be hard-pressed to overstate what a fantastic publication this magazine is.
If you – or somebody that you know – has even a modicum of interest in anything to do with days gone by and/or living a creativity fuelled life, I cannot recommend highly enough that you consider picking up a copy of The Forget Me Not Chronicle.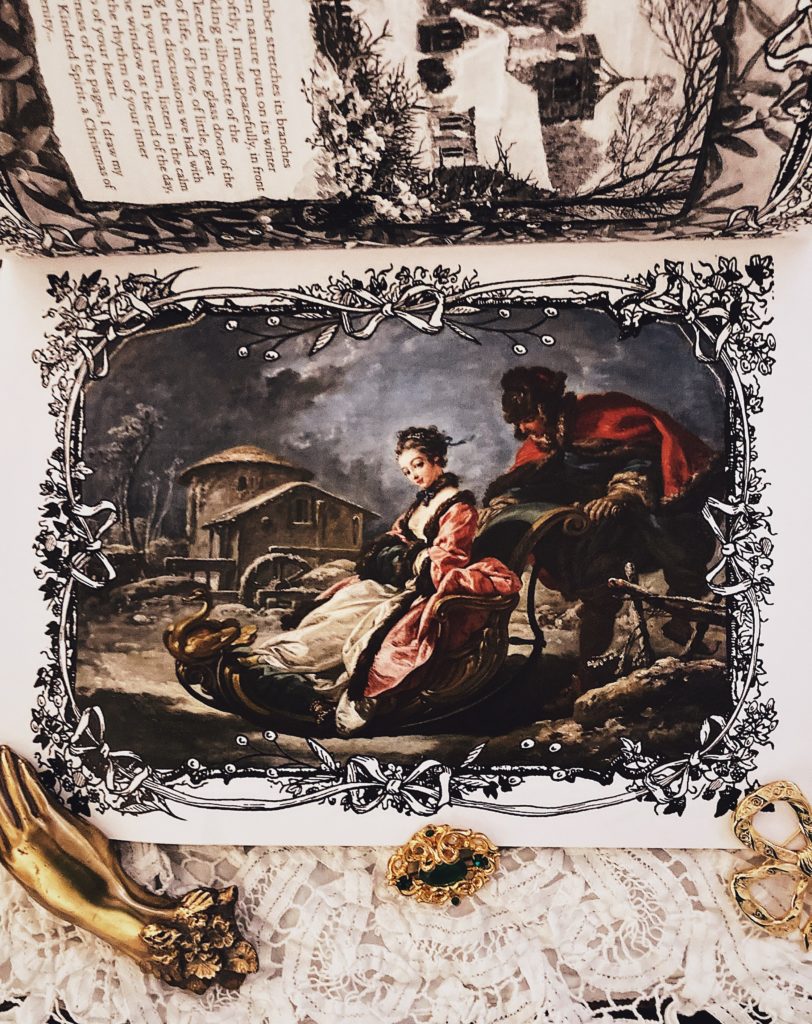 Those who wish to do so can currently order copies – both of the Winter 2021 – 2022 edition and previous issues of this magazine – from Blurb.
At present, they retail there for around $18.00 USD.
Now, I am the first to acknowledge that $18.00 is a fair amount to pay for a magazine (though I have certainly seen plenty with far steeper price tags than that). However, it is important to keep a few points in mind. They include the following:
–This is not just any old magazine. It is a true work of art. Every page contains stunning vintage photos and/or illustrations, gorgeous typefaces, and well-researched + eloquently written content.
In addition, the quality of the paper that this publication is printed on far exceeds that of most magazines, be they mainstream or indie.
-The Forget Me Not Chronicle is currently run and produced by Gaëna herself, with fresh articles each issue from various writers who are kindred history-loving spirits.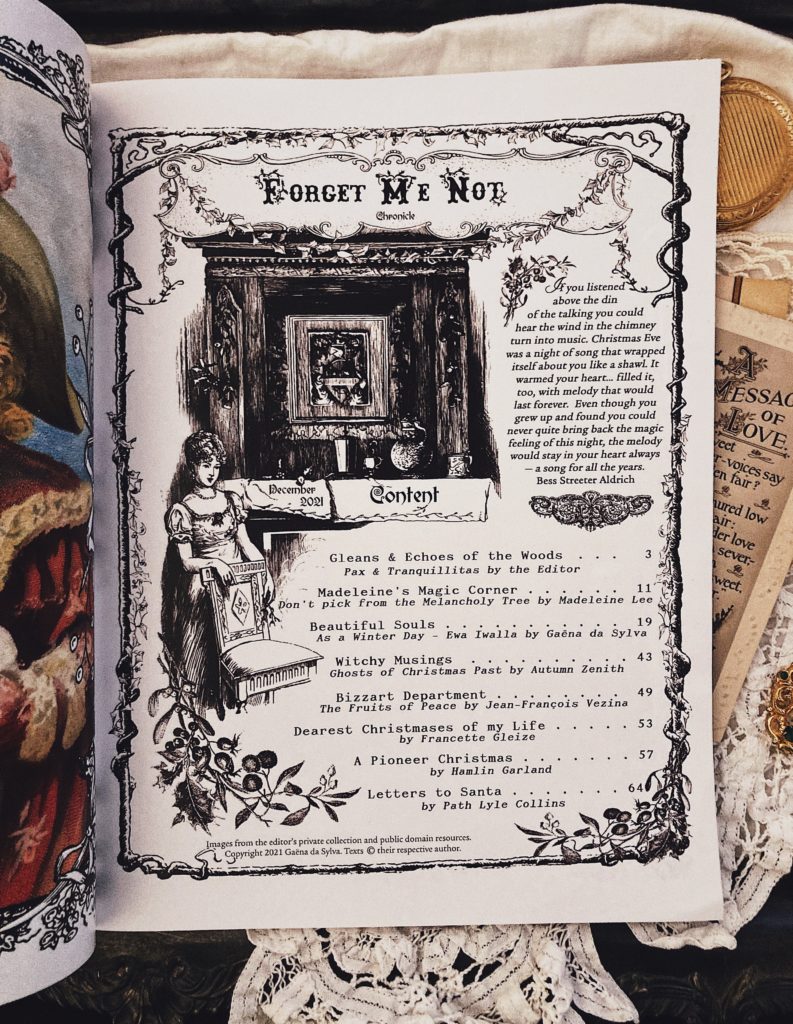 As, what could arguably be called, a one-woman production, naturally, Gaëna needs to make enough to justify both her time + hard work and to cover the costs associated with printing a magazine through an on-demand publisher such as Blurb.
-Much as it is usually fair to expect to pay more for a handmade item, say at a craft fair or on Etsy, than a mass-produced one, so too is not unreasonable to pay a bit more for a wonderful indie magazine that has been, no two ways about it, handmade in its own right.
-By supporting independent and small-scale magazines, you not only help to keep someone's (or multiple peoples') dreams going strong, you contribute to the overall magazine industry and, in a tiny way help to keep that very industry afloat.
Just as many of us have continued to favour physical books over digital ones – or at least enjoy a mix of the two – so too do a fair number of us still delight in the tactile experience of holding a paper magazine in our hands.
From the weight to the scent of the paper to the way that some of us feel we absorb/connect with written material more in physical form, there is a great deal to love and benefit from when it comes to printed magazines and books.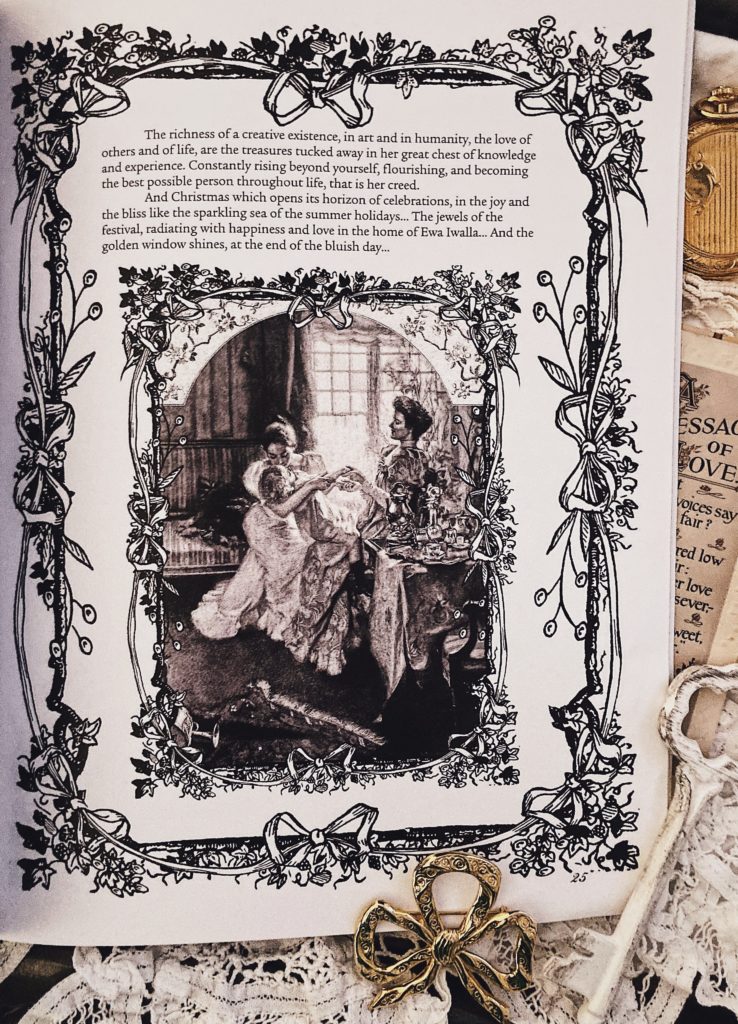 The Forget Me Not Chronicle is a million miles away from your everyday magazine. It is, in a lot of respects, more akin to a stunningly illustrated book covering historical topics.
Indeed, one could easily frame and display many of the pages in each issue on their wall, if so desired. This magazine really is that breathtakingly beautiful.
I am grateful from the bottom of my heart to have the opportunity to contribute on an ongoing basis to The Chronicle.
Not only does doing so allow me to write more on history/vintage related topics again, but Gaëna's initial request led me to discover her breathtaking magazine (which, again, is available in both English and French editions over on Blurb) and in turn to share about it here will all of you.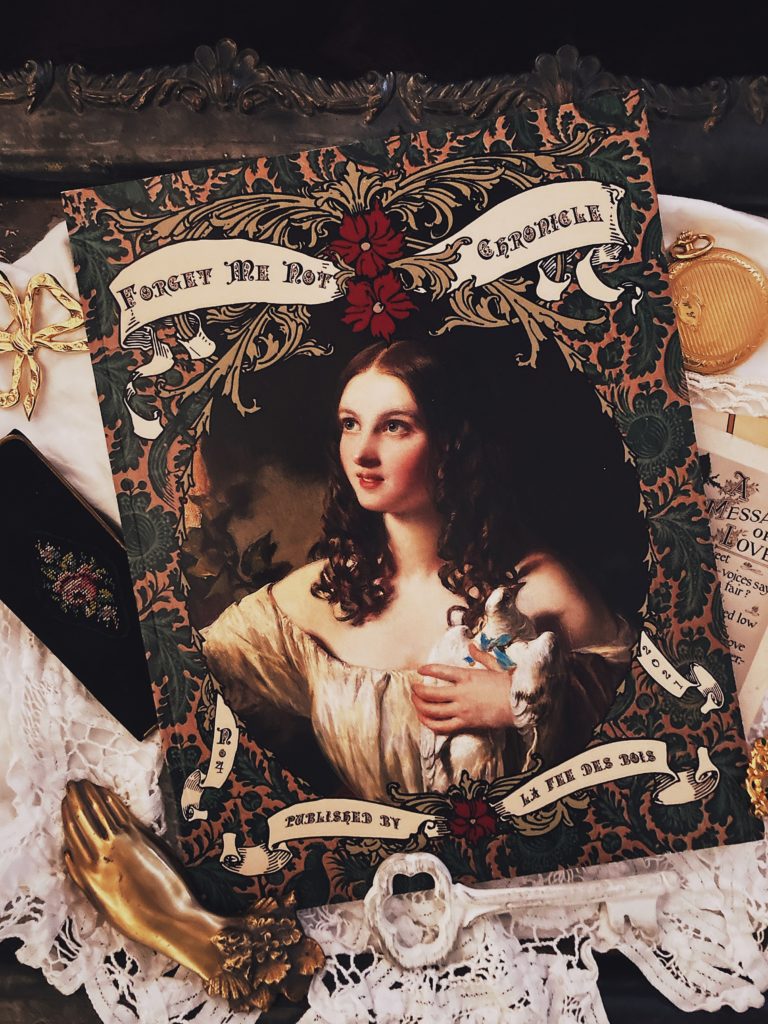 I can hardly wait to see what themes Gaëna will propose for future editions of The Forget Me Not Chronicle and, likewise, am champing at the bit to contribute more content to this deeply special and immensely inspiring magazine.
To cap off this post, I will leave you with another quote from The Chronicle's homepage, "The magazine is a work in progress and will evolve through time, hoping [for] it to be an inspiration, a little treasure to enlighten the days.".
That, let me assure you, sweet friends, it does to the highest and most delightful of calibre. 💗
Have you heard of The Forget Me Not Chronicle before? Do you enjoy reading indie and small-scale magazines? 👻📜🌹