My paternal grandmother loves to tell the story of how, as a young child of just two or three years old, I would carefully take her family photo albums down off the shelves and study them with great intensity for hours on end. Sometimes asking her, in the process, a stream of questions about the faces that stared back at my own young eyes from the reams of black and white and early colour photographs that these treasured albums housed.
Even at that early point in my life, I had a powerful love for both history and all things vintage.
Very sweetly, my grandma answered my questions and shared stories about the relatives that I was looking at, many of whom had long passed or lived in far-off areas, which meant I rarely, if ever, got a chance to see them in person.
By the age of five, I was utterly obsessed with history and found myself especially drawn to the period spanning the late 1930s to the early 1960s. This passion manifested itself in a plethora of ways – including rushing home after school to slip, nearly daily, into a cute pink and white gingham poodle skirt that my mom had sewn for me.
This was the end of the 1980s and beginning of the 1990s. Most kids my age were rocking slap bracelets, high-top sneakers, neons, and acid wash denim. I yearned to have a closet that looked like what the characters wore in some of my favourite vintage movies (especially the Haynes Sisters in White Christmas) and modern films (such as A League of Their Own) set in decades past.
Far from being a quaint childhood interest or passing fancy, my appreciation of, and love for, mid-century vintage would only deepen over the years.
By the time I hit my early teens and my parents began allowing me to buy my own clothes, I took the funds I earned from babysitting, birthday money, and any other income I could scrounge up at the time and hit my town's thrift stores.
The late 1990s were upon us by then and while vintage and antique clothing had begun to experience a serious revival in recent years, one could still snap up incredible mid-century pieces for a song.
Bias cut slips from the 1930s, pleated plaid wool skirts from the 1940s, adorable cardigans, sundresses, and jaunty hats from the 1950s, and gloves from each of those decades (and more) were still relatively plentiful, as older people or their families donated closet after closet of mid-century attire to thrift shops.
Not only were vintage pieces fairly easy to come by, but in settings like that – along with yard sales and flea markets – they were often exceedingly reasonably priced. Meaning that a vintage adoring teen on a tight budget could still manage to pepper her closet with clothing, accessories, and jewelry from the eras when my own grandparents were my age.
As I grew into adulthood, I continued to build a wardrobe that was primarily filled with vintage, vintage reproduction, and vintage appropriate pieces (the latter being a term I coined many years ago to describe contemporary items that while not intentionally designed to be vintage reproductions, channel the look of the mid-twentieth century well enough to easily be used instead of, or in conjunction with, actual vintage and repro garments).
This love extended beyond my clothing, makeup, and hairstyles. Online and off, I studied mid-twentieth century history around the clock, talked to people who experienced my favourite decades firsthand, hit every museum I could to learn about the local history, played vintage music and watched old films every chance I got.
Naturally, while I adore the fashions and many other elements of times gone by, it is worth mentioning that like most of my fellow vintage enthusiasts I believe in vintage style, not vintage values and am exceedingly grateful for the progress that has been – and continues – to be made in many areas of society these days.
In my mid-20s, while in the midst of an especially challenging time on the health front during which I felt like I was losing a lot of myself and my identity to the ever-present medical issues that filled my day, I launched a vintage fashion and lifestyle blog.
Doing so allowed me to reclaim a greater sense of my identity, happiness, creativity, and purpose in life. Helming that blog for eight years would turn into one of the most rewarding, memorable, exciting, meaningful, inspiring, and enjoyable experiences I have ever had.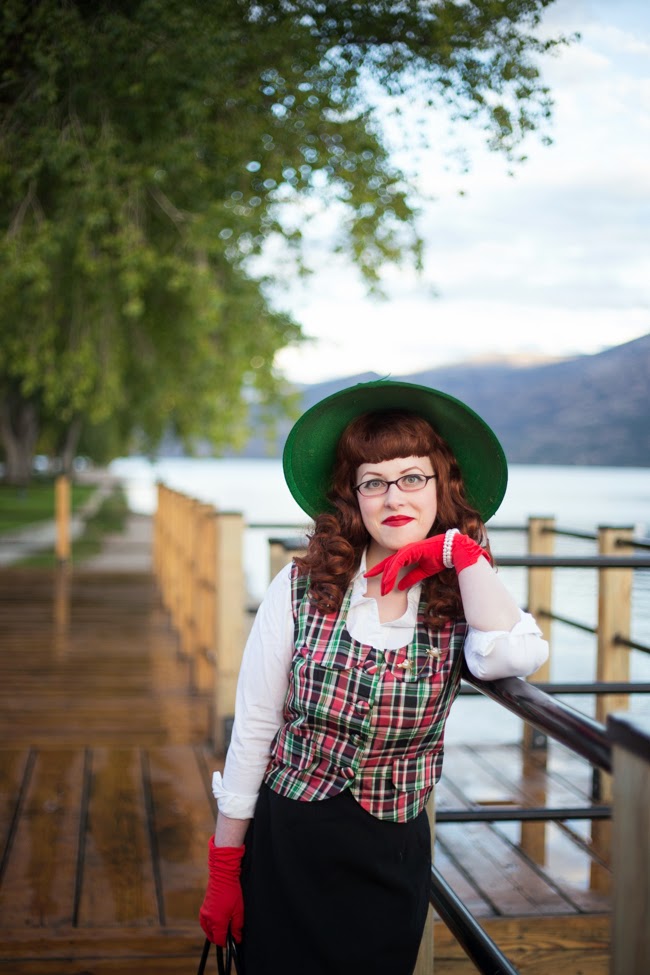 That website – which some of my readers here who have known me for a number of years will no doubt remember – ran from 2009 – 2017, only being retired in the wake of the arson fire we experienced. As, at the time, I had to focus as much of my time and energy as possible on rebuilding our shattered life.
Few decisions have ever been more difficult for me than the one that I agonized for months over regarding if I should retire that blog or not. Ultimately, I do not regret my choice and know that it was best for myself and my family at the time.
These days, while I no longer wear mid-century attire (nearly) exclusively and my style has come to envelop a wider range of my eclectic tastes, one can still find plenty of vintage attire hanging in my closet and tucked neatly into my dresser drawers.
I might not be blogging up a storm on vintage related topics, but I have not lost one iota of my passion for the past and continue to study, appreciate, wear, and adore the mid-century era that was at the heart of my previous website.
By now you are likely wondering why I am discussing all of this with you at the start of a paper crafting project share post.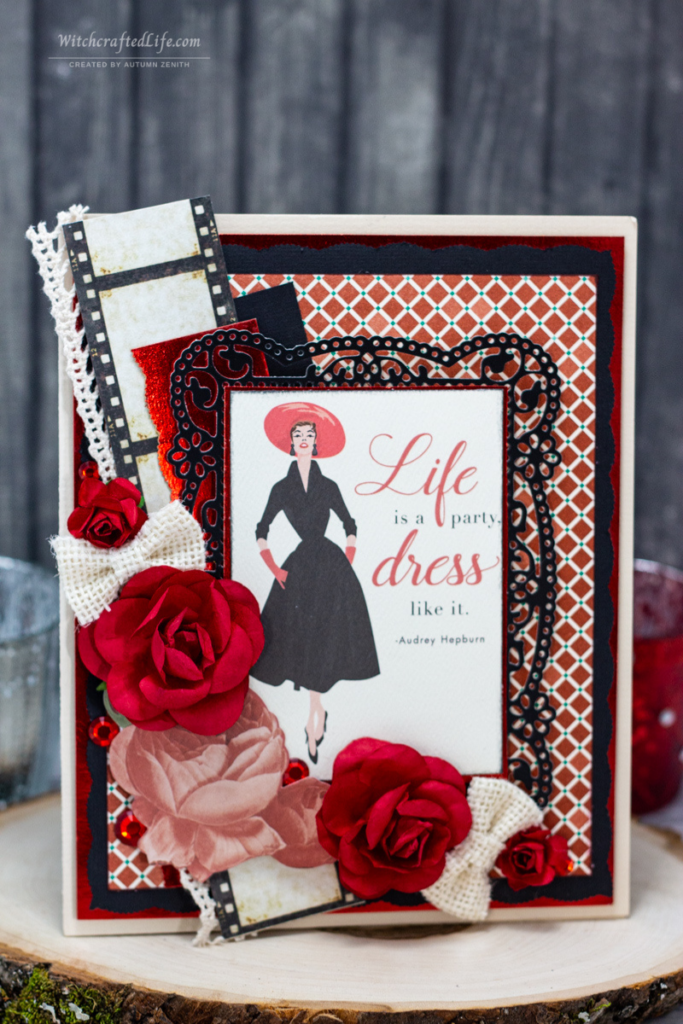 The main reason for such, dear friends, is that the elegant birthday card at the heart of this post features an exceedingly glamorous vintage woman and an overall theme that conveys a charming yesteryear vibe.
I let a lot of my assorted passions shine through in my paper crafting. Vintage is no exception and I love finding ways to weave elements that channel the past into my 21st century makes.
This particular card was made with a fellow vintage adoring friend in mind.
She is someone I have had the pleasure of knowing for many years and whose friendship + ceaseless support of my online endeavours never fails to touch my heart to its core.
Vintage Inspired "Life is a Party, Dress Like It" Birthday Card
In terms of my personal style of paper crafting, this is not an overly complex or elaborate card. I feel, though, that it still packs a great visual wallop.
As much as I love layers, dimension, and embellishments, I am also the first to say that not every project I make needs to be dressed to the nines – especially if it features an image on it of someone doing just that. 😊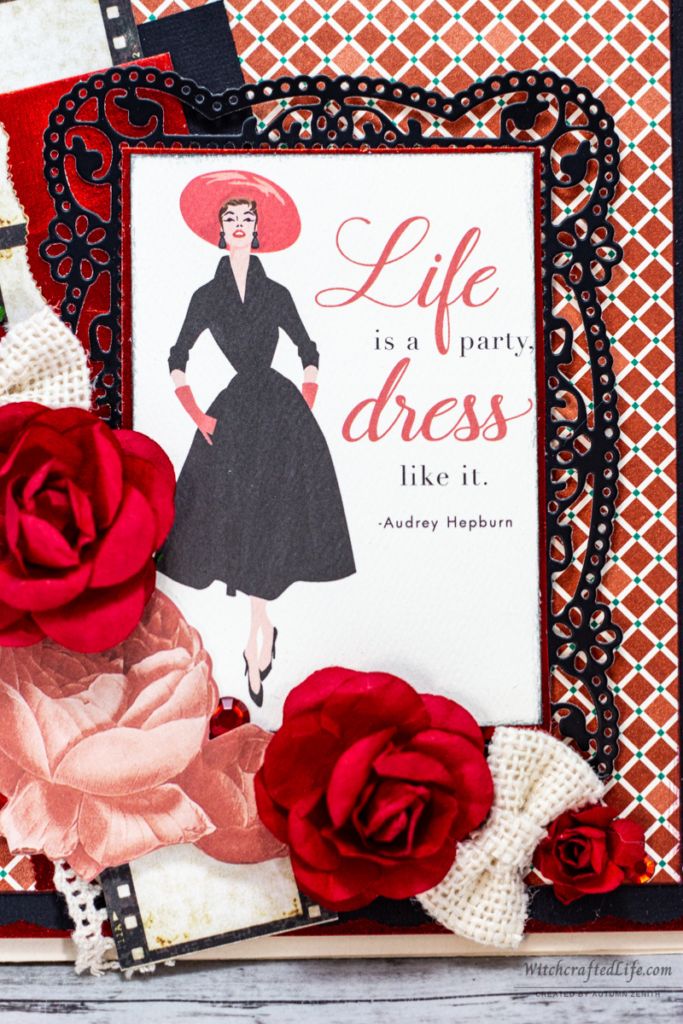 In this lovely vintage illustration, we see a woman sporting a look that typifies the post-war passion for garments that were at once fitted and voluminous at the same time.
Today, we most strongly associate this drastic break from the austerity and fabric rationing of the war years with Christian Dior's iconic and incredibly beautiful "New Look".
However, Monsieur Dior was by no means the only designer to embrace a trend towards extremes of femininity, generous amounts of fabric, and chic elegance in the 1940s, 50s, and very early 60s.
That said though, his iconic New Look styles remain my all-time favourite from any decade of the previous century. A point that I doubt will ever change.
I was – and still am – hugely inspired by the glam, sophisticated, creative, and often very well-made attire, accessories, and jewelry from the years spanning the release of the New Look in 1947 to the end of the 1950s.
Just as I am with the broader picture of the 1930s – the early 1960s.
I telegraphed a sense of that period via this card. Its eye-catching colour palette of red, black and cream is powerfully timeless – not unlike the crimson roses, rendered here in paper form, that bedeck this captivating card.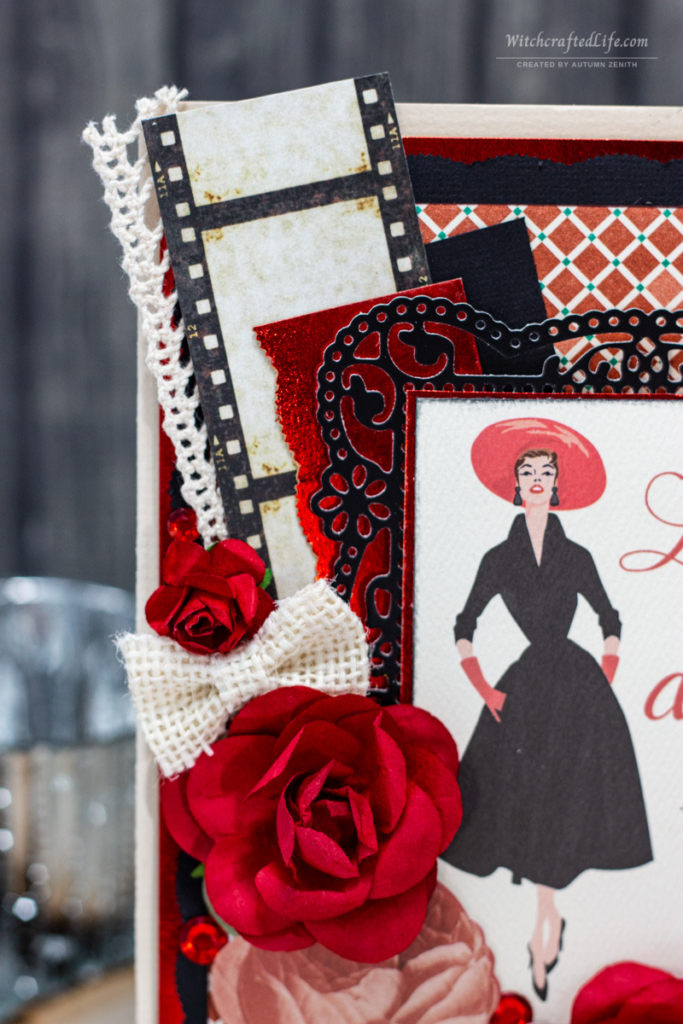 The vintage style filmstrip paper, much like the central image itself, is another nod to the past and one that many of us who were born prior to the advent of digital photography are apt to have plenty of memories pertaining to.
For me, it is also a subtle nod to those days of my early youth spent pouring over old photos.
Not, mind you, that I have stopped doing so since then. 😊
While this particular card is destined to be a birthday greeting, you could just as easily give it for other occasions or reasons as well.
New Year's, Valentine's Day, Mother's Day, bachelorette parties, congratulations, new jobs, thinking of you, and various other possibilities all lend themselves to a card design like, too.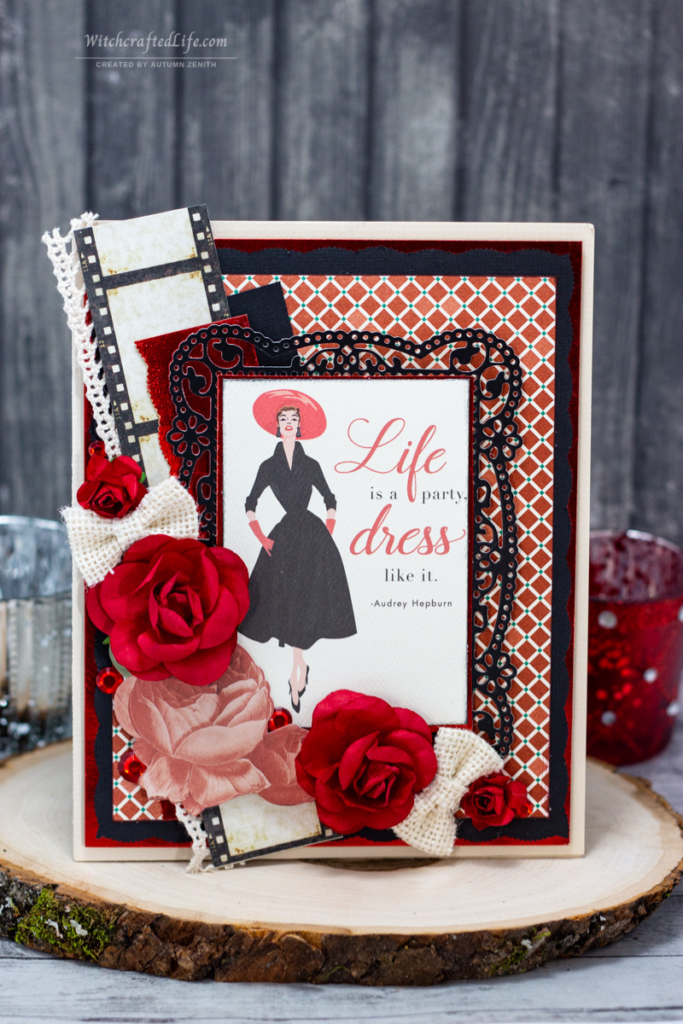 Given its abundance of red and cream, you could even deliver or post this ritzy greeting out for Christmas as well.
If you're keen to channel a sense of the mid-twentieth century, too, read on for a detailed list of materials and instructions needed to whip up a stylish vintage fashionista card of your own.
Products used to make this chic red and black birthday card
-Ivory or cream cardstock
-Black cardstock
-Red Metallic cardstock – Foil Cardstock Paper from Recollection (Michael's brand)
-Matte black metallic cardstock – Black Velvet Mirror Cardstock from Tonic Studios
-Red and cream diamond print paper
-Filmstrip paper – Art of Life "Thankful" paper from Kaisercraft
-Ornate frame die
-Vintage woman image – En Vogue 3"x4" Journaling Cards from Carta Bella
-Red cabbage rose die cut piece – Noteworthy Boulevard Die Cuts from Bo Bunny
-Decorative edge scissors – Sunflower Paper Edgers decorative scissors from Fiskars
-Dark red/burgundy ink – StazOn Claret Solvet Ink from Tsukineko
-Black dye ink – Wicked Black Archival Dye Ink from Color Box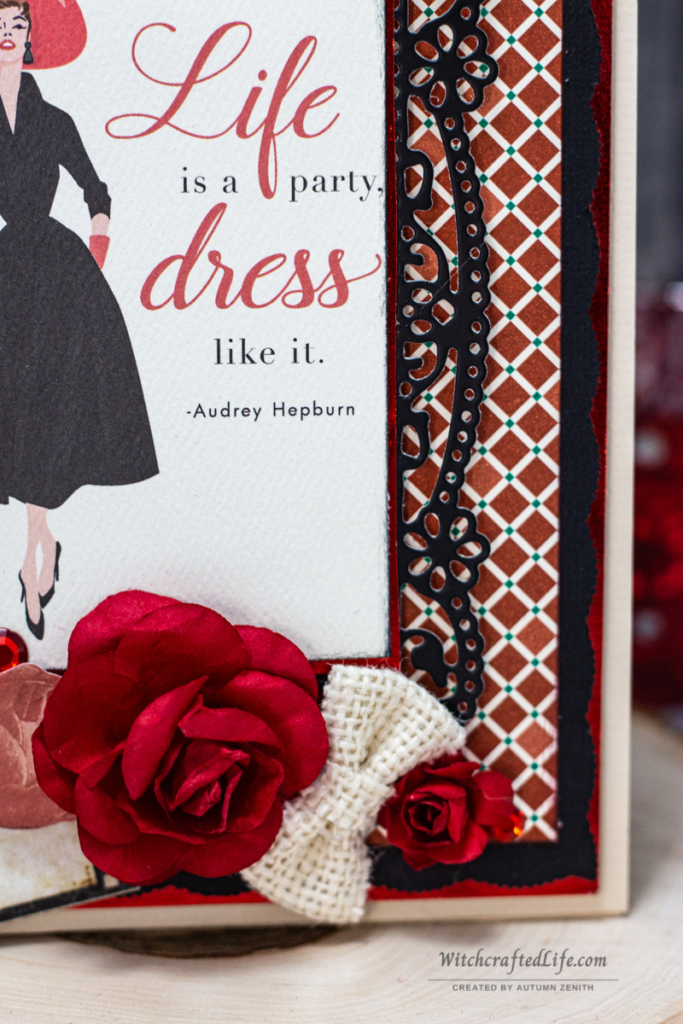 -Red paper roses (the ones that I used here are from Dollar Tree's "Crafts" brand)
-Mini red paper roses (from Ali Express)
-Cream/ivory crochet trim – Tinsel & Twigs Market Trims from The Girl's Paperie
-Cream/ivory mini burlap bows – Burlap Bows from Recollections (Michael's brand)
-Red rhinestones or the red bling of your choice
-Dimensional foam, pop dots, or similar to elevate some of your layers
-Adhesive, such as a tape runner, of your choice (I often use my Scotch Tape Glider)
How to make an elegant mid-century vintage inspired birthday card
Begin by making a card base from cream or ivory cardstock. Top it with a piece of red metallic cardstock cut slightly smaller than the front of the card base. Adhere.
Using the decorative edge scissors, cut a piece of Black Velvet Mirror Cardstock from Tonic Studios a little smaller than the red metallic layer. Adhere.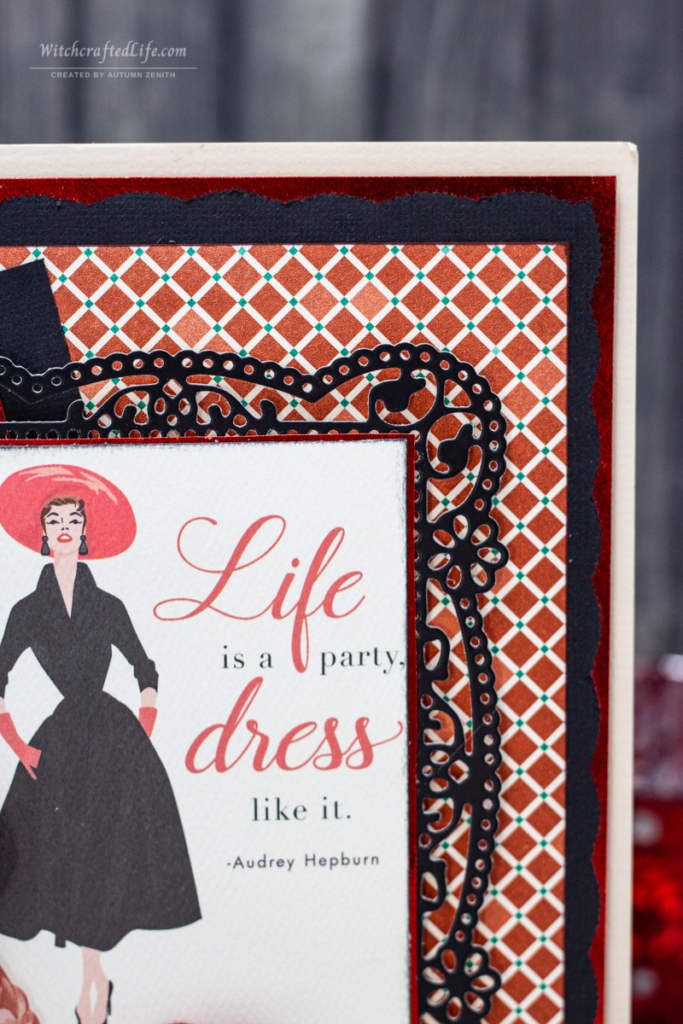 Cut a piece of red and cream diamond print paper slightly smaller than the black mirror cardstock layer. Adhere.
Cut a narrow rectangular piece of the same metallic red cardstock using the same decorative edge scissors, then cut a piece small rectangular piece of Black Velvet Mirror Cardstock.
Fussy cut out a film strip from the Kaisercraft Art of Life "Thankful" paper. Back this piece along the left-hand edge with a piece of cream/ivory crochet trim.
Arrange and adhere the Black Velvet rectangle, the red metallic rectangle, and the film strip piece all at an angle on the left-hand side of the card, as shown.
Die cut an elegant frame from Black Velvet cardstock. Top center of the frame with a piece of red metallic cardstock. Top this layer with the vintage lady image from Carta Bella – inking the edges with black die ink before adhering it in place. Adhere all layers together and to the previous card base layers.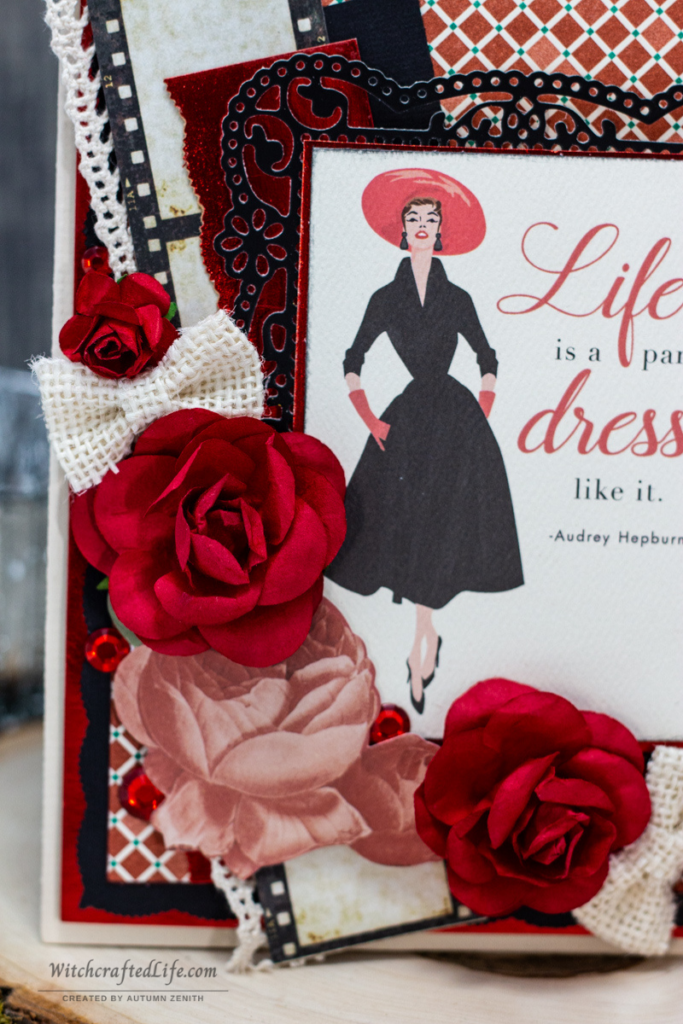 Arrange Bo Bunny red cabbage rose die cut, small and big red paper roses, and cream/ivory burlap bows around the bottom left and center of the framed image, as shown.
Lightly run the dark red/burgundy ink pad across the tops of some (or all) of the red paper roses to give them a subtle hint of additional depth and visual interest.
Arrange and adhere red rhinestones around the paper flowers and bows.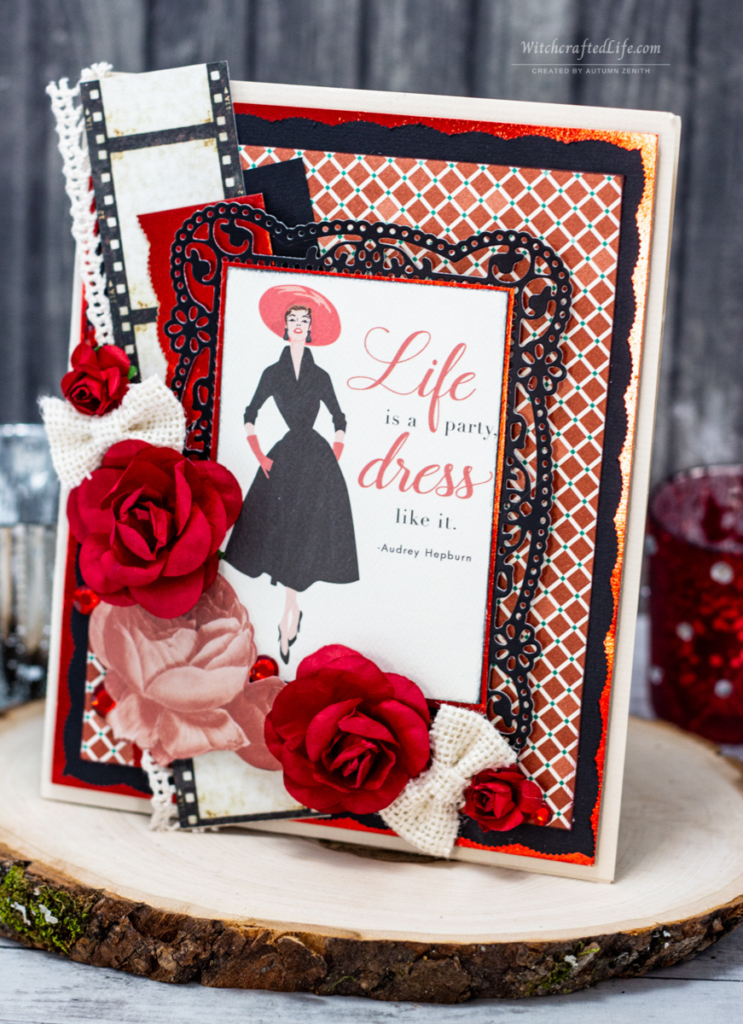 That's all there is to it with this chic handmade birthday card.
Much as with a wonderfully glamorous outfit, you have put together something timelessly lovely that is sure to brighten anyone's day.  ❤️
Life is a party, dress – and craft – like it!
Naturally, one does not have to have a lifelong passion for the past to avail of vintage themed paper crafting products.
Just about anyone can put together a vintage influenced craft project, and turning to days gone by can be an amazing source of creative inspiration.
Many different paper crafting brands have released – and continue to release – vintage inspired lines and products.
Some of your current best bets on that front include Spellbinders, Pion Design, Graphic 45, P13, Kaisercraft, Carta Bella, Bo Bunny, Simple Stories, Dress My Craft, Prima Marketing, Stamperia, Authentique, Tim Holtz, and Paper Rose, to name but a few.
Vintage images and other aesthetic elements can convey a wide range of things. They are sentimental and nostalgic, but can also be everything from kitschy (in a good way) to solemn, sweet to playful and more often than not, they are stop-you-in-your-tracks gorgeous.
The sentiment on this particular card encourages people to dress like life is a party. Albeit from an introvert's take on that message, I have long embraced a similar mindset when it comes not only to my wardrobe choices, but also to my paper crafting style.
Clean, understated, and modern designs can look amazing and I sincerely appreciate them, but at the end of the day, they rarely feel like me.
I eschewed acid wash jeans and neon pink slouch socks in favour of frilly dresses and granny boots while still in elementary school, so it is a safe bet to say that I have only continued to lean ever-more into those vintage styles and eras that call to me as I've gotten older.
Whether vintage makes you go weak in the knees or not, I encourage you to look to the past sometimes for inspiration and ideas aplenty when making craft projects.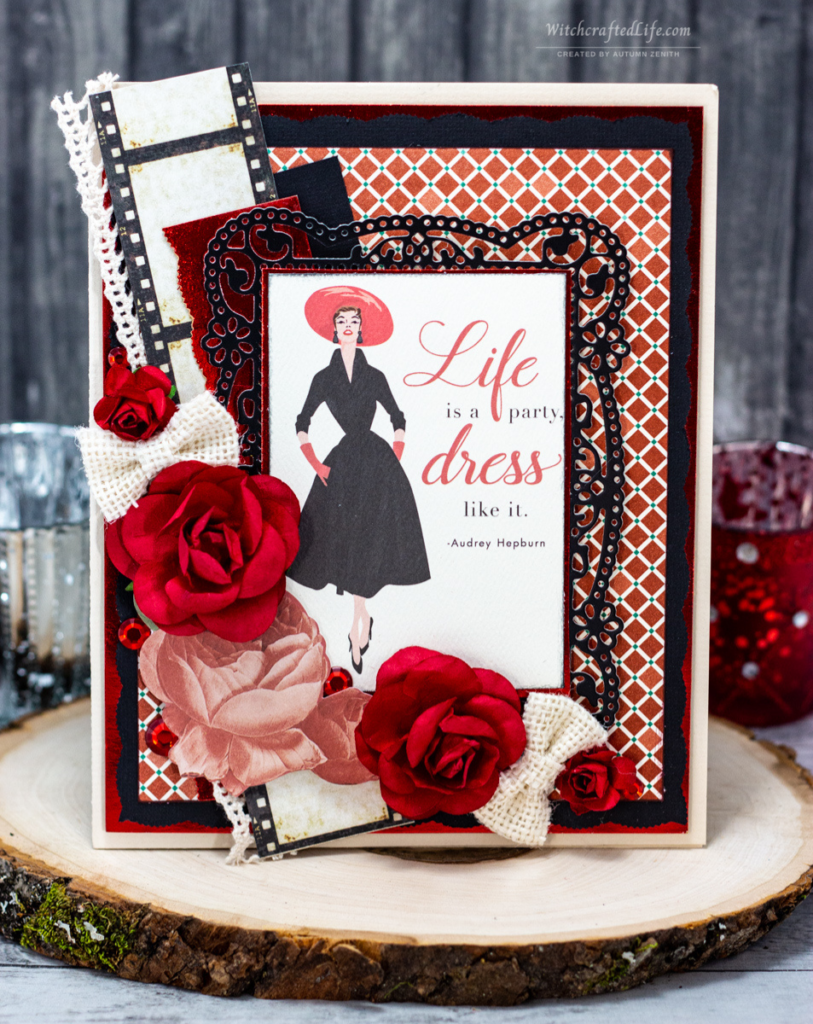 If the 1940s and 1950s aren't your bag, what about the Victorian and Edwardian eras? How about the exhilarating 1920s, the groovy 1960s, or the earthy boho style that many embraced in the 1970s?
Heck, at this point, even the 1980s and 90s themselves are technically old enough to be classified as vintage. They too can be a super fun way to channel the past in your paper crafting projects.
You know, I rather love the fact that the very decades in which I was born and came of age are now considered old school in some respects. There is a coming full circle element at play there that delights me something fierce.
As does making cards like this one for cherished friends and relatives around the world.
Do you include vintage/antique inspired elements in your craft projects? What is your favourite decade from the 20th century? 🖤👗🖤