One of the elements of blogging that has long delighted me to no end is the exciting opportunities and relationships that can potentially spring forth from any post you put out in the public sphere.
Case in point, earlier this year I penned an entry called 25 Jigsaw Puzzles That are Perfect for Witches and Pagans (and Puzzle Fans of All Kinds!).
Shortly after this post appeared here, I was contacted by the founder of an exciting new Australian jigsaw company called Pennywinks.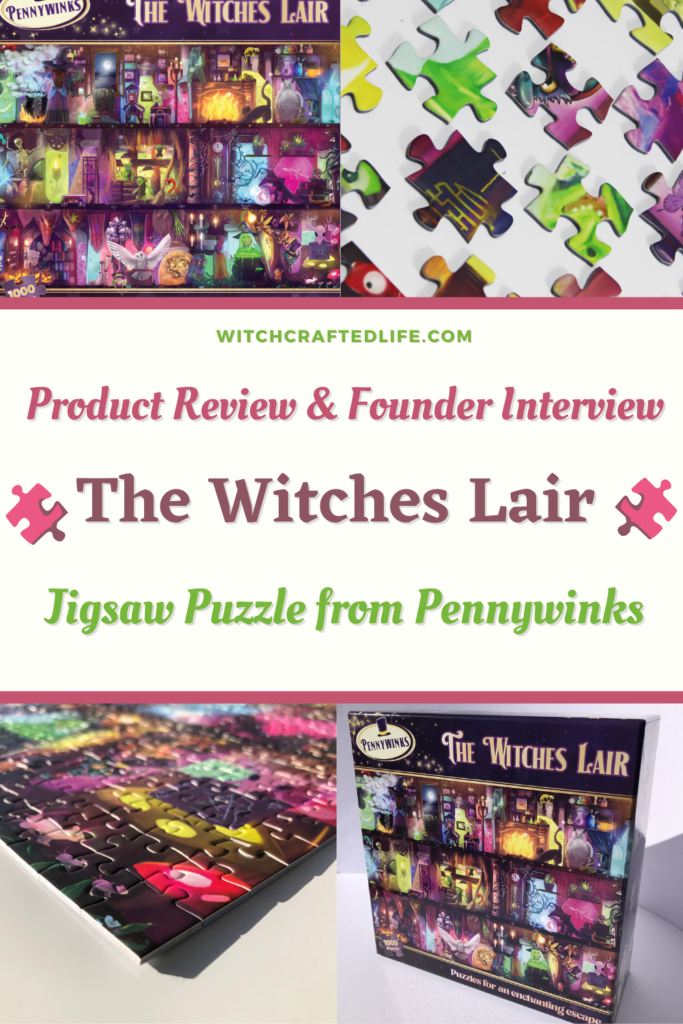 The chap named Phil who launched Pennywinks (we will be chatting with him later on in this very post 😃) was curious as to if I would like to receive and review their debut jigsaw puzzle design called The Witches Lair.
My answer was a resounding and very appreciative, "Yes, please!".
On previous blogs that I have run over the years, I often reviewed a broad range of different products. So far on Witchcrafted Life, however, my reviews have been book-centred ones.
Getting the opportunity to not only do, but also review, a beautiful new puzzle was a lovely change of pace and moreover, a fantastic way to introduce you to Pennywinks and their products.
Puzzle specs
Puzzle name: The Witches Lair
Jigsaw puzzle company: Pennywinks
Puzzle piece count: 1,000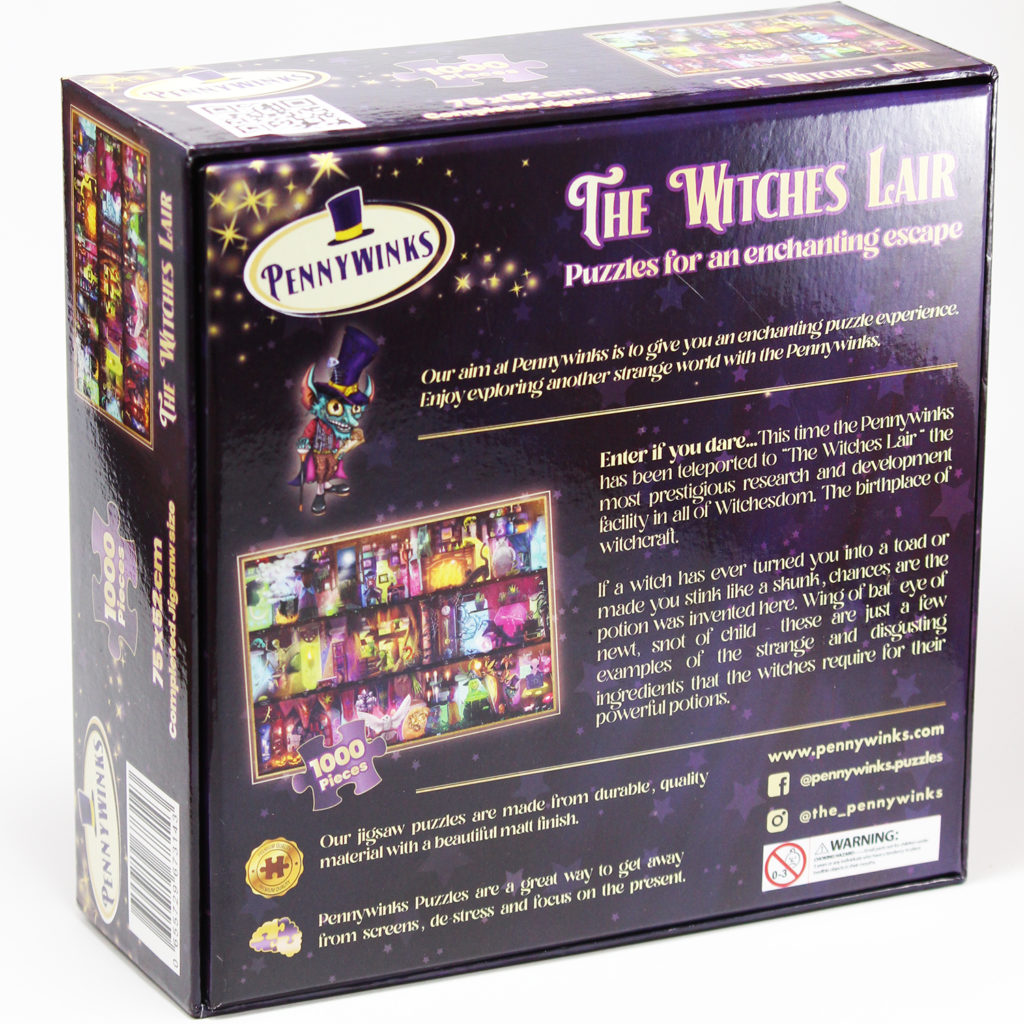 Blog: Pennywinks Jigsaw Puzzle Blog
Pennywinks on social media: Instagram | Facebook
Review of The Witches Lair Puzzle from Pennywinks
Let me begin by saying that while I was generously provided with a complimentary review puzzle, I was not financially compensated for writing this post.
All opinions expressed herein are solely my own and would not differ one bit had I bought this puzzle myself.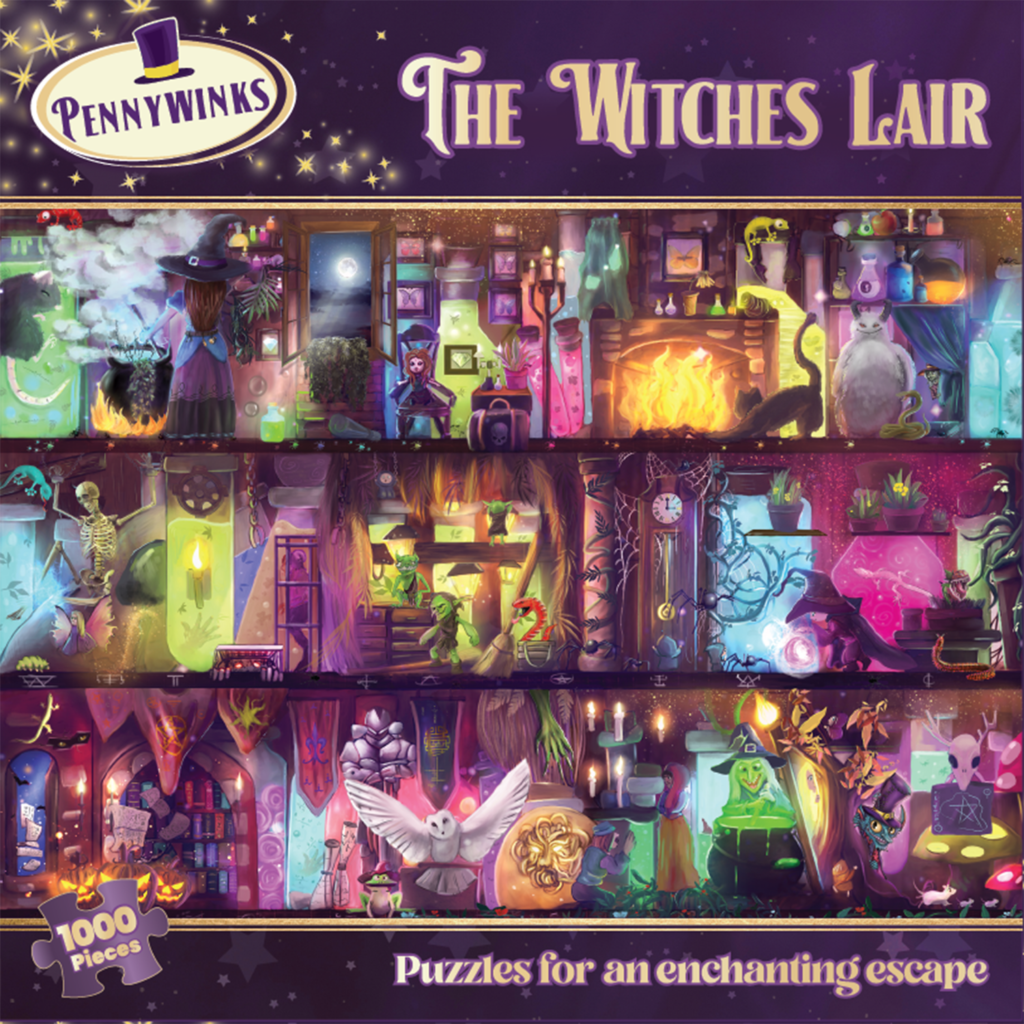 Fall was just starting to pick up speed around these Canadian parts when a parcel from Australia landed in our mailbox. 📦
I am happy to report that after journeying all the way from Down Under, the puzzle – which was very securely and professionally packaged – reached me in pristine condition.
Once the Halloween and Samhain season had drawn to a close for another year (*sad face*), my schedule permitted me to hop with both feet forward into doing this puzzle.
I commandeered the only space (our dining room table) in the house large enough to do a good-sized jigsaw on and begin to tackle this exciting puzzle.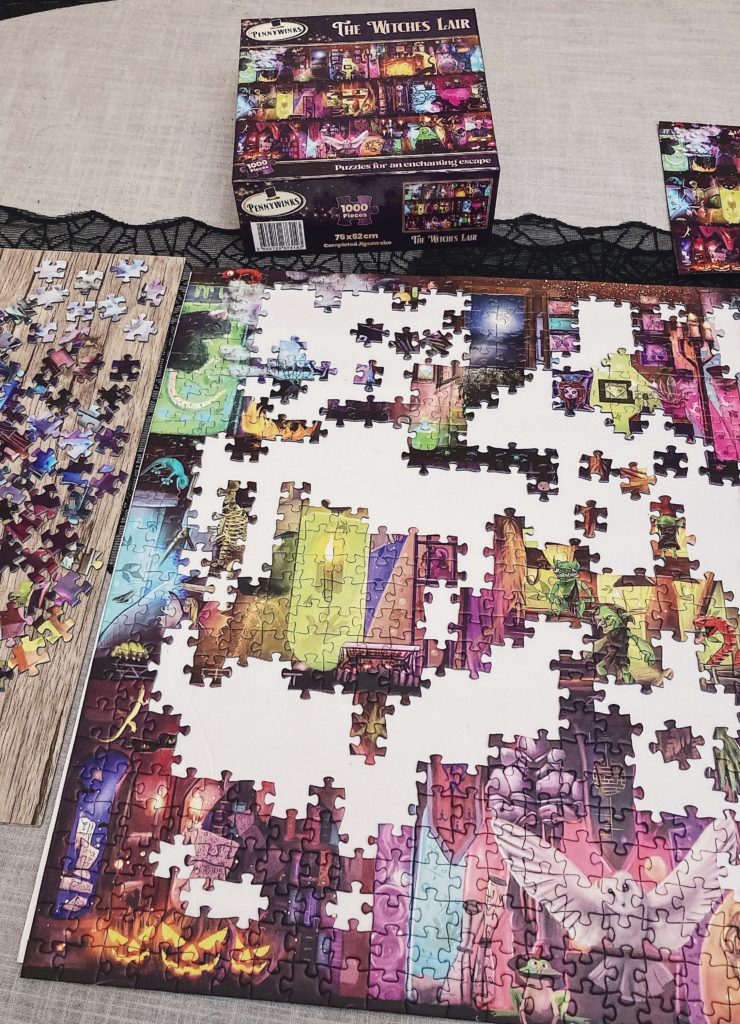 Different folks approach jigsaw puzzles in various ways. Personally, I almost always start by finding and putting together all four edges of the design.
This is either proceeded by, or done in tandem with, grouping like coloured and/or themed pieces with like.
The Witches Lair is a beautiful, high-quality 1,000 piece jigsaw puzzle that measures 75 cm x 52 cm (about 29.5 inches x 20.4 inches).
Included in the box, one finds an accompanying printed full-colour image of the puzzle which measures 29 cm x 19 cm (11.4 inches x 7.4 inches).
The printed page/leaflet not only features a crisp, beautiful rendering of the puzzle image but also, on the reverse side, houses some relevant information both about The Witches Lair design and regarding puzzling in general.
I thought this was an especially nice touch that only further drives home what a quality product Pennywinks has produced with their inaugural jigsaw puzzle design.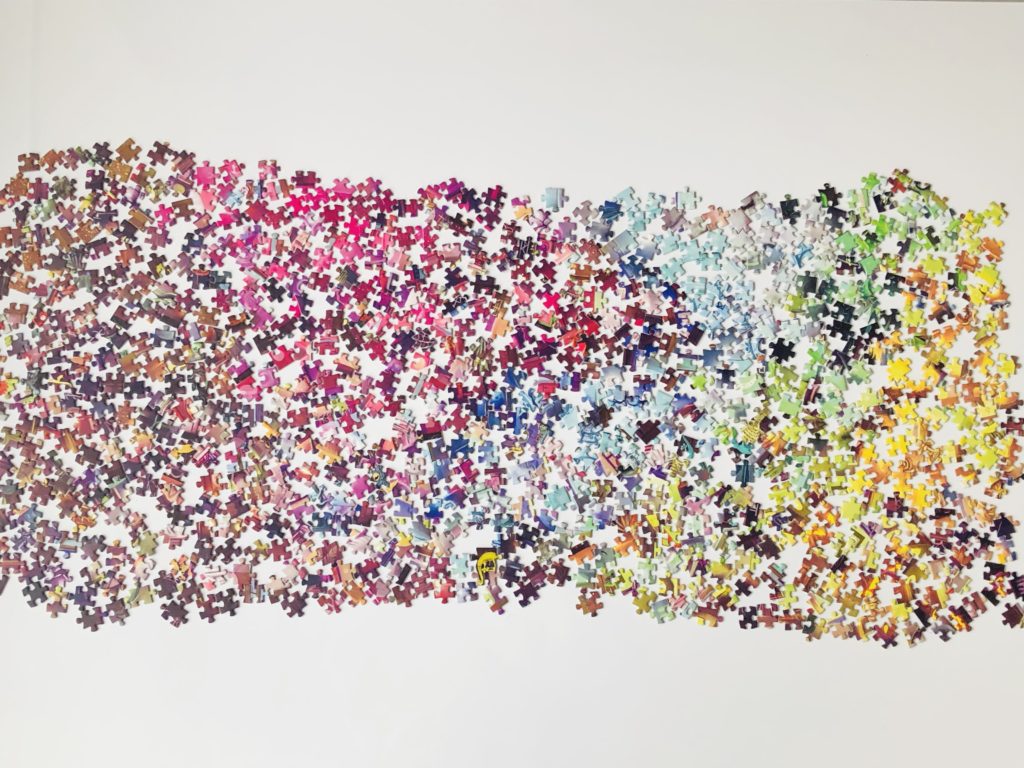 This puzzle features a detailed illustration comprised of a fair number of different colours. That said, some colours do dominate more than others, such as various shades of purple, pink, blue, and brown.
The image on The Witches Lair is a fantasy scene depicting three floors of a structure (that would be the "witches lair" itself) in which a wide array of both real and mythical beings and creatures are engaged in various magical going-ons.
The witch figures it includes are those of a more fairytale or Hollywood nature – complete, in one instance, with green skin.
This puzzle's image is not one that set out to portray real-world witchery or Paganism. It is whimsically and wonderfully fantastical and as such is apt to appeal to a broader range of jigsaw puzzle enthusiasts than if it was a straight-up witchcraft/Wicca-themed design.
The pieces in The Witches Lair are truly amongst the highest quality puzzle pieces I have ever had the pleasure of working with (think Ravensburger level or higher). They are comprised of 1.9 mm (0.075 inch) thick blue board with a matte linen finish.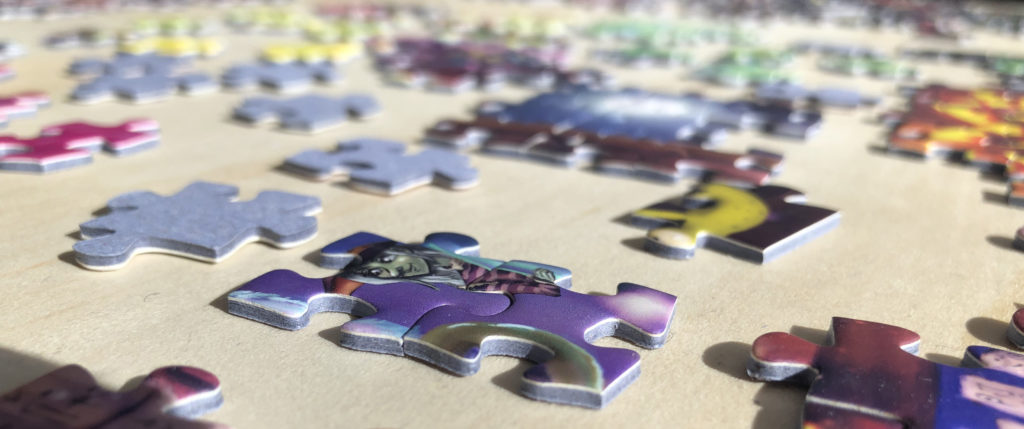 Sturdy, richly hued, and with a minimal amount of normal puzzle dust (which I have long dubbed "pandruff" – as in "puzzle dandruff" 😄), these pieces are very well cut and fit together excellently.
Some puzzles house rather ambiguous pieces that leave you wondering (at least until the design is complete) if they really do go where you have placed some of them. I did not get a sense of that at all while doing The Witches Lair.
Knowing that I was working on a deadline for this post, I decided to tackle completing this puzzle over the course of a few larger sessions, with occasional briefer ones sprinkled throughout the process.
I should mention that I did not keep track of the amount of time that it took me (as the sole person working on completing this 1,000 piece jigsaw puzzle) to finish it.
That said, I would roughly estimate that I spent about fourteen to eighteen hours combined time putting it together from start to finish.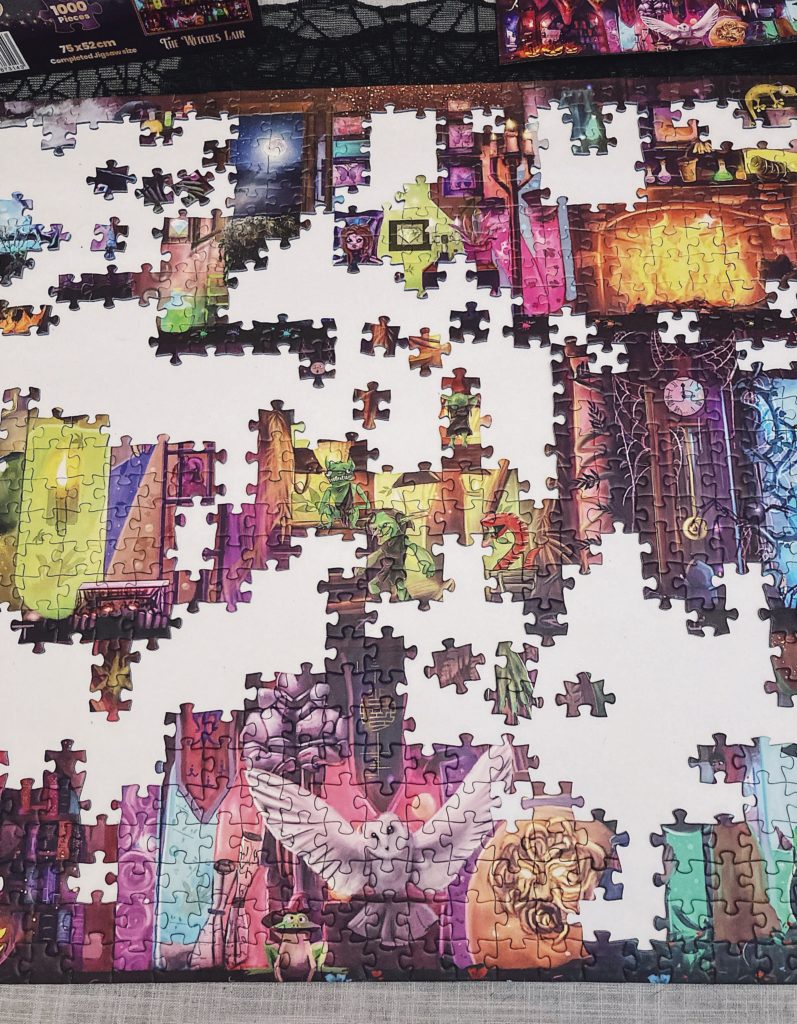 I did not set out to do this puzzle at breakneck speed. I often watched videos or listened to music on my phone while puzzling, and was up and down for various reasons throughout longer puzzle doing sessions.
Depending on the speed that one puzzles at and the ease with which they find this design, it could easily be possible for one person to finish The Witches Lair in less time. Conversely, it may take you longer.
Puzzling is rarely a race and I feel that no small amount of its enjoyment stems from the fact that doing a jigsaw puzzle helps us slow down, relax and focus on the hands-on task before us.
There is so much detail and creativity at play in the illustration of The Witches Lair puzzle. In fact, it quickly reminded me of the classic I Spy series of books (for example, I Spy Spooky Night: A Book of Picture Riddles) that were highly popular here in North America when I was a little girl.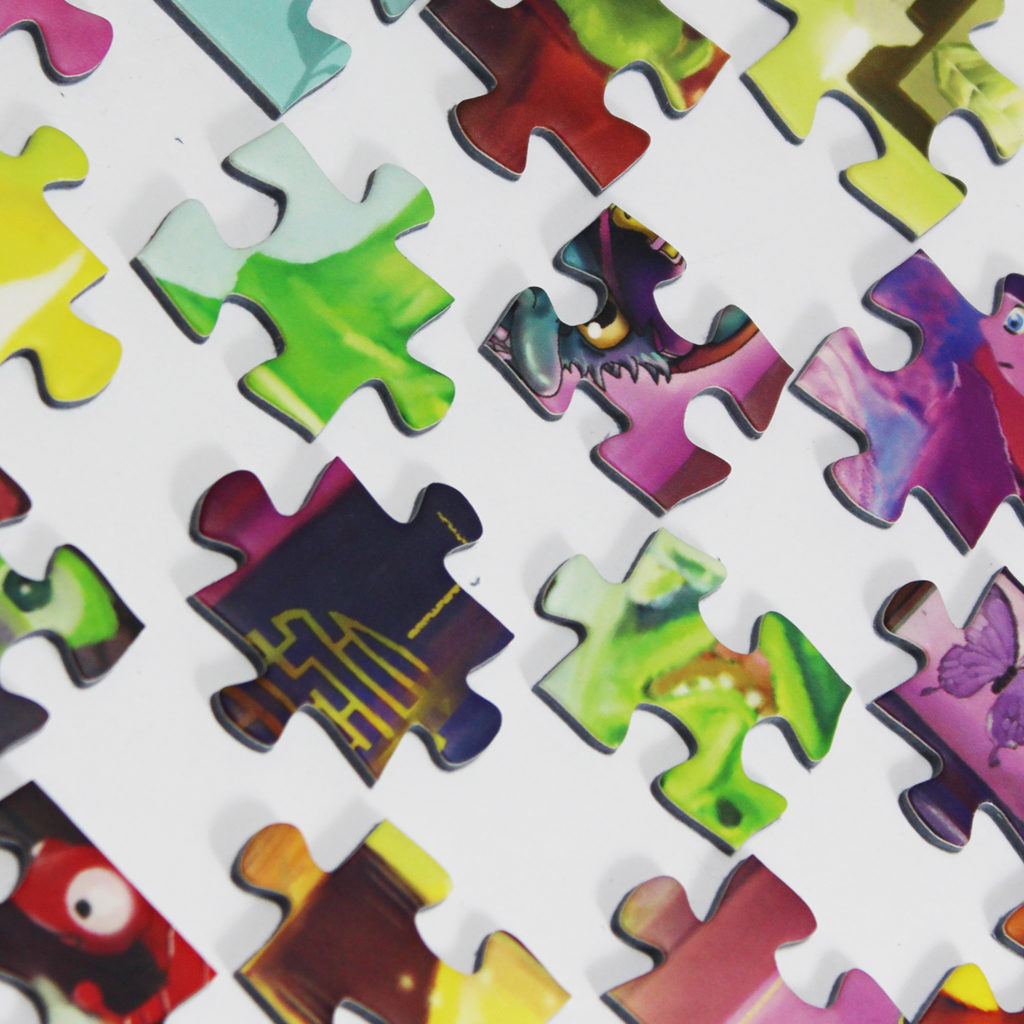 I found that overall, the colours printed on the pieces in this puzzle were true to those of the images on both the box and the accompanying illustration page.
Here and there, to a very minor degree, there were minimal colour intensity (lightness/darkness) differences. Happily, not to the extent where this might have temporarily tripped me up.
At no point in doing The Witches Lair did my interest in completing it wane. This puzzle kept me engaged every step of the way.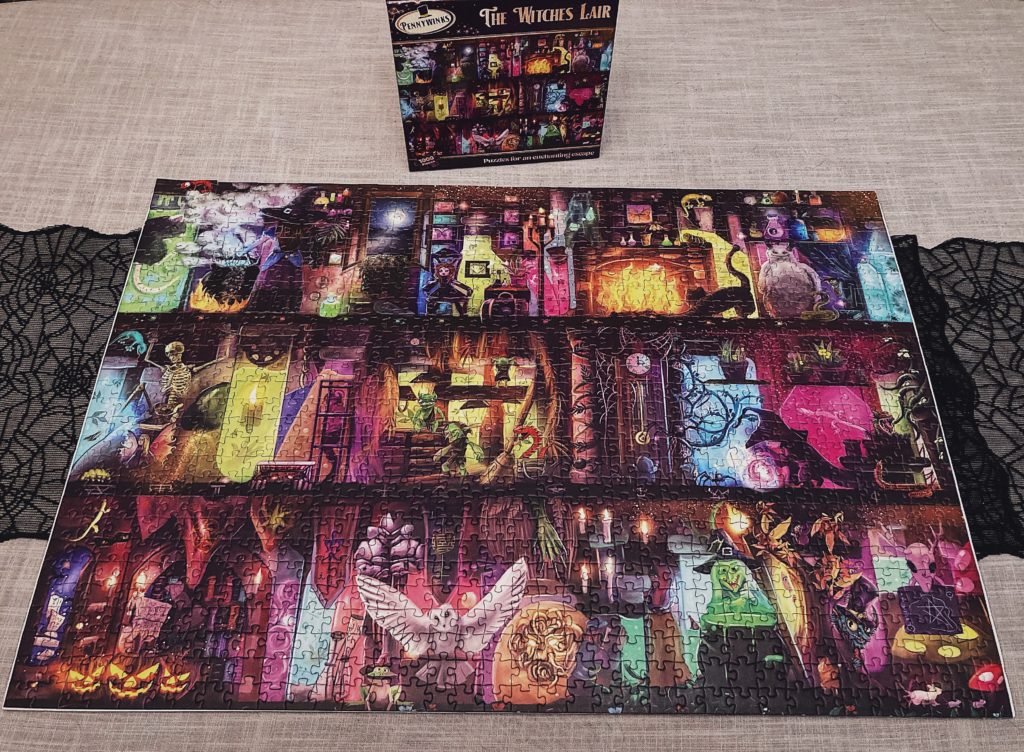 In terms of the 1,000 piece jigsaw puzzles that I have done so far as an adult, I would place The Witches Lair about in the middle in terms of the degree of difficulty involved.
I was never bored, found the design come together at a reasonable/average clip, and was spurred on all the more as the image I was composing with puzzle pieces really started to take shape. 😃
One especially charming element of The Witches Lair is that it includes an appearance by none other than "The Pennywinks" – the brand's eponymously named mascot – himself (whose origin story you can read more about here).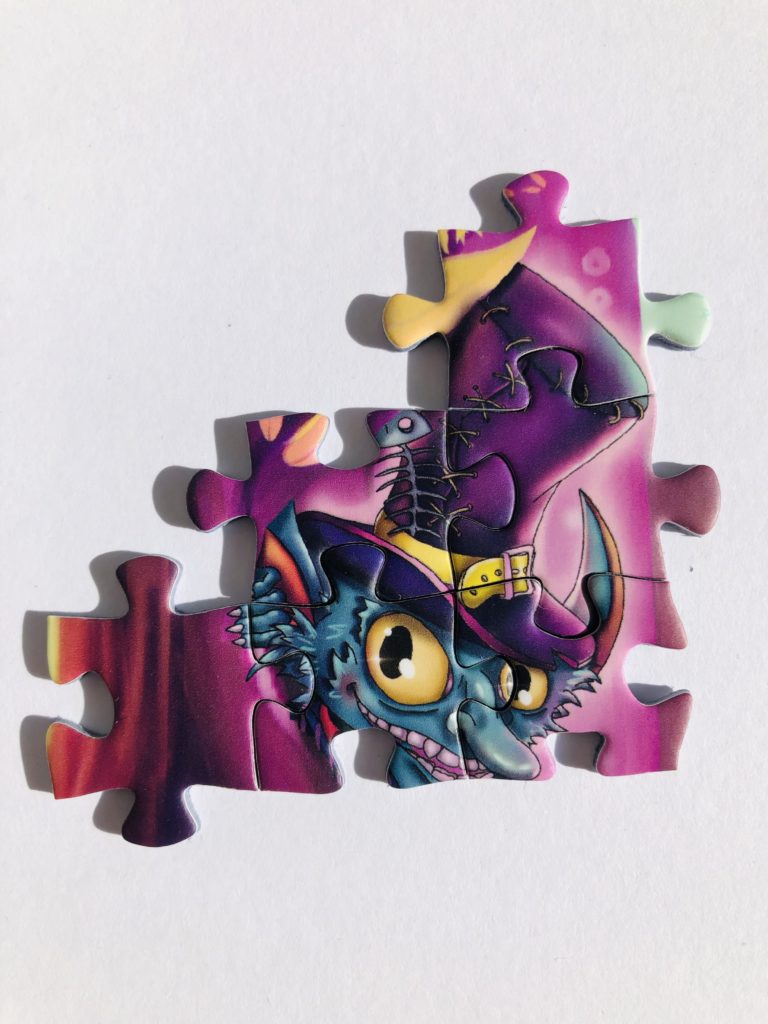 This is something the company plans to include with each of their subsequent puzzle designs as well. I look forward to seeing where The Pennywinks will appear in future designs from this company.
The Witches Lair is a really fun, richly coloured jigsaw puzzle featuring an original hand-drawn fantasy art design. I suspect that it will appeal to a broad range of different puzzlers – especially those who like a bit of a challenge but don't want to pull their hair out in the name of completing a puzzle.
At present, The Witches Lair is available to purchase from Amazon in some countries, including Australia and America.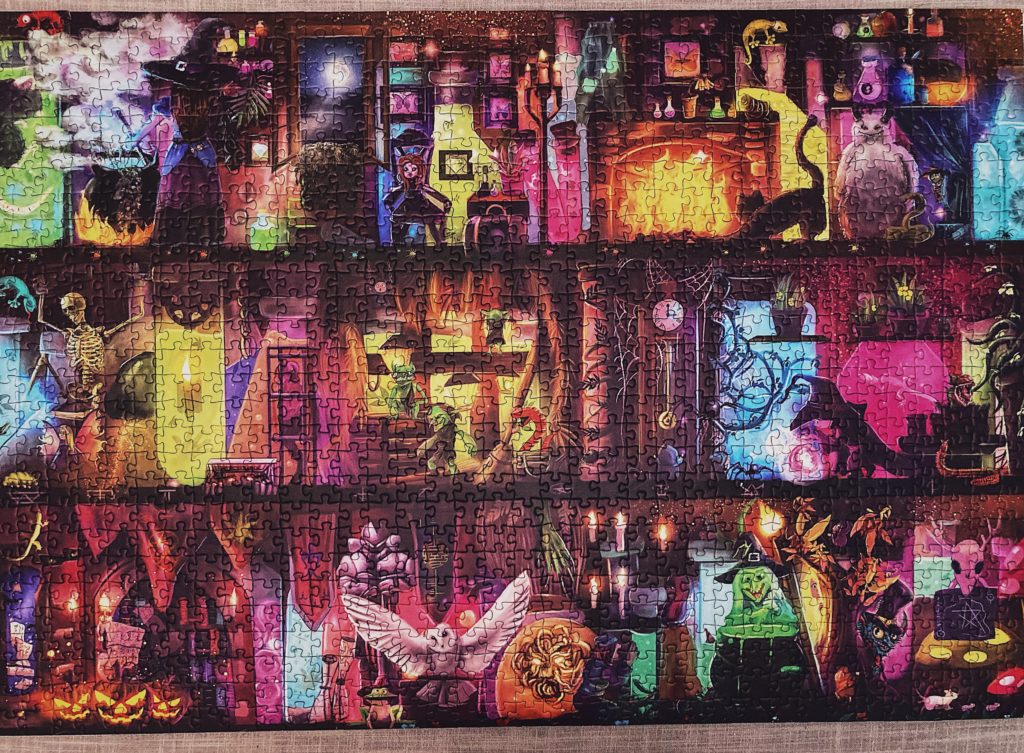 I had a blast putting together every last piece of The Witches Lair. Just as I have enjoyed getting to know the creative soul behind this puzzle company via the emails that we've swapped over the past few months.
Read on to enjoy the interview that I recently had with Phil, learn more about bringing a high-quality jigsaw puzzle to market, and get the inside scope on Pennywink's next exciting puzzle design. 😃
Pennywinks creator interview
Welcome, Phil! It's a pleasure to chat with you about your company Pennywinks Puzzles. Could you please tell us a bit about your passion for puzzles and what led you to launch Pennywinks?
Thanks, Autumn – it is great to have the opportunity to share my passion for puzzles with the lovely Witchcrafted Life's readership.
My passion for puzzles is something that started a few years back. My wife (who is a lifelong puzzle fan) convinced me to try one that had a fantasy theme and I instantly fell in love. I also loved exploring the fantasy world and finding the details in the artwork. Plus, I found it very relaxing, too.
I was finding it harder and harder to track down new puzzles that specifically matched what I was looking for. Then at the start of the pandemic, I couldn't get hold of any.
This started the thought process of thinking about creating puzzles. I have also been an avid doodler, creating strange monsters and supernatural stuff. When I was younger I created lots of comics. This was something I was trying to get back into. Then the idea came into my head about creating puzzle artwork that would combine all of these things and thought I would give it a shot. 😃
Your first puzzle, The Witches Lair, is a whimsical take on a fantasy-style witches' realm, what inspired this design?
I want our puzzles to take the puzzler into strange worlds and in which they meet weird characters. At the same time, I had a strong vision for the style of art. It had to be atmospheric with really bright glowing colours.
This gave me the idea of adding large colourful potion bottles and et voila, a witches theme was born. After that the storyline was established, the main characters and witches just came from my imagination.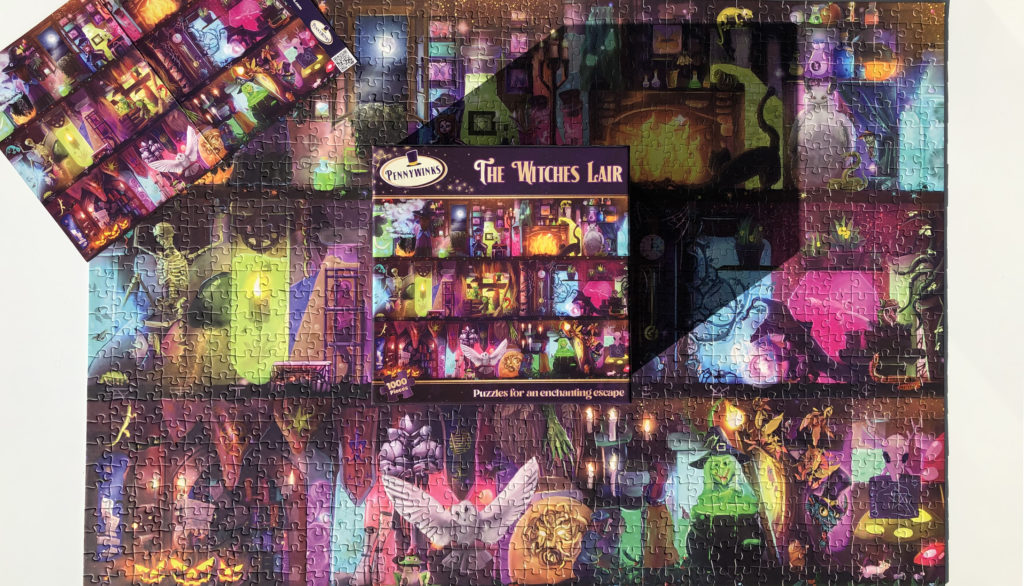 Is there a target audience that this puzzle is particularly geared towards?
Anyone who loves a good puzzle. I think families would particularly enjoy doing this together as it has something for all ages.
Puzzling has seen a massive resurgence in popularity in recent years, including amongst younger generations. This spike in jigsaw puzzle interest has been boosted further by the pandemic and the fact that many of us have been self-isolating at home for long stretches. Do you foresee puzzles continuing to increase in popularity further as the 2020s progress?
I certainly hope so. Once you discover the joy of puzzles it definitely sticks. It is a very therapeutic pastime especially compared to screen-based entertainment.
The fact that the traditional puzzle has grown in an age where we are surrounded by digital devices that are designed to be as addictive as possible is a testament to their timeless appeal. Long may the growth continue!
What are some of the latest trends that you have noticed in the puzzling community?
There are always lots of new and interesting trends. Puzzles that are intentionally difficult/impossible seem to be increasing in popularity (e.g all black) but that could just be a social media trend. Gradients and puzzles with modern art seem to be getting very popular with the average puzzler.
Are there any misconceptions or misunderstandings about jigsaw puzzles (or people who enjoy doing them) that you'd like to clarify for our readers?
Definitely. I think a common one (that I used to be guilty of) is that they are a waste of time. As with all things in life we humans tend to focus purely on the outcome but the process is always more important.
The process of putting a puzzle together has many proven mental health benefits and is a very pleasant way to relax. The outcome is also great – you have a beautiful piece of art and once they're done. Many puzzlers choose to glue and hang their favourites.
What are some of your own favourite elements about doing jigsaw puzzles?
For me, it's an antidote to all the screen time I experience, especially working from home during the pandemic. I find that just a five-minute break in between meetings really helps reset the stress levels. It also allows space to continue to problem solve/think over ideas at the same time.
This is probably why a lot of authors such as Nick Hornsby are into puzzles, claiming it helps with writer's block. It is also possible to really enjoy an audiobook or podcast and concentrate on both whilst still being very relaxing. I love that. But my favourite element has to be getting completely absorbed in the puzzle and losing all track of time.
I understand that designs often have to stay under wraps until they're brought to market. However, can you give us any hints about what Pennywink's second puzzle design will be like?
Happy to give some teasers… If you like the current design you will enjoy the next one, too. All I'll say is that it is a haunted house theme.
We have two more that are coming into the final testing/tweaking stages but they are still a secret for now. 😊 The next release will take place in 2022 and we will probably release a couple different puzzle designs at the same time.
What are some of your favourite things about working in the puzzle industry?
The puzzle community. It has been overwhelmingly supportive of our new puzzle company. A special shoutout goes to Adelable based puzzle instagrammer Relishpuzzles who discovered us there.
She is highly supportive of promoting very small puzzle brands from all over the world and encourages people to follow her if they are also interested in supporting smaller puzzle companies that find it hard to get the same exposure as the bigger brands.
Can you share a bit with us regarding the process, from the initial design concept to the finished product, of what it's like to design and sell jigsaw puzzles?
From a high-level the process of creating a new puzzle looks like this:
I'll create a theme and story for the puzzle (I've got a million crazy ideas in the backlog).
I'll doodle some very crude character designs for main creatures mentioned in the puzzle and a very rough layout.
This is then given to our artist and an iterative process begins of the artist creating the image and getting feedback from myself. It moves from a draft sketch to a colour version slowly over many iterations.
Once we're happy with the digital image we get a locally made "prototype" jigsaw to see how it actually puzzles. Usually, we learn a lot from this and then have the artist make more tweaks.
I create the packaging in-house and finalize the story for the end product. Once we think it is ready we order an official sample from our manufacturer.
We do a final QA test and puzzle the sample. If we're happy with it, we give the green light to the manufacture to mass produce the design.
It is a process that can take hundreds of hours all in all, but the end result is a unique piece of artwork that has been designed from the ground up with puzzling in mind.
The selling/marketing side is something we are still learning. Right now we sell on Amazon but plan to start selling directly from our website, Pennywinks.com.
Being a small business we have a very limited budget so we are relying on word of mouth – so far the response from the socials has been amazing. 🥳
Now that lockdown has lifted, we're teaming up with local independent toy/game shops here in Australia.
The dream is to have an established distribution chain not only here in Australia but also in US and UK (right now overseas customers have to pay for international shipping, which can be a bit pricey). Then we can focus more of our efforts on new designs and jigsaw puzzles themselves.
What are some elements that help to set Pennywink's offerings apart from other jigsaw puzzles that are currently on the market?
The way we build artwork from scratch for the purpose of puzzling is unique (a lot of jigsaw images can be pretty but not the best to solve as a puzzle; for example, if they house a lot of sky/same colour areas).
We also provide a story with every puzzle to help the puzzler get absorbed in the fantasy world. We are also the only puzzle to contain a portal travelling furball with a magic purple hat called "The Pennywinks". He's our mascot and can be found in every one of our puzzles.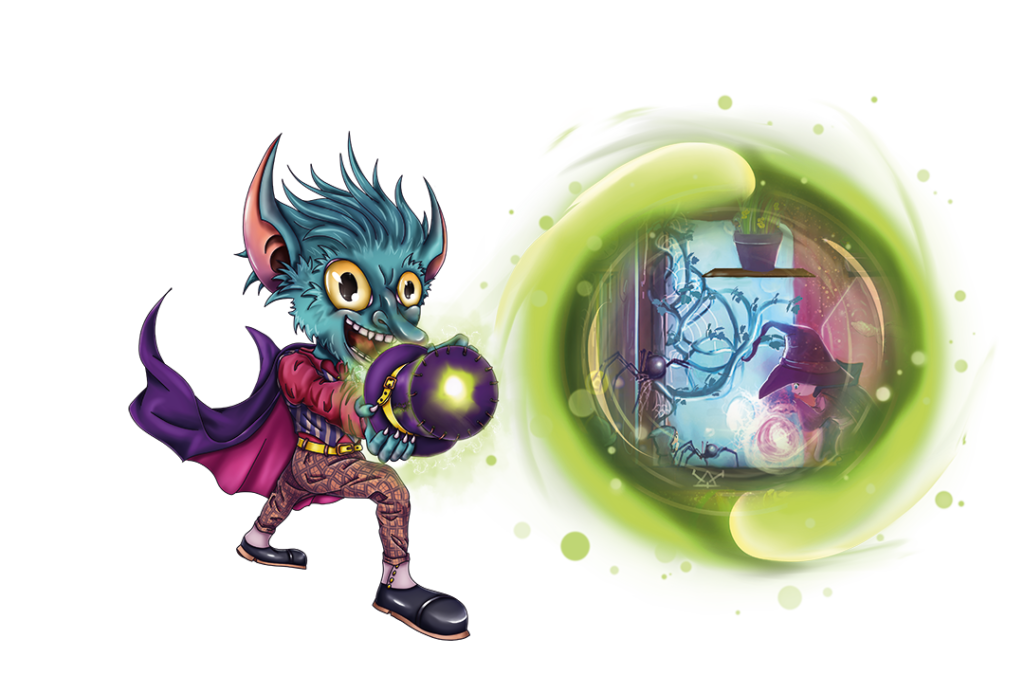 The puzzle quality is also exceptional. We worked hard on making sure the cut and thickness of the jigsaw was premium.
This was all part of trying to reach our aim of creating the perfect puzzle experience.
And last, but certainly not least, do you have any pro tips for fellow jigsaw puzzle enthusiasts that you can share with us?
Ha! 😄 I'm not sure I would call myself a pro yet but here are my tips to ensure maximum enjoyment when puzzling.
Set up a workspace that is ideal for your puzzle. You want to be working on a hard flat surface so if working on the floor use something like an old canvas, white foam board, or piece of MDF and ensure you have enough space. Consider the completed jigsaw size, then add 20 – 50% more room around it for the pieces.
Secondly, ensure you have adequate lighting. Near a window is great, but having some kind of light overhead is always best (e.g., if you want to puzzle at night, on cloudy days, etc), if possible.
Sorting/prep work at the start is also key to having an enjoyable experience. At the very least, turn over all pieces so that they are face up. Taking it further you can group pieces into colours. The pros seem to use sorting trays but I haven't progressed to this yet.
However, my number one tip is at the purchasing stage. Don't just purchase an image you like the look of.
You should also consider how fun the image will be to puzzle based on your skill level and what you are looking for (e.g., is it brightly coloured or dark? Is the image divided into identifiable different sections?).
Try to avoid images with large sections that are all the same colour or designs with too much darkness – unless you relish the challenge!
Awesome answers, Phil! Thank you very much not only for the opportunity to review Pennywick's debut puzzle, but also for sharing so much about your brand and its offering here with Witchcrafted Life's readers. 💗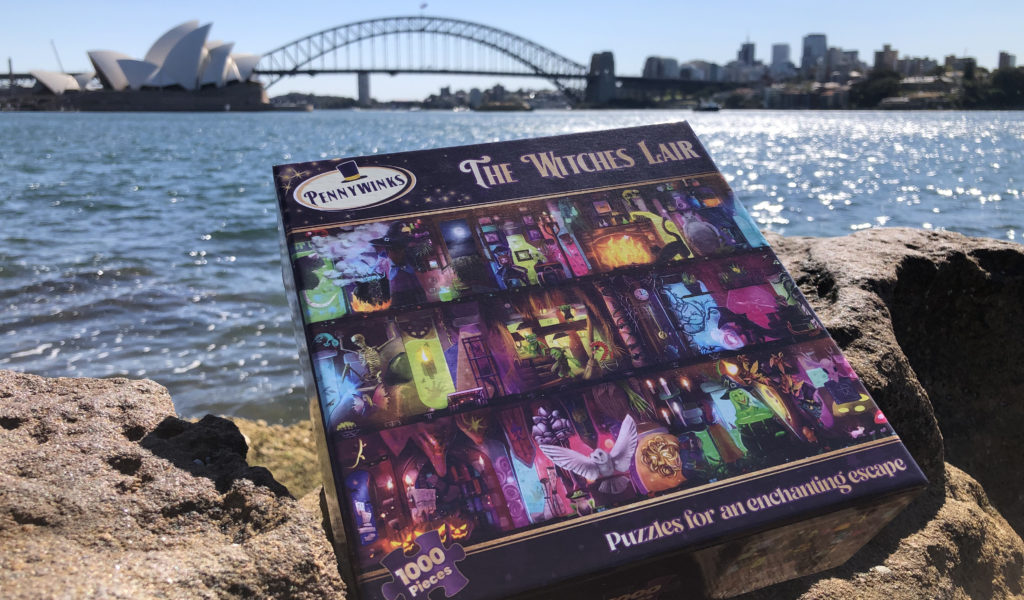 If you or anyone on your gift-giving list this holiday season (or any time of the year) enjoys doing jigsaw puzzles, I cannot recommend The Witches Lair puzzle highly enough.
And for those who may be wondering what rating The Witches Lair receives from me (as I always assign a rating between 0 – 5 to the books that I review here on Witchcrafted Life), that would be a resounding 5 out of 5 stars.
★★★★★
From Phil's answers above, what did you find most interesting about the puzzle creation process? What design would appear on your dream jigsaw puzzle? 🧩💜🧩