What is AliExpress?
AliExpress.com – often called AliExpress, or simply Ali – is a highly popular online retail site that features a huge range of consumer goods being sold by a multitude of different sellers.
Most are based out of China, though some are located (or at least ship from) elsewhere. For example, I've received purchases from AliExpress sellers that were postmarked from countries such as Malaysia, Japan, Singapore, various parts of Eastern Europe, and even my own country of Canada.
Owned by the Alibaba Group (of drop shipping fame, amongst other things) and started a decade ago now, in 2010, AliExpress is an online platform for sellers to offer their wares, often at very reasonable prices. It is currently one of the most popular and highly trafficked e-commerce websites int the world.
Ironically, while the vast majority of Ali's sellers are located in China, AliExpress itself does not allow customers in Mainland China to purchase from this platform.
While the community marketplace aspect of AliExpress may remind some, at first glance, of sites such as eBay, rates are typically fixed and items are not auctioned off.
Buyers purchase items for the prices show (though sometimes in-site coupons can be applied to orders), sometimes playing little to nothing for shipping (much more on that later in this post).
AliExpress is an e-commerce site that facilitates the buying and selling of goods. Merchandise is not stored in a giant Ali warehouse (alla Amazon, for example), but rather the responsibility of each individual seller who uses AliExpress's platform.
From kitchenware to Halloween costumes, pet supplies to teething rings, there is a seemingly endless array of retail products on offer from the legions of sellers on AliExpress.
For the purpose of today's post however, we are going to focus primarily on my personal experience of buying craft supplies from AliExpress.
That said, a lot of the information included herein applies to AliExpress in general and can be useful to many non-crafters as well.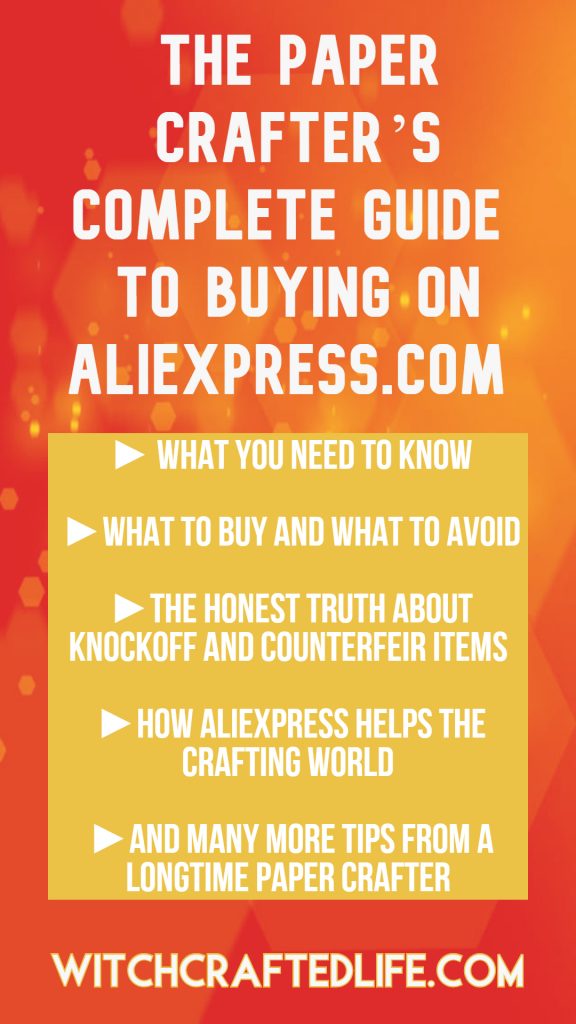 How I came to use AliExpress
I'd love to conduct a poll of thousands of AliExpress buyers from around the world asking them how they first found out about this website and what their initial purchases were. That isn't possible for me to do, but I can tell you about my own buying experiences and let you more about how to get started with purchasing from this popular e-commerce website.
While I'd heard about Ali here and there over the years online, I really started to catch wind of it on YouTube in 2018.
Intrigued, I began watching videos about buyer's experiences, as well as AliExpress hauls that a wide range of folks were sharing. Specifically, I focused on Ali hauls pertaining to crafting, fashion, beauty, and witchcraft and Pagan related items, as these are some of my main interests and areas that I shop for.
From the very get-go, I had mixed feelings from an ethical standpoint about buying from a site whose entire premise and business model relies a good deal on fast consumerism, mass-market products, potentially questionable working conditions (and wages) of those producing the goods sold on Ali, and the risk of shoddy, dodgy or otherwise suspect merchandise.
We will dive into the deep end of knockoff goods later on in this post.
That said, objectively, I found the reasonable prices offered by many sellers appealing and after giving serious consideration to the pros and cons of AliExpress, opted to give it a go.
How to start buying on AliExpress
It is free to open an account as a buyer on AliExpress. Please be aware however, that new customers are usually requested to provide some rather personal information shortly after they begin using this website.
While I've heard this can vary, generally speaking, new customers who have placed anywhere from 1 – 6+ orders will suddenly find that their account is frozen from placing further orders until you send Ali's customer service team scans/photos of at least one piece of government-issued photo ID and one credit card.
Yep, you read that right. A credit card.
Eyebrows raised? Mine were, too. Big time.
I watched a slew of YouTube videos assuring buyers that this was standard practise and so, very apprehensively, submitted the requested information.
I was told that I'd hear back about my approval process within 1 – 4 days. If memory serves me right, it took less than two days for my account to be approved.
Once it was, I was able to purchase as usual. I have never been asked to provide any further ID or credit card information and I have no reason to suspect that my data has been compromised or used illegally. Two things that I was concerned about the moment they requested images of my ID and credit card.
Once your AliExpress account has been approved, you can shop to your heart's content (bank account permitting, of course!).
There is a handy add to cart feature that allows you to place up to a maximum of 100 items at a time (be they from the same seller or a multitude of different sellers) to your AliExpress shopping cart.
Alternatively, you can "buy now" for single items (or multiples of the exact same item from the same seller) for one-off purchases.
With your AliExpress cart, you can either purchase all of the items you've placed in your cart at once or you can use the checkboxes located to the left of each item (as well as beside the name of each seller whose products are in your cart) to only purchase certain items that are presently in your cart.
Make sure when you're checking out, that you've only selected the items that you wish to buy at that point in time.
Please be aware that it is somewhat easy to accidentally place an order for the entirety of your cart, when you may not have wanted to do so.
Buying on AliExpress
Think of just about any consumer good you might like – especially if it's a general term (e.g., glitter glue instead of the brand name product Stickles) – and chances are at least one person is selling some version of it on AliExpress.
Of course, there are products that are not offered there (I myself have searched for several things that I was unable to find results for), but a surprising number are and it seems like more come along every week.
When you buy on AliExpress, you will typically set your currency to that of your own country. This is very helpful because it means that you don't have to deal with the hassle, potential confusion, and nasty surprises (if numbers were miscalculated, for example) of currency exchange rates.
Most sellers on AliExpress do not accept PayPal. While I cannot speak for sellers in all categories of merchandise offered on Ali, I've yet to come across many in the paper crafting and beading worlds who take PayPal.
While a small number of payment options do exist on Ali, most of the time international customers are apt to pay for their purchases directly with a credit card.
Given the widespread prevalence of PayPal, it's surprising in a sense that AliExpress has done so well without this payment option being a sitewide standard feature.
Keep in mind, as with all overseas/international purchases, you may be hit with customs, import and other postal service related fees when your order reaches you in your respective country.
This tends to be less of an issue with very inexpensive AliExpress orders, especially since many sellers declare (whether it's factually accurate or not) an incredibly low value on the packages that they mail out to their customers.
To date, I can only think of one time that I've been hit with customs fees on an AliExpress order. That is saying a lot because Canada Post has a seriously low threshold before which postal system users are smacked with hefty customers and import fees.
How low are AliExpress's prices?
This is a great question and the simple answer is, pretty darn low… sometimes… and for some types of items.
The cost of goods offered on AliExpress is going to be somewhat relative to what those, or similar, items would typically cost you in your own respective country.
If you cannot, or can't easily, find a particular item in your country, then I would compare it to the rates that you typically see (and would personally be okay with paying) from another international source for that same kind of item.
As someone who lives in Canada, a vast country with over 35 million inhabitants, yet a shockingly small number of both online and real-world sources for crafting products, there was an immediate allure to the near-endless virtual aisles, so to speak, of goods on offer at AliExpress.
I can only imagine how, for those with even stronger currencies than the Canadian dollar, such as the British Pound, the Euro, and the American dollar, the deals must seem even more impressive.
Conversely, if you live in a country with a weaker international currency, Ali's prices might not seem like quite as much of a bargain. There is certainly a degree of relativity at play with the pricing on AliExpress.
While some sellers do offer (genuine) brand name goods, plenty are not branded or are sold under labels and company names used only by the specific sellers offering certain goods. As such, it at times be tricky to make a direct comparison between the prices charged by brands outside of Ali's platform and those on the website itself.
In the crafting world (again, please keep in mind that I'm shopping in Canadian, not US, dollars), I would say that prices are generally about ½ to 1/6th of the cost of similar items offered by brand name companies and independent retailers.
Occasionally items may in fact cost more than you might be able to find certain similar pieces for elsewhere online or at bricks and mortar shops.
Where a comparable craft product is available, I personally find that the cost is about 1/2 to 1/3 that of the brand name item here in Canada.
What is the quality of AliExpress merchandise like?
This is where we start to get into murky water.
Before answering that question, I want to preface the following information by saying that, as with most multi-seller e-commerce sites the world over, there are all kinds of different sellers. Some are legit, some are a bit shadier, and plenty know darn well that they're selling knockoff/counterfeit merchandise.
Likewise, the quality of goods offered by various seller son AliExpress can vary dramatically.
Reading reviews and ratings is a decent way to get a sense of the quality of the merchandise and the customer service provided by a specific seller/shop on AliExpress (customers are invited to leave optional reviews and ratings between 1 and 5 stars for each of their Ali purchases).
It is not, however, foolproof, as AliExpress will give five stars to sellers as a default if a customer does not leave feedback of their own within the allotted timeframe permitted to do so (this varies from sellers to seller, but is generally anywhere from 2 to 3 or even 4 months from the date you placed your order with a specific seller).
As such, I tend to rely a bit less on the trustworthiness of the star rating system and more on the review comments that some buyers opt to leave for their purchases.
One of the main types of paper crafting products that I've bought on AliExpress so far has been metal cutting dies. Specifically, wafer style dies.
Comparing them to the cutting quality, ease of release, ability to cut through various types of thin materials (paper, cardstock, very light felt, etc), overall quality of the die cut shape that is created, and so forth of brand name dies, honestly, in most cases I've been fairly impressed.
While the metal of the dies is sometimes flimsier, it can also be on par – or even better, occasionally – than many brand name dies that I've tried.
To date, I've not had any of the AliExpress metal dies that I've purchased break on me, damage my cutting plates beyond the normal wear and tear of metal dies, jam my machine (a Sizzix Big Shot), or completely fail to cut a shape from the material that I partnered a given die with.
That may happen one day, and I do tend to play it safe in terms of what I'll put through my die cutting machine in the first place, but so far it has not and I think that says something about the quality of the dies I've purchased from AliExpress.
Beyond dies, I've bought a number of other paper crafting products. This include, but are not limited to the following items:
-Clear acrylic stamps
-Sequins
-Wooden veneer shapes
-Brads and eyelets
-Buttons
-Metal, plastic and acrylic charms
-Beads and jewelry findings
-Metallic cardstock
-Paper flowers
-Artificial leaves (paper, fabric, plastic, etc)
-Ribbon and trims
-Various types of twine
-Tulle
-Felt
-Crepe paper
-Paper drinking straws
-Assorted embellishments
For the sake of brevity, I will not go into detail about the quality of each of the items mentioned above, but I will share a few notes on some of these products.
As one might expect, the quality of the acrylic stamps sold on AliExpress is – much more so, I personally find than with metal cutting dies – a question of, you get what you pay for.
Some are excellent, on par with various mainstream brands, others are what might be termed "dollar store" quality (that isn't to say, terrible, but by the same token, unlikely to usurp the best polymer stamps anytime soon), and others are can be a bit subpar.
I've found that in the latter two camps, the biggest issues are often a lack of proper depth given to components of a stamp's design resulting in shallow and/or uneven surface areas for ink to adhere to, thus frequently giving an uneven final stamped design (even when stamped multiple times using a stamp positioning tool, such as a Misti), and a general lack of detail to the design.
So far, I've had the most issue with word and sentiment stamps stamping properly and laying down a suitable enough image to allow them to produce a satisfactory result when used for embossing.
In general, keep in mind that while some products will be surprisingly good or high quality, not everything you're buying on AliExpress is the Rolls Royce of the crafting world.
If you're not paying very much, you have to be realistic with your expectations. You shouldn't have to settle for a truly inferior or defective product, no matter the price point.
However, if a decent sized sheet of acrylic stamps, a few yards of trim, a hank of beads, or a nested die set, for example, costs you less than $5.00 USD, is it really fair to expect it to the best of the best of the absolute best?
Personally, I don't think and I keep this in mind when I'm shopping on AliExpress.
How does AliExpress shipping work?
As mentioned above, each individual seller is responsible for packing up and shipping out orders to their own customers.
One of the first things that may catch your attention on AliExpress – it might even have been what lured you to that website in the first place – is the remarkably low shipping costs offered by many sellers.
This tends to be especially true of very lightweight/small sized items, a header that a lot of different types of crafting supplies fall under.
Whether free or inexpensive (think, in the range of $0.25 to $3.00 USD per item or even per entire order), you may, rightfully so, wonder how and why sellers are able to offer free, $1.00 or otherwise rock bottom shipping prices on items that are, themselves, already so reasonably priced.
Without getting too into the nitty-gritty of things, this is possible due to two main factors:
The actual cost to the manufacturers and the sellers of the goods that are sold on AliExpress. It is all too easy to forget in this day and age that most mass-produced consumer goods have a decent amount of markup and in turn a fairly sizable profit margin. If an item only costs, for example, $0.03 to manufacture and a seller lists it on AliExpress for $5.00, even factoring in operational costs, employee wages, etc, there is often enough room in the margins to bake shipping costs into that $5.00.
Order are often sent via some of the very slowest and least expensive shipping methods offered by the Chinese postal system. As such, many orders do not include tracking numbers that are able to be tracked once a package leaves China.
While some sellers – often, I've found, those charging slightly more for their shipping – do provide tracking numbers that follow a package all the way to your door, again, many do not and as such there is a greater risk that packages will get lost (or stolen) en route to their destinations.
No doubt the sheer volume of mail processed by the Chinese postal system also causes a percentage of packages to go missing, and once items reach their intended countries, loss, delivery to the wrong address, and again, the risk of theft are always possible, too.
How long does AliExpress shipping take to arrive?
A few factors will contribute to this answer. They include, but are not limited to:
-The shipping method (surface mail, airmail, express post, tracked or untracked, etc) used by the seller.
-The processing and delivery speed of the destination country's respective postal system.
-If your order went out during a peek mailing time, such as the winter holiday season or when sites such as AliExpress and Wish.com hold sales, thus driving up the volume of mail leaving China all the more and in turn potentially slowing down delivery times.
-What country you live in.
-How long it takes for an order to clear customs in your country.
While I've heard plenty of US AliExpress shoppers on YouTube and social media talk about receiving their orders in as little as 8 to 10 business days, generally speaking, things aren't that speedy – even for US buyers.
Though I have had a few packages reach me in less than 2 weeks, I find that 3 weeks to 2.5 months is the norm for delivery time to my own country.
If patience is one of your virtues, you may get along famously with AliExpress.
Is AliExpress shipping reliable?
This, my friends, is a tricky question to answer. By and large, folks don't make a point of publicly saying how many of their Ali orders arrived and how many failed to reach them.
You'll sometimes read or watch stories about specific orders that failed to arrive, but again, total failed orders per customer are stats that just aren't made public by and large.
I can tell you this, to date I've had many dozens of orders (not, items, but orders; the item count would technically be higher still, as plenty of those orders were for multiple items from the same seller) that simply did not arrive.
That said, I've had far more orders reach me than those that failed to. Still, after so many orders that simply did not arrive, I've grown warier of buying from AliExpress and am finding that I tend to purchase more and more from Ali sellers that I've had reliable delivery results from in the past.
What happens if an AliExpress order fails to arrive?
Each order you place on AliExpress comes with a timeframe in which it is supposed to arrive. This varies a bit from seller to seller, but is generally anywhere from 6 to 12 (or even 16) weeks, depending on the seller and whether or not they provide what is known on AliExpress as Buyer Protection on a given order.
If your order has not arrived within the allotted delivery time frame, you can – and should – open a dispute and request a refund on your purchase.
Important note: You generally have just 10 – 15 days from the date where the timeframe to open an order claim starts and when it ends. If you miss the window of opportunity to open a dispute, you will generally be flat out of luck – and, moreover, out what you paid for your item.
Keep a very close eye on the delivery time frame and "window to dispute" dates. I've been burned a few times there, much as I try to keep very good track of these things for all of my purchases.
Most of the time, at least 95% in my personal case, however, because I'm vigilant with the dates and ensuring that I keep track of which of my AliExpress orders have and have not arrived yet, I've been able to file a dispute in the allotted time frame.
Once you've done so, AliExpress' customer service team steps in to decide if your request for a refund will be approved or not.
That approval process usually takes about 5 business days. If your request for a refund (which, I should note, includes any shipping costs that you paid on your order, not just the item itself) is approved, then the funds that you paid on that order should be returned to your payment method (i.e., your credit card) within about 1 to 2 weeks.
So far I've not had a single order that I filed a dispute for end up arriving after the dispute. If that were to happen, I'd do the ethical thing and contact the seller, asking if it was possible for me to pay them again, so that I wasn't receiving the item for free.
Does AliExpress offer refunds?
Yes. AliExpress has a surprisingly decent refund and return policy. To be honest, I think they just know that with so many orders being sent around the globe every day, it doesn't make sense to operate any other way.
You can open a dispute on AliExpress for various reasons, including if you receive an incorrect item, if your order is damaged, if you receive a partial order (some of your items are missing), or as discussed above, if your order fails to arrive in the allotted delivery timeframe.
Just as with filing a dispute for items that do not arrive, your request will be processed and an outcome returned to you within a few business days.
Objectively, in a lot of cases, especially for inexpensive items, it does not make sense to ship an item back to China. The cost to do so from many countries may equal or (far) exceed what you paid for that item in the first place.
You can, of course, send an item back if you prefer, just make sure you contact the seller and follow the proper channels to file a return claim on Ali.
Generally speaking though, filing a dispute, detailing the problem and reaching an outcome that you're comfortable with receiving from the seller is often a better and less expensive approach.
Does AliExpress sell knockoff items?
You bet your favourite ink pad that some sellers do.
I wish that I could tell you otherwise, but the cold, hard truth is that there is no shortage of sellers on AliExpress who sell items that are either remarkably similar looking (at best) or blatant copies (at worst) of existing products.
In terms of paper crafting products, the two most common areas where you're apt to run into this on AliExpress are with acrylic stamps and metal dies. I've also seen some remarkably similar die cut ephemera shapes and stickers, the actual brands of which I recognized immediately.
This issue is not confined merely to crafting supplies. It runs rampant on AliExpress in general, just as it does on certain other sites that sell products that are primarily or entirely made in China.
With sellers who list knockoff craft supplies, many make no mention of the brand(s) and products (let alone the designers of those original items) that they're selling.
Some will use, how shall we say, creative wording to alert potential customers that what they're offering is a knockoff product of an existing brand.
Very few sellers use the entirety of an existing brand's name in their item titles or listings. However, if you search for certain keywords such as "Lawn" (for the brand Lawn Fawn), and "Mama" (for the brand Mama Elephant), you will sometimes find knockoff copies of some of the products produced and sold by those legitimate brands.
Of course, the issue of knockoffs and counterfeiting goes well beyond AliExpress, and I am by no means singling them out on their own.
This issue is real however, and it goes deeper than just carbon copying a brand's existing designs.
How AliExpress hurts the paper crafting world
Spend much time looking through the photos that accompany many stamp and die listings on AliExpress and you're apt to quickly realize that in addition to copying and knocking off existing designs from various paper crafting accompanies around the world (particularly those in the UK and US). Plenty of sellers also steal and use photos of completed projects from paper crafters.
Some sellers remove, blur, or coverup watermarks on these original photos. Sometimes a seller is so brazen (or lazy) that they just repost as is, leaving everything right down to the watermark in place. I have never once seen an Aliepxress seller credit the original paper crafter whose image(s) they, presumably, used without permission.
In fact, if you recognize a photo on AliExpress as belonging to a certain paper crafter or paper crafting product brand, A) it's an almost certain dead giveaway that the listing is for a knockoff product, and B) consider contacting the crafter or company in question and altering to them this unscrupulous use of their original work.
Virtually no one wants to have their photos stolen and used without their permission – let alone potentially passed off as someone else's work.
This is just plain wrong and it would behove AliExpress to seriously crack down on this rampant issue.
In some instances, buyers (especially if they're new to paper crafting and/or to AliExpress) may have no idea that the item they're purchasing is a copy.
No one, not even the biggest and best known names in the scrapbooking and card making industry can possibly know every product that is released by every single paper crafting brand in the world.
As awesome as that might be, it's flat out unrealistic.
Unfortunately, because we might not recognize a certain product as being a copy of an existing design from an established brand, it is possible to inadvertently buy a knockoff. Believe me, I've done it before myself.
Sometimes one may never know that they've done this. In other cases, you may discover the fact later on.
It is not my place to tell you what you should do in that instance. It is up to you and your personal ethics as to how you wish to proceed with using (or not) the product or products in question in your own crafting.
Whether one knowingly buys a knockoff or does so inadvertently, you're taking business away from the company that produced the original item.
Even if this does relatively little to the bottom line of certain companies, that doesn't make it any less detrimental in the grander scheme of things. Plus, there are plenty of smaller paper crafting companies out that that need every sale they can get to help keep them afloat.
Keep in mind that if you plan to submit your work for publication in magazines, certain challenge blogs, and other sources where you're required to provide a list of the materials used, it is possible (understandably) that some of these places will not accept works that include products from AliExpress. At least not those items that are copies/knockoffs of known products from established paper crafting brands.
The industry is too small, too close-knit and too supportive at the end of the day for this to be a common practise. And thank goodness for that!
How AliExpress helps the paper crafting world
Okay, we've tackled some of the unpleasant sides of AliExpress, now let's explore some of the more positive ones.
Let's call a spade a spade. Not everyone lives in a country with nationwide chains of craft supply stores, big box shops teeming with crafting items, much in the way of independent shops, or cores of online paper crafting retailers.
And even if you do, that doesn't mean that some or all of these things are going to be viable, let alone affordable, options for everybody. Plus, sometimes, it's just nice to have additional options out there. For some people, AliExpress fits that bill.
Plenty of paper crafters shop on Ali, just as many do not (or no longer opt to do so).
It is up to each of us to decide if we want to avail of AliExpress and what we're going to buy if we do choose to shop there.
In general, especially these days, I like to use AliExpress as a source for various types of generic products that are very unlikely to be knockoffs of existing brand name goods.
In the paper crafting word, some of these more generic items include, but are certainly not limited to, the following:
-Basic shapes and styles of metal dies
-Ribbons and trims
-Washi tape
-Wood veneer pieces
-Small paper, cardstock, chipboard and wooden tags
-Buttons of all sizes, shapes, colours and materials
-Flatback charms and embellishments
-Beads (including seed and bugle beads for shaker cards)
-Sequins
-Twine and other types of cord (including waxed cord)
-Jewelry making supplies
-Pearls and rhinestones
-Premade fabric bows
-Paper flowers and leaves
-Vinyl sheets
-Velum
-Acetate sheets
-Adhesive tape, dimensional dots, and various types of glue
-Paper drinking straws
-Tulle
-Felt
-Fabric
-Yarn
-Embroidery and cross stitch supplies
-Sewing supplies
-Planner, traveller's notebook and journaling supplies
-Some types of stickers
In addition, it is important to note that there are some sellers – such as the AliExpress shop called Alina Craft, for example – that work with designers to create original products for their shops.
These items, in theory, are not straight up knockoffs of existing products from other brands. In fact, sometimes the very products that those AliExpress shops commissioned end up being knocked off by other Ali sellers.
As well, we're starting to see more and more paper crafting focused AliExpress shops work with their own design teams comprised of crafters from around the world. This is an exciting positive, as it means, in theory, that the projects featured in listing photos will be original works, not those that have been blatantly stolen from other sources.
It is easy to focus on the negatives of mega e-commerce sites like AliExpress, Wish.com, and eBay, but in doing so, we run the risk of throwing the proverbial baby out with the bathwater.
AliExpress offers relatively affordable products. They have a very good refund policy in place. New items are added to many seller's shops on a regular basis, and Ali can be a great place to discover some products that you might never have encountered otherwise.
As well, the lower prices and free or inexpensive shipping offered by many sellers can be a serious boon to many crafter's and their personal shopping budgets.
This is not something to immediately brush off or sneeze at.
In fact, the ability to stretch a dollar that much further is no small part of the reason why I sometimes buy certain types of paper crafting supplies from AliExpress.
AliExpress YouTubers
With the rapid growth in AliExpress' popularity over the past several years, it stands to reason that some shoppers would start to share their purchases, as well as some of the crafts that they create with those items, on the good ol' interwebs.
Two of the most common areas where you'll find AliExpress purchases being shown online these days are on social media and YouTube, respectively.
In the paper crafting world alone, there are scores of YouTubers who post AliExpress haul videos and project shares.
Some do so occasionally, others make these types of videos a focal point of their channel.
Whether you favour scrapbooking, card making, paper crafting swaps, junk journaling, mixed media, or just about any other kind of paper craft, chances are there's at least one or two YouTubers who have created videos pertaining to that topic and AliExpress.
Try searching YouTube for a few keywords such as "scrapbook haul AliExpress" or "AliExpress design team package" to check out some of these videos.
In addition, some of the bigger and often more legit (as in, they do not tend to sell knockoff items) AliExpress sellers, such as KS Crafts have their own YouTube channels as well, which can be a great way to find out about new products that these sellers are releasing.
Additional important points to keep in mind when shopping on AliExpress
In addition to the information provided thus far, I'd like to mention the following assorted points about shopping on AliExpress:
-As the majority of sellers are located in China, you're apt to encounter various levels of proficiency in English. From nonexistent to terrific and everything in between. I do not say this in any sort of judgemental way whatsoever. It's simply a fact of life when buying from a country where the main language(s) spoken differ from your own.
-Once you've made a purchase from a given seller, they may "spam" your AliExpress message box with messages. The two most common types that I receive are messages letting me know about new products in a given seller's shops and others informing me of upcoming sales. You may or may not find these messages irksome.
–When shopping on AliExpress, always read the listing descriptions, including the measurements provided carefully. Trust me, if you shop on Ali for any amount of time, chances are you'll experience at least a few cases of, "wow, I didn't think it was going to be this big (or small)" when your order arrives.
-Double-check that the item you're buying is the one featured in the picture(s). Many sellers highlight finished products to showcase a particular die, stamp, etc, and the focal point of the project(s) shown may not actually be the product that the listing is for.
-Once an item sells out from a particular seller on Ali, there's no guarantying they'll restock. If you see something you want, love, or need and have the budget room for it, you may want to pounce while you still have the chance.
-As per the point about language above, listing titles may not always use the most accurate and/or logical wording. In some instances, seemingly obvious keywords may be missing entirely.
-When searching through your personal shopping history in your account, you have to use the exact spelling (including either singular or plural forms of a word – i.e., butterfly or butterflies) to find what you're looking for.
–Not all items are packaged equally well/securely. Damage, breakage, dirtiness, etc are all possible.
-Some products, depending on what they're made from, may arrive with strong/unpleasant odours, which may or may not dissipate/lessen over time. Thankfully I have not run into this issue many times so far.
–AliExpress holds sales a small number of times each year. While participation in these sales is not currently mandatory for all sellers and some opt out of taking part in them, many sellers do join in.
Making purchases during a sale is an excellent way to stretch your dollar even further. (Consider loading up your cart a few days in advance and making your purchases once the sale begins, to save time and hopefully ensure you get the items you're after before they potentially sell out).
-AliExpress has a handy phone app that allows you to shop directly from their platform anytime you're on your mobile or tablet (and have an internet connection).
-If you use a free cashback plugin or app, such as Rakuten (formerly eBates) when you shop on AliExpress, you can often earn a percentage back (it varies, but 2.75% back has been the going rate there in recent months) on your purchases there.
Just ensure that you've activated Rakuten's plugin or app before placing your order, as the cashback offer cannot be applied to purchases after they've been placed.
An important note about buying online during the Corvid-19 pandemic
As I type these words, it is currently early August 2020. For the past few months, our planet has been under siege by the profoundly devastating Corvid-19 virus (aka, the Coronavirus).
Many of us are – or have been – in either volunteer or mandatory lockdown, isolation or quarantine. For those who mail is not delivered directly to their home (and in some cases, even then), this may mean that you are unable to presently retrieve your mail.
You may have stopped buying online or are only doing so for items that are strictly necessary (food, toiletries, etc).
Most postal and courier services are operating at reduced capacity and some have temporarily suspended various operations for the time being.
Plenty of us are experiencing profound financial challenges and the last thing we may be thinking about is ordering crafting supplies online.
With every ounce of my heart, I understand and am in the same boat. These are incredibly challenging, uncertain, stressful times for nearly all of us.
The information provided in this post is intended to be of help to those for whom it may presently be applicable, and to many others down the line when some semblance of normalcy and a great deal more safety has hopefully returned to our world.
Is AliExpress right for you?
At the end of the day, only you can answer that question.
For some crafters, AliExpress is never going to appeal to them, others may be fairly neutral on it, and plenty adore the site.
While there are certain aspects of Ali that I would immediately change if I had the power (and I do wish that a higher percentage of my orders actually reached me) I enjoy and appreciate AliExpress.
It isn't for everyone, and that's okay. But for the millions upon millions of people – plenty of paper crafters included – who use it every day, it can be a handy, enjoyable way to score some fun finds at reasonable prices.
Just make sure you're willing to wait anywhere from a couple of weeks to three months for your orders to arrive. If you're down with that, then you might just end up on team AliExpress before you know it! 😊
What's your take on AliExpress from a paper crafter's perspective? Have you bought from this popular e-commerce site before?
Note: This post is not sponsored, endorsed or in any way directly affiliated with AliExpress or any other website or company. All information provided is believed, in good faith, to be accurate at the time of writing, and all opinions stated herein are my own.
In addition, this post may be updated, as needed, to reflect further relevant information about, and/or notable changes made to, AliExpress in the future.