Hello, my dears, and welcome to Witchcrafted Life's first blog post for February 2021. 🖤
How are you doing as the 2nd month of the year gets underway?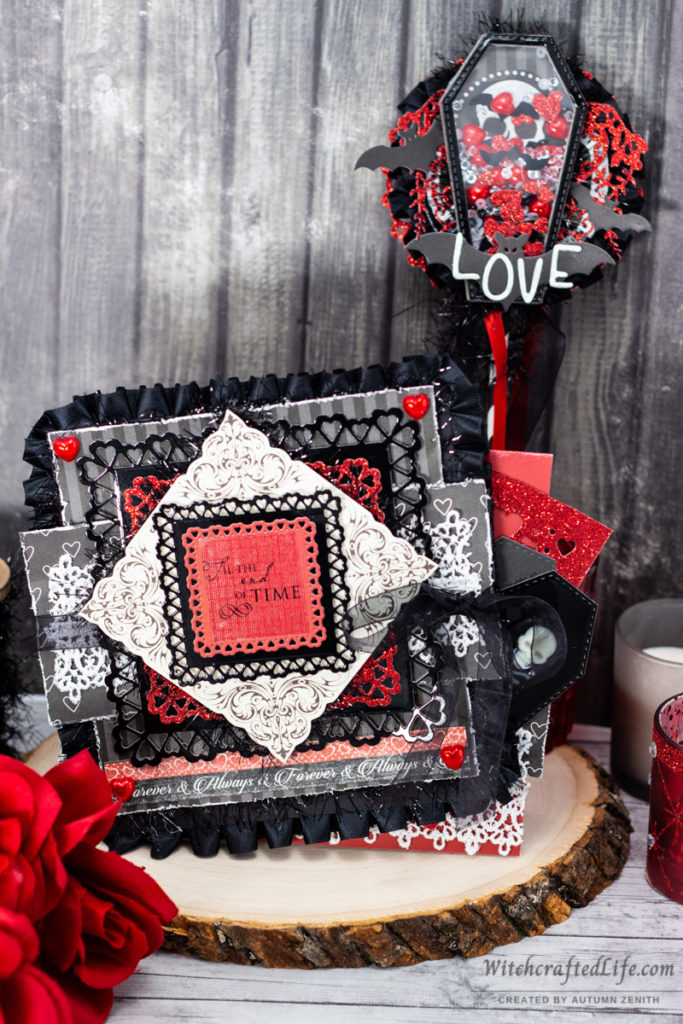 Plenty of things have been hopping around this end – starting with the launch of my YouTube channel a few days ago.
From the bottom of my heart, I want to thank everyone who has subscribed, commented and liked my content there already. You guys are seriously the best! 🥰
My foray into the world of YouTube content creation isn't the only new thing happening around these parts at the moment. No siree, Bob!
In this post I'm going to be talking about what Valoween Day is, plus share a darky romantic Valoween card and shaker wand set that I recently made.
First, however, let me share some of what's been transpring lately on my end. 😃
I've got a new photography set up!
As those of you who have been with my blog for any length of time have likely heard me lament, the lighting situation – coupled with using a cell phone to take my photos – at our house is far from ideal. Especially at night, which is when I usually end up photographing my craft projects.
As of late, I've been fortunate to be able to obtain some new photography equipment. I now have a Canon Rebel digital camera (it is actually the very same make and model of digital camera that I shot with for a while before the fire, so it's extra special for me to connect with a familiar friend again), a 50-millimetre Canon lens, a lightbox, and two small desktop style LED lights to use when photographing my projects.
This setup works awesomely for cards, tags and smaller projects. The 50-millimetre lens + lightbox isn't quite as ideal for layouts and larger projects, but hopefully I can make things work there, too – even if it means shooting my scrapbook pages outside of the lightbox.
So while I've got a bit of refamiliarizing myself to do with shooting DSLR, figuring out the best specs for this photography set up and so forth, starting from today's post onward I plan to take most, if not all, of my craft project photos using my Canon Rebel from here on out.
To say that I am one seriously happy camper would be the understatement of the century! 😃
The project share photos in today's post are the first I've taken with this new setup. What do you think of them?
(I should note, in the right lighting conditions, modern iPhones take incredible photos and am not anti-iPhone photography in the slightest. Goodness, no! I shot a ton of different images all year through with my iPhone and doubt that will change anytime soon.)
A more streamlined approach to my project share posts
Next on the list of things I want to discuss in this post is that, after months of careful deliberation, I've decided to streamline my project posts a bit. (Okay, maybe baring this one 😄, as I'm covering multiple topics in it, not merely highlighting a project.)
Much of what I have been sharing with my project posts over the past 13 months – including multiple photos of each project – will remain the same.
However, I want to be able to share as much as possible with all of you, be it here, on Instagram, and now on YouTube.
As such, if I can streamline the process on any of those fronts a bit more and help the whole of my collective productivity online out along the way, I'm all for it.
I hope that you'll enjoy this approach as well and would love to get your feedback on it in the comments below.
(Note: If you like the paper crafting tips and ideas I've included thus far in my project share posts, watch for future ones in blog posts and YouTube videos devoted to roundups/lists focused on such, as well as still sprinkled here and there in some of my project share posts.)
What is Valoween?
Valoween is a fantastic amalgamation of Halloween and Valentine's Day.
It sees a darker, spookier, gothy-er aesthetic that involves many of Halloween's most beloved icons, subjects, and colours woven into the classic themes of love, romance, and passion that call February 14th home.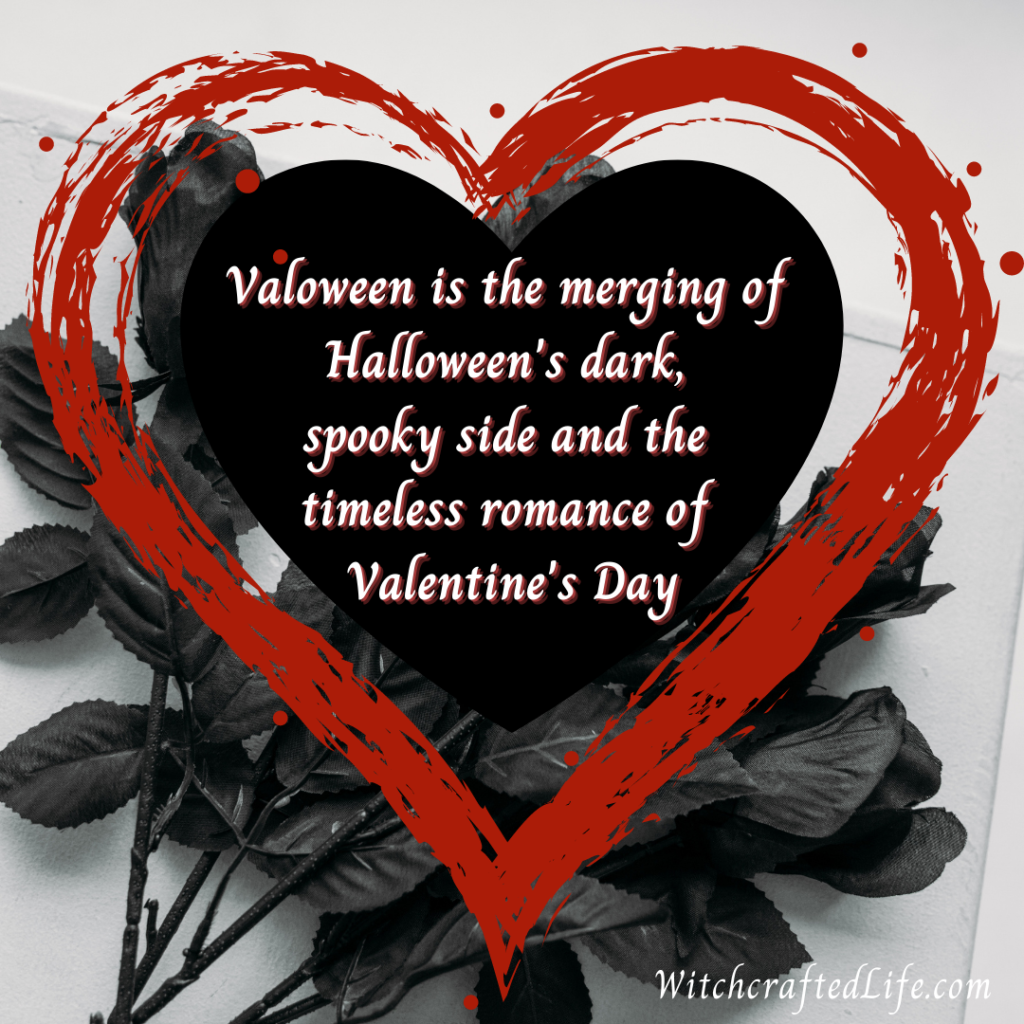 My research has yet to uncover just who precisely invented Valoween or who, for that matter, named it.
Perhaps it is one of those concepts that came amount rather organically from a slew of different sources all combining to make one marvelous end result.
So while an exact origin story may be shrouded in mystery, Valoween – which is also sometimes also spelled as Valloween – has been discussed online for several years now (one of the earliest mentions of it I've found to date is in this 2009 post from the blog Taffy Talk).
Some people even go so far as to called Valoween a second Halloween.
As someone who is a firm believer in living a #Halloween365 life, I'm all for this concept.
In truth though, Valoween isn't exactly a second Halloween. I doubt many (if any) folks are trick-or-treating for it, Valoween falls in February not October, and there are plenty of other differences, too.
That said, it wholeheartedly embraces the spirit of Halloween and melds it with Valentine's Day, a concept that I am behind one million percent.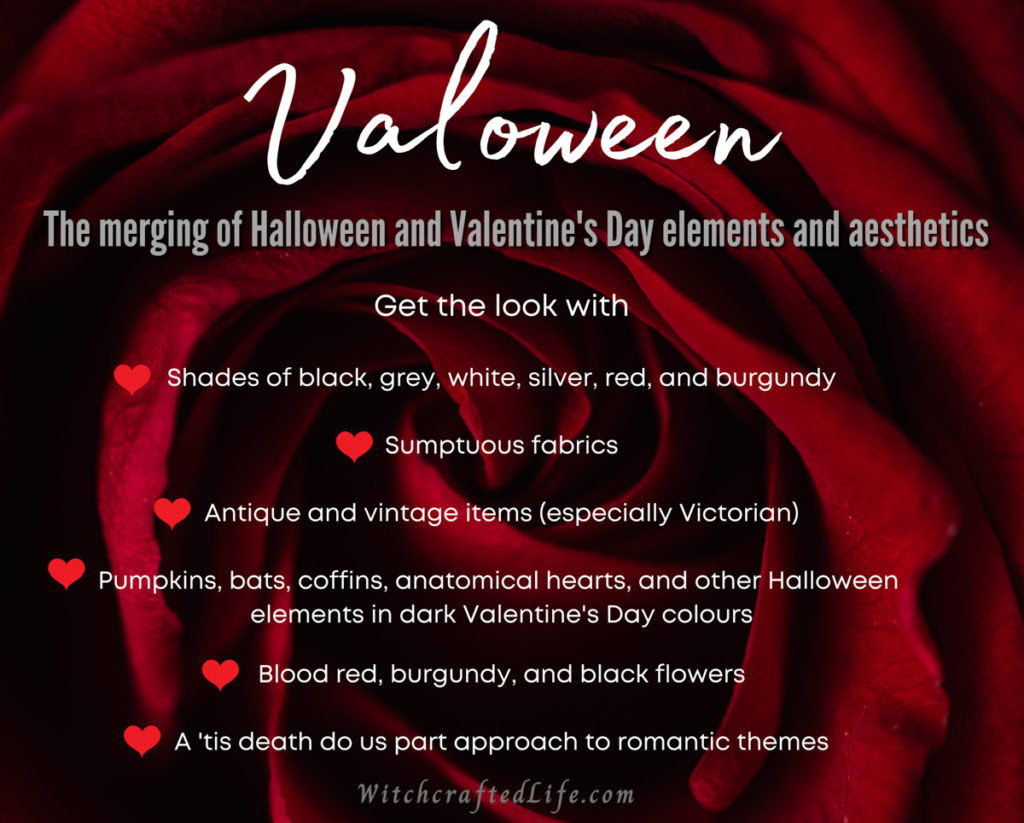 Valoween is very much in the same vein as darker/spookier/Halloween related takes on other holidays and seasons, such as Springoween, Summerween, and Creepmas.
I plan to make Valoween a regular annual fixture on this blog, as it could not be more up my dark and spooky, Halloween + gothic loving alley.
Here are some fa-boo-lous links to fellow goth and Halloween related blogs that have posted about Valoween (or Valoween appropriate) topics over the years:
–A Bewitching Guide to Halloween
Valoween reminds us that there are multiple ways to look at, decorate for, and embrace various holidays.
For those whose hearts reside with Halloween the whole year through, it is a means by which to welcome a hefty dose of our beloved October 31st into the middle of February.
And, in doing so, Valoween helps to make the wait until fall returns a bit more bearable. Not to mention eerily enjoyable! 🎃🌹🖤
Dark and romantic Valoween card and shaker wand set
With the Yule and Christmas decorations now packed away for another year, my mind started to shift to Valentine's Day.
Or, as I now choose to primarily celebrate it, Valoween Day.
Naturally, paper crafting related thoughts soon followed.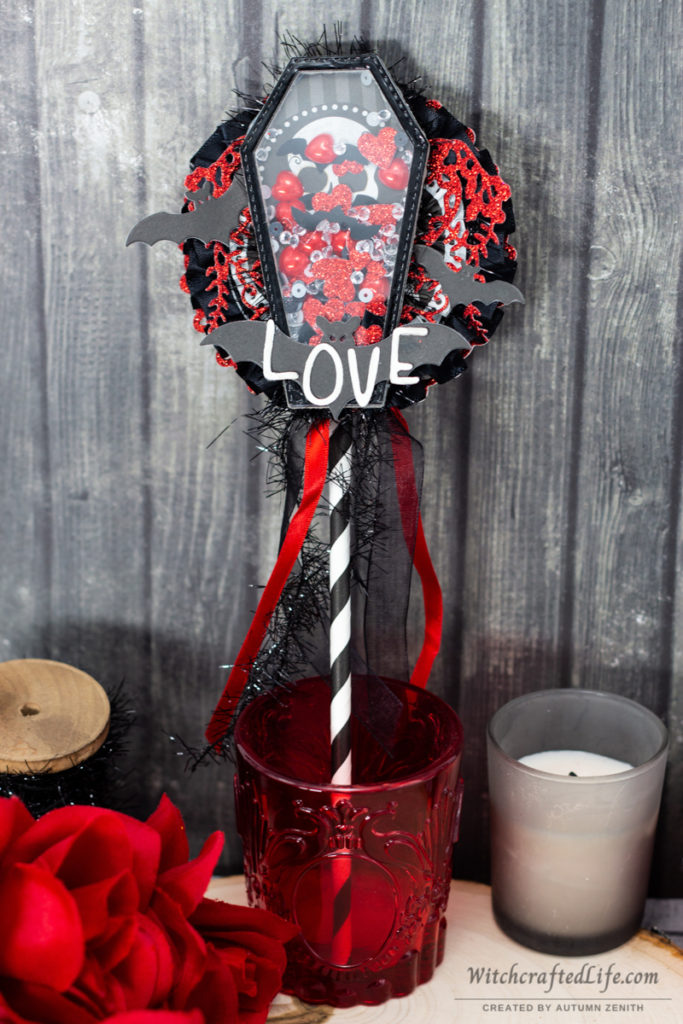 I awoke one morning not too long ago with the idea to base a project (or in this case, two) on the concept of that most classic of marriage vows "To (or 'til) death do us part".
The wording of which is chocked full of inspiration for Valoween and anytime you wish to take romance in a darker, more macabre, Halloween, or even horror-related direction.
Naturally, this led to thoughts of my all-time favourite fictional couple, Morticia and Gomez Addams.
While Morticia and Gomez didn't appear directly on either of these creations, the spirit of their eternal love (not to mention their beguiling aesthetic) was a guiding factor in the creation of this darkly charming shaker wand and matching card set.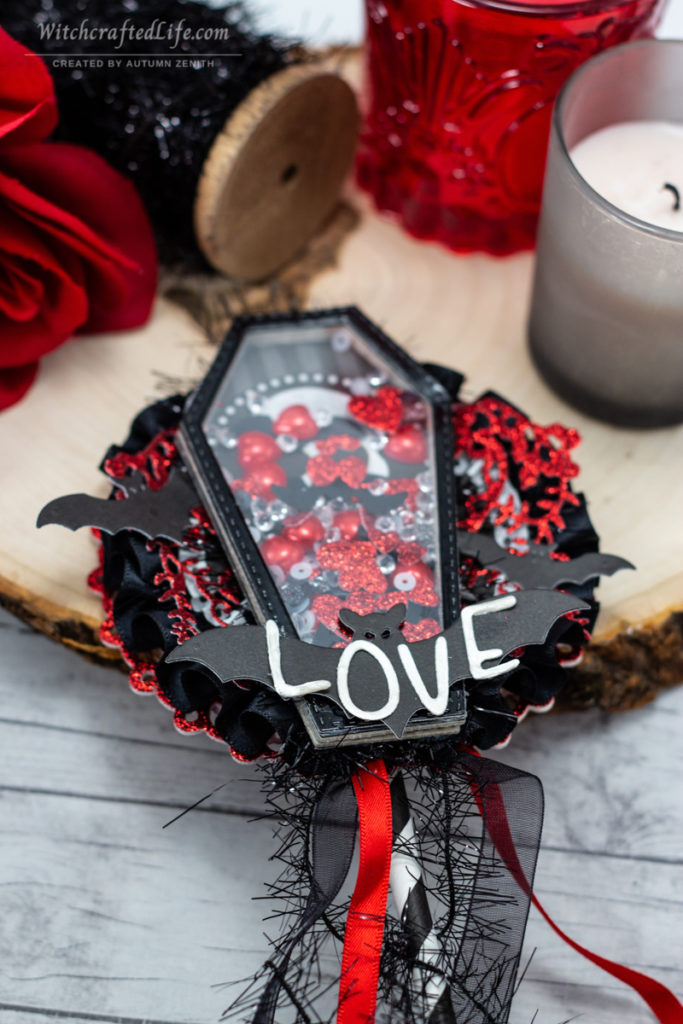 I began by making the shaker wand. To do so, I backed two layers of glittery red cardstock – which I die cut with a decorative edge nesting circle die set from Spellbinders – together.
This was topped with ruffled black ribbon trim, a layer of grey striped patterned paper, a handmade cupcake rosette made from a Halloween cupcake liner, some wonderful black eyelash trim, a hanging vine covered heart die cut from the same red glitter cardstock, three cute bats die cut from black cardstock, and the eye-catching black coffin shaker element.
To make the coffin, I die cut the shape a few times from thin chipboard (saved from some product packaging) and topped it with the same coffin shape cut from glossy black Tonic Studio cardstock.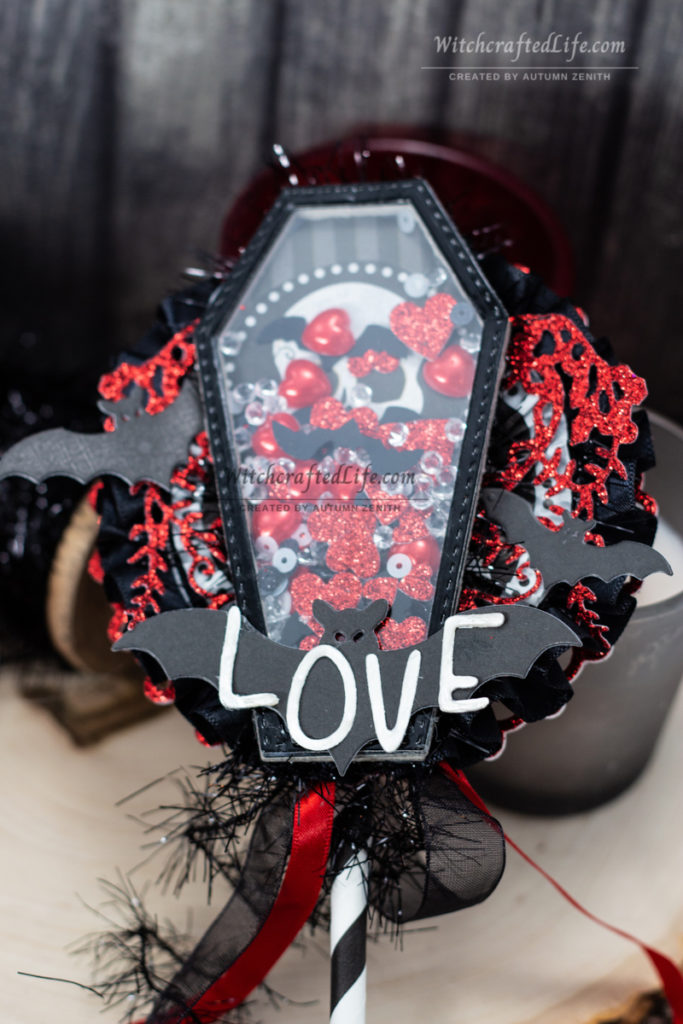 I lined the coffin with the same striped grey and black paper, as well as the (skull image) center of the Halloween cupcake liner that I used for the rosette.
Into the shaker, I put a mix of bat-shaped and round sequins, small clear plastic gems, die cut red glitter hearts, and small red pearlized heart embellishments.
For the stick part of my shaker wand, I used a white and black striped paper straw (which can often be found at dollar stores, party stores, home goods stores, eBay, Etsy, AliExpress, and various other online suppliers).
For the finishing touches, I die cut the word love from white cardstock that I topped with pearly white Nuvo Drops, and added some delightful whisps of black eyelash trim, sheer black ribbon, and narrow red ribbon.
And voila, my Valoween shaker wand was complete. ❤️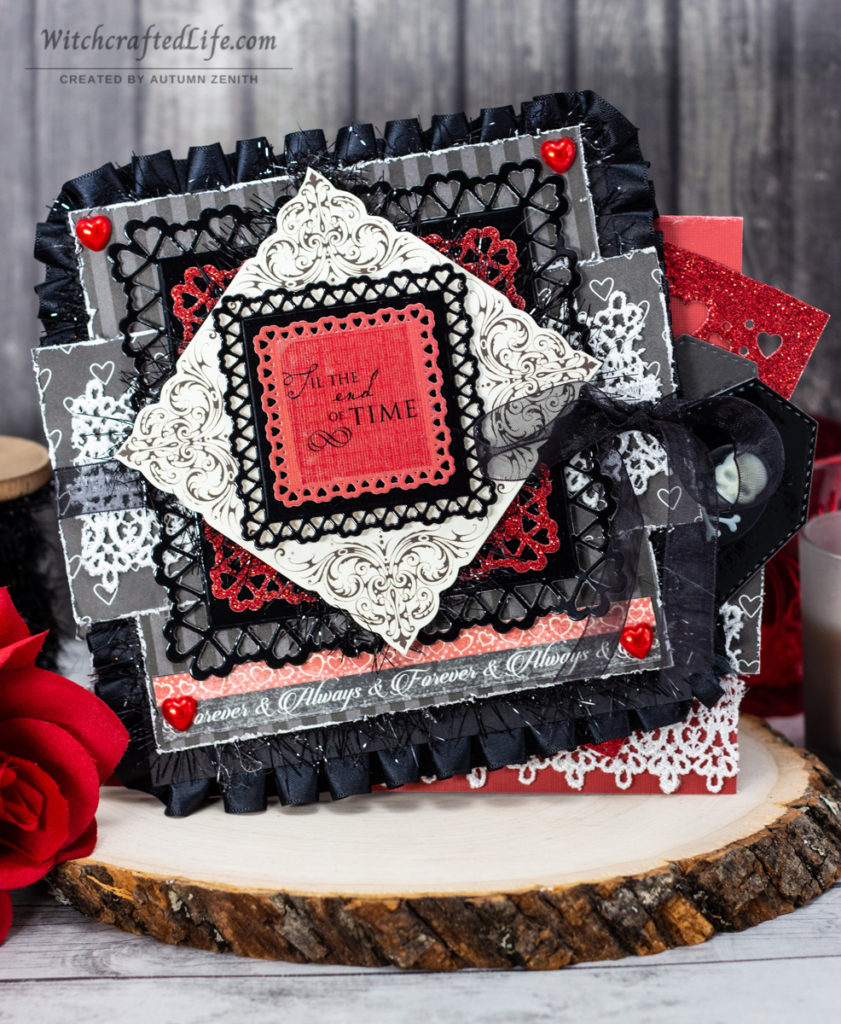 For the card, I used many of the same supplies. In this case, I started with a dusty red cardstock base, utilizing the same grey striped patterned paper, red glitter cardstock, plain black cardstock, glossy black cardstock, black ruffle trim, black eyelash trim, sheer black ribbon, and red heart embellishments, as well as the coffin die.
The latter was used to cut out two coffins (one from glossy black cardstock, the other from plain black cardstock), which I topped with a black and creamy-white coloured skull and cross bones cameo flatback cabochon.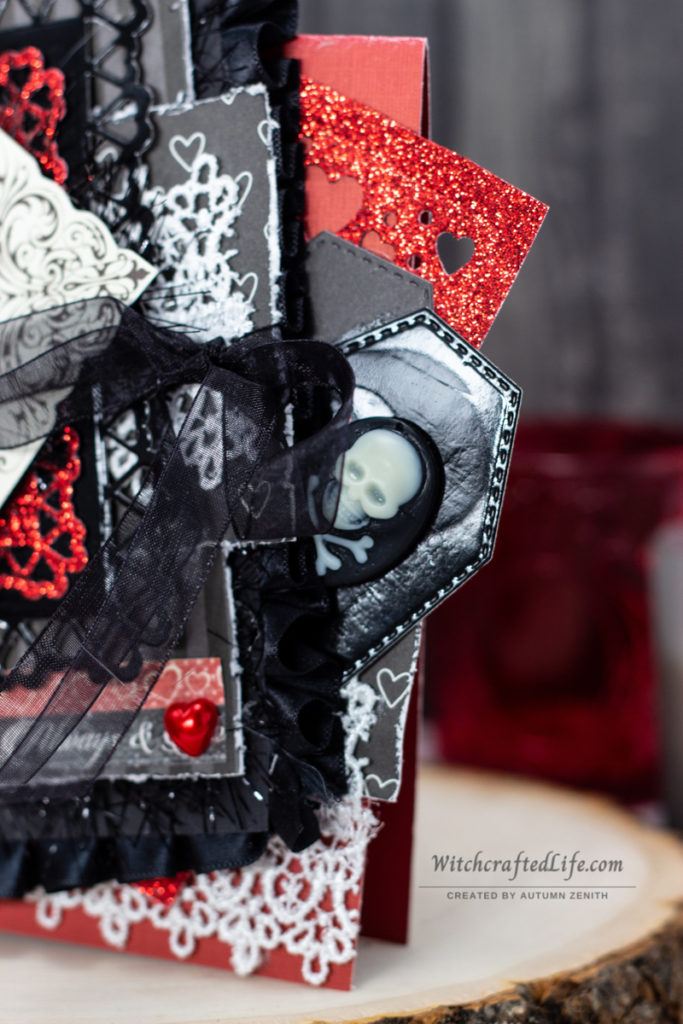 As well, I included some grey and white heart print paper, Graphic 45 paper, a set of heart border dies (from Alina Crafts on AliExpress), an elegant journaling card from Creative Imaginations, vintage style white trim, and a classic black-on-clear sentiment stickers (brand unknown).
I love how the sentiment – complete with an infinity symbol – on this card taps directly into my jumping off theme of 'til death do us part.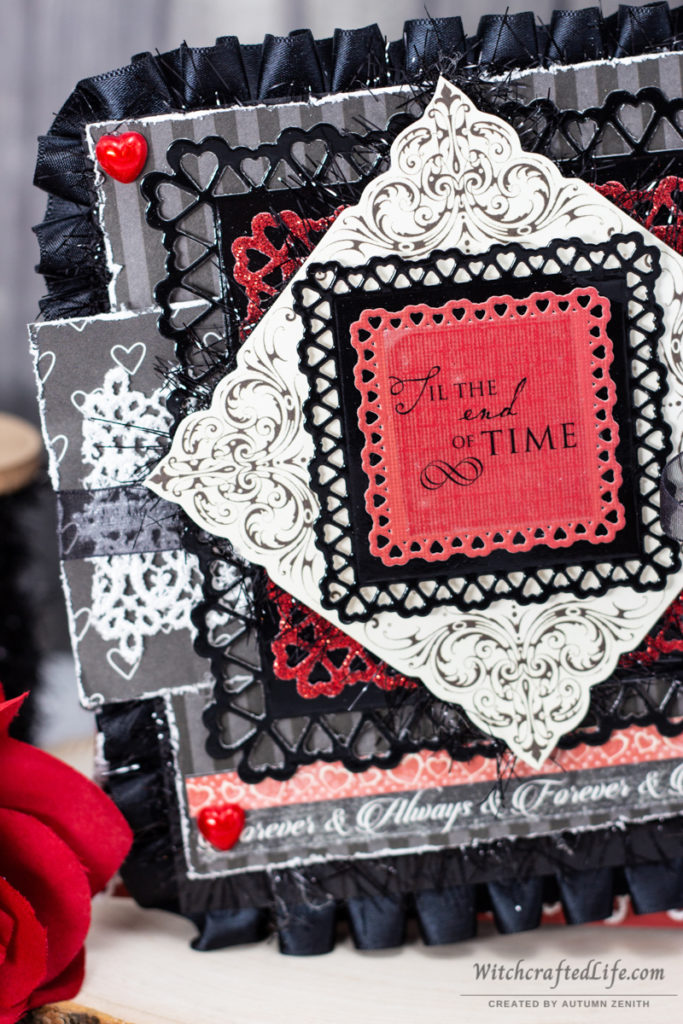 I'm a huge fan of shaker wands and love to create them. This is the first one I've made and shared here on my blog. I highly doubt it will be the last!
These items are both going off to the same friend. She is a die-hard year-round Halloween lover like myself, so I hope that she'll enjoy this gothy Valoween duet.
And if you'd like to get a more interactive view of this Valoween set, I've created a YouTube project share video of it.
Products used to make this handmade Valoween card and shaker wand set
-Black cardstock
-White cardstock
-Red glitter cardstock – Darice
-Dusty red coloured cardstock – Craft Smith
-Glossy black cardstock – Glossy Black Mirror Cardstock from Tonic Studios
-Thin chipboard
-Black and white heart print paper – Maggie Holmes Carousel Carried Away paper from Crate Paper
-Valentine's Day text strip paper – Mon Amour Collection One and Only paper from Graphic 45
-Two-toned grey striped paper
-Clear acetate or other thin translucent plastic to use for the shaker window element of the wand
-Scalloped edge nesting die set – Nestabilities Picot Edge Circles from Spellbinders
-Nested heart boarder die set – Alina Crafts on AliExpress
-Bat dies
-Foliage heart die
-Coffin die
-Love (word) die or individual letter dies that can spell the world love
-Elegant cream and black journaling piece – Narratives by Karen Russel Journaling Frames from Creative Imaginations
-Black text on clear background sentiment sticker (you could also use a rub-on, stamp an image on velum, emboss a stamped image, or handwrite a sentiment of your choice for the card)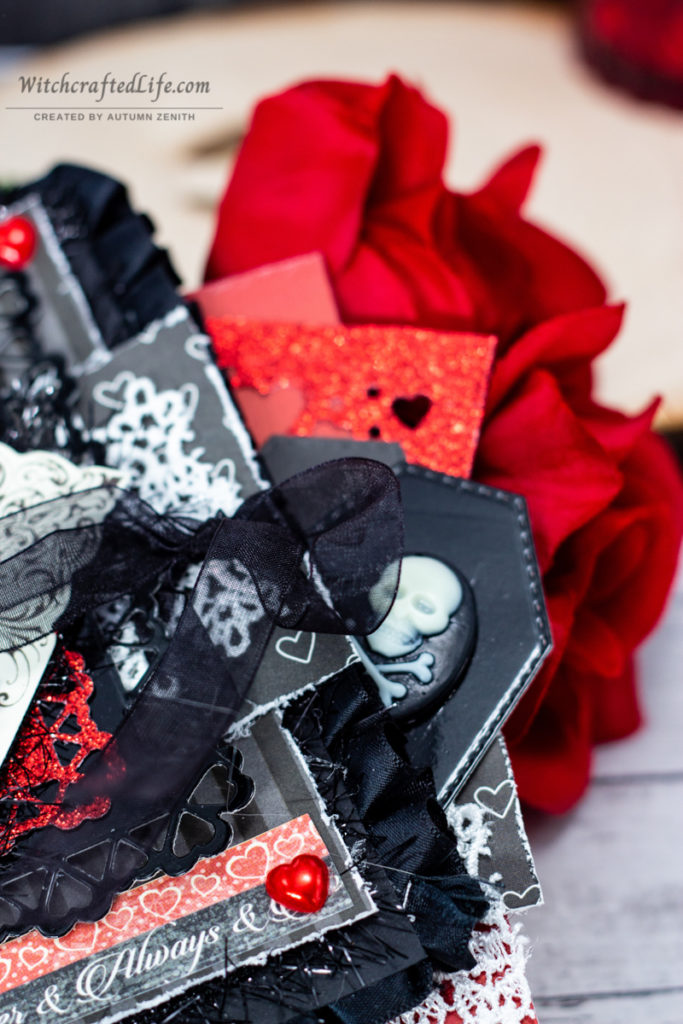 -Halloween skull and spider print paper baking cup (cupcake liner) – Dollarama
-Sequins, including bat shaped sequins (picked up 2 – 3 years ago on AliExpress)
-Tiny red pearl style flat back embellishments
-Black and white/cream plastic skull and cross bones cameo flatback cabochon
-Tiny clear plastic gems (used in shaker mix)
-White enamel drops – Ivory Seashell Crystal Drops from Nuvo
-Sheer black ribbon
-Black eyelash (tinsel) trim
-Skinny red ribbon
-Black and white striped paper straw
-Glue gun and glue sticks
-Dimensional foam, pop dots, or similar to elevate some of your layers
-Adhesive, such as a tape runner, of your choice (I often use my Scotch Tape Glider)
Whether you celebrate Valoween, Valentine's Day, both, neither, or something else entirely…
This February, I hope that you both feel loved and have many things and/or people in your life to love dearly.
The state of global affairs is anything but perfect these days. Life is harder than forged steel for many of us still and there is no shortage of things to get us down.
Holidays and special occasions – even if they differ from how we may have traditionally observed them – are, to my mind, more important than ever.
They are powerful reminders of happier times, of the importance of traditions, and of how we humans have the ability to select certain dates from the calendar and make them into events that are not just special, but often greater than the sum of their parts.
We need holidays and special occasions. And however we opt to celebrate them, the concepts behind such times are familiar threads that link us both to generations past and to our present-day fellow human beings the world over. ❤️
I've got a very cool witchery related post planned for Valentine's Day this year, so be sure to stay tuned for that a bit later in the month.
Thank you all for joining me in my joy about the new starts and positives that are transpiring in my life right now. I truly hope that others will continue to follow as 2021 unfolds, both for myself and for each of you as well.
Much 🖤 always!