Shaker cards are a ton of fun to make and the sky is the limit when it comes to what you can include these interactive projects.
While there are some great classics, such as sequins and seed beads, this post is going to explore a sizable range of shaker card filler ideas that go beyond these beloved standards and which may help to open up your paper crafting repertoire all the more.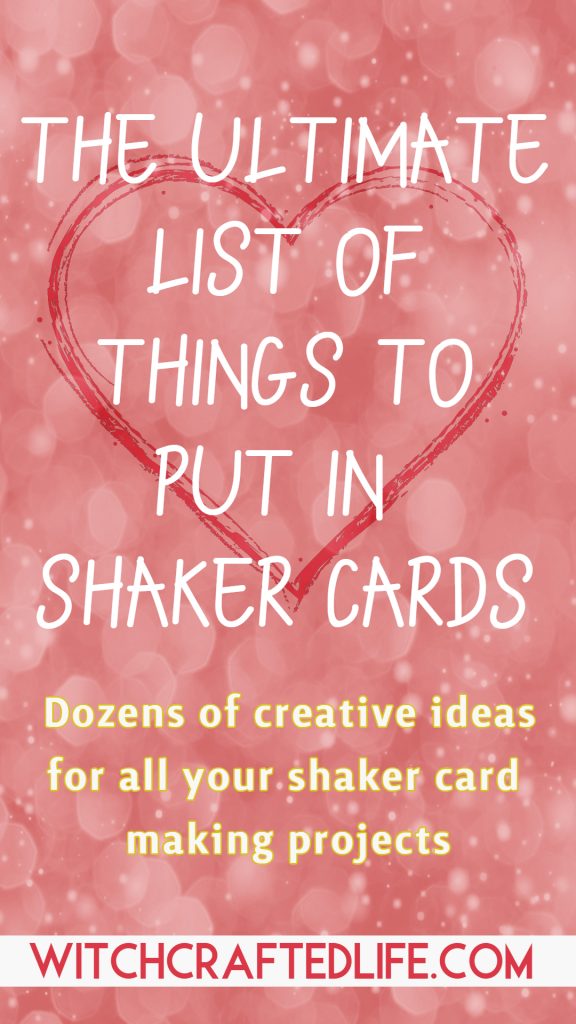 What is a shaker card?
Shaker cards are a delightful form of card that involves creating a window in the design (generally on the front) of your card and sandwiching one or more types of "shakeable" materials between two tightly sealed layers, one of which is often transparent or semi-transparent so that the shaker contents remain visible.
When your card is moved around or shaken, the materials in the window shake, rattle and roll to and fro, adding fun, festive cheer to a huge range of handmade card designs.
The window/opening of your shaker card can run the gamut from small to medium to the entirety of the card front (and any size in between), just depending on the design of your card and the other elements you may be including on it.
In my Heartfelt Thanks Bat Sequins Shaker Card, for example, I made medium-ish sized shaker element with sheer tulle for the front of my shaker area.
If you're new to this type of card and wondering how to make a shaker card, here are a few of the many terrific posts and videos that exist online for this topic:
-How to Make a Shaker Card Tutorial from the brand Chameleon
–Shaker Card Options from Jennifer McGuire
–Snow Globe Shaker Card Ideas from Lynn Dunn
When were shaker cards invented?
That, my crafty friends, is something that is most likely lost in the ether of the past. Trust me, I've searched high and low and haven't yet found a source for the first known shaker card (be it commercially produced or handmade) or a date as to when the concept of shaker cards was first invented.
I can tell you, however, that I distinctly remember seeing shaker cards in the 1990s and reading mentions of them on various paper crafting forums, including SplitCoast Stampers in the early 2000s (and onward).
Shaker cards really started to take off in popularity several years ago now, with brands such as Jillibean Soup and Queen & Co. quickly bringing specifically designed shaker card making sets and related products to market as the popularity in this style of card skyrocketed.
I highly suspect that handmade shaker cards date back to the 1980s or maybe even earlier. It's possible the commercially produced cards that included shaker elements date back further still. I'm going to keep researching this point and will update this post (or discuss it in a future entry) if I hit on any reliable information.
What shape can a shaker card window be?
This topic would make for a great post unto itself and maybe I'll pen just that one day (be sure to let me know in the comments below if you'd be interested in such a post).
The short answer is that shaker card windows or openings can be pretty much any shape that your heart desires and that you have the tools required to make.
Some of the more common shapes for shaker card openings include circles, ovals, rectangles, squares, diamonds, hexagons and honeycomb shapes, hearts, stars, flowers, butterflies, clouds, the sun, pumpkins, windows, snow globes, Easter eggs, Christmas trees, Christmas ornaments (baubles) balloons, various types of fruit (from watermelons to lemons to cherries), cupcakes, mason canning jars, and mugs and teacups, and placing your shaker elements behind die cut words.
If you have the supplies needed to make other shapes (which – much like some of the ideas just mentioned – may entail owning or having access to a die cutting machine and metal dies or a digital die cutting machine), you can let your imagination run wild!
I've seen tons of creative shaker cards over the years. Here is a small handful of some of fabulously cool looking shaker card shape ideas that have crossed my path so far:
–Apple Shaker Card by Sarah Douglas
–Bicycle Wheel Shaker Card by Toni Maddox
–Candy Corn Shaker Card by Amy Sheffer
–Crescent Moon Shaker Card for Eid by SoulKittyHigh5s
–Dinosaur Egg Shaker Card by Patty Bennett
–Easter Basket Shaker Card by Jennifer Synder
–Fiddle Leaf Plant Shaker Card by Carly Tee (Love her charming Birthday Cake Shaker Card as well! Just as I do her darling To The Moon Infinity Shaker Card)
–Gumball Shaker Card by Barbara Anders
–Ghost Shaker Card by Lisa Petrella
–Glass of Lemonade Shaker Card by Nancy Nally
–Ice Cream Cone Shaker Card by Carrie Rhoades
–Kite Shaker Card by Nichol Spohr
–Necktie Shaker Card by PaperCrafter Magazine (card maker not credited)
–Snowman Shaker Card by Bunny Vance
–Umbrella Shaker Card by Wanda Guess
–VW Van Shaker Card by Heather Holbrook
–Wedding Cake Shaker Card by Carol Payne
–Wine Glass Shaker Card by Donna Mikasa
–Witches Hat Shaker Card by Ruthie Lopez
Again, you can really let your creativity soar when it comes to shaker card making. This applies both in terms of what shape or design of window you opt for and in regard to what sorts of materials you put inside your shaker card opening.
If you're looking for oodles of great ideas for what to include inside of your shake card, read on!
The ultimate list of things to put in a shaker card
Sequins of all sorts, kinds, shapes, colours – go wild! 😊
Confetti (including homemade with a hole punch)
Cake sprinkles and other low moisture decorative baking supplies
Buttons
Tiny pieces of ribbon and trim
Beads (including, but certainly not limited to, seed and bugle beads)
Pompoms
Miniature dice
Gem and rhinestones embellishments
Flatback charms and embellishments
Sticker pack types of small stickers (with the paper backing left on)
Other types of stickers (place them onto, and lift them off of, a piece of fabric multiple times to help get rid of the stickiness on the back or put them on paper or cardstock, carefully cut around, and use as needed)
Chipboard, cardstock and other types of alphabet letters and numbers
Very small (1/12th or small usually) dollhouse and similar types of miniatures
Wood veneer shapes
Plastic die cut shapes
Paper die cut shapes
Metal charms
Plastic charms
The metal parts from zippers
Glitter of all kinds (including "snow" glitter)
Sand (natural and artificially coloured)
Small glass tiles and domed glass pieces such as those used to fill vases
Table scatter mixes
Pebbles and other tiny rocks
Coffee beans
Dried (real) flowers and leaves
Artificial flowers and leaves
Miniature craft project or home decor bird's eggs and Easter eggs
Sawdust shavings
Dried seeds and seed pods (pumpkin seeds would be great for fall, Halloween and Thanksgiving Day cards)
Real (dried) or faux moss and suitable (ethically sourced) dried lichen
Ethically sourced shells, mini starfish, and sand dollars
Pieces of real or artificial sea glass
Small mirror tiles
Pencil and pencil crayon shavings
Wax crayon shavings
Dried herbs and spices (such as star anise, pieces of cinnamon sticks, cloves, dried mint leaves, etc)
Mini pinecones
Dried pine needs
Small birthday candles
Tinsel
Easter grass
Small fabric, stitched, embroidered, etc appliques and lace shapes
Robin's Nest (brand) and similar styles of plastic "dew drops"
Scrabble tiles and other types of small sized board game pieces
German and other types of glass glitter
Miniature/small crocheted doilies and other crocheted shapes (hearts, butterflies, flowers, stars, etc)
Punched and die cut shapes
Miniature pinecones
Faux (plastic, paper, wood, etc) ladybugs, butterflies, bumblebees, and other types of insects
Feathers
Pieces of wool, yarn, crochet thread, fun fibers and other similar materials
Rice, dried pasta, lentils and other very long-lasting dried foods
Dried bird seed mixes
Stitched appliques
Thread (regular, metallic, embroidery, etc)
Small spirals or other shapes made from crafting and beading types of wire
Felt shapes of all kinds
Hardware items such as small screws, nails, washers, bolts, etc
Pieces of chain
Pieces of rope
Small, (likely) closed paper drink umbrellas
Mini tassels
Small origami shapes
Mini Styrofoam balls (though static could be an issue with them)
Mini polymer shapes (hearts, stars, flowers, etc)
Various jewelry making components (spacer beads, jump rings, end caps, knot covers, etc)
Googly eyes
Gemstone chips
Microbeads (aka, caviar beads)
Mica flakes
Epsom salt
Foam shapes (handmade or store bought)
Jewelry making cabochons
Mini (doll clothes type sized) buttons
The contents of silica gel packets (can be dyed different colours with stamp pad reinkers)
Small slices of ethically sourced real branches/wood
Cancelled or unused postage stamps
Mini fall and Halloween plastic and foam pumpkins
Half (faux) pearls and similar products
Small puzzle pieces
Tiny paper tags
Plastic or metal snaps
Small, low moisture candies (such as Lifesavers, gumballs, Rockets, Tic Tacks, etc)
Salt, including coloured salts such as black and pink varieties
Dried corn kernels (e.g., Indian corn)
Mini plastic icicles
Eyelets and grommets
Small jingle bells
Safety pins
Standard and fun shaped paper clips
And for shaker cards – such as fishbowl designs – that include a liquid component, products such as hand sanitizer, hair gel, and liquid dish or hand soap
Further ideas for shaker cards
Abundant as that list was, no doubt there are numerous other possibilities when it comes to what you can include inside of a shaker card.
If you have any ideas that you'd like to share, please don't hesitate to let me know in the comments below.
And, remember that shaker cards often combine two or more materials and/or different types or colours of the same sort of product together to create unique, eye-catching and seriously cool shaker card filler recipes.
This is another area where you can experiment and play around time and time again.
I started compiling today's list for my own paper crafting projects years before I launched this blog, and just know I'll start a second version of it with any additional ideas you suggest, I think of myself, or that I come across in the online and offline crafting worlds.
It should be noted as well, that shaker elements and the products that are used as fillers inside of them are not limited strictly to cards.
This same type of paper crafting technique can be utilized in/on tags, gift bags and gift boxes, scrapbook pages, mini albums, fused or sewen clear plastic pockets and pouches, and numerous other types of handmade projects.
Shaker cards add instant joie de vivre to your cardmaking projects, but they can also be more formal or serious. For example, shakers can be used for get well, sympathy, wedding, anniversary, and loss of a pet cards.
I really enjoy making and chatting about shaker cards, so don't be surprised if you see other posts starring or dedicated to this topic here as time goes on. 🎉
Do you have a favourite material or "recipe" of crafty products that you like to use in your own shaker cards?