Nearly every year, our area experiences at least one period of extreme cold. Weather Canada issues a low temperature warning, the mercury plummets, and those braving the elements must bundle up to the point that little of the body beyond their eyes are visible.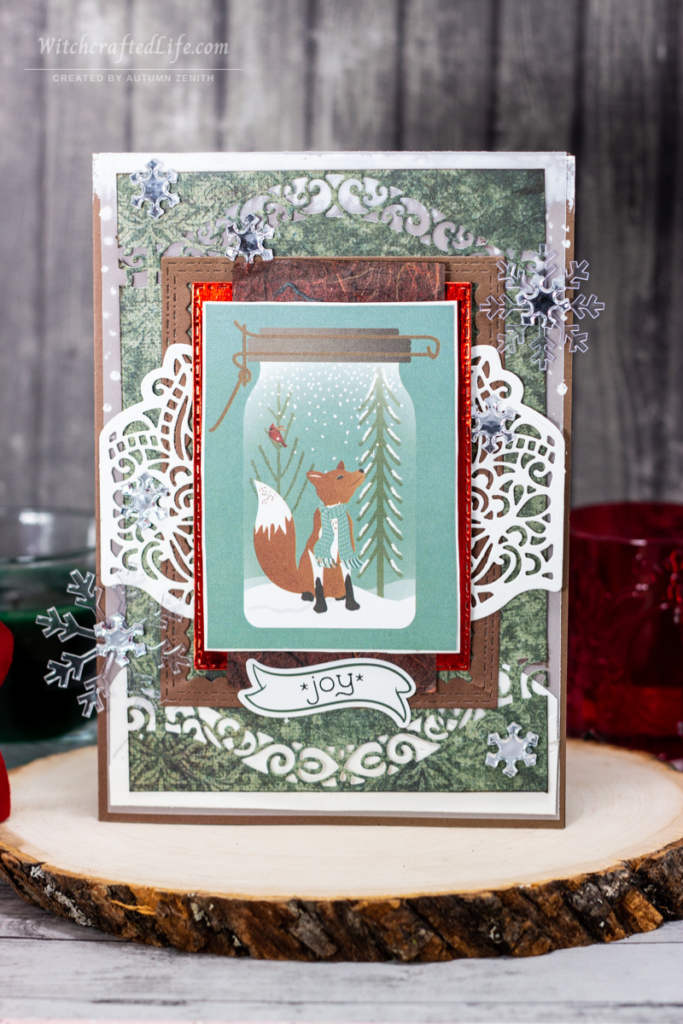 As this period often transpires in January, a little part of me had thought that perhaps we'd be spared the coldest of snaps this time around.
Oh, silly, perpetually optimistic me! 😄
To no one's surprise, that was not to be the case. An arctic cold front blew into town in early February and remained in place until a touch after Valentine's Day.
The temps here are still well below freezing, snow lays abundantly as far as the eye can see, and while spring may be less than a month away on paper, you'd never know it by the look of things around these parts.
That is honestly okay with me. I've fallen deeper in love with winter this time around, finding greater soothing comfort and serenity in its ingrained hush and the noise-cancelling properties of abundant snow than ever before.
Here in Canada, I'm far from alone in still experiencing icy cold weather. Many parts of the country will continue to do so well into late March, April, or even May (once, when I was living in Calgary, Alberta, snow even fell in June!).
Thus, as I owe a dear online friend + pen pal some snail mail correspondence, I recently created this sweet, wonderfully wintry greeting to zip her way.
Why not, I figure, celebrate the current season in paper crafting form while it's still here? ☃️
My friend resides in what is, on average, an even colder and snowier part of the country, so I hope that she'll enjoy my fun, frosty take on a season that anyone living on Canadian soil is intimately acquainted with.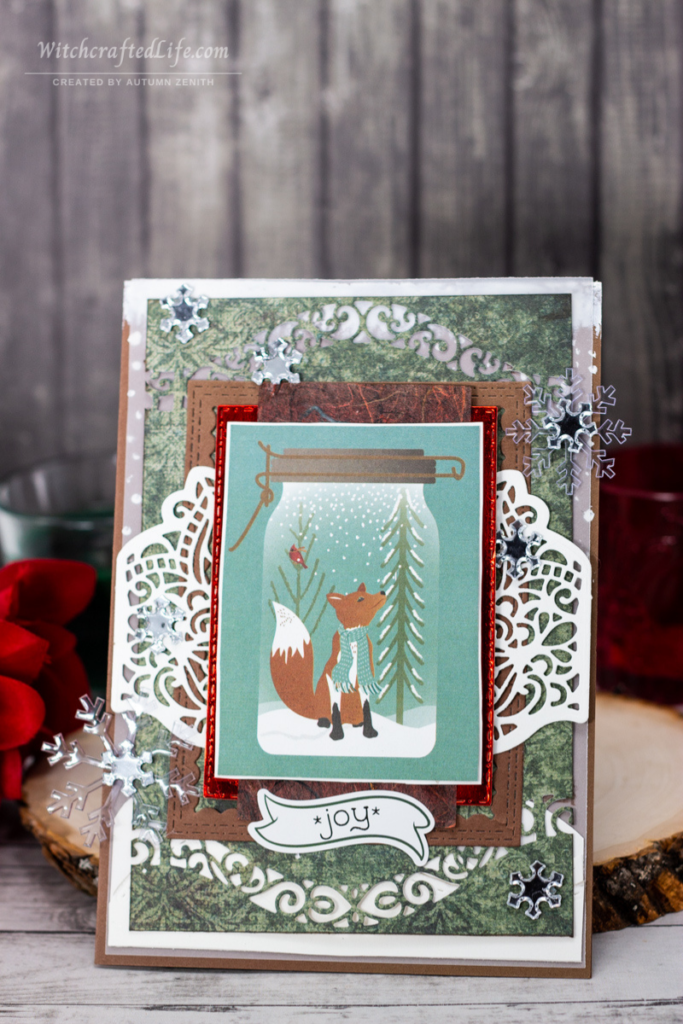 While this card looks – and is in some ways – relatively straightforward, there are (quite literally) some delightful things going on behind the scenes.
At first, I had thought that this design would be a shaker card. How charming, I reckoned, would it be to put the fox – already in a snow-filled mason jar – inside of an actual shaker element?
I tried various configurations, shapes, die cuts, apertures, shaker materials, and yet failed to fall in love with any of them.
Instead, I nixed the shaker card approach and instead decided to layer this wintertime card from the back of the design, working my way forward, instead.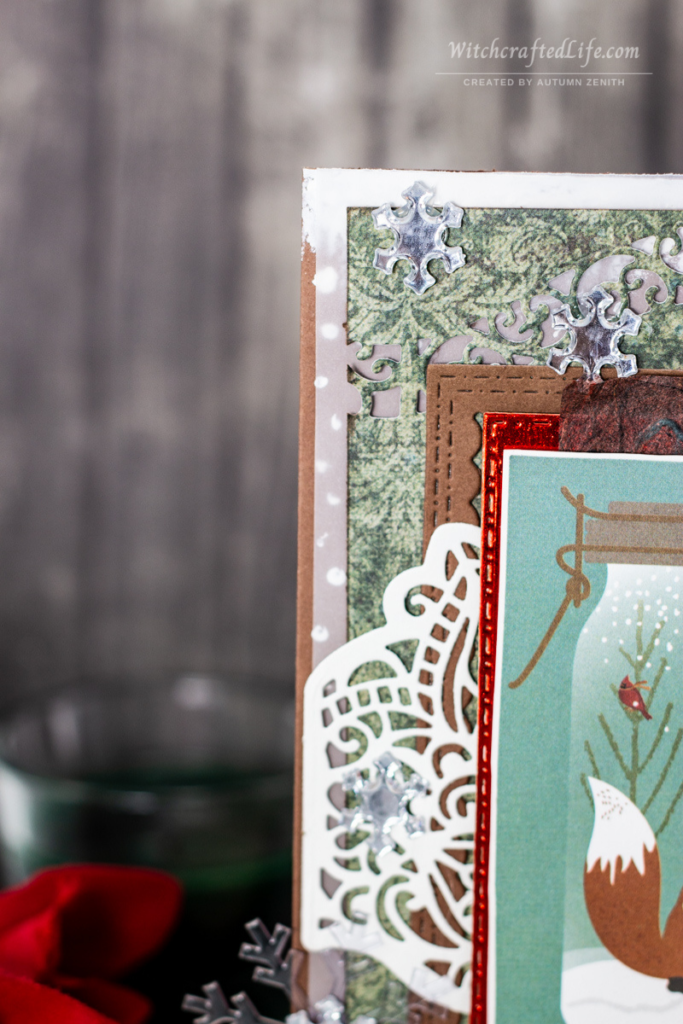 Mirroring the design of the falling snow in the fox image, I took some basic white acrylic craft paint and painted the top of the brown cardstock card base to resemble falling snow. This was then layered with classic white vellum to soften the effect and help to ensure that the fox image remained the star of the show.
This design could very easily work for a Yule, Christmas, New Year's, winter birthday, or thinking of you card, amongst other possible uses.
In my case, it is a wintertime cheer card winging its way a few provinces over to let my friend know that she's in my thoughts and wished a safe, lovely remainder of the season.
How to make a wintertime snowflake and woodland fox card
As of late, I have received requests from multiple readers to share the steps involved with my projects in even more of an instructional manner. I am delighted to do just that and sincerely appreciate these requests.
Beginning with the instructions provided for this card making project, I will be guiding you through the creative process that I utilized in even greater step-by-step detail. This way, those who wish to create similar cards or learn more about the techniques I've employed can do just that.
Start with a base of either light brown or classic kraft cardstock. If you don't have either of those, you could use medium brown, tawny brown, taupe, or even dark pine or forest green cardstock instead.
Take a relatively fine pointed paint brush and some white acrylic craft paint (a light layer or white gesso could be used here instead, if so desired), and proceed to paint a solid layer of white across the top of the card base.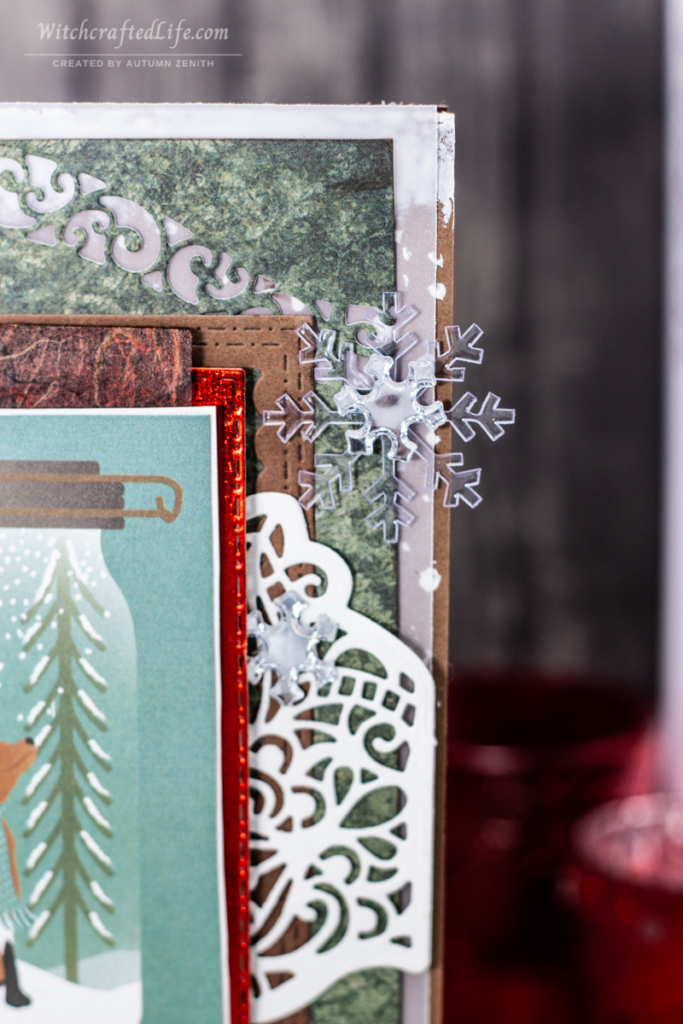 Follow this step by creating small circles (to resemble falling snowflakes) about 1/3rd of the way down the card base. Tapper off the volume of the snowflakes the lower down you go. Allow the paint to dry before proceeding to layer the rest of the card design.
Cut a piece of white vellum just a touch smaller than the size of your card base and layer it over the painted brown cardstock card base. As most of the vellum with be covered, you don't have to worry too much about hiding the glue, tape runner adhesive, glue dots, etc that you use to attach the two layers.
Next, take a piece of tone-on-tone green print paper and use a swooping inlaid design die to die cut the same design from the top and bottom of this piece of paper. Adhere the green paper to the velum.
If you don't have a similar die, you could use a border punch, ensuring you don't cut right to the edges of the paper, so that the green piece of paper remains intact.
Lightly ink all of the edges of the green print paper with medium or dark brown ink (this step is optional, but it does add a lovely additional hit of visual interest to the finished card design).
Using a nested stitched edge rectangular die set, die cut a piece of light brown (or kraft) cardstock and a smaller rectangle shape from metallic red cardstock.
Take a good sized ornate shaped panel die (or suitable edger die) and die cut a piece of white cardstock.
Layer the brown rectangle on top of the green paper followed by the elegant white die cut cardstock. Top these two layers with the red metallic rectangle, a small piece of brown handmade (be it homemade or store-bought) brown paper, and the focal fox image cut apart paper piece.
Before adhering the fox image, back it onto a piece of white cardstock, leaving the tiniest whisper of a border of white cardstock visible on all sides.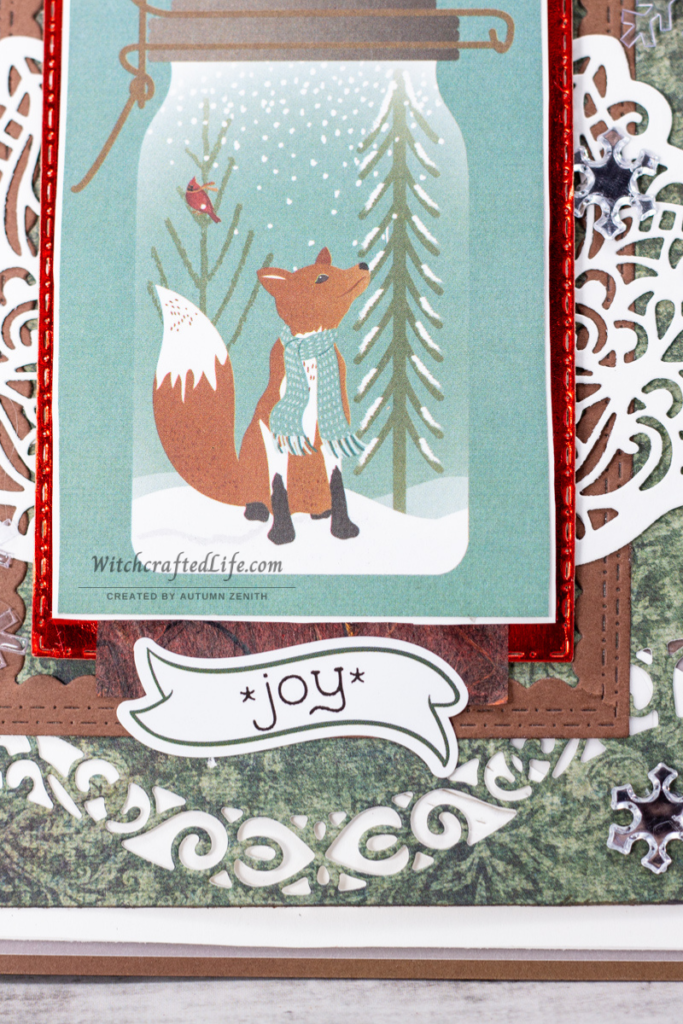 Place a sticker that says "joy" (or you could stamp, stamp and emboss, use a premade die cut, etc with the sentiment of your choosing instead) right below the focal image in the center of the card design.
For the final step to this handmade winter card design, scatter a few clear acetate and (smaller) clear plastic snowflakes around the card. Layer some of them on top of each other, if so desired.
The two clear acetate snowflakes here were gifted to me as part of some happy mail a few years ago. I would have loved to have placed three on this design, but alas, all I had was two of them. As such, I spaced them out and used a flurry of smaller clear plastic snowflakes to help create the look of even more falling snow.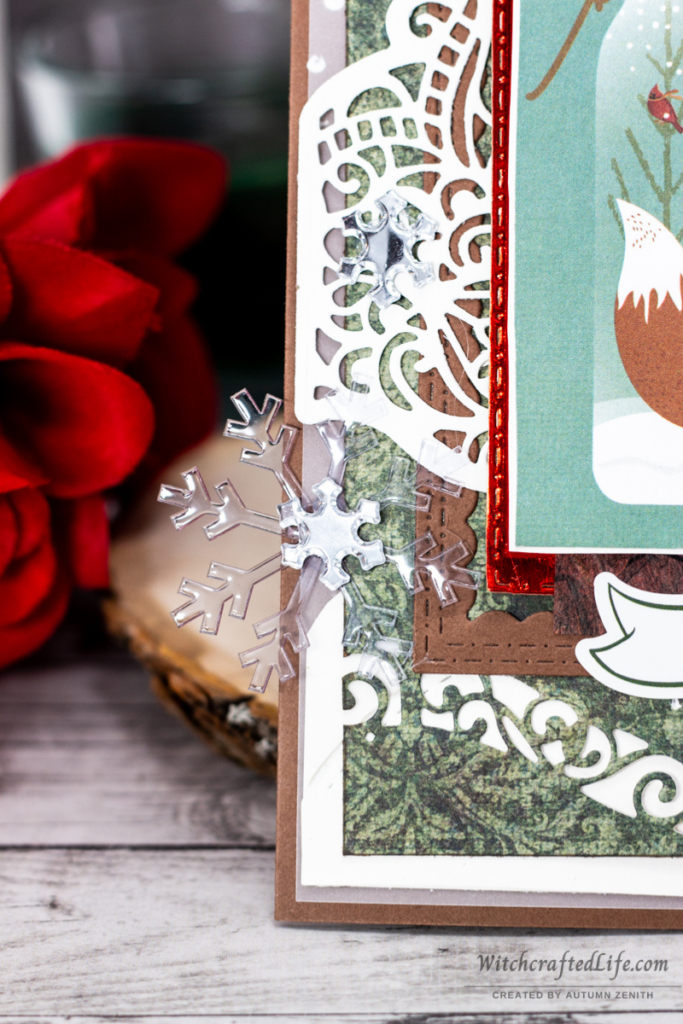 In hindsight – and as a handy tip to anyone wishing to create a similar card – I could have die cut some snowflakes from clear acetate and a snowflake die to give me whatever number of snowflakes I desired. Craft and learn! 😄
No worries though. These premade beauties worked great and add a delightful hit of wintertime loveliness with next to no weight or bulk (perfect since this card is being mailed in an envelope, not a parcel).
Decorate, embellish, and/or stamp the interior of the card however you desire, pen your greeting, and voila, your adorable wintertime snowflake and woodland fox card is ready to go.
If you have any questions about the design process that I didn't address here, please don't hesitate to let me know in the comments below.
Products used to make this cute winter greeting card
-Light brown or kraft cardstock
-White cardstock
-Red metallic cardstock
-White vellum
-Dark brown handmade paper (optional; you could use a piece of brown cardstock, paper, wide ribbon, burlap, or cork here instead)
-Green tone-on-tone print paper – Timeless Macornerie Paper from Blue Fern Studios
-Fox cut apart image – Winter Wishes Winter Meadow Paper from Photo Play
-Set of nested stitched edge rectangle shaped dies (plain rectangle dies could just as easily be used here instead)
-Curved flourish inset design die
-Ornate panel shape die
-"Joy" sentiment word sticker – Winter Meadow Elements Stickers from Photo Play
-Clear acetate snowflakes
-Clear plastic snowflake embellishments – Crafter's Square Snowflakes from Dollar Tree (Canada)
-Dark brown ink pad – Dewdrop Rich Cocoa Ink from Memento
-White acrylic craft paint
-Glue gun and glue sticks (optional but handy for attaching the snowflake embellishments)
-Dimensional foam, pop dots, or similar to elevate some of your layers
-Adhesive, such as a tape runner, of your choice (I often use my Scotch Tape Glider)
Let it snow, let it snow, let it snow!
🎵 Oh, the weather outside is frightful, but the fire is so delightful and since we've no place to go, let it snow, let it snow, let it snow. 🎵
And let us paper crafters use these chilly days in which we are often at home (especially as the pandemic carries on into 2021) to enjoy plenty of time creating all manner of handmade projects.
Of course, winter isn't out in full force everywhere still. North of the equator, depending on your location, it might be as good as over at this point.
And for those in the Southern Hemisphere, fall, glorious fall, will soon be swinging into high gear.
No matter the temps or season though, I hope that this month is able to deliver some relaxing and very enjoyable time to create your way.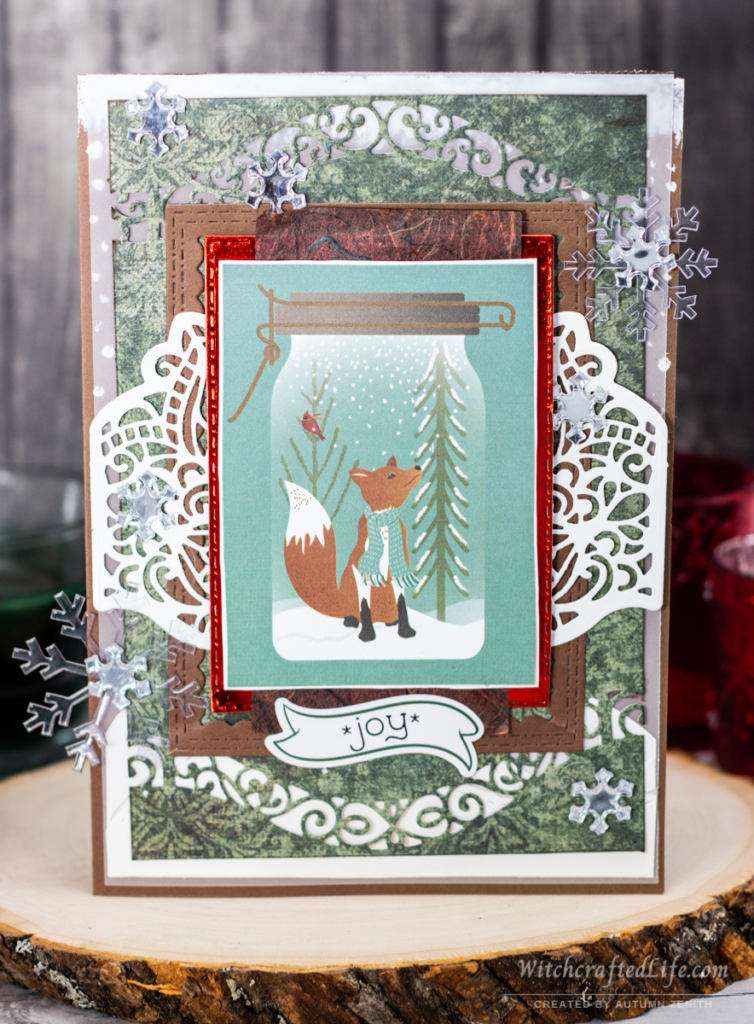 I'll soon be turning my thoughts to some springtime projects, as well as those for upcoming family birthdays, Mother's Day (which takes place in May here in Canada), and – far off as the dog days of summer seem when the snow in our backyard is still well above my knees – even Canada Day at the start of July.
All the while, creating plenty of fa-boo-lously fun October 31st themed projects to help spread the good word about the exciting #MakeHalloween365 hashtag that I launched last week.
As the shortest month of the year starts to wind down, I hope that you have a wonderful tail end of February. May it lead to a positive, abundantly blessed, and very happy March for all of us. ❄️💚🌷