The past few days have not been the easiest ever. Many reasons combined to birth that statement. By far the largest of which is the fact that my sister contracted Covid.
Save for one male cousin who is in his twenties coming down with it last year (thankfully, he did not get terribly ill and bounced by quite quickly), no other close relative in our family had contracted this frightening illness until my sis fell ill a few days.
Mercifully, thus far, she has not needed hospitalization and appears to be gradually improving a little already (knock wood!).
As she is a lifelong asthmatic with some other health issues as well, I have worried a great deal since the pandemic began that my sister might end up getting Covid.
I would gladly come down with this illness a million times in a row if it spared her getting sick with it even once.
Alas, no entities or higher powers have shown up to offer me that sort of Faustian bargain and, sadly, the Coronavirus found my sister. 😞
The past 2 – 3 years have been rather rough on various fronts for my sis (including multiple car accidents – none of which were her fault), and I am certain this is truly the last thing in the universe that she needed or wanted.
On my end, not for the first time since this blog's inception, I genuinely wasn't sure if I would be able to get a blog post up this week. 😱
Thankfully, as the week wore on, I was able to briefly spend some time crafting which meant a post was still feasible (yay!!!). The end result is the darling Valoween project featured in this entry.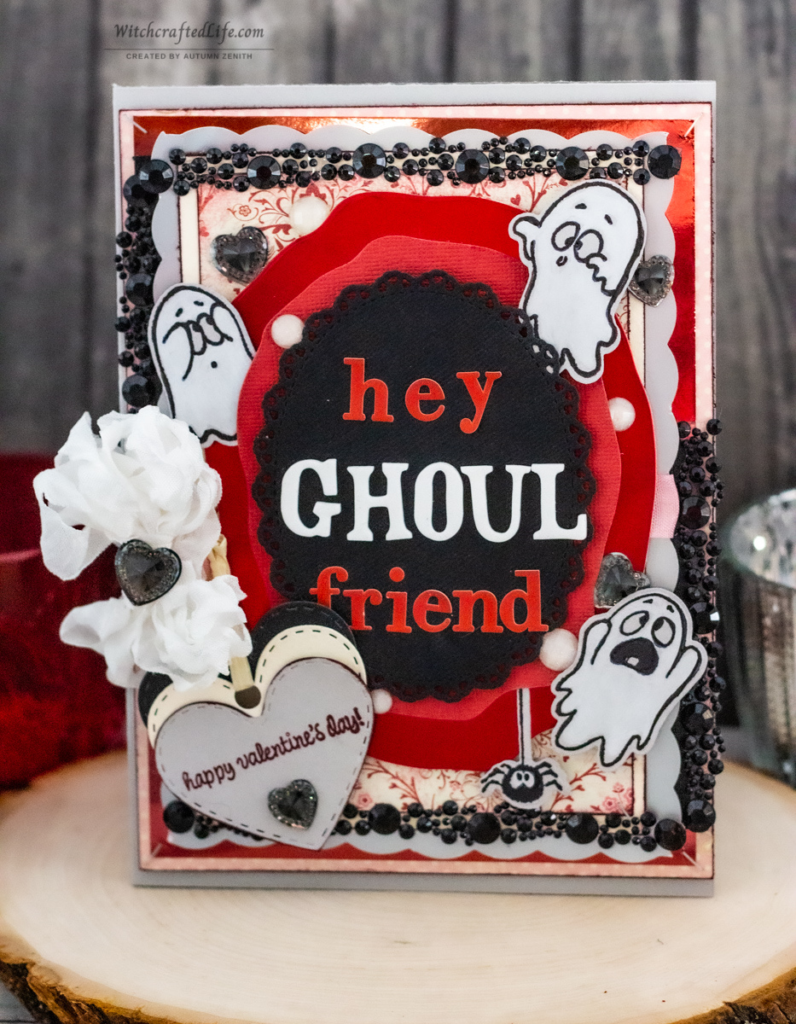 I needed something lighthearted, upbeat and festive – and in my books, this sweet Valoween card ticks all of those boxes.
The last few days have indeed felt long at times. However, January as a whole has whizzed by faster than a snowflake on a strong arctic wind and that means Valentine's Day is rounding the corner again soon. ❤️
Hey, ghoul friend adorable Valoween Day ghost themed friendship card
Hard as it is to believe that we are almost 1/12th of the way through 2022, it is even trickier for me to wrap my head around the fact that close to a year has elapsed since I first posted here about Valoween.
If you are not familiar with the concept of Valoween – which is essentially adding a dark/spooky/macabre/Halloween spin to Valentine's Day – be sure to check out my post Dark and Romantic Valoween Shaker Wand and Card Set for the 411 on this frightfully fun spin on Feb. 14th.
This year, I am planning on bringing you two Valoween project shares – with this super cute card being the first.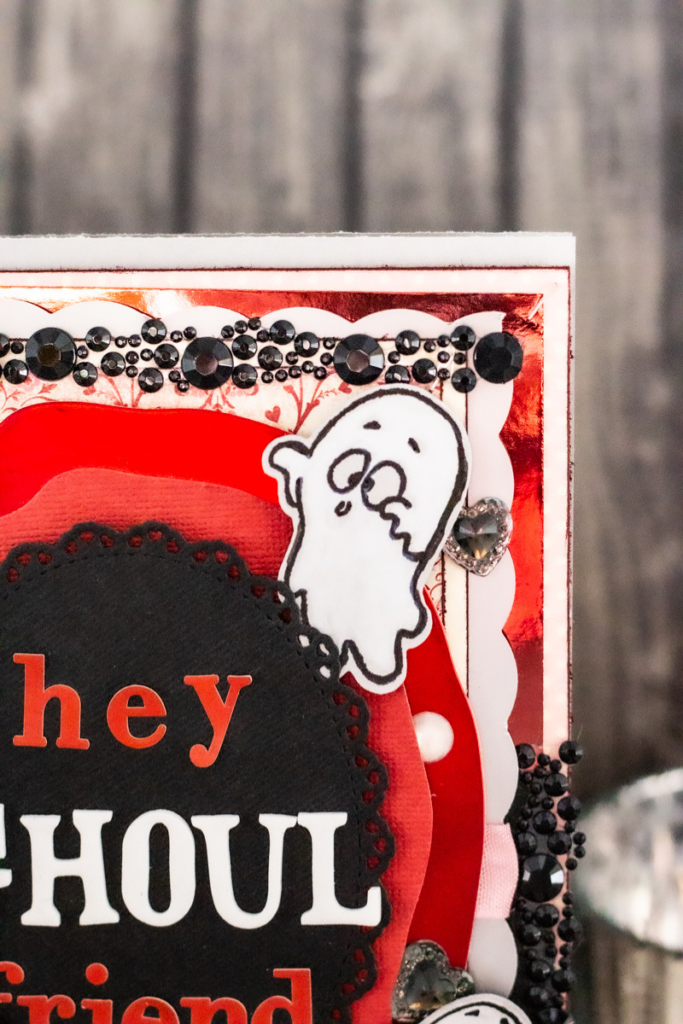 It is, admittedly, on the sweeter side of Valoween (which, I should mention, is sometimes also spelled as Valloween).
I doubt very many people would be frightened by the trio of squeal-worthily precious ghost friends here, nor the red-dominant colour palette. 👻
While red does take center stage, other colours find their way into the fold as well. Grey, black, cream, and pink all play supporting roles.
I love the mix of red and white lettering. The white alphabet stickers are Thickers and made of foam, which gives them this fabulously charming quality that I find works sooo well into the context of nearly any type of ghost or otherwise spooky related project.
Naturally, as a project pertaining to Valentine's Day, this Valoween greeting includes some hearts. This is not required for any take on Feb. 14th, of course, but the perpetual "lover of love" in me can rarely help including at least a heart or two when crafting for February 14th. 😊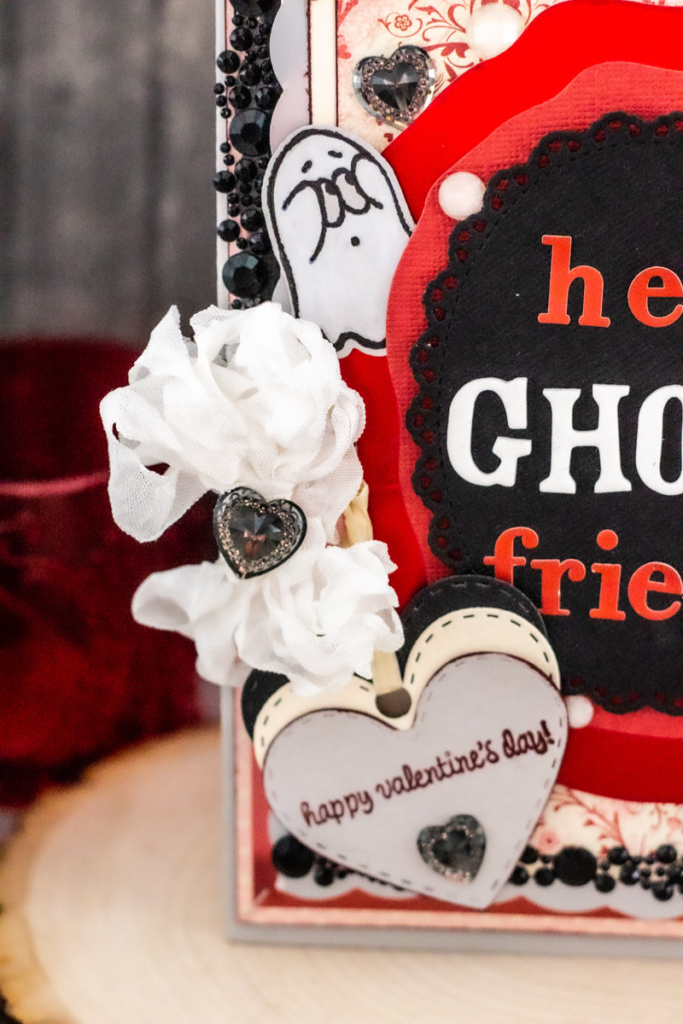 Two of the central layering pieces are wonky/wavy-edged ovals, which I opted for as I felt they had a certain ghost shape element all their own that fit the theme here to a tee.
My perpetual addiction to metallic cardstock appears here again, as does my endless love for layers and embellishments.
This handmade Valoween card began with a project concept in my mind's eye (as many do). However, when all was said and done, the end result deviated somewhat from how I had initially pictured it.
I know this is something that many a paper crafter – and creative soul, point-blank – can wholeheartedly relate to! 😄
Happily though, in the end, I was (am) very pleased with the final result and will keep my original concept in mind for a possible future project.
This card design is quite easy to make. There is really nothing tricky to it and the most time-consuming aspect is simply manually die cutting out the various layers and ghost figures.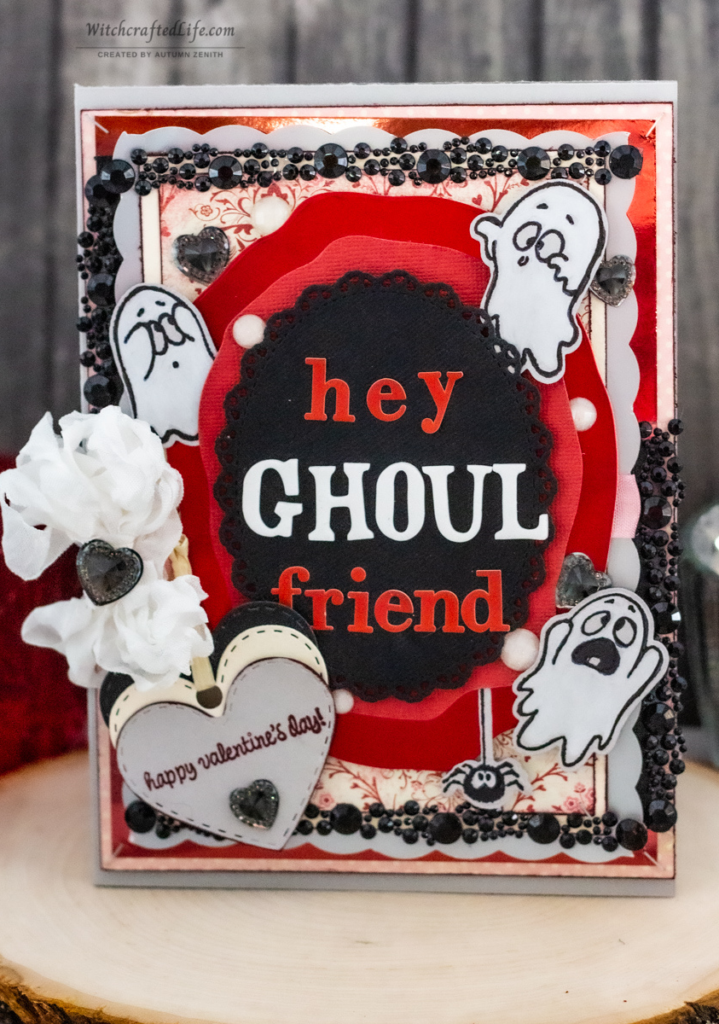 This is an enjoyable card that works great for Valoween/Valentine's Day. While at the same time, it could also be used for a wide range of other occasions as well – provided you swapped out or simply ditched the "Happy Valentine's Day" part of the sentiment.
I can also see this charming ghost themed card fitting the bill for events such as birthdays, Halloween, and Samhain – as well as thinking of you, missing you, congratulations, and just because cards. Assuming, of course, that the recipient is a fan of sweetly spooky creations. 👻
And given the highly spirited (pun intended) October 31st influence at work on this card, it is my latest #MakeHalloween365 project share.
If you would like to make your own adorable Hey, Ghoul Friend Valoween card, read on for a complete list of materials used and detailed step-by-step instructions that will guide you through doing just that.
Products used to make this super cute ghost themed Valoween card
-Black cardstock – Raven Black Cardstock from Bazzill
-Light grey cardstock
-Cream cardstock
-Light red cardstock – Tim Holtz Distress Collection 4.25"x5.5 (mini pad) from Core'dinations
-Matte silver metallic cardstock
-Red metallic cardstock – Scarlet Organza Mirror Cardstock from Tonic Studios
-Pinkish-red metallic cardstock – Opera Red Mirror Cardstock from Tonic Studios
-Pink polka dot and damask-y floral print papers – Je t'Adore 8"x8" Multipack from Making Memories
-Decorative edge oval die
-Wavy/wonky edge nested die set (you can currently score a very similar looking Wavy Nested Frame Set from Whimsy Stamps.)
-"Wave" decorative edge scissors (Mine are unbranded and likely came from a dollar store at some point; you can, at the time of writing, find a similar pair of wavy edge scissors on Amazon.)
-Ghost and spider stamps – Ghosts 4"x6" Clear Stamp Set from Gerda Steiner
-Happy Valentine's Day sentiment stamp – Perfect Match Stamp Set from Papertrey Ink
-Black ink – Jet Black Archival Ink from Ranger
-Very dark red or burgundy ink – StazOn Claret Solvent Ink from Tsukineko
-White metallic ink marker – White Metallic Marker from Forever in Time
-Small dark red alphabet stickers
-White foam alphabet stickers – Thickers Rockabye Foam Letter Stickers from American Crafts
-Mini stapler and staples – Tiny Attacher and Staples from Tim Holtz Idea-ology
-Cream/flax coloured paper raffia – Earth Tones Paper Craft Ribbon from Craft Medley (dollar store brand)
-White seam binding (or ribbon)
-Pink seam binding (or ribbon)
-Black rhinestone embellishment strips – Black Jewel Stickers from Crafter's Square (dollar store brand)
-Grey rhinestone heart embellishments – Pyramid Gems Classic Hearts from Forever in Time
-Sparkly creamy-white gem embellishments – Say It In Crystals Pretty Pale from Prima Marketing
-Dimensional foam, pop dots, or similar to elevate some of your layers
-Adhesive, such as a tape runner, of your choice (I often use my Scotch Tape Glider)
How to Make an Adorable Hey, Ghoul Friend Valoween card
Begin by making a card base from light grey cardstock (you could also use white, cream, medium grey, or black cardstock here instead).
Cut a piece of Making Memories light pink polka dot paper slightly smaller than the card base. Ink all edges with burgundy ink. Adhere to card base.
Cut a piece of Opera Red Tonic Studio Mirror Cardstock slightly smaller than the previous layer. Adhere to the previous layer.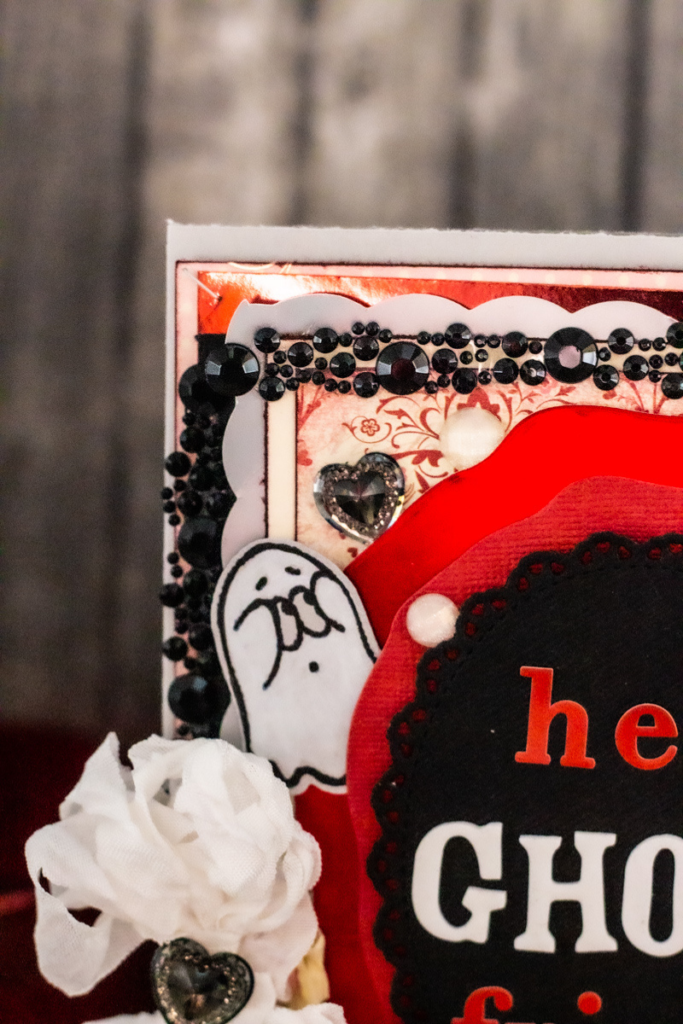 Cut a piece of matte silver metallic cardstock a little smaller than the previous layer. Use the "wave" decorative edge scissors on all four sides.
Using black cardstock, cut two slender pieces about ½ of an inch or so wide and a little less than half the length of the card front long. Cut their outer (left) edge with the wavy decorative edge scissors.
Next, cut a piece of cream cardstock a little smaller than the previous layer. Ink all four edges with burgundy ink.
Tuck one of the black cardstock pieces under the top left-hand side of the cream cardstock. Adhere to underside of cream cardstock. Repeat the same process on the bottom right-hand side of the cream cardstock, then adhere the cream cardstock piece down.
Cut a black rhinestone (gem) adhesive bling strip piece in half and adhere one half to each of the two black (wavy edge) pieces of cardstock from the previous step. Repeat the process, only this time the other half of the rhinestone strip goes horizontally, as shown in the photos.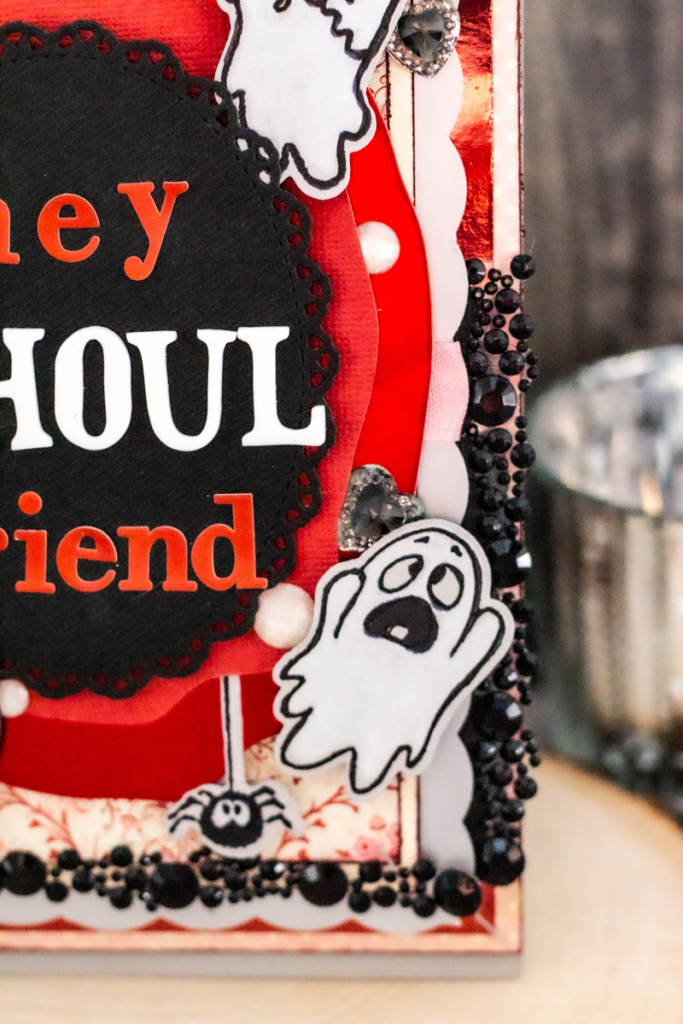 Cut a piece of elegant damask-y floral paper a touch smaller than the previous layer. Ink all four edges with burgundy ink. Adhere.
Run a piece of pink seam binding (red, white, grey, black, silver, or gold could also be used here instead) across the center of the layers that you've composed so far. Adhere in place.
(Note that most of this piece of seam binding will be hidden – you only see a wee glimpse of it on the right-hand side of the center of the card.)
Using the largest-sized die from the wonky/wavey oval die set, die cut one shape out of Scarlet Organza Tonic Studio Mirror Cardstock. Adhere.
Using the second largest wonky/wavey oval die, die cut one shape from light red cardstock. Adhere.
Die cut an oval-shaped piece using black cardstock and a decorative edge oval-shaped die. Adhere to the previous layer.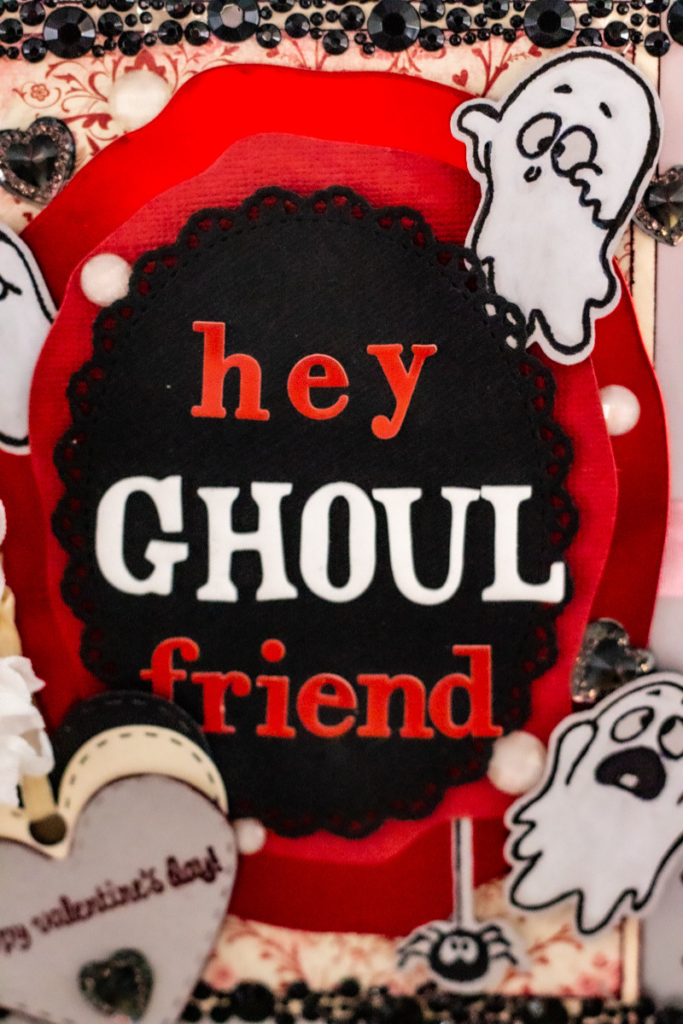 Use red and white letter stickers to spell out the sentiment "Hey Ghoul Friend" on the black oval layer that you just created.
Take a piece of light grey cardstock (the same cardstock that you used for your card base here) and, in black ink, stamp three ghosts and one adorable little dangling spider from the Gerda Steiner Ghosts Stamp Set. Die cut (or fussy cut) the ghosts out.
Colour the bodies of the ghosts and the whites of the spider's eyes with the metallic white marker (or paint pen; in lieu of either, you could use anything from a white gel pen to white chalk and a chalk fixative to white Nuvo Drops).
Adhere the ghosts around the wavy/wonky oval layers, as shown. Adhere the dangling spider from the bottom right-hand side of those layers.
Use a stitched (or plain) edge heart die to cut three identical-sized heart shapes from cream, light grey, and black cardstock (one heart per colour). Ink the edges of the light grey heart with burgundy ink and stamp "Happy Valentine's Day" in the same ink on that heart.
Adhere the three hearts together, offsetting them a bit (as shown) so that each colour is visible.
Punch a hole near the top of the heart stack and string a small piece of cream/natural (or white, black, grey, red, or pink) raffia, paper raffia, or other suitable trim through the hole. Tie the ends of this piece of trim around the pink seam binding layer (or adhere in place instead, if so desired).
Do not adhere the heart stack down to the card layers beneath it. You want the hearts to dangle and be able to move around freely.
Create a multi-loop bow from white (or cream, pink, red, grey, or black) seam binding. Optionally, crinkle the seam binding ahead of time if you are going for the same look as the seam binding bow shown here. Adhere on the left-hand side of the card so that the bow conceals where you tied/adhered the raffia/trim in place.
Adhere one grey rhinestone heart embellishment to the center of the seam binding bow and four others around the card in various spots.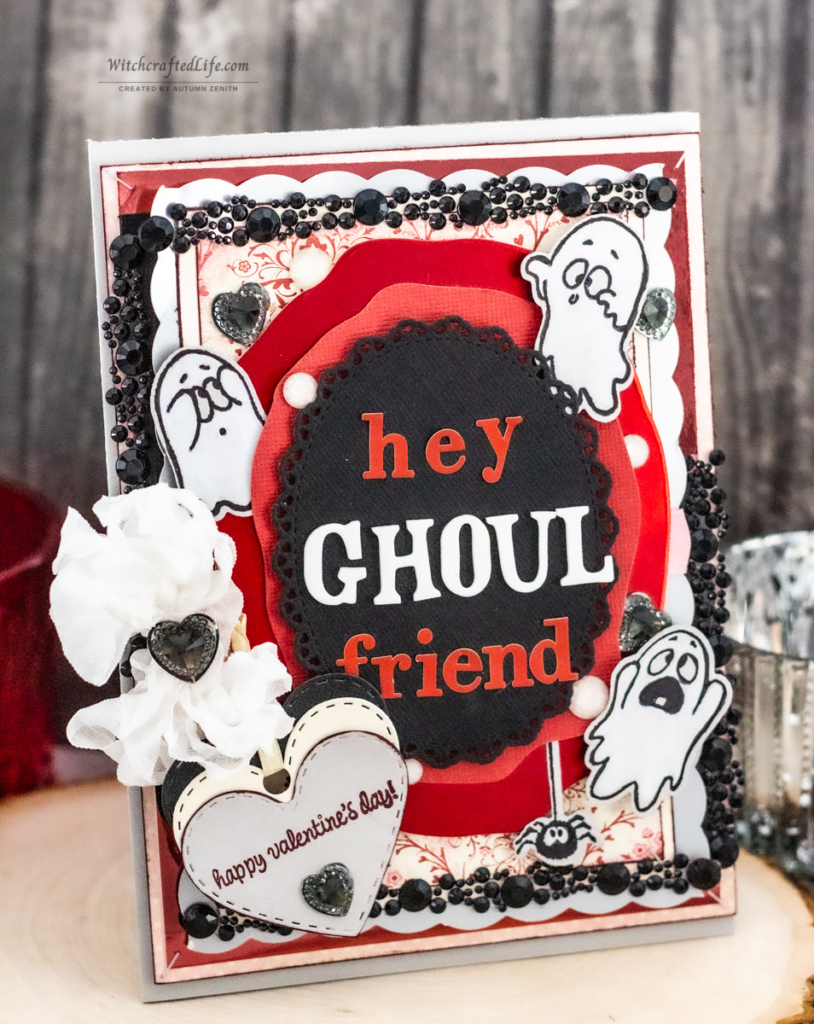 Lastly, adhere a few sparkly creamy-white colour Prima gem embellishments around the card, as shown.
And there you have it. One over-the-moon cute Valoween, Valentine's Day, or Galantine's Day card to give to one of your favourite ghoul pals (naturally, you could swap out the word "ghoul" to the less gender-specific "boo" instead, if desired).
There is spooky, and then there is scary
The concept of Valoween as a whole can certainly be spooky, mysterious and/or eerie, but it is unlikely to evoke genuine fear in many people.
As much as I love spooky things – and even some very specific hair-raisingly frightening ones as well – I am rarely looking to be or to feel sincerely scared.
That is one of many responses, however, that most of us feel when somebody we care about falls ill or gets injured. And it is one that countless millions around the globe have contended with since the pandemic took hold.
Though the initial fear I experienced upon learning that my sister had come down with the Coronavirus was powerfully intense, it has subsided somewhat at this point and now sits at a mid-level worry.
I do not see that shifting downwards further very much until we know she is safely out of the woods and doing substantially better again. 🙏
Our family has been exceedingly lucky thus far regarding Covid-19 and not a day has gone by since the pandemic began that I haven't given thanks for that being the case.
I am acutely aware that many others have not been able to say the same thing and that our own luck could vanish in the blink of an eye. As far as medical science knows, save for a tiny subsection of the population who appear to possibly be immune to Covid, this virus can strike any of us at any time.
In the face of the most real of threats and worries, it is perfectly normal (and healthy) for any of us to be scared. Who hasn't experienced at least a bit of fear since Covid burst onto the scene?
Creating this card helped me to momentary relax and connect with the fun side of spooky for a few hours.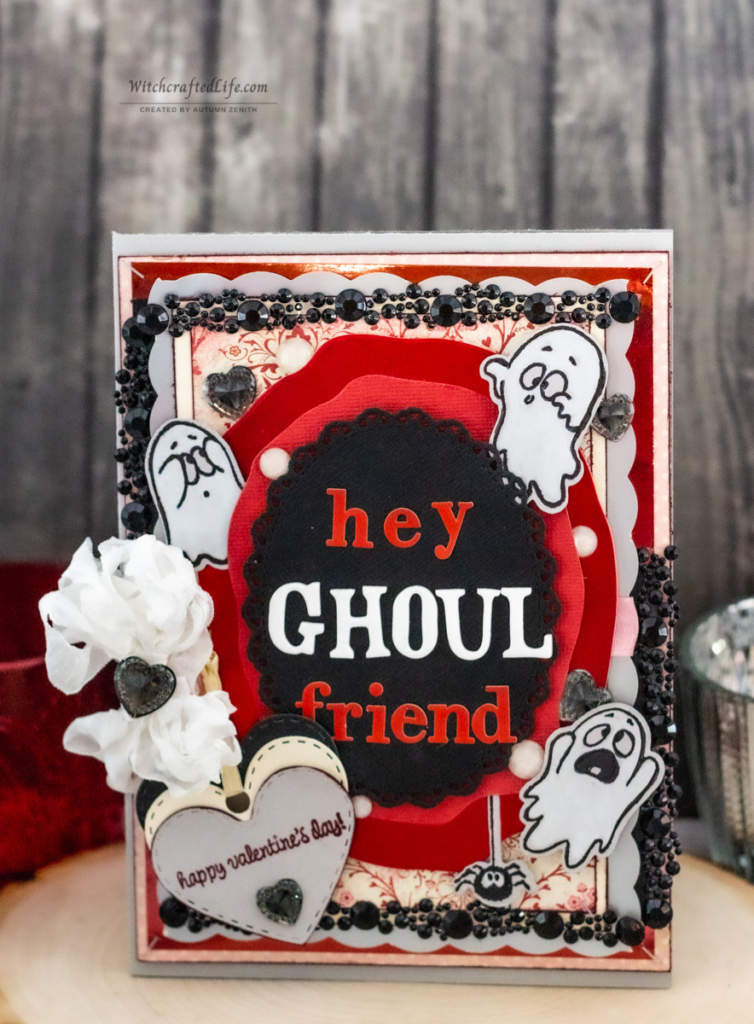 All the while, never losing sight of the ever-greater poignancy that concepts pertaining to death, the afterlife, and spirits have taken on for many of us over the past couple of years.
Know that whether you, your partner, your child, your parent(s), your sibling(s), or anyone else that you care about is ill or has lost their battle with Covid, my thoughts, heart, and perpetual understanding are with you.
And should you ever need someone to talk to on that front, please remember that I am always just an email away.
Here's hoping that February is a vastly more positive month for all those who need it to be – and that maybe, just maybe, it wouldn't feel quite as speedy. (#wishfulthinking)
On top of the second Valoween project that I will be sharing, I have some really cool content coming down the pipeline in the next few weeks, including an exciting author interview post with one of today's most beloved + best selling Pagan authors.
So you will certainly want to keep your dial set to Witchcrafted Life as we embrace Imbolc's return and do our best to stay safe and well all February long.
Have you and/or anyone close to you contracted Covid-19 so far? Do you enjoy the concept of Valoween or are you more a traditional Valentine's/Galantine's Day person? 🌹🖤 🌹
PS: On a largely unrelated note, earlier this week my browser crashed moments after I had opened up nearly three weeks of recent blog feeds in my feedreader and somehow that ended up marking them all as read and in turn instantly, irretrievably deleting them from my feed (what? how? why?!!! 😲).
As a result, if I missed commenting on some of your January blog posts (and I normally visit your site), please know that this is the reason why, my dear friends.
Many sincere apologies about that! It is unusual for my computer to freeze or crash (thankfully), even though it is getting on in years at this point. 💻
When it does crash or freeze though, I find that more often than not, this happens so when I am doing something that I don't want to risk losing or having to start from scratch with (Murphy's Law all the way).
Oh well! Not a big deal of course, especially in the grander scheme of things – but I did want to mention it here all the same. 💗