A few days ago – in a post called Hey, Ghoul Friend Adorable Valoween (Spooky Valentine's Day) Ghost Themed Card – I shared the first of two Valoween projects that I created this year.
Today, with a mere four days bridging the present and February 14th, I am posting about my second Valoween card. 😃
I suspect that a fair number of you read that recent post – and I know that some of you were also here last year when I shared an in-depth look at Valoween – so I won't rehash things too much regarding what Valoween is all about.
That said, as I realize this may be the first time that some of my readers are hearing about it and that folks who wish to learn about Valoween may discover this post via a search engine or social media hunt, please permit me to give the quickest of overviews.
Valoween – as one might rightly guess from its name – blends classic themes and motifs of Valentine's Day with the delightful spookiness of Halloween.
Naturally, valoween is not recognized as an official or separate holiday from Valentine's Day itself (cool as that would be!). Rather, it is simply a different way of approaching how one celebrates and/or decorates for February 14th.
The concept of Valoween can be applied to romantic Valentine's Days, Galentine's Days, celebrations of platonic relationships, or pretty much anything else that you would like to focus on come this mid-February holiday.
And akin to October 31st itself, one can opt to take Valoween in any sort of festive direction.
It can be cute and sweet, classic and elegant, hair-raisingly frighting and more than a little bit macabre – whatever your heart desires.
Personally, when it comes to Valoween, I tend to lean towards either cute + cheery or dark + romantic.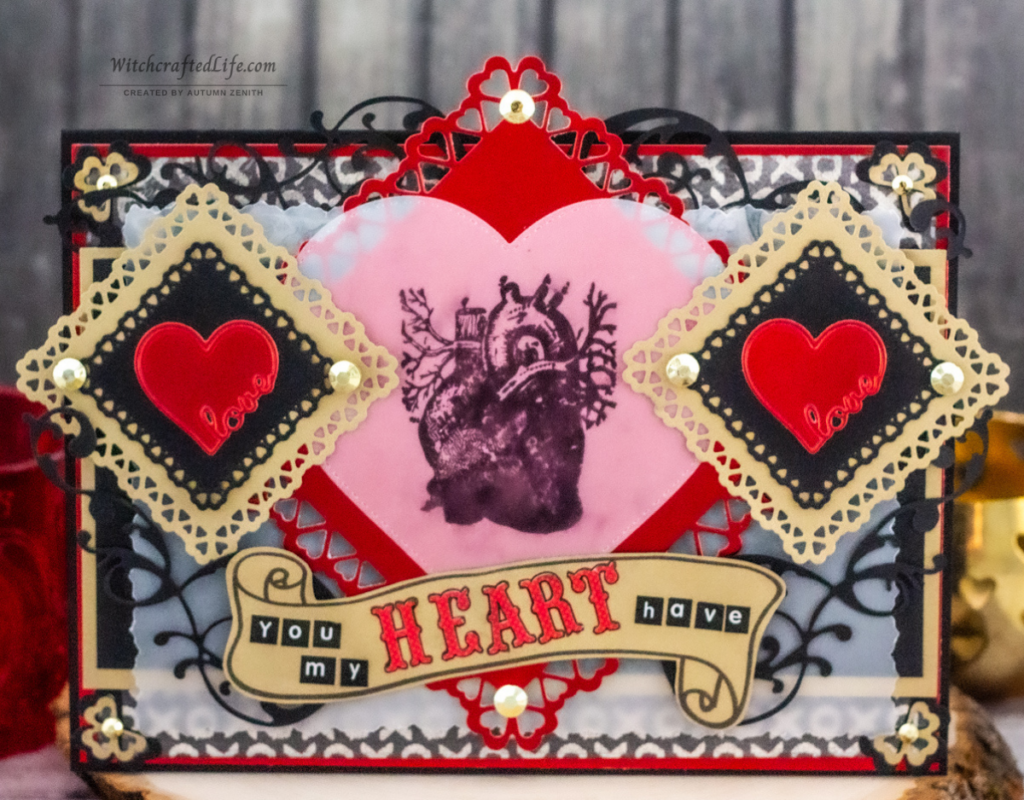 Much as with the Valoween Shaker Wand and Card that I shared here last February, I opted to take my second Valoween project for 2022 in a darkly romantic direction.
To say that I adore the aesthetic that this marriage of holidays swirled with a generous dose of "amore" conveys would be a tremendous understatement. 🥰
It is, by far, one of my favourite styles and the colour scheme that I rendered it in here is likewise amongst my most beloved of palettes.
Given its distinctly romantic rebus sentiment, this card is the greeting that I will be giving to my husband come the 14th. (Hopefully, he won't see this post before then! 😃)
Darkly romantic you have my (anatomical) heart Valoween card
Teaming with layers, bold colours, and elements that speak to both passion and a distinct air of the eerie, this Valoween card is not for the faint of heart.
Speaking of which (yes, I created that segue on purpose 😄), it was the anatomic heart stamp at the center of this frighteningly festive greeting that served as this project's jumping-off point.
For as far back as I can recall, I have been drawn to images and other artistic renditions of anatomical hearts. The more realistic looking, the better.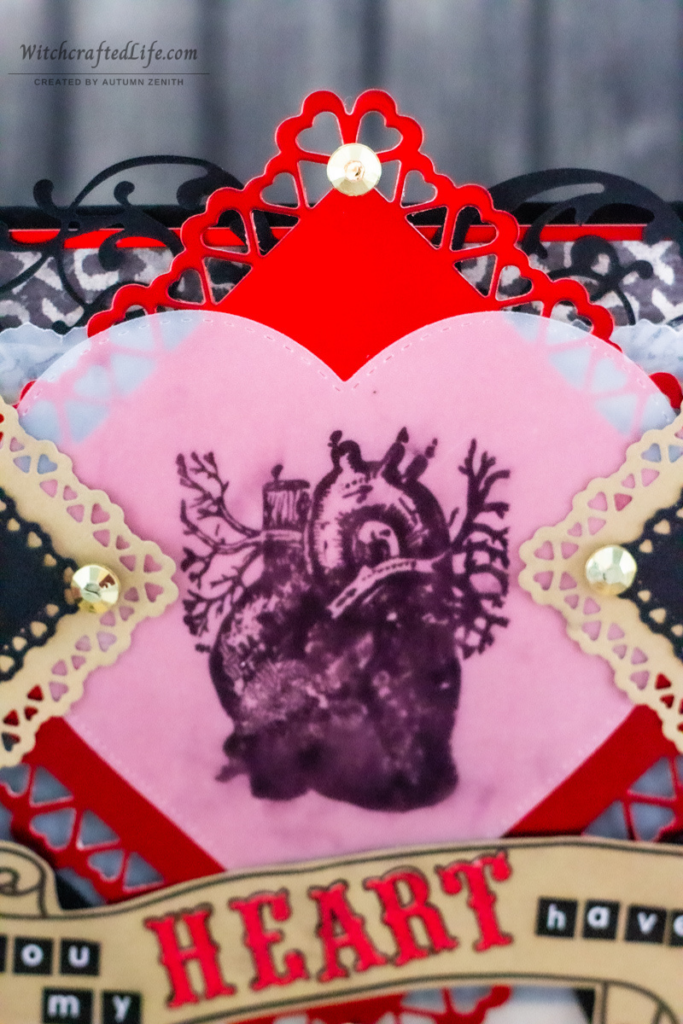 My various Etsy wishlists are peppered with anatomic heart-themed objects, including the popular anatomical heart vase from Dellamorte & Co. and a beguilingly lovely anatomical stained glass heart from Strong Family Connection.
What can I say, I ❤️ hearts! 😊
Both the real deal and the shape that we as a species have bestowed the same name upon.
This darkly romantic Valentine's Day card marries the two, each one supporting the other – and not unlike two people in a committed and loving relationship – to great effect.
While the classic February 14th colour of pink does not technically appear on this handmade card, a subtle sense of it is conveyed by layering classic white vellum over richly red metallic (mirror) cardstock.
The anatomical heart image was stamped directly onto the velum. I then let it sit for about an hour, while I worked on other components of this Valoween card, before giving it pride-of-place in the center of the design.
To drive home the "You Have My ❤️" sentiment all the more, I made sure to include no shortage of hearts throughout this card.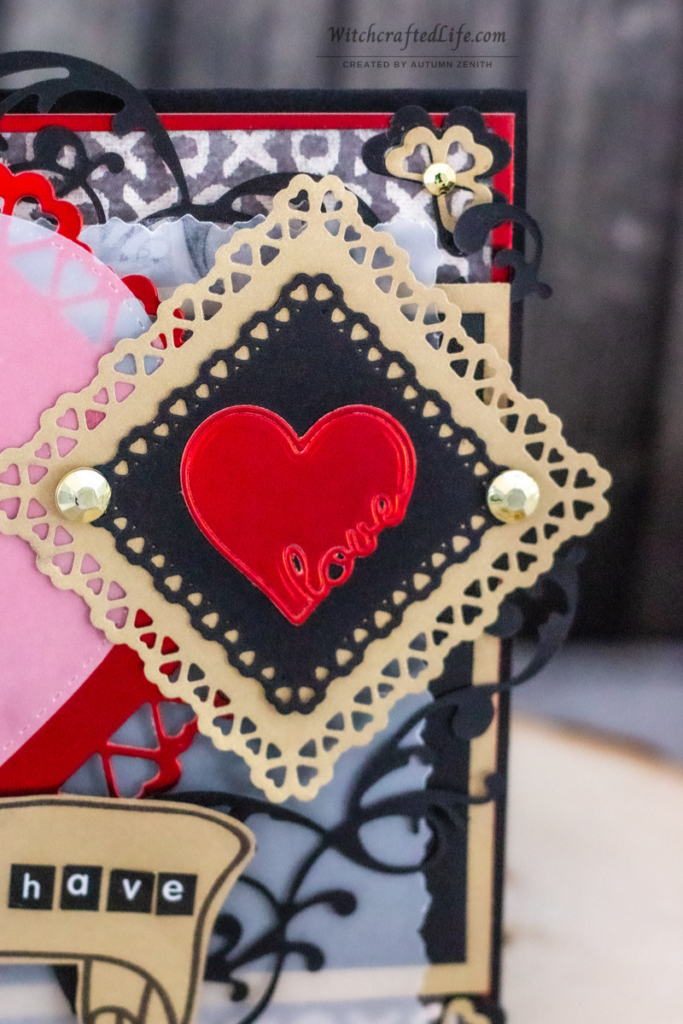 They appear via the vellum shape, the set of square nested dies with their charming heart-adorned borders and the red hearts that have the word "love" cut into their left sides.
(Funnily, in a way, enough, that little "love heart" die went sailing off my craft desk moments after I cut out the second red heart and I have yet to find it again. I suspect it may have snaked its way between a shelving unit and the wall, so I will soon hunt for it there. Wish me luck!)
As well, towards each of the four corners of this card, small triple heart shapes (which, I am the first to acknowledge, could also be used as a clover/shamrock shape) appear, somewhat resembling another classic Valentine's Day staple, flowers.
Like a good many paper crafting projects that I create, fundamentally, this is not a tricky or, IMO, fiddly card to bring into being.
You will likely find the die cutting to be the most time-consuming aspect of the project, but even that shouldn't take too terribly long – especially if you put on your favourite romantic music or movie in the background while you crank out your die cut shapes.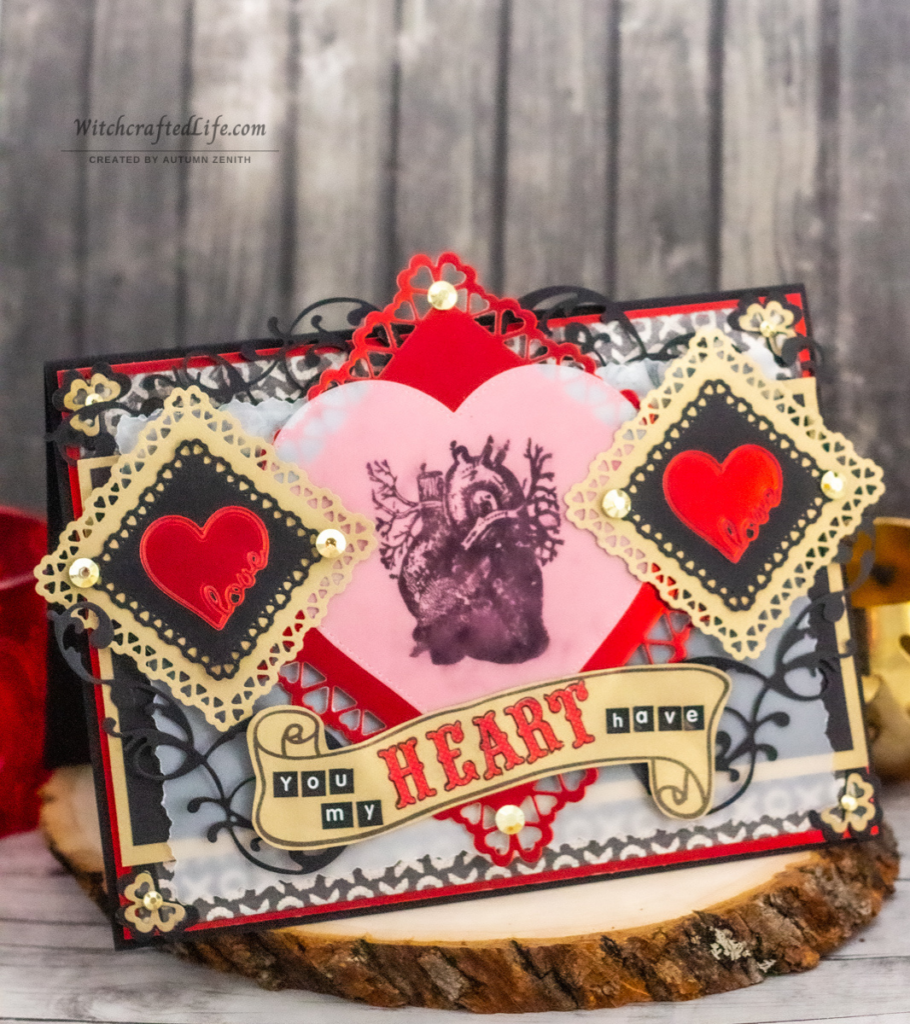 I am tickled pink – actually, make that red, black and gold – with how this Valoween card turned out. It reminds me of my all-time favourite fictional couple (Morticia and Gomez Addams), is my style to a tee, and will, I very much hope, find favour with Tony as well. 🤞
In addition, this festive Valoween card is – as you might have suspected – my latest #MakeHalloween365 project share.
If you are not already using this hashtag for your own year-round Halloween related creative projects of any kind, why not give it a spin in 2022? 🎃
Should you be in the mood for some paper crafting dark romance of your own, read on for a complete list of materials used and detailed step-by-step instructions for how to make this spookily sweet Valentine's Day greeting.
Products used to make this red, black and gold gothic Valentine's Day card
-Black cardstock
-Pearlescent gold paper or cardstock (Similar looking, but heavier weight, pearlescent gold cardstock.)
-Metallic red cardstock – Scarlet Organza Mirror Card from Tonic Studios
-White vellum – Premium Vellum Cardstock from Core'Dinations
-Heart border nested square-shaped die set (Similar looking nested heart border die set.)
-Good-sized heart die (The one I used here has a subtle stitched border, you can opt for the same or use a plain heart, as desired.)
-Small heart w/the word love (or a plain heart-shaped) die
-Good sized vine or scrolling flourish die
-Decorative edge scissors – Heartbeat Paper Edgers from Fiskars (Yes, I specifically opted to use these scissors for this Valoween card because of their name. 😊)
-X's and O's print paper – Head Over Heels Typewriter Paper from Echo Park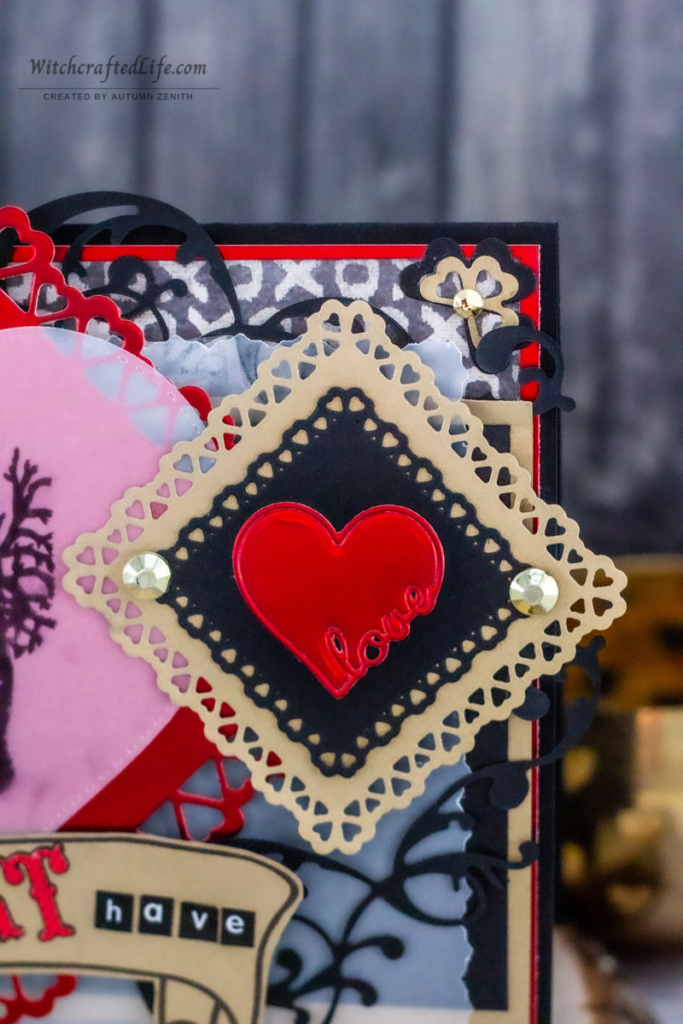 -Very fine point black pen – Micron 01 0.25 mm Pen from Sakura
-Black ink – Jet Black Archival Ink from Ranger
-Anatomical heart stamp (Similar looking anatomical heart stamp.)
-Scrolling banner stamp – Banners Clear Stamps from Forever in Time
-Tiny black and white letter stickers – Black and White Mini Alpha Stickers from Kaisercraft
-Red polka dot letter stickers – Love Letters Cardstock Stickers from Doodlebug
-Two sizes of adhesive gold gems – Self-Adhesive (Gold) Gems from Studio G
-Dimensional foam, pop dots, or similar to elevate some of your layers
-Adhesive, such as a tape runner, of your choice (I often use my Scotch Tape Glider)
How to make a darkly romantic "You have my (anatomical) heart" Valoween card
Begin by making a horizontal card base from black cardstock.
Cut a piece of vibrant red metallic cardstock slightly small than the card base. Adhere to card base.
Cut a piece of X's and O's print paper a wee bit smaller than the previous layer. Lightly ink all four edges with black ink. Adhere to the previous layer.
Next, cut a piece of pearlescent gold paper/cardstock (you could easily use metallic gold or gold glitter cardstock here instead, if so desired) about 65 – 75% of the size of your card base.
Cut a piece of black cardstock (the same cardstock used for the card base) a little smaller than the piece of pearlescent gold paper. Adhere the pearlescent gold paper to the black cardstock and then, in the center of the card design, the black cardstock to your existing layers.
Take a piece of white vellum and cut a rectangle that is a little taller than the gold and black layers you just created, but a bit narrower than it on the right and left sides.
Use decorative edge scissors on all four sides of the vellum piece. Center and adhere the vellum piece on the black and gold layers.
Take the largest die from the heart-bordered nested die set and cut a square out of metallic red cardstock.
Position it so that the square now becomes a diamond shape. Adhere with dimensional foam adhesive, Pop Dots, or similar to the previous layer.
Die a heart-shaped piece from white vellum that is large enough to accommodate your anatomical heart stamp.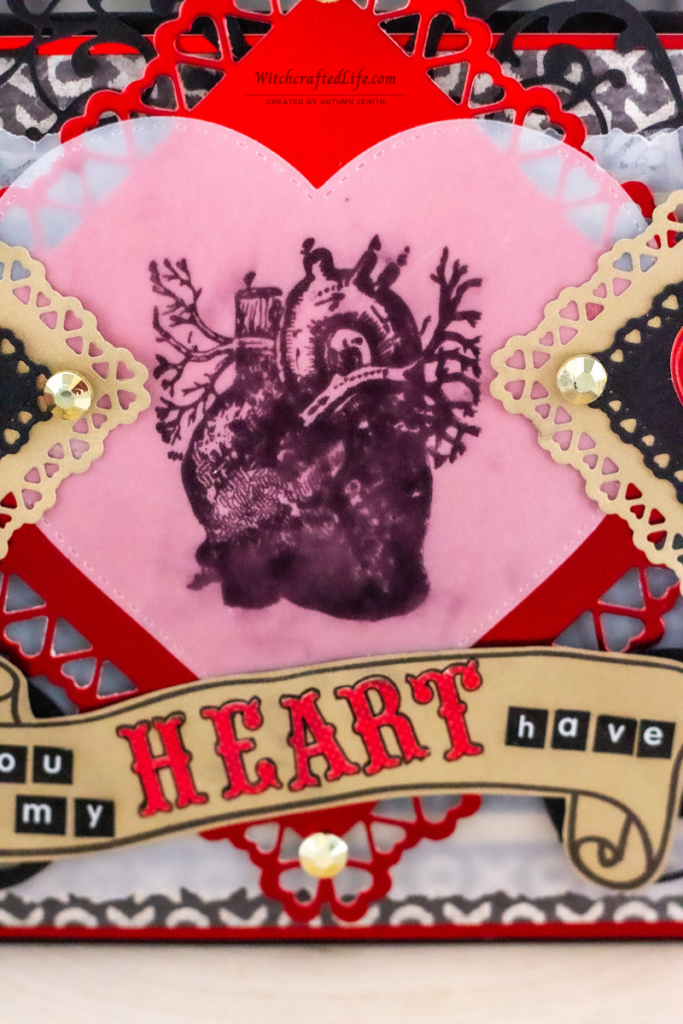 Using a black ink that is suitable for vellum, stamp the anatomic heart in the center of the vellum heart. Allow to air dry or speed up the drying process by gently waving an embossing heat gun over the heart piece for a few moments (not too long though, as vellum can easily warp and/or burn from heat).
Place a small amount of adhesive on the far left and right (center) sides of the velum heart and attach it to the middle of the red metallic diamond-shaped piece.
Take two of the smaller nested heart border dies. Use the larger of the two to die cut two matching squares from pearlescent gold paper, then use the smaller of the two to die cut two matching black cardstock squares.
Center and adhere the black squares on the gold squares. Rotate the stacked squares so that they too become diamond shapes.
Die cut two small red hearts that contain the world love (or simply use a standard heart-shaped die) out of red metallic cardstock. Adhere one heart to the center of each of the black squares/diamonds that you created in the previous step.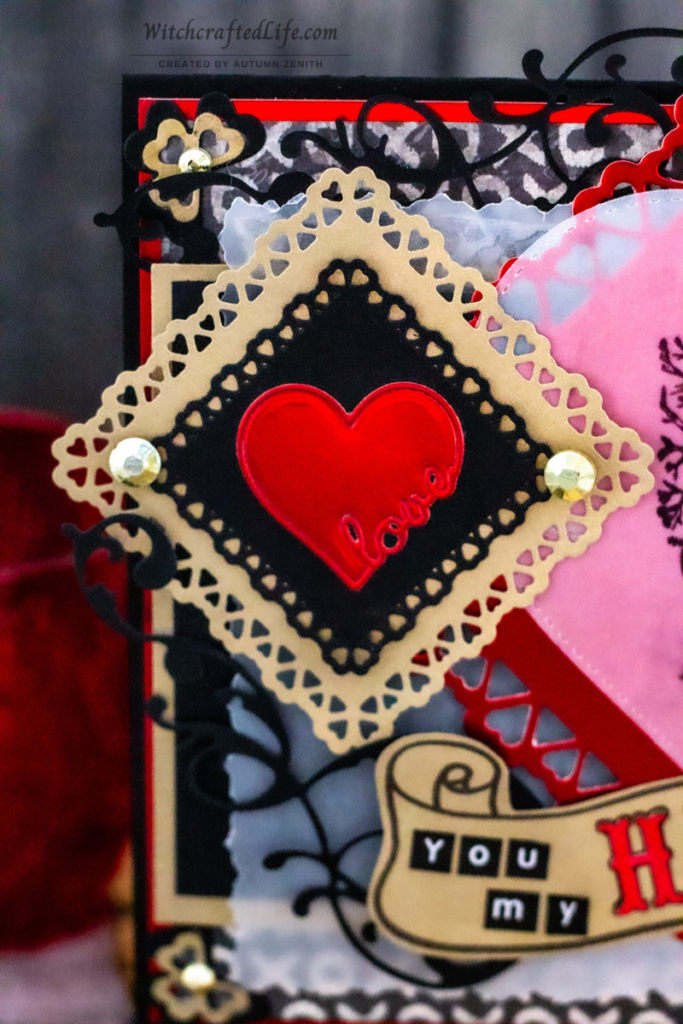 Adhere one of the gold diamond stacks so that it slightly overlaps with the left side of the central vellum heart and the other so that it does the same on the right side of the vellum heart.
Die cut four matching vine/flourish pieces from black cardstock. Adhere two around the left and right sides of the bottom of the metallic red cardstock diamond.
Tuck the other two under the top of the red metallic cardstock diamond and the vellum piece below it, leaving most of each vine/flourish visible, as shown.
Using black ink, stamp a scrolling banner shape onto pearlescent gold paper. Fussy cut (or, if using a stamp with a matching die, die cut) the banner shape once the ink has dried.
Use tiny black and white alphabet stickers to spell the words "You", "Have", and "My" around the banner piece, as shown.
Place red polka dot letter stickers between those words, positioning them so that they flow with the curve of the banner piece.
Once you are happy with the placement of the red letter stickers, optionally, you can (as I have done here) trace around each of the letters with a very fine tip black pen so as to help the letters stand out all the more.
Next, use the teeny-tiny triple heart-shaped die to die cut four pieces of that shape from black cardstock and another four from pearlescent gold paper/cardstock.
Apply adhesive to the back of the gold "heart flowers" and position them a little way down the black "heart flowers", as shown.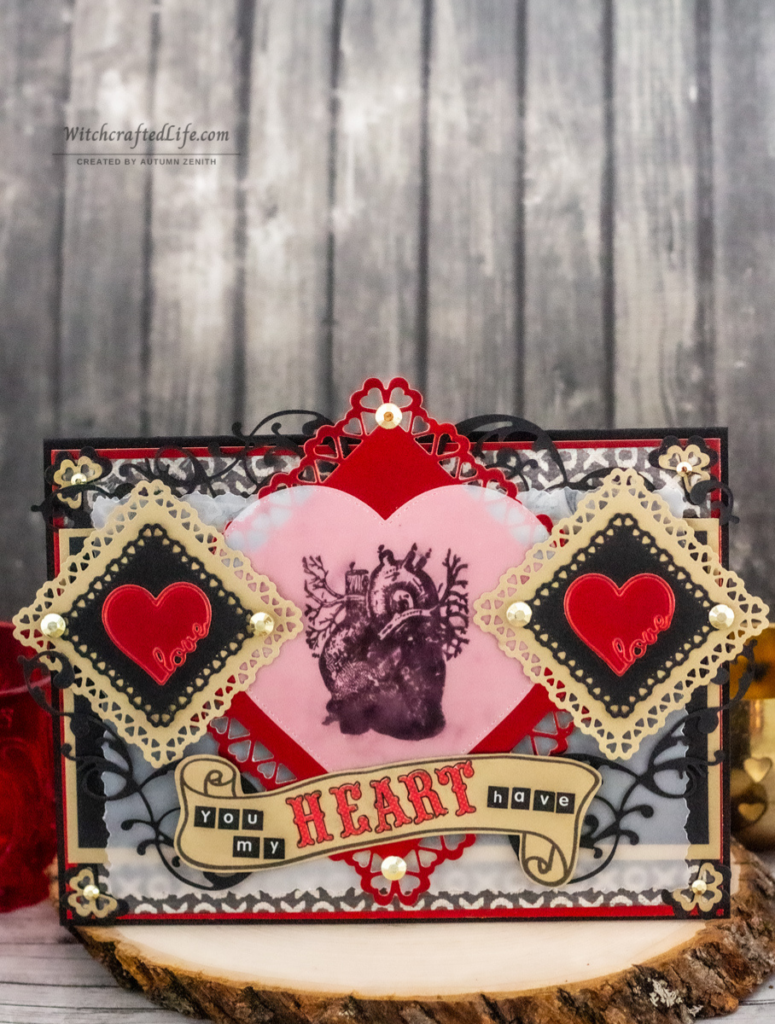 Adhere one black and gold "heart flower" stack to each of the far corners of your card front.
Place one small metallic gold coloured gem in the center of each of those "heart flowers".
Lastly, use a slightly larger size of the same gold metallic gems to adorn the top and bottom tips of the central red metallic diamond, as well as the left and right sides of the smaller gold diamonds.
There you have it, one impactful, gorgeous, and hauntingly romantic I (Anatomical) Heart You Valoween Day card to give to your beloved.
Celebrate love of all kinds this Valentine's Day
Understandably, no matter what sort of spin you put on it, February 14th is not everyone's favourite day of the year.
Though I am a die-hard "lover of love" who melts faster than a box of chocolates left too close to a votive candle when it comes to this holiday, I can easily see why such is the case and sincerely respect that not everyone flips their lid for Valentine's Day.
That is, of course, perfectly okay! We are always allowed to like/love or dislike whatever special occasions we desire.
Yet, I think it is worth pausing all the same as Valentine's season descends upon us once again to reflect on the broader subject of love.
Nearly all of us love various people and/or things. And, most (though, heartbreakingly, not all) of us have been blessed to receive and/or give love throughout our lives.
That can mean romantic love, platonic love, love for our pets, love for our work, love for causes that are important to us, love for our hobbies and passions, love for our spiritual journey, love for our favourite books, movies and music, love for our favourite foods, or deep feelings of adoration directed at countless other possible things/animals/peoples/events/etc.
If you work with an altar or would otherwise like to make a display of this nature, I encourage you to place items that represent some of the things you presently love in your sacred space.
In turn, think deeply (and/or meditate) on them and the role(s) they play in your life right here and now.
How, if applicable, have those roles shifted, changed, or otherwise evolved for you throughout your life?
What do you love, but do not or cannot focus on as much as you would ideally like?
Are there ways you can shift more attention to those areas between now and next Valentine's Day?
In terms of people, naturally, February 14th is a great time to remember, honour, and celebrate those you have loved – and presently love – throughout your life.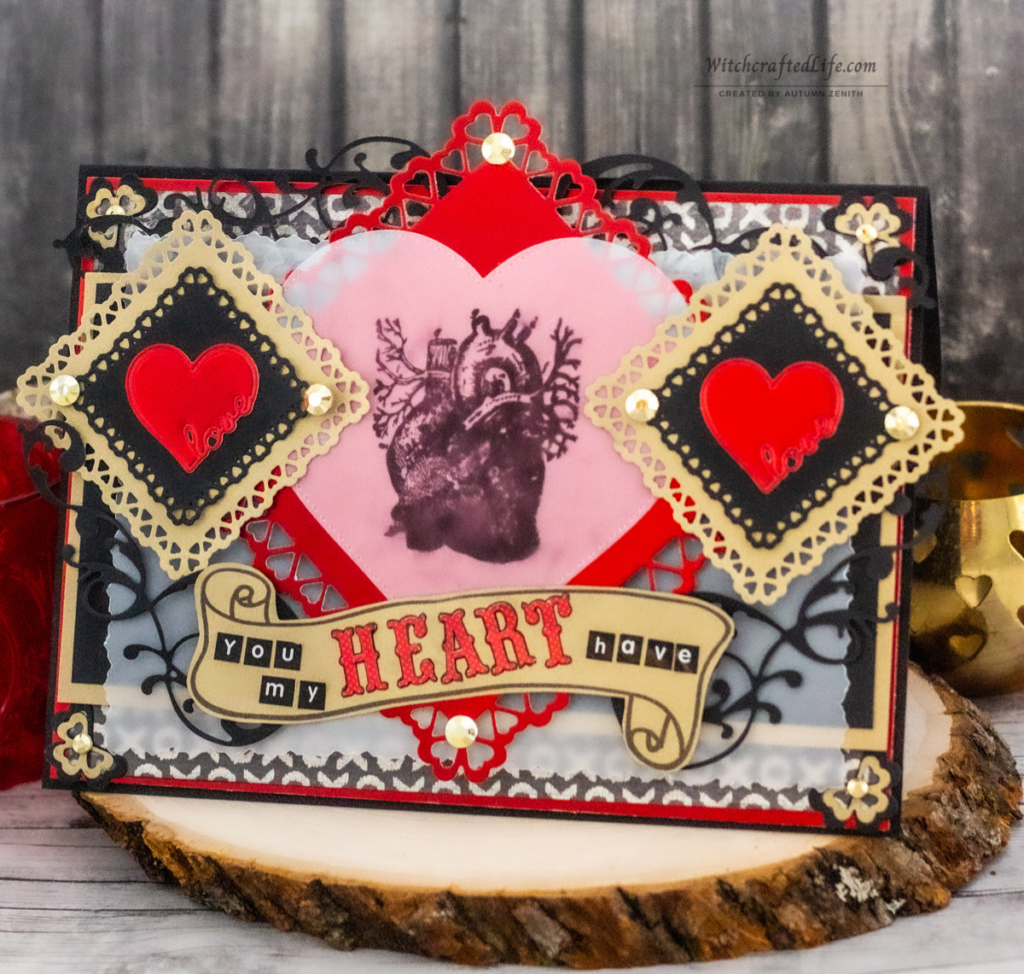 As such, you could also include images, mementos, or other objects that represent people (and/or pets) that you currently love or have loved in the past.
Valentine's Day, not unlike the Pagan sabbats – particularly, in the Northern Hemisphere, Samhain and Yule – is an excellent time to engage in ancestor work, as well as to reflect deeply about our families, our heritage, and those members of our trees that are still with us today.
If doing so feels right and appropriate to you, try to tell one or more of your nearest and dearest just how much they mean to you and how greatly you love them this Valentine's Day.
I firmly believe that we all need love. We need to receive it and, in turn, give it to others as well. We need events, locations, interests and other things to hold close to our hearts, too.
These are basic elements of the human journey and one that each person deserves to experience.
On Valentine's Day, give thanks for the loves of all types in your life. If you feel you need more love, freely open your heart to that possibility and allow the universe to hopefully deliver a greater degree of love into your world.
And all the while, remember to try and give your own love generously and selflessly to others as well.
In their 1967 hit song of the same name, The Beatles reminded us that "All you need is love".
In reality, we may require a bit more than that. Yet, this message drives home the importance of love and just what an incredible, life and history-shaping force of our collective human experience it really is.
Here's to love, to Valoween and Valentine's Day, and to the fact that I 💗 each and every one of you!

Are you a fellow fan of anatomical hearts? What loves in your life will you be focusing on this February 14th? ❤️💛🖤