From the time of antiquity to the 21st century, there have been great couples both real and imagined.
Be it Elizabeth Bennet and Mr. Darcy, Cleopatra and Marc Antony, Romeo and Juliet, Anne Shirley and Gilbert Blythe, King Arthur and Guinevere, or Lucy and Ricky Ricardo, many famous fictional couples have become household names.
And it is not uncommon for future characters to be built upon existing literary or mythological figures. For example, the couples in The Flintstones were heavily influenced by the 1950s Honeymooners sitcom.
I'm a dyed-in-the-wool romantic and have a great fondness for a lot of different fictional couples. None, however, hold quite as big or deeply rooted a spot in my heart as that devoted to Morticia and Gomez Addams. 🥀🖤🥀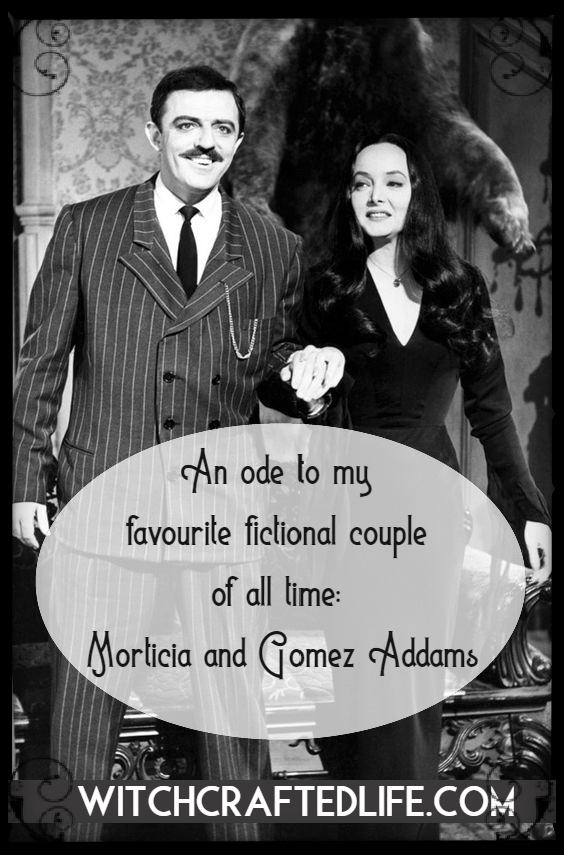 They are #relionshipgoals. They are #lifegoals.
They are the last word on the perfect romantic couple in my books.
How the Addams Family started
Morticia A. Addams (née Frump) and Gomez Addams, along with many of their now-familiar relatives, were spun to life by American cartoonist Charles Samuel Addams for The New Yorker magazine back in the 1930s.
Fascinatingly, when these characters first appeared in The New Yorker, they were nameless and remained as such until the 1964 television series debuted.
At that time, Charles Addams himself gave the characters their monikers, selecting the homemade name of Morticia for the matriarch of the Addams clan.
It is a riff on the word mortician (as well as "mortis", Latin for "death"), which tied into the themes of darkness and death that have always permeated this most spectacularly spooky of families.
Yet, for the Addams Family, every day was akin to All Hallows' Eve and far from being aware that their look deviated from the norm, they frequently saw others as being the odd ones out.
They eschewed sunny days, flowers with blooms on their stems, and contemporary dinner table fare, amongst many other things.
For the family's father, Charles Addams suggested either Repelli or Gomez, leaving the final choice up to the actor John Astin, who would portray the Addams Family dad in the sixties series. As you likely know, Mr. Astin selected the name of Gomez – and the rest, as they say, is history.
Though familiar to readers of The New Yorker from the late 1930s to the early sixties (they made their magazine debut in either 1937 or '38, depending on your source), by and large, the Addams Family were unknown to the general public prior to their TV debut in 1964.
It's safe to say that from the very get-go, the entire family stood out.
With an exception made for The Munsters, there was nothing else quite like the Addams Family to be found on television at the time.
Back then, few people had even begun to conceptualize something akin to a goth lifestyle – let alone were yet living in a way that paid such homage to all things spooky, macabre and mysterious at any point in the year other than perhaps Halloween.
Each member of the Addams Family, including those who resided in the Addams' home at 0001 Cemetery Lane (later changed to 1313 Cemetary Lane), such as Uncle Fester, Grandmama, the Addams' children, Pugsley and Wednesday (with the addition in the 1993 Addams Family Values movie of baby Pubert); Thing, and the family butler, Lurch, had their own distinct style and personality.
They were quirky and fun, engaging and entertaining. And their near cavalier regard for how anyone else saw, thought or spoke about them appealed to me wildly as a child. It still does to this day.
Yet, it was the relationship between Morticia and Gomez Addams in particular that stuck with me most powerfully.
They were, and are, the perfect husband and wife couple as far as I'm concerned.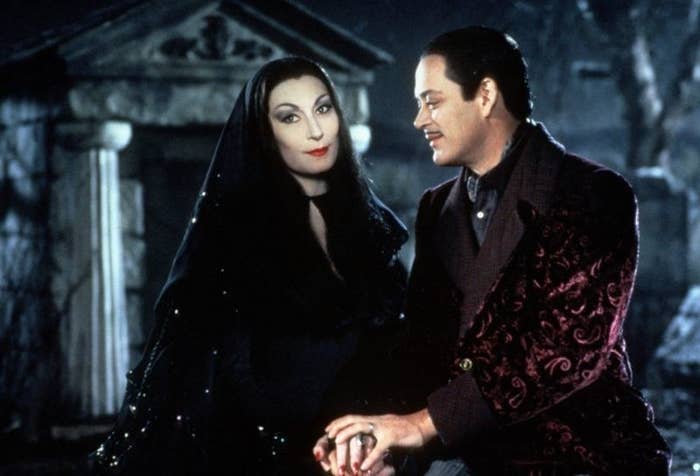 How the Morticia and Gomez Addams taught me what a happy, healthy, loving marriage could be
To say that my biological parents had an unhappy and highly dysfunctional relationship would be a serious understatement.
I didn't grow up with the proverbial loving (towards one another) parents as they were portrayed on TV shows and movies of my generation. My home life didn't resemble that of the Keatons, the Huxtables, the Taylors, or even the Connors.
Though, as a child, I could appreciate (and at times, powerfully yearn for) it, I did not know that sort of cheerful sunshine-and-roses stability firsthand and had few other couples in my family to look to as positive role models in this regard.
Instead, I found that I gravitated most towards the Addams as the pillar of what a strong, committed, supportive and incredibly loving relationship (and family home life) could be and look like.
Morticia and Gomez shared a rock-solid, blissful, healthy marriage that was fostered by both togetherness and individuality.
The element of their uniqueness, their ability to disregard how they were perceived by others and to find joy in being who they really were spoke to me in a way that nothing in the fictional world ever had before – or has since, for that matter.
Gomez and Morticia Addams love each other. Not a little. Not just when it suits them. Not to get what they want out of the other person or anything of that nature, but because they are really and truly, head-over-heels, magnificently and completely in love.
Though they have the occasional tiff (as all couples do), at the end of the day, you know, you just know, that Morticia will always have Gomez's back and that he has hers every bit as much.
They were a united front, a power couple before the term was even mainstream, a joy to watch, and a pair that any of us, no matter our personal histories with romance, can take some serious inspiration from.
Morticia and Gomez don't just love one another, they make a point to work on their relationship.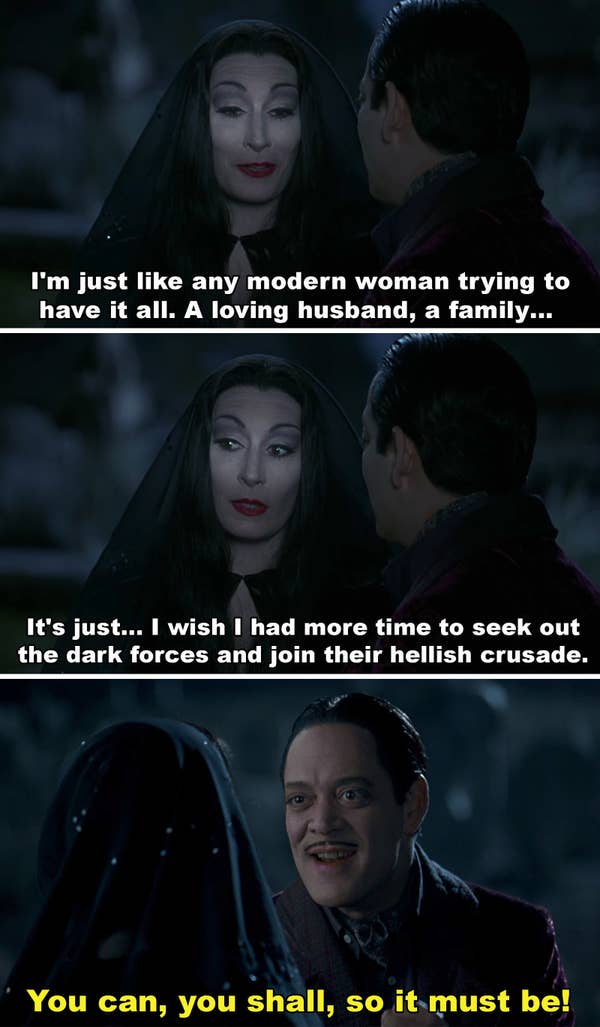 They shower each other with compliments and praise, they support the other person's interests, they nurture and care for one another, and they can't fathom existing without their darling partner in this life or the next.
They would go to the ends of the earth for their beloved, they share fabulous sweet talk and pet names, they delight in the awesomeness that is their love and the fact that they found one another, they're terrific parents to their children, and they melt like young lovers day after day – no matter how long they've been married for.
Plus, they have a rockin' love life, they're kind and accepting not only to/of each other and their relatives, but of pretty much everybody who crosses their path, and their picture could easily appear in the dictionary alongside the word "passion".
It's safe to say that Morticia and Gomez Addams have a love that will last until the end of time.
Celebrating true love in the spirit of the Addams Family
Today is my and Tony's wedding anniversary.
On this day sixteen years ago, in a very small, very simple civil ceremony that was held at my mother's house, the two of us tied the knot.
We were young, we were in love (our marriage took place just seven months after we first met), and we knew that much like Gomez and Morticia, we wanted to spend every last one of our days together.
It brings me great happiness to say that we've been doing just that for over a decade and a half now.
We might not live in a rambling old Victorian mansion (oh, how I dearly wish that we did!) or have a pet lion, and all our relatives look like your average human.
Yet, humbly, I like to think that we have the sort of relationship that would make Morticia and Gomez Addams proud.
We started out with almost nothing to our names and began from scratch again following the arson house fire we experienced precisely four years and one day ago.
We have weathered immense storms, lived on two continents, gone through the complex Canadian immigration process (for Italian born Tony), battled countless health issues (mostly mine, but also a few of my dear husband's), and have grown from near-teenagers with our own respective difficult pasts to fully-formed adults together.
Tony and I are unconventional for a host of different reasons (e.g., we met online at a time when such was much less common than it is now, we grew up in different cultures, we do not have children, I'm a Pagan witch and he's a staunch atheist, etc), and at the end of the day, we wouldn't have it any other way.
Blending in with the rank and file is neither of our jams.
My husband isn't just my best friend, he's my rock and my guiding my star. I love him with a fire the heat of which would make molten lava feel like ice.
I would defend him against anyone or anything, and I respect, honour, cherish and adore him something fierce.
I support his dreams and goals, know his quirks inside and out, make him laugh and smile, comfort him, cheer him on, and still get goosebumps sometimes just looking at him.
And I am truly blessed that he feels the same way about me as well.
We do not take our relationship for granted. We work at it, we nourish and tend to it, and we put in the leg work – all of which pays off for us in spades.
Today we celebrate another year together, our hearts full of intense felicity about this fact.
Like Gomez and Morticia, we're not your average couple and we delight in this fact – which we both believe has only helped to strengthen our bond and bring us even closer to one another.
I am very grateful for my husband, as he is for me – and perhaps to no one's surprise, if you've read this far, we both adore and look up to the Addams.
They have a love to last the ages, and on this day we toast not only our own committed relationship but theirs as well.
Join me then, won't you, in raising a glass – or an antique goblet with cobwebs wrapped around its stem – to Morticia and Gomez Addams.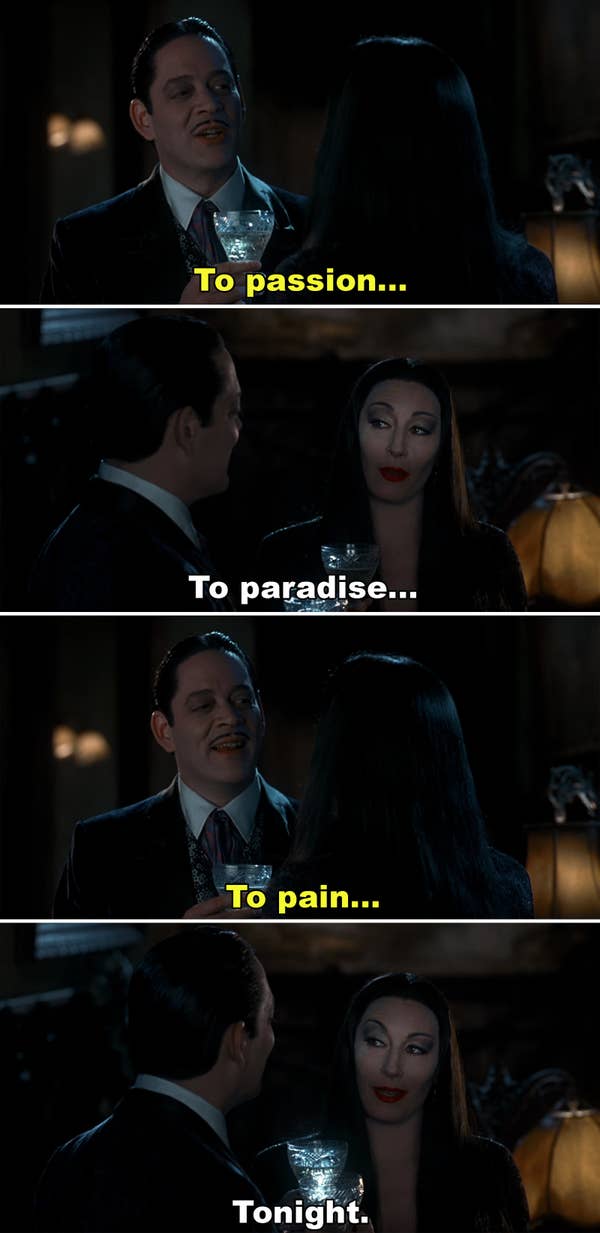 Morticia and Gomez are one of the most inspiringly incredible fictional couples of all time. They have given pop culture, society as a whole, and especially those people who do not see themselves as being like most others a great deal.
And for that, and so much more, they have my unflapping adoration. 💗