As the title of this post conveys, the project featured in today's post is a versatile fall time greeting.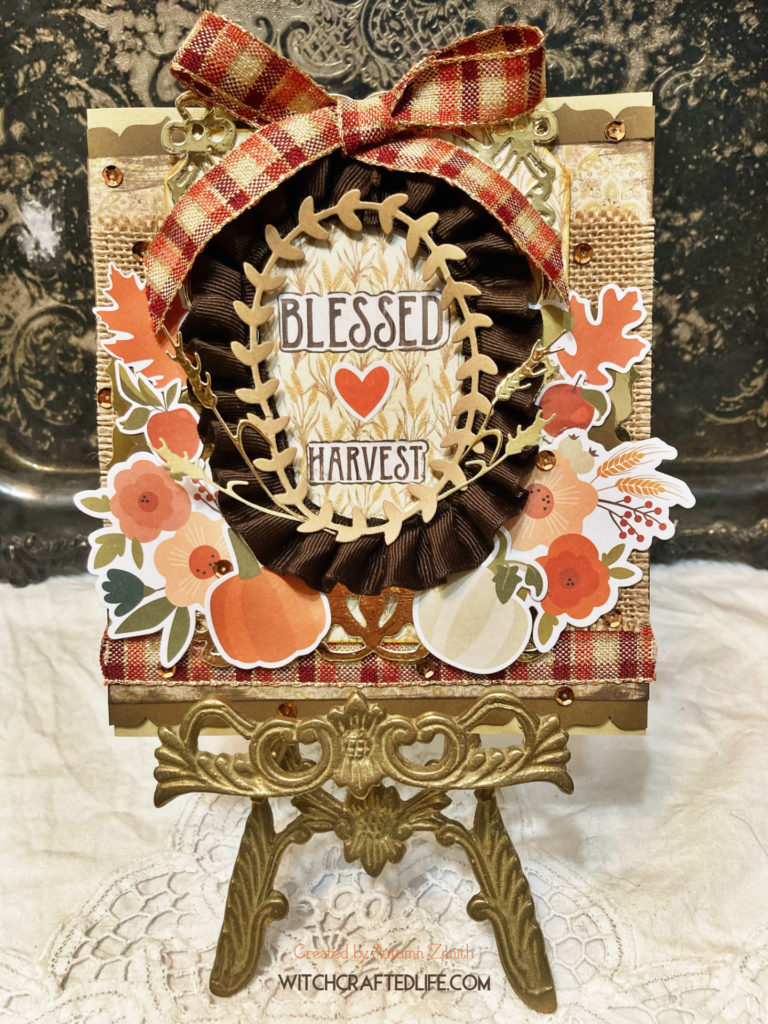 On the Pagan front, you could create it to give for any of the fall harvest season sabbats. Be it Lammas, Mabon, or Samhain.
In a more secular sense, it works fabulously from the Fall Equinox, Canadian Thanksgiving, American Thanksgiving, and even Halloween – particularly if your recipient favours sweet to spooky.
Of course, one of the best and most meaningful reasons to give a card is "just because". This festively hued and themed card would be a gorgeous way to let anyone know that they're in your thoughts this fall.
A message that holds all the more importance and meaning given the way 2020 has unfolded and the continued self-isolation and/or social distancing that many of us are adhering to this season.
As well, you could easily keep the design, but swap out (or add to) the sentiment and make this a really charming birthday, retirement, congratulations, anniversary, encouragement, or fall wedding card.
Blessed harvest season card for any fall time event
Autumn is my favourite and most cherished chapter of the year. I love to celebrate that lifelong passion with my papercrafts, often reach for classic colour palettes and choices of imagery when creating fall time makes.
This card goes to town on that front! All it needs now is a ride in a vintage pickup truck to the nearest pumpkin patch, corn maze, or apple orchard! 😃
As I didn't create this card with one specific person or fall event in mind, I left its design fairly wide open. This helps to ensure that I can give it for a number of possible events or reasons, as touched on above.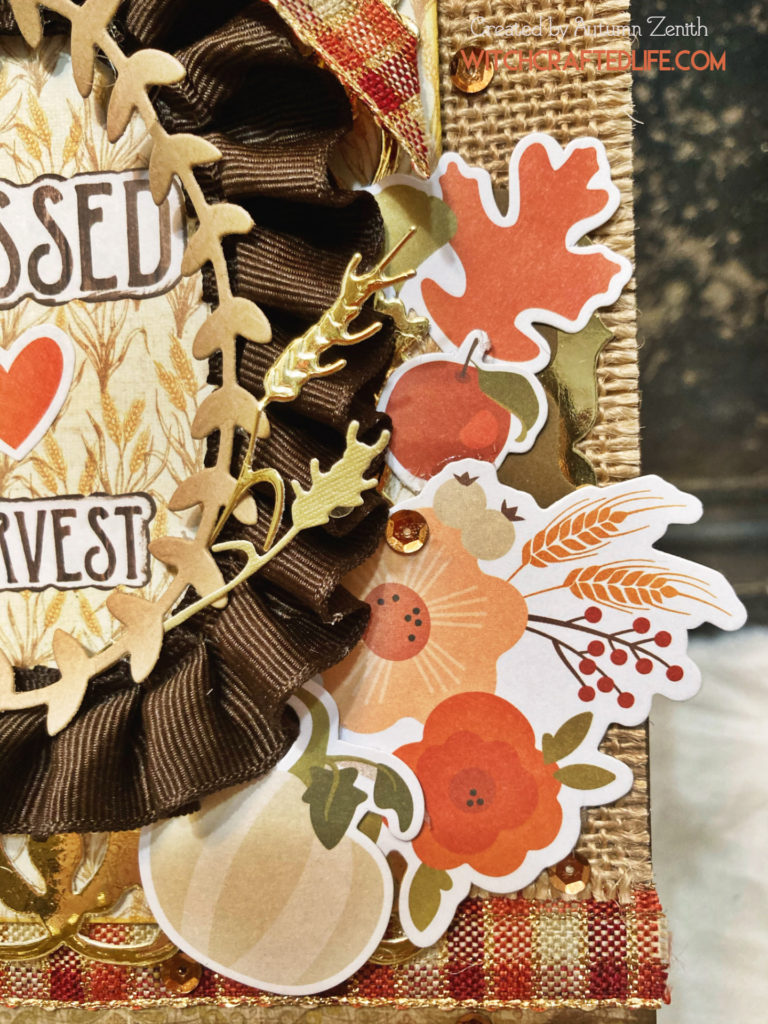 One thing it instantly made me think of is the awesome produce stands, spilling over with pumpkins, squash, ears of corn, apples, pears, and other seasonal delights that my family visited when I was growing up.
I still try to get out to at least one or two each year myself, though currently live over three hours north of the region's epicenter for produce stands, so that can prove a little trickier some years.
Thankfully though, there are some smaller ones closer to home and we love to brake for them all season long.
Putting this festive autumn card together
To create this elegant harvest season card, I began with a base of timeless kraft cardstock. This was topped with a piece of darker brown card cardstock, which I used a border punch on the north and south sides of.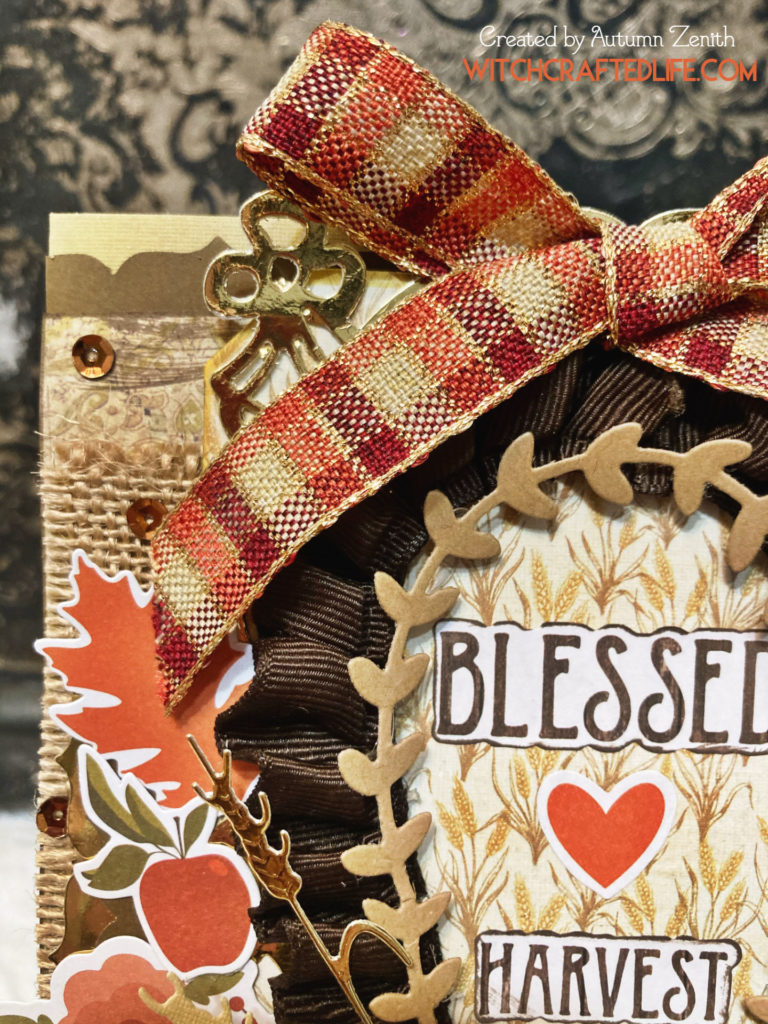 They might not see as much paper crafting play as they did a number of years back, but paper punches – be they border or shape – remain some of my favourite and most frequently used paper crafting supplies to this day.
Next, I inked the edges of a neutral coloured patterned paper, which I topped with a fairly wide piece of natural burlap and a die cut gold metallic paper frame. This was then topped by a band of fall coloured plaid ribbon towards the bottom of the card, and the central design elements in the middle.
A jaunty bow made from the same red, orange and gold plaid ribbon adds visual interest to the top of the card design, as to the coppery-gold hued sequins sprinkled throughout the design.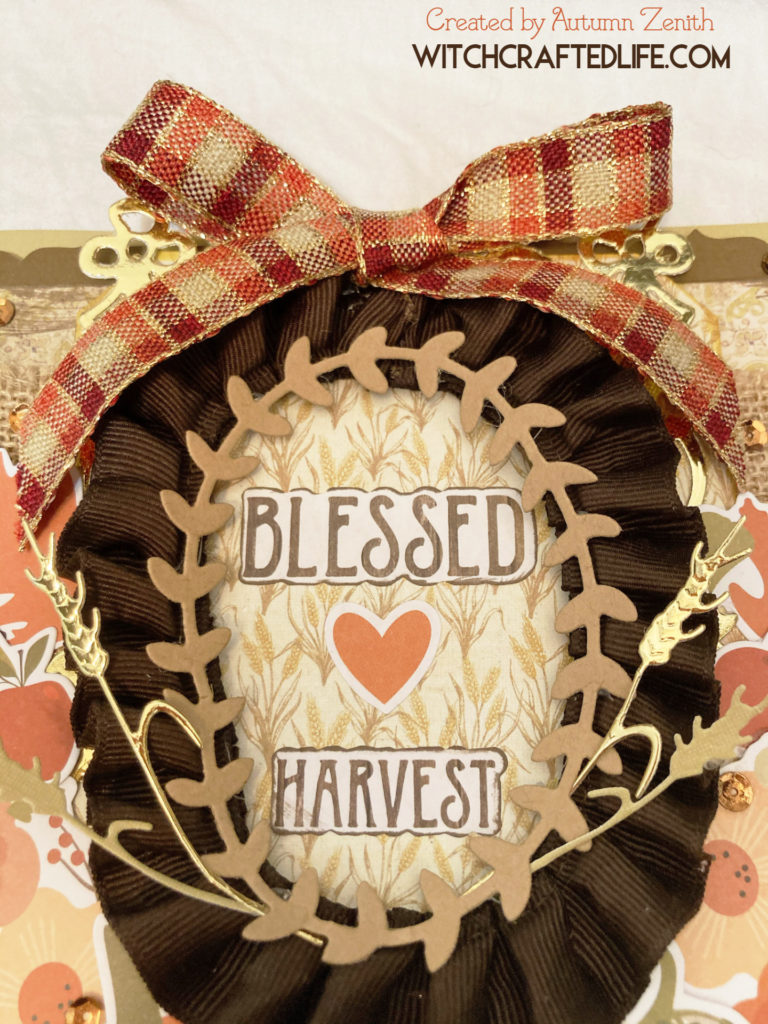 For the central panel, I used pre-platted dark chocolate brown coloured ribbon, but you could certainly pleat your own ribbon, paper, vellum, burlap, or other material for a similar effect.
A die cut oval shaped wreath of leaves in kraft and die cut sheaves of wheat in both flax-y light brown and metallic gold cardstock join the wreath to help emphasis the fall harvest message of this greeting.
As does the lovely golden wheat print paper used behind the sentiment.
The Simple Stories Fall Farmhouse collection die cuts with their wonderfully pretty pumpkins, leaves, and sheaves of wheat all sing with the spirit of the fall harvest season as well.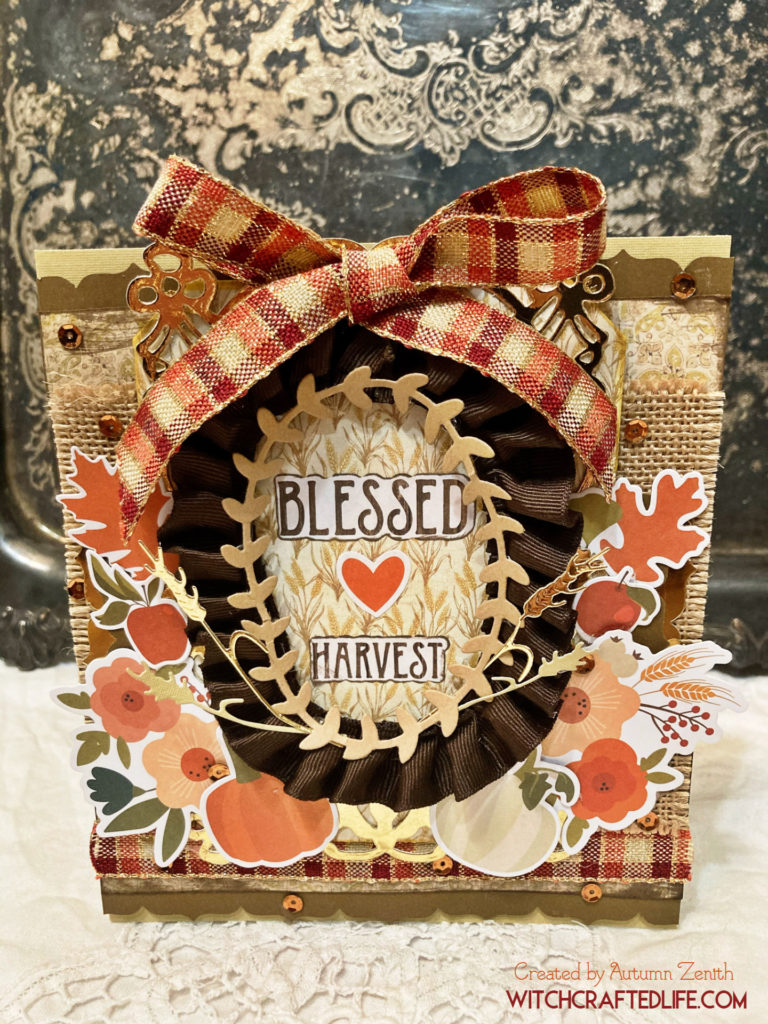 The sentiment is comprised of two different word stickers (which I lightly inked the edges of with dark brown ink) and a cute little heart sticker – a nod both to my passion for fall and the love this card transmits to its future recipient.
This card is sweet and sophisticated, undeniably autumnal and oodles of fun at the same time. You could give it to most anyone, or, if so desired, use it as a piece of handmade seasonal décor in your own home.
Card making tips and ideas from this project
–Kraft cardstock is one of the most versatile products any paper crafter can have in their stash. I reach for it year-round, but tend to lean on it all the more come fall.
The neutral base that kraft cardstock provides means that it will usually work awesomely with a wide range of other colours – especially, but not limited to, those in the both the earthy and rich jewel toned palettes of autumn.
Consider using kraft in one or more of your fall cards, layouts, mini albums, tags, or other paper crafting projects this season. (It also looks fantastic with colours such as black, white, orange, and lime green for Halloween or Samhain.)
-When creating fall time makes, bring rustic elements of the season into your designs. Materials such burlap (aka, hessian), raffia, cork, rough or nubby textured fabrics, felt, acorns, and real or artificial dried leaves, seed pods, flowers, and straw can all work wonders in this capacity.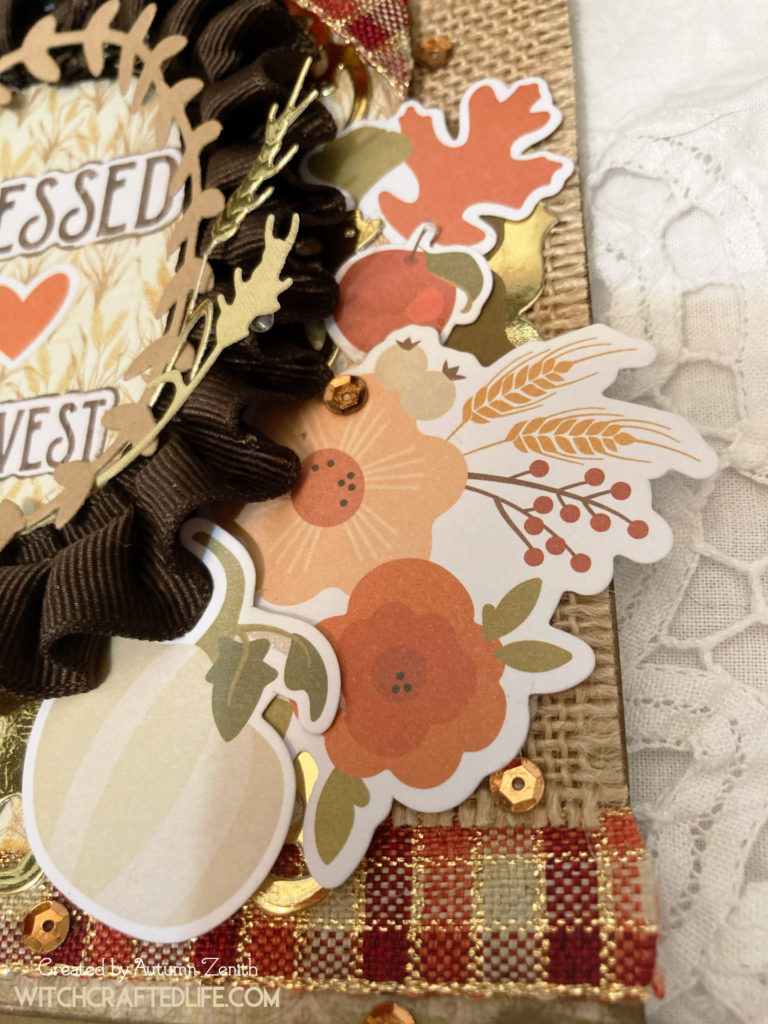 -Symmetrical designs are a winning classic. While the two haves of this card are not an exact mirror image of each other, they're certainly close. The subtle variation between each side catches the eye, while the cohesive symmetry gives the design a timeless quality.
-Drive home themes, be they seasonal or otherwise, with subtle uses of printed papers that are in keeping with said theme. In this case, the wheat sheaf print paper behind the sentiment helps to do just that.
Other printed (or stamped, etc) papers that could have worked nicely here as well include leaf, pumpkin, corn, and wildflower designs.
-Wreaths are a beloved décor staple the whole year through. Like many folks, I tend to utilize them all the more come fall and winter, though, and was thinking about autumn wreaths when designing this card.
Why not create a wreath or take a design cue from one when putting together a fall time card of your own?
-If you don't have pre-pleated ribbon on hand, you can make your own by sewing, stapling (mini staples often work better than standard sizes ones), or gluing ribbon, trim, burlap, felt, paper, or cardstock in the desired pleated design of your choice.
I recommending testing out any glues or adhesives on a scrap piece of the same material first, to see if they A) hold the pleat in place and B) if they bleed through the paper/cardstock/fabric or not. If they do, reduce the amount used or try a different adhesive instead.
Products used to create this lovely fall card
-Kraft, dark brown, and light flax/taupe brown coloured cardstock
-Gold metallic cardstock – Special Bright Gold Metallic Cardstock from Kodamaa
-Wheat sheaf print paper – Gracious Bundle 8×8 Inch Collection from Authentique
-Earthy cream and brown printed paper
-Ornate/fancy frame metal die (used here with the gold metallic cardstock)
-Scrolling edge border punch – Upper Crest Border Punch from Fiskars
-Dark brown ink – Dew Drop Rich Cocoa Brown Ink from Memento
-Dark yellow ink – Street Light Surface Ink from Pink & Main
-Fall themed die cuts – Fall Farmhouse Bits & Pieces from Simple Stories
-Word and heart stickers – Fall Farmhouse Mini Sticker Tablet from Simple Stories
-Natural brown burlap – Burlap Mat Stack from DCWV
-Dark brown pleated ribbon
-Orange, red and gold plaid ribbon (this one is from Michael's Celebrate It line, purchased a year or two ago)
-Coppery gold coloured sequins
-Dimensional foam, pop dots, or similar to elevate some of your layers
-Adhesive, such as a tape runner, of your choice (I often use my Scotch Tape Glider)
Looking ahead to the second and third months of autumn
As hard as it may be to believe, we've experienced more than a full month of fall at this point. How quickly the soulful, gorgeous days of this beloved season tumble by like crisp leaves waltzing on a nippy autumn breeze.
The local farms that call our rural community home have brought in their harvests for the year or will soon wrap up doing so. Countless ears of corn and bushels of hay will now go out into the world for all manner of purposes.
With the meaningful day that is Canadian Thanksgiving having transpired again two Mondays ago, it's safe to say that my thoughts are squarely focused on Halloween/Samhain at this point.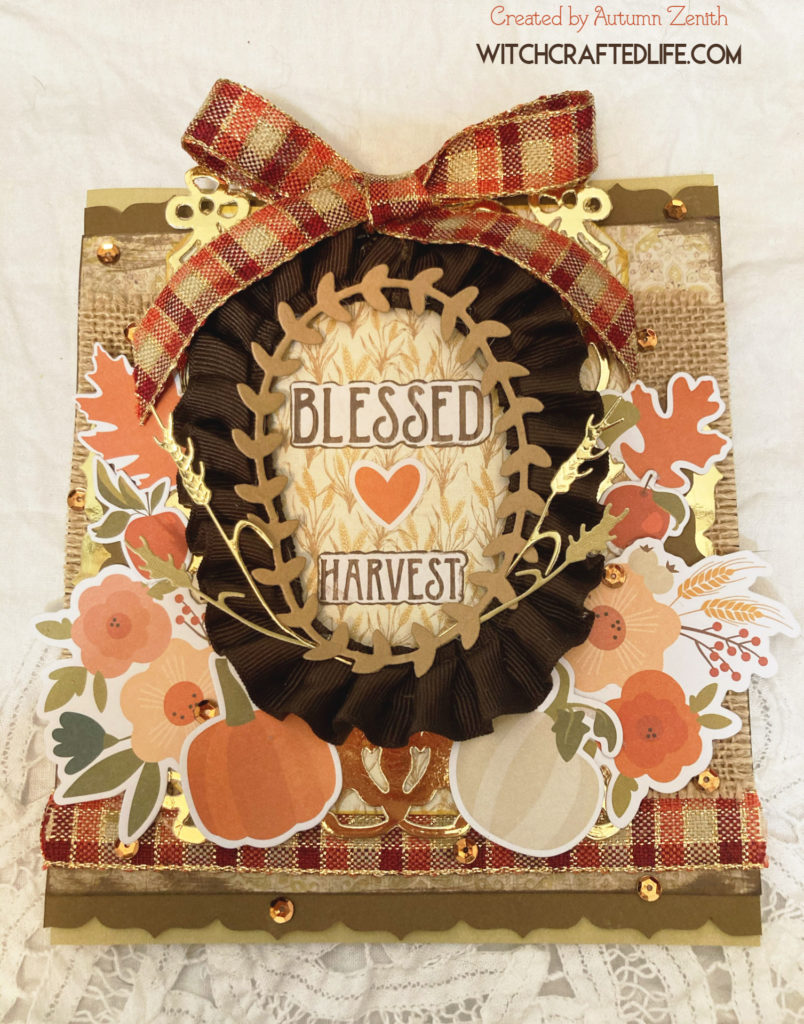 Come November, I plan to post at least one more fall/harvest season project before we start to transition into other paper crafting themes – including winter/Yule/Christmas related makes.
The second half of October is such an enchanting, magickal and poignant chapter of the year. Each day fills my heart with glee and leads my soul to feel all the more aligned and connected to the universe.
Personally, I see these days as part of the larger celebration that is Halloween and Samhain. They'll be gone faster than the beating of a bat's wings and while I actively keep the spirit of Halloween going strong in my life all year through, there's nothing quite like the highly charged magnificence of late October itself.
May this be a time of joy and meaning, abundant fall blessings, cherished nostalgia and wonderful new memories alike – no matter how or what this Halloween/Samhain season looks like for you in 2020. 🎃💌🎃
Project share
Pin the image below – or any other in this post – to Pinterest, pop it into your Instagram Stories, post in on Twitter or Facebook, or share it anywhere else you wish to help yourself find it again and to inspire others at the same time.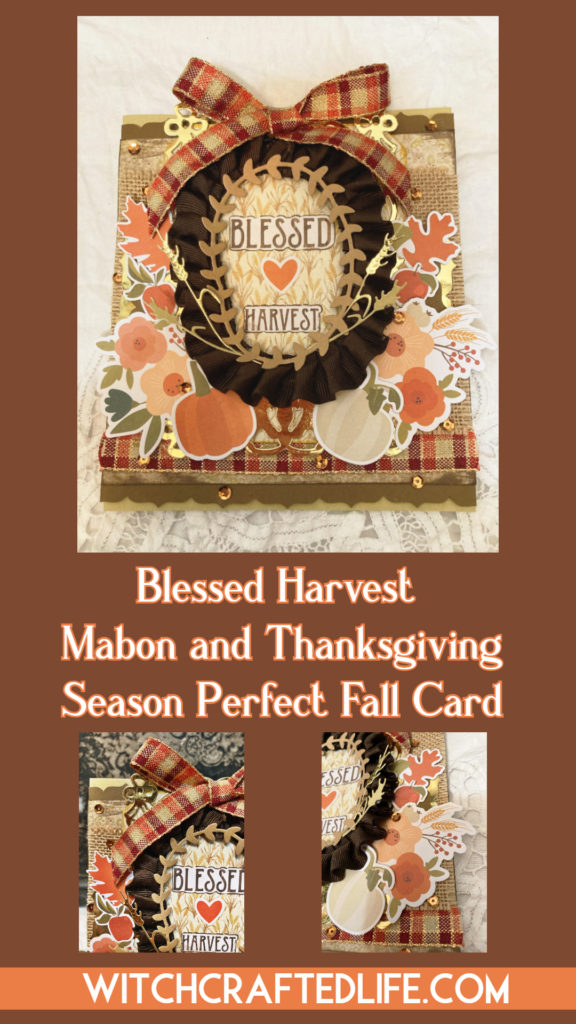 If you make a project based on or inspired by this card – or want to share any of your other handmade crafts with me – please use the hashtags #WitchcraftedLife and #WitchcraftedLifeMakes on social media so that I see can your beautiful creations.