For many of us, there are certain movies that hold an immeasurably special spot in our hearts. They are a sort of silver screen sacred ground and no matter how many years pass by, our love for these films never wavers.
Indeed, if anything, it deepens and matures like a fine wine. Getting better and holding more allure the longer time elapses from its creation to the present moment.
Broadly speaking, I've never been what, in modern parlance, is often referred to a "fangirl" when it comes to, well, most anything.
Sure, I love a good many things with a ceaseless passion, but I don't feel the need to buy every last piece of merchandise pertaining to my favourite books, TV shows, movies, bands, and so forth.
I don't cosplay, I've only ever written one piece of fan fiction (an alternative ending, penned when I was about 13 years old to Titanic in which both Rose and Jack survive), and I've not yet stepped foot at a US amusement park such a Disneyland or Universal Studios.
Yet, like most rules, this one is broken for a select few favourites. None, and I mean absolutely none, of them ranks higher for me than Disney's 1993 Halloween themed classic, Hocus Pocus.
When it comes to Hocus Pocus, all bets are off. I fangirl like my life depended on it and – as many fans do – like to think of myself as something as a 4th Sanderson sister.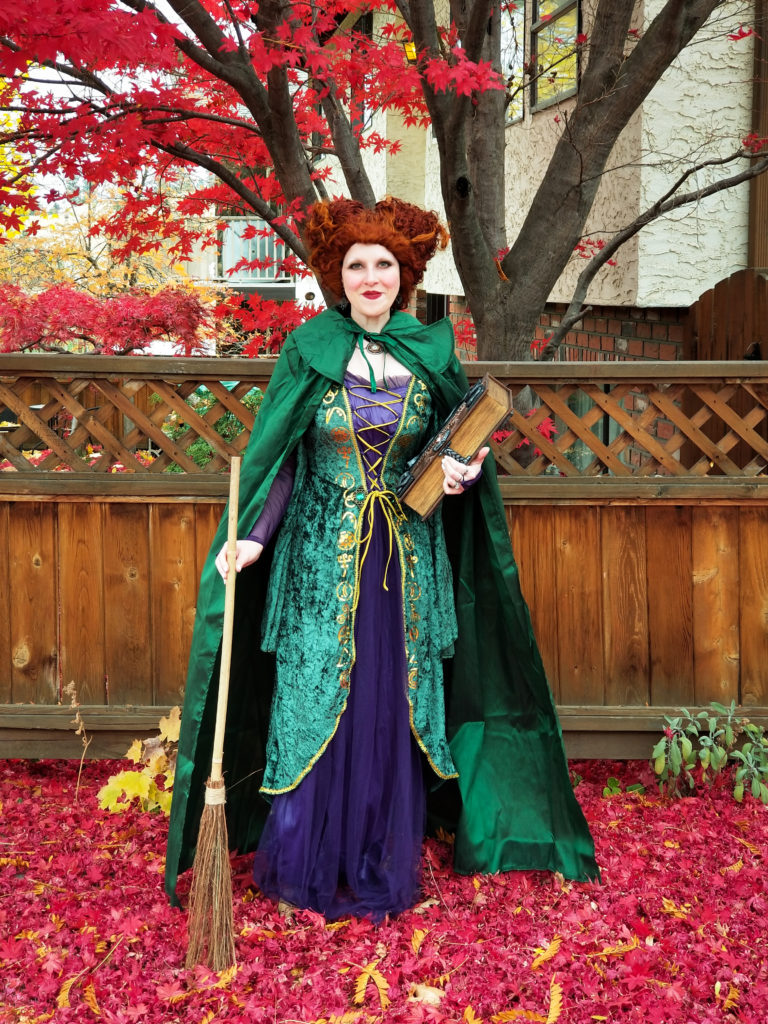 In 2017, scarcely more than a year after the terrible arson house fire we experienced, I fulfilled a dream that was, at the time, twenty-four years in the making, when I dressed up as none other than Hocus Pocus' Winifred Sanderson (played in the movie by the Divine Miss M herself, Bette Milder). Complete with a stunning Book prop that I purchased from Etsy seller Pixie Painting.
I've lost track of how many times I've watched Hocus Pocus over the years. If the number is anything less than 75, I'd be shocked. Chances are, it's well above a hundred. Only the 1966 Halloween TV special, It's the Great Pumpkin, Charlie Brown comes even close in terms of the number of times I've watched the same show or film.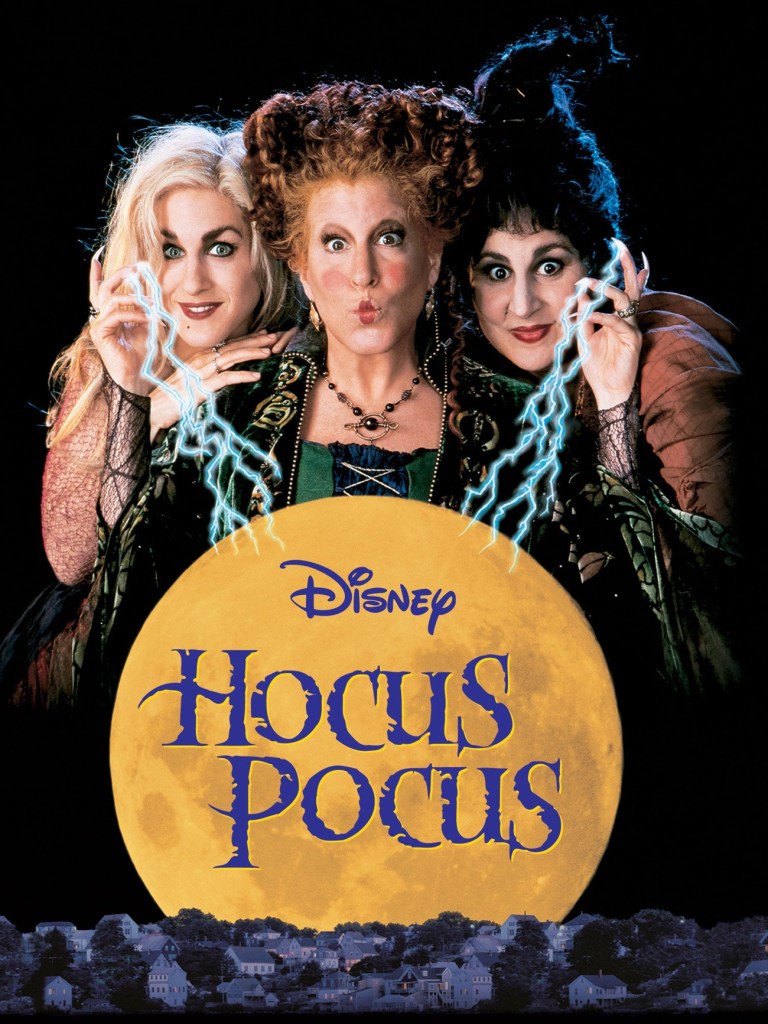 I was nine years old when Hocus Pocus was released and from my very first viewing, I was wholly and completely enamoured. Much like Sarah Sanderson enchants children to follow her hauntingly melodic voice and follow her, so too did Hocus Pocus cast its alluring siren's song over me.
At the time of its 1993 release, Hocus Pocus wasn't a gigantic box office success (the fact that it was released in July, not September or October likely didn't help matters one iota) and more than a few critics were quick to show it about as much love as most kids have for the boxes of raisins they receive in their trick-or—treat loot bags.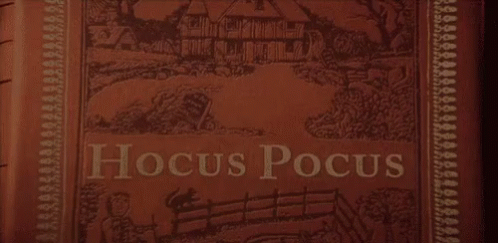 However, thankfully, there were some critics and reviewer – and no shortage of fans – who "got" what Hocus Pocus was about and who saw the merits of a film that while seeped in literary, folkloric, and Hollywood inspiration, was a trailblazing movie in its own right.
In more recent years, as Gen Xs and Millennials have reached adulthood and a mighty wave of nostalgic has swept across the pop culture landscape, Hocus Pocus has found both new and renewed popularity with fans who adored it back in the day, as well as those – of any age – who are just seeing it now for the first time.
I would even go so far as to argue that the greater widespread awareness and, to a degree, acceptance in some parts of the world of witchcraft, Wicca, and Paganism may have helped to bolster Hocus Pocus' popularity.
Not so much because the witchery that most actual witches practise today is authentically represented in the movie, but because the ability to openly be a witch/Pagan or adore witches – a point that many other Hollywood and literary contributions, very much including the Harry Potter franchise bolstered as well – has arguably never been more possible.
Much like Billy Butcherson says of the graveyard in Salem, for myself and many others, the movie Hocus Pocus is sacred ground.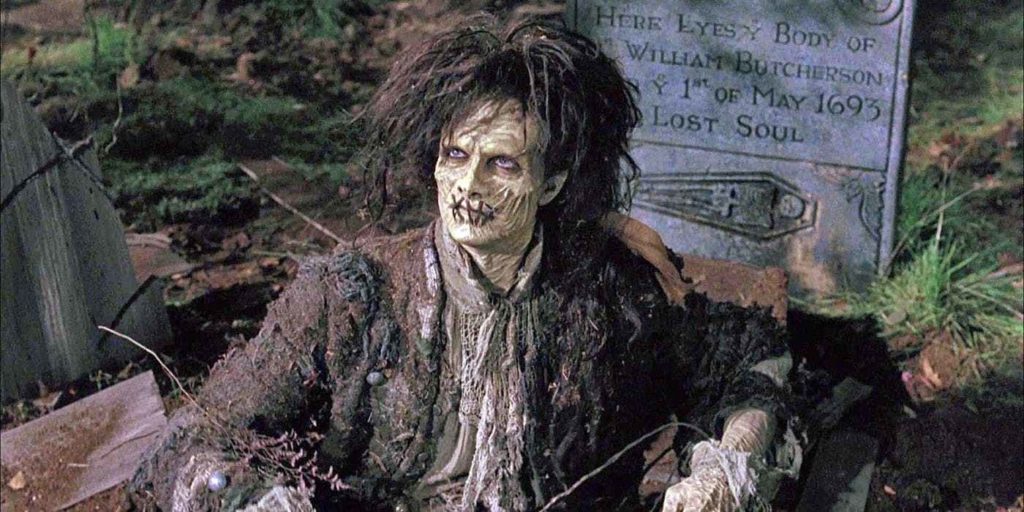 As such, it was with more than a little grain of salt (say, the kind Allison used for protection in the film) then that I approached reading author Aaron Wallace's fan guide, Hocus Pocus in Focus.
After all, this is Hocus Pocus we're talking about.
As the only book to date written specifically about this beloved Halloween film, I knew that the author – or any author, for that matter – would have to step up to the plate and then some.
This wasn't the time or place for "just' another list, like the plethora that exist online, of things you might not know about Hocus Pocus, nor was it for a simple screenplay with a smattering of viewer commentary.
No, in my eyes – and likely those of most diehard Hocus Pocus fans – this book needed to dig deeper than Billy's grave, it had to – much as if we'd drunk some of the very youth-restoring potion that the Sanderson Sisters connected – turn back the hands of time to the early 1990s. And it needed to explore facets of the movie that many of us might not have pondered before.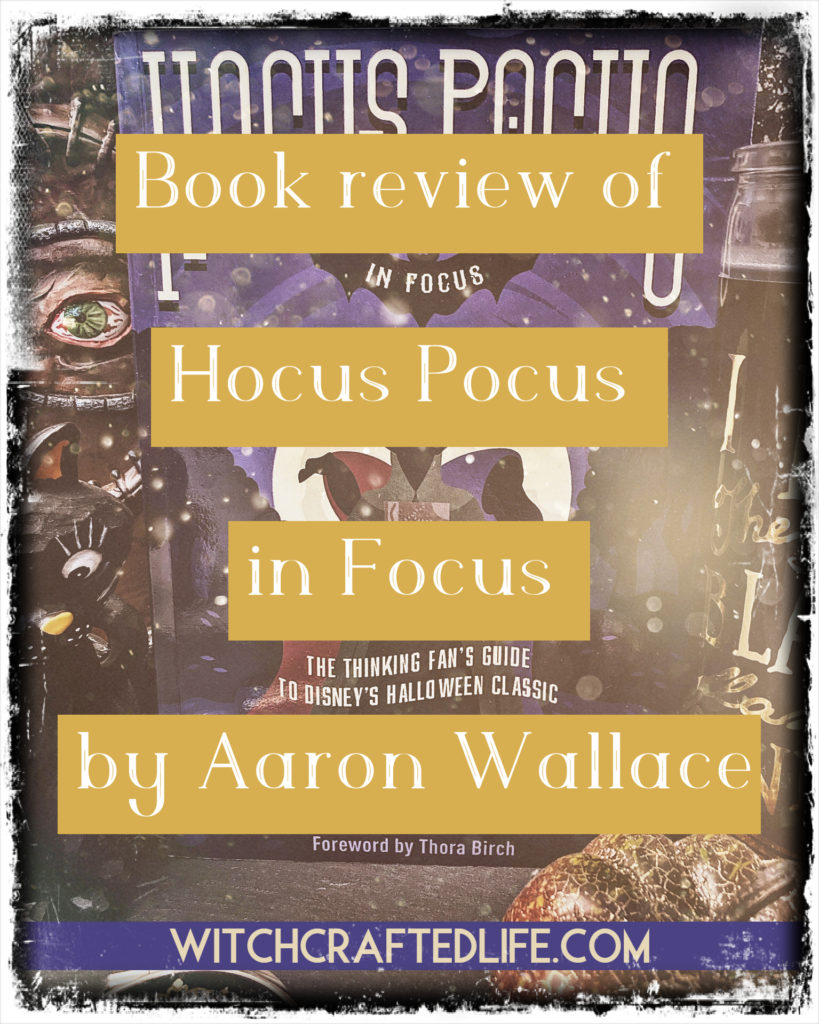 I can say in no uncertain terms that Aaron Wallace's Hocus Pocus in Focus nailed each of those points and more.
Spoiler alert head's up: Please be aware that while a detailed breakdown of the plot of Hocus Pocus is not explored in this book review post, certain elements of the movie are touched on that would, IMO, fall under the header of being "spoilers". Thus, if you have not seen the movie and wish to remain unfamiliar with its plot and/or ending, you may want to return to this post after you've watched Hocus Pocus.
Book specs
Name: Hocus Pocus in Focus
Author: Aaron Wallace
Page count: 206
Publisher: Pensive Pen Publishing
Binding: Softcover
A must-read book for any Hocus Pocus fan
At 206 pages, Hocus Pocus in Focus is not the largest book ever. Yet, within those two hundred-odd pages, Mr. Wallace does a superb job of whisking us away off to a multitude of places.
We're transported back to the 1990s – a time when many of Hocus Pocus' most ardent fans were children, teens or young adults, whisked to late 17th century Salem, Massachusetts where some of the film's scenes are set, to the magic of Hollywood that made this movie possible, and spirited away to October 31st itself – which takes on an unofficial starring role in this movie.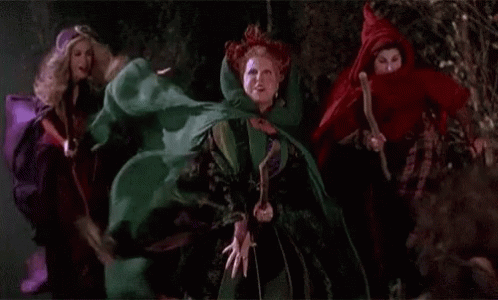 While Hocus Pocus in Focus is apt to appeal more to those who have seen the movie Hocus Pocus (and/or read the 2018 book adaptation, complete with sequel, by A. W. Jantha) at least once, author Aaron Wallace does such a superb job of providing a detailed overview and insightful assessment of Hocus Pocus that I'd venture that those who enjoy Halloween movies but haven't yet seen this one might still really enjoy this book.
That said, it's a safe bet that the majority of those who pick up a copy of Hocus Pocus in Focus will have seen the movie before and some, perhaps even plenty, of readers will be fellow Hocus Pocus obsessed fans of all ages and walks of life.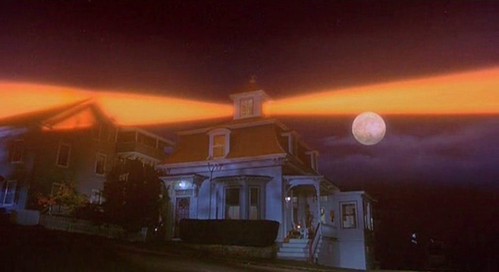 It is clear from the very first pages that Aaron Wallace is a fellow Hocus Pocusian (Pocusite?). His love of this film shines through every page with the same sort of force as the glowing orange beam of light that radiates out from Book in the movie.
The author of multiple fan guides to different movies, founder of the popular Disney related podcast On Main Street, and a fellow blogger (amongst his many diverse talents), Wallace knows his way around a movie plot. He excels at weaving witty, intelligent, and insightful points into his overview of Hocus Pocus and the many influences it both had, and in turn, has subsequently created.
Hocus Pocus in Focus begins with a beautiful forward penned by none other than actor Thora Birch, who played one of the movie's lead characters: Dani Dennison. And, as the book winds down, it's afterward is provided by the Mick Garris, the film's writer and producer.
The rest of the content is straight-up Wallace. Laid out across twelve chapters, along with an epilogue, bonus material, notes, and index, Hocus Pocus in Focus presents us with a treasure trove worth of little-known information about the movie and those involved with its making.
As well, along the way, it presents us with some seriously interesting theories about different facets of the movie.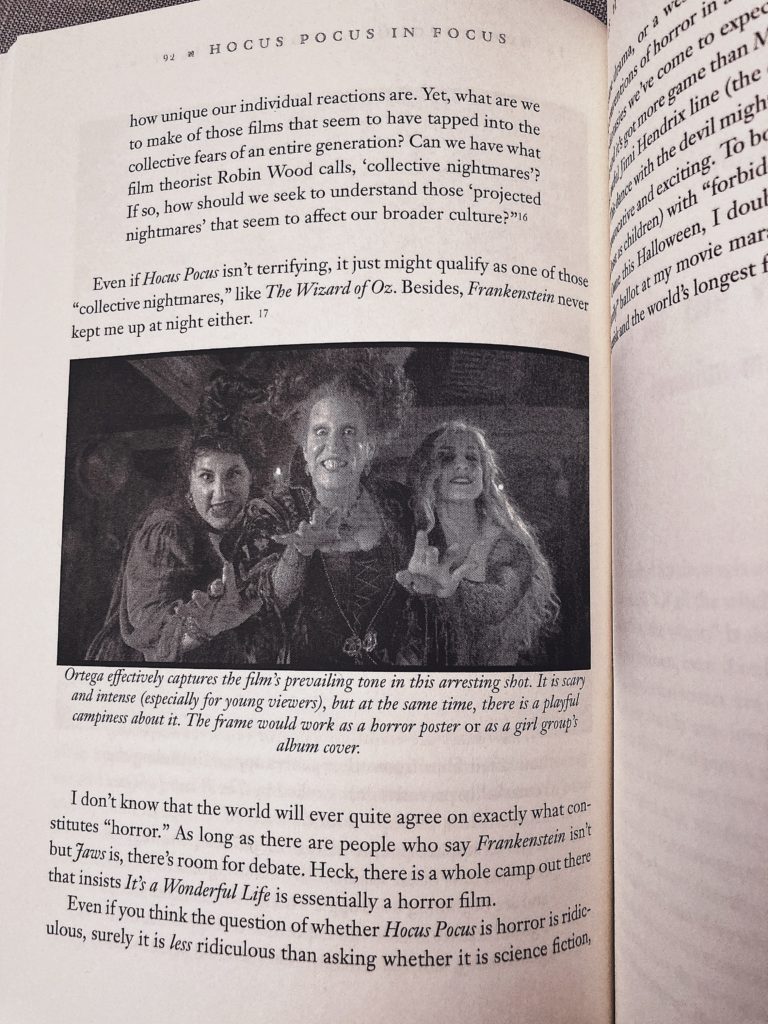 Amongst which one finds a very fair and highly perceptive look at the roles that subjects such as virginity and sexuality had in this Disney family film.
Feminism as it pertains to Hocus Pocus and (though not an overriding focus) the Salem Witch Trials also make appearances throughout the book.
As does a wonderfully engaging array of trivia, a Kevin Bacon worthy degree of linking various movies, actors, directors and other movie industry professions to Hocus Pocus (including Steven Spielberg's ties to Hocus Pocus), an exploration of Disney's relationship with both witches and Halloween, and the meaningful place that Hocus Pocus has in the lives of countless fans around the world.
Hocus Pocus is Focus is a very well-researched book. Its narrative weaves and winds fluidly, leading readers through both the movie and the premises Wallace lays out with equal skill and appeal.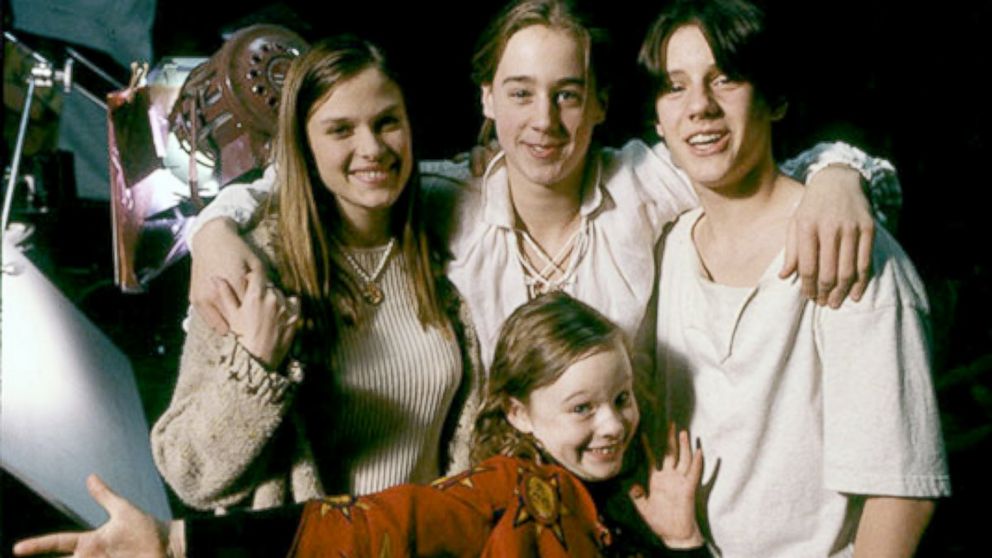 Time and thought is devoted to all of the major characters in Hocus Pocus, including but not limited to, Thackery Binx, Emily Binx, Max Dennison, Dani Dennison, Allison, Billy Butcherson, Winifred Sanderson, Mary Sanderson, and Sarah Sanderson.
Just as it is to many of the supporting characters (such as the Dennison parents, Jay and Ice, and even Max and Allison's teacher, Miss Olin), as well as various lead production staff on the film, including director Kenny Ortega.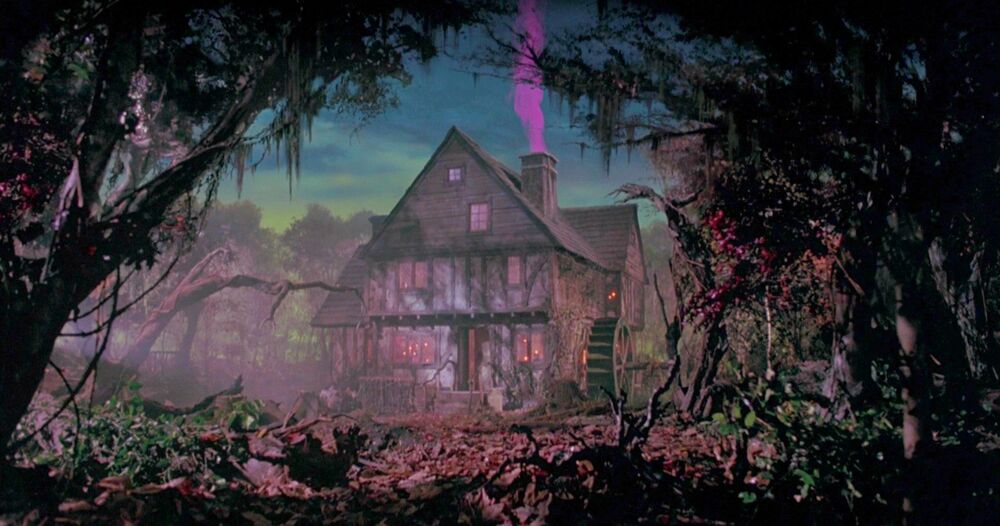 Some of the filming locations (including the stunning Sanderson Sister Cottage shown above), as well a set and prop construction, costuming, musical score, and special effects are also explored in an instantly captivating way that leaves you feeling as though your Disney adoring BFF has just let you in on the juiciest Hocus Pocus trivia around.
Because, dear readers, that is precisely what Aaron Wallace does in this slam dunk of a fan guide to Hocus Pocus.
How Hocus Pocus in Focus rates with me
Whereas the Sanderson Sisters had to wait three hundred years for a virgin to light the black flame candle, Hocus Pocus fans had to wait patiently for 23 years between when the film first hit theatres and the release of Hocus Pocus in Focus in 2016.
Let me tell you, this was a book worth waiting for.
Smart, charming, jam packed with trivia, insightfully perceptive, and just plain fun, Hocus Pocus in Focus does justice to the movie it centers on and is apt to leave you yearning – just as many Hocus Pocus fans have for a sequel to the movie – for even more of Aaron Wallace's take on this awesome Halloween flick.
I may have gone into reading the book with a fangirl's natural level of trepidation that Hocus Pocus in Focus might fail to do the movie justice, but by the end of the first chapter, any such concerns had crumbled faster than the Sanderson Sisters as the sun rose on November 1st.
Much like the movie at its heart, I adored Hocus Pocus in Focus.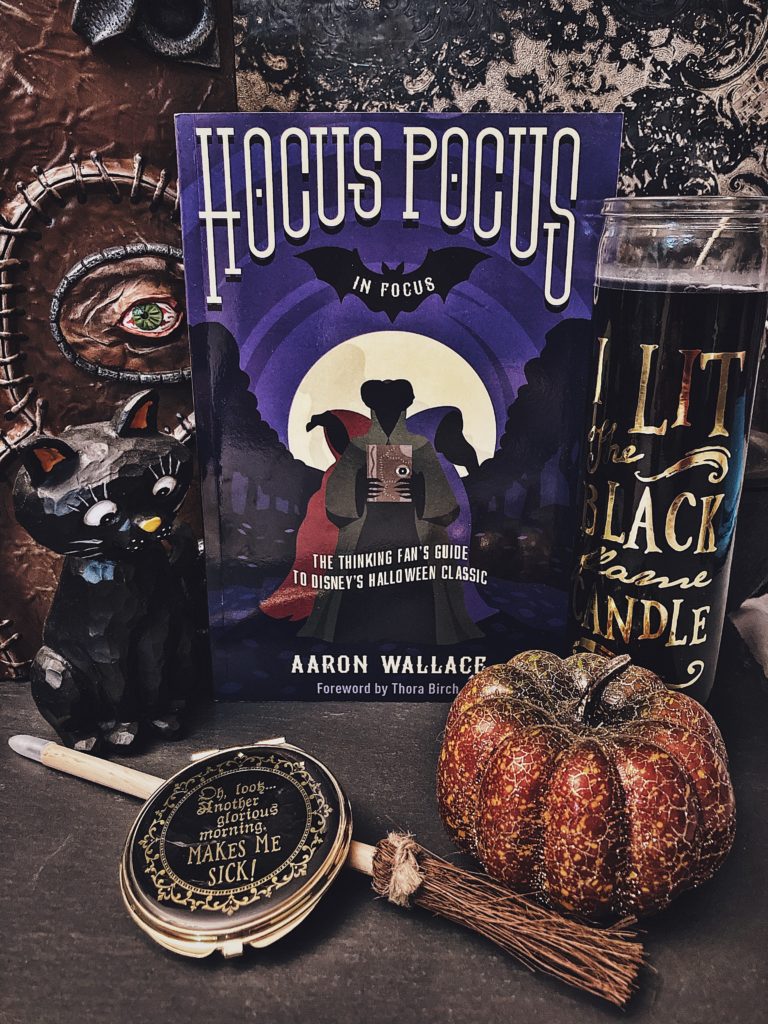 Wallace delves deep, presents smart and engaging commentary, celebrates both the plot and the players involved in bringing this incredible Disney cult classic to life, and clearly has an unending passion for Hocus Pocus.
Fittingly, Hocus Pocus in Focus casts a spell over its readers and is, in my humble opinion, a BooOOOoook! that most Hocus Pocus fans would be delighted to have residing on their shelves – or witchy cottage ceiling beams.
Working on a scale of 1 – 5, with five being the highest possible rating, I would give this book 5 stars out of 5.
★ ★ ★ ★ ★
Have you read Hocus Pocus in Focus? Are you a fellow fan of the bewitching Disney movie behind the book? 🧹🖤🕯️