Given that spring officially started this year on Sunday March 20th here in the Western Hemisphere, you might be wondering why a project for the second week of May would include the words "early spring colour palette" in its title.
Allow me to elaborate, dear readers. 😊
While spring might technically commence during the third week of March, in reality, the season rarely gets underway in any sort of serious way where we live until around mid-April to early May.
It is not uncommon for snow to linger on the ground and/or keep falling well into April around these Canadian parts.
So while plenty of corners of the world have been enjoying spring's return since February, March, or April, I often associate May with the full-on start of this energetic season.
Spring is usually comically short-lived in our corner of BC (much as it is in a lot of Canada). It is not uncommon for us to go from temps in the range of -25C to +35C in the span of just four to eight weeks.
This means that spring – in its idyllic, mild weathered, new bloom-filled sense – is often over before you can even slip your rain boots on. 😄
As layer upon layer of ice and snow gradually retreat, cocoa hued brown earth still damp and chilly from winter's receding deep freeze meets us beneath our feet.
Overhead, skies so blue it almost seems as if someone took a fluorescent highlighter to them cradle fluffy, cotton ball-esque clouds and the promise of a few brief months of warm weather before we are thrust back into the snowy season once again.
While winter houses plenty of enjoyable outdoor activities unto itself (skiing, sledding, snowman making, etc), it is in spring when a lot of us reconnect with our favourite activities that are enjoyed in nature.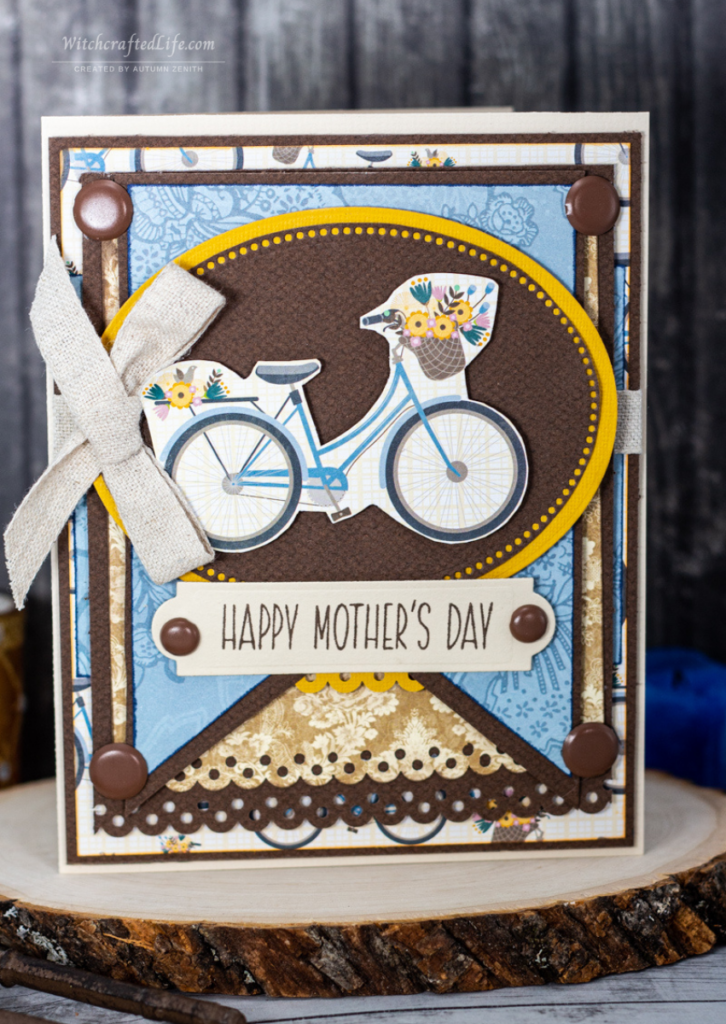 Last year my mom bought her first e-bike. Like many of us, she learned to ride a bike as a young child and while she has owned numerous bikes throughout her life, she'd not had one for a decent while now.
She immediately fell in love with her new set of wheels, quickly embarking on rides with both friends and with my husband, Tony (who is an avid cyclist himself) throughout the spring and early summer.
Save for the absurdly warm heatwave that struck much of British Columbia around the end of last June/start of July, it wasn't the temperature that put the breaks (pun mildly intended 😄) on cycling for many folks around these parts last year.
Instead, it was the genuinely dangerous air quality stemming from the plethora of brutal wildfires that swept through this province during 2021's toastiest months.
By the time the smoke had dissipated, the fires had burned out (or very nearly so), and the risk of evacuation was behind us once again, it was pretty much fall already.
Rides, as you might imagine, were quickly savoured by many a cyclist during that all-too-brief window between summer's end and the return of snow.
Now spring is back and that means my mom, Tony, and countless others who like to cycle can hop on their bikes – be they e-bike, traditional bikes, recumbent bikes, or any other form of bicycle – and take to the open roads and nature paths once again.
For Mother's Day (which transpires on Sunday May 8th this year here in Canada + US), I wanted to make a festive card that tapped not only into my mom's rekindled passion for bike riding, but also the earth and sky colour palette of springtime that is surrounding us at the moment.
Early Spring Colour Palette Bicycle Themed Mother's Day Card
By my layer + embellishment adoring standards, this card is neither chock-a-block with such things nor did it take very long to make (less than three hours – which for me personally, is very speedy on the paper crafting project front).
Much as with the elephant card that I made my mom for her birthday last year, it was not until I sat down to craft a cycling themed card that I realized how few bike related products are in my current stash. 😱
Surely, I would have guessed beforehand, I must have at least one stamp set that includes a bike. Nope, not as far as I could unearth that day, at least.
Okay, what about metal dies? Save for a small-sized penny-farthing die, again, nada.
Hmm, this is getting interesting, I thought. Will patterned paper come to the rescue?
As you can no doubt see from these project photos, that it did. Big yays all around! 🥳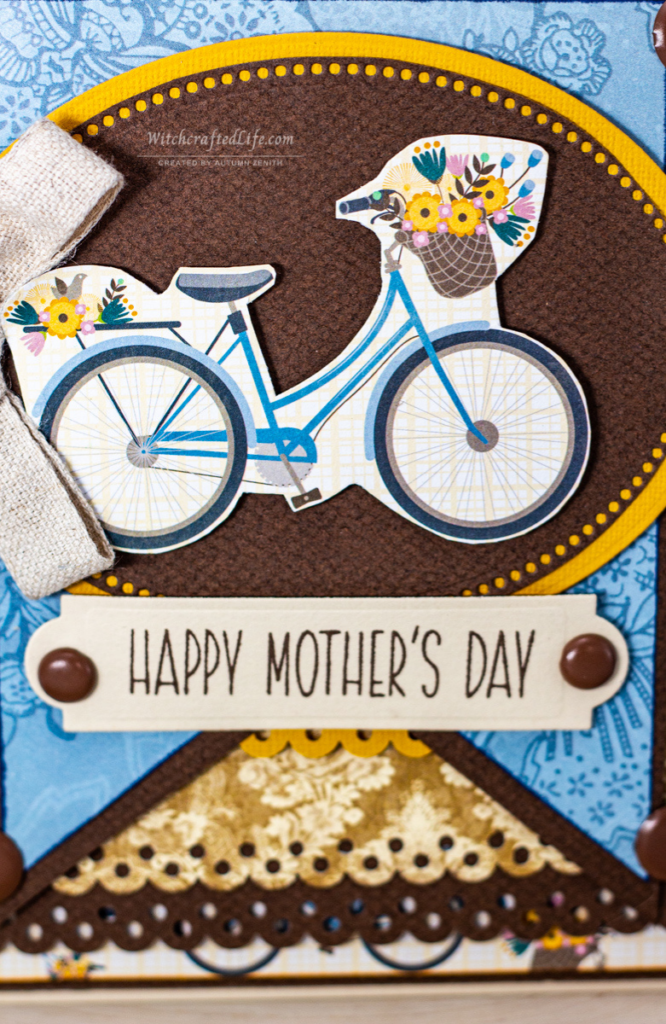 But even then, this was the only cycling themed paper I could find in my stash (and that includes going through any 6×6, 8×8, 12×12, etc paper pads that might possibly have included a biking related print or two).
Given that both Tony and my mom are keen cyclists, going forward I will definitely be keeping my eyes open for more bike riding related products.
The banner/bunting-shaped pieces here were simply cut from rectangles of brown cardstock and blue floral print paper, respectively.
To achieve the desired banner/bunting shape, flip your paper or cardstock over so that the backside is facing you. Take a ruler, align it with on bottom corner and at a 90 degree (or so) angle, make a straight line until you've reached the halfway mark of that piece of paper or cardstock.
Repeat the same thing from the other bottom corner, joining the two lines. You should now have the shape of a wide vee. Following the pencil lines you just marked, cut out that wide vee shape and, presto, your banner/bunting piece is good to go. 😃
If you wish to create two or more layers of bunting/banners that will be stacked on top of each other, repeat the same process using gradually smaller-sized rectangles to create your banners/bunting pieces.
According to the Teleflora blog, approximately 1/4th of all flowers sent annually on major holidays are purchased and delivered for Mother's Day.
That is no surprise, really, as flowers are often one of the first things many of us both associate with Mother's Day and which we are apt to give our moms come this special day that is held in their honour.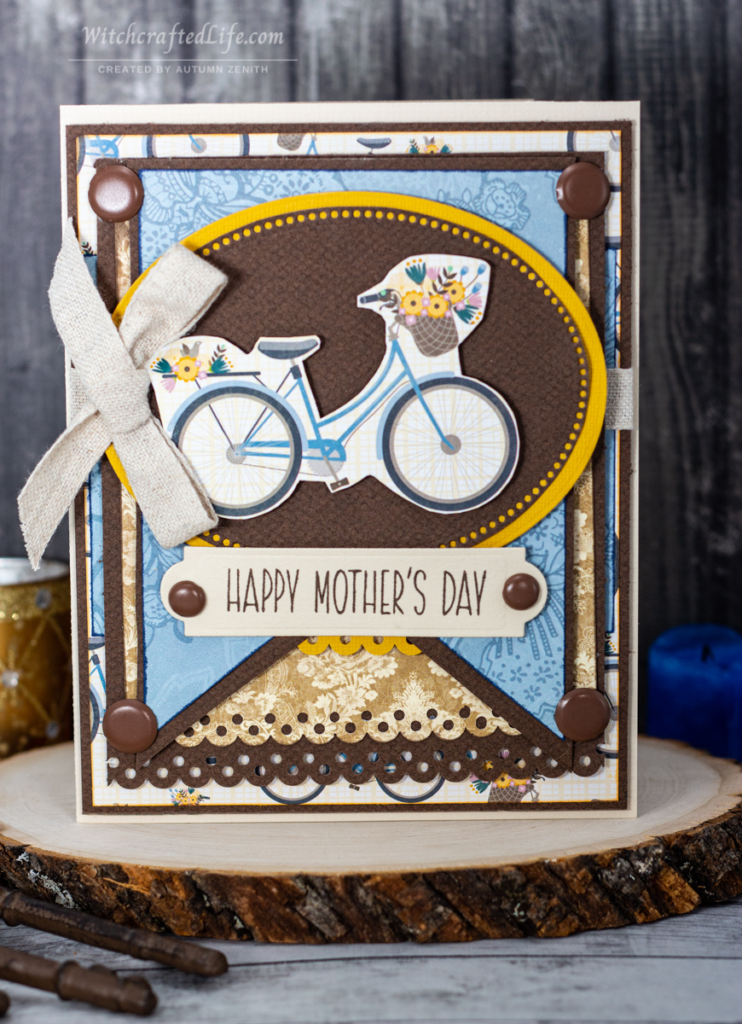 I was especially happy then that blooms appeared twice on the bike image that I fussy cut from a piece of Jillibean Soup bike patterned paper.
Not only do the flowers tap into that connection, but they speak to the eternal connection between spring/summer and blooms on this side of the globe.
Unlike real flowers, however, these beauties are not apt to fade anytime soon (which is another point in their favour).
I have always enjoyed working with brads in the context of my paper crafting projects but had not done so in a while. This prompted me to dive deep into my collection to see if I had any brown brads on hand.
Delightfully, the answer to the question was "yes", and these good-sized cocoa powder hued cuties from We R Memory Keepers fit the bill to a tee.
A strip of heathered cream twill ribbon, complete with a matching bow, provides further dimension and visual interest to this fun Mother's Day card.
Swap out the sentiment here and there is no shortage of other occasions that this same sort of card design would suit.
Birthdays, Easter, Father's Day, thinking of you, happy travels, graduation, missing you, retirement, congratulations, or just because cards would all be good fits, amongst others.
If you are vibing with this charming bike themed card and would like to create one of your own, read on for a complete list of products used plus detailed step-by-step project instructions. 💛
Products used to make this sweet and cute biking card
-Textured (or smooth) dark brown cardstock
-Textured (or smooth) mustard yellow cardstock
-Cream cardstock
-Blue-on-blue floral print paper
-Cream/flax and brown floral/damask print paper – Portrait of a Lady Collection Grace paper from Graphic 45
-Bicycle print paper – Spoonful of Soul Trust the Journey paper from Jillibean Soup
-Nested oval die set
-Tag/label die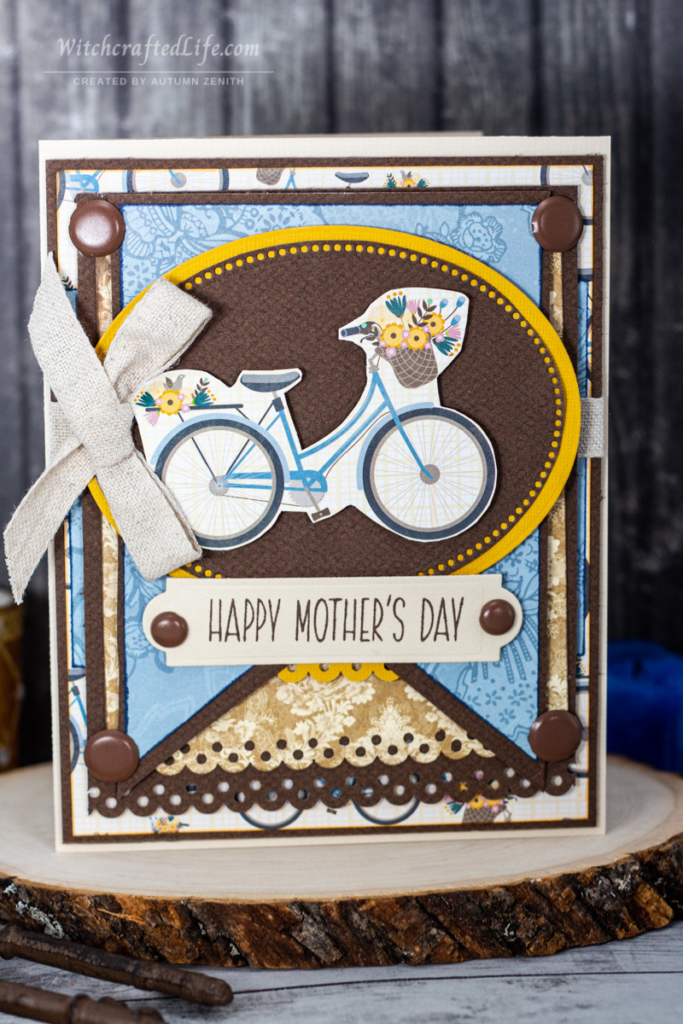 -Circle design border punch – Double Bubble border punch from Fiskars
-Mother's Day sentiment stamp
-Dark brown ink – Memento Dew Drop Ink in Rich Cocoa from Tsukineko
-Dark yellowy-orange ink – Memento Dew Drop Ink in Cantaloupe from Tsukineko
-Dark blue ink – Archival Cobalt Letter It Stamping Ink from Ranger
-Brown brads – Neutral Painted Brads from We R Memory Keepers
-Heathered beige coloured twill ribbon
-Dimensional foam, pop dots, or similar to elevate some of your layers
-Adhesive, such as a tape runner, of your choice (I often use my Scotch Tape Glider)
How to make a wonderfully fun bicycle themed Mother's Day card
Begin by making a card base from textured (or smooth) cream coloured cardstock. If working with smooth cardstock, you could also run it through an embossing folder with an understated design for some added texture as well (such as small dots, hearts, lines, leaves, flowers, or stars, for example).
Cut a piece of dark brown textured (or smooth) cardstock a touch smaller than your card base. Adhere.
Cut a piece of Jillibean Soup bicycle print paper slightly smaller than the dark brown cardstock layer. Ink all four sides (edges) of this piece of paper with Memento Dew Drop Cantaloupe Ink. Adhere to the dark brown cardstock layer.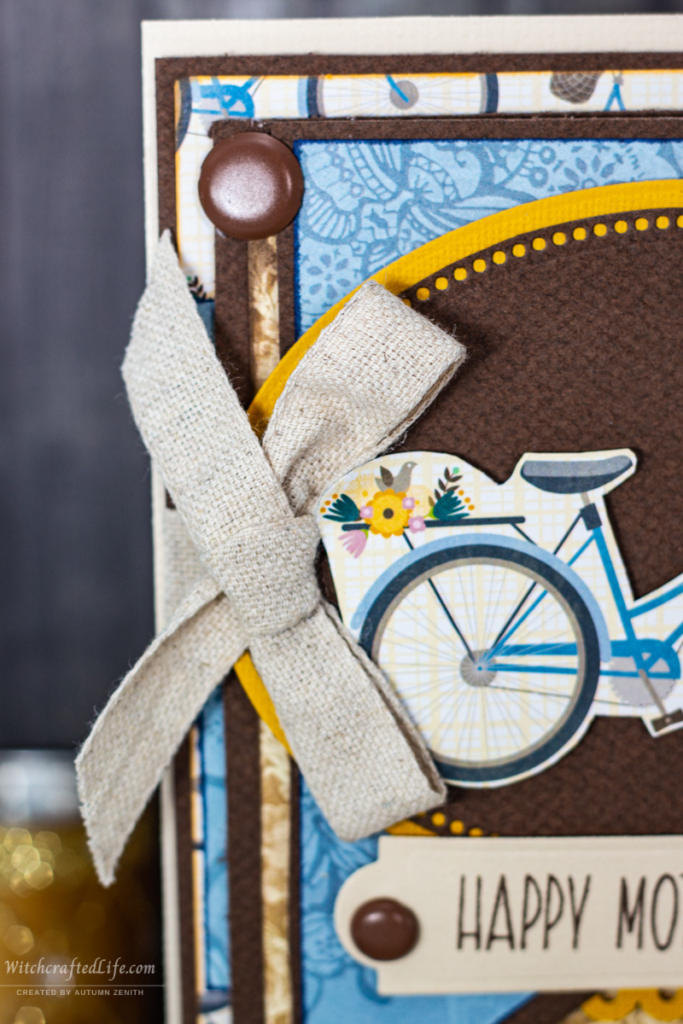 Take the blue-on-blue floral print paper and cut a rectangle a little over 1/3rd the width of your card base. Ink all four sides (edges) with Ranger Archival Cobalt Letter It Stamping Ink.
Adhere this piece of blue paper horizontally in the middle of the card layers that you have assembled thus far.
Cut a rectangle of dark brown textured (or smooth) cardstock slightly smaller than the piece of Jillibean Soup bicycle print paper.
Use the Fiskars Double Bubble border punch on the bottom edge of that piece of cardstock. Adhere piece to previous layers.
Cut a piece of cream/flax and brown coloured Graphic 45 paper slightly smaller than the previous (brown cardstock) layer. Use the same Fiskars border punch on the bottom of this piece of paper as well. Adhere this layer to the previous brown cardstock layer.
Next, insert brown We R Memory Keepers brads through the top and bottom corners of these two layers, as shown. Adhere this stack of two layers to the previous card base layers.
Cut a rectangle of dark brown cardstock and a slightly smaller rectangle of blue-on-blue floral print paper. Turn the bottom of each piece into a banner/bunting shape using the method described in the section immediately above these instructions.
Ink the piece of blue floral print paper on all sides/edges with dark blue Ranger ink.
Adhere floral print paper on the dark brown cardstock. Then, take a small piece of mustard yellow cardstock, use the Double Bubble border punch along its bottom edge and adhere this piece of cardstock in the uppermost portion of the "vee" shape of your banner/bunting layers.
Adhere these banner/bunting layers to the previous card layers.
Run a piece of heathered cream twill ribbon/trim across the middle of the card, tucking its ends beneath the first dark brown cardstock layer of this card's design.
Create a bow from the same twill ribbon/trim and attach it on the lefthand side of the middle of the card, as shown.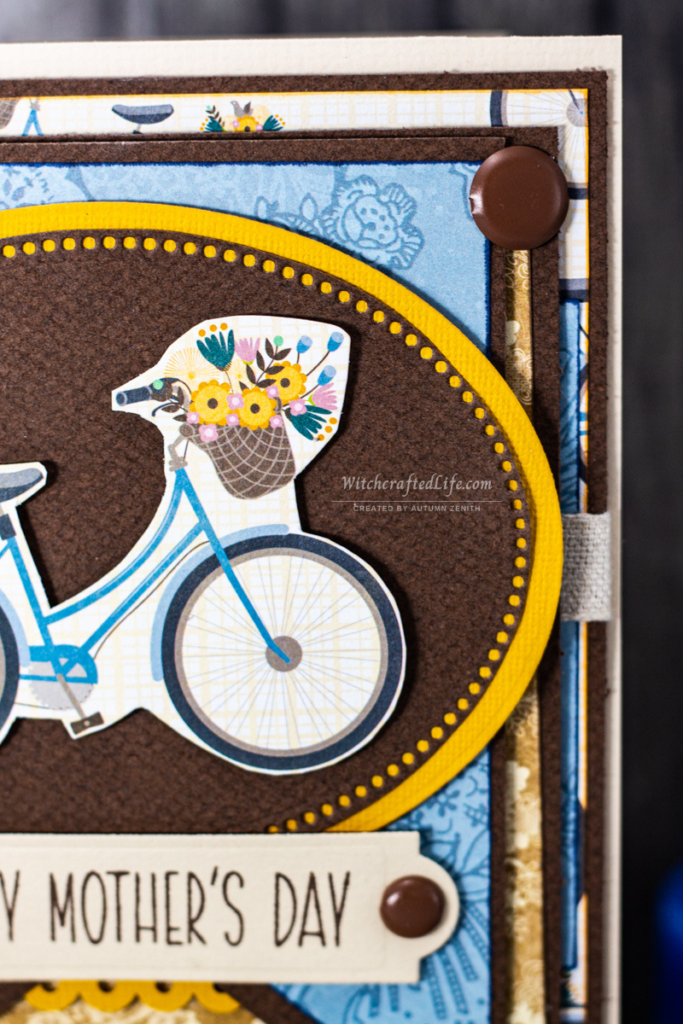 Die cut an oval from mustard yellow cardstock. Adhere to previous card base layers.
Die cut an oval from dark brown cardstock and adhere it to the mustard yellow oval piece.
From the same Jillibean Soup bicycle print paper that we've already used, fussy cut a single bike and adhere it to the brown cardstock oval.
Die cut a label/tag shape from cream cardstock. Stamp the Happy Mother's Day sentiment in the middle of it with dark brown ink. Attach a slightly smaller sized (if you have two different sizes on hand, if not another two of the same size that you already used is A-okay as well) brown brad to each end of the label/tag.
Lastly, adhere the label/tag so that it overlaps slightly with the centre bottom portion of the oval pieces.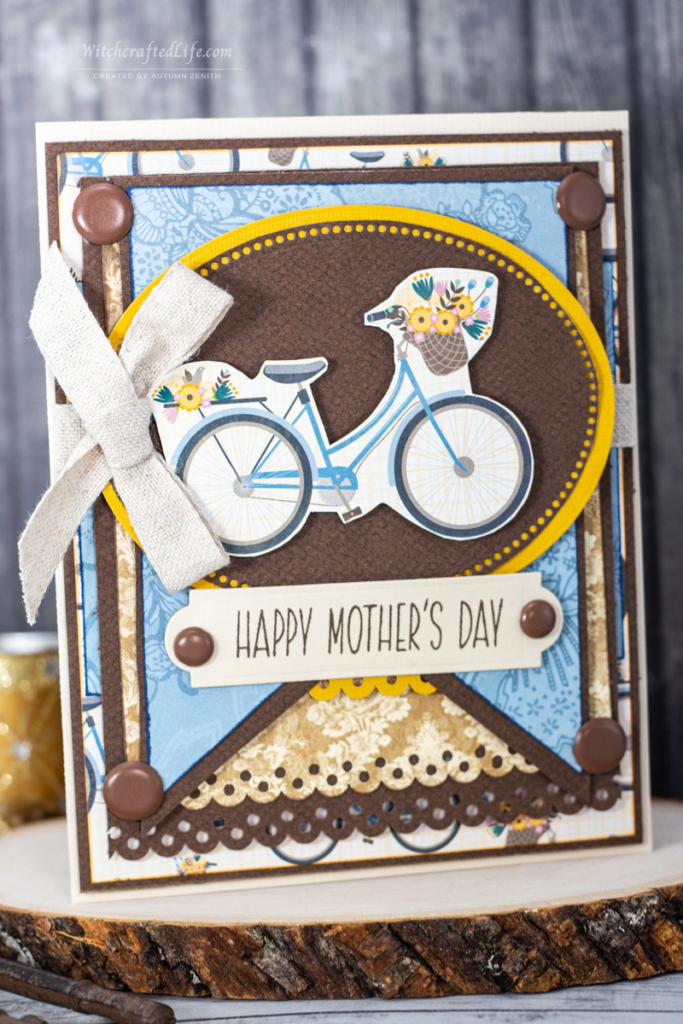 That's all there is to this splendidly sweet card that is perfect for biking fans, lovers of spring, nature enthusiasts and plenty of others as well.
Given its relative simplicity and the speed that it takes to make this card, it would be a good design if you needed to make multiples for an occasion or event (including invitations).
Let's ride!
As much as I wish I could, riding has been beyond the scope of my health for about twenty years now.
One recent summer, thinking maybe, just maybe, I could bear the immense pain + symptom flare-ups that cycling causes some of my chronic illnesses, I purchased a bike and rode it a couple of times.
Sadly, that was all it took for me to realize that no amount of hoping and gritting my teeth through the discomfort was going to make that possible in the long run. So, with tears in my eyes and heart alike, the bike was swiftly returned to the shop from which it was bought.
Thus, while actually jumping on a bike and hitting the open road is not feasible for me, thankfully, I can still delight in cycling vicariously through Tony, my mom, and other relatives who are avid bikers.
Plus, I can enjoy the ride in spirit via fun paper crafting projects like this, watching cyclists zip through our region of the province (including as part of the annual Ironman Triathlon that is held each summer about two hours south of where we currently live), and care of the tales about their rides that loved ones regale me with throughout the sunny season.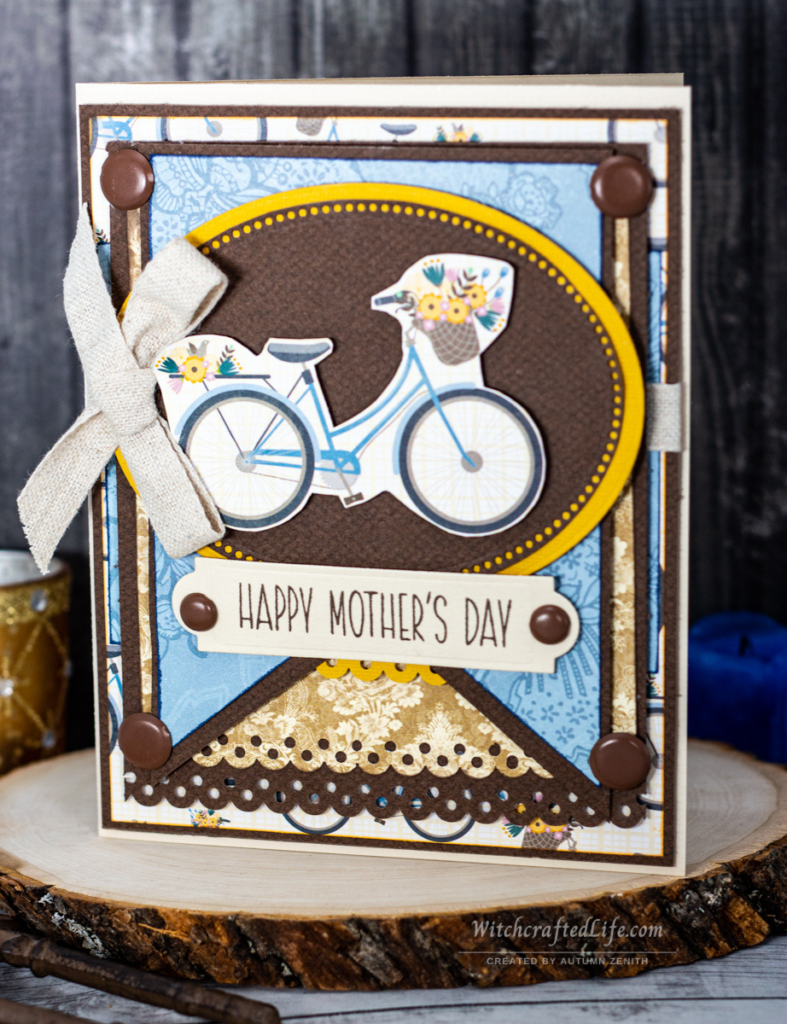 Whether you are a keen cyclist, have (as I do) fond memories of riding earlier in your life, or just enjoy images of bikes, I encourage you to take to your stash and whip up a biking related project or two this year.
They suit spring and summer marvellously and can be an awesome way to make meaningful projects that tap into the interest of friends, relatives, colleges, neighbours, teachers – your name it!
Are you a bike rider yourself? Do you enjoy making cycling themed craft projects as well? 💙🚲🤎
PS: To all those moms, stepmoms, grandmothers, and others of all genders who take on the role of being a mama, may you have a radiantly beautiful and abundantly happy Mother's Day tomorrow. 💐