Last week's blog post – 100 Rare and Beautiful Words from Around the World That are Perfect for Witches and Pagans – was both one of my favourites that I have ever penned (for this or any site I've run) and one of the most time-consuming. 😄
While I didn't track the time involved to the minute, I'd estimate that no less than 70 hours went into sourcing + verifying the accuracy of the words, creating the more than 100 different graphics involved, and writing the post itself.
I adored every minute and hope to put together a second edition one day. However, as I worked for long hours across several consecutive days on that post, it did leave me a touch drained energy and productivity wise.
I contemplated taking a brief "spring break" sort of breather from blogging this week to recharge my batteries, yet ultimately decided against it.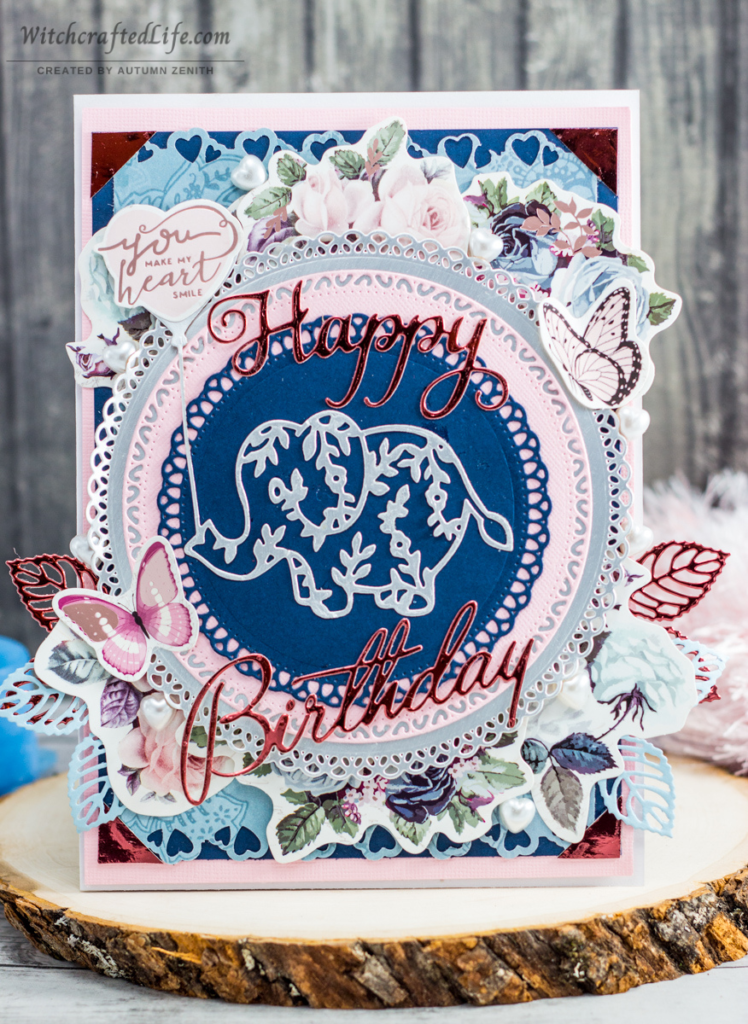 My energy was bouncing back and, moreover, I wanted to share my most recent paper crafting make here with all of you. 😃
You Make My Heart Smile Elephant Themed Birthday Card
Spring officially begins in the Western Hemisphere on, or around, the 20th of March. And while I readily and happily embrace the Spring Equinox/Ostara, for the whole of my life, a second event has also marked the changing of the seasonal guards in my books: my mom's birthday.
Beginning life under the sign of Aries, my mother's special day has always held a very meaningful place in my heart (after all, if she hadn't been born, neither myself nor my siblings would be here either).
I cherish my mom. We're blessed to have a very close bond and love each other dearly.
Not being able to visit and see one another whenever we please (we live about an hour's drive apart) during the pandemic has been tremendously difficult. Just, of course, as being unable to do the same with their own families has been for countless others around the world, too.
This year was the second birthday running that I was not able to celebrate in person with my mom, so I wanted to make sure the card that I sent her way was extra special (just like her!).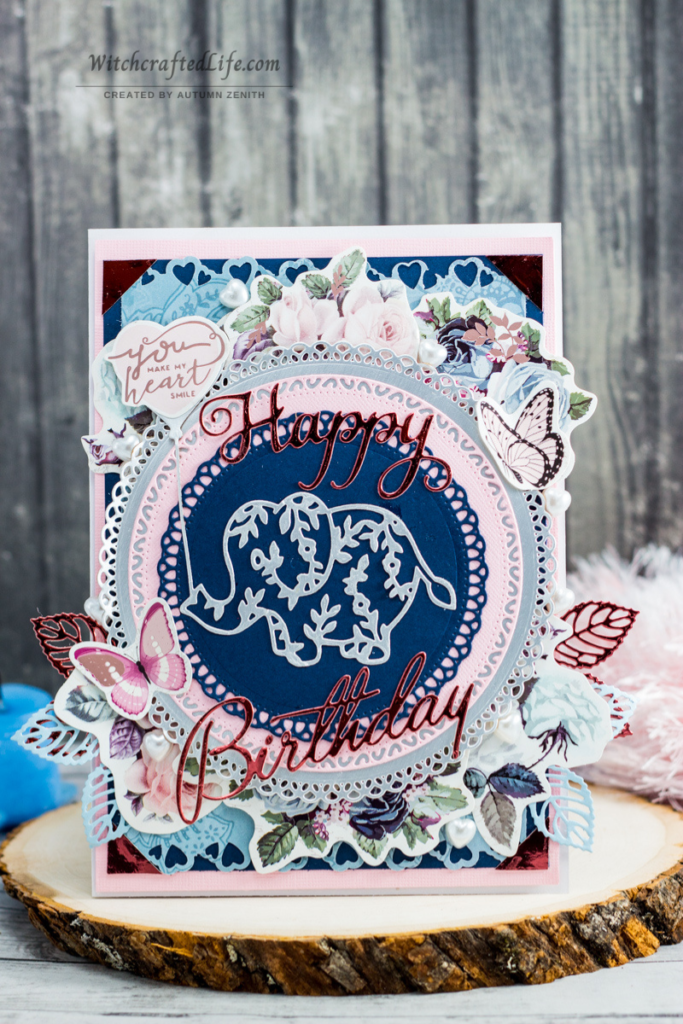 My mom has numerous interests and enjoys a wide range of things, however she is not one of those folks that you automatically associate with a certain hobby, passion, sport, or so forth.
Save for a small array of beautiful angel figurines, she doesn't really collect much, so there too, you didn't think of my mom and have "x, y, or z" type of collection instantly spring to mind.
Without any of these things in place, it can sometimes be a bit tricky to come up a birthday card that I feel is highly tailored to my mom herself.
Luckily though, I'm not without a few helpful jumping off points. 😃
For example, my mom loves the colour purple, adores flowers, and her favourite animal is the elephant.
I am also a big fan of elephants. However, as I discovered recently, I currently have next to no elephant-themed products in my post-fire paper crafting stash. 😱
Surely, I figured, there'd be a stamp set or pack of stickers to the rescue. Nope, no dice. What about ephemera or patterned paper? Again, it was crickets all around.
Hope was not lost though, as I did have one charming elephant themed die in my collection. Phew!!!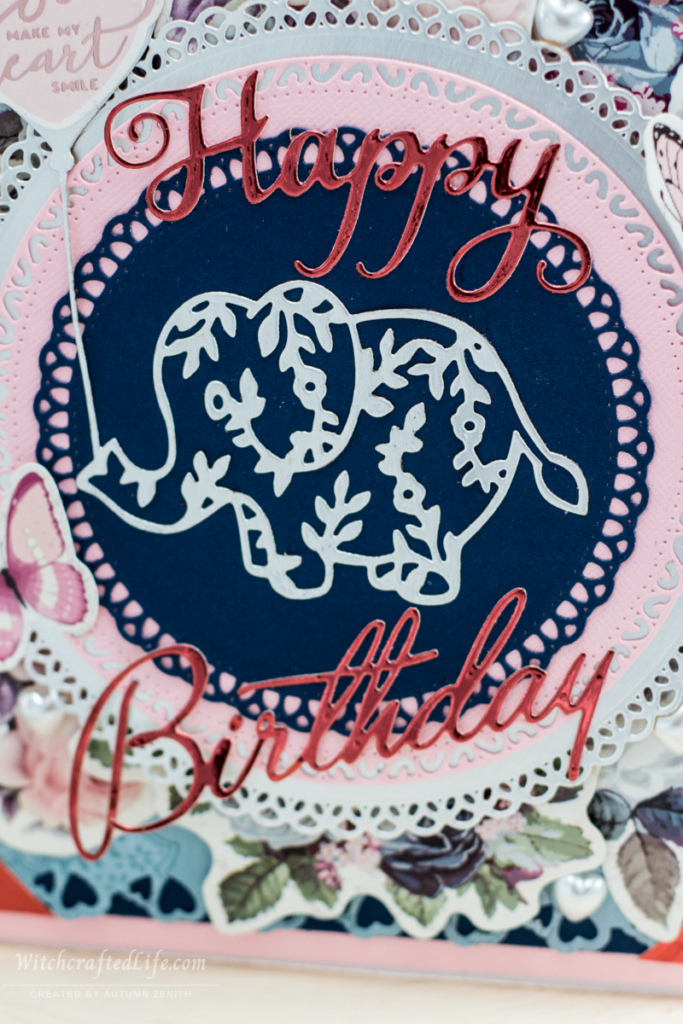 And not only an elephant die, but one in which the sweet pachyderm pictured is composed from flowers, leaves, and vines.
Now we're talking! 😃
I went into this card with a rather different end result in mind. I had initially thought that I would made a shaker card and even created a shaker component for it.
However, as more layers and elements began to be added, I really wasn't digging the overall design and decided to save that shaker element for a different project.
Holding fast to the cute little elephant, I pretty much started from square one again, and am considerably happier with how the final result turned out.
Not only does this card feature an elephant, but there's plenty of blooms and hearts (to convey love and to reinforce the "You Make My Heart Smile" sentiment), along with touches of purple as well. Not to mention a balloon, which works perfectly for a birthday card.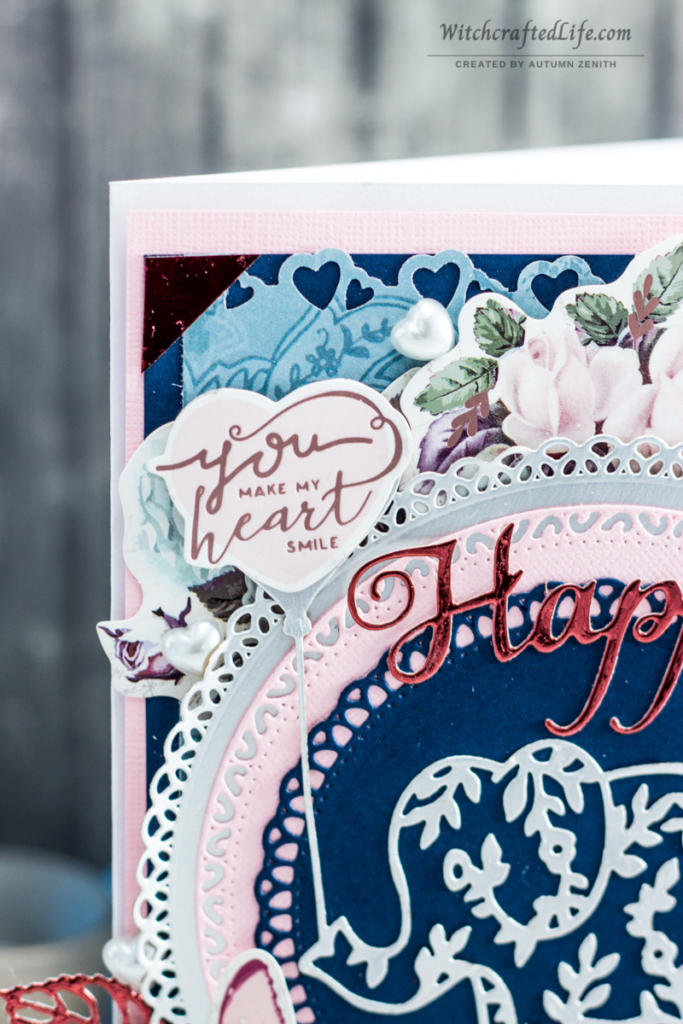 I haven't made too many elephant themed projects over the years. Given how much my mom adores this beautiful animal and how fun a subject matter they make, I'll definitely be looking to grow the number of elephant products in my craft room.
I am happy to report that my mom loved this card and that while her b-day wasn't observed as it would have been had the pandemic not still be going strong, she was able to have an enjoyable day all the same. 🎂
Products used to make this cute, shabby chic elephant birthday card
-White cardstock (pale grey would work fabulously here, too)
-Navy or midnight blue cardstock
-Light blue cardstock
-Pink cardstock
-Pinky-red metallic cardstock – Opera Red Mirror Card from Tonic Studios
-Silver metallic cardstock
-Nested circle die set with at least three different sizes of circle dies
-Blue tone-on-tone floral print paper
-Elephant floral filigree die – Ali Express (bought 2 – 3 years ago; still available, at the time of writing, from various sellers, such as this one)
-Happy birthday word dies (or letter dies, stickers, stamps, etc to spell the same sentiment)
-Filigree (or other style of) leaf die
-Flower, butterfly, and "You Make My Heart Smile" sentiment die cuts – Poetic Rose Ephemera from Prima
-Small pearlescent white plastic heart embellishments
-Heart design border punch – Hearts border punch from Fiskars
-Either an adhesive with a very fine, precise tip or double sided sheets of adhesive used to use on the elephant and word die cuts (not having any of the latter, I employed a light-handed amount of Ranger Glossy Accents in the mini squeeze bottle size to adhere these components)
-Dimensional foam, pop dots, or similar to elevate some of your layers
-Adhesive, such as a tape runner, of your choice (I often use my Scotch Tape Glider)
How to make a beautiful elephant birthday card
Begin by making a card base from white cardstock. Next, cut a piece of pink cardstock slightly smaller than your card base and adhere it to your base.
Cut a piece of blue tone-on-tone floral print paper a little smaller than the pink cardstock. Use the Fiskars Hearts border punch on the top and bottom of this piece of paper. Adhere the blue floral print paper to the pink card base.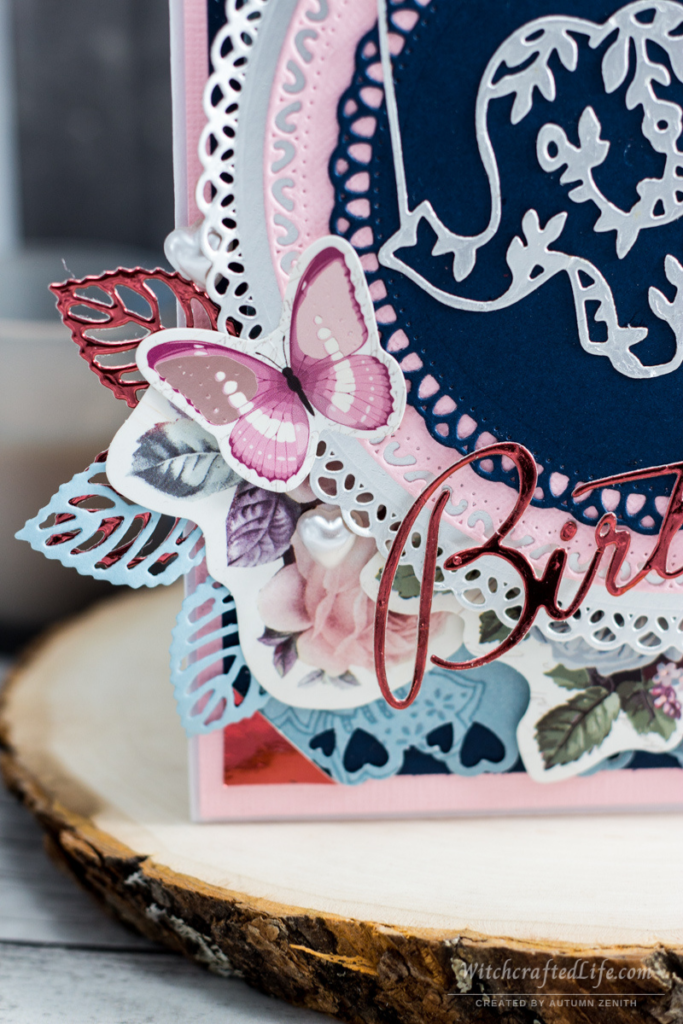 Using a ruler and scissors (or small suitable punch or die, if you have one) cut four equal sized mini photo corner shapes from Opera Red Mirror Cardstock. Adhere one corner piece to each corner of the blue patterned paper.
Next, die cut three different sizes of nestled circles, one each from silver, pink, and navy blue cardstock. Layer and adhere the three circles to one another, then adhere this "stack" to your card base.
Die cut the filigree elephant from silver metallic cardstock. Adhere it to the centre (or thereabouts) of the navy blue circle. Repeat process with the words "happy birthday", using Opera Red Mirror Cardstock.
Die cut two pairs of filigree leaves from light blue cardstock and two pairs from Opera Red Mirror Cardstock.
Arrange Prima Poetic Rose ephemera flower die cuts, along with the die cut leaves you created, around the top and bottom of the largest nested circle die cut, as shown.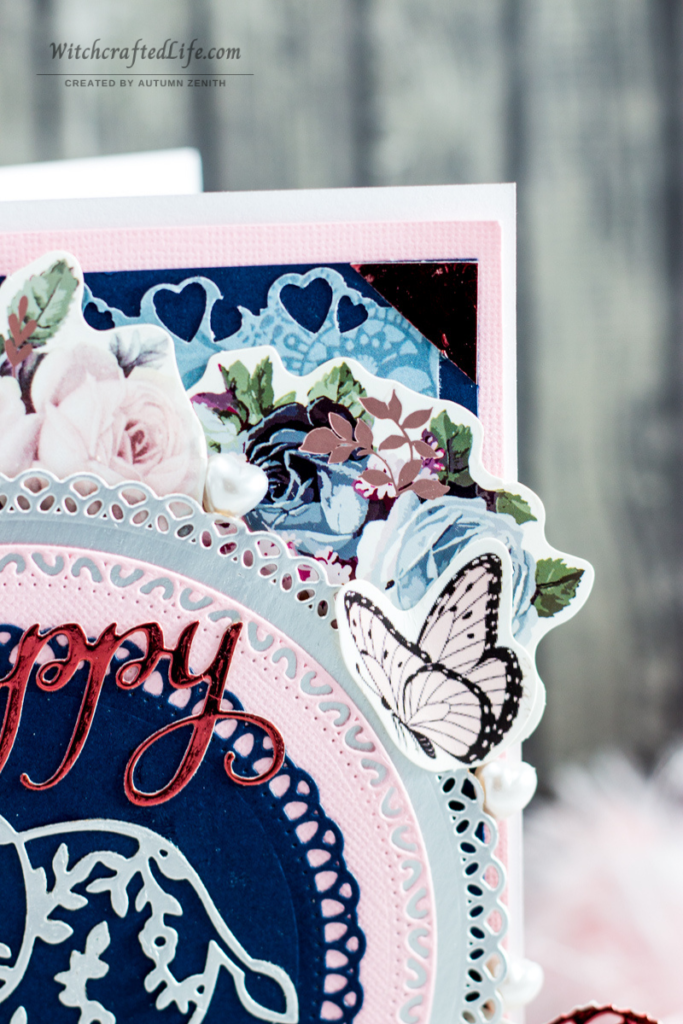 When you're happy with the placement of the leaves and flowers, adhere them down, then place a few small white heart shaped embellishments throughout the leaves and blooms.
This elephant die cut includes a heart shape balloon component, top that heart shape with the "You Make My Heart Smile" sentiment from the Prima Poetic Rose ephemera pack.
Lastly, arrange two butterflies from the same Poetic Rose ephemera pack on the largest-sized nested circle die cut. You may wish (as I did here) to gently fold the wings of the butterflies upward to give them a greater sense of dimension.
And voila! Your adorable handmade elephant birthday card is complete. 🥰
Cards take on even more importance when you are not there in person
I have touched on this subject here and there across various posts in the last thirteen months and counting, but I feel that it deserves revisiting now that we are squarely into year two of the Covid-19 pandemic.
The longer this pandemic carries on, the more important it becomes to find ways to safely connect with our loved ones.
Thankfully, many of us are fortunate to have access to things like emails, text messages, DMs, Zoom meetups, and good, old-fashioned phone calls.
Each of these can enable us to stay in touch with those we cherish, and it's safe to say they've been godsends for a lot of people during these highly challenging times.
Yet, with safe in-person face-to-face interactions still being rare (or impossible) for a lot of us, the act of sending and receiving a physical item – be it a letter, card, gift, or all the above – takes on even greater meaning.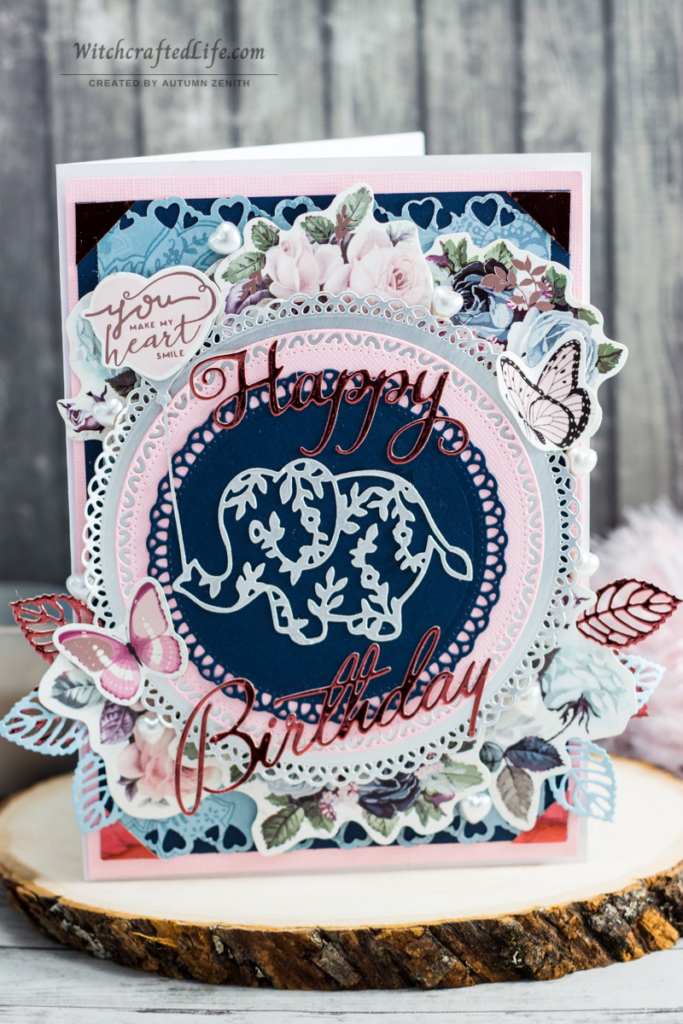 It is a small part of ourselves that we have selected, or created, with a specific person in mind, sent with love and care, and which can travel from our home to theirs.
If you have the ability to make (or purchase) and send cards to your loved ones, I highly encourage you to do so.
You need to not wait until a major event such as a birthday, Mother's Day, or Christmas rolls around.
"Thinking of you", "miss you", and "just because" cards can be every much as meaningful and special as those for big events.
Perhaps, it could be argued, even more so in some ways, as they're often wonderful surprises that (unlike special occasions) we didn't see coming.
If you can tailor your card to your recipient, all the better. But doing so isn't necessary. Had, for example, a deer, bird, fox, or dolphin appeared on this card, I doubt my mom would have enjoyed or appreciated it any less.
In card making and giving, it is the thought behind the card that often matter more than the actual subject matter depicted.
Sending or giving a card shows not only that you care, but that – in what must surely be an act approved by elephants everywhere – you have not (and likely could not possibly have) forgotten about that person. 🐘💌💗
PS: Fun birthday related fact: today marks exactly three months until mine returns. 🥳