Although my husband and I do not have children of the human variety, we delight in our role as proud pet parents.
Presently, we have the joy of being so to our sweet dog, Annie. (Who you may recall from my scrapbook page project share Only Love Let's Us See or from my various Instagram posts about her over the years.)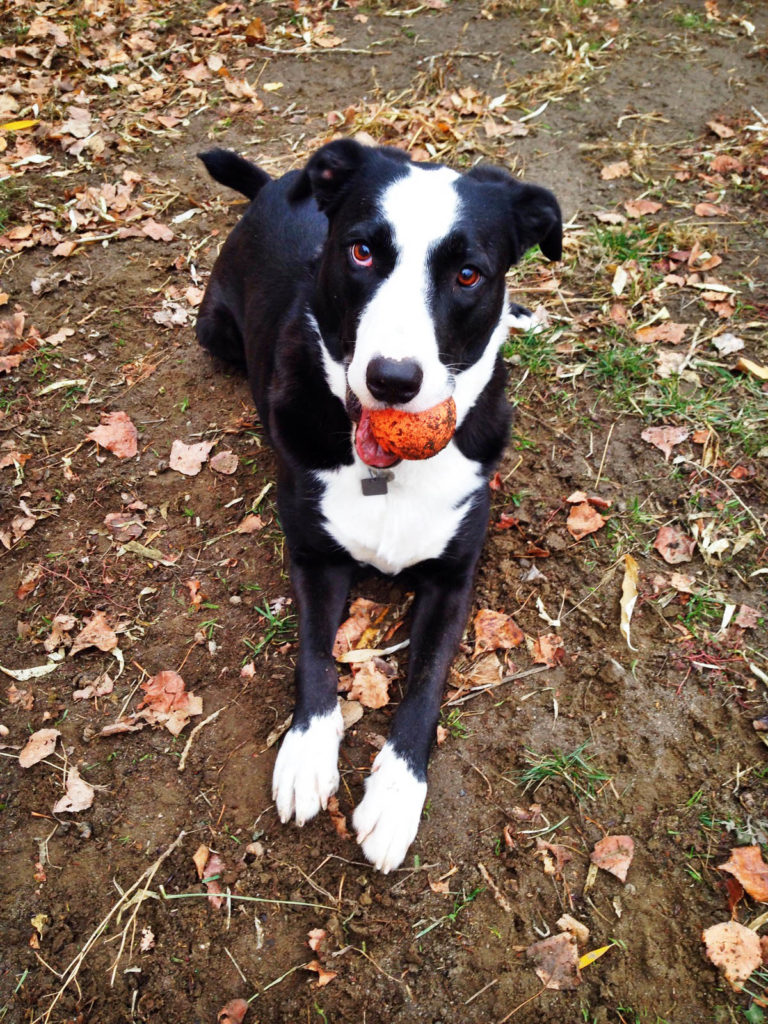 After a string of places that either did not allow pets at all or permitted cats, but not dogs, we were elated when the home we moved to in February 2012 (the house that would, tragically, be lost about 4.5 years later in the devastating arson fire that we experienced) was dog friendly.
Both lifelong dog lovers, Tony and I were eager to add a canine companion to our lives and began keeping an eye out for a precious pup that would fit the bill.
Jump ahead to March of the following year. Tony spied a listing from someone a few hours south of us selling puppies that really resonated with him. Or, I should say, with both of us.
Though the timing wasn't the best (I was mere weeks away from a fairly substantial surgery and its ensuing post-op recovery), we had a feeling that we'd found our dog, so decided to take a leap of faith, drive down to the city where she was located, and see this cuter-than-cute pup in person.
She was the last of her litter – all of which were incredibly cute – by the time we arrived.
Aside from clearly being harassed a bit by an adult chihuahua that lived in the same house, she was in fine spirits, looked (and was) wonderfully healthy, and melted our hearts faster than one could say "we'll take her".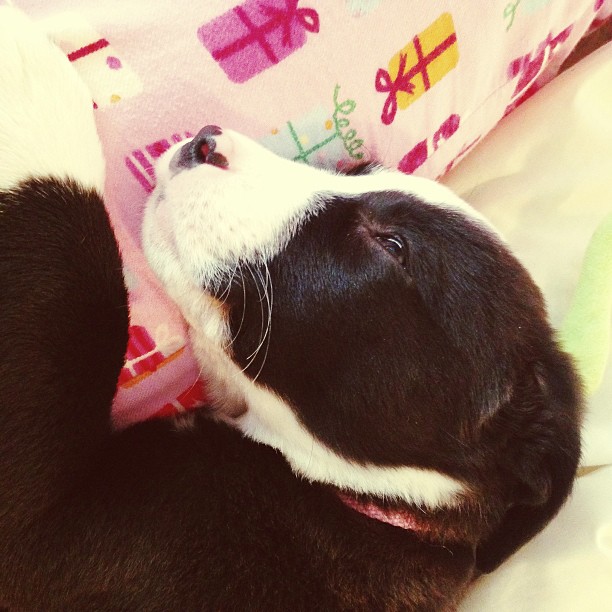 Driving back home that very same day, our sweet pup snuggled in my arms throughout the ever-darkening night as Tony and I conversed for a good while on what to name our new bundle of furry joy.
Many possibilities were raised, stemming from ones based on her colours (black and white) to the city that she hailed from (Delta).
Ultimately though, it was the date itself that steered our final choice.
Tony and I celebrate both our wedding anniversary (in October) and the anniversary of the day that we first met back in 2004.
To differentiate between the two, we affectionately refer to the day we met as our "loveiversary".
As we picked up Annie on the day before our loveiversary and had already decided that she would be our gift to each other that year for our special day, I proposed the name "Annie" – as in "anniversary".
We both felt the name click and settled on it immediately.
Officially, her full first name is Annabelle (a subtle Poe reference, albeit with different spelling, that I adore) and we do call her that sometimes, but more often than not, she's Annie.
Or Miss Annie. Or Puppers. Or Snoop (because her colouring reminds us of the classic Peanuts character, Snoopy). Or any one of a zillion other nicknames she's had (and continues to have) over the years. 🥰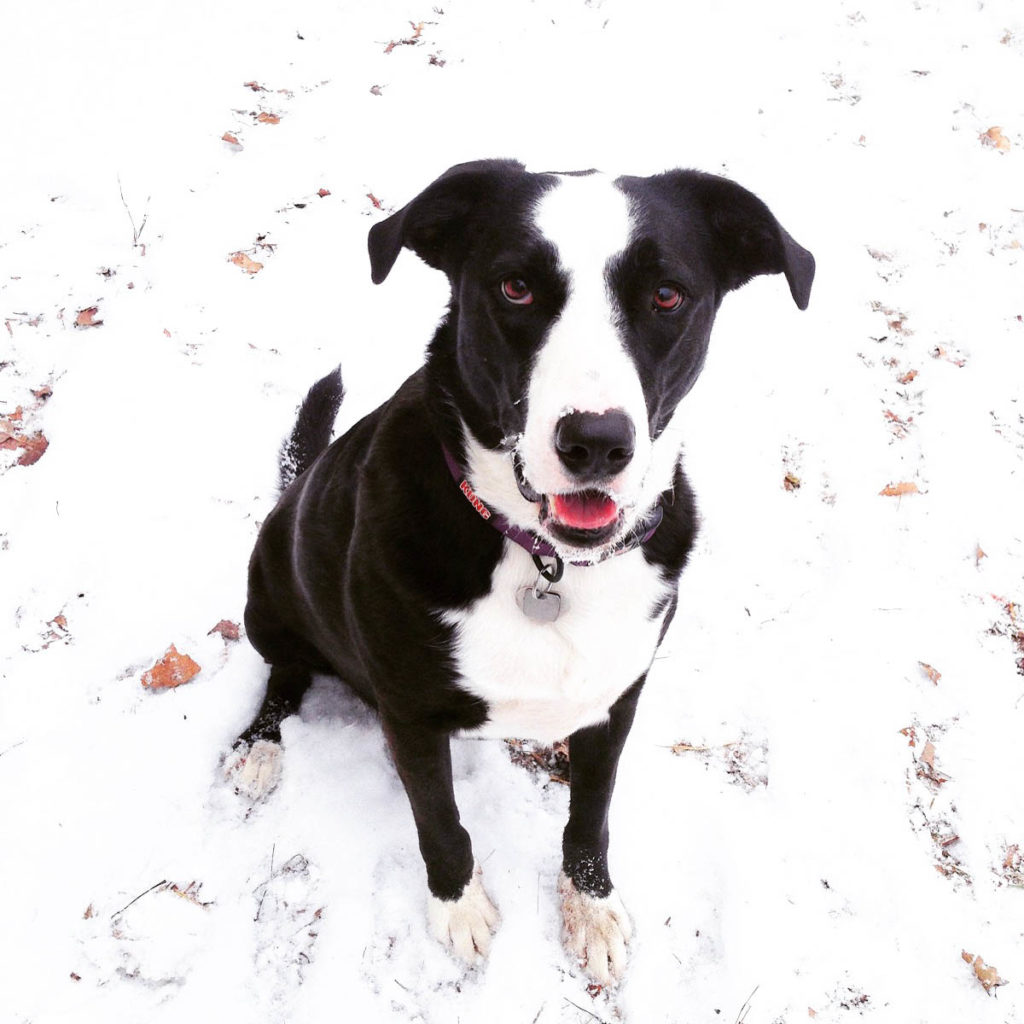 Annie was the first dog that either of us had owned as adults and it is safe to say that her early years were an eye-opening learning experience for all involved. 😄
She was a major chewer for the first 1 – 2 years of her life, which wasn't the easier thing ever to handle, but thankfully, between our training and her simply maturing in due course, Annie outgrew those tendencies (save for things like plush toys and throw pillows, which we still have to keep an eye on her around).
It was immediately obvious to us that Annie was as smart as a whip. She learned most of the commands we taught her very quickly, soon settled into the routine of our daily life, and knocked our socks off from the get-go both with her energy levels and her incredibly sweet, caring heart.
These days, our beloved Miss Annie is likely heading towards – to borrow a term from my Pagan path – her crone years.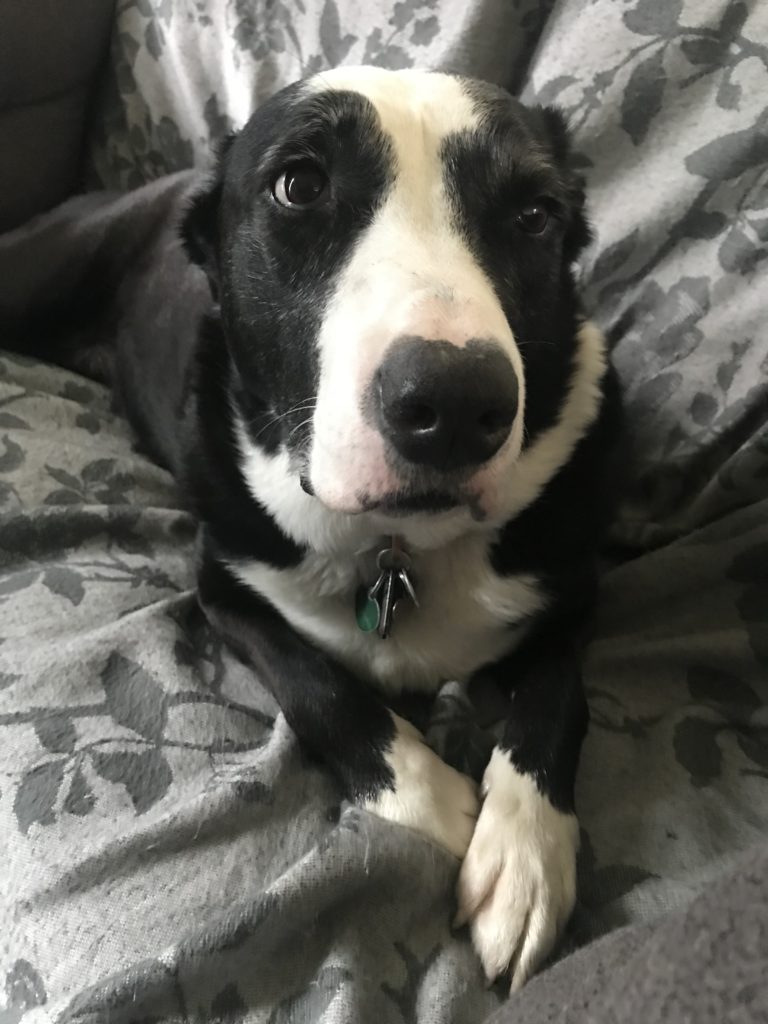 As I type these words, she is just shy of 9.5 years old. Thankfully and joyfully, she still has the energy and stamina of a dog several years her junior and shows little sign of slowing down anytime soon.
While not a hard and fast tradition, some years, when possible, Tony and I love to give Mother' Day and Father's Day cards and/or gifts to give to each other as a way of thanking one another for the great job (humbly) that we both do of taking care of Annie.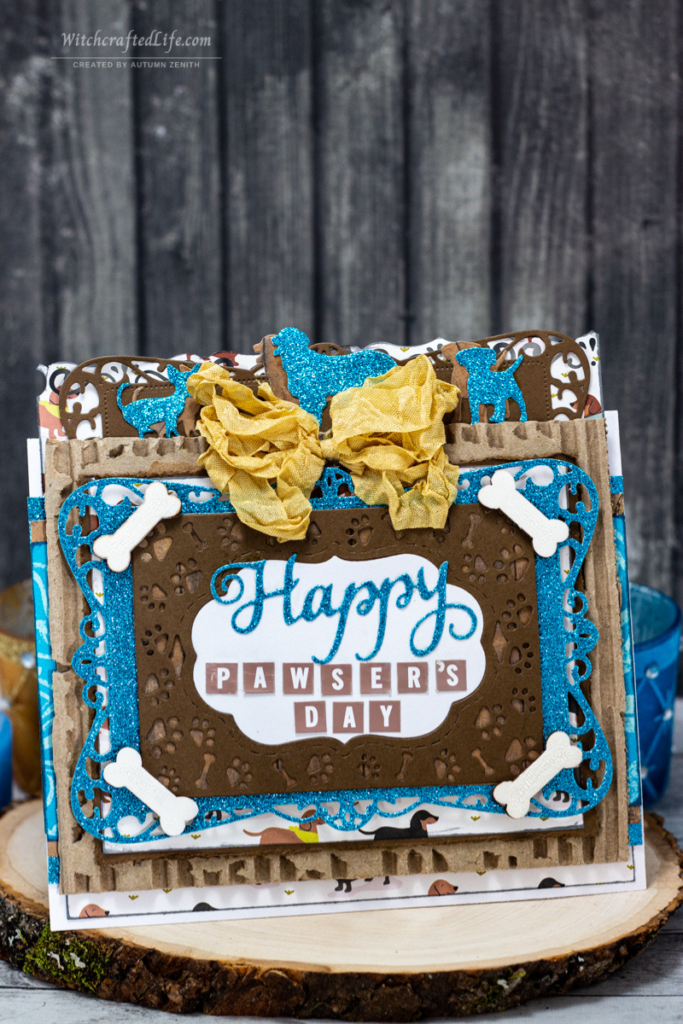 The card featured in this post is the one that Tony will be receiving today. It is a shabby chic design rendered in a masculine colour palette of blues, browns, white, and muted gold.
But before we delve further into the specifics of this charmingly fun handmade Father's Day's card, allow me to share more about Annie with all of you.
Ten fast facts about our dog, Annie 🐶
1. While many people confuse her, understandably, with being a Border Collie due to her size and colouring, she is in fact half Labrador Retriever and half American Bulldog. This mix is, adorably, called a "Bullador".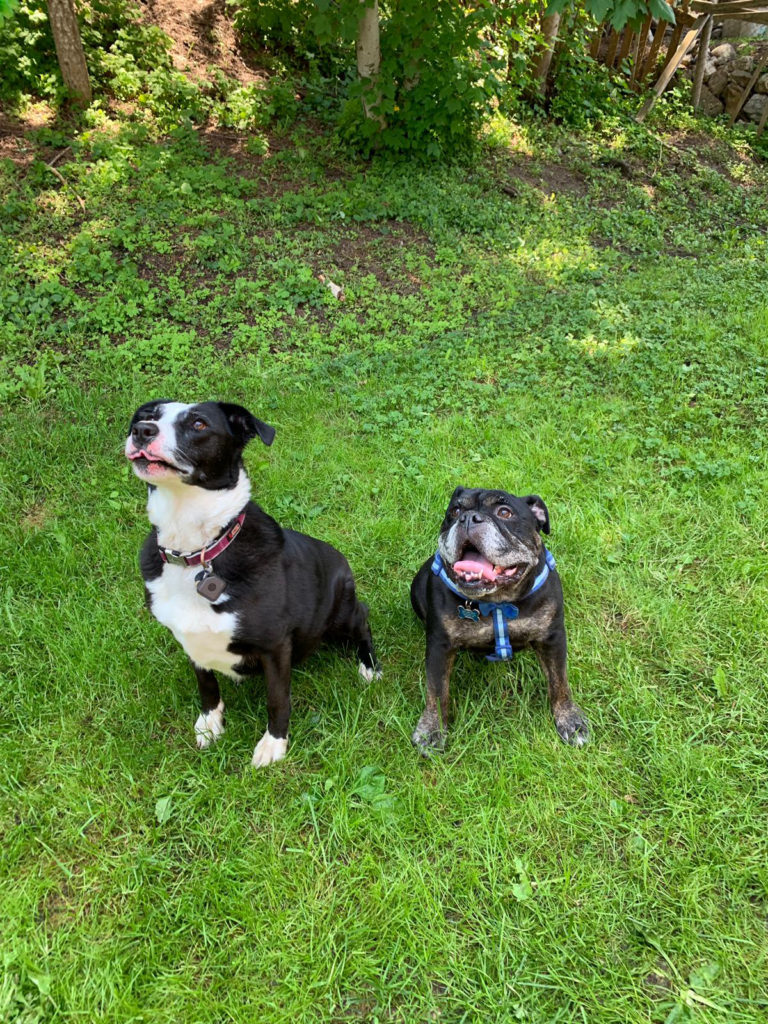 2. She is a very high-energy animal and, like many of her canine peers, delights in playing fetch, going for long walks, hiking, and playing at the dog park.
Speaking of which, as a true extrovert of an animal if there was one, Annie usually has zero trouble getting along swimmingly with other dogs and often assumes the role of (temporary) pack leader, if one is not already firmly established in a given setting.
3. Her BFF is our neighbour's Shepherd mix, Nova, who they rescued as a puppy in 2019. Nova really looks up to Annie and clearly worships the ground she walks on (which is the cutest thing to witness). The two have been inseparable mix since the first time they met and enjoy multiple playdates in our backyard every month.
4. As is relatively common amongst dogs, especially medium and large-sized breeds (Annie's height and weight classify her as being a medium-large dog), unfortunately, Annie developed cranial cruciate ligament (CCL) issues in both of her back legs that required major surgeries to help repair.
The first leg was impacted in the winter of 2017 – 2018 and surgery was swiftly performed. The second back leg showed the same telltale signs in the winter of 2018 – 2019 and again, the same surgery was rapidly undertaken.
Both procedures required extensive recovery periods during which her activity levels had to be severely restricted so that the injured limb could heal.
Thankfully, in both cases, with a few months of taking things super easy and providing at-home physiotherapy to her, Annie made a full recovery. You'd never know to see her these days that she has the canine equivalent of two hip or knee replacements.
5. Annie is very sensitive to other peoples' moods, states of mind, and physical well-being, and will immediately spot if someone is down or feeling unwell. At which point, she all but velcros herself to them and does her best to lift their spirits.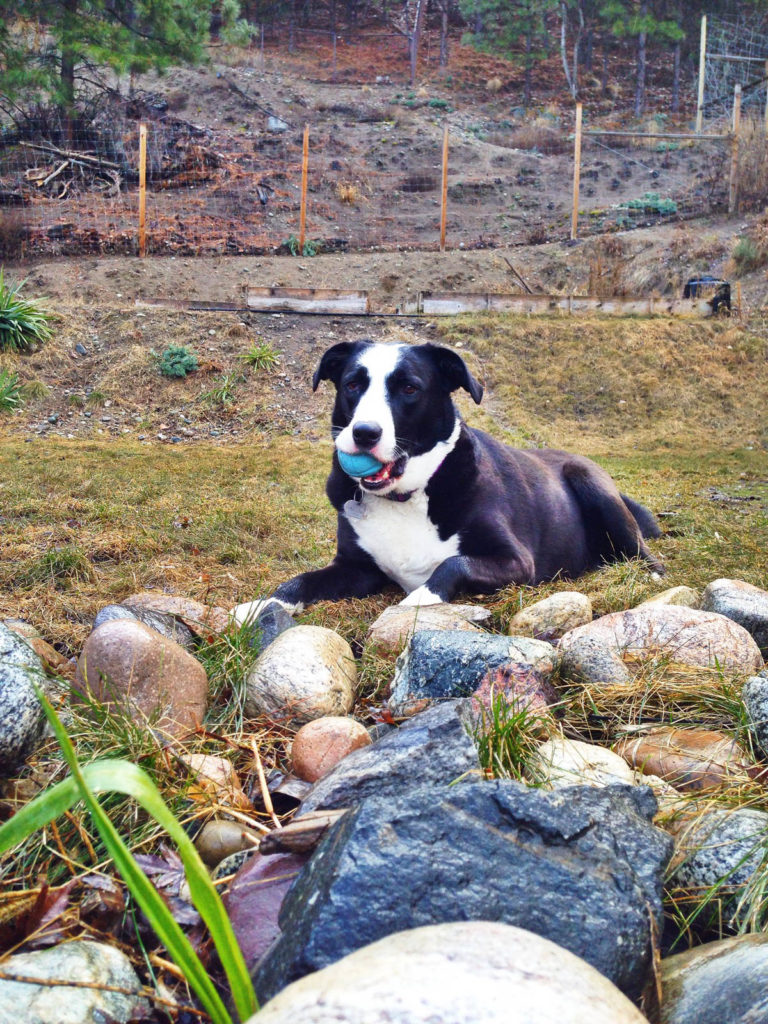 6. She has an incredibly powerful bite. So much so that, while not intending to destroy them in seven seconds flat, Annie does inadvertently wreck most types of toys that she's received over the years (even those from numerous brands that bill themselves as being nearly indestructible). Exceptions to this include some Kong and Chuckit products.
7. While experts say that highly intelligent dogs can learn up to 250 words, we are genuinely convinced that Annie may understand somewhere in the range of 300 – 500+ English words.
If this is true, we credit it in part to her extremely high IQ and also to the fact that both Tony and I have worked primarily from home her whole life, so she's been around us (and other sources of audible language, such as music, video calls, and Netflix) for a huge percentage of her waking hours.
8. Annie is an excellent guard dog who alerts us the second anything that she deems a potential threat (local deer and ravens included 😂) comes to her attention.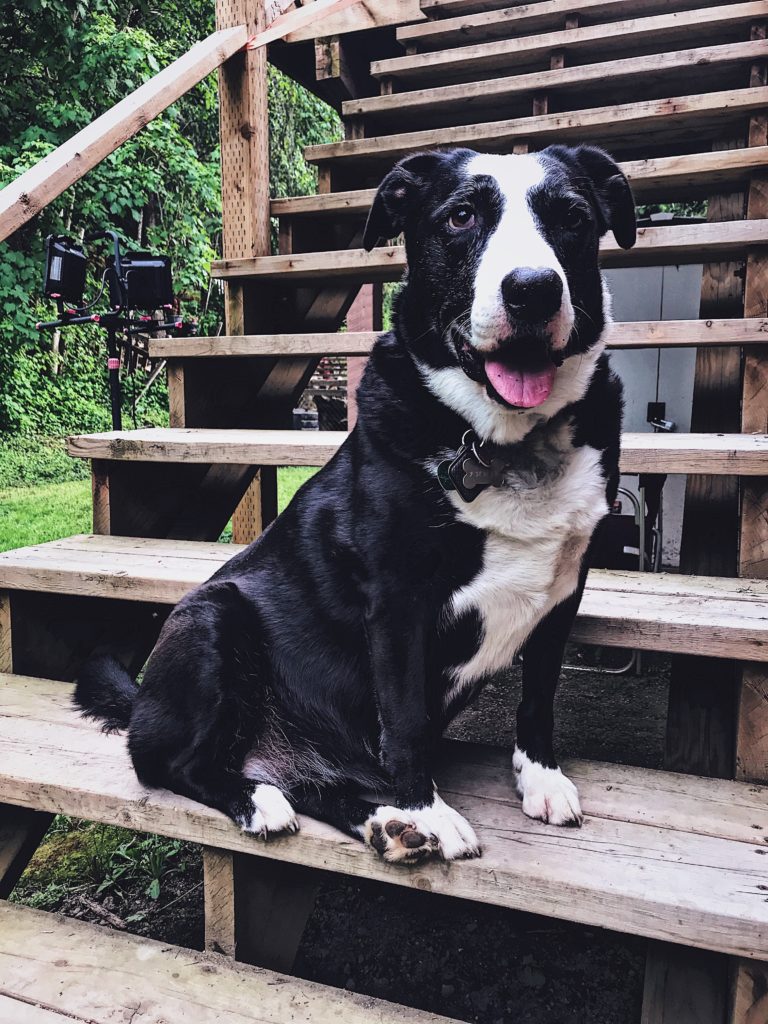 9. By the same token though, unless it was to protect one of us against a serious threat or to defend herself in a true dog fight, Annie wouldn't harm a fly. She gets on awesomely with other dogs, cats, and humans of all ages (and she adores kids to no end; happily, most of the ones she encounters love her back in return).
10. Annie's favourite foods are salmon, peanut butter, eggs, any type of beef, cucumber, and watermelon (seedless, of course, for safety's sake). Plus, naturally, bones, bones and more bones. 🦴🦴🦴
She eats a diet comprised of high-quality store-bought and homemade meals in which we try to include plenty of her favourites throughout the year.
(Interestingly, while she'll gleefully eat them, Annie doesn't do well gastrointestinally speaking with chicken and turkey. Of the two, she handles turkey better, but knowing this, we severely restrict her consumption of either.)
Masculine shabby chic happy Pawser's Day card
And now, a fun fact about me…
I absolutely adore puns and other clever forms of wordplay. It is borderline ridiculous how much I enjoy these things and like many a paper crafter, I delight in weaving puns and wordplay of various types into some of my handmade projects.
(If puns are your cup of tea as well, I highly recommend the excellent book, The Pun Also Rises by John Pollak.)
I did not invent the term "Pawser's Day", but as I had not yet created a project featuring it, doing so for Tony's ninth's Father's Day as a "puprent" felt like a spot of wordplay that was long overdue.
Creating cards for my sweet hubby is all the more pleasurable because he enjoys a wide range of styles, colours, themes and so forth.
This gives me a great deal of much appreciated creative freedom and means that the elements that comprise my signature paper crafting style are still able to come out and play when I make a project for Tony.
Naturally, though I stay mindful of what colours and other elements are apt to tickle his fancy in particular and like to weave our mutual tastes together in the crafts I whip up for him.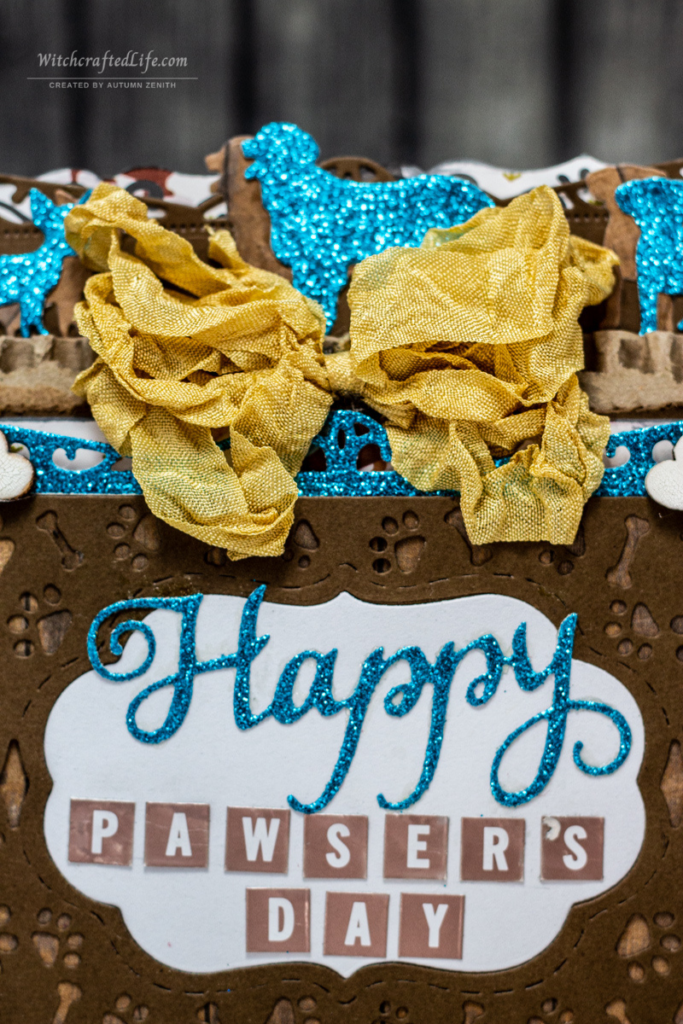 The colours for this Happy Pawser's Day card were inspired by the returning summer weather and the earth beneath our feet at dog parks, nature trails, and our own backyard alike.
The blue and white represent the sky and clouds, the shades of brown are dirt (something most dog owners are intimately acquainted with 😂), and the muted gold symbolizes the glowing sunshine of June.
A fun doggo print paper enters the fold as well. It sports a similar colour palette and does not distract from the other elements at play here.
In an ode to Annie's unceasing passion for bones, a quartet of them appear in the form of die cut shapes that I painted with Tim Holtz Picket Fence Crackle Paint.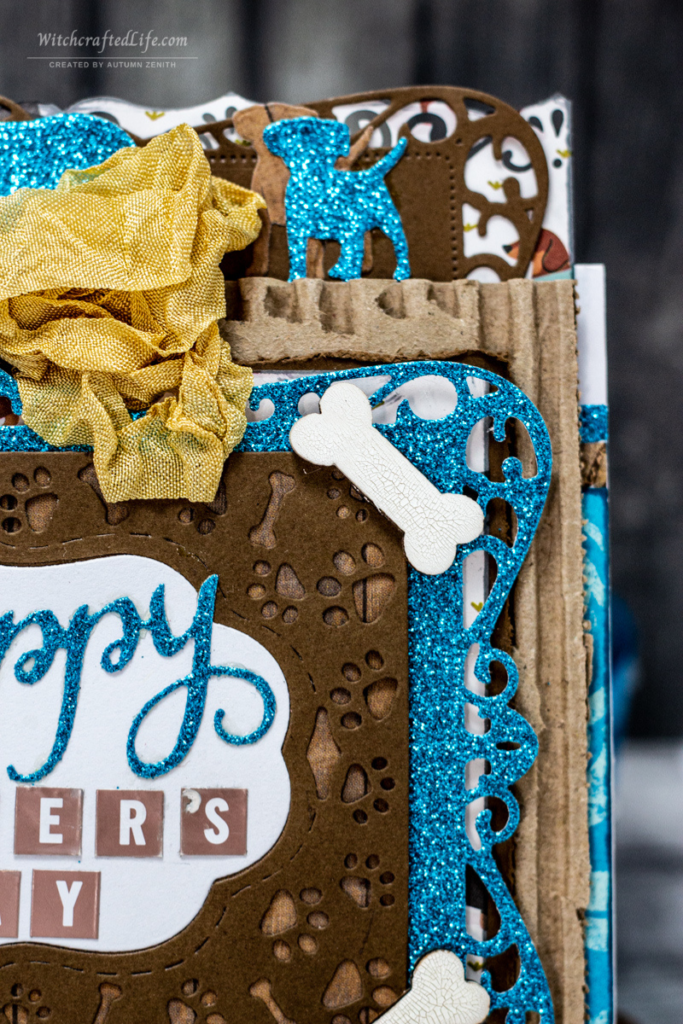 Pre-fire, I owned most of Tim's paints, these days, I just have a couple so far. Thankfully, it is hard to find a more versatile colour of paint than white, so it's easy to alter Picket Fence's hue, if needed, once it is dry.
You can do so with various mediums including inks, alcohol markers, dye markers, Wink of Stella markers, watercolour paints, and glitter glues such as Stickles and Nuvo Glitter Drops.
Keep in mind though, that the thicker and/or darker the medium you top white crackle paint with, the less the crackle effect may show through.
I left the paint in its natural state here, as white was my intended colour for the cute little die cut dog bones.
Adding cardboard is a great way to up the masculine look of a project, so I included a distressed piece of it as a lovely, rugged counterpoint to the abundance of teal glitter cardstock.
While I don't have a cutting die that is a dead ringer for Annie, I had a fun trio of dog silhouette dies in my stash and used all three at the top of this Father's Day card.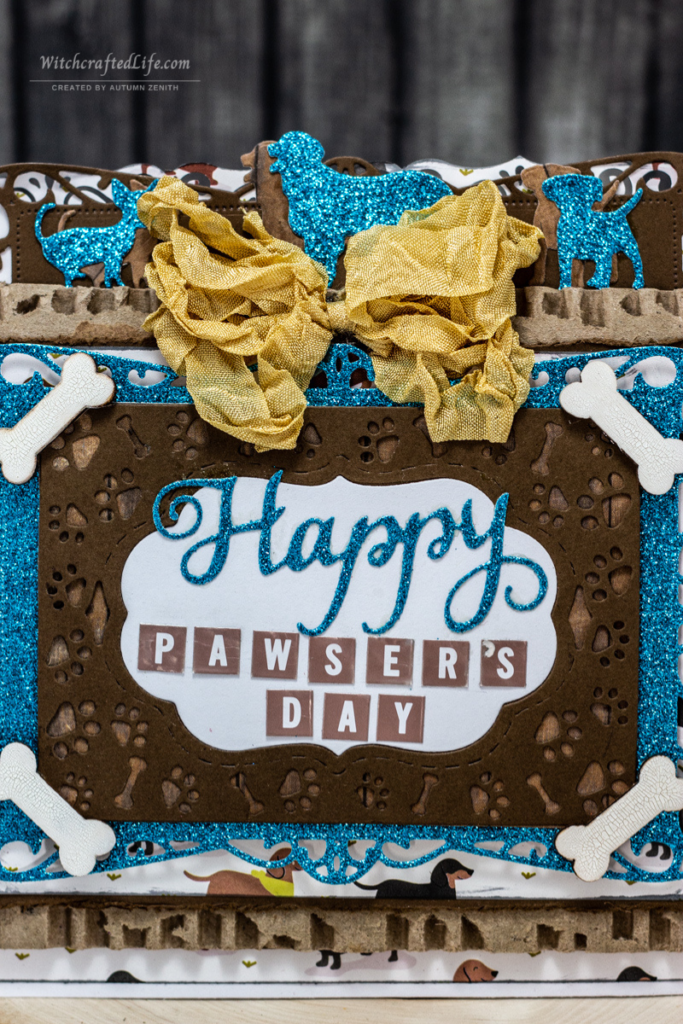 The center dog, while perhaps somewhat more Golden Retriever looking, does resemble Annie a bit and the wee pup on the righthand side definitely reminds me of Annie when she was a youngster.
As I didn't have a die or stamp with the word "Pawser's Day", I turned to a tried-and-true trick of mine for occasions when I don't have a premade product featuring a specific word or sentiment and simply spelled out what I wanted to say with mini letter stickers.
To create the tiny comma between the "r" and the "s" in Pawser's Day, I simply hand drew one myself using a white gel pen.
This card was oodles of fun to make. I really hope that Tony gives it two big thumbs up. Just as I like to think it would get two approving paws up from Annie, if she could weigh in with her vote. 😊
Should you be looking to replicate or take inspiration from this card yourself, read on for a full list of materials used and detailed step-by-step instructions for creating your own Happy Pawser's Day card.
(Naturally, you can swap out the sentiment and utilize this design for a wide range of other occasions, too. Birthdays, anniversaries, retirement, thinking of you, congrats on your new pet, Mother's Day, and both spring and summertime in general would all be great fits for this doggo themed card.)
Products used to make an adorable dog themed Father's Day card
-White and dark brown cardstock
-Teal blue glitter cardstock – Glitter Silk Premium Cardstock from Darice
-Natural/kraft colour cardboard (this piece was recycled from a shipping box)
-Brown wooden board print paper – Kiss The Cook Baked Fresh paper from Bo Bunny
-Two-tone blue or turquoise floral print paper (or another pattern of your choice; polka dots would be fab here as well)
-Dog print paper – Dachshunds paper from Recollections (Michael's house brand)
-Pawprint and bone rectangle frame die (I purchased this die on AliExpress a few years ago. A fairly similar-looking bone and pawprint frame die is currently available at the time of writing on eBay. As well, Whimsy Stamps sells an awesome Paws and Bones Border Die Set that I would absolutely love to add to my stash one day. You could use the dies in this set to create your own rectangle shaped frame.)
-Small sized dog silhouette dies
-Elegant frame die with curved corners (or another frame die of your choice)
-Scripty font "happy" word die (or use single letter dies or stickers to create this word instead)
-Fancy edge border punch – Flourish Scroll Border Punch from EK Success
-Teal blue ink – Dew Drop Teal Zeal Ink from Memento
-Medium grey ink – Dew Drop Grey Flannel Ink from Memento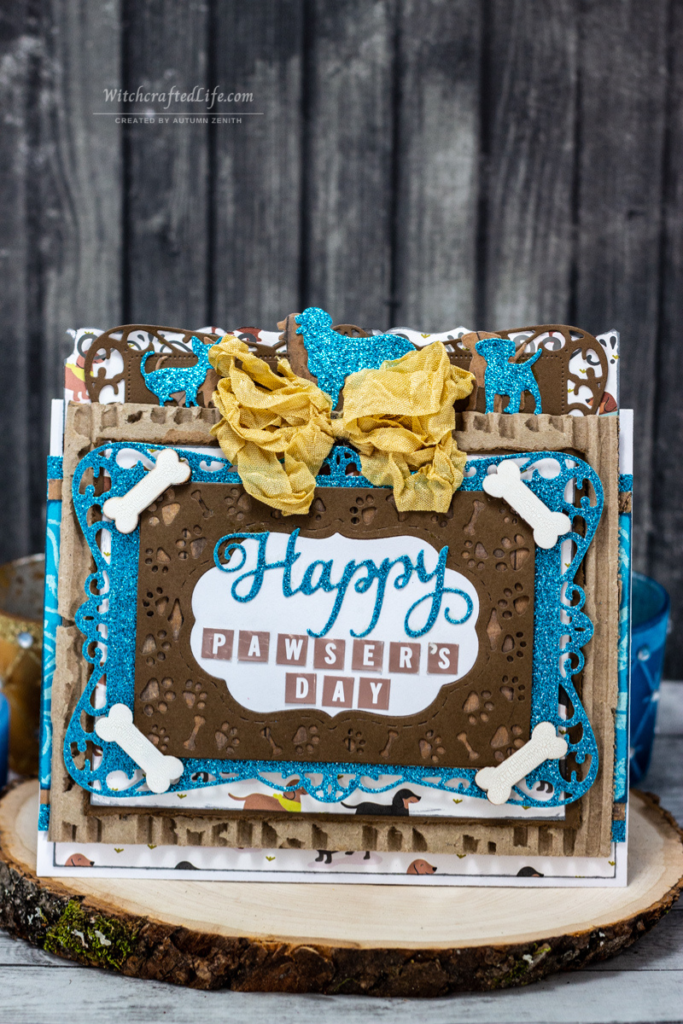 -White crackle paint – Distress Crackle Paint in Picket Fence from Tim Holtz
-White gel pen – Uniball White Gel Pen from Signo
-Brownish rose gold coloured mini alpha stickers – Necessities Metallic Alpha Stickers from My Mind's Eye
-Flax/muted gold coloured seam binding
-Glue gun and glue sticks (option, but helpful for securing heavier elements here such as the cardboard)
-Dimensional foam, pop dots, or similar to elevate some of your layers
-Adhesive, such as a tape runner, of your choice (I often use my Scotch Tape Glider)
How to make a masculine shabby chic Father's Day card
Begin by making a card base from white cardstock.
Cut a piece of the dog print paper slightly narrower, but at least ½ an inch taller, than your card base. Ink edges of this piece with grey ink and adhere to card base.
Cut two thin strips of brown wooden floorboard print paper, two thin strips of teal glitter paper, and one piece of blue/teal floral print paper. Ink edges of floral print paper using teal ink.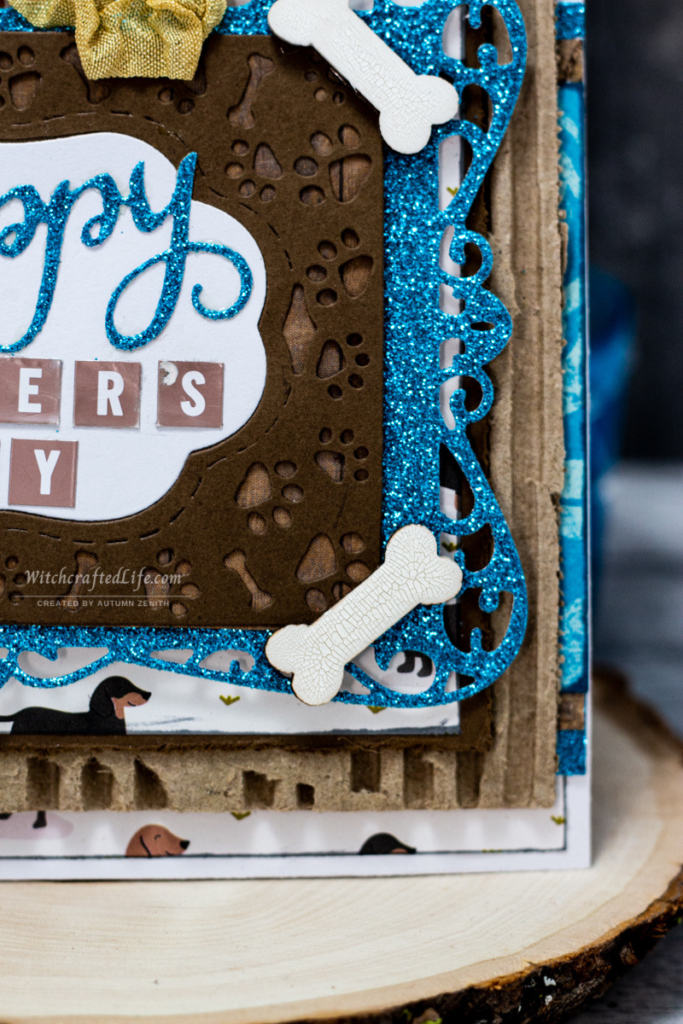 Arrange and adhere the floral print paper in the center of the card. Adhere the teal glitter strips, then the brown wooden board print strips, on the top and bottom edges of the floral print paper.
Using the dark brown cardstock, die cut a curved corner frame die and adhere it to the previous layers.
Cut and lightly distress a piece of brown/kraft cardboard. Adhere to previous layers.
Top the cardboard with a piece of dark brown cardstock (lightly distress edges, if desired), a slightly smaller piece of dog print paper (ink edges with grey ink), a frame cut from teal glitter cardstock and the same elegant frame die used above, a piece of wooden floorboard print paper, a frame cut from the pawprint and dog bone frame, and a piece of white cardstock (to back the opening of the pawprint frame with).
Arrange and adhere these layers as shown in the photos.
Die cut the word "happy" from teal glitter cardstock and adhere to the white center portion of the pawprint frame.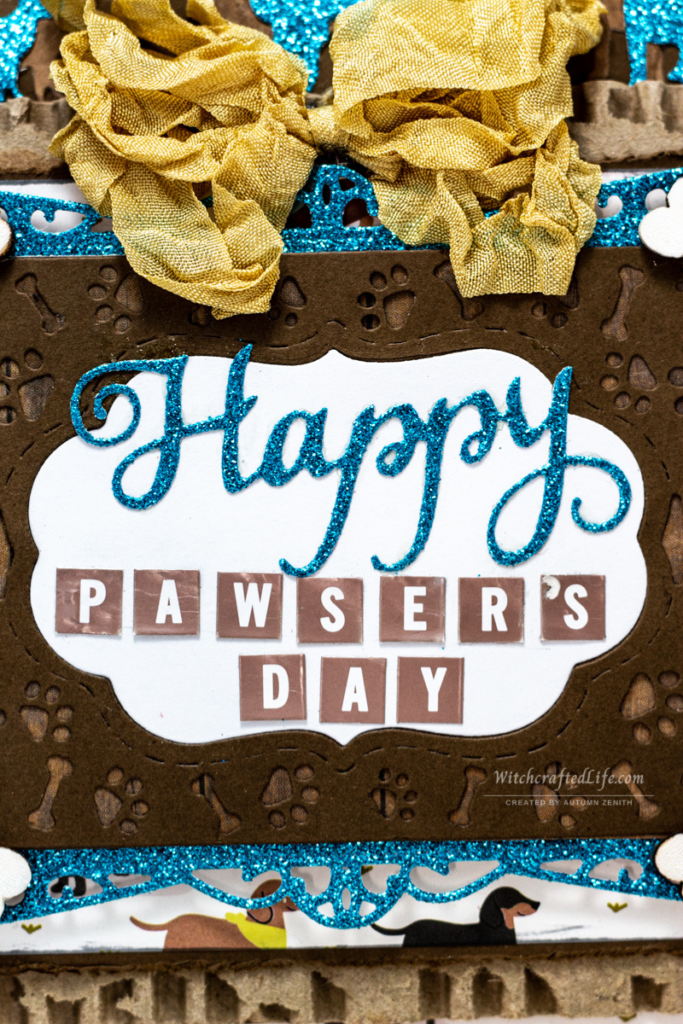 Use brownish rose gold coloured mini alphabet letter stickers to spell out the words "Pawser's Day". Then use a white gel pen to create the comma on the letter "s". Adhere below the word "happy".
Die cut one set of dog silhouette shapes from brown wooden floorboard print paper and another from teal glitter cardstock.
Adhere the teal glitter shapes slightly offset to the brown floorboard shapes. Arrange and adhere at the top of the card, as shown.
Create a bow from flax/muted gold coloured seam binding (pre-scrunching/crumpling and drying seam binding beforehand, if you wish).
Lastly, die cut four small bone shaped pieces from white cardstock (or thin chipboard) and apply a medium-thick layer of Picket Fence Distress Crackle Paint.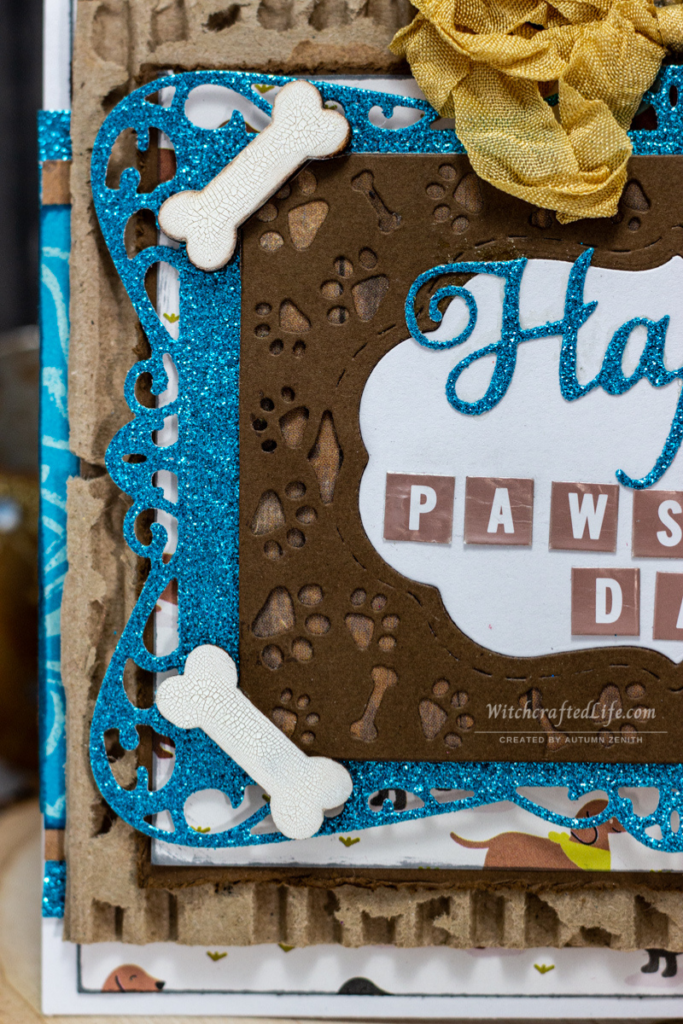 Allow paint to fully die, then adhere bones around the corners of the pawprint frame.
And there you have it, a delightful Father's Day card that celebrates one's passion for pups, marries cute with sophisticated, masculine with shabby chic, and which is sure to find favour with any pet parent or lover that you bestow it upon.
Fatherhood comes in many forms
Much as with motherhood, fatherhood is not a one size fits all situation.
While, in a human context, we tend to think of words like "dad", "papa", and "father" in the context of being a parent or guardian to fellow people, this word can also be extended to those who are pet parents.
I know that this makes some folks cringe, but personally, I don't have an issue with it.
From day one with both Annie and our (late) cat, Stella, Tony and I have referred to one another as "mommy" and "daddy" in the context of raising and taking care of our pets.
In fact, as Tony and I rarely address one another by our first names (preferring nicknames or terms of endearment such as "sweetie" or "honey") but will often say "daddy" or "mommy" when referring to each other around Annie, I'd bet you a jar of Annie's favourite all-natural peanut butter that she thinks those are our names. 😄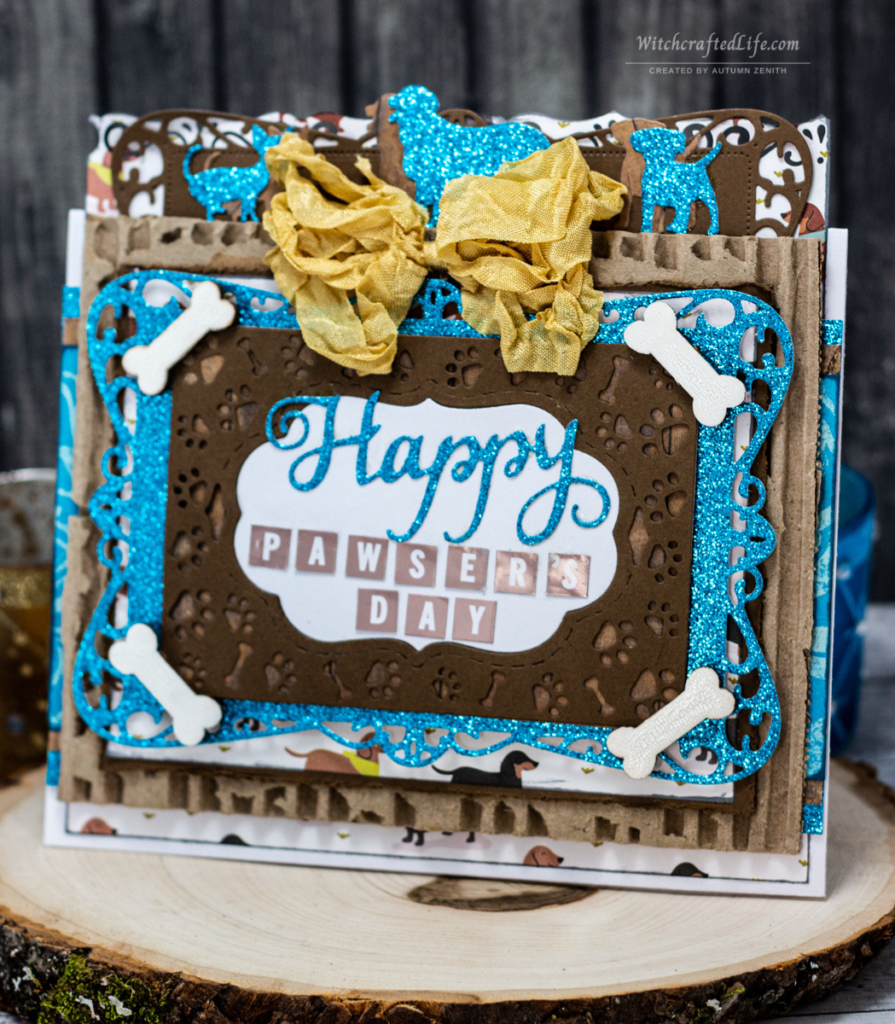 Tony is an excellent pet parent. Care, love, compassion, and a steadfast commitment to our animals are just some of the many positive traits that help to make him one.
He adores Annie with every fibre of his being (as I do) and relishes the responsibility and honour of getting to provide her with the best life we possibly can. 💗
At nearly 9.5 years old, we know that Annie almost certainly has fewer years ahead of her than those she has already experienced.
We accept this heartbreaking fact and try not to dwell on it too much. There's little sense in letting the natural course of life rob of us the joy of experiencing the present moments that we are blessed to have with Annie.
Right here and now, she is healthy, spry, energetic, (super) playful, and doing great overall. Be it on Father's Day or any other day of the year, this is an invaluable gift.
As is having a partner in life who cares about and loves animals every bit as much as do (which is why I wanted to celebrate this fact via Tony's Father's Day card this year).
Not all of us are dads, of course. Nor do we all have relationships, for whatever reason(s), with our fathers.
This day can be challenging for some people. More than I could ever adequately put into words, believe me, I get and relate to this myself.
I sincerely hope though that it is possible for you to still enjoy Father's Day or at least not find it unbearable. Think of those dads you've known throughout your life (be they family members or otherwise) who excelled in this role.
Reflect on favourite fictional or celebrity fathers, the way (if applicable) your partner is a great papa to your kid(s), and all the fantastic pet parents you may know.
Beyond that, there is the universal element of the divine masculine, male deities pertaining to fatherhood, and the fact that not a single human being would have come into being were it not for the combination of (biological) male and female DNA.
To all those celebrating, honouring, or remembering dads and father figures or archetypes today in any capacity (pet parenthood very much included), I hope that you have a terrific time doing so and that all the papas in your life enjoy a very happy Father's Day.
A wish that, I have no doubt, Annie seconds all the way. 💕🐶💕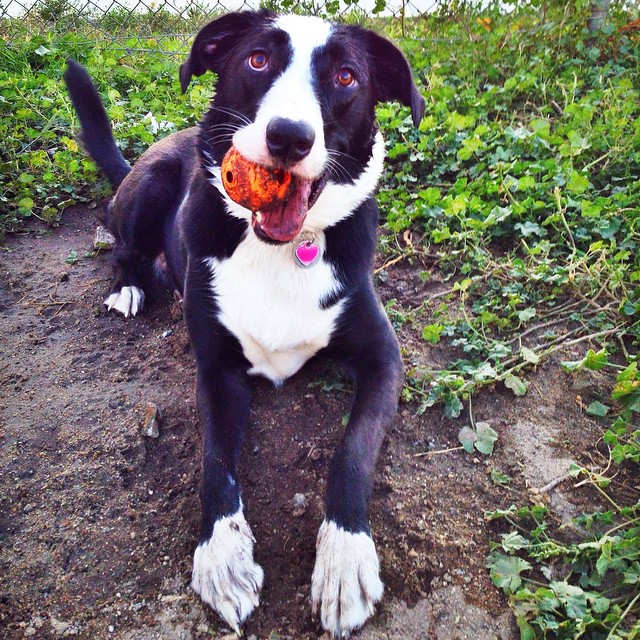 Do you celebrate the pet parent side of Father's and/or Mother's Day? What are your favourite occasions to make pet themed paper crafting projects for?