Like most scrapbookers, there are certain elements used on the pages I create that help to define my personal style. Historically, journaling and eye-catching titles have been two of those things.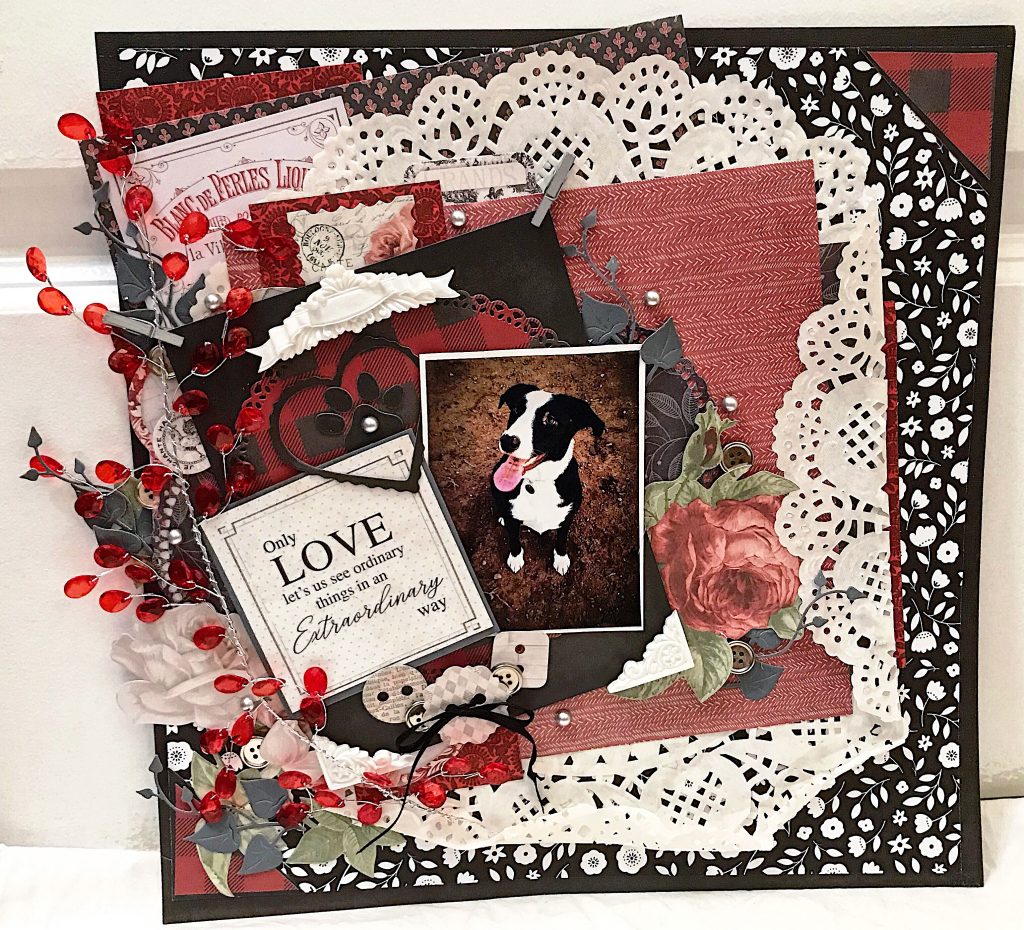 This layout, the most recent that I've made – and the first post-fire scrapbook page that I'm sharing here on Witchcrafted Life – has neither of those things.
And you know what, I kind of love that they're not there.
Not because I've cooled my jets about either thing. That certainly isn't the case. Rather, it's because sometimes it's great to shake things up, let your style change and evolve, and not be afraid of stepping outside of your comfort zone.
I'm also finding myself drawn more and more to including journaling on the back of my layouts.
The layers, dimensional embellishments and other thicker items I frequently use in my paper crafting mean that I can rarely get two scrapbook layouts back-to-back in an album.
This in turn means that the back of the page is visible in the clear plastic page protector, so why not, I figure, avail of that visibility for times when I don't want to add (some or all of) my journaling to the front.
Only Love Lets Us See scrapbook page
One of my favourite subjects to scrapbooks is animals – pets very much included. At present, my husband and I are blessed to share our lives with one pet. Our darling dog Annie, who you may remember me mentioning in my review post of The Book of Dog Magick.
She is the sweetest thing on four paws. Smart as a whip, energetic as the day is long, and perhaps the least photogenic dog I've ever known. True story! 😃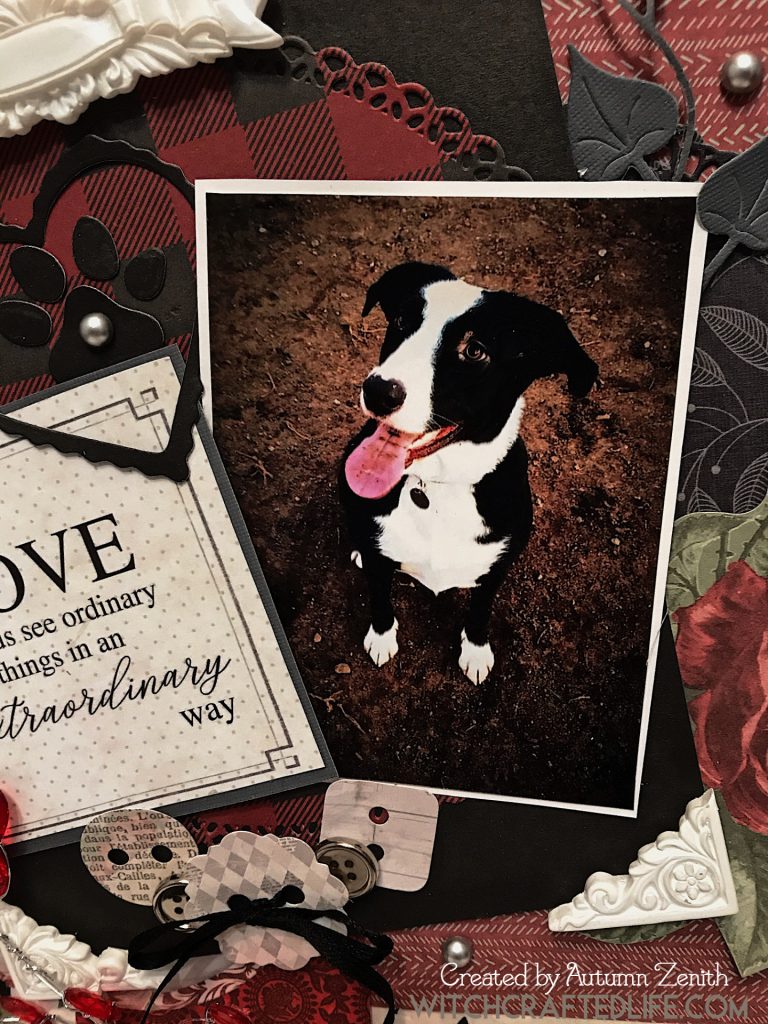 If I'm lucky, I get a tiny handful of usable photos of her each year. Hundreds (or more) of her cute head turned away or which are blurry from her darting away as I try to take her picture are deleted nearly as quickly as they're taken (thank goodness for digital photography!).
Luckily there is the occasional usable (and sharable) photo of Annie. This one was taken a few years back at a dog park in a town a couple of hours south of us (our own current small town, much to the chagrin of many locals, does not have a dog park).
Annie could blissfully play at the park for hours on end – especially if there are other friendly dogs there. To say that she loves going to the park – or anywhere in nature for that matter (like human mama, like dog-ter 😃) – would be a serious understatement.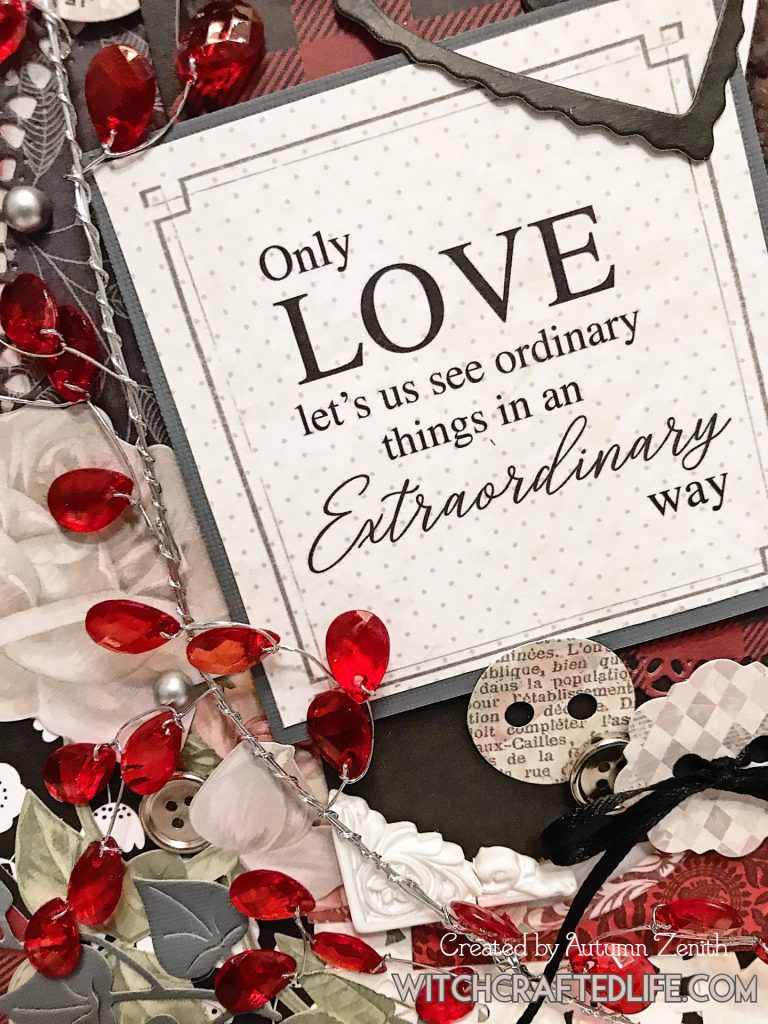 This love, coupled with Annie's passion for life, ability to live in the moment and find bliss in the smallest of things, inspired me to use the Kaisercraft sentiment cut-apart that I employed as my subtle title on this charming 12×12 inch scrapbook page.
Love themed elements on this pet layout
To drive home the theme of love, I employed I used various shades of red throughout the page, gorgeously lush vintage looking rose die cut shapes from Bo Bunny, black and white floral print paper, and a cute paw print + heart-shaped die cut that I made from basic black cardstock.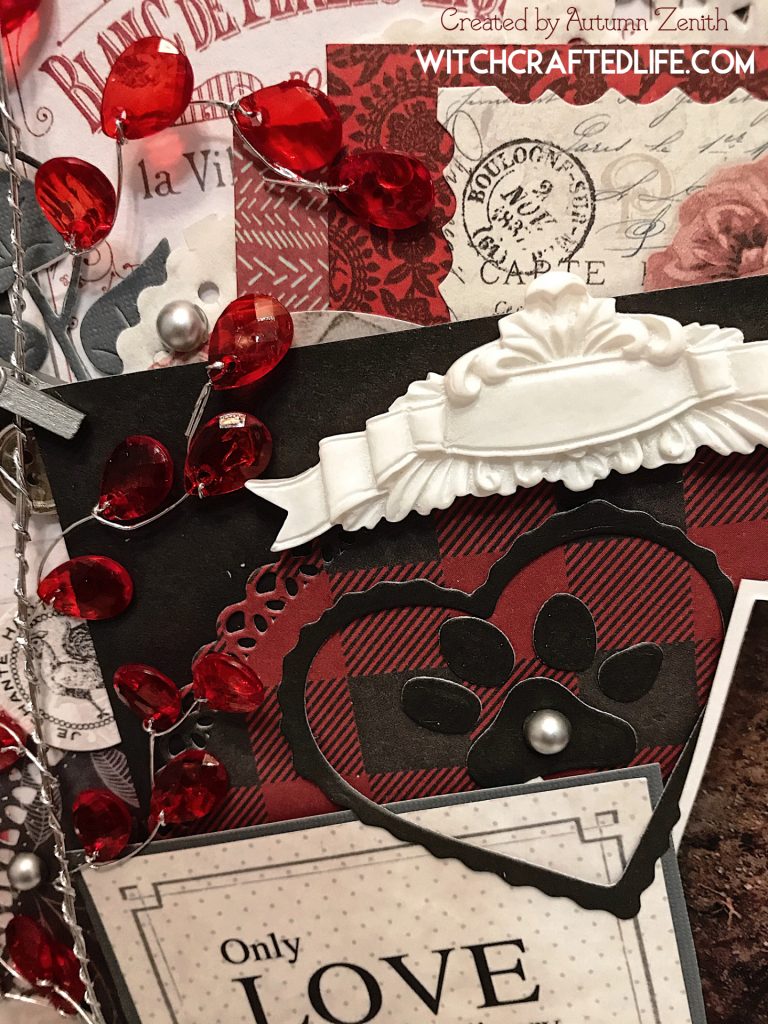 The doily, while perhaps not as associated with love as hearts and the colour red, is a sweet classic unto itself. Plus, I can't help thinking that its scalloped edges resemble the tops of hearts to a degree, which subtly connects to the general theme of love.
Putting this scrapbook page together
To create this layout, I began with a 12×12 inch piece of black cardstock, which I topped with an almost full-sized piece of black and white floral print paper.
While an eye-catching pattern, the universal palette of black and white makes it a cinch to build upon nearly as easily as though it was all white coloured or all black coloured, respectively.
Initially, I'd thought I'd use a smaller sized doily or perhaps two little ones, but as soon as I placed this whooper down, I fell in love.
I don't have a digital die cutting machine and so am not able to able use cut files, but with a doily this big, it almost feels like I'm working with a detailed cut file. Love that!
On top of the doily, I placed an 8×8 inch sheet of red and light grey lined paper from 7 Gypsys (who else misses this brand something fierce?), a grey and black floral print scalloped edge circle that I die cut, a smaller piece of solid black cardstock a die cut scalloped circle and buffalo plaid paper, and then the Kaisercraft cut-apart block, my photo, and various embellishments.
I tucked another 8×8 inch sheet of paper (this time in black and red) from the same 7 Gypsys paper pad behind the doily, where I also put a strip of tone-on-tone dark red paper, (the same paper appears behind the black cardstock that the photo sits on), and various vintage-style ephemera pieces from Bo Bunny.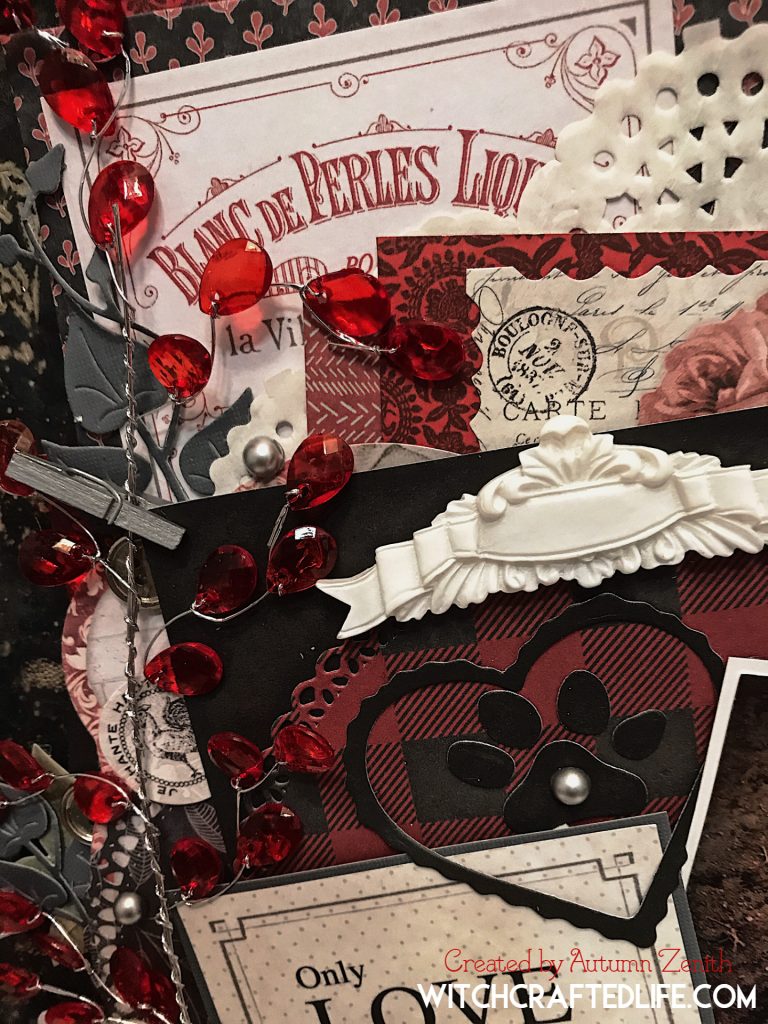 After arranging floral die cut pieces in three spots around my page, I die cut some leaves and vines from dark grey cardstock (to pick up the grey in the paper behind the central piece of black cardstock).
I hand cut two triangles from the same red and black buffalo check paper, matted them on black cardstock, and used them on diagonally opposite corners of my page. This gives the look of photo corners, as well as the illusion that perhaps a whole sheet of that paper is beneath the B&W floral paper.
Back on the embellishment front, I tucked small silver tone buttons here and there, added silver tone pearls, three die cut paper buttons (the largest of which I threaded skinny black ribbon (salvaged from some product packaging a while back), a large twisted wire branch with red plastic leaves, three antique style white resin pieces (on the black cardstock beneath the photo), and two adorable mini silvery grey tone clothes pegs).
Lastly, before gluing, sticky dotting, and foam squaring everything in place, I matted my photo on white cardstock and the title square on grey.
Also, come to think of it, somewhat unusually for one of my layouts, this page does not contain any inking whatsoever. Wow! That might be rarer than a lack of title and journaling! 😃
Scrapbook page tips and ideas from this project
-When working with grey tones, use silver or pewter coloured embellishments, they'll generally complement and harmonize with the grey better than gold, brass or copper ones.
–Mixing different patterned papers in the same layout is often easier if they share a common colour palette, as (much like the point above) this can help to create a sense of cohesiveness.
-If you didn't have an oversized doily or cut file that allowed you to create one, you could cut apart one or more smaller doilies and arrange them around the perimeter of the 8×8 inch red and grey striped paper here to create a similar effect.
–Vines, leaves, and flowers don't have to be natural colours. The leaves and vines used here were cut from dark grey cardstock. By working with this neutral tone, they don't steal the show, but instead support the other uses of grey and silver throughout the page.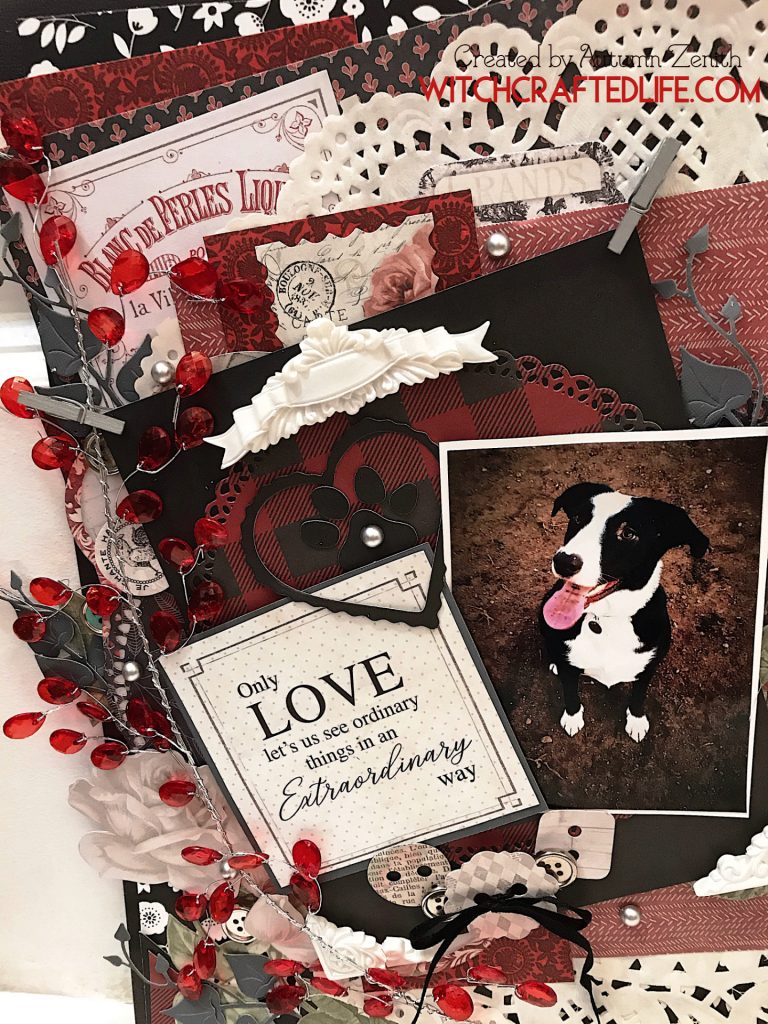 -If you don't have silver pearls, use silver paint, a silver permanent marker, or silver glitter (applied over top of glue or glossy accents) to alter the colour of white or cream pearls instead.
Conversely, create a similar look by using silver toned enamel dots, Nuvo Drops, Liquid Pearls, sequins, or small circles (or other shapes – hearts would be terrific here, for example) from silver metallic cardstock or paper.
–Don't be afraid to extend your page elements beyond the borders of your 12 x 12 inch background (or whatever size you're working with). Do keep in mind though that it may be hard to fit a completed layout into a scrapbook album if elements extend on more than one or two sides (so perhaps stick with doing so on just one or two sides).
-Using a pair of clothes pegs – be they mini or larger sized – is a whimsical way of helping a page element to look like its strung up, when in fact (as was the case here) it's actually glued in place.
-Repeat the same paper two or more times, in various sized amounts, throughout your page for additional continuity and element harmonization.
-If you don't have resin or similar pieces, you could use die cut, wood, cork, felt or burlap pieces or shapes here instead.
-Ribbon is a lovely, unexpected change from things like thread, embroidery floss, and twine in buttonholes. Skinny raffia is another delightful choice as well.
-Use scalloped edge dies, punches, and scissors on projects that involve doilies. The similar shapes of these items help them to look all the more cohesive (can you tell that cohesiveness is a biggie for me?).
-Pet themed scrapbook pages that do not star overtly pet related products can have the theme reinforced more subtly by the inclusion of die cuts, stamps, charms and other embellishments in shapes such as pawprints, bones and biscuits, and feathers, for example.
-If you're not using a big title and/or journaling, consider adding subtle words or text print papers elsewhere in your layout, so that the eye has something to rest on when it naturally goes looking for these kinds of things (in this case, I used various vintage print ephemera elements from Bo Bunny to help achieve that here).
Products used to create this pet themed layout
-Black, dark grey, and white cardstock
-Black and white floral print 12×12 inch paper – Jen Hadfield This Is Family from American Crafts
-Red and black buffalo check print 12×12 inch paper – Mad 4 Plaid Christmas Jingle from Photo Play
-Tone-on-tone red print paper 12×12 inch paper – Serenade Poppies from Bo Bunny
-Cut-apart sentiment (used for the title of this layout) – Rosabela Angelic Collection from Kaisercraft
-Grey leaf print paper – Cider Woods Mat Stack 6×6 inch paper pad from DCWV
-Die cut shapes – Boulevard Noteworthy collection from Bo Bunny
-Various patterned papers – Zanzibar 8×8 inch Paper Variety Pack from 7Gypsies
-Large white doily – very similar version to the one I used on this layout available here
-Wire and plastic/acrylic vine/branch (or another type of branch of your choosing; dollar stores, craft stores, thrift stores, and shops that sell floral arrangement materials are good possible sources for these types of branches)
-Silver tone buttons
-Silver pearls
-Skinny black ribbon
-Dimensional foam, pop dots, or similar to elevate some of your layers
-Adhesive, such as a tape runner, of your choice (I often use my Scotch Tape Glider)
Closing thoughts about this dog themed scrapbook page
It's been a hot minute since I last photographed a scrapbook layout. While I have made others during the time that we've lived in our current home, I believe this is the first one that I've photographed here so far.
Much like how I'm working to find good lighting to use for taking photos of my projects in around our house (as mentioned in my Victorian-inspired card post), I'm currently experimenting with how I arrange, style and shoot the paper crafting projects that I make.
Definitely a work in progress there, but that's okay – life is one lovely continual learning experience and it can be a lot of fun to play around and try new things along the way.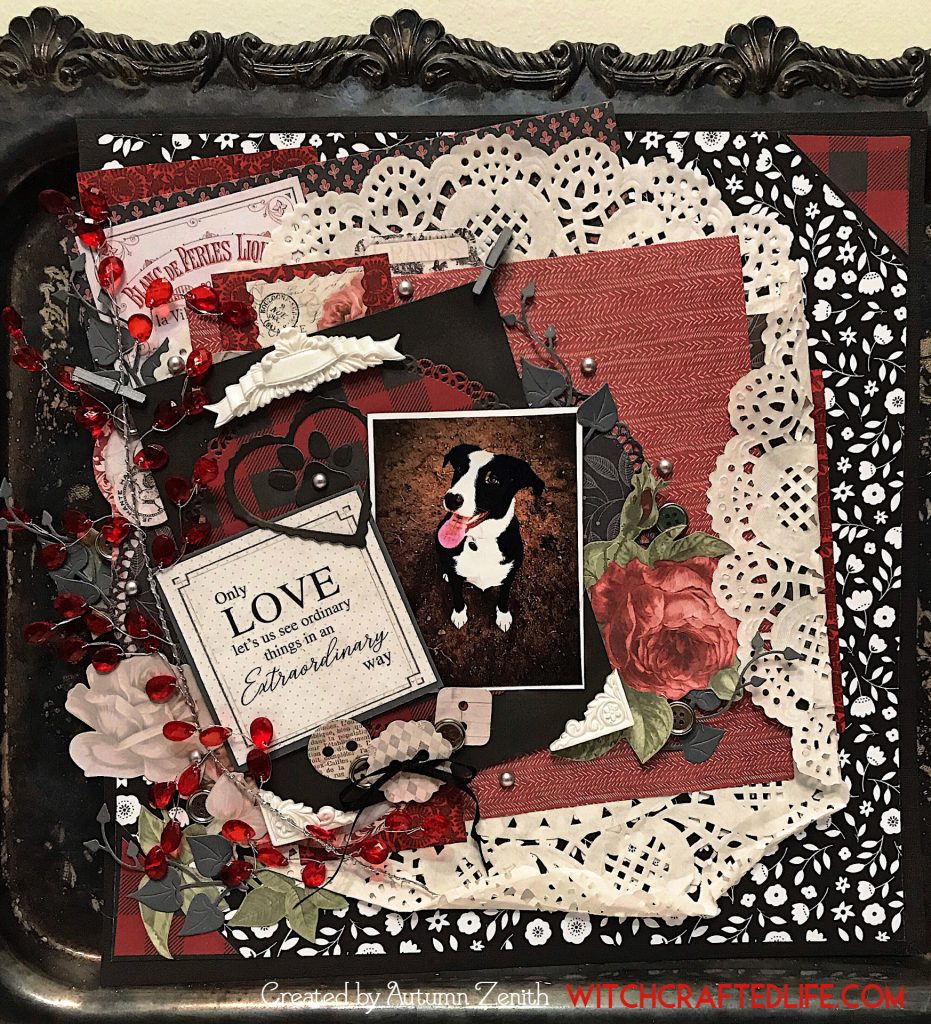 While I may not have heaps of photos of Annie, those that I have managed to capture are priceless to me and my husband.
Annie is the furry light of our life and a common scrapbook page subject for me, so you're bound to see more layouts starring our super cute black and white pup here as time goes on.
If you have pets, do you enjoy scrapbooking them as well?
Project share
Pin the image below – or any other in this post – to Pinterest, pop it into your Instagram Stories, post in on Twitter or Facebook, or share it anywhere else you wish to help yourself find it again and to inspire others at the same time.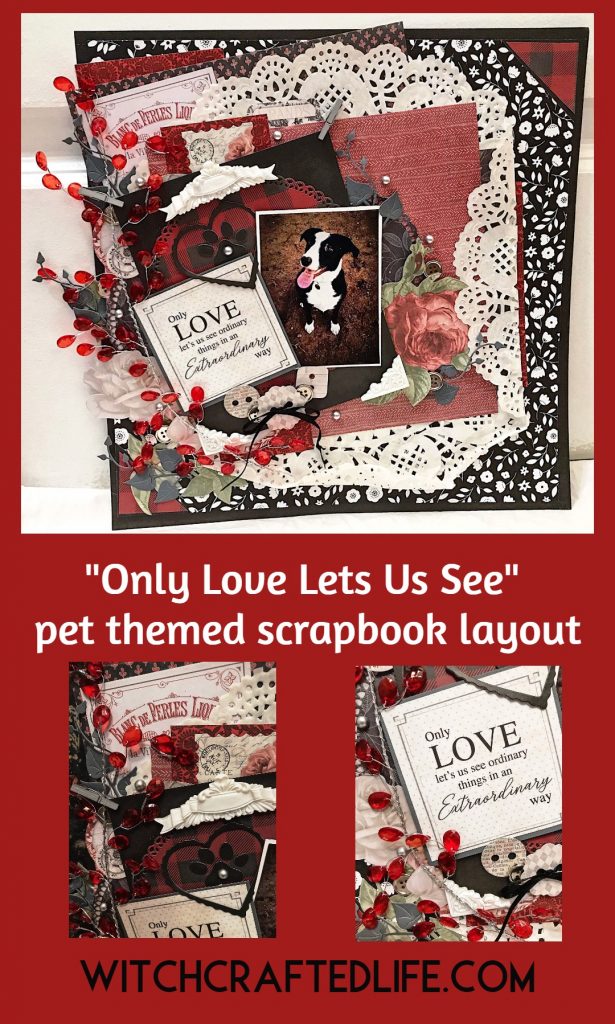 If you make a project based on or inspired by this scrapbook page – or want to share any of your other handmade crafts with me – please use the hashtags #WitchcraftedLife and #WitchcraftedLifeMakes on social media so that I see can your beautiful creations.