Here in the Western Hemisphere, the temperature seems to be shooting ever higher by the day. Whereas inhabitants south of the equator are presently experiencing the crisp, gorgeous days of autumn once again.
In either instance, many of us are doing are best, even if we're self-isolating, to try and safely spend some time outdoors right now (which may entail doing so solely or primarily on/in our balconies, decks, yards or gardens).
Beyond the immense global challenge of this particular year, the sunny days of spring, summer and early fall are a period the beckons many of us spend all the more time connecting one-on-one with nature.
I like to say, only half-jokingly, that if it wasn't for the fact that I'm a human mosquito magnet, I could happily set up a tent in the backyard and live out there until the abundant snowfalls of winter returned.
As much as Annie and I might enjoy that, for now I'll stick to sleeping indoors and spending every possible waking second that I can under the sun, moon and stars while it's warm enough to do so without risking hypothermia.
No matter the season or how much time I'm able to devote to being outside, nature magick is a key component of my spiritual path – just as it is for many others the world over.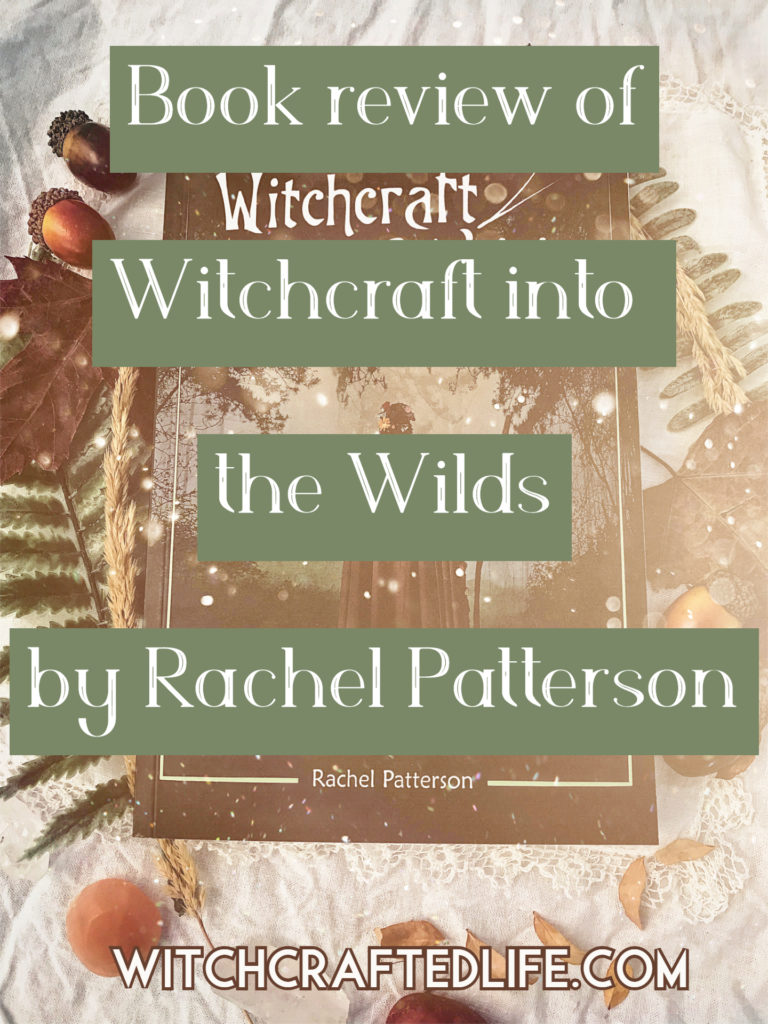 Taking both this point and the beautiful weather of mid-spring into account, today I'm going to be reviewing a title that I have zero qualms calling one of my top five favourite nature magick related books of all-time: Witchcraft into the Wilds by Rachel Patterson.
Book specs
Name: Witchcraft into the Wild
Author: Rachel Patterson
Page count: 227
Publisher: Moon Books
Binding: Softcover
The ideal nature magick book for new, intermediate and advanced magickal practitioners alike
Over the years, there have been a wide array of books published on topics pertaining to green witchcraft, nature-based witchcraft and Paganism, nature magick, wildcrafting, and similar topics.
Some leave much to be desired, others are great, and a handful are nothing shy of stellar. It is into this third camp that I place Witchcraft into the Wilds.
Penned by accomplished Pagan author and well-known kitchen witch Rachel Patterson (who is also an active blogger, both on her own website and over at Pathos as well), Witchcraft into the Wilds is the nature magick book the world might not have asked for, but my goodness, did it need.
There is a time and place for elaborate spellwork and rituals, for in-depth methods and practices and for workings that call for a milelong list of steps and/or materials. I am in no way opposed to such approaches and engage in them periodically myself, particularly when it comes to the sabbats and esbats.
However, I'm a firm advocate for, and believer in, the incredible power and effectiveness of downhome, unfussy, real-world witchery that we can connect with often and make a cornerstone component of our practice.
The more approachable and manageable one finds the magickal activities they do, the more, I'm convinced, you'll be less inclined to feel like you never have enough time to devote to your path. While also potentially finding you experience a greater degree of desired and effective outcomes from your own magickal undertakings.
And that is a huge part of the reason why I adore Witchcraft into the Wild.
This twenty-six chapter book is awesomely down-to-earth. Each chapter is relatively small and focuses on an extensive assortment of nature-related topics spanning everything from Nature Spirits and Faeries in chapter 7 to Working with the Weather in chapter 18 and Hedge Riding in the final chapter.
Witcraft into the Wilds doesn't expect you to have every last tool, herb and crystal under the sun or to know wildly specialized and/or archaic information.
It doesn't ask you to spend 23.5 hours a day feverishly working on complex spells or chide you if you want to take things in your own wonderfully personalized direction.
This book feels like an extremely knowledgeable witchy friend sat down and poured out a lifetime of their learnings about, and experiences with, nature magick to you.
And in a lot of ways, that's exactly what Witchcraft into the Wilds is.
It's a compendium of practical information about how to work and live magickally in tune with the natural world brought to you by a witch who not only knows her stuff inside and out, but who actively engages in the kinds of activities she shares with you in this book.
What is Witchcraft into the Wilds about?
As mentioned above, this book is divided into twenty-six chapters spanning 227 pages. Within which, the author's personable, to-the-point approach leaves you feeling like you've taken an advanced course on nature-based witchery.
She leads you through a treasure trove of information, includes various guided meditation activities, and even wraps up each chapter with handy journaling prompts.
For which one could record their journaling in their book of shadows, grimoire, blog, on social media, in a standalone journal, or in a diary devoted to answering the questions Patterson presents.
So what is Witchcraft into the Wilds all about?
This book takes a real-world, hands-on look at a vast array of nature-based witchery and Paganism topics, presenting most in their own standalone chapters or subsections.
This book also takes us back to nature. To the heart and soul of what it can mean to be a practicing witch who actively works with the elements, spirits, and gifts of nature.
It addresses how we can connect all the more with the natural world, and adds in splashes of folklore, spiritual practices from various traditions and cultures, and provides tips on living in harmony with the seasons and the Wheel of the Year.
In addition, it encourages us to seek, find, appreciate and work with the energy, properties, and wisdom that is inherent in the natural world.
And while the author is based in the UK and some of the subjects covered in this book are in turn grounded in the United Kingdom, the degree and extent to which such is the case should not be off-putting to most readers.
I found that they either already applied or could easily be approached so as to apply to the nature-focused witchery that I do here in Canada and feel the same will likely ring true for others around the world as well.
How Witchcraft into the Wilds rates with me
From the moment I first caught wind of this book, which was released in 2018, I placed it in my Amazon.ca cart and patiently waited until purchasing it was possible. I was able to do so in October of that same year and have since read it two times.
There is no doubt in my mind that future cover-to-cover readings will ensue, as will references back to specific topics that Witchcraft into the Wilds addresses.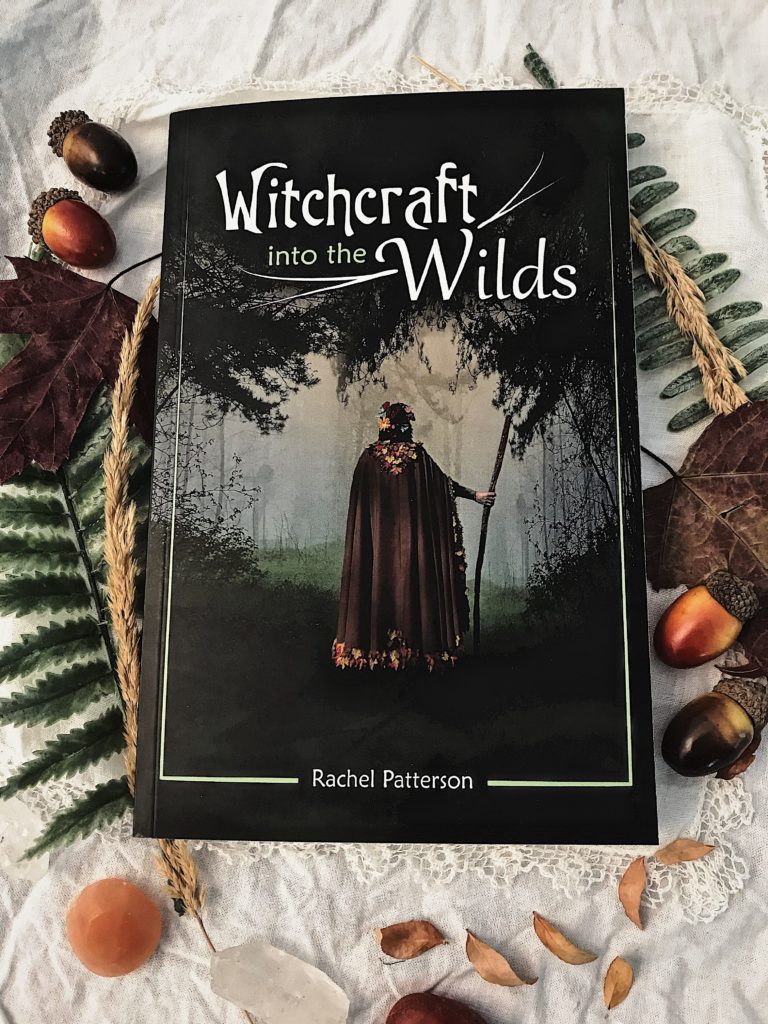 This was is one of those books that I wish could have gone on for a thousand more pages. The author's writing is wonderfully knowledgeable without being condescending or pretentious. It is soulful, friendly, and spirited in just the right proportions for my tastes.
Witchcraft into the Wilds is a handy, excellent guide to nature magick and witchery that is both a primer and a more advanced look at this broad subject at the same time.
In reading this book, I never felt my attention waning. I didn't get bored, skip sections, or feel like I was going through the basic "witchery 101" motions for the umpteenth time (not, that I'm throwing shade on witchery 101 books – I actually think many of them are fab and don't take issue with the continued proliferation of such in the marketplace).
I was drawn in immediately and lapped up every page, idea, nugget of knowledge, and informative tip with gusto. Nodding both outwardly with my head, and internally within my heart, all the way through as that the author continually encourages us to go back to the roots of nature and the relationship that we have with the outdoors via our spiritual practices.
Personally, I don't have any issues of note with this excellent, informative guide to nature magick. Rachel Patterson knows her stuff and then some, and her look at wild witchcraft is a welcome addition to the body of literature that exists on this topic.
Indeed, I would happily and confidently place it amongst the upper echelons of offerings not only in that specific field, but in terms of all manner of contemporary books on witchcraft and Paganism point-blank.
Much like the subject matter at its heart, Witchcraft into the Wilds is a refreshing, easily accessible exploration of an area that is a vital backbone in the witchery practices and ways of living that many of us the world over embrace with open arms and nature-loving hearts.
If you have even just the slightest passing interest in natural magick or witchery that puts the focus on the practitioner's own magickal abilities and connection to the land around them, then this book is for you.
Working on a scale of 1 – 5, with five being the highest possible rating, I would give this book 5 stars out of 5.
★ ★ ★ ★ ★
If you've read Witchcraft into the Wilds or are interested in this book, please let me know in the comments below. I'd love to hear your thoughts on this excellent green witchcraft title.