"Summer's lease", wrote Shakespeare, "has all too short a date".
As of yesterday, the fall equinox in the Northern Hemisphere, the season that was is no more. Some rejoice as summer's fiery wrath retreats, others bemoan the end of such heat and all it entails, and others still are relatively ambivalent about the matter.
However you slice it, summer has drawn to an (official) end.
This was a season, much like the year as a whole, that I doubt many of us will soon forget. And while a mere three months have elapsed since the Spring 2020 Edition of Magick, Crafty Makes, and Me, it's safe to say that it feels as though significantly more time has transpired.
This summer wasn't what I had in mine on many fronts. Nor was it for a good many of us.
Yet, even with some curveballs, challenges, unplanned hiatuses from the good ol' interwebs, and enough heat to melt the ice rings of Saturn, I loved this summer.
Not a little, not a bit, not even a decent amount, but with a passion that matched the warmth that often drained me so intensely.
It wasn't a perfect season, nor an easy one. No vacations transpired, (sadly) it wasn't spent with loved ones due to continued self-isolating and social distancing, and my birthday, back in July, was the least eventful in a decade or more, yet this summer stole my heart.
I spent a lot of time outside, when possible, either in our backyard or on nature walks in secluded local areas. Under hazy summer sunrises and stunning skies full of the kind of twinkling stars one would never see in areas with greater degrees of light pollution, alongside lofty evergreens and breathtaking fields of golden hay, I walked.
And walked, and walked some more.
As walking has long been, effectively, the only form of exercise my health readily permits me to partake in (and even then, there are times when such is not possible) and I'm no stranger to clocking many a KM in a single day. Yet there was something different about the pavement and dirt paths alike that I pounded this summer.
In a world where so much has changed rapidly, where the future feels less certain, and which has altered so much of our usual existence, walking was (and is) familiar.
It is also, relatively speaking, one of the safer activities a person can publicly engage in these days, especially if you opt for quiet areas where few others tend to tread.
Walking sooths me powerfully. It has always felt like a way for me to show my health that it doesn't always have the upper hand on my daily existence. It aligns beautifully with my spirituality, it gives me plenty of awesome bonding time with our darling dog, and it is just plain fun.
As I do each year, I will walk as late into the autumn as the weather permits. Once the inches/feet of snow that are inevitably come calling again, my walking generally switches from outdoors to indoors care of our treadmill. And while I actually really enjoy treadmilling, with each rotation of the belt, I know I'll be daydreaming of spring's bare ground.
But perhaps I'm getting a touch ahead of myself.
There are two whole seasons to go between then and now, and the one that is wrapping up as we speak will be delved into here today in the third edition in this quarterly blog post series.
So many things have caught my eye, inspired, informed and entertained me throughout the summer of 2020.
Indeed, it is hard to narrow the list down to a wee handful. Yet, for the sake of time and space, that I must.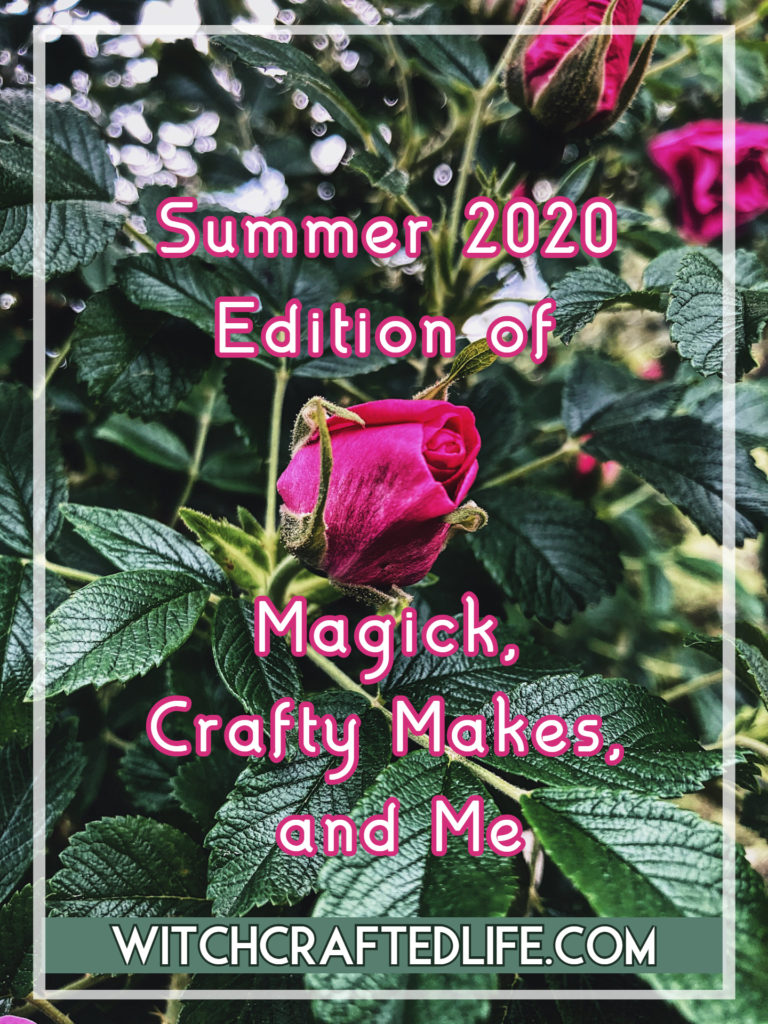 Thus, I present you with the Summer 2020 of Magick, Crafty Makes, and Me.
May the entries it houses resonate with you as well – and as always, if you have a (non-spam/commercial) link that's recently caught your own eye and which you'd like to share in the comments below, please feel free to do so.
Magick, Witchcraft, Paganism, and Spirituality
-As the season's shift and we embrace the extraordinary beauty of autumn upon the natural landscape, now is an especially wonderful time to follow the helpful suggestions on How to Work With the Plant Allies in Your Neighborhood housed in this lovely post.
-Carving pumpkins can be oodles of fun. It's a hugely beloved tradition with longstanding European roots that were carried over to the new world by immigrants in centuries past.
Bringing a carving tool to a pumpkin's flesh can also be a magickal, symbolic and/or highly spiritually charged act as well – as can the designs we scope out of the gourd's flesh.
I can think of few more Pagan/witchery images better suited to emblazing into a pumpkin than the sacred pentagram. If you're keen to do just that this fall (or anytime, for that matter), be sure to visit Deborah's tutorial on How to Carve a Pentagram Pumpkin.
-In recent years, in some corners of the Pagan/witchery sphere, we've seen a bit of step back from the ultra structured craft that dominated the earlier decades of contemporary Wicca/witchcraft.
There is something wonderful, I believe, about structure and tradition though and while it is not for everyone, plenty of us enjoy and actively connect with these aspects of our own spiritual journey.
Whether you fall into that camp or not (and, of course, it should go without saying, but I will do so all the same, one take on this subject is not better or more "witchy" than the other), I recommend giving Astrea's Hardwired For Tradition: Some People Are Better At Traditions Than Others a read.
-Salts of many varieties are an ingredient that I – like many of us – reach for often both in the kitchen and in my spiritual workings (and of course, as a culinarily inclinded witch, the two overlap a good deal).
When the distinct nip of autumn returns and we head towards Samhain, black salt comes to the fore all the more in my workings.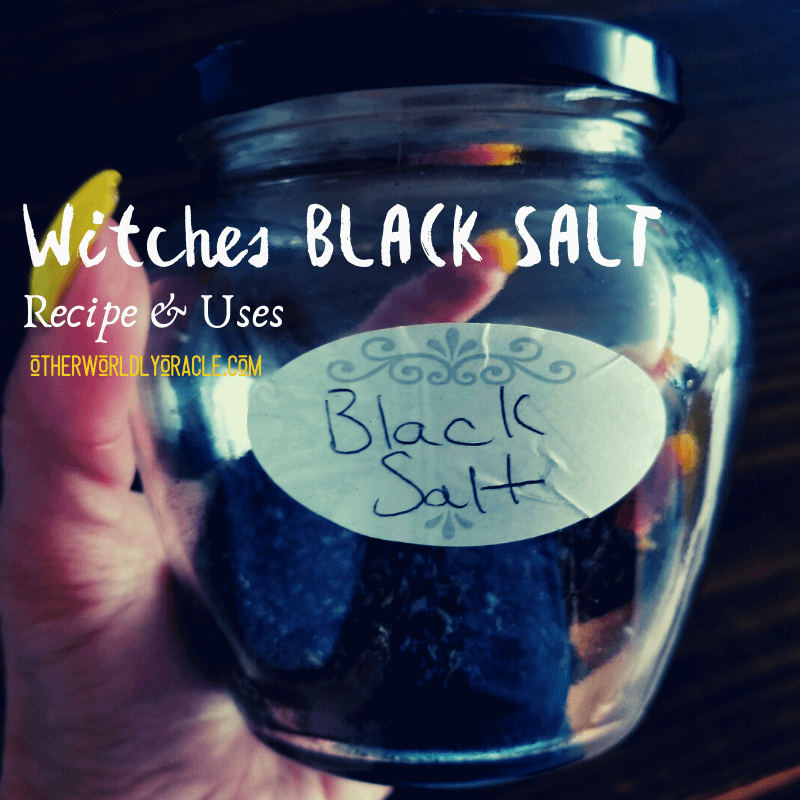 If you've ever wanted to make your own black salt or learn more about this powerful ingredient, swing by Otherworldly Oracle and read Witches Black Salt Recipe + What is Witches Black Salt Used For?
-There are certain things, I've long come to notice, that are commonly horded lovingly collected by many a witchy soul. Bottles and jars, with their limitless uses, are two such items.
If you've been looking for a fast, stylish way to beautify some of the glass containers you've amassed, this charming tutorial that shows you how to make DIY Herbs and Spices Apothecary Jars may be just the ticket!
-Two things that most of us are open as we go about our lives are harmony (aka, balance/serenity) and good luck. In the face of everything that we've both personally and collectively experienced this year, these two factors are welcome all the more.
If you're looking for ways to try to increase one or both of these areas in your life, this post on how to make Good Luck and Harmony Water from renowned Pagan author/blogger/witch Silver Raven Wolf is apt to appeal to you.
-You know that feeling on Christmas morning after all the gifts have been opened and you're now left staring at a sea of tattered paper and discarded bows strew around the room? Or what about after a party when the last guest has departed and you look upon more dishes than Bed, Bath and Beyond houses, wondering where they all came from and how you'll find the energy to tackle them?
Now, what about when a spell – especially a really great spell that you jived with big time – is complete and you need to get rid of some or all of the materials that you used for it?
Ask any witch whose been witching for a while and chances are, they've found themselves in this spot. Not quite sure what to do, when to do it, or where to dispose of the remnants of one's magickal workings.
Fear not, Rachel Patterson (whose stellar book, Witchcraft Into The Wilds, I reviewed here earlier this year) has got you covered care of her handy post, Ending and Disposing of Spells.
One read of this entry and, hopefully, you'll feel a lot less potential uncertainty or stress the next time you wrap up a magickal working.
Card Making, Scrapbooking, Paper Crafting, and Other Crafts
-For all intents, I'm not a sewer. It's an artform that I hugely admire and wish to high heaven that I had a natural knack for, but I'm old enough to recognize where my strengths lay and to make peace with those areas that I'm unlikely to ever excel at.
That said, A) one can always improve their skills by actively learning and practicing more, and B) both sewers and many other crafters alike are likely to find some terrific project inspiration care of the List of Fabric Manufacturer's Free Project Pages that Julie from The Crafty Quilter has thoughtfully compiled for all of us.
-I enjoy heat embossing as much as the next person and have long turned to the classic paper crafting technique for a wide range of projects. Sometimes though, it can be fun and refreshing to shake things up and create similar looks with products other than actual embossing powder itself.
One of the best, quickest, and most effective alternatives that I've seen to date is this very cool look at how to create Faux Heat Embossing With Duct Tape.
After you've read this post, don't be surprised if your SO comes asking where all the duct tape in the house has suddenly vanished to! 😃
-If you're a face mask wearer, you may have found yourself wishing that the ones you've been sporting were roomier (but still effective, of course!).
Fear not, there's a handy homemade way to make that possible via Helen's easy, excellent Breathable DIY Face Mask Tutorial.
-The longer the pandemic rages on, the longer many of us are going without normal human activities like embracing or otherwise touching other people (save perhaps from those who share our home/immediate circle).
I know that I certainly am (what I wouldn't give to safely hug my nearest and dearest again!) and as such, the interesting ideas put forth in the post Is Craft Booming in Covid Because We're Starved for Touch? really struck a chord with me as both a crafter and a human, point-blank.
-In this day and age of tech, plastic, and a continual bombardment of what is supposed to be the latest and greatest children's toys around, it can be downright refreshing to step away from the modern toybox and return to the simple joys of something like paper toys.
Case in point, this great post starring Twelve Easy Paper Toys to Print, Cut and Assemble.
While the use of a printer does add a modern element to the process, the end result is decidedly yesteryear in its classic charm and appeal, while being no less at home in today's world, where non-tech toy options are more important than ever.
-There is just something about buttons – or items that depict them – that steals my heart away time after time. Like many a crafter, I have a beloved button stash (filled with a mix of modern and vintage offerings) and frequently work with this versatile embellishment.
You can imagine then, the plethora of beats that my heart skipped when I saw this tremendously lovely – and very creative – All the Buttons Quilt Tutorial that the uber-talented Heidi from Fabric Mutt created and shared on her blog a few weeks ago.
If I ever get the quilting bug, this is going straight to the top of my "top make" pile.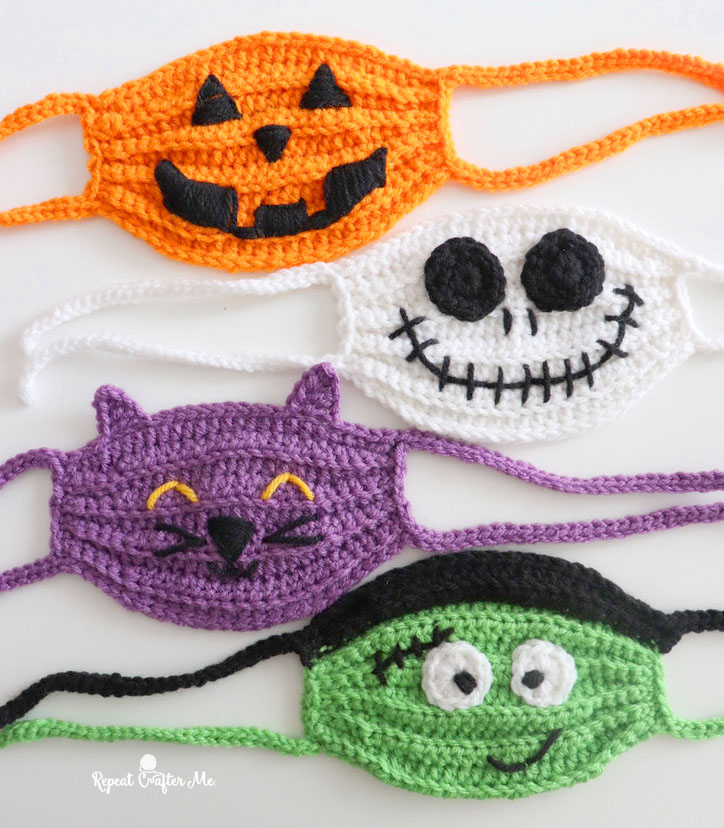 -Under the header of "cutest handmade masks around" belongs these head-turningly adorable Halloween Crochet Face Masks, which are sure to delight youngsters and the young at heart alike.
And while you're on Sarah's site, be sure to check out her delectable recipes, including this one for Crock Pot Candy Corn Bark that is perfect for fall's return.
-When I was a little girl, my mom kept many of her most treasured recipes written out by hand on recipe cards. Though she stored them in a specially designed binder made just for this purpose, the presence of those recipe cards in my early life instilled a connection to, and fondness for, recipes cards in me from an early age that is still going strong today.
Thus, I'm naturally drawn to recipe cards and the books and boxes many folks use to house them.
One of the most charming handmade options I've encountered lately is this beautiful Just Roll With It Farmhouse Kitchen Recipe Box, which would make for incredible gift or addition to your own kitchen alike.
What's shaking in my life and on my radar
Good things, my lovelies, good things aplenty!
This summer might have kicked my behind at times, but it was also thoroughly awesome in certain other respects.
One of which is that this season really, really, helped me to get a better perspective on certain areas of my life.
It also introduced some very beneficial (and, no exaggeration, desperately needed) positive changes to certain aspects of my health + corresponding energy levels, and at the same time helped me to experience summer again in a way that I haven't in far more years than I care to count.
Tony and I stayed put this summer, refraining from travel due to the pandemic. We've been extremely fortunate to remain virus-free and to not have this devastating illness hit any of our loved ones on either side of the Atlantic.
We shared many of the above-mentioned walks together (though plenty were solo adventures with Annie by my side), got to know some of our neighbours better, made many delicious seasonal meals, and were able to tackle a number of tasks/jobs in our lives that were in serious need of being accomplished.
I feel very renewed right now.
I know that this current energy and sense of corresponding positivity is unlikely to last indefinitely. However, while it's here, I'm revelling in it and giving mighty thanks to the universe for helping to make this state possible.
As usual, the links that I'm sharing in the "Me" section of this post are one seriously mixed bag. If you ask me though, that's a big part of the reason why lists like this are such fun. You just never know what they may house.
-Avocados have been enjoying a serious moment in recent years (both on toast and otherwise), though they've been savoured by many long before Instagram entered the picture. 😄
If you've ever cut into an avocado and wished that you could keep it from browning faster than the speed of light, this ultra-simple trick is here to save the day: This Waste-Free Hack Will Keep Your Cut Avocados Ripe Longer.
-Dolly Parton's beloved hit, Jolene, is one of my favourite country western songs of all time. Its haunting depth, soulful lyrics and captivating melody have helped to turn it into a musical classic at this point.
As much as I adore Dolly's version, I have to say, I'm also more than a little bit smitten with this very clever take, which sees Jolene's lyrics tweaked and sung – gorgeously, may I add – in a Bardic Medieval Style.
Trust me, after one listen, thy will likely find thyself playing this gem on repeat from here on out. 😄
(And speaking of content pertaining to that period of time, I rather enjoyed this look at The World of Medieval Dogdom from History Today.)
-It's safe to say that there are – speaking of music – far more Christmas season tunes than ones aimed at, or especially well suited to, fall time celebrations.
Thankfully, however, a toe-tapping slew of All Hallows' Eve songs exist and compiling a playlist or otherwise enjoying them is something I do with extra gusto the moment September returns.
If you're much the same, or just want a great lineup of music to help you celebrate the spookiest chapter of the year, be sure to check of Good Housekeeping's list of 50 Spooky Halloween Songs You Need to Play at Your Costume Party (or anytime!).
You may also enjoy their fab list of 80 Fun and Creepy Ideas for a Halloween Party to Remember.
-I'm all for curve-hugging attire, but I also appreciate the way less form-fitting attire can look and feel, so I've rather been loving the fact that loose-fitting shirts – including classic t-shirts – are having a moment again this year.
How to Wear a Comfy, Giant T-Shirt and Still Look Stylish is just the ticket if you're also feeling the siren's call to roomier garb these days.
Plus, bonus points for the mega 1980s and 90s fashion nostalgia that oversized shirts can stir in many of us who were alive during those decades.
-Let's face it, most of us use at least one social media platform these days. Sharing images is one of the highlights of these digital communities and certainly amongst my favourite elements of SM.
If you've been wondering what the current ideal sizes are for SM photos, graphics and the like, look no further than this handy list of Social Media Sizes, which provides image size specs for twenty of the top current social media platforms.
-Unquestionably, one of the most important things to occur in 2020 is the greater awareness of, and expanding social platform for, black lives and the important voices they house.
Long after the sea of black squares that filled our IG streams earlier this year, it is crucial that we listen, learn, educate ourselves, and be allies today, tomorrow, and always.
Hearing about the black experiences that people live daily is an important component of this. I've been doing so a good deal lately with several stories in particular standing out for me.
One of which is the engaging and (arguably) rather unique, given the author's uncommon ancestral combination, I'm Inuk, but I'm Black: Comprehending My Identity as an Inuk Jamaican Woman.
-Yes, summer is winding down, but if there's one thing you can count on when it comes to the seasons, it's that they'll return again next year!
Get a jump start on celebrating Halloween during the sunniest season care of this list of 15 Things You Need for Summerween (all of which can certainly also do festive double duty once fall returns).
Parting is such sweet sorrow
(Because, clearly, we've got a Willie S. theme going on in this post. 😃)
So much of the wonder and appeal of the seasons, I firmly believe, is their very brevity. We may love (or loath) certain chapters of the year more than others, but when all is said and done, we are passive witnesses to changes that are beyond our control.
We love them both for what they bring in the moment and for how they make us yearn for their return – or conversely, give mighty thanks that we won't face them again for about nine more months.
Not since childhood can I remember longing to hold onto summer to such a degree.
Of course, while I don't wish for any of the negatives it housed (be it for me/us personally or in the world at large) to continue, I would love dearly to have a few more weeks of crystal clear nights as warm as a bathtub, vibrant greenery as far as the eye can see, and the unmatched languid allure of a season that refuses to be rushed.
My heart will pine for summer, my mind will cradle the memories of the vanishing season we just savoured, and my soul will wait with equal parts patience and anticipation for the return of the year's toastiest chapter.
That said, if heatwaves want to long walk off a short cliff, I seriously won't mind! 😂
But perhaps I'm being too harsh there though. As tough as this summer's heat was and as much of a number as it did on me at times, what would summer (in the Western Hemisphere) be without its infamous dog days and the brilliantly bright sunshine they house?
Not quite the same, if you ask me. Not quite the same.
And so, I – like all of us on this side of the equator – will soon part ways with summer. Some will say good riddance, others will join me in wishing we could capture the season as easily as a photograph and hold it in our hands just a little bit longer.
Thankfully, as much as I can wax poetically about summer, I can do so all the more for the season that is upon us: fall time!
Sweet, stunning, glorious, gorgeous autumn!
It's far from a state secret that fall is my favourite chapter of the year. The one that most aligns with my deepest self and spiritual path, that I pine for all throughout the other 3/4ths of the year, and the season that makes me feel most alive. By a wide mile.
This summer was awesome, enjoyable and happiness-inducing in some respects, but even with that being the case, it can't hold a pumpkin spice scented candle to fall in my books.
I have one heck of a fun, festive, and full schedule of blog and Instagram posts coming down the pipeline for autumn 2020.
Whether you're a fellow falloholic like me or not, I hope that you enjoy the content that I have planned and that there will be no shortage of elements – treasured classics and new favourites alike – in the coming season that help to spark joy in your world.
And so, while it is with a heavy heart that I part ways with summer, it is with an elation filled one that I slip into a cozy cardigan, gleefully rewatch Hocus Pocus + It's the Great Pumpkin, Charlie Brown for the umpteenth time, connect all the more with my witchery, and count down the nanoseconds until October 31st!
Thank you, summer, for all that you were, all that you taught me, and the changes you brought. You will be missed and treasured.
Now, however, it is time to swap our sundresses and shades for tights and scarves and scare up more than a little bit of autumn magick.
Who's with me? 🍂🎃🍂