There are milestones, and then there are milestones. In my books, turning ninety years old falls squarely under the header of an incredible milestone.
Later this month, my maternal grandma is on track to do just that.
My grandma – or Grannie (she prefers to spell it with an "ie" ending) was in 1930 as the Great Depression was just starting to get underway.
Her parents came north for the Klondike Gold Rush of the late 1890s and, even though they didn't strike it rich, loved the untamed Yukon wilderness so much they stayed there for decades after the final waves of eager gold-seekers had crossed the Chilcot.
She was the last of eight children – seven girls, and just one son. And as such, heartbreakingly, these days she is the sole surviving child of her family.
Like many people, my grandma is multi-faceted induvial. Strong and, at times, stubborn. Caring, nostalgic, loving, and tough as an ox.
She's had to be that way. Life, from her birth in the freezing arctic to battling and overcoming cancer for the first time in her 80s as been anything but a cakewalk.
Severe chronic illness struck her early in life – proceeded by tuberculosis (which, much like breast cancer, she was able to beat). Widowhood entered her life at the age of just sixty, proceeded many years prior by the untimely death of her only son.
She has lived in various spots across North, Central and South America, can draw far better than she lets on, never remarried, is a packrat in the extreme, played a mean game of tennis for decades, and makes the best darn orange chiffon cake I've ever tasted.
At (almost) ninety, my grandma still lives on her own in the same house she's called home since the early 1960s.
She drives (during the daylight hours), volunteers, has never had a smartphone, and savours her near-daily walks along a street that, over the decades, has morphed from a sleepy rural road to a multi-lane thoroughfare.
There are many ways in which we differ, but no shortage of others that we share in common. Through thick and thin, my grannie has never failed to inspire me and be a source of unwavering strength in my life.
Sadly, due to the need to social distance and remain as safe as possible, a family birthday celebration of the kind befitting nine decades of life will not be possible.
We'll still do all that we can though, of course, to help ensure that she feels loved, celebrated, and honoured come the big day.
Card, gifts, flowers, phone calls, and other forms of socially distanced connecting will stand in for the birthday fete that up until the pandemic struck, we'd long imagined holding for this awesome occasion.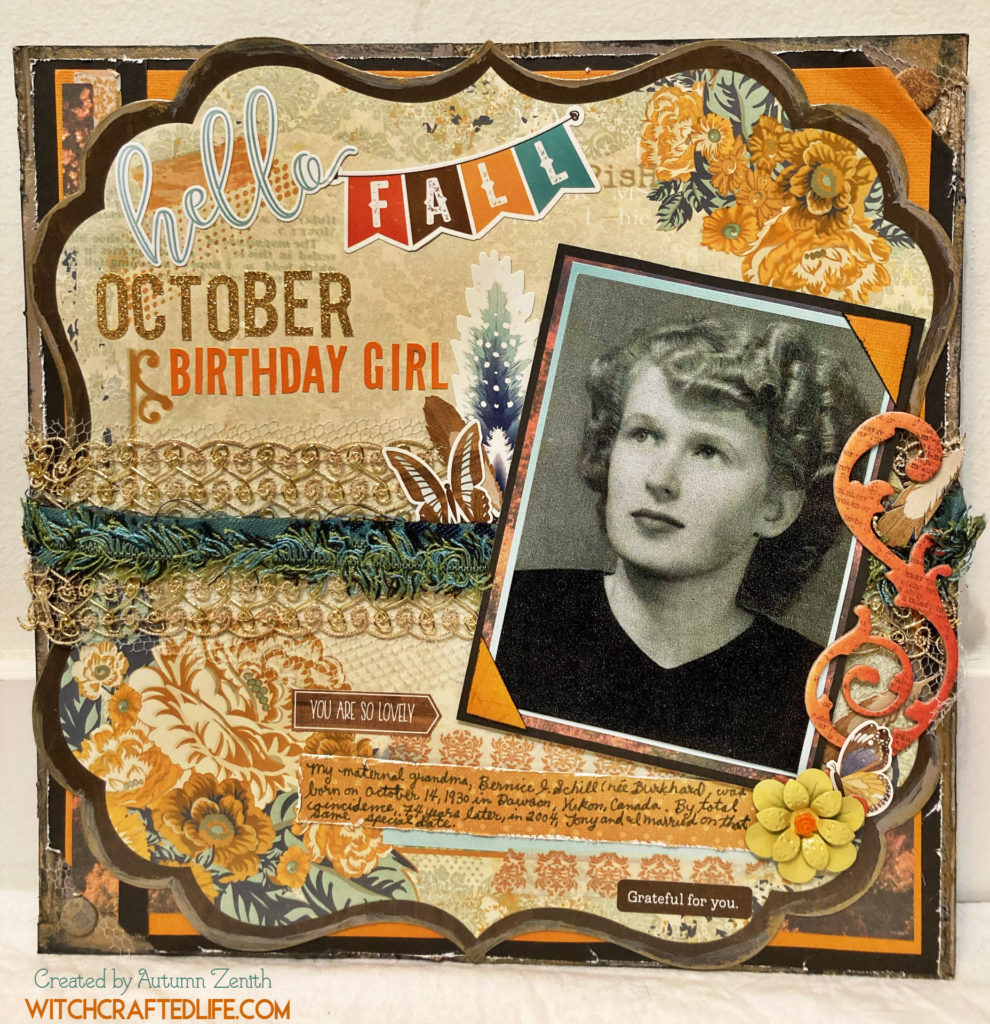 October Birthday Girl Heritage Scrapbook Page
My Grannie is rarely one for fuss, pomp, or pageantry. Her style is understated, somewhat tomboyish, and fairly classic.
In creating a scrapbook layout to honour her October birthday, I wanted to celebrate the season, while staying true to this style.
There are layers and details, but I intentionally kept things a bit refrained – opting to let this vintage photograph of her, taken sometimes around the late 1940s, sparkle as the deserving star of the show.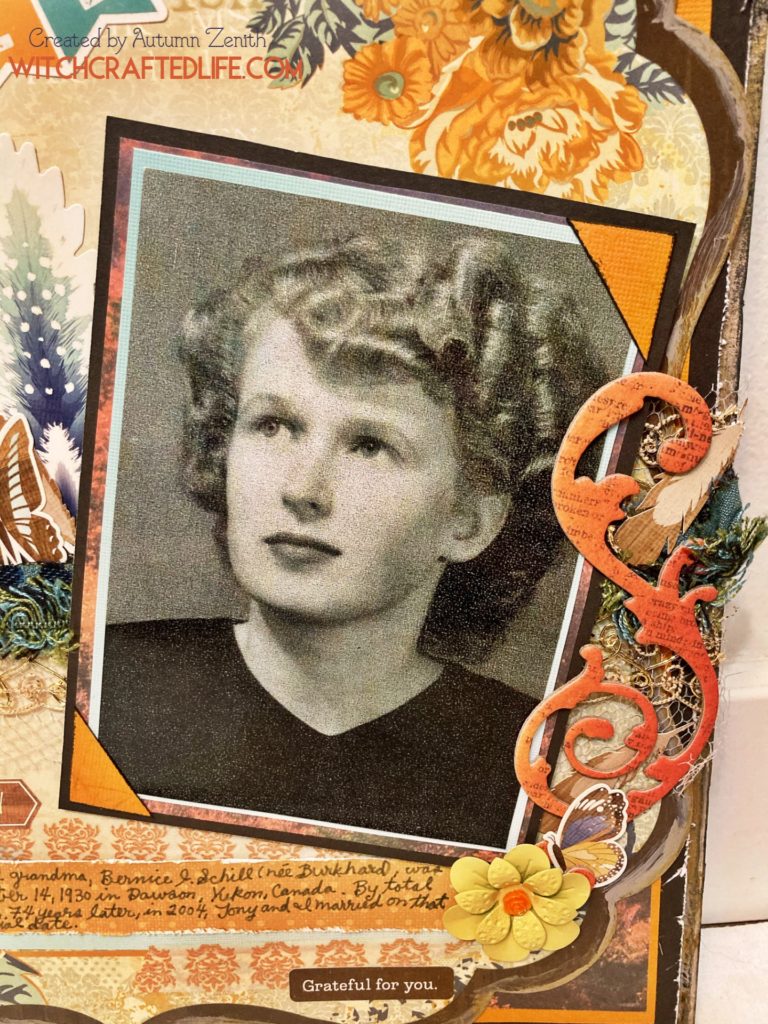 For the background of this scrapbook page, I turned to one of my oldest and most favourite tricks in the paper crafting book and used a piece of corrugated cardboard as the base layer.
Sometimes I do this when I know that I'll need a lot of strength to support all the layers and embellies on a given project, and sometimes I do it simply because I love the look and texture that classic cardboard offers.
Over the years, various companies have sold precut pieces of cardboard (some of which were even billed as being archivally safe), but I've rarely purchased them. Cardboard is plentiful in most peoples lives or can easily be obtained, if you don't have any to hand.
That said, if creating a project that is archivally safe is paramount to you, I'd highly suggest either buffering the cardboard with a base layer of acid free cardstock or paper, tracking down acid free cardboard, or using an archival preservation crafting spray, such as Archival Mist (product and brand share the same name) or Make It Acid Free from Krylon.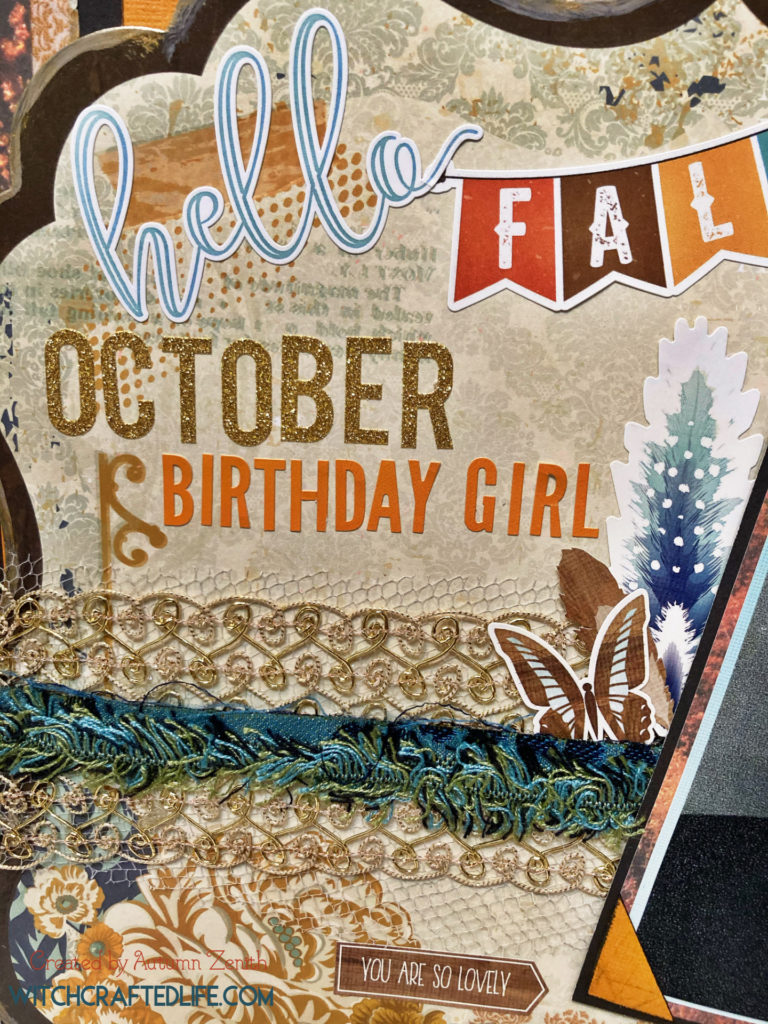 As my grandma's birthday falls in the heart of October, I went for a full-on autumn colour palette, leaning heavily on earthy tones that are reminiscent of nature while also leading the layout a vintage feel that is in keeping with the yesteryear photo used here.
How to create this autumn themed family history scrapbook layout
This layout began with a 12 x 12 inch sized piece of cardboard which I lightly distressed, inked and painted the edges of (black ink, gold paint).
Once dry, I topped the cardboard with layers of black and orange cardstock, turning down two of the corners and tucking pieces of tulle + small chipboard circles beneath the folds.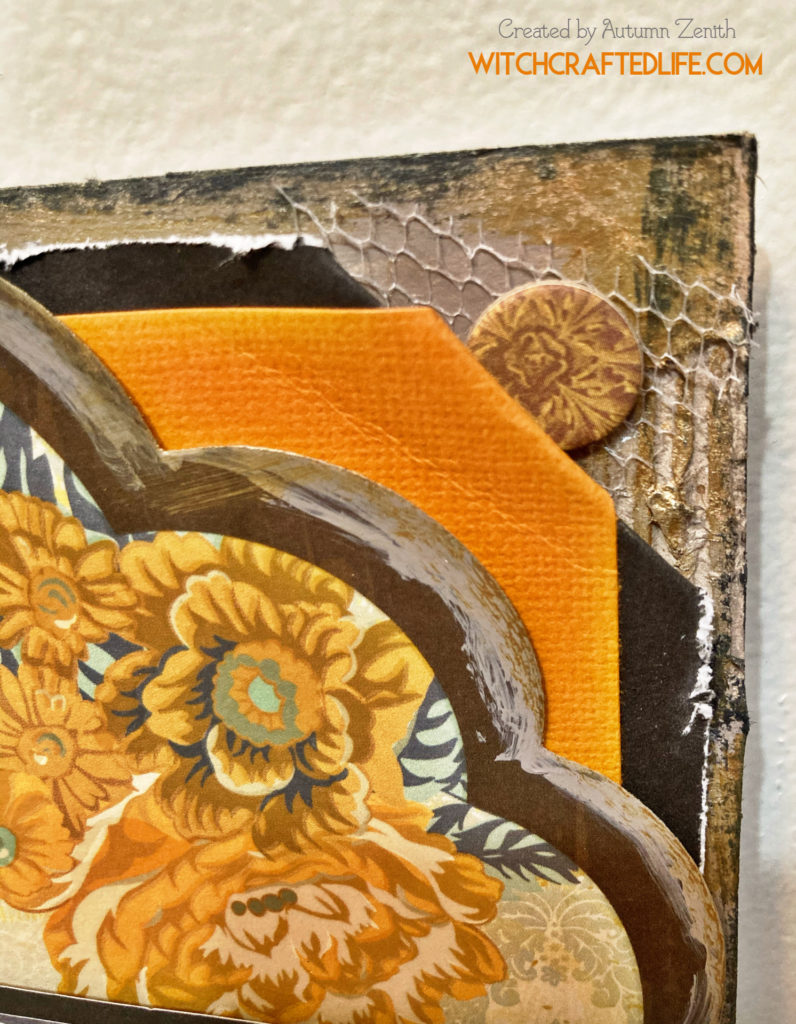 Next came the layers of patterned paper, including the central decorative shape piece which I painted the edges of with grey acrylic paint.
I added the trim, matted and selected a position for my photo, scattered various stickers and embellishments around the design, created my title, and handwrote my journaling on a piece of polka dot print paper.
This layout came together quickly and is not very complex, which I feel really suits the type of person my grandma is: no nonsense, lovely, and timeless.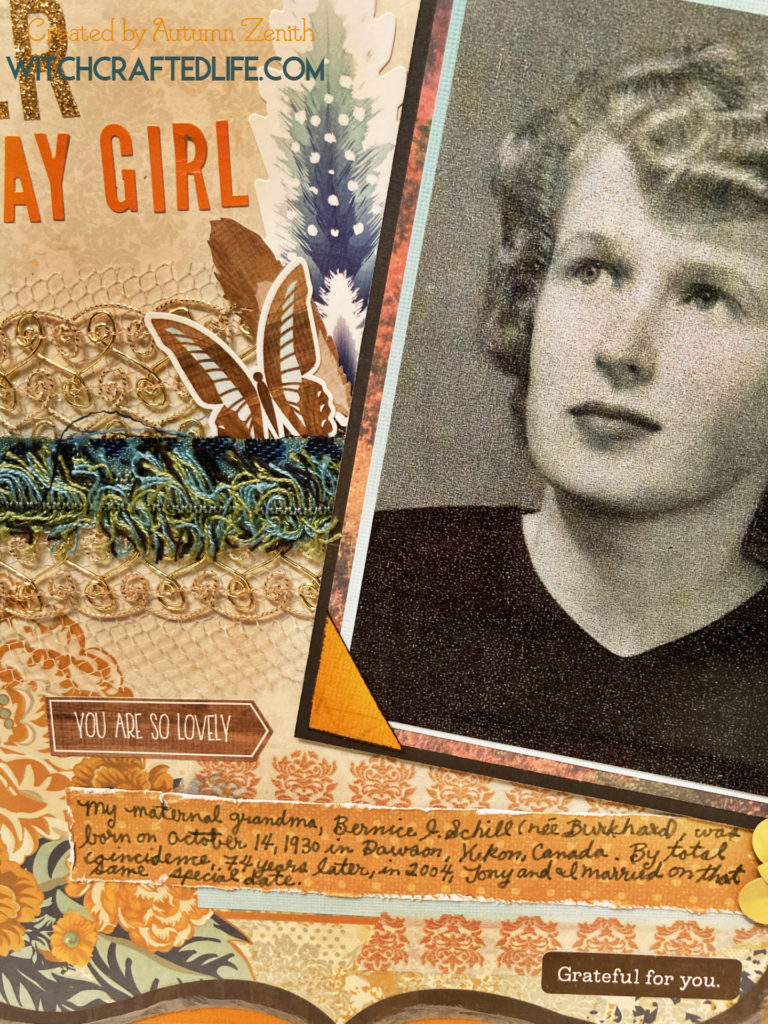 I adore how the floral print on the decorative edge central piece of paper brings a ton of visual interest to this layout, with zero added bulk. I'm all for dimension as a general rule, but sometimes it's fun to scale things back a tad on that front, which is what I did with this LO.
Scrapbook page tips and tricks from this project
-Make friends with cardboard! As touched on above, I adore working with the material in my paper crafting projects. Be as it an entire 12 x 12 inch base, a small accent, a die cut shape, or anything in between, the sky is the limit!
You can distress, sand, paint, stain, ink, stencil, embellish and do oodles more still to cardboard. And of course, you can leave it as is – either with the top layer of thin brown/kraft paper removed or simply as it stands intact now.
I like to save clean, not too thick pieces of cardboard from packaging, mailing materials, and suitable boxes. That way, when a project arises that could benefit from some cardboard, it's always at the ready.
-Don't hesitate to dress up decorative shaped papers all the more. In this case, the scrolling/scalloped edge piece of Kaisercraft paper was gorgeous, but I felt it could use a little something-something extra. Acrylic paint to the rescue!
A purposely shabby chic style coating around the edges was all it took to jazz up this elegant paper and help it feel more individual to my own project.
–Have fun with photo corners! I'm a big fan of photo corners and utilize them often on my layouts. They can work like a charm with pics from any era, but when crafting with antique and vintage photos, they have an extra special ability to look fantastic.
In no small part, this stems from the fact that photo corners were a mainstay of the albums where many images from decades past were originally housed. As such, they can instantly help to lend a lovely yesteryear feel to most any project.
Whether you buy premade photo corners, use a die or punch, or freehand them (hint, basic triangles, as with the golden orange paper used here, do the job fabulously!), photo corners might just be what your next project needs for a bit of extra pizzazz.
-Layer your trims. A great way to add subtle – or not so subtle, as the case may be – interest, colour, and texture to a scrapbook page is to layer two or more trims.
In this instance, I began with a thin layer of tulle, followed it with a wide layer of open design gold hued trim, then topped that with some fun and funky blue and green fringe trim in a colour palette that looks as though it was borrowed from a peacock.
When layering trims, try to ensure that some of each layer remains visible. A mix of solid and airier trims, as used here, can look especially fab, but all open weave or all solid trims can rock just as well, too.
-When using multiple word and/or letter stickers on the same page, aim for a degree of continuity between them. Colours, sizes, fonts, etc can all help. This lends your finished page a cohesive, beautiful look.
Though, that said, sometimes it's great to mix things up, toss the rules out the window with your lettering and word stickers and just have a blast mixing things up.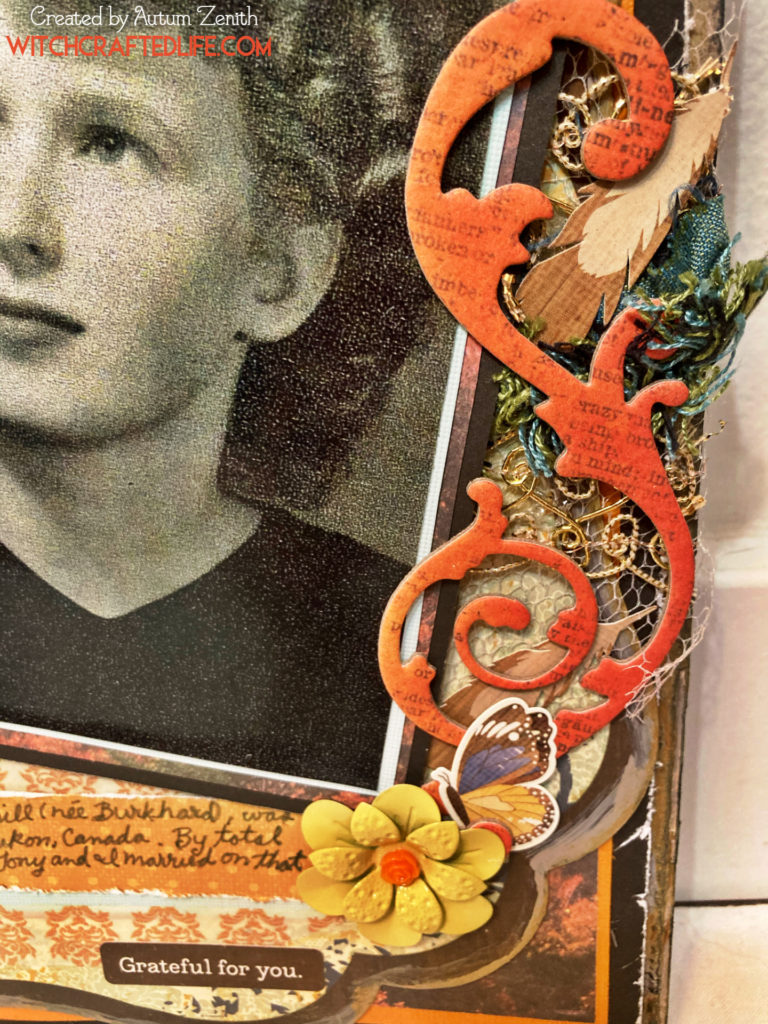 -Butterflies and feathers might not instantly scream fall to the same degree that they do spring and summer, but that's no reason not to utilize them in autumn related projects – especially if they're in seasonal hues like the earthy browns and blues here.
If you don't have premade fall coloured butterflies or feathers, consider stamping or die cutting and colouring some in the fall shades that best compliment your project.
Products used to create this fall birthday scrapbook page
-Piece of brown/kraft coloured cardboard measuring 12 x 12 inches (30.5 x 30.5 cm)
-Black, golden orange, and pale aqua cardstock
-Fall tree real photo print paper – Fall Harvest Paper Pad from American Crafts
-Cream and mustard yellow polka dot print paper – Autumn Crisp 6 x 6 inch Paper Pad from American Crafts
-Decorative scalloped edge paper – Hidden Treasures Collection Token from Kaisercraft
-Black ink pad – Dew Drop Tuxedo Black Ink from Memento
-Orange chipboard flourish and both circle shaped chipboard pieces – Autumn Song Chipboard from Bo Bunny
-Various word and image stickers – Rhapsody Element Stickers from Photo Play
-Hello Word Sticker – Bloom Element Stickers from Photo Play
-Fall word bunting banner sticker – A Perfect Autumn Afternoon Element Stickers from Echo Park
-Orange letter stickers – Citrus Alphabet Stickers from Bo Bunny
-Gold glitter letter stickers – Marquee Love Letter Stickers from Heidi Swapp
-Gold acrylic paint – Gold Metallic Paint Dabber from Ranger
-Grey acrylic paint – Gray Wolf from Martha Stewart Crafts
-Gold and cream damask print washi tape
-White tulle trim
-Fringed blue and grey trim
-Wide gold oven weave design trim
-Yellow painted metal flower charm – Timeless Memories Metal Trinkets from Recollections
-Grey marker/felt tip pen (used for journaling)
-Dimensional foam, pop dots, or similar to elevate some of your layers
-Adhesive, such as a tape runner, of your choice (I often use my Scotch Tape Glider)
The journaling on this layout says: "My maternal grandma, Bernice J. Schill, was born on October 14, 1930, in Dawson, Yukon, Canada. By total coincidence, 74 years later, in 2004, Tony and I married on that same special date."
One day, three importance celebrations
My grandma's 90th birthday is unquestionably the milestone highlight of October 2020. Interestingly, and coincidentally, however, it is not the only special event that falls on the 14th of this month.
That date also happens to by the birthday of my dear Uncle Bill, as well as mine and Tony's wedding anniversary. Plus, just two days later, my beautiful sister's birthday returns as well.
As you can imagine, traditionally, this has made for a week of ample family gatherings, celebrating, and feasting.
Especially when you consider that, when it falls on the latest possible date that it can, Canadian Thanksgiving technically takes place on October 14th once every few years.
Talk about one full and exciting date!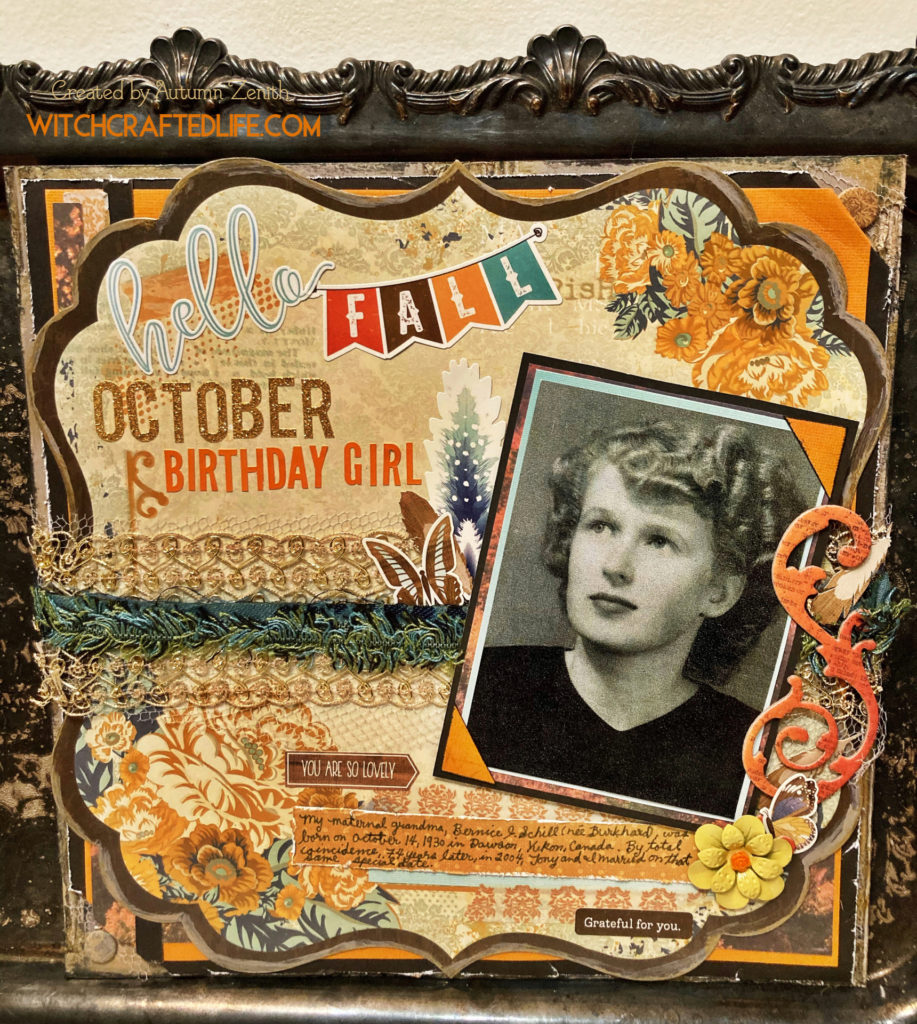 None of those events are going to unfold this time around they usually would.
Yet, much as with my Grannie's birthday, we'll do what we can to honour the spirit of these meaningful occasions and (especially) the loved ones who are at the heart of each important mid-October event.
Right here and now though, as the 10th month of the year gets underway, I must dash. 90th birthdays come but once in a lifetime and I've got a festive card to whip up and mail out. 😊
Project share
Pin the image below – or any other in this post – to Pinterest, pop it into your Instagram Stories, post in on Twitter or Facebook, or share it anywhere else you wish to help yourself find it again and to inspire others at the same time.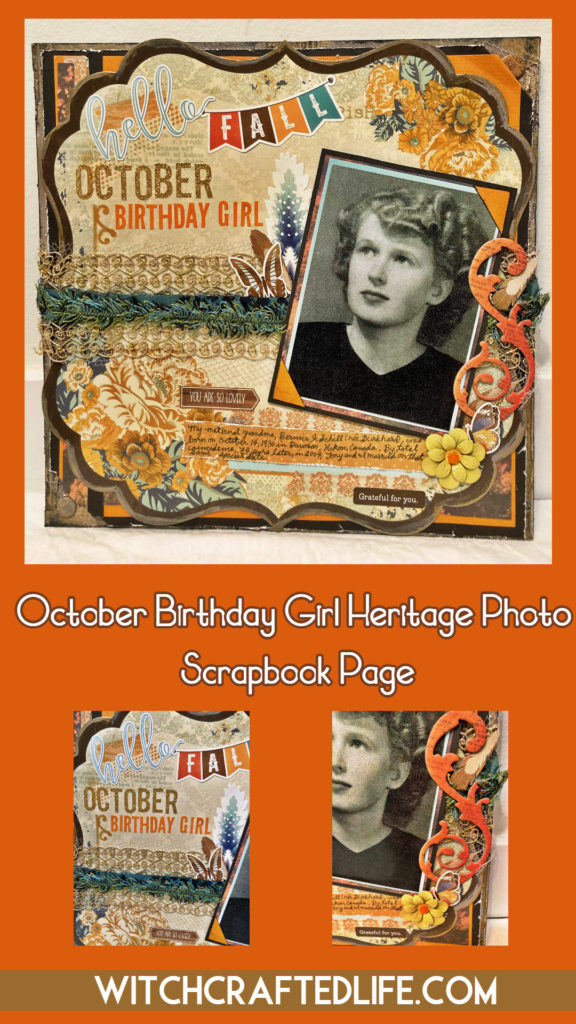 If you make a project based on or inspired by this scrapbook page – or want to share any of your other handmade crafts with me – please use the hashtags #WitchcraftedLife and #WitchcraftedLifeMakes on social media so that I see can your beautiful creations.