Certain words and phrases can help to define, or become deeply entrenched in, the era when they were most commonly used.
When I think of the late 1990s/early 2000s – a time when my teen years were wrapping up and my twenties were starting – no shortage of such lexicological examples spring to mind.
While I doubt that expressions like "your happy place" and "go to your happy place" were invented during that time period, they were certainly popular back in the earliest years of the new millennium.
A lot of us have at least a few treasured happy places, be they real or imaginary. Spending time visiting or reflecting on these locations can be highly beneficial to our sense of well-being and mental health.
I like to think the same rings true for many animals as well – especially those who get to experience an assortment of different locations throughout their lives.
Though it is beyond the scope of our current scientific abilities to determine if animals (be they wild or domestic) do in fact have mental happy places, I would not rule that possibility out for a second.
Thankfully, we can often make educated guesses as to what an animal's favourite kinds of places most likely are. 🙌
Their moods, energy levels, and reluctance to leave said spots are just some of the cues that can let us know what locations our beloved critter friends enjoy the most.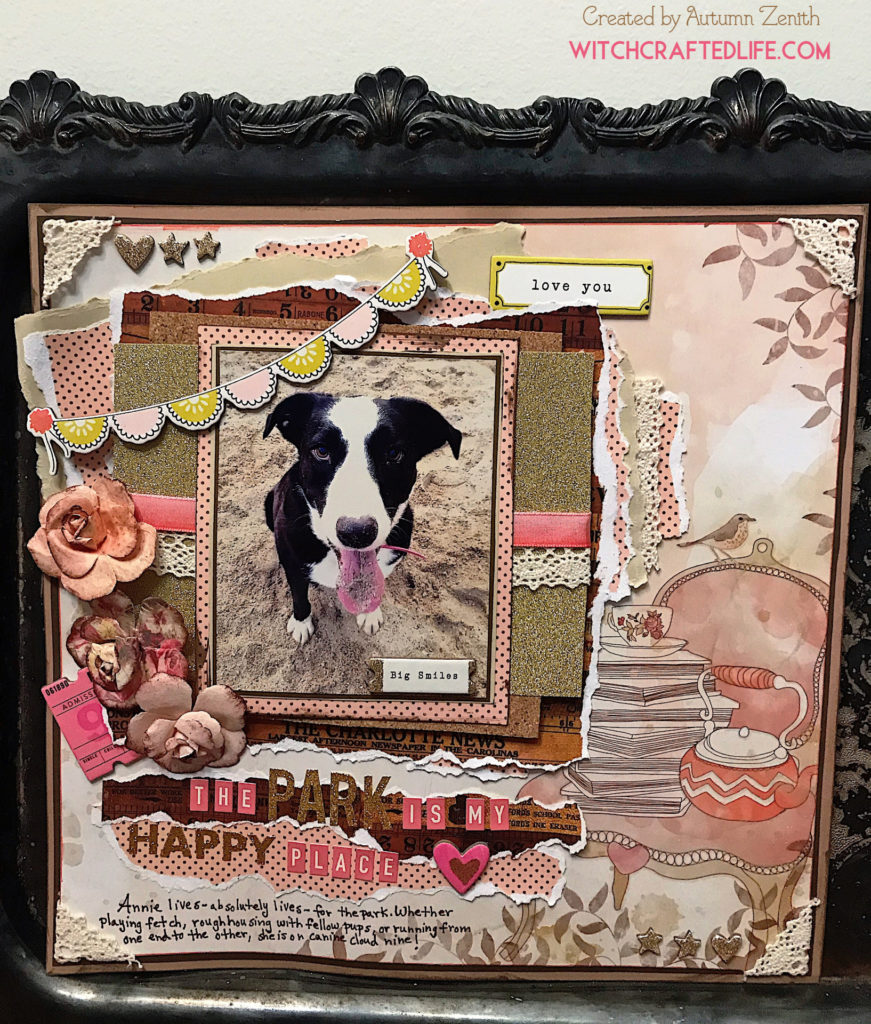 In the case of Annie, she – like many of her canine peers the world over – is absolutely bonkers for dog parks. 😍
Big or small, at the beach, in the woods, smack dab in the heart of a city, it really does not matter.
If there is an expanse of land where she can run and fetch – coupled with the prospect of fellow doggos for her to play with – she is in absolute seventh heaven! 🥰
A while back I created the scrapbook page that is at the heart of today's post. It celebrates the fact that dog parks are, hands (and paws!) down, our dog's happy place of choice.
It honours Annie's unwavering passion for these public spots where she and her furry friends collectively help to keep the Chuckit! product line in business, and where I always know she will be the living personification of happiness. 😊
The Park is My Happy Place scrapbook page
In my Only Love Lets Us See Scrapbook Page post from 2020, I talked about the fact that Annie is one seriously unphotogenic pup!
This is most definitely the case. However, sometimes one can have slightly better luck of getting a usable, non-blurry and/or head-turned image when Annie is at the dog park. This is especially true if Annie is sitting patiently while she waits for someone to hurl a ball as far as they can for her.
It was on one such occasion, several years ago now, that I captured the cell phone photo at the heart of this fun pet-themed scrapbook page.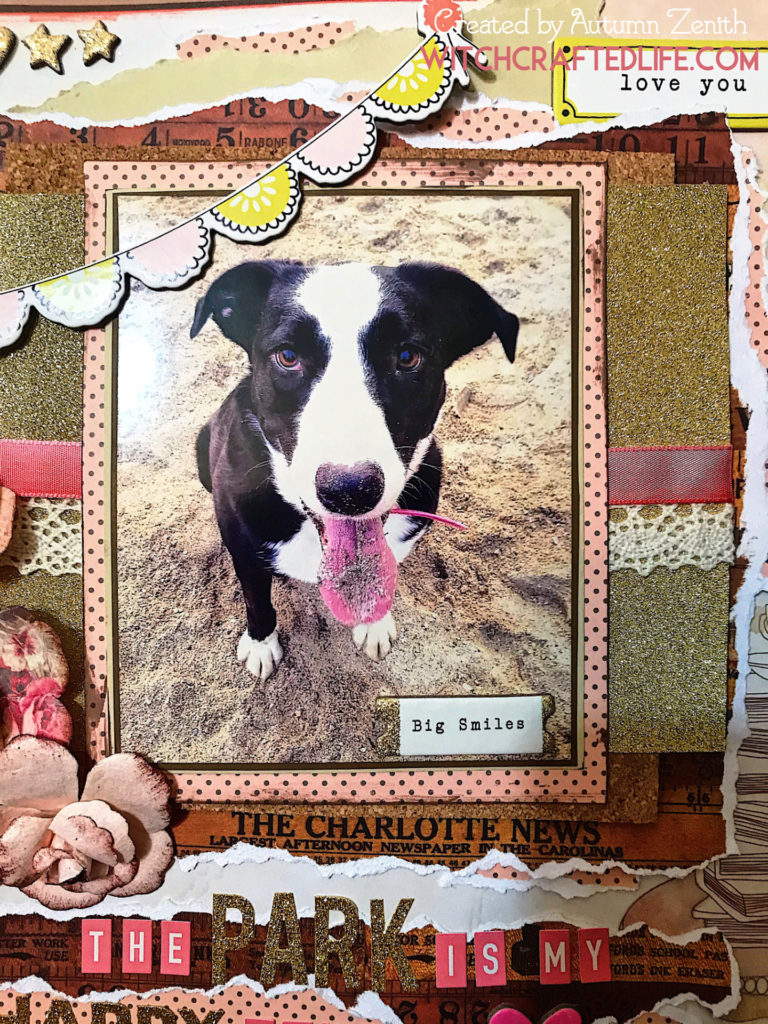 For my colour palette, I pulled directly from the sunny, sandy hues in that image, as well as the adorable pinkness of Annie's outstretched tongue.
To convey a sense of the sand in the photo, I used some gold glitter paper as one of the layers behind it. As well as sandy brown, dark brown, and kraft cardstock. And then further drove home a sense of sand all the more via the use of gold glitter alphabet stickers.
I readily admit that the imagery on the central background paper used here has little to do with dogs or dark parks. 😄
It does, however, depict things – reading, a comfy chair, enjoying a spot of tea – that many people greatly enjoy and which may factor into some of their happy places.
I also find it to be a very serene and pleasant illustration (in a great springtime colour palette), which helps to enhance the overall sense of joy that this layout telegraphs.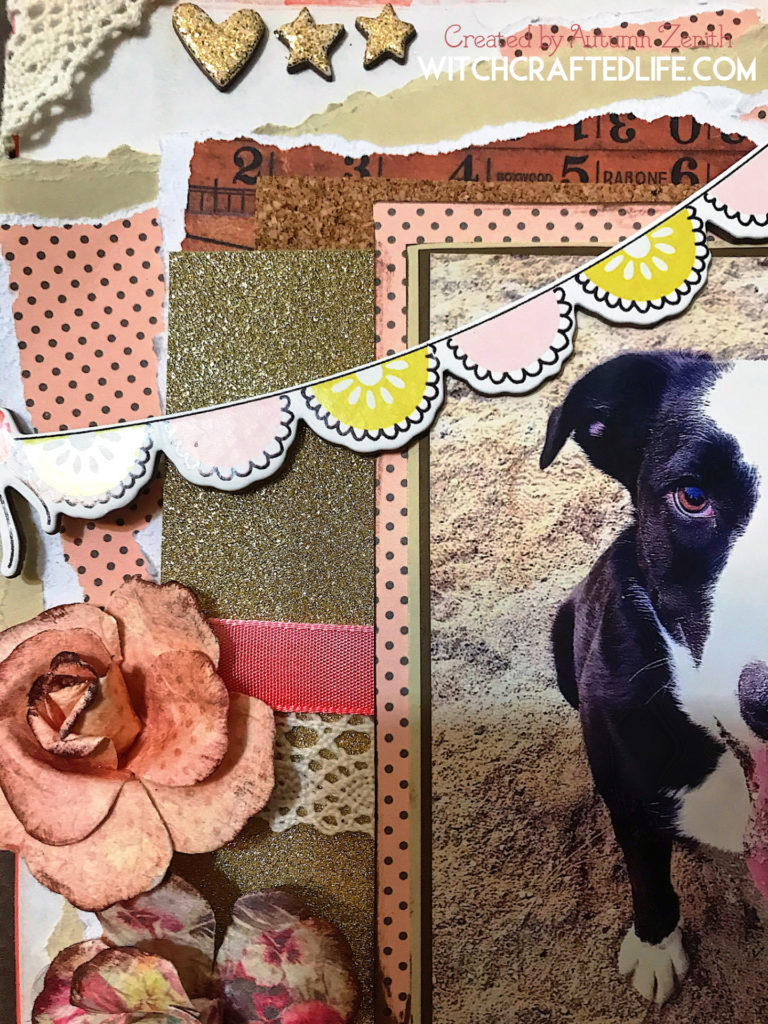 The project photos shared throughout this post were taken (and watermarked too, for that matter) closer to the time when I made this scrapbook page. Therefore they were not captured in the lightbox that I picked up around the start of 2021.
Which, while handy for some sizes of cards, tags and other small items, does not work very for LOs, unfortunately.
I am still trying to hit on a solution for taking pics of scrapbook pages that I am even just quasi-happy with. 😄
If you have any tips for taking photos of 12×12 scrapbook LOs either inside or out of a lightbox, please do not hesitate to share them with me in the comments below. I am all ears!
Products used to create this dog-themed layout
-Dark brown cardstock
-Sandy brown/beige cardstock
-Kraft cardstock
-Gold glitter cardstock – Glitter Silk Cardstock from Darice
-Printed peach tone background paper (This particular piece of paper was amongst a selection that I received as a gift a few years back from a lovely fellow paper crafter. No product information was included with it, so I am unable to point you towards where it came from. That said, numerous brands such as My Mind's Eye, Prima, and Pion Design have released relatively similar-looking papers over the years.)
-Assorted patterned papers – most of those used here came from the Farmhouse 8×8 inch pad from October Afternoon
-Thin cork sheet (used behind photo) – Cork Sheets from Forever in Time
-Dark brown ink pad – Dew Drop Rich Cocoa Ink from Memento
-Dark orange ink pad – Dew Drop Morocco Ink from Memento
-Dark brown fine point marker or pen (for journaling)
-Assorted chipboard piece stickers (all chipboard pieces used on this LO) – Maggie Holmes Celebrate Today Stickers from Crate Paper
-Peach and pink dimensional flowers – Love Clipping from Prima Marketing
-Cream crochet trim
-Coral pink velvet ribbon – Valentine's Ribbons from Martha Stewart
-Slightly larger gold glitter letter stickers – Marquee Love Letter Stickers – from Heide Swapp
-Slightly smaller gold glitter letter stickers – Gold Glitter Futura Alpha Stickers from Sticko
-Pink mini letter stickers – Sno-Cone Mini Market Letter Stickers from October Afternoon
-Dimensional foam, pop dots, or similar to elevate some of your layers
-Adhesive, such as a tape runner, of your choice (I often use my Scotch Tape Glider)
The journaling on this fun pet page says…
"Annie lives – absolutely lives for the park. Whether playing fetch, roughhousing with fellow pups, or running from one end to the other, is on canine cloud nine."
How to make a darling springtime hued pet themed scrapbook page
Begin by using a 12″x12″ piece of kraft cardstock as the base of your layout. Ink all four sides with Dew Drop Rich Cocoa (dark brown) ink.
Cut a piece of dark brown cardstock a touch smaller than the base layer. Adhere to base layer.
Cut the piece of peach hued patterned paper a wee bit smaller than your previous layer. Ink all four sides with Dew Drop Morocco (dark orange) ink.
Snip four equal-sized pieces of cream coloured crochet trim and fold them over each of the four corners of that piece of patterned paper, as shown. Adhere them in place then adhere that layer to the previous LO base layers.
Tear the edges on various sized pieces of mini polka dot paper, sandy beige/brown cardstock, and brown vintage ruler print cardstock. Arrange on the lefthand side of your layout, as shown.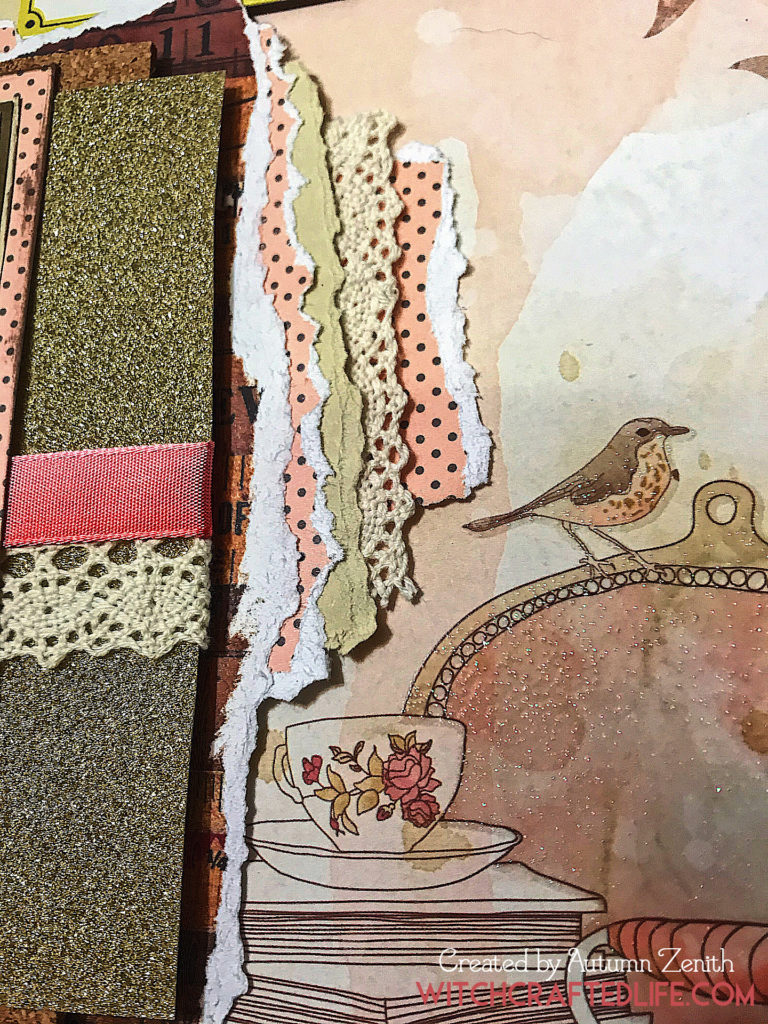 Top those layers with one vertical piece of cork and one horizontal piece of gold glitter cardstock. Adhere layers to one another and to the previous torn edge layer stack.
Run a piece of pink velvet ribbon and a piece of cream crochet trim across the center of the gold glitter cardstock layer. Adhere.
Mat your photo with layers of dark brown cardstock, sandy brown cardstock, and mini polka dot print paper. Ink the edges of the polka dot paper with dark brown ink. Adhere photo to layers, layers to one another, and then the completed photo stack to the gold glitter cardstock layer.
Use dark brown ink to ink the edges of three paper roses/flowers. Adhere the flowers around the lower left-hand side of the photo. Tuck a cute pink die cut chipboard ticket beneath one or two of the roses. Adhere in place.
Tear the edges of a slender strip of brown vintage ruler paper and another from the mini polka dot paper. Adhere them a little ways below the photo area of this LO.
Use a mix of dark pink tiny letter stickers and two sizes of gold glitter alphabet stickers to create your page title, placing it atop the two torn edge layers that you just created. Adhere a dark pink chipboard heart at the end of your page title.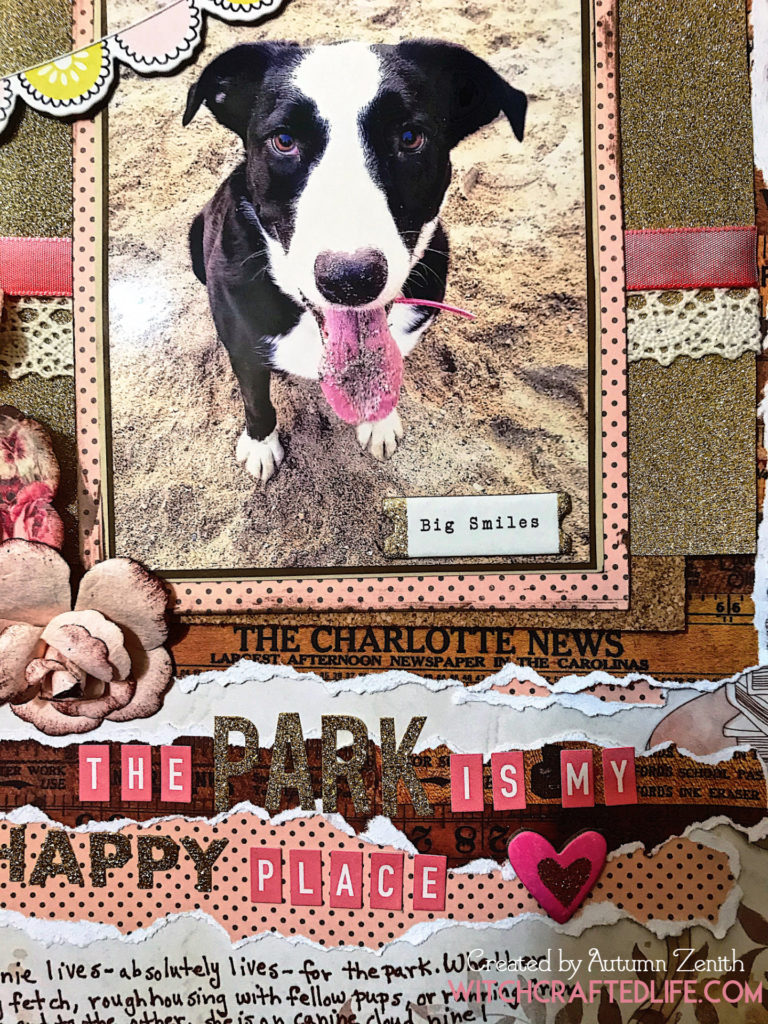 Write your journaling in dark brown ink/marker on the main peach coloured background layer, just below where you placed your page title.
Vertically arrange, then adhere, a tiny gold glitter chipboard star and two tiny gold glitter cardstock hearts to the top left and bottom right-hand sides of the peach printed layer of paper, as shown.
Arrange and adhere a chipboard banner and chipboard "love you" word piece across and around the photo stack area, (again) as shown.
Lastly, place the "big smiles" sentiment chipboard sticker piece on the bottom right-hand side of the photo itself.
And there you have it, one sweet, adorable, shabby chic pet themed scrapbook page in a warm, inviting colour palette that suits springtime to a tee!
Scrapbook page tips and ideas from this layout
-When working with background papers that include large illustrations, try to allow some open breathing room to remain on your layout so that you do not run the risk of the design looking too busy or of your photo(s) getting lost in the visual mix.
In this instance, I did so primarily above the illustration of the chair, which remains open and provides a nice contrast to all of the action going on around the photo + page title + journaling.
–Take inspiration from textures in your photos(s) for some of the materials that you use on your scrapbook page itself. This could be anything from wood/bark to snow, straw to pebbles, grass to sand (as was the case here).
If you do not have textured materials that convey a direct sense of the tactile element(s) in your picture, try using similarly coloured and/or shaped products instead.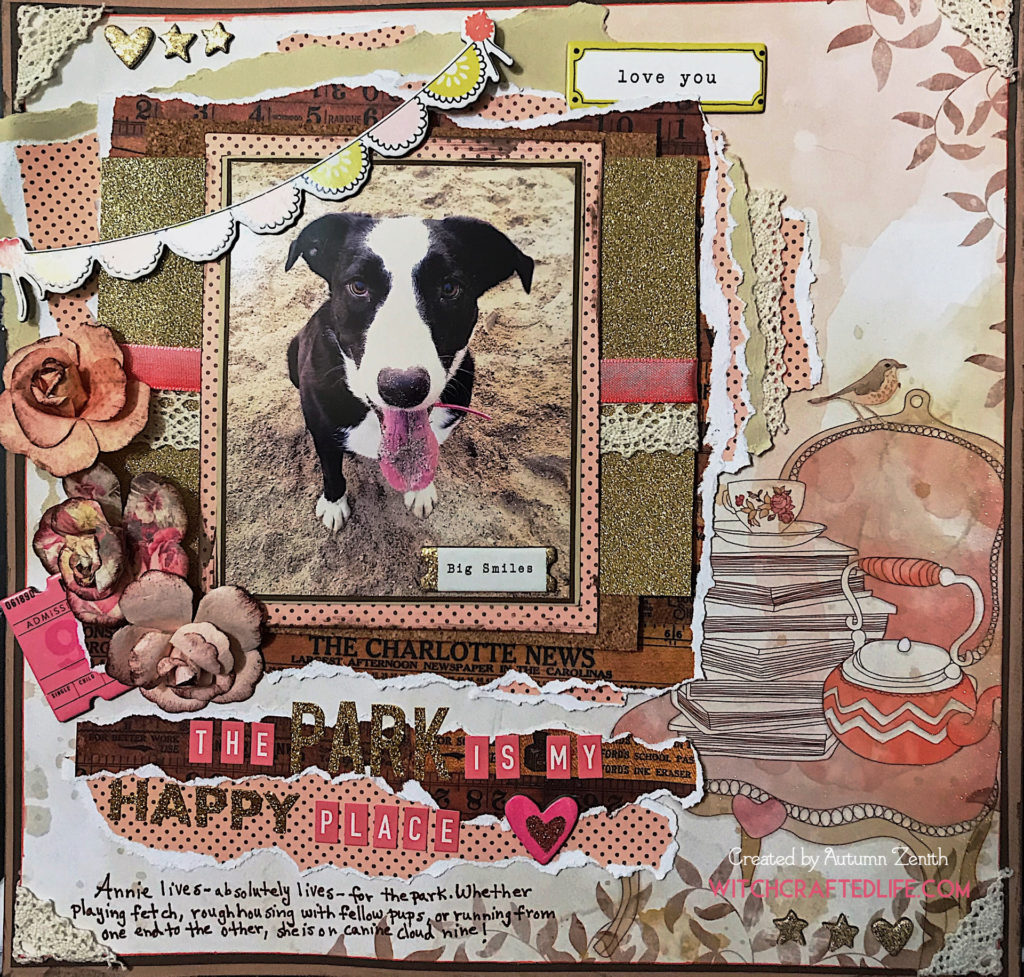 -Photo corners do not have to be reserved simply for photographs themselves. I adore putting corners on other parts of my layouts (and cards, too, for that matter), as I did around all fours sides of the central printed paper layer here.
-And speaking of photo corners, they do not have to be made solely from paper. Just about any material that you can cut, fold or otherwise shape to look the part can make for a fab photo corner.
Some of my favourites include ribbon and trims, scraps of fabric and felt, cardboard, cork, burlap, chipboard, embossed cardstock, vellum, tin foil, glitter cardstock, metallic cardstock, felt, and paper or fabric flower petals or leaves.
-When inking or otherwise distressing your page, do not hesitate to do so on the edges/tops of your flowers as well.
You can also splatter them with paint or dye ink, emboss them with embossing powder, apply glitter or flocking, or, if the petals are suitable, even apply things like stickers and rub-ons for an extra cool effect. 😃
-Use different sizes, colours, and/or fonts in your title lettering. This draws the eye in, is oodles of fun, and can be a great way to stretch your letter sticker + chipboard alphabet stash further.
Papercrafting is my happy place
Objectively, I have quite a few happy places, both in the real world and tucked lovingly within the walls of my mind.
And while, technically, somewhat more of an act than a place, paper crafting is by far one of my happiest places – as is the tiny room in our house that I am fortunate to be able to devote to being a witchy + crafting space all my own. 💗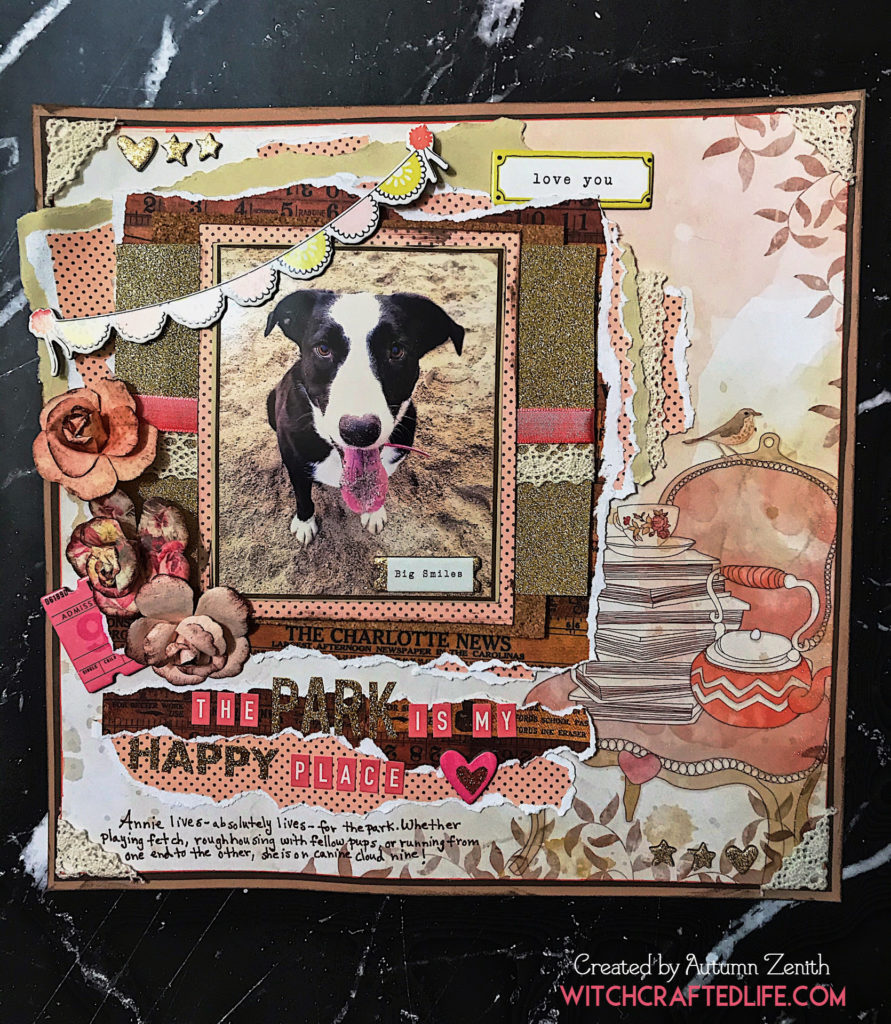 I could talk until the cows (and our black & white puppers who totally resembles them 😄) came home about the tremendous psychological benefits that crafting has on my life – just as it does the lives of many people the world over. But that is likely best saved for a dedicated post unto itself.
Chances are, one day, I will devote a post (or two!) to that very topic. Right now, though, as this particular entry wraps up, Annie and I are both very curious to know…
What is one of your favourite (real or imagined) happy places? 💕🐕💕