Never one for the practical joke side of April 1st, I prefer to view the month's first day as an ideal time to take stock of what sort of tidying and organizing is called for at our house.
Naturally, I am not alone on this front. Especially since the concept of spring cleaning stretches back for centuries (if not millennia), with various theories having been put forth regarding its origins.
These include the possibility of a big yearly cleanout to correspond with the traditional Persian New Year called Nowruz, which transpires on the first day of spring. As well as potentially stemming from the (likewise) traditional activity of thoroughly cleaning one's home in preparation for the Jewish holy day of Passover.
Spring cleaning was cemented all the more in some parts of the world (chiefly the UK and North America) during the Victorian era, when the well-known author Isabella Beeton included a line stating, "spring is the usual period set apart for house-cleaning" in her extremely popular title, Mrs. Beeton's Book of Household Management.
In addition, I strongly suspect that spring cleaning developed organically amongst various cultures around the world. In an age before modern homes and cleaning supplies, it made a great deal of sense to spend some time at the beginning of spring tidying one's house in preparation for the warmer months ahead.
Early spring (or early fall, south of the equator) is often a mild time of the year, situated between the harshness of winter and the extreme heat of summer.
We might have AC, Off spray, and vacuum cleaners at the ready these days, but up until a few short generations ago, these things had not even been invented yet.
Spring was a time to air linens, wash and/or beat rugs, do home repairs both inside and out, spruce up walls and trims with new paint (or wallpaper), wash windows – assuming one's home had glass windows, that is; thoroughly sweep the floors, dust as many nooks and crannies as possible, and help to rid the house of soot that had likely amassed during the winter, when fires were a must to keep people from quite literally freezing to death.
Not only did soot stem from fires in stoves and fireplaces, but also from lamps powdered by substances such as oil and kerosene, both of which often required heating with coal, wood, or dried animal dung.
Understandably, it would have been both unwise and potentially dangerous to try and air a house out back then before the mild days of spring returned. Once they did, many worked diligently for days or even weeks at a time to clean, organize, and (possibly) jazz up their homes.
Today, a fair number of us around the world are privy to modern conveniences. We need only plug in an iron, vacuum cleaner, or steamer tool, reach for our arsenal of cleaning products and set to work tidying up our houses.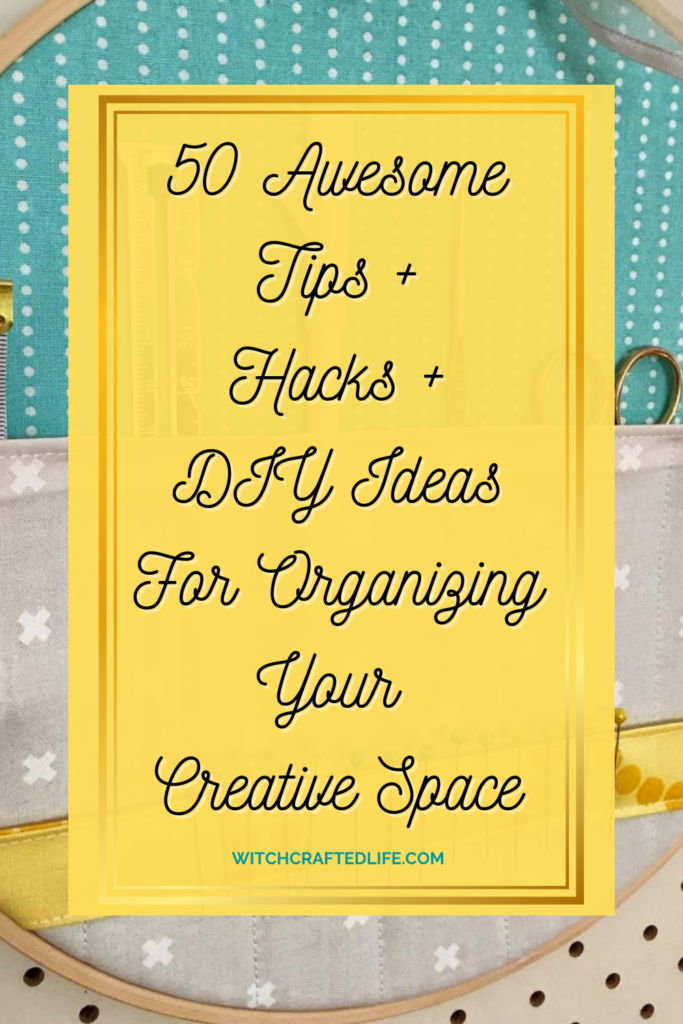 While some people prefer making or purchasing homemade cleaning supplies, a sizable percentage of us do avail of various ready-made 21st-century household cleaning products.
(On a related note, I recently read a post on Bob Villa's website that suggests These Are the Only 9 Cleaning Supplies You Need This Spring, which I thought was well worth passing along here.)
At a very young age, I realized that those two acts – cleaning and organizing, respectively – were a very effective way for me to combat powerful states of being such as anxiety, stress, and (a touch later on in life) depression.
In fact, I have long said – only quasi-jokingly – that you can assess how stressed/worried/anxious/depressed I am based on how neat and clean our house happens to be at any given moment.
Even when I am in a solidly good place on the mental health front, I still have a propensity toward these acts. I love keeping our home squeaky clean and well organized (granted, having a high-energy 70+ lbs dog who loves to track mud, grass, and dirt into the house can sometimes make the former an exercise in futility 😄).
Given that we live in a fairly small house where every inch of space is at a premium and needs to be utilized to the fullest, there is no room (both literally and metaphorically) for disorganization, clutter, or mess.
Still, that doesn't mean that these areas don't need a top-up from time to time. They most certainly do and early spring – as well as the start of autumn – is the ideal time to tackle such projects.
As I know many of you are either knee-deep in your spring cleaning already or planning to start on it soon, I thought that it would be both fun and highly beneficial to many of my readers if I rounded up a slew of different craft room + craft supply organization ideas and hacks.
These excellent – and very handy – craft space organization tips hail from a wide range of online sources, each of which will be linked to so that you can click through and read more about a particular tip, hack, or DIY project.
50 handy craft room organizing and decluttering tips, tricks, ideas, and hacks for crafters and artists everywhere
1. Craft Paint Storage from Upcycled Cassette Tape Holder: Though they have been experiencing a minor revival as of late, it is safe to say that most of us do not listen to much music on cassette tapes anymore (fun as those days were!).
If you have an old cassette holder laying around (or are keen to pick one up for a song at a thrift store or yard sale), why not breathe new life into it by transforming it into a handy-dandy craft paint storage holder?
(I suspect that this type of craft supply holder would also work well for things like small bottles of glitter, embossing powder, flocking, mica powder, beads, sequins, buttons, eyelets, brads, rhinestone embellishments, flatbacks/cabochons, jewelry findings, pompoms, cake decorating nozzles, and many other pint-sized items.)
2. Craft Storage in a Dresser: Dressers are one of my favourite pieces of furniture. They make my organization adoring heart purr with delight! 😊
And if you are short on space or simply want to bring more furniture into your craft room/area, dressers can be a top-notch answer when it comes to the question of how to store your craft stash, as Lora demonstrates wonderfully in this post.
3. Creating a Sequins Station for Your Craft Space: Widely used by a vast array of different crafters and artisans, sequins are a delightful little item that can pack a serious punch in terms of how they are able to transform a project.
Whether you are a shaker card fan sewer, beader, or otherwise, it never hurts to have your sequins stash needly organized. Enter this lovely and very handy idea that utilizes a coffee pod storage container to help you do just that.
4. DIY Craft Paint Organizer: So often we think of boxes, small crates, baskets, and the like as being used horizontally on a flat surface. However, as this awesome idea clearly demonstrates, many products of that nature can be turned on their side, adhered/attached to the wall, and used as vertical storage as well. Genius!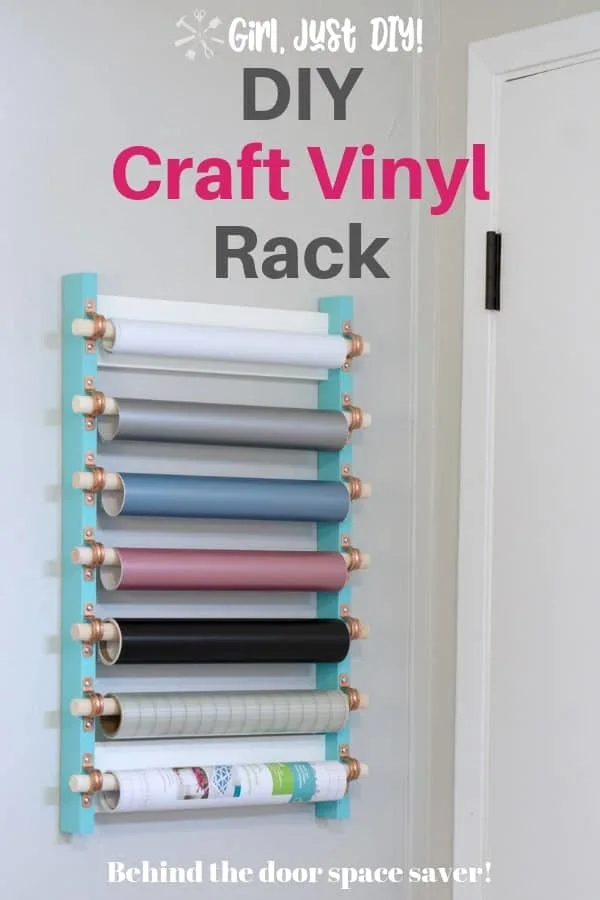 5. DIY Craft Vinyl Storage Rack: While certainly not a new material, craft vinyl has seen a massive surge in popularity over the past several years. This is in no small part to the popularity of electronic cutting machines such as the Cricut Maker.
If you enjoy working with this versatile crafting material and are looking for an affordable + useful way to store some of your rolls of craft vinyl, then this great idea may be for you.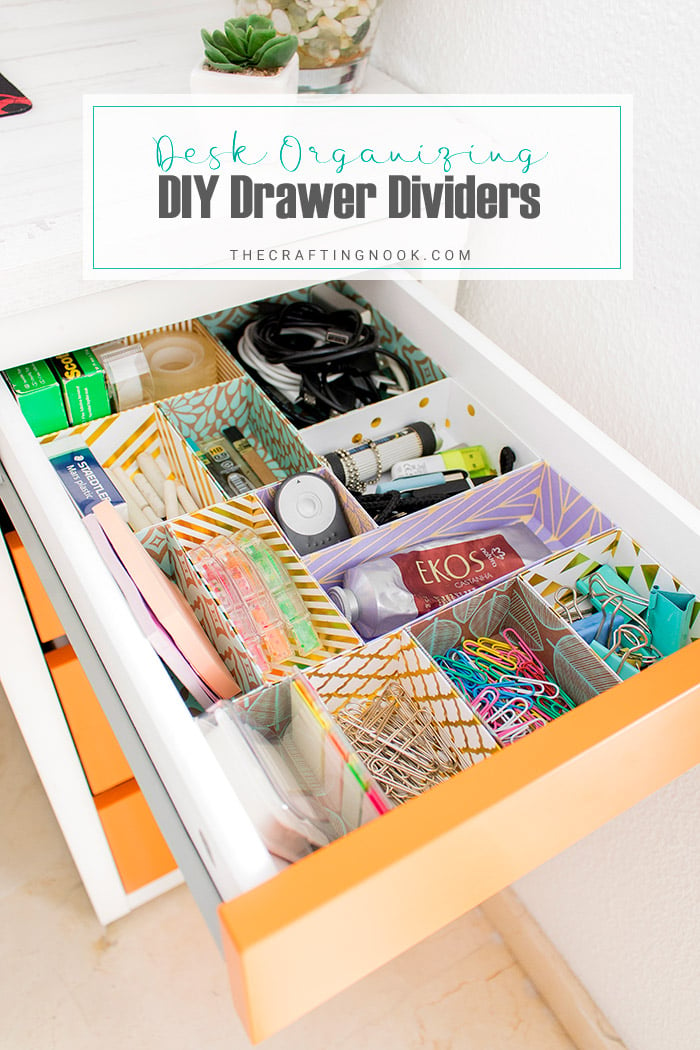 6. DIY Drawer Dividers for Desk Organizing: Sometimes one of the most effective ways to reign in clutter and create an easy-to-maintain organizational system is to simply create divided sections in a well-contained space.
In this helpful approach, all it takes to make your own DIY drawer organizers is some scrapbooking paper or cardstock, adhesive, cutting tool, ruler, and pencil. It scarcely gets simplier than that on the handmade drawer divider front!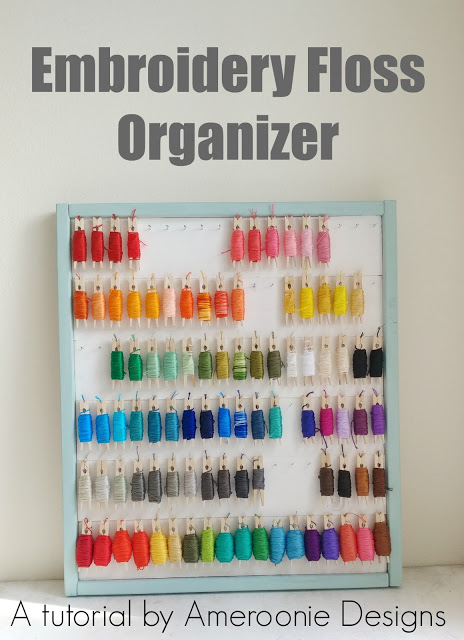 7. DIY Embroidery Floss Organizer Using Clothespins: Whether you are a cross stitcher, embroiderer, paper crafter who likes to stitch on some of their projects, sewer, or otherwise, chances are that if you craft, you have at least a few skeins of embroidery thread kicking around your creative space.
Why not corral them together, display them on the wall, and see what colours you have at a glance with this charming tutorial that guides you through making an embroidery floss organizer with clothespins.
8. DIY Gift Wrap Organization Station: If you enjoy wrapping gifts and have the space for it, a dedicated present wrapping area can be a true joy to work with the whole year through.
In this helpful DIY project post (that is absolutely brimming with lovely photos), Jen leads us through one very appealing approach to making a DIY gift wrapping station of one's own that will not only organize your supplies but also make preparing presents all the more fun!
9. DIY Hanging Pegboard for a Closet: Whether you are seeking additional storage space on top of a wall-mounted pegboard or simply want/need a smaller organizational solution, Sahana's clever approach has you covered.
Plus, this is an ideal option for those in dorms or who rent and are not permitted to nail/drill/etc into their walls.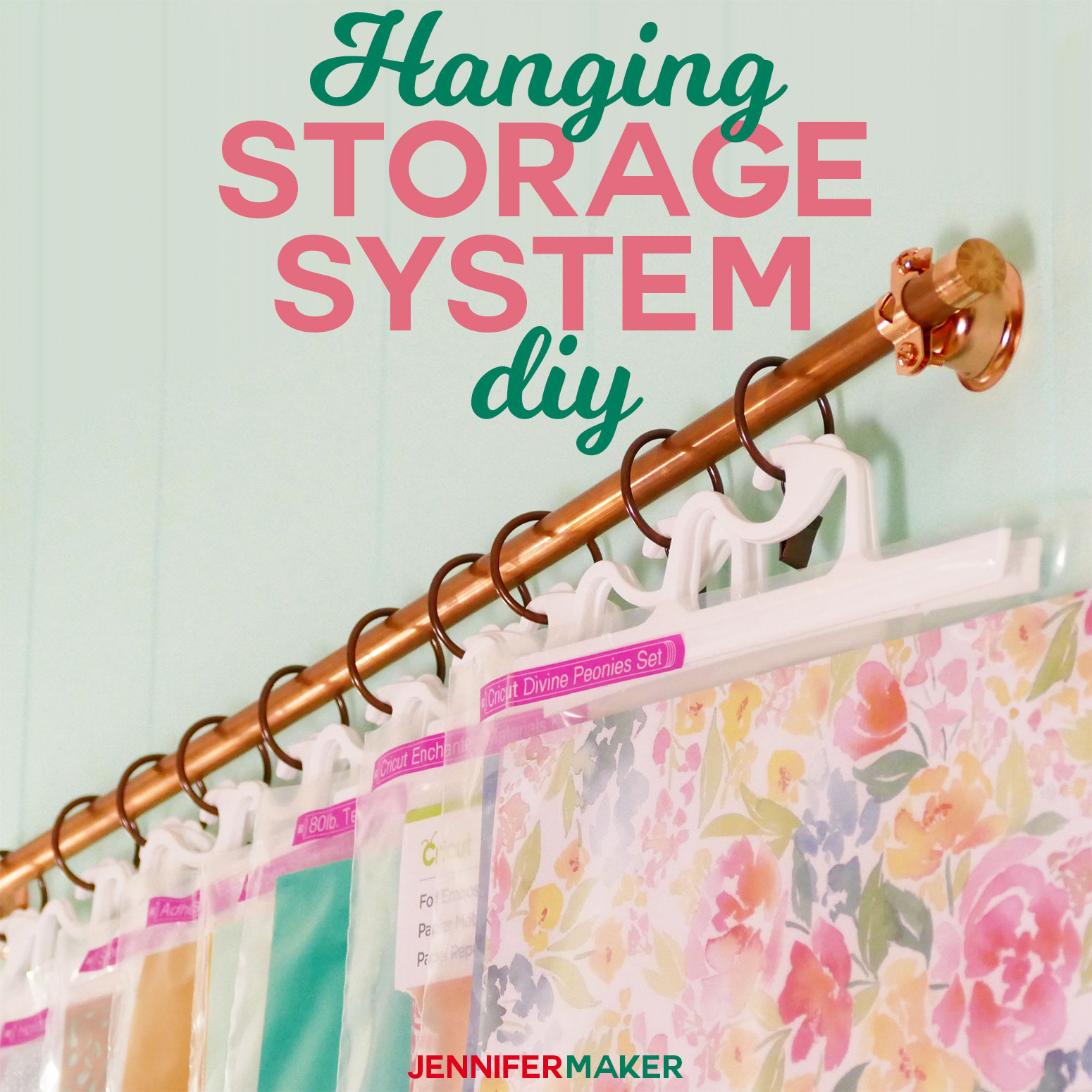 10. DIY Hanging Storage System for Craft Supplies: A few items – including one or more fairly small curtain rods – are all you need to whip up this terrific craft supply storage system that puts more of your stash on display, thus, hopefully, making it both easier to find and more apt to get used.
11. DIY Murphy Desk: While many of us are familiar with murphy beds, chances are the concept of a fold-away murphy desk is considerably less well known.
Clever and practical in equal measures, this idea helps those with limited space (or who would like a desk that folds up and out of the way for whatever reason) create a functional desk that looks like a wall cabinet when not in use.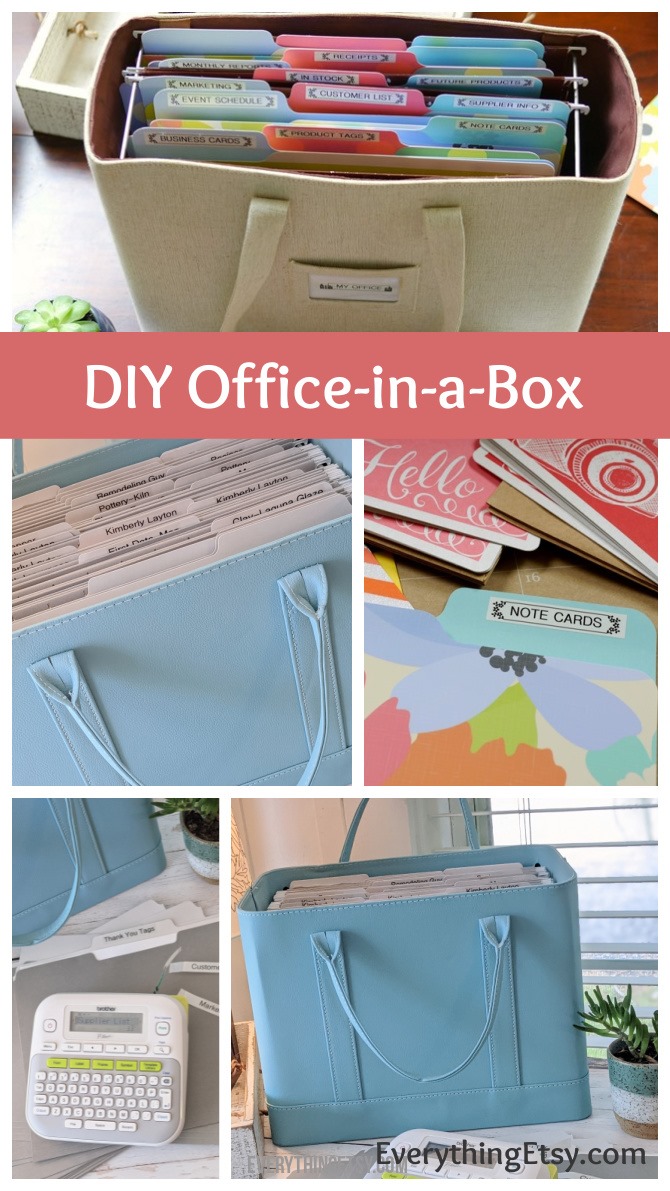 12. DIY Office in a Box: Does your craft space double as your home office? Do you run a business (be it a side hustle, part-time gig, or full-time job) pertaining to your creative passions? If so, you may wish to check out this highly effective approach to Creating an Office in a Box.
Not only is this concept both smart and pragmatic, but it is ideal for those who live in smaller homes or have limited space to devote to their craft spaces since there is no need for filing cabinets or banker's boxes.
And, naturally, anyone else who wants to create an office in a box can do so as well. This concept is certainly not restricted to crafters, artists, and DIY enthusiasts alone.
13. DIY Ribbon Holder Tutorial: A few basic items from the local hardware store are all you need to whip up these stylish, budget-friendly, and thoroughly useful ribbon (spool) holders that can be customized in any colour scheme your heart desires.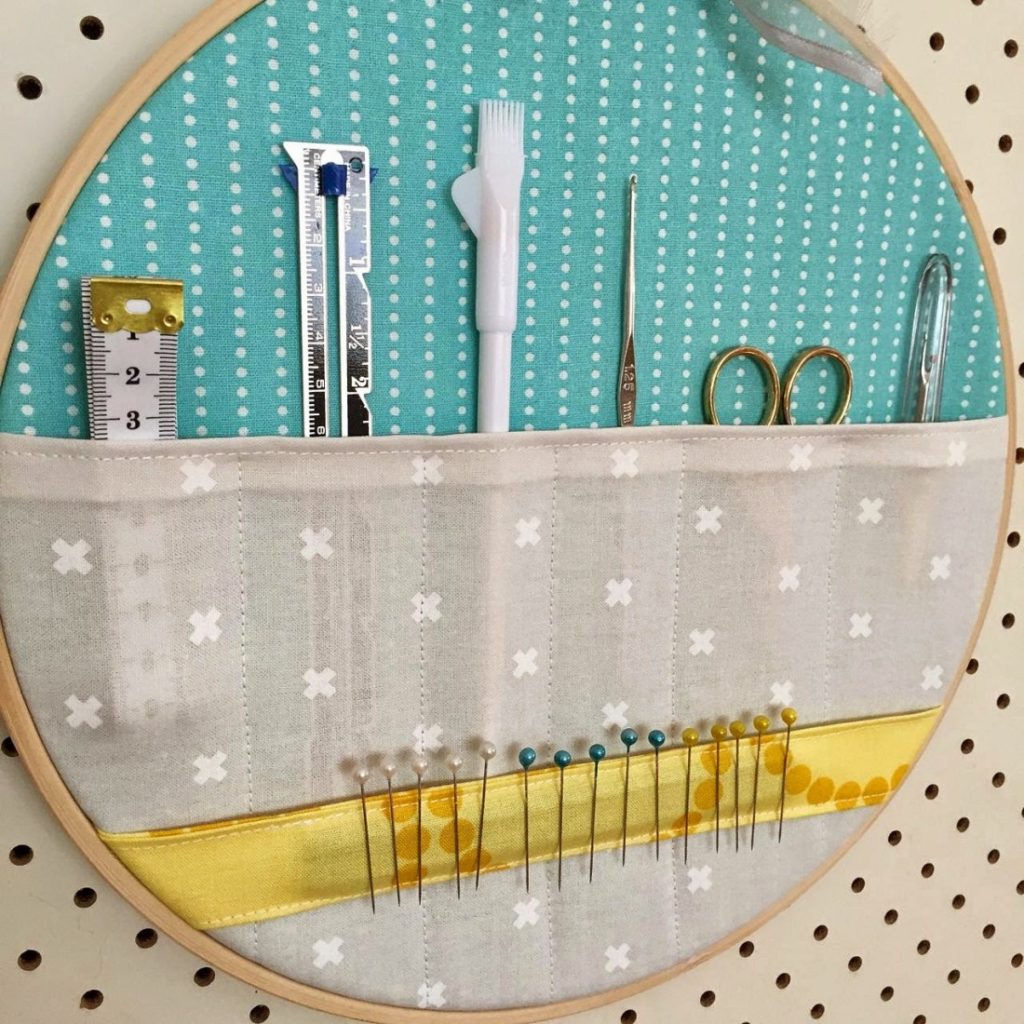 14. Embroidery Hoop Storage Pockets: I melt faster than a chocolate Easter egg left out in the springtime sunshine for craft space organizational projects that utilize craft supplies themselves in their construction.
Case in point, this lovely idea that starts with a good-sized embroidery hoop and ends with a charming craft room storage pocket.
(On the same site, I enjoyed Ros's post on 10 Ways to Get Your Sewing Mojo Back. These useful ideas can easily be adapted, if needed, and applied to creatives of all kinds.)
15. Extra Large Pegboard for Craft Room Organization: Pegboards are not only for locations such as woodworking shops and garages, they are also a wonderfully functional product that can help reign in clutter and organize your craft room as well.
They also have the added advantage of allowing you to see everything hanging on them at a glance. No need to rifle through drawers, boxes, tote bins, or other "hidden" storage containers to see find what you are looking for.
Not only that, but they are often ideal for those with limited space, as the fact that pegboards are typically mounted on the wall means that they are not eating up any floor space in a given room.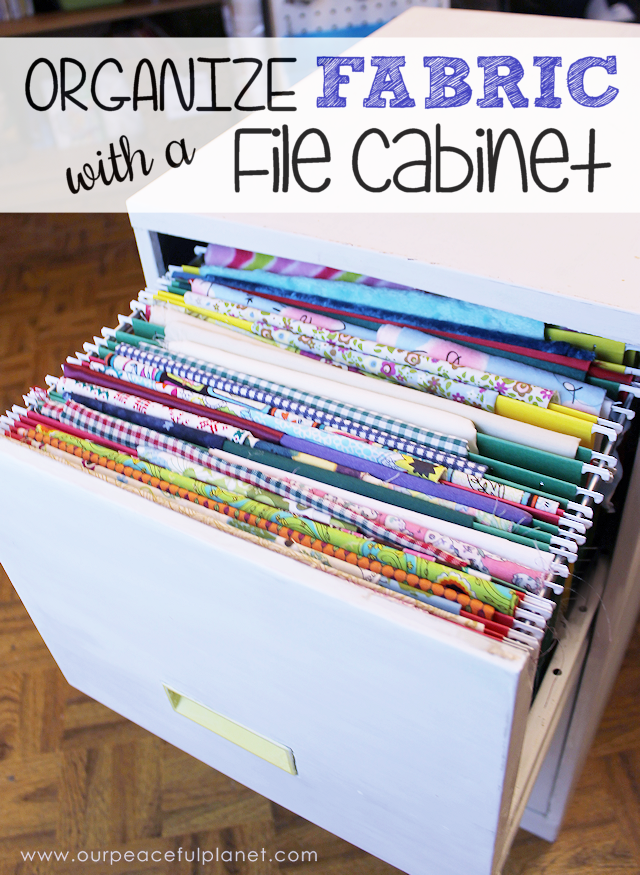 16. File Your Fabric: If you use sewing in your creative endeavours and are looking for a clever + very useful way to store it that does not take up much space, the answer – as this post delves into – may just be a filing cabinet away.
(Note: Filing cabinets are also excellent places to store other types of craft products as well, including – but not limited to – scrapbook paper, cardstock, sheets of stamps, metal dies, stencils, sheets of chipboard and grunge board, acetate, vellum, ribbon (usually wrapped around something sturdy like a piece of balsa wood or cardboard), sewing/knitting/crochet/etc patterns, sheets of stickers and rub-ons, relatively flat canvases, and many other items, too!)
17. $5 Ribbon Organizer: I doubt I am alone in finding ribbon (whether it is loose or on spools) to be one of the trickier craft supplies to successfully store in a way that ensures both easy access and the ability to house numerous ribbons/trims together in the same spot.
This wonderfully budget-friendly idea provides a great approach to doing just that via a mere two components that can be found at many stores both online and off. Soooo handy!!!


18. Framed Storage Pegboards: Standard pegboards are A-okay, no two ways about it. However, if you are looking for an approach that adds more home décor style to this workhorse of a storage solution, may I suggest Jen's beautiful idea of framing multiple smaller-sized pegboards in the same room?
19. Glitter Glue Organizer: I am 100% for using spaces that might not spring to mind as storage spots right off that bat. One of those is (outside of the kitchen at least) under cabinets and shelves.
This creative idea for storing glitter glue does just that with the help of a metal baking sheet and magnets (sturdy Velcro dots with one side glued to the baking sheet would likely work well, too).
You could easily adapt this same approach for other similar small bottles of crafting products, such as Liquid Pearls and Tonic Studio's vast array of Nova products.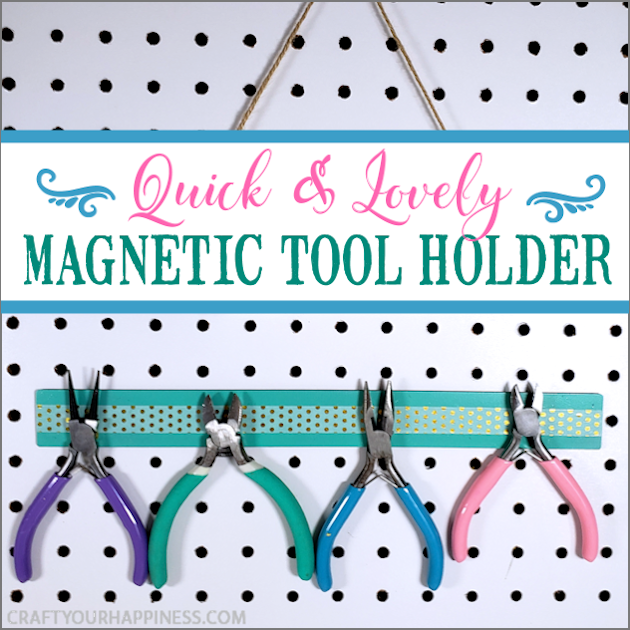 20. How to Make a DIY Magnetic Tool Holder: Magnets can easily be one of the best unsung heroes of the craft room organization world. As Nancy shows us in this DIY post, it is a breeze to whip up an attractive magnetic tool holder that requires just a few basic supplies and which takes up next to no room in your crafty space.
21. How to Make a Faux Card Catalog from a Hardware Organizer: Genuine card catalogs – especially vintage ones – often cost a pretty penny. Yet they are, to my mind, one of the very loveliest ways of storing small items in your craft room.
If you are yearning for the real deal, but can't find (or fit one into your budget), this gorgeous project will guide you through the process of turning a basic multi-drawer hardware organizer into a faux card catalog that is a true work of art.
22. How to Make Your Own (Beading) Tool Stand: Even when paper crafters (and other creatives) are not jewelry makers, they often have a few standard jewelry/beading tools on hand for times when they want to add jump rings, split rings, lengths of chain, and so forth to some of their projects.
Whether you bead/make jewelry or not, if you have such tools, you likely need a place to neatly store them away when not in use.
This low-cost, very effective DIY tool stand project that Claire shared does the job excellently.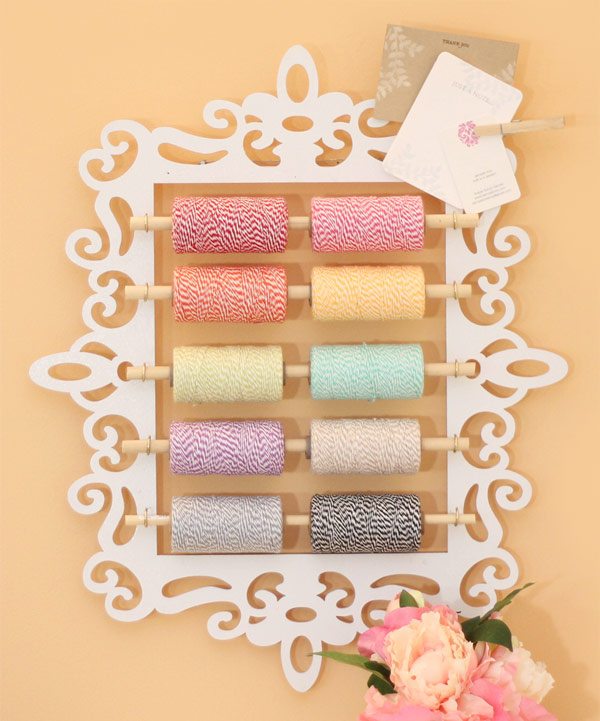 23. How to Organize Your Baker's Twine: Sweet, timeless, and fabulously versatile, baker's twine is a craft supply item that a good many of us creative souls have in our stash.
If you have been on the hunt for a way to store your baker's twine that is both practical and pretty, this option from Amber is just the elegant ticket!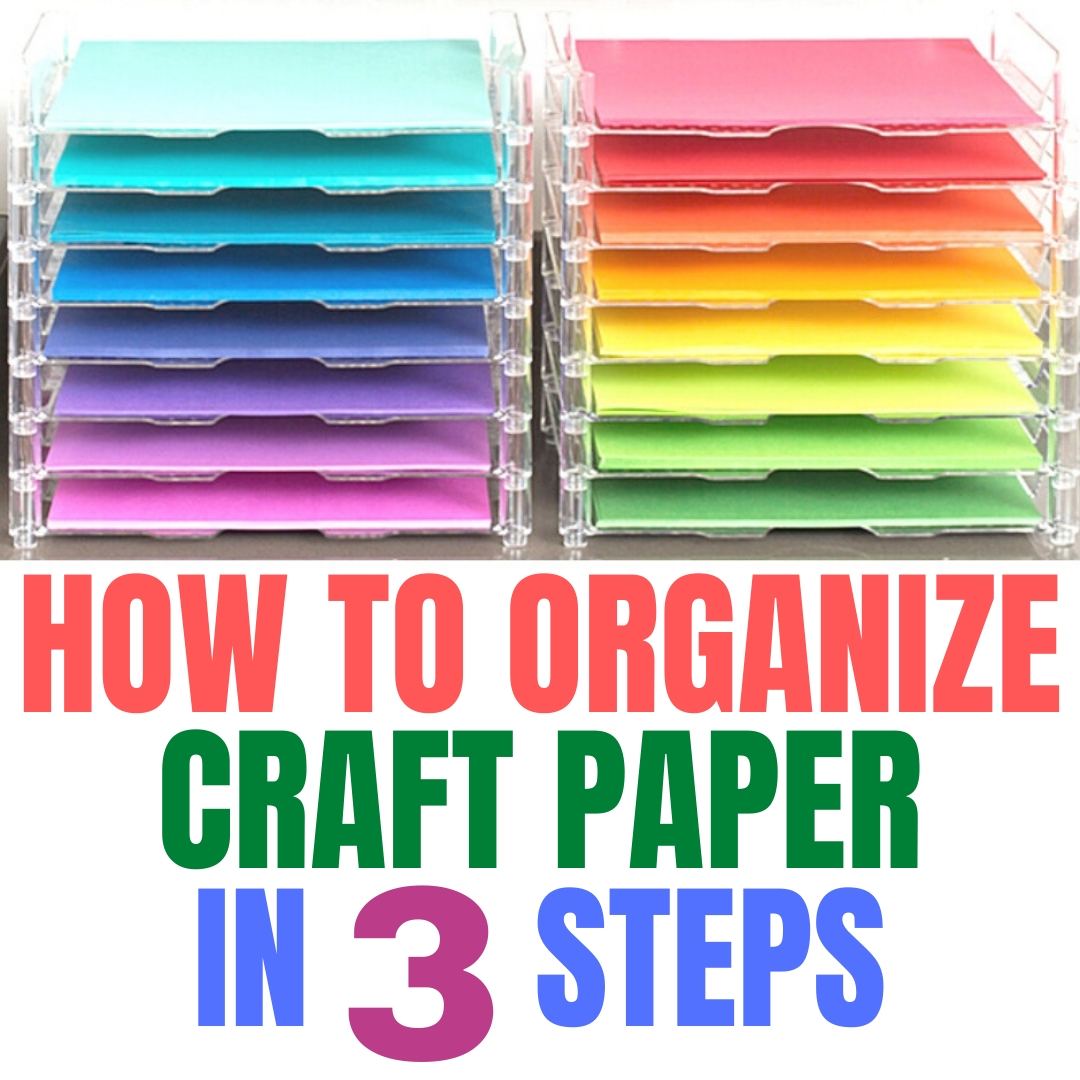 24. How to Organize Your Craft Paper in 3 Easy Steps: Given that the word paper is quite literally in the term "paper crafter", it is scarcely a surprise that many of us who fall under that header amass sizable stashes of this versatile crafting product.
If your scrapbook paper and/or cardstock collection is a bit all over the place, pop by this detailed post and get inspired to change that via Einat's three practical tips for organizing craft paper collections of all sizes.
25. How to Set Up an Art Cart: A year or two ago, I added a three-level rolling cart to my wee little craft space and it has proven to be even more useful than I had dreamed to imagine!
At present, I keep my "hot tools" (glue gun and heat gun), some WIPs, a shoebox that I use as a recycling container, some of my adhesives, and numerous other items on said rolling cart.
If I had the space, I would gleefully pick up several more. Alas, one is already a stretch in that space, so I will just make do with a single craft supply cart for the time being.
They are an excellent item to have your creative space and a huge boon, as well, to those crafters who may move around the house from one room to the next in order to find a suitable creative space that works for them and the rest of their household.
If you have been looking to set up an art or craft cart and aren't sure just where to begin exactly, let Rachelle guide you through the process with this handy how-to post.
(And then swing on by this Craft Gossip post that is chocked full of 21 Ways to Use a Raskog Cart to Store Scrapbooking Supplies.)
26. How to Store Scrap Fabric in Plain Sight: This storage idea is both ingenious and practical, as it creates a functional home décor item that doubles as a spot to store wee pieces of fabric in one well-contained spot.
This same concept could be extended to scraps of certain other crafting supplies as well. For example, ribbon or yarn. And if you were not planning to use the pillows for sitting or resting on, but merely as display pieces, you could even give it a go with small scraps of paper and cardstock.
27. Inexpensive and Easy Washi Tape Storage: There are plenty of different ideas out there when it comes to storing washi tape. Few, however, have struck me as being as practical and effective as this budget-friendly option that uses a mere two products to create a fantastic washi storage system.
28. Ironing Board Thread Spool Organizer: Objectively, ironing boards are rarely an item most of us think about upcycling. However, as this super cool DIY storage project post demonstrates, it might be high time we change that!
If you work with thread in any capacity and are looking for a unique, eye-catchingly pretty way to store quite a few spools in the same spot, this creative approach might just be the solution.
29. Mason Jar Craft Storage: Though the epic hype over mason jars may have cooled a touch, I think it is safe to say that this versatile household staple is not going anywhere – and that is definitely a good thing!
Why not grab some classic mason jars and use them to store all manner of smaller craft items in your creative space?
From buttons to brads, thread to thumbtacks, these see-through containers are a lovely way to combine practical storage with timeless style.
30. Organize Crafting Tools and Supplies with a Jewelry Stand: If you enjoy combining glamour with functional storage, this idea is apt to tickle your fancy. All you need is one or more sturdy jewelry stands/trees and you'll have a fantastic way to store some of your creative tools/materials in no time!
(Note: Various styles of kitchen mug tree stands can be used in the same way, too.)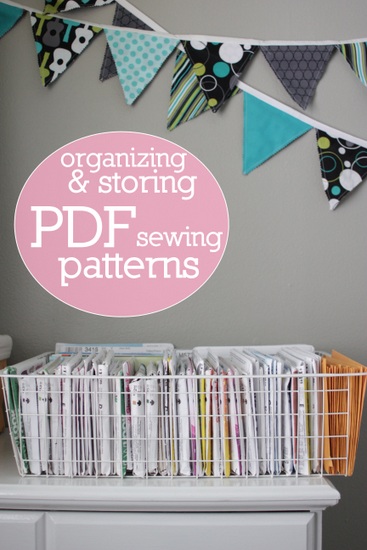 31. Organizing and Storing PDF Printable Sewing Patterns: Equally useful for just about any type of printable pattern that you wish to have a paper copy of, this quick and easy method of pattern storage will have your collection in order in no time!
32. Organizing Small Embellishments with Pill Containers: Despite their diminutive size, tiny craft items can sometimes be amongst the most challenging to store in a way that shows off what you have and facilitates easy access at the same time.
Rounding up tiny embellishments in multi-compartment see-through pill containers can be an effective way to achieve that goal – and one that is all the more ideal for those with very limited storage space.
33. Over The Door Spray Paint Organizer: If you are seeking an alternative to storing containers of spray paint on shelves or in cabinets, scroll a bit into this inspiring garage organization post and behold the cleverness of using a wide pocket over-the-door shoe holder to do precisely that.
34. Preparing and Storing Embroidery Floss: If you don't find that using bobbins (be they plastic, cardboard, wood, etc) works all that well for you when it comes to storing embroidery thread, this approach provides an easy alternative that has the added bonus of cutting down on the kinks that using bobbins can cause.
35. Pretty Crate Paper Storage Idea: This clever idea utilizes a basic slat-sided wooden crate and some hanging file cabinet dividers to successfully organize your paper and/or cardstock stash. Plus you can paint/decorate the crate to match your craft room's colour palette or any other way you please.
36. Revamp Plastic Storage Drawers: Many a crafter (myself included) uses clear plastic storage drawer towers in their creative space.
If you're not feeling the run-of-the-mill look of see-through plastic, jazz up your drawers with one or more of the eight inspiring ideas in this post.
(Do keep in mind, though, that the more you cover/paint the clear plastic, the harder it will be to see what is inside each drawer so you may wish to employ some labels on said drawers once you're done upcycling them.)
37. Rotating Craft Caddy: Like a lot of crafty souls, I adore having my most-used creative tools within arm's reach when I am working on a project. Enter the humble and very hardworking craft caddy.
If you are keen to DIY a fun, versatile version of your own, why not take Bethany's lead and do just that care of some basic PVC piping, a Lazy-Susan, paint, and adhesive.
38. Simple Yarn Storage Solution: Another entry on this list utilizes cassette tape holders, whereas this one cleverly puts classic CD tower stands to work as a way to store your yarn.
These holders work well for an array of different crafting supplies, often including such things as ink pads, bottles/jars of paint, smaller-sized pads of scrapbooking paper, paper punches, fat quarters, and plenty more.
They can also be an awesome spot in which to store various types of packaging and/or mailing supplies if you sell online or enjoy sending snail mail to friends and relatives.
39. Small Space Craft Room Storage Ideas: One day I may pen a post on this same subject myself, as it is an area I have plenty of experience with.
It is always great to see and get other peoples' takes on this topic and I particularly enjoyed Jen's tip-filled tour through her own small crafty space. If you are looking for ways to get the most out of a limited amount of room, be sure to zip on over and lap up her wonderful suggestions.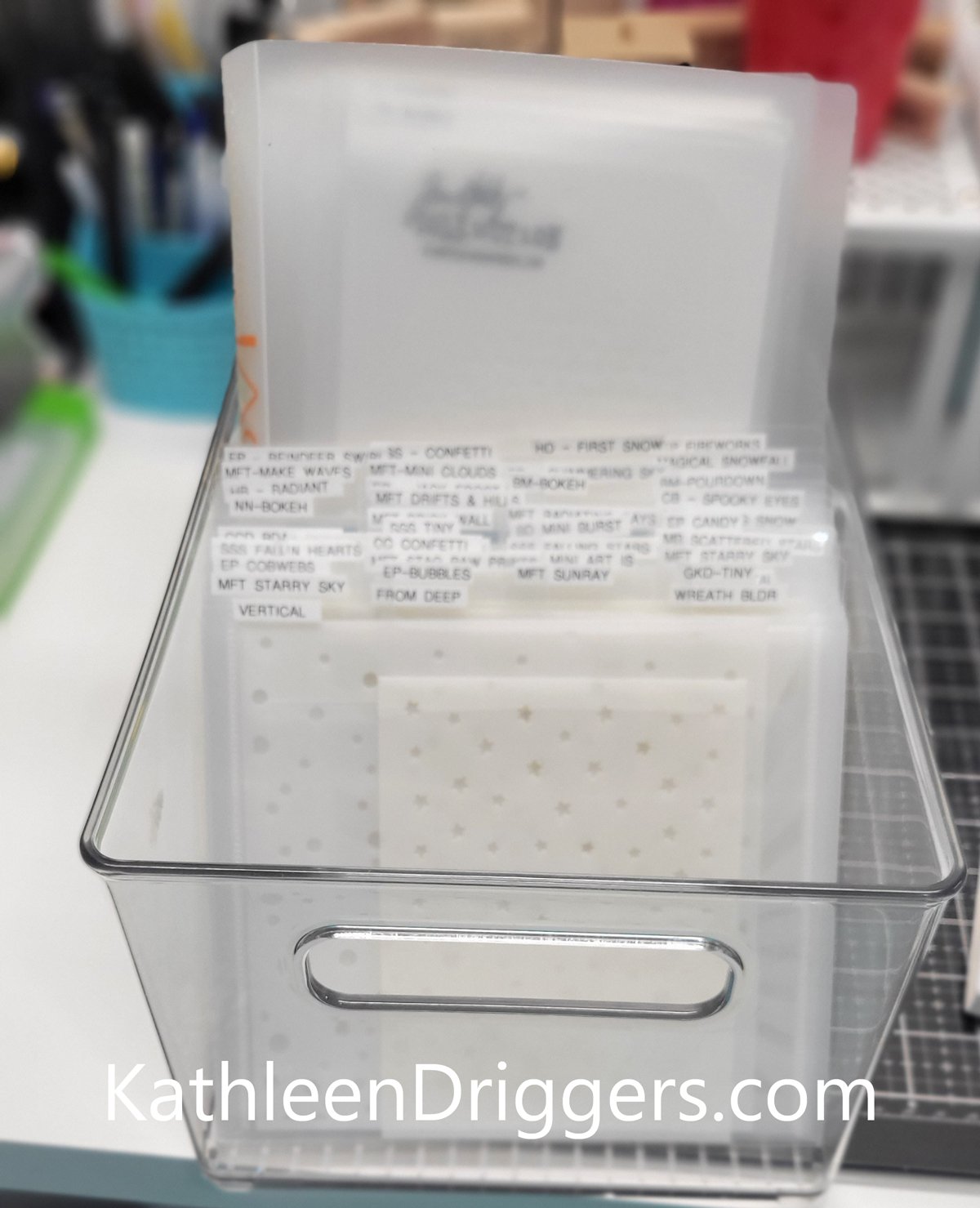 40. Stencil Storage: Much like metal dies and sheets of stamps, stencils can be a tricky thing to store in a way that easily lets you know what you have – and where it is stored – in the blink of an eye. Enter Kat's terrific approach that solves those issues in a way that takes up very little space, to boot. Win-win all around!
41. Store Copic Markers in a Wine Rack: Or any other type of marker or pen that holds up well to being stored on its side. To make this effective marker storage container, all you need is a suitable-sized wine rack and some clear (plastic, sturdy glass, etc) cups that are long enough to hold your felt pens of choice. Such a great idea!
42. Store Glitter in Salt and Pepper Shakers: A craft product as beautiful as glitter deserves to be on display where it can both delight and inspire you on a regular basis.
As Shirley shares, you can do just that with the help of some lovely clear glass salt and pepper shakers, which you fill with glitter and place in your craft room to be used at a moment's notice.
(Great places to potentially find inexpensive clear glass S&P shakers include Amazon, dollar stores, thrift stores, party supply stores, some craft stores, big box stores, flea markets, yard sales, and restaurant supply stores that sell to the general public.
And in the same vein as clear salt and pepper shakers, clear spice jars can easily be used to store glitter, sequins, beads, and other small craft supply items as well.)
43. Store Rubber Stamps in Metal Rain Gutters: With their built-in lip, the style of metal rain gutter trim/edging used in this storage example really drives home how effective this fun hardware store organizational hack is!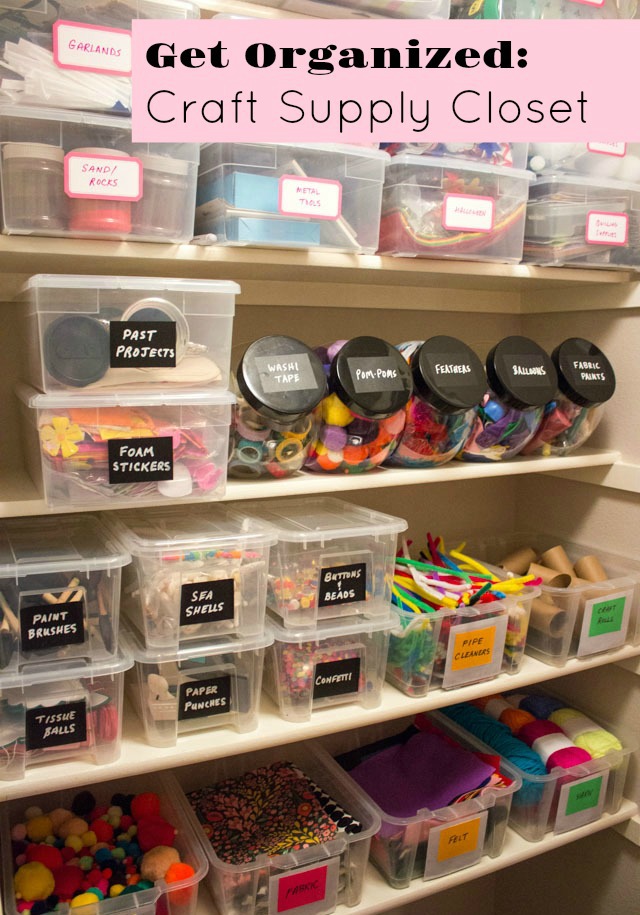 44. The Ultimate Craft Supply Closet: Take it from someone who has lived in plenty of tiny abodes throughout their life, closets can be storage and organizational superheroes!
No matter if your home is big, small, or anything in between, if you have a closet to spare and are looking for a fab space-saving way to store your craft supplies, that might just be the answer!
Take inspiration from Haeley's swoon-worthy example and let it serve as a creative springboard as you put together your own closet craft storage system.
45. Three-Tiered Craft Supply Stand: Tiered trays are a home décor staple in spots such as the kitchen and dining room, but they can just as easily be put to work in our crafty spaces, too.
This lovely DIY project guides you through a wallet-friendly way to make a very attractive triple-tiered craft supply stand that can house all manner of items you wish to house together.
46. Turn Clear Plastic Shoe Bins Into Cute Cheap Storage Solutions: There are certain combinations of words that have a tendency to appeal to each of us. For me, one such trio is cute + inexpensive + practical!

This DIY tutorial takes us through the easy-peasy steps needed to morph ho-hum plastic show containers into sweet, farmhouse-y bins (think chalk paint style labels) that would be at right home in many a crafter's creative space.
47. Up Close and Personal, a Craft Cabinet Tour + Tips: Much like dressers, cabinets can be brilliant places in which to stash a plethora of crafting supplies.
When well organized and the space (inside them) is utilized to its fullest potential, you can often get a surprising amount of items inside of a cabinet.
If you have been toying with the idea of creating a craft cabinet or wanting to revamp an existing one, Diane has you covered with a treasure trove of useful tips and no shortage of beautiful photos to help steer you towards your own craft storage cabinet dreams come true.
48. Upcycled Baby Crib into Craft Storage: I have come across a lot of very cool + creative things repurposed into storage items over the years, but few strike me as being quite as original or ingenious as this approach to breathing new life into a (wooden) baby crib that is no longer needed.
I often see similar-looking cribs for sale on the second-hand market quite reasonably priced, so if this idea floats your boat, but you don't have a spare crib kicking around, it may be possible for you to track one down for a steal.
Alternatively, if you or someone you know is a whiz with woodworking, similar pieces could be created from scratch and utilized in the same general way.
49. Use Airtight Containers to Store Craft Supplies: Chances are you have some tall craft products in your stash that are tricky to store effectively – especially if you want to easily see what you have at a glance.
If so, you might find the approach of using see-through airtight containers to be a great way of solving this storage issue. (Think pipe cleaners, paper straws, some lengths of knitting and crochet needles, jewelry-making tools, mini-sized rulers, pencil crayons, markers, and more!)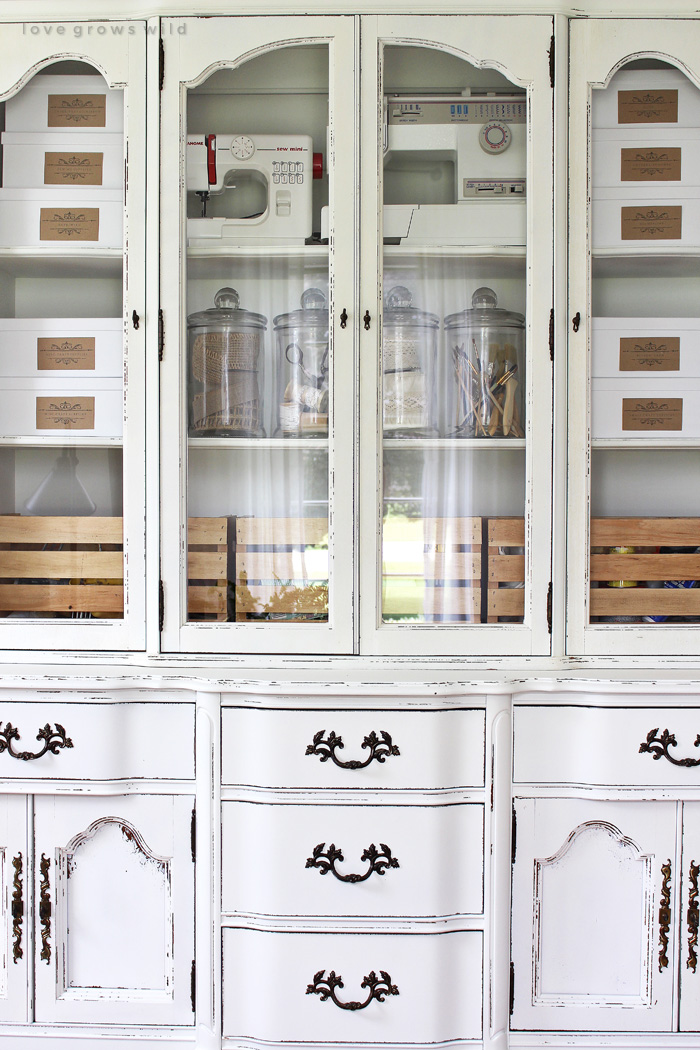 50. Use Dining Room Furniture to Store Craft Supplies: As Liz skillfully demonstrates, if you have the space, budget, and DIY inclination, turning household furniture – including dining room hutches – into gorgeous places to store some (or all) of your craft supply stash might just be the hit of useful pizzazz you didn't even know your creative corner needed.
(Note: All 50 images in the above list – as well as those that I selected to use in the graphics throughout this post – are copyright of their respective creators. Please follow the coordinating link in each list entry to be taken to the craft project shown and described therein.)
PS: If you are looking for even more craft storage ideas and inspiration, be sure to check out my Pinterest board, Organizing and Storing Arts and Craft Supplies.
Done and dusted 😊
Not only does spring work well for cleaning and organizing our homes from a weather perspective, but there is something inherent to the return of longer hours of daylight that often puts a fresh hit of pep into our step.
This in turn means that we have more energy to tackle the work involved with tidying and organizing.
Spring brings with it a powerful sense of renewal, rebirth, purification, and optimism. These elements can often be enhanced all the more by giving ourselves the gift of a clean, well-organized living space.
We may not hibernate like bears, but we do often spend a lot of time in our dens (aka, homes) during the chilly months and come spring we are eager to banish the lingering energy of winter.
To that end, some modern-day Pagans/Wiccans/witches use both the Spring and Fall Equinoxes (aka, Ostara and Mabon) to perform activities such as cleansing, smudging, banishing, and protection work so as to clean our homes both physically and spiritually.
In addition to – or instead of – cleaning our digs, spring can also be an excellent time to tidy up and organize other areas of one's life as well. For example, our wardrobes, electronic devices (i.e., weed out unused apps, declutter our email inboxes, etc), vehicles, finances, relationships, and overall health + well-being.
If you have a crafty space – be it a dedicated room, a crafting armoire, a she/he/they shed, part of a room that you have commandeered for your creative purposes, or just about any other space in which you make art and/or crafts – spring is a marvellous time to tackle mess, declutter, and up your organizational game all the more.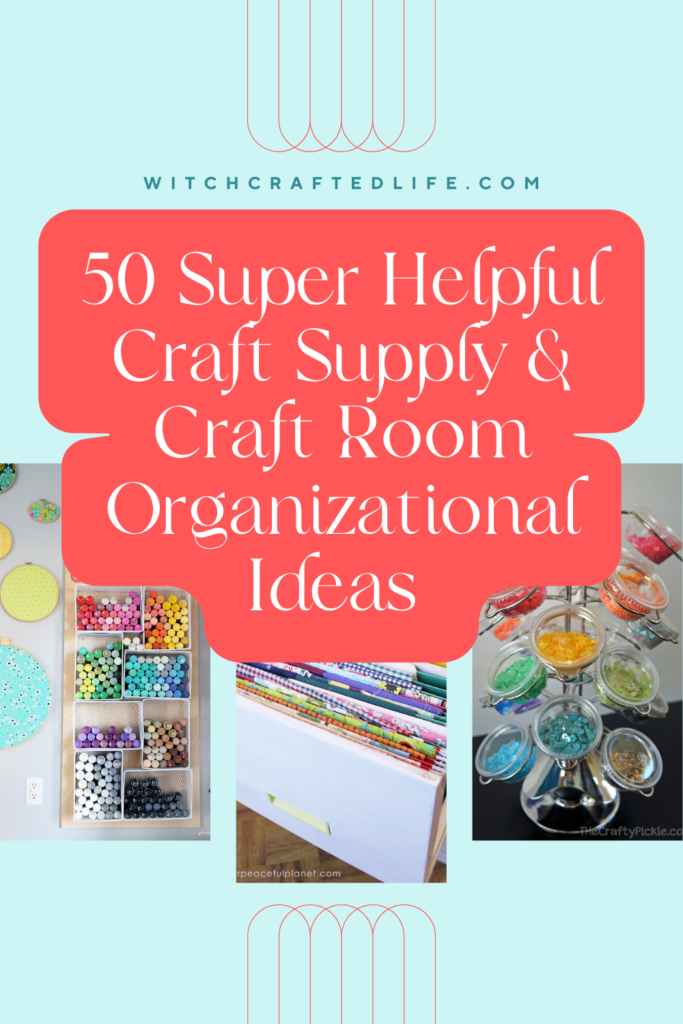 You can bet that I will be taking inspiration from some of the 50 craft room organization tips and hacks listed above as I gradually continue onward with my spring cleaning this year.
Far beyond the days of early crocuses and disappearing snowmen, however, these craft space decluttering, organizing, and revamping ideas can be put to work the whole year through.
There are, I find, few things quite as satisfying and rewarding feeling as knowing your home is clean and orderly at any point on the calendar.
If your creative space is currently in need of tidying up and/or reorganizing, I invite you to join me in tackling some craft room organizing as the robins chirp away merrily outside and buttery April sunshine washes over our lives once again.
Do you undertake an annual spring cleaning? Which of the 50 craft room organization ideas listed in this post jumps out at you the most? 🧹🏡🧽