A good many of us are naturally drawn to certain types and styles of homes. For some, these preferences may change, evolve, or be added to throughout the course of our lives.
Whether we are fortunate to ever have the opportunity to live in one of our dream homes or not, the interest and passion we have in the styles that appeal most to us often influence our worlds in myriad ways.
There are a number of different architectural styles of homes that resonate deeply with me. Chief amongst of which are most dwellings from the 18th, 19th, and early to mid-twentieth centuries.
I am also especially keen on rustic log cabins, elegant modern apartments + condos, just about anything with goth notes to it, and cottages of many types from around the world.
Long before terms such as #cottagecore, #darkcottagecore, #witchcore, and #fairycore had been invented (let alone turned into the social media darlings that they have become in recent years), I went weak in the knees for cottages – be they sweet and chipper or dark and broodingly mysterious.
To date, I have not had the pleasure of living in a cottage of any type myself. However, dear friends of mine – Lindsay and Jonas from the wonderful blog + YouTube channel + Instagram account, It's a Charming Life – are blessed to reside in a cottage that sits alongside a yesteryear cemetery.
For a history-loving, cottage adoring, hardcore taphophile like myself, their abode is a dream home for me. And, I have no doubt, scores of others around the globe as well. 🥰
I have been greatly inspired by the cozy, whimsical, beautiful, and – as their online presence's name implies – thoroughly charming world that these two sweet souls have lovingly created for several years now.
Also spanning multiple years is the wonderful snail mail correspondence that Lindsay and I have had the pleasure of sharing.
As 2021 started to wind down, but before we had become fully enmeshed into winter again, a mighty spark of creative inspiration struck me.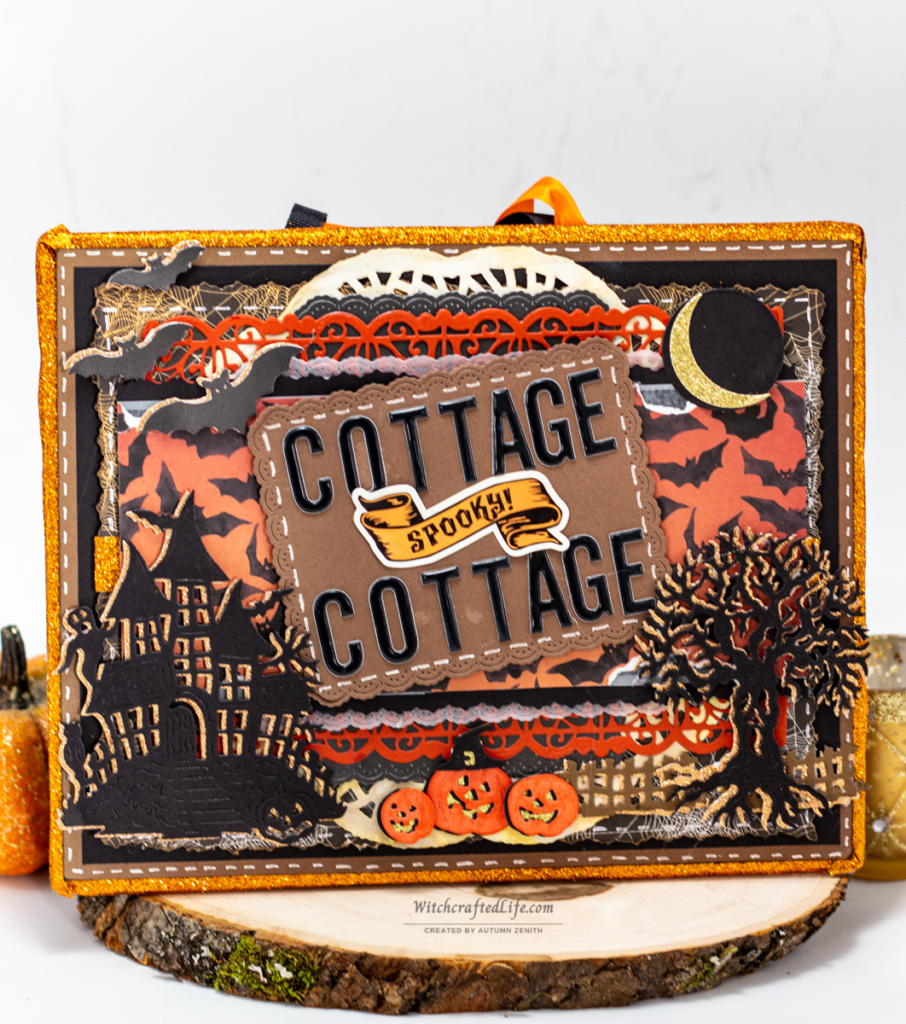 I knew instantly that I wanted to make a paper crafting project for Lindsay and her husband, Jonas, that celebrated not only the fact that they live in one of the most adorable cottages around but also their equally fantastic personal style which taps into many of my own favourite aesthetics.
Setting to work immediately, I went to my wee stash of chipboard and cardboard that I save from various types of packaging to use on craft projects.
A piece measuring roughly 9 7/8th inches wide x 7 3/4th inches tall felt like a terrific size for the hanging wall sign that I was envisioning in my mind.
Thinking not only about Linday and Jonas's own passion for Halloween, but also the colour palette and vintage-meets-whimsical-meets-cottagecore style of their home décor, I set off on a creative flurry and scarcely moved from my office chair until this delightful All Hallows' themed hanging wall sign was complete. 😊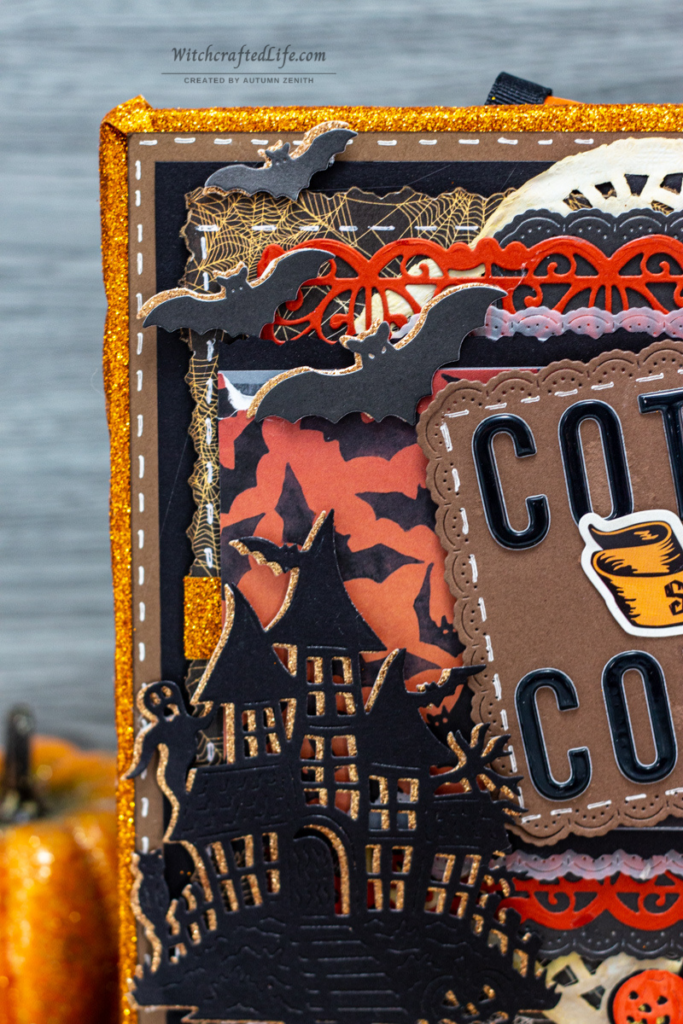 I then photographed it, securely wrapped it up for posting, and mailed it out to Lindsay and Jonas as a Yule / Christmas gift once December returned (along with the Gothic Haunted Christmas Tree Card that I shared here last month).
Cottage Spooky Cottage detailed Halloween Scene Hanging Wall Sign
Making cards and various other types of paper crafting gifts for friends, family members, neighbours, and others is one of my favourite elements of this awesome art form.
Naturally, I am far from alone on this front and creative folks of countless kinds likewise adore giving their finished projects away.
In fact, often the greater I love a completed project, the more eager and joyful I am to present it to someone else.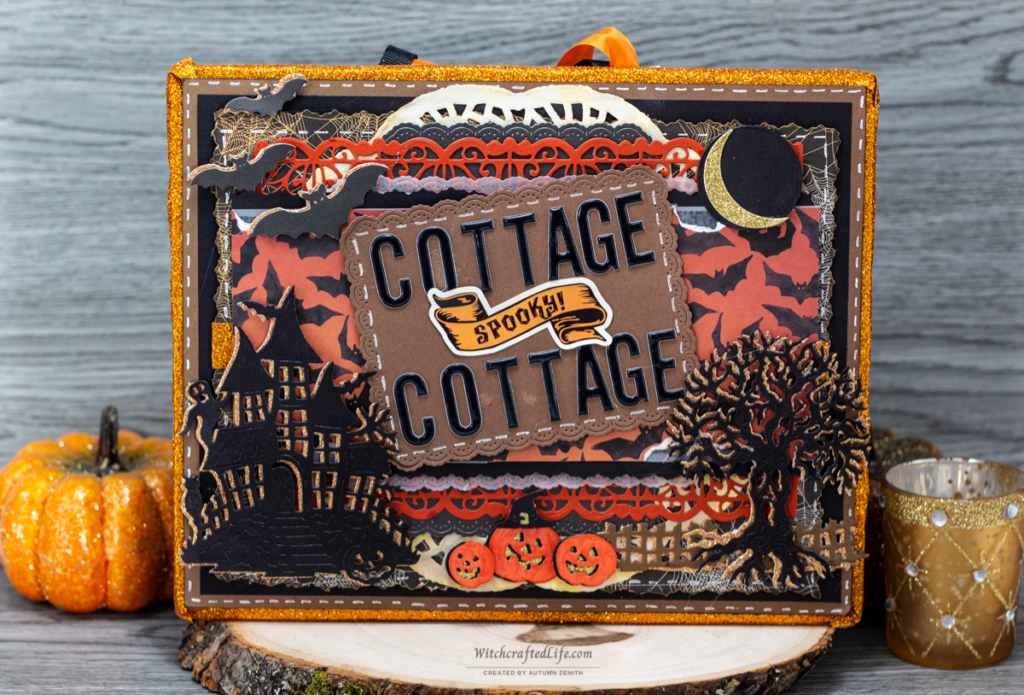 That was the case with this festive Halloween themed wall hanging (which is my latest contribution to the #MakeHalloween hashtag that I created and launched last year – and which I enthusiastically welcome you to use for any and all of your own Halloween / Samhain related creative projects, too.)
I began with a piece of plain (kraft coloured) cardboard for the base of this hanging sign. If you did not have any suitable cardboard to hand, very study chipboard, a lightweight canvas, or even a suitable piece of wood could be used instead.
If opting for wood (or any other material that is apt to be acidic), I would coat it with an archivally safe preservative spray, lacquer or similar product to help prevent the natural acids in the material of the project base from potentially damaging, over time, the materials you put on top of it.
Speaking of guarding things, I wanted to protect the side edges of this sign. As it was, after all, made with a cardboard base, not a canvas or wooden one.
To do so, I ran strips of orange sparkly adhesive craft tape (aka, adhesive ribbon) around all four sides.
I then set about creating layer after layer of Halloweeny goodness atop this versatile flat surface.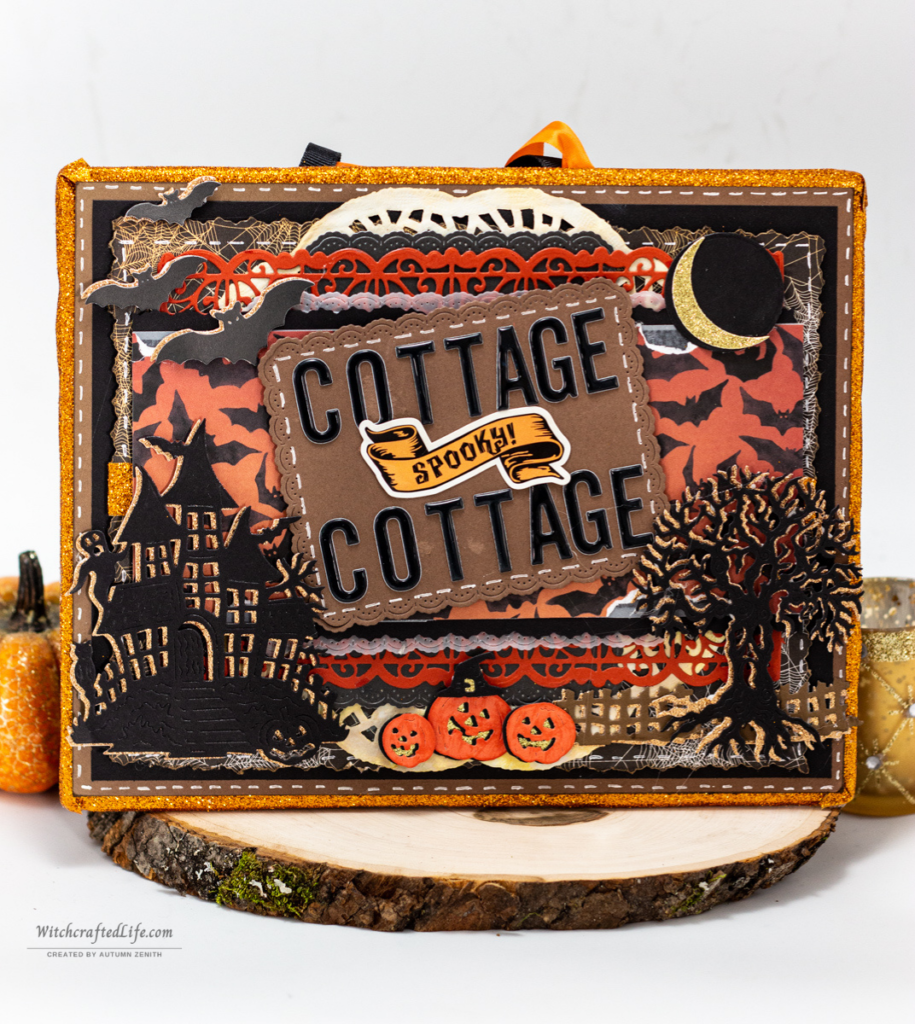 A surface which I looked at less like I would handmade card and more like a slightly scaled-down version of a scrapbook page (of the standard and widely used 12" x 12" or 8.5" x 11" sizes, that is).
As touched on above, Lindsay and Jonas are fellow Halloweenoholics and – much as at my and Tony's home – they incorporate some elements of fall and October 31st into their year-round décor.
I do not know whether they will opt to display this hanging wall sign all year or bring it out annually as summer starts to fade. Either way, I went with colours and themes that I felt would suit their fabulous cemetery adjacent cottage the whole year through.
A fair bit of die cutting went into this project, but there was nothing difficult about that aspect – nor any other – of this sign's design.
The hours spent bringing it to life were amongst the most enjoyable of 2021 for me and when all was said and done, I was thrilled with the end result of this spookytastically charming hanging wall sign.
Since the start of 2021, I have been using a small (very basic/entry-level) lightbox to take photos of most of my paper crafting projects in.
The dimensions of this wall sign coupled with the size of both my lightbox and the lens on my camera, made photographing this project a bit tricky. This is why the background is white in some and woodgrain in others (I kept trying to find backgrounds to use in the lightbox that worked without showing their edges in these shots).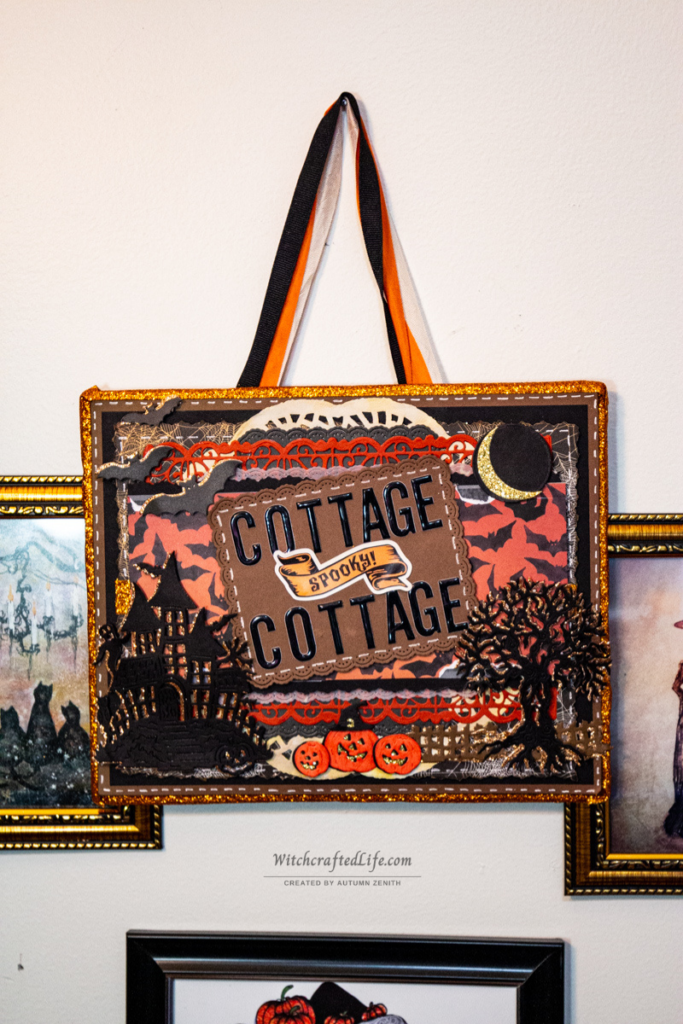 To showcase this handmade Halloween sign on the wall, I took down some of the art from a wall in my crafty space, placed the sign up, and nabbed a couple of (very low light) pics of it hanging there.
If you would like to create a similar project – or simply take some general notes of inspiration from this one – please read on for a complete list of materials used and detailed step-by-step project instructions.
Products used to make this wonderful festive Halloween hanging wall sign
-Sturdy piece of cardboard (Measuring approx. 9 7/8th inches wide x 7 3/4th inches tall)
-Black cardstock
-A slightly lighter shade of black cardstock (or use very dark grey charcoal cardstock instead)
-Medium brown cardstock
-Light to light-medium brown cardstock
-Dark orange (or terracotta coloured) cardstock
-Gold glitter cardstock – Glittersilk Cardstock from Darice
-Copper glitter cardstock – Glittersilk Cardstock from Darice
-White vellum
-Black and white spiderweb print paper – Haunted House Ghastly Words paper from Carta Bella
-Orange and black pat print paper – Halloweeny 12" x 12" paper pad from Recollections
-Good sized scalloped edge square or rectangle die
-Elegant decorative border die (or punch)
-Three small, slightly different sized flying bat dies
-Full and crescent moon dies (a basic circle die or punch can easily be used for the full moon shape)
-Haunted house die
-Spooky (haunted) tree die
-Rickety fence die
-Three small, slightly different sized jack-o-lantern dies
-Small witch's hat die (you could also use a witch's hat sticker or premade die cut shape here instead)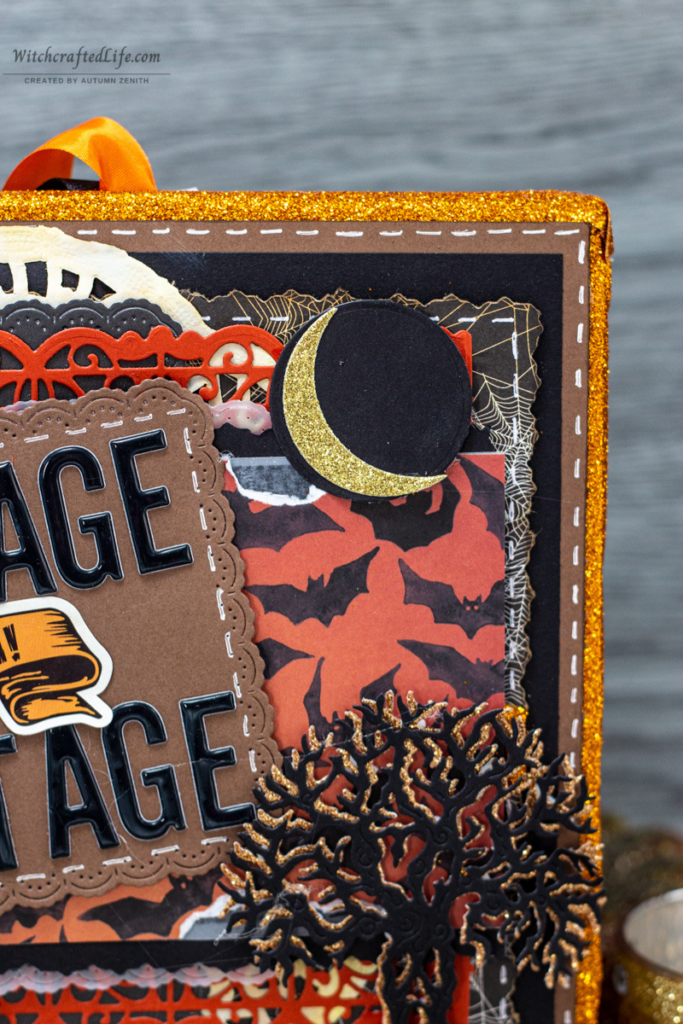 -Decorative edge scissors – Heartbeat Paper Edgers Scissors from Fiskars
-Good sized white or cream paper doily
-Dark orange ink – Memento Morocco Ink from Tsukineko
-Deep golden yellow/honey coloured ink – Distress Oxide Ink in Wild Honey from Tim Holtz (Note that anywhere Distress Oxide In is used on this project, you can sub in regular Distress Ink instead.)
-Aged golden-brown ink – Distress Oxide Ink in Antique Linen from Tim Holtz
-Golden-y brown ink – Memento Toffee Crunch Ink from Tsukineko
-Dark brown ink – Memento Rich Cocoa Ink from Tsukineko
-Medium brown ink – Distress Oxide Ink in Brushed Corduroy from Tim Holtz
-White gel pen – Uniball White Ink Gel Pen from Signo
-Black alpha stickers – Weekend Black Letter Stickers from American Crafts
-"Spooky" word sticker – Trick or Treat by Steven Duncan Element Stickers from Carta Bella
-Adhesive orange glitter ribbon/trim (Crafter's Square brand from Dollar Tree)
-3/8th inch wide black grosgrain ribbon (or another type of black ribbon or seam binding of your choice)
-Off-white or cream ribbon or seam binding
-Orange ribbon or seam binding
-(Optional) stapler and staples to adhere the ribbon "hanger" layers together
-Dimensional foam, pop dots, or similar to elevate some of your layers
-Adhesive, such as a tape runner, of your choice (I often use my Scotch Tape Glider)
How to make a Cottage Spooky Cottage hanging wall sign for fall / Halloween
Begin by sourcing or cutting down a piece of sturdy, but not too heavy, cardboard to use for the base of this project.
Next, cover the front of the sign with a piece of medium brown cardstock the same size as the cardboard piece itself and ink all four sides (edges) with dark brown ink. Adhere in place.
Cut (one at a time) pieces of sparkly orange adhesive trim and stick them down on all four sides of the cardboard base.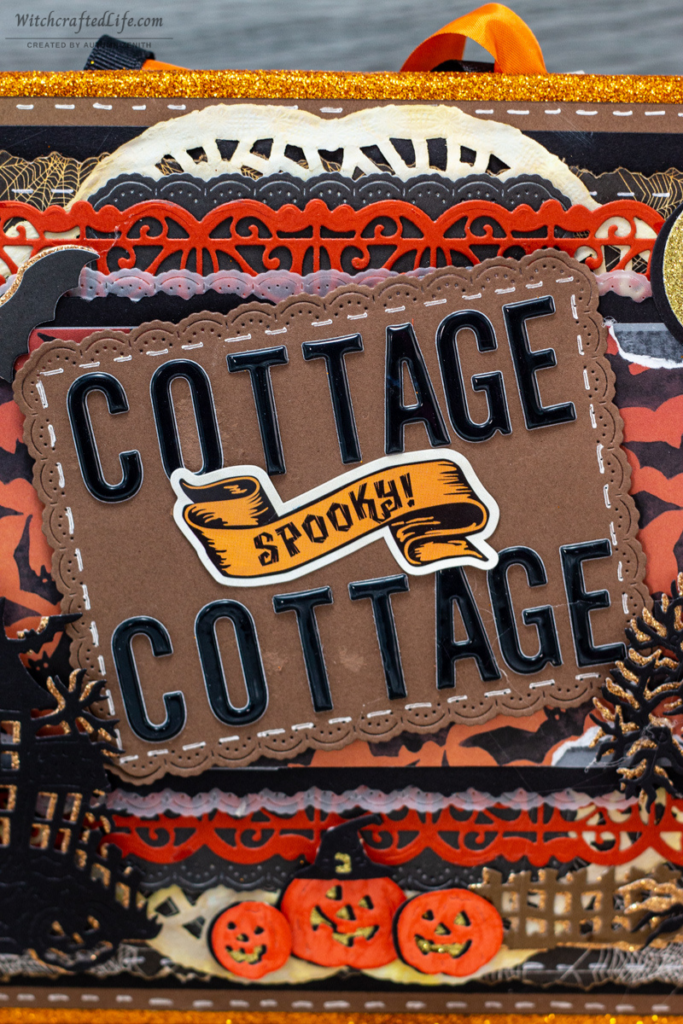 If you do not have a similar product to hand (I picked this up at Dollar Tree two or three autumns ago), you could use things such as very sturdy washi tape, orange duct tape, glittery ribbon, or even pieces of glitter cardstock.
Using a ruler and white gel pen, draw a border of stitches around the outermost edges of the brown piece of cardstock on the front of the sign.
Next, cut a piece of dark black cardstock a little bit smaller than the brown cardstock layer and adhere it to the brown cardstock.
Take a piece of spiderweb print paper and cut it a touch smaller than the previous layer using decorative edge scissors (or a suitable border punch, if you prefer).
Ink the edges of this piece of paper with Wild Honey Distress Oxide Ink (or a similar colour of ink or felt pen/marker). Then, using a ruler and white gel pen again, draw a line of stitches around the perimeter of this piece of cobweb print paper. Adhere to the previous layer.
Select a suitable premade doily or die cut one from white or cream coloured cardstock. Lightly ink the edges with the same Distress Oxide ink used in the previous step.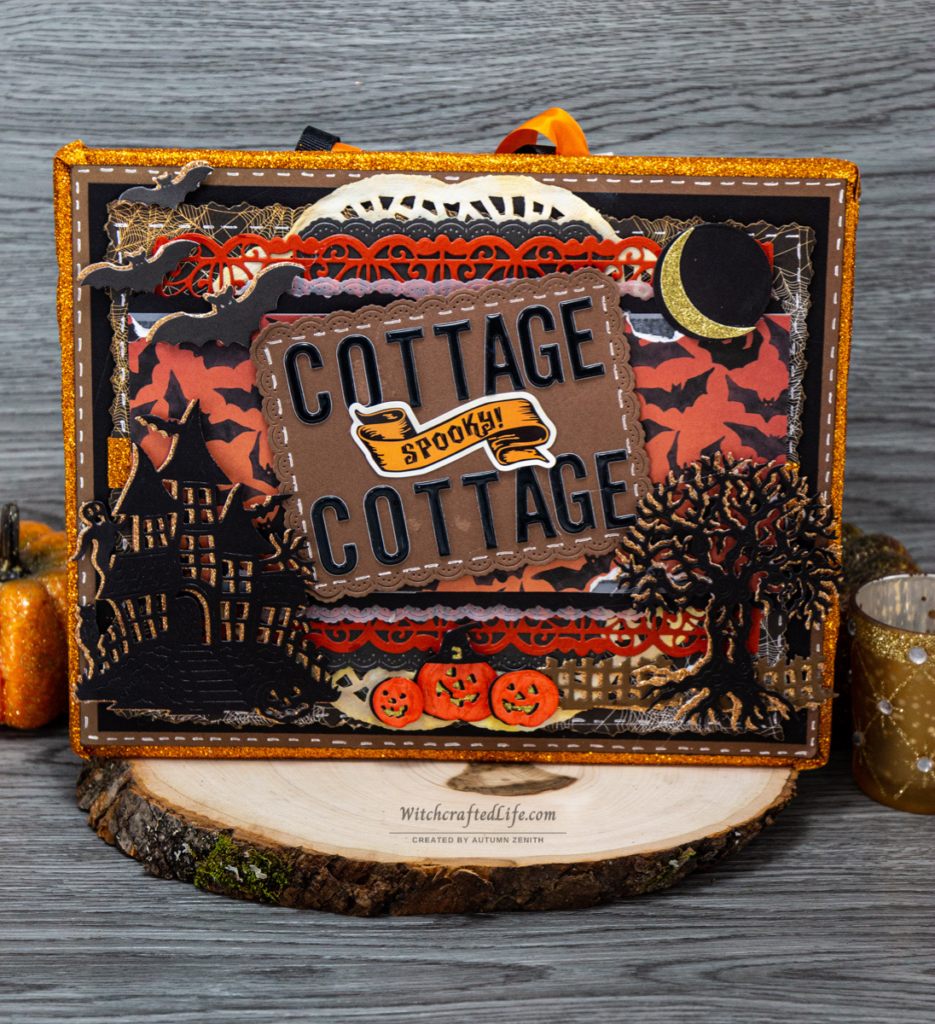 If it is not long enough to span the length of the center portion of the sign, cut it in half and adhere one half near the top and the other half of the doily near the bottom of the sign, as shown.
Die cut either a scalloped edge rectangle or square from light black (or charcoal grey) cardstock. Likewise, if it is not long enough to span the length of the center portion of the sign, cut it in half and adhere one half atop each half of the doily.
Using dark orange cardstock, die cut two decorative edge pieces or use a border punch to create something similar looking.
Position each orange decorative edge piece atop the black scalloped pieces that you created in the step above. Adhere in place.
Next, die cut a piece of vellum using the scape scalloped edge rectangle or square-shaped die. Adhere so that it overlaps part of the orange decorative edges (again, if needed, cut in half and adhere on half to the top and the other to the bottom central area of the sign).
Take a piece of dark black cardstock and using the same decorative edge scissors that you used on the spiderweb print paper, cut this piece a little bit smaller than the central layers that you've created so far. Adhere.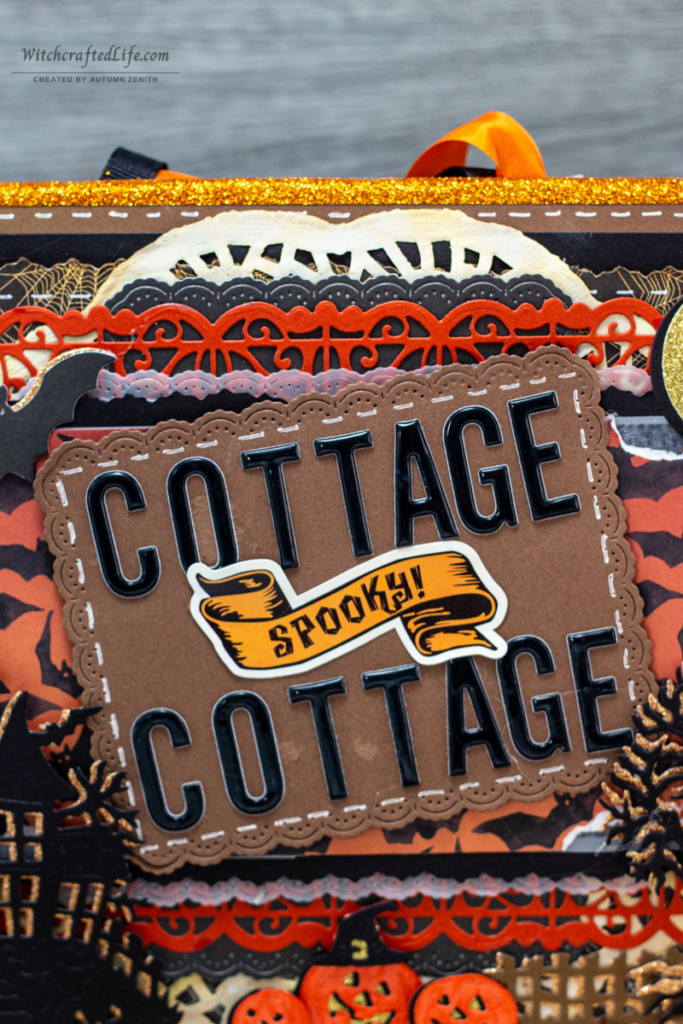 Cut and then rip, or simply rip to begin with, a piece of orange and black print paper. Back the top and bottom of this piece with a piece of vellum so that the edges of both pieces align at the top and bottom of the paper/vellum. Adhere together and then to the base layers.
Using the same medium brown coloured cardstock as the very beginning base layers (front and back), die cut a scalloped edge square or rectangle. Using a ruler and white gel pen, draw a line of stitches around the edge of this cardstock panel.
Back the panel with dimensional adhesive (foam square, pop dots, etc) and position it at an angle ever-so-slightly higher than the center of the sign, as shown.
Use the alphabet stickers and "Spooky" sticker to spell out the words "Cottage Spooky Cottage" (or the phrasing of your choice that is able to fit in the space of the brown cardstock panel).
Next, it is time to roll up our sleeves and get to work with (more) die cutting.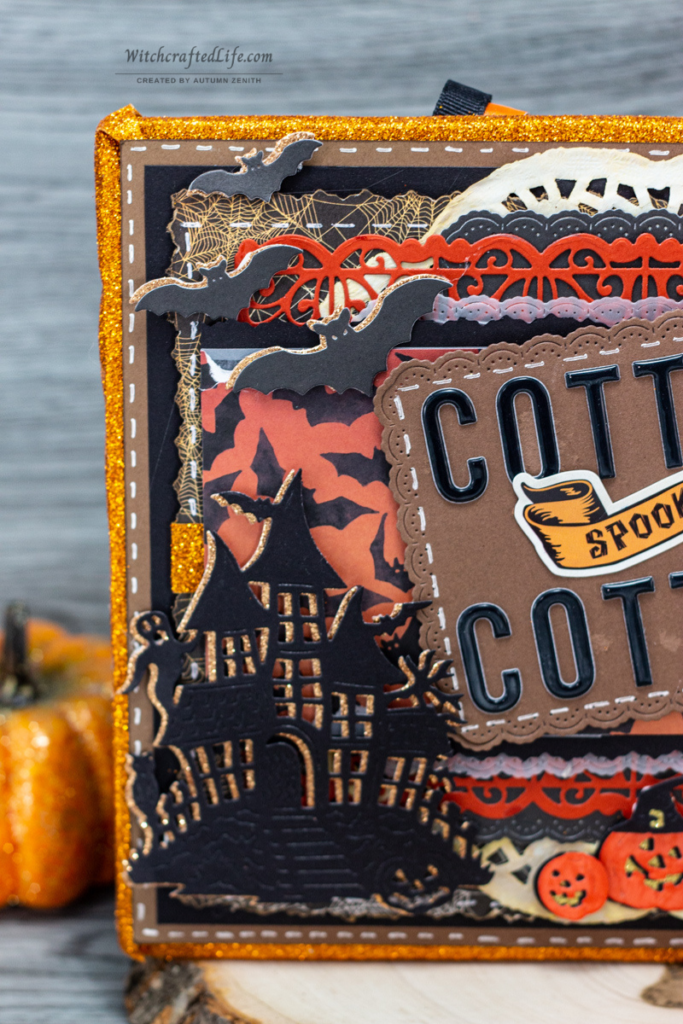 Using both light black (or charcoal grey) cardstock and copper glitter cardstock, die cut one layer apiece for three different-sized bats. Adhere together and position on the upper lefthand side of the sign.
Die cut a full moon (circle-shaped piece) from dark black cardstock and a slender crescent moon piece from gold glitter cardstock. Adhere together and position towards the upper right-hand corner of the sign.
Take light to medium brown hued cardstock (ideally a lighter shade than the medium brown cardstock used elsewhere on this project) and copper (or gold, as you wish) glitter cardstock and die cut a rickety fence shaped piece from both cardstocks.
Use Brushed Corduroy Distress Oxide Ink on the edges and grooves of the brown fence layer, then adhere both layers together and adhere this pair to the lower righthand side of the central portion of the sign, as shown.
Die cut two haunted houses and two spooky trees, one each from black and glittery copper cardstock, respectively.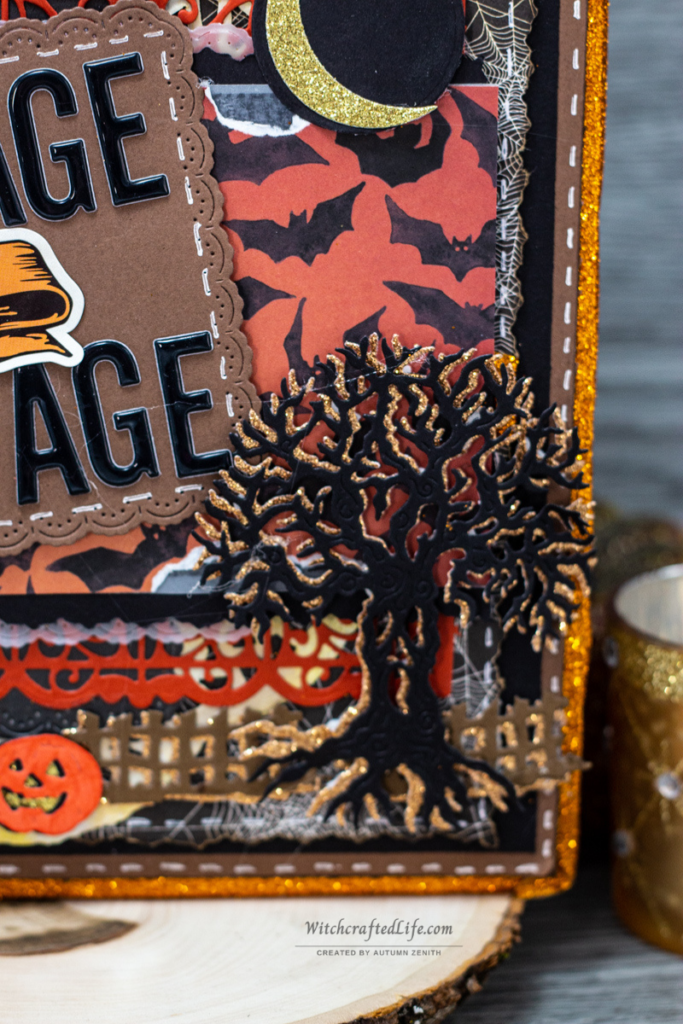 Position the layers slightly off-centre so that both are visible. Adhere together and then to the lower portion of the sign (haunted house on the left side, spooky Halloween tree on the right).
Die cut three cute jack-o-lanterns from orange cardstock and three of the same sized pumpkins from black cardstock.
Use the dark orange coloured ink to highlight the edges and ridges of the orange pumpkin pieces. Position the two layers of pumpkins slightly off-center and adhere together.
Position and adhere small scrap pieces of gold glitter cardstock behind the faces of the jack-o-lanterns to give them the appearance of being lit from within.
Die cut a witch's hat from black cardstock and likewise back it with a wee piece of gold glitter cardstock. Adhere together and then adhere the completed hat onto the head of the middle jack-o-lantern.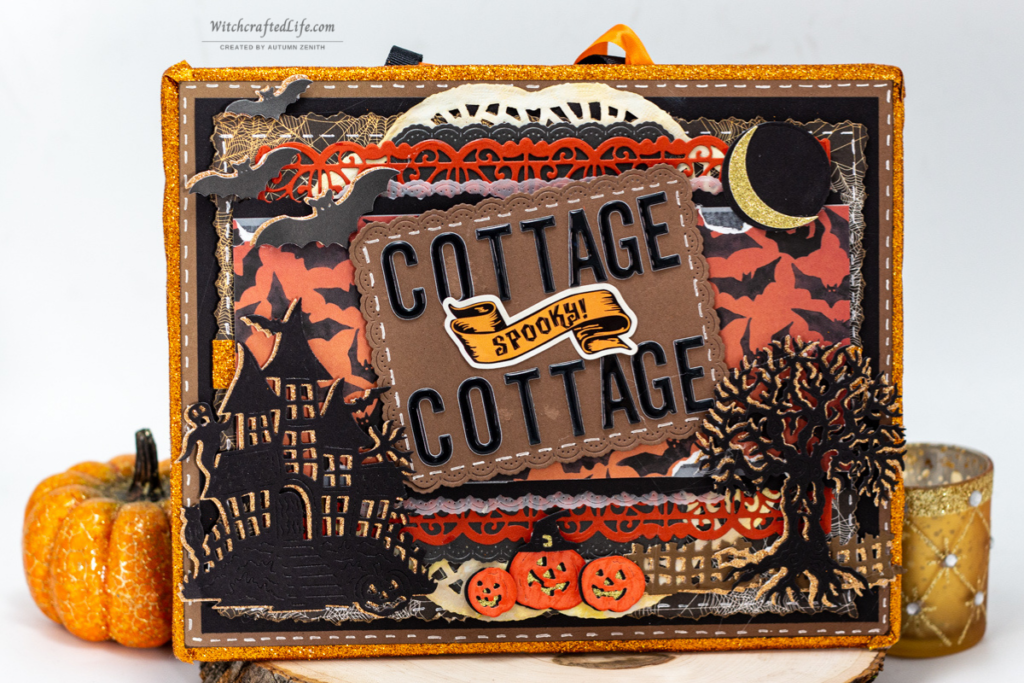 The front of this delightful Halloween hanging wall sign is now complete.
For the backside, cut three (or more, as you wish) pieces of ribbon, seam binding, lace or trim in similar colours as those used throughout this project.
Adhere these pieces together near their ends (a stapler actually works great for this, but a strong adhesive can just as easily be used) and position those ends at least 2 – 3 inches down the center of the sign on the backside.
Once you are happy with the length of the ribbon/trim layers and where they're positioned on the back, adhere them in place to the cardboard base layer.
Lastly, cut and adhere a piece of brown or black cardstock to the entire back (minus the orange glitter tape edges) so that the ends of the ribbon/trim are concealed beneath the cardstock piece.
Alternatively, place the brown or black cardstock down first, then adhere the ribbon/trim as described above and either leave the ends visible on the back or die cut a suitably shaped piece (oval, rectangle, etc) from cardstock to place over the ends.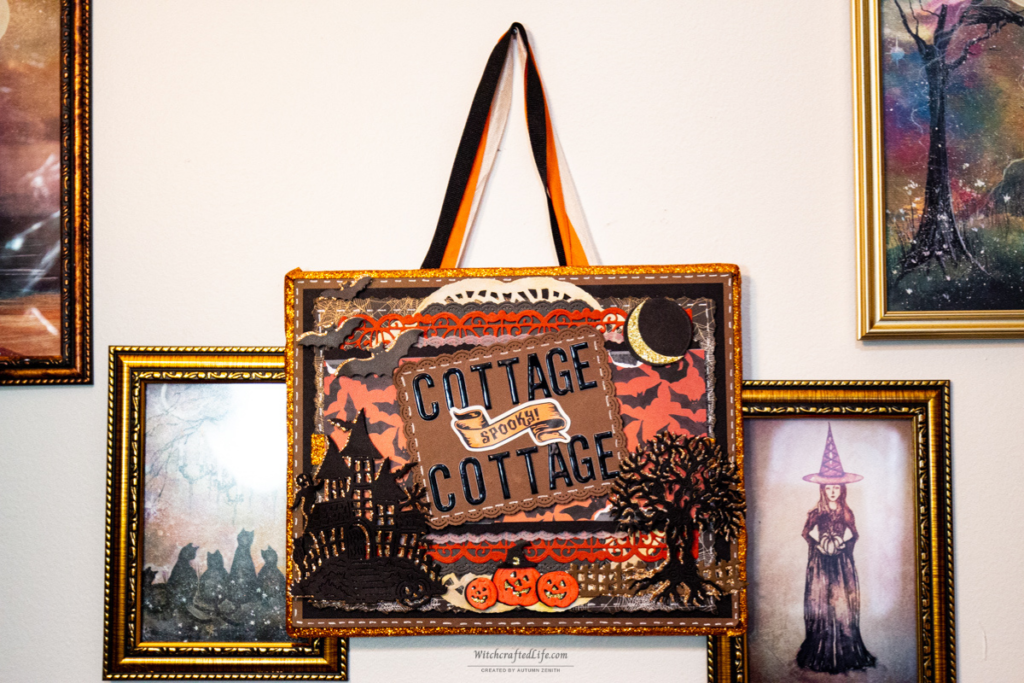 And there you have it, my dears, sweetly spooky, fabulously festive Halloween hanging wall sign to keep and use as part of your own fall (or year-round) décor or to give to someone special in your life so that they can do the same.
If you do not wish to make this project into a hanging wall sign, you could use a small painter's canvas instead and hang the completed project from a nail or suitable hook on the wall instead.
And another idea would be to create this same sort of design so that it fits within the dimensions of a shadow box frame (which, assuming the frame had glass in it, would keep this project extra safe and protected from whatever life may through at it).
Sweet, spooky, and endlessly inspiring
As Lindsay and Jonas themselves discussed in their recent YouTube video, Ups and Downs of Cottage Life, residing in a modest-sized cottage – much like just about any type of home – is not always an endless parade of sunshine and roses.
However, it can be a wonderful, rewarding, creativity sparking and very meaningful experience that if one is blessed to have the opportunity to experience, may well be worth embarking on.
I have no idea if I will ever get to live in one of my dream homes (to date, the closest I have come is when, for a few years during my childhood, my family lived in a sweet little two-story Edwardian house that was built in 1909).
Whether that comes to fruition or not, I will continue to be inspired on countless fronts by the homes whose architectural and/or interior design styles speak most powerfully to my heart.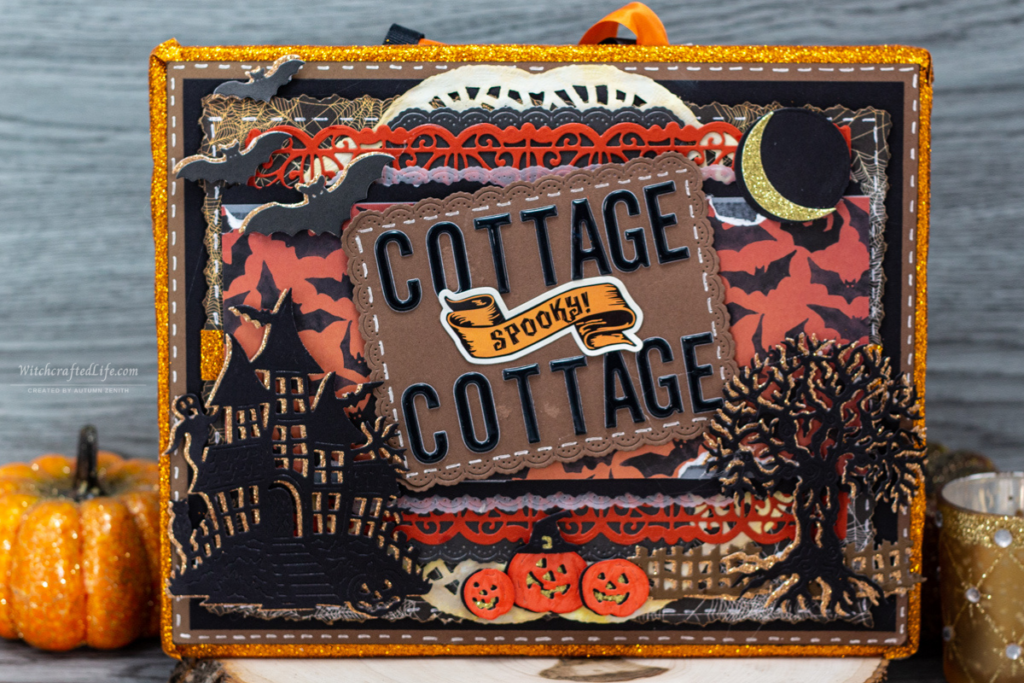 Unquestionably, that of Lindsay and Jonas's house will continue to inspire and resonate with me for the rest of my days – no matter if they move on from it at some point or not, as everything they have shared online about their enchanting cemetery cottage will continue to resonate with me for ages.
These two lovely people embrace and embody not just things such as cottagecore, but also slow living, a deep love of and respect for the past, and the ability to decorate a home of any just about size in the ways that presently bring your soul abundant happiness.
Both they and their house epitomize the "Cottage Spooky Cottage" aesthetic and mindset, and it was my honour to be able to contribute a handmade piece of paper crafting home décor art to their super charming home.
Do you – or have you ever – lived(d) in one of your own dream homes? What kinds of wall hanging sign would most capture the spirit of your current abode? 🦇🤎🎃