A certain unmistakable magic swirls through the air. Christmas carols waft from stores and open front doors, as – to quote the beloved song, Silver Bells – shoppers rush home with their treasures.
In endless dwellings around the globe, preparations for tomorrow's feast are being planned or started. Stockings, if not already hung (by the chimney with care) will go up before midnight.
Young and old alike turn their eyes skyward, still believing that maybe, just maybe, they'll catch a glimpse of Santa Claus and his team of reindeer.
Twinkling lights provide a warm ambiance to the cups of eggnog, cut-out sugar cookies, thick slices of classic desserts such as panettone and stollen, festive appetizers, and mugs of hot cocoa that are often heartily consumed throughout the final days of December.
Christmas is upon us and for those who celebrate this holiday – be it religiously or secularly – there is often much to delight in and be thankful for come the return of jolly old St. Nicolas.
I adore the classic elements of Christmas, including its telltale colour palette. The darker, deeper and more old-fashioned the hues involved, the merrier I am.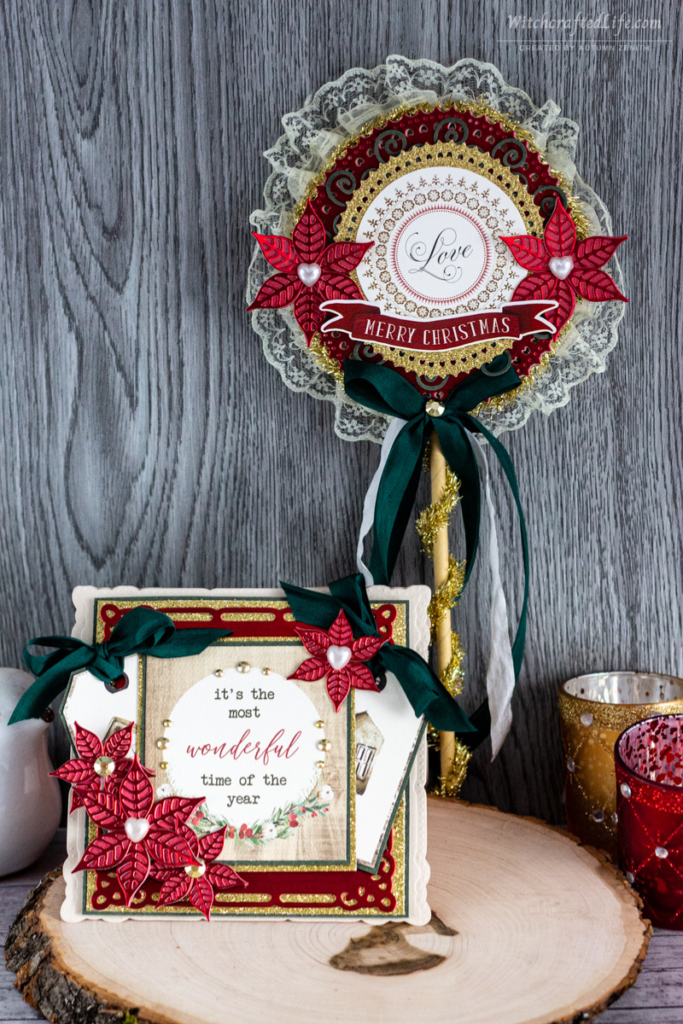 It was to this timeless holiday season colour scheme that I turned when making the delightful Christmas card and matching Christmas rosette wand featured in today's post.
Year after year, I never tire of crafting (or decorating our home) with the colours – deep red, dark green, cream, and gold – that these projects feature.
They, along with a few other colours, epitomize the colour scheme of December and never fail to get my creative juices (err, wassail? 😃) flowing.
Timelessly elegant Christmas Card with Matching Rosette Wand
By the standards of many of the cards I make throughout the year, this festive Christmas greeting is on the smaller side.
Not tiny by any means, but not particularly large either. The reason for that is that I cut the card base with a shaped die and as my Sizzix Big Shot can (like most manual die cutting machines) only accommodate dies up to a certain width.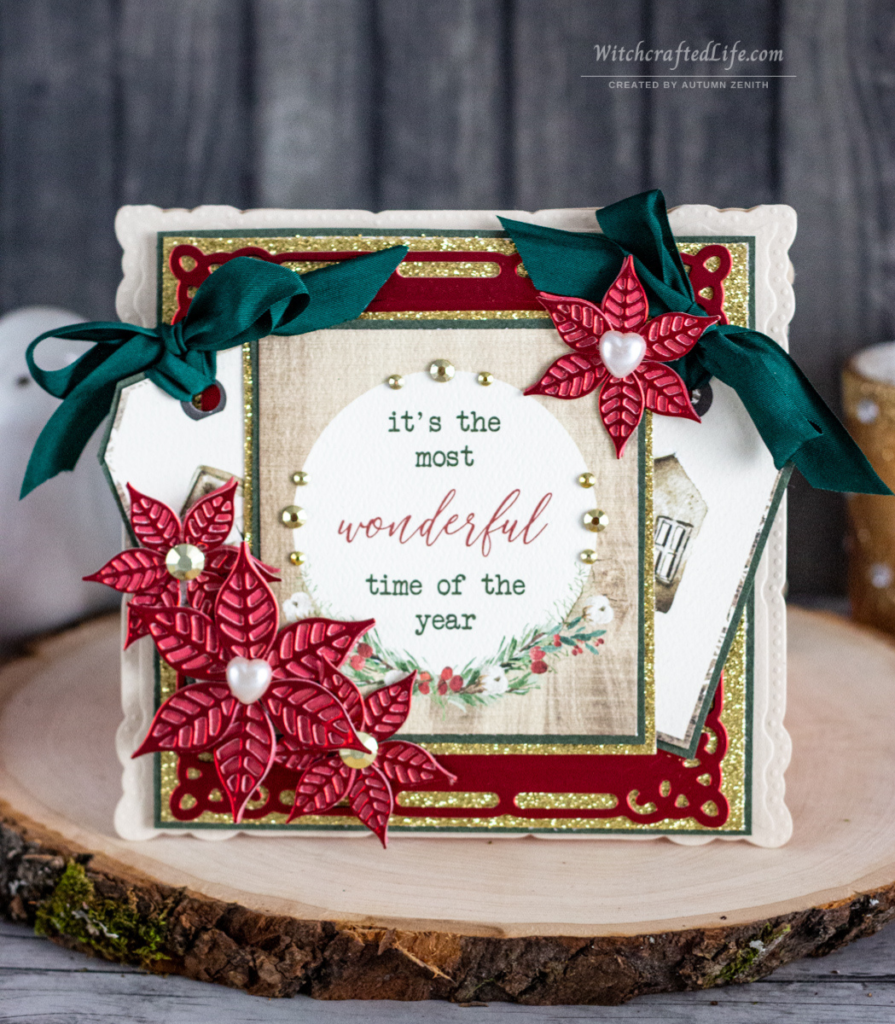 I have an unceasing dream that one day I will be able to add an electronic die cutting machine that works with larger/wider dies to my craft supply arsenal (say, for example, the magnificent Crafter's Companion Gemini Machine that cuts up to 9 inches x 12.5 inches – swoon!).
For now, though, my trusty workhorse of a Sizzix Big Shot does the trick for most sizes of dies and I am sincerely grateful that it's still going strong after nearly five years of frequent use.
Anyhoo, all that to say, given the smaller small size of this card base, I had to scale down the other cardmaking elements involved here accordingly.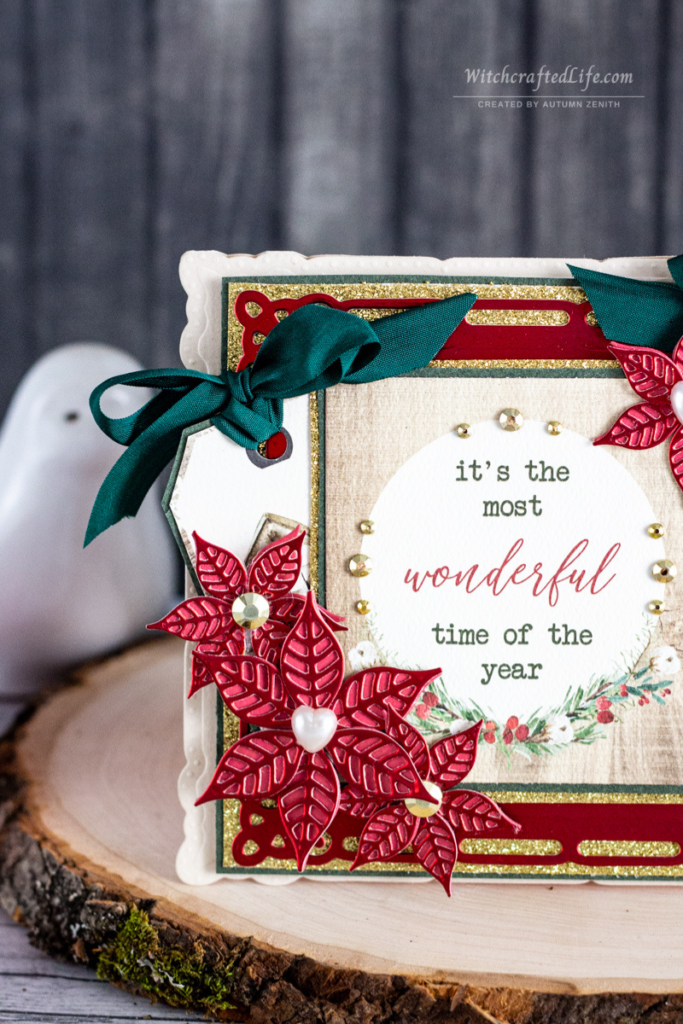 Ultimately, I was still able to work with various die cuts, layers, trims, and embellishments, so I didn't feel like my usual crafting style was comprised or altered.
It was actually the matching Christmas rosette wand that I envisioned in my mind before the card itself took shape. And while I created the card first, I did so thinking about how I wanted the wand to look when all was said and done.
Happily, the two came together splendidly and were scarcely sooner completed than gifted to a very dear friend.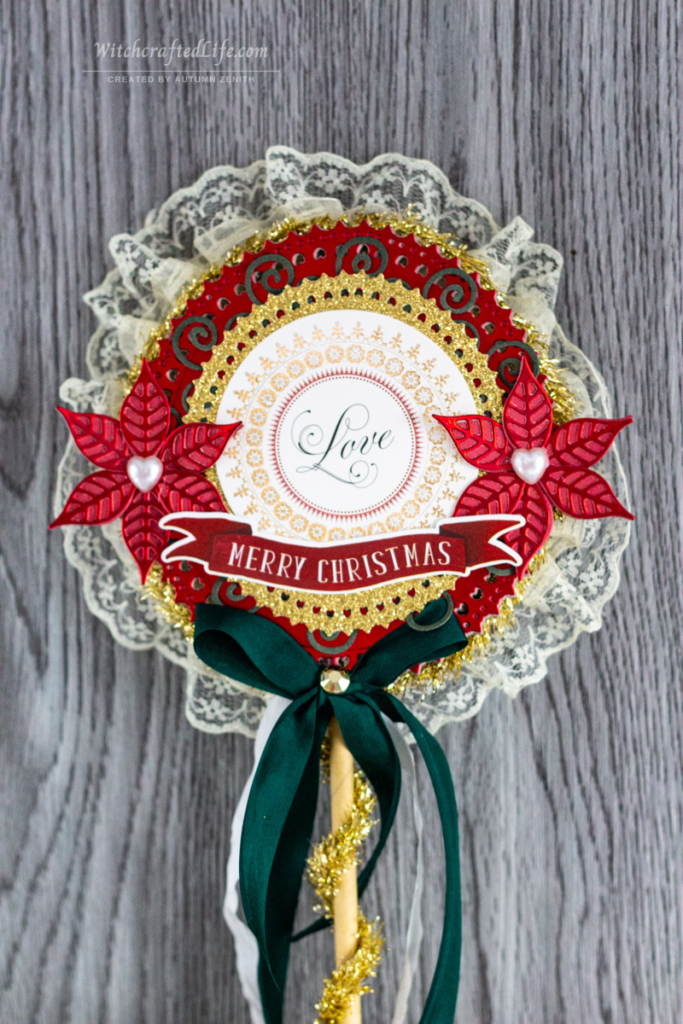 The "love" sentiment on this handmade wand could certainly be used romantically. However, in this case, it is meant instead to capture both the love that many of us have for Christmastime as well as the feelings of platonic love and appreciation shared between good friends the whole year through.
This particular wand – the general style of which is also known as a lollipop wand – does not house an actual paper/cardstock rosette or one made from a cupcake liner, as wands (including the Darkly Romantic Valoween Wand I shared here last February) of this nature frequently do.
Instead, the ruffled "rosette" element comes from the pleated lace that encircles the largest layer of this charming Christmas rosette wand.
I adore making wands. Each time I do so, I am reminded of this fact and find myself feeling tempted to whip one up to accompany most of the cards I create throughout the year.
That doesn't always happen of course, but I hope to make at least a few fresh new rosette wands in 2022 and to share them, in the process, with all of you.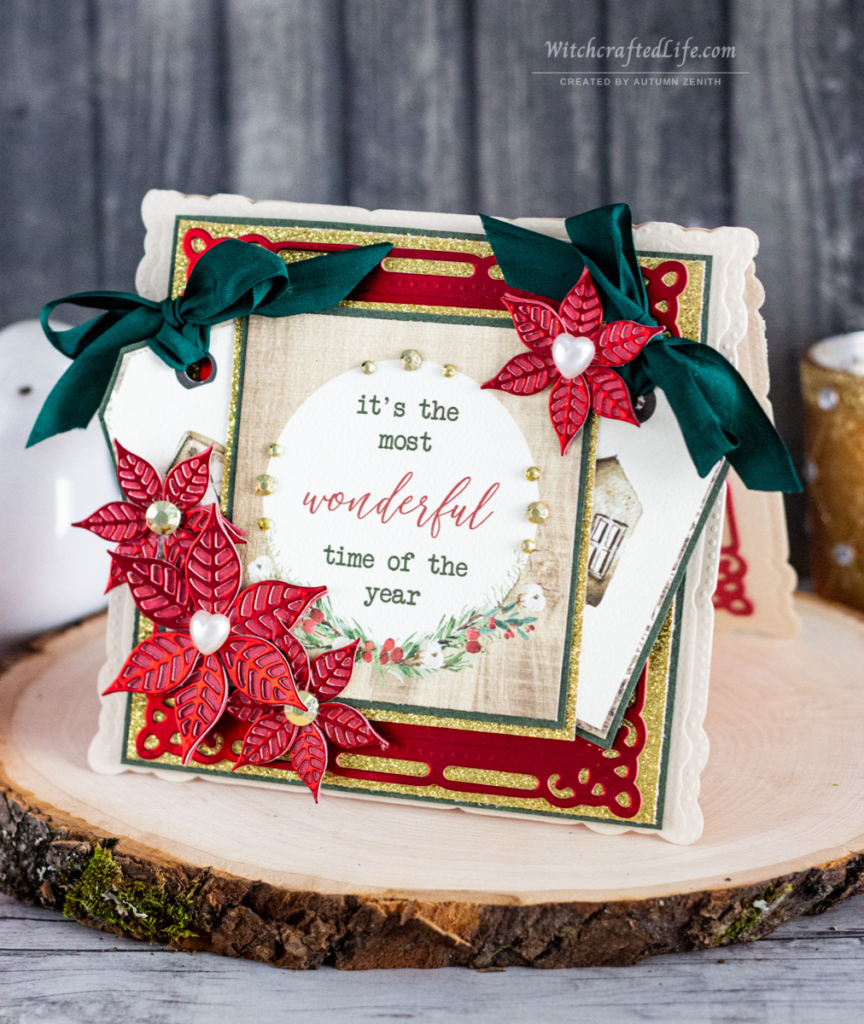 Naturally, it is too close to Christmas to make many holiday season 2021 craft projects right here and now.
That said, should you wish to get a jump start on next December, alter the sentiments used here to New Year's appropriate ones, or adapt these general designs for other occasions, read on for a complete list of products used and detailed step-by-step instruction on how to create both of these Christmas papercrafts.
Products used to make both the sophisticated red, green and cream Christmas card and its matching Christmas rosette wand
(Note: When a product has the letters RW – for rosette wand – in brackets after it, that means it is only used on the rosette wand. Where this is not indicated, the product is used either on the card alone or on both projects.)
-Thin chipboard (that can be successfully run through your die cutting machine; RW)
-Smooth or lightly textured cream or ivory cardstock
-Light/pale red cardstock
-Pine, forest, or hunter green cardstock
-Red mirror/metallic cardstock – Scarlet Organza Mirror Cardstock from Tonic Studio
-Gold glitter cardstock – Premium Glittersilk Cardstock from Darice
-Christmas themed cut apart tags – Christmas Gift Tags from Carta Bella
-"It's the Most Wonderful Time of the Year" sentiment piece – Christmas 3"x4" (cut apart) journaling tags from Carta Bella
-Ornate square (or rectangle) shaped frame die set (ideally the largest-sized die in this set should measure at least four inches in both width and height)
-Set of at least two double-layered poinsettia dies (or use two sizes single-layered poinsettia dies, if you don't have a similar-looking poinsettia die to the one that I used here)
-Decorative (or plain) edged oval die set (RW)
-Ornate spiral (multi-arm, so to speak) die (RW)
-Layered poinsettia die (or a single layer poinsettia die – either works great here)
-Die cut "Love" sentiment piece – Jolie Collection Titles, Tags, and Quotes from Anna Griffin (RW)
-"Merry Christmas" sticker – 'Twas the Night Before Christmas Volume I stickers from Echo Park (RW)
-Pine, forest, or hunter green seam binding (ivory or cream could look really nice here as well)
-Cream or ivory seam binding (RW)
-Gold tinsel trim – Old School Vintage Tinsel Trim from Pink Paislee (RW)
-Cream or ivory ruffled or pleated lace (RW)
-Small cream coloured heart-shaped "pearl" flatback embellishments
-Small gold coloured gems (these ones don't have a specific product name on them, but are from the Michael's line, Studio G; RW)
-Kraft (or similar shade) paper drinking straw (RW)
-Glue gun and glue sticks
-Dimensional foam, pop dots, or similar to elevate some of your layers
-Adhesive, such as a tape runner, of your choice (I often use my Scotch Tape Glider)
How to make a timelessly elegant Christmas card
Begin by die cutting your card base with cream or ivory cardstock and the largest size of ornate frame die in your die set.
To cut out a card base with a die, fold your card in half and place the die so that the top of it juts out just slightly past the folded area (this helps to ensure that there is an actual fold at the top, not just that you've cut out two matching individual die cut shapes).
Leave the card folded, use low-tack washi or drafting tape (or similar) to hold your die in place and run the card base through your machine with both layers remaining folded so that the die will simultaneously cut through the front and back sides of the card.
If you have never cut out a shaped card this way before, practice a time or two with scrap paper to get the hang of it. Once you have done mastered this technique, cutting out shaped cards (and tags, too) this way is usually a breeze.
Cut a piece of dark green cardstock slightly smaller than your card base. Adhere.
Cut a piece of gold glitter cardstock ever-so-slightly smaller than the dark green cardstock layer. Adhere.
Use the second largest die in your nested frame die set to cut a frame from red metallic/mirror cardstock. Adhere to the gold cardstock layer.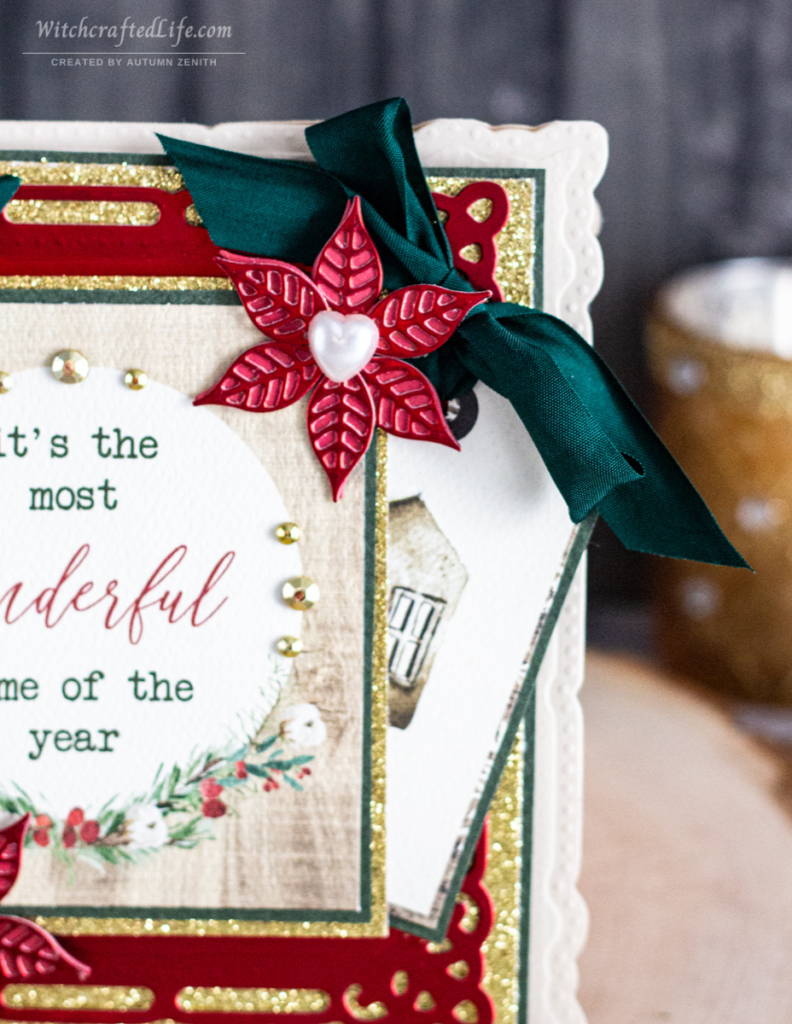 From the Carta Bella Christmas Gift Tags paper, cut out two tags that each have a small house illustration on them.
Back each Christmas tag on dark green cardstock and fussy cut around them to leave the slenderest of dark green cardstock borders on all sides.
Using a handheld hole punch, an anywhere hole punch, or an eyelet setting tool that makes holes, punch a hole through the "grommet" section of both cardstock-backed tags.
Thread dark green seam binding (or dark green ribbon, if you don't have any suitable seam binding) through the holes that you just punched. Tie a single layer bow in each piece of seam binding.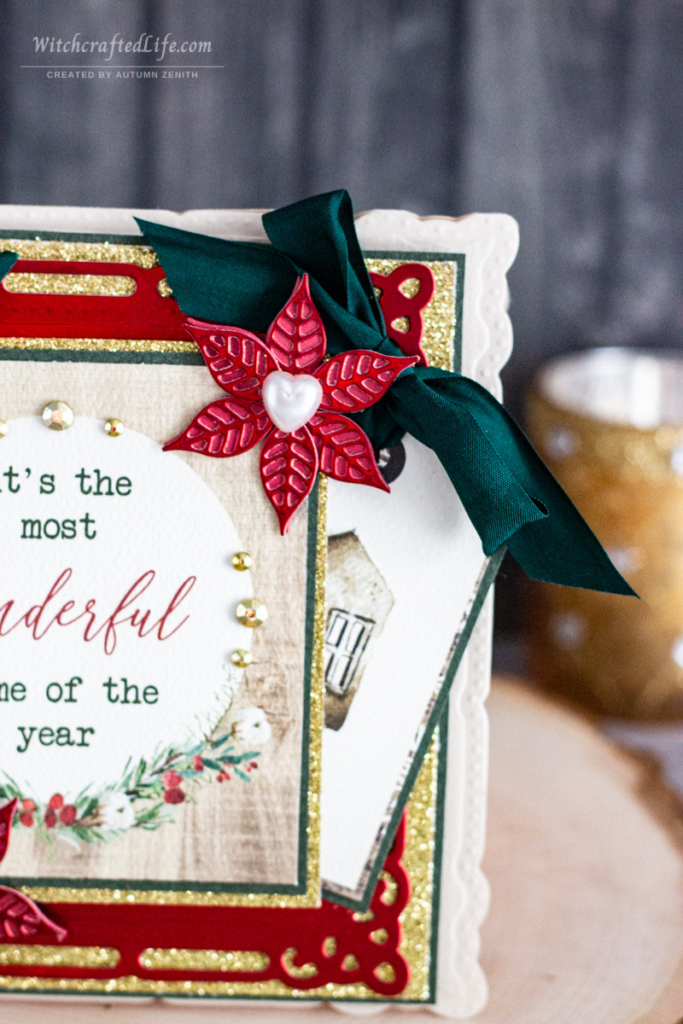 Angle tags so that the top of each one extends out past the edges of the cream card base just a wee bit. Adhere to card base layers.
Next, take the Carta Bella Journaling Tags paper and cut out the "It's the Most Wonderful Time of the Year" sentiment square.
Cut a piece of dark green cardstock ever-so-slightly larger than the sentiment square. Adhere sentiment square to dark green cardstock.
Cut a piece of gold glitter cardstock a touch bigger than the dark green cardstock piece. Adhere dark green cardstock to gold glitter cardstock then attach that gold cardstock to the previous base layers of this handmade Christmas card.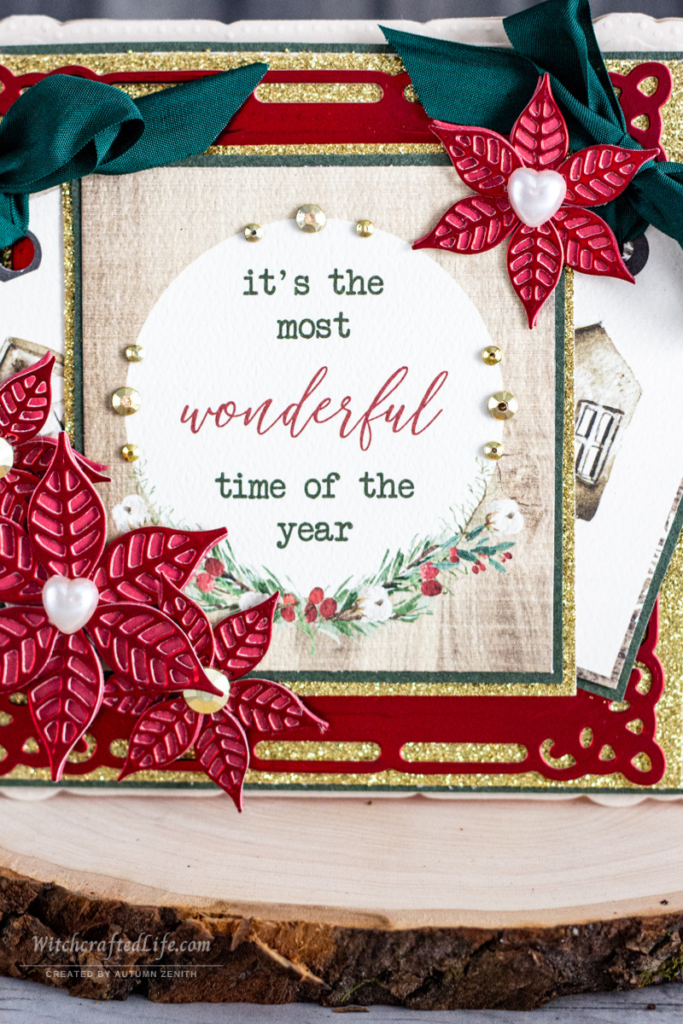 Place two sizes of gold gems around the left side, right side, and top of the circle in which the sentiment itself is written (as shown).
Use light red cardstock and die cut enough shapes so that you have three small and one large six-petaled poinsettia flower bases.
Then use the red metallic/mirror cardstock to cut enough shapes so that you have three small and one large six-petaled poinsettia top layers (these are the open design top piece layers of the poinsettias).
Adhere top layers to bottom layers then assemble poinsettias into six-petaled flowers. Adhere them two small and one large poinsettia to the bottom left-hand side of the central sentiment panel, and one small poinsettia on the upper right-hand side of the central sentiment panel.
Top the two small poinsettias on the bottom left-hand side with gold coloured gems.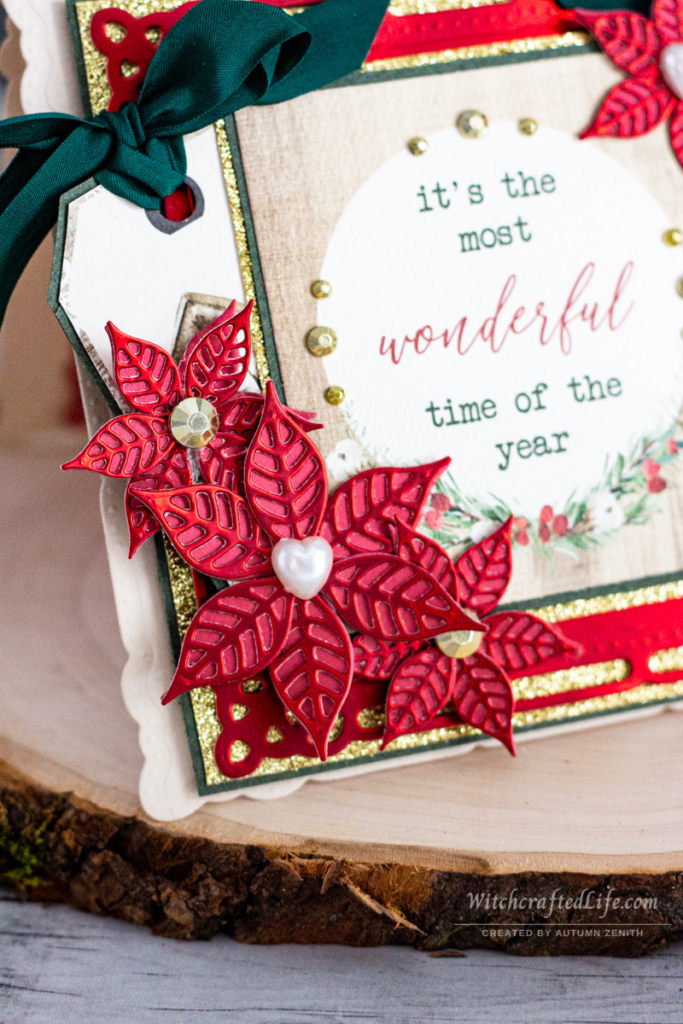 Top the large poinsettia and the small poinsettia on the upper right-hand side with cream coloured heart shape pearl flatback charms.
And just like that, you have a sophisticatedly beautiful holiday greeting to share with someone special in your life.
Read on to find out how to make the coordinating Christmas rosette wand. ❤️
How to make a timelessly elegant Christmas rosette wand
Start by cutting out one oval-shaped piece of thin chipboard with the largest size of nested oval dies.
Cut two identical pieces of red metallic/mirror cardstock with that exact same die.
Position the kraft coloured paper drinking straw in the bottom center of what will now become the backside of your rosette wand. Adhere it in place with hot glue or another type of very sturdy adhesive.
Once the adhesive for the straw is dry, adhere one of the red ovals you just cut out before the last step to the front and one to the back of the chipboard oval rosette base.
Measure out a length of ruffled cream/ivory lace that will fit around the outer edges of your wand head base.
Adhere lace around the edge of the wand head base, attaching it on the BACK (not the front) of this piece. I used – and recommend using – hot glue here, though a sturdy liquid adhesive would likely work as well.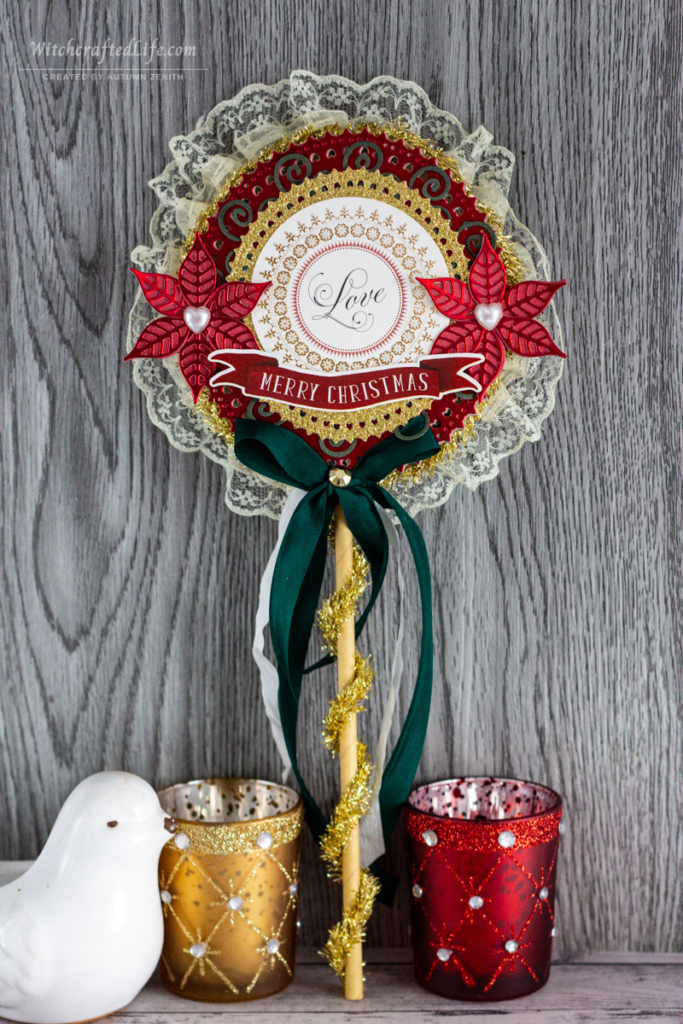 Measure out a length of gold tinsel trim that will fit flush with the cream/ivory lace that goes around the wand base.
Adhere gold tinsel trim around the entire perimeter edge of the wand head, on the front side of the wand.
Die cut an intricate spiral shape from dark green cardstock (a similar-sized doily die cut would look great here, too). Adhere to red metallic/mirror layer on the front of the wand.
Die cut two identical smaller-sized oval pieces (from the same nested oval die set) from gold glitter cardstock.
Adhere one of these oval pieces to the back of the wand and one to the front.
When giving my paper crafts as gifts, I usually like to include a small tag with a handwritten sentiment such as "Handmade with 🖤 by Autumn Zenith" on it.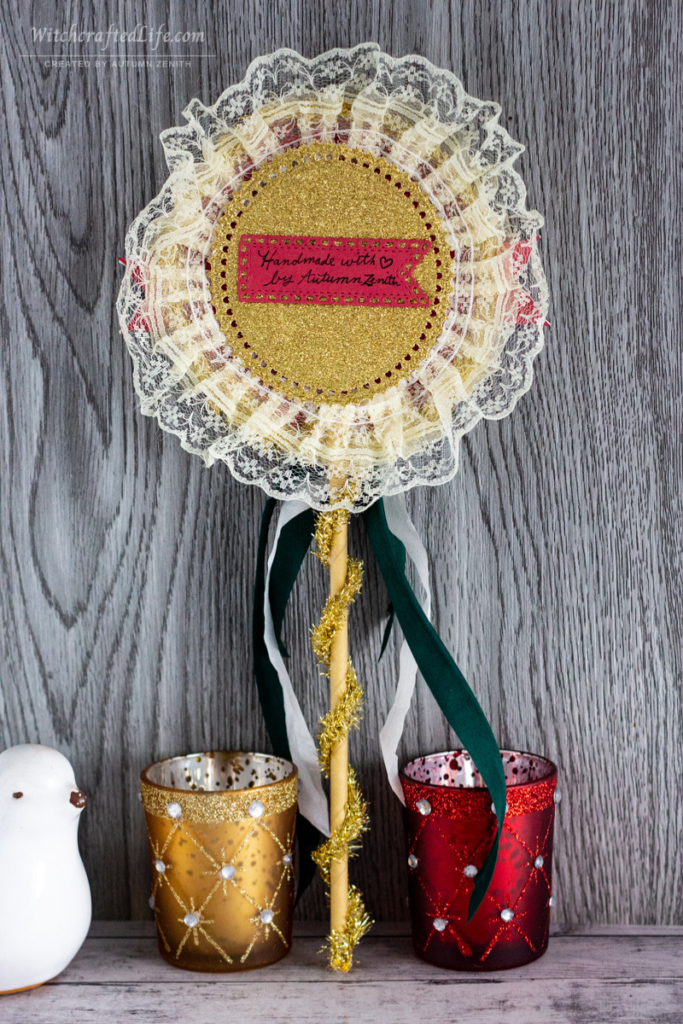 If you wish to do something similar, cut out or use a premade small tag or banner-shaped piece of cardstock. Adhere this tag to the back of the wand (As this is an optional step, I did not include a small tag or banner-shaped die in the supplies list above.)
The back of the wand is now complete. On to the rest of the front! 😊
Take the Anna Griffin "love" sentiment die cut piece and adhere it in the centre of the gold glitter oval.
Next, die cut enough base layers from pale red cardstock, and enough top layers from red metallic/mirror cardstock, to make two small six-petaled poinsettias.
Adhere top and bottom poinsettia layers together and then adhere these flowers to so that one appears on each side of the sentiment piece, as shown.
Top each handmade poinsettia with a cream/ivory coloured "pearl" heart-shaped flatback embellishment.
Adhere the Echo Park "Merry Christmas" banner-shaped sticker near the bottom of the sentiment piece, allowing the edges of this sticker to overlap both poinsettias a little bit.
To determine how much gold tinsel trim you will need to wrap the paper drinking straw, do a test run and arrange the angled placement of the tinsel as desired. Once this has been determined, cut tinsel to that length.
Use a little bit of hot glue (or very strong liquid adhere) to start looping the gold tinsel around the drinking straw. Once you reach the top of the straw (where it meets the head of the wand) hot glue gun the tinsel in place in place beneath the ruffles/folds of the lace.
Use the dark green seam binding to make a single-layer bow with somewhat long tails.
Cut one piece of cream/ivory seam binding and one piece of (the same) dark green seam binding. You can either make the same size as each other, or have one be longer and the other shorter, as you wish.
Fold them in half and attach to the wand base beneath the lace in the center of the wand, as shown.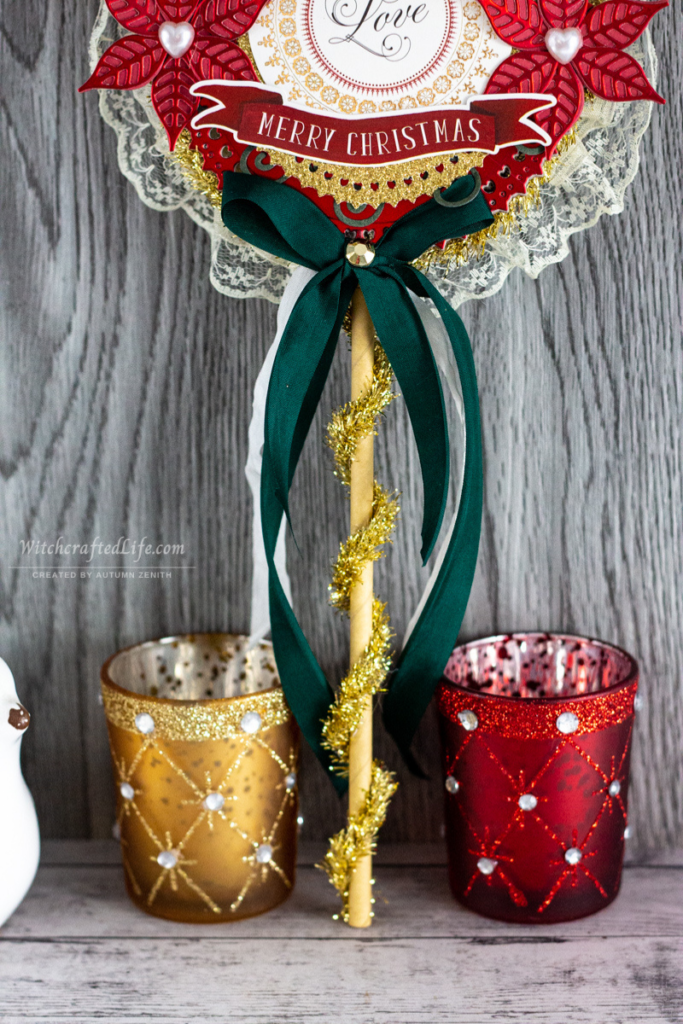 Lastly, adhere the green seam binding bow you just made to the center of these seam binding "streamers" and top it with a single gold coloured gem embellishment.
I know that it might seem like there is fair number of steps involved with making this elegant Christmas lollipop wand, but I assure you that it came together both easily and fairly quickly for me (under two hours, even with die cutting and assembling the poinsettia factored in).
This wand is filled with the enchanting spirit of the holiday season and can be given as a solo gift on its own or combined with either the matching card or another Christmas card of your choosing.
This rosette wand is a gorgeous (if I may say so myself 😊) piece that works splendidly as seasonal home décor, too, should you wish to keep it for yourself or make multiples. Retaining and giving them away as you please.
It's the most wonderful time of the year (or at least one of them 🥰)
Not everyone celebrates Christmas and not everybody who does so loves it with all their might.
It should go without saying, but both of those things are 100% okay.
For some, this month houses the observance of a single holiday or sabbat. For others, it may hold multiple special events depending on a person's beliefs and culture.
Personally, December is home to Yule, Christmas Eve, Christmas Day, Boxing Day, and New Year's Eve and I really enjoy celebrating each of these special events annually.
For me, fall and Halloween + Samhain is the most wonderful time of the year. That said, I adore and appreciated December's many special occasions, too (including those, such as Hanukkah and Kwanza, that I do not observe).
They help to make Christmas and Yule time one of the best and most special periods of the whole calendar.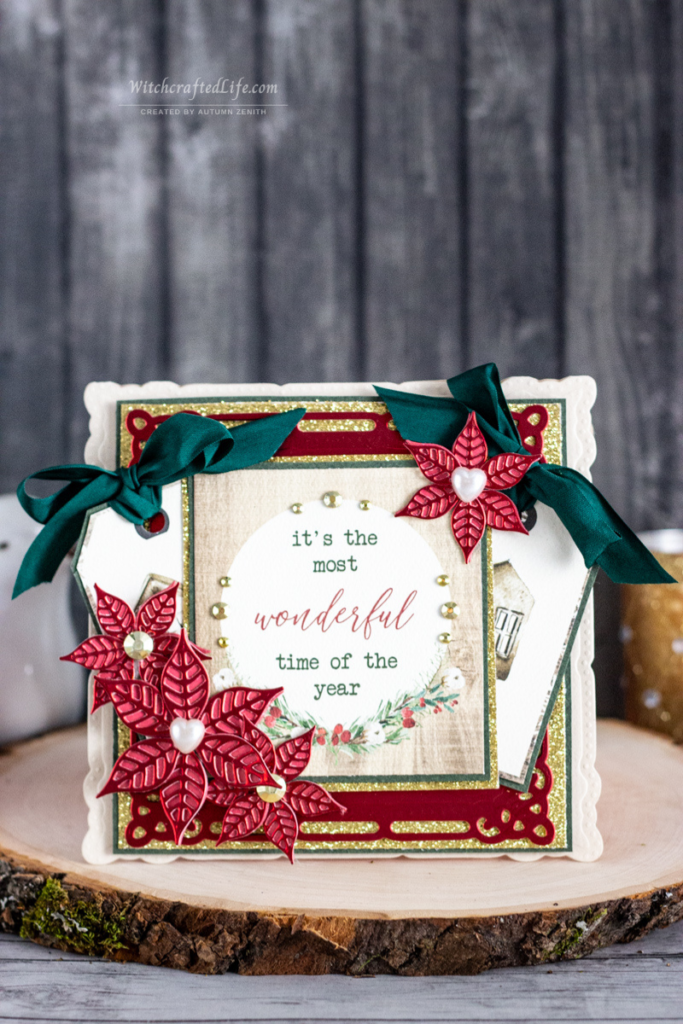 A ton of people who observe Christmas rank it as their favourite holiday – my mom and sister both included.
It is easy to see why. We're flush not only with the happiness and excitement that can often accompany Christmas itself, but also the anticipation and wide-eyed optimism that January 1st has a natural ability to instill in a fair number of us.
This really is a magical point in the year and one which never fails to spark happiness, merriment, and nostalgia for both myself and countless others.
To all those celebrating Christmas – or any other December special event – this year, may you have an incredibly safe, cozy, happy, and meaningful holiday season full of all kinds of festive happenings that bring your heart contentment. 🎅🏻🤍🎄