Harsh years can, I find, often elicit one of two states. Either you enter the start of a new year browbeaten, worn very nearly to your last nerve, or they stir up a powerful sense of wide-eyed optimism.
Both are understandable, normal, natural.
They are not the only two possible states, of course. I have experienced enough January 1sts now at this point in my life to know though that they are amongst the most common.
As someone whose ingrained instinct is to see the glass as half full (though, at times, it does depend on whose pouring 😄), I often veer towards the optimistic side of things.
2021 put me and my husband – along with countless others around the globe – through the wringer and then some.
Was it, mercifully, the most brutal year of our lives? No, thankfully, it was not.
But it was deeply challenging, highly stressful, and a very far cry from ideal.
Like all years that I have thus far experienced, it still housed some positives, too. I'm not sure I would say that they outweighed the difficulties, but they certainly did their part to balance the scales a bit more.
Interestingly, I often find that the rougher and tougher a year was, the more I leap with Labrador puppy enthusiasm into the rebirth of January.
The year's first month received its English name via Latin. It means the month of the Roman dietary Janus (who presided over doors, entryways, and beginnings).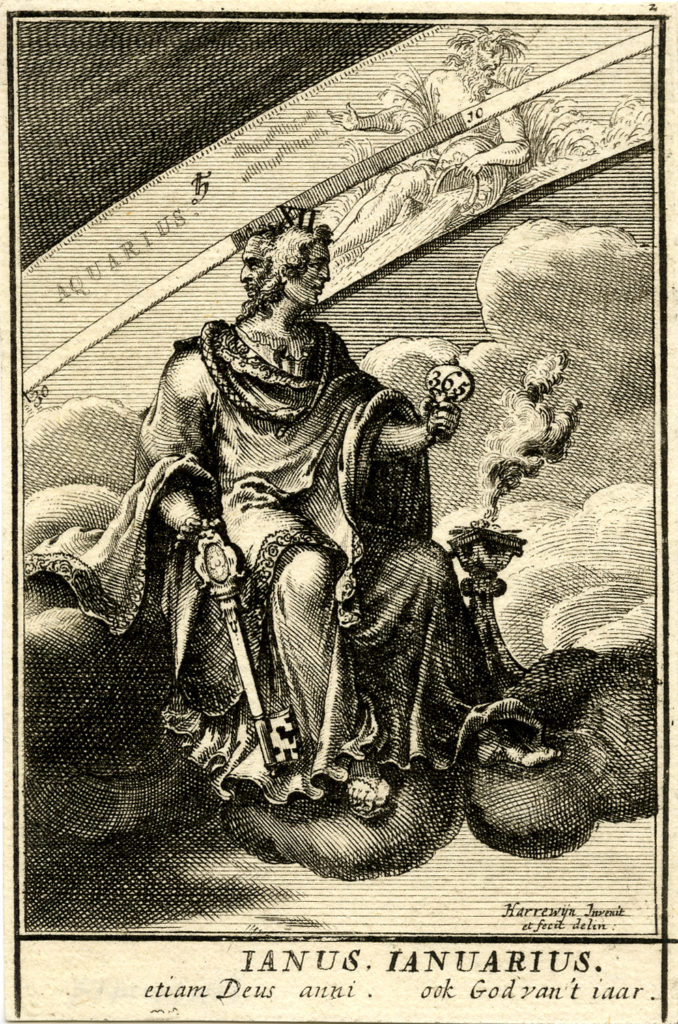 One particularly noteworthy facet to the God Janus is that he is often depicted and described as having two faces. One looked the past squarely in the eyes, the other stared ahead, always ready to tackle the incoming future.
We as mere mortals down here on earth often embody a similar sense of duality as one year takes its final bow and the next comes barreling into town.
Looking back, we reflect and contemplate the twelve months that we just experienced. We know that all we went through then will contribute to who we are for the rest of our days.
There are some years we wish we could tightly cling to with all of our might and others that we are happy to drop faster than a bad habit.
And certainly, there are a good many that fall somewhere in between.
It can be hard, I readily acknowledge, to embrace January with intense optimism or hope – especially if the year that just transpired was a particularly challenging one.
Yet, much as it is not fair to assume that a new romantic partner might embody negative or undesirable traits or actions of an ex, so too should be given each fresh year a chance to prove itself before we jump to any judgements or conclusions.
We need to give the new year time to show us how different or similar it may be to the last twelve-month calendar we retired.
The first day of January does not, of course, erase all our troubles or set every wrong in the world right (if only!).
But is a fresh start, an intensely powerful liminal period, and the chance to begin again in some respects.
Yesterday evening, as clocks the world over chimed with the sound of midnight being announced, 2021 gave up its ghost.
We must let it go. Passing years are like breaths of air, we only continue onward because they occur.
I was thinking recently about the fact that each year has a ghost of sorts all its own. Some are friendly spectres, whereas others may, sadly, haunt us for the rest of our days.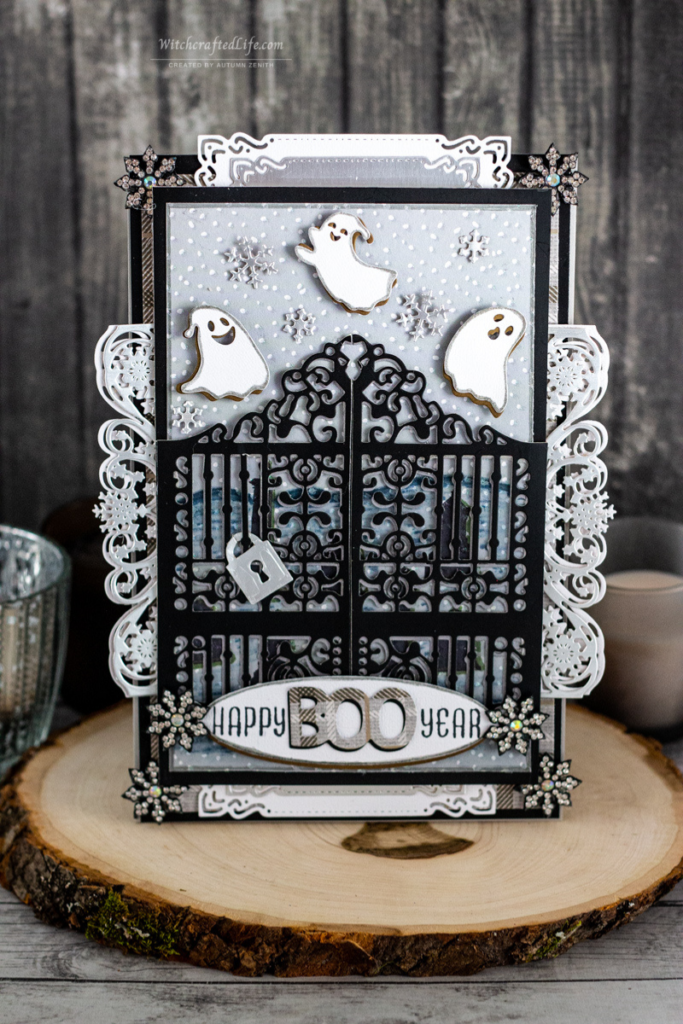 In reflecting on these points, the idea sprung into my head to make a punny New Year's card starring phantoms and a graveyard.
And so, as the final days of 2021 ticked away, that is precisely what I did. Creating and photographing the New Year's card that stars in this post as December was preparing for its inevitable end.
Adorable Happy Boo Year (New Year's) Card
After the year we just collectively endured, it would not have been out of place to go for a solemn, almost sympathy-like card for a theme such as this.
However, (and here's that natural propensity for optimism at play again) I wanted instead to convey a sense of cheerfulness and newness.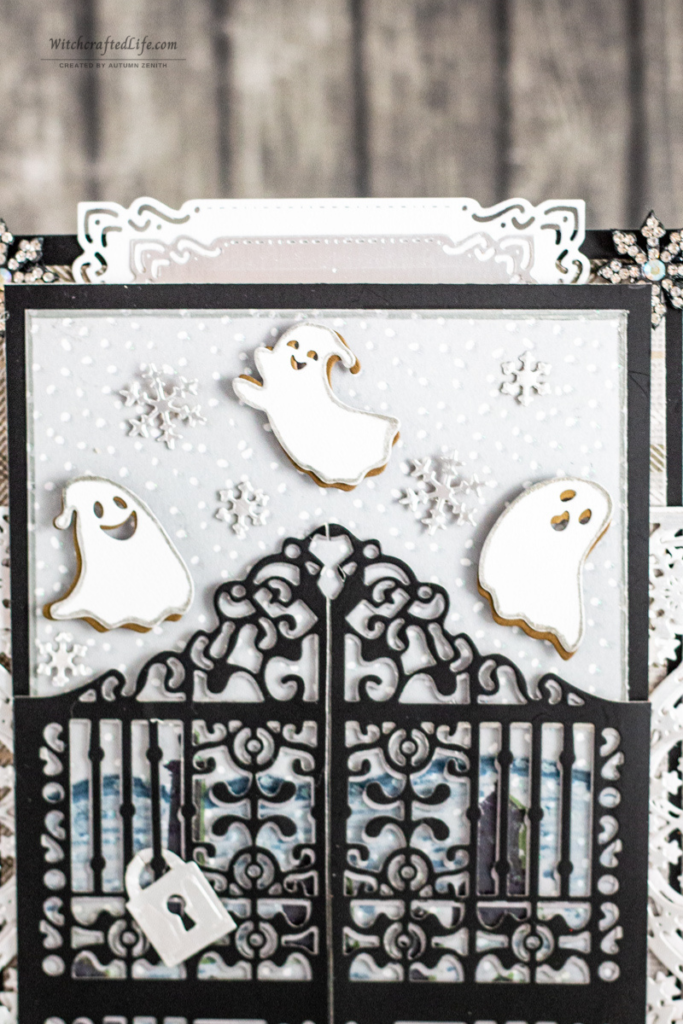 In this card we see three tremendously cute ghostie friends hovering above a cemetery as snow – one of January's common features in many parts of the world – waltzes all around them.
These are chipper ghosts. They have no ill intent or malice in them. They're friendly spirits of the sort that, if one was to spend time with a ghost, you would be happy to call your friends.
The graveyard they are chilling in (winter pun intended) begins with a classic wrought iron fence – as well as a lock.
This lock was placed not in the centre of the gate, but to one side. This signifies that the proverbial gates have been opened on a brand new year (or maybe it also means these darling ghosties have a bit of mischief in them 😃).
I wanted there to be tombstones on this card, but not for them to steal the show. To achieve this, I stamped some tombstones in two different shades of ink. One barely-there grey, the other black. I then used both a taupe-y grey coloured marker and a silver Wink of Stella pen to outline the black tombstones.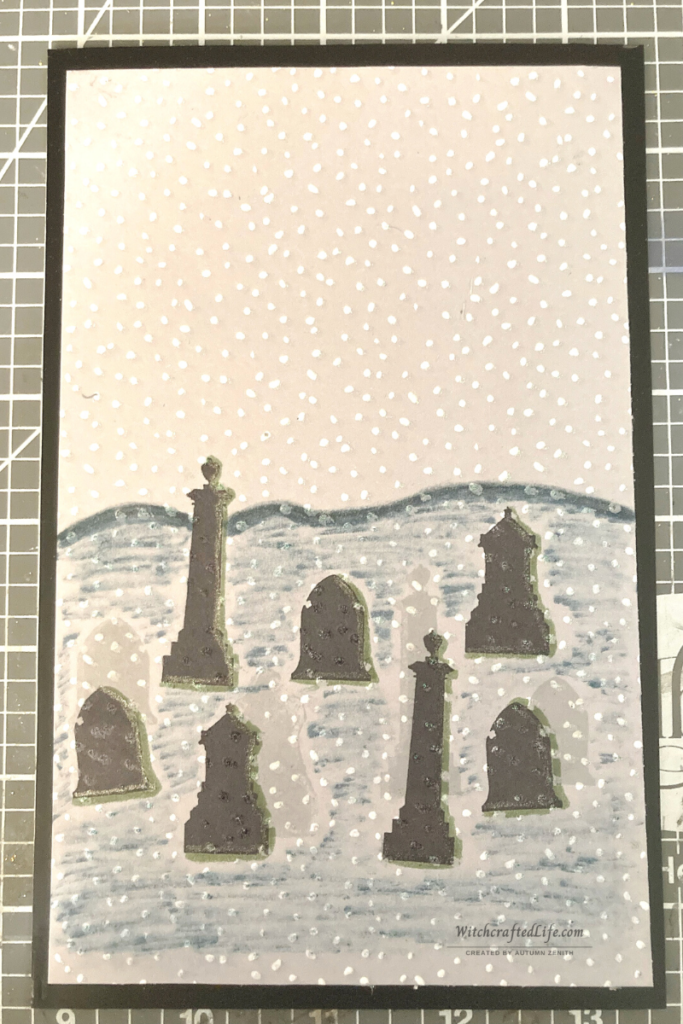 The pale grey grave markers are intended to have a ghostly, shadowy air about them, so were not outlined or otherwise jazzed up.
To help the tombstones look they were grounded, not floating (much like the ghosts themselves) in midair, I hand drew and lightly coloured a hill using an icy shade of blue-grey marker.
The falling snow comes via a paper with that pattern on it. I did not enhance it at all. If you didn't have a paper like this to hand, you could emboss cardstock or paper with a dotted pattern, hand draw dots with white ink (or paint), or use a polka dot stencil to create a similar effect.
Our precious little ghosties friends were all created using metal dies and white cardstock. I backed them with identical die cuts made from brown cardstock to give them a sense of depth and shadow, then outline each of these three cuties with the same silver Wink of Stella pen.
I'm on a mission this year to weave more techniques I either do not use often or have yet to try before into some of my paper crafting projects.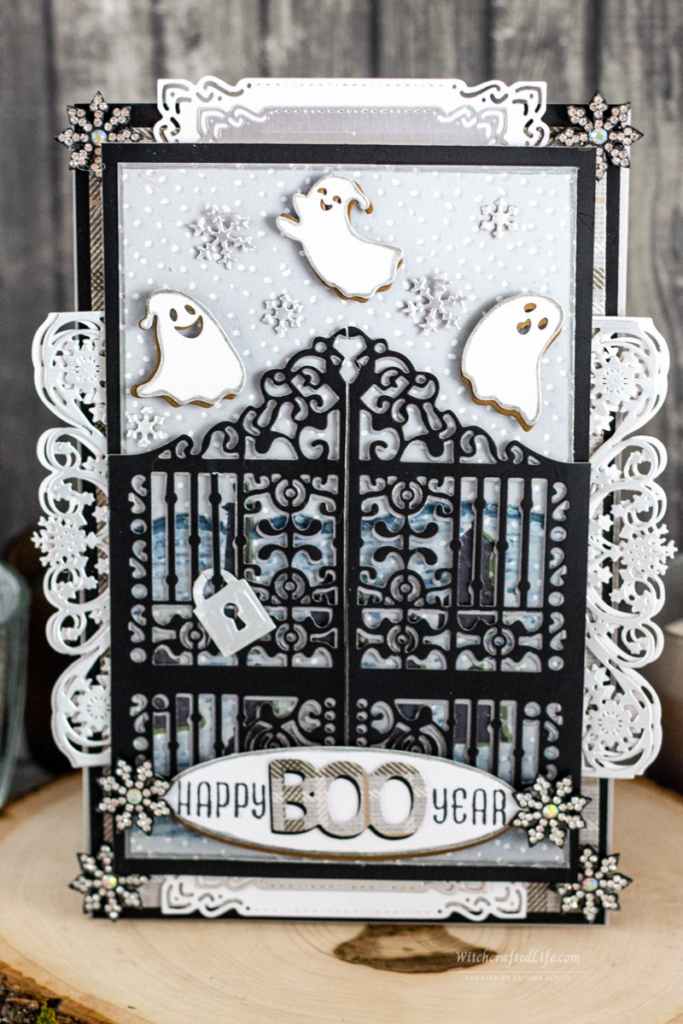 One technique that I've not utilized in a good while is die cutting words from printed paper. I opted to do so here with the word "Boo", which I cut from the same black, brown, and grey plaid paper that appears in a background layer on this card.
To up the presence of snow all the more on this design, I placed a few silver metallic cardstock snowflakes around the ghosts. I also used AB rhinestone felt-back snowflake embellishments in six spots on this haunted graveyard card.
I adore how this card came together! It houses so many elements that I adore, such as spookiness/ghosts, graveyards (I am a massive taphophile after all), wrought iron, a gothy colour palette, snow (what can I say, I'm Canadian 😄), plenty of layers, and hits of shimmer and sheen.
Last year we took explored spooky takes on various seasons and holidays. Namely Valoween, Springoween, Summerween, and most recently, Creepmas / Cryptmas.
A spooky, Halloween-influenced New Year's has yet to become a thing on quite the same level as those happenings, but I for one am really hoping that Boo Year's will catch on in time as well.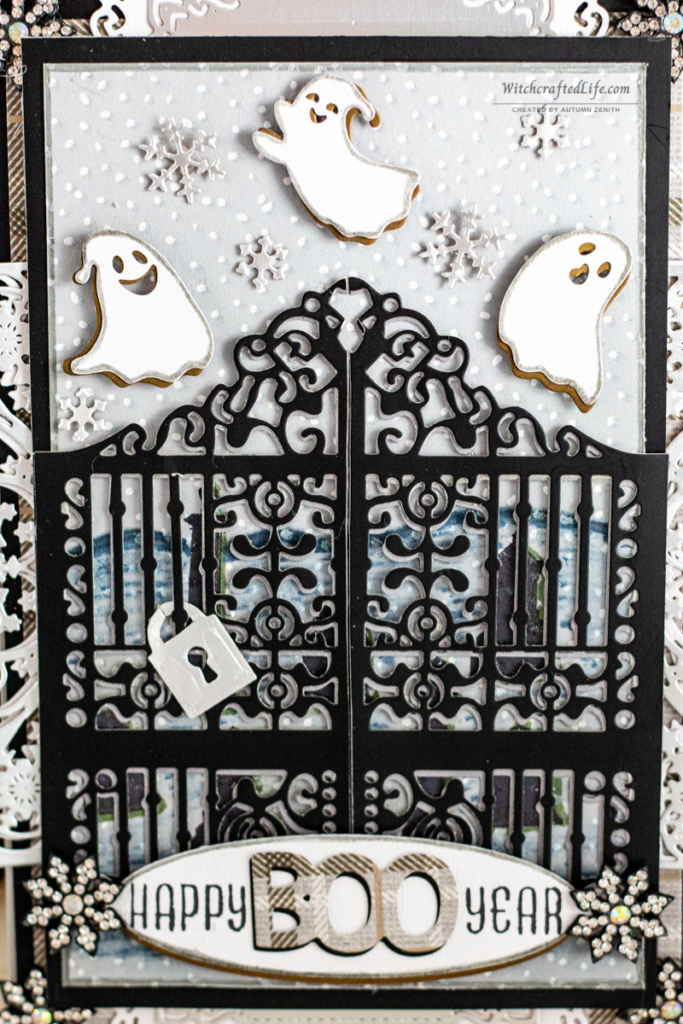 Who knows, perhaps this card itself can help to get that (snow)ball rolling all the more. 😊
If you're feeling the spirit of this frighteningly charming New Year's card and wish to create one of your own, read on for a list of all the supplies used as well as detailed step-by-step instructions.
Products used to make a haunted winter graveyard New Year's card
-Lightly textured (or plain) white cardstock – Snow White cardstock from Colorbok
-Matte black mirror cardstock – Black Velvet Mirror Card from Tonic Studios
-Silver metallic cardstock – Silver Foil Cardstock from Recollections
-Grey kraft cardstock (or a suitable light grey cardstock of your choice – Grey Kraft Cardstock from Recollections
-Light grey cardstock (different from above)
-Sandy brown coloured cardstock
-Grey and plaid print paper – Christmas Plaid 12" x 12" paper pad from Craftsmart (Michael's brand)
-Grey and white falling snow print paper – White Christmas 12" x 12" paper pad from Craftsmart
-Wrought iron gate die – Graveyard Gate Die Set from Stampin' Up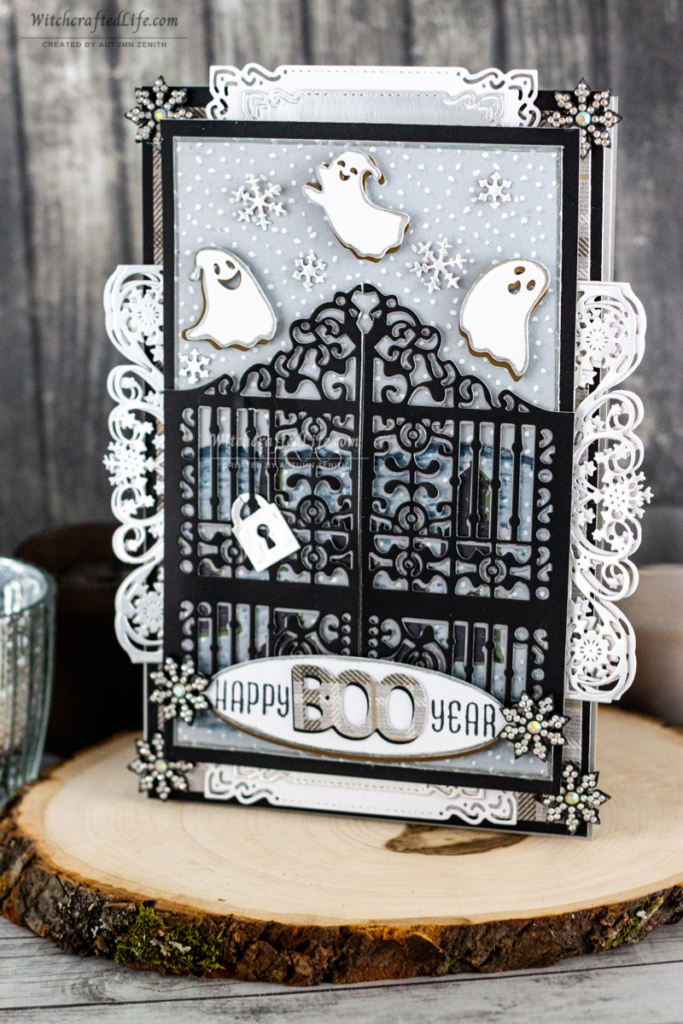 -Ornate rectangle nested dies
-Elegant snowflake border die (or a snowflake design paper punch)
-"Boo" word die (or letter dies to spell "boo" with)
-Horizonal oval tag die
-Small ghost dies
-Small snowflake die or paper punch
-Light grey ink – Shadow Grey Archival Ink from Ranger
-Black ink – Jet Black Archival Ink from Ranger
-Silver shimmer pen/marker – GI Silver marker from Wink of Stella
-Brown-grey, blue, and grey markers
-"Happy New Year" sentiment stamp (you will be using the "Happy" and "Year" portions on this card)
-Tombstone stamps – Graveyard Gate Stamp Set from Stampin' Up
-Felt and AB rhinestone snowflake embellishments (sourced from AliExpress)
-Glue gun and glue sticks (optional, but handy for attaching the felt snowflake embellishments)
-Dimensional foam, pop dots, or similar to elevate some of your layers
-Adhesive, such as a tape runner, of your choice (I often use my Scotch Tape Glider)
How to make an adorable ghost-filled Happy Boo Year card
Begin by making a card base from white cardstock.
Cut a piece of matte black mirror cardstock ever so slightly narrower but a touch taller than the card base. Adhere.
Cut a piece of brown and grey plaid paper slightly smaller than the matte black mirror cardstock layer. Adhere.
Using white cardstock cut the largest size ornate rectangle from your nested die set.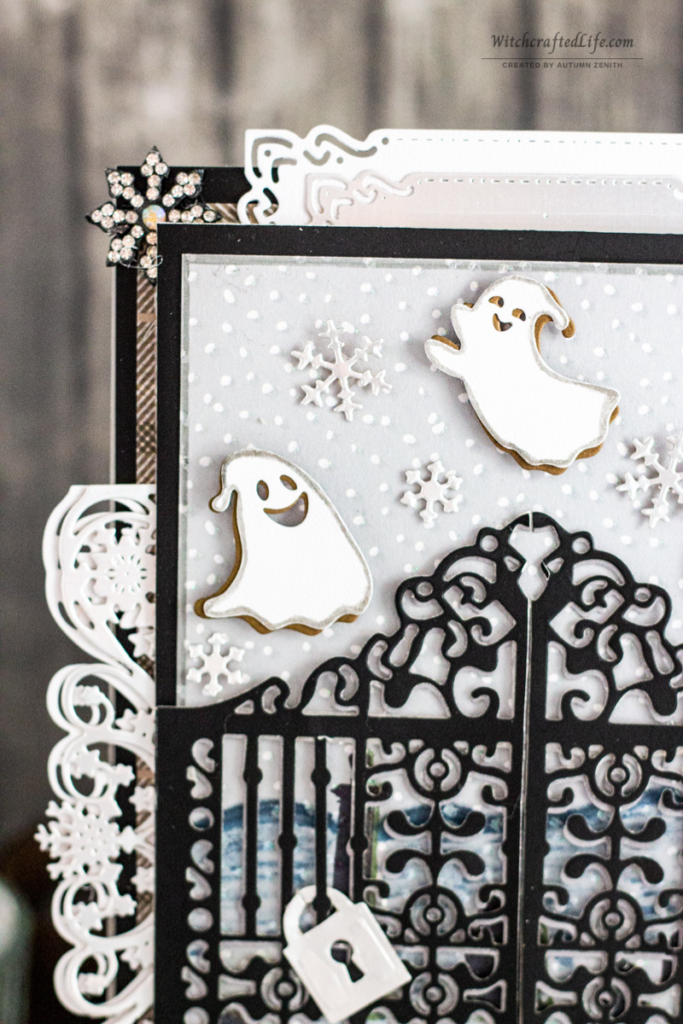 Using light grey cardstock cut the second largest size ornate rectangle from your nested die set. Adhere the two layers you just die cut together, centering the small die cut on top of the larger one.
Cut this die cut stack in half (unless you're using a very tall slimline die set that would reach from the top to the bottom of the card) and adhere one half in the upper center of the card (let it jut out a tad beyond the top edge of the card base) and the other on the bottom center of the card.
Next die cut two pairs of ornate snowflake borders from white cardstock and two from silver metallic cardstock (or light grey cardstock, if you prefer). Arrange one of each colour so that the silver is on top of the white. Offset them a little to give a dimensional look.
Adhere each pair of snowflake borders together and then adhere one pair on each side of the center of the card base layers, as shown.
Cut a piece of matte black mirror (or plain black, as desired) cardstock slightly smaller than the piece of grey and brown plaid paper. Adhere to previous base layers.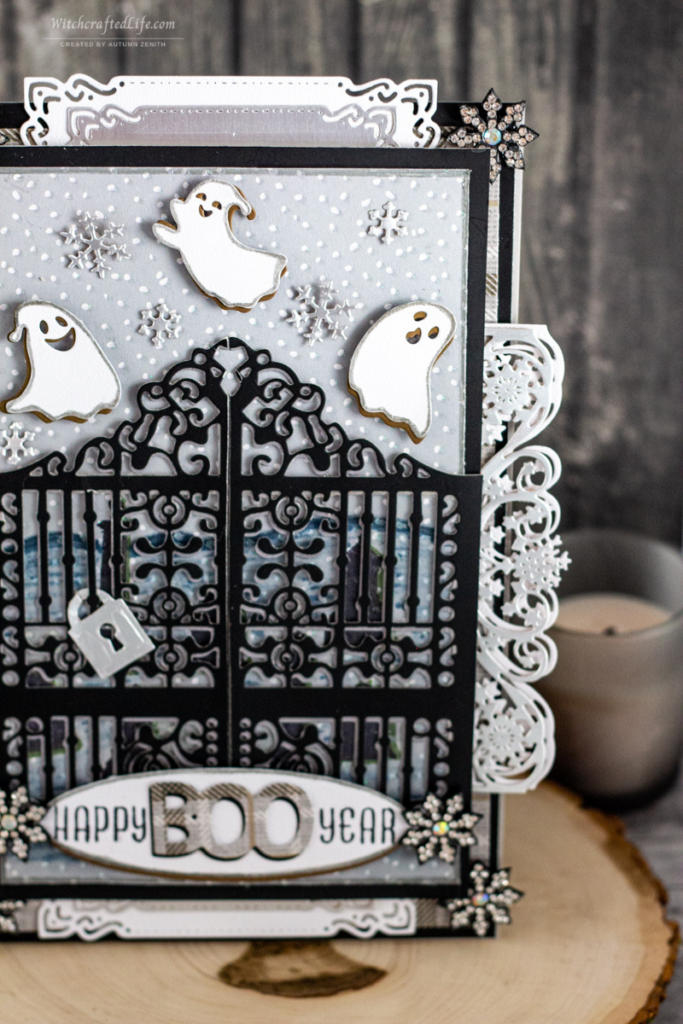 Next, we're going to create the snow-covered graveyard scene.
To do so, start by cutting a piece of "falling snow" print paper slightly smaller than the previous matte black mirror cardstock.
Run your silver Wink of Stella pen around the inner edges on all four sides of that piece of paper.
Using stamps from the Stampin' Up Graveyard Gate Stamp set, stamp a few tombstones with black ink and a few with light grey ink.
Use taupe-grey and grey markers to add dimension to the black tombstones you just stamped, but not the light grey ones.
Using a grey-blue marker, hand draw the top shape of a hill. Use that same marker to lightly colour in the hill, leaving a small border uncoloured around all of the stamped tombstones.
Adhere this layer to the previous base layers.
Die cut three ghost shapes from white cardstock and three matching ghost shapes from brown cardstock.
Edge the ghosts all the way around with your silver Wink of Stela pen. Arrange the white ghost layers on top of the matching brown cardstock ghost layers, offsetting them slightly for added dimension. Adhere ghosts to falling snow layer using dimensional adhesives.
Using silver metallic cardstock, die cut two larger snowflakes and three smaller snowflakes (all sof them hould be on the tiny side though, so as to not steal the show from the ghosts). Adhere them around the ghosts as shown.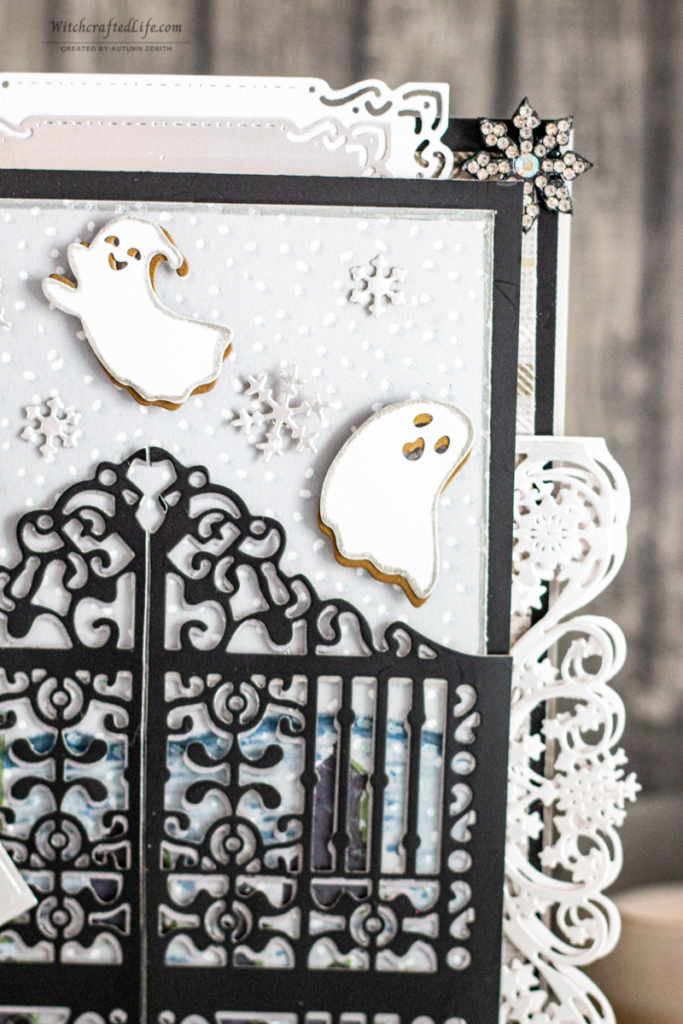 Die cut a wrought iron gate from matte black mirror cardstock using the Stampin' Up Graveyard Gate die. Then, using scissors or a sharp craft knife and a suitable cutting mat, cut vertically down the middle of the gate to create two equal-sized halves of the gate. Adhere each half to the falling snow layer.
Using silver metallic cardstock, die cut a lock from the same Stampin' Up die set. Attach through the bars of the gate on the left-hand side.
Die cut an oval tag-shaped piece from white cardstock. Rim the edges all the way around with silver Wink of Stella.
Die cut the word (or letters to spell the word) "boo" from the same grey and brown plaid paper we've used already on this project.
Center word in the middle of the die and, once you're happy with the placement, adhere the letters down.
Next, use your "Happy New Year" sentiment stamp and black ink to stamp the words "Happy" and "New Year". If you have one, I highly suggest using a stamping platform here so as to get the placement of these words right on both sides of the "Boo" die cut.
Adhere sentiment oval in the center bottom of the wrought iron gate die cut.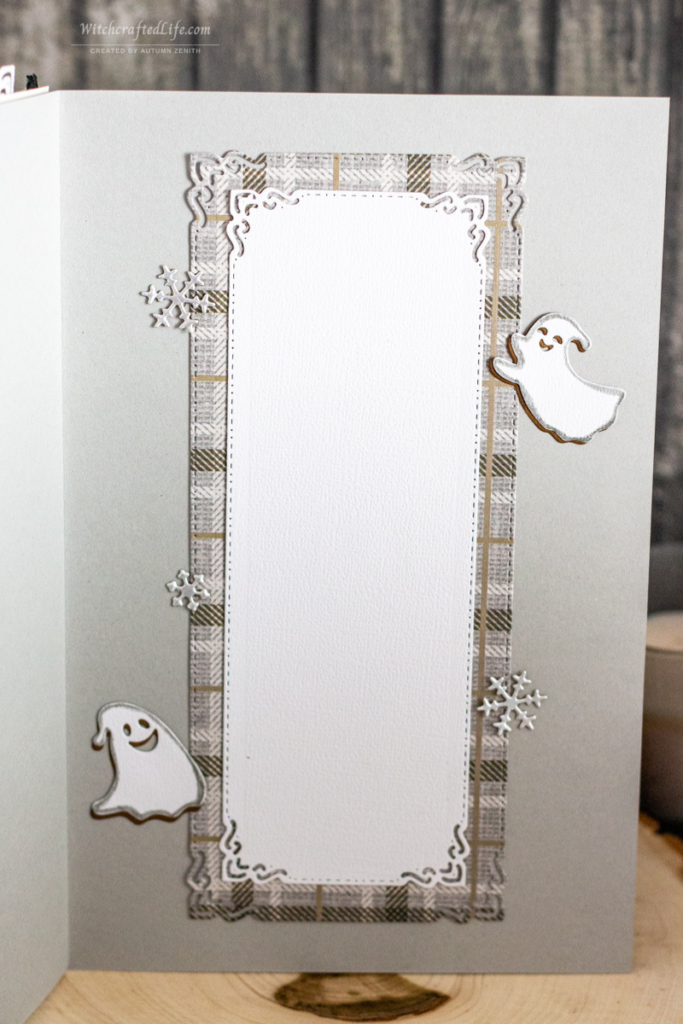 Lastly, arrange and adhere six felt and rhinestone snowflake embellishments around the card, as shown in the photos throughout this post.
And there you have it, one uber-cute ghost-themed New Year's card that you can send or give in-person to someone special.
Happy 2nd birthday to Witchcrafted Life
Precisely two years ago to the day, I launched this blog.
In that time, more than a hundred and fifteen posts have been published, readership and monthly visitor counts have grown substantially, and I have been fortunate to find my blogging voice again (after retiring my previous blog in early 2017).
This time around, the focus is on Paganism and witchcraft, paper crafting, taphophile, books, crafting in general, and more. These subjects are very dear to my heart and I delight in sharing about them here with all of you.
Little did I know when I hit the "publish" button on Witchcrafted Life's first post that the world would soon be engulfed in a global pandemic that would still be going strong two years later.
I was unaware as well of the myriad fresh challenges (including serious health issues for both myself and my husband) that would lay ahead.
And likewise, I did not yet know that we – like a lot of people – would find ways to cope, grow more resilient, and even find silver linings amongst the profound changes to the way many of our lives had previously been lived.
When we slipped on our first face masks in early 2020, who amongst us could have guessed that the pandemic would keep going for two years and counting?
That it is and, sadly, this brutal illness (and its ever-emerging variants) shows little sign of slowing down any time soon.
Even with Covid still raging though, there is more to life than the pandemic. Serious, of course, as it is though, no two ways about it.
All around the globe, there continue to be births and deaths, weddings, holidays, achievements, heartaches, and reasons to smile.
The moon and sun still greet us daily, the seasons engage in their eternal dance throughout the year. And though it has been greatly altered in some ways, life continues onward.
Our planet takes a beating, but we're not down for the count yet.
There is still hope, still (if only just barely) time for us as a species to save Mother Earth.
Just as there is hope for this brand new year.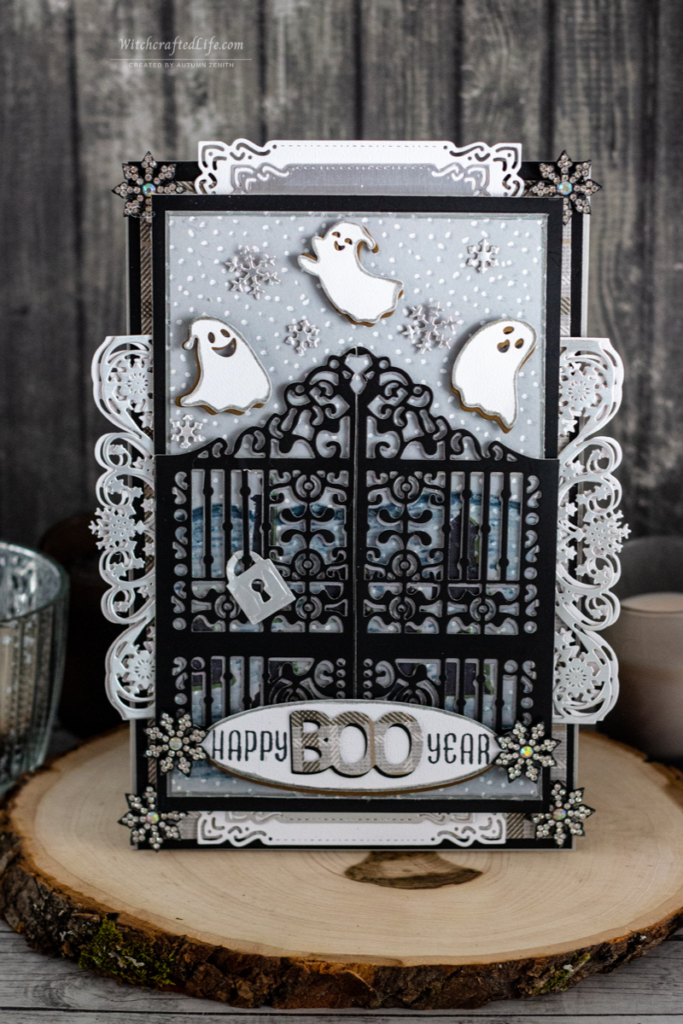 I am anything but naïve or pollyannish. I know that 2022 will not be without its substantial challenges and hardships. Some can be predicted; others will likely hit us like a comet that no one saw coming.
Yet through it all, we will persevere.
It is human nature to keep going, to adapt to just about anything life throws our way, and to hold fast to hope.
Here, on the blogging front, I look forward to continuing to (all things willing!) bring you an average of 4 – 6 new posts per month.
Those entries will cover plenty of fresh craft projects (including monthly #MakeHalloween365 project shares – for which this haunted graveyard card is my first #MakeHalloween365 creation of the year), reviews (be it book or otherwise), interviews with fascinating individuals, self-care related subjects, inspiring ideas, helpful tips, holiday and sabbat happenings, Cemetery Journey adventures, updates on what's transpiring in my life, and plenty more.
I would also like to collaborate with more companies and indie sellers here as well. If you have a business that you feel would be a good fit for this website's audience, please do not hesitate to get in touch with me anytime (my email is: autumnzenithwitch@gmail.com).
One very exciting thing that I will be sharing more about here soon is the fact that I was recently asked to write a magazine article for an incredibly beautiful publication. Following which I was invited to become an ongoing content contributor to that magazine. This is a profound honour and something I know will help to enrich 2022 for me.
Whether you have been here since Witchcrafted Life's first day of life two years ago, are discovering this blog here for the first time now, or anything in between, I thank you from the bottom of my immeasurably grateful heart for the support and kindness you have blessed this blog with.
I view my readers as friends and I am thankful for each and every one of you who shares your time with me in any capacity – be it here, on social media, via email, or otherwise. You are an integral part of the backbone of this blog.
It is safe to say that 2022 is not apt to be a walk in the park for most of us. Hopefully though, when all is said and done, we make it through and be able to join together at this same time next year to look ahead to what another fresh round of twelve months holds in store.
Joyful New Year's wishes, sweet dears! May this year be a time of wellness, serenity, happiness, safety, creativity, meaningfulness, and no shortage of hope for all of us.
Do you have any predictions or gut feelings about 2022? What kind of content would you be especially interested in seeing here on Witchcrafted Life this year? ❄️👻❄️