As crafters, I think that many of us are often a bit hesitant to declare something that we've made a personal favourite. While it is unlikely to be as hard for us to do so as with, say, our children or pets, it's still tricky at times to rank our own work so highly.
Or at least it is for me.
And yet…
The card featured in this post might just be my favourite I've ever made.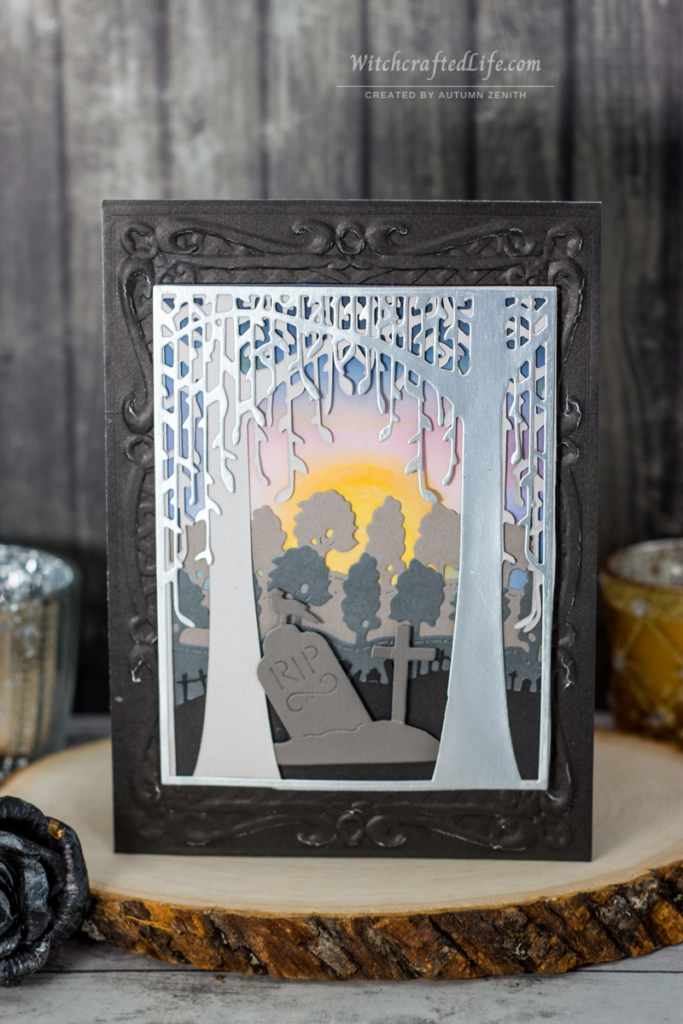 Not just this year, not just in the past few years, but during the whole of my time as a paper crafter.
Definitely in the top five for sure and, again, very possibly my absolute favourite to date.
I had a vision of how I wanted this card to look in my mind's eye and the end result exceeded my hopes and expectations. The whole project flowed beautifully and I am pleased as punch with how it turned out.
I have dubbed this gothic-inspired card "Summertime Sunrise Over the Cemetery", as that is the scene it depicts. (Though a similar sight could be observed in the spring or very early fall around these Western Canadian parts as well.)
Passionate taphophile that I am, I've spent many an early morning (and late night and afternoon… basically all hours of the day 😄) witnessing breathtaking sunrises break in the heavens above various cemeteries and graveyards.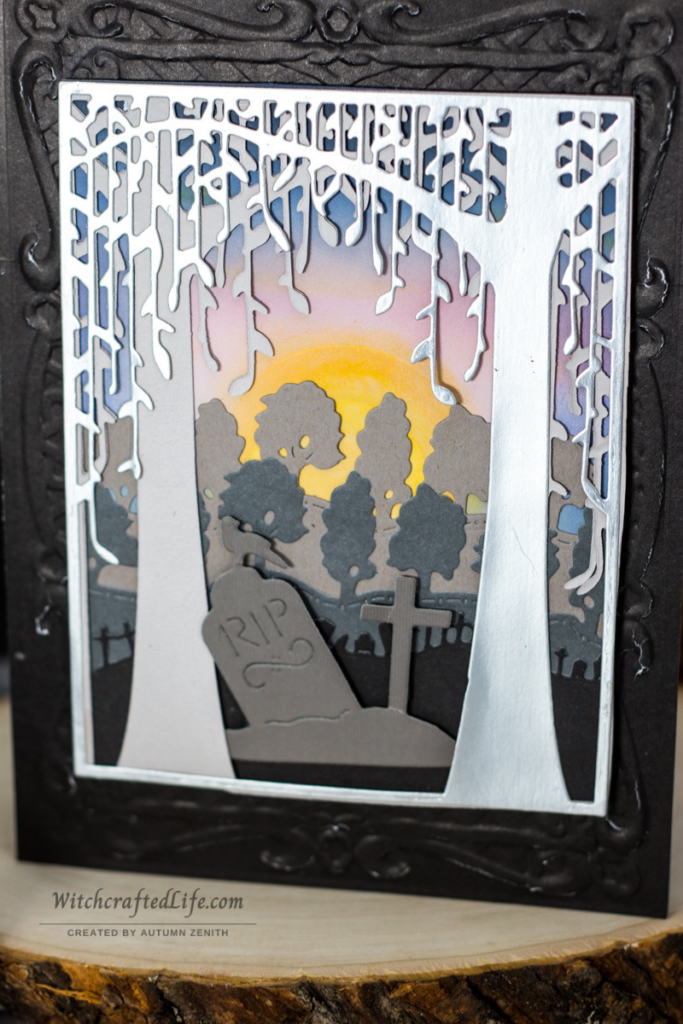 It was to these meaningful memories that I turned when creating this sunrise, weeping willow, and headstone filled greeting.
A card that just happens to suit Summerween to a tee. (And which I'm sharing here as my #MakeHalloween365 project share entry for July.)
That's right, my dear friends, it's time to delve into another fabulous Halloween-inspired take on a holiday or season. So grab an ice-cold drink (may I suggest black lemonade) and come along as we explore the ins and outs of Summerween.
What is Summerween?
If you've seen my Valoween or Springoween blog posts, you may be familiar with the fact that I'm wild about embracing each and every October 31st inspired holiday and season possible.
You might also have deduced by now (based on its name) as to what Summerween entails. 😊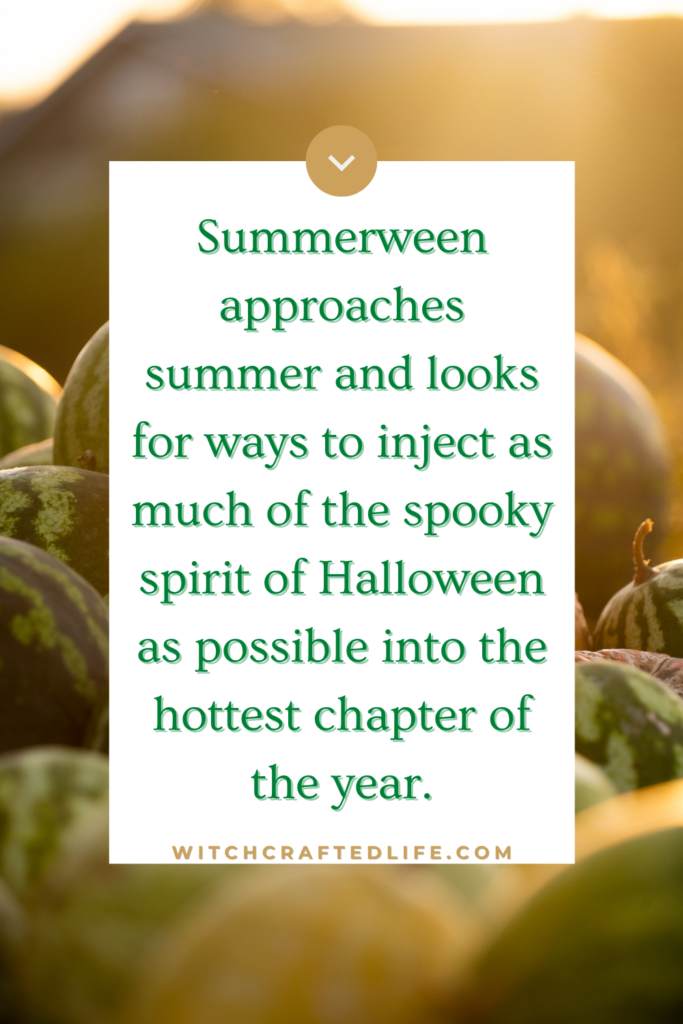 In short, Summerween approaches summer and looks for ways to inject as much of the spooky spirit of Halloween as possible into the hottest chapter of the year (on this side of the equator).
Perhaps, however, of all the annual events and seasons that can "Halloweenifed", so to speak, Summerween often remains the most lighthearted.
Summerween is the beach goth of the seasons.
It is a fun-loving way of merging the sizzling hot days of summer with the eerie, iconic, and wonderfully enjoyable elements of Halloween that many of us hold dear.
As with Valoween and Springoween, I did not invent #Summerween myself.
Much like those two spooky happenings, from what I can find, Summerween seems to have largely come about organically from multiple sources, fuelled greatly by those of us who proudly belong to the #EverdayisHalloween crowd.
Interestingly, the concept of Summerween being a specific holiday instead of a season-long theme got a helping hand from the animated cartoon series Gravity Falls.
In episode 12 of season 1, we see the townsfolk preparing for, and then celebrating, Summerween on June 22nd.
Why are they doing so? Because, like many of us, the good people of Gravity Falls adore Halloween so much they feel the need to celebrate it twice each year.
Hugely relatable, let me tell you! 😄
In the real world, some people may prefer to celebrate Summerween as a single day (or weekend), whereas others are all about pumpkins, bats, and ghosts the whole season long. Rest assured that either, or anything in between, is A-okay.
Halloween-inspired takes on existing events and seasons do not come with any hard and fast rules, and can be embraced however one desires. Indeed, that's part of their charm and fun!
How to get a Summerween aesthetic
A fa-boo-lous place to get inspiration and ideas when it comes to Summerween is the blog Spooky Little Halloween, where the author, Miranda, has shared numerous Summerween related posts over the years.
(I especially adore her Summerween recipe posts, including those for 11 Halloween S'mores Perfect for the Campfire and Easy 4 Layer Halloween Ice Scream Cake.)
Be sure to also check out Miranda's social media accounts as she shares plenty of terrific Summerween inspiration there as well.
I love to do the same myself too and have a Pinterest board dedicated solely to Summerween, which you'll want to visit for lots more hauntingly enjoyable sunny season inspiration and ideas.
Summerween is a delightful way to marry summer with notes of spookiness. You can, for example, pick a general theme such as a haunted road trip, a dreamy tropical beach, a hair-raising summer camping trip, or a gorgeous sunny weather garden and "Halloweenify" to your heart's content.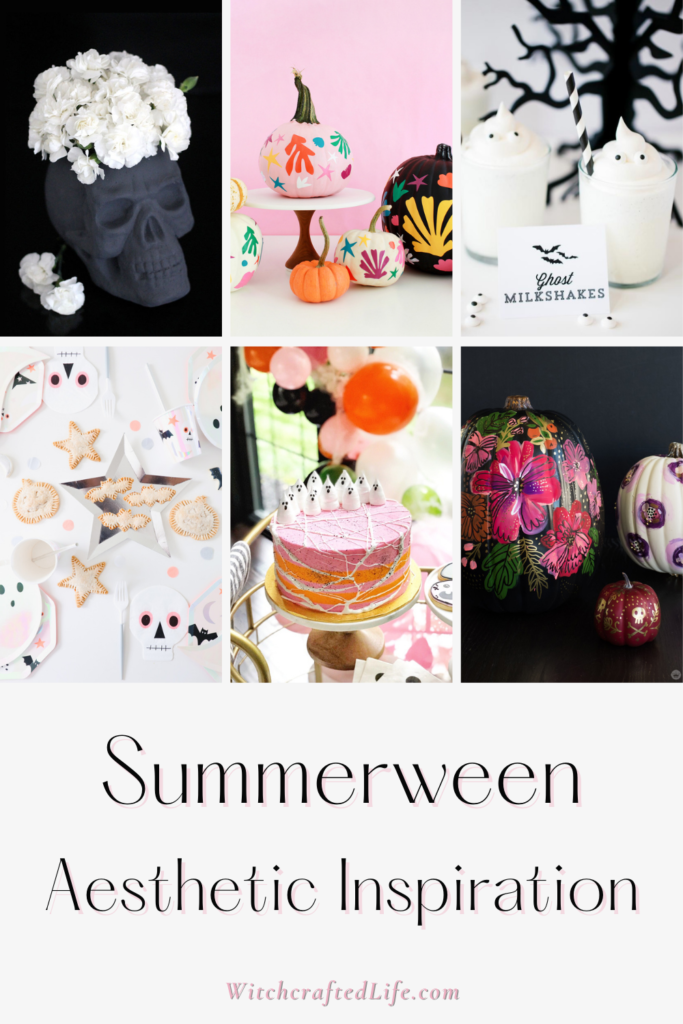 Some of the ways that you can achieve a Summerween aesthetic for your home, a party, or most any other reason include the following:
-Carving various summertime fruits and vegetables into jack-o-lanterns. As demonstrated in these two posts, watermelons and pineapples lend themselves especially well to getting the jack-o-lantern treatment.
And speaking of pumpkins, why not decorate with a palette of summertime coloured options.
You could utilize vibrant, even neon, shades; take things in a soothing and relaxing direction with whites, light greys, mint green, and soft pink, or look to the seas and go with a nautical colour scheme of reds, whites, blues, and sandy beiges.
-Draw (or cut out and adhere) a jack-o-lantern face on a beachball or volleyball for a smile-inducing summertime take on fall pumpkins.
-Include summertime flowers amongst your more traditional fall décor. Why not use a plastic (or real) pumpkin as a vase for some of your favourite summertime blooms?
Or you could create a centrepiece of flowers and pumpkins, partner the season's first sunflowers with pumpkins or other Halloween elements, or design a wreath that included summer blooms and iconic fall pieces (such as skeletons, witch's brooms, ghost figures, headstones, bats, spiders, owls, or skulls).
-Decorate a Halloween witch's hat with summer blooms and use it as a centrepiece or décor item elsewhere in your house.
-Serve summertime drinks in Halloween cups and mugs (or vice versa). Add cute paper umbrellas, swizzle sticks, and tropical fruits to each glass for a fabulous summer meets October vibe.
-Purchase or make some delightful Summerween themed art. Summerween is catching on, especially with diehard Halloween lovers and as a result more and more fantastic Summerween themed art (as well as other products, including enamel pins, clothing, and beach towels) is hitting the market.
Some Etsy artists who are currently selling art prints that either specifically focused on Summerween or which work splendidly for a Halloween take on summer include: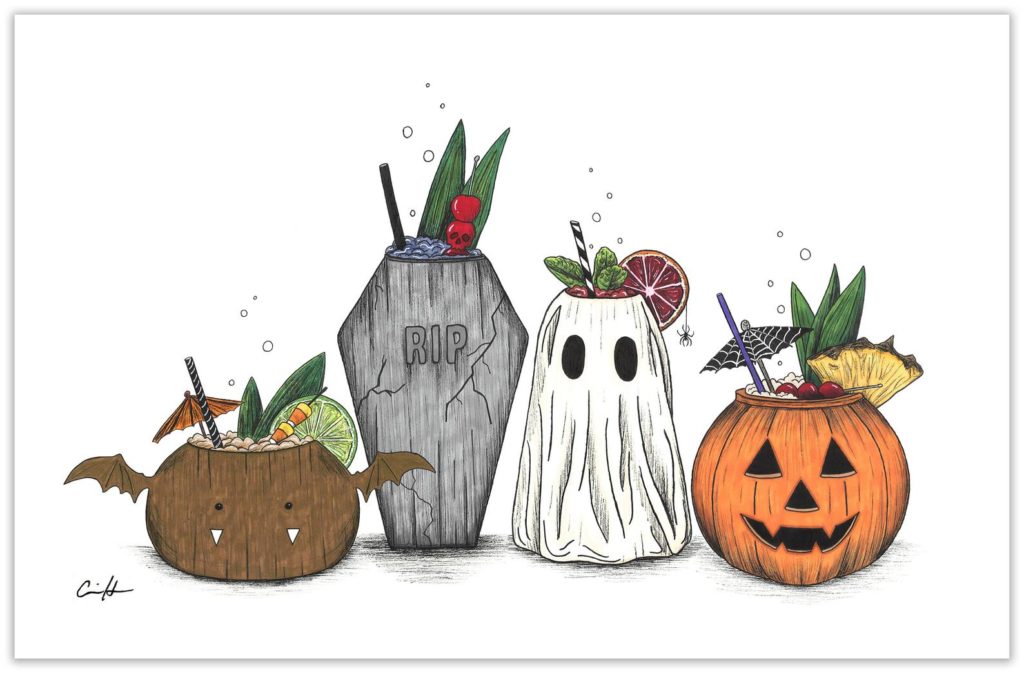 –Carrie Anne Hudson Art (who also sells Summerween perfect enamel pins, such as this awesome tropical drink cauldron pin.)
As well, Spooky Yeti Studio has adorable summer ghost postage stamp shaped stickers and Hannah of Fall Trades offers cute and cheerful Summerween bookmarks (which would be perfect for your favourite beach reads!).
Summerween décor can be just about anything you can dream up. The key is to inject a sense of October 31st into the sun-kissed months in whatever way(s) you wish.
Let your imagination take flight and have a blast celebrating the awesomeness of All Hallows' Eve all summer long.
Now, let's take a gander look at how you too can make your own summer sunrise over the cemetery card like the one featured in this post.
Products used to make this Distress Oxide Ink blended sunrise over the cemetery card
-Black cardstock
-Four different shades of light to dark grey cardstock
-White cardstock (for the card base – or use a premade 5×7 inch white card base instead)
-Thicker white cardstock (that takes well to ink blending) – Ultra White Smooth Premium (100lb) Cardstock from Spectrum Noir
-Silver metallic cardstock
-Weeping willow tree frame die
-Tree lined hill die (or, alternatively, you could achieve a similar look by applying different shades of grey ink through a tree covered hill design stencil)
-Headstone lined hill die
-Headstone die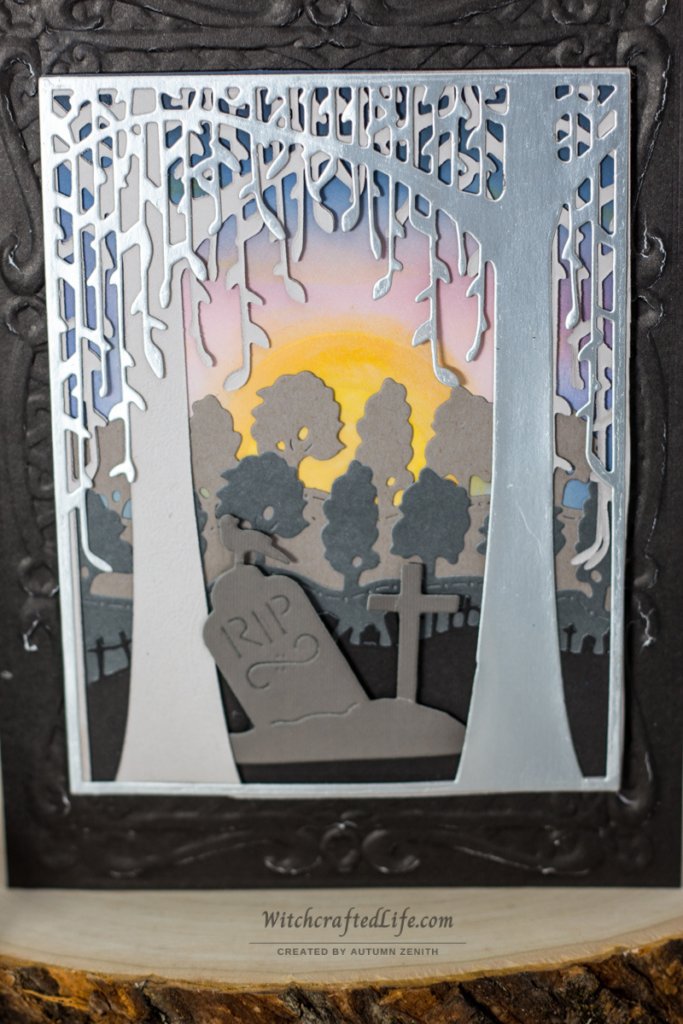 -Victorian frame inspired embossing folder – 3D E3D – 017 Oval Accent Embossing Folder from Spellbinders
-Various shades of Tim Holtz Distress Oxide Ink, as follows:
For the yellow sun: Wild Honey, Mustard Seed, Fossilized Amber, and Antique Linen
For the sunrise: Black Soot, Chipped Sapphire, Hickory Smoke, Weathered Wood, Milled Lavender, Tattered Rose, Pumice Stone, and Victorian Violet
-Dimensional foam, pop dots, or similar to elevate some of your layers
-Adhesive, such as a tape runner, of your choice (I often use my Scotch Tape Glider)
Note: To create a mask for the sun portion of the ink blended sky, punch or die cut two small nested circles from cardstock or paper. I used the Spellbinders Nestabilities Standard Large Circle Dies set to die cut the two circles I needed for this project.
How to make a gothic summertime graveyard card
Begin by making a 5×7 inch card base from white cardstock (or use a premade card blank/base of the same dimensions).
You can then make the other elements of this card in whatever order you prefer.
I created my Distress Oxide Ink blended sky – with a masked and then inked glowing sun – before proceeding on to the die cuts (including one weeping willow frame made from silver metallic cardstock and another from very light grey cardstock) and the embossed frame.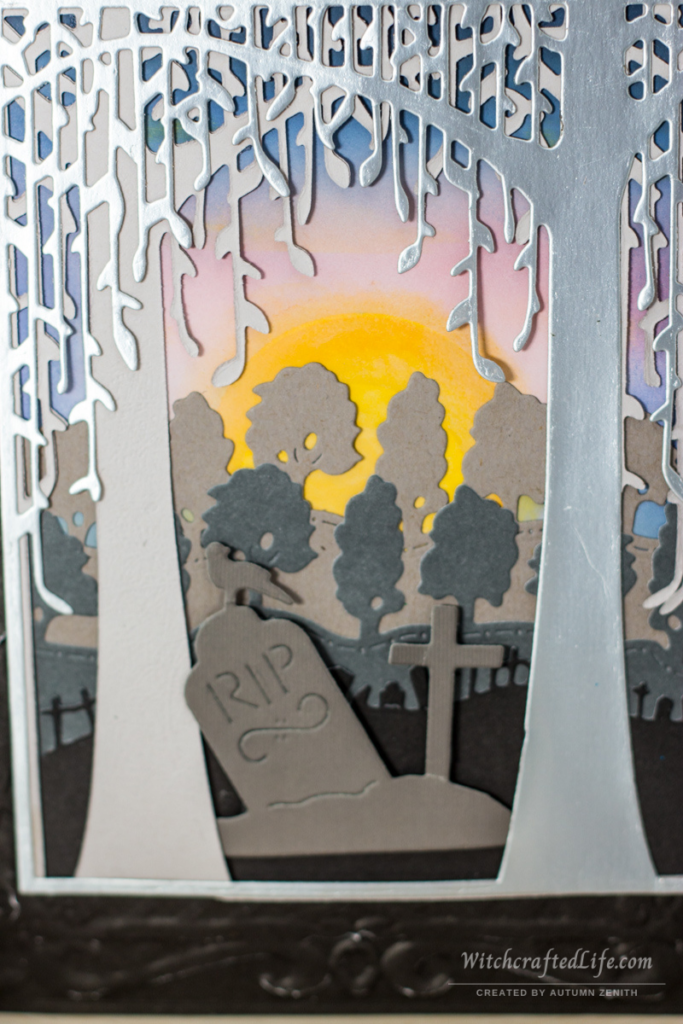 For the ink blended sky, aim to have a halo of lighter coloured ink around the sun, so as to heighten the realism of a sunrise filled sky.
Next, arrange and adhere the layers of hill die cut shapes starting from lightest to dark, as this mirrors how objects in the foreground and background, respectively, often appear – especially in low light settings such as the early morning sunrise depicted on this card.
Arrange the weeping willow frames so that their branches overlap and create a lovely arch of foliage. To do this, you will flip the light grey cardstock die cut weeping willow frame over and use the backside to create a mirror image with the same piece cut from silver metallic cardstock.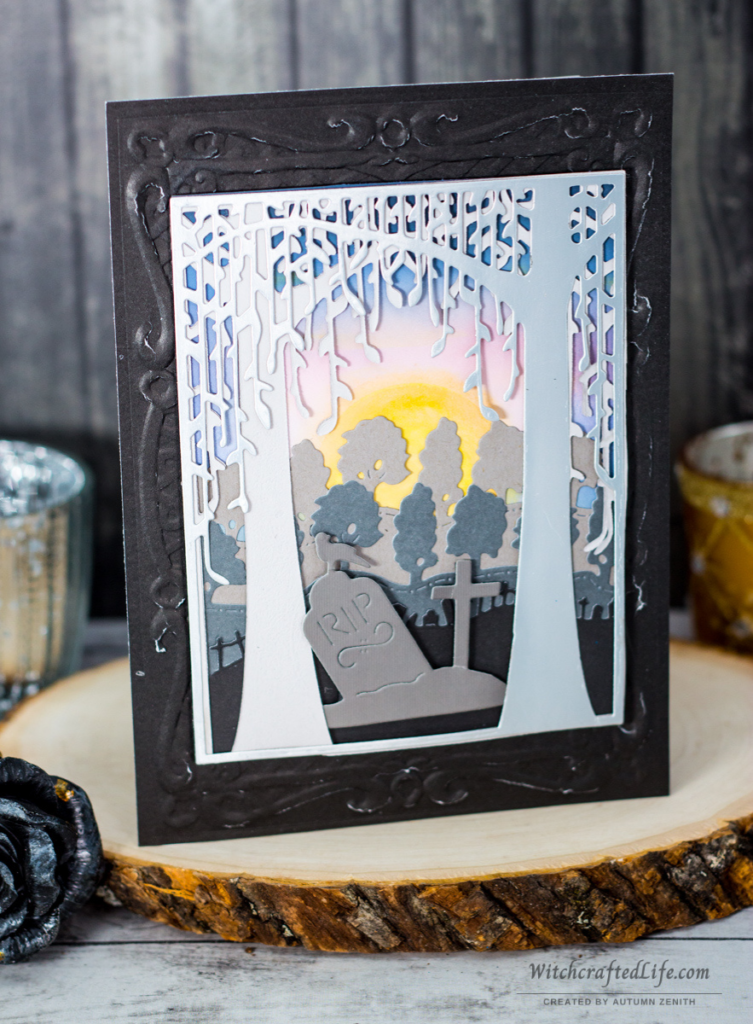 Once you're happy with the placement of the weeping willow frames, adhere them in place and proceed to arrange and adhere the headstone die cut between the trucks of the two weeping willow trees.
Using black cardstock, emboss a Victorian inspired frame piece and attach it to the cardstock. I opted to distress my black frame in various spots to give it even more of an aged, gothic look. You can leave your pristine, if you prefer. Either way will look fantastic!
Adhere the frame to the cardstock and top it with the ink blended + die cut covered panel.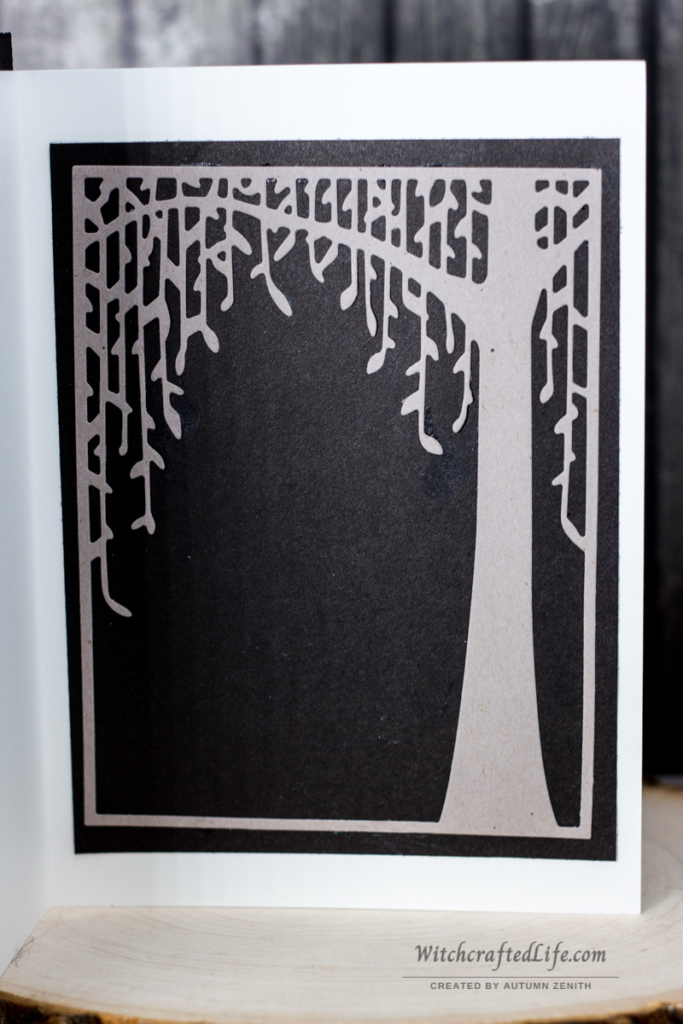 If you wish, you can die cut a third weeping willow frame and use it to adorn the interior of your card (as shown above).
And there you have it, with a bit of ink blending, die cutting, and embossing, you have one serene, spooky, and splendidly Summerween appropriate card ready to go.
Send it out now, or, if you prefer, wait to give this sunrise at the cemetery card to a fellow Halloween loving soul (or taphophile) come October.
Birthday celebrations, now with even more Summerween!
Tomorrow just happens to be my birthday (I'll be 37, for those inquiring minds out there 😄).
Ever since I was a little girl, I have wanted to have a Halloween-themed b-day. Now, thanks in no small part to the advent of Summerween doing so is now all the more possible.
With the pandemic still going strong and the fact that not everyone in our circle (myself included) has received their second Covid vaccine yet, my b-day this year is going to be another very lowkey one without a big party or public gathering.
However, together Tony, my mom and I will happily make the best of it and are going all-in on the Summerween side of things.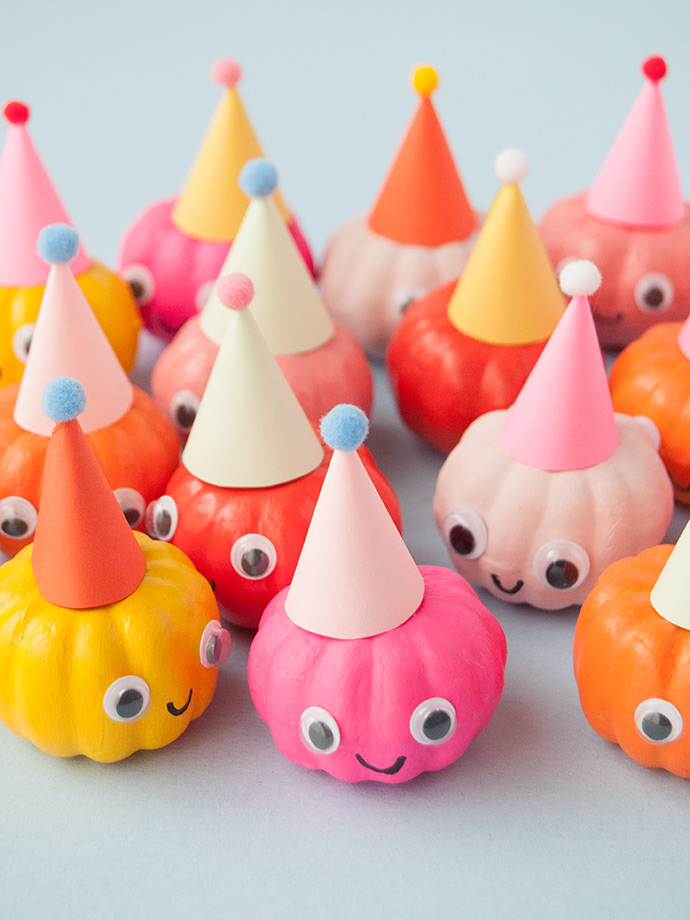 Or should I say, the Birthdayween side of things! 🥳
After all, there are only 113 days separating July 10th and October 31st.
What Halloween lover amongst us wouldn't want to have an All Hallows' Eve related celebration little more than 3.5 months before the big day itself returns?
We'll be doing a Halloween jigsaw puzzle (I'm an avid puzzler), playing Halloween themed board games (including the Disney Hocus Pocus boardgame, which my very thoughtful mama gifted me with last fall), watching some of our fave Halloween shows and movies, and eating delicious Halloween related foods.
Basically, my dream way to celebrate my birthday. 🥰
I'd love to share in the festivities with more of my friends and relatives, but the three of us (plus, our darling dog, Annie, of course) will have a blast all the same.
And with a bit of luck, hopefully, come this time next year, a larger group of our loved ones will be able to get together for birthdays, holidays, and everyday hangouts alike again. 🙏
As I blow out the candles on my GF pumpkin spice cake tomorrow, you can bet that a swift end to the pandemic will be one of the things I wish for most of all.
And, on a less somber note, an early autumn that lingers late into the year will be another.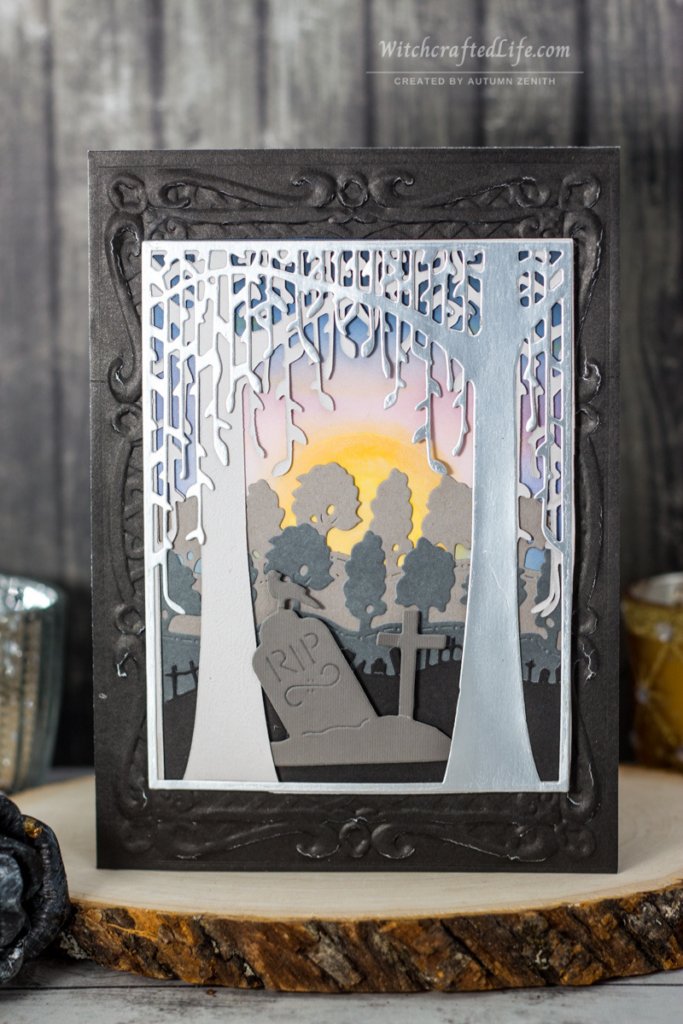 No matter if that comes to pass or not, thanks to Summerween we can celebrate Halloween all sunny season long. An act that helps to ramp up one's excitement for the actual return of October 31sts all the more, especially as summer is the last season before fall's arrival.
Thus, Summerween becomes an extra fun and festive way to countdown to Halloween and is perfect for those amongst us who love to get our All Hallows' Eve on year-round.
Have you heard of Summerween before? What are some of your favourite ways to inject spookiness into the summer months? 🍉🎃🍍
PS: Fun – and rather cool – fact, this year my birthday coincides with July's new moon. 😃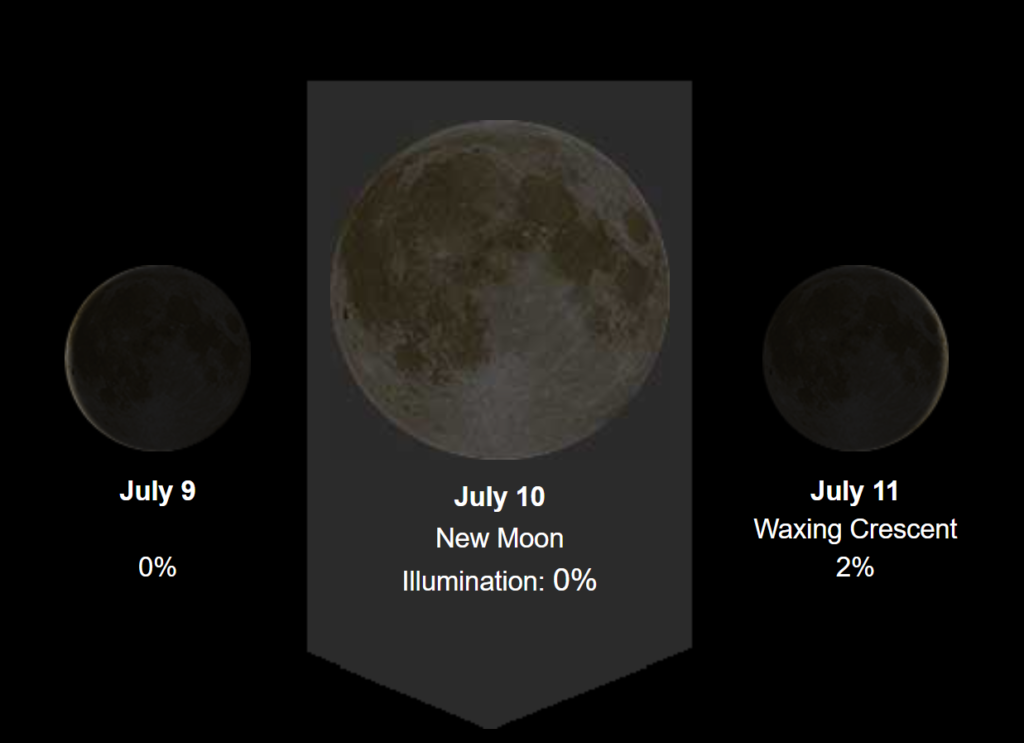 I am using this point to focus many of my current magickal workings on new starts, banishing, healing, serenity, and renewal – and invite you to do the same as well, if so desired. 🌑