As April lacks a 31st day, one can choose, as so desired, to mark the halfway point to Halloween on either April 30th or May 1st.
Personally, I lean towards April 30th, as it feels more natural to me to celebrate this exciting spot on the calendar at the end of the month, given that Halloween itself transpires on the final day of October.
Plus, I observe Beltane on May 1st, so my focus tends to be on that beautiful springtime Pagan sabbat come the inaugural day of the year's fifth month.
Not, of course, that I mind combining secular and Pagan holidays together. I happily do so each year for Samhain + Halloween. 🥰
A number of years ago now (if not longer still), the term "Halfoween" (aka, Half-O-Ween) was coined so as to give the halfway mark until All Hallows' Eve its own name.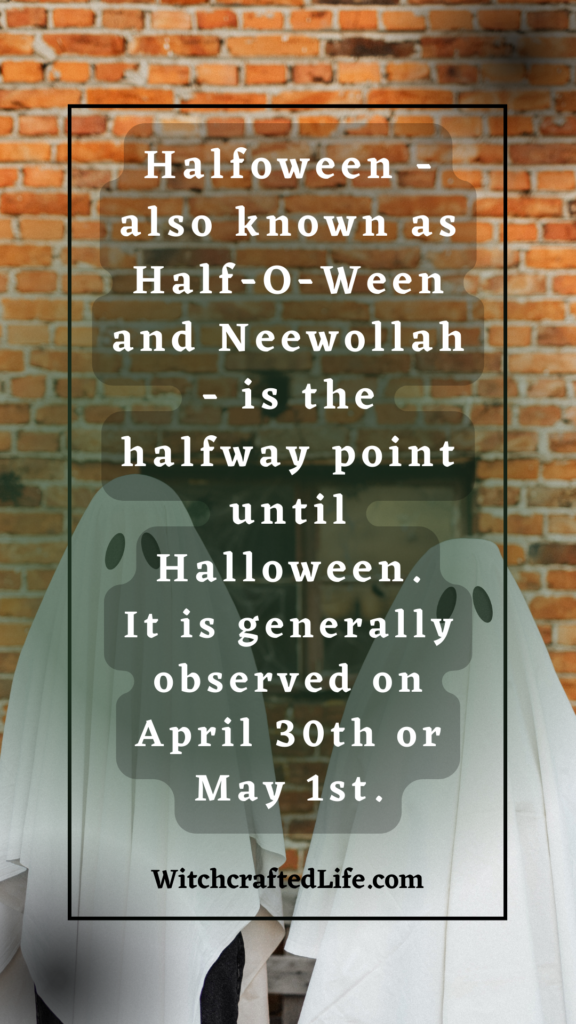 Another very charming – and clever – title that I have seen used for the halfway point to Halloween is "Neewollah". Aka, the word Halloween spelled backwards. How fun is that! 😊
Plenty of fellow #EverydayisHalloween souls have shared content online over the years pertaining to Half-O-Ween.
Here are but a few that have caught my eye:
-A great roundup of horror movies to watch at Halfoween from The Spooky Vegan
–Halfway to Halloween: 10 Ways to Celebrate the Unofficial Holiday from Mr. and Mrs. Halloween
–How to Celebrate Halfoween from Spooky Little Halloween
–Six More Ways to Celebrate Halfoween aka Half Way to Halloween from Mr. and Mrs. Halloween
With Halfoween rounding the bend again in a matter of days, it seemed like high time I made a papercrafting project to honour this delightful date – as well as to celebrate Springoween at the same time.
Springoween, as I detailed in my 2021 post, Sweetly Spooky Oversized Slimline Springoween Card (Plus, What is Springoween?), is an amalgamation of classic springtime elements (be they Easter/Ostara related or otherwise) and the dark, spooky, hair-raisingly marvellousness of Halloween.
If you are new to the concept of Springoween, pop by that post and get the 411 on this hauntingly fun way to embrace (and decorate for) spring.
(Lol! Who else remembers when the expression "Get the 411" was all the rage in the 1990s and early 2000s? 😄)
It struck me a few days ago that it had been a very, very long time since I last made a pocket letter.
If memory serves me right, we are talking 6+ years (it was unequivocally pre-arson fire).
At the time, pocket letters were wildly popular within the papercrafting world. Numerous groups and forum sections devoted to pocket letters were to be – and still are in some cases – found on various websites and social media platforms (i.e., Scrapbook.com and Facebook, respectively).
I fell in love with pocket letters at first sight, though only got a chance to make around three to four (sadly, no photos survive of them) before that fateful night back in October 2016.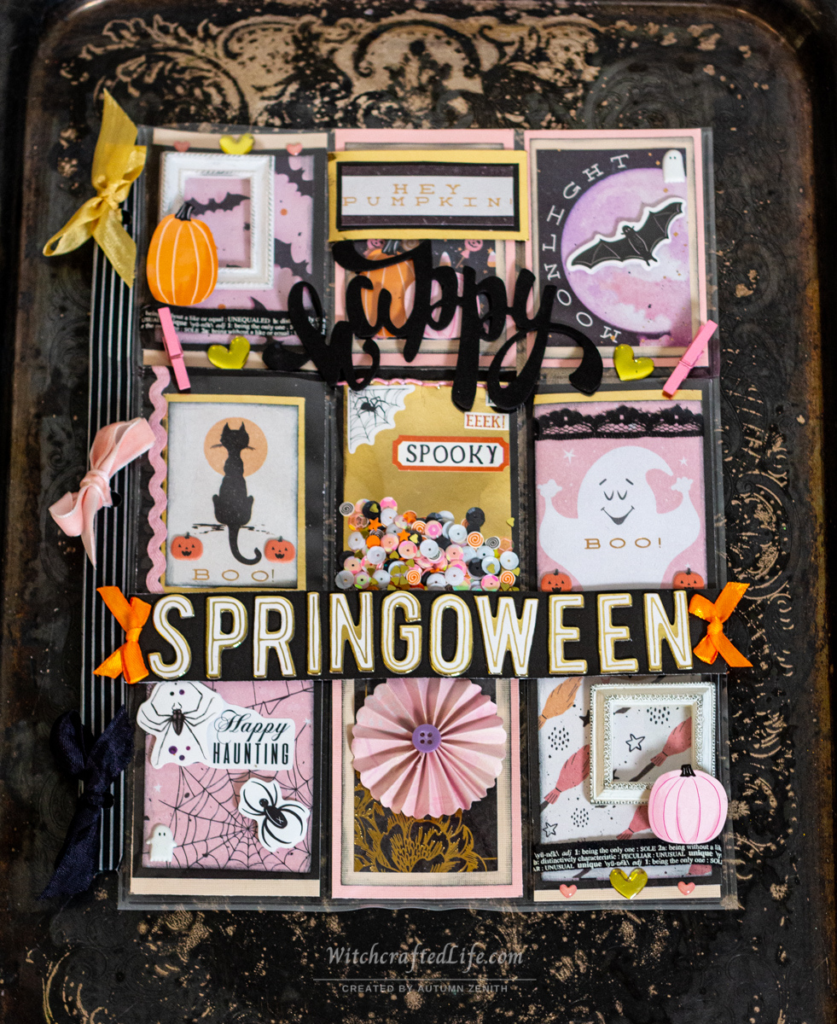 Jump ahead to the present month and I suddenly got the BIGGEST urge to make a pocket letter again.
So that is precisely what I did, choosing to celebrate the concepts of both Halfoween and Springoween within the borders of nine wonderful little adjacent rectangles.
Cute Pastel Hued Happy Springoween Pocket Letter
Back in early 2019, I picked up a pack of Ultra Pro Platinum Series 9-Pocket Trading Card Pages, anticipating that sooner or later, I would make pocket letters again.
Some three years on from then, I finally got a chance to do just that and, OH MY WORD, let me tell you, I am completely and entirely in love with pocket letters!!! 💗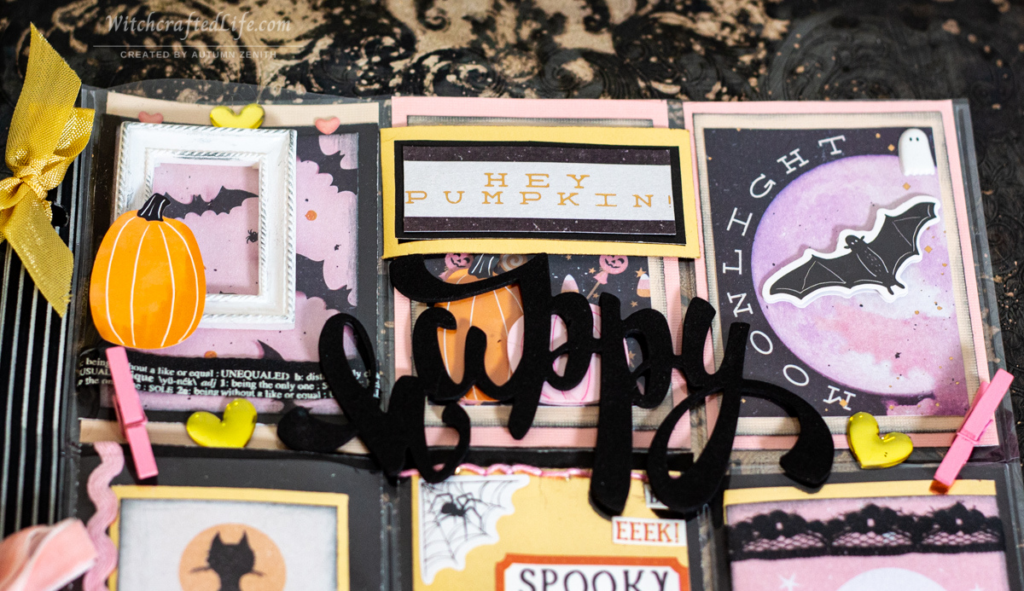 I recall very much enjoying the tiny number I made back around 2015. Creating one again this year was like connecting with the dearest of old friends.
Though the heyday of pocket letters may have passed somewhat, plenty of folks still like to make – and in some instances, swap – them or include a PL as part of some happy mail.
Count me amongst those ranks and prepare to see future pocket letters here now that I have rediscovered the joys of this wonderful form of paper crafting. 😃
In fact, I am already brainstorming a future post all about the ins and outs of pocket letter making.
Until then, however, for those who may be new to the concept, allow me to briefly go over what a pocket letter (usually) is.
Generally speaking, pocket letters begin with nine slot trading card sleeves (or you can make your own version using a fuse tool such as the Photo Sleeve Fuse Tool and Fusable Clear Sheets, both of which are from We R Memory Keepers).
One then creates pieces of cardstock, paper, etc – often with some embellishments swirled into the mix – and tucks them into the front of each of those pockets.
If sending the pocket letter off in the mail or otherwise presenting it to someone else, many people opt to include small gifts on the backside of the nine slots (and sometimes on the front as well).
Examples of these gifts that fit the bill well include such things as washi tape samples, sequins mixes, flatback charms/cabochons, beads, die cuts, stickers, tea bags, and candies – amongst scores of other possibilities.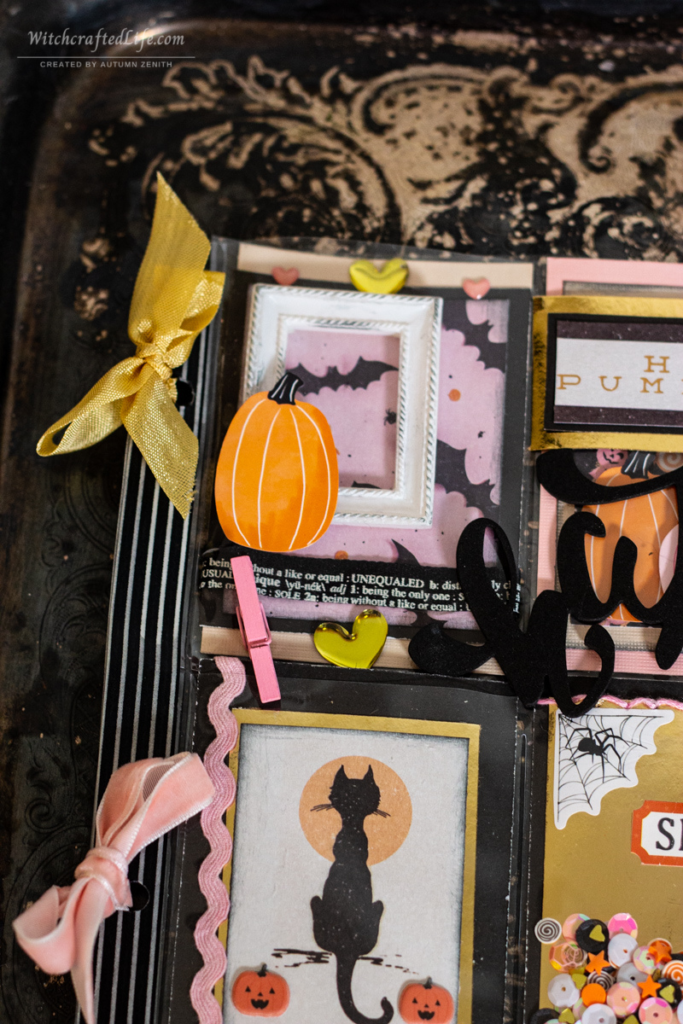 You can decorate both the inside and outside of the slots on your pocket letter, as desired. I have placed elements both inside and out on the pocket letter highlighted in this post.
Much as with just about all forms of papercrafting, the sky is the limit in terms of how to make pocket letters. Let your creativity run wild when whipping up a multi-slot PL!
Being a huge fan of cohesiveness, I usually pick a general theme and corresponding colour palette for my pocket letters.
In this case, the theme was Springoween + Halfoween and the colour palette was a classic mix of springtime pastels coupled with white, black, and hints of metallic gold throughout.
Tending to favour fall tones and dark colours, I wouldn't say I have a ton of pastels or springtime themed items in my stash. However, as soon as I hit on the theme + hues for this darling Springoween pocket letter, I knew that I had only to reach for some of Prima's Halloween offerings to score the aesthetic I was after.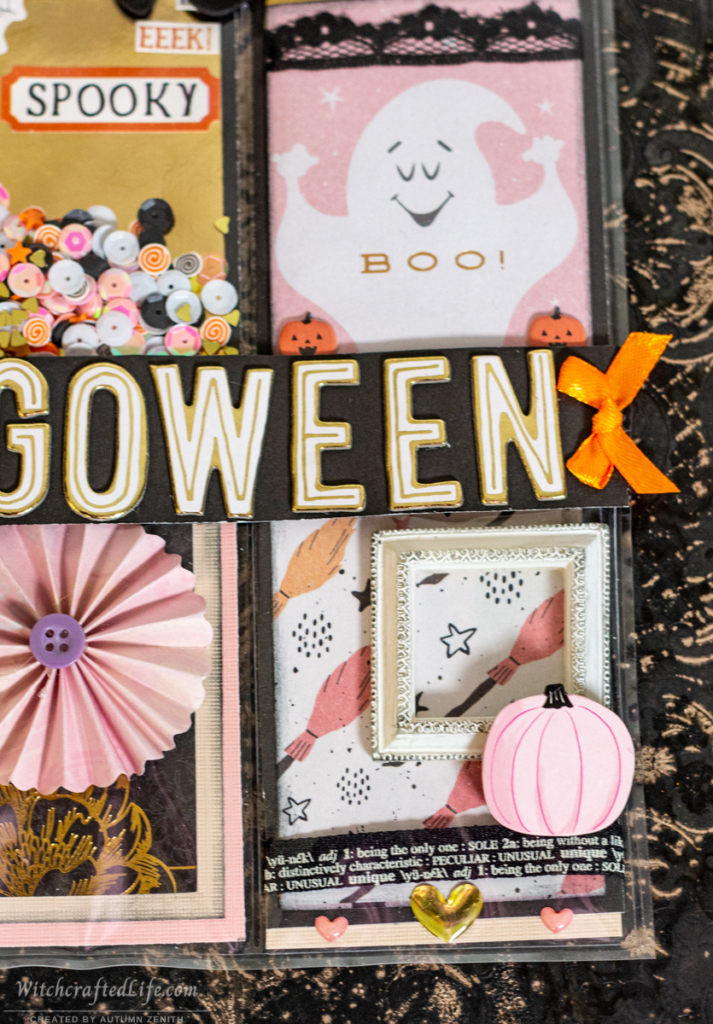 Given the widespread popularity (especially in recent years) of what is sometimes dubbed Pasteloween (aka, utilizing a pastel colour scheme to decorate, craft, etc for October 31st), I picked up some of the papers from Prima's Thirty One Collection line a while back and was extra glad I did as it proved to be a great option for this particular pocket letter. 😃
While I did feel a bit rusty on the pocket letter making front, happily and thankfully, it didn't take long for me to find my grove as I went about creating this project.
I have no doubt that the classic "it's like riding a bicycle" quality of reconnecting with something you have engaged in doing previously will deepen all the more with each fresh PL I create from here on out.
Theme and colour palette sorted, I set about rummaging through my stash for a bevy of suitable embellishments and trims to partner with these (mostly) pale hues.
Pocket letters are an awesome way to utilize a wide array of those kinds of materials – as well as to potentially use up paper/cardstock scraps and do some stash busting in the process.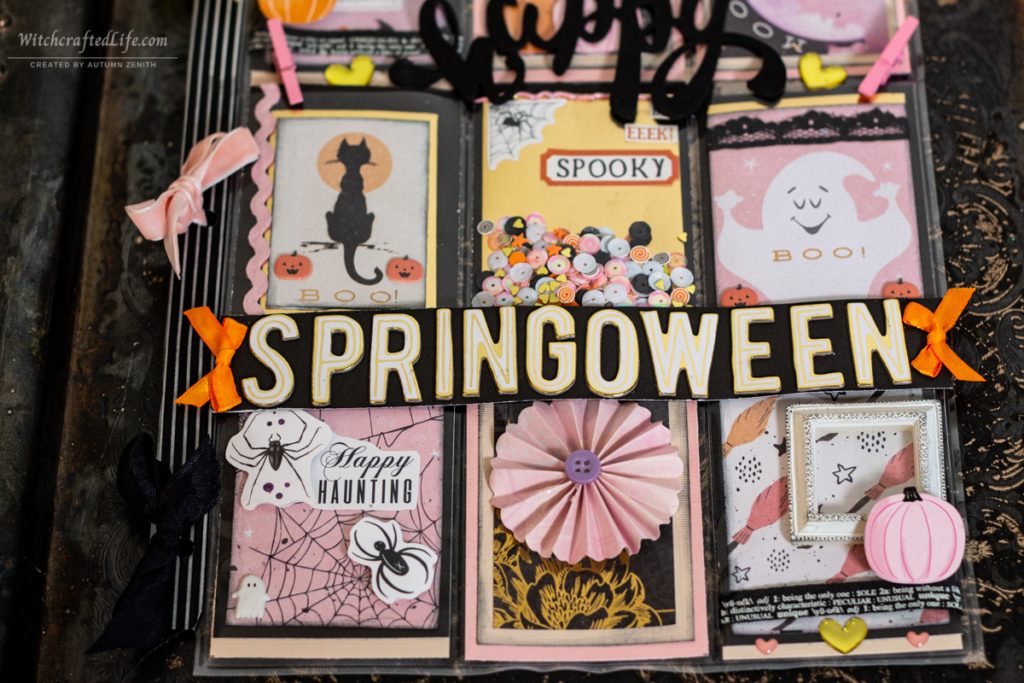 Once I had everything gathered, I took my time and composed the various rectangles and exterior embellishments of my pocket letter. After I was pleased with the look, I set about adhering everything together and making a few more design tweaks along the way.
Humbly, I am tickled (pastel) pink with how this adorable Springoween pocket letter turned out and have already started pulling out items to make my second pocket letter of 2022 in the not-too-distant future.
It will be a gift for a dear friend and while it is spring/summer inspired, that one is not going to be Springoween or Summerween themed pocket letter – though it is a safe bet to say that I will very likely make more of those as time goes on. 😊
Products used to make this charming pastel hued ghost themed Springoween pocket letter
-Nine pocket trading card sleeve – Platinum Series 9-Pocket Trading Card Pages from Ultra Pro
-Peachy-cream coloured cardstock
-Pink cardstock
-Black cardstock
-Metallic gold cardstock
-Black and gold floral print paper – Love Story 4.5" x 7" Paper Pad from Recollections (Michael's brand)
-Various Halloween cut apart pieces – Thirty One Collection Magickal Haunt from Prima
-Various Halloween cut apart pieces – Thirty One Collection All The Treats from Prima
-Pinking shears or decorative edge pinking scissors – Mini Pinking Paper Edgers from Fiskars
-Black ink – Wicked Black Archival Dye Ink Pad from Color Box
-Tiny Halloween word stickers – Trick or Treat Stickers from Echo Park
-Itty-bitty ghost and pumpkin puffy stickers – from American Greetings (No specific product name appears on the packaging.)
-Light pink rosette with purple button center – Button Pinwheel Stickers from Forever in Time
-Tiny pink enamel heart stickers – Tiny Hearts Shape Sprinklers from Doodlebug Design Inc.
-Glossy gold enamel heart stickers – Heart of Gold Shape Sprinklers from Doodlebug Design Inc.
-White and gold foil alphabet stickers – Swing Gold Foil Chipboard Letter Stickers from American Crafts
-Black Foam "Happy" word sticker – this one hails from the Jot brand of products sold at Dollar Tree (No specific product name appears on the packaging.)
-Assorted Halloween stickers from Crafter's Square (Dollar Tree brand; no specific product name appears on the packaging.)
-White resin frames (The ones used here were purchased a few years ago from an Asian home goods store in Toronto; they are remarkably similar to those produced by Prima a while back.)
-Orange, black and white Halloween sequins mix – Sprinkletz Embellishments (specific product name not listed on packaging) from Buttons Galore & More
-Tiny gold heart sequins – (specific product name not listed on packaging) from Pretty Pink Posh
-White sequins
-Black sequins
-Iridescent pink sequins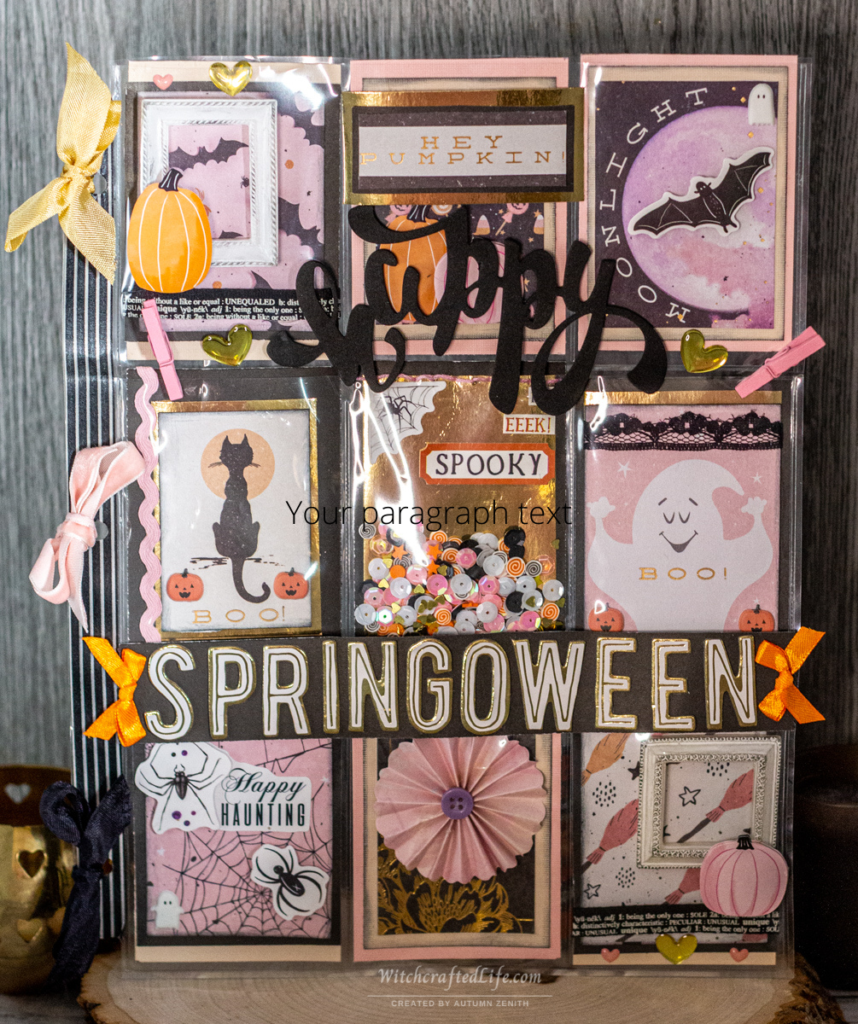 -Mini pink clothespins
-Pink embroidery floss (If using, you will need a sturdy needle with a decently large eye on it so as to be able to fit all six strands of the floss through at the same time. Alternatively, use a sturdy pink thread and either machine or hand sew the shaker pocket shut that way instead.)
-Pre-made mini orange bows (or very slender orange ribbon to make your own)
-Gold coloured seam binding
-Black seam binding
-Black lace trim
-Black and white text print ribbon – No. 3 Trim from Graphic 45
-Pink ricrac trim – Fancy Flushed Lace Wraps from Fancy Pants Designs
-Pink velvet ribbon trim – Fancy Flushed Lace Wraps from Fancy Pants Designs
-Black and white striped washi tape
-Dimensional foam, pop dots, or similar to elevate some of your layers
-Adhesive, such as a tape runner, of your choice (I often use my Scotch Tape Glider)
How to make a super fun pocket letter for Springoween (or Halfoween)
While I usually provide detailed step-by-step instructions for most of the papercrafting projects that I post here, this time around I am not going to break things down to that degree.
Many pocket letters are, in my opinion, quite easy to dissect, so to speak, just by looking at them. I feel that statement applies in the case of this hauntingly fun Springoween pocket letter.
Instead, I will mention a bit more about its design coupled with some general advice regarding making pocket letters.
(That said, if you have any questions pertaining to how to make this exact PL that are not covered here please do not hesitate to ask them in the comments below or via the email contact form located on the header bar of this blog.)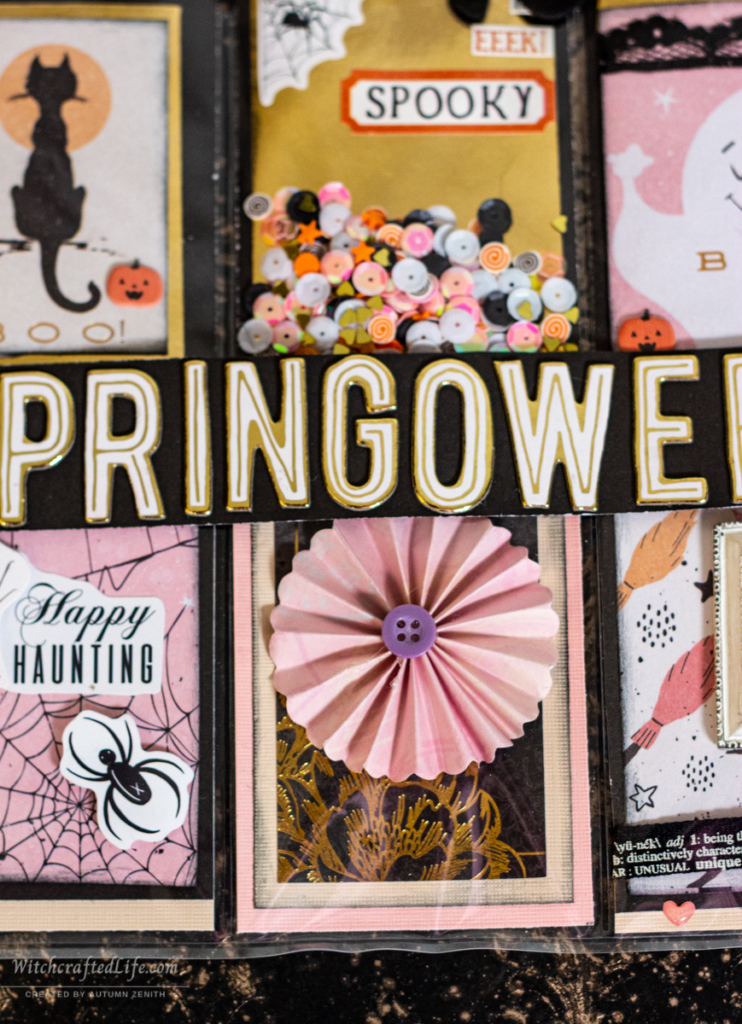 To make cutting out the correct size of cardstock/paper/thin chipboard/felt/etc for each slot of your pocket letters, I suggest you measure the dimensions of each slot/pocket (in most types of playing card holders, these slots will be uniformly sized) and then make a reusable template based on those measurements.
I did that prior to putting together the specific aspects of this Springoween pocket letter, opting to use some medium-weight chipboard to create one template the length and width of three pockets and another the length and width of a single pocket.
Now, anytime I want to make a pocket letter using the specific card holder sheets that I currently have on hand, I need only trace the outline of these templates on my desired material, cut them out, and I'm good to go.
I have labelled my templates and placed them mere inches away from my crafting desk (it is a small desk without any drawers, therefore most of my craft stash is stationed elsewhere in that similarly wee room).
So easy and so handy! 😃
If you regularly work with the same size pieces for any of your crafting applications, I highly recommend making reusable templates.
When making a pocket letter, keep in mind that the see-through pockets themselves are not usually very roomy from front to back. This means that there is a definite cap on the types of embellishments (and number of layers, etc) that you can fit into a given pocket.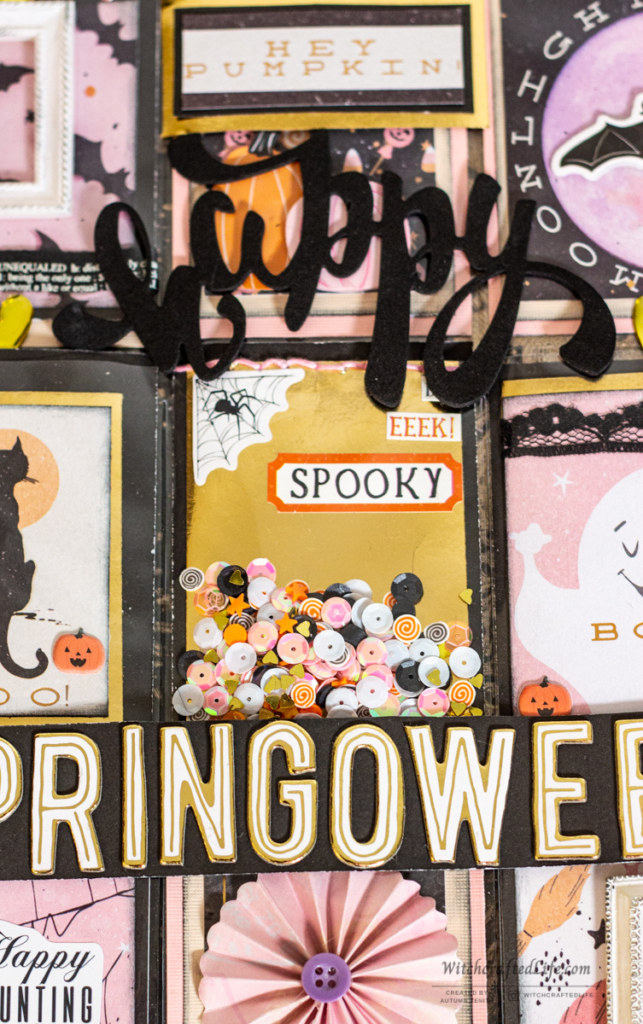 If you wish to include larger/more 3D embellishments, it generally works best to attach them to the outside, not the inside of your pockets.
While the standard pocket letter size is three rows by three rows, I have seen other sizes over the years as well.
These include "mini pocket letters", which are commonly between 3 – 6 pockets in total size (often cut down from a 3-row x 3-row playing card holder sheet), Project Life type pages with various numbers and sizes of slots, and other configurations created by either sewing or creating slots with a fuse tool.
If you want to shake things up, don't be afraid to experiment with different sizes. You could also attach two or more nine-slot card holder sheets together and create a mega pocket letter!
Or, leave them separate but carry the same theme/colours across two or more pages for another form of extra-large pocket letter.
When making pocket letters, it is common to attach or thread things such as ribbon, twine, lace, seam binding, tulle, string, charms, and washi tape to one or more of the (three) holes on the left-hand side of the page protector.
This can jazz up your pocket letter further, while also helping to tie your design together to an even greater degree.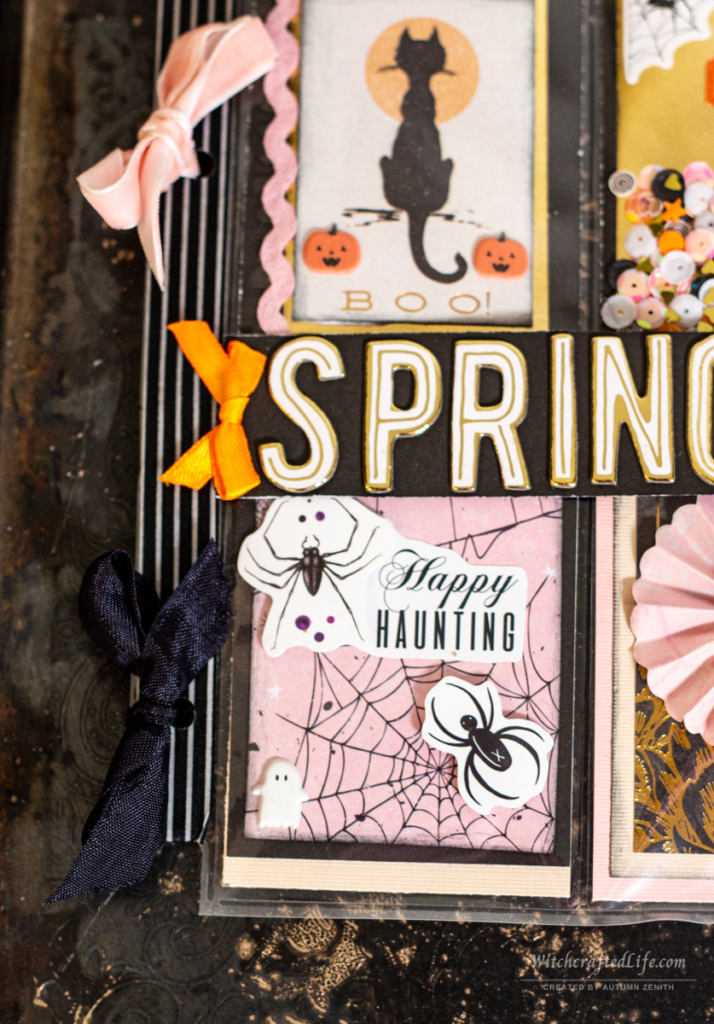 If you – or your recipient – are likely to store the pocket letter that you have created in a binder, duo-tang folder, or scrapbook album, it is usually best to either make those components easy to remove or to leave enough space in the holes for them to still be able to accommodate binder rings and the like.
Though that said, technically, one could store the most common sizes of pocket letters in a 12 x 12-inch scrapbook album with corresponding 12 x 12-inch page protectors.
Whether you will be tucking gifts, letters, etc or not into the back of your PL, it can be a really lovely touch to ensure the backside of your pocket letter is attractive looking as well.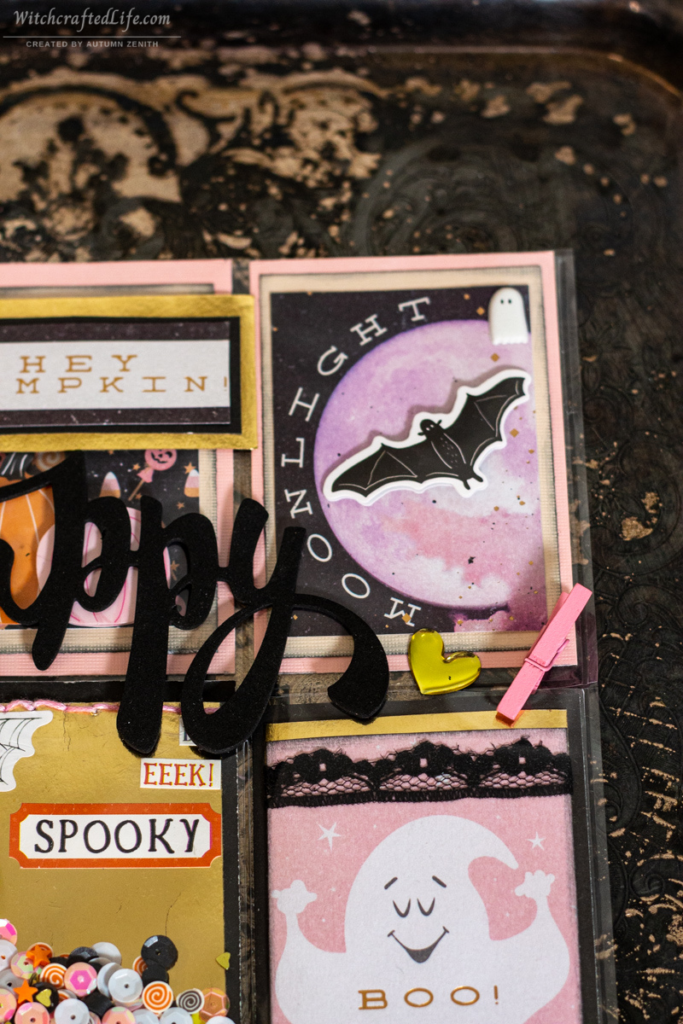 You may wish to repeat some of the same papers/cardstocks used on the front sans most (or all) embellishments. Or you can opt to use a single colour of a paper/cardstock.
There really are no rules, so as with the front side of your pocket letter, let your imagination soar and have a blast while creating this fabulous type of paper crafting project. 😃
Happiest Halfoween wishes!
As returning readers may likely have guessed, this festive Springoween pocket letter is my #MakeHalloween365 project for the month of April 2022.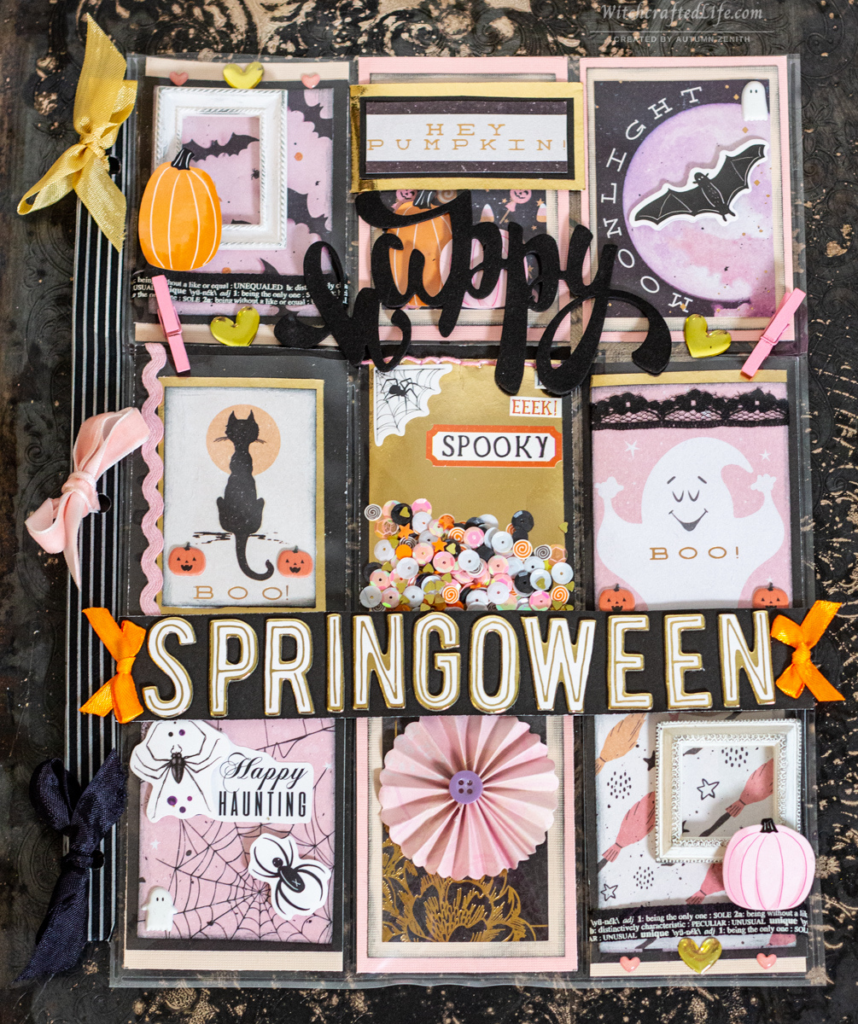 As always, I encourage you to use this hashtag anytime you share a Halloween-related creative project of any kind online (be it papercrafting related or otherwise). It can be on your blog, website, or social media – anywhere a hashtag comes into play, have at 'er! 😊
When it comes to those of us who live for Halloween – or who otherwise adore this most spooky of holidays – there is something powerfully exciting about reaching the point in the year from which, for the next six months onward, we will be closer to our beloved October 31st than further away from it.
Springoween strives to imbue springtime as a whole with a hair-raisingly delightful sense of Halloween's mysterious spirit.
Halfoween, is a single day (or two – should one want to celebrate it on both April 30th and May 1st). A pivotal point on the calendar that propels us into that very six-month countdown.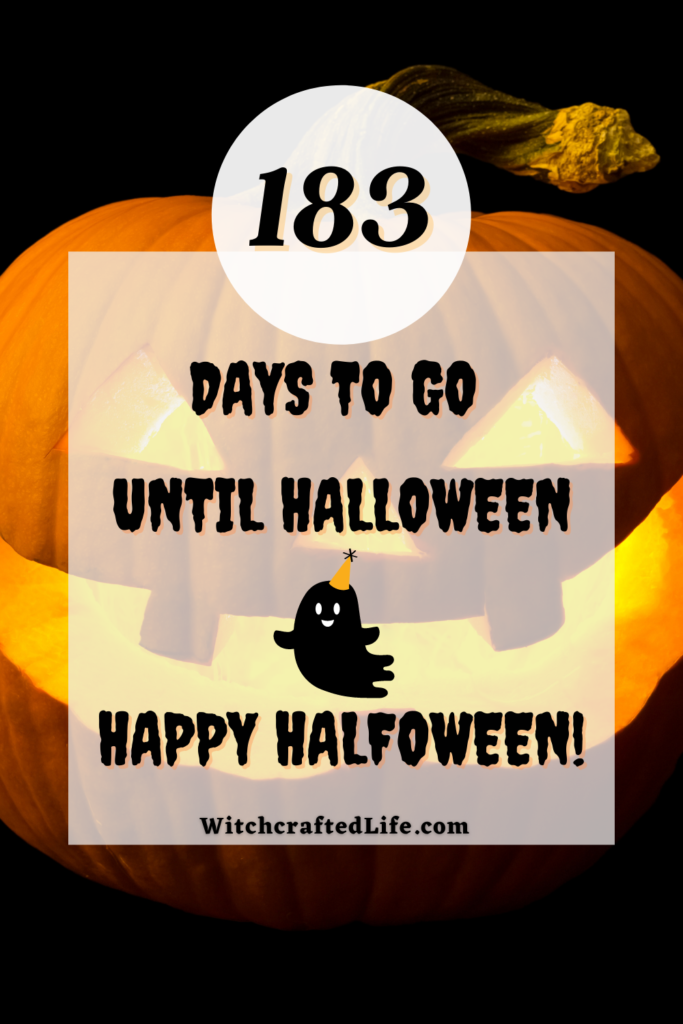 Even if we have no desire for the next half a year to whiz by faster than a flock of bats flying against a harvest moon-filled sky, for Halloweenoholics, we cannot help but cross off the days until October returns.
Growing all the more gleeful that with each fresh sunrise – or, perhaps more aptly for the darkly inclined, each fresh sunset – at that very prospect.
If you are jonesing for plenty of inspiration and ideas to help inject even more Halloween happiness into your days the whole year through, may I suggest my roundup of 31 Ways to Celebrate Halloween All Year Long as well as the following selection of my Pinterest boards?
As usual here, expect to see plenty of Halloween related craft projects from me in the coming half a year (and beyond, natch! 😊), as well as other posts pertaining to my – and many peoples' – most cherished holiday.
Right here and now though, as we head towards May and the return of Halfoween, know that I am wishing you the happiest of Halloween countdowns and a safe, enjoyable, creativity-filled second half of the (Halloween-based) year.
Do you take note of Halfoween? If you have done so before, when was the last time you created a pocket letter of your own? 🗓️🖤🎃