Last month, in my post 40 Fantastic Beltane Crafts DIY Projects and Décor Ideas for May 1st, I discussed the fact that we were fast approaching the halfway point in the year – aka, Halfoween – until October 31st returns.
We are even closer to All Hallows' Eve now and as a result, I have been massively in the mood for classic Halloween colours and imagery.
Whereas plenty of folks make winter holiday season cards all throughout the span of the calendar, as many of you know, I create Halloween cards and other spooky season themed crafting projects all year long.
They bring me bliss and further strengthen the bond I have with my favourite (and most sacred) day of the year: Halloween + Samhain.
Plus, come those knee-weakingly gorgeous days of early to mid-autumn, doing so means that I usually have numerous festive Halloween cards (et al) ready to give to friends and family. 💌
And, they are also the ideal way for me to utilize the #MakeHalloween365 hashtag that I launched last year so that Halloween adoring creatives of all types could share their work and be inspired by that of other people.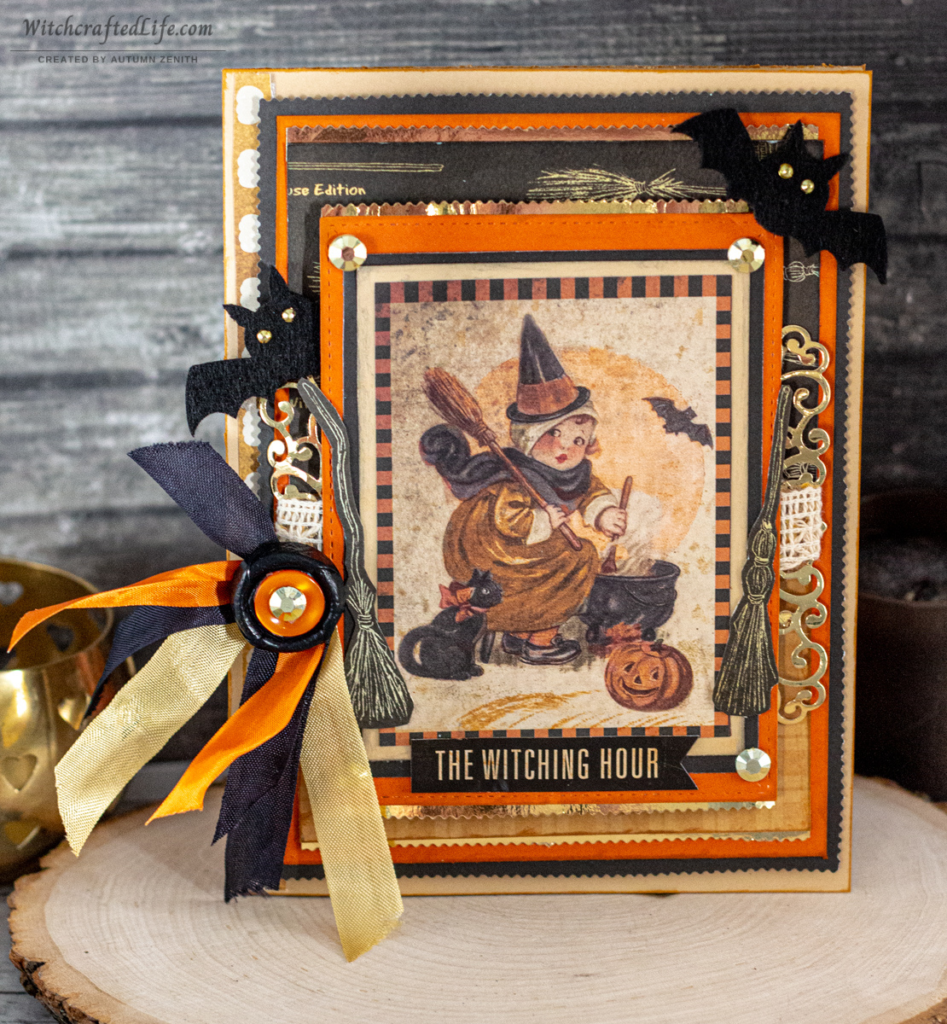 As you might guess, this fun vintage themed Halloween card is my #MakeHalloween365 project for the month of May.
Creating it in the heart of Beltane season – which is the corresponding sabbat to Samhain on the opposite side of The Wheel of The Year – felt especially meaningful to me.
The Witching Hour adorable vintage image and classic fall colour Halloween card
Knowing that I wanted to go with a timeless fall + Halloween colour scheme for this delightful project, I selected a palette of pumpkin-y orange, aged cream, deep gold, and midnight black.
And how fitting the latter is when you consider the sentiment that appears on this card.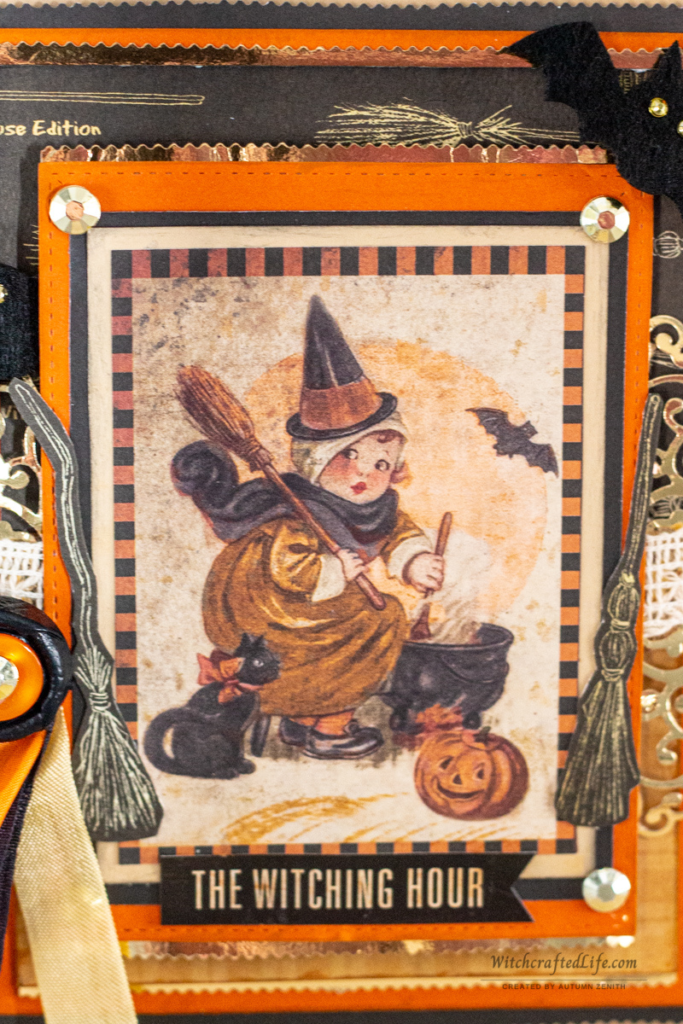 It reads the "The Witching Hour", which while some people place later in the night/early morning (in the range of 3 – 4 am, when the dark heart of the night is still beating strong and dawn has yet to crack the sky's surface once again), many others view this time as occurring from midnight to 1 am.
The concept of the witching hour, while certainly intertwined with Halloween + Samhain, applies to every night of the year and is an extraordinarily powerful and poignant point in the day to carry out activities pertaining to one's witchery, Paganism, or spirituality in general.
And if you can do so bathed in the moon's silvery light, all the better (though that is by no means essential, of course).
When I was but a wee lass, my (very talented!) mom made me an adorable witch's costume from Halloween print fabric. A sturdy orange trash bag was utilized as an attached cape – which is all kinds of clever in my books (especially given the very real possibility of rain or snow that we faced on October 31st).
I wore that handmade witch costume on at least two, possibly three, different Halloweens throughout my youth. A few years later, my little sister would go on to sport it as well.
While to the best of my knowledge, this costume was likely either given away to other youngsters or lost to the hands of time at some point, I still have a scanned photo (care of my sweet mama) from the 1980s of me wearing it.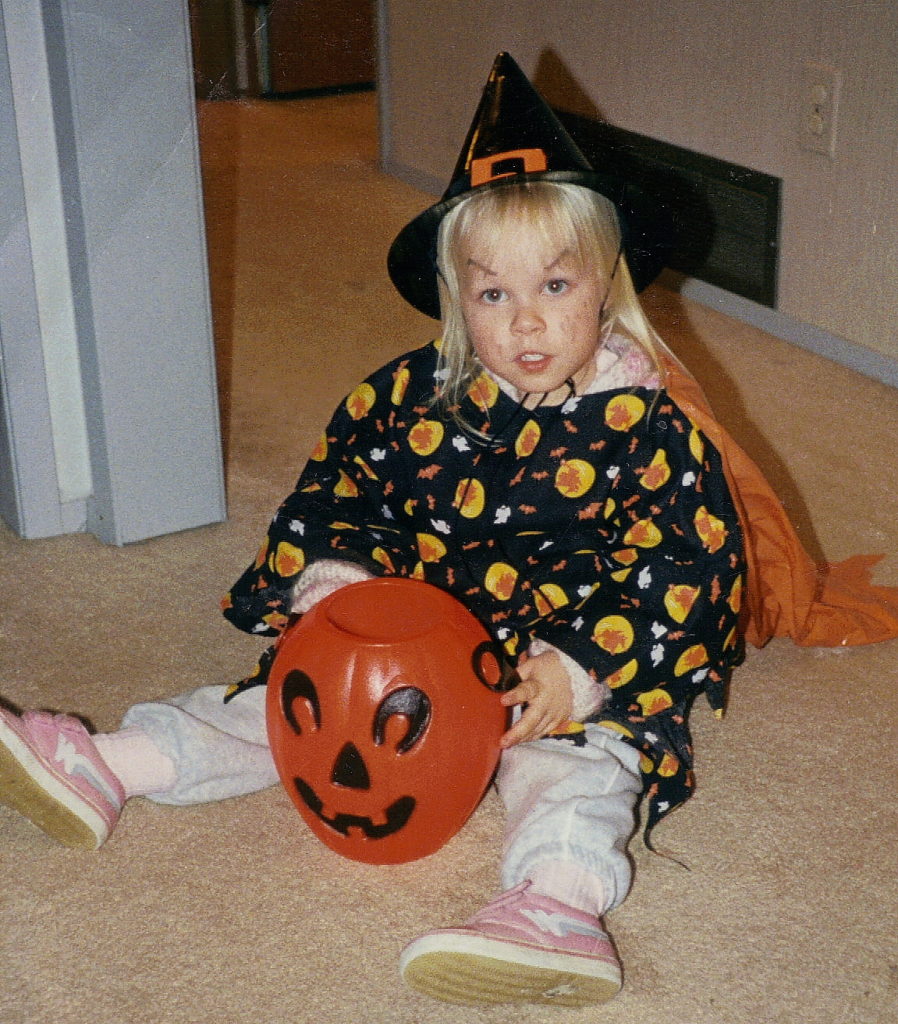 It was this very costume that I was thinking about as I set out to make my latest handmade Halloween card.
And in a flash, I remembered a sheet of Authentique Twilight paper I had picked up a while back that stars some fantastic vintage Halloween images. One of which was a sweet little girl dressed as a witch herself.
The fact that this image tied in excellently with the colour palette I had already determined was the icing on the cake – or should I say, the caramel on the apple. 😄
As, this far out still from October 31st, I am not sure yet if this card will be mailed or delivered in person, I opted to keep its depth below the minute two centimetres that Canada Post permits letter mail to be before it crosses into parcel territory (regardless of the other dimensions and weigh involved).
Naturally though, true to form, I wasn't about to sacrifice too many layers or embellishments. 😊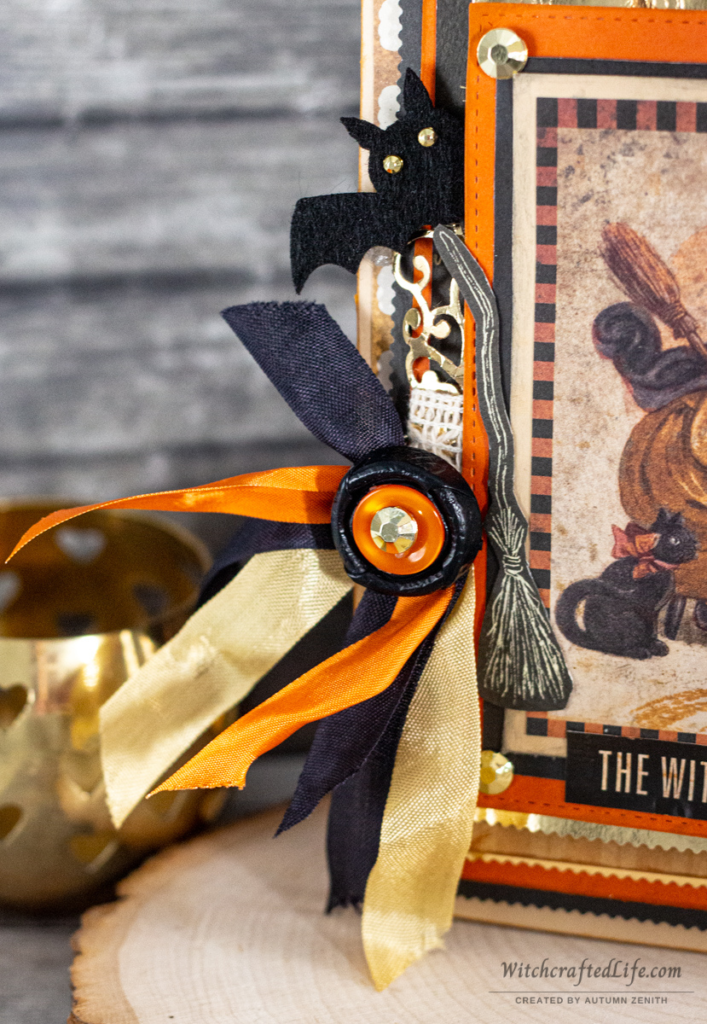 Doing so came together by building up a base of numerous layers of cardstock and paper to which I added a piece of cream-hued crocheted trim, two felt bats (I gave them cute little gold rhinestones as eyes), a button + rhinestone topped selection of trims, and quartet of gold rhinestones around the outer corners of the central image.
And just about as fast a real pair of bats – or a darling little Halloween witch on her broom – could zip across the enchanting Halloween night sky, my card was complete.
This design is quite easy and all things considered, not too brutal on the ol' pocketbook – especially if you already have most or all of the types of supplies used on this Halloween card project to hand.
Should you be keen to whip up one yourself or use it as an inspirational jumping-off point for your own festive Halloween cards, read on for a complete list of the materials used plus detailed step-by-step directions on how to make this super cute vintage-inspired All Hallows' Eve greeting.
Products used to make this charming "Witching Hour" Halloween card
-Black cardstock
-Pumpkin/dark orange cardstock
-Dark cream or taupe cardstock
-Metallic gold cardstock
-Stitched edge (or any other type you wish) rectangular die
-Ornate edge rectangular (or square) die
-Pinking sheer decorative edge scissors – Mini Pinking Paper Edgers Scissors from Fiskars
-Flax/muted gold-hued plaid paper – Fall Breezy Stripes Paper from Photo Play
-Pumpkin print border strip paper – Spook Hill 8"x8" Paper Pad from Recollections
-Witch's broom print paper – Haunted House Witching Hour Paper from Carta Bella
-Vintage witch girl image paper – Twilight Eight Paper from Authentique
-Golden brown ink – Peanut Brittle Memento Dew Drop Ink Pad from Tsukineko
-Black ink – Wicked Black Archival Die Ink Pad from Color Box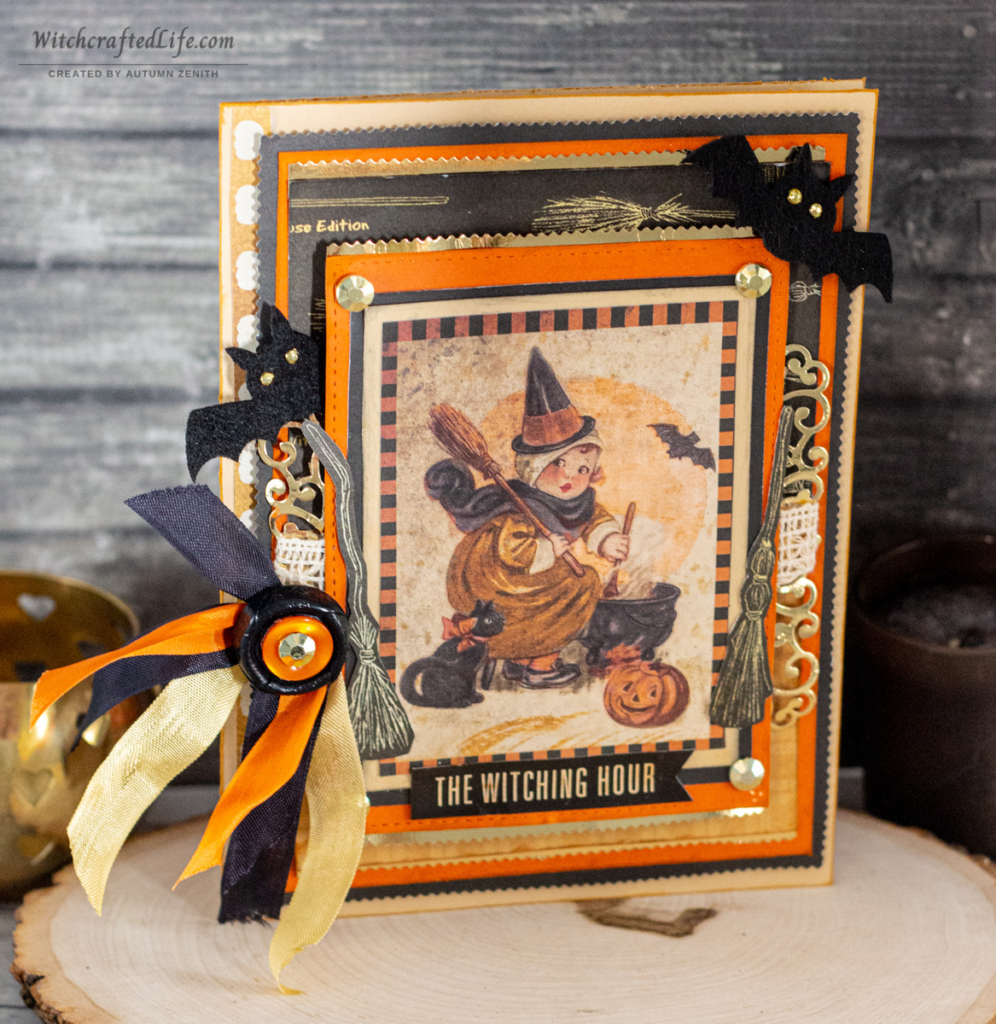 -"The Witching Hour" sentiment sticker – Halloween Town Element Stickers from Echo Park
-Flax/gold seam binding – Trophy Gold Seam Binding from Hug Snug
-Orange seam binding
-Black seam binding
-Cream or ivory crochet trim
-Black felt bats (I bought these on AliExpress a few years back; similar can often be found at craft and dollar stores come the fall or cut from a bat die and thin black felt with many modern die cutting machines.)
-Orange button
-Black button (That is large enough to be topped by the orange button and still have its sides remain visible.)
-Two sizes of coloured rhinestones/gems (ideally one should be quite small as it will be used as eyes on the felt bats)
-Dimensional foam, pop dots, or similar to elevate some of your layers
-Adhesive, such as a tape runner, of your choice (I often use my Scotch Tape Glider)
How to make a witch themed vintage-inspired Halloween card
Begin by making a card base from cream/taupe colour cardstock. Ink all four edges of the front (and for that matter, the back, too, if you would like 😊) with golden brown ink.
From the Spook Hill 8"x8" Paper Pad cut out a slender pumpkin print border strip and adhere it vertically to the left-hand side of the card base.
Using pinking sheer decorative edge scissors (or actual pinking sheers) cut a piece of black cardstock a little smaller than your card base. Adhere to card base.
Cut a piece of orange cardstock a wee bit smaller than the previous layer. Adhere to previous layer.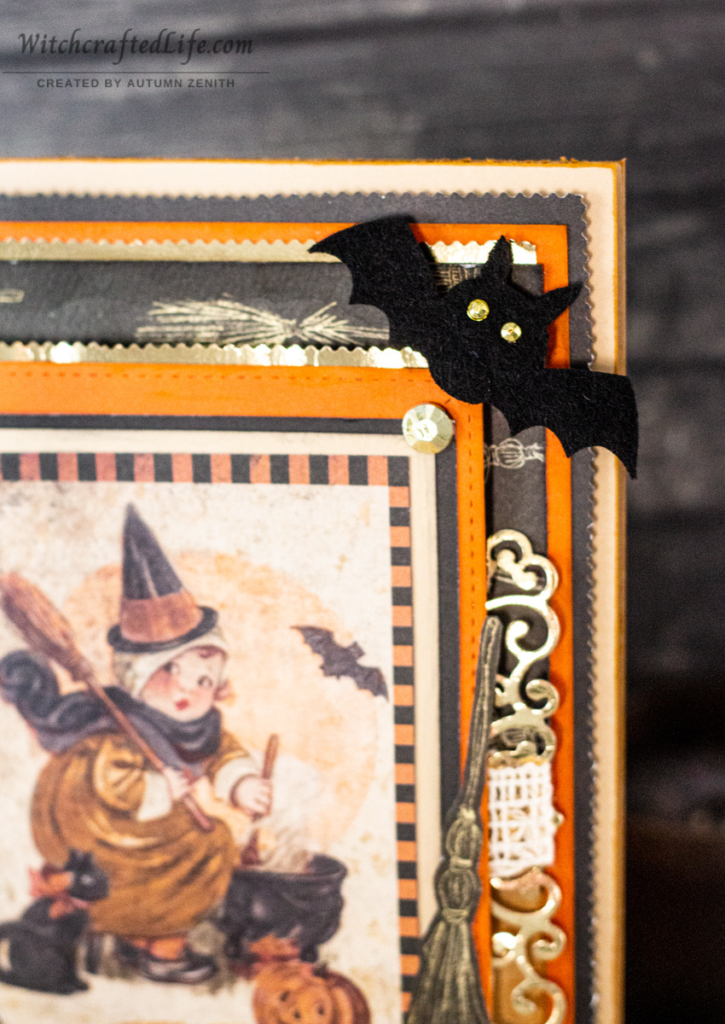 Using the same decorative edge pinking sheer scissors, cut a piece of gold metallic cardstock just a whisper tinier than the previous layer. Adhere to previous layer.
Cut a piece of Haunted House Witching Hour paper from Carta Bella the same width as the previous layer, but just under half of its. Adhere to previous layer.
Then, using the Fall Breezy Stripes flax coloured plaid paper from Photo Play, repeat the same process as above only this time the plaid paper will go on the bottom half of the card, as shown. Before adhering it down, ink the visible edges with golden brown ink.
Die cut an ornate rectangle piece from metallic gold cardstock. Run a piece of cream/ivory crochet trim across the middle of this piece, wrapping its ends underneath. Adhere to the back of the die cut gold cardstock rectangle and then adhere that to the centre of the existing card layers.
Use the pinking sheer decorative edge scissors to cut another piece of metallic gold cardstock, making it a bit smaller on all sides than the Carta Bella broom print paper.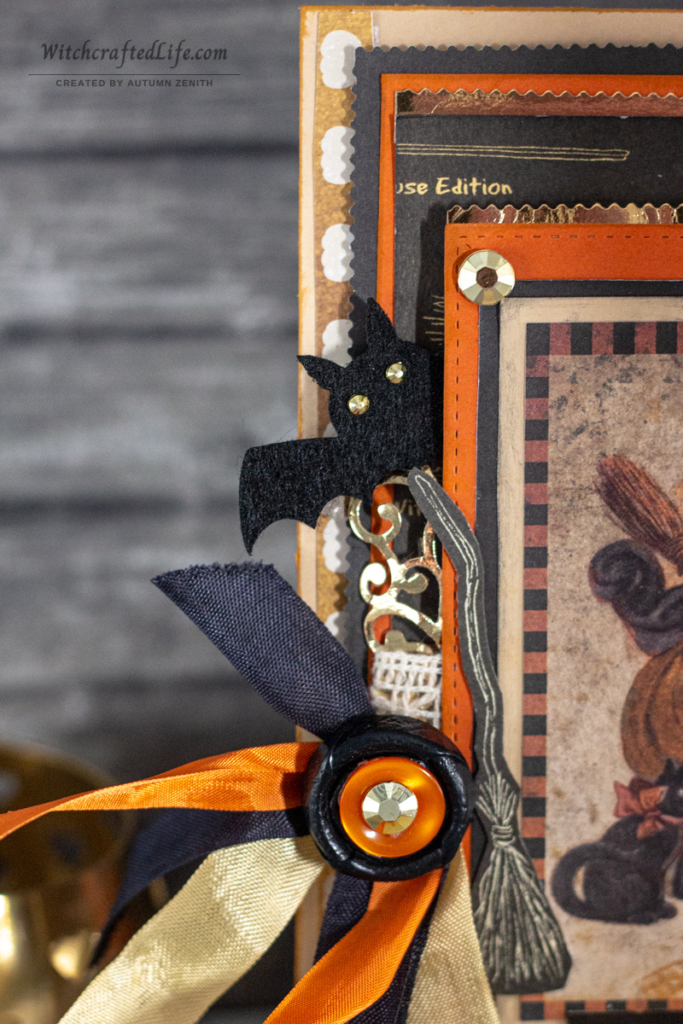 Before adhering that layer down, tuck and adhere one of the black felt bats partially underneath of it on the upper left-hand side, as shown. Then adhere the orange cardstock rectangle to the previous layers.
With the stitched edge rectangle die, cut a rectangle from orange cardstock. Adhere to previous layer.
Next, cut the adorable vintage witch girl image from the Authentique Twilight Eight Paper.
Using the same cream/taupe cardstock as the card base, create a very slender mat for the vintage witch girl image. Ink the edges of this piece of cardstock with black ink (brown or dark orange ink would work nicely here as well).
Adhere vintage witch girl piece to the cream/taupe cardstock.
Cut a piece of black cardstock a tiny bit bigger than the cream/taupe cardstock. Adhere cream/taupe cardstock to the black layer and then adhere the black layer to the previous card layers.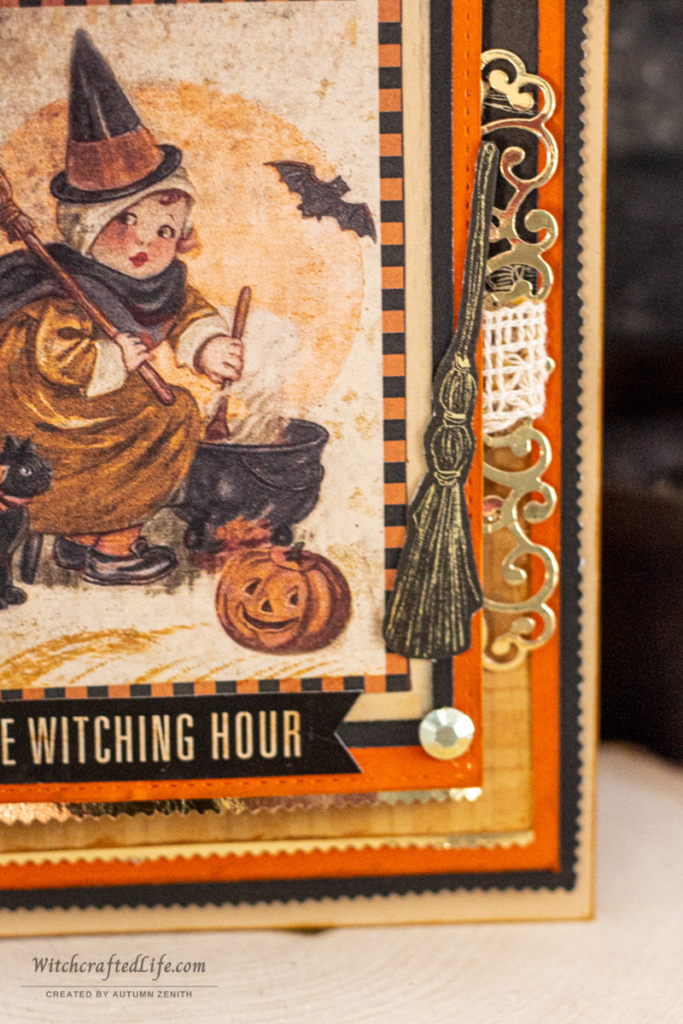 Fussy cut two brooms from the Carta Bella Haunted House Witching Hour paper. Adhere one each to the left and right-hand sides of the central image panel, positioning them so that each one is at an angle, as shown.
Take the sentiment ("The Witching Hour") sticker and lightly rub the lettering, which is white in its natural state, with golden brown ink to tint the letters so that they better match the colour palette of this card. (Alternatively, you could use a suitable marker or even a coloured pencil to do the same thing as well.)
Adhere sentiment to the bottom center of the vintage witch girl panel.
Take one relatively small piece each of flax/muted gold, orange, and black seam binding, layer them together, fold them in half, and adhere them on the left-hand side of the lower half of the card.
Take your black button, top it with an orange button, and then with a gold rhinestone. Adhere these elements together and then to the "fold" area of the seam binding.
Place one of the larger of the two sizes of gold rhinestone embellishments around each corner of the black cardstock central panel so that it sits partially on that layer and partially on the orange cardstock layer below it.
Adhere the second black felt back to the upper right-hand side of the card, as shown.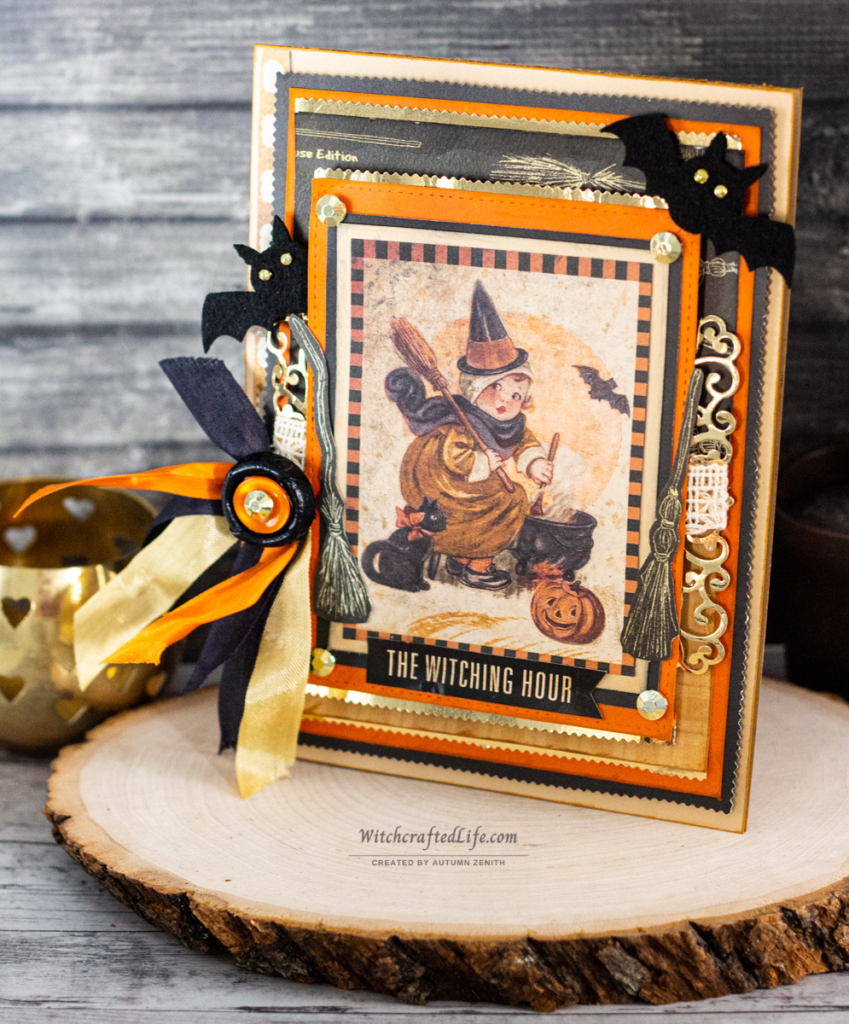 Lastly, adhere two teensy tiny gold rhinestone embellishments to each of the bats so as to give them eyes.
And just like that, you have one sweet, classic, and very versatile handmade Halloween card to give away or keep and use as wonderfully festive home décor.
The comfort and inspiration of nostalgia
Though not everyone – myself included – had a Cleaver family style childhood, I am tremendously grateful for the positives that my youth did house at times.
Few come close on that front than the Halloweens that I experienced while growing up.
They were earnest, cheerful events filled with handmade costumes and decorations, Unicef boxes, bracingly cold Canadian night air, and a sense of exhilaration that no special event – my birthday included – could top for me back then.
Nor to this very day. I continue to get no less giddy now at the prospect of another brand new All Hallows' Eve than I did all those decades ago.
I think about Halloween, be it past, present (year), or future, just about every day of my life – often many times a day for that matter.
It is vital that we each have things in our lives that speak to our hearts, souls, and creativity alike.
Halloween is one of the biggest and most important of those for me.
The roots of this passion took hold back before that photo of me as a wee youngster with her classic plastic pumpkin pail of sweet treats was even snapped. And it is safe to say that they have only continued to grow further every day of my life since.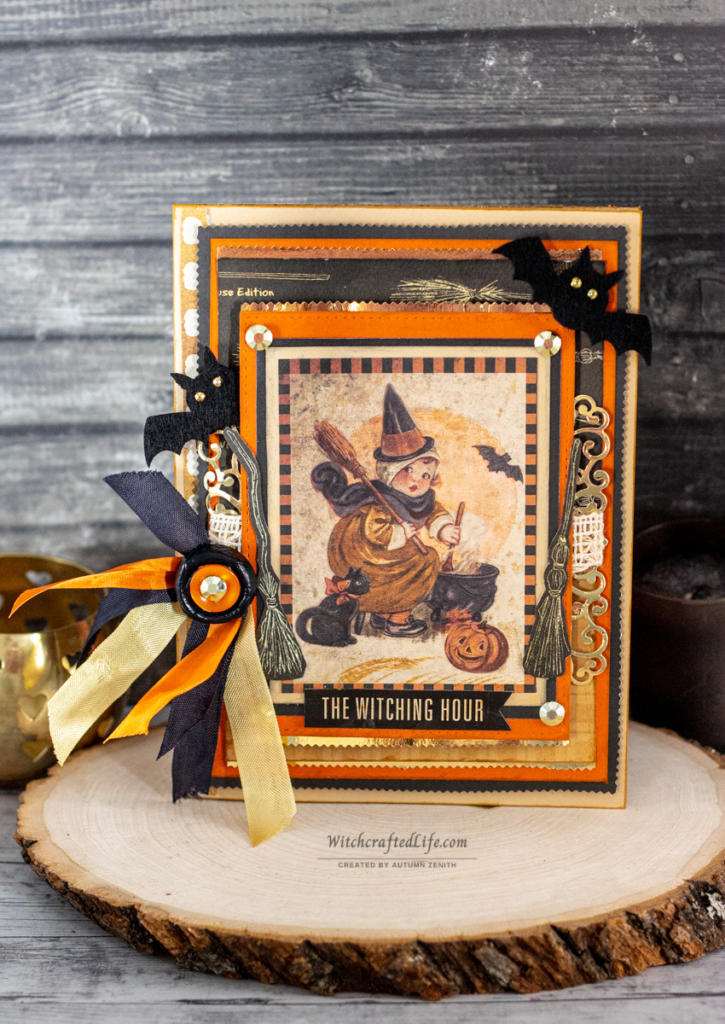 I adore using Halloween memories to inspire current craft projects (not to mention other things as well, such as October 31st menus, costumes, and decorations) and when you swirl vintage – another lifelong passion of mine – into the mix as well, I am on cloud nine.
In the coming countdown to Halloween months, you can look forward to plenty of festive content including – all things willing – no shortage of additional brand new spooky season 2022 papercrafting projects from me.
Right here and now though, it is still Springoween and as eager as I am for Halloween's return, I am grateful for the sunny side of the year and the time it grants me – and crafters everywhere – to make a slew of festive fall projects in the lead up to that bewitchingly awesome holiday. 🧡
When do you tend to start your October 31st related crafting? Be it pertaining to Halloween or otherwise, do you like to use treasured memories as inspiration for some of your creative projects? 🧹🎃🦇
PS: Did you know that there is a paper crafting challenge group dedicated solely to making Halloween projects the whole year through? I caught wind of it a little while ago and have been meaning to take part, but so often seem to forget in the midst of creating, photographing, and blogging my projects.
I am head-over-heels with Two Old Bats Halloween Challenge Blog and am entering this project into it as my inaugural foray into that challenge site.
If you have not yet discovered them yourself and also adore making Halloween paper crafts, be sure to zip on over and give them a peek! 😀